A win for President Tsai; US-China trade deal; CCDI plenum
Congratulations to Taiwan for holding successful elections Saturday. President Tsai won as expected, and Beijing reacted as expected. I want to hope that Xi will decide he needs to find a way to talk with President Tsai, but I think it is more likely he doubles down on the intensifying efforts to isolate and pressure Taiwan.
Liu He and his delegation arrive in Washington DC today for the Wednesday signing of the phase one trade deal. Last Thursday I wrote that it had been two months since we had heard from Taoran Notes, the very accurate chronicler of the trade talks. He is back, with a post Monday (守住平常心 万事在人为) that is not what I would call very optimistic on the trade deal or the overall US-China relationship, but makes it clear it is better to have this deal than no deal. The author appears to be defending the deal against any domestic criticism, and reiterating that China needs to stay calm, keep opening up, and that any further reforms and opening around this deal are for China's own good and not in reaction to outside pressure.
As I wrote Thursday I believe the Chinese conceded more than they wanted to, including swallowing a last minute US withdrawal of a promise to make much a deeper rollback of tariffs, because Xi decided it was time to try to stabilize the relationship, however narrowly and temporarily.
Why might Xi have made such a tactical concession? I will guess he believes that China gained one key thing, probably what Xi sees as the most important, and that is time to manage the decoupling from the US and further its efforts to attain self-reliance in key areas. Will that bet work? I do not know, but what other realistic choice does Xi's CCP have given the current trajectory of the relationship?
Thanks for reading.
---
The Essential Eight
1. US-China
China says 'trade war is not over yet' ahead of phase one deal signing that is just the 'first round of a game' | South China Morning Post
Taoran Notes, which is affiliated with the official Economic Daily newspaper that is used by Beijing to manage trade talk expectations, published its first piece for two months on Monday, saying the deal set to be signed in Washington this week is just "the first step to solve a problem".

"We must bear in mind that the trade war is not over yet – the US hasn't revoked all its tariffs on China and China is still implementing its retaliatory measures. There are still many uncertainties down the road."

It added that the broad meaning of reaching a trade deal is to find an approach to solving China-US disputes in other areas...

China is trying to project the deal as a proof that it is able to stop disputes with the US from erupting into confrontations, while downplaying the parts that could be viewed as Beijing's concessions.
The Taoran Notes piece - 守住平常心 万事在人为
U.S.-China Trade and Tariff News: Key Time for President Trump - Bloomberg
"There is a real enforcement provision," U.S. Treasury Secretary Steven Mnuchin said Sunday on Fox News. "And if they don't comply with the agreement, the president retains the authority to put on tariffs, both existing tariffs and additional tariffs."

In a talking points memo distributed to supporters last month, the administration said it called for each country to establish a special office to monitor the deal's implementation and address any disputes. If conflicts aren't resolved within 90 days, the U.S. could take unspecified "proportionate" action against China and vice versa. Either party could also abandon the deal, of course.
China's U.S. Trade Deal Commitments Not Changed in Translation: Mnuchin - The New York Times
Mnuchin told Fox News Channel that the deal reached on Dec. 13 still calls for China to buy $40 billion to $50 billion worth of U.S. agricultural products annually and a total of $200 billion of U.S. goods over two years.

"It wasn't changed in translation. I don't know where that rumor started," Mnuchin said
Comment: And I believe the agreement is that in the event of any language issues, the English version trumps the Chinese one
U.S. to Lift Yuan Manipulator Tag Ahead of China Trade Deal - Bloomberg
The Treasury Department will make the move in a semi-annual report, expected to be released soon, after being delayed as the U.S. and China finalize a "phase one" trade pact, said the people, who spoke on condition of anonymity.
Phase one deal goes beyond agriculture - Global Times
"Balance is a highlight of the phase one deal," the source told the Global Times on Sunday, adding that the deal will be legally binding on both parties as opposed to previous suggestions from US officials that the deal would be in favor of the US.

"You will see what I mean by this when you see the final text of the agreement," the source said.
Editorial: Phase One Trade War Deal Is Worth Celebrating - Caixin editorial
China should bring itself further in line with international trade rules and market mechanisms, push for WTO reform, strive to join the Trans-Pacific Partnership, and rapidly construct the "high-standard market system" and "higher-level new systems for an open economy" as proposed by China's leadership a few months ago. The stagnation of reform and opening up in China can be used as an excuse by other countries to launch their own trade wars.

Only in this way can the Chinese economy recover from the losses it has sustained as the trade war has dragged on over the last two years and other countries recover from the pressure they have borne throughout. It is the only way for China's economy — battered during the two-year-long trade war — and its citizens, who have borne a huge amount of stress, to recover somewhat. That, in turn, can spur the U.S. and other developed economies to feel friendlier toward China. 社论|中美第一阶段协议可喜可贺
Washington, Beijing Agree to New Dialogue to Pursue Reforms, Address Disputes - WSJ $$
The effort will be headed by Treasury Secretary Steven Mnuchin and Chinese Vice Premier Liu He, among other senior officials, according to a statement by Mr. Mnuchin and U.S. Trade Representative Robert Lighthizer released on Saturday. It is set to be announced on Jan. 15 as part of the signing of a phase-one trade deal between the U.S. and China that includes Chinese purchases of American goods and some reforms to China's economic system...

The new talks will be separate from negotiations over a second phase of the trade deal..

The two sides are considering naming the process the Comprehensive Economic Dialogue, said people familiar with the discussions. That is the same name the administration used for failed talks in 2017 to get a quick trade deal in 100 days
---
2. Taiwan Election
Taiwan President Tsai Ing-wen wins election with record 8.17 million votes | Taiwan News
Tsai, running for the Democratic Progressive Party (DPP) with ex-Premier William Lai (賴清德) as her vice-presidential running mate, had received 8,170,186 votes or 57.13 percent, according to the final result from the Central Election Commission (CEC). Her total broke the record of 7.23 million votes established by KMT candidate Ma Ying-jeou (馬英九) in 2008.

Han, with ex-Premier Simon Chang (張善政) on the ticket, ended in a distant second place, with 5,522,119 votes or 38.61 percent. The only areas where he was leading were the counties of Miaoli, Hsinchu, Hualien, Taitung, Kinmen and Lienchiang, according to CNA.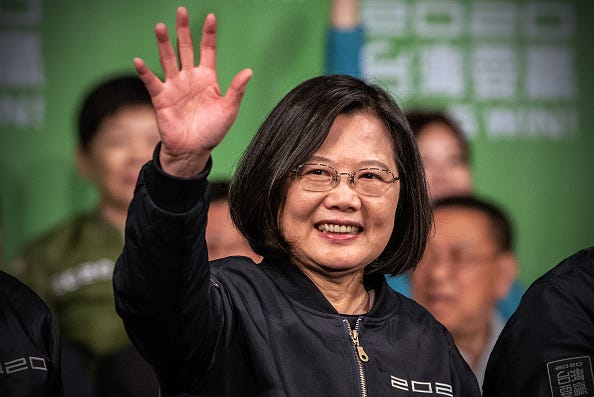 How Should We Understand the Results of 2020 Elections? | New Bloom Magazine - Brian Hioe
Tsai's election win not only gives the DPP a mandate to continue advancing its current political platform, but serves as a rebuke to China. One notes that voter turnout was high, with 75% of eligible voters voting. This is close to 10% higher than the voter turnout in 2016...

At the same time, one notes that the KMT actually took in substantially more presidential votes compared to 2016. Eric Chu of the KMT won 3.8 million votes in 2016, though the KMT was hampered in 2016 by its late change in presidential candidate. The DPP also still lost seats in the legislature compared to 2016, in which the DPP took 68 seats, and the KMT gained three seats, having won 35 seats in 2016.

It is highly unlikely that the KMT has been sidelined as a political force completely.
Taiwan Voted For Tsai Ing-wen — But Also Pro-Beijing Parties - The News Lens International Edition
Although Han lost the presidency, his party fared quite well in the legislative race. The KMT gained three seats in the legislature while Tsai's Democratic Progressive Party (DPP) lost seven. Both parties went head-to-head over the party vote, each receiving 13 legislative-at-large seats.

Nevertheless, KMT chairman Wu Den-yih resigned after the election to shoulder responsibilities for Han's presidential defeat and the party's failure to reclaim majority in the legislature. The group of freshly elected KMT party list legislators includes Sandy Yeh, who publicly supported the Hong Kong police, and Wu Sz-Huai, whose visit to Beijing was televised by Chinese state media. They appear to be significantly more pro-Beijing than the former group of younger KMT legislators who are being replaced.
Full text of Taiwan President Tsai Ing-wen's acceptance speech - Focus Taiwan
Over the past three years, our administration has been firm on our bottom line on Taiwan's sovereignty, but we have also been willing to maintain healthy exchanges with China. In the face of China's diplomatic pressure and military threats, we have maintained a non-provocative, non-adventurist attitude that has prevented serious conflict from breaking out in the Taiwan Strait.

However, through their increasing pressure and proposal of a "one country, two systems" model for Taiwan, China has hoped to force us to accept conditions that are entirely unacceptable. In the face of China's intention to unilaterally change the cross-strait status quo, Taiwan has had no choice but to continue strengthening our democratic defense mechanisms, and establish national defense capabilities that can ensure security in the Taiwan Strait.

I want to emphasize that my commitment to peaceful, stable cross-strait relations remains unchanged. But both sides of the Taiwan Strait have a responsibility to ensure peaceful and stable cross-strait relations.
Commentary: Taiwan leadership election result: a temporary counter-current - Xinhua
The tide of the times -- the cross-Strait situation moving toward peace and stability and cross-Strait relations continuing to move forward -- cannot be stopped by any force or anyone. The historical trend toward a stronger China, national rejuvenation, and reunification cannot be stopped by any force or anyone. "Taiwan independence" goes against the tide of history, and it is a path to nowhere.

Tsai and the DPP must be aware that they should not act willfully because of a fluke, and that obstinately holding on to illusions will only accelerate their descent into disillusion.
Mainland policy 'clear' after Taiwan vote - China Daily
"We hope and believe that the international community will continue adhering to the one-China principle and understand and support the just cause of the Chinese people in opposition to secessionist activities and in favor of national reunification," Foreign Ministry spokesman Geng Shuang said.

The Taiwan question is an internal Chinese matter, Geng said, adding that no matter what happens in Taiwan, the fact that there is only one China and that Taiwan is part of it will not change.

The Chinese government will not change its stance, he said. Rather, it adheres to the one-China principle and opposes the notions of Taiwan independence, two Chinas and "one China, one Taiwan". The universal consensus of the international community in support of the one-China principle will not change either, he said.
Xinhua: "This "election" in Taiwan was manipulated by dark forces from outside" - 新华社:这次台湾"大选"受到外部暗黑力量的操控
"Tsai's tactics to win the election are no secret. The election process has been widely criticized by public opinion in the island. Second, to suppress opponents by any means, to foster the "Internet army" to spread false information, to smear and discredit; Third, advocate the mainland "threat", incite hostility to the mainland, create "green terror" and wantonly intimidate the people. As the island's wise people and media said, this is obviously not a normal election. Tsai ing-wen and the DPP used dirty tactics such as cheating, repression and intimidation to get votes, fully exposing their selfish, greedy and evil nature...

The outcome of an election is, of course, determined by a number of factors. For example, the internal friction of the blue camp is self-destructive. It can also be seen that western external political forces have openly intervened in the election of Taiwan, in order to contain and contain mainland China and prevent the two sides from getting closer to each other, and supported tsai ing-wen. Over the past three years, especially in the past year, the us side has intensified its efforts to play the "Taiwan card". The tsai ing-wen administration has actively cooperated with the us side, hijacked the us and opposed China, including using the situation in Hong Kong to stir up trouble and mislead the Taiwan people. It is clear that the election within Taiwan was largely manipulated by dark forces from outside."

蔡英文赢得选举的招数不是秘密,竞选过程就广受岛内舆论诟病:其一,疯狂"撒钱",狂投数千亿元新台币进行政策买票;其二,不择手段打压对手,豢养"网军"散布假信息,大搞污蔑抹黑;其三,鼓吹大陆"威胁",煽动敌视大陆,制造"绿色恐怖",大肆恫吓民众。诚如岛内有识之士和媒体所言,这显然不是一场正常选举,蔡英文和民进党用欺骗、压制、恐吓等肮脏手法捞取选票,充分暴露其自私、贪婪、邪恶的本性。..

一次选举的结果当然由多种因素决定。比如,蓝营的内耗自损。更可以看到,西方外部政治势力公然介入台湾选举,为牵制、遏制中国大陆,阻止两岸走近走亲,而力挺蔡英文。3年多来,尤其近一年,美方不断加大打"台湾牌"力度,蔡英文当局积极配合,挟洋自重,推行"倚美反中",包括借香港局势煽风点火,误导台湾民众。显然,这场台湾地区内部的选举很大程度上受到外部暗黑力量的操控。
Xinhua blames Tsai's victory in the "Taiwan region leadership elections" in part on foreign forces and especially the US. Any idea why they chose a line from a Chen Yi poem for the first part of the title of this piece?
Opinion | When Populism Can't Beat Identity Politics - The New York Times - Nathan F. Batto OpEd
The D.P.P.'s victory is partly the result, as many analysts had predicted, of its successful efforts to drag the election back onto the conventional battleground of sovereignty and identity. Ms. Tsai invoked often the protests in Hong Kong to remind voters of the threat that China poses.

Yet the D.P.P. election stands for more than a rejection of the Kuomintang's cozying up to China; it was also a repudiation of Mr. Han's populist discourse.
---
3. CCDI Plenum starts
Xi Focus: Xi stresses strengthening checks, oversight over exercise of power - Xinhua
Xi…made the remarks when delivering a speech at the fourth plenary session of the 19th Central Commission for Discipline Inspection (CCDI) of the CPC held in Beijing on Monday.

Greater efforts should be made to address "minor corruption" in areas related to people's livelihood, "protection umbrellas" that shelter gang crimes and "stumbling blocks" to the implementation of policies designed to benefit the people, he said.

Xi ordered continuous efforts to crack down on corrupt officials from low-level "flies" to high-ranking "tigers."
Monday CCTV Evening News on Xi's speech to the CCDI plenum, financial and medical industry executives will not like this. Some highlights:

"Xi stressed that both "tigers" and "flies" should be dealt with, with a focus on cracking down on violations of discipline and law. We need to be fully aware of the seriousness and complexity of the fight against corruption and the fight against corruption, and the protracted and arduous nature of the fight against corruption. Since the 18th national congress of the communist party of China (CPC), corruption, which has seriously impeded the implementation of the party's theory, line, principles and policies and seriously damaged the foundation of the party's governance, must be dealt with and severely punished. We should resolutely investigate and deal with corruption behind various risks, deepen anti-corruption efforts in the financial sector, step up efforts to combat corruption in state-owned enterprises, strengthen management of state resources and state-owned assets, and investigate and deal with corruption hidden in local debt risks. We should resolutely investigate and punish collusion and fraud in and out of medical institutions, and establish and strengthen a long-term supervision mechanism. We will improve the supervision system for overseas state-owned assets. We must resolutely implement the CPC central committee's eight-point resolution, keep our resolve, and never compromise, so as to prevent the recurrence of old problems, the emergence of new ones, and the escalation of small problems. We should strengthen oversight and inspection of "top officials" at all levels, improve the systems for avoiding appointments, rotating posts regularly and auditing outgoing posts, and make good use of the weapons of criticism and self-criticism."

习近平强调,要继续坚持"老虎"、"苍蝇"一起打,重点查处不收敛不收手的违纪违法问题。我们要清醒认识腐蚀和反腐蚀斗争的严峻性、复杂性,认识反腐败斗争的长期性、艰巨性,切实增强防范风险意识,提高治理腐败效能。对党的十八大以来不收敛不收手,严重阻碍党的理论和路线方针政策贯彻执行、严重损害党的执政根基的腐败问题,必须严肃查处、严加惩治。要坚决查处各种风险背后的腐败问题,深化金融领域反腐败工作,加大国有企业反腐力度,加强国家资源、国有资产管理,查处地方债务风险中隐藏的腐败问题。要坚决查处医疗机构内外勾结欺诈骗保行为,建立和强化长效监管机制。要完善境外国有资产监管制度。要坚决贯彻中央八项规定精神,保持定力、寸步不让,防止老问题复燃、新问题萌发、小问题坐大。要加强对各级"一把手"的监督检查,完善任职回避、定期轮岗、离任审计等制度,用好批评和自我批评武器。
Long Xinhua piece listing all the accomplishments of the CCDI in 2019. Remember the organization is not just about fighting corruption but also Party and ideological discipline
A CCTV show timed for the plenum has interviews with several fallen tigers, including former China Huarong head Lai Xiaomin. According to the report, Lai had a Beijing house he nicknamed the "supermarket" where he had had hidden 200 million RMB in cash - 《国家监察》 第二集 全面监督_CCTV
the Lai bits starts about 12:00, video of the cash just after 13:00

It has been a while since a big "tiger" has fallen.
家中查扣名酒逾千瓶 内蒙古原副主席白向群贪腐细节曝光_政经频道_财新网
The same episode also gives more details of former Inner Mongolia vice chairman Bai Xiangqun's corruption
Comment: It has been a while since a big tiger fell.
---
4. People's leader watch
Xi is still not directly being called "People's Leader Xi 人民领袖习近平" by other officials but the formula "人民领袖深切的为民情怀 "people's leader's heartfelt feelings for the people" that was used in the year-end Politburo Democratic Life meeting is, unsurprisingly, showing up in various provincial and ministerial meetings, the three below being Guangdong, the Ministry of Public Security and Shanxi.
广东省委常委会召开会议传达学习贯彻习近平总书记在中央政治局"不忘初心、牢记使命"专题民主生活会上的重要讲话精神 李希主持会议_广东精选_南方网
面对中华民族伟大复兴的战略全局和世界百年未有之大变局,总书记高瞻远瞩、统揽全局、运筹帷幄、指挥若定,展现了共产党人坚定的理想信念、人民领袖深切的为民情怀、马克思主义政治家高超的政治领导艺术。总书记的崇高威望、领袖地位深深扎根党心民心,全省上下发自内心地尊崇总书记,拥护以习近平同志为核心的党中央。
会议强调,面对当今世界百年未有之大变局,面对错综复杂的国内外风险挑战,习近平总书记高瞻远瞩、统揽全局、运筹帷幄、指挥若定,作出一系列重大科学判断,提出一系列重大战略策略,推动一系列重大工作,领导全党全国各族人民在进行具有许多新的历史特点的伟大斗争、推进新时代中国特色社会主义发展上取得新的重大成就,充分展现了共产党人坚定的理想信念、人民领袖深切的为民情怀、马克思主义政治家高超的政治领导艺术
学习贯彻习近平总书记在中央政治局专题民主生活会重要讲话精神--省委书记楼阳生主持会议- 山西日报
这次集中学习使大家深受教育,深受洗礼,进一步锤炼了党性。联系党的十八大以来党和国家发生的历史性变革,联系山西近些年来走过的不平凡历程,与会同志进一步深切感到,习近平总书记领航掌舵中国特色社会主义事业乘风破浪、稳步前行,取得新的重大成就,展现了共产党人坚定的理想信念、人民领袖深切的为民情怀、马克思主义政治家高超的政治领导艺术。只要我们紧密团结在以习近平同志为核心的党中央周围,切实做到"两个维护",就能夺取前进道路上一个又一个胜利。
---
5. Human Rights Watch head turned back from Hong Kong
Head of Human Rights Watch denied entry to Hong Kong | The Guardian
Kenneth Roth, the group's executive director, said that on Sunday he was blocked at Hong Kong airport from entering for the first time, having entered freely in the past.

During seven months of sometimes violent anti-government protests, the Chinese-ruled city has barred several activists, foreign journalists and an academic.

"This year (the new world report) describes how the Chinese government is undermining the international human rights system. But the authorities just blocked my entrance to Hong Kong, illustrating the worsening problem," Roth said in a post on his Twitter account.
Barring HRW head from HK entry 'a reasonable decision': analysts - Global Times
The decision to bar the executive director of Human Rights Watch (HRW) from entering Hong Kong is a reasonable move, as his presence would likely instigate riots which have rocked the city for months and the Chinese authorities have decided to sanction several US-based non-governmental organizations (NGOs) including HRW for their interference in China's domestic affairs in the city.
Western NGOs seek attention through China bashing - Global Times
China doesn't have to take their "shows" seriously. We should continue our practices in improving our human rights condition. In view of Western discourse offensive toward China, it seems that China has been undergoing a very tough time, during which it could easily become a target. It's a normal phenomenon and a period that China must go through, because the country has developed and progressed in every aspect, including human rights development, in a way different from the Western model. Facts and history will eventually prove China is on the right path of human rights development. Western NGOs will gain nothing from their accusations and smear campaign of China in the long run.
'China's sovereign right': Beijing defends barring Human Rights Watch chief from Hong Kong | Hong Kong Free Press HKFP
"Allowing or not allowing someone's entry is China's sovereign right," foreign ministry spokesman Geng Shuang said at a regular press briefing.

"Plenty of facts and evidence show that the relevant NGO has through various means supported anti-China radicals, encouraged them to engage in extremist, violent and criminal activity, and incited Hong Kong independence separatist activities," Geng said.
---
6. Will the UK say yes to Huawei?
U.S. officials to visit Britain, pushing for Huawei 5G ban - Reuters
Britain is expected to make a final call on how to deploy Huawei Technologies equipment in its future 5G networks later this month.

Security minister Brandon Lewis told the BBC on Sunday a decision would be taken "relatively soon".

The U.S. delegation is expected to include deputy national security adviser Matt Pottinger, the two people familiar with the matter told Reuters.
MI5 head shrugs off risk to intelligence sharing from Huawei links | Financial Times $$
Andrew Parker, head of MI5, says he has "no reason to think" that the UK's intelligence-sharing relationship with the US would be hit if Britain adopted Huawei technology in its 5G mobile phone network, as a key decision on the issue looms.

Sir Andrew's comments will increase expectations in UK government and industry circles that the Chinese company's equipment will be permitted for use in some "non-core" parts of the network.
---
7. Banking regulator's top tasks for 2020
CBIRC Sets Work Tasks for 2020 – Small Enterprise Financing Costs to Fall a Further 0.5 Percentage Points – China Banking News 
The China Bank­ing and In­sur­ance Reg­u­la­tory Com­mis­sion (CBIRC) has out­lined its key work tasks for 2020 at a re­cently con­vened meet­ing..

Firmly win­ning the war for the pre­ven­tion and dis­so­lu­tion of fi­nan­cial risk.

Vig­or­ously un­der­tak­ing work in re­la­tion to the Six Sta­bil­i­ties; dri­ving in­creases in the qual­ity and ef­fi­ciency of fi­nan­cial ser­vices for the real econ­omy, guid­ing more funds to­wards key ar­eas and weak links, fur­ther dri­ving a 0.5 per­cent­age point re­duc­tion in mi­cro and small-en­ter­prise fi­nanc­ing costs, and main­tain­ing the pace of growth of such loans above av­er­age growth in all loans.

Com­pre­hen­sively deep­en­ing fi­nan­cial sec­tor sup­ply-side struc­tural re­forms, rais­ing the level of ex­ter­nal open­ing.
Banking Regulator Lays Out Top Tasks for 2020 - Caixin
The China Banking and Insurance Regulatory Commission (CBIRC) has laid out its 2020 agenda, vowing to tighten supervision of nonperforming loans, curb financial risks and boost lending to small businesses...

The CBIRC also recapped its 2019 accomplishments, noting that around 2 trillion yuan ($289.8 billion) of nonperforming loans were disposed of last year. All bank loans overdue more than 90 days were brought under nonperforming loan management, it said. Caixin has learned that some banks have also implemented stricter standards, such as by including more-than-60-day overdue loans in their calculation of nonperforming loans.
---
8. China's financial markets beckon
Goldman Readies Hiring Spree, Capital to Resume China Ambitions - Bloomberg
Three months ago, a team of executives presented a five-year plan for China to the board, calling for the bank to take control of a joint venture it set up with a Chinese securities firm in 2004. Infused with hundreds of millions of dollars in new capital, the unit would embark on a hiring spree to double its workforce to 600 and ramp up a wide variety of businesses...

The strategy -- described by senior Goldman executives and others familiar with the plan -- shows how Chief Executive Officer David Solomon and President John Waldron are taking up the mantle once carried by former CEO Hank Paulson...

its executives are especially excited about what Waldron calls the potential for "gigantic" growth in its nascent business of tending wealth there. "The biggest opportunity in China is actually not in investment banking," he said. "The biggest opportunity in China is to be an asset manager for all the savings."
Asset managers compete in 'frenzy' to gain China foothold | Financial Times $$
The long-awaited changes have arrived much earlier than expected: last year China announced the timetable for implementing the reforms would be brought forward by one year.
Foreign managers see new opportunity from Chinese banks - Pensions & Investments
Foreign money managers have begun positioning themselves to benefit as China's push to move trillions of dollars of opaque wealth management products from bank balance sheets to newly established asset management subsidiaries gathers momentum...

With regulators still hammering out key details of the new bank asset management subsidiary framework, some analysts predict foreign managers moving quickly to form tie-ups now may find themselves wishing they had hit the pause button.

There seems to be a lot of "ready, fire, aim" in play now, amid lingering uncertainties regarding what the business of these joint ventures is actually going to be, said Peter Alexander, managing director of Z-Ben Advisors, a Shanghai-based consulting firm focused on financial market opportunities on the mainland.
---
Business, Economy and Trade
China's bid to challenge Boeing and Airbus falters - Reuters Development of China's C919 single-aisle plane, already at least five years behind schedule, is going slower than expected, a dozen people familiar with the program told Reuters, as the state-owned Commercial Aircraft Corporation (COMAC) struggles with a range of technical issues that have severely restricted test flights.
Chinese bonds held by foreign investors exceeds 2 trillion yuan - People's Daily Online Chinese bonds held by foreign institutional investors reached nearly 2.2 trillion yuan (about $0.3 trillion) in 2019. Experts point out that the lure of the Chinese bond market is gradually being discovered by international investors and the trend of China becoming a hot destination for global investment will not change in 2020.
China's car sales fell 8% in 2019 and the slump is entering its third year - CNN The national auto industry body said total car sales fell 8.2% to just under 25.8 million in 2019, after having slid nearly 3% in 2018 in the first contraction since the 1990s. December car sales in China dipped 0.1%, according to the data, marking 18 straight months of declines.
Ford's China vehicle sales drop 26% in third straight year of decline - Reuters Ford has been trying to revive sales in China after its business began slumping in late 2017. Sales sank 37% in 2018, after a 6% decline in 2017.
Yicai Global - Germany's Luxury Carmakers Hit Record China Sales in 2019 Despite Shrinking Market BMW, Mercedes-Benz and Audi all posted record China sales last year despite the world's largest auto sector shrinking for the second year on the trot.
Ministry Pledges No 'Substantial' Cuts to Electric Car Subsidies in 2020 - Caixin Government subsidies will "remain relatively steady" this year in order to stabilize market expectations and guarantee the healthy development of the industry, the Ministry of Industry and Information Technology (MIIT) quoted its top official Miao Wei as saying Saturday. However earlier that day, Miao said at a Beijing auto industry forum that the government would not make any further cuts to NEV subsidies this year
Yicai Global - ChiNext Closes at 33 Month High as Chinese Markets Surge on Pending US Trade Deal
China's 2019 tax, fee cuts expected to total 2.36 tln yuan: ministry - Xinhua China's annual amount of tax and fee cuts in 2019 is expected to total 2.36 trillion yuan (about 340.73 billion U.S. dollars), according to the Ministry of Industry and Information Technology (MIIT).
China's new yuan loans reach 17 trln yuan in 2019 - Xinhua China's new yuan-denominated loans in the banking sector hit 17 trillion yuan (about 2.45 trillion U.S. dollars) in 2019, a year-on-year rise of 1.1 trillion yuan, said an official with China's top banking and insurance regulator Monday
Social Security Fund Warns of 'Grey Rhino' Threats Even as Investment Returns Surge - Caixin China's social security fund had a stellar 2019, racking up a return on investment of 15.5%, the highest in 12 years, as it benefited from a recovery in the country's stock and bond markets. The figure was disclosed by Chen Wenhui, a vice chairman of the National Council for Social Security Fund (NCSSF), at a forum in Beijing on Saturday...Chen didn't elaborate on the returns, which he said exceeded 300 billion yuan, but he warned that the looming pensions shortfall will become one of the most pressing problems facing society.
Specter of Oversupply Returns With Robust Steel Output Forecast for 2020 - Caixin China's total output for crude steel in 2020 will grow at a rate similar to last year's 6%, even as growth in demand will slow sharply to 2%, amounting to 890 million tons, the China Iron and Steel Association (CISA) said at its annual meeting Saturday. Domestic steel output was around 980 million tons in 2019, while demand grew at similar rate to 875 million tons for the year, according to the CISA.
Chinese Developers Flock to Issue Dollar Debt - WSJ $$ Chinese property companies have kicked off 2020 by selling billions of dollars of longer-dated bonds, capitalizing on a hot market to reduce their heavy reliance on short-term funding. The country's real-estate groups sold about $8 billion of dollar bonds in the first two weeks of January, according to credit strategists at ANZ.
China 2049: Economic challenges of a rising global power - Brookings The following is drawn from the executive summary of the forthcoming edited volume "China 2049: Economic Challenges of a Rising Global Power" (Brookings Institution Press, May 2020). The book is the outcome of a joint research project between economists at the National School of Development at Peking University and the Brookings Institution.
Central Bank Digital Currency Will Gradually Replace Traditional Monetary and Payments Tools: Ex-Bank of China Head – China Banking News Li Li­hui (李礼辉), for­mer head of the Bank of China, said that Chi­na's launch of a cen­tral bank dig­i­tal cur­rency is very likely "tran­si­tional" in na­ture. Ac­cord­ing to Li the fo­cus of the launch will be "suc­ces­sion and re­place­ment," mean­ing main­te­nance of ex­ist­ing mon­e­tary mar­ket mech­a­nisms and mon­e­tary pol­icy tran­si­tion mech­a­nisms, as well as grad­ual re­place­ment of tra­di­tional mon­e­tary and pay­ments tools.
China State Firm's $6 Billion Loss Is Among Nation's Worst Ever - Bloomberg While the loss was larger than some investors expected, it was triggered by an asset disposal plan that may help the company emerge on a stronger financial footing. Qinghai Salt initiated a rare court-led debt restructuring last year, and analysts are watching it closely for clues on the magnitude of losses creditors may have to incur.
Hidden Flaws Plaguing China's Film Market, Says Tencent Report – Variety Top-line figures also obscure what the firm called "hidden secrets" plaguing the film industry. Chief among these is the fact that the average occupancy rate of theaters across the country has hit a new five-year low, at a time when the movie-going of audiences in third-, fourth- and fifth-tier cities — previously hailed as the driving force of future box office growth — has stagnated.
Alarm bells in Beijing as steel production reaches all-time high - Nikkei Asian Review Chinese regulators have been alarmed by a spike in steel production in 2019. China's crude steel output dipped 0.6% in October to 81.52 million tons, but it bounced back in November, posting a 4% on-year increase. In the first 11 months of the year, Chinese manufacturers churned out 904.17 million tons of crude steel, up 7% from the same period in 2018. It is highly likely that the total output in 2019 hit an all-time high.
Chinese tycoon agrees to buy London mansion for record £200m | The Guardian Cheung Chung-kiu, who already owns the £1.15bn so-called "Cheesegrater" skyscraper in the City, is "in the process" of buying 2-8a Rutland Gate for between £205m and £210m.
Politics and Law
为实现民族复兴提供坚强制度保障(权威访谈)--时政--人民网 Monday People's Daily interview with Qu Qingshan, head of the Central Institute for Party History and Literature Research on providing a strong institutional guarantee for the realization of national rejuvenation, part of the series of discussions and declarations in the wake of the 4th Plenum
Chinese Journal Review: Chinese Labor Conditions, Extraterritoriality, Bank Vulnerabilities, and the South China Sea - Chinese Journal Review In this essay published in the influential China Legal Science journal, the dean of Wuhan University School of Law, Xiao Yongping, argues that China should update its legal code to give Chinese laws more extraterritorial reach.   Xiao argues that the United States uses laws with extraterritorial reach to China's detriment...Xiao argues that China should reciprocate by updating its laws to also assert more extraterritorial rights. Specifically, he notes China's Anti-Monopoly, Antitrust, and Securities Laws are well-suited for jurisdiction expansion. He adds that these laws should be updated according to the "effect standard," which stipulates that if a foreign entity's behavior outside of China impacts China's public interests, law enforcement and the courts should be able to assert jurisdiction.
Grandma's Frigging Legs: Chinese Man Detained for Cussing on WeChat after Parking Fine | What's on Weibo One day after complaining about the parking fine on Wechat, the man from Bozhou was reportedly summoned to the local police station and was detained at the spot for "creating a bad influence" ("造成了恶劣的影响")
Central Inspection Group gives feedback to the Supreme People's Court (2020 edition) | Supreme People's Court Monitor Chen Xi made demands of Zhou Qiang and other members of the SPC Party leadership. Among those is to implement the Party's absolute leadership over the work of the courts, strengthen its "service and guarantees" to the work of the Party and state (see my 2019 article on one aspect), and implement judicial reforms. One of the demands he made with significant practical significance (flagged by a Wechat account popular among judges) is for measures for SPC judges (and likely lower court judges as well) that further restrict the employment of judges who have resigned and stricter conflict of interest rules for relatives of judges who are lawyers
First Xinjiang, now Tibet passes rules to promote 'ethnic unity' | South China Morning Post Regulations to "strengthen ethnic unity" will take effect in Tibet in May, four years after similar rules were introduced in Xinjiang, according to Chinese state media. Officials in Xinjiang have occasionally cited similar regulations as justification for crackdowns on the region's ethnic Uygur community...The report did not release the full text of the regulations, saying only that they contained "dos and don'ts" for the local governments and society to promote ethnic unity. Other neighbouring provinces, including Yunnan and Qinghai, approved similar regulations last year // 《西藏自治区民族团结进步模范区创建条例》诞生记
Foreign and Defense Affairs
US threatens sanctions if China keeps buying Iranian oil | Fox Business "We've cut off probably over 95% of the oil revenues, so there's a very small amount of oil revenues, and you're right, a component of that, a big component of that is China," Mnuchin said. "I sat down with the Chinese officials. They flew in a delegation to meet with us and the State Department to talk about this. They've cut off all of the state companies from buying oil, and we're working closely with them to make sure that they cease all additional oil activities."
China urges US to 'immediately halt' sanctions on Chinese firms with Iran ties | South China Morning Post The administration of US President Donald Trump on Friday imposed new sanctions on Iran following attacks on US and allied troops in Iraq earlier in the week. The latest round of sanctions is set to hit much of Iran's economy as well as Chinese companies that have conducted business with Iran.
High expectations for Xi Jinping's visit to mark 70th anniversary of China-Myanmar relations | South China Morning Post Xi's visit is expected to begin on Friday, the first by a Chinese leader since Jiang Zemin 19 years ago, and may be a "milestone" for bilateral ties, according to Beijing's senior envoy in Naypyidaw, Myanmar's capital. Xi would meet the country's senior military and political leaders, and the two sides were expected to sign "dozens" of agreements in culture, politics and the economy, state newspaper Global Times quoted Chen Hai, China's ambassador, as saying on Sunday.
What Does Xi Jinping's First Visit Mean for China-Myanmar Relations? – The Diplomat While China may get some gains in Myanmar spotlighted during Xi's visit, the bigger picture is that Beijing faces a much more challenging environment to make advances in the Southeast Asian state due to a range of factors, including the growing presence of other key players such as Japan and South Korea, greater awareness of the risks of Chinese projects, and related instances of popular unrest in the country.
中缅谱写共建一带一路新篇章--新闻报道-人民网 Monday's People's Daily, doing advance propaganda work for Xi's visit later this week - "China and Myanmar write a new chapter of jointly building One Belt And One Road"
Myanmar must weigh up the extent of its dependence on China | Financial Times $$ For China, top concerns are preventing fighting along the border and ensuring that the west and Japan can never again use a peace process to gain influence in Myanmar's northern hills. The Rohingya crisis shifted fast-improving relations with the west into reverse. But China doesn't quite trust Myanmar and worries it will pivot back towards Beijing's strategic rivals at the next opportunity. What is important for Beijing is not the infrastructure projects themselves but a new reality, locking China in as Myanmar's closest friend.
China and EU may hold summit in Beijing at end of March, ahead of '17+1' meeting | South China Morning Post The proposed date for the EU-China Summit was March 30-31, when Chinese Premier Li Keqiang would meet the European Commission's new leadership in Beijing, the two European sources with knowledge of the matter said. President Xi Jinping would then host this year's Cooperation between China and Central and Eastern European Countries meeting – known as the "17+1" for the 17 European nations that take part – in Beijing, they said. The proposed date for that summit was April 15. Li has hosted the 17+1 summit for the past six years. Xi is expected to replace him as host of the summit, deliver a keynote speech and meet the visiting dignitaries
Prague mayor condemns China, unveils Taipei partnership - AFP In guest commentary for the weekly paper Welt am Sonntag, Hrib of the Czech Pirate Party said China was "full of resentment" and was trying to influence Czech public opinion
China has not fulfilled its promise of investment in the Czech Republic, says President Miloš Zeman - Prague, Czech Republic Czech President Miloš Zeman will not go to China to take part in the 17+1 summit of the heads of China and Central and Eastern European countries in April and one of his reasons is that China promised to invest in Czechia but did not do it, he told Blesk.cz server today.
The Conventional Wisdom on China's Island Bases Is Dangerously Wrong - War on the Rocks - Gregory Poling In fact, China, not the United States, would control the sea and airspace of the South China Sea at the outbreak of hostilities thanks to its artificial island bases. And given current American force posture in the region, it would be prohibitively costly for the United States to neutralize those outposts during the early stages of a conflict
UK watchdog accepts new complaint against China's CGTN TV station | Safeguard Defenders UK TV regulator Ofcom has just told Safeguard Defenders that it has accepted a new fairness and privacy complaint against China's Party-state broadcaster CGTN which "relates to an alleged forced confession", without confirming the source of the complaint.
Xi extends Spring Festival greetings to military veterans - Xinhua The military veterans and retired officers vowed to rally more closely around the CPC Central Committee with Comrade Xi Jinping at the core, follow the guidance of Xi Jinping Thought on Socialism with Chinese Characteristics for a New Era and implement Xi Jinping's thinking on strengthening the military. // The Monday CCTv Evening News report. Any surprises on which retired officers were shown or not shown in the video? 中央军委举行慰问驻京部队老干部迎新春文艺演出 习近平向全军老同志祝贺新春
Wang Yi on why Chinese FMs begin a year of overseas visits in Africa for 3 decades - Xinhua Speaking at a press conference with Zimbabwe's Minister of Foreign Affairs and International Trade Sibusiso Moyo in Harare, Wang said the tradition is a unique practice in international diplomacy and China has been staying true to its original aspiration.
China's Foreign Minister Wang Yi backs call to lift sanctions on Zimbabwe | South China Morning Post "China fully supports Zimbabwe and Africa in their just call of lifting sanctions against Zimbabwe as soon as possible," he said during a joint press conference with his counterpart, Sibusiso Moyo. In October last year, the Southern African Development Community, which consists of 16 states including Zimbabwe, spearheaded calls for the removal of the sanctions.
China and the World: David Shambaugh: Amazon "In China and the World, one of the world's leading China specialists David Shambaugh has assembled fifteen leading international authorities on China to create the most comprehensive and up-to-date scholarly assessment of China's foreign relations and roles in international affairs."
China's most advanced destroyer the Nanchang formally enters service in 'leap forward' for navy | South China Morning Post Ship is the first Type 055 guided missile destroyer to be commissioned into the PLA Navy and is one of the most advanced warships of its type in the world
US to ground civilian drone programme on concerns over China tech | Financial Times $$ The Department of the Interior is planning to halt the use of its nearly 1,000 drones, according to two people briefed on the plans, after concluding there was too high a risk that they could be used by Beijing for spying.
Hong Kong and Macao
Beijing's top official in Hong Kong pledges deeper integration with mainland China province Guangdong amid months of anti-government protests | South China Morning Post Beijing's new envoy to Hong Kong has pledged to work with Guangdong's leaders to push forward regional cooperation and integration, even with the city in the grip of anti-government protests. The agreement was made at a meeting between Luo Huining and the province's leadership, which came after the new liaison office chief held talks with Hong Kong leader Carrie Lam Cheng Yuet-ngor, her predecessors Tung Chee-hwa and Leung Chun-ying, as well as top officials in Shenzhen last week.
Hong Kong Police Watchdog Finds 'Shortcomings,' Report Says - Bloomberg An investigation by Hong Kong's police watchdog into the conduct of the city's officers throughout recent unrest has revealed "many shortcomings," the Hong Kong Economic Journal reported [監警會300頁報告據稱抨警方「多宗罪]. The 300-page report from the Independent Police Complaints Council found a failure to separate peaceful demonstrators from violent protesters, the newspaper reported Monday
Cherish rule of law, says Hong Kong's senior judge - Reuters "The rule of law is rightly cherished by the community and is the foundation of a cohesive society," Chief Justice Geoffrey Ma said during an event with Hong Kong and mainland Chinese lawyers as well some international jurists. "We do all our best to preserve it and to treasure it because once damaged, this is not something from which our community can easily recover," added Ma, who is usually reticent in public and steps down from his post at the end of this year.
Your right to insult the national anthem - Webb-site The echoes of the Extradition Bill fiasco might conceivably be starting to fade, but the pro-democracy and freedom movement is alive and kicking. So to prevent any semblance of calm returning, the HK Government is igniting a new controversy by preparing to resume the Second Reading debate on the National Anthem Bill "at an appropriate time". The current 4-year legislative session ends in July, so the Second Reading would have to occur before that, otherwise the bill will lapse.
Tech and Media
Skype audio graded by workers in China with 'no security measures' | The Guardian A Microsoft programme to transcribe and vet audio from Skype and Cortana, its voice assistant, ran for years with "no security measures", according to a former contractor who says he reviewed thousands of potentially sensitive recordings on his personal laptop from his home in Beijing over the two years he worked for the company.
Why is a 22GB database containing 56 million US folks' personal details sitting on the open internet using a Chinese IP address? Seriously, why? • The Register The information silo appears to have been obtained somehow from Florida-based CheckPeople.com, which is a typical people-finder website...it's being served from an IP address associated with Alibaba's web hosting wing in Hangzhou
Less where that came from - Life is getting harder for foreign VCs in China | Business | The Economist "Under the current global environment, to realise our mission—By China, For China, Of China—we must have the ability to master our own destiny," wrote MiraclePlus in a social-media post, citing Lu Qi, its boss, whom yc had hired to set up its Chinese arm in 2018.
Funding to Chinese tech startups more than halved in Q4: report · TechNode Chinese tech startups closed 403 funding rounds and raised a total of around $6.8 billion from venture capital investors in the fourth quarter, according to a report (in Chinese) by the China Academy of Information and Communications Technology, a research institute under China's Ministry of Industry and Information Technology
Society, Arts, Sports, Culture and History
Debating China's Historic Wildfire | China Media Project - Fang Kecheng The article, called "Without this Australian Fire, I Wouldn't Know the Awesomeness of China 33 Years Ago!" (没有澳洲这场大火,我都不知道中国33年前这么牛逼!), characterized the 1987 Daxing'anling Wildfire, a devastating tragedy that had bitter lessons for China, as a moment of great heroism. All of the failings, pain and loss of the 1987 fire were twisted in the article into evidence of the "awesomeness of China 33 years ago," contrasted with the supposed incompetence of the Australian government...What should particularly distress us all is to see that this attitude of "greeting small misfortunes with small hymns, and treating major tragedies and great victories," which was rejected by Chinese journalists 33 years ago, is now, in the traffic-oriented social media environment of the 21st century, being plucked off the garbage heap of history by this "90s Tonight" public account.
Beijing to complete all Winter Olympic competition venues in 2020 - Xinhua Beijing is gearing up preparations for the 2022 Olympic and Paralympic Winter Games and will complete construction of all competition venues in 2020, Mayor Chen Jining said Sunday.
Apple marks Chinese New Year with 'Shot on iPhone' film 'Daughter' - Apple Insider The eight-minute video titled "Chinese New Year - Daughter" start off with a mother being troubled by criticism that she took her daughter to work as a taxi driver. Throughout the film, scenes switch between older conversations and the present day, showing other conversations in the mother's life. Towards the end of the film, a family reunion of the three generations takes place in the back of the taxi. It is then revealed to the child the older lady is her grandmother, who made dumplings each year while searching for her lost family.
"妈,我饿了!"看完《女儿》后,听他们讲讲"年"的味道——中央纪委国家监委网站
The Apple video even gets some love on the CCDI website
Energy, Environment, Science and Health
China Reports First Death From New Virus - The New York Times The Xinhua news agency cited the health commission in the central Chinese city of Wuhan, where the illness first appeared, in reporting the death. The health commission said the patient, a 61-year-old man, died on Thursday night.
New SARS-Like Virus Found in Traveler From China, Thailand Says - Bloomberg The patient, who was hospitalized on Jan. 8 at the Bamrasnaradura Infectious Diseases Institute, tested positive for the novel coronavirus linked to the outbreak in Wuhan, in Hubei province, the Thai Ministry of Public Health said in a statement Monday. The patient has since recovered and is well enough to be repatriated.
Xi honors two academicians with China's top science award - Xinhua Huang Xuhua, an academician of the Chinese Academy of Engineering, is the chief designer of the country's first-generation nuclear submarines...Zeng Qingcun, 85, is a famous meteorologist from the Institute of Atmospheric Physics under the Chinese Academy of Sciences (CAS). His theory of numerical weather prediction solved the problems of timeliness and stability in calculating multi-scale weather change processes and is the basis of the global numerical weather prediction technology. Zeng's visionary study on global climate change has brought him a host of accolades and international acclaim, including the world's top prize for meteorological work.
Academy questioned over biased paper suspected of abusing research funds - Global Times The paper, written by Xu Zhongmin, a research fellow at the Cold and Arid Regions Environmental and Engineering Research Institute under the Chinese Academy of Sciences (CAS), was recently shown on social media, sparking criticism as netizens called it "ridiculous" and a "shame on the academic community."  The major parts of the paper were about the "glorious" deeds and "loving" stories of his mentor Cheng Guodong, a CAS academician, and Cheng's wife, arguing that the aim of life is a "combination of the beautiful and sublime," except for the introduction, which covers some academic concepts.
Yicai Global - China's Bulk-Buying Drug Program to Push Prices Lower in 2020 The National Healthcare Security Administration will promote the normalization of the bulk-buying program this year to drive continued cost-savings on generic and patented drugs, Yicai Global learned at the weekend's National Healthcare Security Work Conference, which listed the move as one of the seven priorities for 2020.