Another change in official calculations; Beijing cases; People's Leader Xi
The official increase in new cases slowed dramatically as the authorities once again changed the diagnostic criteria. The change of course sparked suspicion of more fiddling with the data, but it may also be a legitimate move now that they have more testing capacity.
However, watch what the officials do, not what they say. Two unmistakable signs the Party thinks victory really is at hand will be:
Xi visits Wuhan;

The announcement of a date for the "Two Meetings"
Meanwhile, the growing pressure to get the economy restarted is running into the reality that while the outbreak looks to be slowing there is still significant risk of new outbreaks, as Beijing is learning (see item #1 below).
Things look more optimistic today in China than they did a week ago, and not just because of the positive energy propaganda onslaught, but it is far from over.
Thanks for reading.
---
The Essential Eight
1. The outbreak
Sharp fall in new Chinese coronavirus cases, but is it only because of new counting method? | South China Morning Post
China's National Health Commission announced 394 new Covid-19 infections on Thursday, the lowest figure in weeks, after it changed the diagnostic criteria to exclude patients who were "clinically diagnosed" by methods such as CAT scans.
Whopping rise in infection at Beijing hospital puts capital on alert - Global Times
According to a table which compares the "infection density" of cities or areas — the number of confirmed cases per square kilometer —Xicheng district ranks second, with an infection density just lower than the epicenter Wuhan.
Cases in Beijing are creeping up - 北大人民医院老年科病人确诊新冠 多家医院出现疫情_财新网_财新网
此前北京疫情呈现放缓迹象,近两日又有所抬升。北京每日新增确诊病例从2月4日的高点波动下降,2月16日更是下降至1例。但2月17日、18日又连续两日回升至6例。新增疑似病例也在回升。北京自2月18日开始公布前一日的新增疑似病例,2月17、18、19日,新增疑似病例分别为49例、58例和25例。截至2月19日24时,北京累计确诊病例395例。
Comment: Beijing Party Secretary Cai Qi must be nervous. Xi will not be kind to him if he can't control the virus in Beijing.
Chinese authorities stress protecting, caring for medical workers - Xinhua
The meeting of the leading group of the CPC Central Committee on the prevention and control of the novel coronavirus outbreak, which is headed by Li, also demanded efforts to ensure the supply of protective gear for frontline medical workers and better benefits such as allowances for them.

The meeting stressed putting effective drugs into wider clinical use to improve treatments and rolling out measures to encourage recovered patients to donate their plasma.

The coordination between epidemic control and economic and social development should be strengthened, with more targeted and precise prevention measures taken to facilitate the resumption of business operation, according to the meeting.
Caixin reports that a Wuhan nursing home has several suspected cases.
Coronavirus Infections May Recur, Expert Says - Wuhan
Wang Chen, a renowned respiratory expert and vice president of the Chinese Academy of Engineering, told state broadcaster CCTV on Wednesday that outbreaks of the disease known as Covid-19 could keep occurring in the future in a similar way to seasonal flu.
Wuhan Diary #23: The 27th Day of the Wuhan City Closure — February 18, 2020 | 高大伟 David Cowhig's Translation Blog
Thinking back to what I was like twenty-odd days ago, so very passive and wishing that I could die straightaway and solve all life's problems, it felt so very much like a dream. Life is beautiful. This winter many have died. Now may those us who have survived really live.
Man killed by coronavirus had organ damage similar to that caused by Sars, study finds | South China Morning Post
Pathological features of Covid-19 greatly resemble those seen in Sars and Mers, say researchers in Beijing, who used samples from 50-year-old
29 foreigners in China infected with novel coronavirus - China Daily
Among them, 18 had recovered and were discharged from hospital, two were dead and nine are still under quarantine and treatment, said Ding Xiangyang, deputy secretary general of the State Council, China's Cabinet.
Li Keqiang held another Leading Small Group meeting to discuss measures combatting the coronavirus. The meeting repeated Xi's instructions to give medical workers more protection and care, and said should increase the salaries and bonus for doctors and nurses.
China Youth Daily reported that before Jan.16, hospitals in Wuhan had been using the diagnosis standards issued by the Wuhan Health Commission, which wrongly pinned the coronavirus to the Huanan Wildlife Market. That made it impossible for the doctors to confirm infected cases with no exposure to the wildlife market. The mistake was only corrected later when the National Health Commission stepped and relaxed the standards.
Wuhan dumped nearly 1963.58 tons of disinfectant to make sure the coronavirus do not spread through the sewage system. This comes after research shows the virus can survive in human feces. 
After being accused by some for manufacturing leaking the coronavirus, the Wuhan Institute of Virology issued a letter to its staff saying that it has nothing to hide. 
---
2. Economic impact
China to alleviate social security burden on employers - Xinhua
Companies of all types in Hubei Province, the hardest-hit region, as well as micro, small and medium-sized enterprises elsewhere, will be eligible for a waiver of the above-mentioned contributions from February to June, said You Jun, vice minister of human resources and social security, at a news briefing Thursday.

Large companies will see their contributions halved from February to April.

The reduced contributions to social security premiums are expected to top 500 billion yuan (about 71.4 billion U.S. dollars), according to You.
China able to pay old-age pension on time, in full: official - Xinhua
China is able to secure the payment of old-age pension on time and in full despite the fact that the supportive policies of fee reduction may cause revenue losses to the pension fund, said Yu Weiping, vice finance minister, on Thursday.
China to halve employers' medical insurance contributions - Xinhua
On the premise of ensuring the medium- to long-term balance of fund payments, companies will see their medical insurance contribution halved for no more than five months, starting from February, said Chen Jinfu, deputy head of the National Healthcare Security Administration, at a press conference Thursday.

The reduced contributions to medical security premiums are expected to free the enterprises with 150 billion yuan (about 21.4 billion U.S. dollars), helping coordinate the epidemic prevention efforts and the economic development, according to Chen.
China Benchmark Loan Rate Drops After PBOC Eases Policy - Bloomberg via Yahoo
The one-year loan prime rate was lowered to 4.05% from 4.15%, according to a statement from the central bank on Thursday. The five-year tenor was set at 4.75%, down from 4.8%. Earlier this month, the central bank cut the rates on its short-term funds and one-year loans to commercial lenders...

The decline of 10 basis points in the one-year LPR was in line with expectations, while the smaller drop in the five-year rate indicates the central bank has no intention of changing its stance on property policy, said Raymond Yeung, chief China economist at Australia & New Zealand Banking Group Ltd
People's Bank of China will help the country recover quickly from coronavirus | Financial Times $$ OpEd by Chen Yulu, deputy governor of the People's Bank of China
The contagion has exerted some downward pressure on China's economy, but it will not last long. Supported by a resilient economy and ample room for policy adjustments, the People's Bank of China expects a quick recovery after the outbreak is contained...

As the postponed consumption and investment activities resume, the economy is expected to experience a compensatory recovery. The Chinese economy is expected to recover rapidly as it is supported by a restart of factories and inventory replenishment; the most likely scenario is a V-shaped curve, which means a decline in economic activities followed by a rapid recovery, with the total economic impact relatively contained.
Foxconn says cautiously resuming China output, warns coronavirus will hit revenue - Reuters
Foxconn, the world No. 1 contract manufacturer, also said its plants in countries such as Vietnam, India and Mexico continue to operate at full capacity with expansion plans under way as it seeks to minimise the impact of the virus...

The company, formally called Hon Hai Precision Industry Co Ltd, hopes to have production levels in China at half of normal levels by the end of February, a source with direct knowledge of the matter told Reuters last week.
Manufacturers entangled in logistical nightmare as virus-hit China limps back to work - Reuters
The shortage of workers at Chinese ports has resulted in fewer calls from container shipping lines, a situation likely to result in months of delivery delays, while some air cargo firms such as Lufthansa have reduced services in response to crew health concerns and uncertain demand.

FedEx Corp told Reuters it was starting to see a slow pick-up in demand and that it was in discussions with many local governments as there were different restrictions in different cities.
央地联合发力 促消费政策再加码 _ 经济参考网 _ 新华社《经济参考报》官方网站
Xinhua's Economic Information says it has learned that central and local authorities are about to role out policies to stimulate consumption, including for the auto sector

《经济参考报》记者获悉,接下来,各部门和地方政府将积极应对疫情,着力满足网络消费、健康消费等新消费需求,加快释放新兴消费潜力。另外,汽车消费市场正酝酿配套政策,
Yicai Global - Shanghai Banks Extend USD187 Million in Special Loans to Key Firms Tackling Virus
The average interest rate was 2.35 percent, Li Jun, deputy director of the Shanghai Local Financial Supervision Administration, said at a news conference today, adding that after state subsidies, the actual borrowing cost will be much lower than 1.6 percent
P&G expects coronavirus outbreak to hit current-quarter revenue, profit - Reuters
The company's supply side has come under pressure, as it relies on 387 suppliers in China that ship more than 9,000 different materials, impacting about 17,600 different finished product items.
China Tells Farmers Not to Miss Planting Season Despite Virus - Bloomberg
"If we miss the planting season, we'll be unable to make up for it, which will have an impact on the economic foundation and social stability of the whole year," Li said in a release posted on the government's website on Wednesday. "We are holding the rice bowl for 1.4 billion people in our own hands."
IATA - COVID-19 Cuts Demand and Revenues
In this scenario, that would translate into a $27.8 billion revenue loss in 2020 for carriers in the Asia-Pacific region—the bulk of which would be borne by carriers registered in China, with $12.8 billion lost in the China domestic market alone.
Ping An warns of coronavirus hit to life insurance | Financial Times $$
"Obviously, with the virus it's more difficult for [agents] to do face-to-face business," said James Garner, Ping An's chief capital markets officer. "Sales and productivity [in life insurance] have seen a marked decline."
Goldman says market underestimating coronavirus risk: 'Correction is looking much more probable' - CNBC
"We believe the greater risk is that the impact of the coronavirus on earnings may well be underestimated in current stock prices, suggesting that the risks of a correction are high," strategist Peter Oppenheimer wrote in a note.
---
3. Back to work vs. risk of new infections
Worker Infections Highlight Corporate Balancing Act as Employees Return to Jobs - Caixin
Recent Covid-19 infections among workers at a Chongqing mineral producer and a Beijing e-commerce company reflect difficulties many Chinese firms are facing as they try to balance safety and productivity on resuming business after an extended Lunar New Year holiday...

The more serious of the cases began last month at a plant making titanium oxide, a mineral often used as a coloring agent, in the southwestern metropolis of Chongqing. The unit of Pangang Group has since been shut down completely, idling hundreds of workers, after a cluster of at least three infections occurred at its facility in the city's Ba'nan district.

The other case at e-commerce firm Dangdang also dates back to last week as employees were returning to work following a Lunar New Year holiday that was originally set to end Jan. 31. Since that case involving a single worker emerged, all of the company's employees have been asked to work at home, several company sources told Caixin
As China Fights the Coronavirus, Some Say It Has Gone Too Far - The New York Times
While China must stop the outbreak, they argue, some of its methods are hurting the lives and livelihoods of millions of people while contributing little to the containment effort.

"Strike a balance that is conducive to protecting lives," wrote James Liang, the executive chairman of Trip.com, China's dominant online travel agency, in a widely circulated essay this week.
Hospital coronavirus clusters hit Beijing's plans to get back to normal | South China Morning Post
The city had hoped to ease restrictions on movements and a ban on public gatherings that forced schools to shut down, but the new case, coupled with the news that the number of infections at the other hospital had risen to 36, means they are likely to have to put these back.

The new hospital outbreak was first confirmed in a female inpatient at Peking University People's Hospital on February 18...

The infection at the People's Hospital came as the number of cases at the second hospital cluster in the capital rose to 36...

Those infected in the Fuxing Hospital outbreak include eight medical staff, nine other hospital workers and 19 patients and their families. An unknown number of cases has also been reported in a neighbouring residential area...

"We need 14 days with no new cases before ending [the measures]. The hospital infections definitely affect that prospect,"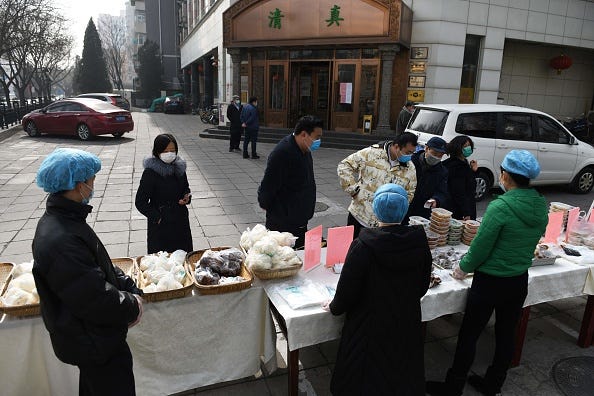 China's Wenzhou city to re-open entrances and exits of highways after coronavirus lockdown: government statement - Reuters
China's Wenzhou city will re-open entrances and exits of highways, and cancel some highway checkpoints to support economic recovery
---
4. Politics of the war on the epidemic
In a Wednesday press conference in Beijing, the "central guiding group" sent to Wuhan said it was Xi Jinping's decision to lock down the city. "[We] brought the instruction of the general secretary and demanded Wuhan to be quarantined in terms of traffic. This is an important measure that prevents the virus outspread. It protects the country and also protects Wuhan." Ding Xiangyang, member of the central guiding group, told reporters. "带着总书记的指示,要求武汉要进行交通的隔离,这是外防输出的重要措施,保护了全国,也是保护了武汉。"
An unnamed expert at China's Academy of Social Sciences told China Newsweek that the Wuhan mayor shouldn't blame Beijing or the laws for his failure to tell public early about the virus. The mayor Zhou Xianwang had said that he couldn't tell the world about the coronavirus because he was now allowed to, given the current laws regarding epidemic, that he needs to ask permission for it. But the expert said the laws actually allow the mayor to send out public alert before reporting to Beijing.

该专家称,此前武汉市政府,如果对法律灵活运用,完全可以先预警再上报,及时告知百姓对这种病毒,应该怎么防护。依照该法,哪怕是预警出现了偏差,也不会被追究责任。"武汉市政府在这次疫情中,及时预警是合法的,不预警是错的。"
大国领袖的人民情怀 - Major power leader's feeling for people
deputy director of the Yunnan provincial propaganda department 杨正权 Yang Zhengquan leans hard into Xi as the people's leader in this essay from "学习强国 Study Xi, Strong Nation", you can almost feel the praise for the People's Leader management of the epidemic crisis dripping through the screen

习近平总书记的这一系列雷霆部署体现出人民领袖为民、忧民、亲民、敬民、惠民的伟大情怀,体现出总书记谆谆教诲的中国共产党根本宗旨和初心使命

This series of arrangements by General Secretary Xi Jinping reflects the great feelings of the people's leader for the people, concern for the people, affinity for the people, respect for the people, and favor for the people, as well as the fundamental purpose and mission of the Communist Party of China that general secretary inculcates
Central guiding group official also says that the epidemic is an "unprecedented battle" since the founding of the nation. He doesn't add that when this battle is won the credit will accrue to Xi, and with this kind of "wartime" framing the propaganda authorities may be able to elevate Xi even higher in the historical CCP leadership pantheon
中央指导组严厉批评:前段时间,湖北整个指挥系统依然是常态,不是"战时",孙春兰副总理要求整改整顿、提升水平提高效率
The central guiding group also publicly blamed the last administration of Hubei for not taking the virus control serious enough. "Previously the whole commanding system of Hubei was still in normal mode, not on war footing. Vice Premier Sun Chunlan had demanded for an overhaul so to improve the level [of readiness] and efficiency."
Chinese President Xi Jinping's Philosophy on Risk Management - Center for American Progress - By Melanie Hart and Jordan Link
To understand how the party's coronavirus cleanup operation is likely to play out—and the tactics that President Xi will likely deploy behind closed doors in Beijing—it is worth reviewing Xi's 2019 warnings in detail. Unfortunately, the party did not publicize transcripts of those speeches. The best publicly available analysis comes from Chen Yixin. Last year, Chen Yixin published an essay on Xi Jinping's risk management speeches in Study Times, the CCP journal used to send leadership dictates throughout the party's rank and file. The same essay also appeared in Qiushi, the CCP Central Party Committee journal that serves as the other mouthpiece transmitting party dictates, particularly those relating to political theory. In the essay—"Taking Strategic Initiative to Prevent and Defuse Major Risks"—Chen Yixin provides a detailed overview of President Xi's key 2019 risk management speeches and identifies the key points that cadres at all levels should faithfully study and implement in order to carry out the top leader's directives. It provides a fascinating take on a powerful argument that President Xi can use to emerge unscathed from the coronavirus crisis, as well as insights into the crisis management blueprint that the party is already following.

Provided below is a full English translation of the essay to give Western audiences the opportunity to read for themselves how the cadre that was just dispatched to guide coronavirus cleanup in Wuhan conveyed Xi's risk management directives down through the party hierarchy last year. ..

it is also important to note that in Chen Yixin's view—and thus in Xi's view—foreign actors play a predominantly harmful role. The essay repeatedly references "hostile foreign forces," claiming that foreign actors are always seeking to either instigate political risks within China or leverage existing risks to "infiltrate" China and undermine the ruling regime. That is the reason Beijing is keeping foreign disease experts at arm's length in its coronavirus crisis response. The essay also emphasizes the importance of directly controlling public opinion, maintaining strict information control—particularly on the internet—and preventing crosscutting linkages.
湖北省委书记应勇:决不能让真相还在穿鞋的时候,谣言已经满世界跑
Hubei party boss Ying Yong held a meeting to discuss "work regarding news and public opinion", and said the government should ramp up the efforts to spread positive stories, clear rumors, and punish those who "fabricate rumors and seek troubles".

应勇强调,要继续开好新闻发布会,用好权威平台,及时准确发布信息,回应社会关切,决不能让真相还在穿鞋的时候,谣言已经满世界跑。要密切关注舆情动向,统筹网上网下,加强舆情研判,对造谣滋事的,果断有效管控,依法处置。
The article "Mao Zedong: Tell me the truth about the real situation in Hubei" went viral. It quotes Mao in demanding Chinese officials to be honest when reporting to the leaders and that they should allow the public to speak so the government can correct its mistakes. 
---
5. US-China
Coronavirus Worsens U.S.-China Ties and Bolsters Hawks in Washington - The New York Times
For the fiercest critics of China within the Trump administration, the global panic over the coronavirus has provided a new opening to denounce the rule of the Chinese Communist Party, which they say cannot be trusted to disclose what it knows or properly manage the outbreak.

But if the hard-liners were hoping for a united, anti-China message coming from Washington, that goal has been undermined by their own leader. President Trump has publicly commended President Xi Jinping's handling of the crisis and even called for greater commercial ties, including the sale of jet engines to China...

Senior officials advocating aggressive policies regularly criticize the trade proponents in private. They blame Mr. Mnuchin, a former Goldman Sachs executive, for blocking efforts to impose sanctions on Chinese officials for the mass detentions of Muslims. They also say pro-business officials are too eager to allow American companies to sell components to Chinese enterprises, especially in the high-tech sector.
U.S. meeting on Huawei, China policy still on for Thursday despite Trump tweets -sources - Reuters
The deputy-level meeting was called to discuss issues including possible new restrictions on sales of chips made abroad to China's blacklisted Huawei Technologies and on sales of airplane components to a Chinese aircraft maker.
Comment: Trump just appointed Richard Grenell to be the acting Director of National Intelligence. Grenell in his job as Ambassador to Germany has had some hard words for Huawei.
---
6. More on the expelled WSJ reporters
China threatens further action against Wall Street Journal a day after kicking out three reporters | South China Morning Post
Chinese foreign ministry spokesman Geng Shuang said the journal has done nothing but "fudge the issue and dodge responsibility" despite "stern representation" from China.

He said "we are not interested" in the newspaper's editorial structure, because "there is only one media agency called the WSJ, and it must be responsible for what it has said and done".

"Those media who blatantly insult China, pitch racial discrimination and maliciously smear China must pay the price."
Banished in Beijing - WSJ Editorial $$
President Xi Jinping says China deserves to be treated as a great power, but on Wednesday his country expelled three Wall Street Journal reporters over a headline. Yes, a headline. Or at least that was the official justification. The truth is that Beijing's rulers are punishing our reporters so they can change the subject from the Chinese public's anger about the government's management of the coronavirus scourge...

Our email inbox was soon flooded with complaints about the headline, all containing remarkably similar language and demanding an apology. A campaign was orchestrated to get Mr. Mead barred from Twitter. If you think this was spontaneous outrage, you don't understand how China's government works to influence public opinion at home and abroad. Beijing knows how to exploit America's identity politics to charge "racism" in service of its censorship.
Comment: It would appear that beijing is working through a list to kick out the most experienced and linguistically skilled foreign reporters for western publications in China.

And why are pension funds and other financial institutions rushing into a country that is going backwards in terms of information and data transparency? I know the answer, benchmarks, but maybe the people setting the benchmarks should have a rethink...
If a headline of a WSJ OpEd upset Beijing imagine how they must feel about this piece by Jimmy Lai - China's Facade of Stability - WSJ - OpEd $$
There exists today no vaccine for the coronavirus now engulfing China. That is a challenge for President Xi Jinping as he struggles to contain it. But the spread of the coronavirus has revealed a truth that poses a much greater risk to Mr. Xi: There is no cure for Chinese communism except the collapse of the party.
Sick, but Not Coronavirus? China's Other Patients Struggle to Get Care - WSJ $$
To combat the epidemic, authorities have directed medical resources to the front line. That means many hospitals have suspended regular services.
Comment: Now-expelled reporter Deng Chao worked on this story. Not clear when she can leave Wuhan, though she can longer officially work while there. If she is stuck in Wuhan past for expulsion date will the Chinese authorities also fine her for every day she "overstays" her visa?
---
7. China on Pompeo's mind as he visits Africa
Pompeo warns Africa about China - The Washington Post
Capping a three-country swing across Africa, Secretary of State Mike Pompeo delivered a speech Wednesday in Ethiopia's capital in which he warned African countries to "be wary of authoritarian regimes and their empty promises" and said economic partnership with the United States was the path to "true liberation." The secretary's thinly veiled barb toward China, by far Africa's biggest trading partner for more than a decade, came as he pitched American-style capitalism and economic liberalization as the only way to move forward after "failed socialist experiments of years past" in numerous African countries.
Full text of Pompeo's speech - Liberating Africa's Entrepreneurs - United States Department of State
That's why the United States launched our new Development Finance Corporation.  I'm sure I'll get a chance to talk more about this with Vera.  It's now just one month old, but it's well-resourced, well-funded, and well-structured.  The goal is very simple.  The goal is to catalyze private sector investment in developing countries, focusing heavily on priority areas like agriculture, like energy, and infrastructure.  Sixty billion dollars of capacity, $60 billion of finance capacity, it will help here in Africa...

Look, not every nation doing business in Africa from outside the continent adopts the American model of partnership. Countries should be wary of authoritarian regimes with empty promises. They breed corruption, dependency, they don't hire the local people, they don't train, they don't lead them. They run the risk that the prosperity and sovereignty and progress that Africa so needs and desperately wants won't happen.
Does Pompeo really want to help African countries? - Global Times
But how can Africans trust the US? President Donald Trump once straightforwardly called some underdeveloped African countries "shitholes." Since assuming office, his administration has cut aid to Africa and imposed a travel ban on some African countries. It seems Washington's attention on Africa can only be observed from its continued accusations against China's African engagement.
---
8. Profile of the "mother of Chinese computing"
The computer pioneer who built modern China - BBC Future
In April 1960, China's first home-grown electronic digital general purpose computer – the Model 107 – went live. Xia Peisu, the machine's engineer and designer, had just made history...

She helped shape some of China's first computing and computer science institutions and developed their training materials. She taught the first computer theory class in the country. Over her career, she would usher hundreds of students into the country's burgeoning field of computer science...

Dubbed in China the "Mother of Chinese Computing", Xia is still recognised as a founding member of the country's computer industry. The China Computer Federation awards the Xia-Peisu Award annually to women scientist and engineers "who have made outstanding contributions and achievements in the computing science, engineering, education and industry".
---
Business, Economy and Trade
China's Credit Surged in January Before Virus Froze Economy - Bloomberg Aggregate financing increased 5.07 trillion yuan ($723 billion) last month, the highest since the current data series started in 2017. The median estimate was 4.2 trillion yuan. The stock of outstanding aggregate financing expanded by 10.7%, the same pace as in December, according to the statement from the People's Bank of China.
央行货币政策执行报告重申:不将房地产作为短期刺激经济的手段_经济_宏观频道首页_财经网 - CAIJING PBoC monetary report reiterates they will not use the housing market for short-term stimulus purposes
Successful Beijing Land Auctions Show Real Estate Still Has Some Bright Spots - Caixin Since the end of the Lunar New Year holiday, real estate developers shelled out a total of 36.4 billion yuan ($5.2 billion) in three Beijing land auctions that had been delayed due to the coronavirus outbreak, according to Caixin's calculation based on local government disclosures.
Creditor Asks Court to Restructure Indebted SOE Founder Group - Caixin Founder Group's debt problems have come as a surprise to investors, who previously had no concerns about the state-owned enterprise (SOE), a brokerage's bond investment manager told Caixin previously. As China's economic growth slows, local governments no longer have as much ability to bail out struggling SOEs as they once did. Earlier this month, an SOE owned by the Qinghai provincial government tried to persuade investors in another of its SOEs to sell back defaulted bonds at sharp discounts.
Opinion: China's Digital Revolution in Bank Lending - Caixin Global China has long recognized the importance of increasing SMEs' access to finance. Now, online banks are providing the solution the country needs. This could be a boon not only for economic growth and innovation, but also for broader financial inclusion — in China and beyond. - Huang Yiping
China Considers Prolonging Electric-Car Subsidies as Sales Slump - Bloomberg Though the talks predate the emergence of the coronavirus as a global threat, the outbreak has piled more pressure on the auto industry by causing production halts and keeping people away from showrooms.
China News: HNA Bonds Soar on Talks of State Takeover - Bloomberg "There's huge uncertainty regarding whether creditors will see 100% repayment," said Li Yuze, a fixed-income analyst at China Merchants Securities Co. Given the virus has already dealt a huge blow to HNA's financial condition, the market will likely expect a better recovery ratio if the firm is taken over by the government, he added.
Politics and Law
American Company Sold DNA Sequencers to Security Officials in Xinjiang, Documents Show | ChinaFile n 2015, the Xinjiang Production and Construction Corps Public Security Bureau announced it planned to purchase equipment from the U.S.-based biotechnology company Promega for the purpose of analyzing DNA and adding it to a national database, according to Chinese government procurement documents.
河南、四川、浙江三省份抗击疫情表现优异,"硬核官员"被点赞  有分析指出,这些在疫情中冒尖的官员,获得正面的舆论评价和良好的民意基础,在抗疫中取得的政绩,有望帮他们打开更广阔的仕途空间
Tencent's boundary-pushing Dajia blog abruptly shuts down - SupChina The last piece Dajia published before the shutdown was a well-argued and deeply alarming article written by veteran Chinese journalist Chén Jìbīng 陈季冰, who criticized the Chinese media's irresponsible and, at times, dangerously misleading coverage of the COVID-19 outbreak. Published on January 27, the article quickly accumulated hundreds of comments about the restrictions of press freedom in China before it was censored by media regulators. Shortly afterward, Dajia went dark.
Coronavirus outbreak threatens to undermine China's drive to end extreme poverty | South China Morning Post Yu Shaoxiang, a social security and poverty relief expert with the Chinese Academy of Social Sciences, said most those battling poverty live in rural China and their livelihoods have been severely affected by rural government's extreme lockdown measures. "Embattled grassroots officials are too preoccupied with containing the outbreak," Yu said.
Foreign and Defense Affairs
ASEAN diplomats praise China's handling of virus outbreak - AP Southeast Asia's top diplomats praised China's handling of the virus outbreak and pledged Thursday to help fight the disease that emerged in a central Chinese city and spread in the region and around the world. Chinese Foreign Minister Wang Yi highlighted the unprecedented steps his country has taken to contain the two-month outbreak in an emergency meeting with his Southeast Asian counterparts. He pointed to signs the outbreak may be starting to ease.
China says will help manage Mekong as report warns of dam danger - Reuters China on Thursday said it was helping its downstream neighbors cope with a prolonged drought by releasing more water from its dams on the Mekong River, adding it would consider sharing information on hydrology to provide further assistance in the future.
菲美关系裂痕加深(国际视点)--国际--人民网 People's Daily on the deepening signs of a crack in US-Philippine relations
Foreign minister rejects China embassy intelligence service criticisms | ERR Urmas Paet (Reform), a member of the European Parliament and former Foreign Minister, urged Estonia on Tuesday to leave the 17 + 1 format, in which 17 countries in Eastern and Central Europe are cooperating with China. He said the Chinese Embassy's reaction was so strong because the Estonian Foreign Intelligence Service had given an accurate assessment of the situation.
Naval drills enhance ability in Pacific Ocean - Global Times The far sea joint training fleet under the PLA Southern Theater Command Navy, featuring guided missile destroyer Hohhot, guided missile frigate Xianning, electronic surveillance ship Tianshuxing and replenishment ship Chaganhu, held air defense drills at an undisclosed area in the Pacific Ocean, media reported on Sunday.
Xi hails China-Pakistan brotherhood in phone call with Pakistani PM on epidemic - Xinhua Facts have proved once again that China and Pakistan are true friends and good brothers that share weal and woe, Chinese President Xi Jinping said in a phone conversation with Pakistani Prime Minister Imran Khan on Thursday.
Xi says China-S.Korea friendship to deepen after COVID-19 battle victory - Xinhua Chinese President Xi Jinping said in a phone conversation with South Korean President Moon Jae-in on Thursday.
China's Yuanwang-5 sails to Pacific Ocean for space monitoring mission - Xinhua Before the end of the Spring Festival, the mission members were gathered and quarantined on the ship to prevent the novel coronavirus infection. They completed the preparation of medical supplies and made emergency plans.
The Rise and Fall of the Resource-backed Loan - Center for Advanced Party Research China's resource-backed loans match a country with a strong construction sector and a shortage of commodities with partners in the inverse situation. The idea at its core is not a bad one, but problems with implementation have gotten in the way. Badly burned by events in Venezuela in particular, China is likely to be more cautious in the future, as will many borrowers. This shift should not be taken in isolation, but rather as part of a larger trend toward restraint as China's previous deals have lost money and its foreign currency reserves no longer seem bottomless.
Chinese lenders turn off the taps on international energy projects as 'debt trap diplomacy' criticisms mount | South China Morning PostChina Development Bank and the Exim Bank of China only advanced loans for three projects worth US$3.2 billion last year – the biggest drop since 2008, research by Boston University's Global China Initiative found...Last year, Exim Bank of China financed two hydropower projects – the Gurara hydropower project in Nigeria at a cost of US$1 billion and the Koukoutamba hydropower project in Guinea at a cost of US$8 million. China Development Bank bankrolled the construction of the Hunutlu coal plant in Turkey for US$1.4 billion.
The report - New Estimates of Chinese Overseas Energy Finance; New BRI Studies from GDP Center | Global Development Policy Center
【世界知识】美国史上最年轻的总统竞选人布蒂吉格Chen Jiajun, an assistant research fellow with the Shanghai Institute of American Studies, wrote that Pete Buttigieg is the most hawkish against China when compared with other Democrat candidates, as he seems to be in favor of tariffs against China, and has accused China of "technology authoritarianism". Chen wrote that Buttigieg appears to admire President Truman and "the Truman-like cold-war mentality is deeply rooted in [Buttigieg]'s worldviews."
Hong Kong and Macao
Coronavirus: Beijing's top official in Hong Kong makes email plea for unity, reassures city over supplies | South China Morning Post Luo Huining, the new director of Beijing's liaison office in Hong Kong, on Thursday sent a letter by email to local members of the National People's Congress (NPC), China's legislature, and top legislative advisory body the Chinese People's Political Consultative Conference (CPPCC), calling on them to stay calm and fight for the mainland and Hong Kong with "faith, love and unity". Calling it a "political coronavirus", Luo also condemned "a few people" behind the strike by Hong Kong medical workers over the response to the outbreak
'No More Hugging, No More Kissing.' At Home in Hong Kong With 2 Frontline Doctors. - The New York Times they said they worried more about the current outbreak than they did about SARS. "Back then, there was no situation like this," she said. "The government has created an air of mistrust."
Dui Hua Human Rights Journal: China's Criminal Trial Statistics: Hong Kong-Related Cases This post, the third in a series that draws on the 12-volume set, discusses criminal cases involving Hong Kong people who have been tried by Chinese courts. However, the lack of clear criteria for what makes a case Hong Kong-related as well as apparent underreporting and unclear or arbitrary categorizations, sentencing, and stipulations continue to muddle a system that many in Hong Kong already view with distrust and skepticism.
Tech and Media
Yicai Global - China's Handset Sellers Face Existential Threat From Virus as Sales Plunge by Over Half The country's mobile phone sales dropped by between 50 and 60 percent over the Chinese New Year holiday, according to Ming-Chi Kuo, an analyst at Tianfeng Securities. Around 60 million units cannot be shifted, he added.
Virus may hurt China's entertainment industry goals for the future – Variety Few producers in China make use of the full range of insurance and completion guarantees that are available in the West. That means that production companies, and ultimately investors, public and private, will have to bear the costs. "Producers don't have a bond company to cover this, that's why the stock prices for these companies is just going down every day," says Li Chi-an, an independent producer and screenwriter.
E-commerce livestreams see outbreak-driven boost · TechNode Livestreamed e-commerce has been gaining momentum since last year thanks to the rise of content-driven e-commerce. The epidemic has further accelerated its expansion from standard categories such as cosmetics and apparel to cars, real estate, and more.
Society, Arts, Sports, Culture and History
My 10 Days on a Chinese Reality Show - SixthTone My show-defined persona as a "female Ph.D." — a group stereotyped in China as undesirable, asexual bores — didn't help, either. Once, I was excitedly talking about the origins of anthropology when one of the other participants started mocking me. "Do the guys you've dated like hearing about this stuff?" he asked. Sometimes the harassment was more subtle, such as when I was the only woman sent to help the male cast members carry our luggage into the hotel. It reminded me of the old joke: "There are three genders: male, female, and the female Ph.D."
Amid the Epidemic, a Quiet Leap Forward for China's LGBT Community - SixthTone Many LGBT people in China have been similarly excited — and more than a little surprised — at the government's reaction to the civil code consultation. Though few expect China to legalize same-sex marriage any time soon, the authorities' willingness to recognize the issue is an important step forward — and could encourage more people like Jiang's father to accept the gay community.
Energy, Environment, Science and Health
New Publication on Chinese Climate Change Policy | Energy Central We – the Harvard Project on Climate Agreements (HPCA) – have just released a new volume that examines sub-national climate-change policy in China.  The volume focuses to a considerable degree on carbon-pricing policy in China, including how China's sub-national (pilot) emissions-trading systems can inform the emerging national carbon-pricing system.
Education
Coronavirus: Chinese censors kick teachers out of online classrooms for politics, profanity and smoking | South China Morning Post Frustrated by what they said were overreactions by censors and beset by technical problems, teachers, parents and pupils aired their grievances on social media.