Another Politburo Standing Committee Meeting; More fiscal support coming; US-China
Hi everyone, I hope you saw my note earlier today about President Trump's remarks and the US-China relationship. If you did not you can read it here - Trump on China: "You'd save $500 billion if you cut off the whole relationship".
Thanks for reading.
---
The Essential Eight
1. Another Politburo Standing Committee Meeting
Xi chairs leadership meeting on regular epidemic response, industrial and supply chains - Xinhua
Xi Jinping, general secretary of the Communist Party of China (CPC) Central Committee, on Thursday chaired a leadership meeting on the effective implementation of regular epidemic prevention and control measures.

The meeting of the Standing Committee of the Political Bureau of the CPC Central Committee also studied measures to boost the stability and competitiveness of industrial and supply chains.

Noting the complex COVID-19 situation overseas and the arduous task of preventing domestic rebounds, Xi demanded unremitting efforts to forestall imported infections and domestic resurgence by ensuring that the prevention and control measures are implemented down to every detail.

"We must never allow our hard-earned previous achievements on epidemic control to be made in vain," Xi stressed. "We must ensure the victory in the battle against extreme poverty and the completion of the building of a moderately prosperous society in all respects."

Xi stressed intensifying containment measures in key regions and places to forestall resurgence of infections, urging targeted prevention and control measures in Heilongjiang and Jilin provinces where cluster infections were reported, and improved community containment efforts in Hubei Province and Wuhan City...

More flexible and effective measures should be taken in response to the new trend of overseas epidemic situation, the statement said, urging efforts to shore up the weak links in the prevention of imported cases....

The meeting stressed further deepening the supply-side structural reform and leveraging the advantages of China's super-large market and domestic demand potential to create a new development pattern where domestic and foreign market can boost each other.

Efforts should be made to re-establish the foundations of industries, upgrade industrial chains and beef up scientific and technological innovations, according to the meeting.

On the premise of implementing regular epidemic prevention and control measures, China should promote the coordinated business resumption focusing on major industrial chains, leading enterprises and key investment projects.

The meeting also urged efforts to facilitate various shopping malls, markets and life service sectors to return to normal operations and strengthen international cooperation to ensure the stability of global industrial and supply chains
中共中央政治局常务委员会召开会议 分析国内外新冠肺炎疫情防控形势 研究部署抓好常态化疫情防控措施落地见效 研究提升产业链供应链稳定性和竞争力 中共中央总书记习近平主持会议_CCTV
Thursday CCTV Evening News on the PBSC meeting, most of the readout on epidemic control, no video from inside the meeting
---
2. More fiscal support coming
Finance Minister Liu Kun's article on page 10 of People's Daily, he writes that "the proactive fiscal policy must be more proactive" in the face of the pandemic, so as to achieve the goals of "six stability" and "six ensures". That that means better allocating resources, tightly monitoring the risks of government debts, cutting government administrative expenses, and expanding the deficit to support employment, industrial upgrades, rural development and poverty alleviation.
China requires greater budget support, finance minister says | South China Morning Post
Liu is due to deliver a report to the 3,000 or so NPC delegates for discussion and approval next week, including detailed recommendations for the budget deficit ratio as a percentage of gross domestic product (GDP), the quota of local government special purpose bonds used to fund infrastructure projects, the size and use of a special treasury bond issue, as well as the allocation of fiscal funds to different departments and provinces...

He did not provide exact details in the article but gave general descriptions, namely that the deficit ratio would "rise moderately", and that there would be an increase in the issuance limit for local government special purpose bonds, as well as a new central government treasury bond issue. He also said that the government would "expand the results of the tax cut" for businesses enacted last year.

"The increase in the fiscal deficit ratio will provide a clear signal [of proactive fiscal policy], ease the expenditure pressures and lift market confidence," Liu added. "Higher government spending, with funds raised by the special treasury bond, local government special purpose bonds and other channels, will leverage investment."
Proactive fiscal policies expected at two sessions: Chinese experts - Global Times
Currently, Chinese fiscal policies should be strengthened, with measures such as raising the fiscal deficit rate to 5 percent of GDP and issuing 3 trillion yuan ($423 billion) in special treasury bonds to expand the sources of fiscal funding...

In general, a loose tone of China's monetary and credit policy has been in place. On the basis of overall easing, the flexible use of monetary policy tools to lower financing costs for the real economy and increasing medium and long-term loan supply to enterprises, especially small and medium-sized firms, are still the core tasks.
Comment: 5% of GDP seems much higher than most people expect, so take this with a grain of salt.
Yicai - China's Finance Minister Signals Rise in Deficit Cap
If the fiscal debt rate is increased to 3.5 percent, this will make another CNY500 billion (USD70.5 billion) of public funds available to support local government initiatives to guarantee people's basic livelihoods, Feng Qiaobin, deputy secretary general of the Society of Public Finance of China, told Yicai Global.

Fiscal revenue fell 14.3 percent in the first quarter from a year earlier due to Covid-19, a new low since the opening up of China's economy began in 1978. Both the central and local governments are expecting negative fiscal revenue growth this year, a rare phenomenon but in line with the current economic situation, Liu [Kun] said.
Yicai - China to Splurge USD1.4 Trillion on Next-Gen Infrastructure by 2025, CCID Says
The investment, which includes high-speed railways, new energy vehicle charging stations, Big Data, and fifth-generation wireless networks, should drive more than CNY17 trillion in related spending, the CCID said in a white paper published recently.

Next, the central government is looking to issue new guidelines to promote growth in infrastructure to benefit the healthy and continuous development of emerging industries, the Economic Information Daily reported, citing the National Development and Reform Commission.
China Issues Almost $3 Billion in Consumption Vouchers, But Experts Urge Caution - Caixin
Consumption vouchers, some of which are digital and accessible through platforms including Ant Financial Services Group's Alipay and Tencent Holdings Ltd.'s WeChat Pay, have been distributed across 28 provincial-level regions and over 170 prefecture-level cities, Wang Bingnan, a deputy head of the Ministry of Commerce, said at a briefing (link in Chinese) last week.
China's ministry of commerce said it is working with some foreign countries to establish "express channels" for foreign workers to return to China to work, and foreign companies with such difficulty can reach out to China's local governments for help.
Many workers have reportedly left the Foxconn Zhengzhou factory because the factory no longer has overtime work for them, and as a result their salaries were cut dramatically. It is unclear if that has to do with the drop of iPhone sales in China. Foxconn said all their factories are operating "normally".
---
3. US-China
China Trade-Deal Splurge Includes Rare Purchase of U.S. Soyoil - Bloomberg
The Asian nation is the world's top soybean importer and crusher. That's why a sale of 20,000 metric tons of U.S. vegetable oil that was announced Thursday is a bit of an outlier. It's the biggest such deal since November 2016...

"I'm not sure why they bought U.S. soyoil," said Charlie Sernatinger, global head of grain futures at ED&F Man Capital Markets Inc. in an email. "Would seem to be strictly for Phase I numbers."
Comment: The Chinese look like they are trying to make it hard for Trump to walk away
China likely to speed up buying of U.S. farm goods: COFCO exec - Reuters
Beijing pledged to buy additional U.S. agriculture products worth $32 billion over two years above a 2017 baseline under the Phase 1 trade deal signed in January.

"China will still implement the trade deal and chances are high that China will speed up purchases," Zhang Hua, vice general manager of China, COFCO International said.
China to allow imports of barley, blueberries from U.S. - Reuters
The move comes after China agreed in January to boost its imports of U.S. agricultural products by an additional $32 billion over two years as part of a Phase 1 deal that marked an easing in trade tensions between the two countries.

It also comes ahead of China's decision in an antidumping probe on barley imports from its top supplier Australia.
China considers retaliation for US coronavirus lawsuits, Global Times says | South China Morning Post
Shen Dingli, a Shanghai-based expert on Sino-US relations, said Beijing had a number of options available to counter the proposals by the American lawmakers, including calling for an investigation into US virology labs.

"China could tighten the visa requirements for US politicians or freeze their assets and investments in China," he said. 【Comment: Great idea Professor Shen, actually both governments should immediately release a list of all their officials who have assets in the other country, as well as details on any of their family members who emigrated to the other country or have assets there. Win-win!]

"At the same time, an independent, third-party investigation, possibly led by the UN, could be conducted not only in Chinese laboratories but also American ones."
Foreign Ministry Spokesperson Zhao Lijian's Regular Press Conference on May 14, 2020
RIA Novosti: According to Global Times, China is considering punitive measures on the US lawmakers endorsing anti-China bills under the pretext of COVID-19, with a US state and some entities and individuals involved. Can you confirm that?

Zhao Lijian: Some in the US have failed their people's trust in the fight against COVID-19 with their lamentable response. However, instead of working on improvement, they have turned to massive political maneuvers to shirk the responsibility, doing all they can to shift the blame to China, even resorting to frivolous litigation to hold China "accountable". Their petty tricks are exposed by US media in the GOP memo advising candidates to address the coronavirus crisis by aggressively attacking China.

We urge the US side to stop smearing China, pushing anti-China bills or pursuing frivolous litigation against China. They should focus on combating the virus and saving American lives instead of playing the boring and preposterous blame game.

I have no further comments on whether there will be punishment on US entities and individuals.
TSMC to Build Chip Plant in Arizona With Government Support - Bloomberg
The Taiwanese company is negotiating a deal with the administration of President Donald Trump to manufacture semiconductors in the U.S. to create jobs and produce sensitive components domestically for national security reasons, according to people familiar with the situation. Talks have been progressing swiftly in recent days and an announcement could come as early as Friday, according to the people, who asked not to be identified because the deal is not public yet.
Zhongsheng of People's Daily wrote today that, the Americans suing China for the virus outbreak are in fact trying to blackmail China. "The farce of excessive lawsuit is essentially a violation of international rule of law", it wrote. "The law should be used to maintain fairness and justice, and it should never be reduced to a tool for political blackmail by some American politicians. In the face of the global epidemic, we urge some American politicians to clear their minds … to focus on protecting the safety and health of the people, and not to again and again harm others and itself."
国际锐评:"政治凌驾于科学",美国疫情防控跌入"盘丝洞" "'Politics over science", US epidemic prevention and control has fallen into the 'cave of the silken web' [from Journey to the West]"
CCTV Evening News "International Sharp Commentary" again attacked the American politicians for focusing too much in blaming China, and ignoring that so many Americans are dying of the virus. "We can imagine if these American politicians can put their energy in combatting the virus, instead of lying and messing around like this, how many American lives would have been saved!" It said.
Here is the Zheng Yongnian piece cited in the CCTV commentary-侠客岛:对话郑永年:西方舆论围攻中国抗疫,是新冷战的升级
Zheng Yongnian of National University of Singapore told Xiakedao, the WeChat account of People's Daily overseas edition that by blaming China, people like Pompeo is trying to drag China into a new coldwar. Zheng said China needs to be more rational and use more science to refute the US accusation, and Chinese media should do more to report how the virus may have been spreading in Europe and US before Wuhan.
China and the U.S. Won't Go to War, but Will Fight for Tech Supremacy, Tsinghua Professor Says - Caixin
Professor Yan Xuetong, dean of the Institute of International Relations at Tsinghua University, said in an interview with Caixin that the U.S. and China will compete over the new coronavirus vaccine and digital technology, including advanced telecommunication networks.

"The more fierce China-U.S. tech competition gets, the less likely it is that they will resort to proxy wars for dominance on natural and geographic terms," Yan said. "It's not because they don't want to use the proxy war strategy, but because it's not a feasible way to compete in a digital era."
10 days later and still attacking Pottinger's speech - US official mistaken about May Fourth Movement - Global Times - Zhang Yiwu, Peking University
US Deputy National Security Advisor Matthew Pottinger's speech on the May Fourth Movement, delivered in Putonghua on May 4, was aimed at causing conflict and confrontation within China...

Some anti-China Americans, like Pottinger himself, regrettably still view China with a Cold War mentality. This is reminiscent of how the US perceived the former Soviet Union during the Cold War. They believe the Chinese government is suppressing its society and instigating nationalism. Pottinger was trying to "impress" Chinese youth through manipulative language, but he was actually alienating himself from them.

Pottinger's speech shows that the Trump administration is attempting to promote "peaceful evolution" in China. Chinese society should keep a watchful eye and respond accordingly.
赵月枝:波廷杰"五四"演讲问题在哪里?——给一位清华大学本科生的答疑_风闻社区
Zhao Yuezhi, who teaches at Simon Fraser University in Canada but guest teaches at Tsinghua, discussed/critiqued Pottinger's May 4 speech in her Tsinghua undergrad class on Marxist media concepts.
Michigan Senate candidates take tough stances on China amid coronavirus | Fox News
Sen. Gary Peters, D-Mich., and his most prominent Republican challenger, John James, have both released messaging indicating that they plan to stand up to the communist nation.
$1.6T in century-old Chinese bonds offer Trump unique leverage against Beijing | Fox Business
The Lewisburg, Tennessee-based American Bondholder Foundation holds $1.6 trillion of century-old Chinese debt, including interest, dating to before the founding of the communist People's Republic of China, that it wants the administration's help in redeeming. There is an estimated $6 trillion or more of the debt outstanding worldwide.
US should make bio-labs more transparent: Global Times editorial - Global Times
It is reasonable to be highly suspicious that the security at the US' vast biological laboratories is substandard, and that there are a lot of "dirty tricks" going on inside for fear that the outside world will find out.

Through this ongoing outbreak, the international community should truly regulate biological research in the US and urge it to reach the basic level of transparency.

The US should not be exempted from international screening for biological risks, but rather be at the forefront of such inspections. The vast number of laboratories in the US, with their complex and diverse management bodies and methods, needs a clean-up test that will reassure the international community.
China needs tougher response to US smears: experts - Global Times
The US is escalating hybrid wars against China under the backdrop of a total failure in dealing with the COVID-19. As the US plays more cards against China with weaker influence in recent months, more people in China, including policymakers and officials, are more rational that countermeasures and a tougher response are necessary, Xin Qiang, deputy director of the Center for American Studies at Fudan University in Shanghai, told the Global Times...

Ni Feng, deputy director of the Institute of American Studies of the Chinese Academy of Social Sciences, told the Global Times that China's recent response toward US provocations is stronger.

"If tensions between China and the US continue to escalate, competition and conflicts may become a new norm of China-US ties," Ni said.
The United States Condemns Attempts by PRC-Affiliated Actors to Steal American COVID-19 Research - United States Department of State
The United States condemns attempts by cyber actors and non-traditional collectors affiliated with the People's Republic of China (PRC) to steal U.S. intellectual property and data related to COVID-19 research, as announced in a May 13, 2020 warning by the Federal Bureau of Investigation and the Department of Homeland Security's Cybersecurity and Infrastructure Security Agency.  The United States calls on the PRC to cease this malicious activity.  As the May 13 warning notes, "The potential theft of this information jeopardizes the delivery of secure, effective, and efficient treatment options."  The PRC's behavior in cyberspace is an extension of its counterproductive actions throughout the COVID-19 pandemic.  While the United States and our allies and partners are coordinating a collective, transparent response to save lives, the PRC continues to silence scientists, journalists, and citizens, and to spread disinformation, which has exacerbated the dangers of this health crisis.
A WeChat account run by Global Times journalists continued to play up the conspiracy theory that the coronavirus may have been leaked form the US army lab in Fort Detrick. The article went through the history of the lab and suggested it is extremely secretive in its research of bioweapon and it is poorly regulated.
侠客岛:【解局】美国死亡病例1/3来自养老院,谁的生命正被放弃?
Xiakedao, WeChat of the overseas edition of People's Daily, said many Americans are dying in nursing homes and the US government is doing nothing to stop it.
Yuyuantantian, the WeChat account of CCTV, made a video saying that because the USG had been cutting budgets for the CDC, the United States is extremely slow in responding to the virus.
谁说中国人没有游行示威的权利?[并不简单]... 来自茜茜梦谈 - 微博
Interesting video of a small protest with banner and pictures of Trump and Pompeo X'd out...not sure where "...中国崛起,抗疫川普甩锅, 谴责人类公敌" I can't make out the first few characters, then China has risen, protest Trump passing the buck, condemn the public enemies of mankind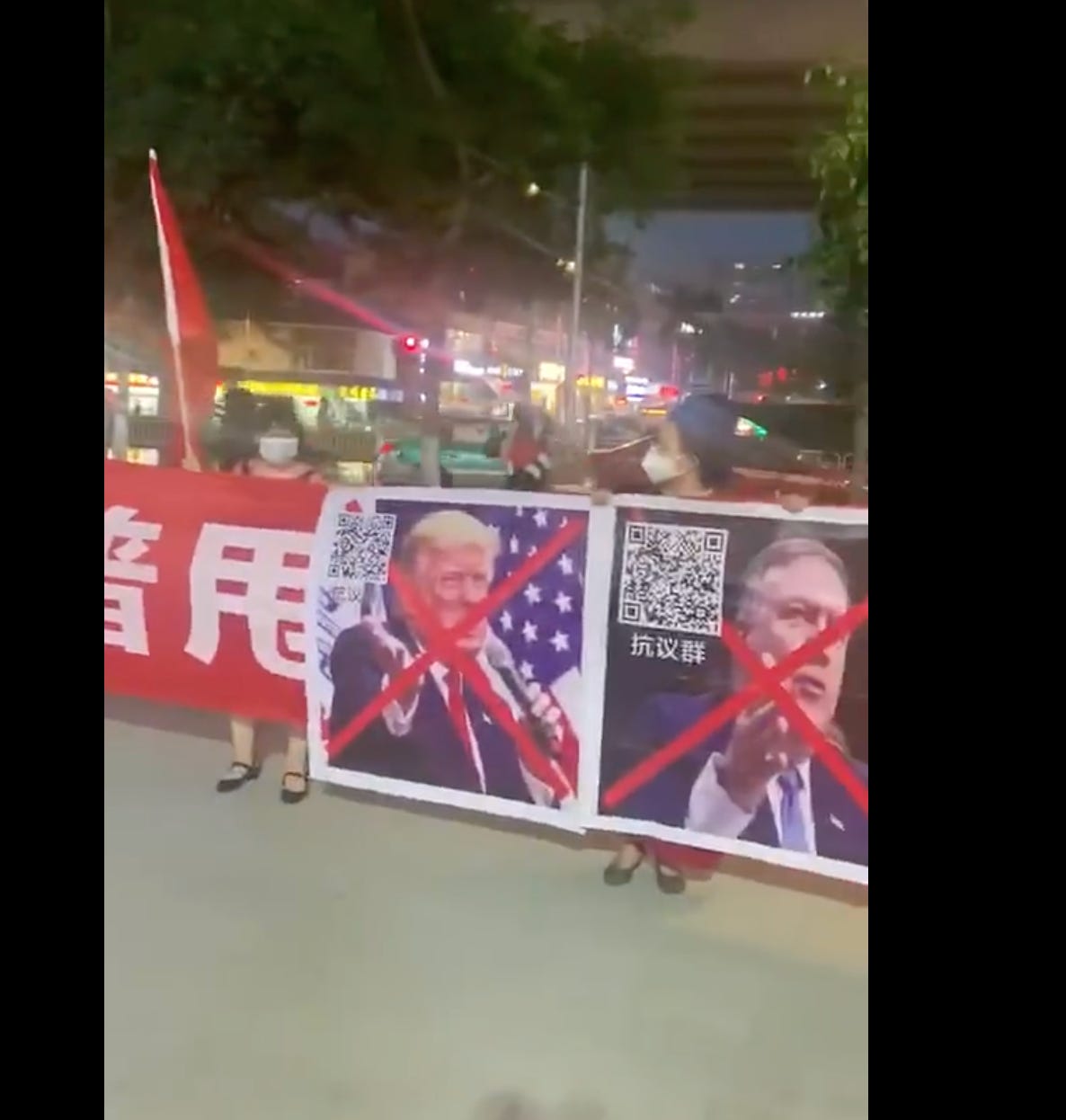 Hu Xijin of Global Times said he recently rejected the request from a local government asking if he can help to delete an article on their website. Hu said China and US are in a "media war" now and the government should intervene less in how Chinese media operates.
Comment: The joke going around is that official was not of sufficient rank…no way would he turn down a request from a senior official
Former Cleveland Clinic Employee and Chinese "Thousand Talents" Participant Arrested for Wire Fraud | OPA | Department of Justice
According to the criminal complaint, Dr. Wang knowingly failed to disclose to NIH that he had an affiliation with and held the position of Dean of the College of Life Sciences and Technology at the Huazhong University of Science and Technology (HUST) and received grant funds from the National Natural Science Foundation of China (CNSF) for some of the same scientific research funded by the NIH grant. As a result, Dr. Wang's false representations and promises led NIH to approve and fund grants to Dr. Wang and his research group at CCF.
Regulators Deny Approval of Chinese Masks in Giant California Order - WSJ $$
The National Institute for Occupational Safety and Health said in a statement Wednesday that it told BYD on May 4 that an on-site assessment of its factories in China yielded a "not acceptable" rating. The agency said the specifics of the application denial for BYD's N95 masks were confidential, but noted that its "review of the documentation provided to Niosh for the design, manufacturing and quality inspection of the device was concerning."
Star-Studded Coronavirus Panel Canceled After Flak Over Huawei Sponsorship - WSJ $$
The webinar, organized by the National Association of Black Journalists, was titled "The Rise of Misinformation," and had billed musician and entrepreneur will.i.am and CNN host Van Jones among panelists set to address the issue of false information about the pandemic and its effect on minority groups. Huawei had been signed on as a sponsor of the event, the journalist group said.

But on Tuesday the association scrapped the event as it came under fire online, including from Sen. Tom Cotton, the Arkansas Republican who has attacked China's behavior in the pandemic.
China's rejects planned U.S. moves at U.N. on Iran sanctions - Reuters
China's mission to the United Nations in New York said that by quitting the Iran nuclear deal in 2018, Washington had "failed to meet its obligations" under a 2015 Security Council resolution that enshrined the agreement.
---
4. The outbreak
China added another three new cases on Wednesday. Two are in Liaoning and one in Jilin. CCTV said that a total of the 24 patients in this new outbreak in the two provinces can all be linked to a 47-year-old woman in Jilin, who was confirmed infected on May 7. More than 7,000 people in contacts with the confirmed cases have been put under medical surveillance.
Wuhan residents brave rain, queues for COVID-19 mass-testing campaign - Reuters
Authorities say they aim to test all 11 million residents, though the priority are people from 12 categories, such as school, medical, transport, supermarket and government workers and people returning from overseas or leaving Wuhan for work.

"Even though there weren't any new cases in a while it seems Wuhan continues to have asymptomatic patients. Everyday there's a few," said Zhu Fangmin, 43, who stood in a queue of more than 60 people.
Wuhan Locks Down Residential Compounds Amid Citywide Test Rollout - RFA
Wuhan-based citizen journalist Zhang Zhan said six new cases of coronavirus had been confirmed in the city's Sanmin residential compound, home to some 5,000 people.

"I went there to find out more about the situation, but it has been placed under quarantine," Zhang told RFA on Thursday, adding that local news reports said six new cases had been confirmed, with 180 contacts now in isolation.
Police in Dongxihu distict in Wuhan said they have detained a man for spreading rumors that a residential area in the city has been designated high risk of outbreak, and that SWAT teams had been dispatched to lockdown the area.
All Beijing students set to return in June - China Daily
"The students in the final year of senior high school returned to campus in late April, and those in their final year of junior high school just returned on Monday, which has been welcomed by students, teachers and parents," said Li Yi, spokesman for the Beijing Municipal Education Commission, at a news conference on Wednesday afternoon.
More students to resume classes in China's Shandong as epidemic wanes - Xinhua
All non-graduating middle and high school students, and pupils from third grade to sixth grade will return to schools between May 18 and May 28, the department said.

First and second-graders, as well as kindergarten students, will return to schools from early June.
Chinese People Can Go to the Movies Again, but They Better Not Touch Anything - Caixin
The Chinese Center for Disease Control and Prevention (CDC) said Wednesday that cinemas in regions with low risks can reopen by appointment and with reduced capacity, but those in areas with medium to high risks should remain closed.
Picking up the pieces - In China, covid-19 has focused attention on mental health | China | The Economist
Mental-health workers who have responded to the covid-19 outbreak appear better-organised and better-trained than the volunteers who flocked to care for victims of the earthquake, says Huang Hsuan-Ying of the Chinese University of Hong Kong. During the covid crisis, counsellors have formed online networks to co-ordinate their efforts to help the afflicted. Yu Zhihong, a professor of social work at Wuhan University, set up one such group. Its members provide psychological support for nearly 30 people who lost loved ones to the virus. Ms Yu says some of them are suffering from feelings of guilt, believing they were the source of a fatal infection, or worrying that they did not do enough to help a person who died.
China Focus: Wuhan's temporary hospitals critical, indispensable in COVID-19 control: experts - Xinhua
The 16 temporary hospitals were able to provide about 15,000 beds in total which outnumbered the growth of patients, said Ma, stressing that the temporary hospitals helped to isolate, admit and treat all COVID-19 cases.
Novel coronavirus most likely came from Asian bat: Hong Kong study | South China Morning Post
Earlier research had found the bat species carried a virus like the one that causes severe acute respiratory syndrome (Sars) and which was similar to the novel coronavirus. The findings, taken together, meant "the Chinese horseshoe bat may really be the original host of this SARS-CoV-2", microbiologist Dr Yuen Kwok-yung, who co-led the study, told the Post.
中国医学院科学新闻中心:关于对新冠病毒感染转基因小鼠模型论文核查情况的说明
A COVID-19-related paper on Nature authored by researchers from Chinese Academy of Medical Science is being accused of data falsification. The Academy said in a statement that after an investigation, they believe the research is still solid, but the authors submitted a wrong picture. They apologize for the mistake and said they have submitted the correct picture to the journal. 
But some Chinese researchers said on Weibo that making such an error is almost impossible when you write an academic journal, and the only plausible explanation is they falsified the data.

作为一个科研狗🐶,表示用错图片基本是不可能的。正式用的图片都要翻来覆去裁剪,调大小,拼图,加注释,基本不可能用错图,这要是都能用错,那TM绝对是故意的了[黑线]这些大领导的课题组每年重大专项基金拿了一大把就在这造假,也不怕同行笑话[微笑]
---
5. Fang Fang
Account Of Coronavirus Outbreak In China Comes To English-Speaking Audience In 'Wuhan Diary' : NPR
In her now-world-famous writing, Chinese author Fang Fang implores: "The departed are gone, but the living must go on. As before. I just hope we can remember."

The writer's detailed account of the novel coronavirus outbreak in the Chinese city of Wuhan, originally published in Chinese as a daily diary as the virus rapidly spread there, becomes available in English on Friday as Wuhan Diary: Dispatches from a Quarantined City. Bits and clips of Fang Fang's writing on the situation in Wuhan made it out of China and into English as the outbreak was unfolding, but now the full account will be available in English...

Nearly immediately after she began publishing her entries, an online army of ultra-nationalists deluged Fang Fang, indignant that in airing doubts about the superiority of China's coronavirus containment she was betraying her motherland. That her diary could be published in English only months after the Wuhan lockdown was lifted, they hinted darkly, meant Fang Fang was deliberately aiding Western countries to smear China and to profit off the suffering of Wuhan. [The translator Michael ] Berry says even he has received thousands of angry emails and death threats for simply translating her writing.
观察者网:张伯礼院士批评许可馨等极少数"知识分子":家国情怀何在?
In a public speech to Tianjin students on Tuesday, Zhang Boli, fellow of Chinese Academy of Engineering and member of the expert group that went to Wuhan, harshly criticized writer Fang Fang and other "intellectuals" for fabricating lies to smear the government for its handling of the virus.
Fang Fang has demanded an apology from Zhang and said his criticism against her is "extremely irrational" and as if they are from "Cultural Revolution".
---
6. China-Australia
Australia says China silent on trade talk request, maintains call for coronavirus inquiry - Reuters
Trade Minister Simon Birmingham said on Wednesday he had not received a reply after requesting a call with Chinese Commerce Minister Zhong Shan after four large beef exporters were suspended this week by Chinese customs authorities.

"The ball is very much in the court of the Chinese government," Birmingham told ABC television. "We have made it very clear that I am available and keen to have a discussion."
Australian Workers Union backs Scott Morrison on China - The Australian
Countering criticism of the government from Anthony Albanese and state Labor governments, the Australian Workers Union has told Scott Morrison not to ­"capit­ulate" to the communist state's gaming of international trade rules.

In a letter sent to the Prime Minister on Wednesday afternoon following China's suspension of meat exporters and threats to slap tariffs on barley producers, AWU national secretary Daniel Walton said: "Australia should resist any attempts to be bullied."

Mr Walton said it was time to stand up against Chinese aggression and "billionaires who have cosy relationships" with Beijing.
Looking Ahead: Australia and China after the Pandemic | Asia Society - Richard Maude
The fight over Australia's inquiry proposal is emblematic of the immense difficulty of managing relations with China.

The challenge is hard now. It will get harder.

Australia's headache is not just that China has become much more powerful, but also that it has become more authoritarian, ideological and nationalist under President Xi Jinping.

China's foreign and domestic policies are conflicting more often with Australia's interests and values.

The gap between the two countries' political, economic and legal systems is starker than ever.

COVID-19 will change many things about our world but not these fundamental fault lines. The pandemic won't alter China's political system or its geo-political ambitions.
UK poised to take harder China line - The Australian
Tory insiders have told The Australian that Britain's highly rated intelligence agencies and increasing numbers of backbenchers have an increasingly hawkish view on China's handling of the coronavirus and believe the country has to take decisive steps to overcome future Chinese takeovers of hi-tech companies amid the economic chaos.

The deteriorating Australia-China relationship has set off alarm bells in Whitehall and has followed Chinese threats in ­Europe over the past few months, mainly associated with the Huawei company's 5G ambitions, but also tension about the beginnings of the coronavirus pandemic.
China's Clout Loses Punch as Trading Partners Push Back Over Coronavirus - WSJ $$
China's hunger for minerals to build skyscrapers and bridges in an infrastructure spending spree during the financial crisis helped Australia sidestep a recession when other developed countries hit a wall. Canberra has rolled out a huge debt-funded stimulus in response to the pandemic that is the equivalent of about 16% of GDP, among the biggest responses globally.

"If we're going to go into the biggest debt we've had in our life and then simultaneously poke our biggest provider of income in the eye it's not necessarily the smartest thing you can do," billionaire mining-equipment and media magnate Kerry Stokes said. "We are a trading nation. We have nothing else to do but trade," he said.
---
7. More on the "wolf warrior" diplomats
Frankly I am more worried about the "wolf warrior" PLA officers. These diplomats are hurting the PRC without really doing much damage to everyone else.
As China pushes back on virus, Europe wakes to 'Wolf Warrior' diplomacy - Reuters
As China is seeking to control the damage the pandemic threatens to its global reputation, the government of President Xi Jinping is pushing hard to control the story from Berlin to Bratislava, diplomatic cables seen by Reuters and interviews with more than a dozen diplomats, advisers and officials show. In a campaign of increasingly assertive and at times aggressive diplomacy, China has sought to pressure European countries that criticise its handling of the outbreak, Reuters found. At a time when Europe's ties with the United States are already strained by President Donald Trump's 'America First' policy, the fallout from the coronavirus underscores how the EU is caught between two powers - needing both, but reluctant to side with either.
Too soon, too loud: Chinese foreign policy advisers tell 'Wolf Warrior' diplomats to tone it down | South China Morning Post
some of the country's top foreign policy advisers say the aggressive nationalism is only serving to drive the world further away from China.

"The aim is to promote the Chinese political system as superior, and to project the image of China as a world leader in combating a global health crisis," Shi Yinhong, an international relations professor at Renmin University of China, said during an online seminar arranged by the college on Friday.

"But the problem is, [these efforts] have failed to recognise the complexities that have emerged on the global stage during the pandemic, and they are being done too hastily, too soon and too loudly in tone, so there is a huge gap between what is intended and what is achieved," he said.

In a separate online seminar organised by Renmin University on Sunday, Zhu Feng, dean of international relations at Nanjing University, said the "Wolf Warriors" had worsened tensions between Beijing and Washington, and called on China to calm the situation and adjust its foreign policy...

Another top adviser criticising the nationalist shift in diplomacy was Yan Xuetong, one of China's leading thinkers on foreign affairs and security...
Comment: These and other academic and retired officials' comments are interesting, but do they really matter if the "wolf warrior" approach is supported by Xi?
Sinocism had Shi's speech in the Monday issue: 时殷弘:准确认知疫情给中国带来的困难形势,及时调整对外战略和策略
In a recent speech, Shi Yinhong of Renmin University discussed the repercussion of the virus and how China should adjust its foreign policy. Shi said the West, including many in Europe now tend to agree with the Americans in blaming China for the outbreak, and Russia is distancing itself from China and getting closer to Washington. Shi warned that the conflict with the US will intensify since Washington has made up its mind to hold China responsible for the outbreak. Shi suggested Beijing tone down the propaganda attack on the US so as not to further damage China's relations with the Democrats, who are now blaming Trump instead of China for the outbreak. And China should seek ways to help America to get through the pandemic, because the harder the US is hit by the virus, the more hostility China will face in the world. Shi also suggested China roll back its strategic expansion, both military and economic, so to focus on development at home.
China's envoy to Denmark lashes out at 'unprovoked attacks' from US over Greenland | South China Morning Post
In an opinion piece in Danish-language newspaper Altinget on Wednesday, Feng accused US ambassador to Denmark Carla Sands of launching "unprovoked attacks" on China.

He was responding to a piece by Sands in the same newspaper on April 20, in which she claimed China was advancing "predatory economic interests and [projecting] its authoritarian values" in Arctic regions like Greenland, an autonomous island in the North Atlantic that is part of the Kingdom of Denmark.
---
8. Foreign work
China to continue helping Spain fight COVID-19 epidemic: FM - Xinhua
In a phone talk with Spanish Minister of Foreign Affairs Arancha Gonzalez Laya, Wang said Chinese President Xi Jinping has sent a message of sympathy to Spanish King Felipe VI and held a phone conversation with Spanish Prime Minister Pedro Sanchez, conveying his firm support to the Spanish government and people in their fight against COVID-19.

For a period of time, China has been actively providing anti-epidemic supplies to Spain and shared with it without reservation diagnosis and treatment scheme for COVID-19 as well as experience in COVID-19 prevention and control, Wang said....

Noting that some politicians from a certain country have been politicizing the pandemic and labeling the virus to attack and stigmatize China in a bid to shift responsibilities for their botched handling of the pandemic, Wang said that such actions will neither help with the prevention and control efforts in their own country, nor contribute to the global efforts to fight the pandemic.
Foreign party leaders call for cooperation amid global health crisis - Xinhua
In messages recently sent to the International Department of the Communist Party of China (CPC) Central Committee, foreign political party leaders speak positively of China's achievements in curbing the spread of the epidemic and its contribution to the global fight against the virus, urging against politicization of the disease and stigmatization of other countries.
Chinese, Belarusian defense ministers talk over phone - China Military
alking about the pandemic, Wei said under the strong leadership of the Central Committee of the Communist Party of China (CPC) and with arduous efforts made by all Chinese people, China has made major strategic achievements in the fight against COVID-19 pandemic prevention and control. Upholding the vision of building a community with a shared destiny for mankind, China has made strenuous efforts and immense contributions to the global response to the pandemic, which is highly praised by the international community, Wei noted.
China and Pacific Island Countries Hold the Vice Ministers' Special Meeting on COVID-19
On May 13, 2020, China and Pacific island countries having diplomatic relations with China held the vice ministers' special meeting on COVID-19 via video link. The meeting gathered representatives from China and 10 Pacific island countries including Fiji, Samoa, Papua New Guinea, Vanuatu, the Federated States of Micronesia, the Cook Islands, Tonga, Niue, the Solomon Islands, and Kiribati. Vice Foreign Minister Zheng Zeguang and Papua New Guinea's Foreign Minister Patrick Pruaitch co-chaired the meeting...

Patrick Pruaitch and other representatives commended the Chinese side for holding the special meeting and appreciated its assistance in their fighting against the virus. They noted they are looking forward to continuing cooperation with the Chinese side in epidemic prevention and control, support the World Health Organization in playing a leading role in international cooperation against the epidemic, and strongly oppose politicizing, stigmatizing and labeling the virus. They also expressed the readiness to continue to adhere to the One China principle
Chinese port company donates medical materials to Guinea - Xinhua
The materials, including 300 clinical thermometers, 100,000 medical masks and 500 items of protective clothing, were donated by a subsidiary of the Yantai Port Group Co., Ltd.

The company conducted strict quality checks on the purchased materials and ensured they met the international quality standards.
Xi Jinping Is a 'Good Emperor,' says Eric Li - Foreign Policy
Chinese President Xi Jinping is a "good emperor." Some years ago, the American political scientist Francis Fukuyama coined the term "bad emperor problem." It was meant to theorize that in an authoritarian political system, even if there can be good rulers, there is little to prevent a bad ruler from gaining power and ruining the country. This is not the time or the place to debate this theory. But one thing I do know now is that Xi is a "good emperor."
---
Business, Economy and Trade
U.S.-China feud looms as battle for next global trade chief begins - POLITICO Roberto Azevêdo, director general of the World Trade Organization since 2013 and a former Brazilian diplomat, on Thursday told WTO officials in Geneva that he would step down a year before his term ends in September 2021.
China Local Government Unit Sparks Fresh Bond Default Alarm - Bloomberg Yingkou Coastal Development Construction Group Co., a local government financing vehicle from the northeastern Liaoning province, has insufficient cash to cover both the principal and interest totaling 528 million yuan ($74.4 million) on a local bond due May 18, according to a Wednesday report by China Chengxin International Credit Rating. The ratings firm said it maintained Yingkou Coastal's AA rating but has put the borrower on its watch list.
Former Regulator to Lead Guosen Securities - Caixin Global Deng Ge, former deputy director of the Listing Department of the China Securities Regulatory Commission (CSRC), is taking the position of general manager of Guosen Securities.
Yicai - Jinyi Media, Other Chinese Film Stocks Gain on New Tax Relief Measures Income from film screening services will be exempt from value-added tax, the Ministry of Finance and the State Taxation Administration said. The construction fee levy for cultural undertakings will be waived this year and losses can be carried over for up to eight years, an extension of the previous five-year period, it added.
Modi ramps up plan to reduce India's dependence on China with new 'self-reliant' campaign | South China Morning Post "The crisis has taught us the importance of local manufacturing, local market and local supply chains. All our demands during the crisis were met locally," he said.
Poland's plan to block foreign takeovers alarms business | Financial Times $$ Poland is not alone in looking for ways to block foreign takeovers of companies flattened by Covid-19. Amid concerns that Chinese state-owned groups could exploit the crisis to snap up European groups on the cheap, the EU's competition chief told the FT last month that the European Commission would have no problem with EU states taking stakes in companies to stave off the threat of Chinese takeovers. Meanwhile, Germany has launched a €100bn bailout fund that will recapitalise and take stakes in German companies laid low by the crisis.
Politics and Law
China to adopt new ways to get advice, suggestions from NPC deputies and CPPCC members to ensure their views are heard - Gov.cn Given the need for continued COVID-19 containment, the meeting called for adopting new ways for taking in views and suggestions from NPC deputies and CPPCC members, including via video-link, phone calls and the internet. These views and suggestions would help the government learn more about the situation on the ground, especially about the hopes of market players and the general public.."NPC deputies and CPPCC members are broadly representative as they come from across the country and all walks of life. They provide an important channel for the government to learn more about the conditions of the people and their expectations. Given this year's containment requirements, we must develop new ways to hear their views," Premier Li said… Based on this year's arrangements for the annual sessions, the meeting decided that officials of government departments concerned will attend through video link the break-out sessions of NPC deputies deliberating on the government work report. The departments are required to study carefully and provide feedback on the views and suggestions within their respective purview.
新华网:6次地方考察,习近平关注哪些重点Xinhua did a review of Xi's six recent domestic visits and said the common themes of his instructions are virus control, restarting the economy, poverty alleviation and environment protection.
高程CASS: 对关注者摸个底Gao Cheng, a research fellow with Chinese Academy of Social Science with nearly one million followers on Weibo did an online survey asking people to choose their political beliefs. Nearly 300k people participated, and more than half of them chose "nationalism".
Police in China's Shandong Detain Outspoken Poet For 'Subversion' - RFA Zhang Guiqi, 49, who is widely known by his penname Lu Yang, is being held under criminal detention by police in Shandong's Liaocheng city on charges of "subversion of state power," according to Independent Chinese PEN's freelance coordinator Zhang Yu.
China reveals mountain of bribes seized from fallen Communist Party boss Zhao Zhengyong | South China Morning Post Chinese anti-graft investigators confiscated more than 630 million yuan (US$89 million) in assets and cash from Zhao Zhengyong, the disgraced former Communist Party chief of northwestern Shaanxi province who faced court this week accused of corruption. State news agency Xinhua reported on Tuesday that the Central Commission for Discipline Inspection, the country's top anti-graft agency, also seized about 100 million yuan in property and stocks held by Zhao.
China drafting law on personal information protection - Xinhua China is drafting a law on personal information protection, according to the Legislative Affairs Commission of the National People's Congress (NPC) Standing Committee. A draft of the law has taken shape and will be submitted to the NPC Standing Committee, China's top legislature, for review after a revision at an early date, according to the commission.
Disciplinary inspectors enter central Party, state institutions for inspection - Xinhua The fifth round of routine disciplinary inspections targets the Party organizations of 35 central Party and state institutions, including the Publicity Department of the CPC Central Committee, the Ministry of Industry and Information Technology, the Ministry of Natural Resources and the Ministry of Emergency Management, according to the statement. 十九届中央第五轮巡视已进驻20家单位—中央纪委国家监委网站
China Focus: Relocated villagers leave poverty on clifftop - Xinhua Mou'se, 51, is from the village of Atulieer atop a cliff in Liangshan Yi Autonomous Prefecture, southwest China's Sichuan Province. His family is among the 84 registered poor households of the village that were relocated to the county seat of Zhaojue. Some 18,000 impoverished residents from 92 villages moved to their new homes at a newly-built community at the county seat this week, the largest poverty alleviation relocation project in Sichuan.
China: Tibet Anti-Crime Campaign Silences Dissent | Human Rights Watch Chinese authorities in Tibet are using a national anti-crime campaign to crack down on peaceful expression by Tibetans suspected of dissenting views, Human Rights Watch said today. Those criminally prosecuted include activists defending Tibetan culture and environment, critics of official corruption, and suspected supporters of the Dalai Lama. The campaign is also targeting for possible prosecution or other punishment practitioners of unapproved religious activities and Tibetan government employees involved in any religious practices.
Supreme People's Court's New Vision for the Chinese courts | Supreme People's Court Monitor The Implementing the 4th Plenum of the 19th Party Congress Opinion is a framework document in which the Supreme People's Court (SPC) identifies principles and goals for the Chinese judicial system and judicial capacity after the 4th Plenum of the 19th Party Congress. This blogpost will identify some of them and their link to the 4th Plenum, with related comments in italics. I expect that the SPC will issue specific judicial policy documents and judicial interpretations, as appropriate, to implement specific measures.
界面新闻:郴州医生推荐假奶粉被停职,官方:虚假宣传退一赔三 The Chenzhou Administration for Market Regulation said the company involved in the toxic milk formula scandal is suspected of "false advertising" and doctors who recommended the formula to parents have been suspended for one year from practicing. Many on Chinese internet are unhappy with the result and said the government should be harsher in punishing the doctors and the company.
Foreign and Defense Affairs
China deploys AEW, anti-submarine aircraft on South China Sea's Yongshu Reef: report - Global Times Recent foreign satellite images suggest that China has deployed early warning aircraft and anti-submarine aircraft on the Yongshu Reef in the South China Sea amid increased US military activities in the region, as Chinese experts said on Thursday that China has the right to deploy defensive weapons there according to military threats China is facing.
Xinhua: Chinese military to recruit university students for non-commissioned officer roles China's military is recruiting university graduates for non-commissioned officer roles for the first time, according to the recruiting office of the Ministry of National Defense. The recruitment will mainly target science and engineering graduates, as well as graduates who majored in medical technology and language studies, with priorities given to fresh graduates, said the office.
Beijing moves to buy the biggest mobile network in Pacific Islands to expand influence in the region | Daily Mail Online A Chinese state-owned mobile company is set to buy the largest phone network in the Pacific Islands. China Mobile's move to buy Digicel in a deal worth up to $1.4billion has emerged as the latest front in the diplomatic and trade confrontation with Australia.
China fears over PNG cable too dear to use - The Australian The Australian can reveal that the PNG section of the $136m, 4700km Coral Sea Cable system has failed to lower internet prices to the country, as promised by the Australian government, because it was handed to a struggling state-owned enterprise that is charging uncompetitive prices. Private internet­ retailers including the country's main mobile company, Digicel, are reluctant to use the cable because they can get better prices and service levels from satellite ­providers.
Huawei threatened to pull investment from Denmark in response to new screening law – Telecoms.com While the letter is now five months old, and Huawei may well have changed its position since then, this apparent evidence of Huawei and the Chinese state seeking to pressure governments over their security decisions is very uncomfortable for the Chinese vendor. It comes as Denmark embarks on a review of its critical infrastructure policies in the light of vulnerabilities exposed by the coronavirus pandemic and could well have implications beyond that country.
BT Adds U.S. Fiber Supplier to Limit Its Reliance on Huawei Gear - Bloomberg BT Group Plc's infrastructure unit Openreach signed a long-term contract to bring in U.S. firm Adtran Inc. alongside Huawei and Finland's Nokia Oyj as a strategic partner. Adding an American component maker will help London-based BT limit the use of China's Huawei technology in its fiber-optic network and meet national security rules. The parties didn't disclose financial terms.
Criminalizing China by Margaret K. Lewis :: SSRN This Article argues that using "China" as the glue connecting cases under the Initiative's umbrella creates an overinclusive conception of the threat and attaches a criminal taint to entities that have an even tangential nexus to "China." It further contends that implying part of the justification for prosecution and resulting punishment is a shared connection to China is worrisome when assessed in light of the goals of deterrence, incapacitation, rehabilitation, and retribution. A better path is to discard the "China Initiative" framing, focus on cases' individual characteristics, and enhance the Department of Justice's interactions with non-governmental experts.
China launches live online system of ocean satellite data - Xinhua Users can check the daily, weekly and monthly archives and distribution of ocean satellite data on the WeChat account of the National Satellite Ocean Application Service. The system collects payload data of the Haiyang-1, Haiyang-2 series satellites and the China-France Oceanography Satellite.
China's central SOEs to achieve collaborative development with satellite navigation industry - Xinhua The BeiDou Navigation Satellite System (BDS) is China's independently developed and globally operated navigation system. According to 2019 data, more than 80 million sets of BDS terminal products had come into service by the end of 2018. Apart from a 20 percent increase, the applications of the BDS have been promoted in the countries and regions along the Belt and Road. Users of BeiDou navigation and positioning services exceeded 500 million. In recent years, the central SOEs have undertaken various national projects related to the BeiDou industry, giving a strong boost to its service capacity.
Sino-Indian Border Skirmishes - War on the Rocks In the last week, Chinese and Indian troops have gotten into scuffles in several locations along their disputed border. Indian media reports suggest that several troops on both sides have been injured following fist fights and stone pelting. While tensions seem to have deescalated for now, the border dispute between the two nuclear-armed powers is clearly no closer to being resolved. Tanvi Madan joins the Warcast to explain developments on the Sino-Indian border. Tanvi is a senior fellow and the director of The India Project at Brookings, and is the recent author of Fateful Triangle: How China Shaped US-India Relations during the Cold War.
A video on Twitter of a heated discussion between the troops:
Briefing with Senior State Department Officials On Secretary Pompeo's Travel to Jerusalem, Israel - United States Department of State SENIOR STATE DEPARTMENT OFFICIAL ONE: Which obviously is – and so the Secretary doesn't have a problem with people having relationships with China or having trade with China, but I think COVID sort of highlights the dangers of dealing with states that are not transparent, that don't have fair trade practices, that really leverage and torque their trade to leverage certain things out of their trade partners. Aside from sort of debt traps that we're seeing, we've seen in Djibouti, elsewhere, right, where you have to give China a 99-year lease on a port – to other states. So a region where they're really in debt and it's causing major issues with the economy. But in particular there's the issue of strategic investment, that there is no such thing as a privately owned, independent company in China, right. If you use Huawei, if you use any type of company that has access to your DNA, that DNA becomes property and that information becomes property of the Chinese Communist Party. And so that's a security issue. And so whether it's the large infrastructure projects, things they can do to those infrastructure projects, there are all kinds of dangers, and we – I think it's important for us as allies, strategic partners to be able to discuss the type of threats and the types of ways to mitigate those kind of threats.
Daily NK: N. Korea appears to be resuming mineral exports to China "Ships with minerals have been spotted departing from Nampo, Songrim, and Haeju ports and heading to China since last week," a China-based source told Daily NK on Wednesday. From the second week of May, North Korean authorities have allowed trading companies affiliated with the Korean People's Army (KPA) to resume imports and exports, the source said, adding that the companies have focused on exporting the country's mineral resources. Resolution 2270, which was passed by the United Nations Security Council in 2016, bans North Korea from exporting mineral resources.
从抗疫实践看大国动员 Long article praising the PLA for winning the fight against the novel coronavirus, but reminding them that despite the victory, they must be prepared to face a different national disaster or fight a war. The main points are: unified Party leadership is foundational; unity of the people and continued development of "the thought of people's war" is a must; comprehensive national effort is the foundation of reacting to crisis; science and technology must continue to be developed.
训练不怕风险 打仗多道保险 Opinion piece extolling PLA units to train in real combat situations and assume risk to insure soldiers are trained to a high level.
Hong Kong and Macao
Why have consumer drones vanished from DJI's Hong Kong stores? - Abacus DJI didn't respond to our question on whether last year's protests affected shipping of its drones across the border. Back in November, the company told us the availability of the Mavic Mini would be announced at a later date. But six months later, there's still no sign of the drone -- or the newer Mavic Air 2.
HK history exam hints Japanese invasion 'good,' slammed for cultivating 'traitors of China' - Global Times Two materials were provided in the question: one is about an agreement between Japanese government and the government of the Qing Dynasty (1644-1911) in 1905 to allow the latter to send students to Japan to study law; the other offered quotes from a then revolutionist's letter to a Japanese politician and a contract between the government of the then Republic of China and a Japanese bank to borrow money.    "The question and these materials apparently take sides with Japan," Chan Wai-keung, a teacher from the Hong Kong Polytechnic University, told the Global Times on Thursday.
Taiwan
Taiwan and the WHO: People Power Will Prevail – The Diplomat The KMT's chairman makes the case for Taiwan's inclusion in the World Health Organization.
China firmly opposes Taiwan-related proposal to WHO by some countries - Xinhua China on Thursday expressed firm opposition to a so-called proposal by a few countries to invite Taiwan as an observer in the upcoming session of the World Health Assembly (WHA), a foreign ministry spokesperson said Thursday. Spokesman Zhao Lijian said at a routine press briefing the insistence by some countries on discussing Taiwan-related proposals is only aimed at disrupting the assembly's agenda and undermining the joint international response to COVID-19.
Tech and Media
Huawei denies involvement in buggy Linux kernel patch proposal | ZDNet On Sunday, the HKSP submission sparked interest in the Linux community as could signal Huawei's wish to possibly contribute to the official kernel. Due to this, the patch came under immediate scrutiny, including from the developers of Grsecurity, a project that provides its own set of security-hardening patches for the Linux kernel.
Baidu Bets Half a Billion Yuan on Livestreaming - Caixin Search giant Baidu Inc. has pledged to plow 500 million yuan ($70 million) into its livestreaming businesses in a bid to grab a bigger share of a market currently dominated by Douyin and Kuaishou.
Tesla's apprentice: Is Tesla bullying its own biggest fan? · TechNode Tesla is suing its former employee Cao Guangzhi, alleging that the engineer misappropriated code for its Autopilot driving assistance function before leaving to take a job at Xmotors, Xpeng's US-based sister company. At stake is Xpeng's reputation, the limits of competition, and the ability of Chinese companies to hire leading engineers from Silicon Valley.
Jobs and Events
U.S. Naval War College seeks Director, China Maritime Studies Institute (RI) The President, U.S. Naval War College, invites applications for director of the China Maritime Studies Institute, in the Strategic and Operational Research Department, at the Center for Naval Warfare Studies.
China in the World Interactive Podcast: Coronavirus and the Korean Peninsula - Carnegie Endowment for International Peace PAUL HAENLE,  CHUNG MIN LEE,  TONG ZHAO May 15, 2020Live Online 9:00 AM — 10:00 AM EDT (UTC-4)
Education
Chinese universities seek top students for maths and science classes to meet 'strategic demands' | South China Morning Post Beijing wants the best and brightest high school graduates to go into the industry to meet the country's "significant strategic demands". The education ministry launched an initiative in January to do this, the Strong Base Plan, directing universities to enrol more undergraduates in "basic" subjects such as mathematics, physics, chemistry and biology. Told to focus more on basic research, 36 universities – including prestigious Tsinghua and Zhejiang – said they would select the best students for special classes in these and other areas when the new academic year begins in September, according to enrolment plans announced in the past week.