APEC tensions; Trade deal speculation a waste of time; Digital dang'an
Are President Trump and Vice President Pence playing a "good cop-bad cop" role when it comes to China? With his recent speech at the APEC meeting Pence has now given two speeches in about six weeks that lay out very muscular and hard-line approaches to China. The gap between China and the US was on clear display at the APEC summit, and for the first time the meeting did not issue a communique.
It is increasingly hard to be optimistic about the upcoming meeting between Trump and Xi Jinping, but the Chinese are still trying to find ways to effect a ceasefire. Liu He however may not be visiting the US before the G20; the South China Morning Post now says the US and Chinese teams will meet in Argentina ahead of the G-20.
As Axios' Jonathan Swan wrote last night:
Nobody in the Trump administration has any idea how that meeting will play out — including Trump himself, according to sources who've discussed it with him. 

Pence gave a hawkish interview last week to the Washington Post's Josh Rogin, saying China would need to offer major concessions — which they've never before prepared to offer and seem unlikely to anytime soon. 

Between the lines: A former senior administration official with a keen understanding of how Trump handles these summits put it this way: 

"In a typical administration, there's a process from the bottom up, where assistant secretaries and then deputy secretaries and Cabinet secretaries meet with their Chinese counterparts to hammer out an agreement and to work through the tough and thorny issues. And then eventually it falls on the heads of state to consummate a deal, but you know going into the summit that there will be a deal." 

"In the Trump administration, it's inverted." Trump walks into a room and feels out the other leader for a deal. 

The official's advice: Ignore efforts by administration officials, including Commerce Sec. Wilbur Ross, to preview the Trump-Xi meeting. "Totally tune it out," he said. Others inside the administration share that view.
So while there will likely be leaks and tweets and speculations over the next 10 days, I will do my best to not contribute any more to the noise.
Housekeeping Note: The newsletter will be off this Thursday to celebrate American Thanksgiving.
And now that we are in the holiday season please consider giving Sinocism as a gift. Who wouldn't want to such a useful gift that just keeps giving?
Thanks for reading.
---
The Essential Eight
1. US-China contest on display at APEC
Looks like the US did a good job rounding up allies to push back on some of the PRC activities.
U.S.-China Divisions Exposed After One Phrase 'Torpedoed' Pacific Accord - WSJ $$:
The official on Sunday said the dispute largely came down to a single proposed sentence: "We agreed to fight protectionism including all unfair trade practices."

China wouldn't agree to that language, believing it amounted to a "singling out" of Chinese trade practices, the U.S. official said. Other APEC members favored including the language in the final communiqué, the official said. Officials at the meeting from several nations said the fight wasn't only between the U.S. and China. Other APEC members also lined up against Beijing...

Bryan Kramer, an opposition lawmaker in Papua New Guinea who has been critical of the government's tilt toward China, said the "biggest issue to come out of APEC is the U.S. raised the issue of transparency" in China's dealings, in a region where corruption is a problem.
APEC 2018: Chinese officials barge into PNG Foreign Minister's office after being denied meeting - ABC News (Australian Broadcasting Corporation):
Four Chinese officials barged into the office of Papua New Guinea's Foreign Minister Rimbink Pato on Saturday afternoon after being denied a meeting.

The ABC understands the Chinese Senior Officials Meeting negotiators wanted to meet with the Minister to discuss the wording of the APEC final communique.

When they were repeatedly denied a meeting they pushed their way into Mr Pato's office, calling out to the Minister for two minutes of his time.

Security was called to the office and the officials had to be forced from the room.
Joint US-Australian naval base on Manus Island a 'significant pushback' against China's Pacific ambitions - ABC News (Australian Broadcasting Corporation):
The move comes as the US, China and Australia all vie for influence in PNG and the Pacific, and one analyst said the Manus base would push American forces further south into the Pacific than they had been in decades.

"It brings the US a lot closer to the South China Sea but I think it's also a significant pushback for China's strategic ambitions in the Pacific region," said Jonathan Pryke from the Lowy Institute.
Xi Jinping outlines five proposals to improve global governance - CGTN:
In a keynote speech at the Asia-Pacific Economic Cooperation (APEC) CEO Summit in Papua New Guinea's capital Port Moresby, Xi put forward five proposals aimed at charting the right direction of the world economy and creating a better future for all members:

I. Stay open and expand the scope of development.

II. Pursue development in a way that delivers benefits to the people.

III. Take an inclusive approach and promote interaction and cooperation.

IV. Pursue innovation to tap new sources of growth.

V. Take a rule-based approach to improve global governance.
Remarks by Vice President Pence at the 2018 APEC CEO Summit | Port Moresby, Papua New Guinea | The White House:
As President Trump said just a few hours ago in the Oval Office, we have "great respect for President Xi… [and] great respect for China." But, in the President's words, "China has taken advantage of the United States for many, many years." And those days are over.

As the President has added, China has "tremendous barriers"; they have "tremendous tariffs"; and, as we all know, their country engages in quotas, forced technology transfer, intellectual property theft, industrial subsidies on an unprecedented scale. Such actions have actually contributed to a $375 billion good trades deficit with the United States last year alone. But as the President said today, "that's all changed now."

We've taken decisive action to address our trade imbalance with China. We've put tariffs on $250 billion in Chinese goods and we could more than double that number. But we hope for better. The United States though will not change course until China changes its ways...

With this renewed commitment to development financing, we're also making infrastructure in the Indo-Pacific a top priority..

Know that the United States offers a better option. We don't drown our partners in a sea of debt. We don't coerce or compromise your independence. The United States deals openly, fairly. We do not offer a constricting belt or a one-way road.
China urges US to stop wagging finger at others - People's Daily Online:
"We suggest a certain country matches its words with its deeds, rather than wag the finger at others," Hua said in the statement. "The country should treat all countries on an equal footing no matter big or small, respect other countries' right of following a development path that accords with their own national conditions and make real contributions to developing countries."

Hua cited President Xi Jinping's speeches during the APEC meeting, which stressed both international and regional cooperation should adhere to the principle of openness, development, inclusiveness and innovation, as well as rules-based approach, to cope with common challenge and achieve mutual benefits.
Full text of Chinese President Xi's speech at APEC CEO summit - Global Times:
An ancient Chinese philosopher observed that one needs to clean the mirror before taking a look at himself and that one should learn the lessons of the past before making decisions of the day. In reviewing history, we should draw its lessons to prevent the recurrence of past tragedies.
COMMENT: But don't be an historical nihilist and question the CCP's version of history...
For the system of global economic governance to be equitable and efficient, it must keep up with the times. We should advance the reform of the global governance system on the principle of conducting consultation and collaboration for shared benefits. This reform should be advanced on the basis of equality, openness, transparency and inclusiveness. Developing countries should have more say and greater representation in this process. Disagreements should be resolved through consultation. Attempts to form exclusive blocs or impose one's will on others should be rejected. History has shown that confrontation, whether in the form of a cold war, a hot war or a trade war, will produce no winners. We believe that there exist no issues that countries cannot resolve through consultation as long as they handle these issues in a spirit of equality, mutual understanding and accommodation.
China Rejects U.S. Accusations That Its Lending Is a 'Debt Trap' - Caixin:
China's Foreign Ministry responded to concerns Sunday, with a spokesperson saying, "No developing country has ever run into debt problems as a result of working with China," and that "Cooperation with China has been widely welcomed by the governments and people of developing countries."
The Maldives would beg to differ - Maldives set to pull out of China free trade deal, says senior lawmaker | Reuters:
"The trade imbalance between China and the Maldives is so huge that nobody would think of an FTA between such parties," said Mohamed Nasheed, the chief of the Maldivian Democratic Party, which leads the ruling federal alliance. "China is not buying anything from us. It is a one-way treaty."

On Saturday, as he took office, the new President Ibrahim Mohamed Solih declared the state coffers have been "looted" and warned that the country was in financial difficulty after racking up debt with Chinese lenders.

Former President Abdullah Yameen, who lost the election in September, signed the FTA during a visit to Beijing in December, and the same month his parliament ratified the treaty despite opposition protests that he had rushed through the 1,000-page document in less than an hour without any debate.
---
2. US-China trade
China and US teams bypass Washington and go straight to Buenos Aires for trade war talks | South China Morning Post:
Chinese and American trade negotiators have made a last-minute change to their original plans and rescheduled their talks for Buenos Aires instead of Washington, a source who was briefed on the matter has told the South China Morning Post.

The Post reported last week that Liu He, China's chief trade negotiator and the top economic aide to President Xi Jinping, was planning to fly to Washington for talks with the US delegation, possibly led by Treasury Secretary Steven Mnuchin.

However, a person who was updated on the latest changes said the plan had been adjusted after "work-level discussions" between Beijing and Washington.
A new front in the China trade war - POLITICO:
The Trump administration will make its next big move towards China by opening a comment process today for a major new rule that would restrict exports of emerging and critical technology.

The rule will open a new front against Beijing as part of legislation increase scrutiny of transactions by U.S. companies with foreign firms and to limit exports of key U.S. "dual-use" technologies -- ones that have both commercial and military applications.
China's 'truce deal' includes offer to buy more US natural gas, improve IPR protection, source says | South China Morning Post:
"China has a high demand for natural gas and buying it from the US would not affect its purchases from Russia," the foreign relations expert from a government think tank said on condition of anonymity.

The offer of better intellectual property protection and greater market access for US firms was also on the table, he said.
China's former chief trade negotiator criticises Beijing's 'unwise' tactics in US tariff war | South China Morning Post:
China's former chief trade negotiator openly criticised Beijing's trade war tactics on Sunday, singling out the decision to impose tariffs on soybeans as ill-thought out...

He told the annual conference organised by Caixin, an influential Chinese financial media outlet, that it was inappropriate to involve political considerations in trade talks...

Beijing picked soybeans as one of the first US products to sanction partly because it was trying to inflict pain in the Republican Party's heartland...

Lou Jiwei, China's former finance minister and now the chairman of the national pension fund, said in March that Beijing could inflict pain on the US economy by "hitting" sectors such as soybeans, cars and aeroplanes.
---
3. Digital Dang'an and the Social credit system
Beijing moves to give residents credit scores - Global Times:
The Beijing municipal government is establishing an "individual credit score" system that would give credit scores to all its residents, as part of the city's efforts to improve business conditions, officials announced on Monday.

According to an action plan aimed at improving the city's business environment, Beijing will finish establishing social credit regulations and building the "individual credit score" project by 2020, the China Securities Journal reported.

The announcement signals that Beijing will officially start to provide credit scores to individuals, which could affect residents' lives, the report noted.
Social credit is just one part of China's new state control | The Spectator - Charles Parton:
The social credit system is a part of this, but the 'weapon' also extends far beyond it. By combining big data, artificial intelligence, recognition technology and other police techniques, China's government intends to create a comprehensive method of political and social control.

It may not live up to everything that is promised: after all, government-implemented computer systems rarely work as well as intended. But it will affect — is already affecting — Chinese society and human rights more profoundly than any other reform or development instituted by the party.

The Chinese government has always been interested in keeping files on citizens. In the past, each citizen had a dang'an, or file, that covered their life. Nothing could be done without the dang'an. Everything was entered in it: marriage, social position, job. But this was, by necessity, pretty rudimentary. The magic weapon now being created can update that surveillance for an infinitely more complex age by tying all manner of information to a person's personal ID number.
China's Orwellian Social Credit Score Isn't Real – Foreign Policy:
For now, while there are many things to be worried about in China, a single and all-pervasive ranking system isn't one of them—yet.
Comment: "Yet" is the key word. I am seeing lots of focus on the trees while missing the forest when it comes to what I think the goal is - the social credit system as digital dang'an for every PRC citizen. We are not not there yet but it seems pretty obvious what the vision is.
When I tweeted this comment Mo Zhixu replied that this is "exactly" what the system wants to do and pointed me to his 2014 article 信息极权社会的序幕 
Maybe I am a simpleton but why wouldn't the Communist Party system want to build such an Orwellian system? That level of social control has been desired by Chinese rulers for many centuries, and especially by the CCP, and only now is the technology becoming mature enough to allow it.
When it comes to Orwellian visions, this display outside the iFlytek "Party Construction Office", posted on Twitter by a Hong Kong reporter, may win the prize this month: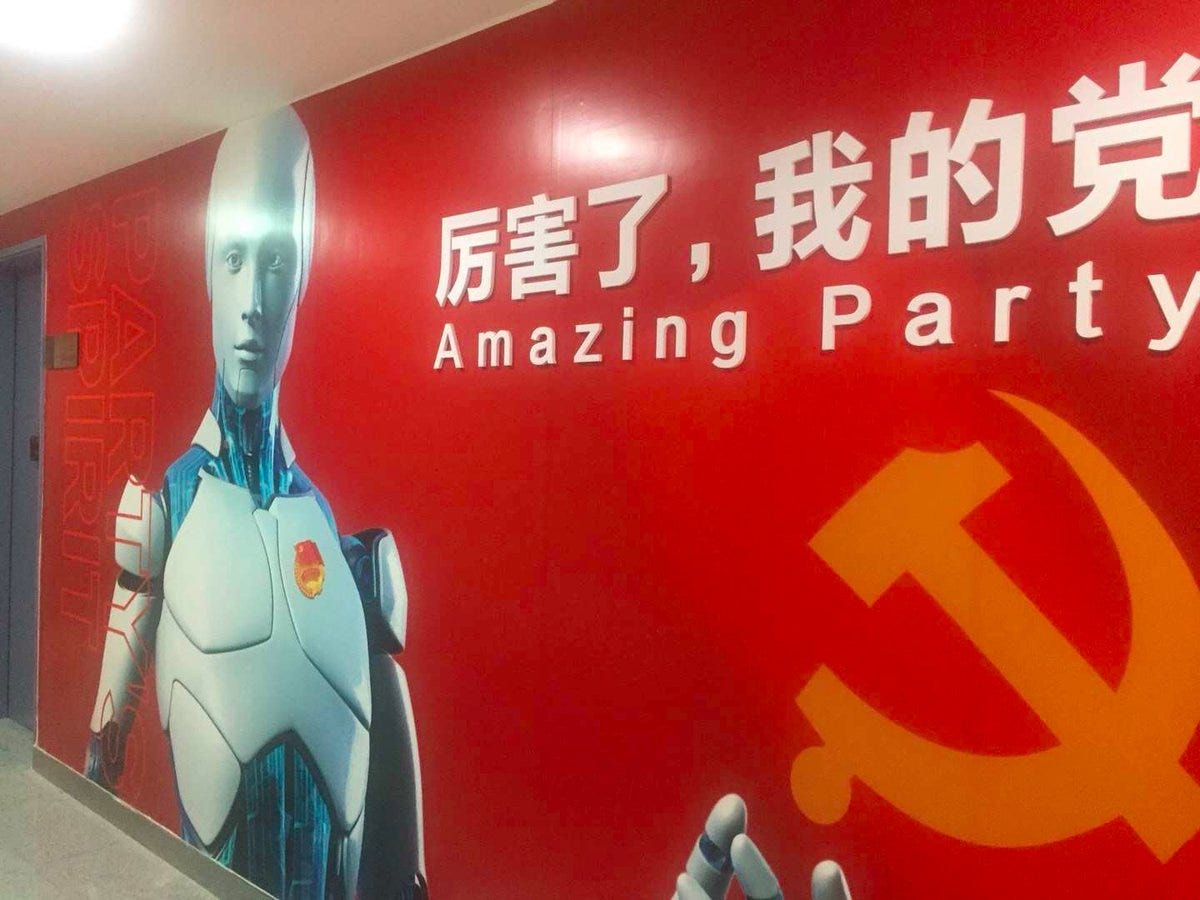 That is the the first robot I have seen wearing a CCP badge. 
---
4. Xi winning the historical retelling of Reform & Opening
What does 'opening up' exhibition giving credit to SOEs and Xi Jinping say to China's private firms? | South China Morning Post:
State-owned enterprises are much more prominent than the private sector and President Xi Jinping far more visible than Deng Xiaoping in a special exhibition marking 40 years since China's reform and opening up, stressing the Communist Party's role in the economy even as Xi courts private firms to help stabilise growth during the trade war with the United States.

The exhibition, at the National Museum of China in Beijing, devotes half of a display about Chinese leaders to the achievements of Xi, who took office in 2012 yet receives more emphasis than former paramount leader Deng – under whom China began its economic transformation in 1978 – and his successors.

Zhu Rongji, the former premier who engineered China joining the World Trade Organisation in 2001, is nowhere to be seen.

Shanghai-based political analyst Chen Daoyin said the show's focus on the present leadership was intended to deliver a strong message that China had entered a new era, signalling an end to the "old China" led by Deng's ideas.
---
5. Taiwan
Pence: US Will Uphold Taiwan Relations Act, One China Policy - VOA:
U.S. Vice President Mike Pence said Saturday that Washington will continue to uphold the "Taiwan Relations Act" and "One China Policy" after his much-watched meeting with Morris Chang, Taiwan's representative to a regional economic forum in Papua New Guinea.

Pence met with Chang on the sidelines of Asia-Pacific Economic Cooperation (APEC) Summit on Saturday in Port Moresby, the first pull-aside bilateral meeting between a top U.S. leader and Taiwan's envoy during the high-level regional economic gatherings in years...

"The conversation with them was about economics," said Pence. "They made a case for being considered for a free trade agreement, which I assured them that we will carry back that interest."
Chinese-language 'Oscars' overshadowed by political controversy - CNN:
An award acceptance speech by a young Taiwanese filmmaker has stirred passionate reactions on both sides of the Taiwan Strait, pitting some of the region's leading entertainment and political figures against each other just a week before an important election on the self-ruled island.

"I really hope our country will one day be treated as a genuine independent entity," said an emotional Fu Yue, the best documentary winner at Taiwan's annual Golden Horse film awards Saturday, to loud applause and cheers from the audience in Taipei...

"The DPP and media in its camp are seizing this incident as their last gambit -- hyping up the issue of cross-strait relations to boost the DPP's electoral chances," said Hu Xijin, editor-in-chief of China's nationalistic tabloid Global Times, in a video posted on Weibo. "The Chinese public should be on alert about this."
Chinese Superstar Fan Resurfaces With Pro-China Post on Weibo - Bloomberg:
Fan shared the post on Saturday that was first published by The Communist Youth League of China, saying "China cannot miss out on any inch," together with a map of China that includes Taiwan and the South China Sea.

The politics surrounding China's claims over Taiwan drew attention in the film industry on Saturday when a Taiwanese director made pro-independence comments on stage during the Golden Horse awards, the Chinese-language film-making world's equivalent of the Academy Awards.
What to watch in the Taiwan elections | The Interpreter:
On Saturday, the people of Taiwan will head to the polls to cast ballots for more than 11,000 officials. Taiwan's citizens will vote for the mayors of the "big six" special municipalities of Taipei, New Taipei, Taoyuan, Taichung, Tainan, and Kaohsiung. Also up for election are 13 county commissioners, about 900 councillors, 56 indigenous district representatives, nearly 2,300 local representatives, and over 7,700 borough wardens.

Despite the scale of candidates and positions in this year's local elections, Taiwan's domestic political environment is unlikely to change overnight. Much like midterm elections in other democracies, these elections are a barometer for the Democratic Progressive Party (DPP) under President Tsai Ing-wen and a prelude to presidential and legislative elections in 2020...

Finally, when the Taiwanese head to the polls this month, they will also be voting on a multi-question referendum. The referendum is the first since amendments to the Referendum Act passed in December 2017 lowered the barrier to getting questions on the ballot. Among the questions to appear on the ballot, voters will be asked about education, energy and the environment, civil rights, and Taiwan's international engagement. These questions are a litmus test for policies championed by the Tsai administration, including whether nuclear energy power-generating facilities should cease operations, whether marriage should be restricted by gender, and whether Taiwan should apply to participate in international sporting events as 'Taiwan.'
From rugby to painting, China using global stage to diminish Taiwan | Reuters:
A referendum popular among younger Taiwanese, which will be on the ballot this weekend, seems calculated to rile Beijing: It asks whether the island should join the 2020 Tokyo Olympics as Taiwan, rather than "Chinese Taipei" – the name agreed to under a compromise in the late 1970s.

"The Chinese suppression on Taiwan will not stop until it was unified by China," Taiwanese volleyball player Huang Pei-hung wrote in a post widely shared on Facebook to rally support for the referendum. "Please work hard to help rectify Taiwan's name."
---
6. Implementation not matching rhetoric about support for private enterprises
In Depth: China's Unprecedented Private Sector Rescue - Caixin:
"The policy risks are huge," one commercial bank manager said. "The changes are sudden, and it's difficult for us to judge the future."

The hesitation in lending to small businesses also reflects Chinese banks' longstanding reliance mainly on collateral for assessing loan risk, a bank executive said. Chinese banks lack the ability to manage borrower's capital flows and monitor their clients' books, so lenders often assess borrowers based on asset size and government backing, the executive said.

Bank staffs lack the incentive to make small loans to small borrowers, which often involve more work and higher risk, said Wang Jian, chief banking analyst at Guoxin Securities...

"The private company financing difficulties can't be fixed by a single strong therapy," said a person at a bank wealth management department. "Campaign-style support will lead to greater risks."..

"A crucial thing is a market with fair competition," said one private executive, calling for deepening market reforms, especially among state-owned enterprises.
As part of the ongoing campaign to demonstrate support for private enterprises, People's Daily interviews Fujian Party Secretary Yu Weiguo on the importance of supporting the private economy--推动民营经济在高质量发展落实赶超中发挥更大支撑作用(支持民营企业在行动)--财经--人民网 
China Stimulus Efforts Are Failing for Good Reason - Bloomberg:
Now, though, banks are being told to de-risk while supporting risky companies. Local governments are being asked to crank up local infrastructure projects while hardening budget constraints. Investment authorities are told the economy should simultaneously be more self-reliant and more open to foreign businesses.

It all adds up to an almost palpable sense of policy incoherence. As long as that lack of clarity exists, none of the government's competing goals are likely to be achieved, and China's economic slowdown will continue to deepen.
---
7. Regulatory pain coming for payment giants Alibaba and Tencent?
Fintech Could Weaken Monetary Policy Outcomes: Chinese Central Bank - China Banking News:
Zhu Jun (朱隽), director-general of the International Department at the People's Bank of China, said that the growth of fintech will have an impact on the formulation and implementation of monetary policy by PBOC....

Zhu also pointed out that the unassailable market position of tech giants and their provision of vital infrastructure services to financial institutions means that they are increasingly becoming systemically important platforms.

"With regard to risk management of these large-scale tech companies, usually their experience is inadequate, and when faced with market shocks there can be a herd effect that intensifies the pro-cylical nature of the financial system," said Zhu.

"Additionally, these major tech companies usually engage in mixed operations, and some individual companies are already holding companies, increasing the possibility of cross-sector, cross-market risk transmission.

"If these companies roam beyond regulation over the long-term and are not subject to the protection of the financial safety net, once any problems emerge they could have a massive impact."
'Public Spirit' Required for Private Role in Financial Infrastructure: Zhou Xiaochuan - Caixin Global:
Private companies must have "public spirit" when they help build financial infrastructure, and their activities must be guided and overseen by the government to ensure the stability and safety of the system and protect user privacy, former central bank governor Zhou Xiaochuan said Sunday.

The remarks by the longest-serving governor of the People's Bank of China (PBOC), who retired in March after 15 years in the position, are seen by some as a signal of authorities' growing wariness against the expansion of technology giants in the financial industry...

Therefore, while private companies should be given access to financial infrastructure development through avenues such as private-public partnerships with the government, their operations must "be placed under official guidance and supervision," he said. Zhou still retains immense influence in the country's financial world and his remarks are regarded by China watchers as reflecting the thinking of regulators.
Regulation of Chinese Payments on Track to Intensify: PBOC Vice-governor Fan Yifei - China Banking News:
"Normalisation requires that we maintain regulatory focus – in the past it was one way, and in the future it will also be the same way; it's this way for domestic institutions, and overseas institutions will be treated similarly.

"Strict regulation also requires that we 'scrape the bone' and use strong medicine at times when risk appears.

"[We] must resolve existing risk in accordance with established measures, strengthen monitoring of increases in risk, seize problems early on while they're small, and adopt preventative measures in advance
---
8. Not enough sea cucumbers to satisfy Chinese demand
Sea cucumbers are being eaten to death to feed Chinese demand - National Geographic:
Both men were collecting seaweed out of season, which is illegal in Morocco but widely condoned by the government. They each stood to earn at most $60 that day, about a fifth of Morocco's monthly minimum wage.

Ibrahim Morsli, 35, was also hunting illegally for sea cucumbers, an increasingly rare Chinese delicacy traded on the black market. The soft, knobbly creatures have fallen victim to a contagion of poaching that has spread, causing devastating declines, to most coastlines on Earth...

The soft-bodied creatures, which range in length from less than an inch to three feet and in color from dull brown to flamboyant red, have been popular in China since the Ming dynasty in the mid-1300s. Known as haishen—roughly "ginseng of the sea"—at first they were considered medicinal, their phallic resemblance thought to imbue them with power to combat impotence and fatigue. Later they came to be regarded as one of the four marine treasures of Cantonese cuisine, alongside shark's fin, abalone, and the swim bladders of certain fish, such as the totoaba.
Comment: The creatures play an important role in the health of coral reefs:
Feeding on scraps of food, the creatures spend their lives inhaling salt water and expelling clear liquid and sediment. In many areas, their depletion has led to murkier or more polluted coastal waters. In coral reef habitats, where they buffer the effects of ocean acidification, their loss has made catastrophic bleaching events a graver threat.
---
Business, Economy, Finance And Trade
Surprise Fuel Flows Sparked by Raging U.S.-China Trade War - Bloomberg While a direct transfer of U.S. ethanol via Malaysia to China would be in breach of China's tariff rules, the product can be labeled as originating in the Southeast Asian nation if it's blended with at least 40 percent locally produced fuel before the resale.
Chinese surveillance group faces crippling US ban | Financial Times $$ Washington has already banned government agencies from buying Hikvision products, and concerns among investors about an import ban on US components have contributed to a 37 per cent drop in the company's share price from its high earlier this year.  Such a move could be crippling. The core components behind Hikvision's most cutting-edge products — everything from the sophisticated chips that power its popular "smart" cameras to the hardware that stores high-definition footage — come from US companies.
China alleges 'massive' evidence of chipmaker violations | Financial Times $$ Officials in Beijing said an investigation into South Korea's Samsung Electronics and SK Hynix and US-based Micron Technology had made "important progress", and vowed to deepen their probe into the trio, which account for more than 95 per cent of the world's supply of DRAM chips.
In dumping probe, China spooks Australia grain trade already sweating out drought hit - Reuters China on Monday launched a probe into whether Australian barley suppliers dumped cheap imports into their biggest market over the past year, catching the grain trade on the hop just as drought shrivels Australian crops and drives prices higher. Coming amid strained diplomatic ties between Beijing and Canberra, the move by Beijing's commerce ministry comes after the China Chamber of International Commerce complained that Australian barley was sold at lower-than-normal prices for the 12 months through September 2018, hurting domestic suppliers.
Wanda Group Has Cut Debt Level By One-Third Since June 2017 - Caixin:  In 15 months, Wanda Commercial Management Group, the major unit that runs Wanda's real estate business, has reduced by about one-third the debt level that Wanda had in June 2017, according to fiscal reports for Wanda Commercial Management obtained exclusively by Caixin. Wanda's debt-to-asset ratio has dropped from about 72% in mid-2017 to 59% now, according to Caixin's calculations.
China's Wanda Sells Beverly Hills Site to Alagem, Cain International – Variety: London-based Cain International and Alagem Capital Group, headed by Israel-born hotel mogul Beny Alagem, will acquire the site known as One Beverly Hills at 9900 Wilshire Boulevard, the two companies announced in a statement issued last Thursday. The terms of the deal were undisclosed, but the Wall Street Journal reports a sticker price of more than $420 million.
China Market Rescue Unleashes Hot Money Seeking Risky Stocks - Bloomberg Market support measures announced since late October-- including easing of trading restrictions, boosting liquidity and support for small companies -- have helped fuel the frenzy, analysts say. Policies to encourage mergers and acquisitions have lured bets on struggling firms on the assumption they might be targeted by companies seeking to list in the A-share market via reverse takeovers. "The shift in attitude from regulators has fostered a preference for these small, poor- performing shells," said Yang Ziyi, fund manager at Shenzhen Sinowise Investment Co.
China investors dump once-acquisitive firms on write-down fears | Reuters Over the weekend, the China Securities Regulatory Commission (CSRC) tightened disclosure rules around goodwill, urging listed companies to conduct timely impairment test at the end of each fiscal year. Companies are also required to make "rational" assessment of the need for goodwill write-down, by taking into account factors such as prolonged deterioration in profitability, a worsening competitive environment, and macro-economic ris
Data-Faking Vaccine Firm to Be Kicked Off Stock Exchange Under New Rules - Caixin Global The Shenzhen Stock Exchange said on Friday that it has begun the delisting process (link in Chinese) for Changsheng Bio-Technology because the vaccine-maker "engaged in major illegal activities" that jeopardized national security, ecological security, production safety, or public health and safety. The announcement came on the same day that the country's two major bourses, the Shanghai and Shenzhen stock exchanges, issued the final versions of tough new delisting rules. 
Mayor pulls the plug on BYD electric bus deal | Albuquerque Journal The city of Albuquerque is pulling the plug on the Chinese manufacturer contracted to supply 60-foot electric buses for the much-maligned and delayed Albuquerque Rapid Transit project..."When we started running the buses on test runs, we found major problems with the battery range, the brakes and some electrical issues," Keller said. "They seem to be things that were already on the 'to be fixed list,' but they started getting worse."
China's JD.com feels pressure as sales of big ticket items slow | Reuters JD.com, which is backed by Walmart Inc, Alphabet Inc's Google and China's Tencent Holdings, has already lost nearly half of its market value this year as it fights intense competition for Chinese online consumers. On Monday executives said slower sales in its core e-commerce business, particularly big ticket items, dented third-quarter earnings growth, adding that they expect an upturn in profits next year.
China approves $8.3 billion airport expansion in Xinjiang, key hub in Belt and Road Initiative - Reuters China's state planner on Monday approved a 42.1 billion yuan (S$8.3 billion) airport expansion project in Urumqi, capital of the far western region of Xinjiang, a key hub in China's Belt and Road Initiative. Construction will run through 2030 when the expanded airport is expected to handle 63 million passengers and 750,000 tonnes of cargo a year, the National Development and Reform Commission said in a statement.
China moves closer to allowing foreigners to control insurance ventures: sources | Reuters China will accept applications early next year from foreign insurers seeking to take control of their local joint ventures and is even weighing giving them full ownership earlier than flagged, people with direct knowledge of the matter said.
Qin Hui, "Dilemmas" - Reading the China Dream: Qin Hui rejects virtually all of Piketty's argument, as well as the debate his book sparked. The source of the inequalities affecting developed economies, according to Qin, is China, which has taken advantage of the forces of globalization to erode the basis of post-war Western prosperity. The argument is simple: when China joined the world economy in the reform and opening era, capital flocked to China to take advantage of low-wage labor and what Qin calls China's "low human rights advantage," i.e., the state's commitment to development at any cost (land-confiscation, suppression of workers' rights, exploitation of migrant workers, etc.). Over time, China became the "world's factory," producing quality goods at low prices, at the expense of jobs and tax revenues in the developed world previously inhabited by the capital that had now fled to China. Despite a surplus of capital and increasingly frequent labor shortages, the naked power of the Chinese state keeps the machine running, lending the profits back to the developed economies so that the "exchange" can continue. Such debts only intensify the crisis of the developed world, as governments are already attempting to supply more "welfare" to increasing numbers of unemployed despite a fall in tax revenues. // A Translation of Qin Hui's "Dilemmas of Twenty-First Century Globalization"
---
Politics, Law And Ideology
How China's desperate petitioners are blocked from seeking justice | South China Morning Post The investigative report in The Beijing News on Wednesday looked into the death last year of Chen Yuxian, a petitioner from Shangyou county in Jiangxi province. Chen went to Beijing to seek justice after being wrongly accused of selling fake paddy seeds in 2007. His case had been in limbo since he was released on bail. The newspaper tracked a complex web of local officials, informers and the "petition blockers" themselves, who can make more than 800,000 yuan (US$115,000) a month by preventing citizens from reaching Beijing.
Stealth crackdown: Chinese censorship extends to Twitter as activists' accounts disappear | AFP Chinese activists and other Twitter users say they have been pressured by police to delete sensitive tweets... A Chinese Twitter user who requested anonymity told AFP that he was taken in by police over tweets critical of the Communist Party. After being held at a police station overnight, the user was made to hand over login information and watch police delete the tweets.
Why Beijing isn't Marxist enough for China's radical millennials | South China Morning Post In sharp contrast to the official Marxist line, this new generation of Marxists has emphasised individual freedoms, with some even expressing some interest in a constitutional democracy – a stand that the country's mainstream Marxists and Maoists usually dismiss as hypocritical.  //  Comment: And taking the wrong line in the eyes of the CCP has proved fatal on many occasions over the last 97 years...
Xinjiang city urges terrorists to turn themselves in within 30 days - Global Times Local authorities listed 18 situations in which suspects should give themselves up, according to a notice published on the official WeChat account of Hami Cyberspace Affairs Commission on Sunday.
秦岭保卫战:一场生态保护与权力任性的大对决_周刊杂志_经济网_国家一类新闻网站 China Economic Weekly cover story this week on the villa scandal in the protected area in the Qinling Mountains...quite the political scandal in Shaanxi
---
Foreign and Military Affairs
Xi Jinping's schedule of activities in PH - Rappler The state visit, the first one for a Chinese president in 13 years, comes with the usual trappings – a welcome ceremony, a state banquet, a number of agreements to be signed, and meetings with the country's highest officials. While in Manila, Xi will be staying at the Shangri-La hotel in Bonifacio Global City, Taguig. He will not be visiting Davao City anymore, unlike Japanese Prime Minister Shinzo Abe, the first head of state to visit the Philippines during the Duterte administration.
Chinese group to invest $2bn in former US outpost in Philippines | Financial Times $$ A Chinese company is set to invest $2bn to build an industrial park at Clark Air Base, the former US military outpost in the Philippines, marking one of the most vivid signs yet of President Rodrigo Duterte's increasing tilt towards Beijing away from Washington. The planned new projects would be one of China's biggest investments in the country and one of the largest projects of Mr Duterte's $180bn "Build Build Build" plan to rejuvenate infrastructure in the Philippines. It coincides with a visit by Xi Jinping to the country this week, the first state visit by a Chinese leader since Hu Jintao in 2005.
Full text of Xi's signed article on Philippine newspapers - Xinhua | Since President Duterte took office, China and the Philippines have reengaged in dialogue and consultation for the proper handling of the South China Sea issue. Our relations have now seen a rainbow after the rain. In just a little more than two years, China has become the Philippines' largest trading partner, largest export market and largest source of imports, and the second largest source of tourists. There has been a surge of interest for private investment in each other's countries, and interactions between our cultural groups have been frequent. More and more Philippine fruits are coming to the dining table in Chinese households, and a growing number of Philippine scenic spots are being included in the itinerary of Chinese tourists. China firmly supports the Philippines' fight against drugs and terrorism and its post-conflict reconstruction efforts in Marawi, thus contributing to peace in the country. In the face of disasters, our two peoples have stood together and come to each other's help, writing new chapters of friendship between our two countries.
China matches Nato in information arms race with deal for 'Ferrari of war room software' | South China Morning Post The same software is used by the United States Special Operations Command at MacDill Air Force Base in Tampa, Florida, where covert missions for the US government – including the raid that assassinated al-Qaeda leader Osama bin Laden in Pakistan in 2011, originated. Under Chinese law, a foreign vendor supplying software to the Chinese government must disclose every line of source code to authorities for a security check. It was unclear whether Luciad has complied with that requirement. The company did not respond to requests for comment.
South Korea says Chinese leader Xi Jinping plans to visit North Korea next year | The Japan Times Chinese President Xi Jinping intends to visit North Korea next year after receiving an invite from North Korean leader Kim Jong Un, South Korea said Saturday. If he visits, Xi will be the first Chinese leader to do so since 2005.
China Has Built 'Great Wall of SAMs' In Pacific: US Adm. Davidson « Breaking Defense - Defense industry news, analysis and commentary By turning reefs and atolls in the disputed South China Sea into fortified artificial islands, complete with anti-aircraft Surface-to-Air Missiles, China has transformed "what was a great wall of sand just three years ago [into] a great wall of SAMs," the US commander in the Pacific said here today.
New Zealand: United Frontlings bearing gifts - Sinopsis Each major party has a United Front-linked MP, ensuring CCP-friendly views are represented regardless of election results. Their numbers may soon increase: not a month ago, a recording emerged in which National's leader can be heard discussing a further pro-CCP, seat in connection with a large donation from another United Frontling. Nor are New Zealand endorsements of Xiist policy new. The leaders of both major parties sent congratulations to the latest Party Congress. Both were represented at the CCP International Liaison Department's December "Dialogue" with foreign political parties, a fact that went unreported in New Zealand.
China uses the cloud to step up spying on Australian business - Sydney Morning Herald China's peak security agency has directed a surge in cyber attacks on Australian companies over the past year, breaching an agreement struck between Premier Li Keqiang and former Prime Minister Malcolm Turnbull to not steal each other's commercial secrets. A Fairfax Media/Nine News investigation has confirmed that China's Ministry of State Security is responsible for what is known in cyber circles as "Operation Cloud Hopper", a wave of attacks detected by Australia and its partners in the Five Eyes intelligence sharing alliance.  //  Comment: Doubt a coincidence this is leaked to the media, looks like part of the changed stance to PRC misdeeds to a much more aggressive and long overdue name and shame approach
---
Hong Kong, Macao
Opinion | Benny Tai Yiu-ting: Hong Kong Isn't What It Was, Nor What It's Supposed to Be - The New York Times No longer facing any significant opposition in LegCo, the government is likely to soon propose new authoritarian laws. The most significant would be national security measures to implement Article 23 of the Basic Law, which provides that Hong Kong must prohibit any act of treason, secession, sedition or subversion against the Chinese government. Mere speeches supporting the independence of Hong Kong or self-determination could fall under those measures.
---
Tech And Media
Chinese internet giant Tencent tightens control of WeChat content amid industry-wide clampdown "To create a green and orderly content ecosystem", WeChat reduced the maximum number of accounts for companies to two from five previously, and to one account for individuals from two, according to an announcement from Tencent on Friday. Companies can still submit requests to register more accounts than the new limits to both the social media platform and the government's content watchdog.
Zhongguancun, Beijing's Silicon Valley, promises RMB 15 billion to early-stage startups · TechNode According to an official announcement, the Zhongguancun government will help pay over RMB 100 million in loan interest for tech companies to reduce capital borrowing cost by 20%. The decision is likely to encourage over RMB 10 billion in loans to be issued in the area. The government has also decided to inject RMB 65 million into investment institutions to hedge any risks an angel round and early-stage investment will lead to.
Xiaomi is taking over most of Meitu's smartphone business - Techinasia The company announced in the Stock Exchange of Hong Kong that it has granted Xiaomi exclusive global licenses to the Meitu brand as well as "certain technologies and domain names in relation to all future Meitu-branded smartphones (other than the Meitu V7 model) and certain smart hardware products."
---
Society, Art, Sports, Culture And History
Controversy over Yu Minhong Suggesting That Chinese Women Are Responsible for "Decline of the Country" | What's on Weibo The founder and CEO of the US-listed education institution New Oriental (新东方教育), Michael Minhong Yu (Yu Minhong 俞敏洪), has caused quite some consternation on Chinese social media for holding women responsible for the decline of the country. The comments in question were made at the Shanghai Educational Forum (2018学习力大会) on Sunday, November 18, where Yu – also known as "the richest teacher in China" – spoke in front of a large audience and said: "Chinese women's standard for picking men is now based on his ability to make a lot of money. In the end, if a country is doing well or not, often leads back to women. And now the degeneration [or 'corruption': duòluò 堕落] of Chinese women is leading to the degeneration of the country."
Volunteers passing national flag costs Chinese marathon runner the championship? - SHINE Two volunteers kept trying to pass a national flag to Chinese marathoner He Yinli in her final sprint for championship during the Suzhou Taihu International Marathon held on Sunday, triggering heated debate, thepaper.cn reported. He, whose running pace and breathing was disrupted during the exchange, was then beaten by an African runner and ended up placing second.
---
Energy, Environment, Science And Health
China's Rules on Genome Research Are Too Restrictive - Bloomberg Late last month, in a move that's largely been overlooked outside the scientific community, China's Ministry of Science and Technology announced it had sanctioned six Chinese and foreign organizations for the "improper" collection, trading and export of Chinese genetic information. Among those penalized were China's leading genomics company, BGI Genomics Co. Ltd., and leading biotech firm, WuXi AppTec Co. Ltd., as well as global pharmaceutical giant AstraZeneca Plc.
What price eco-tourism? 6,000 Chinese sturgeon die during construction of 'green' resort | South China Morning Post Since the start of this year, 36 mature fish, aged over 20, and about 6,000 younger ones, aged up to two, have died at the Hengsheng aqua-farm in Jingzhou, central China's Hubei province, Thepaper.cn reported on Sunday.
---
Agriculture And Rural Issues
National Outbreak of African Swine Fever Hits Shanghai - Caixin Global African swine fever has now spread to Shanghai, infecting 50 of one farm's 314 pigs and killing 11, the Ministry of Agriculture and Rural Affairs confirmed Saturday. Shanghai is the 19th provincial level region to report an outbreak after the first cases in China were reported in August.
The newsletter is intended for a single recipient, but occasional forwarding is fine. If you would like to order multiple subscriptions for your team with a group discount (minimum 5), please contact me directly.