China In The State Of The Union; "Bloody Nose" Attack On North Korea Under Serious Consideration?; China's Plan To Become A Science Superpower; RMB Back To August 2015 Levels
Good Morning, we are not quite two weeks until China shutdowns for the Lunar New Year Holiday. The Year of The Dog starts February 16, though news usually slows down significantly several days before that. The Newsletter will be taking several days off over the first week of the Lunar New Year Holiday, assuming nothing big is going on.
Today is a bit slow so this issue is a bit shorter than usual. 
Thanks for reading.
---
The Essential Eight
1. China In The State Of The Union
Trump made only one direct reference to China, calling it a "rival", but the comments about trade seem clearly directed at the PRC.
Full text of Trump's State of the Union address - White House:
America has also finally turned the page on decades of unfair trade deals that sacrificed our prosperity and shipped away our companies, our jobs, and our wealth. Our nation has lost its wealth, but we're getting it back so fast. The era of economic surrender is totally over. From now on, we expect trading relationships to be fair and, very importantly, reciprocal. (Applause.)

We will work to fix bad trade deals and negotiate new ones. And they'll be good ones, but they'll be fair. And we will protect American workers and American intellectual property through strong enforcement of our trade rules.

Around the world, we face rogue regimes, terrorist groups, and rivals like China and Russia that challenge our interests, our economy, and our values. In confronting these horrible dangers, we know that weakness is the surest path to conflict, and unmatched power is the surest means to our true and great defense.

For this reason, I am asking Congress to end the dangerous defense sequester and fully fund our great military. ..

But no regime has oppressed its own citizens more totally or brutally than the cruel dictatorship in North Korea. North Korea's reckless pursuit of nuclear missiles could very soon threaten our homeland. We are waging a campaign of maximum pressure to prevent that from ever happening.

Past experience has taught us that complacency and concessions only invite aggression and provocation. I will not repeat the mistakes of past administrations that got us into this very dangerous position.

We need only look at the depraved character of the North Korean regime to understand the nature of the nuclear threat it could pose to America and to our allies.
Alarming and provocative for Trump to call China a rival: expert - Global Times:
The US should not perceive China as a rival and stop hyping the rhetoric to gain military and political mileage, a Chinese expert warned after US President Donald Trump delivered his first State of the Union address.

"Around the world, we face rogue regimes, terrorist groups, and rivals like China and Russia that challenge our interests, our economy, and our values," Trump said in his speech before a joint session of Congress Tuesday night local time.

It is alarming and provocative for Trump to call China a US rival and especially to lump China together with rogue regimes and terrorist groups, Liu Yawei, director of the China Program of the Carter Center, told the Global Times.
---
2. Did Skepticism About Attacking North Korea End Victor Cha's Chances To Become The US Ambassador To South Korea?
Disagreement on North Korea policy derails White House choice for ambassador to South Korea - The Washington Post:
Victor D. Cha, an academic who served in the George W. Bush administration, raised his concerns with National Security Council officials over their consideration of a limited strike on the North aimed at sending a message without sparking a wider war — a risky concept known as a "bloody nose" strategy.

Cha also objected to the administration's threats to tear up a bilateral trade deal with Seoul that Trump has called unfair to American companies. The administration last week imposed new tariffs on imports on washing machines and solar energy panels, a move criticized by the South Korean government.
White House abandons planned pick for South Korea ambassador - FT $$:
According to the two people familiar with the discussions between Mr Cha and the White House, he was asked by officials whether he was prepared to help manage the evacuation of American citizens from South Korea — an operation known as non-combatant evacuation operations — that would almost certainly be implemented before any military strike. The two people said Mr Cha, who is seen as on the hawkish side of the spectrum on North Korea, had expressed his reservations about any kind of military strike.
The Washington Post published this OpEd by Cha hours before Trump's State of The Union speech--Victor Cha: Giving North Korea a 'bloody nose' carries a huge risk to Americans:
North Korea, if not stopped, will build an arsenal with multiple nuclear missiles meant to threaten the U.S. homeland and blackmail us into abandoning our allies in Asia. North Korean dictator Kim Jong Un will sell these weapons to state and nonstate actors, and he will inspire other rogue actors who want to undermine the U.S.-backed postwar order. These are real and unprecedented threats. But the answer is not, as some Trump administration officials have suggested, a preventive military strike. Instead, there is a forceful military option available that can address the threat without escalating into a war that would likely kill tens, if not hundreds, of thousands of Americans.
I came away from a recent not for attribution talk by a senior Trump administration official convinced the odds of military action against North Korea are much higher than most people, or the markets, realize.
---
3. China's Plan To Become A Science Superpower
China to enhance basic science research - Gov.cn:
The Chinese government vowed more support for the country's basic science research, as the global competition in this field is reliant on basic research, according to a document released by the State Council on Jan 31.

The goal is to enhance China's initial innovation capability and build a solid foundation for a world technology power.
国务院关于全面加强基础科学研究的若干意见--国发〔2018〕4号 
China aims to be global leader in science by mid-century - Xinhua
---
4. Politburo Self-Study Session On Modernizing The Economy
Xi stresses developing modernized economy - Xinhua:
Xi Jinping, general secretary of the Communist Party of China (CPC) Central Committee, has urged developing a modernized economy to push the country's economic development to a new level.

Xi made the remarks while presiding over the third group study of the Political Bureau of the 19th CPC Central Committee Tuesday.
According to the official report no outside experts spoke at the session; instead it had talks by Xi Jinping and Politburo members Liu He, Sun Chunlan, Li Qiang, Li Hongzhong, Chen Quanguo, Chen Min'er, Hu CHunhua and Cai Qi.
习近平:深刻认识建设现代化经济体系重要性 推动我国经济发展焕发新活力迈上新台阶 
这次中央政治局集体学习,由中央政治局同志自学并交流体会,刘鹤、孙春兰、李希、李强、李鸿忠、陈全国、陈敏尔、胡春华、蔡奇就这个问题作了重点发言,中央政治局各位同志听取了他们的发言,并就有关问题进行了讨论。
---
5. Smog Crackdown To Continue
China puts finishing touches to two-year smog crackdown plan - Reuters :
"A three-year battle plan in the war to protect blue skies" is being hammered out by officials of the Ministry of Environmental Protection, said spokesman Liu Youbin, and incorporates tougher curbs on major industrial regions.

Key areas facing such restrictions are the Beijing-Tianjin-Hebei zone in the country's north and the Yangtze and Pearl River deltas further south.
---
6. RMB Back To August 2015 Levels
The RMB continues to surge, onshore rate closed January 31 at 6.2920 to ! USD, jumped the most in the month of January since 1994.
It is almost back to the rate before the August 2015 adjustment. Will Beijing start to loosen some of the capital controls put in place over the last 18 months or so? The government does not want such a strong RMB to the USD.
在岸人民币兑美元1月上涨2200点 创1994年汇改以来最大单月涨幅 | 每经
周三下午,在岸人民币兑美元升破6.29关口,最终在岸人民币兑美元官方收盘价报6.2920,为2015年8月10日以来新高,较上一交易日官方收盘价涨495点,较上一交易日夜盘收盘涨330点。如果以月度涨幅计算,在岸人民币兑美元1月份累计升值达3.44%,创下1994年汇改以来最大单月涨幅。
---
7. Foreign Ministry Spokesperson Dismisses FCC Report About Journalist Mistreatment
The contempt is just dripping through the screen…
Foreign Ministry Spokesperson Hua Chunying's Regular Press Conference on January 30, 2018:
Q: The Foreign Correspondents' Club of China just issued its annual report on the working conditions of foreign journalists in China, which found that the Chinese government has used the visa renewal process to pressure correspondents whose coverage it does not like and intensified attempts to deny or restrict access for foreign journalists to large parts of the country. I was wondering if you've seen this report and do you have any comment on that? And are there any steps China plans to take to improve the working conditions for foreign correspondents in China?

A: I have yet to see this so-called report you mentioned, and I am also wondering whom this so-called organization could represent. Are all of you its members? Are you all OK with its report? For me, I find the accusations in this report very unreasonable. I would like to ask all of you some questions. How do you like your working environment in China? Has the Information Department of the Foreign Ministry, as the competent department in charge of foreign media organizations and journalists stationed in China, provided you with all necessary convenience and assistance for your coverage? If any of you believes that the FCCC has spoken your mind, or you find yourself approving the contents of this report, you may raise your hand and let me know. (No hand raised)

No one.

Then, you can tell the FCCC that foreign journalists present here today do not agree with its report's conclusion, so it has in no way reflected the genuine opinion of almost 600 foreign journalists stationed in China. We will continue with our efforts to assist and facilitate foreign journalists' report and coverage in China, as we always do. If you encounter any problem and difficulty in your work, feel free to contact us anytime.rt? For me, I find the accusations in this report very unreasonable. I would like to ask all of you some questions. How do you like your working environment in China? Has the Information Department of the Foreign Ministry, as the competent department in charge of foreign media organizations and journalists stationed in China, provided you with all necessary convenience and assistance for your coverage? If any of you believes that the FCCC has spoken your mind, or you find yourself approving the contents of this report, you may raise your hand and let me know. (No hand raised)

No one.

Then, you can tell the FCCC that foreign journalists present here today do not agree with its report's conclusion, so it has in no way reflected the genuine opinion of almost 600 foreign journalists stationed in China. We will continue with our efforts to assist and facilitate foreign journalists' report and coverage in China, as we always do. If you encounter any problem and difficulty in your work, feel free to contact us anytime. 
---
8. More On The Vatican And The PRC
Explaining why the Vatican seems so eager for a deal with China - Crux:
First, there's the root fact that there are Catholics in China – somewhere between 10 and 15 million, according to most estimates, though no one knows for sure due to the difficulties of doing reliable religious surveys;

Second, there's also a diplomatic drive as well as a pastoral one. The Vatican has its own diplomatic corps, aspiring to be a voice of conscience on the global stage;

Third, there's a deep romance about China nurtured over centuries in the Catholic psyche, associated with legendary figures such as Matteo Ricci and St. Francis Xavier. There's also a nagging historical sense that the Church sort of blew it with the Chinese Rites controversy in the 17th and 18th centuries;

Fourth, the Vatican also understands that China is rich with missionary potential
Vatican rebukes cardinal over 'selling out' to China accusations - Reuters:
It came a day after Cardinal Joseph Zen, the outspoken former archbishop of Hong Kong, caused a stir with a long post on his Facebook page that was highly critical of the Vatican.

The statement, which did not name Zen but which official Vatican sources said was prompted by the controversy he began, said it was "surprising and regrettable" that some were promoting "a presumed difference of thought and action" between Pope Francis and his top aides over China strategy.
---
Business, Economy, Finance And Trade
China January official factory PMI dips to 51.3, below forecasts - Reuters The official Purchasing Managers' Index (PMI) released on Wednesday dipped to 51.3 in January, from 51.6 in December. But it remained comfortably above the 50-point mark that separates growth from contraction on a monthly basis. Analysts surveyed by Reuters had forecast the reading would ease marginally to 51.5
China's Factory Gauge Slipped in January on Debt Cleanup, Yuan - Bloomberg A new composite index covering both services and manufacturing was released for the first time; it stood at 54.6, the National Bureau of Statistics said Wednesday
Sequoia Capital plans $8 billion global fund, eyes China investors: sources - Reuters Sequoia's China founding partner Neil Shen, one of the best-known venture capitalists in the country, is actively tapping potential investors including state-backed ones for the global fund, said the people, who declined to be named as the fundraising plans were confidential.  //  Comment: would an expanded CFIUS pay attention to this?
HNA Targets $16 Billion in Asset Sales in First Half - Bloomberg HNA Group Co. told creditors it will seek to sell about 100 billion yuan in assets ($16 billion) in the first half of the year as part of plans to repay debts and stave off a liquidity crunch, according to people familiar with the matter. The company proposed to raise about 20 billion yuan in the first quarter and around 80 billion yuan in the second through the asset disposals, the people said, asking not to be identified because the discussions were private.
Dealmakers Jump Ship as China Tycoon's $5 Billion M&A Push Ends - Bloomberg Xie formed ZZ Capital International near the height of China's record-breaking foreign acquisition spree in early 2016, before authorities had begun their clampdown on overseas deals and reverse mergers. He hired a string of high-profile bankers to run the firm, including Michael Cho, the top dealmaker at Qatar Investment Authority. Cho, who was previously head of Asia mergers and acquisitions at Bank of America Corp.'s Merrill Lynch unit, brought on several former colleagues from the investment bank, according to the people with knowledge of the matter. He was paid a basic salary of $1.8 million per year, plus other benefits including a monthly housing allowance of HK$130,000 ($16,626). Executives also joined from Bain Capital and KKR, the buyout firm co-founded by Henry Kravis and George Roberts
China's Leshi drops 10% for sixth straight session - FT $$ The former flagship listed unit of Chinese tech conglomerate LeEco blamed ongoing financial difficulties at its parent company for the projected revenue decrease. "During this reporting period, the continuous capital shortage and liquidity problems from related parties, negative public opinion have greatly affected the reputation and creditworthiness of the company," said the subsidiary in a stock filing.
China regulator approves giant nuclear merger in latest state-brokered power deal - Reuters China's state asset regulator said on Wednesday it has approved the proposed merger of China Nuclear Engineering & Construction (CNEC) and China National Nuclear Corp (CNNC), the latest state-orchestrated marriage in the nation's vast power sector.
Chinese Solar Giant Announces U.S. Plant Week After Trump Tariffs - Caixin Global Shanghai-based JinkoSolar, the world's second-largest solar panel manufacturer, announced it will open its first U.S. factory, days after President Donald Trump said he would raise tariffs on solar panel import
Energy Producers Rake It In as Power Firms Warn of Losses - Caixin Global Many of China's major energy producers have estimated strong profit growth for 2017, citing higher commodity prices and reforms that have improved efficiency — but power generators are feeling the sting of the price hike
甘肃公司发放1亿年终奖 现金堆成墙_高清图集_新浪网 In case you were wondering why there is always a cash "shortage" around Lunar New Year--A Gansu firm gave each of its employees a 50,000 RMB bonus, all in cash. This is a slideshow of the wall of cash bundles before they were handed out.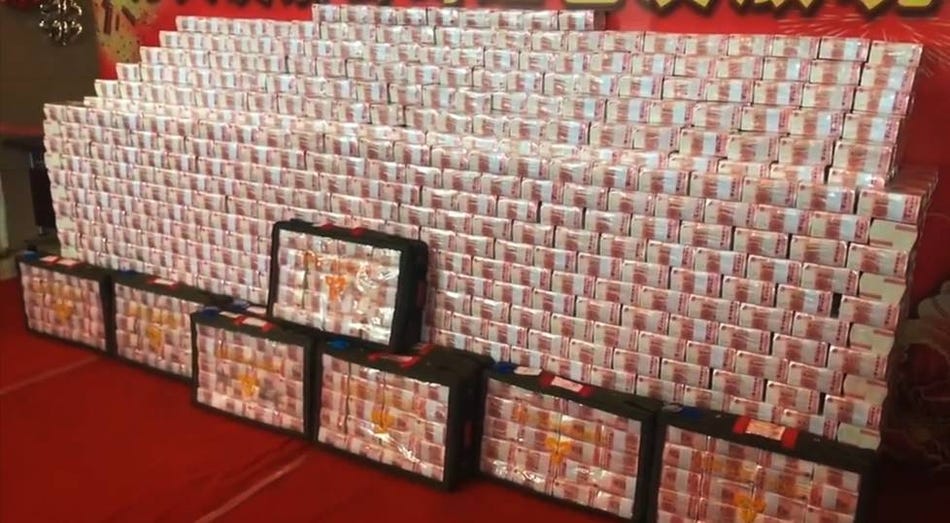 Politics, Law And Ideology
Spying on a Budget: Inside a Phishing Operation with Targets in the Tibetan Community This report analyzes an extensive phishing operation with targets in the Tibetan community. Our analysis indicates other possible targets among ethnic minorities, social movements, a media group, and government agencies in South and Southeast Asia.
Xi Jinping unanimously elected deputy from Inner Mongolia to 13th NPC - Xinhua Deputies said Xi's election in an ethnic minority border region showed a new ethos of the CPC Central Committee: maintaining a close tie with the people, advancing poverty alleviation, pushing for the Belt and Road Initiative and other key state programs. "It [Xi's election] is a great honor for people in Inner Mongolia," a deputy said. "The Party Central Committee places great trust on us and cares so much about border and ethnic regions. We are motivated."
Mapmakers Told to Dot Their Seas for Sovereignty's Sake - Sixth Tone In a notice released Monday, the National Administration of Surveying, Mapping, and Geoinformation (NASMG) named eight companies guilty of inaccurate cartography or failing to submit their maps to the authority for review before publication. The companies range from a local publishing house to well-known Japanese retail brand Muji. According to the notice, the eight examples were identified in a monthslong nationwide inspection of "problematic maps" that harm state sovereignty, security, and national interests
Brain King becomes first WeChat mini program banned by regulators for "distorting history" · TechNode Brain King (大脑王者), a popular quiz-like social game, became the first WeChat mini program to get a taste of the long arm of Chinese regulators. On Tuesday night, the mini program was suspended. Tencent's WeChat team announced that Brain King violated rules for managing public information services on IM platforms and urged mini programs to rectify themselves
两位副部执掌地级市,少见 长安街知事(微信ID:Capitalnews)注意到,上一次出现这种"高配"情况,也是在长沙。2016年11月,湖南省委换届,时任长沙市委书记易炼红和市长胡衡华双双当选常委,出现"双常委"主政长沙的罕见局面。之所以说罕见,是因为同一城市的书记、市长基本不会同时跻身省级常委,即使是副省级城市也少有例外。
重庆市政府领导班子重大调整,一半新面孔 Half of the new leadership team in Chongqing are new  //  政事儿"(微信ID:xjbzse)注意到,其中,邓恢林、潘毅琴、李殿勋、李明清四人为市政府领导班子"新面孔"
侠客岛:"村霸"背后的问题,绝不简单 People's Daily Overseas edition commentator "Xiake Dao" on the phenomenon of local official " village tyrants" and why it the new struggle against them is so important //  如果这道问题没有有效的解答方案,自上而下的资源、权力意志难以有效渗透到村庄一层,这时候基层就会留下权力的真空,"强势群体"、非法、灰色的力量可能就会产生,用以解决基层内生的不确定乃至不稳定因素,维持某种表面秩序。
Foreign and Military Affairs
Chinese foreign minister outlines China's diplomacy in 2018 - Xinhua Addressing foreign diplomats to China, Wang said China would further promote the Belt and Road construction in the new year, and implement the consensus reached at the first Belt and Road Forum for International Cooperation, held in Beijing in May 2017. China will make good preparations for hosting a series of diplomatic events such as the annual meeting of the Boao Forum for Asia, the Shanghai Cooperation Organization summit and the summit of Forum on China-Africa Cooperation, he said.
US hits notorious Laos casino with sanctions - AFP The US Treasury Tuesday placed the notorious Kings Romans Casino in the Golden Triangle region of Laos on its organized crime sanctions blacklist, calling it a hub of trafficking in humans, drugs and protected animals. The Treasury said the Chinese casino owner Zhao Wei heads a formidable "transnational criminal organization" operating from the gaming resort in the Golden Triangle Special Economic Zone on the Mekong River near Ton Pheung, Laos, close to where Myanmar, Thailand and Laos meet.
Chinese-built expressway divides Uganda as debts mount - Reuters The government has partly funded the 51-km (30-mile) $580 million expressway with a loan, part of $11 billion in borrowings in the decade since the World Bank canceled debts about a third that size as part of debt relief for poor states. Uganda says the four-lane road is the jewel in the crown of an infrastructure program that will boost economic growth; critics accuse President Yoweri Museveni, in power for 32 years, of squandering debt relief and mortgaging much-anticipated oil revenues before crude starts to flow in 2020.
What China's Davos Coverage Reveals About Its Global Ambitions | The Diplomat The article notes that, historically, China has not always taken advantage of its historical changes, especially falling short during the period of modern history just before the founding of the People's Republic of China (often referred to as the "century of national humiliation"). But there's clear optimism that this will not be another wasted chance: With another historical opportunity in front of China, "We are more confident and capable of grabbing this opportunity than at any time in history," the article says. The self-confidence, coupled with a heady sense of historic destiny, is what underpins the latest WEF coverage in Chinese state media. The Davos gathering was a competition for global influence; Xi won (an in absentia, no less). Whether or not that's an accurate perception is, in this sense, less important than the fact that China believes it. 
On China visit, Britain's May focused on post-Brexit future - AP Meeting with Chinese Premier Li Keqiang, May referred to "a golden era" in relations between the two countries that London hopes will bring vast amounts of new job-creating investment from China's fast-growing global firms. "This is an auspicious time of the year to ... think about and consider how we can build further on that golden era and on the global strategic partnership that we have been working on between the U.K. and China," May said.
China to issue new five-year visas to attract foreigners of Chinese origin from Feb 1, East Asia News & Top Stories - The Straits Times Following changes to visa rules, foreigners of Chinese origin will be able to apply for visas valid for multiple entries over a period of five years, up from one year previously. The changes will also see validity periods for residency permits for these foreigners extended from three years to five
Cold War II: Spy Agency Sounds Alarm at Foreign-Interference Levels - WSJ $$ ASIO's Mr. Vickery didn't directly name China during the hearing, although senior government officials have confirmed to The Wall Street Journal that their chief concern is interference by Beijing. Several countries, Mr. Vickery said, were rated as "extreme" threats on ASIO's internal alert system, meaning they were actively carrying out espionage and interference on Australian territory. The dossier, given to the committee with identifying information removed, said Australian citizens had obtained classified data sought by overseas nations in areas from mining and banking to politics and defense.
Japan defends Muji in scrap with China over catalogue map missing disputed isles | South China Morning Post: "There is no territorial dispute to be settled over the Senkaku Islands. We can by no means accept the measure based on China's unilateral claims," Chief Cabinet Secretary Yoshihide Suga said, referring to the Japanese-controlled islands in the East China Sea.
Hong Kong, Macao
Beijing Attacks Hong Kong's Rule of Law - WSJ - Martin Lee OpEd If the current pattern continues, Hong Kong's judges will find that they are increasingly pressured to reach unsupportable verdicts. That would be devastating for the global companies that write contracts in Hong Kong, for the news organizations that base their bureaus here, and for the nongovernmental organizations that have long been able to operate here without fear of interference. Yet diplomats and world leaders are standing by as Beijing throws youth leaders into jail, flouts a clearly worded international treaty, and reneges on written agreements to uphold the rule of law and the independence of the judiciary. The international community must come to Hong Kong's defense and insist that China uphold its treaty obligations to let our society continue to be fre
Taiwan
Taiwan plans to change rules to counter Chinese propaganda | Taiwan News The Mainland Affairs Council plans to propose changes in regulations in order to counter China's continued "united front" strategy targeting Taiwan, reports said Wednesday. Over the past year, Beijing has been trying to attract more young Taiwanese and even to recruit Taiwanese citizens to join its ranks and attain higher-level positions in political bodies, the Central News Agency reported.
Taiwan Citizens Accused of Violating U.N. Sanctions on North Korea - The New York Times The Taipei District Prosecutors' Office said in a statement on Monday that Chiang Kuo-hua, previously a High Court judge, and his son, Chiang Heng, chartered a cargo ship through a Chinese middleman, which they used to transport coal to Vietnam from North Korea last summer.
Tech And Media
Why Weibo and Chinese Celebrities Are Put into the Naughty Corner by China's Cyberspace Administration | What's on Weibo Besides buying targeted marketing space on Weibo, which is actually clearly marked as third-party advertising, companies and celebrities can get a hashtag of choice into the top trending lists for as little as 8000 yuan (±$1260) by which digital agencies create fake Weibo accounts pushing a topic up the charts.
网络强国建设三年行动年内启动 基础设施建设将提速-中新网 《经济参考报》记者从工信部等权威部门获悉,2018年我国将正式启动网络强国建设三年行动,围绕城市和农村宽带提速、5G网络部署、下一代互联网部署等领域,加大网络基础设施建设。根据相关计划,业内预计,未来我国网络基础设施建设投资规模将突破3000亿元,不但能推动相关产业和上下游产业链发展,还能为未来数字经济的发展奠定"硬件"基础。// 2018 is the start if a three year effort to build an "Internet superpower" reports Xinhua's Economic Information
Video: Bilibili's dance cover stars · TechNode Previously known as a place to watch (sometimes pirated) anime and discuss the latest in ACG, Bilibili has grown into a haven for erciyuan (or 2D in English, a reference to the "flat" nature of ACG) aficionados to create and share their own fan content. We talked to two popular Bilibili stars, who upload "Zhaiwu" (宅舞, literally meaning "house dance"), or ACG dance covers. Their videos have drawn tens of thousands of views.
外交部记者会罕见一幕!华春莹三问外媒,现场一片沉默|华春莹|外国|外交部_新浪新闻
China's Hip-Hop Haters Turn Their Ire to 'Hanmai' - Sixth Tone Last Friday, YY — one of China's earliest and most popular livestreaming platforms — announced a string of measures aimed at "cleaning up the online livestreaming space." One new rule was forbidding usernames that contained the words "MC" or "hanmai" — literally "microphone shouter." Offenders, the notice warned, would have their accounts shut down, and severe violations could result in legal action. Hanmai is a homegrown genre of online performance that was once described by GQ China as "county-level DJ music + tractor-fast tempo + loud voice + northeastern accent." It's popular in China's countryside and lower-tier cities, and most of its performers are men from the country's northeast — the only region of China with more male than female livestreamers.
Trivial Pursuits: The Rise of Chinese Quiz Apps - Sixth Tone The shift from traditional quiz shows to trivia apps hosted on social networks has brought about a number of changes, not least the expansion of the potential player base. In the past, the majority of quiz players could only listen helplessly as a lucky few phoned in or made it onto TV. Today, however, anyone can take part, because the internet and the widespread use of smartphones have greatly lowered the barriers to participation.
Mattel Boosts China Play with NetEase Joint Venture - Caixin Global The name "Mattel163" combines the U.S. firm's brand with one of NetEase's brands, based on its original 163.com website. From its roots as a web portal operator, NetEase has evolved into the country's second-largest game publisher, developing some of China's most popular homegrown games.
Society, Art, Sports, Culture And History
China's #MeToo movement in colleges initially encouraged by authorities, then frustrated - Reuters After declaring they were ready to fight sexual harassment on university campuses, the Chinese authorities now appear to be seeking to contain a nascent #MeToo movement.
Energy, Environment, Science And Health
China moves to protect coastal wetlands used by migratory birds | Science China has armored its coastline over the past several decades, building sea walls and turning more than half of its marine wetlands into solid ground for development. The impact on the almost 500 species of migratory birds that rely on this habitat has been severe. But the tide is turning in favor of wildlife, conservationists believe, as the government is now moving to tighten regulations and designate new reserves to protect coastal wildlife.
Steps to the digital Silk Road - Nature Sharing big data from satellite imagery and other Earth observations across Asia, the Middle East and east Africa is key to sustainability, urges Guo Huadong. "I chair the Digital Belt and Road Program (DBAR) initiated in 2016 by Chinese scientists in cooperation with experts from 19 countries and 7 international organizations. Our aim is to improve environmental monitoring, promote data sharing and support policymaking using big data on Earth observations. The Chinese Academy of Sciences (CAS) is investing more than 200 million yuan (US$32 million) in the next 5 years to support DBAR."
Toxic Waste-Dumper Jailed for Two Years in Nanjing - Caixin Global The self-employed businessman, surnamed Wang, collected chemicals used to treat photo film from several photo studios from 2007 and extracted silver sulfide from the toxic liquid before discharging the waste into drainage systems, streams and trenches near his home, trial documents from Nanjing's Xuanwu District People's Court showed.