Ensuring employment and the health of SMEs; Americans' views of China increasingly negative; Hong Kong
Running late today and so I do not have any commentary up top. I apologize for the later delivery of the newsletter over the last month. Having the kids home has affected my schedule but more importantly I am allowing myself too many distractions as spending so much time digging into the deluge of grim news about China and the pandemic are stressing my sanity. I will do better, and appreciate your patience.
I am also looking to add more paid interns, so if you know anyone with native-level Chinese who has some free time please send them my way.
The rumor mill was churning last night about the health of Kim Jung Un. I wonder how stressed the PRC leadership may be if it is true, given they are always worried about chaos, refugees and loose nukes just over the border, and if Kim were to die there is a scenario in which the PRC could be faced with a massive refugee crisis on its DPRK border, when there are an unknown number of Covid-19 cases inside North Korea, and China is already so worried about imported cases, especially from Russia.
Thanks for reading.
---
The Essential Eight
1. The economy
China extends welfare support to vast migrant labour force amid 'unprecedented challenges' | South China Morning Post
The Chinese government said on Tuesday it would for the first time extend unemployment benefits and other forms of emergency aid to the country's vast population of migrant workers, as the coronavirus kills tens of millions of jobs and threatens the country's social stability.

Speaking at a State Council meeting, Premier Li Keqiang said more must be done to help China's rural poor, as well as residents living on government handouts in cities and those unemployed as a result of the economic fallout from the virus.
Xinhua on the State Council meeting - 新华社:李克强主持召开国务院常务会议
The meeting also requested that state infrastructure projects hire more poor migrant workers. A rise in unemployment threatens "political security", which of course is the most important thing to ensure.
新华时评·六保怎么保:保亿万市场主体,汇中国经济"千顷澄碧"-新华网
This Xinhua commentary on the 6 ensures, and specifically the ensure market entities 保市场主体, explains that "market entities" refers to SMEs

新冠肺炎疫情冲击下,挑战前所未有。日前召开的中央政治局会议强调要保市场主体,这一部署针对性强,要深刻领会其内涵要义,想方设法为市场主体雪中送炭,应保尽保、早保快保。

解决问题,要抓主要矛盾,抓矛盾的主要方面。中小企业数量比重大,带动就业人口数以亿计,抗风险能力偏弱。这意味着,保市场主体,必须抓住保中小企业这个牛鼻子,着力帮扶中小企业渡过难关,提高中小企业生存和发展能力。一段时间以来,中央和地方出台多项助企纾困举措,一些是普惠性措施,一些是量身定制,为广大市场主体复工复产、复商复市下了场及时雨。

Rough Translation: Under the impact of COVID-19 outbreak, the challenge is unprecedented. The meeting of the political bureau of the CPC central committee held recently emphasized the need to protect market entities. This deployment is highly targeted, and it is important to understand its essence and find ways to provide timely assistance to market entities.

To solve the problem, we must focus on the principal contradiction and its main aspects. There are a large number of small and medium-sized enterprises, which create hundreds of millions of jobs and are weak in resisting risks. This means that to ensure market players, we must focus on protecting small and medium-sized enterprises (SMEs), help them to tide over difficulties, and improve their ability to survive and develop. Over the past few days, the central and local governments have introduced a number of measures to help enterprises, some of which are inclusive and some of which are tailored to meet the needs of the market.
Comment: For those wondering about this phrase in the headline 千顷澄碧 , it comes from Xi's 1990 poem "Charm of a Modern Dancer - Remembering Jiao Yulu" 念奴娇·追思焦裕禄, from the line 綠我涓滴, 會它千頃澄碧, translated as "Drop by drop, the water of devotion, Irrigates vast fields of green" by Geremie Barme in his translation of the poem here.
郭声琨:把政治优势制度优势转化为平安中国建设效能努力创造让群众安业安居安康安心的良好环境-中国长安网
Comment: Party Center sets up a "Safe China Construction Coordinating Small Group". Politburo member and Secretary of the Central Politics and Law Commission Guo Shengkun is the head of the small group and convened the first meeting Tuesday. I put this in the economy section because I think we are going to see significant social stability stress in the coming months given the economic challenges, and the discussion of the "6 ensures" at the Friday Politburo meeting is a clear sign of those concerns. This new group likely is as well. And the more stressed the Party leadership feels at home the more aggressive and difficult we should expect them to become overseas.

日前党中央决定成立平安中国建设协调小组。中共中央政治局委员、中央政法委书记、平安中国建设协调小组组长郭声琨21日主持召开平安中国建设协调小组第一次会议,强调要坚持以习近平新时代中国特色社会主义思想为指导,深入学习贯彻习近平总书记关于平安中国建设重要指示精神,从更宽领域、更高层次谋划推进平安中国建设,努力创造让人民群众安业、安居、安康、安心的良好社会环境。
China's credit push struggles as banks weigh risks of lending to cash-strapped small businesses | South China Morning Post
The People's Bank of China (PBOC) has shovelled huge amounts of funding to smaller banks to increase lending to small businesses since the outbreak began, but the efforts are facing major obstacles because of the incentives built into the banking system and problems the virus has already created among small borrowers…

"Because of the pandemic, Beijing has continuously urged local banks to increase their lending and lower [loan approval] thresholds for small enterprises, but local banks have their reasons for not complying," said the manager, who spoke on condition of anonymity.

Among their concerns are that SMEs do not have much property for collateral and loan defaults would increase bad assets at the bank and affect a manager's performance rating.

"What kind of loan manager would want to take such a risk?" the manager said.
People's Daily frontpage commentary on Tuesday repeated the readout from the politburo meeting earlier that "The challenge faced by economy is unprecedented in history and (we) must fully understand the difficulties, risks and uncertainty, and to increase our sense of emergency and to do more solid work on social and economic development." The article went on saying that with the leadership of the party China will be able to bring back the momentum of growth and to eliminate poverty by the end of the year.
China's Hubei, epicentre of coronavirus outbreak, posts first-quarter GDP slump - Reuters
China's central Hubei province, epicentre of the new coronavirus outbreak in the country, posted a 39.2% drop in economic output in the first quarter compared with a year earlier, weighed down by a sharp decline in manufacturing.
Yicai - Jingzhou Hubei to Cut Down Payment to Spur Realty Market
Jingzhou, a city in China's central Hubei province, the center of the Covid-19 outbreak, released 20 polices to cushion the pandemic's impact on the local real estate sector and stimulate its recovery yesterday, including reducing the mortgage down payment ratio. With Jingzhou as a pioneer, other cities in Hubei province, including Wuhan, may usher in similar measures, some experts predicted.
As China splashes out vouchers to revive retail, many just buy necessities - Reuters
"Lots of coupons are spent on daily necessities," said Zhang Qidi, visiting researcher at the Center of International Finance Studies at the Central University of Finance and Economics in Beijing. "When consumers use coupons to purchase them, they could actually save the cash they'd spend otherwise."
BHP and Rio see solid rebound in China's steel sector | Financial Times $$
In a detailed review on its key commodity markets on Tuesday, the Anglo-Australian miner noted that industrial activity was improving in China, spurred by supportive credit and fiscal policies, although there were still considerable variations across provinces. 

BHP said blast furnace utilisation rates in China had increased to almost 79 per cent in April, up from 73 per cent earlier in the year, while demand for reinforcement bars — steel products widely used in construction — was at or above normal levels for the time of year.
Chinese iPhone factories cut workers as demand dips | Financial Times $$
"We heard the outbreak is very serious in the US. It's had a big impact on us," said a worker surnamed Li, who assembles the iPhone 11 model at the plant. Mr Li said he expected a week-long break over the May 1 labour day holiday. Last year he was given one day off. 

"We have not worked overtime since April 10," said another worker surnamed Wang, also on the Apple production line. Mr Wang said temporary workers at the factory were dismissed last week.
Caixin Editorial: Reform is the Answer to Calls for Foreign Firms to Leave China
For more than 40 years, the outside world has harbored doubts about China's development. Time and again, we have seen the emergence of all kinds of theories about the country's "coming collapse." China has responded by deepening reform and opening and transforming into the world's second-largest economy.

Now, new doubts are bubbling to the surface. Like their predecessors, the questions aren't groundless: For instance, as key elements of China's productivity shrink and the population rapidly ages, the "hard bones" of reform become increasingly difficult to chew on. How should China respond?

The answer is obvious. Deepen reform and opening, and raise high the banner of globalization. In other words, whether the de-Sinicization debate flourishes or withers hinges on China itself.
The original 社论|不必过于担忧产业链"去中国化" . It is always nice to believe that Caixin still has an audience among and support from influential members of the senior leadership. Do they?
---
2. Xi in Shaanxi
Poverty alleviation and environmental protection are two of the themes of the inspection tour so far. Any bets on whether he goes to Yan'an?
Xi urges officials to be guardians of Qinling Mountains ecological environment - Xinhua
"The illegal construction in the Qinling Mountains is a big lesson," he said. "From now on, any official working in Shaanxi should above all learn this lesson, avoid repeating the same mistake and work as a guardian of the ecological environment of the Qinling Mountains."..

Attaching great importance to the environmental protection of the Qinling Mountains, Xi had made six instructions on tackling the illegal construction of villas in the Qinling Mountains, demanding a thorough investigation into the persistent problem of illegal construction and the failure of officials concerned to comply with orders from the central authorities.

After July 2018, more than 1,100 illegal villas at the northern foot of Qinling range were demolished according to law and a number of officials concerned were investigated for disciplinary and law violations
Comment: Then Shaanxi governor 赵正永 Zhao Zhengyong among the officials put under investigation
Xi hails role of e-commerce in poverty alleviation, rural vitalization - Xinhua
Xi Jinping, general secretary of the Communist Party of China Central Committee, said on Monday e-commerce is an emerging business with great potential, which can promote sales of agricultural products, help rural residents shake off poverty and facilitate rural vitalization. [Comment: Probably good for Alibaba and Pinduoduo, both listed in the US]

Xi made the remarks during his inspection tour in the village of Jinmi in Zhashui County, northwest China's Shaanxi Province.
Xi inspects poverty alleviation in northwest China's Shaanxi Province - Xinhua
Xi Jinping, general secretary of the Communist Party of China Central Committee, on Tuesday inspected the local poverty alleviation work in northwest China's Shaanxi Province.

Xi visited a community, a township hospital, a primary school and a tea farm in Laoxian Township, Pingli County of the city of Ankang
Xinhua did a review of Xi's domestic visits and meetings and said lifting people out of poverty has been Xi Jinping's top priority since he came to power and "this is the thing on which Xi Jinping put most of his efforts."
独家视频丨习近平在陕西省平利县考察脱贫攻坚情况_中国经济网——国家经济门户
short video from CCTV of Xi's visit.
pictures from Xi's inspection tour, full propaganda rollout where will learn all the key themes is likely Wednesday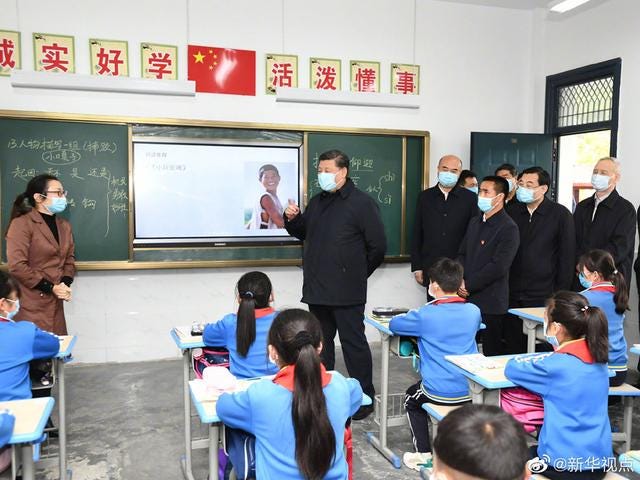 As with his Zhejiang inspection tour there are pictures of Xi with a mask and pictures of him without one.
---
3. The outbreak
Beijing Steps Up Disease Control Measures After Covid-19 Cluster Emerges - Caixin
The cluster of infections emerged in the Chaoyang district earlier this month when a Chinese student who returned from the United States tested positive and infected three family members.

The student arrived in Beijing March 24 and tested negative after 14 days' centralized isolation, Pang Xinghuo, a deputy director of Beijing municipal Center for Disease Prevention and Control, said Monday during a press conference...

Liu Xiaofeng, also a deputy director of the Beijing CDC, during a Saturday press conference encouraged that people who concluded a 14-day centralized isolation should continue to stay at home in self-quarantine for an additional seven days.
China sees return of coronavirus cases in northwest, warns against overseas travel - Reuters
The northwestern province of Shaanxi reported 21 new infections from abroad, as well as seven cases with no clinical symptoms, all travellers on a commercial flight from Moscow bound for Beijing.

As the result of a ban on international flights arriving in Beijing, the Air China jet landed on Monday in the provincial capital of Xian, where the virus was detected by staff running tests at the airport, and confirmed on Tuesday.
Harbin added six more confirmed cases and another four asymptomatic cases. That brings the total of confirmed to 46.
新华社:在医院期间何以一人传35人?——哈尔滨两所医院新冠肺炎传染链条调查
Xinhua wrote that one coronavirus patient in Harbin infected 35 others during her hospital visit because the doctor misdiagnosed and didn't do a test on him. He was diagnosed as stroke on April 2nd and hospitalized with other patients. 18 officials have been disciplined for this.
Caixin reported that two hospitals in Harbin have been quarantined after more new cases are found. At least seven medics have been infected with the virus.
According to Caixin, China's ministry of education said they will encourage universities to admit more medical students for graduate studies. Several main universities have reportedly lowered the bar for admission this year and given the medical major more admission quotas.
Yu Xiangdong, a vice president at the Wuhan Central Hospital (where doctor Li Wenliang used to work), has been reportedly removed from the post after he "smeared the country's virus-control policy and attacked traditional Chinese medicine", according to a document circulated online. Yu has deleted all his posts on Weibo.
China CDC chief defends early outbreak action: 'I never said there was no human-to-human transmission' | South China Morning Post
"No, I never said [there's] no human-to-human transmission in the public – never, ever," George Gao Fu, director of the Chinese Centre for Disease Control and Prevention, told state media China Global Television Network in the interview aired on Monday.

"Even from the very beginning, I don't think it's good [to] put any scientists in a position to say there's no human-to-human transmission because these viruses are unknown," Gao said.
Jiangxi Hospital Gives Frontline Medics Generous Cash Rewards - SixthTone
Ganxi Cancer Hospital in the city of Pingxiang awarded an auspicious 86,666 yuan ($12,200) each to one ICU doctor and two nurses who had returned from a two-month assignment in the hard-hit central province of Hubei, Beijing Youth Daily reported Monday. The medical workers were also offered two weeks of paid leave, as well as a year's worth of free meals at the hospital's cafeteria for them and their family members.
Embassy, medics offer support to Chinese students studying in the UK - China Daily
More than 300 Chinese students in the United Kingdom participated in a webinar co-hosted by China's embassy in the UK and the West China Hospital of Sichuan University on Monday, to learn about prevention and treatment of COVID-19. The webinar invited Liang Zongan, director of the hospital's department of pulmonary and critical care medicine, who is also the leader of the expert team sent from China to Italy last month, to share knowledge about the disease and to answer questions.
Coronavirus: China to ease entry ban on foreigners with South Korea 'fast track' - AFP
China has reached an agreement with South Korea to set up a "fast track" for business people to travel between the countries as Beijing looks to ease an entry ban on foreigners imposed to curb the spread of the coronavirus.
Ministry of Foreign Affairs reminds citizens to not travel overseas right now
China Bat Expert Says Her Wuhan Lab Wasn't Source of New Coronavirus - WSJ $$
For the past 15 years, Chinese scientist Shi Zhengli has warned the world—in English, Chinese and French—that bats harbor coronaviruses that pose serious risks to human health...

Scientists who work with Dr. Shi say her work mostly involves genetic sequencing with computers. While Dr. Shi has used samples from bats to culture, or grow, viruses in her labs, she has told colleagues they didn't include the one that has caused Covid-19, according to these scientists...

For Dr. Shi's defenders, the pandemic is a tragic coincidence for a scientist who has devoted her life to tracking threats to human health. "All the elements of the conspiracy are there if you want to believe it," said Peter Daszak, president of EcoHealth Alliance, a New York-based environmental health nonprofit, who has collaborated with Dr. Shi for several years. But, he said: "It's not true."
---
4. US-China
Amid Coronavirus Outbreak, Americans' Views of China Increasingly Negative | Pew Research Center
negative views of China have continued to grow, according to a new Pew Research Center survey of Americans conducted in March. Roughly two-thirds now say they have an unfavorable view of China, the most negative rating for the country since the Center began asking the question in 2005, and up nearly 20 percentage points since the start of the Trump administration. Positive views of China's leader, President Xi Jinping, are also at historically low levels
Poll: Americans' views of China darken dramatically - Axios
Younger people are more likely to view China favorably, with 43% of 18 to 29-year-olds holding positive views compared to 26% of 30 to 49-year-olds and 21% of those older than 50.

Confidence in Xi Jinping plummeted over the last year, with 71% of Americans now having no confidence in him, compared with 50% in 2019.

Nine-in-10 Americans now view China as a threat, with 62% viewing China as a major threat — up from 48% in 2018.
Missouri sues China over coronavirus pandemic - AP
The lawsuit, filed in the U.S. District Court for Eastern Missouri, alleges Chinese officials are "responsible for the enormous death, suffering, and economic losses they inflicted on the world, including Missourians."

"The Chinese government lied to the world about the danger and contagious nature of COVID-19, silenced whistleblowers, and did little to stop the spread of the disease," Republican Attorney General Eric Schmitt's office said in a written statement. "They must be held accountable for their actions."
Trump pressed to halt federal pension investments in China's ZTE, Hikvision - Reuters
The campaign, which includes letters and calls from Republicans and a sharply worded memo shared with White House Chief of Staff Mark Meadows, coincides with heightened U.S.-China tensions over the origins of the coronavirus pandemic.

At issue is whether administrators of the Thrift Savings Plan (TSP), a retirement savings fund similar to a 401(k) for federal employees and members of the military, should allow its $50 billion international fund to track an index that includes some China-based stocks of companies under scrutiny in Washington.
Did the Chinese Government Deliberately Export Covid-19 to the Rest of the World? | Daniel A. Bell (贝淡宁)
My comments: Daniel Bell writes up his response to Niall Feruguson's oped that asked Xi ""after it became clear that there was a full-blown epidemic spreading from Wuhan to the rest of Hubei province, why did you cut off travel from Hubei to the rest of China — on January 23 — but not from Hubei to the rest of the world?""

Bell looks at flight records, concludes that "the "available records" provided by Professor Ferguson do not show that "regular direct flights from Wuhan continued to run to London, Paris, Rome, New York and San Francisco throughout January and in some cases into February." The records show that flights out of Wuhan to the rest of the world stopped around mid-day on the 23rd, , the same day China stopped flights from Wuhan to the rest of China."

This claim, that China let flights leave Wuhan for the rest of the world while stopping domestic flights, is gaining traction. Hannity discussed it on his Fox News show Monday for example. starting at 1:10.

So is it true or not? I am generally skeptical of Bell's work, but are the flight records wrong? There are many legitimate reasons to be very angry with the PRC/CCP and the handling of the initial outbreak in Wuhan, and to apportion a significant amount of the pandemic blame to them, but it seems to me that parts of the US government and media establishment are getting way over their skis with claims that may not be based in fact, which ultimately will only hurt the efforts to hold Xi and the CCP accountable. Do people really need to embellish their bad behavior? I think a much more effective approach is to sit back and let the CCP and its wolf warrior diplomats torch their reputation in many countries around the world. But that does not help domestic political considerations.
Bell's post of course has propaganda value for the CCP. The top item at time of editing on the Eric X. Li-funded Guancha site is Bell's rebuke of Ferguson over the flight claims.英国学者渲染中国"输出病毒",贝淡宁"打脸"
The Coronavirus Could Upend Trump's U.S.-China Trade Deal - Foreign Policy
The U.S.-China Economic and Security Review Commission, established by Congress two decades ago and appointed by members of both parties, said that stalled trade and depressed consumer demand in China from the virus "raises the possibility that implementation could be disrupted," upending Trump's efforts to end a two-year trade war with Beijing that he began in 2018...

China could invoke a clause in the agreement that allows for fresh trade consultations between the two countries "in the event that a natural disaster or other unforeseeable event" postpones the ability of either party to verify that the clauses are being met, according to the commission report,
The report - Cascading Economic Impacts of the COVID-19 Outbreak in China
Comment: As I wrote yesterday, the smartest thing for Beijing to do right now if it wants to keep the relationship with the US from collapsing completely would be to overdeliver on its promised purchases under the Phase 1 trade deal, and specifically from groups and regions the President is most worried about in the upcoming election. But if it wants to relationship to really go off the rails then it will invoke that clause in the agreement that allows for fresh trade consultations
Lawmakers put new focus on China export rules - POLITICO
"We are aware of several reputable American firms, including developers of COVID-19 tests, that have been forced to halt shipments of critical medical products from China to the United States because of this new notification," reads a letter sent to Chinese Ambassador Cui Tiankai on Monday. A dozen senators from both sides made a similar appeal to Cui on Friday.

The lawmakers want China to exempt from the requirements any products that can already be lawfully distributed in the United States, automatically give those products the necessary certifications and expedite the review process for those products.
Chinese ambassador Lu Shaye (who worked in Canada) responded to Trump by saying that the US has no right to conduct investigation in China, China didn't hide anything about the virus, and those who accuse China should offer evidence.
---
5. How much does the oil crash benefit China?
China 'the biggest winner' of coronavirus-inspired oil plunge - Yahoo Finance
"The biggest winner is China since it is the world's largest energy importer," noted research firm Jefferies on Tuesday. "A rough rule of thumb is that a 0.5% drop in oil imports to [gross domestic product] is equivalent to a rise in 0.25% in output."..

Yet even China might not be completely immune from the ravages of sinking global demand, and limited storage capacity. According to data cited by Eurasia Group, China's oil inventories checked in at 31.5 million tons, or 65% of total commercial reserve capacity.

"This is close to the 70% storage utilization red line which is normally regarded as full storage capacity," Eurasia said, noting that Beijing's stockpiling of already cheap crude may start catching up to it.

"Additional stockpiling capacity has been limited by a steep buildup of crude owing to refining activity disruptions from the coronavirus outbreak before the oil crisis," the firm said, noting that full capacity has forced the country to "divert cargoes elsewhere."
Trump Is Urged to Pressure China on Its Promise to Buy U.S. Oil - Bloomberg
The American Exploration and Production Council urged the administration in a letter to U.S. Trade Representative Robert Lighthizer to get tough with China.

"China has only purchased a de minimis amount of U.S. crude in the first months of 2020, while it has increased purchases of crude oil from Saudi Arabia and Russia," council chief executive Anne Bradbury said. "Rather than increasing imports
Question: Given the collapse in oil prices since the January trade deal, how much more oil does not China need to buy to hit the $52B target, and could they even store it all if they did buy it?
---
6. Foreign work
China's coronavirus aid to Syria fits inside just two cardboard boxes - The New Arab
But the photo of the aid delivery left many Syrians severely disappointed with their long-time ally.

Syrian and Chinese officials, all wearing face masks, were pictured at the ceremony that marked the arrival of the supplies standing awkwardly on the tarmac around two cardboard boxes.
Africa CDC hails China's support, cooperation with Africa in combating COVID-19 - Xinhua
Members of the Chinese anti-pandemic medical expert team that arrived last Thursday in Ethiopia's capital Addis Ababa, held an experience sharing session on Monday with officials and experts of the Africa Center for Disease Prevention and Control (Africa CDC).

The continental specialized health agency of the African Union (AU) has commended China for its continued support and cooperation with Africa in combating COVID-19.
Chinese assistance a major contribution to Pakistan's fight against COVID-19 - People's Daily Online
Pakistan has so far managed to keep the spread of COVID-19 to a low rate due to assistance from its time-tested and fast friend, China.

An expert medical team has left Pakistan after providing the necessary training to Pakistani health officials, doctors, and para-medical staff. They have given intensive training and crash courses to Pakistani health experts in all major cities, including Islamabad, Rawalpindi, Lahore, and Karachi.
China's BGI helps Serbia build automated COVID-19 testing lab - Xinhua
The opening of the Laboratory for Molecular Detection of Infectious Agents dubbed "Fire Eye" at the Clinical Center of Serbia in Belgrade was attended by Serbian Prime Minister Ana Brnabic, Health Minister Zlatibor Loncar, Director of the Clinic for Infectious and Tropical Diseases Goran Stevanovic, Chinese Ambassador to Serbia Chen Bo and medical experts from China.

Brnabic said that the new laboratory "brings Serbia among the most efficient countries in this part of Europe" when it comes to diagnosing COVID-19.
China's anti-COVID-19 medical team shares experiences with Malaysian health experts, medical personnel - Xinhua
A team of medical experts sent by the Chinese government met with Malaysian health experts and medical personnel on Monday to share China's experiences in fighting the COVID-19 pandemic.

The Chinese experts met with Malaysia's Health Minister Adham Baba and other senior health officials, and also held a video conference session with health experts and doctors from more than two dozen public hospitals.
As part of a series of commentaries to promote the idea of "community of common destiny" amid coronavirus, He Yin of People's Daily wrote Tuesday that it is in the public interests to continue support multilateral organizations like the WHO, and it praised China's efforts to do so in the past months. Without naming the US, the article criticized that "a certain Western country who undermined the global solidarity and cooperation will end up a loner."
Comment: Away from relentless official media reports of the PRC's aid, the mood is not so warm
Australia and China clash over independent inquiry into coronavirus pandemic
Prime Minister Scott Morrison insists Australia remains committed to an independent investigation into the spread and origins of the coronavirus pandemic, despite China's dismissal of the prospect.
Germany pushes China for answers to coronavirus origin | South China Morning Post
Merkel said on Monday that she believed that "the more transparent China is about the origin of the virus, the better it is for everyone in the world in order to learn from it".
Brazil-China ties strained by social media war over coronavirus | Financial Times $$
The Chinese embassy in Brasília has adopted an unorthodox approach to social media diplomacy: its envoys have been publicising their meetings not with Brazil's president, Jair Bolsonaro, but with some of his political rivals, including the health minister he recently sacked.

Since last month, the embassy has been waging a social media war with Mr Bolsonaro after some of his closest aides, including his influential son Eduardo Bolsonaro, publicly blamed China for the global spread of coronavirus.
State report: Russian Chinese, and Iranian disinformation narratives echo one another
The three governments are pushing a host of matching messages: that the novel coronavirus is an American bioweapon, that the U.S. is scoring political points off the crisis, that the virus didn't come from China, that U.S. troops spread it, that America's sanctions are killing Iranians, that China's response was great while the U.S.' was negligent, that all three governments are managing the crisis well, and that the U.S. economy can't bear the toll of the virus.

The report, which is not public, was produced by the department's Global Engagement Center — a fledgling office focused on the global information wars — and reviewed by POLITICO. It makes the case that propaganda and disinformation narratives from those country's governments have converged as coronavirus has spread. And it says that while the three governments have pushed out the same messages in the past, the global pandemic has seen the convergence of their messaging accelerate...

Lea Gabrielle, who helms the GEC, told POLITICO that China has also let Russian propaganda efforts targeting the U.S. spread throughout its country — where the Beijing government's internet censorship is notoriously relentless.
Russian and Chinese "official and state-backed" accounts continue to "widely target both conspiracy narratives both at public audiences in the EU and the wider neighbourhood," according to a report by the European External Action Service's StratCom division, obtained by Playbook ahead of publication, which is expected for today...

China's goals: "China has continued to run a global disinformation campaign to deflect blame for the outbreak of the pandemic and improve its international image. Both overt and covert tactics have been observed," according to the report.
China ups its spy game on US soil as it bids to control coronavirus narrative | Fox News
Beijing is upping its spy game on U.S. soil with a focus on manipulating the narrative, officials and experts say.

The primary focus now, according to several current and former intelligence officials interviewed by Fox News, is attempting to control the disease narrative inside the U.S. and cast the blame game anywhere but Beijing.

One U.S. defense official, who spoke on the condition of anonymity, underscored that the Chinese focus inside the U.S. remains centered on technology theft, military readiness and minimizing the blowback.

"Most assuredly, the American people will demand some kind of financial response, if not outright reparations in the many billions," the source explained. "And the Chinese cannot afford that, but they know Trump will cut into it, too."
---
7. Fu Ying's People's Daily Piece on telling China's story
I first discussed this article in the April 2 newsletter. Now it has been translated and published in the China Daily.
As I wrote on April 2, the Thursday People's Daily has an interesting page 9 article by Fu Ying -在讲好中国故事中提升话语权 Improve discourse power in telling China's stories(人民要论) - 傅 莹. Fu is a former former Vice-Minister of Foreign Affairs and currently Chairperson of the Center for International Security and Strategy of Tsinghua University. She clearly articulates a vision for telling China's story better globally, by pursuing the long established goal of improving China's global discourse power.
Shape global narratives for telling China's stories - China Daily - Fu Ying
Since the 18th National Congress of the Communist Party of China in late 2012, President Xi Jinping has attached great importance to the country's international communication and repeatedly stressed in his speeches that we should better tell China's stories and strengthen China's voice in the international arena. To do this, we should grasp the profound connotations of China's stories and master effective ways to tell China's stories to actively increase China's voice, enhance the international community's recognition of China's development and present to the world an authentic, multi-dimensional and comprehensive picture of China...

We should actively strengthen the construction of our foreign narrative system, use innovative ways to tell our stories to the world and enhance the affinity of our cultural communication to make the image of contemporary China more appealing to the people in the world. For example, to more actively respond to the concerns of the international community about the novel coronavirus outbreak, we need to use various forms to make our voice heard in a timely manner, narrate our fight against the epidemic, clearly explain our positive actions and progress in epidemic prevention and control, and promote our vision of a community with a shared future for mankind.

A country's ability to get its messages across internationally determines its influence, while its narrative determines its ability to seize the initiative in its global interactions. In international communications theory, the "narrative" is a communication tool that conveys specific values and enables meaningful communication between the speaker and the listener. The international narrative capacity of a country not only emanates from its ability to get itself heard, but more importantly the effectiveness and influence of its narrative.

In theory, a country's narrative contains multi-faceted elements. First is content and quality. To be effective, the narrative needs to be supported by high-quality content...

As China moves closer to the center of the world stage, more and more countries and people worldwide want to understand China, look at China objectively and explore the reasons underlying its great achievements. China's voice has grown with the expansion of its influence.

However, generally speaking, Western dominance in international narrative over countries in the East has not fundamentally changed, and China's voice and influence in international discourse still need to be improved.
Comment: The whole thing is worth a read, she doesn't write this stuff on a whim.
Ironically much of the way China is working towards this goal involves using American platforms like Twitter, Facebook and Youtube to tells those stories globally, though there may be hope in Beijing that Wechat and TikTok can reduce reliance on those US platforms.
---
8. Hong Kong
Hong Kong crisis escalates as China moves to hasten demise of city's autonomy under cover of coronavirus - The Washington Post
The constitutional crisis engulfing Hong Kong expanded significantly Tuesday as the Chinese government voiced its support for the seizure of more than a dozen pro-democracy activists and asserted Beijing's "rights and responsibilities to maintain the constitutional order" in the city.

With the statements, the Chinese government explicitly doubled down on its position that Beijing has the power to intervene politically in Hong Kong...

Beijing said Tuesday that it "fully supported" the arrests of figures who had been involved in illegal assembly and "extreme violence." In its statement, the Chinese cabinet's Hong Kong and Macao Affairs Office charged that U.S. support for the protesters amounted to a "political conspiracy" and a "reckless trampling of human rights and rule of law in Hong Kong."
The international community needs a full and accurate understanding of the Basic Law - Office of the Commissioner of MFA in Hong Kong SAR
Safeguarding national security is crucial for fully and faithfully implementing "one country, two systems", and is a constitutional obligation of Hong Kong under the Basic Law.

Article 23 requires that Hong Kong "shall enact laws on its own to prohibit any act of treason, secession, sedition, subversion against the central people's government, or theft of state secrets, to prohibit foreign political organisations or bodies from conducting political activities in the region, and to prohibit political organisations or bodies of the region from establishing ties with foreign political organisations or bodies".

Nearly 23 years since Hong Kong's return to China, the relevant laws are yet to materialise. Those trying to sow trouble in Hong Kong and China at large have not only demonised Article 23 and obstructed the legislative process, but also colluded in a bid to turn Hong Kong into an independent or semi-independent political entity, and a base for infiltration, sabotage, secession and subversion against China.

During the unrest following the proposed amendments to Hong Kong's Fugitive Offenders Ordinance last year, these forces trampled the Basic Law and Hong Kong's rule of law, challenged the central government's authority, committed vandalism, and begged for foreign interference in Hong Kong affairs and sanctions upon the city.

Manipulated by certain foreign countries, some plotted to overthrow the legitimate Hong Kong government through filibustering in the Legislative Council, street violence and collaboration with external forces.

A handful of extremists even openly waved flags, shouted slogans and made statements calling for so-called "Hong Kong independence". Such behaviour has severely endangered national sovereignty, security and territorial integrity, undermined the foundation of "one country, two systems", and challenged the authority of the Basic Law...

Only when the Basic Law is fully and faithfully implemented, and the systems and mechanisms related to the implementation of the constitution and the Basic Law in Hong Kong are improved to keep abreast of the times, can we ensure "one country, two systems" is applied without being bent or distorted, and will achieve greater success in the future.
Comment: And "fully and faithfully implemented" means enacting the national security right? How does this not end in a brutal confrontation and crackdown?
Central gov't has authority to maintain constitutional order in Hong Kong: spokesperson - Xinhua
When the full and faithful implementation of the "one country, two systems" principle and the HKSAR Basic Law is seriously affected, or the fundamental interests of the nation and Hong Kong are damaged, the central government will definitely take action, said a spokesperson for the Hong Kong and Macao Affairs Office of the State Council.

Specifically, the central government will state its stance and attitude in due course and put things right in accordance with the law, among other steps, the spokesperson said, noting that the central government generally keeps its distance from the HKSAR on affairs within the scope of its autonomy.

The central government's overall jurisdiction over Hong Kong, which is a local administrative region under its direct jurisdiction, as mandated by China's Constitution and the HKSAR Basic Law, includes both the power directly exercised by the central government and the high degree of autonomy it authorizes the HKSAR to exercise, the spokesperson explained.
Beijing not backing down from brewing battle, underscoring right of Hong Kong agencies to 'exercise jurisdiction' | South China Morning Post
Beijing has warned a Hong Kong opposition lawmaker holding up the work of the legislature to "leave the office" and face the legal consequences of breaking his oath, hammering home an uncompromising message that its agencies in charge of the city's affairs were acting within their powers to criticise.

The Hong Kong and Macau Affairs Office (HKMAO) on Tuesday issued a flurry of statements escalating its war of words with the opposition camp, dismissing concerns about "interference" in the city's internal affairs and voicing support for the police force regarding the recent arrests of prominent pro-democracy figures over illegal anti-government rallies.
Ren Yi, grandson of the revolutionary leader Ren Zhongyi and now a popular blogger, continued to write about Hong Kong. Regarding whether the central liaison office is subject to Article 22, he wrote that the technicality is nothing but a "word game", and the key is that "Hong Kong must learn to accept the political reality and understand Beijing's bottom-line and expectation. Once the bottom-line and expectation is violated, (it) will see a clear and firm result (including punishment)."

回到本文最初。我认为解释权在北京,道理要讲,但关键不在于此,而在于香港必须学习接受政治现实,了解北京的底限和预期。一旦突破了底限和,违背了预期,就会看到清晰、明确的后果(包括惩罚)。
---
Business, Economy and Trade
China's Centrally Owned SOE Profits Fall Nearly 60% in First Quarter - Caixin State-owned enterprises (SOEs) administered by China's national government generated 58.8% less profit than they did in the first quarter of last year, making 130.4 billion yuan ($18.43 billion) in total with 26 of them suffering net losses, said Peng Huagang, spokesperson for the State-owned Assets Supervision and Administration Commission (SASAC). Companies under SASAC in the oil drilling, refining, and airline sectors ran at an overall loss.Centrally administered SOEs' investment in fixed assets fell 4.5% year-on-year to 364.76 billion yuan, said Peng. Energy companies, however, invested more than others, with central SOEs in the oil and electricity sectors posting 12.4% and 2% year-on-year fixed-asset investment growth respectively.
Yicai - Shenzhen Cracks Down on Covid-19 Special Interest Loans Being Used as Mortgages Shenzhen's real estate market is defying a nationwide slump and raising concerns among regulators that low interest-bearing business loans are being used unlawfully as mortgages. The People's Bank of China has asked Shenzhen's banks to investigate if any commercial loans are being used as illicit mortgages, the central bank's local branch said yesterday.
China Creditor Squeeze Prompts Drop in Record Bond Defaults - Bloomberg The 31.4 billion yuan ($4.4 billion) worth of debt that's gone sour so far this year in the $4.5 trillion onshore corporate bond market marks a sharp 19% drop from the pace in 2019, according to data compiled by Bloomberg. The turnaround follows a clear signal from Beijing that borrowers should be given leeway as they seek to restructure debt in the midst of an historic economic contraction. In the case of one hastily arranged bondholder meeting by a prominent conglomerate, the strong-arming resulted in an apology. Other deals have gone ahead with little public protest.
After Luckin fiasco, China set to pre-empt financial frauds - China Daily The State Council's financial stability and development committee, the top body guiding financial regulation, has urged more efforts to shield investors from fraud, false statements and other securities malpractices in two consecutive meetings this month. Meanwhile, the China Securities Regulatory Commission, the top securities regulator, said on Friday that it would roll out regulations this year ordering firms that indulge in fraudulent listing to buy back the shares floated in the market.
Company head nabbed by police as fire causes explosion at chemical plant - Global Times Lianyungang Hongxing Grinding Materials Co caught fire around 9 pm Tuesday, and the police have brought the person responsible for the company under control, the local government of Ganyu district in Lianyungang said. Preliminary investigations show there were no casualties at the scene and the fire has been basically extinguished, and the cause of the fire is under investigation. Earlier on the same day, local police announced the establishment of a leading group to ensure production safety, according to the statement on the local government's website.
江苏连云港赣榆区一化工厂发生爆炸事故,伤亡情况不明(含视频)_手机新浪网video of the explosion at a chemical factory in Lianyungang, Jiangsu
Yicai - Huawei's Quarterly Revenue Growth Brakes in Line With Its Expectations Revenue at Huawei Technologies slowed to 1.4 percent in the first quarter of this year from 39 percent a year earlier amid the economic fallout caused by the coronavirus outbreak and US sanctions on the Chinese tech giant.
Yicai - Huaxia Life Asks Middle Managers to Take Unpaid Sabbatical, Start Own Business The Beijing-based firm is suggesting those over 45 years old in particular consider the option, which will grant up to three years' leave, Beijing News reported, citing an internal notice that Huaxia has confirmed to be authentic. The company will offer support by paying their salary for three and six months.
China Liquor Giant Moutai Sees Lowest Sales Growth in Five Years - Bloomberg The distiller expects full-year sales to rise about 10% from a year ago, it said in a filing with the Shanghai stock exchange on Tuesday. The projection is its lowest since the 1% growth it forecast in 2015, when China's anti-corruption campaign saw government officials abandon purchases of luxury items including Moutai's ultra-premium liquor.
Bank of Gansu Moves a Step Closer to State Bailout - Caixin Embattled regional lender Bank of Gansu Co. Ltd. has published more details of a state-led bailout that will see entities owned by the Gansu provincial government provide most of the funds to recapitalize the bank.
Politics and Law
Four Boys Found Dead at Illegal Construction Site in Henan Province - Caixin Local residents told Caixin that the boys were playing in the pit, which was about two meters below ground level, when the operator of a dump truck poured loose earth into the pit without realizing they were there. Residents blamed lax management of the site for allowing the children to sneak in.
河南新乡市委书记:彻查记者在原阳被殴打事件_腾讯新闻 Three reporters, including one from The Beijing News, were beaten up trying to cover this story. The municipal Party secretary apologized
人民日报:胡春华在南疆调研督战脱贫攻坚工作强调,坚决完成剩余脱贫任务 Vice premier Hu Chunhua visited southern Xinjiang in the past three days to inspect their work to lift people out of poverty. Hu, who is in charge of rural affairs in the state council cabinet, told local cadres that the war against poverty has reached "the final battle", and officials must do their best to implement policies from Beijing. 
[视频]赵乐际在甘肃调研 Zhao Leji, standing committee member and head of the Central Commission for Discipline Inspection, visited Gansu and had a video conference with heads of inspection in seven provinces, urging them to do better to supervise the work of local officials on the "six ensures" and lifting people out of poverty
【决战决胜脱贫攻坚】12个省区市贫困县全部脱贫摘帽 Qinghai announced that all of its 17 counties that received national subsidies for poverty are now out of poverty. This is the 12th province to do so. Beijing has demanded all provinces to finish doing this by the end of the year. Provinces haven't done so include Yunnan, Guangxi, Hubei, Anhui and so on.
长沙原常务副市长退休3年后被查 其独子同日落马_网易新闻 Chen Zehun, who retired as executive deputy mayor of Changsha three years ago, is put under investigation. His son Chen Xi, VP and member of the Party committee of the Changsha State-owned Assets Operating Corproration, was put under investigation the same day
China's justice minister leaves Communist Party role 'in sign career is coming to an end' | South China Morning Post China's justice minister, Fu Zhenghua, has stepped down as the ministry's deputy Communist Party chief, indicating his likely retirement. Fu, 65, who became minister in 2018, was no longer listed as a party leader on the ministry's website on Tuesday. But he is still listed as a minister and member of the Communist Party's policymaking body, the Central Committee.
I was jailed for refusing to plead guilty, says Chinese human rights lawyer Wang Quanzhang – but he shies away from questions about torture | South China Morning Post In an interview with the South China Morning Post on Tuesday, Wang for the first time revealed details of his incarceration and said he realised only now that he was the only lawyer who had refused to plead guilty or strike a compromise with the authorities in the infamous "709" crackdown.
财新:独家|兴业证券副总裁陈德富被查,曾为2020年"首虎"张志南秘书 Chen Defu, a VP at the state-run Industrial Securities is now under party investigation for crorruption. Caixin said Chen's downfall may be related to the former vice governor of Fujian who had been taken down earlier for corruption. Chen was the secretary for that governor.
Foreign and Defense Affairs
U.S. monitors reports of North Korean leader's illness; South Korea, China doubtful - Reuters Speaking to Reuters, an official at the Chinese Communist Party's International Liaison Department, which deals with North Korea, expressed the belief that Kim was not critically ill. China is North Korea's only major ally.
China says Vietnam's claims in South China sea are illegal, 'doomed to fail' - Reuters China's Foreign Ministry says it has lodged stern representations in response to what it called Vietnam's illegal claims in the South China sea and that any attempt to deny China's sovereignty there will be doomed to fail.
Making Sense of China's Latest Bid to Administer Sovereignty in the South China Sea – The Diplomat these steps fit into an old pattern of China using its domestic institutions and legal frameworks to pursue its claims in the South China Sea. By administering these disputed waters and features by creating districts and issuing new names, Beijing is effectively attempting to assert sovereignty (never mind that underwater features are not up for sovereign claims, unlike surface-level features).
U.S. Warships Enter Disputed Waters of South China Sea as Tensions With China Escalate - The New York Times The America, an amphibious assault ship, and the Bunker Hill, a guided missile cruiser, entered contested waters off Malaysia. At the same time, a Chinese government ship in the area has for days been tailing a Malaysian state oil company ship carrying out exploratory drilling. Chinese and Australian warships have also powered into nearby waters, according to the defense experts.
Swedes axe China-backed Confucius school scheme as relations sour | World | The Times It is believed to be the first European state to close all its Confucius institutes and classrooms
China's modified trainer jet prototype ready for maiden flight - Global Times The prototype of the newly modified version of the Naval Mountain Eagle trainer jet is now preparing for its maiden flight after its production was completed on Sunday, the aircraft's maker announced on Monday. This type of aircraft is expected to serve as an aircraft carrier-based trainer, which China is in desperate need to train more aircraft carrier-based fighter jet pilots, analysts said on Tuesday.
From Race to Debt to COVID-19: A Conversation with Ambassador Kuang Weilin on Current Issues in China-Africa Relations - The China Africa Project For some perspective on the Chinese outlook on the current state of Sino-African ties, China's former ambassador to Sierra Leone and the African Union, Kuang Weilin, joins Eric and Cobus from Shanghai for a wide-ranging discussion on all the key issues confronting policymakers.This week's episode features questions submitted by a diverse group of journalists, activists and policy analysts
Hong Kong and Macao
Hong Kong Mounts $200 Million Currency Defense on Rates Gap Hong Kong's de-facto central bank intervened to defend its currency peg after the local dollar touched the strong end of its trading band for the first time in four years.
Taiwan
说透了!"武统"台湾什么时候开始?解放军专家权威解读 Yang Chengjun, retired PLA rocket forcers researcher and a nuclear warfare strategy expert discusses what it would take to "reunify Taiwan by force", in response to increasing calls online take take the island by force article from "China Taiwan Net 中国台湾网". More psyops than reality I will guess, and hope.// 当前,新冠疫情导致国际局势及台海局势发生深刻变化。因民进党当局种种冷血作为,在网络上激起强烈民愤,"武统"声音再次水涨船高。 对于这一舆论变化,火箭军退休研究员、中国核战略专家杨承军日前在媒体发文,详细论述关于"武统"的诸多细节问题。包括,对台海区域局势发展的判断、统一的必然性、对台斗争的思考和建议、"武统"的6项触发条件、"武统"的准备以及战后治理等问题。
Seller of books critical of China leaders attacked in Taiwan - AP Lam Wing-kee was assaulted by a man wearing a mask and dark clothes while he was sitting alone at a coffee shop. The assailant remains unknown, but surveillance footage provided by the police shows a person fleeing the scene on foot as Lam chased him. Lam was one of five shareholders and staff at the Causeway Bay Book shop in Hong Kong, which sold books and magazines purporting to tell the inside lives Chinese leaders and scandals surrounding them. He was put into Chinese custody in 2015 and was released on bail and allowed to return to Hong Kong in June 2016.
While One World Is Banned in China, Netizens Enjoyed Classics From Taiwanese Singer-Songwriter Rene Liu- PingWest While people sheltering in watched the One World: Together At Home, a not-for-profit concert presented by Global Citizen with the collaboration of top artists around the world, Chinese people, who weren't able to watch it live due to a broadcast ban, instead enjoyed classics from a very popular Taiwanese artist. Singer and songwriter Rene Liu preformed her first online concert on April 17. Titled Being With You, Liu intended to encourage people and soothe their souls during hard times. The highly anticipated concert was live streamed on seven music streaming platforms, including popular short video app Kuaishou, social media giant Weibo, and a slew of music streaming apps from Tencent.
Tech and Media
Yicai - Baidu Ex-VP Wei Fang Is Turned Over to Police for Alleged Graft Wei Fang, a former vice president at Baidu, has been handed over to the police on suspicion of corruption, the Chinese search engine giant said in a statement today. The statement issued by the Baidu Professional Ethics Committee provided no further details about the allegation leveled against Wei
Huawei floats buying chips from Samsung to fight US crackdown - Nikkei Asian Review Huawei Technologies, the world's biggest telecom gear provider, has insisted it could buy chips from Samsung Electronics and other companies if the U.S. government tightens export controls as part of a further crackdown on the Chinese group. "Even if the U.S. does take such measures, we could still buy chips from Samsung in South Korea, MediaTek in Taiwan and Spreadtrum within China's mainland. This is common industry practice," a Huawei spokesperson said on Tuesday.
Society, Arts, Sports, Culture and History
Jordan Westbrook One Take Beijing CJ0781-600 | SneakerNews.com Russell Westbrook's signature sneaker line with Jordan Brand has taken inspiration from everything and everywhere. Soon joining pairs nodding to TNT, zodiac signs and children's movies is a Jordan Westbrook One Take paying homage to Beijing, China.
Fresh Out of Prison, Bike Burglar Qie Guevara Shuns Spotlight - SixthTone When Zhou Liqi was released from prison last week, his welcome wagon came in the form of dozens of contracts from online agents hoping to turn him into the next big influencer on Chinese social media. But Zhou, who was arrested four and a half years ago in the southern Guangxi Zhuang Autonomous Region for stealing electric bikes, turned them all down...Zhou caught the public's eye a few years ago after a 2012 video of him giving an interview in police detention went viral. He was released in 2013, only to be arrested two more times in the following years for the same crime.
Rural and Agricultural Issues
China Says Worst to Come for Pork Supplies on Overseas Squeeze - Bloomberg The "toughest time" yet for supplies in China will be in the second quarter of this year, said Yang Zhenhai, the head of the agriculture ministry's animal husbandry bureau. Pork prices may surge to before peaking in September, he said.
Yicai - Chinese Dairy Firms Defy Covid-19 to Build Massive Farms as Milk Prices Rise Chinese agricultural companies have gone against the Covid-19 pandemic by boosting investment to set up huge farms, sparked by raw milk price hikes. After a four-year slump in China's dairy cow inventory, investment has been expanded as unpasteurized milk prices have risen, Gao Lina, chairwoman of Modern Farming Group, told Yicai Global.
China detects African swine fever in another pig truck - Reuters Cases reported by the Ministry of Agriculture and Rural Affairs had dwindled to just a couple per month by the end of last year, but 13 have been posted on the ministry's website since March. All of the cases, apart from one found in wild boar, were in pigs being transported between provinces.
China to auction 10,000 tonnes of pork from reserves on April 23: notice - Reuters China has already released 280,000 tonnes of pork from its reserves this year in an effort to keep a lid on prices after an epidemic of African swine fever devastated its huge hog herd.