Flooding; CICIR head on the pandemic and the international situation; India-China really deescalating? ; Hong Kong
China is now on the Dragon Boat Festival Holiday, though there will not be much vacation travel to or from Beijing, even though it does appear the recent outbreak is largely contained.
Amidst the talk of de-escalating the India-China border tensions, the PRC government reiterated that India is to blame for everything, while satellite imagery and other reports in Indian media seem to to indicate a digging in along the contested areas as well as an increase in troops.
We may be just a week away from the new Hong Kong National Security Law going into effect. In a sign of how much Beijing trusts Carrie Lam, she has yet to see "the complete details of the proposed legislation", she admitted in a press conference. I wonder if she regrets taking this job?
The news is fairly light given the holiday, and there will probably will not be much tomorrow.
Today's Essential Eight:
Beijing outbreak

Hong Kong

Flooding

CICIR head Yuan Peng - "The new coronavirus Epidemic Situation and Centennial Changes"

US-China

India-China

Motherland may be watching but it doesn't have everyone's back

New negative lists for foreign investment
Thanks for reading.
---
The Essential Eight
1. Beijing outbreak
Beijing reports seven new local COVID-19 cases - ECNS
Beijing Health Commission said on Wednesday that seven new COVID-19 cases, all locally transmitted, were recorded in the past 24 hours, raising total infections related to a local market cluster to 256 since June 11, when the first case was detected.

Those seven cases were reported in two districts in Beijing: six from Fengtai and one from Daxing.

The commission also registered four suspected cases and one asymptomatic case on Tuesday.

There were no reports of cases from overseas in the Chinese capital in the past 24 hours, it added.
Yicai - Meituan Sends 40,000 Food Couriers for Nucleic Acid Tests in Beijing
Adhering to Beijing's arrangements for the prevention and control of Covid-19, Meituan Dianping's food delivery arm has already suspended all orders for couriers, who went to high-risk areas in the city for delivery, and arranged nucleic acid tests and 14-day home quarantine for them, Beijing Daily reported today.
Inside a mass Covid-19 testing site in Beijing - CNN Video
CNN's David Culver goes into a mass coronavirus testing site in Beijing
Beijing's tourism sector on edge after sudden spike in COVID-19 cases - CGTN
Vehicles going outside Beijing will be inspected and occupants checked for negative nucleic acid test reports at security inspection stations and checkpoints on the city's highways.

Trans-provincial transportation routes will be strictly controlled, with taxis and online car hailing services prohibited to leave Beijing. Inter-provincial long-distance passenger transport lines and chartered cars are suspended.

According to the Beijing Municipal Administration Center of Parks, Beijing's 11 parks and the Museum of Chinese Gardens and Landscape Architecture have limited visitor numbers to no more than 30 percent of total capacity, and their indoor exhibition halls have been temporarily closed.
Beijing hotels, tourist sites to reject visitors from COVID-19 risk areas - Xinhua
an official with Beijing's municipal committee of the Communist Party of China said the city will only mark the coming Dragon Boat Festival through online activities
Vice Premier Urges More Rigorous Tracing, Testing to Quash Beijing's Covid-19 Outbreak
On Wednesday, the Beijing Municipal Committee for Discipline Inspection — the city's internal Communist Party watchdog — said in a statement (link in Chinese) on its website that it had punished three Fengtai government officials for failing to sustain adequate disease controls at the Xinfadi market following Beijing's initial coronavirus outbreak earlier this year.

An investigation by the committee found the officials had not "normalized" epidemic prevention at the market in the weeks leading up to the new outbreak and had become lax in conducting temperature checks, encouraging people to wear face masks, and disinfecting the premises, the statement said.
---
2. Hong Kong
Transcript of remarks by CE at media session before ExCo meeting (with video)
Reporter: First question, why should people take your comments and your ministers' comments about the national security law seriously if you guys have not read details in the clauses, and that, you know, just yesterday your justice minister is still holding a copy of what Xinhua reported? Second question, about the judges' appointment, can you say categorically, will foreign judges be involved in hearing national security law cases in the future? And third question, about the health code system, can you confirm that there's a health code system coming into effect by the end of this week but excluding Macao, and if so, what are the rationales? Thank you.

Chief Executive: Thank you for those three questions. First, yes, you are right, we have not seen the complete details of the proposed legislation
Comment: Carrie Lam has not even been allowed to see the full draft.
John Lee silent on indefinite detentions report - RTHK
Security Secretary John Lee wouldn't – or couldn't – say on Wednesday whether suspects arrested under Hong Kong's looming national security law could be detained indefinitely without being charged.

He also failed to confirm the accuracy of a media report which said special detention centres will be set up to hold suspects in national security cases after their arrest
Judges with 'dual allegiance' because of foreign nationality should not handle national security cases, Beijing says | South China Morning Post
Zhang Yong, vice-chairman of the Legislative Affairs Commission of the National People's Congress Standing Committee, brushed off concerns this would undermine judicial independence, insisting it had nothing to do with jurisdiction and the central government, according to worldwide practice, should always have the final say on matters of national security.

The law, the full draft of which is likely to be unveiled only after its expected passage by June 30, would be effective immediately, according to Secretary for Security John Lee Ka-chiu.
'Foreign judges never hear national security cases' - RTHK
A senior mainland official has indicated that foreign judges will not be allowed to handle national security trials in future – even though the Chief Executive Carrie Lam had said on Tuesday that there will not be a nationality restriction on judges assigned to such cases.

In an opinion piece published in Ming Pao newspaper on Wednesday, Zhang Yong, the deputy head of the Commission for Legislative Affairs of the National People's Congress Standing Committee, noted that 'many people' believe judges holding more than one passport should not be allowed to handle national security cases, so as to avoid the problem of "double allegiance".
National security law: Beijing's plan to let Hong Kong leader select judges contravenes Basic Law, says Bar Assoc. | Hong Kong Free Press HKFP
Tuesday's statement marked the fourth time the Hong Kong Bar Association has aired criticism of proposals under the controversial legislation. It said enabling the city's leader to designate judges to preside over trials for such cases would undermine judicial independence. The power is currently exercised by the judiciary.
What we know we dont' know - ChinaLaw Translate
Article 18 of Hong Kong's Basic Law gives China's central government the authority to declare a state of emergency and to implement mainland laws in Hong Kong. This is the extreme option that would necessarily merge the 'two systems' at least in part. Despite months of sometimes violent protests, China is not invoking this authority to push forward its forthcoming Hong Kong National Security legislation.

We know this, however, because Chinese state media's most comprehensive overview of the upcoming law to date ominously reminds us that the option is there. The law's proposed expansions of central government security forces and jurisdiction in Hong Kong, it says, are to 'prevent the occurrence' of just such an emergency situation. The carving knife is placed conspicuously on the tea table, with an awkward chuckle and a 'glad we won't be needing that.'
'Orwellian Hong Kong': Democrats voice concern over prospect of indefinite detention under security law | Hong Kong Free Press HKFP
Hong Kong democrats have voiced concern over the security secretary's failure to clarify whether suspects arrested under the impending national security law could be detained indefinitely without trial or charge.
Chinese Banks Expand in World's Priciest Office Market - Bloomberg
CMB International Capital Corp., China Minsheng Banking Corp. and Orient Finance Holdings Ltd. expanded their office space in the Central hub in the past three months, according to people familiar with the matter.
Hong Kong protests: organisers '100 per cent expect' traditional July 1 march to be banned by police, despite putting forward seven proposals to get it approved | South China Morning Post
the Civil Human Rights Front said it was "100 per cent" expecting the march to be banned after meeting with police on Tuesday. The group vowed to lodge an appeal.

"This is the most lacklustre meeting with police I've had in 10 years," Jimmy Sham Tsz-kit, the front's convenor and a district councillor, said. "Police are using the pandemic [as an excuse] to suppress the public's right to march and rally."
UK and Hong Kong: refuting disinformation - GOV.UK
Response to media articles about the UK and Hong Kong.
External interference in national security legislation for HKSAR strongly opposed in Hong Kong - Xinhua
A Hong Kong organization called the United Front Supporting National Security Legislation has launched an online petition in protest of external interference, which was signed by more than one million people as of Tuesday evening.

External forces blatantly interfered in China's internal affairs and Hong Kong affairs and threatened to impose the so-called "sanctions" for their own interests, while disregarding the well-being of Hong Kong people, attendees said in a forum held by the organization on Tuesday evening.
Prosperous, stable Hong Kong in interests of both China, UK: Chinese ambassador Liu Xiaoming - Xinhua
He noted that in Britain, it is the Central Government and Parliament that are responsible for matters relating to national security in England, Scotland, Northern Ireland and Wales.

"Therefore, it is within the power of the National People's Congress to plug the loophole that compromises national security in Hong Kong through legislation in accordance with the Constitution and the Basic Law," Liu said. "This is entirely reasonable and lawful. This is something that must be done."
---
3. Flooding
Torrential rains in China cause $2.9 billion in damage, leave 63 dead or missing » Yale Climate Connections
Torrential June downpours inundating southeast China have triggered destructive floods, leaving 63 people dead or missing and causing at least $2.9 billion in damage, according to the China Ministry of Emergency Management. The floods have destroyed 7,300 homes, damaged another 138,000, and forced evacuations of nearly 500,000 people.

According to statistics from insurance broker Aon, the damage tally from flooding in China at this point in the month ranks as Earth's third-most-expensive weather disaster of 2020, behind the $15 billion price tag of Cyclone Amphan (India/Bangladesh) and the $3.1 billion cost of an April severe weather outbreak in the U.S.
Worst Floods in Decades Submerge Chongqing, South China - SixthTone
The southwestern Chinese metropolis of Chongqing has experienced its worst floods in over two decades, as torrential rainfall batters nearly two-thirds of the country.

On Monday, the city's Qijiang District, located along the upper reaches of the Yangtze River, saw water levels rise 5 meters above the flood line — the highest point ever recorded by the local hydrological monitoring station, according to authorities. Officials estimate that more than 100,000 people in the district have been evacuated, while dozens of homes have been destroyed by the floods.

Hu Xueyuan, a subdistrict official, told Sixth Tone on Wednesday that this year's floods were mainly triggered by intense rainfall in the neighboring province of Guizhou. "The rainfall in Qijiang wasn't actually that intense, but heavy downpours in Guizhou passed through here," he said.
Worst Floods in Decades Hit Chongqing as Heavy Rain Soaks South China - Caixin
The city, whose built-up area sprawls along the banks of the Yangtze river and is home to 18 million people, saw water levels rise 5.1 meters (16.7 feet) above the flood line following intense upstream rainfall. Photographs taken at the scene showed submerged homes and businesses...

In some areas, the deluges are believed to be the most severe since at least 1998. That year, higher-than-average rainfall triggered inundations that officially killed 3,700 people and left some 15 million homeless across the country...

The country's water resources ministry earlier this month attributed the deluges to unusual rainfall patterns and said flooding was likely to persist through the coming weeks.
China takes precautions amid new round of heavy rainfall - Xinhua
China has arranged precautionary measures in the face of a new round of heavy rainfall in parts of the country, according to the Ministry of Emergency Management.

Eastern provinces, including Jiangsu, Zhejiang and Anhui, should make solid flood-control and emergency rescue efforts to ensure the safety of people's lives and property, said the State Flood Control and Drought Relief Headquarters.

From Friday to Tuesday, rainstorms and downpours are expected to hit vast stretches of the country, posing a high risk of flooding, mountain torrents and urban waterlogging.
Dam discharges flood as result of heavy rainfalls in Anhui - ECNS
There are 266 reservoirs in Anhui, whose water levels have all surpassed the flood control level, discharging water as required.
Police Warn Against Posting Footage, Reports of Massive Flooding in China's Chongqing - RFA
Chongqing police have issued an emergency warning that anyone found to have posted news of the flooding online in an "irresponsible" manner will be immediately detained, RFA has learned.
China braces for more flooding as torrential rains forecast | South China Morning Post
The National Meteorological Centre warned on Tuesday that heavy rain was set to hit the southern province of Guizhou and the mid- and downstream areas of the Yangtze River later this week. Meanwhile, the Ministry of Emergency Management said parts of southern China would be hit by heavy downpours before the end of the month..

"The floods in southeastern China came earlier this year and it's more extreme," said Liu Junyan, a Beijing-based climate and energy campaigner with Greenpeace East Asia.

"The extreme weather has exposed social injustice," she said. "Areas that are below the poverty line will suffer more and recovery will be much harder."
Wednesday CCTV Evening News on the floods around China
Three Gorges Dam 'not at risk of collapse,' safe for heavy rainfall: experts - Global Times
Chinese experts have dismissed rumors hyped by some Western media that the Three Gorges Dam, the world's biggest hydropower project, is at risk of collapse, noting the dam is intact and has spare capacity to hold the current inflows of water after southern parts of China experienced heavy rainfall and the Three Gorges reservoir's water level exceeded the flood control line...

The water level in China's massive Three Gorges Reservoir reached 147 meters on Saturday, two meters above the flood warning line. Meanwhile, the inflow increased to 26,500 cubic meters per second from 20,500 cubic meters per second on the previous day.

The alarming water level gave rise to rumors that the dam is under structural strain and nearby residents should evacuate. Some Western media hyped claims that the dam is at risk of collapse, which was not new in their discredit of the project.
Comment: There have been claims going around Twitter that the dam is at risk. The sourcing seems off to me, but I have no way to verify.
---
4. CICIR head Yuan Peng - "The new coronavirus Epidemic Situation and Centennial Changes"
Dr. Yuan is the President of the China Institutes of Contemporary International Relations and one of China's leading scholars of America.
This article gives important insights into how someone who has influence in Zhongnanhai views the impact of the pandemic and China's strategic position. He is not a triumphalist and I think you can read this as advocating adjustments in the PRC's foreign policy to better take advantage of the opportunities created by the pandemic. Yuan discusses the increasing US-China competition but says it will not evolve into a Cold War between two "camps", and he writes that China is still in a period of strategic opportunity, and his conclusion seems to be warning against against arrogance, overseas overstretch, and leftism (with possibly a dig at the "wolf warriors"?) while highlighting 安全 "security". Yuan's piece deserves a full translation; right now all I have is a Google translated version here that needs a lot of work, and is open for crowdsourced translation.
新冠疫情全球肆虐与世界百年未有之大变局叠加,"黑天鹅"与"灰犀牛"乱舞,既有国际格局与国际秩序遭遇猛烈冲击,世界局势呈现史上罕见的不确定性和不稳定性。受疫情影响,百年变局将在多个方面加速演进甚至裂变,中国与世界的关系也因此走到新的十字路口。在"两个一百年"征程的历史交汇期,中国如何继往开来,谋定而动,是世界大变局留给我们的一场大考…

中美对抗不会演变成冷战式的两极对立或阵营对垒。... 在此情形下,中美竞争博弈格局进一步固化,不会因为美国大选结果而有根本改变。

中国在运筹大国关系方面处于相对有利位置,这既是近年来持续不断推动中国特色大国外交的努力使然,也是作为战疫"大后方"为全球不断提供公共产品的责任担当赢来的地位。但有利位置不等于战略优势,疫情的演变、战略或策略的运筹、对外交往方式的运用、各国国内政治的变化等等,都存变数。一旦美欧疫情发展超出其心理承受极限,已然酝酿、炮制中的对华问责、索赔、施压声浪势必更加高涨,一批长期反华仇共人士必乘势而上,借疫情大做文章。中国本已木秀于林,此次又率先走出疫情最艰难的时刻,被围攻追缴的风险不能小觑。尤值警惕的是,非洲拉美一些国家因疫生怨,对华态度蛮横,加之被外部势力利用,债务减免、索赔问责之声也由小变大。这是中国与世界关系数十年未见的新态势。..

  新冠疫情没有改变世界处于百年未有之大变局的总体态势,只是让大变局来得更快更猛;没有改变中国与世界关系的基本面貌,只是将其搅动得更复杂更多面;也没有改变中国仍处于并将长期处于战略机遇期的基本判断——毕竟,中国率先走出疫情最艰难时刻,并且开始有计划复工复产;以"两会"的召开为标志,中国既定的战略布署仍在有序推进——但是,中国把握机遇的难度会变得更大,而风险挑战也会明显增多。关键在于,在各国深陷疫灾,全球共同抗疫的特殊时期,中国在力所能及为世界提供公共产品承担负责任大国的担当同时,能不能把自己的事情做好,这既是中国与世界关系再出发的前提,也是中国走向中华民族伟大复兴的根本。

   再出发要行稳致远,首先必须回望来路,从而坚定不移地推进新时代的改革开放,对此只能勇往直前不可半途而废。其次必须整理心情,轻装上阵。在"第一个一百年"奋斗目标即将收官之际,应该稍事休整和停顿,总结经验,汲取教训,找寻规律,从而为接续冲刺"第二个一百年"创造条件;再次必须解放思想,实事求是,对网络新媒体时代社会思潮左右冲撞的乱象及时梳理、整顿、引领,没有思想上的统一认识,"第二个一百年"再出发必然异常艰难。最后必须摆正发展与安全的关系。此次新冠疫情暴露出的生物安全问题,以及在总体国家安全观之下列举的种种国家安全问题,表明发展需要以安全为保障,否则对外有可能面临半渡而击的风险,对内则可能是经济发展的成就一夜归零。发展固然是硬道理,但改革开放40年后的发展则需要加一个前缀,"安全的发展"才是真正的硬道理。
Mathieu Duchâtel from the Institut Montaigne has some more thoughts on this in a Twitter thread:
CICIR is the think tank whose report Reuters wrote about in early May - Internal Chinese report warns Beijing faces Tiananmen-like global backlash over virus:
The report, presented early last month by the Ministry of State Security to top Beijing leaders including President Xi Jinping, concluded that global anti-China sentiment is at its highest since the 1989 Tiananmen Square crackdown, the sources said.

As a result, Beijing faces a wave of anti-China sentiment led by the United States in the aftermath of the pandemic and needs to be prepared in a worst-case scenario for armed confrontation between the two global powers, according to people familiar with the report's content, who declined to be identified given the sensitivity of the matter.

The report was drawn up by the China Institutes of Contemporary International Relations (CICIR), a think tank affiliated with the Ministry of State Security, China's top intelligence body...

One of those with knowledge of the report said it was regarded by some in the Chinese intelligence community as China's version of the "Novikov Telegram", a 1946 dispatch by the Soviet ambassador to Washington, Nikolai Novikov, that stressed the dangers of U.S. economic and military ambition in the wake of World War Two.

Novikov's missive was a response to U.S. diplomat George Kennan's "Long Telegram" from Moscow that said the Soviet Union did not see the possibility for peaceful coexistence with the West, and that containment was the best long-term strategy.

The two documents helped set the stage for the strategic thinking that defined both sides of the Cold War.
---
5. US-China
O'Brien says China's global influence puts Americans at risk - Axios
White House national security advisor Robert O'Brien gave a searing speech in Phoenix, Arizona on Wednesday, in which he criticized the Chinese Communist Party's totalitarian vision for China and its growing influence around the world...

This is the first in a string of speeches on China from top Trump administration officials...

O'Brien also quoted John Garnaut, a former Australian government official who helped lead the international discussion about the nature of China's political influence and interference around the world.

"In Classical Chinese statecraft, there are two tools for gaining and maintaining control over 'the mountains and the rivers': the first is wu, weapons and violence, and the second is wen, language and culture. Chinese leaders have always believed that power derives from controlling both the physical battlefield and the cultural domain," O'Brien said, quoting Garnaut.
Exclusive: Trump administration says Huawei, Hikvision backed by Chinese military - document - Reuters
The Trump administration has determined that top Chinese firms, including telecoms equipment giant Huawei Technologies [HWT.UL] and video surveillance company Hikvision (002415.SZ), are owned or controlled by the Chinese military, laying the groundwork for new U.S. financial sanctions, according to a document seen by Reuters on Wednesday.

A U.S. defense official speaking on condition of anonymity confirmed the authenticity of the document and said it had been sent to Congress.

The list of 20 companies that Washington alleges are backed by the People's Liberation Army also includes China Mobile Communications Group (0941.HK) and China Telecommunications Corp [CTTTC.UL] as well as aircraft manufacturer Aviation Industry Corp of China.
Fear, lack of confidence push US to restrict Chinese media - Global Times
The US' fear of China is increasing, especially after Chinese media, which has worked with professional and international standards, reports details of China's effective domestic fight against the COVID-19 outbreak to the US, Lü Xiang, a research fellow on US studies at the Chinese Academy of Social Sciences in Beijing, told the Global Times...

The latest move also shows the US is on high alert against China, and its bashing of China has been comprehensive - from politics and trade to high-tech and media. The bashing of Chinese media sends a signal that the US government will continue with its tough policy against China, Xin Qiang, deputy director of the Center for American Studies at Fudan University in Shanghai, told the Global Times on Tuesday.
Empty Promises from the People's Republic of China in Africa - United States Department of State
At last week's China-Africa Summit we unfortunately saw more empty promises and tired platitudes from the Chinese Communist Party (CCP). While President Xi said, "we must always put our people and their lives front and center," he failed to promise real transparency and accountability for the PRC's role in unleashing this deadly virus. He was not putting lives front and center when the CCP hid the truth about COVID-19 from the world until it was too late, and now we continue to suffer through the disastrous results of those actions.

We note the PRC's stated commitment to "earnestly" implement the G20 Debt Service Suspension Initiative (DSSI), as it's no secret the PRC is by far the largest bilateral creditor to African governments, creating an unsustainable debt burden. Most U.S. foreign assistance, by contrast, comes in the form of grants rather than loans, in order to promote transparent, private sector-led economic growth that benefits all parties.
US senators consider easing law so Americans can sue China over coronavirus | South China Morning Post
"At what point in time do we need to put on the table new ideas to stop a recurring event: pandemics coming from China?" said Senator Lindsey Graham, Republican of South Carolina and chairman of the committee. "Given the wilfulness, the deceit and the hard-heartedness, for lack of a better word, regarding the Chinese Communist Party's handling of the coronavirus, I think now the time has come for us to put on the table new tools to deal with an old problem."
Opinion | China and America Are Heading Toward Divorce - The New York Times OpEd - Tom Friedman
The real story is that China's standing in America today is lower than at any time since Tiananmen Square in 1989. The real story is that if China was to buy a few more beans and Boeings from America, that would not fix Beijing's problems here. The real question the Chinese should be asking themselves is not who will be America's next president, but rather: "Who in China lost America?"
Risk of military conflict between US and China higher than ever, experts say | South China Morning Post
Wu Shicun, the president of the National Institute for South China Sea Studies, said that with Beijing and Washington locked in a rivalry on multiple fronts, the political distrust that had built up between them had led to hundreds of "track one" intergovernmental communication channels shutting down.

According to a report about US military presence in the Asia-Pacific region released by the institute on Tuesday, communication between the US and Chinese armies has been in sharp decline since 2018.
Here is the report, in PDF
The Tide is Turning Toward Trusted 5G Vendors - United States Department of State
The tide is turning against Huawei as citizens around the world are waking up to the danger of the Chinese Communist Party's surveillance state. Huawei's deals with telecommunications operators around the world are evaporating, because countries are only allowing trusted vendors in their 5G networks. Examples include the Czech Republic, Poland, Sweden, Estonia, Romania, Denmark, and Latvia. Recently, Greece agreed to use Ericsson rather than Huawei to develop its 5G infrastructure.

Some of the largest telecom companies around the globe are also becoming "Clean Telcos." We've seen this with Orange in France, Jio in India, Telstra in Australia, SK and KT in South Korea, NTT in Japan, and O2 in the United Kingdom. A few weeks ago, the big three telecommunications companies in Canada decided to partner with Ericsson, Nokia, and Samsung, because public opinion was overwhelmingly against allowing Huawei to build Canada's 5G networks.
Axios Codebook - Chinese companies listed in U.S. could pose threat
The Holding Foreign Companies Accountable Act, which the Senate passed May 20, targets fraud and aims to promote transparency. But U.S. officials are also hoping to uncover hidden links between these companies and the Chinese government...

Though the public rationale for the bill is to protect American holders of securities from these companies from financial fraud, larger national security worries are also driving the legislation, say current and former U.S. officials.
Chinese, US officials cross swords over activities in Southeast Asia | South China Morning Post
Beijing's ambassador to Singapore Hong Xiaoyong delivered the latest salvo on Monday, accusing US Secretary of Defence Mark Esper of "fuelling tension by labelling China a threat and calling for joint deterrence".

He made the remark in The Straits Times in response to an opinion piece by Esper in the same Singapore newspaper a week earlier. Esper had called for closer security relationships with regional allies in Southeast Asia "amid challenges posed by Covid-19 and the Chinese Communist Party".

According to Hong: "This was another attempt to sell the Indo-Pacific strategy of the United States after his predecessor's [bid] at the Shangri-La Dialogue last year."
Ambassador Hong Xiaoyong has a signed article "Cooperation or confrontation? The way ahead for the region" published in The Straits Times
the Indo-Pacific Strategy is reviving the Cold War mentality in an effort to impose divisions along the lines of ideology, with the Chinese Communist Party in the crosshairs.

The South China Sea issue is again used to sow discord between China and the countries of the region, with blatant disregard for the general stable and positive state of affairs, and ignoring the fact that China and Asean member states are focused on resolving their differences through dialogue.

The strategy has brought to the fore a question that requires serious reflection: Should the region adopt a framework for unity and cooperation, or one of confronting camps?

The strategy came at a time when the US launched a trade war with China and escalated containment against China.

Its goal is to localise its deterrence policies and divide the regional countries into groups.
美方想通过"切香肠"的方式危害中国主权完全是痴心妄想 - 中国军网
MoD spokesman Wu Qian accuses the US of "sausage slicing" in okaying the "Taiwan card" in its efforts to harm the PRC's sovereignty and territorial integrity

吴谦:台湾是中国不可分割的一部分。台湾事务纯属中国内政,不容任何外来干涉。美方频繁打台湾牌,想通过"切香肠"的方式来危害中国的主权和领土完整
China not to sit idle if U.S. deploys intermediate-range missiles in Asia Pacific: military spokesperson - Xinhua
Wu Qian, a spokesperson for the Ministry of National Defense, made the remarks at a press conference in Beijing in response to a question on a U.S. discussion with the Japanese side to deploy intermediate-range missiles at U.S. military bases in Japan.

If the U.S. side pushes forward the deployment, it is a clear provocation at China's "doorstep," Wu said, adding that China will take all necessary measures to resolutely counteract the deployment.
Tech Firms Face a Stark Choice Between China and the United States in New Cold War - Foreign Policy - Jacob Helberg
I know this issue well, because for several years I served as a policy advisor at Google. There, I learned that a company's policies, like a society's laws, reflect its most basic values. The problem today is that tech companies that are based in the United States but also operate in China are struggling to comply with values that are fundamentally at odds...
---
6. India-China
Satellite images show Galwan standoff intensifying - India News
Images captured on June 22 — the day of Corps Commander-level talks in Ladakh — show a new forward build-up by the Chinese near Patrol Point 14. Beyond this point, a large-scale construction site has been picked up by satellite imagery on the Chinese side. Images captured by Maxar's Worldview-3 satellite and shared with India Today show earth-moving vehicles, JCB machines and pre-fabricated sheds brought by the Chinese army.
Some of the imagery:
Beijing suffers light casualties in China-India border skirmish but keeps quiet to avoid conflict escalation | South China Morning Post
Three separate sources told the South China Morning Post that only a small number of PLA officers were injured during the brawl...

They did not give a definite number, but said China's casualty count was much lower than India's and Beijing had remained silent to avoid provoking New Delhi and escalating tensions.
China issues statement on border clash, proving Indian troops were fully responsible - Global Times
Zhao Lijian, spokesperson of China's Foreign Ministry, said on Wednesday that the rights and wrongs of the conflict are clear and that Indian border troops should bear full responsibility for the clash...

India was the first to breach international norms to launch attacks. On the evening of June 15, India's front-line troops, in violation of the agreement reached at the commander-level meeting, once again crossed the LAC in deliberate provocation and violently attacked the Chinese officers and soldiers who went there to negotiate, thus triggering fierce physical fight and causing casualties.

The acts of the Indian army have seriously undermined the stability of the border areas, threatened the lives of Chinese personnel, violated the agreements reached between the two countries on the border issue, and breached the basic norms governing international relations.
India bears entire responsibility for border conflicts with China: military spokesperson - Xinhua
Wu Qian, a spokesperson for the Ministry of National Defense, expressed the hope that peace and stability are maintained in the border areas...

Wu stressed that China has sovereignty over the Galwan Valley region and the Chinese border troops have been patrolling and on duty in this region for many years...

In the early morning of May 6, the Indian border troops trespassed into China's territory, built fortification and barricades and impeded the patrol of Chinese border troops, in an attempt to unilaterally change the status quo of border control and management. The Chinese border troops have been forced to take necessary responding measures and strengthen management and control in these areas...

Wu stressed that India should bear the full responsibility for the incident that was solely and completely triggered by its breach of consensus and unilateral provocations.

"The Chinese side demands that India should severely punish those who should be held accountable, strictly discipline its front-line troops so as to ensure that such incidents do not happen again," Wu said.
Wu Qian's statement on the border fight with India - 中印边境冲突责任完全在印方,希维护边境地区和平稳定 - 中国军网
Indian jets fly over Galwan as China again blames India for clash | IAFP
There were also checkpoints on main roads outside Leh and a frenzy of military activity around the main town, which lies at an altitude of 3,500 metres (11,500 feet).

Residents reported long lines of military trucks and artillery on roads near Leh.

"We now have a good strength present in the area," an official of the Indian army's Northern Command told AFP news agency on condition of anonymity, referring to the reinforcements.
China opening another front in Depsang and DBO sectors? | IndiaToday
Decoding China's huge buildup along LAC : The Tribune India
Security sources concede that PLA buildup along the LAC, which ironically seemed to have unfolded before the surveillers' eyes, was 'emboldened' largely by the absence, March onwards, of routine Army summer deployments due to the pandemic. Retired Army officers maintain that, over the years, this deployment tended to maintain military balance along the LAC, obviating confrontation.
Apple, other U.S. goods from China held up at Indian ports: sources - Reuters
Though no government notice has been issued, customs officers at major Indian port have held back containers coming from China, seeking additional clearances, government and industry sources have said.
Amazon Will Show Made-in-China Labels for India as Tensions Rise - Bloomberg
The internet giants joined about a dozen other online retailers including Facebook Inc.-backed Jio Platforms in agreeing to the move, widely regarded as a move to single out goods from China after a deadly border clash stoked long-simmering tensions.
Electric equipment imported from China to be tested for malware | Economy News | Zee News
The government has decided to put a halt on importing electrical items from China and other countries owing to concerns regarding malware while those already imported will be tested.
India gained only casualties from border clash - Global Times Editorial
I believed the PLA has made a strong deployment and is ready to hit the hysterical intruders hard. At the same time, this deployment aims to avoid the occurrence of greater conflicts. We hope that the Indian army will wake up and stop being tempted by the ultra-nationalist forces at home, and refrain from flaunting its muscles, lest its soldiers lose their lives and push the country into a serious strategic dilemma.
Chinese military conducts high-altitude training: spokesperson - Xinhua
The Chinese People's Liberation Army Tibet Military Command recently held an exercise in a high-elevation region, a spokesperson said Wednesday...

The exercise was part of the annual training plan, not targeting any specific country, Wu said.
China attempts to open new front in Ladakh's Depsang, inputs confirm movement on ground - India News
Chinese mobilisation in parts of eastern Ladakh indicates that the People's Liberation Army (PLA) could open a fresh front in Daulat Beg Oldie (DBO) and Depsang Sectors.
---
7. Motherland may be watching but it doesn't have everyone's back
China Students Trapped Abroad by the Coronavirus Are Criticized at Home - The New York Times
Young and patriotic, overseas students often defend their nation against its critics. But when many tried to return home during the pandemic, they became targets themselves...

When overseas students went online to question why they couldn't fly home, people in China told them to stay away. The students, they said, were spoiled brats who could jeopardize China's success in containing the epidemic...

"In the real world, there's no wolf warrior coming to my rescue," a Chinese student in Japan posted on Weibo...

some admitted to what might be a new feeling: fear. The student from Japan who invoked "Wolf Warrior 2" said she feared retribution by the Chinese government if she spoke to me.

Then she invited me into a WeChat group of nearly 500 Chinese students exchanging information about flights, visas, schools and frustrations. They told one another not to give news interviews, not even to the Chinese media, for fear of government punishment.
Comment: Increasing fear is real, and justified. I have even heard some Chinese in the US express fear that their electronic communications in the US, even ones not on PRC apps like WeChat, are now monitored by the motherland.
---
8. New negative lists for foreign investment
China releases new negative lists for foreign investment - Xinhua
The number of sectors that are off-limits for foreign investors will be cut to 33 in the 2020 version of the negative list from 40 in the 2019 version, according to a statement jointly released on Tuesday by the National Development and Reform Commission and the Ministry of Commerce.

China also unveiled its 2020 negative list for foreign investment in pilot free trade zones, cutting the number of prohibited industries to 30 from 37.

The two new negative lists will take effect on July 23.

According to the new lists, foreign ownership caps on securities, fund management, futures, life insurance companies, as well as commercial vehicle enterprises will be removed. Ownership by foreign investors in wheat breeding and seed production can be raised to up to 66 percent.

Foreign investors will be allowed to invest in sectors including prepared slices of traditional Chinese medicine, the smelting and processing of radioactive minerals, and the production of nuclear fuel.

In the area of infrastructure industry, foreign investors will be allowed to take majority shares in joint ventures that engage in the building and operation of water supply and drainage networks in cities with a population of more than 500,000.

In education, wholly foreign-owned institutions for vocational education will be allowed
Chinese version, no more detail - 负面清单再缩减!我国更多领域允许外资控股或独资经营 _中国经济网——国家经济门户
Here is the full list, in PDF
---
Business, Economy and Trade
National Auditor Warns of Hidden Bad Loan Risks for Small Banks - Caixin Of 43 smaller regional lenders reviewed by the National Audit Office, 16 had bad loan ratios that were nearly twice as high as the lenders publicly disclosed, the auditor found. The average bad loan ratio of the audited institutions was 2.48% as of the end of the first quarter, according to the report. The country's 10 largest lenders reported bad loan ratios of 1.43% on average, but the outstanding value of their unpaid loans rose 8.26% from the same time last year, the auditor said.
China to further streamline procedures for opening of businesses, better regulate business-related fees - Xinhua China will work to further shorten the time required for starting a business and better regulate the charges on businesses from industry bodies and associations in an effort to lessen corporate burdens and spur their vitality, the State Council's executive meeting chaired by Premier Li Keqiang decided on Wednesday..."Facing the mounting economic challenges, we need both fiscal policy measures and deeper reform of government functions for a more enabling business environment to effectively support market players. This way, we could spur greater market vitality," Li said.
Chinese billionaire Wong Kwong Yu released on parole - Reuters Wong Kwong Yu, also GOME's former chairman, was arrested in 2008 and jailed in 2010, after being sentenced to 14 years for illegal business dealings, insider trading and corporate bribery. Wong, who is also known as Huang Guangyu, was scheduled to be released in February next year after his sentence was shortened.
Yicai - Chinese Regulator Uses Beidou Satnav System to Pin Zoneco Down for Fraud Dalian-based Zoneco, one of China's largest seafood suppliers, has been slapped with a CNY600,000 (USD84,750) fine for alleged information disclosure violations and its chairman, Wu Hougang, banned from the securities market for life, the CSRC said today...By analyzing the satellite positioning of the company's fishing boats, the CSRC was able to discover the true extent of the fishing area covered by Zoneco over the last two years, and to substantiate that Zoneco had doctored its financial data, including costs, non-operating expenses and profits, the Shanghai Securities Journal reported.
Mao Zedong's favourite spirits brand eclipses western icons | Financial Times $$ Moutai's market capitalisation has soared by Rmb360bn this year to hit Rmb1.85tn ($260bn). A favourite of Mao Zedong, who used it to toast the People's Republic, the brand has eclipsed stalwarts of western capitalism including Walt Disney, Coca-Cola and LVMH.
Relaxed 'Hukou' Rules Spur China Home Rebound Beyond Beijing - Bloomberg "The biggest cities are lowering their bars for admission of talent, which together with the natural draw of such cities is set to boost their housing demand," according to a report by Bloomberg Intelligence analysts Kristy Hung and Patrick Wong.
China Development Bank Launches New Liquidity Index for 7-10 Year Bonds – China Banking News A spokesper­son from CDB said that its bonds had al­ready be­come the biggest on the Chi­nese mar­ket in terms of an­nual trans­ac­tion vol­umes and ac­tiv­ity lev­els, with the 10 year CDB bond hold­ing first place on the mar­ket in terms of liq­uid­ity over the long-haul, and its yield curve emerg­ing as a key bench­mark.  As of the end of June CDB had is­sued over 20 tril­lion yuan in bonds in to­tal, with an out­stand­ing bond bal­ance of 9.8 tril­lion yua
Can Xi Jinping revive China's dream of turning its poor west into an economic powerhouse? | South China Morning Post the contribution to gross domestic product (GDP) from 12 western provinces has increased very little over the past 20 years to slightly above 20 per cent, while the east coast's contribution remains well above 50 per cent, according to government data.
Yicai - Cambricon Technologies' Star Market IPO Application Approved Beijing-based Cambricon Technologies plans to use the money raised for next-generation cloud training chip and system projects, next-generation cloud reasoning chip and system projects, and next-generation edge-side AI chip and system projects, as well as to replenish working capital.
Yicai - Bitmain Technology Holding's Founders Call Truce After 8 Months of Feuding Wu Jihan and Zhan Ketuan, the two founders, have reached a consensus, agreeing to maintain the company's normal production and operation order as much as possible and reduce the impact of their conflict on external customers and suppliers, according to an article published yesterday on "蚂蚁矿机ANTMINER", a WeChat public account controlled by Wu
Caixin - Rural Lenders Plagued by Bad Debt Secure Funding to Form New Bank The new bank is set to be established on the basis of merging three rural commercial banks in Xuzhou that have struggled with nonperforming loans. This isn't the only major investment news to recently come out of Jiangsu. Earlier this month, Jiangsu Changshu Rural Commercial Bank Co. Ltd. said that it would purchase a 33.3% stake (link in Chinese) in Jiangsu Zhenjiang Rural Commercial Bank Co. Ltd., becoming its largest shareholder.
China Development Bank Bond Is a Tough Sell as Investors Flock to Special Purpose Debt - Caixin China Development Bank (CDB), the country's top policy lender, on Tuesday sold a 12.2 billion yuan ($1.7 billion) five-year bond at a coupon rate of 3.4005%, nearly 40 basis points higher than the previous day's closing yield on another CDB bond with the same maturity trading in the secondary market. The bank was forced to increase the coupon to drum up buyers amid tightening liquidity on the interbank bond market after the Ministry of Finance embarked on a massive program of sales.
China to allocate billions for building of Hainan free trade port - Xinhua China will allocate a total of 3.5 billion yuan (about 495 million U.S. dollars) from the central budget to promote the building of the Hainan free trade port, the country's top economic planner said on Tuesday.  The fund will be used for infrastructure construction and public services improvements of the free trade port, according to the National Development and Reform Commission (NDRC).
Luckin shares plunge 12% on second delisting warning · TechNode The delisting notice was sent in response to the company's failure to file a Form 20-F, or annual report, for the period ended December 31, 2019, according to a statement from the company.
Politics and Law
Court in China's Hebei Jails Lawyer Who Took on Local Officials - RFA A lawyer who exposed wrongdoing and corruption among officials in the northern Chinese province of Hebei has been jailed for 14-and-a-half years on charges of "blackmail," RFA has learned. Wu Quan was handed the sentence by the Qiaoxi District People's Court in Hebei's Zhangjiakou city, which found him guilty of the charge, after being held in pretrial detention since December 2017.
Party Discipline Official Stabbed to Death by Security Guard - Caixin A security guard who stabbed a party discipline official to death earlier this month in the southern Chinese city of Dongguan had a history of criminal violence and mental health issues, police said in a statement Tuesday.
Counterterrorism or Cultural Genocide? - Made in China Journal The recent high-profile paper 'Counterterrorism and Preventive Repression: China's Changing Strategy in Xinjiang' by Sheena Chestnut Greitens, Myunghee Lee, and Emir Yazici, published in International Security (2020) (hereafter referred to as the Xinjiang Strategy paper), provokes exactly these questions, and is an acute demonstration of the centrality of concept formation in our attempts to understand political acts, as well as the unavoidable reflexive and normative dimensions of scholarship when studying how extreme state behaviours affect vulnerable communities...The major problematic raised by the paper is: is what we are observing in Xinjiang a counterterrorism campaign using extreme measures, or a cultural genocide cloaked in the gestures of counterterrorism? Put another way: is the CCP's objective only to prevent further attacks against Chinese civilians by Uyghur militants, or does the Party also seek to end the existence of the Uyghurs as a people? The two goals are not contradictory: if there were no more Uyghurs, there would be no more perceived threat posed by Uyghur militants.
Comment: This paper has already sparked an interesting conversation on Twitter:
Foreign and Defense Affairs
Why CSIS believes Canada is a 'permissive target' for China's interference - National | Globalnews.ca Canada is an "attractive and permissive target" for Chinese interference that endangers the "foundations of our fundamental institutions, including our system of democracy itself," according to a recent national security review. The reason, experts suggest, is because China's Communist Party has won the support of some influential Canadians by using economic carrots and sticks, while public attention on Beijing's broad campaign is "almost non-existent." The national security review says "for years Canadian Security Intelligence Service has investigated and reported on the threat" of foreign interference. But unlike Canada's Western intelligence allies, Ottawa hasn't responded with strong countermeasures..."China is the No. 1 threat to Canada and has been for some time," David Mulroney, former ambassador to China, said in an interview. China has used its economic leverage to secure "the voices" of political and business leaders in Canada with "sweetheart business deals" and "various inducements," including lucrative board positions or honours in China, he said.
Opinion: The justice minister has the power to free Meng. That doesn't mean he should - The Globe and Mail former minister of justice Allan Rock, in tandem with former Supreme Court justice Louise Arbour. The two are publicly pressing the current Minister of Justice, David Lametti, to order Ms. Meng's release, having commissioned an opinion from criminal lawyer Brian Greenspan to the effect that the minister has the legal authority to do so.
US rated by Chinese people as biggest stumbling block in China-Australia relations: survey - Global Times A recent survey has found that Chinese people do not view Australia favorably, with more than 70 percent of Chinese respondents rating the importance of the relationship between China and Australia as "relatively important" or "neutral." Nearly half of Chinese respondents identified the US as the biggest irritant in China-Australian relations. Jointly conducted by the public opinion department of the Global Times and the Australian Studies Center of Beijing Foreign Studies University, the survey covers 10 major cities in the Chinese mainland including Beijing, Shanghai, Guangzhou, Wuhan and Xi'an. // Comment: Such coincidental timing so soon after the Lowy Poll
Europe's pandemic politics: How the virus has changed the public's worldview | European Council on Foreign Relations The crisis also seems to have inflicted dramatic and lasting damage on the reputations of Europe's two biggest economic partners: the United States and China. Each superpower has seen its reputation collapse in some of the countries that were its closest allies and partners.
China defies court order over building of wall at Belfast consulate | The Guardian A row over the construction of a wall at the Chinese consulate in Belfast has escalated after China said it would ignore a legal order to temporarily halt the work. A letter from lawyers for the Chinese embassy in London to residents objecting to the security wall said diplomatic staff did not recognise the jurisdiction of courts in Northern Ireland...Chinese diplomats did not apply for permission for the project through the normal planning procedures. Residents oppose it because they say it is in a conservation area that includes many trees that have been felled during the building programme.
EU Business Body Fears China-EU Investment Deal Will Not Be Finished This Year - Reuters Joerg Wuttke told reporters during a briefing that he was disappointed the latest high-level EU-China meetings, which were held on Monday, did not lead to a joint communique, adding that he was concerned China is drifting towards isolation. "The fact that both parties didn't feel like reporting what has been agreed upon is an indicator that there was very little to agree upon," said Wuttke.
India orders Pakistan to halve number of embassy staff | Financial Times $$ Pakistani analysts believe New Delhi's move was intended to deflect public attention away from the bloodshed during last week's deadly confrontation on India's border with its more powerful neighbour China. Pakistan and China are allies, typically describing themselves as "all-weather friends". "India's decision is clearly to divert attention away from the bashing they have recently received by China," said Abdul Basit, Pakistan's former high commissioner to India.
South China Sea Surveys Pressure Claimants, Mine Info With Military Use - RFA China has the world's largest fleet of research and survey ships. This year alone, RFA has detected Chinese surveys off the coasts of Malaysia, Vietnam, Taiwan, and the Philippines. India is also reportedly concerned about what China portrays as benign research activity, after a Chinese survey ship operated late last year in the Eastern Indian Ocean. Collin Koh, a research fellow with the Singapore-based S. Rajaratnam School of International Studies, said meteorological, geophysical, acoustic, hydrographic and other scientific information collected from such surveys are "dual-use."
China names undersea canyons and knolls in East China Sea amid rising tension with Japan over islands | South China Morning Post The new names for the 50 underwater features – including canyons, sea knolls and terraces – were announced in an online notice published by China's Ministry of Natural Resources on Tuesday night. The purpose of the naming was "to standardise topographical names", the notice said. A number of the newly named features are near what China calls the Diaoyu archipelago. The Japanese government calls the same archipelago the Senkaku islands. China has named three of the undersea features after Diaoyu... China's move came after Beijing warned there would be a reprisal for the passage of a Japanese bill to rename a group of islands in the East China Sea, including the Senkaku Islands, at Japan's Ishigaki city assembly on Monday
自然资源部关于公布我国东海部分海底地理实体标准名称的公告 The new names for those undersea features
Chinese encroachment of Nepal territory: Nepali Congress puts motion in parliament, South Asia News | wionews.com Nepal's main opposition party Nepali Congress has put in place a motion in the Lower House of the country's parliament over the issue of encroachment of their territory by China.
South China Sea: China wants a compliant Australia: Malcolm Turnbull - Sydney Morning Herald In an exclusive interview with The Age and The Sydney Morning Herald, Mr Turnbull also said China had developed islands in the South China Sea to such an extent that, short of "kinetic action" or warfare, there was nothing south-east Asian countries — or the United States, Japan and Australia — could do to demilitarise them.
America out, China in as EU looks to reopen external borders - POLITICO EU ambassadors will on Wednesday meet to discuss criteria for countries to be allowed to restart travel to Europe. That's expected to include a requirement that countries must have an infection rate below the EU's average to be on the list. As things stand, that would prevent travel from a range of countries, including the U.S., Brazil and North Macedonia, while travel to and from China would be permitted.
China, the US and the post-virus international order - Nikkei Asian Review Francis Fukuyama and Dominique Moisi discuss the once-in-a-century crisis..the two scholars also showed their differences in separate interviews with Nikkei. Fukuyama, the Stanford University senior fellow known for his 1992 book "The End of History and the Last Man," favors a hard-line approach to dealing with China. Moisi, a special adviser at French think tank Institut Montaigne, argues for drawing China into a united international community. Yet, both were critical of America's lack of strategy on China and its reluctance to coordinate with allies to form a united stance.
China surpasses western government African university scholarships | Financial Times $$ China's government is offering more university scholarships to African students than the leading western governments combined, in a sign of Beijing's use of "soft power" alongside economic investment. The annual Global Education Monitoring Report produced by Unesco showed China was set to offer 12,000 scholarships to African students in the coming academic year, largely to support study at Chinese universities.
Newest camouflage combat uniforms to be distributed to all PLA troops - China Military Snr. Col. Wu also confirmed that the service members at the Chinese PLA Support Base in Djibouti are wearing the latest outfit, as online photos showed. The new camouflage uniform is designed and developed independently by China. Based on the Type-07 camo, improvements have been applied to the new uniform in terms of color, patterns, fabrics and military accessories
Chinese FM holds video conference with Iranian foreign minister - Xinhua The attempts of certain countries to politicize the epidemic are undermining their own international credibility, Wang said, adding that China is willing to work with the international community, including Iran, to firmly champion multilateralism and the authority of the United Nations. Zarif said that Iran welcomes the "Silk Road of health" proposed by China, while resolutely opposing the attempts of certain countries to use the epidemic for the purposes of politicization or stigmatization.
Hong Kong and Macao
New guideline to promote maritime coordination in Guangdong-Hong Kong-Macao Greater Bay Area - People's Daily Online The Ministry of Transport has unveiled a new guideline to promote maritime coordination in the Guangdong-Hong Kong-Macao Greater Bay Area. The guideline aims to elevate cooperation between maritime watchdogs to a level where resources are better shared, different standards are further mutually recognized and law enforcement bodies receive greater mutual assistance.
Hong Kong to launch health code system to facilitate people traveling to Guangdong, Macao - China Daily Secretary for Food and Health of China's Hong Kong Special Administrative Region (HKSAR) government Sophia Chan said on Wednesday that Hong Kong will develop a local health code system to facilitate people traveling between Hong Kong and Guangdong, or Hong Kong and Macao.
Taiwan
Chinese bomber approaches Taiwan in latest fly-by near island - Reuters The encounter came on the day President Tsai Ing-wen oversaw a test flight of a new locally-developed advanced trainer jet as she pushes to boost democratic Taiwan's defences, particularly as China ramps up its own military modernisation. // Comment: Not sure Beijing thinks it will accomplish with what looks to be an increasing tempo of these flybys.
Tech and Media
Baidu Breaks Off an AI Alliance Amid Strained US-China Ties | WIRED Baidu is said to have cited the cost of membership and recent financial pressures for the move
Tencent Video to Buy Iflix, Southeast Asian Streamer – Variety Industry sources tell Variety that content partners have been informed, and that the Iflix brand name will continue to operate for a period of at least 6-12 months. The majority of Iflix's current staff are expected to be retained. These include Marc Barnett, who remains CEO for the foreseeable future.
Pinduoduo Sees Fastest User Growth Among China's Young Generation: Report - Pandaily China's social commerce platform Pinduoduo is reported to have the fastest user growth rate compared with other e-commerce platforms among the country's younger generation between the ages of 19 and 35, according to a report published Saturday by Beijing Normal University.
独家|牛萌萌已于今日18时20分被警方执行拘留 - 国内 - 新京报网 Actress Niu Mengmeng was busted for using meth...2nd time she has been caught using drugs, assume her career is over
The App Store is a monopoly: Here's why the EU is correct to investigate Apple In January 2020, ProtonVPN submitted an update of its iOS app description in the App Store. The new description highlighted ProtonVPN's features, including the ability to "unblock censored websites" with the app.  Even though ProtonVPN had been in the App Store since 2018 and the basic functionality of our VPN has not changed, Apple abruptly rejected the new app version and threatened to remove ProtonVPN entirely. They demanded that we remove this language around anti-censorship on the grounds that freedom of speech is severely limited in some countries. The options are comply or be removed from the App Store.
Society, Arts, Sports, Culture and History
In Fight to Ban Dog Meat, China's Activists Find an Ally: The Coronavirus - The New York Times "We have been working on this issue for years, but the government kept passing the buck," said Cynthia Zhang, a Guangzhou-based animal rights activist. "So we are using the epidemic as an opportunity to try to push through as much legislation as possible."
Tashi says 加油!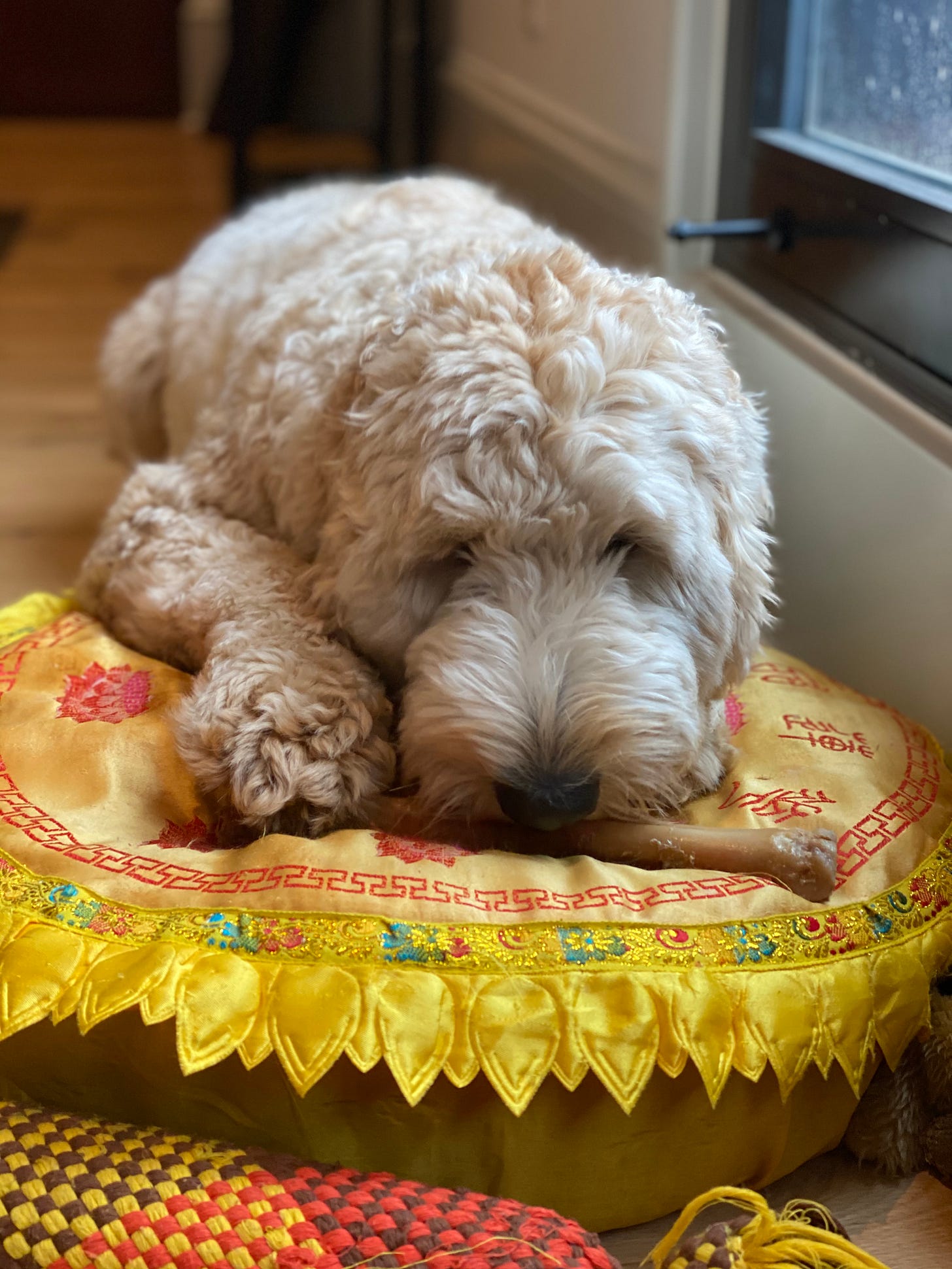 Energy, Environment, Science and Health
Tracing. Testing. Tweaking. | Merics The new MERICS study "Tracing. Testing. Tweaking. Approaches to data-driven Covid-19 management in China" analyzes the various digital solutions China has used. MERICS experts Kai von Carnap, Katja Drinhausen and Kristin Shi-Kupfer, show how the Chinese state and companies deployed apps and data infrastructure, explore China's protection framework for personal data, and assess the benefits and risks of China's data-driven approach to crisis management.
China's daily nucleic acid testing capacity tops 3 mln: official - Xinhua China currently can offer 3.78 million nucleic acid tests for COVID-19 every day, a 200-percent increase from March, a health official said Wednesday. As of Monday, Chinese medical institutions had conducted 90.41 million nucleic acid tests for COVID-19 in total, said Guo Yanhong, an official with the National Health Commission
China Forces Energy Giants to Share in Pipeline Reform Preview - Bloomberg China's top natural gas buyers have been directed by regulators to share import infrastructure, one of the broadest government efforts yet to enforce reform policies aimed at bolstering energy security and breaking down market barriers between the nation's three state energy giants.
Despite the headlines, China's Government still promotes pangolin scales in traditional medicines - EIA EIA has discovered they've not been banned at all – behind the spin, pangolin scales are still listed as an ingredient in patent medicine formulae found in the official reference book.
Education
Authorities Cancel Mongolian-Medium Classes in Inner Mongolia's Tongliao City - RFA Officials from the Tongliao municipal education bureau recently began giving verbal notification to schools in their jurisdiction that Mongolian-medium education will end with the start of the new academic year. Teachers at a Mongolian-medium high school in the city had been warned of the move by education bureau officials during a recent inspection, an ethnic Mongolian high-school teacher wrote in a social media post.
Exchanges Quiz 'Crossover' Firms That Jumped Into Hot Education Sector - Caixin By Caixin's count, since May at least five companies that entered China's booming education business from disparate fields in the last decade have received inquiries from the Shenzhen and Shanghai stock exchanges.
Locked In, Locked Out: The Foreign Students Stuck in Limbo - SixthTone Large numbers of students that left China — including Pavlova — are still unable to return, as Chinese authorities maintain tight border controls in an attempt to prevent a second wave of infections. Many of those that stayed, meanwhile, have been cloistered in university campuses, allowed to leave for only a few hours at a time.