Flooding worsens; New research center for Xi Jinping Thought on Diplomacy; Redistribution of Xiao Jianhua's empire
Thanks to everyone who participated in the Friday open thread. We had a great conversation and I am thankful we have such a smart community of China watchers who can discuss difficult issues in reasoned and civilized ways. The Friday discussions are a regular feature for Sinocism subscribers and I hope more of you can participate, anonymously if want, in the future.
On Friday Foreign Minister Wang Yi held a call with Russian Foreign Minister Sergey Lavrov. It was noteworthy for the direct language Wang Yi used in attacking the United States. The South China Morning Post has some of the details:
China's foreign minister told his Russian counterpart on Friday that the United States has "lost its mind, morals and credibility", while saying Beijing and Moscow should work together on issues of global importance, like Covid-19 and regional security.

"The US has bluntly pursued its 'America first' policy, pushing egoism, unilateralism and bullying to the limit, and that's not what a great power should be about," Wang Yi was quoted by Beijing as telling Russian Foreign Minister Sergey Lavrov in a telephone conversation.

"The US, which has … resorted to extreme measures and even created hotspots and confrontations in international relationships, has lost its mind, morals and credibility," he said…

"The US has retaken the notorious McCarthyism and outdated Cold War mentality and intentionally stirred up ideological opposition, which breaches the bottom line and basic norms of international laws and international relationships," Wang told Lavrov.

"China will never let a small group of anti-China forces take the lead but will firmly defend its reasonable interests and dignity."
Here is some of the original Chinese, so far I have not seen an official English-language readout-王毅同俄罗斯外长拉夫罗夫通电话 — 中华人民共和国外交部
王毅强调,美方赤裸裸奉行本国优先政策,把利己主义、单边主义、霸凌主义推行到极致,哪里还有大国应有的样子。美方转嫁自身责任,借疫情对他国抹黑、甩锅,无所不用其极,甚至在国际关系中制造热点和对抗,已经失去了理智、道德和信用。

王毅表示,美方在对华政策上重拾臭名昭著的"麦卡锡主义"和早已过时的"冷战思维",蓄意挑起意识形态对立,突破了国际法和国际关系基本准则的底线。中方不会被美国少数反华势力带节奏,但将坚定捍卫自身正当利益与尊严。
One phrase Wang Yi used in particular stood out - 中方不会被美国少数反华势力带节奏. He said that China will not allow a small number of anti-China forces set the the tone for the US-China relationship, in what seems like a signal that China will continue to show restraint and take (忍) much of what the US is dishing out. Are Beijing's hopes for a new policy in January 2021 realistic, and are they starting to try to send a message to Team Biden?
Today's Essential Eight:
Flooding worsens but Xi is in command

New research center for Xi Jinping Thought on Diplomacy

Hong Kong

Huawei

UK-China

US-China

Redistribution of Xiao Jianhua's empire

Urumqi outbreak
Thanks for reading.
---
The Essential Eight
1. Flooding worsens but Xi is in command
Xi chairs leadership meeting on flood control - Xinhua
Xi Jinping, general secretary of the Communist Party of China (CPC) Central Committee, on Friday chaired a leadership meeting on the flood control and relief work.

Xi stressed putting people's lives and property first and taking more forceful measures to do a good job in flood control and relief work, at the meeting of the Standing Committee of the Political Bureau of the CPC Central Committee.

Since June, under the leadership of the CPC Central Committee, Party committees and governments at all levels, relevant departments, the armed forces, cadres and the people have worked together to yield positive results in flood control and relief work, Xi said…

The CPC Central Committee has paid great attention to this year's flood control and rescue work, the meeting said.

On May 19, Xi chaired a meeting of the Standing Committee of the Political Bureau of the CPC Central Committee and ordered preparations to prevent and control floods in the middle and lower reaches of the Yangtze River, the meeting said.

Xi also issued many instructions on coordinating epidemic containment efforts with flood control work, ordering Party committees and governments at all levels to go all out to save lives and safeguard property.
Question: When will Xi go inspect the flood control efforts?
中共中央政治局常务委员会召开会议 研究部署防汛救灾工作 中共中央总书记习近平主持会议_CCTV
CCTV Evening News on the Standing Committee meeting, no video from inside the meeting
China blows up dam in eastern province to ease flood risk - AFP
In Anhui, a dam on the Chu river was demolished Sunday as water levels inched close to historic highs.

Local authorities said the action was taken to ensure the safety of people living nearby.
China to offer more financial support for flood-hit areas - Reuters
The China Banking and Insurance Regulatory Commission (CBIRC) said in a statement that financial institutions in the flood-hit areas cannot blindly withdraw, delay or cut credit lines to the companies who have good development prospects but whose operations were suspended by the floods.

The regulator also encouraged financial institutions to lower lending rates appropriately and improve their loan extension policy to help relevant companies to tide over difficulties.
---
2. New research center for Xi Jinping Thought on Diplomacy
Xi Jinping Thought on Diplomacy research center inaugurated - Xinhua
The center was established by the Chinese Ministry of Foreign Affairs, with the support of the China Institute of International Studies. It aims to coordinate resources nationwide and carry out comprehensive, systematic and in-depth studies, explanations, and introductions of the Xi Jinping Thought on Diplomacy.

Focusing on studying the nature, theory, practice, communication, policies, and specific subjects of the Xi Jinping Thought on Diplomacy, the center aims to give full play to the guiding role of the Xi Jinping Thought on Diplomacy in China's diplomatic practices, and serve the construction of theory, system and mechanism, and capacity of the major country diplomacy with Chinese characteristics in a new era.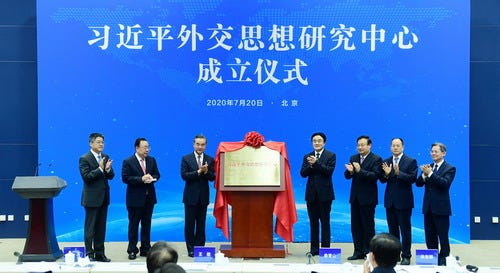 Wang Yi: Put more effort in promoting Xi Jinping Thought on Diplomacy - CGTN
Chinese State Councilor and Foreign Minister Wang Yi called for greater effort in upholding and promoting the idea of building a community with a shared future for mankind and enhance China's international influence under the guidance of Xi Jinping Thought on Diplomacy…

Wang described Xi Jinping Thought on Diplomacy as the fundamental guideline for China's diplomatic work as well as an epoch-making milestone in the diplomatic theory of New China.

Rather than taking the path towards hegemony, the thought guides China to share its achievements and experiences with people of the world, Wang noted, reiterating China's commitment to building a community with a shared future for humanity.

The idea, as pointed out by Qiushi Journal, a flagship magazine of the Communist Party of China (CPC) Central Committee, reflects China's determination to contribute to the noble cause of peace and development for humankind as its commitment to the path of peaceful development…

According to Wang, the foreign ministry will also strive to promote the idea of building a new model of international relations featuring win-win cooperation and enhance China's influence by "telling China's story well."
Wang Yi's speech at the founding of the institute - 深入学习贯彻习近平外交思想,不断开创中国特色大国外交新局面 — 中华人民共和国外交部
Excerpts, lightly edited machine translation:

Looking back at human history, great times will inevitably produce great thoughts. Since the 18th National Congress of the Communist Party of China, socialism with Chinese characteristics has headed into a new era, and the long-suffering Chinese nation has ushered in a great leap from standing up, becoming rich, and becoming strong. China today is approaching unprecedentedly the realization of the dream of the great rejuvenation of the Chinese nation and approaching the center of the world stage like never before. At the same time, the world has entered a major change that has not been seen in a century, and is undergoing profound and complex changes. Facing the turbulent international situation, General Secretary Xi Jinping used the foresight of a great strategist to accurately grasp the laws of human social development, comprehensively judge the trend of the international situation and the historical position of our country, and put forward a series of Chinese characteristics, embodying the spirit of the times, A series of major theories, such as new ideas, new ideas, and new initiatives that lead the progress of human progress, clearly answered what kind of world and international relations China should promote, what kind of diplomacy China needs, and how to manage diplomacy in the new era, and have have formed and established the Xi Jinping Thought on Diplomacy of Socialism with Chinese Characteristics for the New Era, or Xi Jinping Thought on Diplomacy, which points the way forward for China's diplomacy in the new era and provides fundamental guidelines.

回望人类历史,伟大的时代必然产生伟大的思想。党的十八大以来,中国特色社会主义昂首迈进新时代,久经磨难的中华民族迎来了从站起来、富起来到强起来的伟大飞跃。今日之中国,正前所未有地接近实现中华民族伟大复兴梦想,前所未有地走近世界舞台中央。同时,世界进入百年未有之大变局,正在经历深刻复杂的变化。面对风云激荡的国际形势,习近平总书记以伟大战略家的远见卓识,准确把握人类社会发展规律,全面判断国际形势走向和我国所处历史方位,提出了一系列富有中国特色、体现时代精神、引领人类进步潮流的新理念新主张新倡议,旗帜鲜明地回答了中国应当推动建设什么样的世界、构建什么样的国际关系,中国需要什么样的外交、怎样办好新时代外交等一系列重大理论和实践问题,形成和确立了习近平新时代中国特色社会主义外交思想、即习近平外交思想,为进入新时代的中国外交指明了前进方向,提供了根本遵循。

Once great thought it produced, it will in turn promote the progress of the times. In recent years, under the strong leadership of the Party Central Committee and General Secretary Xi Jinping himself, China's diplomacy has been guided by Xi Jinping's diplomatic thought, overcoming difficulties, forging ahead, and achieving historical achievements and creating a new situation. We actively build a global partnership network, establish a comprehensive, multi-level, and three-dimensional diplomatic layout, and form a "circle of friends" all over the world. We actively advocate the joint construction of the "Belt and Road", build the world's largest international cooperation platform, practice the concept of extensive consultation, joint construction and sharing, and promote mutual benefit and common development of partners. We take the initiative to lead the reform of the global governance system, promote the development of globalization in a more inclusive and inclusive direction, and promote the evolution of the international order in a more just and reasonable direction. We fully carry out international cooperation in the fight against the epidemic, advocate the construction of a community of human health and health, and play our due responsibilities for the global fight against the epidemic.

伟大的思想一旦产生,必将反过来推动时代的进步。近年来,在党中央坚强领导下,在习近平总书记亲自擘画运筹下,中国外交以习近平外交思想为指引,攻坚克难,开拓进取,取得了历史成就,开创了崭新局面。我们积极构建全球伙伴关系网络,建立全方位、多层次、立体化的外交布局,形成遍布全球的"朋友圈"。我们积极倡导共建"一带一路",搭建全球最大的国际合作平台,践行共商共建共享理念,助推合作伙伴互利共赢、共同发展。我们主动引领全球治理体系变革,推动全球化朝着更加普惠包容的方向发展,推动国际秩序朝着更加公正合理的方向演进。我们全力开展抗疫国际合作,倡导构建人类卫生健康共同体,为全球携手抗击疫情发挥应有的责任担当。..

Second, Xi Jinping Thought on Diplomacy is the latest achievement of Marxism in the field of diplomacy in the 21st century. Engels pointed out, "Marx's whole world view is not a doctrine, but a method." Xi Jinping's diplomatic thought adheres to historical materialism and dialectical materialism, scientifically applies Marxist standpoints and methods, and pays attention to the integration of theory and practice, and the integration of epistemology and methodology. Gain a deep insight into the world's development trends, comprehensively examine the interaction between China and the world, and master the operating laws of globalization and global governance in the contradictory movements between productivity and production relations, economic foundations, and superstructures. General Secretary Xi Jinping adheres to the people-oriented value orientation of Marxism, using the living soul of Marxism, seeking truth from facts, combining the basic principles of Marxism with the practice of major country diplomacy with Chinese characteristics, and enriching and developing Marxism with a series of original major ideas The theory of international relations has achieved a historic leap in the field of diplomacy in the sinicization of Marxism.

第二,习近平外交思想是21世纪马克思主义在外交领域的最新成果。恩格斯指出,"马克思的整个世界观不是教义,而是方法。"习近平外交思想坚持历史唯物主义和辩证唯物主义,科学运用马克思主义的立场观点方法,注意理论与实际相结合、认识论和方法论相统一,深刻洞察世界发展趋势,全面审视中国与世界互动,在生产力与生产关系、经济基础与上层建筑的矛盾运动中掌握全球化与全球治理的运行规律。习近平总书记坚持马克思主义以人为本的价值取向,运用实事求是这一马克思主义活的灵魂,将马克思主义基本原理同中国特色大国外交实践相结合,以一系列原创性的重大思想观点丰富和发展了马克思主义国际关系理论,实现了马克思主义中国化在外交领域的历史性飞跃。
"For Our Enemies, We Have Shotguns": Explaining China's New Assertiveness - War on the Rocks - Andrew Small and Dhruva Jaishankar
In recent months, it has seemed like much of the world has been subjected to the same treatment, eliciting similar questions about why Beijing should engage in such self-defeating behavior. By any measure, China's recent foreign policy has displayed an astonishing level of assertiveness. That Beijing has shed its prior inhibitions in the midst of a devastating global health and economic crisis for which the Chinese leadership itself bears culpability, and a still-fragile economic situation in China itself makes it all the more remarkable.

For those who have observed this pattern of behavior, the reasons remain confounding. Four possible explanations suggest themselves, based on whether Beijing perceives this as a new era in its foreign policy or a temporary phase, and whether its actions are motivated by a sense of strength or vulnerability. Analyzing whether its new foreign policy reflects temporary opportunism, hubris, crisis management, or deeper insecurity is helpful in discerning whether Beijing will ultimately look to wind back its aggressive posture or if there is greater escalation to come. Yet in practice, the most effective policy responses will look very similar, regardless of China's intentions.
Question: Xi Jinping Thought on Diplomacy in practice?
---
3. Hong Kong
Exclusive: Global banks scrutinize their Hong Kong clients for pro-democracy ties - Reuters
The designation, called politically exposed persons, can make it more difficult or altogether prevent people from accessing banking services, depending on what the bank finds about the person's source of wealth or financial transactions.

The checks at some wealth managers have involved combing through comments made by clients and their associates in public and in media, and social media posts in the recent past, these people said. The new law prohibits what Beijing describes broadly as secession, subversion, terrorism and collusion with foreign forces, with up to life in prison for offenders.

The sources, who requested anonymity because of the sensitivity of the situation, said the broadened scrutiny of clients also applied to Hong Kong and Chinese officials who had implemented the law in anticipation of any U.S. sanctions against them.
A 16th Procrastination: The new HK - A Procrastination
My more specific, technical, point (edited out of my Bloomberg Opinion piece for concision) was that international law firms in Hong Kong should now consider qualifying their legal opinions to carve-out any Mainland laws forming a part of Hong Kong law by virtue of inclusion in Annex III of the Basic Law (including the National Security Law). This is Mainland law — and despite the heroic efforts of people like HKU Professor Simon Young who argue we can still work with it as Hong Kong law — the reality is that no Hong Kong lawyer can interpret or opine on it with any confidence, especially when Beijing reserves the final say.

Even Hong Kong's SFC, in an unusual statement over the weekend seeking to reassure financial institutions who had expressed concerns over issues such as research and short selling (which have been targeted by Mainland regulators on national security grounds in the past), couched this reassurance in qualified terms. The SFC said only that they are "not aware of any aspect" of the National Security Law which would affect the financial market information regime in Hong Kong and that existing practices "should" remain unaltered. If clients push back against an opinion qualification, perhaps Hong Kong law firms can qualify their National Security Law opinions with "awareness", pointing to the SFC as justification.

If even the regulator can't make an unqualified statement on the law, what hope for the rest of us?
Policy Statement by the Securities and Futures Commission | Securities & Futures Commission of Hong Kong
The SFC would like to clarify that it is not aware of any aspect of the NSL which would affect or alter the existing ways in which firms and listed companies originate, access, disseminate and transmit financial market and related business information under the regulatory regime it administers.
HKU pushed to sack Tai | The Standard
Pressure is building on the University of Hong Kong to sack Occupy Central cofounder Benny Tai Yiu-ting, with its former council member, Chan Che-wai, the latest to wade in on the issue.

The university's council will have a meeting on July 28 to discuss Tai's position as associate professor of law.

Tai, 55, was given a 16-month prison sentence last April after being convicted of two public nuisance charges related to Occupy Central in 2014, and is currently out on bail pending an appeal to overturn his conviction and sentencing.
Hong Kong Teachers Fired and Afraid as China Targets Liberal Thinkers - WSJ $$
A summer reading program that provides free books to primary and secondary school students has been criticized this year by those favoring more autonomy for Hong Kong for recommending books favoring Beijing-linked publishers and heavily focused on topics related to Chinese history and culture, as well as promoting Chinese ethics and morals.

Of 1,185 respondents to a June survey by the Hong Kong Professional Teachers' Union, 92.4% said they felt pressure from the government, 80.3% of them said they have avoided discussing sensitive issues in the classroom, and 91.8% said they had a negative outlook for the city's education system.

Teachers face increased pressure because complaints are filed more often, said Fung Wai-wah, chairman of the teachers union.
Hong Kong's publishers self-censor in wake of national security law | Financial Times $$
The new regulations imposed this month were set to be tested at the popular annual book fair, until a surge in coronavirus infections forced organisers to delay the event. The fair drew more than 1m visitors over seven days last year, despite disruption from anti-government protests near the venue. A group that supports Junius Ho, a pro-Beijing lawmaker, had called on visitors to the fair to report any books on Hong Kong independence or products that endangered national security.
Why now? Understanding Beijing's new assertiveness in Hong Kong - Ryan Haas - Brookings
A goal of America's presence in Hong Kong should be to keep as many relationships open with as wide a range of key figures as possible. The more American officials and organizations can preserve a productive presence in Hong Kong, the better the odds that elements of the "one country, two systems" model can be preserved. Forestalling worse outcomes and playing for time until the tide turns is not entirely inspiring, but sometimes it is the best available option. It certainly is better than pursuing a "destroy the city to save it" approach of wrecking Hong Kong to prevent Beijing from deriving benefits from it. America will need to keep front of mind the interests of Hong Kong's middle class and youth, who will serve as important actors in the city's future political development
Hong Kong demands Taiwan officials sign 'one China' document for visa renewal: source - Reuters
Several Taiwanese officials at its de facto Hong Kong consulate who were due to renew their visas have been asked by the city's government to sign the document, a senior Taiwan official with knowledge of the matter told Reuters.

The official said the move was unprecedented and presented an "unnecessary political obstacle" for Taipei-Hong Kong ties.

"They won't issue the visa if we don't sign the document," the official said, declining to be named due to the sensitivity of the matter. "It's entirely a problem created by them."
---
4. Huawei
China May Retaliate Against Nokia and Ericsson If EU Countries Move to Ban Huawei - WSJ $$
Beijing is considering retaliating against the Chinese operations of two major European telecommunication-equipment manufacturers, Nokia Corp and Ericsson, should European Union members follow the lead of the U.S. and U.K. in barring China's Huawei Technologies Co. from 5G networks, according to people familiar with the matter.

China's Ministry of Commerce is mulling export controls that would prevent Nokia and Ericsson from sending products it makes in China to other countries, the people said. One person added that this was a worst-case scenario that Beijing would use only if European countries came down hard on Chinese suppliers and banned them from their 5G networks.
Question: I thought Beijing didn't want decoupling? How do they think this threat will go over?
UK's Huawei ban opens new front in US-China trade war - Nikkei Asian Review
Britain's equivocal position on Huawei long served as cover for European countries eager for a cheap, fast upgrade to their cellular networks. Now it seems European governments, like the U.K., will have to choose between Washington and Beijing, even as business groups have become more outspoken about Xi's "China First" industrial policy.
UK asked Japan for Huawei alternatives in 5G networks, Nikkei reports
The British government asked Japan to help build its 5G wireless networks without Huawei Technologies, the Nikkei said on Sunday, a further step in a global technology and security war between the United States and China.

Britain named NEC Corp and Fujitsu Ltd as potential alternative suppliers to Huawei, the business daily reported, without citing sources.

British officials met with their counterparts in Tokyo on Thursday, two days after Britain ordered Huawei equipment purged from its 5G networks by the end of 2027, the Nikkei said.
Huawei 5G dominance threatened in Southeast Asia - Nikkei Asian Review 
Last month, the city-state's major telecom operators Singapore Telecommunications and StarHub-M1 consortium said that they had selected Sweden's Ericsson and Finland's Nokia, respectively, for the 5G network partners as they aim to start services next January.

As a result, Huawei lost out in the key roles in Singapore, though the government stressed this did not mean a rejection of the Chinese maker.
Huawei's 5G to boost growth of Europe - Global Times
Chinese technology giant Huawei said on Monday that Italy's decision to exclude Huawei from a recent tender to supply 5G technology was a commercial decision rather than geopolitical one.

The comment, coming on the heels of the UK's decision to ban Huawei from its 5G construction, sends a signal that the embattled tech firm is taking the initiative to minimize the impact of the UK's decision on other European nations amid a US-led attack on the tech company.
---
5. UK-China
UK suspends Hong Kong extradition treaty 'indefinitely' | Financial Times $$
UK foreign secretary Dominic Raab also announced the UK's arms embargo against China, imposed following Beijing's 1989 massacre of pro-democracy protesters in Tiananmen Square, would now be extended to Hong Kong.
Tory rebels are far from finished in push for tougher China policy | The Guardian
When Mike Pompeo meets a group of Conservative backbench MPs on Tuesday who have been pressing for the UK to take a harder line on China, it will not be for a victory lap as some in Downing Street might hope.

The hawkish US secretary of state wants to encourage the Conservative rebels to keep pushing for Britain to go further than banning Huawei from 5G phone networks and suspending the extradition treaty with Hong Kong. Not they need much encouragement.

There are no shortage of Tory backbenchers who want further diplomatic and economic restrictions on Beijing, a cause espoused so keenly by former Brexiters such as David Davis and more centrist MPs such as Tom Tugendhat, the chair of the foreign affairs committee, that they sometimes compete among themselves.
Nuclear set to be next flashpoint in British relations with China | Financial Times $$
The energy sector looks set to become the next battleground in Sino-British relations. Although there has been a frenzy of activity by Chinese companies across wind and solar farms, the China critics have their sights set on the highly sensitive nuclear power sector with the focus on state-owned China General Nuclear.
Beijing may target British companies if 10 Downing Street sanctions China - Global Times
In the face of escalating tensions not only with the UK but also with the US, retaliation is always the last choice for the Chinese government, some observers said. However, if the UK, as part of the Five Eyes, upholds such a hostile attitude toward China, Beijing may have no other choice but to strike at British companies like HSBC and Jaguar Land Rover [Bill: JGL is a subsidiary of India's Tata Motors, so two birds with one strike?] in response to the sanctions imposed by 10 Downing Street, observers noted...

"We won't launch massive countermeasures at every major aspect of UK-China relations, as China still needs to evaluate the consequences. We will react in a reciprocal manner," Cui Hongjian, director of the Department of European Studies of China Institute of International Studies, told the Global Times on Monday.

The UK is going to pay the price for its further moves against China, observers said.
ChinaPower - Strategic Shift Underway in UK Relations with China: A Conversation with Charles Parton
This episode explores the ups and downs of China's relationship with the United Kingdom, particularly in the post-Brexit world. Our guest, Mr. Charles Parton, discusses the UK's changing attitudes toward China and explains how Beijing's approaches to Xinjiang, 5G, Covid-19, and Hong Kong have altered UK strategic thinking. Mr. Parton also assesses the impact that the UK's departure from the European Union will have on its bilateral relationship with China. Finally, he highlights the need for the UK to develop a comprehensive strategy toward China, and offers recommendations for how the government should approach the challenges that China poses to UK interests.
TikTok halts talks on London HQ amid UK-China tensions | The Guardian
The Chinese social media firm TikTok has pulled back from talks to site the headquarters for its non-China business in the UK, threatening the creation of 3,000 jobs, as fears grow of a tit-for-tat trade war between London and Beijing.

Its parent company, ByteDance, which is based in Beijing, had spent months in negotiations with the Department for International Trade and No 10 officials to expand operations in addition to the near 800 employed by TikTok.

It is understood talks were suspended after ByteDance executives cited the "wider geopolitical context" following the UK government's ban on Chinese telecoms firm Huawei from developing Britain's 5G mobile phone network.
Comment: I hear TikTok is not the only PRC media firm reconsidering putting a big HQ in London. Maybe they will end up in more permissive Brussels?
---
6. US-China
Zhong Sheng reacts to the series of US speeches - U.S. politicians slandering China goes against civilization - People's Daily Online
U.S. Secretary of State Mike Pompeo, Robert O'Brien, Assistant to the President for National Security Affairs, Christopher Wray, Director of the Federal Bureau of Investigation (FBI) and U.S. Attorney General William Barr have successively cooked up lies and put on shows on the world stage to slander China.

By defaming China in an organized manner, these politicians have greatly violated civilization and disgraced the diplomatic history of the U.S.
Secretary Pompeo to Deliver a Speech at the Richard Nixon Presidential Library - United States Department of State
Secretary of State Michael R. Pompeo will deliver a speech on Communist China and the future of the free world at the Richard Nixon Presidential Library in Yorba Linda, California, at 1:40 p.m. PDT / 4:40 p.m. EDT on Thursday, July 23, 2020.
Esper Marks Eventful Year as Defense Secretary > U.S. DEPARTMENT OF DEFENSE > Defense Department News
When Esper became secretary, his top priority was to implement the National Defense Strategy. "We're in an era of great power competition … and that means that our top strategic competitors are China, then Russia," he said. China is the bigger problem, he said, as it has the population and economy to displace the United States. "It's very clear to me and anybody who understands China that they have the ambition to displace us — certainly from the region and preferably on the global stage," he said.
Ambassador Cui Tiankai took an interview with GPS (Transcript) — Embassy of the People's Republic of China in the United States of America
I think the fundamental question for the United States is very simple −− Is the United States ready or willing to live with another country with very different culture, very different political and economic systems, whether the United States is ready to live with it in peace and cooperate on so many and still growing global challenges. I think this is a real choice. This is a fundamental choice people have to make.
Zhong Sheng - U.S. "confrontation game" disobeys justice - People's Daily Online
While the COVID-19 epidemic is steadily worsening in America, U.S. Secretary of State Mike Pompeo is intent upon creating and spreading political viruses, as well as dressing China up as a rival, even an enemy of the U.S., in a bid to shoulder his so-called "responsibility" of "protecting" American interests. Such a hegemonic and evil political scheme will never be tolerated by justice.
China confident 'de-dollarization' is fast underway amid tense times - Wang Wen
Since the 21st century began, many doubters of "de-dollarization" have been holding that global "de-dollarization" is still in its infancy. They feel markets are mainly dependent on the US dollar. But the COVID-19 pandemic seems to have triggered a faster "de-dollarization" progress. Considering other countries' diplomatic decisions and the market's expectations for the US dollar, one can judge that the US can never form a strategic containment circle against China.

China is confident in this.
Eight Chinese Fighter Jets Show up at Woody Island in the South China Sea - RFA
Eight Chinese fighter jets were visible Friday at its key military base in the disputed Paracel Islands, as two U.S. aircraft carriers performed their second exercise in the South China Sea in two weeks amid mounting tensions between Washington and Beijing.
'We are a battleground now': In Southeast Asia, U.S.-China tensions flare on social media - Reuters
After Washington last week hardened its position by explicitly rejecting Chinese maritime claims in the South China Sea, U.S. embassies in the region produced an unprecedented flurry of op-eds and statements criticising Beijing's actions.

China's response was fiery, accusing Washington of "defaming China with untrue words so as to mislead the public" in the region.
U.S. adds 11 companies to economic blacklist over China's treatment of Uighurs - Reuters
The department said the companies were involved in using forced labor by Uighurs and other Muslim minority groups. They include numerous textile companies and two firms the government said were conducting genetic analyses used to further the repression of Uighurs and other Muslim minorities.
China firmly opposes U.S. unilateral sanctions against other countries: spokesperson - Xinhua
Wang Wenbin made the remarks after High Representative of the European Union (EU) for Foreign Affairs and Security Policy Josep Borrell on Friday expressed his concerns over the increasing use of sanctions, or the threat of sanctions, by the United States against European companies and interests.

"We have witnessed this developing trend in the cases of Iran, Cuba, the International Criminal Court and most recently the Nord Stream 2 and TurkStream projects," Borrell said in a statement, adding the EU "considers the extraterritorial application of sanctions to be contrary to international law."
People's Daily on page 3 today said Chinese diplomats lashed out at the US in the UN human rights council in Geneva, criticizing the Americans for policy brutality, racism, blame shifting on COV19, and its anti-immigration policy. "The US should look at the mirror and see its own human rights problems."
Hu Xijin of Global Times targets Miles Yu, the China advisor of Pompeo, by saying that many of those "vicious" anti-China policies may have come from him, but his judgement of China must be inaccurate as he left China in the 1980s and may have hung out too much with the dissident community.
胡锡进:不打新冷战,中国人要用史诗级的战略大周旋瓦解美国野心
Hu Xijin of Global Times wrote that China must try everything to avoid a cold war with the United States while the Trump administration is trying to drag the world into such cold war. Hu wrote that China should stick to its opening and reform policy so to avoid a united front in the West.

我们有充分能力顶着美国压力继续执行自己的议程。我们要继续扩大开放,美国越是试图搞新冷战,我们越要扩大开放。这样的中国对美方的新冷战野心将构成前所未有的战略泥潭。我们将拖垮对方,美国终将在其内部形不成真正不惜代价的决心,也在西方形不成一致对抗中国的凝聚力。
Second group of U.S. diplomats fly back to China amid frayed ties - Reuters
The flight, only the second of many required to return more than 1,200 U.S. diplomats with their families, was the first since negotiations hit an impasse two weeks ago over conditions China wanted to impose on the Americans, prompting the State Department to postpone flights tentatively scheduled for the first 10 days of July.
After US diplomats tested positive of COV19 in Cambodia, Global Times said that's why China couldn't and shouldn't allow the American diplomats return to China as easily as they want.
Will there be a war between China and the US? - Global Times - Hu Xijin
China has a very restrained definition of its core interests, all of which are as close as just on its doorstep. But if China, as a great power, is still subjected to serious military provocation, we have nothing to think about except for taking the challenge. China will take the call and will surely defeat the US on our doorstep. When it comes to our ability to mobilize people and resources to safeguard China's core interests, when it comes to the will to fight to the end, Washington can hardly compare with Beijing, and Washington knows this better than we do.

Even though I don't know what the lowest ebb in US-China relations might be, I know China has a clear principle that makes hegemons like the US cautious when making moves around China. Of course, I hope that China and the US can manage all accidents well.
Comment: Based on increasingly angry statements two things that seem to most worry CCP officials about US actions are the possibility of a "united front" of developed countries and the efforts by US officials to differentiate between the CCP and the Chinese people.
---
7. Redistribution of Xiao Jianhua's empire
China Is Dismantling the Empire of a Vanished Tycoon - The New York Times
On Friday, two regulators announced coordinated moves to seize companies worth hundreds of billions of dollars tied to Tomorrow Group, the umbrella company that Mr. Xiao controlled for more than two decades.

China's banking and insurance regulator said it had taken over four insurers and two trust firms connected to Tomorrow Group, while the securities regulator said it had seized control of two securities firms and a futures company, accusing the businesses of providing misleading information about their shareholders and controller...

In many ways, the fate of Mr. Xiao and his empire was sealed in the early hours of Jan. 27, 2017, when he was whisked out of the Four Seasons Hotel in Hong Kong in a wheelchair by a dozen men and taken into police custody in mainland China.
Question: But who benefits from the redistribution of his empire? And is Xiao's wife overseas?
China's Tomorrow Holdings slams seizure of its financial firms - Reuters
Tomorrow Holdings said it had been actively moving forward with asset disposals, which the surprise takeover had disrupted, and that none of the institutions had faced liquidity risks or group protests from investors, and that regulators had exaggerated risks.

"With tight regulation limiting the firms' business development, each institution still managed to operate normally," the statement said. "However, they were flagrantly announced to be taken over. What is the purpose of that?"

Tomorrow Holdings questioned the motives of the regulators.

"The regulators have been pushing hard on the takeovers, so some of them can become corporate executives to delay their retirement. How much trade-off of fortune and power is behind this?" it said.
Question: How did Xiao Jianhua get dozens of coveted financial services licenses while Wen Jiabao was Premier?
The Tomorrow Group's now censored statement
China Seizes Multibillion-Dollar Firms Controlled by Fallen Tycoon - Caixin
The nine companies formed a key part of the Tomorrow Holding financial business that backed many of its high-profile acquisitions in recent years, which often involved complicated transactions and the use of shell companies.

Many of the financial institutions had funds embezzled by Tomorrow Holding, which ended up failing to repay the money, causing high risks for the institutions and their clients, sources close to the regulators told Caixin.
China Seizes Tycoon's Assets - The Wire China
Since his disappearance, former associates of Xiao say he has been held in Shanghai, under house arrest, and has been allowed to unwind some of the Tomorrow Group's assets, including his company's stakes in Harbin Bank and Industrial Bank. In January, the government seized one of his firm's biggest assets, Baoshang Bank, which is based in Inner Mongolia, calling it a distressed asset. And just last week, firms with ties to him were placed on a government list of 38 illegal shareholders that the authorities determined must divest of their holdings in financial services firms. Several investors named were associated with Xiao and the Tomorrow Group.

What the government seized on Friday, former employees say, is virtually his entire Tomorrow Group empire.
---
8. Urumqi outbreak
In 'Wartime' Lockdown, Xinjiang's Capital to Test 3.5 Million Residents for Covid-19 - Caixin
Xinjiang reported 17 new locally transmitted cases and 9 new asymptomatic infections on Monday, all in Urumqi, according to the regional health commission. The first new cases were detected in the city last Thursday, ending a five-month streak of no cases in the region.

Since then, most flights in and out of the city have been cancelled and public transportation services have been shut down. Residents have been encouraged to stay in the city unless necessary and a negative coronavirus test result is required to leave.
Mainland China reports 16 new coronavirus cases including 13 in Xinjiang | Reuters
Mainland China reported 16 new cases of the novel coronavirus as of the end of July 18, up from 22 reported a day earlier, the Chinese national health authority said on Sunday.

Of the new infections, 13 were found in Urumqi, the capital of China's far western region of Xinjiang. The other three, recorded in the southern province of Guangdong and eastern province of Shandong, were imported infection involving travellers from overseas, according to the National Health Commission (NHC) and Xinjiang local health commission.
Work resumption in Beijing returns to level before epidemic resurgence - Xinhua
The resumption of major restaurants had reached 91.1 percent, while that of offline stores, such as fruit and vegetable shops, convenience stores, and hair and beauty salons, had reached 91.9 percent. Beijing reported no new confirmed or suspected domestically transmitted COVID-19 cases on Friday, the municipal health commission said Saturday. This means that the city had reported no new confirmed domestically transmitted COVID-19 cases for 12 consecutive days
---
Business, Economy and Trade
China's fiscal revenue up 3.2% in June as economy rebounds - Reuters China's fiscal revenues rose 3.2% in June from a year earlier, reversing a 10% drop in May and returning to expansion for the first time this year, the finance ministry said on Friday, in line with a recovery in the economy.
China regulator encourages brokerages, mutual funds to merge, media says - Reuters China's top securities regulator is encouraging mergers and acquisitions among brokerages and mutual fund houses, the state-run China Securities Journal reported on Saturday.
China's Cinemas Reopen as Coronavirus Restrictions Eased - SixthTone Domestic movie theaters opened their doors Monday after being mostly closed for around six months due to the coronavirus pandemic. The National Film Administration had announced Thursday that low-risk areas of the country would be allowed to reopen cinemas at 30% seating capacity and screen time capped at two hours.
China to renovate old urban communities - Gov.cn The State Council recently issued a guideline, aimed at pushing forward work in renovating old urban residential areas as a major project concerning people's livelihood and economic development, in an effort to meet the requirements for enhancing life quality, expand domestic consumption, promote urban renewal and transition in development and construction, and facilitate high-quality economic development.
Yicai - Beijing's GDP Fell 3.2% in First Half Beijing's gross domestic product shrank 3.2 percent in the first half from the same period last year to CNY1.62 trillion (USD231.7 billion)...Investment in real estate development bounced up to 4 percent in the first half from a 6.4 percent slump in the first three months of the year.
China Banking Watchdog to Levy Biggest Banking Fines in Years - Caixin China Zheshang Bank Co. Ltd. and China Minsheng Banking Corp. Ltd. will each be fined more than 100 million yuan and China Guangfa Bank Co. Ltd. will have to pay a 90 million yuan penalty, sources familiar with the matter told Caixin...The fines were made based on the CBIRC's findings from comprehensive onsite inspections in 2017 for a variety of misconduct related to their interbank businesses or corporate governance, among other aspects.
The statement - 中国人民银行 中国证券监督管理委员会公告〔2020〕第7号
China Moves to Unify Fragmented $15.4 Trillion Bond Market - Caixin The People's Bank of China (PBOC) and the China Securities Regulatory Commission (CSRC) said in a joint statement on Sunday that qualified investors on the interbank market and on the Shanghai and Shenzhen exchanges will be able to buy and sell bonds listed on both markets through a "connect" mechanism. The interbank bond market is regulated by the PBOC, while the exchange bond market is supervised by the CSRC. "This can be seen as a construction notice (of the connect mechanism)," a source at the PBOC said. The source added that connecting the bond market infrastructure can help unify prices.
Nanjing $2.8 Billion Computer Chip Project Goes Bust - Caixin Tacoma (Nanjing) Semiconductor Technology Co. Ltd. was ordered by Nanjing Intermediate People's Court of Jiangsu Province to undergo compulsory liquidation and bankruptcy, according to a national enterprise bankruptcy information website run by the Supreme People's Court. The project, supported by the Nanjing Economic and Technology Development Zone, was launched in 2016 and designated a major local investment project. The plan included creation of an 8-inch wafer fabrication plant and supporting producers covering the entire business chain of chip production.
Jack Ma's Ant Group Plans Dual IPOs in Shanghai, Hong Kong, Bypassing New York - WSJ $$ Hao Hong, a managing director and head of research at Bocom International in Hong Kong, said Ant's plan to list in the city will make it easier for international investors to profit from selling their stakes in the company. He said Ant could fetch a higher valuation on mainland China's A-share market, given a historical gap in valuations on stocks listed on both bourses. Virtually all IPOs on China's fledgling STAR market, which is also known as the Science and Technology Innovation Board, have also surged upon listing.
China's contribution to global growth "infinite" amid global recession: veteran China watcher - Xinhua With positive growth this year, followed by a more robust recovery next year, the Chinese economy at the end of 2021 could be 10 percent bigger than it was in 2019, Nicholas Lardy, a senior fellow at Washington D.C.-based think tank the Peterson Institute for International Economics (PIIE), told Xinhua in a phone interview on Thursday.
Chinese Tesla rival Xpeng Motor raises $500 million - CNBC The $500 million funding came from a group of investors including Aspex, Coatue, Hillhouse Capital and Sequoia Capital China. It follows a $400 million cash injection in November from investors that included Chinese smartphone maker Xiaomi.
Bank of Beijing Banned From Bond Underwriting for Kangde Xin Link - Caixin Bank of Beijing was ordered to suspend bond underwriting for six months as a penalty for its role in helping Kangde Xin Composite Material Group Co. Ltd., a chronic defaulter, to sell short-term notes.
China to connect interbank and exchange bond markets - central bank - Reuters China will connect its interbank and exchange bond markets, the People's Bank of China said on Sunday, a move aimed at unifying segregated bond markets and facilitating monetary policy transmission and macro economic management.
Shanghai's STAR market brings in new dawn for Chinese tech - Nikkei Asian Review STAR, which opened on July 22 last year, is still a long way short of Nasdaq -- which lists stocks such as Apple, Amazon and Tesla, not to mention Chinese companies such as JD.com. However STAR is gaining traction. According to Refinitiv, a data provider, it is second behind Nasdaq in terms of the value of IPOs and secondary listings this year, attracting 17.3% of the total issuance and narrowly surpassing Hong Kong.
Service for Influence? The Chinese Communist Party's Negotiated Access to Private Enterprises As Mr He's various titles suggest, the relationship between the Party organisation, the management, and the trade union is characterised by integration rather than separation. Similar to the situation in state-owned enterprises (SOEs), Fuyao institutionalises a cross-posting system where the leadership positions in the CCP committee are taken up by senior executives who are Party members. However, unlike in SOEs where the chairperson of the board and the Party chief are required to be the same person to ensure that the CCP has a final say in corporate decision-making (SASAC 2018), Fuyao's chairman does not hold a Party position, and the Party organisation has no control over the board. As such, the CCP organisation plays a supporting role in Fuyao by engaging in employee management. This is done not only through the Party branches and cells, but also through the Party's oversight over the union and the Communist Youth League. Besides Mr He's multi-posting, a deputy Party secretary serves as the deputy union chairman, and a member of the Party Committee serves as the secretary of the Youth League. Through the latter two, the Party organisation has access to the majority of the employees.
Politics and Law
Book on Xi's years in Fuzhou published - Xinhua The book, titled "Xi Jinping in Fuzhou," depicts the experiences of Xi, general secretary of the CPC Central Committee, when he worked in Fuzhou, capital city of east China's Fujian Province. It contains 23 interviews recording from different perspectives Xi's experiences in Fuzhou after he was appointed the city's Party chief in April 1990
Chinese official [Chen Yixin] leading security purge 'may be on fast track to promotion', analysts say | South China Morning Post "There is even a chance that he could be fast-tracked and be promoted to the Politburo," said Gu, referring to the top echelon of the party. A political analyst at Peking University agreed, saying Chen would be "at the right age and one of the most likely candidates" to take over the security portfolio from current security chief Guo Shengkun in 2022, when Guo is due to retire. "He's an important member of Xi's leadership team, especially in terms of security matters," said the analyst, who requested anonymity because of the sensitivity of the matter.
Regulations on election of primary-level CPC organizations released - Xinhua The regulations implement the general requirements for Party building and the Party's organizational line in the new era, and are the fundamental rules for the election of primary-level Party organizations in the new era, according to the circular. The formulation and implementation of the regulations is significant to encouraging intraparty democracy, respecting Party members' democratic rights, regulating the election of primary-level Party organizations and enhancing their political functions and organizational capability, the circular said.
中共中央印发《中国共产党基层组织选举工作条例》_中央有关文件_中国政府网 These new regulations replace the ones issued in 1990. This level of detail on the requirements that all the candidates would have to be approved by the higher-level before and after the elections is new // 第五章 呈报审批 ; 第三十二条 召开党员大会或者党员代表大会的请示,按照党组织隶属关系,报有审批权限的上级党组织审批。召开党员大会的,一般提前1个月报批;召开党员代表大会的,一般提前4个月报批; 第三十三条 新一届党的委员会和纪律检查委员会委员、常务委员会委员和书记、副书记候选人预备人选,一般于召开党员大会或者党员代表大会1个月前,报有审批权限的上级党组织审批; 第三十四条 选出的委员,报上级党组织备案;常务委员会委员和书记、副书记,报上级党组织批准。 纪律检查委员会选出的常务委员会委员和书记、副书记,经同级党的委员会通过后,报上级党组织批准。 / The 1990 regulations.- 中国共产党基层组织选举工作暂行条例
China's ambassador denies abuse of Uighurs in Xinjiang during Andrew Marr interview – video | The Guardian Appearing on the BBC's Andrew Marr Show, Liu Xiaoming said: 'I do not know where you get this videotape,' adding, 'sometimes you have a transfer of prisoners, in any country.'
Wearing a Mask? It May Come From China's Controversial Labor Program - The New York Times Our visual investigation reveals that several Chinese companies are using Uighur labor from a contentious government program to produce P.P.E. during the pandemic. We track some of that equipment to the U.S. and around the world.
A million people are jailed at China's gulags. I managed to escape. Here's what really goes on inside -- Haaretz.com Rape, torture and human experiments. Sayragul Sauytbay offers firsthand testimony from a Xinjiang 'reeducation' camp
What do Chinese Zhihu users think of the proposed policy to ban CCP members from going to the US? — Zhihu Digest The top answer with 4,853 likes reads: The Chinese government should approve of this and even assist the US in banning CCP members from the US. There have been so many questions on Zhihu over the years – "Do I have to join the CCP to go to college?" "What are the benefits of joining the Party?" and so on – when these opportunists find out joining the Party means not only having to pay 2% of their salary (if they make over 10,000 RMB a month) as Party fees, but that they also won't even have a chance to escape, they'll naturally make the choice that benefits them most. This is a policy that will help unify the Party and weed out bad apples so that it can be a true vanguard of the people, not of capitalists and politicians...
Susan Shirk on Xi Jinping's Overreach - The Wire China Q: You have written extensively about Xi Jinping's turn to a "personalistic rule." What do you mean by that term and how do you think that shift is impacting Chinese domestic politics? A: Xi has concentrated authority in his own hands. He has become the leader of most of the "Leading Small Groups," which make decisions and implement policy. He has formally made himself the lingxiu, which some people translate as führer [Adolf Hitler's title in Germany's Third Reich]. He has engineered the end of the regular transfer of power at the top. And his ideology is being studied everywhere by everyone — school children, party members, etc.
Scholar Hits Out at China's 'Totalitarian' System in Open Letter - RFA Chinese scholar Xu Zhangrun has penned a passionate call for solidarity among China's embattled dissidents after his release from criminal detention, which came after he published several articles and open letters critical of the ruling Chinese Communist Party and its supreme leader Xi Jinping. In an open letter to fellow alumni of Beijing's Tsinghua University, which fired Xu after his release from prison earlier this month, Xu said he was "still healthy," and could work hard to earn enough to eat.
The Case of Chinese Public Intellectual/Lawyer/Activist Xu Zhiyong Raises Questions About PRC Police Discretion to Detain Suspects — Jerome A. Cohen | 孔傑榮(柯恩) The recent formal arrest of Xu Zhiyong raises questions about the relationship of the notorious Residential Surveillance at a Designated Location (RSDL) to the regular criminal process and other forms of Communist Party-police coercion. Xu has been held incommunicado since his February 15 detention. He was formally arrested for "inciting subversion of state power" last week and has now been reportedly placed under RSDL
Senior Managers at Rural Credit Union Under Investigation as Scandal Bites - Caixin A former president and two former vice presidents of Shanxi Rural Credit Union were put under investigation by the top anti-graft agency in the northern province on suspicion of serious violations of law and Communist Party discipline, according to an official statement on Saturday
山西省地方金融监管局原局长竟晖接受审查调查————执纪审查——中央纪委国家监委网站 former head of the Shanxi provincial finance office also under investigation
原银监会山西监管局党委书记、局长张安顺接受审查调查--金融--人民网 Zhang Anshun, former head of Shanxi's banking regulations commission, has been put under investigation for corruption.
打掉金融"黑三角" 山西农信社一二三把手及金融局局长均被查_金融频道_财新网 Long Caixin article on the Shanxi corruption case, says it has led to a loss of "several billion RMB" and it has led to the downfall of at least four officials. With blessing of these officials, the Shanxi Rural Credit Union gave massive loans to companies controlled by Tian Wenjun, once the richest person in the province.
China to clean-up lawyer misconduct, attorney accused of sexual assault singled out - Global Times China's Ministry of Justice said it plans to "rectify" lawyers who engage in illegal part-time jobs or continue to practice after losing their Chinese citizenship, and singled Beijing lawyer Bao Yuming, who is accused of sexually assaulting a teenager under his guardianship. "Some lawyers run their own businesses and serve as managers rather than being devoting to lawyer services. Some lawyers still practice in China after losing their Chinese citizenship. In particular, Bao Yuming, a lawyer from a Beijing-based law firm, has been working in an enterprise for a long time. He concealed his American citizenship in 2006 and still practiced as a full-time lawyer, which caused bad social influence after media reports and seriously damaged the image and reputation of the lawyer team as a whole," reads the announcement from the ministry on Sunday
The Ministry of Justice notice - 刀口向内 司法部发文要求清理律师违规兼职_政经频道_财新网
中国科学院大学对季子越处分情况的通报 ... 来自中国科学院大学 - 微博 Chinese Academy of Sciences expelled a student who tweeted about the Nanjing Massacre and called the Japanese army heroes. Ji Ziyue was in the US when he sent the tweets, which sparked outrage on Sina Weibo. Ji's tweets were graphically disgusting
Senior political advisors brainstorm ideas on consultation rules - Xinhua Wang Yang, a member of the Standing Committee of the Political Bureau of the Communist Party of China Central Committee and chairman of the Chinese People's Political Consultative Conference (CPPCC) National Committee, presided over the meeting and delivered a speech. The principles, contents, forms, and procedures of the CPPCC's consultative work were also discussed, among other topics
政商勾肩搭背,借"影子公司"输送利益 The CCP disciplinary watchdog CCDI wrote on its website that some Chinese officials have been using the "shadowy companies" controlled by their friends and cronies for corruption.
Calgary author overcame trauma to pen memoir about her battle to free her husband from Chinese detainment | Calgary Herald Taking On China: How I Freed my Husband from Jail is Patterson's self-published account of her fight to free Wu from the clutches of the Chinese government. He disappeared one day after accompanying a friend to a police station. It was only a few months after he organized a protest march to save an art colony from developers, which had attracted the attention of foreign media and apparently angered Chinese authorities. // The book on Amazon
Foreign and Defense Affairs
China expands its amphibious forces in challenge to U.S. beyond Asia - Reuters China is launching new amphibious assault ships and beefing up its marines. Its main aim is to project power far from home, but it is also strengthening its ability to invade Taiwan.
Australia to 'shoot itself in the foot' by mulling ban on Chinese apps: experts - Global Times After the Morrison government is reported to be launching investigations of Chinese flagship platforms TikTok, WeChat and Sina Weibo, following the US that is considering a ban on the short video platform, observers said becoming a US puppet is unwise for Australia and if China-Australia ties sink, Canberra will be shooting itself in the foot.
Japan protests Chinese maritime survey off southern islets - AP Japan has protested to Beijing over a Chinese survey ship that operated for 10 days inside the exclusive economic zone claimed by Japan around Okinotorishima, a tiny island in the Pacific Ocean, officials said Monday. Japan says Okinotorishima — two uninhabited rocky outcroppings about 1,700 kilometers (1,060 miles) southwest of Tokyo — are islands. China says they are only rocks and do not qualify as a demarcation point for Japan's exclusive economic zone, as Japan claims under international law.
China demands Japanese fishing boats not "trespass" in its waters - Kyodo News China complained to Japan early this month about Japanese fishing boats allegedly "trespassing" in its territorial waters near a group of disputed islands in the East China Sea, it was learned Sunday. Diplomatic sources familiar with Sino-Japanese relations said Japan immediately rejected the Chinese demands, made through diplomatic channels, as "unacceptable" since the Senkaku Islands are administered by Japan.
Cancel Xi Jinping's visit to Japan, say 62% in Nikkei poll - Nikkei Asian Review The Nikkei/TV Tokyo poll found that 62% want the trip canceled, while 28% said it should take place. The visit was initially slated for April but pushed back in March over coronavirus concerns, and the two sides have not been able to set a new date.
Merkel Promoted Wirecard to Chinese Officials Before Scandal - Bloomberg Angela Merkel promoted Wirecard AG during a past state visit to China, the latest revelation about the government's association with the fallen German tech darling. Opposition lawmakers are threatening to call for a parliamentary investigation as they press Merkel's administration over how it pursued fraud allegations against a member of Germany's benchmark DAX index.
The limits of authoritarian compatibility: Xi's China and Putin's Russia - Paul K Baev - Brookings China and Russia are two key revisionist challengers for U.S. positions in the world, but maturing authoritarian tendencies in their regimes do not make them natural allies. Many parochial features determine profound differences in China's and Russia's strategic agendas, and the heavy impact of the COVID-19 pandemic has aggravated hidden tensions and accentuated mutual mistrust. U.S. policymakers should not therefore assume the need to counter their emerging military alliance, but could rather aim at exploiting their disagreements.
Chinese research ship launched to boost exploration activities, including in South China Sea | South China Morning Post The Shiyan-6, or Experiment-6 – a geophysical and seismic survey ship owned by the Chinese Academy of Sciences – was launched in Guangzhou on Saturday and is expected to be commissioned next year, state news agency Xinhua reported. "It will help to safeguard China's state sovereignty and also its maritime rights and interests, increasing the country's building of maritime power," Long Lijuan, deputy director of the academy's South China Sea Institute of Oceanology, was quoted as saying.
Burning USS Bonhomme Richard mirrors overstrain of US Navy - China Military The US military has the world's strongest maritime forces, which, however, cannot endure the increasingly complex and onerous tasks. The US Navy's resources and capabilities obviously cannot meet the country's ingrained objective of being dominant on the sea. That the US Navy is carrying out the so-called "freedom of navigation" operations more frequently reveals its hegemonic nature to the fullest and also brings to the fore the rising contradiction between its "capacity" and "desire". The fire on the USS Bonhomme Richard has dealt another blow and given a new warning to the US Navy. If the US military still holds on to its outdated hegemonic mindset and pursues the so-called "absolute superiority", it will not only continue to face the severe personnel shortage but also be doomed to walk from boom to bust. - (The authors are from the Chinese People's Liberation Army (PLA) Naval Military Studies Research Institute)
State Councilor and Foreign Minister Wang Yi Delivers Remarks To the ECOSOC High-level Conversation In his remarks, Wang said that seventy-five years ago, our fathers' generation won the epic victory of the World anti-Fascist War following a heroic struggle. The United Nations thus came into being and has since played an indispensable role in safeguarding peace and promoting development. Seventy-five years on, our world has seen profound shifts, accentuated by the enormous impact of COVID-19. The myriad challenges before us have driven home the fact that the interests of all countries are interconnected, and our world is increasingly an indivisible community with a shared future.
Xi says anti-coronavirus cooperation helps boost China-Zambia ties - Xinhua Chinese President Xi Jinping said Monday in a phone conversation with Zambian President Edgar Lungu that the two countries' joint fight against the COVID-19 pandemic is expected to help lift bilateral relations to a higher level, and better benefit the two peoples
G20 falls short on debt relief for poor countries | Financial Times $$ The total does not include lending by the China Development Bank, according to the breakdown document, which said that "China encourages the CDB to participate in the DSSI [as a commercial creditor] on comparable terms". Mr Malpass said "all official bilateral creditors, including national policy banks, should implement the DSSI in a transparent manner. For example, full participation of the China Development Bank as an official bilateral creditor is important to make the initiative work."
钟山部长与柬埔寨商业大臣潘索萨举行视频会议共同宣布完成中国—柬埔寨自由贸易协定谈判 China's MOFCOM said it has finished the free trade agreement negotiation with Cambodia and they will try to sign it by the end of the year.
EU pressured to give results of leak probe into China disinformation | Financial Times $$ The EU faces pressure to reveal the results of a leak inquiry it launched over internal emails that suggested it toned down a report on alleged Chinese disinformation after pressure from Beijing.
Foreign Ministry Spokesperson Wang Wenbin's Regular Press Conference on July 20, 2020 Ambassador Wang Wenbin 汪文斌 replaces Geng Shuang as one of the three MoFa spokespeople
The puzzle of China's missing solar and wind finance along the Belt and Road (Part 2) – Panda Paw Dragon Claw In Part 1 of this blog series, we looked at why China's two major policy banks, China Development Bank and China Exim Bank, whose overseas energy sector lending totaled 251.3 billion between 2000-18, lend only grudgingly to Chinese renewable companies going overseas. The difficulty for Chinese renewable energy projects along the Belt and Road to raise funds is not limited to the arena of policy bank financing, however. A March report from Chinese NGO Greenovation Hub and the Center for Finance and Development at Tsinghua University paints a broader picture of the obstacles to renewable energy financing along the Belt and Road, with key and often poorly understood players including commercial banks, multilateral banks and insurers. The study gives us another perspective on the puzzle of the Belt and Road's missing renewable energy finance and suggests some financing mechanisms which could break through some of the obstacles.
Global China: Regional influence and strategy - Brookings The papers in this installment of the "Global China: Assessing China's Growing Role in the World" project explore China's efforts to expand its influence across different geographic regions, as well as implications of those efforts for the United States and for international order.
Chinese ambassador warns NZ: Butt out of Chinese politics and we'll get along fine - NZ Herald It was essential that both countries committed to "practical cooperation and respect for each others' core interests and accommodation of each other's major concerns." "Instead of trying to change or remodel the other, we respect each other," said Wu. "As comprehensive strategic partners, China and NZ should continue to maintain strategic commitment in difficult times and support each other on issues on sovereignty and territorial integrity.
Is Sweden Ready to Combat China's Influence Operations? – The Diplomat - Jojje Olsson A diplomatic scandal ended with Sweden's ambassador to China being acquitted – in large part because prosecutors had to rely on a centuries-old law to press charges.
Myanmar uncovers Sino-Pak nexus in arms supply to two rebel groups in Rakhine - The Economic Times New Delhi: Myanmar is believed to have discovered an alleged Sino-Pak axis that is supplying China made arms to two rebel groups in the country's restive Rakhine province to target Indian assets including Kaladan multi modal project. The groups are also allegedly fuelling terror both in Myanmar and across the border in Bangladesh. // Legit?
US National Science Foundation reveals first details on foreign-influence investigations - Nature All but two of the cases involved ties to China, although a majority of the scientists in cases referred by the inspector-general are US citizens and are not ethnically Chinese.
No to the New Cold War speakers include wang wen, martin jacques, qiao collective, john ross, yang hanyi of eric x li's guancha.cn
China poised for diplomatic windfall in Sri Lanka elections - Nikkei Asian Review China is cultivating a wide swathe of political allies in Sri Lanka ahead of the nation's general elections on Aug. 5, marking a break from throwing its lot in with one dominant political camp. Foreign policy insiders in the small South Asian nation reckon the strategy fortifies the edge China has over geopolitical adversaries India, Japan and the U.S. when it comes to influencing a country that straddles an increasingly contested stretch of the Indian Ocean.
China Study Group, the elite Indian govt body that guides policy on ties with Beijing The military stand-off between India and China at the Line of Actual Control (LAC) in Ladakh has brought the China Study Group (CSG) into focus. The CSG is the central and sole advisor to the government on policies related to China, and is currently playing a key role as the two countries try and chalk out a comprehensive disengagement process.
Hong Kong and Macao
Experts Blame Hong Kong's Covid-19 Resurgence on Testing Loophole - Caixin The latest Covid-19 outbreak in Hong Kong may be a consequence of loopholes in the testing and quarantine exemptions for crew members of aircraft and vessels who returned from overseas, according to local infectious and respiratory disease experts.
Hong Kong extends social distancing measures as COVID-19 cases increase to 1,958 - Xinhua At a media briefing on Monday afternoon, the HKSAR government's Center for Health Protection (CHP) reported 66 additional local infections and seven imported cases of COVID-19. Out of the 66 local infections, 39 are related to previously confirmed cases, while the source of infection of the other 27 cases remained unknown, Chuang Shuk-kwan, head of the CHP's Communicable Disease Branch said at the briefing.
Tech and Media
What I Learned at Alibaba's Data Protection Summit | Center for Strategic and International Studies then you have examples where Chinese internet giants align nicely with Beijing's policy priorities. Take for example the rising Chinese content platform Bytedance, with its homemade video app called Douyin. The company is very comfortable with content take-downs in China and abroad (it agreed to remove "negative content" in Indonesia), and the app has growing popularity in democratic countries like Australia and South Korea. The structure of the Douyin app itself reinforces a bifurcated internet. There are two versions of the app. The one for markets outside of China is called Tik Tok, and it is virtually impossible to download from within China's internet ecosystem. Even with a VPN, users with a Chinese sim card cannot download the app. This is exceedingly rare in China where most overseas apps are accessible by VPN. It shows the lengths that Bytedance goes to in order to avoid having problematic content created outside of China viewed by domestic audiences.
Snapchat launches meditation feature with Headspace - Axios The partnership is also one of Snapchat's early testing grounds for its new "Minis" features, which allows developers to integrate their apps and tools within conversations on Snapchat that allow users to interact more closely. // You mean like Wechat's mini programs?
Robotics start-up CloudMinds returns to China after US sanctions hurt its business in Silicon Valley | South China Morning Post CloudMinds lost almost 75 per cent of orders in the US and cut 80 per cent of its US workforce after Washington imposed sanctions over national security risks
Education
China tightens supervision of student contests - Xinhua China's Ministry of Education (MOE) has issued a circular ordering national student contest organizers to check the veracity of award-winning projects. The circular was issued after certain contests reviewed entries with laxity that led to awards for several projects completed with the help of participants' parents.