Google and China allegations; Xi writes a letter to writers and artists; WeChat censorship; Ji Sizun
Thanks for reading.
---
The Essential Eight
1. US-China trade
U.S.-China deal: A 2020 liability? - POLITICO
China hawks both within and outside the Trump administration are becoming vocal that a deal with Beijing could undermine President Donald Trump's 2020 aspirations. White House trade hawks still believe Chinese President Xi Jinping is unwilling to address U.S. concerns over intellectual property, and any deal would likely be a target for Democrats eager to show battleground voters in states like Ohio and Pennsylvania how Trump has failed to protect their livelihoods from China's menace.

The art of the no deal: "A large group of people are trying to make him understand that nothing has changed since the G-20 meeting," said one source familiar with the administration's internal dynamics. "There is a desire for the president not to make a deal."..

Trump acknowledged Monday that while he used to call Xi "a close friend," the two "are probably not quite as close now."

"But I have to be for our country," he said at the White House. "He's for China and I'm for USA, and that's the way it's got to be."
China's hawkish new face in US talks Zhong Shan 'shows Beijing is not close to a trade deal' | South China Morning Post
Zhong Shan, who took part in a telephone conversation with the leaders of the US negotiation team last week, made clear that the US side should be held solely accountable for the trade conflict that has become a drag on the global economy.

The remarks were made as officials from the two nations prepared for further talks. US Treasury Secretary Steven Mnuchin said that he and US Trade Representative Robert Lighthizer may travel to Beijing for trade negotiations if talks by telephone this week are productive...
China's commerce minister Zhong Shan, joining trade talks, says there's need to 'uphold our warrior spirit' - The Washington Post
Some in Beijing think Americans are at least partly right to conclude that Zhong is being brought in to fight China's corner more forcefully — but not necessarily because he's more hard-line.

"By parachuting the minister of commerce into the scene, China is trying to tell the U.S. that we mean business more than ever," said Yao Xinchao, a professor of trade at the University of International Business and Economics in Beijing.

Zhong has more expertise in trade and a bigger say in decision-making than Vice Minister Wang Shouwen, who had been involved in the talks, Yao said. "At this point, it's hard to tell if Zhong would be more hard-line than Wang, but he is definitely more authoritative and more adept at getting things done," he said.
Zhong Sheng of People's Daily said Trump's tweets about US tariffs hurting Chinese economy is "ridiculous". The article again said China's growth is "solid" and of higher quality, and it inspires confidence in China in the world.
China says misleading to suggest it needs trade deal due to slowing economy - CGTN
Geng Shuang, a spokesperson from the ministry, made the remark after U.S. President Donald Trump seized on China's slowing economic growth as evidence that it needs a trade deal with the U.S.

China's economic growth is "not bad," said Geng, adding that Trump's comments are misleading.
China sees no major manufacturing exit: top economic planner - Xinhua
"Most of those pulling out are mid- to low-end firms and the impact on China's economic growth, industry upgrading and employment is generally controllable," Meng Wei, a spokesperson of the National Development and Reform Commission (NDRC), told a news conference when answering a question on reported withdrawals.
A year into trade war, Wall Street is the latest front for US suspicions about China | South China Morning Post
The Public Company Accounting Oversight Board (PCAOB), which oversees audits of publicly traded companies, maintains a list of foreign companies on US exchanges that have refused to have their auditing documents reviewed by US securities authorities. Currently, 224 companies are on that list; the organisation estimates that as many as 95 per cent of them have auditors based in mainland China or Hong Kong.
Tariffs on China Don't Cover the Costs of Trump's Trade War - The New York Times
government figures show that the revenue the United States has collected from tariffs on $250 billion worth of Chinese goods is not enough to cover the cost of the president's bailout for farmers, let alone compensate the many other industries hurt by trade tensions. The longer Mr. Trump's dispute with China drags on, the more difficult it could be for him to ignore that gap.

Mr. Trump's tariffs on Chinese imports raised $20.8 billion through Wednesday, according to data from United States Customs and Border Protection. Mr. Trump has already committed to paying American farmers hurt by the trade war $28 billion.
---
2. More on charges of Chinese spies inside Google
Trump was responding to an interview with Thiel on Fox - Billionaire Peter Thiel to Google CEO Sundar Pichai: 3 questions on China that need answers | Fox Business
"I would say answer my three questions.  How many foreign intelligence agencies have infiltrated Google?  Have the Chinese, in particular, infiltrated?  And why are you working with Communist China and not the U.S.?  What is the reason you're doing that?" Thiel told Tucker Carlson in an exclusive interview on Monday.
Joe Lonsdale: Google is not a patriotic company - CNBC
1:25 "We've had at all of our companies Chinese spies that are caught, it's something we don't talk about a lot, it's just a regularly known thing in Silicon Valley".
Pro Rata Podcast: Peter Thiel's Google attacks highlight Trumpism vs. tech - Axios
Dan and Axios tech reporter David McCabe discuss venture capitalist Peter Thiel's attacks on Google
Google denies Peter Thiel's allegation of 'treasonous' links to China | Fox Business
When asked for comment on Thiel's remarks, Google reiterated that it does not have any dealings with the Chinese military. The company said Thiel's allegations are false, but did not elaborate on the situation. Google representatives declined further comment.
Comment: These comments and accusations are not going to be comforting to Chinese and Chinese-Americans working in Silicon Valley.
---
3. Xi Jinping Inspects Inner Mongolia
习近平在内蒙古考察并指导开展"不忘初心、牢记使命"主题教育时强调 牢记初心使命贯彻以人民为中心发展思想 把祖国北部边疆风景线打造得更加亮丽_CCTV节目官网-CCTV-1_央视网(cctv.com)
21 minutes at the top of the Tuesday CCTV Evening News on Xi's inspection tour, key focus on checking on progress in the "staying true to our founding mission" campaign. He also met with military leaders in the region, report says he was accompanied by Ding Xuexiang, Liu He, He Lifeng among other central officials

考察期间,习近平在呼和浩特亲切接见驻内蒙古部队副师职以上领导干部和团级单位主官,代表党中央和中央军委向驻内蒙古部队全体官兵致以诚挚问候。许其亮陪同接见。

丁薛祥、刘鹤、陈希、何立峰和中央有关部门负责同志陪同考察或参加有关活动。
Xi stresses people-centered development in Inner Mongolia inspection - Xinhua
Chinese President Xi Jinping has stressed acting on the people-centered philosophy of development and building the country's northern border areas into a more beautiful place.
Chinese President Xi Jinping inspects Inner Mongolia - CGTN
During his inspection, Xi went to a community in Chifeng City to learn about the situation of Party building at the grassroots level as well as ethnic unity and integration.

He visited the Chifeng Museum and talked with successors of the epic of King Gesar, an intangible cultural heritage.

Xi also went to a forest farm in Maanshan Village of Chifeng City during his stay there. He spoke about the construction of ecological civilization, rural revitalization and ethnic unity.
---
4. Xi writes a letter to writers and artists
Xi sends letter to congratulate 70th anniversary of national writer, artist groups - Xinhua
President Xi Jinping has sent a congratulatory letter to honor the 70th anniversary of the China Federation of Literary and Art Circles and the China Writers Association...

The development of literature and art is an important cause of the Party and the people, and the literary and art front is a vital front of the Party and the people, Xi noted...

The two groups should thoroughly study and implement the thought on socialism with Chinese characteristics for a new era and the spirit of the 19th CPC National Congress, he said.

Xi called on them to unite and lead writers and artists nationwide in documenting, writing on and extolling the new era, striving to create outstanding works that do justice to the times, the people and the nation, and making greater contributions on delivering the two centenary goals and realizing the Chinese Dream of national rejuvenation.
习近平致信祝贺中国文联中国作协成立70周年强调 团结带领广大文艺工作者 记录新时代书写新时代讴歌新时代_CCTV
CCTV Evening News on Xi's letter

习近平在贺信中指出,文艺事业是党和人民的重要事业,文艺战线是党和人民的重要战线。新中国成立70年来,广大文艺工作者响应党的号召,积极投身社会主义革命和建设、改革开放伟大实践,创作出一批又一批脍炙人口的优秀文艺作品,塑造了一批又一批经典艺术形象
Chinese Censorship Making Box Office Slump Worse | Hollywood Reporter
Late July and early August have traditionally been a special period in the Chinese film calendar. Regulators traditionally hold back Hollywood film imports to give local Chinese titles an uncontested run at the summer blockbuster season. Within the local industry, the window has come to be known as "domestic movie protection month."

But this year, in a baffling reversal, China has been cracking down on its own movies. Roughly half a dozen high-profile Chinese titles have been blocked from release because of last-minute censorship actions. Hollywood's politically neutral summer popcorn fare, meanwhile, continues to be welcomed into the market untouched.
Second Huayi Brothers Film Is Canceled as Company's Losses Mount – Variety
Directed by Tian Yusheng, the writer-director of the bankable "The Ex-File" romcom series, "The Last Wish" stars Peng Yuchang ("An Elephant Sitting Still") and Taiwanese actor Darren Wang in a buddy comedy about a young man with a terminal disease who hopes to lose his virginity before he dies.
China Box Office Self-Harm Continues With Axing of 'The Hidden Sword' – Variety
Long-awaited martial-arts film "The Hidden Sword" announced Monday that its theatrical release this Friday in China has been canceled because of "market reasons," becoming the latest casualty of a censorship campaign that is damaging the country's box office...
The trailer on Youtube:
---
5. Xinjiang
A chilling program - Tell the World - Four Corners - ABC News
By piecing together witness accounts from Australian citizens caught up in the Chinese Government's campaign, along with satellite imagery analysis and official documents uncovered online, the truth about what is occurring in Xinjiang is laid bare.

"I realised the magnitude and the impact... it was really something else." Open source investigator

The program has uncovered evidence of detainees being forced to work in factories with implications for Australian companies doing business in the region.

"Western companies stand an increasing risk of having products made by forced or at least highly involuntary labour." Academic

The program will also reveal concerning evidence about Australia's links to China's dystopian surveillance state and the tools used to racially profile its own citizens.
Remarks by the Spokesperson of the Chinese Embassy to Australia
The ABC Four Corners program about Xinjiang on July 15 is full of lies, distortion and bias. It misleads audience with absurd logic and ridiculous conclusion by selective reporting that patched up fragmented footage and unfounded information. It is obvious that the producers and reporters of this program are utterly ignorant of China, utterly disrespect of the rule of law, utterly cold-blooded on the well-being of the people in Xinjiang. It is an extremely unprofessional and unethical production, nothing but despicable and deplorable.
Commentary: Pairing assistance puts Xinjiang on fast track towards prosperity - Xinhua
On Tuesday, the seventh national meeting on pairing-assistance to Xinjiang ended in Hotan, in southern Xinjiang Uygur Autonomous Region, pledging comprehensive, targeted and long-term support to the border region.

China started to carry out the paring assistance program in Xinjiang in 1997 when it sent cadres from developed regions to work and hold tenures there.

The latest round of pairing assistance, which started in 2010, has involved ministries, 19 provinces and municipalities, which are economically advanced, to help all of Xinjiang's 14 prefectures and cities.
Wang Yang, Chairman of the CPPCC, chaired the pairing-assistance meeting. He also heads the Coordination Small Group on Xinjiang Works. The group was first created in 2003 and was led by the chief of legal affairs at the politburo standing committee until 2012, the downfall of Zhou Yongkang.
As China locks up Muslims in Xinjiang, it opens its doors to tourists - AFP
Armed police and frequent checkpoints have not dampened the flow of vacationers visiting the region, which in 2018 saw a 40 percent increase year-on-year of visits -- mainly from domestic tourists -- outstripping the national average by 25 percent, according to official figures.

Business has grown steadily over the years mainly because "Xinjiang is very stable", explained Wu Yali, who runs a travel agency in the region.
Courtesy of Huang Yufan, here are the African countries that support China on Xinjiang and sided with Beijing on the 2016 South China Sea arbitration case. Not surprising that many received massive loans from China, but interesting that some chose not to support China this time.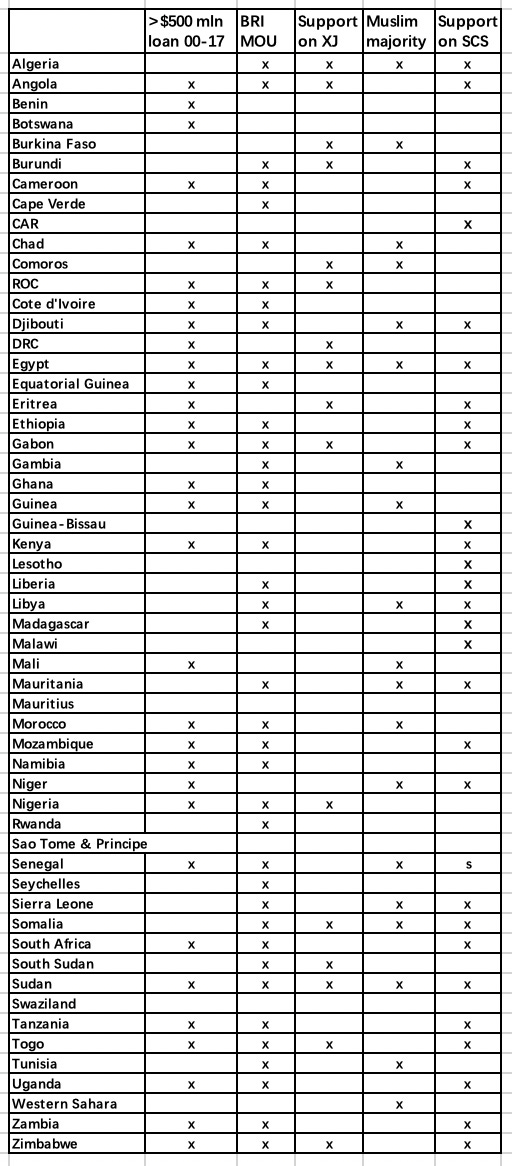 ---
6. Huawei
In Global Tech Battle, a Balky U.S. Ally Chooses China - WSJ $$
The country got its first taste of next-generation 5G services in late June with gear supplied by Huawei Technologies Co. This month, a new carrier backed by state-owned China Telecommunications Corp. will begin rolling out a network largely designed in China, to be executed by Chinese engineers in the Philippines.

The moves are a blow to the U.S., which has in recent months pushed allies to shun Huawei. U.S. officials contend Chinese companies could be compelled to conduct espionage for Beijing...

The deal with China Telecom is part of a foreign policy shift under President Rodrigo Duterte, who has expressed distrust of the U.S.
Bipartisan bill would handcuff Trump on China concessions - POLITICO
Sens. Tom Cotton (R-Ark.) and Chris Van Hollen (D-Md.) are leading the effort to stop the Trump administration from unilaterally allowing business with Huawei. Their bill would require congressional approval for the Commerce Department to remove Huawei from a list that found "reasonable cause" that the company was acting against U.S. security interests. The bill would also allow Congress to disapprove of any waivers granted to companies selling parts to Huawei.
Huawei announces 3.1-bln-USD investment plan in Italy - Xinhua
Addressing the press on the sidelines of an exhibition in Milan, Huawei's Italian unit chief executive Thomas Miao said the investment plan would allow 1,000 new direct jobs in the period 2019-2021, according to Ansa news agency.

More specifically, the plan would consist of some 1.2 billion U.S. dollars invested in operations and marketing, and 1.9 billion U.S. dollars in direct supplies, while 52 million U.S. dollars would be added for research and development activities, Ansa also said.
---
7. New report on WeChat censorship
(Can't) Picture This 2: An Analysis of WeChat's Realtime Image Filtering in Chats - The Citizen Lab
Key Findings:

WeChat implements realtime, automatic censorship of chat images based on text contained in images and on an image's visual similarity to those on a blacklist;

WeChat facilitates realtime filtering by maintaining a hash index populated by MD5 hashes of images sent by users of the chat platform;

We compare levels of filtering across WeChat's Moments, group chat, and 1-to-1 chat features and find that each has different images censored; we find that Moments and group chat are generally more heavily filtered than 1-to-1;

WeChat targets predominantly political content including images pertaining to government and social resistance;

WeChat's image censorship is reactive to news events; we found censored images covering a wide range of events, including the arrest of Huawei's CFO, the Sino-US Trade War, and the 2018 US Midterm Elections
How unwitting users of WeChat aid the Chinese messaging app's blacklisting of sensitive images | South China Morning Post
"Building the censorship mechanism by using the service, it's something that we hadn't really measured on a platform before," said Knockel, who is a postdoctoral fellow at Citizen Lab.
How WeChat Conquered Tibet | The Diplomat
WeChat, the world's largest standalone messaging app, is constantly refining their technology to monitor — and censor — content from its more than 963 million monthly active users. But still, 70 percent of Tibetans in the diaspora use the application. Overseas Tibetans or anyone with family or relationships associated with Tibet tend to download the messaging app to stay in contact, since other global social media applications are banned in the region. Tibetans who want to communicate with their relatives have no other choice but to use this means of contact.
Comment: Expect WeChat to get much more attention from foreign governments, as it is a key if not the primary channel for news and information for the global Chinese diaspora.
---
8. Death of Ji Sizun
Death of 'barefoot lawyer' puts focus on China's treatment of political prisoners |The Guardian
In June, Ji Sizun received the news that he had won a prestigious human rights distinction, the Cao Shunli Memorial Award, in honour of the veteran Chinese activist who died in 2014 in police custody, after being denied needed medical treatment for months.

It would be a little more than one month until he himself died while under the watch of state security.

Ji, one of China's most prominent "barefoot lawyers", self-taught legal advocates, spent most of the last decade in prison in his native Fujian province.

He was in a semi-comatose state when he finished his most recent sentence of four and a half years in late April and was immediately sent to a hospital. ..

"Authorities are deliberately withholding medical treatment as a form of torture to punish, humiliate," said Frances Eve, deputy director of research at Chinese Human Rights Defenders (CHRD).

"While we have documented deaths of activists and ethnic and religious minorities for years, we are seeing more and more die in recent years under Xi Jinping's brutal crackdown on civil society."
---
Business, Economy and Trade
独家|左手增资右手贷款 新城王振华如何操控镇江农商行_金融频道_财新网 Caixin reports that the Future Land Development is involved in bank fraud. The former chairman of the company Wang Zhenhua is under arrest for raping a nine-year-old girl.
国资委:第三批35家央企将划转逾5000亿国资至社保基金-新华网 The State-owned Assets Supervision and Administration Commission said, in a bid to support national social security funds, the government will continue to transfer equities of state-owned enterprises to the funds. The new round of transfer will total 12 billion USD.
Profit growth at China's central government-owned firms drops to single digits - Reuters Overall profits grew 1.92% in April-June from a year earlier, sharply decelerating from a 13.1% gain in the first quarter, according to Reuters calculations based on first-half data released by the state assets regulator on Tuesday.
Chinese state assets watchdog discusses ways to boost cooperation with US firms ahead of next round of trade talks | South China Morning Post Hao Peng, who was appointed the director of the State-owned Assets Supervision and Administration Commission in May, met Larry Culp, the chief executive of General Electric, on Monday to discuss ways of "deepening pragmatic cooperation", according to a statement on the regulator's website.
China cracks down on subsidies to zombie companies as US trade war hits economy | South China Morning Post The government "must fully employ the decisive role of the market in resource allocation, standardise market competition, reduce market distortions … and promote the flow of components and resources to the most efficient market entities," the joint circular from 13 major ministries said.
The plan specifically forbids central government agencies and local governments from providing subsidies or loans to prop up the operation of state-owned firms that would not be financially viable without such help, which are known as zombie enterprises.
China's office vacancy surges amid economic downturn, surging supplies - YUAN TALKS | 元傳媒 Vacancy rate for Grade A office space in Beijing climbed to 11.5 per cent in the first half of the year, the highest level in eight years
Default Signals Trouble Among Firms Active in China's Structured Bond Market - Caixin A privately owned enterprise in eastern China active in a shady corner of China's bond market has defaulted on 1 billion yuan ($145.4 million) in short-term debt that came due on Monday. The default of Jinggong Group Co. Ltd. illustrates the difficulties now faced by private companies that have relied on an unusual financing method known as structured bond issuances, particularly amid the government's ongoing drive to get corporate debt under control.
New credit-based regulatory mechanism urged - Gov.cn The State Council recently issued a circular to press for the establishment of a credit-based regulatory mechanism, to take effect as soon as possible...Concerned departments should also delve into education on credit for proprietors before they start business. Credit reports should be applied to a wide spectrum of administrative engagements, including government procurements, bidding, administrative approvals, market access and auditing, so credit reports can come into full play. 国务院办公厅印发《关于加快推进社会信用体系建设构建以信用为基础的新型监管机制的指导意见》-新华网
Former Idaho governor seeks investigation of mining company - AP Former Idaho Gov. C.L. "Butch" Otter has asked the Trump administration to investigate possible Chinese involvement in a mining company that could compete in Idaho with a Canadian-based company that tapped Otter to serve on its board of directors. The Idaho Statesman reports in a story on Friday that Otter in a July 9 letter to U.S. Treasury Secretary Steven Mnuchin says he's concerned cobalt mined in Idaho will be shipped to China.
Cofco Raises $2.1 Billion in China's First Sustainability Loan - Bloomberg Cofco International Ltd.'s deal marks the first time a mainland Chinese company has embraced this new kind of financing agreement, known in the industry as a sustainability-linked loan. The deal offers lower interest rates in exchange for meeting targets, such as tracing the origin of its soybeans to ensure they don't contribute to deforestation in Brazil.
China Home Price Growth Slows as Govt Hits the Brakes - Mingtiandi Among 70 cities tracked by the National Bureau of Statistics, 63 of the mainland metropolii saw average new home prices rise in June, down from the 67 that reported price increases in May,  according to the latest data released by the NBS. The slowdown in home price growth coincided with a drop-off in new home purchases as recorded by the government agency.
Chart of the Day: China's Accelerating State-Sector Consolidation - Caixin There were 644 proposed M&A deals in the state sector from January to June this year, versus 281 in the same period last year, the data showed. The estimated transaction amount of such deals in the first six months is expected to triple year-on-year to 590.3 billion yuan ($85.8 billion)
The Silver Lining of Fake Profits — Getting a Tax Refund - Caixin The recent case of Ningbo Sunlight, which said it successfully claimed a rebate for taxes it paid on inflated income, has raised the prospect that other firms that have overstated their profits could do the same *Kangde Xin Composite Material Group inflated its profit by 11.9 billion yuan, and could be entitled to a nearly 3 billion yuan rebate. However, experts said that firms could be wary of exercising this entitlement and running foul of the authorities
Beijing promotes plan to create a more nighttime friendly city - China Daily Beijing has rolled out a raft of measures to establish a group of nighttime landmarks, aiming to meet the growing demand of consumers in the capital late at night, according to a plan released on Friday by the capital's commerce bureau. By the end of 2021, a bunch of nighttime business districts and living areas will be set up throughout the capital, which is expected to be featured as part of a world-renowned "Night Capital" consumer brand, said Sun Yao, deputy director of the Beijing Municipal Bureau of Commerce. The capital's public transport lines will also extend their operating hours on Fridays and Saturdays from May to October every year, starting July 19.
China's Debt Ratio Growing Amid Economic Slowdown - Bloomberg The nation's total stock of corporate, household and government debt now exceeds 303% of gross domestic product and makes up about 15% of all global debt, according to a report published by the Institute of International Finance. That's up from just under 297% in the first quarter of 2018.
China promises iron ore 'market order' in meeting with steel mills: source - Reuters China's government promised it will keep "order" on the iron ore market at a meeting last week with the country's steel producers who complained about record-high prices, according to a source who attended the meeting.
Xpeng hits speedbump-Greater Bay Insight One of China's many would-be "Tesla killers", Alibaba-backed XPeng Motors, has sparked a furious backlash from owners. Its sin? Introducing significantly better new models at slightly higher prices. But that is not all. The models are being rolled out just months after customers who bought previous models had received their pre-ordered cars.
Politics and Law
Exclusive: Probe of ICBC Executives Linked to Disgraced Securities Chief The Shanghai branch of ICBC was shaken in June as its party chief and President Gu Guoming came under investigation by the country's top graft buster. In less than a month, Lü Hong, a deputy head of the Shanghai branch, was also placed under investigation, sources told Caixin in early July. Neither the bank, China's biggest state-owned commercial lender, nor the anti-graft agency has released details on the cases. But separate sources told Caixin that Gu and Lü are being investigated for arranging illicit wealth management investment deals involving an affiliate of Liu Shiyu, the former chairman of the China Securities Regulatory Commission.
Land Abuse Exposé Prompts Investigation in China's Heartland - Sixthtone Authorities are investigating a potential land abuse scandal in central China's Henan province after state-run newspaper People's Daily reported on the misuse of poverty alleviation funds and illegal construction of golf courses as part of a luxury mountain resort. According to Monday's report, Wuyun Mountain, a rural area that formerly accommodated four villages, has been developed without proper oversight into a resort town that is largely inaccessible to locals.
不忘初心就要永久奋斗 - 求是网 Kong Dan in the latest Qiushi says perpetual struggle is necessary to stay true to our founding mission
盘古大观"龙首"写字楼51.82亿元起拍 清偿银行委托贷款_政经频道_财新网 Caixin reports a Chinese court is auctioning off Guo Wengui's Pangu office tower near the Olympic park in Beijing
厅官的百达翡丽手表:原价1030万估价800万 起拍720万_凤凰网资讯 A court in Anhui puts a $1.5 mln Patek Philippe watch owned by a corrupt official up for auction online
China enhances auditing to evaluate officials' performance in fulfilling economic responsibilities - Xinhua China has issued a revised regulation on auditing economic responsibilities of government and Communist Party officials and managers of state-owned enterprises. According to a statement published by the General Offices of the Communist Party of China (CPC) Central Committee and the State Council on Monday, the auditing is to strengthen the evaluation of the performance of officials in fulfilling their economic responsibilities.
Inside China's top 'party schools': Plenty of Communist doctrine on tap - The Washington Post Government officials recently led foreign journalists on a rare and tightly controlled tour. It was designed to showcase a campus that was sleek, open, in sync with the times — the very image the 98-year-old Communist Party wants to project about itself...Other administrators acknowledged that the Communist Party needed to evolve with the times. In recent years, they said, the party has conducted public surveys and hired outside consultants to examine whether young Chinese still had faith in it. (They concluded: Yes, they do.) "We have to be aware that in the current era with the Internet and new media, the young people think differently, they're changing," Wang Gang, the senior school administrator, told reporters.
Just published: The Rise of China's Statist Intellectuals: Law, Sovereignty, and "Repoliticization" – Sebastian Veg Beginning in the 1990s, a number of elite Chinese intellectuals developed new critiques of liberalism. Within the orbit of Marxism, a group often called the "new left" mainly concentrated on economic liberalism and inequalities of wealth. Some of them also showed an affinity with the views of intellectuals referred to as statists. The statists' three main ideas can be summarized as the superiority of political sovereignty over the rule of law, a critique of the "judicialization" of politics and the need to "repoliticize" the state, and a critique of universalism and an assertion of Chinese exceptionalism. Some of the legal scholars who developed these ideas are directly influenced by Carl Schmitt (1888–1985), an authoritarian German legal scholar and political theorist. Important texts by the current Chinese group of statist thinkers provide an intellectual background to the recent evolution in Party ideology.
Foreign and Defense Affairs
俄通報助華破航天將領涉美諜案 情報共享建功 消息:顯戰略伙伴誠意 - 20190714 - 中國 - 每日明報 - 明報新聞網 MingPao says that LA Lt General Qian Weiping, deputy director of the Equipment Development Department of the Central Military Commission who was heavily involved in China's missile and space programs, was arrested because his son is spying for CIA, after a tip from Russia. This is not confirmed but the rumor has been out there for a bit (I mentioned it in the July 8 newsletter). If true what does this say about the CIA's ability to protect its assets, China-Russia intelligence cooperation against America, and Russia's discovery of an American spy for China?
China, Vietnam Ships in Standoff Over a Reef in Disputed South China Sea - News18 Chinese and Vietnamese coastguard vessels have been involved in a week-long confrontation over a reef in the South China Sea, according to a media report which said the development could cause the biggest clash between the two neighbours in five years. Six heavily armed coastguards vessels - two Chinese and four Vietnamese - have been eyeing each other in patrols around the Vanguard Bank in the Spratly group of islands since last week
Trump Sends Negotiators to Geneva for Nuclear Talks With Russians and Also Seeks to Limit Chinese Warheads - The New York Times Mr. Trump broached the idea with President Vladimir V. Putin of Russia during their meeting in Osaka, Japan, last month and has also signaled his ambition for such a three-way accord to President Xi Jinping of China, administration officials said on Monday. Russia has expressed interest; China has not.
The Increasing Security Focus in China's Arctic Policy | The Arctic Institute This article finds that the reality is a middle ground between how China describes its own Arctic strategy and the most critical Western analyses. There is currently little available evidence to suggest that China will pursue a military course in the Arctic similar to, or aligning with, Russia. Commercial development appears to be China's main goal, but it is evident that China is building its capacity to enforce its perceived rights and protect its interests through an increasingly security-focused Arctic strategy that is backed up by the military.
The Chinese Military's Role in Overseas Humanitarian Assistance and Disaster Relief: Contributions and Concerns | U.S.-CHINA This report examines the drivers behind the PLA's increasing participation in HA/DR abroad; the impact, both positive and problematic, of the PLA's involvement in several recent multinational disaster relief operations; and the implications of the PLA's involvement in and approach to these missions for the United States.
Ambassador Stapleton Roy responds to John Pomfret's op-ed criticizing the open letter about US China policy- Google Docs What I would hope all China watchers will do, including Mr. Pomfret, is to look for the most effective ways to manage the challenges posed by China's rise in ways that serve not only US interests but the interests of our friends and allies in the Indo-Pacific region. China's military modernization program must be a major concern for the United States, but Beijing is massively outspending us on the non-military components of its quest for greater regional and global influence. Under these circumstances, neglecting US diplomacy will not serve us well. The Open Letter is aimed at strengthening the diplomatic aspect of our comprehensive national power.
China seeks to shuffle its diplomatic pack as next generation comes to the fore | South China Morning Post Diplomatic sources predicted that assistant foreign minister Zhang Jun will succeed Ma Zhaoxu, who recently returned to Beijing from New York and whose promotion to deputy foreign minister was announced on Monday. Analysts believe a spate of recent changes are part of an ongoing restructuring amid concerns about the ageing line-up of senior diplomats and a shortage of first-rate younger envoys who are capable of reacting to the many challenges to Beijing's global ambitions.
Zhao Lijian, China's tweeter in chief - Inkstone Chen Daoyin, a Shanghai-based political commentator, told Inkstone that the world was likely to see more Chinese diplomats joining Twitter and using it as a platform to promote the government's point of view. Instead of issuing official responses, Chinese diplomats are now looking to use unofficial platforms.
Move over Trump: China's tweeting diplomats open fresh front in propaganda fight - Reuters China's foreign ministry spokeswoman, Hua Chunying, encouraged officials to "clearly express China's position and attitude", to join foreign social media platforms and look for ways to cooperate in a deeper way with media. "We are closer than ever to the center of the world stage," she wrote last week in the Study Times, a publication of the Central Party School which trains Chinese officials. "But we do not have a full grasp of the microphone."
How North Korea's Leader Gets His Luxury Cars - The New York Times from 2015 to 2017, as many as 90 countries served as the sources of luxury goods for North Koreans, according to a report released on Tuesday by the Center for Advanced Defense Studies. Moreover, the networks and supply chains run through the territories of some United Nations Security Council member nations and American allies — China, Russia, Japan and South Korea among them. // The report: Lux & Loaded: Exposing North Korea's Strategic Procurement Networks
Commentary: Chinese infrastructure projects facilitate integration in Latin America - Xinhua This year marks the fifth anniversary of the idea of forging a community with a shared future between China and Latin America. Under the Belt and Road Initiative (BRI), China has endeavored to improve living conditions in Cuba and other Latin American countries...Data shows that over 2,000 Chinese companies have been investing or doing business in Latin America, creating 1.8 million jobs for the local community. Since 2000, the trade volume between China and Latin America has experienced a roughly 20-fold increase.
Xi Jinping's Summer Foreign Policy Tour Displays "Great Power Diplomacy with Chinese Characteristics" - Jamestown Throughout Xi's diplomatic tour, five narrative propaganda themes were particularly prominent: Promotion of a "comprehensive strategic partnership" with Russia; Touting the BRI as a "win-win" proposition for both China and participating countries, and as a model for international economic development; The promotion of "multilateralism," even while placing China at the center of world affairs; The depiction of China as a model of successful governance, and as a bedrock of stability amidst a chaotic global environment caused by the United States; And above all, promotion of Xi's own cult of personality, depicting Xi as a brilliant foreign policy thinker and inspiration to leaders in the developing world.
A Preliminary Survey of CCP Influence Operations in Singapore - Jamestown The primary avenues for CCP influence operations in Singapore are found in business associations, clan associations, and grassroots organizations. CCP propaganda efforts in Singapore that flow through these organizations aim to promote the narrative of a "greater China"—one that includes all people of Chinese descent, irrespective of nationality—and therefore, one in which ethnic Chinese persons of all nationalities should show affinity and loyalty towards the Chinese state represented by the PRC. The CCP's fundamental purpose, therefore, is to impose a Chinese identity on Singapore so that it will align more closely with the PRC's expanding interests.
China tries to play down Taiwan Strait military exercises to avoid upsetting the US | South China Morning Post Song Zhongping, who works as a military analyst for Hong Kong's Phoenix Television, added that the exercises would cover all the islands and reefs off the coast of Zhejiang and Fujian and would be held close to the Taiwan Strait and Japan's Naha airbase on Okinawa. "The drills aren't just targeting Tsai but also US military forces and their allies including the US-Japan alliance," said Song. "With the participation of the strategic support force, it is possible that the PLA navy and air force will conduct live-fire tests with missiles."
Senior CPC official meets DPRK Central Court president - Xinhua Guo Shengkun, a member of the Political Bureau of the Communist Party of China (CPC) Central Committee, met with Kang Yun Sok, president of the Central Court of the Democratic People's Republic of Korea (DPRK), in Beijing Tuesday...The DPRK stands ready to deepen judicial cooperation and commit to developing friendly relations with China, Kang said.
周强会见朝鲜中央裁判所所长姜润石 双方签署谅解备忘录-中国长安网 DPRK official also met with Zhou Qiang
Hong Kong and Macao
Hong Kong gov't denies studying possibility of curfew as anti-extradition law protests escalate | Hong Kong Free Press HKFP The Hong Kong government has denied reports that it was studying the possibility of declaring a curfew, as protests against the city's extradition law show little sign of abating. 
Local pro-democracy tabloid Apple Daily carried a front-page report on Tuesday, citing unnamed sources as saying that the government was studying plans to ban protests. This included invoking section 17E of the Public Order Ordinance to prohibit public gatherings for up to three months.
15th HK Youth Military Summer Camp kicks off - China Military total of 600 teenagers from more than 100 middle schools in Hong Kong Special Administrative Region attended the opening ceremony. They lined up orderly and proceeded into the camp after the solemn national flag-raising ceremony. According to reports, a total of 600 Hong Kong middle schools students Form One to Five, including 330 school boys and 270 school girls, are enrolled in the military summer camp.
Canada: How Canadians are part of an underground network helping Hong Kong protesters in their struggle against Chinese control - PressFrom - Canada Tens of thousands of people from Hong Kong immigrated to Canada in the years surrounding what is known as the 1997 "handover," but many remain engaged in the city's struggles. Wong is the public face of the Canadian supporters, who are part of an informal, international network that has expanded in recent weeks to help Hong Kongers who are protesting the extradition bill.
Hong Kong protester accused of biting off police officer's finger charged, as Demosisto activists remain in detention | Hong Kong Free Press HKFP Meanwhile, pro-democracy group Demosisto said that two of its members – Calvin Chu and William Liu – were arrested on unlawful assembly charges on Sunday. Police officers hit the two men in their back and head while they were trying to leave peacefully, the group claimed. The duo have been held for over 40 hours. In a statement, Demosisto complained that the Sha Tin district anti-triad unit took over their cases: "It is unreasonable… we question whether the police are trying to link Demosisto with triads."
Silent majority stands up - Global Times Tang Tak Shing, chairman of Politihk Social Strategic, a Hong Kong-based NGO, told the Global Times on Tuesday that he and his team have opened a Facebook account for Hong Kong web users to upload evidence of violent protesters, including photos and videos that expose their violent activities, such as attacking policemen and smashing public facilities. 
Hong Kong Bourse's Tough First Half Followed by Spate of IPO Cancellations - Caixin Hong Kong's capital market is bracing for more uncertainty this year after three planned initial public offerings (IPOs), including a blockbuster listing by Budweiser, have been shelved in the past month. Belgium's Anheuser-Busch InBev NV last Friday dropped plans for a listing of its Asian subsidiary, Budweiser Brewing Co. APAC Ltd. That listing could have been this year's biggest IPO globally, raising as much as $9.8 billion.
Taiwan
China warns Tsai over dependence on West - CGTN Ministry spokesman Geng Shuang said that Taiwan leader Tsai Ing-wen was trying to confuse the international community, defraud sympathy, and look for an excuse for "Taiwan independence" in disguise of democracy. He was referring to Tsai transiting the U.S., despite China's firm opposition, and making a speech in New York on cross-Strait relations, while on her way to the Caribbean.
Hong Kong protests inspire Taiwan to amp up resistance to China - Nikkei Asian Review If Xi sticks with his hard stance toward Hong Kong and Taiwan, it will only drive people in Hong Kong and Taiwan closer together and make it impossible for Beijing to fulfill its hopes of unification. - Ketty W. Chen is vice president of the Taiwan Foundation for Democracy.
Tech and Media
TikTok: RSS wing calls for TikTok, Helo Ban - India Times The Swadeshi Jagran Manch (SJM) – the economic wing of the Rashtriya Swayamsevak Sangh (RSS) — has called for a ban on Chinese social media applications TikTok and Helo, to protect India's national security and startup ecosystem.
China's Silicon Valley is transforming China, but not yet the world - Economist Shunwei also aims to address Zhongguancun's greatest weakness—a reliance on imported components and technology.
Huawei's Got Everyone Thinking It's Getting Into the TV Business During a new product briefing, the Chinese company announced that it will officially launch The Smart Screen early next month, without specifying details such as the device's size, price and suppliers. The product will be branded under Honor, Huawei's consumer electronics arm.
China Thrilled by Prospect of Chinese Casting for 'Shang-Chi' – Variety China's internet is thrilled by news that Marvel appears to be insisting on casting an ethnic Chinese actor as Shang-Chi in the master of kung fu's own spinoff film and has begun scouting out candidates for the role.
Society, Arts, Sports, Culture and History
"Opposing Dog Meat Consumption Is Hypocritical" - Weibo Users Respond to Anti-Dog Meat Protests in South Korea | What's on Weibo In China, where the eating of dog meat has a long history, the Seoul protests triggered some discussions on social media. The hashtags "Hundred People Gather in South Korea to Stop the Eating of Dog Meat" (#韩国百人集会呼吁停食狗肉#) and "Big Protest in South Korea against Eating of Dog Meat" (#韩国大规模抗议吃狗肉#) received over 83 million views.
Energy, Environment, Science and Health
China says its greenhouse gas emissions soar over 50% in 2005-2014 - Reuters China submitted its latest carbon "inventory" to the United Nations as part of its obligations as a signatory to the United Nations Framework Convention on Climate Change. Greenhouse gas emissions by China hit 12.3 billion tonnes in 2014, up 53.5% in just a decade, the country's environment ministry says.
China feels the heat over rogue CFC emissions - Nature The government plans to build a monitoring network in the wake of a study that attributed a spike in an ozone-depleting chemical to two Chinese provinces.
China starts new round of environmental inspections - Xinhua Eight teams were dispatched to the six provincial-level areas of Shanghai, Fujian, Hainan, Chongqing, Gansu and Qinghai, as well as the two SOEs -- the China Minmetals Corporation and China National Chemical Corporation Monday, according to the ministry. As of Monday night, the inspection teams had received a total of 809 reports from the masses and would oversee and push the inspected units accountability.
China to step up efforts to enhance mental health - Xinhua The Healthy China Action (2019-2030) plan was devised and issued by a special committee recently established by the State Council. China is seeing an increasing number of people with mental disorders and behavior problems, and the public still have limited knowledge of such issues, lacking an awareness of how to prevent and deal with them, the plan says.
SAIC General Motors Is Sticking With Low-Emission, but Unpopular Engine One of China's top carmakers said it will continue to equip its vehicles with a type of engine that emits less pollution, even though it has been a drag on sales, as China has ramped up efforts to improve the fuel efficiency of gas guzzlers.
Sichuan, California co-build smart town to develop clean energy, high tech - Xinhua The Meishan-California Smart Town, in Tianfu New Area District of Meishan, will have an area of nearly 220 hectares, with a total investment of about 26 billion yuan (about 3.78 billion U.S. dollars). The town will focus on the research and development of industries including new energy, information technology and high-end equipment manufacturing.
Jobs and Events
Development Coordinator - Carnegie-Tsinghua Center - Beijing - Carnegie Endowment for International Peace Jobs