Discover more from Sinocism
Get smarter about China
Over 180,000 subscribers
Hong Kong boiling; Rare earths survey; US Crackdown on foreign talent programs; Guo Wengui
No commentary today, not feeling like I have anything insightful to add. Some comments in the entries below.
Thanks for reading.
---
The Essential Eight
1. Hong Kong boiling
Hong Kong crisis escalates over China extradition bill - The Washington Post
A petition circulated online called for 50,000 people to gather at the Legislative Council offices in central Hong Kong late Tuesday and surround the building through the night in anticipation of Wednesday's debate by lawmakers. By Tuesday evening, police had already begun cordoning off areas around the offices.
Hong Kong Braces for Strikes, Protests Over Extradition Bill - Bloomberg
Local companies said they would suspend work or allow flexible office hours on Wednesday to accommodate workers planning to demonstrate near the city's Legislative Council, which will meet to debate amendments. The Hong Kong Confederation of Trade Unions, a pro-democracy labor group, and several student associations urged members to join the strike and reprise a protest Sunday that drew hundreds of thousands.
Lam regrets clashes, says law amendment to advance - China Daily
In a news conference in Beijing, Foreign Ministry spokesman Geng Shuang stressed that the central government will continue to firmly support the Hong Kong SAR in amending the extradition law.

Geng said the Hong Kong government has attentively listened to opinions from various sectors since February and made changes in the bill in response to public concerns.
Hong Kong leader warns against 'radical actions' ahead of strike | The Guardian
"To oppose this bill, some have called for radical actions," Lam said in a media briefing, referring to the clashes between protesters and police outside the legislature shortly after midnight on Monday, after a largely peaceful, nine-hour protest.

"No civilised society would want to see youngsters being pushed to the frontline to take radical actions," she said. "I urge schools, parents, organisations, corporations and unions to think about this carefully – if they call for radical acts, what good would it do for Hong Kong society and our youth?"
Hong Kong Police Arrest 19, Claim Gang Links to Clashes After Extradition Rally - RFA
Police in Hong Kong arrested 19 people in overnight clashes at the tail end of a peaceful, million-strong demonstration against plans to allow extradition to mainland China, as the authorities stepped up security around the city's Legislative Council (LegCo).
Department Press Briefing – June 10, 2019 - United States Department of State
the United States expresses its grave concern about the Hong Kong government's proposed amendments to its fugitive offenders ordinance, which, if passed, would permit Chinese authorities to request the extradition of individuals to mainland China. The peaceful demonstration by hundreds of thousands of Hongkongers yesterday clearly shows the public's opposition to the proposed amendments. ..

Last month the Secretary met with a delegation of pro-democracy leaders from Hong Kong to discuss their broad reservations about the extradition proposal. We believe that any amendments to the fugitive offenders ordinance should be pursued with great care and in full consultation with a broad range of local and international stakeholders who may be affected by the amendments. The continued erosion of the "One Country, Two Systems" framework puts at risk Hong Kong's long-established special status in international affairs.
Takungpao said the HongKong public must denounce the violence of protesters and support the rendition law. It also said the demonstration was a coordinated effort with the Trump administration to contain China.
In the face of the extremely turbulent situation of Hong Kong at present triggered by the Extradition Bill, we strongly make the following appeal: – Catholic Diocese of Hong Kong
1.We request both the SAR Government and the general public, first and foremost for the wellbeing of Hong Kong society, to exercise due restraint and to seek through peaceful channels a solution to the current impasse which conforms with justice and legal principles.

2.We request the SAR Government not to pass the Extradition Bill hurriedly before adequately addressing the queries and worries of the legal sector and of the general public.
New Zealand Court, Blocking Extradition, Is Latest to Rebuke China's Judiciary - The New York Times
The move came two days after hundreds of thousands of people in Hong Kong, a semiautonomous Chinese territory, marched in protest of a plan by the local government to allow extraditions to the Chinese mainland. It also followed a decision by Australia two years ago to back away from a proposed extradition treaty with China.
---
2. US-China trade
Commerce Secretary Wilbur Ross predicts Trump and China trade deal - 'even shooting wars end in negotiations' - CNBC
Ross, who has spoken out in favor of Trump's tariff strategy, warned that trade deals are not made at summits. He said any talks between Trump and Xi would lay the groundwork for a possible agreement.
China says will respond if U.S. escalates trade tension - Reuters
On Monday, Trump said he was ready to impose another round of punitive tariffs on Chinese imports if he cannot make progress in trade talks with Xi in Osaka.

Chinese Foreign Ministry spokesman Geng Shuang again would not be drawn on confirming a Xi-Trump meeting at G20, saying information would be released once it was available to the ministry.

"China does not want to fight a trade war, but we are not afraid of fighting a trade war,"
Opinion: What Is China's Core Economic Interest in Trade War? - Caixin Global
In boxing, there is a third tactic besides going on the offensive or becoming defensive — clinching, in which one boxer wraps up his opponent's arms to temporarily stop him from punching. The tighter he holds, the more impotent his opponent will become.

Similarly, the tighter China holds itself to the U.S. on the global supply chain, the harder it would be for the U.S. to attack China on trade. It would also make it easier for China to integrate itself into — and move up — the global supply chain. Therefore, when the U.S. decides to go against globalization, China needs to defend not only the multilateral trade system, but also the existing global supply chain. In addition, China should further tighten its economic and trade ties with the U.S. The closer those ties are, the smaller the uncertainties for the Chinese economy will become. -Xu Qiyuan is a researcher at the Chinese Academy of Social Sciences
Comment: Interesting official discussion of the idea of "fighting while embracing", or 缠斗, as I discussed in the May 23 newsletter:
It looks to me that there is no turning back and now the best case for those who want stability in the relationship is "fighting while embracing", or 缠斗, as I have heard from several people Xi started describing his view of the US-China relationship a few months ago. But right now it looks like forces on both sides, and especially here in the US, are trying very hard to break the embrace.
US accused of undermining trade talks by demanding 'hundreds' of changes to Chinese law | South China Morning Post
Shi Yinhong, a prominent international relations scholar from Renmin University, said the gap between the two sides was widening as Washington demanded a strong enforcement mechanism while Beijing wanted more leeway.

He said China could only agree to a "relatively weak enforcement mechanism" without too much scrutiny and there should not be automatic penalties for violating the agreement...

He continued: "From early May, China began to think that no deal might be better than a bad deal, and right now China and the US have fundamentally contradictory attitudes as to what would be a good deal.
Apple Has Capacity to Make All iPhones for U.S. Outside of China - Bloomberg
The Cupertino, Calif.-based company's primary manufacturing partner has enough capacity to make all iPhones bound for the U.S. outside of China if necessary, according to a senior executive at Hon Hai Precision Industry Co. The Taiwanese contract manufacturer now makes most of the smartphones in the Chinese mainland.
China accused of using 'Made in Vietnam' labels to dodge US tariffs | Sky News
Vietnam's government has said the country's customs department is now going to be more aggressive in checking certificates that state products' origins.
Pompeo's claims about China full of lies and fallacy: FM - ECNS
"I want to remind Pompeo that people are not buying his rhetoric," Chinese Foreign Ministry spokesperson Geng Shuang told a press conference on Monday.

"For a while, Pompeo has been speaking about China everywhere he goes, but regretfully, his words about China are full of lies and fallacy," said Geng.
Battered Chinese companies put American plans on hold as trade war rattles confidence in US | South China Morning Post
"The trade war creates a less welcoming business environment for Chinese companies," said Chen Xu, chairman of the China General Chamber of Commerce-USA and president and chief executive of Bank of China USA, in introducing the chamber's annual business survey, which was released on Monday. "This environment's uncertainty shakes our members' confidence and discourages them from making further investments in the US." 
The survey
---
3. Today in propaganda messaging
人民日报署名文章:道义高地容不下背信弃义——看清美国某些政客"合则用、不合则弃"的真面目-新华网
Another Zhong Sheng attacking the US and "certain politicians" over the trade war, says the US is now morally bankrupt for not keeping its promises on trade, the Iran deal and TPP
Op-ed: Tariff hikes are 'bricks' escalating tensions rather than 'ladders' leading to solution - People's Daily Zhong Sheng
some American politicians turned a blind eye to such economic rules, and neglected the facts that Chinese and US economy are highly complementary in structure and intertwined in interests.

They alleged that US "suffers loss" from the trade by claiming that "the US had been losing $500 billion a year on trade with China", complaining that "the exporting of Chinese excess capacity gutted the upper Midwest of the United States" and growling that "the US had hemorrhaged millions of manufacturing jobs".
Tuesday CCTV Evening News says that the Wednesday People's Daily will carry a signed article "The adding tariffs game will result in paying a price", clearly targeting Trump even if it may still not mention his name

文章说,美国一些政客在"关税游戏"中入戏很深,一次又一次践踏国际关系道义底线。他们确实不在意什么叫经济规律,更看不清什么是全球发展大势,必将付出沉重代价。
People's Daily continues its attack on Chinese who "fear the US" or "admire the US", saying Chinese people will never agree to their idea of "surrendering" to the US in the trade war.
More from People's Daily on how Chinese economy is doing so well that it does not fear the trade war with the US.
Tuesday CCTV Evening News "International sharp commentary" says China's economy is dong well and can handle the trade war
Luo Yuan: US hegemonic moves "force" China to seek its own trump cards - China Military
The hegemonic moves of the US, including embargo, bombing of the Chinese embassy and aircraft collision, "forced" China to launch a number of projects that make Chinese people feel proud. It can be said that many important weapons and equipment of the Chinese military were the product of the reverse force of the US. In my opinion, the trade war initiated by the US will "force" China to realize something proud-worthy, too. The emergence of products and strategic supporting industries in which China has independent intellectual property rights, represented by chips, will be just around the corner. Our capacity and self-confidence will be perfectly embodied in the China-US trade war.
---
4. Rare earths
Beijing Launches 'Unprecedented' National Survey of Rare Earths as Stocks Soar, Speculation Swirls - Caixin Global
China's top economic planner, the National Development and Reform Commission (NDRC), began site visits and meetings across the country on Monday to assess the "general upstream, midstream and downstream situation of rare earths and other strategic mineral resources," the China Securities Journal, a publication under the official Xinhua News Agency, reported Tuesday.

The NDRC, working together with China's Ministry of Information and Information Technology and the Ministry of Natural Resources, will use the investigation to prepare recommendations for the rare earths industry in areas ranging from "resource protection and green production" to "international trade and domestic and international cooperation," according to the China Securities Journal. The publication called the investigation an "unprecedented effort."
The China Securities Journal article - 力度空前!三部委将赴多地调研稀土等战略性矿产资源,稀土永磁再掀涨停潮
Restrict exports of rare-earth magnet to US: insiders - Global Times
China's rare-earth industry insiders have called on regulators to consider limiting shipments of rare-earth magnets - a small but high value-added downstream product that is an indispensable part of modern electronic products - to hit back at the US, after reports suggested that Washington seeks to boost local upstream rare-earth mining and production.

In this way, China, which supplies up to 90 percent for the global market of rare-earth magnets and dominates some complicated technologies for making magnets, could inflict bigger harm on various US industries, industry insiders suggested, after Chinese officials indicated that the country may weaponize rare earths to retaliate against US suppression of Chinese technology companies.
U.S. says it will help boost world minerals output to reduce reliance on China - Reuters
Under the plan, the United States will share mining expertise with other countries to help them discover and develop their resources, and advise on management and governance frameworks to help ensure their industries are attractive to international investors, according to the fact sheet, which the State Department shared with Reuters.
China's threats to embargo 'rare earth' materials may be empty - The Washington Post
We can make the Chinese threat become a hollow threat very quickly by letting market forces take care of it," said Douglas Paal, a China expert at the Carnegie Endowment for International Peace and a former vice chairman of JPMorgan Chase International. "China does not have us by the throat."
---
5. Crackdown on foreign talent programs
U.S. Targets Efforts by China, Others to Recruit Government Scientists - WSJ
As of Monday, the Energy Department is requiring all personnel and nearly all contractors to disclose connections to foreign-government programs designed to recruit scientists, researchers and entrepreneurs, according to a new order that implements a plan reported by The Wall Street Journal in February. Employees working with any programs deemed to be sensitive from a national-security perspective will have to sever those ties or resign from the department, according to the document and department officials...

Once Energy Department scientists pledge to quit problematic foreign talent programs, it would be up to counterintelligence officials to determine whether the scientists continue to present a security risk, said Mr. Brouillette. Disclosure of participation also wouldn't necessarily prevent a possible prosecution of the scientist later on, he said. At the same time, lying could also lead to charges.
Comment: I had an interesting discussion over the weekend with a scientist who came to the US from the PRC, worked in the national laboratory system, became a US citizen, and is now a professor. I asked if they were having any issues with profiling because they were from China and their reaction surprised me. Instead of saying they were concerned they said they were so happy the US was finally paying attention because there are so many people in their community they know are double-dipping with China.
They expressed shock at how the US let this situation fester for so long, said they used to report the ones double dipping through the Thousand Talents and other PRC programs when at the US national lab, knows of so many cases where scientists are violating their contracts and are so "unethical". They said a big issue is that for too long the US never enforced the rules, and now that they are, people are scared and squealing because so many got away with bad behavior for so long.
I am not arguing that there is not profiling in some cases, but there is a real issue here that needs to be addressed.
I wrote a short Twitter thread on this topic, these responses from Washington Post correspondent Gerry Shih and Professor Victor Shih were among the more interesting ones:
U.S. Government Profiling Ethnic Chinese Scientists — Committee of Concerned Scientists June 4
The CCS calls upon the U.S. government to immediately stop the campaign of intimidation of ethnic Chinese scientists and make a public statement assuring them that they will be treated as equal valuable members of the American society.
Hofstra professor Julian Ku had an interesting reaction to this letter:
China to promote scientist spirit of new era - Xinhua
The document, jointly issued by the General Offices of the Communist Party of China Central Committee and the State Council, called on Chinese scientists to live up to the scientist spirit of the new era, which requires them to be patriotic, innovative, dedicated and cooperative, keep pursuing the scientific truth and stay ready to help younger generations.

Scientists were urged to focus on globally advanced technologies and those that have impact on the national economy, serve major strategic needs of the country and shoulder the responsibilities in solving major bottlenecks facing the country.

In pushing forward the campaign, it called for adherence to the principle of the Party's leadership over science and technology work, reform and innovation in the system and joint efforts from various agencies and society to cultivate a favorable atmosphere of science.
The document - 中共中央办公厅 国务院办公厅印发《关于进一步弘扬科学家精神加强作风和学风建设的意见》
---
6. Huawei
Inside Huawei's secretive plans to develop an operating system to rival Google's Android | South China Morning Post
Seven years ago, in a villa facing a lake in Shenzhen, a small group of top Huawei Technologies executives headed by founder Ren Zhengfei held a closed-door meeting that lasted for several days.

Their mission was to brainstorm ideas on how Huawei should respond to the rising success of Google's Android smartphone operating system (OS) around the world – software that it used on its own handsets. The underlying concern was that dependence on Android could render the company vulnerable to a US ban in the future.

The group agreed that Huawei should build a proprietary OS as a potential alternative to Android
Huawei ships 1 million devices with its HongMeng OS - GSMArena.com news
Huawei has managed to ship 1 million smartphones with its own OS, called HongMeng, sources reported. According to the firm Rosenblatt Securities, the devices were being prepared for testing, without clarifying if they are actual market-available phones or development products. The report revealed the in-house software is compatible with all Android applications and has "increased security functions to protect personal data".
A Global Times reporter tweeted that HongMeng is "faster" than Android, with no detail on what that means or how it was measured:
Intel Pushing U.S. to Let It Keep Supplying Huawei, Executive Says - Caixin
Intel is pushing the U.S. government to allow it to continue supplying components to Huawei Technologies Co. Ltd., a senior executive from the American chipmaker told Caixin at a forum in Washington.

Peter Cleveland, a vice president of Intel Corp., argued in favor of discussion over regulation in dealing with the embattled Chinese telecommunications-equipment maker, which has been blacklisted by the U.S. government on national security concerns.
Top Japanese chip gear firm to honor U.S. blacklist of Chinese firms - executive - Reuters
Japan's Tokyo Electron, the world's No.3 supplier of semiconductor manufacturing equipment, will not supply to Chinese clients blacklisted by Washington, a senior company executive told Reuters.
Taiwan bans China-made semiconductors from cable TV boxes, in line with new cybersecurity law | South China Morning Post
The move is a further headache for HiSilicon, a unit of Huawei, which has struggled to maintain client relationships amid US trade restrictions
What is Huawei's global reach? - The Washington Post
For the 2000 to 2017 period, SAIS-CARI identified 47 different loan-backed projects across Africa involving Huawei contracts. China Eximbank financed 45 of these — the remaining two projects involved supplier's credits from Huawei itself.

Loans for African projects involving Huawei totaled nearly $3.4 billion — just over 2 percent of all Chinese loans to Africa during this period. The countries that signed the largest Huawei-related loans were Ethiopia, $834 million; Cameroon, $337 million; Angola, $336 million; Guinea, $273 million; and Zimbabwe, $219 million
Chinese celebrity's Weibo account blocked after criticizing Huawei - Global Times
The Sina Weibo account of Luo Yufeng, dubbed as "China's most hated reality celebrity," was blocked late Monday night, leading Net users to cheer and speculate that it might have had something to do with her previous post, in which she called for the closure of China's telecommunication giant Huawei. 

"Huawei should have collapsed," Luo, who is better known as Sister Feng, posted on her Weibo account on May 20, which was later deleted. She had approximately 10 million followers when her account was closed.
Banning Huawei may jeopardize Africa's digital future - Global Times
Huawei did not force Africa to accept its devices, but proactively offered services that fit African people's needs. Huawei had been "a great partner for many years. We would like to stick with our partners as much as we can," said Bob Collymore, CEO of Safaricom, a leading communications company in Kenya.

However, the US and other Western countries failed to provide such convenience for Africa and are even preventing China from doing so. This is a very selfish act. According to Foreign Policy, Africa's internet penetration lags behind the global average at 35.2 percent. If Huawei is banned in Africa, the technological enterprises that emerged in Africa recently will be in great pain. This will affect the general development of Africa's high-tech industry.
Trump's War on Huawei Risks `Destroying' Tech World, Russia Says - Bloomberg
The Trump administration's fight against China's Huawei Technologies Co. justifies Russia's decision to build a "sovereign internet" to protect its domestic network from external threats, according to Russian Deputy Prime Minister Maxim Akimov.

"What the U.S. is doing now -- they're destroying this world," Akimov, who oversees telecom, transport and digital economy infrastructure in Russia, said in a June 7 interview at the St. Petersburg International Economic Forum. "But the shrapnel will hurt everyone," he said.
Huawei compared to company that produced gas for Nazi death camps, as executive appears before MPs
Following a tense exchange, Labour MP Graham Stringer asked: "Do you think when we come to write our report it would be fair to compare your company with IG Farben who manufactured Zyklon B and sold it to the German government during the Second World War?"

Mr Suffolk replied: "I would paint a different picture. I would say if you are asking us should we ignore the law I am sure you would say no you should not ignore the law."
Huawei executive John Suffolk grilled by British MPs over security concerns - Sydney Morning Herald
Asked by Lewis if he had a view on whether or not the Chinese one-party state is repressive of human rights, Suffolk said: "I don't have a view on that."

A clearly incredulous Lewis responded: "You're a moral vacuum," and then twice asked Suffolk if there was any repressive regime he would refuse to work with for as long as he was complying with the law of that country.

"I've not given it any thought."
Huawei not bound by Chinese spy laws, company's cybersecurity chief John Suffolk tells British parliament | South China Morning Post
Suffolk said the legislation's "unclear" wording forced Huawei to consult its Chinese lawyers and advisers at London's Clifford Chance law firm.

"Many countries produce laws that are unclear and we have had to go through a period of clarification with the Chinese government that have come out and made it quite clear that [spying] is not the requirement on any company," Suffolk said.
US Lawyers Don't Buy Huawei's Argument on Chinese Hacking | WIRED - March 2019
---
7. Hu Xijin's time to shine
Though I am not sure this kind of attention is politically safe these days…
When This Chinese Newspaper Editor Tweets, Wall Street Listens - Bloomberg
In recent weeks, Global Times Editor-in-Chief Hu Xijin has used his Twitter feed to accurately forecast several Chinese moves...

Larry McDonald, the founder of investment newsletter Bear Traps Report, described the feed as a "Chinese Communist version of Trump's Twitter."

"A lot of fund managers and investors we know are watching Hu's Twitter account closely, as it provides key information about China's stance on the trade war and other issues," McDonald said. "Hu's Twitter is seen as China's way to fight back. It is a negotiation tactic by the Chinese Communist Party."
Comment: Sad to see Hu's influence overstated. If you know any fund managers who watch Hu's account closely, can you please suggest they subscribe to Sinocism? Thanks
Here is Hu slavishly clapping during Xi's visit earlier this year to the People's Daily headquarters, as noted in the January 28 newsletter:
Global Times editor in chief Hu Xijin, clearly excited to be in the presence of Xi, makes a cameo at 1:58 in the shots of the applauding employees, I did not see him in the footage of the meeting with the top People's Daily cadres and the Politburo...maybe he was there, interesting if he did not make the cut.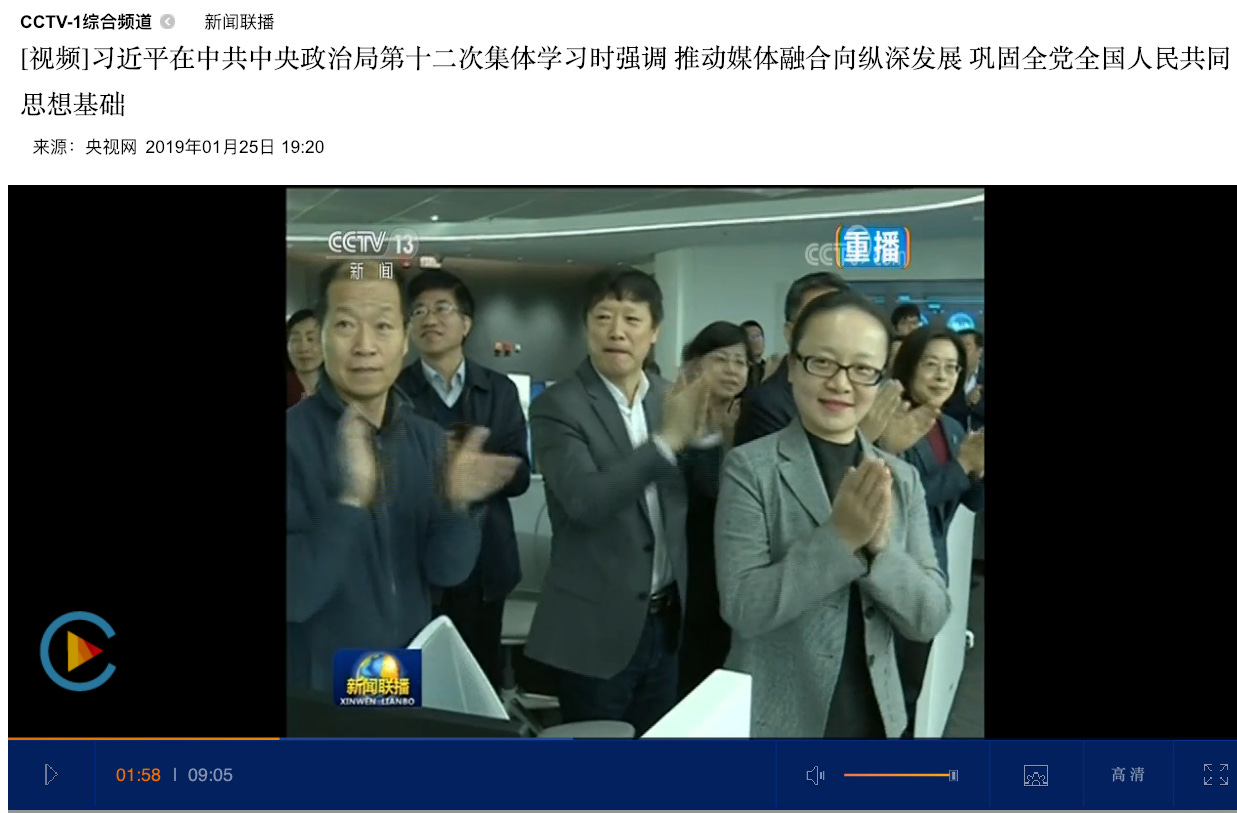 ---
8. Another Guo Wengui lawsuit
How a renegade Chinese billionaire became a center of D.C. intrigue - POLITICO
A billionaire at the center of U.S.-China tensions is waging a mysterious legal battle against two D.C. conservatives over a private espionage deal gone bad. The fight touches on a pair of think tanks, a senator's widow and the capital's tight-knit group of China hardliners, adding a new chapter to an international saga that has divided the Trump administration and the president's external allies.

It began when a firm tied to the billionaire, real estate magnate Guo Wengui, allegedly hired a private intelligence firm to dig up dirt on Chinese nationals — including their bank records, porn habits and any illegitimate children — then sued, saying the firm failed to deliver. In turn, the intelligence firm has claimed Guo's side gave it a thumb drive loaded with sophisticated malware and that he sought information on people whose records were deemed sensitive by the U.S. government...

In March, several prominent China hawks launched Committee on the Present Danger, a new conservative advocacy group aimed at encouraging U.S. confrontation with China...

While members of the committee are united on China, they are divided on Guo.

Both Waller, who is fighting Guo, and Bannon, the billionaire's closest ally in the U.S., are members of the committee. The group also includes Gaffney, whose think tank employs Waller, and Han, who introduced Guo to Strategic Vision, only to have Guo allegedly turn around and badmouth Han as untrustworthy.
---
Business, Economy and Trade
Looser Bond Restrictions Could Trigger Infrastructure Investment Splurge - Caixin The new policy can set off a large amount of investment, analysts said. If all of the proceeds from the special-purpose bonds issued after the policy change are used as capital, they could boost infrastructure investment by 870 billion yuan ($125.9 billion) and potentially push up this year's overall infrastructure investment growth by 4.9 percentage points, analysts at Guosheng Securities Co. Ltd. said in a note Tuesday.
Editorial: What Can We Learn From Baoshang Bank? - Caixin The Baoshang Bank crisis originated from major shareholder tunneling, which is not a new phenomenon. Similar incidents have been common for a long time and are not confined to the financial sector. However, because of the uncertainty, high leverage and contagion of financial risks, tunneling is much more harmful and destructive. Tomorrow and Anbang Insurance Group Co. Ltd. have both now been destroyed. Their methods are well known. They were merely using capital evasion and improper transactions to obtain profits. They regard financial institutions as ATMs.
PBOC Backs Troubled Jinzhou Bank's $289 Million of CDs - Caixin Bank of Jinzhou, a small bank based in China's northeastern Liaoning province, divulged a plan Monday to issue 2 billion yuan ($289 million) of six-month CDs Wednesday at a yield of 3.21%, in line with the market average, according to a senior interbank market participant. The CDs will be guaranteed by the People's Bank of China (PBOC) through a financing support tool called a Credit Risk Mitigation Warrant (CRMW).
比特易创始人惠轶去世,年仅42岁:疑被爆仓2000BTC自杀身亡_市场 Hui Yi, a Chinese cryptocurrency entrepreneur reportedly committed suicide after a wrong bet on Bitcoin. He was 42.
Central Bank to Issue Bills in Hong Kong - Caixin Global By absorbing yuan funds in the offshore market, the issuance of central bank bills can reduce the amount of yuan commercial banks have available to lend. The move could help push up the cost of yuan shorting.
China Sets Yuan Fixing Stronger Than Expected in Sign of Defense - Bloomberg The People's Bank of China set its reference rate at 6.8930 per dollar Tuesday, 0.2% higher than traders' and analysts' average forecast of 6.9089. The strong bias in the daily fix -- which restricts the onshore yuan's moves by 2% on either side -- is the largest since Bloomberg started releasing the survey estimates in August 2017
Chart of the Day: First High-Tech Board Candidates Move Closer to Listing - Caixin Global As of Tuesday, 121 companies had filed applications for listing on the high-tech board, according to data from the Shanghai exchange.
China Stocks Rally the Most in a Month on Local Stimulus Steps - Bloomberg The Shanghai Composite Index climbed 2.6%, the most since May 10, though volume was only a little over half the three-month daily average and the benchmark is still down about 10% in the past two months.
Alibaba's Ant Financial, Vanguard Form Joint Venture In China - PingWest The joint venture, listed under Vanguard in the national registry for businesses with Huang Hao as its legal representative, has registered capital of RMB 20 million ($2.9 million). Ant Financial hold a 51% stake in new entity while Vanguard's Shanghai unit hold the remaining stake
Politics and Law
Mysterious Tomorrow Holding Offloads Stakes in 10-Plus Financial Firms "Financial regulatory agencies have attached great importance to defusing Tomorrow's risks," the China Banking and Insurance Regulatory Commission (CBIRC) said in an interview (link in Chinese) with Financial News, a central bank-backed newspaper, which was published on Sunday. It added that the company has altered its structure and pared down its assets. The financial firms that Tomorrow has divested include the small lenders Bank of Weifang Co. Ltd. and Bank of Taian Co. Ltd. — both headquartered in the eastern province of Shandong, the home province of Tomorrow's founder Xiao Jianhua's hometown — and Zhongjiang International Trust Co. Ltd., a trust company located in the eastern province of Jiangxi, the CBIRC said.
China launches activity to promote Long March spirit - Xinhua China on Tuesday launched an activity that will take journalists to retrace the route of the Long March. Huang Kunming, a member of the Political Bureau of the Communist Party of China (CPC) Central Committee and head of the Publicity Department of the CPC Central Committee, attended the launching ceremony in Jiangxi Province. Ceremonies were also held in Fujian Province...Over 500 journalists from more than 30 media outlets across the country attended the ceremonies.
Cyber police lists fighting extremism as priority - Global Times A cyber police force in Southwest China's Sichuan Province listed fighting extremism as its foremost mission to purify cyberspace, which has sparked wide discussions online on Tuesday. Extreme organizations use so-called justice to influence the public and unite those with radical views when they are in need, aiming to deliberately disturb the public order, and spark conflicts rather than solve problems, the cyber police force of the Mianyang Public Security Bureau said on its Sina Weibo post on Monday.
打击极端主义,是净化网络的第一要务   ... 来自绵阳网警巡查执法 - 微博 The Weibo post by the internet police in Mianyang, Sichuan. "Radical groups" including those "radical feminists" and "radical animal rights activists" that seek to destabilize society as instructed by "external force"
Senior official stresses modernization of rural governance system, capacity - Xinhua Hu, also chief of the central rural work leading group, made the remarks when addressing a recent national meeting on strengthening rural governance system construction, which was held in Ningbo, east China's Zhejiang Province. He said strengthening the construction of the rural governance system is the requirement for achieving all-around rural vitalization, consolidating the foundation for Party's governance in rural areas and meeting people's needs for a better life. Efforts should be made to strengthen the building of grass-roots Party organizations and improving the mechanism to resolve contradictions and disputes in rural areas, the official said.
Top court releases outline to strengthen enforcement of judgments - Xinhua The outline lays out 53 major tasks in 10 areas to improve Chinese courts' work on judgment enforcing from 2019 to 2023. The purpose of the outline is to consolidate the accomplishments made in the country's efforts to tackle difficulties in enforcing court orders, said Meng Xiang, chief of the SPC enforcement bureau.
China censors financial blogs amid propaganda blitz | Financial Times $$ At least 10 popular financial analysis blogs on social media app WeChat had all present and past content scrubbed, according to screenshots posted by readers. The Weibo accounts of two non-financial popular bloggers, including Wang Zhian, a former state broadcast commentator who wrote about social issues, were also blocked.
In Depth: Graft Underpins Distribution at World's Most Valuable Liquor Company In response the company is implementing a new registration system under which staff will have to file any contact with public officials or employees of other state-owned enterprises, logging all phone calls, transfers of information or company materials. Any such interaction that goes unreported will be subject to investigation, according to a notice published by the CCDI's local office in the company's home province of Guizhou, in southwest China.
China shuts down popular finance news app wallstreetcn.com "Wallstreetcn.com has severely violated rules under Chinese cybersecurity law. Please cut off internet access to the app and report related feedback after it takes effect," said a government order dated June 10 that was sent to the bureau responsible for information communication under the ministry of industry and information technology.
Former Citic Group Head Wang Jun Dies at 78 - Caixin Global Wang Jun, former chairman of Citic Group, one of China's largest state-owned conglomerates, and a son of one of modern China's founding fathers, died Monday at the age of 78, Caixin has learned from sources close to Citic..Wang was a son of Wang Zhen, one of the so-called Eight Elders of the Communist Party of China and was appointed as a vice president of the country in 1988
Heirs of Mao's Comrades Rise as New Capitalist Nobility - Bloomberg 2012 Lying in a Beijing military hospital in 1990, General Wang Zhen told a visitor he felt betrayed. Decades after he risked his life fighting for an egalitarian utopia, the ideals he held as one of Communist China's founding fathers were being undermined by the capitalist ways of his children -- business leaders in finance, aviation and computers. "Turtle eggs," he said to the visiting well-wisher, using a slang term for bastards. "I don't acknowledge them as my sons."
Senior Chinese law researcher target of PhD plagiarism claims | South China Morning Post The plagiarism claims against Li Shichun, head of the China Law Society's legal information department, first surfaced online, Shanghai-based news outlet Thepaper.cn reported on Tuesday. The doctorate was awarded by the China University of Political Science and Law in Beijing in 2002, and the news site said it confirmed that entire sections of the dissertation "Study on the Procedures of Preserving Civil Matters", were directly copied from the 1995 editions of two law journa
Chinese Communist Party chief in Inner Mongolia's capital becomes latest 'tiger' snared in corruption crackdown | South China Morning Post Yun Guangzhong, the Hohhot party boss, is detained on suspicion of 'violations of discipline and law', a euphemism for corruption Senior official's sudden fall from grace follows visit from an anti-graft team, which accused local officials of not taking their duties seriously enough
Chinese Blogger Addresses Weibo's "Elephant in the Room" | What's on Weibo A recent noteworthy Weibo post says intellectual discussions are dying on Chinese social media.
Is China's college entrance exam testing political loyalty? - Inkstone But for millions of Chinese students who are taking the annual gaokao college entrance exam this week, the first section of the marathon test – Chinese language and literature – felt like a test of political loyalty. The essay questions varied slightly by region, but the vast majority featured questions highlighting political buzzwords created by Chinese President Xi Jinping
Foreign and Defense Affairs
In Putin's hometown, China's Xi gets lavish welcome as Moscow looks to cement deeper ties - The Washington Post Until recently, China has been slow to accept Russia's embrace. But the Trump administration's trade war — and its campaign against Chinese telecommunications giant Huawei — is providing Russia with a new opportunity to win over China by casting the United States as a shared adversary.  Beijing "may no longer harbor illusions that the States will have mercy on China," said Artyom Lukin, a specialist on Russian-Asian affairs at Far Eastern Federal University in Vladivostok, Russia. "This could lead to a qualitative leap in our relations."
China mobilises diplomats to drum up global support ahead of G20 | South China Morning Post Since the breakdown of trade talks and subsequent imposition of new tariffs in May, Beijing has launched harsh criticism of the United States via its ambassadors to G20 countries, including Britain and France, in a bid to avoid isolation by US allies in Osaka from June 28-29.
Chinese warship the Liaoning sails through Miyako Strait on way to Pacific Ocean for drills | South China Morning Post Japanese defence officials said the warship passed between Okinawa's main island and Miyako Island as it made its way from the East China Sea to the Pacific, without entering Japanese waters, national broadcaster NHK reported. A number of other Chinese naval vessels, including a fuel supply ship, were seen accompanying the aircraft carrier. Japanese officials said the Liaoning may be about to hold drills and they were keeping an eye on the mission, according to the report.
China denies abandoning BCIM corridor - Times of India The Bangladesh-China-India-Myanmar-Economic Corridor (BCIM) which has been previously mentioned as part of the BRI when it was launched in 2013, did not figure in the list of 35 corridors mentioned during the 2nd Belt and Road Forum (BRF) held here in April.
时殷弘 | 全球巨变中的特朗普与中国 - 人民大学国政评论 Analysis of Trump and China's foreign policy by Shi Yinhong, professor in Renmin University in Beijing. Shi urges Xi Jinping to return to the "hide and bide" foreign policy and warns of the increasing risks from Belt and Road.
"爱着你的每一寸海,恋着你的每一粒沙!"——探寻海军西沙中建岛官兵的精神家园-新华网 Xinhua praises the soldiers stationed on the Triton Island, the southernmost of the Paracel Islands.
Four ships set out for joint ocean research - China Daily Research vessel Chuangxin 1 left Yantai in Shandong Province for the Yellow River Estuary which flows into the Bohai Sea. Kexue 3 and Chuangxin 2 departed from another Shandong city, Qingdao. Kexue 3 is headed to both the Yellow and South China seas, while Chuangxin 2 made its way to the Yangtze River Estuary, which flows into the East China Sea. The Shiyan 2 left Guangzhou, Guangdong Province, for the Pearl River Estuary and then the South China Sea. "It is a fresh attempt to place four vessels on different seas in Chinese territory at the same time," said Li Chaolun, deputy director of the Institute of Oceanology of Chinese Academy of Sciences.
Full text of Xi's signed article on Kyrgyz media - Xinhua In a world undergoing changes unseen in a century, it is important for China and Kyrgyzstan to join hands and meet challenges together to ensure the sustained, steady and healthy growth of our bilateral relations...
US envoy decries lack of response from Islamic world to China's attacks on Uighurs | The Guardian Sam Brownback, ambassador at large for international religious freedom, said some majority-Muslim states did not want to draw attention to their own human rights record. He was hopeful that the more Muslim populations around the world heard about the imprisonment of an estimated more than 1 million Uighurs, the more they will put pressure on their governments to speak out.
Jaw-Jaw: A Look at the PLA's History of Planning for War with Taylor Fravel - War on the Rocks How does China think about the nature of war? How has China's conception of war changed over time? What are "military guidelines" in Chinese statecraft and what leads the Chinese leadership to develop new ones? These and other questions are discussed in the latest episode of Jaw-Jaw, where Professor Taylor Fravel discusses his recent book Active Defense: China's Military Strategy Since 1949.
PM Modi to meet China's Xi Jinping at Bishkek this week: What to expect | Business Standard News China on Monday said it was hoping that the two leaders would discuss their respective trade frictions with the US and reach a consensus on opposing trade protectionism during their "very important" meeting.
China's Belt and Road Initiative Needs to Be Defined - Foreign Affairs Another domestic-policy-making tradition, as my own research shows, is deliberate ambiguity. Chinese leaders often speak—and formulate directives—in vague or even cryptic terms. For example, the central guiding document for BRI from 2015 to 2017 was only seven pages long and sketched broad principles such as "go where the demand is" and "share responsibilities and progress together," rather than providing a detailed plan. Ambiguity leaves policies open to interpretation, allowing them to be adapted to different conditions and gradually fine-tuned as leaders figure out their plans. But when this deliberate ambiguity is carried over into the formulation of a sweeping global policy such as BRI, it creates misunderstandings overseas that lie beyond Beijing's anticipation or control.
Ethiopia, Kenya struggle with Chinese debt over SGR railways — Quartz Africa
Chinese warship circling Scarborough Shoal - CNN Philippines The Philippine Coast Guard said Monday it has spotted a Chinese warship among vessels recently circling the disputed Scarborough Shoal.
Donald Trump called former US president Jimmy Carter to discuss fear China is 'getting way ahead' of US | South China Morning Post On Sunday, Carter, who established formal diplomatic relations with China as president in 1979, told a Sunday school in his native Georgia about their conversation. "The main thing that he emphasised to me was, the main purpose of his call, was to say very frankly to me on a private line that the Chinese were getting way ahead of the United States," he said.
Taiwan
Polls Are Open as Taiwan's President Tries to Fend Off Primary Challenger | The Diplomat Tsai has since pushed to consolidate support within the DPP, which threatened to divide into traditional factions upon [William] Lai's entry into the race. Unlike Tsai, who has maintained a cautious and pragmatic approach toward cross-strait relations with Beijing, Lai has called himself a "political worker for Taiwan independence" and has pushed for a stronger assertion of Taiwanese sovereignty.
Tech and Media
中央网信办等4部委联合开展互联网网站专项整治|网站|防护|部委_新浪新闻 The cyber administration said it has launched a campaign against websites that did not register properly or those who illegally collected and sold users' information
Yicai Global - Bytedance Re-Shuffles Management to Spur Global Expansion The Beijing-based firm appointed Alex Zhu, formerly head of social media app Musical.ly, to take charge of TikTok about a month ago, tech news portal 36Kr cited an insider as saying. It has also transferred Chen Lin, chief executive of news aggregator Toutiao, and replaced him with Zhu Wenjia, the report added.
Beijing Police Close App Allegedly Selling Virality to Pop Star | Sixth Tone Fengtai District police in March arrested four people behind Xingyuan, an app whose title translates to "star affinity," on suspicion of selling thousands of likes and shares from bot accounts on microblogging platform Weibo to promote posts by singer Cai Xukun, according to the outlet. The primary suspect taken into custody — who is also surnamed Cai, though the report did not say whether he is related to the singer — is accused of "sabotaging computer information systems" with the now-shuttered app, earning more than 8 million yuan ($1.16 million) in the process.
The 'B' in China's Three Internet Leviathans 'BAT' is No Longer Baidu- PingWest Market capitalization say it all: As of June 10th, Alibaba and Tencent are on the same pace, valuing 420 billion and 406 billion U.S. dollars respectively, while Baidu's worth is nine times less than its former rivals at less than $40 billion. Even Bytedance has a valuation no less than $75 billion after its last private funding round by the end of last year, and is still growing.
Tencent promotes younger talent to keep up with users · TechNode In an internal letter made public on Monday, the company replaced its previous structure which grouped employees into six main categories and 18 sub-categories according to their professional expertise by a system consisting of 14 levels, according to a Chinese media report
Using Smartphones to Pay? That's So Yesterday in China - WSJ Ant Financial Services Group and Tencent Holdings Ltd. rivals that operate, respectively, Alipay and WeChat Pay, China's two largest mobile-payments networks, are competing for dominance in the next stage of China's cashless society. Each is racing to install its own branded facial-recognition screens at retail points-of-sale all over the country, marketing the screens as a way to speed up sales and improve efficiency.
Energy, Environment, Science and Health
The Latest Targets of China's Anti-Gang Campaign? Hospitals - Caixin Global All six hospitals are in Gansu province's Linxia city, and their crimes include charging patients unauthorized high fees, doctoring data, running illegal medical businesses, blackmail, and fraud, according to an official statement Saturday from the Linxia public security unit.
Education
The Mental Health Camp Treating China's Troubled 'Gaokao' Kids The camp — one of only a handful in China — is in Changchun, the capital of northeastern China's Jilin province and some 2,700 kilometers away from Chongqing. Run by Duguo, a volunteer organization, it connects troubled students and their families with teachers and counselors. Although it doesn't completely release kids from their test-taking burdens, the camp tries to lighten their loads with psychological support and social events.
Rural and Agricultural Issues
Stink Bugs Could Be Unleashed to Battle China's Fall Armyworms - Bloomberg The insect, Arma chinensis, is a natural enemy of fall armyworm, according to the Institute of Plant Protection of the Chinese Academy of Agricultural Sciences. Researchers there believe it may be a useful biological agent to control the crop-ravaging caterpillar, which arrived in China early this year after spreading from the Americas to Africa and across parts of southern Asia.