Carrie Lam announced that the Hong Kong government is conceding one of the five demands from the protestors, probably far too late. She said in a recorded statement that she will set in motion the process to formally withdraw the extradition bill, the issue that sparked the current wave of protests. It looks like it will not be enough to end the demonstrations.
It is hard to imagine she made this decision without approval from Beijing. Is this move to formally withdraw the extradition bill some sort of 离间计 stratagem of sowing discord to split the smaller, "radical" core from the masses, while at the same time signaling a more severe crackdown if the violence and chaos continue, and thinking it gives the authorities a more justifiable pretext if they do crackdown harder if Hong Kong citizens keep protesting?
The Xinhua commentary that came out a couple of hours ago certainly does not sound like further concessions are coming, especially when it comes to the "small number of people opposing China and bringing chaos to Hong Kong" and the "extreme radicals [who] are brazenly challenging the bottom line of one country two systems".
Thanks for reading.
---
The Essential Eight
1. Hong Kong
Hong Kong's Carrie Lam fully withdraws extradition bill - The Washington Post
After meeting with her cabinet, pro-Beijing lawmakers and others in the government, Lam said in a televised address that incidents in recent months have "shocked and saddened people." 

"We should all think deeply whether escalating violence and disturbances is the answer," she said in the speech, before announcing four steps that she would take to kick-start a dialogue with the public, notably a full withdrawal of the extradition bill. That process will start once the legislature meets again in October, Lam added.
short Xinhua report on Lam's comments
Xinhua commentary on Hong Kong just before midnight Wednesday Beijing time-- "stopping violence and disorder is Hong Kong's biggest common denominator", blames a "small number of people opposing China and bringing chaos to Hong Kong 一小撮反中乱港分子", says "extreme radicals are brazenly challenging the bottom line of one country two systems 极端激进分子肆无忌惮挑战"一国两制"底线, that Hong Kongers have the right to peaceful protest and the government needs to draw a distinction between the peaceful and violent protestors

"In the face of illegal crimes, law enforcement is to uphold justice, and law protection is the will of the people. To stop violence, curb chaos and restore order, we need to build consensus and take stronger practical actions. In particular, the backbone of violent criminals and their planners, organizers and commanders must be pursued to the end without mercy. 

面对违法犯罪,执法就是维护正义,护法就是人心所向。止暴制乱、恢复秩序,需要进一步凝聚共识,采取更加有力的实际行动。特别是对暴力犯罪的骨干分子及其背后的策划者、组织者、指挥者,要追究到底,绝不手软
HK chief announces four-action plan to end unrest - Global Times
The decision to formally pull back the bill marks a significant step by the SAR government to show its sincerity in resolving tensions, and its commitment to end the unrest. However, the move should not be seen as a concession by Lam that could lead to a slippery slope, and radical forces should not have any illusion of winning ground on matters related to the "one country, two system" principle that governs Hong Kong and China's sovereignty, officials and experts said.

As part of her four-action plan, Lam also appointed former director of education Helen Yu Lai Ching-ping and lawyer Paul Lam Ting-kwok to the Independent Police Complaints Council (IPCC), which will review police practices in response to the protest since June.
'The fight for Hong Kong is not over': protesters dismiss concession - Inkstone
the televised announcement has been dismissed as "too little, too late" on the Reddit-like LIHKG forum, where many of the recent rallies have been organized. 

"All five demands must be met," users in top trending posts said, repeating their calls for freer elections and the creation of an independent commission to investigate alleged police abuse.

The forum's users have been among the most vocal advocates of escalating the protests until all five demands are met.
Will tensions ease? Stunned city reacts to withdrawal of extradition bill that sparked Hong Kong protests | South China Morning Post
Two masked protesters are holding a civilians' presser outside the legislative complex, reiterating "five demands, not one less". They are part of a group about 50- to 60-strong. 

"The withdrawal cannot compensate for our blood and tears over the past three months," says one of them. "It was a debt from three months ago, but the government and police have added more debts over the past two months. They are bankrupt on character and ethics," he adds.

The other protester says of Carrie Lam's withdrawal of the bill: "This is like applying a band-aid to rotting flesh."
Hong Kong officials offer firms caught in US-China trade war and city protests fast tracked access to government funds worth up to HK$35 billion | South China Morning Post
Smaller firms in Hong Kong caught in the crossfire of the city's protests and the US-China trade war will have immediate access to funding worth up to HK$35 billion (US$4.5 billion), senior officials have said.
Financial Secretary Paul Chan Mo-po and Secretary for Commerce and Economic Development Edward Yau Tang-wah said on Wednesday the "instant help" was for small and medium-sized firms struggling to raise capital, so they could "ride out the storm".
Old messages, new memes: Beijing's propaganda playbook on the Hong Kong protests | Financial Times $$
On August 24, the nightly news show of state broadcaster CCTV opened an account on Kuaishou, a popular Chinese short video app. The account amassed more than 20m followers within 10 days.

"Old-fashioned party propaganda has been super-fuelled with the accelerant of viral propaganda, often toxic and hateful toward Hong Kong," said David Bandurski, co-director of the China Media Project at the University of Hong Kong. 

Normally staid state news readers are also adapting to the new approach. Some are channelling the styles of satirists such as John Oliver or Trevor Noah, hosts of popular US television shows, to praise the patriotic protests of mainland Chinese.
Cathay Pacific's Chairman Resigns as China Pressures Hong Kong Business - The New York Times
In a filing Wednesday afternoon with Hong Kong's stock exchange, the airline said that John Slosar will resign as chairman and as an executive director in November. He will be replaced by Patrick Healy, a 53-year-old longtime executive at John Swire & Sons (H.K.) Limited, the holding company that controls the airline.
Marco Rubio: China is showing its true nature in Hong Kong. The U.S. must not watch from the sidelines. - The Washington Post
The United States and other nations have options precisely because Beijing benefits from Hong Kong's special status. Indeed, the city has proved irreplaceable as a gateway for international finance, even as China attempts to build up a mainland alternative.

China's leaders must either respect Hong Kong's autonomy and rule of law or know that their escalating aggression will inexorably lead them to face swift, severe and lasting consequences from the United States and the world. Today, that choice is theirs.
US Senate Majority Leader McConnell on Tuesday:
---
2. Revised Party accountability regulations
CPC issues revised regulation on Party accountability - Xinhua
The revised regulation, made public on Wednesday, targets Party organizations and leading officials of Party committees and discipline inspection committees...

Leading Party officials and organizations should be held accountable for poor leadership of the Party; insufficient promotion of political, theoretical, organizational and disciplinary work within the Party; insufficient combating of corruption; as well as improper conduct in the most pressing issues that concern the people, including education, medical services and ecological protection...

Officials will be held responsible for serious breaches of duty for life, even if they are transferred, promoted or retire, according to the regulation.
第二条 党的问责工作坚持以马克思列宁主义、毛泽东思想、邓小平理论、"三个代表"重要思想、科学发展观、习近平新时代中国特色社会主义思想为指导,增强"四个意识",坚定"四个自信",坚决维护习近平总书记党中央的核心、全党的核心地位,坚决维护党中央权威和集中统一领导,围绕统筹推进"五位一体"总体布局和协调推进"四个全面"战略布局,落实管党治党政治责任,督促各级党组织、党的领导干部负责守责尽责,践行忠诚干净担当。

Of course the new regulations include Xi though and the need to protect the Party center with Xi at the core
《中国共产党问责条例》修订前后对照表————头条——中央纪委国家监委网站
Infographic compares the new version of the regulations with the previous one from 2016
The new regulations also specifically say officials must not blame their underlings for screwups. Those who fail to implement the party central's instruction, those who build factions, and those who make mistakes that lead to massive protest will all be severely punished.
Rewriting the Rules of the Chinese Party-State: Xi's Progress in Reinvigorating the CCP | China Leadership Monitor - Minxin Pei
One question is whether the party rank-and-file will actually accept and abide by these rule changes, instituted in a top-down manner and forced upon an ideologically cynical elite long accustomed to decentralization of power and to less-regimented party political life.  It may be useful to recall that during the late Soviet period members of the ruling elite generally feigned compliance with the official rules that on paper probably appeared to be little different from those the CCP has recently issued.  Therefore, it is likely that in the coming years, Chinese elites will increasingly inhabit a dual political universe: an official universe in which they pay lip service to the party line and perform all the required rituals to feign loyalty, and a private universe in which such rules do not apply.  Another question is whether the insertion of the "loyalty clause"— a pledge to maintain Xi's status as the core leader of the CCP– into practically every key CCP rule book is a sign of his political strength or belies his sense of insecurity.  At the moment, it is impossible to tell.  Historically, a strongman's political strength has been tested— and revealed— only during an existential crisis that both he and his regime confronts.  China today is nowhere near that point.
---
3. Economy
China Seen Heading for Sub-6% Economic Growth as Tariffs Soar - Bloomberg
Oxford Economics, Bank of America Merrill Lynch, and Bloomberg Economics on Tuesday all cut their forecasts for gross domestic product growth in 2020 to below 6% as a result of increasing risks from the tariff war with the U.S. UBS Group AG also cut their estimate on Tuesday, although they've been estimating sub-6% expansion since mid-August. In addition, Bank of America's Helen Qiao and others are warning that the government's current approach to stimulus is proving insufficient.
Services Sector Grows at Fastest Pace in Three Months: Caixin PMI - Caixin Global
The Caixin China General Services Business Activity Index, which provides a snapshot of operating conditions in the country's services sector, rose to 52.1 in August from 51.6 in the previous month. A reading above 50 indicates expansion, while anything below that signals a contraction.

The Caixin China Composite Output Index, which covers both manufacturers and services providers, inched up to 51.6 in August from 50.9 in July, in part driven by faster growth in the services sector.
China Cabinet Calls for 'Timely' Moves to Support Economy - Bloomberg
"It's very likely an RRR cut and a targeted RRR cut will come in September," said Wen Bin, a researcher at China Minsheng Banking Corp. in Beijing. "A full cut to banks' reserve ratio is needed to make sure of effective financial support to economic growth, as the global economy slows and domestic consumption and investment face headwinds."In addition to the RRR cut, the cabinet called for an acceleration of the issuance of so-called special bonds by local governments. The bonds are mostly used to pay for infrastructure spending, and will lend support to the economy which faces downward pressure from the complex external environment, the statement said.
Yu Yongding: The Yuan's Bid for Freedom - Caixin Global
Why did the PBOC choose this moment? My understanding is that it has been planning for many years to shake off the shackles of the yuan inflexible exchange-rate regime. Having postponed the move time and again, it had to take a decisive step at some point. When the opportunity presented itself again recently, the PBOC presumably thought that it could allow the yuan to fall below 7 yuan without causing significant damage to the Chinese economy.

Although the PBOC's gamble appears to have paid off so far, Chinese policymakers are still worried about excessive depreciation...

By accusing China of currency manipulation, therefore, the Trump administration has clearly picked the wrong fight. On exchange rates at least, its ignorance is astonishing.
China's economic 'miracle' in context - AEI- Derek Scissors
Contrasting China at various stages of reform to Japan and Korea at analogous stages shows China as less successful. The payoff is personal income, where China's growth in local currency terms is similar to Japan's. But it is slower than Korea's, and, in comparable dollar terms, China is far behind Korea and Japan 40 years into the respective "miracles."
---
4. US-China
Trump wanted to double China trade tariffs after latest retaliation - CNBC
President Trump wanted to double tariff rates on Chinese goods last month after Beijing's latest retaliation in the trade war before settling on a smaller increase, three sources tell CNBC.

Trump was outraged after he learned Aug. 23 that China had formalized plans to slap duties on $75 billion in U.S. products in response to new tariffs from Washington on Sept. 1.

Treasury Secretary Steven Mnuchin and U.S. Trade Representative Robert Lighthizer then enlisted multiple CEOs to call Trump and warn him about the impact such a move would have on the stock market and the economy.
US Trade Deficit July 2019: Shrinks; Trade With China Fell - Bloomberg
U.S. exports of goods to the Asian nation fell 2.7% from the prior month while imports declined 1.9%, narrowing the trade gap between the countries to a seasonally adjusted $29.6 billion, according to data Wednesday from the Commerce Department. The overall U.S. deficit in goods and services trade shrank by less than estimated to $54 billion, a three-month low.
Chinese embassy in US urges students to 'tell China's story well' and help to build bridges | South China Morning Post
The instruction came in an open letter published at a time when growing confrontations between the two nations have led to heightened US scrutiny of Chinese organisations and individuals. "You are representatives for this generation of Chinese youth," the statement read. 

"We believe you will be able to demonstrate young Chinese peoples' feelings and responsibilities through openness and confidence, to tell China's story well, build bridges through friendship, and actively contribute to the promotion of mutual understanding between China and the US."
U.S.-China Relations in 2019: A Year in Review | U.S.-CHINA
Looks like a good hearing, video online.
Americans Favor US-China Trade, Split Over Tariffs | Chicago Council on Global Affairs
Americans are deeply divided over President Trump's proposal to increase tariffs on Chinese imports. Overall, a narrow majority of Americans (51%) oppose raising tariffs on Chinese imports, while nearly as many (47%) support doing so. Opinion divides sharply along partisan lines: seven in ten Republicans (72%) support increased tariffs, while seven in ten Democrats (71%) oppose increased tariffs. Independents, like the public overall, are divided (48% support, 50% oppose).
People's Daily overseas edition reports that the US is unfairly targeting Chinese American scholars, and that it would only hurt international exchanges as well as the US economy which relies on technology developments.
Zhang Xiaoming of Peking University argued that if George Kennan is still alive, he would not endorse Trump administration's policy to contain China, since the containment strategy was designed for USSR and there is no need to see China as an enemy.
---
5. BRI
Securing the Belt and Road Initiative: China's Evolving Military Engagement Along the Silk Roads - The National Bureau of Asian Research (NBR)
This NBR Special Report assesses the implications of China's Belt and Road Initiative (BRI) for the calculations of the People's Liberation Army and other Chinese security actors. Taken together, the seven essays in the report present a sweeping picture of the set of options that are under consideration to secure China's interests along the BRI routes.
Uruguay, China agree to promote construction of Belt and Road Initiative - China Military
China and Uruguay have vowed to work together to promote the construction of China-proposed Belt and Road Initiative (BRI), visiting Chinese State Councilor and Minister of National Defense Wei Fenghe and Uruguayan Vice President Lucia Topolansky said in a meeting here on Monday...

Wei also held formal talks with Uruguayan Defense Minister Jose Bayardi and visited some military units Monday afternoon.
Malaysia had plan to use Chinese money to bail out 1MDB, court hears - Reuters
Amhari said among the deals offered to Chinese companies to fund the bailout were two pipeline projects and the $20 billion East Coast Rail Link (ECRL), a major part of China's Belt and Road initiative.

The pipeline projects were later canceled and the cost of the railway project nearly halved to $11 billion after Prime Minister Mahathir Mohamad took over last year.

Mahathir, who swiftly reopened probes into 1MDB, has said investigators are looking into whether a $2.3 billion loan from the Export-Import Bank of China for the two pipeline projects was used to repay 1MDB debts.
---
6. Another reminder Chinese do care about privacy
China's regulator orders face-swap app ZAO to strengthen security over privacy, payment concerns - SHINE News
China's Ministry of Industry and Information Technology has ordered the developer of popular face-swap application ZAO to enhance data and privacy protections for its users, according to a statement posted on the regulator's website on Wednesday.

ZAO's developer, social network company MoMo, is required to conduct self-checks, gather user data according to national laws and regulations, regulate its user agreements and strengthen users' security. It should also take steps to avoid the risk of ZAO being used in telecommunications and online fraud, the ministry said.
School software sparks privacy worries - Global Times
A picture that went viral online shows Megvii software hard at work monitoring and analyzing the behavior of teenage students in class.  

The maker promotes the software as able to detect and analyze all kinds of body and facial movements at school and in the classroom - from the more obvious raising of a hand to the more subtle assessment of how much a student is paying attention to a teacher. 

Megvii issued a statement on Monday, saying that the picture was simply used to advertise their products and that their products protect children's safety...

The technology that monitors students not only invades their privacy but also distorts the teacher-student relationship, experts said.

Shanghai-based news portal thepaper.cn reported two weeks ago that a local primary school was using AI to monitor student behavior including whether they paid attention at class or greeted teachers.

The school said the story was "false" and the report was subsequently removed as of press time.
---
7. The Kuaishou economy
How Chinese Farmers Hopped Onto Kuaishou's Bandwagon and Mined Gold - Pandaily
Within an hour, Wawa and her husband sold nearly 110,000 units of their items, totaling to a volume of transaction of 1.47 million yuan ($0.21 million)...

unlike its trendy and fashionable rival, content on Kuaishou had a sense of tuwei (土味), or an "earthy" feel that made itselt more local and down-to-earth. Viewers can watch a person growing up by the sea catching different marine animals daily, or high voltage cable engineers eating steamed buns on their lunch breaks, or even witness a rural chef prepare a feast for an outdoor wedding in a distant village. 15 million videos are generated daily to depict the life of grassroots in China, among which 28% are lifestyle clips. Instead of fine-tuning one's video with flashy special effects such as on TikTok, most clips on Kuaishou are shot on mobile phones with simple captions added over them.

They now enjoy a massive follower count of 12.3 million, who are willing to buy products from their 27 factories that tailor and package the goods before they're sent out. With a business volume of 300 million a year, 90% of which is from Kuaishou, Liang and Wawa ranked fourth on Kuaishou in China...
---
8. Dogs and dog catchers in Jiaxing
在嘉兴,20位"犬管办"队员和20000只狗 - 深度 - 新京报网
Long Beijing News story on dog management officers in Jiaxing, Zhejiang, from their poisoning of stray dogs to capture of them, from official brutality to owners' love. It is really about the changing role of dogs in contemporary Chinese society and how to accommodate them while preventing canine chaos. There are some sad and funny pictures in the piece.

Sinocism's office assistant does not realize how good he has it...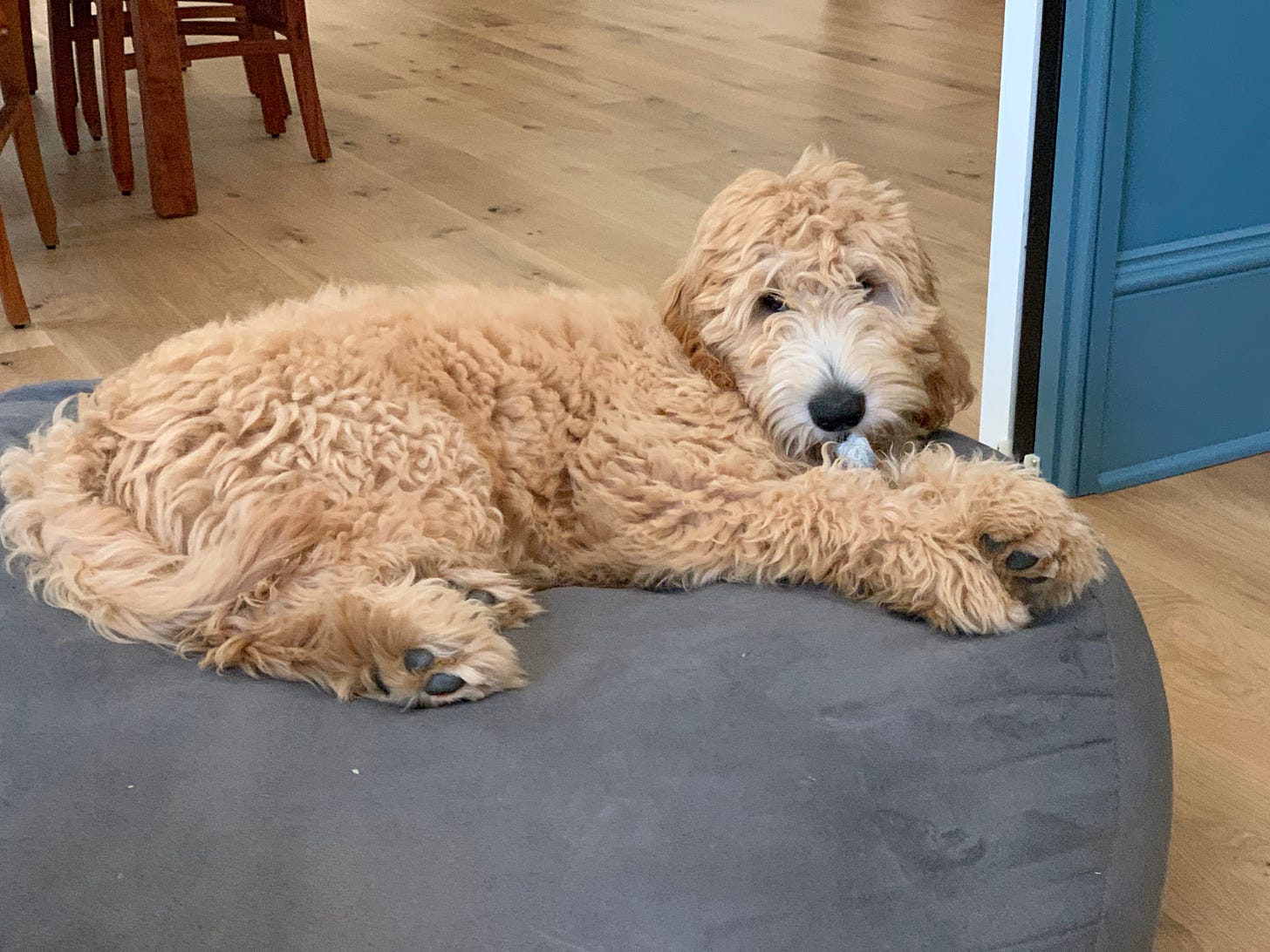 ---
Business, Economy and Trade
Chinese Authorities Investigate 1890 Organised "Taolu" Loan Cases, Seize 16.176B Yuan in Assets - China Banking News The Chi­nese au­thor­i­ties de­fine "taolu loans" (套路贷) as crim­i­nal ac­tiv­ity which has the goal of the il­le­gal ac­qui­si­tion of the as­sets of vic­tims, by in­duc­ing them to sign lend­ing, pledg­ing or guar­an­tee agree­ments be­fore in­flat­ing loan amounts or ma­li­ciously fab­ri­cat­ing con­trac­tual breach events in or­der to cre­ate "false debts."
China's Finance Authorities Step up Scrutiny of Real Estate Lending - China Banking News The China Bank­ing and In­sur­ance Reg­u­la­tory Com­mis­sion (CBIRC) re­cently is­sued a di­rec­tive de­clar­ing that it would con­duct spe­cial­ist in­ves­ti­ga­tions of real es­tate lend­ing op­er­a­tions by banks across 32 Chi­nese cities, en­com­pass­ing the ex­e­cu­tion of real es­tate lend­ing poli­cies along­side the man­age­ment of real es­tate de­vel­op­ment loans and per­sonal home loans.
In Depth: Evergrande's Electric Car Ambitions Hit Speed Bumps - Caixin With the stated ambition of becoming the world's largest new-energy vehicle company, Evergrande said it spent 14.1 billion yuan ($1.96 billion) on electric-vehicle (EV) projects in the first half. It says it plans to pump another 6 billion yuan into the area by year end.
However not much yet seems to have materialized from these big dreams, as the company has faced a high-profile soured deal, challenges integrating the tech it is acquiring and broader EV market headwinds.
Faraday Future Appoints DR. Carsten Breitfeld As Global Chief Executive Officer | FF Press Room Faraday Future (FF), a California-based global shared intelligent mobility company, today announced the appointment of Dr. Carsten Breitfeld as Global CEO. YT Jia, FF's founder, will step down from the CEO position to assume the role of CPUO (Chief Product & User Officer)
Charts of the Day: Top 500 Private Companies Putting More Into Government Tax Coffers - Caixin The latest annual survey of China's top 500 private enterprises shows that their contributions to the government's fiscal coffers continued to grow faster than their revenue last year, and that their share of the state's total tax income increased even as their return on equity declined.
Politics and Law
Communist Party names Wang Hao new chief of scandal-hit Chinese city Xian | South China Morning Post There had been speculation that the only son of former president Hu Jintao, Hu Haifeng, was in the running for the role. Hu is the party boss of Lishui, a much smaller city in eastern Zhejiang, and a promotion to Xian would have elevated the 46-year-old to vice-ministerial rank and set him up for future career advancement.
发扬斗争精神 坚定斗争意志 People's Daily page 1 editorial on Xi's speech, warning some cadres have not been on alert to see the dangers facing the party, and not tough enough or capable enough in fighting against the dangers. "To strengthen the combat will is not to be combative, but when facing serious situation and combat tasks, we need to tough up, not to be weak, not be a deserter, [We] must dare to lash out, dare to fight and be able to win …" 
做敢于斗争善于斗争的战士 People's Daily article on CCP cadres praising Xi Jinping's speech on combat, with them promising to be a good soldier that "dare to fight and good at fighting" any battles the party tells them to fight.
党建评:锻造伟大斗争中的"烈火真金" People's Daily online commentary reiterating Xi's talking points that the young cadres must go through "ideological quenching" so to stay absolutely loyal and ideologically pure.
A Chinese Liberal's Critique of China: Xu Jilin – Kerry Brown Reviews The outside world is woefully poorly informed about figures like him, and the range and depth of their scholarship and engagement with political and social issues. Xu himself refers to better known academics like Pan Wei of Beijing University, or Zhang Weiwei, of Shanghai's Fudan, who have a noisy international presence – but they are enthusiastic promoters of the mantra of `China on Chinese terms'. As Xu shows, in the eight essays excellently translated here by David Ownby of the University of Montreal, there are more nuanced, subtle, and quieter voices – ones that indicate a greater depth of scholarship and betray a more reflective manner. These deserve as much, if not more attention, than their more grandstanding peers.
Foreign and Defense Affairs
China, DPRK pledge to further promote bilateral cooperation - Xinhua Wang's visit to the DPRK on the occasion of the 70th anniversary of the establishment of diplomatic ties between the two countries is of great significance for the implementation of the consensus reached by the top leaders of the two countries, he said. // Did Wang Yi meet Kim?
Xi stresses improving international communication - Xinhua President Xi Jinping has called on China Foreign Languages Publishing Administration to improve its international communication capacity so as to better introduce China to the world in the new era. Xi...made the remarks in a congratulatory letter to honor the 70th anniversary of the agency. In the letter, Xi extended sincere greetings to officials and staff of the administration, as well as foreign experts and friends supporting China's international communication cause.
PLA Air Force formation 'a sign of stealth fighter mass production' in China | South China Morning Post China has released video of a flight of seven Chengdu J-20 stealth fighters, the largest formation seen so far, suggesting that the fifth-generation warplane has gone into production as an arms race with the United States brews in the region.
Seminar of united front organizations from China, DPRK, Vietnam and Laos held in Beijing - Xinhua
Revealed: Chinese racing mogul Lang Lin's extensive links to former National ministers - NZ Herald The horse-racing billionaire at the centre of a foreign donations row met with multiple ministers in the last government, including former prime minister John Key. Representatives of Mogul Lang Lin said he also recently considered donating to New Zealand First because of the party's support for horse racing, but they - and Winston Peters - said Lang did not discuss any offer.
Matters of Record: Relitigating Engagement with China - MacroPolo the partial success of Clinton's policy does not mean that engagement should not be reassessed. Every major policy requires adjustments as the world changes and challenges evolve. But simply declaring engagement a failure does a disservice to the achievements of previous administrations and ignores the potential calamities averted by that policy. When it comes to issues that do not threaten China's political bottom line, bilateral diplomacy, international coalitions, and multilateral institutions are elements of the engagement policy that have proven and remain effective in pursuing certain American goals with Beijing.
Good Riddance to the INF Treaty - Foreign Affairs - Andrew S. Erickson During the INF Treaty's 32-year lifespan, China developed the world's foremost conventional missile force, brimming with the very weapons that the treaty prohibited the United States from developing: ground-launched cruise and ballistic missiles with a range of 500 to 5,500 kilometers. Today, China uses that missile arsenal to threaten the United States and its allies and partners throughout East Asia. Exiting the INF Treaty is no panacea, but it opens much-needed possibilities for Washington to reset the military balance with Beijing in its favor
A middle-power moment - Lowy Interpreter New data from the 2019 Asia Power Index backs Lee's sense that multilateralism between second-tier powers is the way forward. The Asia Power Index compares the relative power of 25 countries across 126 indicators of power (for a rundown of the results, read here). But the overall power ranking only tells part of the story. A closer look at the results reveals – quantitatively – how effective middle powers are at rebalancing regional power dynamics by banding together, forming a critical part of the strategic equation.
What China, Philippines will get from joint exploration | ABS-CBN News The most important documents that were exchanged between the Philippines and China during last week's visit of President Duterte to China were not included in the list of agreements signed that was released by Malacañang to media. One of these documents was the list of names that will constitute the inter-governmental steering committee that would supervise the joint exploration between the Philippines and China in the West Philippine Sea.
Around the World With Mao Zedong - The New York Times Today, Maoism is often remembered in the West as something kitschy — Andy Warhol silk screens, or Shirley MacLaine's bizarre fandom — but at its height Maoism was one of the most important chapters in the Cold War. Especially in the global South, Maoism contributed to a series of remarkable events, including the greatest debacle of American military history (the Vietnam War), one of the most infamous cases of genocide (committed by the Khmer Rouge in Cambodia) and an epic guerrilla campaign (conducted by the Shining Path in Peru). This history has not been adequately told in one sweeping, accessible book — until now, with Julia Lovell's "Maoism: A Global History."
Dozens protest against Chinese influence in Kazakhstan - Reuters The protests first started in the small industrial town of Zhanaozen in Western Kazakhstan on Sunday as about 100 people gathered to demand a ban on what they described as plans to move outdated and polluting Chinese plants to Kazakhstan. On Monday, the crowd grew to more than 300 people, according to local newspaper Lada.
Chinese, Russian officials vow closer media cooperation - Xinhua China and Russia have elevated their ties to a comprehensive strategic partnership of coordination for a new era, opening a new epoch of relations, said Xu Lin, deputy head of the Publicity Department of the Communist Party of China (CPC) Central Committee. The China-Russia relationship now features maturity, stability and strength 70 years after the two countries established diplomatic ties, said Xu, who is also director of the State Council Information Office, at the fifth China-Russia Media Forum held in the Pacific port city of Vladivostok. Media outlets of both countries should contribute to boosting bilateral ties, Xu added
China and Iran flesh out strategic partnership - Petroleum Economist The central pillar of the new deal is that China will invest $280bn developing Iran's oil, gas and petrochemicals sectors. This amount may be front-loaded into the first five-year period of the deal but the understanding is that further amounts will be available in every subsequent five-year period, subject to both parties' agreement. There will be another $120bn investment in upgrading Iran's transport and manufacturing infrastructure, which again can be front-loaded into the first five-year period and added to in each subsequent period should both parties agree
Chinese Academic Journal Digest: US-China Trade War, Local Debt and Private Sector Financing, and the World Oceans Organization This looks like a promising new newsletter that summarizes Chinese academic articles. The latest issue includes a summary of an article in the science of law titled Modern China and the Transformation of the Global Oceans Governance System (新时代中国深度参与全球海洋治理体系的变革). // China should spearhead the creation of the World Oceans Organization (WOO). The WOO would serve as the world's leading international organization governing oceanic and maritime issues. In 2015, China successfully led creation of the Asian Infrastructure Investment Bank, and it should follow this model to create the WOO.   The creation of the WOO would help resolve some of China's challenges in the current international system. Existing international law is antiquated and creates too many ambiguities about rights and protections. For example, the United Nations Convention on the Law of the Sea lacks clear definitions of "historic waters" and fails to provide clear guidance regarding governance of island and rock reef systems, he writes, contributing to countries' territorial disputes.
Tech and Media
Chinese Online Education Startup VIPThink Closes Series B Round - PingWest Chinese online K12 education platform VIPThink has closed its Series B round of financing, which was led by New Oriental Education with the participation of online audio platform Ximalaya and venture capital firm DCM and Sinovation.
Weibo's Instagram Knockoff Taken Down Days After Debut Amid Plagiarism Charges - Caixin Global Just days after releasing an invitation-only version of an Instagram-like app, Weibo has quietly taken it down amid criticism of plagiarism. The reason, however, was not quite directly to Instagram, apparently. A user on China's microblog platform Weibo on Wednesday pointed out that the app — called Oasis, or Lüzhou in Chinese — featured a logo that looked extremely similar to an image South Korean design studio fnt created in 2015 for a film festival.
Society, Arts, Sports, Culture and History
Nie Yuanzi, Whose Poster Fanned the Cultural Revolution, Dies at 98 - The New York Times "I accomplished just one thing in the Cultural Revolution: taking the lead in writing that big-character poster," she said in a profile published in 2016 by the Chinese website of The New York Times. "That poster brought me tremendous fame and prominence, yet it also brought endless pain and torment for the rest of my life."
Energy, Environment, Science and Health
Premier Li pledges greater support to research, innovation by young scientists - Xinhua He said the National Science Fund for Distinguished Young Scholars will play a bigger role in financially supporting the researchers to be dedicated to basic research and innovation. Li made the remarks at a forum on the work of the fund, which was held on Monday. He also visited an exhibition of scientific research achievements in the fields of astrophysics, new material, new energy application, medicine and biology, thanks to the support of the fund.
Four Years After Rollout of Tough New Rules, Tobacco Ads Still Light Up Cigarette Shops - Caixin The heavy presence of tobacco ads at places where the product is sold demonstrates that the anti-smoking law is not having the desired effect, said senior tobacco control expert Xu Guihua. The survey also looked at the growing popularity of electronic cigarettes, and Xu said the survey found that 23% of sales points surveyed in counties and townships were selling such products.
Rural and Agricultural Issues
China steps up fiscal measures to increase hog production, ensure pork supply - Xinhua Subsidies to farms with culled pigs will be dispensed every six months instead of annually to accelerate the subsidy delivery, a circular jointly released by the MOF and the Ministry of Agriculture and Rural Affairs said. Meanwhile, to further support the infrastructure building of animal disease prevention and control, local governments will lift the incentives to major hog producing counties, the circular said. Insurance coverage on hogs was raised temporarily as well, with that for sows rising to 1,500 yuan (about 211.6 U.S. dollars) from the former maximum limit of 1,200 yuan and that for finishing pigs growing to 800 yuan from 600 yuan.