Hong Kong protests; Trump again says Huawei may be part of trade deal; Xi Thought study book
The Dragon Boat Festival was not a relaxing vacation for officials in Beijing or Hong Kong. At least several hundred thousand protestors hit the streets in Hong Kong to protest the pending extradition law, and more actions, including a general strike, may happen this week:
The so far limited response from Beijing blames foreign forces for stirring up trouble, but if they really believe then their poor information flows are even more worrisome than I thought.
President Trump called into CNBC this morning and said he expects to meet with General Secretary Xi at the G-20, that China will make a deal because they have to, and he once again linked Huawei to the trade talks.
There is now a solution for those worried that their grasp of Xi Thought is insufficient. The Propaganda Department has released a study outline of Xi Jinping Thought on Socialism with Chinese Characteristics for a New Era. It looks to be connected to the June 1 kick off of the "staying true to our founding mission" education campaign.
We are less than four months away from the 70th anniversary of the founding of the PRC. The 70th anniversary celebration campaign is already underway, so expect even more nationalist propaganda and activities, culminating in a massive parade in Beijing on October 1. Xi and Xi Thought will likely be at the center of all of this, and the closer we get to the anniversary the harder it may be for Xi to agree to what the US wants, even if he were so inclined.
Thanks for reading.
---
The Essential Eight
1. Hong Kong
Hong Kong march: Police, demonstrators clash after massive protest against extradition bill - The Washington Post
Despite sweltering heat and storm clouds gathering overhead, several hundred thousand people turned out for Sunday's march in defiant scenes reminiscent of the Occupy Central movement in 2014 and a mass rally in 2003 that effectively shelved a controversial sedition law backed by Beijing. Many said they were joining a demonstration for the first time because they viewed it as a last chance to voice their outrage as Hong Kong's political freedoms shrivel...

In interviews, many said they were joining a protest for the first time in their lives, motivated by what they said was an alarming slide in Hong Kong's political freedoms. Others said they feared their city is destined to fall fully under Chinese Communist Party control...

"I'll be honest, this probably won't change a thing," said Webster Kan, 46, a leather craftsman marching with his wife and 11-year-old son. "But this is our last chance to express ourselves before the gate fully opens, to say what kind of society we want, and what we want to leave behind."..

The Hong Kong measure has also drawn attention in Washington. The Congressional-Executive Commission on China, a U.S. government agency, has warned that the extradition law could violate provisions of the U.S.-Hong Kong Policy Act, which allows for wide-reaching economic and trade relations with Hong Kong on the condition that China uphold its promise of granting Hong Kong a "high degree of autonomy."
Closing of extradition loophole strengthens rule of law in HK: China Daily editorial
Any fair-minded person would deem the amendment bill a legitimate, sensible and reasonable piece of legislation that would strengthen Hong Kong's rule of law and deliver justice. Unfortunately, some Hong Kong residents have been hoodwinked by the opposition camp and their foreign allies into supporting the anti-extradition campaign.
Commissioner's office of China's foreign ministry in HK urges U.S. to stop disseminating false remarks over HK law amendments - Xinhua
"We deplore and firmly oppose the U.S. disregard of international law and the basic norms governing international relations and its interference in Hong Kong affairs, which are China's domestic affairs," a spokesperson of the commissioner's office said in response to recent remarks by a spokesperson of the U.S. State Department over the law amendments.
Beijing Digs In on Hong Kong Extradition Bill - WSJ $$
In comments from officials and in state media on Monday, Beijing vowed sustained backing for the Hong Kong government's efforts to amend its extradition laws, which exclude mainland China. It attributed the mass protest—which organizers say brought more than one million people onto Hong Kong streets Sunday—to local dissidents colluding with foreign powers to incite public anger.
Hong Kong Leader Says She Won't Back Down on Bill That Provoked Huge Protest - The New York Times
"We were doing it, and we are still doing it, out of our clear conscience, and our commitment to Hong Kong," Ms. Lam told reporters in her first remarks about the demonstration...

"I have not received any instruction or mandate from Beijing to do this bill," she said.

Despite Ms. Lam's refusal to back down, organizers of the Sunday protest indicated they were not yet giving up and that they planned to continue demonstrations this week. They have also endorsed calls for labor strikes on Wednesday, when Hong Kong's legislature will resume consideration of the bill. A vote on the measure is expected on June 27, but opposition politicians say they fear the pro-Beijing camp could speed up the process.
Opinion | Hong Kong's Government May Cave In to China. Its People Will Not. - The New York Times
A Taiwanese official has said that the Hong Kong authorities have ignored three requests by Taiwan for the two governments to figure out together a special arrangement to handle the Chan case, bypassing the need for any radical legislative changes in Hong Kong. The Lam administration has also ignored narrow alternative approaches proposed by Hong Kong's top legal professionals...

Business people in Hong Kong have even more reason to fear the extradition bill today. It could both destabilize the city's business environment and expose them to reprisals or extortion by the Chinese authorities — especially if they have ties to the United States and the country's trade war with China continues to rev up.
Violence mars end of huge Hong Kong protest against China extradition - AFP
The march passed without incident.

But shortly after midnight violence flared as police moved to clear small groups of protesters who had vowed to stay overnight outside parliament.

Demonstrators hurled bottles built barricades as police moved in moments after the protest permit expired.

Officers used pepper spray hoses to push the crowds back, who shouted "We have a right to protest!"
Video of some of the clashes with police:
Taiwan's President tweeted her support:
---
2. US-China
Trump to CNBC: China will make a deal because 'they're going to have to'
"The China deal is going to work out. You know why? Because of tariffs," Trump told co-host Joe Kernen. "Right now, China is getting absolutely decimated by companies that are leaving China, going to other countries, including our own, because they don't want to pay the tariffs."
Comment: Trump also said he expects to meet Xi at the G-20
China stays silent on G20 Xi-Trump meeting, but says door open for talks - Reuters
peaking in Beijing at a daily news briefing, Foreign Ministry spokesman Geng Shuang again would not confirm such a meeting.

But Geng said China has noticed that recently the U.S. side has said many times it hopes to arrange a Xi-Trump meeting then.

"If there is concrete news on this, China will release it in a timely manner," Geng said.
China, US too intertwined to 'break up' despite trade war, Xi Jinping says in Russia | South China Morning Post
Speaking to businessmen and officials at the St Petersburg International Economic Forum on Friday, Xi, sitting with his Russian counterpart Vladimir Putin, said he believed disengagement would be dangerous and that his "friend", US President Donald Trump, would share the same view.

"There are some trade frictions between us and the US, but China and the US are closely intertwined, and we are each other's biggest investor and trade partner," he said...

"I can hardly imagine a complete decoupling between China and the US. This is not the case that I would like to see, and I don't think our American friends want to see it, and my friend [Donald] Trump wouldn't want to see it either."
Single source, take with a grain of salt, but is within expectations of how a meeting might occur - Donald Trump's G20 meeting with Xi Jinping in Osaka could again be a formal dinner, source says | South China Morning Post
A widely anticipated meeting between Chinese President Xi Jinping and US President Donald Trump at the end of June in Japan could be a formal face-to-face negotiation over dinner instead of a quick handshake and chat, a source who was briefed on the arrangement told the South China Morning Post.
"It would be largely a replay of the summit in Argentina last December," the source said.
China gears up to use rare-earth advantage - Global Times
A series of policies, including environmental enforcement and stricter export management aiming to regulate and upgrade the country's rare-earth industry, are expected to be rolled out soon, industry insiders said on Sunday, as China's top economic planner made a rare move by holding three meetings to solicit opinions from rare-earth industry regulators and businesses within just two days.

The move, which comes amid an escalating China-US trade war, was interpreted by many industry insiders as a sign of the country's determination to take full advantage of its "rare-earth card" to counter the US, which relies on China for its supply of the strategic resources. These policies might lead to a rare-earth price hike and also will regulate the nation's rare-earth supply.
June 10 Zhong Sheng on America talking about agreements while busily breaking them
US shutting doors will impede development of others - People's Daily - Zhong Sheng
A US official claimed on social media that "I want the United States to win through competition, not by blocking out currently more advanced technologies."

However, this message was quickly followed by a ban of the U.S. administration preventing a Chinese high-tech company from participating in the construction of U.S. telecommunication equipment, especially the 5G network in the disguise of "national security". The U.S. even added the Chinese company to an "Entity List" of export control.
The original - 关了自家的门,堵了大家的路(钟声)

That "US official" of course is President Trump, and this commentary quotes his tweet from February 21:

The Zhong Sheng series has repeatedly criticized Trump, even though it has not used his name. These obvious criticism of Trump is a marked shift in the propaganda.
So-called reciprocity from the mouth of US politicians never exists - People's Daily - Zhong Sheng
"We seek a relationship grounded in fairness, reciprocity, and respect for sovereignty." This is a beautiful story told by US Vice President Mike Pence, but in reality, the US is seeking its own interests regardless of the losses of others, as it believes in the "winner-takes-all" philosophy.
The original - 留下玫瑰,授人荆棘(钟声)
"五月荷 Wu Yue He" is back in the People's Daily, today's comment says the US is going against the tide of the times and will of the people...I believe that "五月荷 Wu Yue He" is the pen name for 吴绮敏 Wu Qimin, deputy director of the People's Daily International department.
Mnuchin Says Trade Talk With PBOC's Yi Gang Was Constructive - Bloomberg
Asked about China's currency on Saturday, he attributed its recent decline to market forces and the absence of intervention. "When you have intervention in a market for a long period of time and then they don't intervene, the market could view that as a desire to have the currency weaken," he said.
Comment: Damned if they do, damned if they don't? Seems a bit hypocritical and incoherent for the US to spend years telling China to stop manipulating its currency and then be upset when it stops manipulating its currency and the value moves in a direction the US does not like…and if China stopped manipulating the value through various means including capital control it could slide to 8 to the USD or lower.
The Chinese yuan is at its weakest level of the year - CNBC
The onshore yuan weakened to 6.9352 to the dollar in the morning from levels around 6.90 last week. The offshore yuan traded at 6.9538 against the dollar in the morning.
Former USTR Charlene Barshefsky on the obstacles to a US-China trade deal -Brookings
In this episode of Dollar & Sense, former United States Trade Representative Charlene Barshefsky joins David Dollar to discuss the history of the United States' economic engagement with China.
---
3. Huawei
Trump: Huawei issue could be part of a China trade deal - CNBC
Said the President in his CNBC call this morning
Some big tech firms cut employees' access to Huawei, muddying 5G rollout - Reuters
Chipmakers Intel Corp and Qualcomm Inc, mobile research firm InterDigital Wireless Inc and South Korean carrier LG Uplus have restricted employees from informal conversations with Huawei, the world's largest telecommunications equipment maker, the sources said.

Such discussions are a routine part of international meetings where engineers gather to set technical standards for communications technologies, including the next generation of mobile networks known as 5G.
Huawei to launch self-developed OS in Q3: sources - Global Times
Huawei is testing its own operating system, to be named "HongMeng OS" for the China market or "Oak OS" for the overseas market, which is likely to be launched in the third quarter of 2019, a source close to the matter told the Global Times on Friday.
Latin America resists US pressure to exclude Huawei | Financial Times $$
Ricardo Salinas, a media mogul close to Mr López Obrador in Mexico, said: "I have nothing but good things to say about Huawei. I think it's a disgrace what these Americans are doing to put them down."

Ernesto Piedras, head of the Competitive Intelligence Unit consultancy, said Mexico's telecoms networks were deeply dependent on Huawei. Mexico is dominated by América Móvil and US giant AT&T, which entered the market by buying local networks that "six years ago were totally Huawei".

"AT&T in Mexico has Chinese DNA," Mr Piedras said.
Huawei ban threatens U.S. national security, tech companies warn Trump administration - The Washington Post
U.S. technology companies have told the Commerce Department that the Trump administration's ban on selling to the Chinese tech giant Huawei could significantly harm their bottom lines and might damage their ability to develop new technological innovations, including those needed by the U.S. military.

The companies are making the claims in applications for licenses that would let them do business with Huawei after the prohibition goes into effect in August, according to people familiar with the licensing process.
Question: Have any of the executives of these firms been called in for tea in China and threatened if they do not lobby the us government against the Huawei ban? The execs are probably sympathetic and do not need to be coerced into wanting the Huawei decision to be reversed, but if there is a coercion campaign underway it should be disclosed.
Trump's acting budget chief seeks delay on Huawei ban - The Washington Post
In a letter to Vice President Pence and nine members of Congress, the office's acting director Russell T. Vought said the delay would give companies more time to comply with the ban, which is set to take effect in one year and one month.

If the delay is approved, the ban would take effect in three years and one month.
---
4. Protracted tech war 
US pressure prompts new list system - Global Times
China's National Development and Reform Commission is mulling establishing a national technological security management list system, the Xinhua News Agency reported. Detailed measures will be unveiled in the near future. 

This plan is clearly related to the recent announcement by the Ministry of Commerce of a non-reliable entity list. This is not only an initiative for China to strengthen its long-term institutional construction of economic security, but is of practical significance to counter US technical restrictions and supply cut-off to some Chinese high-tech enterprises...

The US claims that some foreign-funded enterprises will leave China and move to Southeast Asian countries. This is an oversimplified view. Making Southeast Asian countries the US barrier to contain China goes against the will of those countries. It is not only technically difficult, but will never be allowed by China.
Management list eyes mitigating risks in technological security - China Daily
Li Gang, director of the academic committee at the Chinese Academy of International Trade and Economic Cooperation, said the move is in response to the United States' crackdown on Chinese tech companies.

"The US has not only intensified screening and restrictions on China, but also blocked technology exports to Chinese companies. Therefore we need to be prepared for the possibility that the US may ban all high-tech product exports to China in the future," Li said.

"The new move will be a major step to strengthen controls over technological exports. It is necessary for China to set up export controls and management systems for certain products, especially for those advanced technological products in which we've gained a global edge. China needs to tighten regulations and prevent those exported products from being used to suppress and damage China's development as well as its national security," Li added.
Chinese state media calls new tech export controls a shield 'against certain countries' | South China Morning Post
State news agency Xinhua later said in a commentary the measure aimed to "safeguard the security of [China's] core and leading technologies, and to build a solid and safe defence shield … so we can guard against certain countries using China's own technologies to suppress our national development".

On Sunday, Communist Party mouthpiece People's Daily described the move as a "firewall" to protect China's efforts to be an innovative economy and develop advanced technologies in strategic areas.

"[The mechanism] does not mean China will stop opening up, nor will it slow down its external cooperation," the commentary said.
China Summons Tech Giants to Warn Against Cooperating With Trump Ban - The New York Times
The Chinese government this past week summoned major tech companies including Microsoft and Dell from the United States and Samsung of South Korea, to warn that they could face dire consequences if they cooperate with the Trump administration's ban on sales of key American technology to Chinese companies, according to people familiar with the meetings.

Held on Tuesday and Wednesday, the meetings came soon after Beijing's announcement that it was assembling a list of "unreliable" companies and individuals.
China publishes regulation on management of human genetic resources - Xinhua
The regulation aims to enhance protection of human genetic resources, promote proper use and tighten regulation and supervision, said a State Council statement on Monday.

The Chinese government will conduct surveys on human genetic resources and introduce a system to record and register major pedigrees in human genetics and those in specific regions, according to the regulation.

Foreign organizations and domestic institutions founded or controlled by foreign entities will have to work with Chinese partners if they need human genetic resources in China for scientific research, the document said.

Any act to make human genetic resources information open to the public or to provide such information to foreign countries should be recorded. Such an act must be subject to a security review if if might affect public health, national security or public interest.
---
5. Xi thought study outline published
CPC Central Committee issues circular on study outline of Xi Jinping thought - Xinhua
Study of the outline should be integrated into the education campaign themed "staying true to our founding mission" recently launched among Party members, according to the circular.

Study achievements of the thought should be translated into the practice of fulfilling duties and advancing causes, said the circular.
Study outline on Xi Jinping thought published - Xinhua
An outline for the study of Xi Jinping Thought on Socialism with Chinese Characteristics for a New Era has been published and distributed across China.

Compiled by the Publicity Department of the Communist Party of China Central Committee, the outline consists of 21 chapters and nearly 150,000 characters.

With a comprehensive and systematic exposition of the thought, the outline will help officials and the public better understand and grasp the basic principles, content and requirements of the thought.

It also serves as a study material for the education campaign themed "staying true to our founding mission" recently launched among all Party members.
中共中央发出关于印发《习近平新时代中国特色社会主义思想学习纲要》的通知--时政--人民网
为把学习贯彻习近平新时代中国特色社会主义思想进一步引向深入,根据党中央要求,中央宣传部组织编写了《习近平新时代中国特色社会主义思想学习纲要》(以下简称《纲要》)。党中央认为,《纲要》对习近平新时代中国特色社会主义思想作了全面系统阐述,有助于更好地理解把握这一思想的基本精神、基本内容、基本要求。党中央同意印发《纲要》(由中央宣传部统一印发),作为广大干部群众深入学习领会习近平新时代中国特色社会主义思想的重要辅助读物。
Perhaps in a bit of good news the book is neither small nor red: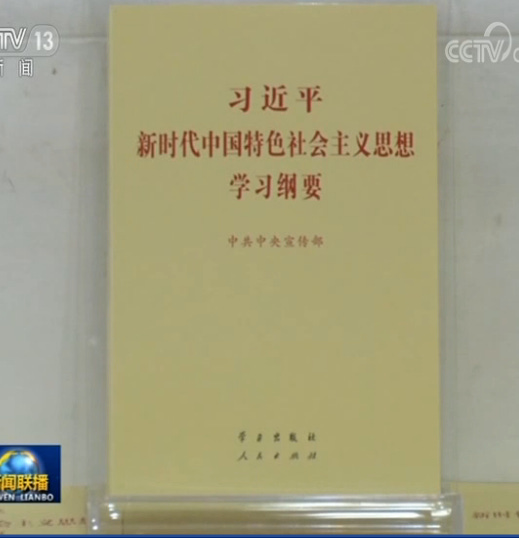 ---
6. The economy
China's Central Bank Chief Sees `Tremendous Room' to Aid Growth - Bloomberg
In an exclusive interview with Bloomberg in Beijing, People's Bank of China Governor Yi Gang also signaled that he's not wedded to defending the nation's currency at a particular level, and stressed that the value of the yuan should be set by market forces...

"We have plenty of room in interest rates, we have plenty of room in required reserve ratio rate, and also for the fiscal, monetary policy toolkit, I think the room for adjustment is tremendous," he said. Yi said the currency has been weaker recently due to "tremendous pressure" from the U.S. side but the impact will be temporary.

"A little bit of flexibility of renminbi is good for the Chinese economy and for the global economy because it provides an automatic stabilizer for the economy," he said. "The central bank of China is pretty much not intervening in the foreign-exchange market for a long time, and I hope that this situation will continue, not intervening."
China to boost funding support for projects as economy slows - Reuters
Local governments should use special bonds for major projects including highways, gas and power supply and railways, Xinhua state news agency said, citing a cabinet document.

That would help "increase effective investment, improve economic structure, stabilize aggregate demand and maintain sustained and healthy economic development", Xinhua said.
The document - 中共中央办公厅 国务院办公厅印发《关于做好地方政府专项债券发行及项目配套融资工作的通知》
China's forex reserves rise to $3.101 trillion in May - ECNS
China's foreign exchange reserves reached 3.101 trillion U.S. dollars at the end of May, up 0.2 percent from the end of April, according to Wang Chunying, spokesperson and chief economist at the State Administration of Foreign Exchange.
China's foreign trade up 4.1 pct in first five months - Xinhua
The European Union was China's largest trading partner in the period, with bilateral trade volume up 11.7 percent from one year earlier to 1.9 trillion yuan, followed by the ASEAN, up 9.4 percent to 1.63 trillion yuan, and the United States, down 9.6 percent to 1.42 trillion yuan.

Trade with countries participating in the Belt and Road Initiative totaled 3.49 trillion yuan, up 9 percent year on year, 4.9 percentage points higher than the overall pace, the GAC said, adding that the amount accounted for 28.8 percent of China's total trade volume, up 1.3 percentage points from the same period last year.
Chinese economy: China releases May trade data, exports and imports - CNBC
The larger trade surplus came as the country's dollar-denominated exports surprisingly increased last month, while imports came in worse than expected. China's General Administration of Customs said on Monday that exports in May inched up 1.1% year-on-year, while imports fell 8.5% during the same period.

Economists in the Reuters poll had forecast both exports and imports to fall 3.8% year-on-year in May.
China Copper Imports Drop as Weak Economic Outlook Hurts Demand - Bloomberg
China's imports of unwrought copper and products weakened in May as concerns over the global economic outlook weighed on sentiment and lower domestic prices made imports less attractive.
China exports of rare earths fell in May amid trade war with the US - CNBC
Data released on Monday by Chinese customs showed that China exported 3,639.5 metric tons of rare earths last month, down from 4,329 metric tons in April. That came as total exports from China in May unexpectedly rose 1.1%, while imports fell by a surprise 8.5% — taking the country's overall trade surplus significantly higher to $41.65 billion.
---
7. Reassurance on smaller banks
China says small bank risks manageable after takeover of troubled Baoshang - Reuters
"At present, small and mid-sized banks are operating smoothly, liquidity is relatively ample, and overall risks are fully manageable," the CBIRC said in a Q&A interview with the Financial News.

In a separate statement on Sunday, the PBOC said it will provide targeted liquidity support to small and mid-sized banks, after a meeting to discuss the stability of the interbank business.

Volatility in the interbank market has significantly eased, according to banks which participated in the meeting.
关于包商银行被接管后的最新进展 中国银保监会新闻发言人答《金融时报》记者问

Question: Some "此地无银三百两 there are not three hundred pieces of silver buried here", an idiom for "nothing to see here", from the regulators?
Regulator: Risks in smaller banks under control - China Daily
Although a few small and medium-sized banks failed to publish their annual reports on time, those were all special cases. Some of them are still in the middle of equity restructuring; some are preparing for listing on the stock exchange; and some have not yet completed audit procedures due to change of auditor, according to the regulator.

They have reported their situations to regulatory authorities, who will urge the agencies concerned to speed up the audit so that the banks will release their financial results as soon as possible, the China Banking and Insurance Regulatory Commission said in an interview with Financial News, a publication run by the People's Bank of China, the central bank.
金融委办公室召开会议 研究维护同业业务稳定工作_监管动态_中国金融新闻网
近日,金融委办公室召开会议,研究维护同业业务稳定工作。会上,参会银行表示,虽然前几天同业市场出现一些波动,但目前已经明显好转,下一步对其他中小银行开展的同业业务规模将保持稳定,自觉维护市场秩序。人民银行、银保监会、证监会强调,将继续支持中小银行健康发展,密切监测市场运行情况,严肃查处扰乱市场秩序的行为。人民银行将运用多种货币政策工具,保持金融市场流动性合理充裕,并对中小银行提供定向流动性支持。国家开发银行、6家大型国有商业银行、12家股份制银行以及北京银行、上海银行、江苏银行等参加会议。
---
8. An interesting look at law in China
Recording & Review Pt. 5: "Freedom and Privacy of Correspondence" – NPC Observer
An institute affiliated with China's top court reported in 2017 that using cellphones while driving was one of the main causes of traffic accidents in China....

To combat this problem, several provinces decided to lend the police a hand. They passed what we call "phone-search provisions": regulations that allow the police to inspect the communication records of motorists involved in accidents....

Granting the police such authority seems like a sensible enough policy. But is it legal?

The NPCSC Legislative Affairs Commission (LAC or Commission) did not think so. According to a March Southern Metropolis report, the Commission decided last year that the phone-search provisions "implicate the citizens' freedom and privacy of correspondence and have no basis in [national] law" [缺乏法律依据] and has asked the provinces to "correct" their rules...

Our discussion so far hopefully has made clear that Article 40 of the P.R.C. Constitution—IF faithfully implemented according the interpretations we have cited here—would operate as a significant constraint on government authority.
---
Business, Economy and Trade
China May Allow More Meat Imports to Fill Gap Left by Pig Fever - Bloomberg Beijing is preparing to allow more sources of imported meat in an effort to overcome potential pork shortages as African swine fever curbs domestic hog herds, according to the China Meat Association.
China Is Buying More and More Gold as the Trade War Drags On - Bloomberg The People's Bank of China increased its bullion reserves to 61.61 million ounces in May from 61.10 million a month earlier, according to data released on Monday. In tonnage terms that's a rise of 15.86 tons, after almost 58 tons of gold were added to the nation's stockpile in the five months to April.
Chinese, US finance chiefs find common ground on need to reform global tax rules | South China Morning Post Liu Kun says leaders must work together to tackle challenges of digital economy, rapid growth of information technology Also speaking at symposium during G20 meeting in Japan, Steve Mnuchin agrees a globally fair and modern international taxation system is needed
Tencent-backed WeBank Has No Listing Plans, Despite Being Approached for IPO Through its brief operating history, WeBank has been able to keep its average nonperforming loan (NPL) ratio at a relatively modest level of between 0.3% and 0.7% over the last three years, according its latest annual report. But the bank could be prepared to let the figure rise as high as 2%, a sharp increase over last year's 0.51%, as it expands and experiments with new lending channel
Politics and Law
中央纪委国家监委召开"不忘初心、牢记使命"主题教育动员部署会议——中央纪委国家监委网站 CCDI and NSC hold kick off meeting for the "staying true to our founding mission" educational campaign that kicked off June 1
Party Graft Watchdog Bypasses Bank Chief in Announcing New ICBC President - Caixin Global The appointment was announced by an official from the Central Commission for Discipline Inspection currently investigating ICBC, rather than by ICBC chief Chen Siqing, who would normally have made the announcement, a source close to the matter told Caixin. High-ranking bank executives told Caixin that the investigation into Gu, announced on Thursday, and Fu's appointment had both happened "very suddenly," and that "there were no signs" before the CCDI's announcements.
Former Top Newspaper Publisher Placed Under Investigation - Caixin Global Dai Zigeng, a deputy secretary of the Communist Party and vice chairman at state-owned financing platform Beijing Cultural Investment Development Group, was once head of the Beijing News, an outlet known for investigative journalism. He had also previously worked at the Communist Party-owned newspaper Guangming Daily for nearly 20 years, and only joined the investment platform in 2017. 北京文化投资发展集团公司党委副书记、副董事长、总经理戴自更接受纪律审查和监察调查
What international coverage of Tiananmen got wrong - Columbia Journalism Review This type of reporting — exposing a few Chinese pedestrians' discomfort in directly speaking about Tiananmen, or their "ignorance" of a photo known widely only in the West — shows only what international media already presumes: that censorship and surveillance are effective in an authoritarian country. It also puts innocent people in needless danger.
中央社院召开"马克思主义中国化:七十年回顾与展望"专题学术研讨会--中国统一战线新闻网--人民网 
Xi Focus: Xi stresses preserving heritage to retain cultural roots, safeguard soul of nation - Xinhua Since the 18th National Congress of the Communist Party of China (CPC), the CPC Central Committee with Comrade Xi Jinping at the core has made a series of important instructions and overall arrangements from the strategic height of retaining cultural roots and safeguarding the soul of the nation to promote the protection of cultural and natural heritage.
For China's Leading Investigative Reporter, Enough Is Enough - The New York Times Mr. Liu [Wanyong] was about the last person standing of a group of hard-hitting journalists who worked at places like Southern Weekly and Caixin, the standard bearers of truth-seeking journalism that ebbed and flowed before Mr. Xi came to power. The departure of Mr. Liu meant investigative journalism would never be the same, a social media account run by Chinese reporters declared. He was the pillar of the trade, it said, adding: "The most important figure in investigative journalism has disappeared." "If China wants to develop in a healthy, normal way, we must have a huge amount of media that can report justly," Mr. Liu said as he poured tea in his spartan new office at an asset management firm where he is tending to the company image.
Foreign and Defense Affairs
Xi to visit Kyrgyzstan, Tajikistan, attend SCO, CICA summits - Xinhua From June 12 to 14, Xi will pay a state visit to Kyrgyzstan and attend the 19th meeting of the Council of Heads of State of the Shanghai Cooperation Organization (SCO) to be held in the capital city of Bishkek, Spokesperson Lu Kang said in a statement. From June 14 to 16, Xi will attend the fifth summit of the Conference on Interaction and Confidence Building Measures in Asia (CICA) in Dushanbe, the capital city of Tajikistan, and pay a state visit to the country, Lu added.
尤权率中共代表团访问爱尔兰--中国统一战线新闻网--人民网 Ireland is getting a lot of CCP attention as Brexit unfolds...United Front Work Department head You Quan led a delegation to the country last week.
Ex-spy boss Dennis Richardson fears China Cold War - The Australian Former Defence secretary Dennis Richardson has warned of a "technological Cold War" ­between China and the West marked by the emergence of rival communication networks for 5G and beyond. Mr Richardson, a former ­director-general of ASIO and ­ambassador to Washington, said the consequences for Australia could be negative, with the country­ denied access to some of the best available technologies.
Most cyber attacks on China originate from U.S.: report - Xinhua In terms of Trojan and botnet activities, CNCERT found that 3.34 million computers on the Chinese mainland were controlled by more than 14,000 Trojan or botnet command and control servers (C&C servers) in the United States in 2018, up 90.8 percent from the C&C server number in 2017.
New radar system immune to 'radar killer' missiles - Global Times China's maritime early warning radar system is immune to "radar killer" missiles and is capable of detecting stealth aircraft, according to its developer in a recent interview with media.  The maritime radar system, developed by a team led by Chinese academician Liu Yongtan, can detect naval and aerial hostiles hundreds of kilometers away under any weather condition.
China willing to further pragmatic cooperation with CEECs: vice premier - Xinhua China is willing to work with the Central and Eastern European countries (CEECs) to broaden and deepen pragmatic cooperation, Vice Premier Hu Chunhua said Sunday. Hu made the remarks in a keynote speech delivered at the China-CEEC Cooperation Forum held in Ningbo, east China's Zhejiang Province.
China, Japan express willingness to enhance communication, cooperation - Xinhua Cai Qi, member of the Political Bureau of the Communist Party of China (CPC) Central Committee and secretary of the CPC Beijing Municipal Committee wrapped up a visit to Japan on Sunday, with both sides expressing willingness to maintain the good momentum of bilateral relations and further enhance cooperation and communication.
Australia seizes properties from Chinese national with Beijing's help - Reuters The Australian government has confiscated three properties from a Chinese national after a joint money-laundering investigation with China, police said on Saturday. The Melbourne real estate was owned by a 32-year-old Chinese national who had been using an assumed name and had relocated to the Caribbean, the Australian Federal Police (AFP) said in a statement on their website.
Taiwan
US releases photo of Taiwanese major general at Indo-Pacific military talks | South China Morning Post The US Pacific Marine Corps has released photos showing a Taiwanese major general and a flag with the island's emblem at an annual gathering of military leaders from the Indo-Pacific region
Tech and Media
For two hours, a large chunk of European mobile traffic was rerouted through China | ZDNet "Today's incident shows that the internet has not yet eradicated the problem of BGP route leaks," Madory said. "It also reveals that China Telecom, a major international carrier, has still implemented neither the basic routing safeguards necessary both to prevent propagation of routing leaks nor the processes and procedures necessary to detect and remediate them in a timely manner when they inevitably occur.
Yicai Global -Baidu to Make Health-Related Search Results Exclusive With Tens of Firms The contracts stipulate that these firms must withdraw their published data on other search engines within a month. The companies will lose their online traffic and income from Baidu if they do not give up other partners, so they must accept the deal, the executive added.
Foxconn: why the world's tech factory faces its biggest tests | Financial Times As he bids to lead Taiwan, Terry Gou must respond to challenges such as the US-China trade war and a shift to niche products
Tencent's 'PUBG Mobile' becomes top-earning global game | Financial Times $$ Tencent's battle-royale game PUBG Mobile has become the world's top grossing mobile title, according to analysts, raking in $146m last month to overtake the Chinese internet group's previous hit Honour of Kings.
Energy, Environment, Science and Health
China to promote end-of-life care services - Xinhua China has begun to pilot an end-of-life care program in Shanghai as well as over 70 other cities and municipal districts to promote such care services, according to the National Health Commission (NHC) at a press conference Monday.
Education
2019 gaokao points to focus on hi-tech future - People's Daily Online Every year at the end of June and the beginning of July, gaokao students complete their application forms for college or university. The People's Daily on Sunday released a list of some popular science majors this year. Unlike previous years when finance, management and insurance were regarded as the most promising career choices, majors in hi-tech fields such as automation, computer science, artificial intelligence (AI) and microelectronics topped the discussion this year.