"It might be the US Army who brought the epidemic to Wuhan"; China as the global force helping fight the epidemic; US-China relations approaching the brink?
Thanks for your patience yesterday. We are all sorted at home, everyone is fine and we have been stocking up for a while. It is terrifyingly surreal to watch how badly the US government has fumbled the preparations for the building COVID-19 storm, given how we have been so closely watching the outbreak in China that the CCP is now turning into a glorious victory while benevolently offering itself up as the key provider of public goods and knowledge to fight the epidemic in other countries.
As we have discussed previously large outbreaks in key economies that shut down much of the global economic system ex-China have more risk than opportunity for the PRC as it tries to restart its economy while preventing a new surge of infections inside China.
Meanwhile, the CCP continues to push its increasingly aggressive domestic and global propaganda campaign to sow doubt about the belief held by every serious person working on the outbreak that the virus originated in China. It is important to push back on that CCP propaganda, but it is also important not to sow the flames of racism, and I am very concerned that is what we are seeing from certain US politicians and media outlets. If Beijing would stop politicizing and propagandizing the origin issue and show a little more humility and responsibility for the outbreak than the counter-politicizing might [emphasis on might] lessen. But they will not.
In fact, wolf-warrior diplomat and Chinese Foreign Ministry spokesman Zhao Lijian today echoed an increasingly nasty strain of conspiracy propaganda allowed to circulate inside China on the heavily censored social media platforms: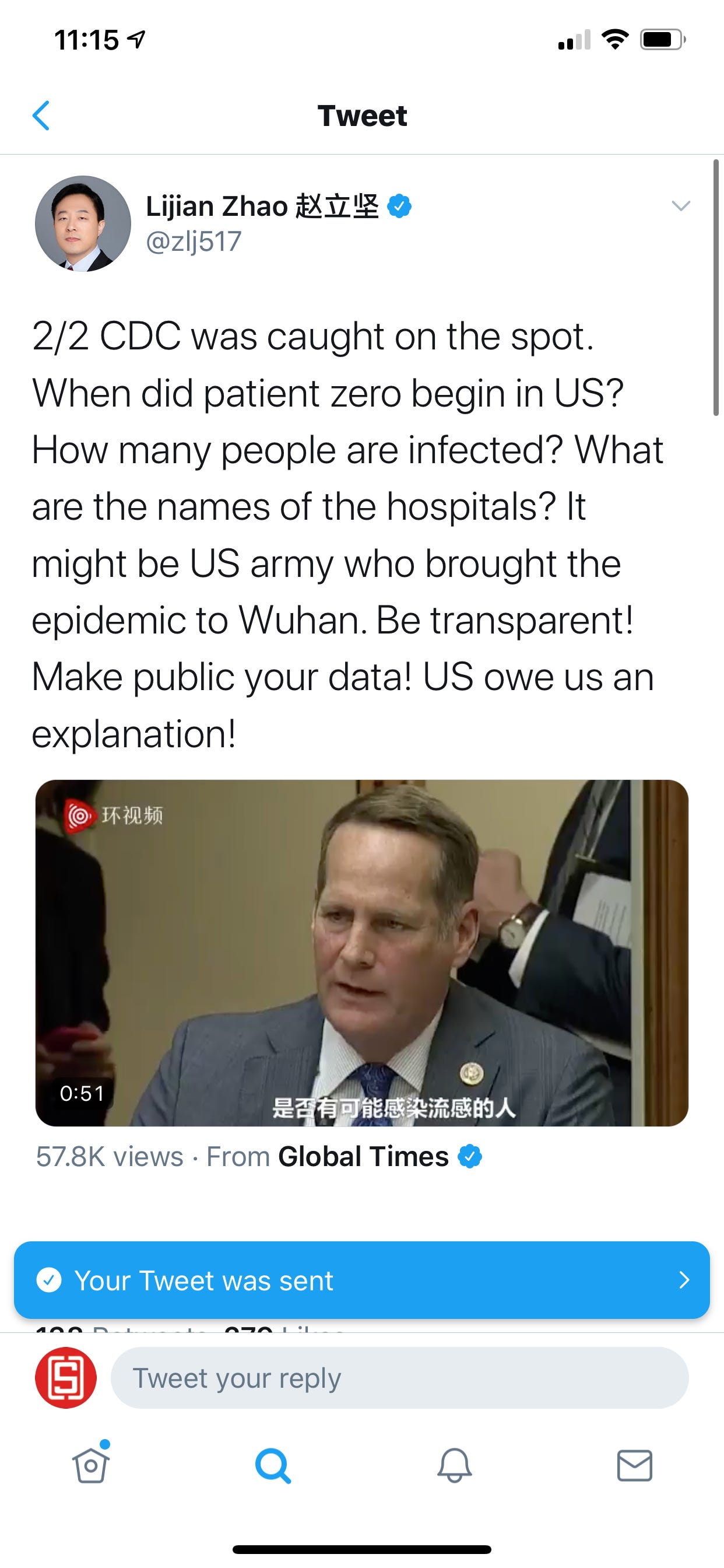 How much have people on both sides, and the financial markets, thought through what lies over the edge of the fast approaching precipice of the US-China relationship? Whatever temporary floor may have been put in place with the phase one trade deal in January has collapsed, and if the COVID-19 epidemic leads to mass casualties and sustained economic damage in the US then prepare for things to get really ugly.
Feel free to forward today's issue, and stay safe.
Thanks for reading.
---
1. China as the global force helping fight the epidemic
Xi talks with UN chief, calling for urgent int'l action against COVID-19 - Xinhua
Chinese President Xi Jinping on Thursday spoke with UN Secretary-General Antonio Guterres over phone, urging the international community to take urgent action in the fight against the COVID-19 epidemic...

Xi stressed that the Chinese people's hard work has won precious time for and made important contributions to other countries' epidemic prevention and control.

Noting that with COVID-19 having recently occured and spread in a number of countries, the situation is worrying, he urged the international community to take urgent action and carry out effective international cooperation in joint prevention and control, so as to form a strong concerted force to beat the disease.

China stands ready to share its experience with other countries, carry out joint research and development on drugs and vaccines, and offer as much assistance as it can to countries where the disease is spreading, Xi said...

The international community has to see humanity as one community with a shared future, look out for one another, and join hands to tackle risks and challenges and build a beautiful planet, said the Chinese president.
China to further contribute to global fight against COVID-19: official - Xinhua
The Chinese government will continue to encourage its enterprises to export face masks and other medical supplies to make its due contributions to the global fight against COVID-19, according to the official.
Italian ambassador to the EU: Italy needs Europe's help – POLITICO
Italy has already asked to activate the European Union Mechanism of Civil Protection for the supply of medical equipment for individual protection. But, unfortunately, not a single EU country responded to the Commission's call. Only China responded bilaterally. Certainly, this is not a good sign of European solidarity.
China sends experts, ventilators and masks to Italy | The Times
A seven-member team of experts is setting off for Italy with a donation of thousands of masks, protective suits and swabs for virus testing.

"The purpose of our trip is to take our experience in fighting the virus," Liang Zongan, a respiratory disease expert at West China Hospital in Sichuan, said. "There's no border when it comes to viruses."
China offers aid to Spain to fight coronavirus: Spanish government source - Reuters
The assistance from China would include medical equipment among other things, the source said, without providing further details.
China contributes to global fight against COVID-19 - Xinhua
China has been joining hands with the world to fight COVID-19 by donating medical supplies as well as sharing information and experience, among others.

Starting March 3, the Chinese Foreign Ministry, the National Health Commission and the Red Cross have held video conferences with health experts and government officials from Azerbaijan, Belarus, Georgia, Moldova, Armenia, Turkmenistan, Italy, and 10 Pacific island countries to share China's anti-epidemic experience.

China has published seven guidelines on COVID-19 diagnosis and treatment and six guidelines on prevention and control, all of which have been translated into multiple foreign languages...

Meanwhile, since March 7, China has sent a number of teams consisting of voluntary medical experts to Iran, Iraq, and Italy to support local epidemic prevention and control.

China has also provided some countries with detection kits and donated anti-epidemic supplies through the Red Cross and other channels.

As of March 11, the Chinese government has donated 1.1 million masks and other medical materials to the Republic of Korea, a batch of detection kits, 5,000 sets of protective suits and 100,000 masks to Japan, and 5,000 detection kits and 250,000 masks to Iran, as well as 12,000 detection kits to Pakistan.

While holding a phone talk on March 10 with Italian Foreign Minister Luigi Di Maio, Chinese State Councilor and Foreign Minister Wang Yi said that even though China still needs a large amount of medical supplies, China, despite its difficulties, stands ready to provide Italy with medical supplies and accelerate the export of supplies and equipment to meet Italy's urgent need.
---
2. The outbreak may be peaking but public opinion management is intensifying
Yicai Global - China Says Covid-19 Epidemic's Peak Has Passed
The Covid-19 epidemic in China has passed its peak as the number of new cases continues to decline and the contagion has remained generally at a low level, according to the National Health Commission.
Research finds huge impact of interventions on spread of Covid-19 | The Guardian
Sophisticated modelling of the outbreak suggests that China had 114,325 cases by the end of February 2020, a figure that would have been 67 times higher without interventions such as early detection, isolation of the infected, and travel restrictions.

But if the interventions could have been brought in a week earlier, 66% fewer people would have been infected, the analysis found. The same measures brought in three weeks earlier could have reduced cases by 95%.
Is this a sign they are preparing to reopen the schools? - China releases guidelines on COVID-19 prevention, control in schools - Xinhua
China has released a series of guidelines on the novel coronavirus disease (COVID-19) prevention and control in kindergartens, primary and middle schools and higher education institutions, according to China's Ministry of Education (MOE).

The guidelines cover basic knowledge of the virus, the construction of schools' epidemic prevention and control systems and the epidemic prevention and control work in schools before and after reopening.
北京市教委回应"4月份开学":系谣言 - 综合 - 新京报网
The Beijing Commission of Education said it is just a rumor that schools in the city will reopen next month. "The date to begin new term in Beijing still depends on the development of the virus situation," it said.
Remember, my three markers that China thinks they really have won this fight are:
Xi visits Wuhan.
Schools reopen
Dates are announced for the NPC and CPPCC meetings are announced

So far only the first one has happened.
I am hearing that foreign teachers have been told to come back to Shanghai at least.
Southern Weekly story detailing the heroism doctors at the Wuhan Central Hospital in sacrificing themselves in fighting the disease and trying to fight past censorship to warn the world about it in December and January
Whistling Against Deception | China Media Project
The Gong Jingqi piece is one of the strongest to appear to date in the Chinese media, and it paints a damning picture of how the signs were wilfully ignored by officials at the start of the outbreak, when more might have been done. During her reprimand, Ai Fen is told by the hospital disciplinary official: "When we go out to take part in meetings we can't even raise our heads. This or that director criticizes us and talks about how our hospital has that Ai Fen. As the head of the emergency unit at Wuhan Central Hospital you are a professional. How can you go and stir up a rumor like this without reason, without any organizational discipline?"

The story was called, "The One Who Handed Out the Whistles," a reference to Ai Fen's insistence in her interview that she is not a "whistleblower," but that her sharing of the original diagnostic report had enabled others, including Li Wenliang, to blow the whistle...

The article was shared feverishly on social media, and just as feverishly expunged by the authorities...

A very brief portion of the People feature story is translated below, followed by the Chinese original in its entirety.
Chinese Evade Social Media Censors to Repost Doctor's Banned Virus Essay - RFA
China's tightly restricted internet went into overdrive in a bid to ensure that anyone who wanted to read it still could, with people translating it into English and braille, distorting and handwriting the text or setting the characters vertically rather than horizontally to evade automatic detection of its key phrases.
Opinion: Thank the Government for Controlling the Virus? No, They Should Be Thanking Us - Caixin
On Sunday, well-known author Fang Fang posted a blog on Caixin's Chinese-language website lambasting the "arrogance" of top government officials in the central city of Wuhan, after they announced plans to roll out so-called "gratitude education" to make sure local residents properly thank the Communist Party for controlling the coronavirus epidemic that has so far killed nearly 2,500 people in the city, according to official figures.

Fang's article argues that rather than soliciting praise from their citizens, Chinese officials should thank the country's medical workers, sickened patients, and bereaved families for their self-sacrifice, restraint, and cooperation amid a grave human tragedy.
Coronavirus: Hubei city reopens for business, then closes again 30 minutes later | South China Morning Post
At 8.30am on Wednesday, the government of Qianjiang – which lies about 150km (90 miles) east of Wuhan, the capital of Hubei province – said that all restrictions on the movement of people and traffic would be lifted at 10am. They were.

Then, at 10.30am, they were reinstated.
Wuhan sacks officials after pork deliveries are tipped into street from back of rubbish truck | South China Morning Post
Residents in the Yuanlin community of Qingshan district were outraged when the pork they bought from government stores arrived in the vehicle on Wednesday.

The meat, packed in plastic bags containing 1,000 portions, was tipped onto the ground and then handed out to customers, according to residents who complained about tainted food on Weibo, China's Twitter-like microblogging service.

In one widely shared photo, the bags were shown being dumped from a battered and dirty truck onto a large plastic sheet on the ground. In another, several workers stepped onto the sheet to count the bags.
---
3. The economy
Gov't vows to stabilize foreign trade - China Daily
China will work to shorten the negative list on foreign investment and encourage financial institutions to increase foreign trade loans to cope with the impact of the novel coronavirus epidemic and keep steady progress in foreign trade and investment.

This was decided at the State Council's executive meeting chaired by Premier Li Keqiang on Tuesday.

"Keeping foreign trade and foreign investment stable is vitally important as the Chinese economy is deeply integrated into the world economy. Given the severe impact of the epidemic on foreign trade, we must implement targeted policies to arrest the slide in foreign trade and foreign investment, to forestall damage to the wider economy," Li said.
China vows more support for coronavirus-hit foreign trade - Xinhua
"In the short run, the impact (of the COVID-19) on global economy and supply chains is inevitable, and the international economic and trade growth will be pressured, which will affect the business resumption of China's foreign trade firms and their ability to secure new orders," Li Xingqian, director of foreign trade department under the Ministry of Commerce, told an online news briefing...

The country will further improve its export tax rebate policies, increase foreign trade loans and encourage insurance companies to offer short-term export credit insurance services while lowering the premium rates, Li said.

He said the recovery of China's business operations is accelerating, but the external uncertainty is growing as the downward pressure on global economic and trade development is increasing.
China's Industrial Reboot Runs Into the Global Coronavirus Shock - Bloomberg
Economists are tracking energy consumption, poring over pollution charts, and studying data on traffic movements to discern how quickly the world's second-largest economy can get back to business. Bloomberg Economics has estimated that the economy was operating at as much as 80% of normal capacity as of March 6.
China sends teams to inspect work resumption progress - Xinhua
The 29 teams will conduct the research in mid-March, according to a circular issued by the general offices of the Communist Party of China Central Committee and the State Council Thursday.

The move aims to help the regions solve difficulties and tackle problems during the work resumption process, and to help achieve the goals and tasks of economic and social development of the year, said the circular.
Halting China's Economy Was Hard. Restarting It Is Harder. - The New York Times
Gaode, an online mapping and traffic monitoring service, estimated on Wednesday that nearly half of the labor force in big coastal cities was once again commuting to workplaces. In addition, many white-collar workers are working from home.
Mocking U.S. Bear Market, China Stock Traders See Only Gains - Bloomberg
As one commentator wrote on Weibo: "U.S. stock futures are nearing the circuit breaker again -- where are our China bulls? Come out and show them what we're made of with a big surge today! Lets give them something to fume about!"

Such nationalist comments aren't unusual on social media in China (or in the U.S., where President Donald Trump has tweeted about the stock market dozens of times). But professional investors are also starting to adhere to the view that the resilience of Chinese financial markets reflect a kind of collective renaissance.
China automakers seek government relief after February sales dive 79% on coronavirus - Reuters
Their wish list includes cuts to the purchase tax on smaller vehicles, measures to support sales in rural markets and an easing of car emission requirements, the China Association of Automobile Manufacturers (CAAM) said.
China Signals Reserve Ratio Cuts Coming Soon For Virus Fight - Bloomberg
The State Council meeting chaired by Premier Li Keqiang called for reserve requirement ratio cuts "soon" for banks participating in a program to secure funding for small and medium-sized companies, according to a statement released by the government. Additional cuts in the reserve ratios for joint-stock banks were also pledged at the meeting.
---
4. The China connection to Iran's epidemic disaster
Strategic Partnership With China Lies at Root of Iran's Coronavirus Outbreak - WSJ $$
Iranian officials trace the origins of the country's coronavirus epidemic to the holy city of Qom, home to dozens of seminaries and religious shrines—but also a number of Chinese-backed infrastructure projects built by scores of workers and technicians from China.

This critical link to China, centered in Qom, has helped keep Iran's economy alive in the face of American sanctions. ..

Iranian health officials have said the source of the outbreak is likely either Chinese workers in Qom or an Iranian businessman from Qom who travelled to China. Iranian officials haven't identified the businessman by name but say he travelled from China to Qom through an indirect flight...

Some companies that supply testing kits or respiratory equipment, such as ventilators, have stopped delivering to Tehran because their banks refuse to carry the payments, Iranian distributors said. In September, the U.S. imposed sanctions on Iran's central bank.

Despite Iran's own struggle to contain the virus, many Iranians are directing their anger at China for bringing the illness to their country in the first place.
China urges relevant parties to immediately lift unilateral sanctions against Iran: diplomat - Xinhua
Liu Hua, Special Representative for Human Rights of the Chinese Foreign Ministry, told the on-going 43rd session of the UN Human Rights Council on Monday that imposing external mechanisms without the consent of the countries concerned is not conducive to dialogue and cooperation, and does not play a role in promoting and protecting human rights...

"China is providing support to the Iranian side within its capacity, including providing testing kits and other anti-epidemic materials, and sending a team of volunteer experts to help Iran fight the epidemic. China also calls on all parties to strengthen cooperation with Iran on epidemic prevention," Liu said.
---
5. Policies to deal with arrivals from overseas
Beijing reports six imported COVID-19 cases - Xinhua
Five of the confirmed cases are from Italy and one is from the United States, according to the Beijing Municipal Health Commission.
China to strengthen coronavirus prevention at border, aid overseas fight - Xinhua
A leading group of China's COVID-19 response Thursday called for more targeted prevention measures to stem the cross-border spread of the novel coronavirus and promised help for overseas fight against the pandemic.

The group, led by Premier Li Keqiang, called for efforts to closely follow the overseas situation of the pandemic, and to take into consideration the latest assessment made by the World Health Organization and international practice, according to a meeting of the group held Thursday.

More precise and targeted measures should be taken to guard against import and export of cases of infection, according to the meeting
Beijing designates exhibition center as temporary transit point for travelers - Global Times
Beijing has designated the new China International Exhibition Center in the suburb of Shunyi as a temporary transit point for travelers from epidemic-hit countries, as the capital city faces mounting pressure to contain the novel coronavirus (COVID-19) outbreak due to the surge in imported cases.

Low-risk travelers without fever and cough symptoms will use this center as a transit point to be escorted back to their respective home provinces and municipalities, Pang Xinghuo, vice director of Beijing's Center of Disease Control, told a press conference on Thursday.
Beijing airport sets up special docking area to prevent imported cases- China.org.cn
Beijing Capital International Airport has sectioned off a docking and screening area for planes and passengers from countries hit hard by the COVID-19 epidemic, Chen Bei, deputy secretary-general of the Beijing municipal government, said at a press conference on Tuesday.

Passengers would be checked for their health and body temperatures, get their information registered, and go through transfer procedures in the separate all-in-one area T3-D.
Shanghai expands list of countries badly hit by coronavirus - SHINE News
To the list of South Korea, Japan, Italy and Iran have been added France, Spain, Germany and the United States.

Everyone who has been in any of the eight countries on the new list in the 14 days prior to their arrival in Shanghai must undergo a 14-day quarantine at home or in a designated place, the city government said on late Thursday.
浙江6名华侨入境隐瞒症状,被立案调查!_媒体_澎湃新闻-The Paper
Six people in Zhejiang were put under criminal investigation for similar reason: They failed to report their fever symptoms when they entered China.
郑州男子隐瞒境外行程后确诊,警方立案!_媒体_澎湃新闻-The Paper
A man tested positive of the coronavirus in Henan was put under criminal investigation for failing to report his trip to Italy, and lied about it when asked by local police.
China's Coronavirus War Targets a New Threat: Foreigners - WSJ $$
And on Wednesday, Beijing officials ordered anyone entering China—even from countries with nonserious virus conditions—to confine themselves at home for 14 days, effective immediately. Short-term travelers entering China will be required to stay in designated hotels and to submit to nucleic acid testing, and are forbidden from leaving the hotel until test results are obtained....

On the ground, foreigners have sometimes been singled out. In a Beijing neighborhood near the Forbidden City, local government workers delivered a message to two Americans living in adjacent bungalows last week, translated into English and shown to them on a cellphone: "Don't have too much contact with foreign friends to avoid spreading the disease." The workers didn't contact their Chinese neighbors.
---
6. US-China propaganda fight gets nastier
Chinese officials push conspiracy theory coronavirus originated abroad | The Guardian
One of the most popular topics on the Chinese microblog Weibo on Thursday was a one-minute clip of a US congressional hearing this week on how the country was dealing with the coronavirus...

"The US has finally acknowledged that among those who had died of the influenza previously were cases of the coronavirus. The true source of the virus was the US!" one commentator said. "The US owes the world, especially China, an apology," another said. "American coronavirus," one wrote.
Trump's national security adviser says China 'covered up' coronavirus | TheHill
White House national security adviser Robert O'Brien on Wednesday criticized China's response to the coronavirus as a cover-up and said that Beijing cost the global community two months to respond to the outbreak.

"Unfortunately, rather than use best practices, this outbreak in Wuhan was covered up," O'Brien said in remarks at the Heritage Foundation. "There's lots of open source reporting from Chinese nationals that the doctors involved were either silenced or put in isolation … so the word of this virus could not get out."
Trump Latest: Retweet of 'China Virus' Fuels Tension With Beijing - Bloomberg
As the disease formally designated as COVID-19 expands across the U.S., Trump and other top Republicans have sought to highlight the outbreak's foreign origin and even use it to justify curbs on immigration -- including a wall on the southern border with Mexico. On Tuesday, Trump retweeted supporter Charlie Kirk calling it the "China virus" -- with the president agreeing "we need the Wall more than ever!"
Washington's blame game hides US prevention failure - Global Times
With its inability to fight the epidemic, the US political circle has shifted blame abroad, particularly on China. US National Security Adviser Robert O'Brien has launched the latest attack on China, claiming that China initially "covered up" the epidemic, which cost the international community two months.

This is by far the most shameless remark in Washington trying to shift blame regarding the epidemic..

There is no point reasoning with the politicians of the US. We Chinese should do our own thing well. We should consolidate the achievements of epidemic prevention, reflect on the situation, cooperate with the world, and support the foreign countries that need our help. The novel coronavirus is a common enemy of all mankind. We don't need to be distracted by America's spats at this time. We should make our own contribution to the global fight against the epidemic.
Commentary: Blood and sweat in China's anti-virus war to be glorified in world cause - Xinhua
The war against the virus is a test of humanity. Unfortunately, it also mirrors some ugly faces. Since the outbreak, some Western media and politicians' smear campaign against China's response to the outbreak on ideological grounds has never stopped. Among these irresponsible and ill-advised comments was U.S. Secretary of State Mike Pompeo's rhetoric dubbing COVID-19 as "Wuhan coronavirus." Such racism and xenophobia are totally unbecoming of a national spokesperson. Turning a blind eye to science, such politicians have only left listeners in the rest of the world shaking their heads.
Inside China's high-stakes campaign to smear the United States over coronavirus | Fox News
Also peculiar is that Beijing -- which is normally quick to censor news -- has refused to step in as a wave of anti-American conspiracy theories flood the internet. Among the rumors is that the U.S. created the coronavirus to make China look bad as well as one that accuses the government of covering up thousands of deaths by classifying them as the regular flu.

"It's more than just some disinformation or an official narrative," Xiao Qiang, an adjunct professor at the University of California at Berkeley's Schools of Information, told The Washington Post. "It's an orchestrated, all-out campaign by the Chinese government through every channel at a level you rarely see. It's a counteroffensive."
Political virus puts US behind the curve of infection control - Global Times
As both Chinese and foreign experts are trying to identify the origin of the COVID-19, the term "Wuhan virus" reflects Pompeo's ignorance. He is showing off his contempt for science and trying to spread a political virus...

The WHO has declared the COVID-19 a pandemic, which reflects the severity of the situation. China has done its best to contain the coronavirus. This being the case, the US should start fighting the epidemic as quickly as possible. And politicians like Pompeo can make contributions as well, if they can put on masks, shut their mouths, and stop spreading political viruses everywhere.
A taste of what is in some US media - ChiCom Dictator Does PR in Wuhan - The Rush Limbaugh Show [perhaps 20 million weekly listeners]
He's got his blue mask, he's talking about what a great job the ChiComs have done and then — he doesn't say this himself. He lets it be known how offended they are that people are calling it the Wuhan virus, even though that's what it is. The thing started there. Wuhan, by the way, is a city of about 11 million people in China, and it's a fairly cosmopolitan place.
CDC director rejects label 'Chinese virus' after Trump, McCarthy tweets - The Washington Post
Trump on Tuesday shared a tweet advocating for his U.S.-Mexico border wall as a way to protect America against the "China Virus." Adding his own commentary, Trump wrote, "Going up fast. We need the Wall more than ever!"

That prompted Democratic presidential candidate Joe Biden to slam the president's comments as racist. "A wall won't stop a virus. Racism won't stop a virus. Do your job," the former vice president tweeted.

House Minority Leader Kevin McCarthy (R-Calif.) referred to the coronavirus on Twitter as the "Chinese coronavirus."
Asian-American leaders decry racism amid global pandemic - AP
Running stock images of Chinatowns and Asian people wearing face masks with coronavirus stories, as well as using the phrases "China virus" or "Wuhan virus" aren't reflective of the current pandemic, which has hit Italy particularly hard, said Elisa Choi, who heads the Massachusetts chapter of the American College of Physicians.
王俊生教授:美国的区别对待无非再次表明他们戴着有色眼镜看待中国
Wang Junsheng, a research fellow with CASS wrote that the fact US doing nothing to stop tourists from Italy while issuing travel ban on China in early days demonstrates the US racism and cold-war bias against China and Chinese people.
Comment: Wang was a visiting scholar at the Atlantic Council in 2018, and I hear he was denied US visa last year.
---
7. More US-China
U.S. lawmakers seek to curb Huawei's access to U.S. banks: document - Reuters
"It is time for the Trump administration to take swift and forceful action to block Huawei from accessing the U.S. financial system," Schumer said in a statement, adding that allowing China to dominate global 5G networks through Huawei poses a threat to national security. Huawei did not respond to a request comment.
Gallagher, Cotton, and Colleagues Introduce Bill to Freeze Huawei from U.S. Financial System | Congressman Mike Gallagher
Rep. Mike Gallagher (R-WI) and Senator Tom Cotton (R-AR), along with a bipartisan group of colleagues, today introduced the Neutralizing Emerging Threats from Wireless OEMs Receiving direction from Kleptocracies and Surveillance states (NETWORKS) Act, companion bills that would add foreign companies producing 5G technology, like Huawei, to the U.S. Treasury Department's Specially Designated Nationals (SDN) List should they engage in economic or industrial espionage or sanctions violations. Placing a company on the SDN List effectively freezes them from accessing the U.S. financial system and is one of the most effective tools the Treasury Department has to combat national security threats. The SDN List has previously been used against malign actors such as terrorist groups, Russian oligarchs, Iranian banks, and drug  traffickers. The House bill was co-led by Reps. Ruben Gallego (D-AZ), Liz Cheney (R-WY), Chrissy Houlahan (D-PA), and the Senate bill was co-led by Senators Chuck Schumer (D-NY), Rick Scott (R-FL), and Chris Van Hollen (D-MD).
U.S. again postpones high-level meeting on Huawei and China: sources - Reuters
The cabinet-level meeting had been set for Feb. 28 but was put off. Reuters was unable to determine when the meeting would take place. Commerce Secretary Wilbur Ross, Defense Secretary Mark Esper, Secretary of State Mike Pompeo, and Treasury Secretary Steve Mnuchin are expected to attend the meeting, the people said
U.S. Upbraids China Over Human Rights - WSJ $$
Secretary of State Mike Pompeo singled out China's treatment of religious minorities as one of the world's worst examples of abuse as he presented the State Department's annual report on human rights on Wednesday.

The report said that China's Communist Party, or CCP, has detained over a million Uighurs, ethnic Kazakhs, Kyrgyz, and other Muslims in internment camps designed to erase their religious and ethnic identities, under the pretext of fighting terrorism.

"The CCP's record in Xinjiang is the stain of the century," he said, reiterating comments he made last year. "It tries to hide what it's doing by intimidating journalists."
The report - 2019 Country Reports on Human Rights Practices: China (Includes Hong Kong, Macau, and Tibet)
China slams US for warship sail-by in disputed waters - AFP
The USS McCampbell missile destroyer sailed near the Paracel Islands on Tuesday without authorisation, according to the People's Liberation Army.
Once again a CCP propaganda organ runs content containing threats to cut off exports of medical supplies to the US - US warned not to squeeze Huawei - Global Times
The US move to restrict normal sales of US products to Huawei may backfire, as China could ban the export of face masks and other medical gear to America which are in acute shortage due to the rapid spread of the coronavirus, a Chinese analyst said on Wednesday.
Coronavirus Spurs U.S. Efforts to End China's Chokehold on Drugs - The New York Times
The administration has been preparing an executive order, which could be released in the coming days, that would close loopholes allowing the government to purchase pharmaceuticals, face masks, ventilators and other medical products from foreign countries. The hope is that increasing government demand for American-made drugs and medical products will provide an incentive for companies to make their products in the United States, rather than China.
Tom Cotton: Coronavirus Outbreak Is 'Moment of Reckoning' Between U.S. and China - Breitbart
"We are now largely dependent on China having outsourced so much of our pharmaceutical manufacturing for basic pharmaceutical ingredients, like Tylenol or Advil," Cotton stated. "They feel empowered to threaten our people if we hurt their feelings, if we extend the travel ban. So we have to have the immediate response to the Wuhan coronavirus, but this is a moment of reckoning in which we will have a far-reaching reevaluation of our relationship with China."
Tom Cotton: It's time to hold China 'accountable' for the coronavirus - Business Insider
"I have every confidence America will once again marshal the resolve, toughness, and genius of our people to overcome the serious threat to our health and well-being posed by the Wuhan coronavirus," Cotton said in a statement on Thursday.

"We will emerge stronger from this challenge, we will hold accountable those who inflicted it on the world, and we will prosper in the new day," he added.
Trump signs law to bar U.S. rural carriers from using Huawei network equipment - Reuters
U.S. President Donald Trump signed legislation on Thursday to bars the use of U.S. subsidies by carriers to purchase network equipment from Huawei Technologies and other companies deemed a national security threat.
America's national security machine stares down a viral threat - POLITICO
one of the biggest ongoing concerns is that authoritarian countries like China, Iran, and North Korea are not truthfully reporting the number of cases inside their borders, leading to potentially inaccurate data that could skew the overall threat picture and dramatically affect worldwide preparedness..

America's spy agencies almost certainly see an opportunity to exploit the crisis to recruit new human sources in China and Iran in particular, intelligence veterans said, particularly given the bubbling anger in those societies over their governments' mishandling of the epidemic.
Hong Kong hits back at US report on 'police brutality', saying city has been dealing with unprecedented protest violence | South China Morning Post
Hong Kong has hit back at a US government report that highlighted allegations of "police brutality" and other human rights issues, stressing that the city's embattled police force has been dealing with unprecedented protest violence.

US bill would bar goods from Xinjiang, classifying them the product of forced labour by Uygurs | South China Morning Post
The act, which adds to the growing pile of bills in the current Congress taking Beijing to task on its human rights record, would require companies that work with Xinjiang-based suppliers to provide convincing evidence that their goods were not produced by involuntary workers.
Xinjiang: Chairs Release New Legislation & Report on Global Supply Chains and Forced Labor | Congressional-Executive Commission on China
U.S. Representative James McGovern (D-MA) and U.S. Senator Marco Rubio (R-FL), the Chair and Cochair, respectively, of the bipartisan and bicameral Congressional-Executive Commission on China, held a roundtable event today to examine the impact of Chinese government-sponsored forced labor in and from the Xinjiang Uyghur Autonomous Region (XUAR) on global supply chains as well as U.S. and international consumers.
---
8. Bytedance and its TikTok global efforts
TikTok Owner Taps Two Executives to Run Its China Business - WSJ $$
Zhang Nan, chief executive of Douyin—China's domestic version of TikTok—will become chief executive of China operations, Bytedance said Thursday. Zhang Lidong, senior vice president of Bytedance, will take over as chairman of China operations.

Zhang Yiming will continue to serve as global chief executive of Bytedance, focused on long-term strategies and building up the management team around the world, the company said. The three Zhangs aren't related.
TikTok to launch Transparency Center for moderation and data practices - Newsroom | TikTok
This new facility in our LA office will provide outside experts an opportunity to directly view how our teams at TikTok go about the day-to-day challenging, but critically important, work of moderating content on the platform.

Through this direct observation of our Trust & Safety practices, experts will get a chance to evaluate our moderation systems, processes and policies in a holistic manner.
Comment: Borrowing from the Huawei UK playbook?
U.S. senators seek to ban federal employees from using TikTok on their phones - Reuters
Two Republican senators on Thursday introduced a bill aimed at banning federal employees from using Chinese social media app TikTok on their government-issued phones, amid growing national security concerns around the collection and sharing of data on U.S. users with China's government.
TikTok owner ByteDance scores video game hit in Japan, sharpening rivalry with Tencent | South China Morning Post
China's ByteDance, the world's most valuable start-up, has scored a video game hit in Japan with martial arts-themed Combat of Hero, as the owner of popular app TikTok sharpens its rivalry with Tencent Holdings.

The casual mobile game, which was published by ByteDance-owned Ohayoo studio in Japan last December, has been the most downloaded free iOS title in the market for four consecutive days since March 7, according to data from apps analytics firm App Annie.
Bytedance granted first game license from Chinese regulators · TechNode
After taking a large share of the social media and online advertising markets dominated by Tencent, Bytedance is now ready to compete with the established Chinese internet giant in the gaming sector.
---
Business, Economy and Trade
Shenzhen Stock Exchange Gets New Communist Party Chief - Caixin Wang Jianjun, the bourse's president, will be promoted to its party secretary, according to a statement posted on the exchange's website Wednesday. Caixin reported in January that Wang will also be named the exchange's new chairman
PBOC to Become Bank of Jinzhou Biggest Shareholder in Latest Bailout - Caixin The state-backed bailout of troubled Bank of Jinzhou Co. Ltd. has taken another step forward with two government-owned entities, one controlled by the central bank, agreeing to inject nearly 12.1 billion yuan ($1.7 billion) into the Hong Kong-listed company through private placements that will make them the lender's biggest shareholders.
Coronavirus Latest: Global Mask Shortage May Get Worse - Bloomberg The dependence on China and a few other countries for masks has some calling for a rethink of supply chains. The World Medical Association, which represents physicians, wants governments to establish factories in major markets like the European Union and the U.S. to ensure adequate supply of critical drugs, vaccines and other medical necessities.

Comment: In the last 24 hours we have accepted offers from a couple of Chinese friends to send us masks. Masks are now easy to buy in China
Supply Chain Jigsaw - MacroPolo Today computing power and alternative energy are driving another revolution, yielding a new set of commodity-like products that will transform the global economy and reorganize production. To explore how and where this future will be built, delve into the supply chains of these key products that could determine how we move, how we live, and how we work
Over 100 Homebuilders Go Bust in China as Virus Strains Deepen - Bloomberg With lockdowns across the world's most-populous nation entering their third month, smaller home builders are being pushed to the brink because they can't get enough money from pre-sales of apartments to cover their costs. In the first two months of this year, around 105 real estate firms issued bankruptcy filing statements, after almost 500 collapses in 2019, data compiled by Bloomberg show.
Politics and Law
武汉市委原常委、秘书长蔡杰被决定逮捕 Cai Jie, former chief of staff at the Wuhan CCP committee is formally arrested, the Hubei CCDI announced Wednesday. He is charged with abusing of power and taking bribes. // Cai was put under investigation in August last year. This seems unrelated to the coronavirus.
Chinese Social Justice Activist 'Disappeared' | Human Rights Watch Li Qiaochu, a Beijing-based women's rights and labor activist, tweeted on January 24 about the Chinese authorities' attempted coverup of the COVID-19 outbreak: "Wish everyone a peaceful [Lunar] New Year. Let's remember the pain… and the lives that left us without even being tallied.… Let's use civic engagement to pursue those responsible for trampling lives." Early on the morning of February 16, Beijing authorities took Li into custody.
'Our Daily Media Consumption Is Completely Different' | ChinaFile Conversation What has arguing with my cousins taught me about tough political discussions with family in China? Listen, listen, and listen. Don't act condescending. Acknowledge their logic—their opinions are based on the information available to them. Point out the bias and limits of that information. Present facts rather than arguing that certain media or people uphold the absolute truth. Present human stories, including one's own, to which they can relate. In other words, do what I do daily as a journalist covering the U.S. and China. To fight against biased news reports dehumanizing people from both sides, we have to put human faces into the story.
Foreign and Defense Affairs
中国开始援助外国后,一些反华分子坐不住了 Global Times called Donald Clarke of GWU and Valérie Niquet of Fondation pour la Recherche Stratégique "anti-China elements 反华分子" after they challenged China's propaganda narrative that boasts China's "success" in handling the crisis. // Comment: Hearing yours truly is also starting to be referred to by some scholars as an "anti-China element" because of my newsletter comments last week about the tit-for-tat media moves
Exclusive: China-EU summit to be postponed due to coronavirus - sources - Reuters A summit planned for the end of March in Beijing between China and the European Union is set to be postponed due to the coronavirus, two EU officials and two diplomats said, in a blow for the bloc's efforts to pressure the Chinese over free trade.
Huawei calls for security probe of European rivals Nokia, Ericsson - RN Breakfast - ABC Radio National (Australia) Huawei has hit pause on its efforts to directly lobby the Government to reverse its ban on the company. Instead, it's now holding a series of public forums around the country and calling for investigations into its European rivals Nokia and Ericsson.
Chinese government's Confucius Institute holds sway on Canadian campuses, contracts indicate | Edmonton Journal 10 other universities, colleges and boards of education across Canada still host their own Confucius outlets. And a National Post survey of the closely guarded contracts they signed found little in them that might prevent the kind of censorship and discriminatory hiring highlighted by Zhao. Only one of seven agreements obtained by the Post includes any protection for academic freedom.
Former West Virginia University Professor Pleads Guilty to Fraud That Enabled Him to Participate in the People's Republic of China's "Thousand Talents Plan" | OPA | Department of Justice Dr. James Patrick Lewis, of Fairview, West Virginia, has admitted to a fraud charge involving West Virginia University, the Department of Justice announced. Lewis, age 54, pleaded guilty to a one-count information charging him with "Federal Program Fraud.".. According to Lewis's contract, the Chinese Academy of Sciences agreed to employ Lewis as a professor for at least three years. In return, Lewis agreed to maintain an active research program that yielded publications in high quality, peer-reviewed journals, and to provide research training and experience for Chinese Academy of Sciences students.
Taiwan
解放军中将:和平统一几无可能,该启动《反分裂国家法》了! Citing the anti-separation law, Retired Lieutenant General Wang Hongguang wrote that it is time to use force on Taiwan, because the Tsai Ing-wen administration is seeking independence and there is zero hope for peaceful unification. According to the anti-separation law, the two requirements for using force have been met, Wang wrote. He is a former deputy commander of the Nanjing Command.
Johns Hopkins coronavirus map changes "Taiwan" to "Taipei and environs" - Axios a JHU spokesperson later said they would retain the term "Taipei and environs" and would be adopting the World Health Organization naming scheme, which also uses "Taipei and environs" to refer to Taiwan
Coronavirus Outbreak New Battleground For China-Taiwan Rivalry - Bloomberg The delayed evacuation is "an example of how Beijing's determination to assert itself against Taiwan to the fullest possible extent really is a top priority," said Shelley Rigger, a political science professor at Davidson College in North Carolina who has written three books on Taiwan. "At a moment when they have so much else going on, and their institutions are strained to the max, they still have time to focus on making things difficult for Taiwan."
Tech and Media
In Depth: Covid-19 Gives Robots a Chance to Shine - Caixin One unforeseen complication to Zhang's business has been local quarantine policies. Selling robots requires his staff to visit the places where they will be used, which during the outbreak has left them in jeopardy of being quarantined. One worker got quarantined for 14 days on a trip to a hospital in Wenzhou, Zhejiang province. In Beijing, employees have had to quarantine themselves for two weeks after returning to the city after a trip. Of the more than 200 people who work at Pudu or its partners, at least 40 have been quarantined during the outbreak.
Huawei Unveils Search, Other Android Apps to Remedy "Google-Less" Situation Caused by U.S. Ban- PingWest The Chinese tech giant is recruiting users in the UAE to test its own Search app, according to a post on Feb. 26 on the company's website. Huawei's Search app is similar to Google Search and will be pre-installed in Huawei and its secondary brand Honor smartphones.
Hikvision AI Training In Xinjiang Paramilitary Base, Now Denies - IPVM IPVM found over a dozen discriminatory Hikvision job ads for work located inside a People's Armed Police base, a branch of the PRC military, raising concerns from many experts. IPVM also found separate ads showing that Hikvision continues to work on large-scale Xinjiang surveillance projects. Hikvision deleted all the ads shortly after IPVM contacted them for this story.