Moon Meets Xi; Another Deadly Beijing Fire, Gas Shortages Spreading; "Learn From Wang Jie" Returning? ; A Letter From Liu Xia
Good morning...just a reminder that there will me a modified publishing schedule over the next two weeks. I am targeting 2-3 shorter issues those two weeks. When in doubt you can always check my Twitter feed or the newsletter site for status and updates. 
It sounds like some people got ahead of themselves in analyzing Tillerson remarks as a sign of a shift in US policy towards North Korea. And if even they did mark a change North Korea appears to have no interest in talks, nor does it seem receptive to China's "freeze-freeze" plan. 
South Korean President Moon arrived in Beijing but I am not optimistic there will be any breakthroughs. And the Thursday beating by security agents that sent a South Korea reporter to the hospital will certainly not improve ROK attitudes towards the PRC. 
Thanks for reading. 
---
The Essential Eight
1. Moon Meets Xi In Beijing
Xi: China, ROK to enhance communication on preventing wars, promoting peace - Xinhua:
Chinese President Xi Jinping said Thursday China will continue to strengthen communication and coordination with the ROK on maintaining stability and preventing wars on the Korean Peninsula and promoting peace and talks.
CCTV Evening News report on the meeting 习近平同韩国总统举行会谈 两国元首一致同意 准确把握双边关系前进方向 确保中韩关系行稳致远 
Ding Xuexiang and Yang Jiechi are listed as attending the meeting
Moon calls for new start to S. Korea-China relations - Yonhap:
"I believe that trust is most important not only in a relationship between persons but also between countries," Moon said at the start of the bilateral meeting at the Great Hall of the People in Beijing...

"I wish to solidify the foundation for a new era in the relationship between the two countries based on trust and friendship between us two leaders," he said.
China, S. Korea to expand cooperation in 7 areas - CGTN:
The two countries agreed to expand cooperation in the areas of health, industry and information technology, agriculture, commerce, energy, the Winter Olympics and education.
South Korea's Moon tries K-Pop and TV stars in China charm offensive - Reuters:
South Korean celebrities, including some of those accompanying Moon, had been shut out of Chinese television and concert halls as relations cooled between the East Asian neighbors as they faced the threat posed by North Korea's missile and nuclear programs...

Top South Korean actress Song Hye-kyo, star of 2016's hit drama "Descendants of the Sun" and the face of many South Korean cosmetics brands, will join Moon and Xi in a state dinner later on Thursday. Song will be joined by married South Korean and Chinese actors, Choo Ja-yeon and Xiaoguang Yu.
North Korea Had Spurned Talks With U.S. Due to Trump's Latest Sanctions – Foreign Policy:
In a closed-door briefing to the U.N. Security Council Tuesday night, U.N. Under-Secretary-General Jeffrey Feltman, who just concluded a visit to Pyongyang, said the North Korean government told him that the time is not right for such talks, according to a Security Council diplomat — though Pyongyang is open to continuing discussions with the United Nations. North Korea has sent similar messages to the United States through a number of intermediaries, including the Russians and Chinese envoy Song Tao, who visited Pyongyang in November in what one well-placed diplomat characterized as a "failed" effort to start talks.
China responds to Tillerson's statements on Korean Peninsula nuclear issue - Xinhua:
"We have noticed the remarks. It has been a consistent stance of the Chinese government to peacefully resolve the peninsula issue through dialogue and negotiation," said Chinese Foreign Ministry spokesperson Lu Kang at a press briefing. "China welcomes all efforts to ease tension and promote dialogue to resolve the problem."

"China has proposed a dual track approach and suspension for suspension initiative to settle the issue," said the spokesman. "We hope the United States and the DPRK will meet each other halfway and take a significant step to engage in dialogue and contact. China will continue to play a constructive role in promoting proper settlement of the peninsula issue in a peaceful way."
China should cut oil exports to North Korea by half: Ban Ki-moon | This Week In Asia | South China Morning Post:
The former secretary general of the United Nations – due in Hong Kong for a three-day visit – says unilateral Chinese sanctions are the surest way to force Pyongyang to the negotiating table
[Video] Two of Moon's traveling press corps assaulted by Chinese security - The Korea Herald:
According to accounts from another member of the Blue House press corps who witnessed the assault, some 15 Chinese security personnel surrounded a photojournalist and knocked him to the ground. As another photojournalist protested, the personnel threw punches and kicks. 
---
2. More From Xi's Zhejiang Inspection Tour; Real Economy A Focus, "Learn From Wang Jie" To Become A Thing Again?
Xinhua-President Xi urges innovation in manufacturing sector :
China should ramp up investment and channel more energy into research and development to spur the development of the equipment manufacturing sector, Xi said. "Many core technologies cannot be bought."

Xi urged a shift from "Made in China" to "Created in China," stressing more emphasis on quality rather than speed, and encouraging homegrown manufacturers to build their own brands.

Highlighting the role of state-owned enterprises, Xi said they should serve as a major force in the supply-side structural reform, aiming for international standards and leading domestic industries to move up global value chain...

On Wednesday afternoon, Xi visited a memorial for martyrs and the Museum of the Huaihai Campaign (November 1948 - January 1949), which was among the decisive campaigns in the War of Liberation.

The campaign showed that winning a war may not only depend on the weaponry or manpower, but also on troop strategy and tactics, confidence and courage, as well as the support and assistance from the people, which often serve as more important factors, said Xi.

"By cherishing the memory of the revolutionary martyrs, we will carry on their unfinished work, emulate their spirit, remain true to our original aspirations and keep our mission firmly in mind," Xi noted.
习近平:深入学习贯彻党的十九大精神 紧扣新时代要求推动改革发展-新华网
在村综合服务室,前来办事的群众正在利用数据信息公开平台了解村务信息。习近平同他们交流,通过电视屏幕观看信息公开演示,通过电脑了解村民查询有关事项的流程,叮嘱当地干部一定要把村务公开和信息服务这件事办好,真正做到让数据多跑路、让群众少跑腿。在村文化礼堂,习近平观看了村民乐团排练的宣传党的十九大精神快板节目,称赞他们编得好、演得好,鼓励他们为丰富村民文化生活多作贡献。习近平指出,农村精神文明建设很重要,物质变精神、精神变物质是辩证法的观点,实施乡村振兴战略要物质文明和精神文明一起抓,特别要注重提升农民精神风貌。 
The top ten minutes of the 12.14 CCTV Evening News covered the visit - 习近平在视察第71集团军时强调 深入学习贯彻党的十九大精神 全力推进新时代练兵备战工作 
Xi stresses army restructuring to enhance combat readiness - Xinhua:
Xi stressed political discipline and rules in the military, efforts to fight corruption, and improving work style.

He also instructed the army to enhance its capability to win wars, implement restructuring plans, and improve army management and combat mobility.

"The army should innovate its training theories and methods, conduct more combat drills and build soldiers' morale," he said, urging commanding officers to take responsibility and demonstrate leadership.

During the inspection, Xi first visited a company where the hero soldier Wang Jie served in the 1960s. He died while trying to save 12 others.
习近平:深入学习贯彻党的十九大精神 全力推进新时代练兵备战工作-习近平在视察第71集团军时强调;深入学习贯彻党的十九大精神;全力推进新时代练兵备战工作 
Comment: Remember the "Learn from Wang Jie" campaign during the Mao era? Wang threw himself on a sack of dynamite to save his colleagues in the early 60s, became quite the campaign for a few years after.
分肯定连队尊崇英雄、学习英雄的做法,指出一不怕苦、二不怕死精神过去是、现在是、将来永远是我们的宝贵精神财富,广大官兵要努力学习践行"两不怕"精神,争做新时代王杰式的好战士。
Xinhua is just out with a piece on Xi's visit in which it calls for studying and implementing Wang's spirit of the "two fearing neithers" (Fearing neither hardship nor death), and to "strive to be a 'good soldier Wang Jie' of the New Era"--学习践行"两不怕"精神 争做新时代王杰式好战士 ——习近平主席视察王杰生前所在连侧记-新华网:
习近平对学习弘扬"一不怕苦、二不怕死"精神高度重视。担任军委主席后不久就明确指出,军人要有血性,血性就是战斗精神,核心是一不怕苦、二不怕死的精神。在军队重要会议上,在演习演训现场,在视察基层部队时,习近平先后多次强调,无论什么时候一不怕苦、二不怕死的战斗精神都不能丢。在党、国家、人民需要的时刻,军队就是要有这股劲、这种精神。 
The History: The Wang Jie Story, in propaganda posters:
The platoon to which Wang belonged was conferred the title of "Wang Jie Platoon" in December 1965. In the meantime, a movement to learn from Wang Jie was developed in the army. Subsequently, Wang Jie became one of the many military models (such as Lei Feng and Ouyang Hai) held up for emulation by civilians as well. In Wang's case, the slogan advanced was "Fearing neither hardship nor death".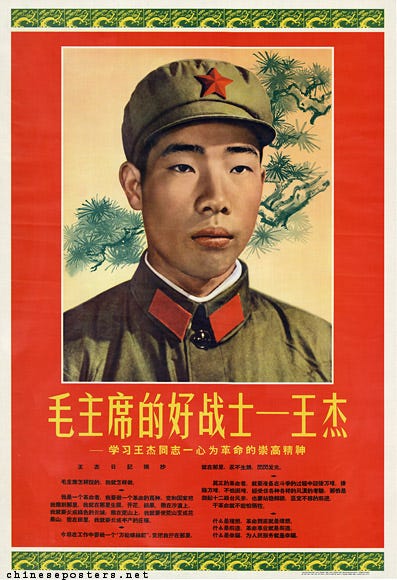 "Chairman Mao's Good Soldier Wang Jie"-1966. Source: Chineseposters.net
---
3. Another Deadly Fire In Beijing
Comment: Another reminder of Beijing's inadequate and unsafe housing for migrant workers, and its lax governance in recent years. More heads will role, if the migrant cleansing is not a political disaster for Cai Qi, and I doubt it is since I believe he is doing what Xi wants, then it should be a huge political opportunity for him.  
Seven Officials Under Investigation After Another Fatal Fire in Beijing - Caixin Global:
The Communist Party's disciplinary watchdog said it was investigating seven officials for possible dereliction of duty after a fatal fire in Beijing's Chaoyang district on Wednesday killed five people and injured nine others.

Those being scrutinized include deputy chiefs of a local township and a police station
But there is a petition circulating calling for Cai Qi to resign, and Wang Yukai, a professor at the Chinese Academy of Governance has written an article in a Xinhua publication sharply critical of the Beijing government's actions.
國家行政學院教授﹕整治行動「給中央添亂」 - 20171214 - 中國 - 中國新聞 - 明報新聞網:
北京市近日強行逼遷「低端人口」、拆除招牌等整治行動,引來民眾強烈不滿,國家行政學院教授汪玉凱在回應內地官方媒體對事件看法時表示,有關行動與中共十九大提出「以人民為中心」相背離,給中央添亂,反映出政府的輕率,有明顯的「亂作為」之嫌。
Comment: Beijing does not want the evicted migrants to stay, nor does it want any people organizing outside of government supervision.  
In Beijing, helping freezing migrants will get you in trouble with the law - The Globe and Mail:
The Globe and Mail contacted a half-dozen other groups who publicly offered help to expelled migrants. They all refused comment. The Beijing Migrant Workers Culture Development Center said it was not working on the evictions, the biggest crisis to hit that population in years. One of the founders of the Migrant Worker's Home Culture and Development Centre said he could not speak. Another charity worker, Yang Qi, described in a lengthy social media posting how he was "interrogated by police" and then barred from helping migrant workers; authorities tore down the sign to his office. A colleague verified his account.
---
4. PRC Foreign Influence Concerns Growing
China's 'long arm' of influence stretches ever further - The Washington Post:
On Wednesday, Sen. Marco Rubio (R-Fla.) convened a hearing on the "Long Arm of China," focusing on China's capacity to launch influence operations abroad to gain leverage over democratic rivals. "We have a lot of discussion of Russian interference in our elections, but the Chinese efforts to influence our public policy and our basic freedoms are much more widespread than most people realize,"...

Rubio said the emerging Chinese strategy "directly threatens our most deeply held values and our national interest." He added: "Chinese leaders are engaged in the long game. And it is something that policymakers in the United States and our like-minded allies must take seriously."
The Long Arm of China: Exporting Authoritarianism With Chinese Characteristics | Congressional-Executive Commission on China:
This hearing will examine the Chinese government's foreign influence operations intended to censor critical discussion of its history and human rights record and to intimidate critics of its repressive policies.  Attempts by the Chinese government to guide, buy, or coerce political influence and control discussion of "sensitive" topics are pervasive, and pose serious challenges in the United States and globally, particularly as China uses technology and the lure of the Chinese market to impose authoritarian practices abroad.
Meanwhile, Down Under, PRC influence has become a big election issue. Beijing's hysterical reaction has exposed its efforts, and if I were in the Australian government I would not only hold firm but also leak more evidence of interference. Turnbull and his team may not have intended to "引蛇出洞 lure the snakes from their holes", but that appears to be the result. 
Australia's ambassador in Beijing summoned to China's foreign office amid diplomatic row - SBS News
Mysterious Bennelong letter urges Chinese Australians to 'take down' the Turnbull government - Sydney Morning Herald:
An angry open letter urging Chinese Australians to "take down the far-right Liberal Party ruling party" by voting against John Alexander in the Bennelong byelection has been shared on social media by a man who allegedly met the Chinese Communist Party's department tasked with overseas influence activities.   The 1700-word letter, attributed to "a group of Chinese who call Australia home", urged people to support Labor's candidate, Kristina Keneally.
---
5. Gas Shortages Spreading, Caused By Central Government Planning and Policy Dysfunction
Hunan Issues Alert as Natural Gas Shortage Spreads - Caixin Global:
Hunan's economic planning body issued a yellow natural gas alert, the third rung on a four-tier color-coded warning system, indicating that the region is likely to face a 10% to 20% shortage this winter.

The provincial government also called an emergency meeting last week to address the looming shortage, according to an emergency notice from the Hunan Economic and Information Technology Commission that was viewed by Caixin.
China's industrial heartland struggles in Beijing's fight against smog - Reuters:
"The price of gas is 6-7 yuan per cubic meter, up from 2 yuan last year," Xue told Reuters by phone.

"If we open, we are going to run at a loss." He added that it was also difficult for him to secure gas supplies. Domestic liquefied natural gas prices have jumped more than 70 percent since mid-November, hitting record highs above 8,000 yuan per tonne this month, according to market.yeslng.com, an online exchange for domestic gas supplies...

China could lose nearly half a percentage point of gross domestic product growth this winter if it sticks to its pollution-reduction targets, Capital Economics has estimated.
China's War on Smog Unleashes Collateral Damage on World's Farms - Bloomberg:
The fertilizer cutbacks are yet another unintended consequence of China's efforts to achieve blue skies by boosting natural gas consumption and limiting coal burning. The price of urea in Shandong province rose to the highest level in four years, and Chinese exports will likely drop to 4.3 million metric tons this year from 8.9 million in 2016, said Tang Feifei, an analyst with Zhongyu Information Technology Co. 
---
6. Liu Xia, Guilty Of Marrying Liu Xiaobo, Gets Letter Out
Comment: Where is the outrage and action from the top of the UN and Western governments?
Chinese dissident's widow sends desperate letter - Digital Journal:
The poet Liu Xia, 56, has been under police watch without charges since her husband was awarded the Nobel Peace Prize in 2010, a recognition that deeply angered the Communist regime.

In a letter written in the form of a poem to the 2009 Nobel Literature Prize Laureate Herta Mueller, Liu said she was "going mad".

"Too solitary / I have not the right to speech / To speak loudly / I live like a plant / I lie like a corpse," the poem read.

Exiled Chinese dissident and author Liao Yiwu posted a photo of the letter on his Facebook account on December 9.
---
7. More On Increased Access For Foreign Banks
Comment: What won't happen is another round of sweetheart deals for foreign banks and their senior executives to buy shares of Chinese financial institutions cheaply before an IPO. Goldman and senior partners especially made fortunes from the 2006 ICBC deal, to the chagrin of PRC regulators. 
Foreign Banks to Be Offered a Bigger Role in China's Financial Services - Caixin Global:
On Wednesday, the top banking regulator laid out measures to grant greater access to the banking sector to foreign players. Foreign banks will have more access to the yuan-denominated retail banking and bond business, and face lower barriers to investing in domestic institutions.

The China Banking Regulatory Commission said it "will further push forward the opening of the banking sector in a reasonable order, to expand access, invigorate the market, while improving regulation to maintain the stability of the financial system."

It's unclear when the new policies will take effect.
---
8. Post-90s Interested In National Treasures
[Magpie Digest] How a Show about Antiques Won over Chinese Millennials:
Created by CCTV-3, a state-run network mostly watched by middle-aged viewers, each episode of National Treasures highlights three significant artifacts from one of nine museums around China, enlisting famous actors to bring the story of each one to life in costumed skits. The show's high-budget production value and celebrity cameos are the hallmarks of a CCTV flagship show, but the excitement it is generating among younger viewers comes as a genuine surprise...

While the popularity of National Treasures might seem inexplicable, it is actually connected to a groundswell of interest in traditional culture that has been brewing over the last few years, particularly among the post-'90s generations. Through using online streaming platforms, listening to social media, and capitalizing on the popularity of historical fantasy, National Treasures deliberately—and successfully—targets younger viewers sincerely eager to learn more about traditional culture.
---
Business, Economy, Finance And Trade
Following Fed, China Hikes Interbank Rates - Caixin Global But the hike was marginal as the Chinese central bank tries to avoid destabilizing domestic financial markets already nervous about tighter liquidity. The People's Bank of China (PBOC) increased interest rates on seven-day and 28-day reverse-repurchase agreements by 5 basis points to 2.5% and 2.8% respectively. It also raised the interest rate on the one-year medium-term lending facility (MLF) by 5 basis points to 3.25%.
Premier Li says free trade zones should stimulate market - China Daily On Monday, he presided over a meeting in Wuhan, Hubei's capital, focusing on pilot free trade zones. Li called on the zones to build a modern economic system and promote higher-quality development, as stipulated by the 19th National Congress of the Communist Party of China, which concluded in October. 李克强:更大激发市场活力 更好保障和改善民生--时政--人民网
China will intensify SOE reform to boost quality and efficiency - Xinhua The meeting, which heard a report on the reform, supervision and inspection of central SOEs by the Supervisory Board of Key Large State-owned Enterprises, decided that the management system of state-owned assets will be improved, and a list of powers and obligations on state assets supervision and management will be formulated to enable precise by-category supervision. Enterprises will be given effective autonomy in their operations as the government deepens the reform to streamline administration, enhance compliance oversight and provide better services. Solid steps will be taken to cut outdated excess capacity, and the issue of "zombie enterprises" will be handled in a timely fashion. Deleveraging the SOEs and reduction of corporate debt will be prioritized to keep risks under control.
China to step up SOE supervision - Xinhua State-owned enterprises (SOEs) should strengthen the role of board of supervisors, improve corporate governance and bring in more private investment to enhance competitiveness and performance, said a statement released after a State Council meeting chaired by Premier Li Keqiang on Wednesday.
HNA Executives Talk Credit With Banks Amid Loan Repayment Concerns - Caixin Global The Chinese conglomerate said in a statement on Thursday that its deputy chairman and deputy financial officer had met with representatives from eight policy and commercial banks to discuss the company's credit facility for 2018. The talk came after Lucky Airlines, one of HNA's units, sold a bond at the highest coupon rate in the unit's history, as well as amid media reports that said the group and some of its units have delayed loan or fee payments recently.
Scaramucci Defends Skybridge Deal After Buyer HNA Faces Fire - Bloomberg Asked why the deal, announced in January, hasn't closed, Scaramucci responded, "You'd have to call the Treasury department for that."  //  Comment: HNA is having an increasing hard time rising reasonably priced capital to fund deals, Beijing is pressuring it to reduce its overseas portfolio, the US government is very suspicious of the firm, and the mooch is far less politically valuable than he was when the deal was announced. I doubt the deal will close
US accuses China of failing to flag seven firms to the WTO as state trading enterprises | Reuters The United States has notified the World Trade Organisation (WTO) of seven Chinese companies that it says should have been flagged as state trading enterprises under WTO rules, according to a WTO filing dated November 29 and published on Wednesday...The latest list is a second instalment, including the energy and chemicals firms China National Offshore Oil Corporation, Sinochem Group and China International Petroleum and Chemicals Co Ltd. The other names on the new US list are China Tobacco International Inc, China National Agricultural Means of Production Group Co, Chinatex Corporation and Xinjiang Yin Long International Agriculture Cooperation Co Ltd.
Wanda says it does not have a cash flow problem, denying allegations made by WeChat blogger | South China Morning Post On Monday, a Chinese blogger using a public WeChat account published an article titled "The Waterloo of Wang Jianlin" that said Wanda "obviously had its cash flow cut off". The blogger referred to a June decree from China's banking regulator which instructed the country's largest lenders to cut off funding and reject any financing applications for six of Wang's overseas acquisitions. // Comment: The article- 王健林的滑铁卢:狂甩资产 还将几乎失去整个万达_新浪财经_新浪网
China Just Posted a Record Surge in Inward Foreign Investment - Bloomberg A slew of new businesses setting up shop in China drove a 91 percent jump in foreign direct investment last month, the biggest increase in data going back two years. Some 4,641 new foreign companies set up in the world's second-largest economy in November, up 162 percent from the same period a year ago, Ministry of Commerce spokesman Gao Feng told reporters Thursday when unveiling the numbers. That helped fuel the increase in FDI, Gao said.
China's Home Sales Reverse Declines for Biggest Gain in 5 Months - Bloomberg Sales by value, excluding affordable housing, increased 12.4 percent from a year earlier to 1.02 trillion yuan ($151 billion), according to Bloomberg calculations based on data released Thursday by the National Bureau of Statistics. Sales fell the two previous months.
China Firms Ditch Bonds for Banks in Search for Funds - WSJ Chinese companies are turning away from capital markets and heading back to state-owned banks to raise cash, in a reversal of Beijing's previous efforts to modernize the way the corporate sector in the world's No. 2 economy is funded. China's bond and stock markets have provided about a quarter of all financing for companies in the past two years. This year, that proportion is down to just 6.6%, according to figures from Wind Info.
Factory Output Growth Slows, Consumption Firms - Caixin Global Value-added industrial output, which measures production at China's factories, mines and the utility sector, rose 6.1% last month from a year ago, down from an increase of 6.2% in October, mainly dragged by a decrease in the mining sector, data released by the National Bureau of Statistics (NBS) showed. Fixed-asset investment excluding rural households, a key driver of domestic demand, grew 7.2% year-on-year in the January-November period, according to NBS data. Property investment grew 7.5% over the same period, down from 7.8% in the first 10 months. Retail sales, which include spending by households, government departments and businesses, increased 10.2% in November from a year ago, up from a 10% growth in October. It was slightly lower than the median forecast of a gain of 10.3% in a Bloomberg News poll of economists.
China Unicom Strives to Connect to Users in Overhaul Push - Caixin Global As part of companywide reforms at the state-owned telecommunications operator, many Beijing Unicom departments have been merged or dissolved. For example, the legal department was absorbed into the planning department, the Beijing Unicom source told Caixin. The legal department's general manager was scored well enough to "stay," but since his department no longer existed and his work was so specialized, it was hard for him to find a new position in the reorganized company. Beijing Unicom is only one of dozens of local Unicom subsidiaries that have undergone personnel cuts in recent months
Lexinfintech slashes U.S. IPO size as China reins in micro-lenders - Reuters Chinese consumer lending firm Lexinfintech has slashed the size of its U.S. initial public offering by two-thirds to a maximum possible $151.8 million, following a recent crackdown by Beijing on fast-growing online micro-lenders.
银监会再发文 禁止消费金融公司向现金贷"输血"_金融频道_财新网 银监会发文重申整肃现金贷新规的多项规定,禁止持牌消费金融公司向没有资质的现金贷平台提供资金、联合放贷,并禁止其投资以现金贷为基础资产的(类)证券化产品
Writing New Rules for the U.S.-China Investment Relationship The United States should aim for a version of reciprocity that allows it the flexibility to maximize pressure on the broad range of Chinese industrial policy concerns while leaving a clear route to negotiations. - Jennifer M. Harris-Nonresident Senior Fellow, Brookings Institution
A New U.S. Economic Strategy toward China? | The Washington Quarterly | Aaron L. Friedberg Regardless of how the present process plays out, a comprehensive economic strategy for dealing with China will require much more than a series of moves intended to change bilateral patterns of trade and investment. The United States can enhance its leverage by working closely with other like-minded countries. Yet, in keeping with its declared intention to put "America first," the administration has thus far shown no interest in joining forces with U.S. allies in Asia and Europe to devise a joint approach for confronting China's predatory trade practices, slowing its drive to acquire cutting-edge technologies and dominate emerging industries, and countering its efforts to build a Sino-centric regional order. To the contrary, through its abandonment of the TPP and apparent determination to renegotiate the Korea-U.S. trade agreement, among other gestures, Washington has sent a very strong signal that, in economic matters at least, its friends are on their own. Beijing is already working hard to exploit the resulting divisions to its benefit. It is also taking advantage of American passivity and uncertainty to stampede others into backing BRI. A successful U.S. strategy must also have a domestic dimension. Here too, the administration's approach to date is, at best, incomplete. Its budget proposals offer little assurance that they will reduce the gap between government spending and taxation, the "massive and continuing act of dissaving"that is helping to drive the trade deficit. 
Politics, Law And Ideology
Tianjin Deputy Mayor to Take Senior Post at Securities Regulator - Caixin Global Yan Qingmin, the vice mayor of the northern port city of Tianjin, will become a vice chairman of the China Securities Regulatory Commission, Caixin has learned from people close to the matter...Yan, 56, will succeed Vice Chairman Jiang Yang, who currently oversees markets, initial public offerings (IPOs) and compliance departments at the CSRC. Jiang, who reached retirement age in September of 2106, has remained the post under the central government's special approval because a successor hadn't yet been picked.
Drawing Fire: The Political Cartoons of Rebel Pepper - free e-book Wang Liming, also known as "Rebel Pepper," honed his craft as a political cartoonist by satirizing politics in his native China. In this collection of 50 drawings, Wang continues to apply his editorial and artistic wit to events in China, while also tackling issues from North Korean nuclear provocations to Cambodian political machinations to the Rohingya humanitarian crisis in Myanmar.
China Moves Ahead With Subversion Trial of Rights Website Founder Liu Feiyue - RFA Liu Feiyue, who founded the Civil Rights and Livelihood Watch website, was detained on Nov. 17, 2016 under criminal investigation for "incitement to subvert state power," by police in Hubei's Suizhou city and placed under formal arrest on Dec. 23.
Wang Huning's Speech at the 4th World Internet Conference in Wuzhen At the Chinese government–hosted World Internet Conference in Wuzhen, Zhejiang, early this month, the newly promoted Politburo Standing Committee member Wang Huning gave the most important official speech, apparently marking his first major public speech since joining the Communist Party's top ruling body. The speech, which was not officially released in full, was recorded by many in the room and transcribed following the conference. DigiChina provides a full translation below
Chinese prosecutors back leniency for entrepreneurs tangled up in graft cases | South China Morning Post The Chinese justice system should show some leniency to businesspeople forced to give bribes to officials, the top prosecutor's office has said in new guidelines to fortify the country's entrepreneurs.
中央纪委公开曝光八起扶贫领域腐败和作风问题典型案例————头条——中央纪委监察部网站 CCDI targeting, again, corruption on poverty alleviation work, publicizes 8 example cases
Foreign and Military Affairs
Meeting with Vice Chairman of Chinese Communist Party Central Military Commission Zhang Youxia • President of Russia Vladimir Putin met in his Novo-Ogaryovo residence with Zhang Youxia, Vice Chairman of the Communist Party of China Central Military Commission and Co-Chairman of the Russian-Chinese Intergovernmental Commission for Military-Technical Cooperation.
The Bridge - The Human Factor in the "Unmanned" Systems of the People's Liberation Army - Elsa B. Kania the PLA appears enthusiastic in its embrace of UAVs, seeking to capitalize upon the anticipated transformation of the character of conflict towards "unmanned, intangible, silent warfare" ("无人, 无形, 无声"战争) that is increasingly "intelligentized" (智能化) due to the advent of AI on the battlefield.[47] The PLA's expanding employment of unmanned systems for multiple missions will likely result in the establishment of new dedicated UAV units, further increasing the demand for qualified UAV operators and technicians. Despite continued challenges, the PLA remains focused on enhancing its UAV forces' operational capabilities, while engaging in more sophisticated joint training exercises with unmanned systems, including in major exercises like "Firepower" (Huoli, 火力) and Stride (Kuayue, 跨越).
Telecoms cable project could give China an Arctic entry point  - The National China's ministry of industry and information technology and state-owned China Telecom Corp are among those participating in discussions about building a 10,500-kilometre fibre-optic link across the Arctic Circle. The proposal, which also involves Finland, Japan, Russia and Norway, aims to create the fastest data connection between Europe and China as soon as 2020. Besides speeding up China's communication with European financial centres and data hubs, the project would be among Beijing's most ambitious forays into the hotly contested region. In June, China included the Arctic in president Xi Jinping's signature Belt and Road trade-and-infrastructure initiative and is drafting a broad strategy for the area
PLA seals off Bohai Sea for live-ammunition drills - Global Times China's People's Liberation Army will conduct a four-day live-ammunition drill starting Thursday in the Bohai Sea off the coast of Haimao Island, Northeast China's Liaoning Province.
Nepal's government-in-waiting to revive scrapped Chinese dam project, officials tell SCMP | South China Morning Post Leaders of the Communist Party of Nepal-Unified Marxist Leninist (CPN–UML) said the new Nepalese government would maintain relations with both China and India, but called for less "micromanagement" from New Delhi. Counting is still under way in the elections, but an alliance of the CPN-UML and the Nepal Communist Party-Maoist Centre has so far won 113 of the 165 seats in parliament decided by direct elections. The governing centrist Nepali Congress has won just 21.
王安龙少将出任中央军委办公厅副主任_网易新闻 Wang Anzhong is now the deputy director of the CMC General Office
Hong Kong, Macao
Hong Kong to be notified in 30 days if residents detained in China for 'endangering national security' | Hong Kong Free Press HKFP The system has not been reviewed since it was set up in 2001. Both sides are committed to informing each other within seven days when someone has been detained for possible crimes, if they are prosecuted or confirmed dead of unnatural causes. Both sides should be notified within 14 working days for serious and complicated criminal cases. The arrangement will take effect on February 1 next year
Tech And Media
The Hidden Forces Behind Toutiao: China's Content King Using Machine and Deep Learning to Create and Serve Content, China's Toutiao Created a Product with Engagement Similar to that of Social Networks – All without a Social Graph
Consumer Group Piles on to Wobbling Shared Bike Company - Caixin Global Beijing-based Kuqi — a second-tier player in the fast-growing sector — has been the target of more than 2,000 complaints to China's consumer protection association over the last month. The unpaid deposits may amount to hundreds of millions of yuan, said the China Consumers Association (CCA). The association also said Kuqi had deliberately created obstacles for the refund process.
Covert Restaurant Livestreams Spark Privacy Firestorm - Sixth Tone Chinese anti-virus software developer Qihoo 360 found itself in the center of a public relations crisis this week when a blogger discovered that restaurants, internet cafés and gyms in Beijing livestream their customers using surveillance cameras provided by the company, which are then posted on Qihoo 360's online platform, Waterdrop Livestream, without their knowledge.
Tencent Music Drowns Out Spotify and Apple in China - Bloomberg The service offers more than 17 million songs to 700 million monthly active users, said Andy Ng, vice president for Tencent Music. About 120 million people have paid to stream or buy music, compared with Spotify's 60 million paid users
'Coco' Wins Over Chinese Hearts — and Wallets - Caixin Global Box office receipts for "Coco" have hit 900 million yuan ($136 million) on the Chinese mainland in its three-week run, according to domestic box office tracker Maoyan. This beats the 254 million yuan brought in by 2016's "Finding Dory," which at the time was the Pixar film that had performed best in China.
China impedes foreign carmakers' autonomous tests - FT $$ Chinese authorities' fear that foreign self-driving cars could be used for spying may see regulators favour exclusively domestic technology in the world's largest car market.  Foreign carmakers say they face restrictions in China on the roll out of the technology, and the government is citing national security concerns in seeking to limit high-resolution cameras and GPS-equipped cars from free access to China's roads.
Society, Art, Sports, Culture And History
A Fellow Traveller's Tale – China Channel the Cambridge economist Joan Robinson....Robinson's writing in praise of Mao's China – from her defense of the ruinous Great Leap Forward to her zesty praise of the Cultural Revolution – was likely what lost her the Prize. Fang Qin, an economist at Fudan University in Shanghai, put it plainly: "She is considered the most important female economist in history, but she did not win the Nobel Prize because she publicly praised the Cultural Revolution." // Comment: Karma perhaps, for arguing that the Great Leap Forward and the Cultural Revolution were good things?
Yang Dapeng: Remembrance of a Martyr in Nanjing 1937: Shu-Chin Yang, Catherine Tsai Yang: :Amazon For nearly 40 years, Shu-Chin Yang had been haunted by the question posed by his family since the early days of World War II in China: "Where is Eighth Brother?" Yang's brother Dapeng hadn't been heard from since he entered battle after graduating as a young officer from the prestigious Whampoa Military Academy. Decades later, Yang finally faced the deep anguish of this early loss to launch an inquiry of his brother's death at the Battle of Nanjing in 1937. The book he wrote in 1975 seeks to give recognition to Yang Dapeng, who essentially died an unknown soldier, and in doing so, to commemorate all the soldiers of China's War of Resistance who pitted themselves against a far stronger enemy to save their nation. The narrative, now in English, tells one family's story in these unstable times--from engaging anecdotes of childhood in Northeast China to the tragedy of war.
Nanjing Massacre: History keeps memories alive for future generations - CGTN Yang recently helped her father translate the book into English, and as she read, she found the story more and more compelling. She also believed that by making the book available to English speakers, especially Chinese Americans like her son, a wider audience could understand the pain, suffering, and sacrifices that Chinese soldiers and civilians endured during the eight years of the war of resistance.
Young Chinese trainees left kicking their heels after Luis Figo soccer academy shuts without explanation | South China Morning Post Winning League Figo Football Academy in Chengdu, Sichuan province has not conducted training sessions for two months now, and staff have not been seen on the premises either, Chengdu Economic Daily reported. The Chendu branch opened in June 2015, following Figo's agreement with the Chengdu Football Association to bring his academy to the city, after successful launches in Shanghai and Beijing.
Energy, Environment, Science And Health
Alibaba Takes Action To Stop The Sale Of Wild Birds On Taobao – Birding Beijing 北京观鸟 After the outcry from birders, conservationists and members of the public about the illegal sale of 'critically endangered' YELLOW-BREASTED BUNTINGS on Taobao (Alibaba's online sales platform), it was good to receive a call from Alibaba on Friday.  The official was 'horrified' to see the social media posts, confirmed the link had already been taken down and that a review of procedures was underway.
Education
Outlaw Educators: China's Growing Homeschooling Movement - Sixth Tone Despite the misgivings from the Chinese government, a growing number of parents are embracing homeschooling. A 2017 nationwide survey by the 21st Century Education Research Institute showed that the number of parents who express interest in alternative education grew at an annual rate of 30 percent between 2013 and 2017. It showed that by February 2017, around 50,000 people in China "pay close attention to" or "are trying to provide" home-based study for their children. The survey also said some 6,000 Chinese children study at a sishu or at home — though higher dropout rates from public schools suggest that this number could be larger in reality. The survey said that a little over two-thirds of homeschooled children attended regular schools but couldn't fit in and that the remaining one-third have parents who are strongly opposed to the education philosophies of China's state school system.
Anxious parents help China's tutoring companies thrive - Xinhua In 2016, more than 130 million private tutoring courses were taken by primary and middle school students in China, said a report by the Chinese Society of Education. More than 87 percent of Chinese parents consider private tutoring programs important for their children, according to the report.
Books And Literature
Yu Guangzhong Has Died He was born in Nanjing, China but fled with his family during the Japanese Army's invasion in World War II. After returning to Nanjing many years later, he again was forced to flee due to the Communist victory in the Chinese Civil War. Yu and his family fled to Taiwan via Hong Kong in 1950 with the Kuomintang Government. Yu entered the University of Nanking for English Major in 1947, and then transferred to Xiamen University. He enrolled at National Taiwan University and was one of the first students to graduate with a degree in foreign languages. He also holds a master of fine arts degree from the University of Iowa. After graduation, he began his career as a university teacher in 1956. He was Professor Emeritus at National Sun Yat-sen University in Kaohsiung. He taught in the United States, including at Gettysburg College.[1] Yu died on December 14, 2017, from pneumonia