More economic support; HK national security law this month?; More setbacks for Huawei; June 4
The People's Bank of China has introduced new measures to channel financing to small businesses. The authorities are rolling out whatever it takes to ensure employment, the most important of the "6 ensures" and a cornerstone of political security. See Item 1.
The news gets worse for Huawei, as it looks like they will be shut out of Canada's 5G buildout and Reuters has another blockbuster story tying the company to attempts to evade US sanctions on dealings with Iran. For all the public difficulties the US has reportedly had in convincing allies to keep Huawei out of their 5G networks, it is starting to look like those efforts are bearing fruit, possibly thanks as much to recent PRC behavior as to US cajoling? See Item 4.
Tomorrow is the 31th anniversary of the June 4 tragedy. There is schadenfreude in certain parts of the PRC over the current protests in the US, but playing them up too hard poses risks for the CCP, especially if they proceed peacefully and result in accountability and change (One can always hope…). See Item 6.
Longtime readers know I was in Beijing as a student in 1989, and worked for CBS as a fixer and translator from late April until the third week of June, when I was detained along with a camera crew for filming troops on Tiananmen Square from a car.
As I posted last anniversary, here are three of my pictures from 1989; it was truly a different Era.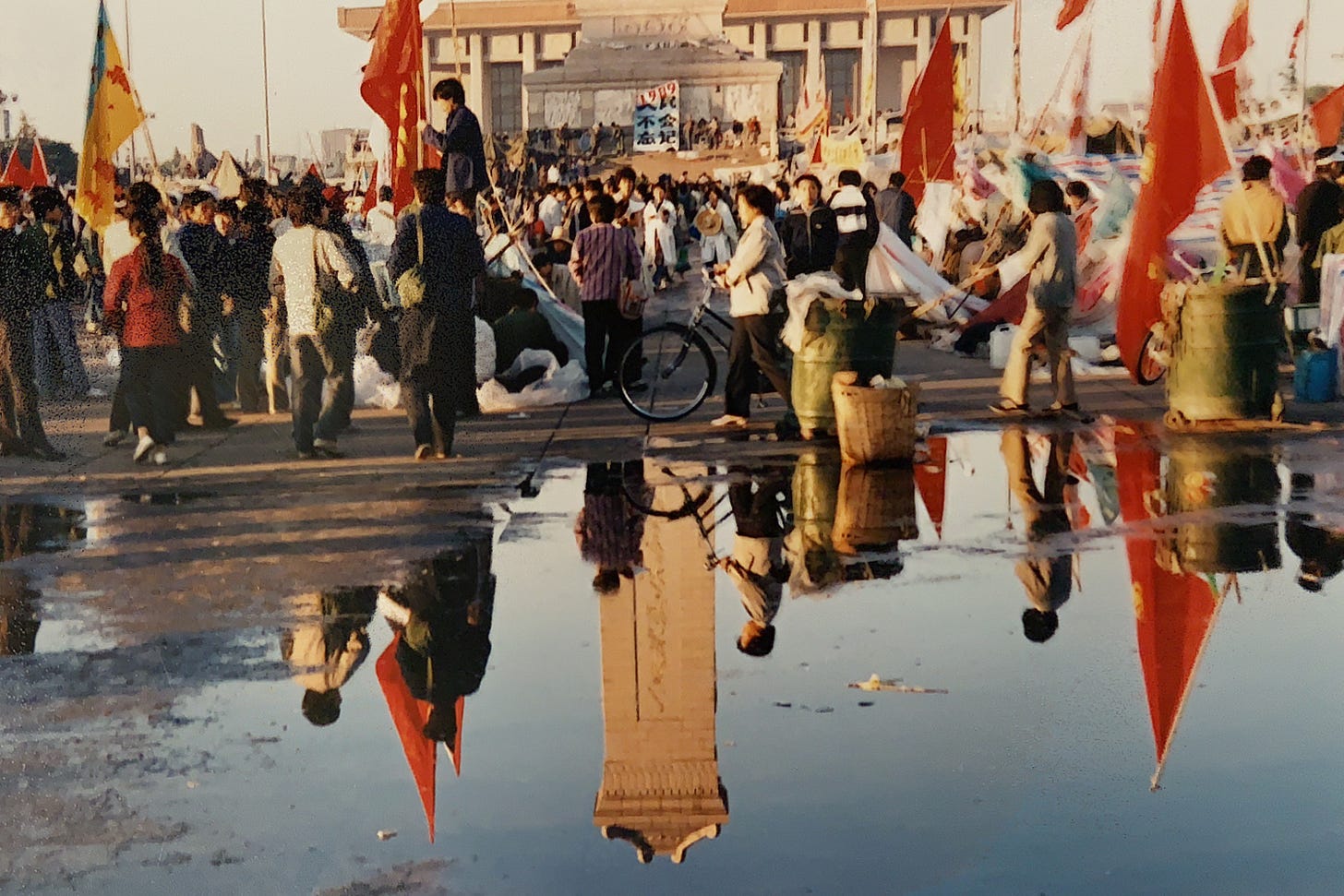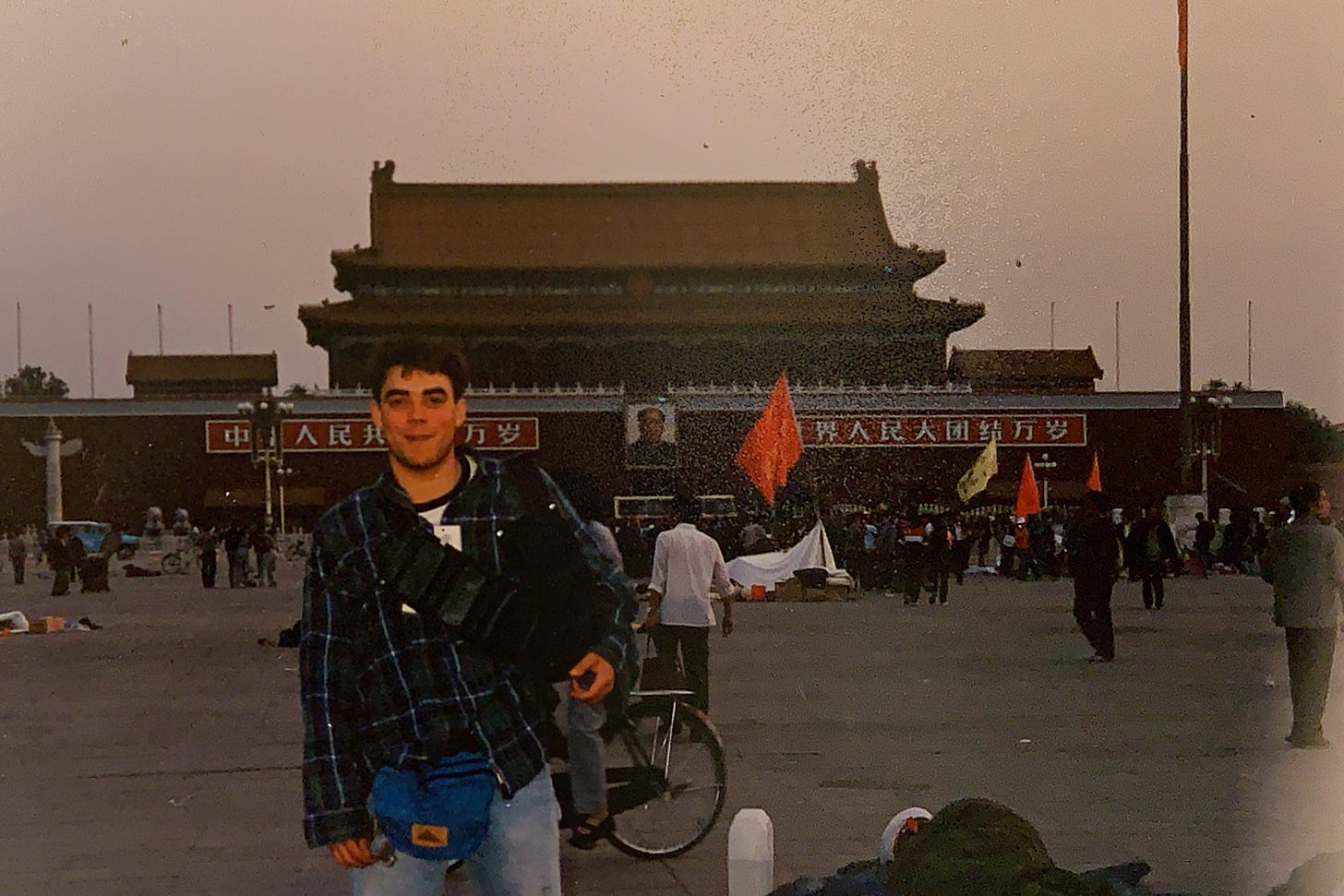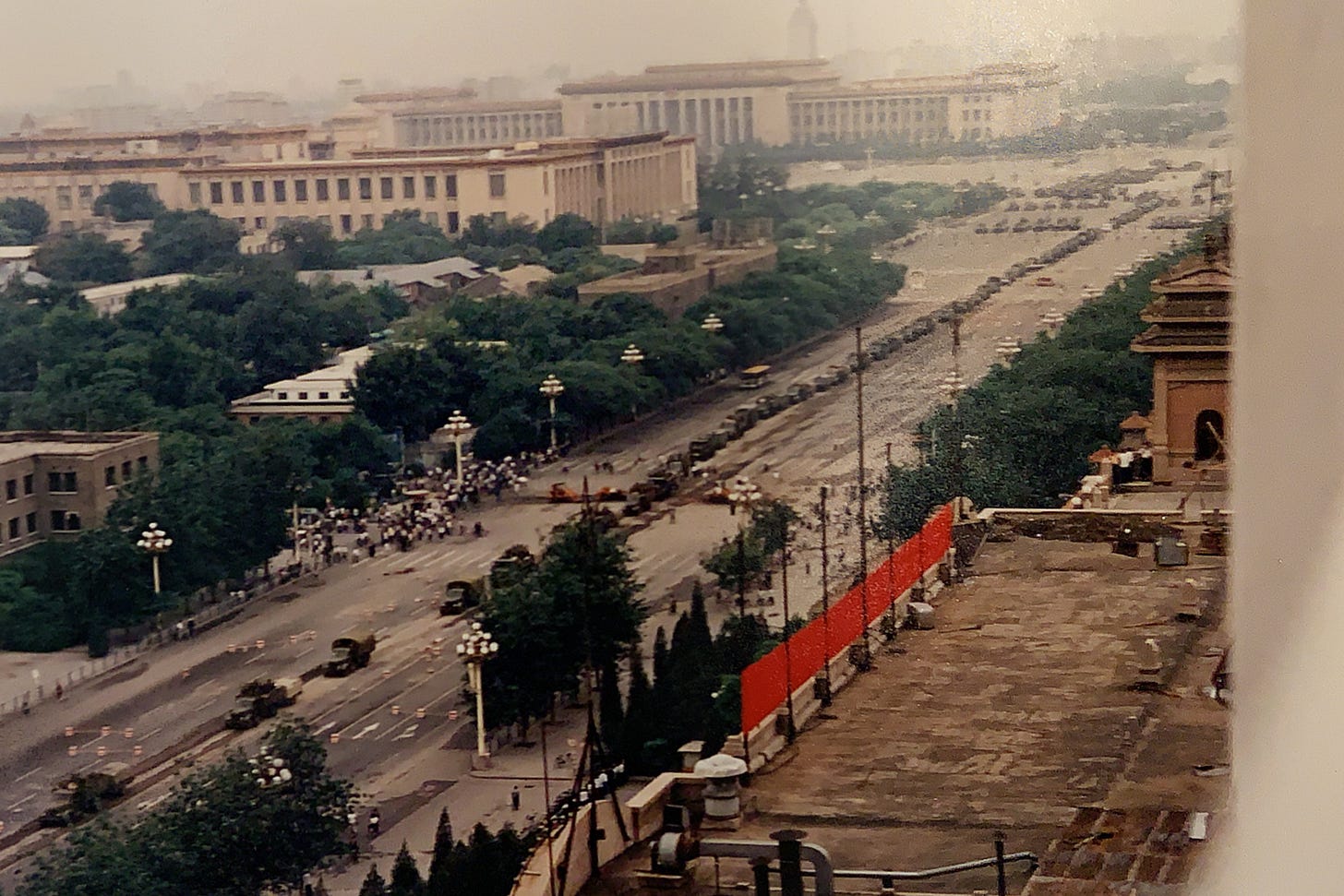 Today's Essential Eight:
More economic support

Hong Kong

The Joint Declaration not an "international obligation"

Huawei

US-China

Chinese views of US protests

June 4 anniversary

The epidemic
Thanks for reading.
---
The Essential Eight
1. More economic support
Central Bank Boosts Financing for Coronavirus-Hit Businesses - Caixin
The People's Bank of China (PBOC) and the Ministry of Finance have set up a special purpose vehicle (SPV) to channel as much as 440 billion yuan ($62 billion) of funds to regional banks so that they can provide new loans or roll over maturing loans to small businesses, including those impacted by the Covid-19 outbreak, Deputy Governor Pan Gongsheng said (link in Chinese) at a briefing on Tuesday to explain what the central bank described as two "new monetary policy tools" announced the previous day...

The central bank's move follows pledges given by Premier Li Keqiang at the National People's Congress in May to ensure more funding for small and micro enterprises, a sector of the economy seen as the biggest generator of employment. In his work report to legislators on May 22, Li said it was "crucial that we take steps to ensure enterprises can secure loans more easily" and that new monetary policy instruments would be introduced that could "directly stimulate the real economy."..

The PBOC expects the repayment of some 3.7 trillion yuan of loans to be deferred under this program, according to the statement.

The other program consists of a 400 billion yuan relending quota that the PBOC will inject into the SPV, which will buy unsecured loans granted to micro companies by qualified local banks. This temporary loan purchase plan is aimed at spurring lending of as much as 1 trillion yuan ($140.2 billion) to small businesses.
China extends repayment of 1.3-trln-yuan SME loans - Xinhua
Banks have also provided relending funds of 1.9 trillion yuan to micro-, small- and medium-sized companies hurt by the COVID-19 outbreak, according to a statement on the website of the China Banking and Insurance Regulatory Commission...

In the next step, lenders across the country will allow small businesses to further delay repayment of principal and interest and provide them more comprehensive and targeted financial services, the statement said
Chinese Central Bank Says New Monetary Policy Tools Are not a Form of Quantitative Easing – China Banking News
Pan said that the new mon­e­tary pol­icy tools were not a form of quan­ti­ta­tive eas­ing in terms of ei­ther scale or in­trin­sic na­ture, and that China still had more room than other ma­jor economies for mon­e­tary pol­icy im­ple­men­ta­tion, be­cause it re­mained within the scope of "nor­malised" mon­e­tary and credit pol­icy.

"In­suf­fi­cient sup­ply of fi­nan­cial ser­vices for mi­cro-and-small en­ter­prises is still a com­par­a­tively promi­nent prob­lem, and a key mat­ter and fo­cal point for the struc­tural re­form of fi­nan­cial sup­ply," said Pan.
China to bypass provinces with direct payments to cash-strapped local governments, but revenue problems remain | South China Morning Post
China is planning to channel much of its stimulus funding directly to cash-strapped city and county governments to help revive the economy, a move that highlights the long-standing tax and spending problems between Beijing and local governments.

Beijing will create a special central transfer mechanism to direct 2 trillion yuan (US$281.2 billion) – 1 trillion yuan from the central government budget and 1 trillion yuan in special off-budget treasury bonds – to local governments to provide them with working capital.
Chinese premier stresses expanding employment channels for graduates - Xinhua
In a written instruction to a teleconference held in Beijing, Li...noted college graduates are facing grim employment prospects due to the impact of the COVID-19 epidemic.

All regions and departments are asked to strengthen the employment-first policy in a comprehensive way, boost employment for college graduates with solid and meticulous measures and promptly carry out initiatives to keep businesses and employment stable...

Vice premiers Sun Chunlan and Hu Chunhua, who are both members of the Political Bureau of the CPC Central Committee, attended the meeting and delivered speeches.

The meeting stressed that state-owned enterprises and public institutions are encouraged to significantly increase their posts for university graduates
Beijing to offer coupons worth billions to spur consumption - Xinhua
Beijing announced on Wednesday it would offer coupons worth 12.2 billion yuan (about 1.71 billion U.S. dollars) to spur consumption dampened by the COVID-19 epidemic.

The first batch of coupons will be available on Saturday at e-commerce giant JD.com. They can be used at participating restaurants and retailers in Beijing as well as for buying products equipped with smart technologies.
PBOC Is Trying to Fix China's Decades-Old Credit Conundrum - Bloomberg
"If the PBOC just uses aggregate monetary policy to supply liquidity, the money will be grabbed by privileged sectors such as large state firms and local financing platforms, while small and private companies still can't get enough financial support," said Zhang Xu, head of the fixed-income research at Everbright Securities Co. in Shanghai.
China's Local Gov'ts Issued Record USD146.3 Billion of Bonds in May
CNY998 billion of these were special bonds, used by local governments as capital to fund major investment projects such as railroads, highways and gas and power supplies, and CNY41.8 billion were general bonds, used as part of local governments' fiscal expenditure, according to data released by the Ministry of Finance today.
Authorities' green light for street stalls - SHINE News
Shanghai's urban management and law enforcement authorities have given the green light to street stalls to support the city economy.

The authorities will support businesses to operate street stalls and conduct refined management on the operation time and scope of such stalls, a notice released by the Shanghai Urban Management and Law Enforcement Bureau states.
中国之声:为释放"地摊经济"活力,江西瑞昌城管主动动员小商贩摆摊
After Premier Li Keqiang told local governments to bring back the flea markets and farmer's markets to help employment, China National Radio reported that in Jiangxi the Chengguan, who usually play bad cops toward the vendors, now are making calls to ask the vendors back for business.
Comment: Might the chengguan see the reemergence of street stalls as an opportunity for them too? The crackdown over the last year has likely hurt their livelihoods too.
---
2. Hong Kong
Hong Kong national security law can be enacted by month-end, say Hong Kong delegates to Chinese parliament | Apple Daily
Ip Kwok-him, an NPC delegate and member of the Executive Council, shared Tam's view concerning the timeline. He added that the national security law could be enforced in Hong Kong before July 1, which marks the 23rd anniversary of the territory's transfer of sovereignty from Britain to China. Since 2003, the opposition in Hong Kong every year has organized a march to voice their discontent with the government and demand universal suffrage.
China to skip Hong Kong forums, limiting local input on security bill - Nikkei Asian Review
All open forums to solicit views on China's pending national security laws covering Hong Kong will be held on the mainland, the territory's chief executive, Carrie Lam, said in Beijing on Wednesday...

Lam was told that China will accelerate preparations to put the security laws into effect, possibly this month. Officials in Beijing also said that there is no change in the central government's policy toward enacting the laws.

The forums in Beijing and Shenzhen, the mainland city abutting Hong Kong, will let interested parties including scholars and legal professionals express their views, she said.
Vice premier hears opinions of HKSAR chief executive on national security legislation - Xinhua
Vice Premier Han Zheng on Wednesday met with Chief Executive of the Hong Kong Special Administrative Region (HKSAR) Carrie Lam and other principal officials to hear the HKSAR government's opinions on the national security legislation for the HKSAR.

Han, a member of the Standing Committee of the Political Bureau of the Communist Party of China Central Committee, is head of the central leading group on Hong Kong and Macao work...

State Councilor Zhao Kezhi and Vice Chairman of the National Committee of the Chinese People's Political Consultative Conference Xia Baolong, who are both deputy heads of the central leading group on Hong Kong and Macao work, attended the meeting
Xia Baolong's comments to CPPCC members last week, as reported by TaKungPao - 夏宝龙:切勿低估中央决心 打击"港独"是14亿人意愿 _大公网
Xia Baolong believes that it is "Hong Kong independence", tyranny and external hostile forces that cause harm to Hong Kong. These forces attempt to turn Hong Kong into an independent or semi-independent region, especially the United States. They want to undermine the central government's overall governance of Hong Kong or even seize Hong Kong's governance and turn Hong Kong into their colony. Allowed. As for the national security laws in the port area, or the reaction of the international community, especially the reaction of the United States, Xia Baolong used the example of resisting the US and supporting the DPRK as an example, and called on the members of the CPPCC not to fear the threat of the United States.

夏宝龙认为,对香港造成伤害的正是"港独"、黑暴及外部敌对势力。这些势力企图把香港变成独立或半独立地区,尤其是美国,想破坏中央对香港的全面管治权,甚至夺取香港的管治权,把香港变成他们的殖民地,中央对此是绝对不允许的。至于港区国安法或引起国际社会反弹,特别是美国的反应,夏宝龙以抗美援朝为例,吁政协委员毋须害怕美国的威胁。
Hong Kong leader accuses foreign critics of double standards - AP
Following talks with officials in Beijing, Lam said China has the same right as the U.S. and Britain to enact legislation protecting its national security and that foreign criticism and threats of sanctions could not be justified. She also said China was compelled to take the step at the national level because opposition in Hong Kong's own legislature and among government critics made it impossible to do so locally.
HKSAR gov't finance chief says Hong Kong well-prepared, fearless in face of U.S. threats - Xinhua
Amid uncertainties as to when and to what extent the United States will slap sanctions on Hong Kong, finance chief Paul Chan said Hong Kong is fearless and has already prepared various contingency plans to weather the challenges.

"We are not afraid of possible sanctions by the United States," Chan, financial secretary of the Hong Kong Special Administrative Region (HKSAR) government, told Xinhua in an interview.
Hong Kong Dollar (HKD USD) News: Can Get U.S. Dollars From China - Bloomberg
The dollar peg is underpinned by about $440 billion of foreign-exchange reserves, which is more than two times the city's money in circulation, Financial Secretary Paul Chan said in an interview with China Central Television on Wednesday. If needed, Hong Kong can tap a currency swap line with the People's Bank of China, which will cover Hong Kong dollars and the greenback, he said.
HSBC 'finally' backs national security legislation for HK - Global Times
Song Guoyou, director of Fudan University's Center for Economic Diplomacy, said the bank's statement "should have come earlier" as the bigger trend and public opinion in Hong Kong has been demonstrated in support of the new legislation.

"However, if HSBC can show its sincerity and honor its statement with concrete actions in the future, we can describe Wong's signature as never too late," Song told the Global Times.
Nomura reviews scale of operations in Hong Kong | Financial Times $$
Although Mr Okuda said there were no plans to relocate staff from Hong Kong to elsewhere in the region, he noted that Nomura was actively expanding its operations in Singapore. "Because of the political situation, we are seriously looking at the size of the Hong Kong [operations] and others," he said.
---
3. The Joint Declaration not an "international obligation"
Boris Johnson OpEd - For Hongkongers fearing for their way of life, Britain will provide an alternative | South China Morning Post
last month, the National People's Congress in Beijing decided to impose a national security law on Hong Kong, which would curtail its freedoms and dramatically erode its autonomy.

If China proceeds, this would be in direct conflict with its obligations under the Joint Declaration, a legally binding treaty registered with the United Nations...

If China imposes its national security law, the British government will change our immigration rules and allow any holder of these passports from Hong Kong to come to the UK for a renewable period of 12 months and be given further immigration rights, including the right to work, which could place them on a route to citizenship...

Britain does not seek to prevent China's rise; on the contrary we will work side-by-side on all the issues where our interests converge, from trade to climate change. We want a modern and mature relationship, based on mutual respect and recognising China's place in the world.

And it is precisely because we welcome China as a leading member of the world community that we expect it to abide by international agreements.
Boris Johnson offers refuge, British citizenship path for nearly 3 million Hong Kong people - The Washington Post
In op-eds published in the South China Morning Post and the Times of London, Johnson said the Chinese security law — which will criminalize broadly worded offenses such as sedition, subversion and foreign interference — gives Britain "no choice but to uphold our profound ties of history and friendship with the people of Hong Kong."..

China's Foreign Ministry said Wednesday that Britain has no jurisdiction over Hong Kong. Britain must "step back from the brink" and "stop interfering in Hong Kong's affairs and China's internal affairs," spokesman Zhao Lijian told reporters.
China urges Britain to stop meddling in Hong Kong affairs - Xinhua
Britain's historical link with Hong Kong arises from the period of invasion, colonialism and unequal treaties. Authoritarian is "precisely the word to describe its colonial rule in Hong Kong," Zhao said, adding that it is after the return of Hong Kong that the residents came to enjoy unprecedented rights and freedoms.。。

The Sino-British Joint Declaration is all about China's resumption of sovereignty over Hong Kong. The basic policies regarding Hong Kong declared by China in the Joint Declaration are China's statement of policies, not commitment to Britain or an international obligation as some claim, he said...

"You cannot find a single word or article in the Joint Declaration that confers on the UK any Hong Kong-related responsibility after the handover," Zhao said.
Foreign Ministry Spokesperson Zhao Lijian's Regular Press Conference on June 3, 2020
National security is the very foundation for the existence and development of all countries, and the core and fundamental element of national sovereignty. China and the UK negotiating and signing the Joint Declaration is all about China's resumption of sovereignty over Hong Kong. The national security legislation for Hong Kong is part of the definition of China's exercise of sovereignty. The basic policies regarding Hong Kong declared by China in the Joint Declaration are China's statement of policies, not commitment to the UK or an international obligation as some claim.
Chinese version of Zhao's comments - 2020年6月3日外交部发言人赵立坚主持例行记者会 — 中华人民共和国外交部
维护国家安全是一国生存发展的基本前提,是国家主权最核心、最基本的要素。中英谈判及签署《联合声明》的核心是中方对香港恢复行使主权,在港进行国家安全立法是中方行使主权的应有之义。《中英联合声明》关于对港的基本方针政策是中方单方面政策宣示,不是中方对英方的承诺,更不是所谓国际义务。
Shanghai-London Stock Connect Link to Revive After Year-Long Gap - Bloomberg
The stock link has been dormant since broker Huatai Securities Co. raised $1.69 billion a year ago through the sale of GDRs, the only Chinese company to have done so in London. SDIC Power Holdings Co. was set to follow earlier this year but postponed in December, citing "market conditions." China temporarily suspended the trading link on political grounds, people familiar with the matter previously told Bloomberg, though Beijing denied those claims and said operation continued as normal.
Comment: The "political grounds" between the UK and China are worse now than they were a year ago…
---
4. Huawei
Bell, Telus to use Nokia and Ericsson, not Huawei, in building their next-generation 5G networks | CBC News
Canadian authorities are currently mulling whether to allow Huawei to participate in Canadian networks. Canada's Public Safety Minister Bill Blair said in a statement to CBC News that the government is "taking all security factors into account, including those from our allies and our security agencies. We will ensure that our networks are kept secure and will take the appropriate decisions in due course."

Tuesday's news show the industry isn't waiting around for that decision either way.

A few hours after Bell's move, Telus announced that it, too, would use Nokia and Ericsson for its 5G network. That's a departure from what the company said as recently as February, when Telus announced it was moving ahead with plans to roll out 5G using Huawei equipment.
Canadian telcos tap Ericsson, Nokia for 5G gear, ditching Huawei - Reuters
The announcements put "a real monkey wrench into the spanner" for Huawei's business ambitions in Canada, said Lawrence Surtees, lead research analyst on communications at IDC Canada.

Although Huawei has contracts with smaller companies, and continues to provide some tech for Bell's network, the two companies "are substantial contracts and it's a nice piece of business for whoever gets it," he said.

Huawei said it supports Bell's strategy of selecting multiple equipment suppliers, referring to the Canadian telecom firm's relationship with Huawei to supply other network components.
Exclusive: Huawei hid business operation in Iran after Reuters reported links to CFO - Reuters
China's Huawei Technologies acted to cover up its relationship with a firm that had tried to sell prohibited U.S. computer gear to Iran, after Reuters in 2013 reported deep links between the firm and the telecom-equipment giant's chief financial officer, newly obtained internal Huawei documents show...

The newly obtained documents appear to undermine Huawei's claims that Skycom was just a business partner. They offer a behind-the-scenes look at some of what transpired at the two companies inside Iran seven years ago and how intertwined the companies were. The documents are variously written in English, Chinese and Farsi.
Watching China in Europe Newsletter | June 2020
For over a year, European countries have been agonizing over whether to include Huawei in their 5G networks. Often this was framed as a choice between the United States and China. Now, all of a sudden, Washington may be taking that choice away from them altogether. New U.S. export controls, designed to prevent Huawei from getting the advanced chips it needs, are being seen as a potential game changer in the drawn-out European 5G debate...The EU's 5G Toolbox warns member states against choosing suppliers that may be unable to deliver on their commitments. If Huawei is unable to get the chips it needs to build its base stations, then its 5G hopes in Europe could go up in smoke. "To us it looks like the entire business model of Huawei is now in danger," a senior German government official told me.
Huawei continues 5G push in India with Covid-focused tech, despite anti-China sentiment
Accusations of spying for China, an intensifying global US-led movement against its business, the Narendra Modi government's initial reservations and protests in India — none of these factors seem to faze Huawei as it continues to push its 5G technology in the country.

In the latest bid to establish itself ahead of India's 5G trials, and to find collaborators, the Chinese telecom equipment maker is using the Covid-19 pandemic to demonstrate how its 5G tech can be useful in the healthcare sector.
Did yesterday's call among the Five Eyes foreign ministers discuss Huawei? -Secretary Pompeo's Call with Australian, Canadian, New Zealand, and UK Counterparts - United States Department of State
Secretary Michael R. Pompeo spoke yesterday with Canadian Foreign Minister François-Philippe Champagne, Australian Foreign Minister Marise Payne, New Zealand Foreign Minister Winston Peters, and United Kingdom Foreign Secretary Dominic Raab. They discussed our coordination on responding to urgent global challenges, including the PRC's unilateral and arbitrary decision to impose national security legislation on Hong Kong; Iran's destabilizing activities in Iraq and the Middle East; and the need for a transparent accounting into the origins of, and global response to, COVID-19. They also discussed coordination to maintain supply chains for PPE and medical equipment and our joint efforts to control the export of sensitive technology.
---
5. US-China
Trump administration bans flights by Chinese airlines - The Washington Post
The change, announced by the Department of Transportation and beginning June 16, is in response to China's refusal to allow U.S. carriers to resume service to China.

The rule would impact operations of seven carriers, including Air China and China Eastern Airlines. The department noted in its rule filing that the ban could take effect sooner at President Trump's discretion.
Comment: China is a bind, they do not want to make it easy for PRC citizens in the US to return easily right now, as they are so worried about imported COVID-19 cases.
New U.S. restrictions on 33 Chinese firms, institutions take effect June 5 - Reuters
The U.S Commerce Department said Wednesday that new restrictions on 33 Chinese firms and institutions will take effect on Friday after the agency announced last month it was adding them to an economic blacklist for helping Beijing spy on its minority Uighur population or because of ties to weapons of mass destruction and China's military.
Sequoia Capital China's Neil Shen and Softbank Vision Fund partner quit board roles at Qihoo 360 | South China Morning Post 
Sequoia Capital China's founding and managing partner Neil Shen Nanpeng and Chen Xun, managing partner at SoftBank Vision Fund, have both stepped down from Qihoo 360's board of directors, citing personal reasons, according to a regulatory filing to the Shanghai Stock Exchange on Sunday.
Question: Are they stepping down because of the recent blacklisting of Qihoo by the US, and the problems any affiliation with Qihoo may now cause them and their firms??
Bill Aims to Stop Theft of U.S. University Research by China, Others - WSJ
The bill, which Sens. Rob Portman (R., Ohio) and Tom Carper (D., Del.) plan to introduce Wednesday, follows renewed alarms from the White House and U.S. agencies over Beijing's alleged attempts to tap U.S. universities to boost China's military and technological competitiveness.

The legislation doesn't cite any foreign government by name, using instead the term "malign state actors." The measure addresses findings by the Senate Permanent Subcommittee on Investigations, which the senators lead, that Beijing uses recruitment programs with generous funding to lure scientists and their knowledge to China and that U.S. universities have systematically failed to report foreign gifts as required by law...

The senators' bill would also lower the reporting threshold for U.S. universities receiving foreign gifts and contacts to $50,000 from $250,000 and permit the Education Department to fine schools by as much as triple the value they fail to report.
Briefing with Senior State Department Officials On U.S. Limiting the People's Liberation Army's Ability to Use Nonimmigrant Visa Programs to Illicitly Acquire U.S. Technologies and Intellectual Property - United States Department of State
In particular, China has either coopted or coerced a finite, small number of academics and researchers who have come to the United States and other countries where they have engaged in activities that have given them access, taking full advantage of our open academic and research environment, to sensitive technologies. And they've done so without revealing in these small number of cases their ties to China's security apparatus, and thus whether they have been actually stealing technology per se or merely diverting it, they have nonetheless, under less than completely honest pretenses, have been a channel for taking this technology back to China for nefarious purposes.
Protesting China's Unlawful Maritime Claims at the UN | United States Mission to the United Nations
I have the honor to convey a letter to you regarding Note Verbale No. CML/14/2019 sent by the Permanent Mission of the People's Republic of China to you on December 12, 2019 in response to the submission by Malaysia to the Commission on the Limits of the Continental Shelf (CLCS) dated December 12, 2019. The United States rejects these maritime claims as inconsistent with international law as reflected in the 1982 Law of the Sea Convention. I request that you circulate the enclosed letter to all UN Member States as a document of the General Assembly under Agenda Item 74(a) and of the Security Council, and that you post it on the web page of the Office of Legal Affairs, Division for Ocean Affairs and the Law of the Sea.
Trump supporters on Twitter spread Covid-19 rumors about China - POLITICO
Nearly 30 groups of Twitter users who identified themselves as supporters of President Donald Trump, the Republican Party or the conspiracy theory QAnon spread rumors that the coronavirus was a bioweapon created in China, according to new research.
---
6. Chinese views of US protests
Why are Chinese partaking in 'revenge observation' on US riots? - Global Times
When the Western media depicts Chinese media coverage of the ongoing social unrest in the US as a "propaganda win" with a mixture of glee for the Western media's double standards on the Hong Kong protests, which has now backfired on its own, few of them are taking a deeper look into why China is closely watching these mass protests fueled by anger toward the murder of an African-American by US police. A yearlong confrontation on all fronts has seen the world's two largest economies reach the tipping point while each social movement has become a window of opportunity for the Chinese public to deepen their understanding regarding the "true face" of the United States of America...

such a "shallow" and "unilateral" interpretation of public opinion in China failed to touch upon the actual reasoning behind such unprecedented attention that Chinese people have attached to the chaotic protests in the US, as some Western media have ignored a rapidly changing collective mind-set characterized by growing criticism over American democracy, a realistic view on US-China relations and more balanced assessments of the escalating rivalry between the two nations, observers said...

Zhang Yiwu, a professor from Peking University, told the Global Times on Tuesday that Chinese people have always been paying attention to what is happening in the US, a global superpower, especially with China-US ties being strained in recent months. "Chinese people are also curious about what the US would do when confronted with similar riots happening in Hong Kong since last year."

Aside from gloating, more Chinese people are surprised and also confused about how the US could descend to such a low level since it currently has both the largest coronavirus death toll and a rioting on such a scale re-emerging after 50 years. Nothing has changed in regards to racial problems and the social divide. Human rights, social equality and democracy… all the things that the US used to boast about are nothing but a bubble poked by reality, Zhang said.
Is China reveling in US woes? | China Media Project - David Bandurski
Given the nature of coverage by party-state media, I leave it others to determine whether, in their view, China's officials are openly "reveling" in the scenes emerging from the US. I would suggest cautiously that the picture is far more complicated. There are clear cases of exploitation, notable for example in the case of CGTN America's segment on "America: A Reality Check" – which targets an overseas audience but can be reflected back to a domestic audience. There are commentaries like that in The Beijing News, attempting to underscore American hypocrisy, which in any case are featured regularly in Chinese state media, whatever is unfolding in the US. But there also seems to be a muting of coverage in official channels, very possibly because propaganda officials are keen to avoid associations with Hong Kong.

As I indicated at the outset, one of the most interesting contrasts can be found between party publications like the People's Daily and their digital cousins, notably "People's Daily New Media." The latter specialize in digital viral propaganda, and generally they seem to be far more provocative – and perhaps effective? – in their manipulation of the themes I mentioned, including the undermining of American credibility on rights and freedoms.
Comment: And of course that highlighting protests around June 4, especially protests that are mostly peaceful, is a potential double-edged sword for the CCP, if the protests end peacefully, and there is accountability for bad actors inside the system.
---
7. June 4 anniversary
China jibes U.S. on human rights ahead of June 4 anniversary - Reuters
Hu Xijin, editor of the Global Times, a nationalistic tabloid published by the ruling Communist Party's People's Daily, said the United States was marking the Tiananmen anniversary "in a unique way".

"US military is being dispatched to the cities and police are opening fire. The US is proving the importance for China to restore order in 1989. But back then, the destruction of China's order was much worse than US now," he said in English on Twitter.
31st Anniversary of  Tiananmen Square - United States Department of State
Thirty-one years later, the total number of missing or dead Tiananmen protesters is still unknown. The United States continues to applaud their aspirations, and the American people stand with the families still grieving their lost loved ones, including the courageous Tiananmen Mothers who have never stopped seeking accountability for their children's deaths, despite great personal hardship and risk. We reiterate our call for a full, public accounting of those killed or missing.

We mourn the victims of June 4, 1989, and we stand with the people of China who continue to aspire to a government that protects human rights, fundamental freedoms, and basic human dignity.
Secretary Pompeo's Meeting with Tiananmen Square Survivors  - United States Department of State
Secretary of State Michael R. Pompeo was honored to meet yesterday with Wang Dan, Su Xiaokang, Liane Lee, and Henry Li – four of the thousands of brave participants in the heroic protests for democracy that were brutally put down by the Chinese Communist Party on June 4, 1989.
Taiwan calls on China to apologise for Tiananmen crackdown, Beijing cries 'nonsense' - Reuters
Taiwan called on China on Wednesday to apologise for the bloody 1989 Tiananmen Square crackdown on pro-democracy demonstrators in Beijing, a call dismissed as "nonsense" by China's foreign ministry.
Here are some excerpts from a fascinating Twitter thread from a recently retired US official:
---
8. The epidemic
Chinese Mainland Reports One Confirmed Covid-19 Case
Chinese health authority said today that it received report of a new confirmed Covid-19 case yesterday, which was imported and reported in Guangdong province.
Second city in China to carry out mass testing for COVID-19 - CGTN
Mudanjiang, a northeastern border city in China, has started to conduct citywide nucleic acid tests since early this week to assess some 2.8 million people, according to the local government, an announcement came after 15 asymptomatic COVID-19 patients reported there last week.

Municipal health authorities have determined to further expand their nucleic acid testing team, consisting of 1,196 people from over 20 medical institutions that had been trained and prepared for the testing.
NE China city classified as COVID-19 low risk area - Xinhua
Shulan had been regarded as an epidemic high-risk area since May 10 after reporting multiple domestically transmitted COVID-19 cases, forcing authorities to adopt a slew of stringent measures including suspending all coach and tourist charter bus services and closed-off management of residential areas and communities.

As of Tuesday, Jilin Province had reported no newly confirmed locally transmitted COVID-19 cases for 10 consecutive days, the provincial health commission said Wednesday.
---
Business, Economy and Trade
China to further lower logistics costs to aid recovery - Gov.cn China will further reduce logistics costs to improve the efficiency of logistics, accelerating the recovery of production and the return to normal life following the COVID-19 epidemic, according to a guideline from the National Development and Reform Commission and the Ministry of Transport.
Chinese Liquor-Maker Briefly Surpasses Value of World's Largest Bank - Caixin Global Moutai's market capitalization rose to nearly 1.8 trillion yuan ($252.9 billion) on Tuesday morning as shares soared, overtaking ICBC, the world's largest bank by assets, taking the throne as the most valuable of more than 3,800 companies listed in Shanghai and Shenzhen, although the company fell back to second place later that day.
Record $666 Billion China Local-Debt Wave Sees Foreigners Wary - Bloomberg International funds now hold 8.6% of China's central government bonds, several times more than the share just several years ago, and not terribly far from the 13% overseas stake in Japanese sovereigns. Inflows continued through the coronavirus crisis, and the U.S. trade war. Officials are hoping that interest might extend to local government notes, where foreign ownership is merely 0.01%. Issuance will climb to 4.73 trillion yuan ($666 billion) this year to help bolster economic growth that is expected to be the worst since the 1970s.
财新:中法合作基金启动,首期募资4亿欧 The state-run China Investment Corporation formally launch a 400 million Euro fund with BNP Paribas and Eurazeo. The fund said it will invest in European companies that have market potential in China. 
混沌大学:对话虎扑创始人程杭:爆发的直男经济,风口往哪吹? Cheng Hang, CEO of China's biggest online sports forum Hupu, in an interview talked how to tap into the "straight man culture" in China, as Chinese men are spending more on electronic devices, cosmetics, gaming, and nationalist movies like Operation Red Sea.
Politics and Law
财新:月收入不足千元,这6亿人都在哪 Li Keqiang said in the NPC press conference that 600 million Chinese have barely 1000 RMB for monthly income. Wan Haiyuan and Meng Fanqiang, professors from Beijing Normal University, provided a breakdown of the number, citing their survey. They wrote that among the 600 million people, about five million have no income at all, and another 220 million have less than 500 RMB per month. They added that China is still the largest development country in the world, and it should know its place.
How Chinese Companies Are Getting Off Social Credit Blacklists - SixthTone The Wenzhou pet products store owner, who asked to be identified using the pseudonym Zhang out of privacy concerns, said he expected his business to remain on the list for several years. But in 2019, a Zhejiang-based company offered to help him "erase" the information about his misdemeanor from the government list. All Zhang had to do was pay 1,800 yuan for a short training course and take a test, and his original credit status would be "restored" with a written certificate, the company said. "The content of the training was learning which government departments had issued which policies, then scanning a code on my phone to access the test paper," Zhang said. A few days after finishing the exam, he found that the details of his wrongdoing had indeed disappeared from the website.
China investigates senior official over celebrity son Tong Zhuo's college admission drama | South China Morning Post Tong Tianfeng is deputy secretary general of the Linfen People's Congress in the central Chinese province of Shanxi and father of singer and actor Tong Zhuo. An official from the administration office of the people's congress said on Wednesday that the father was under investigation.
High Peaks Pure Earth – "Shocking: During the Epidemic, Two Chinese-Style Pavilions Appear in Front of the Jokhang Temple (Part 1)" By Woeser In front of Lhasa's oldest and most sacred building- the Jokhang Temple – suddenly two pavilions under construction have appeared. Even though they are surrounded by propaganda slogans, from their overall appearance it becomes obvious that they are those kinds of pavilions that we find in any park anywhere across China.
Mandarin Mayhem, Part II: Dialect and Nationalism in China Joining us on the podcast is Gina Anne Tam, Assistant Professor in History at Trinity University, and the author of the recent book Dialect and Nationalism in China, 1860-1960.  Picking up the threads of the recent podcast "Mandarin Mayhem", we explore with Gina issues such as the central role of language unification in the task of nation building; the tension between the goal of national unity and preserving China's rich cultural diversity as manifested in fangyan; the future survival of the many local speech forms in the face of China's ongoing national Putonghua promotion policy; and even a brief discussion of Chengdu rappers and the sociological implications of Sichuan dialect rap.
China Change » Interviewing Sui Muqing: As a Human Rights Lawyer, I've Sacrificed a Lot, But Gained Even More This is the second interview in our How I Become a Human Rights Lawyer series. Today we present our conversation with Guangzhou lawyer Sui Muqing (隋牧青), conducted on May 19, 2020
力戒形式主义官僚主义,为决胜全面建成小康社会提供坚强作风保证 ——学习《习近平关于力戒形式主义官僚主义重要论述选编》 闻 言 People's Daily "Wen Yan" on the importance of fighting "formalism" to win the battle the achieve a moderately prosperous society, as Xi discusses in the latest book of his utterances on combatting "formalism".
Great tool for analyzing changes in the Civil Code | The China Collection The Beida Fabao website has posted an excellent tool for analyzing the recently promulgated Civil Code, showing the history of, and changes in, the various articles, many of which come from existing laws
财新:人事观察|"70后"高官再增员,刘玉江任河南副省长 Liu Yujiang, who worked 14 years at the CCP Untied Front Department is now vice governor of Hunan. He is the 35th Chinese official under 50 who has been promoted to vice-minister level or above.
央广网:最高检发布2019年检察机关主要办案数据 According to China's Supreme People's Procuratorate, the two biggest crimes in China are theft and DUI. Nearly 190 thousand people are arrested for theft, and more than 300 thousand are charged for DUI.
新浪娱乐:笑果文化回应卡姆吸毒被捕:将无限期停止艺人工作 Kamu, a well-known Uighur standup comedian was arrested last month in Shanghai with his girlfriend for using drugs, Shanghai police said. The company represented him apologized and said it has indefinitely suspended him.
Foreign and Defense Affairs
Armies of India and China to hold Lt Gen level talks on June 6 to resolve Ladakh crisis - Times of India India and China will hold Lieutenant General level talks on June 6 to address the ongoing dispute in Eastern Ladakh over the massive military buildup along the Line of Actual Control by the People's Liberation Army (PLA) of China.
Chinese Perspectives on International Relations in the Xi Jinping Era - The National Bureau of Asian Research (NBR) This NBR Special Report offers perspectives from two Chinese scholars on the intellectual framework that structures current discussions within China about the international order. The first essay by Ren Xiao (Fudan University) surveys the growing importance of area studies within China and argues that this trend reflects the country's increasing interests in the wider world. The second essay by Liu Ming (Shanghai Academy of Social Sciences) examines the implications of Xi Jinping's concept of a "community with a shared future for humankind" for China's role as a rising power willing to take on more international responsibility.
Chinese military provides more medical supplies to help Laos fight COVID-19 - China Military The second batch of medical supplies, provided by China's Ministry of National Defense to its Lao counterpart for the fight against COVID-19, was handed over in the Wattay International Airport of Lao capital Vientiane on Tuesday.
Military training to be conducted in Bohai Sea from June 2 to 16 - China Military
China's J-20 fighter jet has 'beast mode' for arms like F-35: reports - China Military China's J-20 fighter jet has been spotted equipped with pylon adapters under its wings, indicating the stealth aircraft may also be able to enter a "beast mode" like the US' F-35 fighter jet if needed by giving up some stealth capability in exchange for larger weapons loads, reports said.
Chinese military plans to recruit more university graduates in 2020 - Xinhua The move is to send more high-quality personnel to the army, according to a document jointly issued by the Ministry of Education and the department of defense mobilization under the Central Military Commission. The document ordered smoother channels for university students to enlist amid the COVID-19 epidemic. "In military recruitment, priority should be given to those who have worked on the front line battling the coronavirus and their children, especially college graduates," it said.
China ready to pounce as Tullow Oil bows out | Daily Nation The Covid-19 pandemic has come as the last nail on the coffin of Kenya's oil export dream as currently structured after British oil major Tullow Oil served the government with a force majeure notice, which means that it can no longer deliver its part of the contract. This has now handed China the biggest opportunity yet to snap up the deal, after it emerged as the front-runner in the race to buy off the Kenyan oil project from the struggling British firm.
Philippines notifies US it will keep military deal as tensions rise - Nikkei Asian Review In its letter to the U.S. Embassy in Manila, which Locsin posted, the Philippine Foreign Affairs Department said the move was "in light of political and other developments in the region." Speaking to reporters on Wednesday, Locsin said Duterte's decision also came amid "heightened superpower tensions," without directly referring to the U.S.-China rivalry.
Tech and Media
Tiktok apologizes for blocking Black Lives Matter hashtag · TechNode Tiktok users accused the platform last week of censoring hashtags #BlackLivesMatter and #GeorgeFloyd amid nationwide protests in the US against the death of George Floyd, a 46-year-old black man who was killed during a police arrest on May 25.
China Literature Issues New Contracts; Writers Get Copyright Guarantee China's largest e-book platform China Literature issued a new contract to its writers today, revising more than 10 contentious articles in the previous one and offering several alternatives on revenue sharing.
UPDATE – Indian software 'Remove China Apps' likely to draw punishment from China - Global Times If the Indian government allows the irrational anti-China sentiment to continue ruining bilateral relations, it is likely to draw tit-for-tat punishment from Beijing, an industry source who asked to remain anonymous told the Global Times on Tuesday.
Google pulls 'Remove China Apps' from Play Store | TechCrunch The top trending app in India, which was downloaded more than 5 million times since late May and enabled users to detect and easily delete apps developed by Chinese firms, was pulled from Android's marquee app store for violating Google Play Store's Deceptive Behaviour Policy, TechCrunch has learned. Under this policy an app on Google Play Store cannot make changes to a user's device settings, or features outside of the app without the user's knowledge and consent, and not it can encourage or incentivize users into removing or disabling third-party apps.
Society, Arts, Sports, Culture and History
Trending in China: Families Jump the Queue For Beijing Car License Plates, Setting Off Debate - Caixin Heated debate has erupted on Weibo. While some people support the intention behind the proposal, most people have voiced their opposition to its implementation. Most notably, single people who have waited for many years in the lottery pool complain that the rearrangement of new energy car quotas leaves them with barely any chance. One user writes, "so I don't deserve a car if I'm not married?"
Energy, Environment, Science and Health
China says sticking to climate pledges despite coronavirus outbreak - Reuters government researchers and analysts have warned that China may struggle to meet its climate pledges this year as it turns to heavy industry and carbon-intensive projects to shore up its coronavirus-stricken economy. "China's carbon emission reduction will not change with the occurrence of the epidemic," Liu Youbin, spokesman for the Ministry of Ecology and Environment, said at a monthly press conference in Beijing, adding that China would "100%" fulfil its NDC commitment.