Discover more from Sinocism
Get smarter about China
Over 179,000 subscribers
National security law for Hong Kong; Mocking Trump; Two Sessions begin
Monday is the Memorial Day holiday in the United States; there will be no newsletter that day.
I made a mistake in yesterday's newsletter. US Secretary of State Pompeo did not call Taiwan President Tsai Ing-wen to congratulate her on her inauguration. In fact he issued a statement that was read at her inauguration and tweeted congratulations. Apologies for the error. On to today…
The Chinese People's Political Consultative Conference (CPPCC) opened today in Beijing. The seven Politburo Standing Committee members plus Wang Qishan, and the vice-chairs of the CPPCC all were not wearing masks, while everyone else was.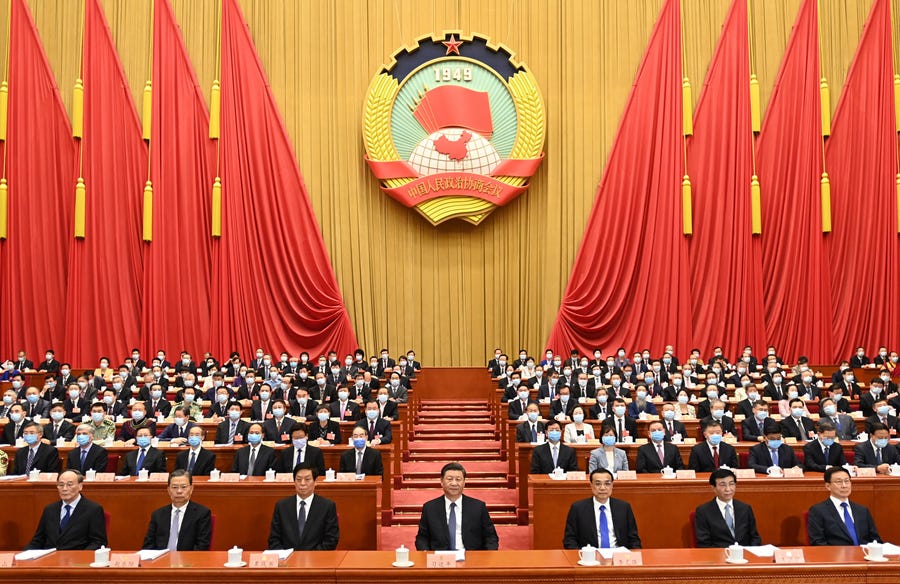 The National People's Congress (NPC) opens Friday. At a press conference today the NPC spokesman Zhang Yesui confirmed that the NPC will propose a national security law for Hong Kong. This move affirms that Hong Kong as we knew it is gone and rule of law is now rule by law, with the CCP determining what the laws are and how they will be enforced. The legal complexities of how they justify imposing this law from Beijing will not get in the way of the brutal political reality.
The reaction in Hong Kong could be intense, and violent. The two central government leaders Xi installed a few months ago to manage Hong Kong affairs are hardened CCP cadres, and there are already few restraints to the behavior of the Hong Kong security services.
The international reaction will be long on rhetoric, but will there be any real action? The US may revoke some of the special treatment it gives Hong Kong, but Xi and the Party Center may believe they can act with near impunity, especially now when most countries who would oppose this move are distracted and weakened by the pandemic. They are probably right. And it will certainly be popular inside the PRC ex Hong Kong.
This move puts Taiwan's status in even more stark relief, and may accelerate already significant momentum in DC towards reevaluating some of the limits Washington has placed on its interactions with Taiwan.
Meanwhile, President Trump sent three tweets last night criticizing China and Xi, though without mentioning his name. Have the President's briefers told him all the ways the propaganda organs and certain officials have recently mocked him and the US?
Hu Xijin of The Global Times continued the mocking today:
This is not constructive.
Over the last year I have become increasingly pessimistic about the trajectory of the US-China relationship in large part because of what I hear from PRC contacts inside the system, who are very worried about where things are headed. In the last few weeks we have seen several Chinese academics such as Shi Yinhong, Zheng Yongnian, Yan Xuetong and Zhu Feng express their concerns. The fact that they feel a need to speak out at all is I think a quite worrisome indicator of the forces on the PRC side that are contributing to the accelerating downward trajectory. 一个巴掌拍不响 aka it takes two to Tango.
Thanks for reading.
---
The Essential Eight
1. National security law for Hong Kong
Two Sessions 2020: Beijing will announce resolution for national security legislation for Hong Kong to proscribe secession, foreign interference and terrorism | South China Morning Post
Beijing will introduce a draft resolution to allow the National People's Congress to chart legislation for a new national security law tailor-made for Hong Kong that will proscribe secessionist and subversive activity, foreign interference and terrorism in the city, sources have told the Post.

A Beijing source said the new law would ban all seditious activities aimed at toppling the central government and external interference in Hong Kong's affairs. It would also target terrorist acts in Hong Kong.

A mainland source familiar with Hong Kong affairs said Beijing had concluded that it was impossible for the city's Legislative Council to pass a national security law to enact Article 23 given the city's political climate and hence was turning to the National People's Congress, the country's legislature, to take on the responsibility.

Question: Among all the changes this would bring, will it also mean that Hong Kong is going to get a version of the Great Firewall for Internet controls?..

"The NPC decision will delegate the NPC Standing Committee to draft the new legislation for Hong Kong, which would be included in Annex 3 of Hong Kong's Basic Law," the source said.

"The new law will be introduced in Hong Kong through promulgation, without the need for local legislation."'
NPC reveals agenda for national security law in HK - Global Times
After a preparatory meeting for the third session of the 13th NPC, Zhang Yesui, spokesperson of the National People's Congress (NPC), announced a new agenda and arrangements for the national security law to be implemented in the Hong Kong Special Administrative Region (HKSAR). The proposed legislation indicates the central government's firm determination to fix the loopholes within the legislative system of the HKSAR while intervention and stigmatization from external forces and local separatists continue to erode the foundation of the South China city, deputies and members to the two sessions told the Global Times. ..

It's called the Establishment and Framework of the Legal System and Enforcement Mechanism for the Safeguarding of National Security in the HKSAR, which would take effect by being included in Annex III of the Basic Law, some Hong Kong media anticipated, which needs no approval by Hong Kong's Legislative Council (LegCo).
十三届全国人大三次会议将审议《全国人民代表大会关于建立健全香港特别行政区维护国家安全的法律制度和执行机制的决定(草案)》-新华网
十三届全国人大三次会议21日晚举行新闻发布会,大会发言人张业遂说,本次大会将审议《全国人民代表大会关于建立健全香港特别行政区维护国家安全的法律制度和执行机制的决定(草案)》。
China set to impose new Hong Kong security law, Trump warns of strong U.S. reaction - Reuters
Trump, who has ratcheted up his anti-China rhetoric as he seeks re-election in November, told reporters at the White House that "nobody knows yet" the details of China's plan. "If it happens we'll address that issue very strongly," Trump said, without elaborating.
NPC spokesman Zhang Yesui told reporters on Thursday night that the NPC's decision to put forward the Hong Kong bill was due "the new situation and the need", and the Party's Fourth Plenum has also made request for such law. Zhang said the NPC has the every constitutional right to do this, and the bill is "absolutely necessary" to protect the "one country - two system" framework.

香港星岛日报记者:刚才您提到的今天大会预备会议通过的十三届全国人大三次会议日程中,有一项是审议全国人民代表大会关于建立健全香港特别行政区维护国家安全的法律制度和执行机制的决定草案。请问,全国人大会议列入这项议程有什么考虑?谢谢。

张业遂:谢谢你的提问。国家安全是安邦定国的重要基石。维护国家安全是包括香港同胞在内的全国各族人民的根本利益所在。党的十九届四中全会明确提出:"建立健全特别行政区维护国家安全的法律制度和执行机制。"香港特别行政区是中华人民共和国不可分离的部分。全国人民代表大会是最高国家权力机关。全国人民代表大会根据新的形势和需要,行使宪法赋予的职权,从国家层面建立健全香港特别行政区维护国家安全的法律制度和执行机制,坚持和完善"一国两制"制度体系,是完全必要的。关于这项议程的具体内容,请你关注明天上午的全会。谢谢。
人民锐评:维护"一国两制"行稳致远的重要举措_舆论场_澎湃新闻-The Paper
People's Daily commentary said the Hong Kong protesters forced Beijing's hand and they have no other choice now 中央不得已而为之, and the bill is needed to safeguard the one country two system.

国家安全立法属于中央事权。在香港特别行政区国家安全受到现实威胁和严重损害、特别行政区政府根本无法自行完成立法的情况下,中央主动从国家层面进行有关立法,正是为了补上国家安全存在的漏洞,把面临脱轨危险的"一国两制"拉回正轨,给"一国两制"的实施系上安全带。中央主动填补法律漏洞,为"一国两制"修堤筑坝,这既是不得已而为,也是权力和责任所在。
罕有晚上召「通報會」 京官今晤政協 料提國安23條 - 20200521 - 要聞 - 每日明報 - 明報新聞網
Mingpao cites pro-Beijing think tank suggesting national security law needed to prevent anyone having advocated HK independence or self-determination running for LegCo

小組建議,凡主張過「港獨」和「自決」,以及支持和參與過去年的示威,都一概不可入閘參選
China prepares to impose national security laws on Hong Kong | Financial Times $$
Pro-Beijing legislators command a majority in Legco. But Hong Kong's chief executive, Carrie Lam, still failed to pass a controversial extradition bill in June last year that would have allowed Hong Kong residents to be tried in China for certain crimes in the face of a public uproar.

"Passing [national security legislation] in Legco is not an option now," said one member of Hong Kong's pro-Beijing establishment, who asked not to be named. "Waiting any longer is also not an option."
Passing national security law in HK shows central government's determination: expert - Global Times
Proposing the Establishment and Improvement of the Legal System and Implementation Mechanism for the Safeguarding of National Security in the Hong Kong SAR aims to not only tackle the current chaos in Hong Kong, but also prevent Hong Kong from posing a potential national security threat to the country, Lau Siu-kai, vice president of the Chinese Association of Hong Kong and Macao Studies, told the Global Times on Thursday.

While the riots continue in Hong Kong and the US increases its efforts to contain the Chinese mainland, Washington's intention of using Hong Kong as a pawn to counterbalance the China has become increasingly palpable, the expert said. Faced with such a severe situation, it has become an urgent task for the Chinese central government to deal with the chaotic situation in Hong Kong, and such determination and urgency had turned out to be very strong in the communiqué of the fourth plenary session of the 19th CPC Central Committee held in October 2019, he noted.
China Pushes New Security Law for Hong Kong, Increasing Party's Sway - The New York Times
Any legislation put forth in China could allow Hong Kong officials to crack down on dissent under the guise of protecting national security. Similar legislation proposed by the Hong Kong government in 2003 would have empowered the authorities to close seditious newspapers and conduct searches without warrants. That proposal was abandoned after it triggered large protests.

This time, a broad outline for the new rules would likely be approved by China's rubber stamp legislature, the National People's Congress, which holds its annual session starting Friday. The process would effectively circumvent the Hong Kong government, undercutting the relative autonomy granted to the territory under a political formula known as "one country, two systems."
Smell the future: We are slipping into an authoritarian state EJINSIGHT - Michael Chugani
Two days ago, the government forced RTHK to suspend a Chinese-language satirical TV show, which has been on air for over 30 years, just because an episode mocked the police. Last week was one of Hong Kong's darkest. Our rulers used authoritarian means to slice off a part of the city's soul. Be prepared for even darker days. Our very way of life is being methodically dismantled. Today's Hong Kong is no longer the Hong Kong we knew just a year or two ago. Beijing, together with our puppet leader, are re-shaping Hong Kong into a city with so-called Chinese characteristics.
Two Sessions 2020: head of China's political advisory body stresses Hong Kong delegates' political responsibility but no mention of local governance principles | South China Morning Post
Wang Yang makes call in annual work report, but omits mention of 'Hong Kong people governing Hong Kong' or the city's high degree of autonomy
Chaguan - Educational freedom is under assault in Hong Kong |The Economist
One of Ms Lam's predecessors, Leung Chun-ying, announced that a website for pro-government tip-offs now offers rewards for reports about teachers who spread dangerous ideas. A history teacher describes a mood of growing insecurity. "Since teacher training I have been told to promote critical thinking. And now the education secretary tells me that some things cannot be discussed." Bringing the young to heel will be a long and unhappy struggle, she predicts. "It is going to take at least ten years. They will have to indoctrinate them from primary school or kindergarten."
---
2. The two sessions
video report on the opening of the CPPCC. All the delegate in masks, The PBSC plus Wang Qishan, CPPCC vice chairs all were not. After the playing of the national anthem the meeting held a one minute moment of silence for the martyrs and fellow countrymen who died in the pandemic 全体与会人员默哀1分钟,向新冠肺炎疫情牺牲烈士和逝世同胞表示深切哀悼"
Presidium elected, agenda set for China's annual legislative session - Xinhua
A 174-member presidium was elected, with Wang Chen as the secretary-general of the NPC session.

The meeting also adopted the agenda of the session:

-- Deliberate the report on the work of the government;

-- Review the report on the implementation of the 2019 plan and on the 2020 draft plan for national economic and social development, and the draft plan for national economic and social development in 2020;

-- Review the report on the execution of the central and local budgets for 2019 and on the draft central and local budgets for 2020, and the draft central and local budgets for 2020;

-- Deliberate the bill put forward by the NPC Standing Committee on reviewing the draft civil code;

-- Deliberate the bill put forward by the NPC Standing Committee on reviewing a draft decision of the NPC on establishing and improving the legal system and enforcement mechanisms for the Hong Kong Special Administrative Region to safeguard national security;

-- Deliberate the work report of the NPC Standing Committee;

-- Deliberate the work report of the Supreme People's Court;

-- Deliberate the work report of the Supreme People's Procuratorate;

-- Others.
The Chinese version - 全国人大将审议涉港法案 张业遂:行使宪法赋予职权
这次大会会期7天,将于5月22日上午开幕,28日下午闭幕,共安排3次全体会议。大会议程有9项,分别是:审议政府工作报告,审查计划报告及草案,审查预算报告及草案,审议民法典草案,审议全国人民代表大会关于建立健全香港特别行政区维护国家安全的法律制度和执行机制的决定草案,审议全国人大常委会工作报告,审议最高人民法院工作报告,审议最高人民检察院工作报告,以及其他事项。
Comment: "Others 其他事项" sometimes contains very interesting things.
China Cuts Mingling, Adds Live Streams to Keep Legislative Sessions Coronavirus-Free - WSJ $$
Unlike in the past, when delegates mingled with one another and journalists in crowded meeting rooms, they will be kept separate from the public, equipped with masks and discouraged from facing each other during mealtime. Interviews with reporters will be conducted by video.
Here is a video of some of the measures:
Draft civil code emphasizes personality rights - China Daily
The draft, which consists of seven volumes, including general provisions and sections on property, contracts, personality rights, marriage and family, inheritance and torts, will be reviewed by the National People's Congress during the two sessions, the annual meetings of the NPC and the Chinese People's Political Consultative Conference.

The compilation of personality rights in a separate volume is a major development and innovation in democratic legislation and the civil code. It will help deepen the legal protection of personal dignity and individual rights, said Shi Jiayou, professor at Renmin University of China and executive director of the National Research Center of Civil and Commercial Law, speaking to China Global Television Network.
China's top political advisor stresses safeguarding core national interests in work report - Global Times
The CPPCC would also organize people from minority ethnic groups and religious fields to hold coordination meetings; strengthen members from Hong Kong and Macao on their political responsibilities in carrying out their missions centered on the "one China, two systems" principle; firmly support the implementations of the Constitution and the basic law in the SARs, and deepen exchanges between the Chinese mainland and people from Taiwan island.

The CPPCC would also deepen work on building consensus. Guided by patriotism and socialism, the CPPCC would seek common ground while shelving differences and building consensus among all domestic and overseas Chinese in realizing the Chinese people's rejuvenation.
People's Daily page 4 article praised the two sessions, saying they functioned really well and they demonstrated that "Chinese democracy is feasible and works (for China)."
University of Glasgow - China's Delayed 2020 "Two Sessions": What they Can Tell Us about Its Current Covid-19 Policy
We expect the Government Work Report to signal that all government bodies must incorporate prevention and control into their policies going forward. We predict that it will also stress the "normalization of epidemic prevention and control," and make clear that rather than "relaxing" or "getting back to normal," continued vigilance and active measures against Covid-19 are vital. Overall, we expect this year's Two Sessions to send a strong message that though there have been successes in tackling the pandemic, there is no room for complacency.
人民网全媒报两会:"不一样"的时间,一样的精彩--传媒--人民网
每年全国两会,关于习近平总书记的报道都是重点中的重点,今年人民网特别开设全新融媒体栏目"习近平的两会时间",集中展现人民领袖的爱民情怀。
---
3. The outbreak
Chinese mainland reports two new COVID-19 cases, no new deaths - CGTN
The Chinese mainland on Wednesday recorded two new COVID-19 cases, one domestic and one imported, according to China's National Health Commission (NHC). No new deaths were reported.

The commission also registered 31 new asymptomatic patients.
In Depth: Controlling Covid-19 May Become Ongoing Game of Whack-a-Mole - Caixin
"It's now proven that the epidemic has a very long tail," said Wu Zunyou, the chief epidemiologist of the Chinese Center for Disease Control and Prevention (CDC). Moreover, the search for effective treatments and potential vaccines is turning out to be more difficult than hoped, making it nearly impossible to eradicate the virus in the near future, Wu said.
China's Wuhan says conducted 887,321 COVID-19 tests on May 20 - Reuters
The city of Wuhan, the original epicentre of the new coronavirus outbreak in China, conducted 887,321 nucleic acid tests on May 20, the local health authority said on Thursday, compared with 856,128 a day earlier.
China, U.S. Point Fingers Over Delays in Bringing Students Home - Caixin
Delays to chartered repatriation flights are due to Chinese carriers submitting charter applications "with little to no notice before proposed flight operation," a spokesperson from the U.S. Department of Transportation (DOT) told Caixin in an email.

The comments come after China's foreign ministry said Tuesday that the flights were delayed because the U.S. had not approved the flight plans and urged Washington to fast-track the procedures.
Comment: This is becoming a huge problem for the PRC government. Commercial tickets are impossible to buy given how few flights there are.
What Xi knew: pressure builds on China's leader | Free to read | Financial Times
In a video address to the World Health Organization's annual assembly on Monday, Mr Xi said China would back an "objective and impartial" WHO review, but only after the crisis passes. He will also insist that any official WHO examination does not focus solely on China.

"It's impossible to conduct an independent investigation under China's political system," says one veteran Chinese investigative journalist, who asked not to be named. "There is no way independent experts can access information from the government."
Comment: Which is why the PRC so readily agreed to an investigation led by the co-opted WHO.
新民网:上海今天上午新增1例确诊!11日来沪,坐过地铁,曾入住七天酒店
The Shanghai Health Commissions said the new case in the city is a woman that came from Wuhan 10 days ago. She took subway and stayed in a hotel. She was found positive only when her husband was hospitalized for a surgery, and the hospital needed to test family members staying with the patients.
[视频]彰显家国情怀 汇聚人间大爱——广大共产党员自愿捐款支持疫情防控工作
CCTV reported that CCP members donated 8.36 billion RMB (1.18 billion USD) for the fight the coronavirus in the past three months. All the money has been sent to the party central for redistribution
Hubei Daily reported that the Wuhan government is working with experts on urban planning to draft a massive plan to "revitalize" the city. The article said the plan will cover "public health, emergency response, smart neighborhood, healthy city, and economic revitalization", and will fix the problems exposed in the virus outbreak.
---
4. US-China
China to receive rare U.S. ethanol shipment on Friday: sources - Reuters
A rare ethanol shipment of U.S. origin is expected to arrive in China this month, according to three industry sources and shipping data, probably the first such cargo since the two countries struck an initial trade deal in January.
Destined for conflict? Xi Jinping, Donald Trump and the Thucydides trap | South China Morning Post
Zhao Tong, a senior fellow at the Carnegie-Tsinghua Centre for Global Policy in Beijing, also expressed concern that military incidents and conflicts with the US had become "less unimaginable given how quickly mutual animosity is building".
Text of a Letter to Certain Congressional Committees on the United States Strategic Approach to the People's Republic of China | The White House
Consistent with section 1261 of the National Defense Authorization Act for Fiscal Year 2019 (Public Law 115-232), I transmit herewith the United States Strategic Approach to the People's Republic of China.
The report - United States Strategic Approach to The People's Republic of China. It is a good articulation from the US side of the New Era for US-China Relations, no surprises as far as I can tell for those who have read the National Security Strategy and the National Defense Strategy.
China-U.S. diplomatic back channels dry up, making communication harder - POLITICO
"The pandemic has cut off personal meetings. That is very bad," said Wang Huiyao, director with the Center for China and Globalization, a Beijing-based think tank that includes former Chinese officials and prominent Chinese scholars.

"Many messages can only be conveyed indirectly by spokesmen and media, which could compromise the effectiveness of the communication and easily lead to misunderstanding," said Wang, who also sits on the advisory panel to the State Council, China's cabinet...

Shi Yinhong, a U.S. affairs specialist with Renmin University in Beijing and another adviser to the State Council, said back channels between the two countries were now having little impact because of a lack of political determination on both sides.

"It is useless, even if there are tens of thousands of people traveling between the two countries, and even when there are plenty of capable people from both sides as messengers," Shi said.
China, U.S. should insist on non-conflict, non-confrontation: spokesperson - Xinhua
The China-U.S. relationship is now at a critical juncture and it is key for both sides to insist on non-conflict, non-confrontation, mutual respect and win-win cooperation, a spokesperson for the annual session of China's national legislature said Thursday.

Zhang Yesui, spokesperson for the third session of the 13th National People's Congress, made the remarks at a press conference
U.S. to sell Taiwan $180 million of torpedoes, angering China - Reuters
The U.S. State Department has approved a possible sale to Taiwan of 18 MK-48 Mod6 Advanced Technology Heavy Weight Torpedoes and related equipment for an estimated cost of $180 million, the U.S. Defense Security Cooperation Agency said in a statement on Wednesday.
China voices strong opposition to U.S. arms sales to Taiwan - Xinhua
Ma made the remarks when responding to a question about the U.S. State Department's approval of a plan to sell weapons worth 180 million U.S. dollars to Taiwan.

"Taiwan's Democratic Progressive Party authority has repeatedly purchased U.S. weapons with taxpayers' money. This will only undermine peace and stability across the Taiwan Strait and harm the interests of the Taiwan people,"
Baidu considers leaving the Nasdaq to boost its valuation - sources - Reuters
Baidu, one of China's earliest U.S. listings, is reaching out to some trusted advisers to see how it could best be done if it were to proceed, including looking at issues around funding and any regulatory reaction, the sources told Reuters.

The discussions are at an early stage and are subject to change, said the sources, who spoke on condition of anonymity because the matter is not public.
U.S. Panel Orders Breakup of California Exoskeleton Firm's Venture With Chinese Investors - WSJ $$
A U.S. national security panel has ordered the breakup of a joint venture formed between Chinese investors and a California firm that makes exoskeletons, robotic devices that can help disabled people walk but can also help soldiers carry heavy loads.

In an announcement Wednesday, Ekso Bionics Holdings Inc. said that panelists on the Committee on Foreign Investment in the U.S., which reviews deals that threaten the country's national security, are requiring the company to end its joint-venture with its Chinese business partners.
Hikvision Chairman Targeted For Sanctions As Federal Watchdog Calls Out Hikvision "Serious Religious Freedom Violations" - IPVM
The US government's religious freedom watchdog has criticized Hikvision for being "credibly implicated in serious religious freedom violations". Meanwhile, three US Congressmen have requested Hikvision chairman Chen Zongnian be sanctioned over Hikvision's "complicity in human rights abuses" in Xinjiang.
---
5. The latest propaganda against the US
Foreign Ministry Spokesperson Zhao Lijian's Regular Press Conference on May 21, 2020
Beijing Daily: The CNN reported on May 20 that six mid- and higher-ranking staff members within the CDC spoke on condition of anonymity in an interview that the US administration has prioritized politics over science and sidelined the agency and muzzled the professionals, leading to the outbreak of large-scale epidemics in the US. Do you have any comment?

Zhao Lijian: I noted the report, which also pointed out that as the professionals have been muzzled, many truths about the epidemics in the US have not been voiced.

Global Times: US Secretary of State Mike Pompeo once again attacked China's political system at a press conference on May 20, vilifying and tarnishing China on COVID-19, Taiwan, Hong Kong and other issues. What is China's comment?

Zhao Lijian: Mr. Pompeo lied again as he normally does. He really is second to none at being an extremely irresponsible politician. But the international community has already seen through the set of lies he tries to sell.

Regarding the pandemic, as the US Secretary of State, Pompeo owes the world clear answers to the following questions: why didn't the US government take strong containment measures during the long period from January to March? Why did it for a long time argue against the practice of wearing masks? Why did it fail to curb the rapid rising trend of the epidemics in the US? Pompeo has the responsibility to give explicit explanations to the international community.

On the issues related to Taiwan and Hong Kong, Pompeo should first figure out the territorial scope of the US and stop poking his nose into China's internal affairs, otherwise his attempts will be countered.
Thursday CCTV Evening News took a break from its commentary attacks on the US. Not sure it is a sign of trying to calm things down with the US, more likely just want to keep the focus on the Two Sessions for the next week - 新闻联播
But the PLA Daily is taking up the task. This is a Translation of the first in the new PLA Daily commentary by "Jun Sheng 钧 声", homonym for "voice of the military" series attacking the US, as noted in yesterday's newsletter - Sinister intentions behind mud-flinging at China - China Military - Wednesday "Jun Sheng" from PLA Daily
The US has been trying to deceive the world and blame others for its own mistakes. As the outbreak escalated at home, some American politicians, turning a blind eye to facts, have been trying to scapegoat the World Health Organization (WHO) for Washington's poor response. The US declared on April 14, local time, to suspend its funding for the WHO.

However, the mainstream view in the international community is that it's the US, not the WHO that has destroyed the global cooperation in battling the virus. Christopher Hill, former Assistant Secretary of State for East Asian and Pacific Affairs, published an article criticizing the US government for brooding about only one thing at the moment - buck-passing.

He is right in saying so. Apart from passing the buck to China and WHO, certain American politicians also instigated some media to call the coronavirus "China virus" and "Wuhan virus" and labeled China's anti-virus cooperation with the world as "diplomatic campaign" or "propaganda initiative." They came up with the theories that China had covered up its epidemic situation and falsified data, and even made absurd arguments that the virus came from a Chinese lab and China should make compensation.
The second from "Jun Sheng 钧 声" 军报"钧声"揭批借疫情抹黑攻击中国:趁火打劫者必引火自焚_蓬佩 and its official translation - BURNING-HOUSE LOOTERS WILL GET BURNED - China Military - PLA Daily "Jun Sheng"
Pompeo and his like are doomed to a pathetic end. As an old Chinese saying goes, good and evil will meet their karma one day or another, which has been verified on Pompeo and his like over and over again. In the Middle East, for instance, America's credibility has been irreversibly destroyed no matter how hard Pompeo and his like are trying to bloat their bubble.

The COVID-19 outbreak wouldn't and shouldn't have spread so fast and widely across the US had Pompeo and his like devoted a tiny part of their energy and time into what they should have done. The chaotic disaster of Washington's epidemic control has made millions of Americans suffer, and a growing number of the righteous people are voicing their questions and protests. In contrast, the US media has named Pompeo one of the worst Secretaries of State ever in American history.
Washington's malicious attack a disgrace to democracy - Global Times
Trump's furious tweets on Wednesday are simply a trick. He accused "some wacko in China" to pave way for the White House to issue a 20-page report, released on Wednesday, with broad-scale, vicious attacks on China. Almost at the same time, US State Secretary Mike Pompeo opened fire on China during a State Department news conference, in which he used words such as "brutal." Clearly, all these moves are connected.

This was out of long-term hostility that certain US elites harbor toward China and the thirst of Trump's team for reelection.
---
6. Interesting US-China podcasts
A NEW Look at U.S.-China Relations with Mike Green - YouTube
Conversation between Mike Green and Rep Mike Gallagher
美国的野心——白宫究竟想如何改造中国?_剑道_头条-喜马拉雅FM
The host is Li Jian, a Global Times reporter, the guest is Zhang Song, DC bureau chief of the Shanghai Wenhui Bao. Always useful to hear a PRC perspective
---
7. Foreign work
Chinese defense minister holds phone talk with Philippine counterpart - Ministry of National Defense
Noting that China has brought the epidemic situation under control and safeguarded people's safety and health through arduous efforts, Wei said the country will stay committed to the vision of building a global community of health for all and work with the international community to curb the spread of the epidemic.

Wei called on the two militaries to promote their communication and cooperation and jointly safeguard peace and stability in the South China Sea.
Spokesman rebuts slander over COVID-19 response, aid to others - China Daily
Guo Weimin, spokesman for the third session of the 13th National Committee of the Chinese People's Political Consultative Conference, made the comment at a livestreamed news conference in Beijing.

The accusations result from their domestic political needs, trying to shift responsibilities or ideological prejudice, Guo said.

Those politicians have been politicizing the pandemic, hyping claims that the novel coronavirus comes from China and the city of Wuhan or accusing China of trying to step up its geopolitical clout by helping other countries fight the pandemic, Guo said.
---
8. Founder Group foreign bondholders may be out of luck
Court case threatens to shake up $100bn in Chinese dollar bonds | Financial Times $$ 
Administrators in the restructuring of Peking University Founder Group, a state-backed technology conglomerate linked to China's top university, have said they will not recognise about $1.7bn in so-called keepwell deeds that back its debt.

Keepwell deeds are letters of support that offer foreign investors some level of assurance that parent companies in China will make good on US dollar bonds sold by offshore subsidiaries. They were introduced in 2012 as a way of making foreign investors more comfortable with China's dollar bond market.

If a Beijing court rules in favour of the state-backed administrator in the coming weeks, it could prompt a re-pricing in billions of dollars of other keepwell bonds.
---
Business, Economy and Trade
Policy Lenders in China Name New Vice Presidents The Import-Export Bank of China (Eximbank) recently named Li Jun as a new vice president, sources familiar with the matter told Caixin...The Agricultural Development Bank is likely to name a Ministry of Finance official as a new vice president. Zhang Wencai, now head of the ministry's international economic and financial cooperation department, is under review as part of the appointment procedure, the sources said.
Bank of Communications Picks New President - Caixin The bank decided on Liu Jun, an executive vice president and chief risk officer of China Investment Corp. (CIC), at an internal meeting Thursday afternoon, sources familiar with the matter told Caixin. The appointment still needs regulatory approval.
Gain the momentum, new jobs light up post COVID-19 Chinese labor market - CGTN Since the beginning of 2020, job openings of livestreaming-based marketers and operations increased by 130 percent compared to the same time last year. Hiring of medics increased 30.42 percent year on year, and the job application rate in such areas grew by 1.47 percentage points. The urgent needs of professional workers, the availability of workforce at home, and a dearth of employment alternatives may have combined to create stronger momentum for entrepreneurs than in pre-COVID-19 years.
Commentary: Four reasons why post-pandemic world can be confident in China's economy - Xinhua It is natural for the international community to reflect on the deficiencies of the current global supply chains exposed in this global health crisis, and consider ways to make this globalized economy more risk-proof. Yet, selling a decoupling theory, which seeks reshoring outsourced jobs and a clean breakaway from China, by a bunch of zero-summers in Washington is both irresponsible and impossible.
One major reason why China is going to remain an important part of global supply chains is that it has been the world's only country with all industrial categories of the UN industry classification, while its manufacturing accounts for nearly 30 percent of the world's total. China also has the world's most populous consumer market, with over 400 million middle-incomers, and has pledged to further open up and continue leveling its domestic playing field for both Chinese and foreign businesses.
China Has a New $1.4 Trillion Plan to Overtake U.S. in Tech - Bloomberg In the masterplan backed by President Xi Jinping himself, China will invest an estimated $1.4 trillion over six years to 2025, calling on urban governments and private tech giants like Huawei Technologies Co. to lay fifth generation wireless networks, install cameras and sensors, and develop AI software that will underpin autonomous driving to automated factories and mass surveillance.

Politics and Law
"People's Leader 人民领袖" for Xi seems to be getting more common, would love to know what is going on behind the scenes - 两会,一种情怀始终不变 习近平总书记在十三届全国人大一次会议闭幕会上发表的重要讲话84次提及"人民",宣示了人民领袖为人民的不变初心。
有机衔接脱贫攻坚和乡村振兴 - ——五论学习贯彻习近平总书记视察山西重要讲话重要指示 - 2020年05月19日07:28 来源:新华社 习近平总书记近日在山西视察时,对推动脱贫攻坚和乡村振兴有机衔接作出重要指示,充分体现了人民领袖的强烈责任担当和深厚为民情怀,为我们做好新时代"三农"工作、谱写乡村全面振兴新篇章指明了前进方向、注入了精神动力。
The Committee - MacroPolo The Central Committee of the Chinese Communist Party (CCP) is the locus of political power in China. It includes the rulers of today and the leaders of tomorrow. This product currently contains bilingual biographical data for all committee members, as well as work histories and career overlaps for full committee members only.
Fine For VPN Use Sparks Rare Backlash on Chinese Internet - RFA The fining of the man, whose surname is Yang but whose given name was withheld, led to a flurry of online criticism, including from Hu Xijin, editor-in-chief of the nationalistic tabloid Global Times newspaper. Many comments said the use of a VPN couldn't be illegal, as the Chinese foreign ministry frequently takes to Twitter, which is outside the Great Firewall, to make statements and comments.
我们的好校长习近平同志-中青在线 采访对象:孙芳仲,男,1946年1月生,福建周宁人,曾任闽江职业大学党委副书记兼常务副校长、校长,福州职业技术学院院长,2008年退休。陈其淦,男,1946年9月生,福建长乐人,曾任闽江职业大学教务处处长、党委副书记,2006年退休。任涛,女,1970年1月生,福建福州人,闽江职业大学中文秘书专业1989级学生,曾任闽江学院党委组织部副部长、化工系党委书记,现任闽江学院人才工作领导小组办公室主任。// China Youth Daily runs an interview "our good school president comrade Xi Jinping" with colleagues of Xi when he was head of a vocational college in Fuzhou while he was the Fuzhou Party Secretary
Remonstrating with Beijing — Xu Zhangrun's Advice to China's National People's Congress, 21 May 2020 – China Heritage The full version of Xu Zhangrun's essay appeared on Mainland China, in Hong Kong and here, in China Heritage, on the morning of Thursday 21 May 2020
Foreign and Defense Affairs
UK, U.S. defence ministers discuss 'disinformation' from Russia, China - Reuters Britain's defence minister Ben Wallace and his U.S. counterpart Mark Esper discussed the need to tackle disinformation coming from Russia and China on Thursday, the British government said.
Boris Johnson flags 'intriguing, potentially encouraging' shift on Chinese investment Prime Minister Boris Johnson has flagged new measures to protect British technology in the wake of the coronavirus pandemic, after being urged by a Conservative MP to rethink his decision to allow China's Huawei to build Britain's 5G networks. Johnson dramatically shifted his tone after a growing backlash among his own MPs against Chinese investment following the COVID-19 crisis.
Trudeau: China doesn't understand Canadian judicial system - AP Canadian Prime Minister Justin Trudeau said Thursday that China doesn't get that Canada has an independent judicial system and reiterated that Beijing imprisoned two Canadians in retaliation for the arrest of a top Huawei executive.
Data Security and U.S.-China Tech Entanglement - Lawfare - Samm Sacks The U.S. needs to address legitimate national security risks where they exist and also as one part of a broader U.S. initiative on comprehensive data privacy and higher standards for cybersecurity for all companies (whether U.S. or foreign). These efforts should not name China as a bad actor but, instead, create a high bar for how all companies manage their data. Failure to establish a compelling vision for U.S. internet governance will only allow more space around the world for companies that are controlled by the Chinese Communist Party to flourish worldwide, and Beijing's vision for the internet with it.
Xi Jinping Makes Clear That China's Goal Is to Dominate the World - Bloomberg - Hal Brands As with so many aspects of the U.S.-China competition, there is a Cold War parallel. During the 1970s, some leading American Sovietologists insisted that Moscow was becoming a satisfied, status quo power. Yet that claim required ignoring what Soviet leaders said about detente and peaceful coexistence — that it was a way of ensuring the triumph of socialism without war — as well as their efforts to build military superiority and positions of strength in the Third World. The warning signs were evident then, as they are today.
India and China trade accusations after Himalayan spats | Financial Times $$ Nepal, wedged between the two Asian giants, has also been drawn into the Sino-Indian rivalry. Kathmandu this week published a new official map showing a mountainous tri-border region — to which India has recently built a contentious new road — as lying within Nepal's national territory...Manoj Mukund Navarane, India's army chief, said he was surprised at Nepal's opposition to the road and said Kathmandu may have been instigated to create the protest. "There is reason to believe they might have raise this problem — these issues — at the behest of someone else," Mr Navarane said, without naming China.
China deploys excessive troops along Pangong Tso - The Economic Times What started off as one of the many face-offs that occur between troops patrolling the disputed border has taken a more serious turn after the Chinese side brought in troops and heavy equipment from a military exercise that was being conducted in the region this week. It is believed that Chinese troops have also taken up positions along the Pangong Tso Lake in the finger area and are conducting aggressive patrols with motorboats to deter Indian forces in the region.
Nigeria is falling into China's debt trap | Nairametrics Nine days ago, the House of Representatives mandated some of its committees to investigate all China-Nigeria loan agreements from 2000 to date. The intention of the green chamber here was to ascertain the viability of the facilities, then regularize and renegotiate them, especially as the country is expected to slide into recession this year.
Online survey shows that Chinese people have high expectations for national defense and military reforms - China Military In terms of the impressive results of army building in recent years, netizens are most concerned about "making double efforts to improve the work style and combating corruption"; besides, "declaring national sovereignty and carrying out normalized rights protection in the South China Sea and the East China Sea" and "carrying out disaster relief, protecting people's lives and property during floods and other natural disasters" have also been enthusiastically talked about.
PLA naval deputy to NPC talks about technological innovation in equipment protection - China Military "The corrosion prevention and control of equipment is a strategic project for the navy. It is necessary to think from a macro-strategic perspective, and start with the innovative details", said Cao Jingyi, a deputy to the National People's Congress (NPC) of China and research director with the PLA Navy Academy, in an interview when he is going to attend the 13th National People's Congress in Beijing .
These eight satellites will track hypersonic weapons C4ISRNET The Space Development Agency wants to put an initial batch of satellites capable of tracking hypersonic weapons on orbit in fiscal 2022, according to a draft request for proposals the agency released May 11.
Cambridge University is kowtowing to China | The Spectator In his foreword to Jesus's Huawei-funded study, Professor Toope likens Cambridge's work with China today to 'the pioneering work of Joseph Needham', its great historian of Chinese science. I am reading Hugh Trevor-Roper's The China Journals, recently published. These record, amusingly, his visit to Mao's China in 1965 and his discovery that the Society for Anglo-Chinese Understanding (SACU), under whose auspices he was travelling, was a Chinese Communist party front organisation, including in its funding. Trevor-Roper exposed this. When he did so, the chairman of SACU, Joseph Needham, had him thrown out. In those days, the sums of Chinese money were tiny — the SACU annual budget was £9,000. Today, they are huge. The universities crave the money, the access, the students, the power. All these things have turned their heads.
The Invisible Threat to China's Navy: Corruption – The Diplomat In the past few years, important individuals of CSIC have been nabbed under corruption charges. Now, the man who once stood at the pinnacle of Chinese military shipbuilding has fallen to the same allegation. This development shows that China's naval modernization is much more complex than simple growth. Likewise, corruption among China's military shipbuilders is sure to have consequences for the People's Liberation Army Navy (PLAN).
«Pechino rispetta l'alleanza tra l'Italia e gli Stati Uniti» - Corriere.it PRC ambassador to Italy Li Junhua says he is not a wolf warrior but rather a "kungfu panda"
Government Buildings in Africa Are a Likely Vector for Chinese Spying | The Heritage Foundation Beijing may have better surveillance access to Africa than anywhere else in the world. Chinese companies have constructed or renovated (or both) at least 186 sensitive African government buildings; Chinese telecommunications firms have built at least 14 intra-governmental, "secure" telecommunications networks; and the Chinese government has gifted computers to at least 35 African governments. As the world leader in economic espionage and foreign influence operations, Beijing almost certainly uses its engagements in Africa to surveil American and African officials and business leaders. The Chinese government could use the information it harvests to advantage its companies competing against American and other firms, glean insights into U.S. security assistance and counterterrorism programs, and recruit or influence senior African government officials. // Why wouldn't China do this? Doesn't every government that can do this?
Private Creditors Establish the Africa Private Creditor Working Group ("AfricaPCWG" or the "Group") | Business Wire Participants in the AfricaPCWG forum have already established a number of core principles of engagement. Upmost amongst these is the belief that a one-size-fits-all solution will be counter-productive for the nations and people of Africa. Such an approach risks needlessly cutting many countries off from international commercial debt markets and is likely to lead to an overall increase in the cost of capital for all emerging market sovereign and corporate debt issuers for years to come. Each African country has its own very particular fiscal and social dynamics, with some governments having developed hard fought, low cost access to debt markets, and these distinct profiles must be acknowledged as part of any successful approach to debt management. // doesn't sound like they are willing to offer much debt relief
Hong Kong and Macao
Hong Kong deputies propose leasing land - China Daily Stanley Ng Chau-pei and Cheng Yiu-tong, two Hong Kong deputies to the 13th National People's Congress, said they will jointly suggest that the central government lease land in some Bay Area mainland cities to the Hong Kong Special Administrative Region to create new towns.
Coronavirus: Hong Kong High Court refuses to let family of South Africa returnees quarantine at home | South China Morning Post Leslie Grant Horsfield, founder of the sustainable hospitality company Naked Group, together with his wife, three children and domestic helper, were ordered into 14 days of compulsory quarantine upon their return from South Africa, via Doha, on May 14.
Tech and Media
ByteDance Gets Into Online Health With Acquisition of Medical Encyclopedia Site - Caixin Chinese tech giant ByteDance Ltd. has purchased medical knowledge platform Baikemy.com, making a foray into the field of online health content.
TikTok took India by storm. Now it's using the same playbook in the U.S. - Protocol Around the same time as TikTok was celebrating its success in India in October, when it added 80 million monthly active users in India in just six months, it also announced that it was installing a new in-country chief there, Nikhil Gandhi. Coincidentally, Gandhi had spent nearly a decade at Disney himself as a VP in India, before a 2.5-year stint at a traditional media organization that immediately preceded his move to TikTok. Gandhi offered reassurance for politicians who were worried the app was taking over the country and poisoning discourse: He combined old media sensibilities with child-friendly corporate interests — just as the installation of Mayer offers in the U.S.
Bytedance is forming a car infotainment team · TechNode Tiktok owner Bytedance is quietly developing an auto infotainment system that will allow users to navigate content on Douyin and news aggregator Jinri Toutiao, becoming the latest tech giant vying to enter the car connectivity market.
ByteDance's Big Ambitions — The Information $$ on the hiring of Kevin Mayer According to a memo TikTok's management sent to employees this week, Mayer will oversee all business and policy functions for the app. He'll also be in charge of some of ByteDance's fledgling consumer businesses outside China, including a mobile games publishing division, a music-streaming service that it's testing in India and an Indian social network called Helo. Mayer was also named chief operating officer of ByteDance... "There's no obvious reason why hiring a CEO at a subsidiary changes the nature and extent of corporate control by the parent. If you don't trust ByteDance because it exists at the sufferance of the [Chinese Communist Party], Mayer as a corporate official doesn't matter," said Derek M. Scissors, a resident scholar at the American Enterprise Institute, a conservative think tank based in Washington.
Society, Arts, Sports, Culture and History
Disabled Man Barred From Performing, Accused of Tainting City's Image - SixthTone City management officials in Chongqing have forbidden a man with a disability from giving sidewalk performances because he is "tainting the city's image." The incident has again sparked discussion on the role of such personnel, as well as the plight of people with disabilities.