National SOE conference; Xi and Putin cook together; Abe to visit Beijing; India wobbly about the Quad; Fan Bingbing's disappearing act; Chinese scientist criticizes US NIH; Bitcoin futures bust
If you are in the path of Typhoon Mangkhut or Hurricane Florence please stay safe. DC and Sinocism HQ look to be out of Florence's impact zone so the newsletter should publish as normal.
There is some confusing reporting about whether or not the Chinese government will play nice with US firms as the trade war intensifies.
The Wall Street Journal says China Woos U.S. Companies Again, Dropping Trade Threats:
Beijing is offering a reassuring message in its outreach to American companies. At a meeting last month, Liu He, President Xi Jinping's economic-policy chief, told visiting American business representatives that U.S. companies' China operations won't be targeted in Beijing's trade-brawl counterattacks. "We won't allow retribution against foreign companies," Mr. Liu said, according to people briefed on the event..

Because China imports so much less from the U.S. than the U.S. does from China, that has forced Beijing to threaten "qualitative" steps to retaliate.

Chinese officials effectively squelched Qualcomm Inc.'s bid to buy the Dutch firm NXP Semiconductors NV in July. Other American companies could see license approvals delayed or tighter regulatory scrutiny by officials responding to the strained relations between Washington and Beijing.

"It doesn't take a central government directive for a local official to sense which way the political winds are blowing," said Jacob Parker, vice president of China operations at the U.S.-China Business Council.
A vice president of the US-China Business Council told the Associated Press that China puts off licenses for US companies amid tariff battle:
The license delay applies to industries Beijing has promised to open to foreign competitors, according to Jacob Parker, vice president for China operations of the U.S.-China Business Council. The group represents some 200 American companies that do business with China.

In meetings over the past three weeks, Cabinet-level officials told USCBC representatives they are putting off accepting applications "until the trajectory of the U.S.-China relationship improves and stabilizes," Parker said.

Chinese authorities have promised to increase foreign access to areas including banking, securities, insurance and asset management.

"There seem to be domestic political pressures that are working against the perception of U.S. companies receiving benefits" during the dispute, Parker said.
So which is it? Since it is China, both can be true.
Seriously though, Beijing does not want this trade war and will continue to try to use every lever it can in search of a palatable deal with the US. I would caution taking that as a sign of weakness in Beijing; just because they are trying to avoid the worst outcome does not mean they are not willing to deal with it if they have to.
And if it turns out that the Trump Administration ignores the lobbying of affected US firms and the trade war worsens, as I expect it will, then these nice words from Liu He and other officials will likely turn out to be empty, as US firms could be right in the bulls eye of the promised "qualitative measures" in response to any more tariffs.
Thanks for reading.
---
The Essential Eight
1. Xi and Liu He doubling down on SOEs
As trade war escalates, China intensifies role of state-owned enterprises | South China Morning Post:
Beijing has affirmed the leading role of state firms in China's technological and economic progress amid the escalating trade war with the US with a major nationwide conference planned for the end of September.

Two sources have confirmed to the South China Morning Post that the conference will be chaired by China's top economic adviser and showcase Beijing's strong support for state-owned enterprises (SOEs). Washington's strong objection to the prominent role of SOEs in the Chinese economy is at the heart of the trade conflict.

Vice-premier Liu He – Chinese President Xi Jinping's top economic adviser and chief trade negotiator with the US – is expected to urge China's state enterprises to "make breakthroughs in key aspects" of cutting edge technologies and call on them to "take a leading role at the front" of the country's drive to make technological progress, according to one source involved in the planning for the conference...

Speaking to the Post on condition he not be identified, the source said the meeting would highlight the role of SOEs in advancing technological innovation as the government pushes ahead with its plan to play a large, if not dominant, global role in 10 major hi-tech sectors by 2025.
Comment: From this report it sounds like the opposite of the structural reform the US is demanding, and, propaganda shift notwithstanding, it sounds the Made in China 2025 plan is full steam ahead...
---
2. US-China
The trade war is good for the swamp creatures...U.S. Businesses Ramp Up Lobbying Against Trump's Tariffs - WSJ:
It is the latest sign that businesses are ratcheting up lobbying against tariffs that the Trump administration has imposed, or is considering, as Mr. Trump says he will defend American manufacturing jobs. As of June 30, nearly 450 entities employed lobbyists on trade issues—up from about 160 at the start of the year and about 100 when Mr. Trump took office, according to lobbying-disclosure reports compiled by the nonprofit Center for Responsive Politic
Wall Street CEOs pull out of China trade meeting over disputes: Gasparino | Fox Business Video:
"Wall Street CEOs pulling out of meeting with Chinese government over trade -sources; @blackstone CEO Stephen Schwarzman @jpmorgan CEO Jamie Dimon will not attend; CEOs worry Chinese will try and enlist them to lobby Trump on his China trade policies more now"
But those firms will send senior executives.
China Seeks $7 Billion Sanctions Against U.S. in Dumping Dispute - Caixin Global:
China's complaint centered on certain methodologies adopted by the U.S. Department of Commerce to calculate the scale of dumping in investigations involving Chinese products as diverse as coated paper, furniture, metals and solar cells.
US-China trade war: Many Chinese firms acknowledge business worries - CNBC:
In the face of tariffs on the bulk of exports to its largest trading partner, Beijing has maintained a resolute position that it will respond with countermeasures. But some local corporations, many owned or influenced by the state, have voiced worries about the rising trade tensions in their latest earnings releases and other financial documents.
Tech start-ups bear the brunt of US tariffs on China | Financial Times $$:
Brian McGee, chief financial officer of GoPro, said last week that the maker of action cameras does not yet face tariffs on its imports. But in anticipation of more levies ahead, it is working with contract manufacturer Jabil — which handled production for GoPro in China — to look at shifting production to Jabil plants in other countries. "We may want to do that anyway, because it may actually be cheaper to be in some of the other locations versus being in China," he said at a conference organised by Citi.
US firms moving production out of China is one of the main goals of the Trump Administration
Chongyang Institute's Wang Wen writes about his takeaways from the recent US trip he and several other think-tankers and retired officials made to DC and NYC to meet with Kissinger, the Asia Society, Brookings and CSIS among others...He seems surprised at the depth of anger and enmity towards China, puts a lot of emphasis on China improving its external messaging, and wants a lot more former PRC officials involved in US-China exchanges..and says Chinese should hope for the best but prepare for the worst in US-China relations--中美贸易摩擦下,我们和美国精英举行了一次闭门会谈-凤凰国际智库 
---
3. Xi-Putin
Xi, Putin vow to promote ties regardless of global changes - Xinhua:
During their talks, Xi and Putin acknowledged that China-Russia ties have been developing with stronger momentum this year and have entered a new period of faster development on a higher level.

Regardless of the changes in the international situation, China and Russia will unswervingly promote their ties and steadfastly safeguard world peace and stability, said the two heads of state...

Both as permanent members of the United Nations (UN) Security Council and major emerging economies, China and Russia shoulder the task of safeguarding world peace and stability and promoting development and prosperity, Xi said.

He urged the two countries to maintain close communication and coordination within multilateral frameworks such as the UN, the Shanghai Cooperation Organization and BRICS, push forward political settlement of hotspot issues together with the international community, and jointly protect international equity and justice, as well as world peace and stability.

He also called on the two sides to firmly uphold the purposes and principles of the UN Charter, jointly oppose unilateralism and trade protectionism, and forge ahead with the construction of a new type of international relations and a community with a shared future for mankind...

Russia and China share many similar views on the current international situation, Putin said, calling on the two countries to enhance coordination and cooperation in international affairs, firmly oppose unilateralism, safeguard a fair and rational international order and realize common development and prosperity.
Vladimir Putin and Xi Jinping made pancakes with caviar in wild photos - Business Insider:
While attending an economic forum in the far eastern port of Vladivostok, Russia, Putin and Xi donned blue aprons to cook up some traditional Russian pancakes, called blini.

After making a short stack, the pair ate their blini topped with caviar and washed it down with shots of vodka.
---
4. Abe to visit Beijing next month
Xi, Abe meet on further improving China-Japan ties - Xinhua:
With efforts from both sides, the China-Japan relations have entered the right track and are facing an important opportunity for improvement, Xi said, calling on the two countries to meet each other halfway, maintain good momentum, steadily carry forward bilateral ties and achieve greater development under new circumstances.

China and Japan should always adhere to the four political documents signed by the two sides, consolidate political foundation, follow the right direction, and manage and control their differences in a constructive way, Xi said.

The Japanese side in particular needs to properly address sensitive issues such as issues relating to history and Taiwan, actively create a good atmosphere and continue to expand common interests, he added.
Abe, Xi agree on further talks for visit to Beijing in October:The Asahi Shimbun:
Officials of the two governments will continue holding talks to arrange Abe's visit to Beijing, preferably on Oct. 23, which will mark the 40th anniversary of the Japan-China Peace and Friendship Treaty.
Japan and China Find Common Ground in Trump's Tariffs as Leaders Meet - WSJ $$:
"Japan-China relations have been moving in the direction of great improvement," said Japanese Prime Minister Shinzo Abe after meeting Chinese President Xi Jinping in Vladivostok, Russia, where both are attending an economic conference.

Mr. Abe said he would visit China next month and reiterated that he hoped Mr. Xi would reciprocate with a visit to Japan, which would be the Chinese leader's first since taking his position...

Asked in an August interview why Tokyo and Beijing were getting along better, Tadashi Maeda, head of the government-owned Japan Bank for International Cooperation, said, "Probably because of pressure by the Trump administration." He said China recognized it "cannot have two enemies" at the same time.
---
5. India wobbly about The Quad
China watching, India cautious to US move on talks with Japan and Australia | The Indian Express:
With Beijing watching the India-US engagement closely, India decided to cautiously approach its engagement with the quadrilateral countries — including Japan and Australia — in the Indo-Pacific region, where an increasingly proactive and assertive China is active in the maritime domain.

Sources told The Indian Express that the United States wanted to upgrade the level of engagement between the quadrilateral grouping to the level of foreign secretary, but the Indian side politely told them to keep it to the joint-secretary level — which is at least two steps lower than the proposed engagement...

At the first India-US 2+2 dialogue last week, sources said that there was a "deep discussion" on free and open Indo-Pacific region. While the foreign ministers exchanged views from the strategic perspective, the defence ministers shared views on military activities. The thrust of the discussions, sources in Delhi said, was that if the Indo-Pacific issue was conflated, it would give the impression of ganging up against one country — China.
The only news here may be that anyone is surprised...
---
6. Bitcoin futures bust
Chinese Bitcoin Tycoon Xu Mingxing Questioned by Police - Caixin Global:
Xu Mingxing, founder and chief executive officer of OkCoin, one of the world's largest bitcoin exchanges, was questioned by Shanghai police together with some of OkCoin's investors.

Many investors complained that last Wednesday, when bitcoin and other cryptocurrencies plunged by nearly 10%, OkCoin's platform crashed, causing significant losses for many investors who trade cryptocurrency futures on the platform...

On Monday night, about 10 investors chased Xu to a hotel in Shanghai where he stayed.

Xu was still inside the police station at noon Tuesday. At one point, a police officer told the investors outside the station that Xu was hungry but didn't have money. Some investors contributed 10 yuan to buy lunch for Xu.
---
7. Fan Bingbing's disappearing act
There has been no official confirmation Fan has been detained, but rumors are flying that she is under investigation for tax evasion, and her 100 day disappearance is only fueling speculation. Since basically everyone in that business if not the whole country evades taxes one has to wonder why Fan was targeted. Did she offend the wrong person, and/or is she a very useful example for a broader campaign to rein in the entertainment industry and bring it more into line with "core Socialist values"?
Movie Star's Absence Shows Perils of Show Business in China - Bloomberg:
Up until a few months ago, the future looked bright for Fan Bingbing. As one of China's biggest movie stars, she had featured in a couple of Hollywood superhero blockbusters and scores of local films, with many other projects in the pipeline.

Then in June, she became embroiled in a scandal about movie stars under-reporting their earnings, resulting in Chinese tax authorities investigating the industry -- including Fan -- for possible evasion. The 36-year-old actress, who has 63 million followers on the Twitter-like Weibo, has since vanished from public view-- no more social media updates, no more paparazzi photos and no more public appearances..

Fan's disappearance is a reminder of the perils of show business in the most-regulated major entertainment market in the world, where the Communist Party weighs in on everything from the appropriateness of costumes to the salaries of movie stars. The episode is also prompting Chinese studios to wean off a reliance on A-list stars to drive big hits, a shift Hollywood made years ago.
Concerns missing Chinese actor Fan Bingbing has fallen foul of authorities | The Guardian:
Concerns have intensified that one of China's most famous actors, Fan Bingbing, who has been missing for months, may be in trouble with the authorities after she came last in a ranking of social responsibility among celebrities.

Fan scored zero out of 100 in the category in the 2017-18 China Film and Television Star Social Responsibility Report, compiled by Beijing Normal University and the state-affiliated Chinese Academy of Social Sciences Corporate Social Responsibility Research Institute.

It is the latest sign that the A-list actor, model and singer may have fallen foul of the authorities, with rumours that she has been detained for tax evasion.
Fan Bingbing's studio in Wuxi has been cleared out...pictures--曝范冰冰无锡工作室已人去楼空 物业称:在做保洁|范冰冰|无锡|工作室_新浪娱乐_新浪网 
Some jokers say this is a picture of Fan being taken away: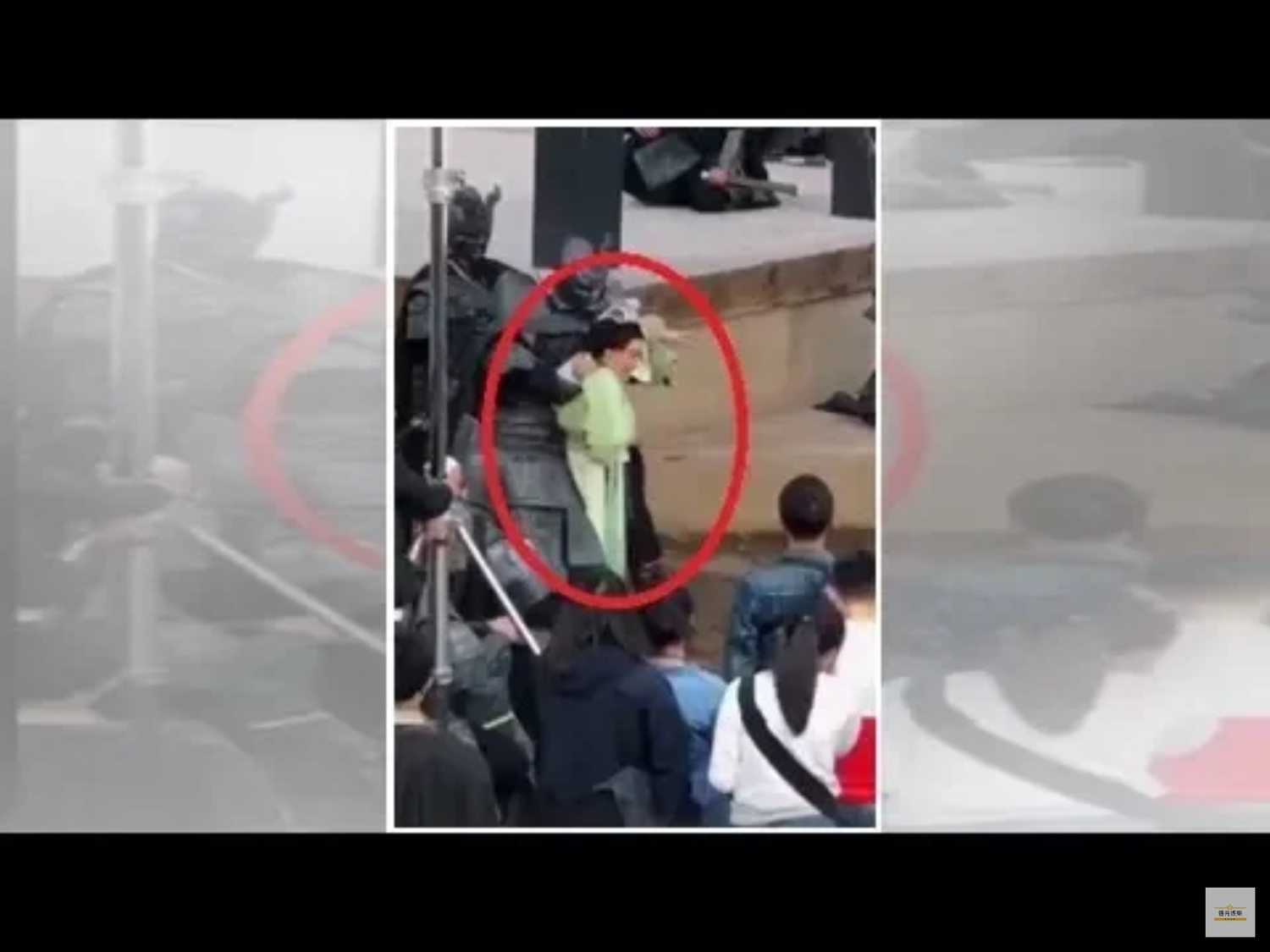 It is obviously a scene from a movie set...
---
8. Chinese scientist upset over US science policies
Chinese Scientist Blasts U.S. Over Politicization of Research - Caixin Global:
A prominent Beijing academic has criticized the U.S. National Institutes of Health's (NIH's) decision to set up a new committee overseeing security risks, calling the move unethical...

On Aug. 20, NIH Director Francis Collins sent a statement to colleagues saying that "some foreign entities have mounted systematic programs to influence NIH researchers and peer reviewers," and that the NIH will set up an advisory committee responsible for reporting sources of research funding and monitoring intellectual property security.

Collins' announcement of the new committee was "shocking because it is the first time when any government official has issued a statement restricting scientific collaborations in peacetime," Peking University neuroscientist Rao Yi said in a letter to Collins, written in late August and published (link in Chinese) by Rao on a WeChat blog he helps run on Wednesday.

Rao, who was born in China but previously held U.S. citizenship, said the advisory committee was "clearly targeting China because Russia can barely fund its science, (and) Europe and Japan have not launched any new programs."
Rao's post - 饶毅致信美国科技官员:科学家应该有脊梁 
BioCentury - Collins defends NIH alert over foreign influence:
NIH Director Francis Collins told BioCentury on Monday that he is "very troubled" by a letter he received from a prominent Chinese scientist expressing indignation over NIH's public warnings about foreign influence over and appropriation of NIH-funded biomedical research.

"Clearly the writer of that letter has profoundly misunderstood what actions the United States is taking," Collins added.

In August, NIH sent a letter to more than 10,000 of its grantee institutions asking them to disclose relationships with or support from foreign partners, writing that the agency was aware some foreign players "have mounted systemic programs to influence NIH researchers and peer reviewers" (see "NIH Investigating Foreign Influence in U.S.-Funded Research").

The letter from Chinese academic Yi Rao accused NIH of unfairly targeting China and casting aspersions on Chinese researchers in the U.S.

Rao is director and professor at IDG/McGovern Institute for Brain Research at Peking University, dean of life sciences at Peking University and director of the Chinese Institute for Brain Research.
Question: Has Rao ever publicly criticized the PRC government for politicizing research? Has he weighed in on why Beijing is no longer sharing samples of H7N9 avian flu with the US? 
---
Business, Economy, Finance And Trade
China Steel Prices Drop Over 5% In Two Days On Concerns Of Scrapping Winter Curbs China is considering allowing its northern provinces to decide individual output cuts by heavy industry to rein in emissions during the winter as opposed to an earlier plan for blanket cuts, according to a Reuters report. The report indicated that local governments will decide their output cuts so as to limit economic disruption. An official of China's Ministry of Ecology and Environment, however, indicated that the reports of removing winter output cuts is not true, according to the China Securities Journal. The government official said the document on air pollution curb was misinterpreted, the report added.
China Stocks Near Four-Year Low as Support Attempts Lack Punch - Bloomberg The Shanghai Composite Index closed Wednesday within just half a point of its lowest level since 2014, ignoring an article in the Securities Daily expressing support for the market and suggesting value investors should start buying. The benchmark fell 0.3 percent to 2,656.11.
Record Buybacks Don't Mean Buy in China - WSJ $$ Companies listed in Shenzhen and Shanghai have been buying back shares at a record pace, spending 24 billion yuan ($3.5 billion) so far in 2018—the most in a year and close to the total in the previous three years. Hong Kong-listed companies have spent $2.9 billion repurchasing their shares—including battered tech giant Tencent, which has bought back $10 million of its stock in recent days.
China's Tesla Wannabe Gets $1 Billion in IPO, Keeps Price Low - Bloomberg NIO Inc. sold stock in its U.S. initial public offering near the lower end of its target range, as investors scrutinize the Chinese electric-car maker seeking to take on the likes of Tesla Inc. The Tencent Holdings Ltd.-backed company raised about $1 billion selling 160 million American depositary shares at $6.26 apiece
Beijing austerity drive prompts local-government ratings cut | Financial Times $$ Rating agency S&P has downgraded seven Chinese local-government financing vehicles (LGFVs), on the view that local governments are less likely to provide bailouts if these companies verge towards default, highlighting the punishing impact of Beijing's austerity campaign.
Rental app firm vows to monitor air in apartments - China Daily Ziroom, the apartment rental app for smartphones that has been caught up in a formaldehyde poisoning scandal, said on Tuesday that newly refurbished apartments will be left vacant for at least 30 days and pass indoor air testing before being listed on the market beginning on Sept 24. The creators of the app - which helps to arrange long-term rentals of furnished apartments - are taking measures to assuage public fears about unhealthy levels of toxic chemicals in listed properties, including formaldehyde, a potential carcinogen.
China Bank Lending Slowed in August as Bond Issuance Surges - Bloomberg Aggregate financing stood at 1.52 trillion yuan ($221 billion) in August, the People's Bank of China said Wednesday, compared with an estimated 1.30 trillion yuan in a Bloomberg survey and 1.04 trillion yuan in July
China Passenger Vehicle Sales Down for Second Month in August - Caixin Global Falling consumer confidence may have been the main reason for the sluggish performance, said Xu Haidong, the association's assistant secretary-general. In smaller Chinese cities, where most sales growth originates, demand from consumers who tend to be more price-sensitive have plummeted, Xu said.
Politics, Law And Ideology
China Mulls New Laws to Boost Police Powers, 'Authority' - RFA On Sunday, the ministry for public security issued a document titled "Draft Provisions for the Protection of Police Officers' Authority in Law Enforcement." The new rules highlight the protection of the "authority" of the Chinese police in the process of law enforcement, including protection from official sanctions following public complaints about their behavior. "Individual police officers do not bear legal responsibility, and the public security department to which they belong shall compensate for any damage caused [in the exercise of their duty] in accordance with relevant state regulations," the rules state.
Wave of high level police officials nabbed for protecting criminal gangs - Global Times "I became the 'protective umbrella' of illegal merchants. I deserve it [to be punished]. I am a criminal," Cheng Jian, former head of the Jieyun road branch of the Zhengzhou Public Security Bureau of Central China's Henan Province, read from his confession letter in front of more than 1,500 local police officers on July 25, according to the website of the Communist Party of China's (CPC's) Central Commission for Discipline Inspection (CCDI). Cheng, together with 11 other workmates, used to protect several local casinos, which were operated under the guise of recreation rooms. The casinos also involved drugs.
Foreign and Military Affairs
Lindsey Graham's Under-the-Radar Push to Turn Trump Into a Defense Hawk A revelation for Bob Woodward's book "Fear". // In September 2017, just days after President Donald Trump dubbed North Korean leader Kim Jong Un "little rocket man," the president assembled his national security team at the White House to discuss U.S. policy toward the hermit kingdom. Joining Defense Secretary Jim Mattis and National Security Adviser H.R. McMaster was a less formal foreign policy adviser, but one who has frequently exerted his influence in an attempt to sway the Trump administration's policies. Sen. Lindsey Graham (R-S.C.) attended, and offered a brazen suggestion for dealing with Kim. Graham recommended that Trump encourage the Chinese government to assassinate Kim and replace him with a North Korean general whom "they control."//Comment: I assume Graham was working of some intelligence assessment, and not just making this up out of whole cloth...I so, what DPRK General has the US assessed is "controlled" by China? Kim launched a concerted campaign to purge everyone with close links to Beijing, including his Uncle. Did he miss someone? And will Kim now look again for a general "controlled" by Beijing?
Iran looks warily to China for help as US sanctions resume - AP Iran "has had to rely on China to offset the Western-induced isolation, predominantly championed by the United States," said Arianne Tabatabai, an associate political scientist at the RAND Corp. who recently co-authored a book exploring Iran's ties with China and Russia. "I think that what we're going to see . is the return of a quasi-monopoly of key sectors of the Iranian economy by the Chinese."
【人事观察】刘建超任中央外办副主任,7个多月已有5家省级监察委"一把手"履新 Liu Jianchao is now a deputy director of the office of the Central Foreign Affairs Commission. Liu spent a long time in the foreign affairs system, including as chief spokesman for MoFa, head of its Information Department, and as Ambassador to the Philippines and Indonesia. Most recently he was head of the Zhejiang provincial discipline inspection commission and a member of the provincial standing committee.  // 央视《新闻联播》报道,近日,第十三届全国政协党组理论学习中心组以"当前国际形势"为题举行第三次集体学习。报道提到,"中央外办副主任刘建超就当前国际形势作了专题辅导报告,并回答了有关问题。
Chinese military to restore bugle calls system - China Military According to the Training and Administration Department of China's Central Military Commission, Chinese military plans to restore the daily bugle calls schedule from October 1. The new bugle calls system will be implemented throughout the army on August 1 next year. It's reported that the purpose of restoring and improving the bugle calls system of the Chinese People's Liberation Army (PLA) is to further strengthen the troops' consciousness in listening to orders, inherit the good traditions of the army, and boost the soldiers' morale.
Chinese video surveillance network used by the Australian Government - ABC News The ABC spent weeks searching for Hikvision and Dahua cameras, examining Australian government purchase records and inspecting government buildings. The results show Hikvision and Dahua remain in use at every level of government, from some of the most sensitive federal government agencies all the way down to suburban councils. The most serious example was a Hikvision camera discovered at one of Australia's most classified defence facilities, RAAF Base Edinburgh in Adelaide.
Eskom assets not security for China loan – Ramaphosa | IOL Business Report President Cyril Ramaphosa on Tuesday insisted that Eskom could not make public the terms of its R33 billion loan from the China Development Bank but said forfeiture of assets in case of default did no figure among these.
First Navy Woman Gets Chinese Scholarship In The Officer Ranks | Fiji Sun Chinese Ambassador to Fiji Qian Bo said the scholarship pro­gramme was another area of co­operation between the Chinese People's Liberation Army and the Republic of Fiji Military Forces. "China and Fiji enjoy an excellent relationship. The military-to-mil­itary cooperation is an important part of our bilateral relations," Mr Qian said.
Anwar Is `Appalled' by Suu Kyi, Criticizes China's Muslim Camps - Bloomberg While Malaysia's government raised the Uighur issue with China, officials in Beijing view it as an "internal issue," Anwar said. "This has gone out into the mainstream media as an issue, and I believe we should use a proper forum to start highlighting these issues and seek this understanding from the Chinese authorities." Anwar's comments amount to some of the strongest yet from a senior political leader in Asia condemning abuses of Muslim minorities.
Hong Kong, Macao
Hong Kong Wealth Assets Seen Doubling in China-Fueled Expansion - Bloomberg Assets under management will hit about $2 trillion by 2023, and non-banks, boutique advisers and wealth technology firms will win market share from traditional managers, Hong Kong's Private Wealth Management Association said in a report published with KPMG China on Wednesday. Almost half the wealth will come from China, according to the survey.
U.S.-China 'trade typhoon' could knock 7 percent off Hong Kong exports: official | Reuters Around seven percent of Hong Kong's total exports could be impacted if the United States imposes a new round of trade tariffs on China, the city's Commerce and Economic Development Secretary told Reuters on Wednesday.
Free Wi-fi at West Kowloon terminus 'not a risk' transport minister says, but service provider admits it will give your personal data to China authorities | South China Morning Post Fear and confusion emerges over whether users of free internet service at city station for Guangzhou-Shenzhen-Hong Kong Express Rail Link risk having personal data sent to mainland  // Comment: People in Hong Kong think mainland authorities do not already have access to all their electronic activity if they want it?
Tech And Media
U.S. and China in a cutthroat technological race - Axios The U.S. and China often seem to be in a cutthroat technological race, but their rivalry may ultimately produce two geographically separate commercial fiefdoms where they rarely if ever cross swords directly, according to Beijing venture capitalist Kai-Fu Lee.  //  Comment: I registered the domain oneworldtwointernets.com years ago when I was thinking about a project on this theme
Rumor has it Chinese 17-year-old wants to be a billionaire | Reuters China's crackdown on online rumor-mongers and fraud has snared a fresh target - a 17-year-old junior high school dropout who pretended to be a billionaire, gave himself fake titles and posted Photoshopped pictures of himself with world leaders. Police in northern China's Shandong province said they were investigating the suspect, identified by the surname Shi and one of the characters in his first name, who called himself the "Sh Runlong Jocker" on social media and claimed to be a Chinese New Zealander from Hong Kong.
Face recognition, big data required for ride-hailing companies - ECNS The ministry has joined with the Cyberspace Administration, Ministry of Public Security and other departments to begin comprehensive inspections at Shouqi Limousine and Chauffeur (01zhuanche.com), Shenzhou Zhuanche (10101111.com) and other mobility platforms. Companies are required to strengthen risk management and controls, apply face recognition and other technologies before dispatching orders, and review the consistency of vehicle and driver information.
Chinese internet users are getting younger - People's Daily Online The report, released by the China Youth Development Service Center together with the China National Youth Palace Association, revealed that the internet usage rate among Chinese minors reached 98.1 percent in 2017. 2017 statistics also showed that today, almost 72 percent of Chinese minors use the internet before the age of 10, a significant rise compared with 55.9 percent in 2010. The figure for those using the internet under the age of seven reached 27.9 percent.
China Can't Afford a Cashless Society – Foreign Policy As payment by phone accelerates in China, the reach of the biggest digital corporations are making its banking regulators uneasy. In Chinese cities, paying via the ubiquitous WeChat platform is now so common that vendors often have trouble making change for cash, or sometimes refuse to take it altogether. That's prompted pushback from the state-owned banks. Anhui province's branch of the People's Bank of China (PBOC), recently began a working group to tackle the problem. Wang Yazhou, a senior banking official in Hefei, the province's capital, commented a thorough cleanup was needed because refusing cash payments would be likely to have a very negative impact.
Society, Art, Sports, Culture And History
An Enemy of the People is 'not welcome' in China - Inkstone  Berlin-based theater company Schaubühne's production of Henrik Ibsen's play "An Enemy of the People" was in the first of a three-night run at Beijing's National Center for the Performing Arts last Thursday. German newspaper Süddeutsche Zeitung reported that a scene in which the audience was encouraged to shout out why they sympathized with the play's protagonist, who was being silenced by the authorities for insisting on the truth about poisoned water, led to the audience yelling statements such as: "Because we are for the freedom of speech!" "Because China's media doesn't speak the truth!" "Because our government acts just as irresponsibly here!"
In 1919, a triple murder on Kalorama Road shook Washington — and changed the law - The Washington Post  Seligman, 66, has a long history with China. He was among the first U.S. business executives to enter China after the Communist country started relaxing its economy. He moved there in 1980 and later ran the China office of public relations firm Burson-Marsteller...The unfortunate victims were Theodore T. Wong, Chang Hsi Hsie and Ben Sen Wu, who were shot to death in a rowhouse at 2023 Kalorama Rd. NW. The house was the headquarters of the Chinese Educational Mission, which supervised Chinese students who were studying at U.S. colleges. The three victims worked there. // "The Third Degree: The Triple Murder That Shook Washington and Changed American Criminal Justice."
Chinese storytelling master Shan Tianfang dies at 84 - China Daily Shan Tianfang launched his career as a pingshu performer in 1953 at age 19. He made his stage debut when he was 24 and soon rose to fame by performing classic pingshu works, including Romance of the Three Kingdoms, based on a 14th-century historical novel of the same title by Luo Guanzhong. Traditional pingshu artists usually perform in teahouses or small theaters. Thanks to radio and television, the old art form has reached a wide audience. Since the 1980s, Shan had recorded many pingshu works at radio and TV stations across the country.
Xinhua Mocks 'Sissy Pants' Male Idols - Sixth Tone The editorial board of state news agency Xinhua took aim at "effeminate" male celebrities on Thursday, saying "this sick culture is having an inestimably adverse impact on teenagers." The commentary follows wide criticism of state broadcaster China Central Television's annual back-to-school gala — which parents were required to watch with their school-age children — for having too many commercials. The parents' ire soon spread from the advertisements themselves to the smooth-skinned, well-groomed actors in them, with critics calling these "little fresh meats," as such men are known, bad examples for their own children.
A Misunderstood Friendship: Mao Zedong, Kim Il-sung, and Sino-North Korean Relations, 1949-1976 (Studies of the Weatherhead East Asian Institute, Columbia University): Zhihua Shen, Yafeng Xia: 9780231188265: Amazon.com: Books In A Misunderstood Friendship, leading diplomatic historians Zhihua Shen and Yafeng Xia draw on previously untapped primary source materials revealing tensions and rivalries to offer a unique account of the China–North Korea relationship. They unravel the twists and turns in high-level diplomacy between China and North Korea from the late 1940s to the death of Mao Zedong in 1976. Through unprecedented access to Chinese government documents, Soviet and Eastern European archives, and in-depth interviews with former Chinese diplomats and North Korean defectors, Shen and Xia reveal that the tensions that currently plague the alliance between the two countries have been present from the very beginning of the relationship. They significantly revise existing narratives of the Korean War, China's postwar aid to North Korea, Kim Il-sung's ideological and strategic thinking, North Korea's relations with the Soviet Union, and the importance of the Sino-U.S. rapprochement, among other issues. A Misunderstood Friendship adds new depth to our understanding of one of the most secretive and significant relationships of the Cold War, with increasing relevance to international affairs today.
Energy, Environment, Science And Health
Satellite network pinpoints sources of pollution - China Daily China will use a grid network and remote satellite sensing to better monitor and control air pollution, according to the country's top environmental authority. The network will monitor concentrations of PM2.5 - polluting particles with a diameter of 2.5 micrometers or less - in the 28 major cities in the Beijing-Tianjin-Hebei cluster by next month, the Ministry of Ecology and Environment announced recently. The region has been divided into 36,793 units, each measuring 9 square kilometers. With the help of remote sensing, 3,600 of the units with relatively high PM2.5 levels have been selected as key monitoring areas.
Agriculture And Rural Issues
China bans transport of live hogs from 10 new regions: agriculture ministry | Reuters Live markets will also be shut in the regions, according to a notice by the Ministry of Agriculture and Rural Affairs dated Sept. 11 and sent to animal disease control centers in the areas.
Education
Vice premier pledges to improve rural education - Xinhua Over the past five years, about 425 million students have received government financial assistance and more than 37 million students from needy families in compulsory schooling gained food subsidies. Under a special support program, about 370,000 rural students have been enrolled in elite colleges. However, rural education services still lag behind, particularly with the shortage of teachers. At a bi-monthly session of the National People's Congress Standing Committee in August, lawmakers suggested improving the welfare of rural teachers and setting up a special allowance for rural teachers in poor areas.
Food And Travel
Why China Should Be Your Next Wine Destination - Condé Nast Traveler There are six major grape-growing regions in China, though only three are really primed for visitors: Shandong and Shaanxi provinces, and the autonomous Ningxia region. Among the others, keep an eye on Yunnan, where French conglomerate LVMH has invested heavily in a high-end, high-altitude vineyard near Shangri-La at the Himalayan foothills (pictured). Via the vineyards bolted to the steep slopes, it's producing the impressive, just-released Ao Yun, a blend of cabernet sauvignon and cabernet franc.