No cases in Wuhan; 20%+ unemployment?; Oil mess; Tech execs behaving badly
Wuhan officially has no more Covid-19 cases, and Vice-Premier Sun Chunlan. who has been running the response on the ground in Wuhan since January, has returned to Beijing.
We may soon have a date for the Two Meetings. Xinhua reports that the NPC Standing Committee is deliberating a draft decision on the date, and the rumor mill suggests it may be held within the next three weeks. Beijing has added seven days of home quarantine to the current fourteen day of centralized quarantine for all arrivals; perhaps that in part is due to preparations for the Two Meetings?
Analysts at a Chinese securities firm wrote a report estimating the true unemployment rate in the country is over 20%. not the official rate of 6.2%. The firm quickly retracted the report. Is it accurate? Xi and the rest of the leadership are certainly not acting like the unemployment rate has barely increased from last year.
President Trump's comments about using disinfectant were mocked by the spokesperson for the CCP Central Committee's International Liaison Department (ILD). The ILD has historically been quite secretive, and now it too is taking the fight to Twitter:
My head hurts…seriously, whatever "detente" the Trump-Xi call last month seemed to have achieved looks to have already frayed. I hear the US and China trade deal negotiating teams are having a video conference this week. If the Chinese side wants to keep any semblance of the "detente" intact they will need to keep Trump happy with efforts to fulfill the phase one trade deal, and on if not ahead of schedule. That may not be possible, but right now that phase one deal looks to be the one thing holding back a much worse deterioration in the US-China relationship, especially as we head into the thick of the 2020 election cycle with "blame China" a key theme.
Thanks for reading.
---
The Essential Eight
1. The economy
China Unemployment: Brokerage Retracts 20% Estimated Out of Work - Bloomberg
As many as 70 million people could have lost their jobs due to the economic fallout from the coronavirus pandemic, translating into an actual unemployment rate of around 20.5%, a group of three analysts from Shandong-based Zhongtai Securities wrote in a report dated April 24...

The official surveyed jobless rate was 5.9% in March, down from the record-high of 6.2% in the first two months of the year, according to data from the National Bureau of Statistics. The reading has been moving in a tight range of around 5% since the series was first introduced in 2016...

The report became inaccessible on social media Monday. One of the report's authors, Zhang Chen, said by phone that it had been retracted.

"Zhongtai's attitude is that we should go by the official figures for unemployment," Zhang said.
The report - 中国实际失业率有多高?_手机新浪网
3、失业率到底多高?或在20%附近。我国就业总体更加偏重第三产业,并且个体经营户占了很大部分,疫情中个体经营户受影响较大。再考虑到服务业和可选消费需求的低迷,外需的大幅冲击,根据我们的测算,目前我国新增失业人数可能已经超过7000万,对应的失业率大概在20.5%。
PBOC's Yi Pledges Support to Virus-Weakened Economy - Bloomberg
The impact from the virus on China's economy will be short-lived, and the fundamentals won't change, according to the article by Yi published by the Economic Research Journal in its March issue. It was re-published Sunday on the WeChat account of ChinaForex magazine, run by the country's forex regulator...

"Too aggressive" macro stimulus may bring inflation risks and cause too rapid an increase in the macro leverage ratio, Yi said, in the article, on China's financial assets structure. China should strike a balance between stabilizing growth and preventing risks. Keeping the leverage ratio basically stable is a proper choice, according to Yi.
Yi Gang's article - 易纲:再论中国金融资产结构及政策含义|易纲|金融业对外开放|改革_新浪财经_新浪
Chinese premier stresses stabilizing economic fundamentals, securing people's livelihood | english.scio.gov.cn
Speaking with chiefs of Jilin, Shanghai, Jiangsu, Henan, Guangdong and Sichuan, Li said with the COVID-19 pandemic still spreading, the economic situations at home and abroad are "particularly complicated and grim," urging to face up to the difficulties and challenges and strengthen development impetus with strong confidence.

Work must be done to safeguard jobs, people's basic livelihood, market entities, food and energy security, the stability of industrial and supply chains, and the smooth running of communities, so as to boost economic recovery and push for high-quality development, he said...
More on Li's meeting - 人民日报:李克强主持召开部分省市经济形势视频座谈会时强调,直面困难挑战,坚定发展信心,稳住经济基本盘,力保基本民生
The governors told Li that "currently there are increasing difficulties for company operation and there are still quite many small companies that have not yet resumed production. The task to stabilize employment is arduous." Li in response urged them to do more to implement market reforms, save the small companies and provide relief to people in distress. 
China's industrial profits contract in March but at slower pace - Reuters
China's industrial firms earned 370.66 billion yuan ($52.43 billion) in March, down 34.9% from a year earlier, data from the National Bureau of Statistics showed. This follows a 38.3% slump in January-February, the steepest drop since at least 2010.
China extends small businesses tax exemptions by four years - Xinhua
The tax exemptions, which expired at the end of last year, will be extended to Dec. 31, 2023, according to a statement jointly issued by the Ministry of Finance and State Taxation Administration.

In order to boost policy support and encourage financial institutions to step up financial services, Chinese authorities decided in 2017 that financial institutions will be exempt from value-added taxes (VAT) on income from interests for loans to small and micro-sized businesses and individually-owned businesses.
Chinese consumer sentiment still reeling from pandemic, hitting hopes of 'revenge shopping' | South China Morning Post
More than half of Chinese households planned to increase their savings and cut back on spending after the outbreak was contained, while 40 per cent would maintain normal shopping patterns and 9 per cent would buy more, according to the survey of 28,000 people by researchers from China's Southwestern University of Finance and Economics.

The study, which was released last week but conducted between late February and early March, surveyed users of Alipay
---
2. The outbreak
Chinese mainland reports three new COVID-19 cases, 25 asymptomatic - CGTN
Three new confirmed COVID-19 cases were registered on the Chinese mainland on Sunday, two of them imported and one domestic, according to China's National Health Commission.

The commission also reported 25 new asymptomatic patients and no new deaths.
Central guiding group overseeing COVID-19 epidemic control leaves Hubei - Xinhua
Approved by General Secretary Xi Jinping and the Communist Party of China (CPC) Central Committee, China's central guiding group overseeing the novel coronavirus efforts in Hubei Province left for Beijing Monday.

Hubei and its capital city Wuhan have adjusted their prevention and control efforts against the COVID-19 epidemic towards a regular level from an extraordinary emergency level.

Headed by Vice Premier Sun Chunlan, also member of the Political Bureau of the CPC Central Committee, the central guiding group was sent to Hubei to oversee the epidemic response in late January
China Focus: Wuhan hospitals clear all COVID-19 cases - Xinhua
After more than three months of arduous fight, Wuhan, the Chinese city once hardest hit by the coronavirus outbreak, cleared all COVID-19 cases in hospitals on Sunday.
Chinese Regions Extend Quarantine Periods Up to 35 Days - Caixin
Beijing authorities now require those who complete 14 days of centralized quarantine to isolate at home for seven more days.

Meanwhile, Heilongjiang province, which has been dealing with imported cases from Russia, has increased the isolation requirement to 35 days for Mudanjiang residents who come back to the city from Russia through the Suifenhe land border crossing. A prefecture in Jilin province and the Guangxi Zhuang autonomous region added two additional weeks of mandatory home isolation to the original two weeks of centralized quarantine.
China to keep coronavirus tests focused, stops short of wider testing - Reuters
China also said accuracy of tests must be improved and more laboratories should be set up. It is also unclear who would pay for any mass testing of hundreds of millions of people - the state, employers or the individual.

"(The country's) current testing strategy matches our epidemic control and prevention strategy," Jin Qi, president of the Institute of Pathogen Biology at the Chinese Academy of Medical Sciences and Peking Union Medical College.
China arrests users behind GitHub coronavirus memories page — Quartz $$
Cai Wei, a Beijing-based man who participated in one such project on GitHub, the software development website, was arrested together with his girlfriend by Beijing police on April 19. The couple were accused of "picking quarrels and provoking trouble," a commonly used charge against dissidents in China, according to Chen Kun, the brother of Chen Mei, another volunteer involved with the project. Chen Mei has been missing since that same day. On April 24, the couple's families received a police notice that informed them of the charge, and said the two have been put under "residential surveillance at a designated place." There is still no information about Chen Mei, said his brother..

It is unclear whether the arrest of the couple and the disappearance of Chen are directly linked to their GitHub project, named "Terminus2049." The Beijing police could not be reached for comment.
China makes all-out efforts to protect health, safety of Chinese students abroad: official - Xinhua
China's education and foreign affairs departments have made all-out efforts to protect the health and safety of Chinese students studying in foreign countries as the COVID-19 pandemic continues to spread overseas, an education official said in an interview...

Amidst a general shortage of epidemic relief materials abroad, Chinese embassies and consulates have timely handed out health kits containing protective equipment and other items to Chinese students, especially those in countries seriously hit by COVID-19.
China tightens management of international flight and ship crews - Xinhua
All crew members inbound and outbound must report their health conditions, while airlines and ships are required to carry out onboard body temperature tests and report to the GAC when any anomalies occur, said GAC official Song Yueqian at a press conference Monday...

Song also noted that nucleic acid tests will be carried out for some crew members disembarking from ships and flights of domestic or foreign airlines depending on their routes and duration of stay.
More schools, universities to reopen in China - Xinhua
Southwest China's Chongqing Municipality will partially reopen its colleges and universities, with the first batch of students to return to campus from May 11, authorities announced Sunday...

In eastern China's Fujian Province, where the seniors of junior and senior high schools have resumed class, vocational schools and universities will reopen for senior students from May 6, and all primary and high school students other than first and second graders of primary schools will resume class from May 11
After long absence, students return to campus - SHINE News
Middle and high schools in Shanghai were bustling again on Monday as some 150,000 graduating students returned after almost 100 days of closure due to winter vocation and the coronavirus outbreak.
Gallery: School Campuses Reopen in Beijing - Caixin
Nearly 50,000 high school seniors in Beijing went back to school on Monday
How Wuhan Cared for Pandemic's 'Temporary Orphans' - SixthTone
Xu Jing, founder of child care nongovernmental organization Qiansuilan, tells Sixth Tone that, before her group's volunteers entered the quarantine center, nobody there was taking full-time care of the children — some of whom, like Yiyi, were only 4 years old. Many needed not just physical care but also emotional support, having experienced their families shaken up by disease and sometimes death.
Residents of Chinese Cities Fear Ongoing Virus Transmission as Man Sues Province - RFA
Tan Jun, a civil servant from the Yangtze river town of Yichang, filed the lawsuit at the Wuhan Intermediate People's Court calling the government to account for the unprecedented loss of life and property as a result of the pandemic...

Tan cites a Jan. 11 notice issued by the Hubei health commission denying that person-to-person transmission existed.

But the State Supervisory Commission said in a report into the reprimanding of late whistleblowing doctor Li Wenliang published March 19 that human-to-human transmission was known about as early as December, according to Tan's lawsuit.
China to charter flights to return overseas citizens - China Daily
five temporary flights this week to the United States, United Kingdom, Italy and Spain to return Chinese citizens, most of whom are students.
The national government service platform now added a new service of checking nucleic acid test results. This service is included in the package of checking health QR codes. 
At least 14 people, including two medics in Mudanjiang, Heilongjiang have contracted the coronavirus in one hospital. Heilongjiang have reported similar clusters of cases in three other hospitals in Harbin, capital of the province.
China's National Health Commission warned in a press conference on Monday that China faces high risks of importing cases from India and Bangladesh, where the virus continues to spread. Wang Bin of NHC said Beijing has sent a team of experts to supervise the border control in Guangxin, Yunnan, and Tibet.
---
3. More pain to come from the oil blowup
A Bitter, $1.4 billion Lesson on Commodity Price Speculation - Caixin
It isn't clear how much Chinese investors lost on the product. But sources with knowledge told Caixin that BOC had more than 60,000 investors in Yuan You Bao who put 4.2 billion yuan into margin deposit accounts. Based on the settling price after the April 21 oil collapse, the investors owed 5.8 billion yuan to the bank on top of the loss of their initial investments, wiping out a total of 10 billion yuan...

The episode spotlights how China's mom-and-pop investors betting on swings of oil through cheap access provided by Chinese lenders can be exposed to massive losses. While they are generally prohibited from directly investing in foreign crude futures markets, such investors can buy banks' paper crude products offered without opening an offshore account. The investments are pegged to the flat price of the front-month contract and are settled in Chinese yuan...

Chinese regulations require futures trading companies to pay close attention to their clients to prevent losses exceeding deposits. If large-scale losses occur, the securities regulator will step in to investigate.

Chinese lenders have aggressively marketed paper crude products this year, recommending that investors buy on the dip. Public information showed that since early March, a BOC branch's Yuan You Bao clients surged from 3,000 to 13,700. Weekly transaction value rose from 320 million yuan to 1.2 billion yuan
Bank of China Clients Said to Lose $1 Billion on Oil Bets - Bloomberg
The estimate of losses to customers across China increased from about 600 million yuan in the middle of last week as more information was gathered from its more than 10,000 outlets, said the people, asking not to be identified discussing a private matter. The number isn't final and subject to further change as more branch data are examined, one of the people said.
China asks banks to halt new sales of products that may lead to unlimited losses: sources - Reuters
At the weekend, China Banking and Insurance Regulatory Commission (CBIRC) gave verbal instructions to banks to halt new sales of products that could trigger open-ended losses for investors, and requested reports on the outstanding size of related products, according to two direct sources who are familiar with the matter.
China's ICBC closes commodity-linked products to new investment - Reuters
ICBC also warned retail investors they could lose all their investments and cash deposits in the commodity linked products.
Cheap Oil Hasn't Been Good for the World's Largest Crude Importer - Caixin
China's three state-owned oil majors remain stuck on course to boost oil production despite the titanic shift in the oil market that has accompanied the recent plunge in crude prices, during which the U.S. benchmark price briefly turned negative.

The situation has left the three companies, China Petrochemical Corp. (Sinopec), China National Offshore Oil Corp. (CNOOC) and China National Petroleum Corp. (CNPC), in a bind as they struggle to reduce costs while still fulfilling the obligations that come with being a state-owned oil giant, particularly their duty to ensure domestic energy security...

China's three oil giants remain set to pour money into oil and gas exploration in accordance with their "seven-year action plan," which they put forward in 2018 in response to a government pledge to improve the country's energy security...

For the three oil giants, the average cost of drilling one barrel of oil ranges from $40 to $60, according to an industry insider.
---
4. PRC pressure on EU over disinformation claims
Pressured by China, E.U. Softens Report on Covid-19 Disinformation - The New York Times
Worried about the repercussions, European officials first delayed and then rewrote the document in ways that diluted the focus on China, a vital trading partner — taking a very different approach than the confrontational stance adopted by the Trump administration.

The initial European Union report, obtained by The New York Times, was not particularly strident: a routine roundup of publicly available information and news reports.

It cited Beijing's efforts to curtail mentions of the virus's origins in China, in part by blaming the United States for spreading the disease internationally. It noted that Beijing had criticized France as slow to respond to the pandemic and had pushed false accusations that French politicians used racist slurs against the head of the World Health Organization...

"Such appeasement will set a terrible precedent and encourage similar coercion in the future," an analyst, Monika Richter, wrote to her colleagues and supervisors in an email seen by The Times. She said that European Union diplomats were "self-censoring to appease the Chinese Communist Party." She also wrote that it was a lie to claim that the document had not been scheduled for release.
EEAS SPECIAL REPORT UPDATE: Short Assessment of Narratives and Disinformation around the COVID-19/Coronavirus Pandemic (Updated 2 – 22 April) - EU vs DISINFORMATION
China warned EU 3 times over virus propaganda report | Financial Times $$
China complained to the EU at least three times and warned bilateral relations would be hit should the bloc publicly accuse it of spreading coronavirus crisis propaganda, according to European officials...

The warnings from Beijing came after the news organisation Politico reported excerpts from the EU disinformation report on Tuesday. One complaint was made at political counsellor level to the EU diplomatic service's headquarters in Brussels and two by the Chinese foreign ministry in Beijing, European officials said.

Wang Lutong, the Chinese foreign ministry director-general for Europe, called Nicolas Chapuis, EU ambassador in Beijing, European officials briefed on the matter said. Mr Wang denied China was spreading disinformation and said he was alarmed by reports that the European bloc was about to issue a statement criticising his country. He said that if the EU were to follow the US in publicly attacking China, it would be pushed back as the US had been, adding that this would be unfortunate.
China hits back at EU disinformation claims | Financial Times $$
Zhang Ming said it was better to "forget the politics now" to focus on the fight against Covid-19, in a riposte to claims from some European officials that Beijing is trying to exploit the health emergency for strategic gain.

"Disinformation is an enemy for all of us and it should be addressed by all of us," Mr Zhang said in an online event on Friday organised by the Friends of Europe think-tank. "From the very beginning, China has suffered a lot from disinformation."
The changes to the report to mollify Beijing are not surprising to at least one postdoctoral researcher of EU-China diplomacy:
---
5. New claims about Huawei and Iran
Jailed Huawei Workers Raised a Forbidden Subject: Iran - The New York Times
The five men were all locked in disputes with their onetime employer, the Chinese technology giant Huawei. And they had all joined a group on the social app WeChat to organize.

Then, one of them wrote a message to the group that would upend their lives:

"I can prove that Huawei sold to Iran."...

The employees' messages in the chat group included no hard evidence that Huawei's activities in Iran were unlawful. Yet within weeks, the Chinese police had arrested all five men, two of them told The New York Times.

The two former employees — Li Hongyuan, 42, and Zeng Meng, 39 — said officers had questioned them about Iran and asked why they had been in contact with foreign news outlets, both topics they had discussed on WeChat.
Huawei employees sue company after police detention | Financial Times $$
Mr Zeng, meanwhile, was arrested on holiday in Thailand by Thai and Chinese police after earlier starting a chat group where employees had aired workplace complaints and discussed Huawei's alleged breaking of US sanctions in Iran.

He was subsequently held in Shenzhen for nearly three months, then released last year on bail. "All the way through, the police have behaved like gangsters," he said, alleging that his laptop was still in the possession of Shenzhen police.

"Apologies and compensation, we want both!" said Mr Zeng, sitting with Mr Li and the Financial Times in a Cantonese restaurant near Huawei's headquarters in Shenzhen.
Question: How did PRC police arrest Zeng in Thailand?
Western media hype arrests before Huawei exec trial - Global Times
Even before the scheduled appearance for the extradition case of top Huawei executive Meng Wanzhou, set for Monday to Thursday as local media reported, Western media such as the New York Times and the Financial Times have come up with reports on arrested former Huawei employees who leaked so-called forbidden subject about Iran. The move is considered a choreographed public opinion campaign in weighing on the Canadian government to choose a side between China and the US, insiders and analysts said on Sunday...

"This is a common way for Western media outlets to hype on certain topic in order to interfere with a legal case, or with lawyers and judges in handling the case," Li Haidong, a professor at the Institute of International Relations of the China Foreign Affairs University, told the Global Times on Sunday.
---
6. US-China
WHO row between US, China sees G20 leaders summit called off at last minute, source says | South China Morning Post
A planned video conference between G20 leaders on Friday was called off at the last minute due to a bitter quarrel between China and United States over the role of World Health Organisation, according to a source who was involved in the preparation for the call.

The source, who declined to be named due to the private nature of the debates, said that the US has been insisting on holding the World Health Organisation (WHO) accountable for its early activities in handling the coronavirus outbreak, which has killed over 190,000 people across the globe, including close to 50,000 in the US.

China, on the other hand, strongly refuses to discuss proposals to investigate the WHO, the source said.
Xinhua on Saturday continued to question the US for underreporting its virus cases. "How many unsolved mysteries are out there regarding the US virus situation?" it wrote, saying that Washington has failed to explain when is earliest case in the country and how many have contracted the virus.
Foreign Ministry Spokesperson Geng Shuang raised questions about the virus in the US at Monday's press briefing:
Geng Shuang: Indeed, many in the US have been questioning and worrying whether the US government has responded timely and effectively to the outbreak. They want to get the facts straight: when did the first case occur in the US? Is the US government hiding something? Why is it so desperately seeking to pin the blame on other countries and international organizations?

We hope the US government can timely respond to the concerns of its own people and the international community. The WHO may also be invited to help review this process.
[视频]国际锐评:散播"政治病毒"的蓬佩奥正把自己变成人类公敌_CCTV
CCTV "international sharp commentary" on the Monday CCTV Evening News goes after Pompeo as "common enemy of mankind" who is spreading "political virus"--"Lies and slander won't recover lost time, lives or make America great again. Pompeo should know: America's enemy is the virus, not China."
People's Daily Zhong Sheng also goes after Pompeo - 如此散"毒" 罪责难逃(钟声)
当前,美国新冠肺炎疫情十分严重,确诊病例和死亡人数持续攀升,让一切富有同情心的人都感到揪心。正当新冠病毒在美国露出最狰狞的面目,催演一出又一出丧失生命的人伦惨剧之际,美国国务卿蓬佩奥也露出了最狰狞的面目,四处散播同样凶险的"政治病毒",以偏见和傲慢煽风点火,造谣生事,消散人类共同迎击新冠病毒的精力,力图把全球都拉入对抗冲突的局面。
"America is pathetic to have such a person as secretary of state," Global Times wrote in its editorial on Monday. It accused Pompeo of "CIA-izing" the State Department and "We want to tell Pompeo who is trying to sow discord between the CCP and the Chinese people, this is just fantasy, and it is especially stupid to do so at a moment like this. "
Question: Have the CCP propaganda organs so aggressively attacked a US Secretary of State since 1979? And are they using Pompeo as a proxy for Trump, but still are holding back on attacking the US President directly?
GOP memo urges anti-China assault over coronavirus - POLITICO
The National Republican Senatorial Committee has sent campaigns a detailed, 57-page memo authored by a top Republican strategist advising GOP candidates to address the coronavirus crisis by aggressively attacking China.

The memo includes advice on everything from how to tie Democratic candidates to the Chinese government to how to deal with accusations of racism. It stresses three main lines of assault: That China caused the virus "by covering it up," that Democrats are "soft on China," and that Republicans will "push for sanctions on China for its role in spreading this pandemic."

"Coronavirus was a Chinese hit-and-run followed by a cover-up that cost thousands of lives," the April 17 memo states.

The document urges candidates to stay relentlessly on message against the country when responding to any questions about the virus. When asked whether the spread of the coronavirus is Trump's fault, candidates are advised to respond by pivoting to China.

"Don't defend Trump, other than the China Travel Ban — attack China," the memo states...

It was authored by the political consulting firm of Brett O'Donnell, a veteran Republican strategist who has advised Secretary of State Mike Pompeo and Arkansas Sen. Tom Cotton.
The full memo (PDF)
CCTV report on the Politico story - [今日环球]美共和党竞选策略备忘录曝光:积极攻击中国 转嫁疫情危机_CCTV
Commentary: In time of life and death, leaked GOP memo doomed to backfire - Xinhua
The United States is suffering heavily from the coronavirus pandemic, with over 930,000 confirmed cases and more than 54,000 deaths so far, both figures the highest in the world. In this time of life and death, the GOP memo has breached the bottom line of human ethics with a thick book of blatantly fabricated charges and accusations against China. It also turns a blind eye to the suffering of the American people.

The ruling party of the world's sole superpower shouldn't behave like this.
Conspiracy theories are deceiving Americans into greater hostility against China - CGTN
Max Blumenthal, an award-winning journalist and founder of the Grayzone, told Global Times that the conspiracy theory of COVID-19 escaping from China's Wuhan Institute of Virology, is the Trump administration's Iraqi WMD (weapon of mass destruction) and the unpacking of misinformation is blocking the American public from learning the truth about the epidemic and China's efforts to contain it.

The Grayzone published a story days ago busting the Chinese lab coronavirus conspiracy theory and revealed that the Trump administration, right-wing media outlets as well as NGOs and think tanks are together pushing the anti-China agenda. The website is a U.S.-based independent news outlet, and aside from the COVID-19 coverage, it also released many reports related to Northwest China's Xinjiang Uygur Autonomous Region in recent months.
US media-NGO-politician institution weaves coronavirus conspiracy: Exclusive with Grayzone founder - Global Times
Original Chinese of the interview with the Grayzone founder - 他们发现了美国反华宣传路线图,疫情过后想去新疆和武汉
China firmly opposes embroiling China in U.S. electoral politics - Xinhua
"Why have some political forces in the United States spared no effort in smearing and attacking China in the name of the pandemic? The answer is self-evident," said Foreign Ministry Spokesperson Geng Shuang at a press briefing.

"If the news report is true, we cannot help but ask who is spreading disinformation," Geng said.
China urges U.S. to respond to concerns of its people, world on epidemic - Xinhua
Foreign Ministry spokesperson Geng Shuang made the remarks when asked to comment on the fact that more people in the United States were casting doubts on the U.S. government's response to the pandemic.

"Many in the United States have been questioning and worrying whether the U.S. government has responded timely and effectively to the outbreak," Geng said at a press briefing.

"They wanted to get the facts straight: when did the first case occur in the United States? Is the U.S. government hiding something? Why is it so desperately seeking to pin the blame on other countries and international organizations?"
Tom Cotton suggests Chinese students shouldn't be allowed to study sciences in the US | Fox News
Cotton, who has vowed that China will "pay" for what he has called its deliberate choice to unleash the coronavirus on the world, went on to say that the U.S. should take a "hard look at the visas" awarded to Chinese nationals.

"If Chinese students want to come here and study Shakespeare and the Federalist Papers, that's what they need to learn from America," Cotton said. "They don't need to learn quantum computing and artificial intelligence from America."
FCC Signals Likely Revocation of Four Chinese Telecom Firms' Licenses - WSJ
The FCC sent orders Friday to the U.S. units of state-owned carriers China Telecom Corp. and China Unicom, as well as to Pacific Networks Corp. and ComNet (USA) LLC, both of which are controlled by Chinese government investment firm Citic Group Corp.

In a statement, the FCC said its orders "give the companies the opportunity to demonstrate that they are not subject to the influence and control of the Chinese government."
Ted Cruz to introduce legislation preventing Chinese 'propaganda' from exploiting FCC regulations | Fox News
Sen. Ted Cruz, R-Texas, announced Friday that he intends to introduce legislation that would prevent outlets -- like China's Phoenix TV -- from using Canadian or Mexican stations to spread foreign propaganda across U.S. airwaves.
New York couple suing Chinese government: Coronavirus' 'impact has been pretty big' | Fox News
A New York husband and wife, whose lives have been upended by the coronavirus pandemic, told Fox News they joined a class-action lawsuit against China to hold the country accountable for concealing the origin and initial spread of the virus, which endangered the lives of millions of Americans and sparked economic chaos.

Lissette and Felix Conde appeared on "Fox & Friends Sunday" with attorney Matthew Moore to detail their personal experience with the virus and its impact on their lives.
US, China researchers collaborate in hunt for virus origin | Financial Times $$
Ian Lipkin, director of the Center for Infection and Immunity at the Mailman School of Public Health at Columbia University, said he was working with a team of Chinese researchers to determine whether coronavirus emerged in other parts of China before it was first discovered in Wuhan in December. The effort relies on help from the Chinese Center for Disease Control and Prevention.
---
7. Foreign work
Xi says China to continue offering firm support to Nepal's COVID-19 fight - Xinhua
Xi, who made the remarks when holding a phone conversation with Nepali President Bidhya Devi Bhandari, also called on the two countries' health and medical institutions to strengthen communication and cooperation
China ready to join Iran, int'l community for ultimate victory over COVID-19 - Xinhua
Xi made the remarks during a telephone conversation with his Iranian counterpart, Hassan Rouhani
Saudi Arabia Cuts $265 Million Deal With China to Fight Virus - Bloomberg
The deal will provide the Saudis nine million kits with a capacity to test 50,000 people per day. China will also help the kingdom with 500 medical experts, running six laboratories, including a portable lab.
Chinese Embassy in Sri Lanka donates anti-epidemic items to the SL Navy - China Military
According to Sri Lankan military, 29 naval personnel were confirmed to be infected with the novel coronavirus (COVID-19) at the Welisara Naval Base on the outskirts of Colombo on the evening of April 23, and the base was subsequently locked down. On April 24, another 30 naval personnel at the base were tested positive for COVID-19. They were the first batch of confirmed cases in Sri Lankan armed forces on a large scale.
中国人民解放军,紧急援助三国; 中国人民解放军向柬埔寨军队提供紧急抗疫物资援助
PLA-branded pandemic aid in the last 3-4 days to the militaries of Pakistan, Myanmar, Laos, and Cambodia. Military soft power push into important neighbors. Appears to be a sequel to aid sent to the militaries of Cambodia and Pakistan in late March. This is in addition to the military teams they've sent to discuss pandemic response with others (e.g. Russia, et. al.)
Samoan expert: Samoa thanks China for helping ensure zero COVID-19 case - People's Daily Online
Samoa has so far reported zero confirmed cases of the novel coronavirus disease (COVID-19), for which the country should thank China, said Poao Dr Lamour Hansell, head of the Covid-19 taskforce in Samoa.
China launches English platform for COVID-19-related patent information
The platform was jointly developed by the China Patent Information Center and the Patent Examination Cooperation (Beijing) Center, two bureaus under the NIPA. The English website of the platform is https://ncp.patentstar.cn/en/.

Website visitors can read more than 7,000 pieces of Chinese and foreign patent information related to epidemic prevention, mainly in the fields of drugs, diagnostic reagents, medical equipment, protective products, medical disinfectants, waste treatment, artificial intelligence and big data applications. Access to the website is free of charge.
Australia rejects Chinese 'economic coercion' threat amid planned coronavirus probe - Reuters
Chinese ambassador to Australia, Cheng Jingye, said in a newspaper interview on Monday the "Chinese public" could avoid Australian products and universities...

"Maybe the ordinary people will say 'Why should we drink Australian wine? Eat Australian beef?" Cheng said in the interview published on the front page of The Australian Financial Review.

Cheng said it was possible that tourists may have "second thoughts" about visiting Australia.

"The parents of the students would also think ... whether this is the best place to send their kids," he added.
Germany says China sought to encourage positive COVID-19 comments - Reuters
Chinese diplomats approached German government officials in an attempt to encourage them to make positive statements on how Beijing is handling the coronavirus pandemic, the German interior ministry said in a letter this month.

"The German government is aware of individual contacts made by Chinese diplomats with the aim of effecting positive public statements on the coronavirus management by the People's Republic of China," said the letter, seen by Reuters on Sunday.
Indian medical body asks states to stop using COVID-19 test kits from two Chinese firms - Reuters
More than half a million kits for testing for antibodies to coronavirus were ordered from China this month as a way to ramp up India's screening. But the Indian Council of Medical Research said several states had complained about the quality of the equipment from two firms and these need to be sent back to China.
China Loosens Covid-19 Test Kit Export Requirements - Caixin
Since Sunday, China has no longer required Covid-19 test kits to be registered with, and approved by, the National Medical Products Administration (NMPA) prior to export. Instead manufacturers only need to obtain overseas approval and submit assurances that the product meets the import country or region's product standards.
She's been falsely accused of starting the pandemic. Her life has been turned upside down - CNN
Maatje Benassi, a US Army reservist and mother of two, has become the target of conspiracy theorists who falsely place her at the beginning of the coronavirus pandemic, saying she brought the disease to China.

The false claims are spreading across YouTube every day, so far racking up hundreds of thousands of apparent views, and have been embraced by Chinese Communist Party media. Despite never having tested positive for the coronavirus or experienced symptoms, Benassi and her husband are now subjects of discussion on Chinese social media about the outbreak, including among accounts that are known drivers of large-scale coordinated activities by their followers...

In China, the YouTube videos attacking the Benassis are uploaded to popular platforms there such as WeChat, Weibo, and Xigua Video and are translated into Chinese,
Beijing: Tracing virus origin shouldn't be about blaming others - CGTN
"There is no precedent in the world and no legal basis" to hold others accountable and demand compensation over the origin of a virus, spokesperson Geng Shuang said at a regular press briefing.

"I want to emphasize that China was the first country to report the novel coronavirus outbreak, but it doesn't mean China was the origin of the virus," Geng said.
Coronavirus: they're only answering Xi Jinping's call but are China's 'Wolf Warrior' diplomats doing more harm than good? | South China Morning Post
Last week alone, at least seven Chinese ambassadors – to France, Kazakhstan, Nigeria, Kenya, Uganda, Ghana and the African Union – were summoned by their hosts to answer charges ranging from spreading rumours and misinformation to the "racist mistreatment" of Africans in the south China city of Guangzhou...

George Yeo, geopolitical principal at strategic advisory firm Brunswick and a former foreign minister of Singapore, said that the level of anti-China sentiment in Western countries had gone from bad to worse in recent years, partly over fears of its rise as a global power and partly because of a clash of values.

Beijing "must curb the tendency of its officials to be overly truculent in their defence of China's position or condescending in their treatment of lesser powers", he said.
Coronavirus infects China-US relations as blame game over pandemic intensifies | South China Morning Post
Other analysts said Beijing had launched its well intentioned medical aid diplomacy but then stumbled with a propaganda campaign when it said its system of government was behind its success in containing the virus at home.

"Initiating propaganda to narrate itself as the fire chief in the pandemic fight while other countries are trapped in the virus outbreak led to antipathy," said Shi Yinhong, a government adviser and a professor of international relations at Renmin University.
---
8. Tech execs behaving badly
Alibaba Is Said to Demote Top Exec After Probe into Scandal - Bloomberg
Alibaba Group Holding Ltd. demoted e-commerce chief Jiang Fan and took away a year's worth of financial incentives, disciplining the top executive after concluding an investigation into allegations of improper behavior, a person familiar with the matter said…

This month, Jiang's wife took to microblogging site Weibo to publicly warn a prominent social media influencer not to "mess with" her husband, igniting a frenzy of social media speculation even after the post was removed.

Much of the discussion revolved around Jiang's relationship with the online personality, and whether it had influenced certain business decisions or investments by Alibaba. The company concluded however that there had been no transfer of interests between Jiang and the influencer or her company after an internal investigation, according to a post on the company's internal website seen by the person.
Leiphone with more details of the Jiang Fan demotion - 没有开除!蒋凡被除名阿里合伙人,降级加扣薪 | 雷锋网
Comment: No word though on how he was able to have Weibo censor much of the discussion around the accusations.
Ousted CEO Robbed Multiple Company Chops: Dangdang- PingWest
As the company's ex-CEO, Li focused more on Dangdang's internal operation, and was widely criticized in the largely patriachal Chinese tech scene as an incompetent CEO, while Yu, as co-president of the company, was in charge of nearly all major financing deals and strategic affairs, despite previously taking much time off to take care of their family.

The company's image took a hit in 2018 after Li's inappropriate comment on the alleged rape case of Richard Liu, founder and CEO of JD.com.

In 2019, Li broke the news that he was ousted from the company, and that Yu was taking control, in a heated interview during which he smashed his cup on camera.
Ousted Dangdang co-founder breaks into HQ in attempted coup · TechNode
Li, who grabbed nearly 50 company stamps and financial seals on Sunday, claims this is only the first step. Li said to local media that he will build his own team for a final takeover of Dangdang.

A video of the whole coup shows the group encountered little pushback from employees.

In a letter to employees distributed during the visit, Li says he will take over the company's operations, while Yu Yu will no longer be executive director, legal representative, nor general manager.

Kan Min, vice president of the company, said to local media that Li's claims in the letter are not true, adding that Dangdang has reported this case to the police.
The company declared void the seals taken by Li.
Dangdang Co-Founder Breaks Into Offices to Claim Company Back From Estranged Wife, Employee Says-Caixin
Dangdang Inc. co-founder Li Guoqing seemingly broke into the Chinese e-commerce company's Beijing offices Sunday and pasted notices on the walls claiming he had replaced his fellow co-founder and estranged wife Peggy Yu as the company's CEO, a Dangdang employee later confirmed to Caixin.

Li, who was accompanied by four other people, also removed several official company seals from the offices, according to Yu. All companies in China are required to possess seals for stamping official documentation...

In October, Li filed divorce proceedings against Yu after more than two decades of marriage. No confirmation of the couple's divorce has yet emerged.

According to publicly available data, Yu holds a 64.2% stake in Dangdang, while Li holds 27.51%.
---
Business, Economy and Trade
Tesla's China Competitor Offers Car with More Range Than Model 3 - Bloomberg Separately, both carmakers have been feuding for more than a year as Tesla alleges that an ex-engineer stole confidential information before joining the Chinese company. The U.S. company has asked a U.S. judge to force Xpeng to disclose its autonomous-driving source code -- a move that Xpeng criticized as one seeking to "bully and disrupt a young competitor."
Yicai - COFCO May Buy Part of Chinese Food Firm Yinlu From Nestle, Insiders Say State-owned China National Cereals, Oil and Foodstuffs Corporation, better known as COFCO, may buy two of Yinlu Foods Group's struggling product lines from Nestle, Beijing Business Today reported, citing industry insiders. Switzerland's Nestle, which owns all of Xiamen-based Yinlu, is looking to offload its lactose-free peanut milk and its traditional eight-treasure porridge operations, while keeping its instant coffee business, the report said today.
China's Revamp of Peer-to-Peer Lending Slows to a Crawl - Caixin The volume of outstanding loans had fallen 75% from the beginning of 2019 and the number of lenders decreased by 80%, according to a recent meeting of China's online lending regulation leading group, an inter-ministerial team headed by the central bank. The group said the Covid-19 pandemic had brought challenges to rectification of the industry, as it has made it more difficult for the remaining P2P lending platforms to pull out of the sector and move into new areas of business, and made it more difficult to defuse risks in platforms which have already shut down.
Scrutiny mounts on China's Luckin Coffee as market regulator inspects - Reuters Dozens of officers from the State Administration for Market Regulation (SAMR) raided Luckin's main office in Beijing on Sunday, staying there from morning to evening that day, a source with direct knowledge of the situation told Reuters.
Chinese Anti-Monopoly Regulator Accepts First Merger Control Filing Involving Variable Interest Entity ("VIE") Structures | Morrison & Foerster the SMZ Case represents a milestone in the history of PRC regulatory authorities' long-running love-hate relationship with VIE structures and signifies that the existence of VIE arrangements may no longer constitute an obstacle to the making of AML Filings.
Chinese property tycoon lands on debtors blacklist | Financial Times $$ Huang Qisen, the founder and chairman of Tahoe Group, was added to the Supreme Court's public database after failing to repay loans to a Chinese trust company. Moody's said in March that the company had $4.3bn in short-term debts.
The Big China Short - The Wire China  As Block tells it, a short-seller he knew chatted him up in early January 2020 and mentioned that his firm had been investigating Luckin. The unnamed individual, who was preparing to short Luckin, had operations in China and worried about his personal safety and that of his staff. Could Block publicize the research?..According to the report, the investigators established monitoring stations at Luckin stores in 53 Chinese cities, and collected 11,260 hours of video and 25,000 receipts. Often, the researchers just sat inside the store, recording video of the transactions. The report also contained detailed spreadsheets and analysis of everything from the company's pricing strategy to its advertising spend."It took a tremendous ground game," Block said, noting that such a project could cost more than $500,000 to complete
Politics and Law
China will improve key technologies and capability to handle emergencies - Reuters China will speed up the development of key technologies and improve its capability to handle emergencies in response to the coronavirus pandemic, state television reported Monday, quoting a top-level meeting chaired by President Xi Jinping. // Monday CCTV Evening News report on the 13th meeting of the Central Commission for Comprehensively Deepening Reform 习近平主持召开中央全面深化改革委员会第十三次会议强调 深化改革健全制度完善治理体系 善于运用制度优势应对风险挑战冲击
More from the reform meeting - Beijing lauds socialism as healthcare system covers COVID-19 treatment - CGTN The decision was made in late January at a time when infections were climbing in the country in order to guarantee "timely and thorough treatment" to the patients. Expenses incurred from drugs and medical services related to the coronavirus treatment were completely covered by the country's medical insurance funds. "This shows the advantage of our socialist system," authorities said in a meeting on deepening reforms on all fronts, including the public health sector.. In addition, authorities also stressed the healthy development of teenagers by integrating "physical education with academic studies," another key aspect President Xi emphasized during his Shaanxi tour. "Students' health conditions need to be improved, while shaping their determination and personality," authorities said in Monday's meeting.
'A dream come true': Chinese human rights lawyer Wang Quanzhang reunited with family | South China Morning Post Released human rights lawyer Wang Quanzhang finally reunited with his ailing wife and son in Beijing on Monday after police drove him home to the capital from eastern Shandong province.
Chinese authorities stress implementation of financial policies for poverty relief - Xinhua All financial institutions should continue to carry out financial poverty alleviation work this year and focus on deeply impoverished areas and counties that are still stuck in poverty, said a national video teleconference held by the People's Bank of China and the China Banking and Insurance Regulatory Commission. Financial institutions should make full use of policy tools such as refinancing for poverty relief, increase investment in financial resources and strive to achieve full coverage of basic financial services, it said
Chinese professor targeted after praising Fang Fang's Wuhan Diary | South China Morning Post Hubei University announced on Sunday that Liang Yanping, a professor of its school of Chinese language and literature, was under investigation over her allegedly "inappropriate speech" on social media. The announcement came about a month after Liang posted an article on China's top messaging app WeChat praising novelist Wang Fang, also known as Fang Fang, for the humanitarian spirit of her Wuhan Diary and accusing Wang's critics of being shameless. "It's terrible if a normal society doesn't have criticism," the professor wrote.
Beijing seeks boost for armed police, coastguard as tensions rise in South China Sea | South China Morning Post A draft law revision submitted to the country's top legislature on Sunday proposes changes including centralising command of the People's Armed Police and giving it more resources, state news agency Xinhua reported.
It also specifies punishment for anyone who obstructs armed police officers carrying out law enforcement, the report said, without elaborating.
Police in China's Hunan Charge Christian Pastor With 'Subversion' - RFA Authorities in the central Chinese province of Hunan have formally arrested a Protestant house church pastor on subversion charges after detaining him in March. Zhao Huaiguo, pastor of Bethel Church in Cili county near Hunan's Zhangjiajie city, was formally arrested for "incitement to subvert state power" on April 2.
陈一新在第10次新时代新担当新作为展示会上强调 大力弘扬抗疫精神 加快社会治理现代化-中国长安网 23日,中央政法委机关举行第10次"新时代新担当新作为"展示会,9位同志联系各自参与武汉抗疫督导工作谈了认识和体会。中央政法委秘书长陈一新强调,要弘扬抗疫精神,树立"全周期管理"理念,加快推进社会治理现代化;未来必须把小矛盾小问题解决在基层,把大问题大风险解决在市域。..——"全周期管理"是社会治理现代化的金钥匙,必须以新理念提升社会治理水平。建立平战转换机制,树立上游思维,强化全要素协作配合,形成从源头到末梢的完整治理链条,常态做好应对风险准备,及早发现和解决问题。——以人民为中心是社会治理现代化的根本理念,必须多办暖人心顺民意的实事好事。以党的宗旨镜照自己的群众观,把群众关注的难点焦点作为着力点,解决群众反映强烈的问题,提升群众获得感。// Chen Yixin on some of the learnings from managing the outbreak in Wuhan, sounds like some of the measured used will be applied going forward in social governance generally
China's top legislature starts standing committee session - Xinhua Lawmakers are also deliberating a draft decision on the convening date of the third annual session of the 13th NPC
China Neican: 26 April 2020 - China Neican 内参 a new article by Yang Fengcheng 杨凤城 titled Xi Jinping's party historiography and CCP history research 习近平党史观与中共党史研究 is definitely worth reading. Isn't party historiography a little archaic, you say? Well, no. Understanding party historiography is important because it tells us how the CCP thinks about the relationship between the past, present and future.
【国际锐评】为了人民、依靠人民——中国抗疫实践带给世界的思考之一 ;【国际锐评】制度优势是中国战胜疫情的最大优势——中国抗疫实践带给世界的思考之二 "China's battke against virus makes the world think," CCTV is doing a series of commentaries that praises Xi Jinping and the CCP for their handling of the coronavirus, and praises it as a rare case in the world in which the leader and government really cares about the people and has the capacity to do the job. "Facing the crisis, China's ruling party and the Chinese government show with actions that they are the firmest guardian of people's interests."
人民日报:同舟共济 众志成城——抗疫斗争伟大实践的思考之一 ; 人民日报:人民至上 生命至上——抗疫斗争伟大实践的思考之二 Similar commentaries have run People's Daily in the past two days: "Thoughts from the great practice of fighting the virus". The commentaries praise Xi Jinping, CCP and the Chinese people for their solidarity and sacrifice in the fight against the virus, and said that with this solidarity and with the party leadership, China can overcome any difficulties coming its way.
人事观察|"70后"高官增至31人, 国家发改委副秘书长程晓波转岗甘肃副省长 ; 人事观察|2020年两度履新 浙江"70后"厅官朱忠明跨省升任湖南副省长 Caixin reported that after a new wave of promotions in the past week, the number of 50-year-old and younger officials that reach the vice-minister level is now 31. The latest added to the list is Zhu Zhongming, a Zhejiang official who is now the new deputy governor in Hunan.
Foreign and Defense Affairs
China sent team including medical experts to advise on North Korea's Kim - Reuters The trip by the Chinese doctors and officials comes amid conflicting reports about the health of the North Korean leader. Reuters was unable to immediately determine what the trip by the Chinese team signaled in terms of Kim's health. A delegation led by a senior member of the Chinese Communist Party's International Liaison Department left Beijing for North Korea on Thursday, two of the people said. The department is the main Chinese body dealing with neighbouring North Korea.
中联部:"一带一路"智库合作联盟举办云端专题论坛 Song Tao, head of the CCP Central Liaison Department, was missing from a Belt and Road meeting organized by the Department on Friday. Song sent a note in writing instead.
China's armed police to join maritime law enforcement: draft amendment - Global Times A draft amendment to China's Law on the People's Armed Police Force (PAP) has added sections about organization and command, and extended the troops' scope of responsibilities to cover domestic affairs as well as maritime law enforcement, which experts said is a timely move to meet new demands and legalize the results of an earlier military reform.
China adjusts national defense patent fee reduction policy - Ministry of National Defense The Equipment Development Department of China's Central Military Commission (CMC) announces on April 26, the World Intellectual Property Day, that China will adjust the national defense patent fee reduction policy to reduce the burden of innovation entities and encourage the innovative development in defense technology and equipment construction.
Greater transparency in data sharing and cooperation will improve management of the Mekong River, says MRC » Mekong River Commission The 13-page long commentary note, released today, said that more scientific evidence was necessary to conclude that the 2019 drought was in large part caused by water storage in Upper Mekong dams.  "Our preliminary analysis, using rainfall data from 2008 to 2019 and observed water flows, showed that the 2019 drought was due largely to very low rainfall during the wet season with a delayed arrival and earlier departure of monsoon rains, and an El Nino event that created an abnormally higher temperature and higher evapotranspiration," the commentary note read.
Global China: Technology - Brookings This installment of papers for the Brookings Foreign Policy project "Global China: Assessing China's Growing Role in the World" assesses China's growing technological reach in the world by focusing on both thematic and technology-specific topics. Thematically, the papers explore the broad dynamics of U.S.-China technology competition, the relationship between the regulation of large U.S. technology firms and strategic competition with China, technology transfer and alliance management, and China's role in the global competition for technology talent. On specific technologies, our contributors assess China's progress in the development of fifth-generation (5G) wireless technology, weapons enabled by autonomy and artificial intelligence (AI), power grid cybersecurity, financial technology, biotechnology, surveillance technologies, semiconductors, and space technology. They examine China's ambitions, obstacles, and achievements, and recommend policy options for the United States and its partners and allies
[China Series #1] The Communist Party of China and the Idea of `Evil' – OPR - Kerry Brown In one of those tiresome Twitter clashes that sometimes occur these days, I was accused by someone some months ago of being into `nuance.' This, they declared, with that lapidary style so common on social media, where so much is asserted, and very little explained, `was the sign of poor analysis. Every. Single. Time.'  Thinking about this afterwards, I concluded that in fact nuance was the point. Especially with something as complex as the state of modern China, and its governance system. There are many things it can be labelled. Autocratic. Sometimes in its decision making inhumane. Too vast in scale. Too laden with history. But the idea that its millions of cadres and actors are busying their lives just working on doing harm is risible.  Like government everywhere else, the vast majority most of the time are trying to do their best, for the society they live in and the people they live amongst. Nuance might not be dramatic, but recognising this prosaic fact must get us closer to a better view of the truth. Every. Single. Time.
Coronavirus in Djibouti increases risk of China debt trap - Nikkei Asian Review Noting that Djibouti is an important node in China's BRI, Niu Zengxiang, a Djibouti-based top official of China Civil Engineering Construction, said, "This railway will become the point of origin to freight goods across Africa."
Universities in EU on alert to China spy threat - EU Observer Universities in the EU ought to appoint civilian spy-catchers to stop China and others stealing secrets, the European Commission has suggested. The special "individual" or "group" in each university would "liaise" with real counter-intelligence officers from national security services "interested in dealing with issues of foreign infringement", the commission said.
How the United States Can Cooperate While Competing With China - Lawfare the black box of Chinese internal politics is simply too complex and opaque to be a helpful factor in shaping U.S. policy. Even the best foreign experts on China know too little about the process of elite decision-making in the Chinese leadership compound of Zhongnanhai to be able to empower preferred factions or undermine hardliners. U.S. leaders should not pretend to know more than they do. It is not up to Washington to empower Beijing's relative moderates, and it is unlikely American policymakers would be successful if they tried. This does not mean the U.S. side should make no attempts to understand Chinese politics. But Americans should be deeply humble about their ability to influence the system with any precision or insight.
Russia in sync with China on WWII end date, signaling new world order amid virus crisis - Global Times Russian President on Friday formally endorsed the bill, which marked September 3 as the end of the World War II - same as China's - but a day later than the one recognized by the West, which experts said signals closer ties between China and Russia in the world order that is undergoing profound changes due to coronavirus pandemic.
Chinese embassy's 'Iisang Dagat' tribute sparks outrage online - CNN A music video about the Philippines and China's so-called partnership as "friendly neighbors across the sea" has been making the rounds on social media, but Filipino netizens are far from happy about it. Titled "Iisang Dagat," the song released by the Chinese Embassy in Manila last Friday was met with huge backlash online, mostly from the Filipino community taking a jab at the intent of its message amid China's assertion of rights to the West Philippine Sea — areas Manila claims and occupies in the South China Sea.
Senior Tories launch ERG-style group to shape policy on China | Financial Times $$ The formation of the China Research Group, modelled on the influential European Research Group of Brexit-supporting MPs, comes after senior Tories called for a rethink of Sino-British relations, accusing the communist state of a cover-up over the coronavirus outbreak. Rightwing Conservatives in particular have long been concerned about Beijing's growing influence in the UK, epitomised by deep unease over the role of Chinese telecoms manufacturer Huawei in the UK's 5G cellular network. There are also concerns about expanding the role of Chinese state companies in long-delayed plans to build a new generation of nuclear power plants in the UK. // They have a launched a free newsletter
Journalist Bill Gertz Testified That He Took Money From Someone Connected To A Chinese Billionaire In a deposition from Oct. 15, Gertz told lawyers for a company involved in a lawsuit with another company connected to billionaire Guo Wengui, aka Miles Kwok, that he had approached Guo for an advance for Deceiving the Sky, his latest book on China that was published last year. Gertz described it as a "loan" that would be paid back using his book royalties.Gertz testified that Guo turned him down; Gertz then approached Hong Kong financier William Je, whom he described as an "associate" of Guo's. Je supplied the journalist with the loan of $100,000. Gertz said in his deposition that he did not remember whether Guo encouraged him to approach Je...
Swimmer Mack Horton's family reveals fallout from drug protest - The Ausztralian It's understood that no arrests have been made in the Horton case, which has been kept from the public gaze. The Hortons report a "constantly revolving cast of characters" at their fence and in their driveway. If any were apprehended by police they would be questioned, cautioned, released, and another would take their place. "This is not an amateur operation," remarks a security insider.
漫画|军营里这些难忘的仪式,总有一种让你念念不忘 Depiction of military ceremonies. Represents continuing effort (increasingly prevalent in the last few years) to incentivize military participation and professionalize the force. Includes new soldier entering the force; new soldier receiving rank; oath-swearing ceremony; flag-raising ceremony; receiving weapon ceremony; CCP induction ceremony; deployment unit pledge; and commendation ceremony.// 军队仪式,展示军队的作风与形象,承载军人的光荣和梦想,激发官兵的自豪感、责任感和使命感。这些仪式贯穿了整个军旅生涯,每一场仪式都珍藏着军人最美好的记忆。This is of the ceremony to become a Party member: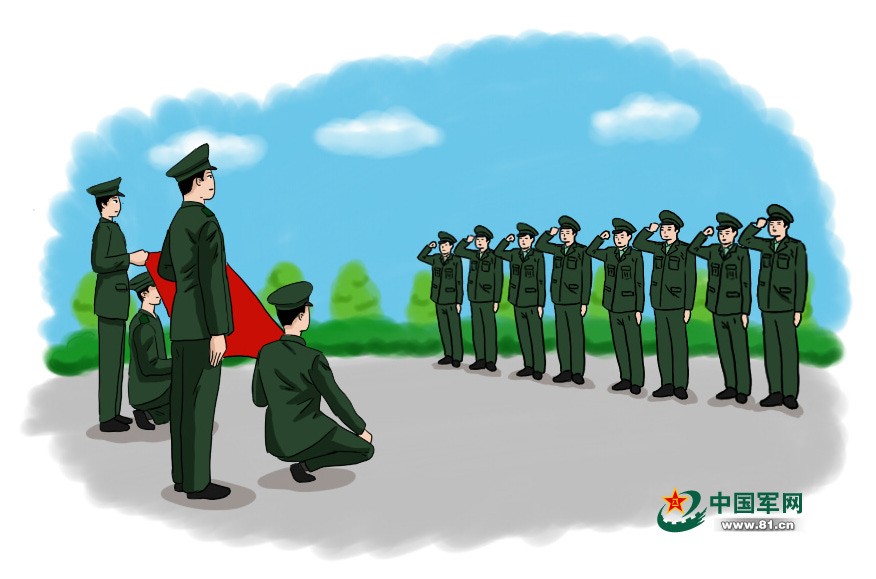 人民日报:习近平给参与"东方红一号"任务的老科学家回信 On Friday the "National Aviation Day", Xi Jinping wrote a letter to the retired engineers who worked on China's first satellite project the "East is Red" in 1970. China established in the "National Aviation Day" in 2016.
Hong Kong and Macao
Coronavirus: as infection rate slows, Hong Kong government is under increasing pressure to relax travel restrictions and open border with mainland China | South China Morning Post The calls came despite the Shenzhen government announcing that from Tuesday all travellers to the metropolis, which neighbours Hong Kong, would have to stay at a designated quarantine centre for 14 days for medical observation. Previously, the two-week quarantine period could take place at home. There have been a total of 422 confirmed cases in the city.
Two former HKSAR Chief Executives to set up alliance aimed at solving Hong Kong's dilemma - Xinhua The organization will be led by Tung Chee-hwa and Leung Chun-ying, both vice chairman of the National Committee of the Chinese People's Political Consultative Conference, and will invite 1,000 representatives of different ages from all walks of life in Hong Kong as co-founders. Focused on the current difficulties in Hong Kong, the goal of the alliance is to assist the HKSAR government to find solutions and help young people to build a better future.
China's assault on Hong Kong heralds death of 'one country, two systems' - The Washington Post "The very important story is not my arrest," Lee, who helped draft Hong Kong's mini-constitution, the Basic Law, said in an interview after being released on bail. "What really concerns me is that the basic promise of Hong Kong has been completely changed."...The shift "signals the death of the 'two systems,' " said Eric Cheung, a legal scholar at the University of Hong Kong. "It is quite clear that they are now bringing the mainland system, the mainland idea of supervision and rule of law, here."..As Washington prepares its annual report on the Hong Kong Policy Act, the legislation that allows the United States to treat the territory differently from mainland China and underpins Hong Kong's status as a financial center, China's actions raise an urgent question: How long can Hong Kong be seen as apart from the mainland?
Taiwan
Pro-China Kiribati president loses majority over switch from Taiwan | The Guardian In the second round of parliamentary elections, the governing party and allies won 22 seats out of 45, dealing a blow to President Taneti Maamau, who previously enjoyed a comfortable majority of 31. The rest of the seats were won by members or allies of two other parties: one of which has pledged to switch back to Taiwan, and another made up of MPs who left the governing party to create a new opposition party last fall over Maamau's handling of the switch.
Hong Kong Bookstore Under Attack in China Reopens in Taiwan - AP The opening and accompanying news conference came days after Lam Wing-kee was splattered with red paint by a masked man while sitting alone at a coffee shop in Taiwan. Lam suffered no serious physical injuries and showed little sign of the attack other than a red tint to his hair.
Tech and Media
Tencent Consolidates China's Game Live Streaming Sector By Taking Control of Huya- PingWest Tencent has acquired Huya's 16.5 million class B ordinary shares from the latter's parent company JOYY, a Nasdaq-listed Chinese company, for about 262.6 million US dollars. The deal, made through Tencent subsidiary Linen Investment, has enabled Tencent a controlling stake in Huya with 50.1 percent voting power in the live-streaming platform.
突发!影像AI公司汇医慧影被黑客入侵,新冠研究成果被公开出售 | 雷锋网 Leiphone says AI medical imaging firm Huiying Medical Technology hacked, conronavirus AI recognition training data stolen, you can buy a copy for 4 Bitcoins
China eyes network infrastructure update to promote IPv6-based internet TV - Xinhua By the end of the third quarter of 2020, the upgrading of China's internet TV-related networks and critical equipment, as well as all the software and hardware sections of integrated internet TV platforms, will have been completed, according to an official circular. The move is part of China's measures to implement a national plan to encourage large-scale adoption of IPv6, said the circular jointly issued by the Ministry of Industry and Information Technology and the National Radio and Television Administration.
Huawei, ZTE Snap Up More 5G Construction Contracts From Chinese Carriers - Caixin Chinese telecoms giants Huawei Technologies Co. Ltd. and ZTE Corp. have secured 5G infrastructure contracts from state-owned network provider China Unicom and China Telecom, weeks after snapping up the lion's share of contracts from China Mobile, the country's largest carrier.
Meet Red Date, the Little-Known Tech Firm Behind China's Big Blockchain Vision - CoinDesk "I think nobody has ever heard of it. But actually, in many ways, Red Date Technology plays a critical role in the development of BSN because they are the one who architected the BSN," said Michael Sung, a professor at Fudan University's Fanhai International School of Finance. "They are the one who actually created the technology strategy which went up to the [National] Development and Reform Commission. They made that happen." According to He, the three founding companies – telecom provider China Mobile, payments provider China Unionpay and Red Date – have invested roughly 200 million yuan ($28.5 million) combined in BSN. They've also cut a deal to use two Amazon Web Services (AWS) data centers in China.
China Orders TikTok Owner ByteDance to Remove Work-From-Home App - Bloomberg The Cyberspace Administration of China informed TikTok's operator it must take down its Feishu office collaboration tool from major domestic app stores for about a month, people familiar with the matter said. That was punishment for a feature that allowed users to browse posts from foreign platforms via a newsfeed function, the people said, asking not to be named because the decision hasn't been made public. It's unclear when the actual takedown will ensue, they added.
Society, Arts, Sports, Culture and History
Across China: Bone remains suggest kneeling burial of ancient human sacrifice - Xinhua In the excavation of the Chaizhuang site in Jiyuan, archaeologists found a large number of tombs of the late Shang Dynasty, providing evidence for the study of ancient social and ritual customs. The bone remains found at the site suggest that the human sacrifice was beheaded, facing north and kneeling in the pit with his hands crossed in front of him.
Energy, Environment, Science and Health
Acid Leak at Hebei E-Bike Plant Endangers Water Supply - SixthTone An acid leak at an electric bike manufacturing plant in the northern Hebei province is believed to have contaminated the water supply to over 17,000 residents of Guangzong County, according to the state-run Xinhua News Agency.
Beijing
Beijing bans 'uncivilised' behaviour to improve public hygiene - AFP Beijing has banned "uncivilised" behaviour such as not covering the mouth and nose when coughing or sneezing, the city government said Sunday, in a new set of regulations to improve public hygiene amid the coronavirus outbreak...The laws also require public places to set up one metre distance markers and to provide communal chopsticks and serving spoons for shared meals. Citizens must also "dress neatly" in public and not go shirtless -- an apparent reference to the so-called "Beijing bikini" practice where men roll T-shirts up to expose their stomachs in hot weather.
Rural and Agricultural Issues
《半月谈》刊发文章:谁来种地?时代之问这里有解 _中国经济网——国家经济门户 4月25日出版的第8期《半月谈》刊发记者赵阳采写的文章《谁来种地?时代之问这里有解》。全文如下:   随着农村人口大量涌入城市,"80后"不想种地,"90后"不懂种地,"00后"不问种地,是不得不面对的现实。谁来种地,怎么种好地,这是乡村振兴中急需破解的问题。在山西省临汾市翼城县,农民把土地托管出去,只等秋收时节,迎接收获,实现了小农户与现代农业的有机衔接。   年轻人不会种地,也不想种地