Party Eats More Of The State; Trump Tariff Announcement Today?; Politburo Members Give Xi Their Homework; "Struggle 奋斗"; Tencent
Good morning from snowy DC. I am having some tech issues this AM and it is a snow day for our kids, so today's newsletter is a bit abbreviated.
The big news events are the likely release of Trump's China tariff plan, Xi reviewing the individual work reports submitted by Politburo members and the release of the Party and State institutional reorganization plan. The plan is massive and will disrupt many careers and relationships while creating lots of business for consultants, Chinese and foreign , who will work to explain the changes and map out new government relations strategies.
The Party is eating the State, but there will inevitably be some indigestion we will hear about along the way.
Enjoy your day, and thanks for reading. 
---
The Essential Eight
1. Party And State Reorganization
CPC releases plan on deepening reform of Party and state institutions - Xinhua 
The public plan in Chinese, via Xinhua - 中共中央印发《深化党和国家机构改革方案》
CCTV Evening News Summary of the key changes [视频]中共中央印发《深化党和国家机构改革方案》:
深化党中央机构改革主要包括:组建国家监察委员会,同中央纪律检查委员会合署办公,履行纪检、监察两项职责,实行一套工作机构、两个机关名称;组建中央全面依法治国委员会;组建中央审计委员会;中央全面深化改革领导小组、中央网络安全和信息化领导小组、中央财经领导小组、中央外事工作领导小组改为委员会;组建中央教育工作领导小组;组建中央和国家机关工作委员会;组建新的中央党校(国家行政学院),实行一个机构两块牌子,作为党中央直属事业单位;组建中央党史和文献研究院,不再保留中央党史研究室、中央文献研究室、中央编译局;中央组织部统一管理中央机构编制委员会办公室,统一管理公务员工作;中央宣传部统一管理新闻出版工作,统一管理电影工作;中央统战部统一领导国家民族事务委员会,统一管理宗教工作,统一管理侨务工作;优化中央网络安全和信息化委员会办公室职责;不再设立中央维护海洋权益工作领导小组;不再设立中央社会治安综合治理委员会及其办公室;不再设立中央维护稳定工作领导小组及其办公室;将中央防范和处理邪教问题领导小组及其办公室职责划归中央政法委员会、公安部。
It's the mysterious department behind China's growing influence across the globe. And it's getting bigger | South China Morning Post: 
The United Front Work Department, which has fallen under the scrutiny of Western governments in recent months, will now oversee the country's ethnic and religious issues as well as overseas Chinese affairs. 

This is part of a sweeping party restructuring that will see a further fusion between the party and the state. 

It aims at increasing efficiency and strengthening the party's control on all aspects of life in China. 

The document also proposed upgrades to four party leading groups – responsible for reform, cybersecurity, finance and the economy, and foreign affairs. 

The leading groups are the de facto decision-making bodies in Chinese politics and the upgrade is designed to further institutionalise the party's political power.

China tightens grip on media with regulator reshuffle - Reuters 
The reorganization would mean the publicity department would play a "special and important role in propaganda ideology and cultural entertainment", said a notice seen by Reuters from the ruling Party's Central Committee dated March 19. 

Xinhua published the notice on Wednesday. 

The body will take on powers over film, news and publishing, previously held by the State Administration of Press, Publication, Radio, Film and Television, which was dissolved earlier this month as part of the wider reshuffle. 

"Audiences should expect to see more 'positive energy' movies from now on," said Xu Juan, an analyst with Huatai Securities, referring to patriotic films like "Wolf Warrior 2" and "Operation Red Sea", that have broken box office records. 
Comment: Remember, "core socialist values" were just added to the State Constitution. 
China's military police given control of coastguard as Beijing boosts maritime security | South China Morning Post: 
As part of the latest restructuring of state organisations, announced on Wednesday, the China Coast Guard will come under the administration of the People's Armed Police (PAP), a paramilitary force that was itself recently put under the direct command of the Central Military Commission (CMC).

The coastguard's troops and functions – which were previously controlled by the State Oceanic Administration – will pass to the PAP as they currently stand, but will later be reorganised, according to the Plan of Restructuring.

The transfer is necessary "to fully implement the Party's absolute leadership over the PLA and other armed forces," the document said.
---
2. US Trade Announcement Expected Today
Trump to Ramp Up Trade Restraints on China - WSJ:
The administration plans to release on Thursday a package of proposed punitive measures aimed at China that include tariffs on imports worth at least $30 billion. 

But the tariffs won't be imposed immediately. Rather, U.S. industry will be given an opportunity to comment on which products should be subject to the duties. As part of the package, the White House will announce possible investment restrictions by Chinese firms in the U.S. and will direct the Treasury Department to outline rules governing investment from China. 

Final details of the plan, including the amount of imports to be hit by tariffs, remain in flux, those involved with the discussions said. While the rough amount and rationale for the tariffs are expected to be disclosed on Thursday, the final decisions will come once U.S. industry has had its say, they said.
What's the China strategy? - POLITICO:
But the tariff action Trump is ready to move ahead with seems geared more toward creating shock value and gaining leverage against China than achieving the methodical engagement that U.S. businesses would prefer.

"There's a recognition that you have to punch a bully in the face," said an administration official involved in the planning. "That's the best explanation of what's going on here."
U.S. Offers Trade Relief for Help in Pressuring China, Source Says - Bloomberg:
The Trump administration is pressing countries to ally with the U.S. in pushing back against Chinese trade policies in exchange for relief from American tariffs on steel and aluminum, according to a European official. 

U.S. Trade Representative Robert Lighthizer has been leading negotiations under which countries may be excluded from the tariffs of 25 percent on imported steel and 10 percent on aluminum. American trading partners and U.S. companies are pressing for exemptions and exclusions from the tariffs, which take effect on Friday.
How subsidized US soybeans hurt Chinese farmers - Global Times 
The imported soybeans have taken over the domestic market. An important reason is that imported soybeans, especially from the US, received huge subsidies. Although the US repeatedly claimed the subsidies accounted for a small proportion of the output value and conformed to WTO rules, its huge subsidies for soybean farmers have garnered an unfair competitive advantage that enables them to dump them on the Chinese market, with global impact.
US unlikely to meet Beijing's request to name a 'point person' for trade war talks | South China Morning Post:
Chris Johnson of the Centre for Strategic and International Studies, a former senior China analyst with the Central Intelligence Agency, said that with Trump's cabinet changing "on a daily basis", it is difficult for the White House to name a point person for trade war-aversion talks.
---
3. Politburo Members Submit Reports To Xi Like Schoolchildren

Senior CPC officials report work to CPC Central Committee, Xi - Xinhua: 
Members of the Political Bureau of the Communist Party of China (CPC) Central Committee recently submitted reports on their work to the CPC Central Committee and General Secretary Xi Jinping for the first time.

According to a regulation on enhancing and safeguarding the centralized, unified leadership of the CPC Central Committee, members of the Political Bureau of the CPC Central Committee should submit reports on their work to the CPC Central Committee and Xi once every year...

According to their reports, members of the Political Bureau of the CPC Central Committee have staunchly safeguarded the authority and the centralized, unified leadership of the CPC Central Committee with Xi at the core.

They have firmly followed the Party's political line, strictly observed its political discipline and rules, and closely aligned themselves with the Central Committee with Xi at the core in terms of political stance, direction, principle, and path, said the reports.
近期,中央政治局同志首次向党中央和习近平总书记书面述职。习近平认真审阅中央政治局同志的述职报告,并就中央政治局同志履行职责、做好工作、改进作风提出重要要求。
The top 5 Minutes of Wednesday's CCTV Evening News on this-- 中央政治局同志向党中央和习近平总书记述职 There is no video of the Politburo members submitting their reports and being lectured by Xi, just a billboard reading the report. But the point is made…Everyone works for Xi.
---
4. Taiwan Tensions Likely To Increase
In yesterday's newsletter I asked "Could Trump start using Taiwan as a card in his negotiations with China?". A couple of readers wrote in to to remind me that the US Congress is pushing the Trump Administration in a pro-Taiwan direction. My point was that as the Trump Administration reevaluates its approach to China I would not be surprised to see him take steps towards Taiwan that make sense for the US and Taiwan but will enrage Beijing.
Senior US diplomat, Taiwan leader to speak at Taipei event - AP:
A senior U.S. diplomat was scheduled to speak alongside Taiwanese President Tsai Ing-wen at an event in Taipei on Wednesday, just days after President Donald Trump signed a new law promoting exchanges between officials from the two sides that has drawn protests from Beijing.

State Department official Alex Wong's appearance would follow an announcement by Taiwan's defense minister that China's sole operating aircraft carrier, the Liaoning, had been spotted entering the Taiwan Strait separating the sides on Tuesday.
US affirms Taiwan support after Chinese carrier enters Taiwan Strait - FT $$ :
Speaking in Taipei on Wednesday evening, Alex Wong, deputy assistant secretary in the State Department's Bureau of East Asian and Pacific Affairs, stressed that it was embedded in US law to strengthen Taiwan's ability to defend its "hard won democracy".  

The US "commitment to the Taiwan people, to their security, to their democracy, has never been stronger," Mr Wong said.  

"The United States has been, is, and always will be Taiwan's closest friend and partner."

Storm coming from Beijing despite calm: Taiwan spy chief | Asia Times:
Expect more sharp-elbow rhetoric and tactics from China," National Security Bureau chief Peng Sheng-chu warned during a question-and-answer session at the Legislative Yuan, as the parliament in Taipei is known.
---
5. Short Video Glorifying Chinese Peoples' "Struggle 奋斗"
The People's Daily video takes you from the founding of the Communist Party to today. It is smart of the propaganda folks to shorten and slicken up these efforts; their audience does not have the attention span for anything much longer. 
奋斗 is translated in some places as "strive", but watching this video and from other contexts (like Xi's report at the 19th Party Congress) it should be translated as "struggle".
Early in the video there is an interesting montage of 李大钊, 夏明翰, 方志敏,瞿秋白,叶挺, 马本斋,关向应 as the film goes from 1921 to liberation, all famous martyrs who never betrayed the Party even in the face of death...
Some screen shots: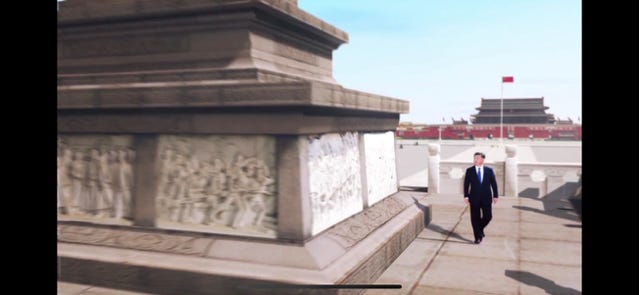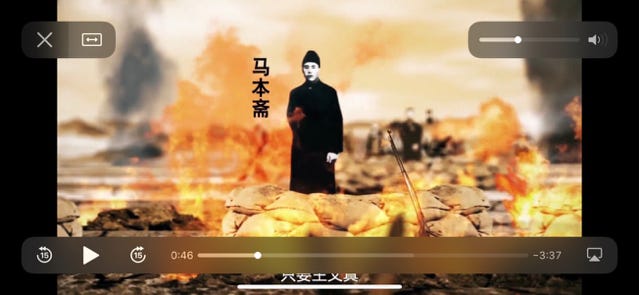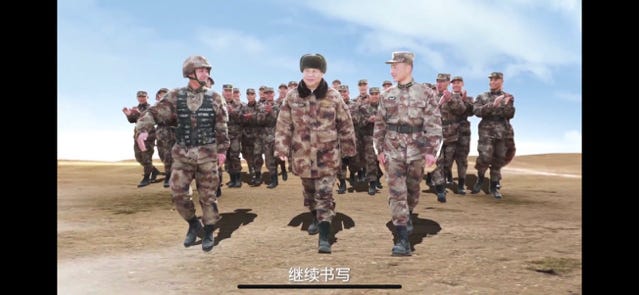 ---
6. Guo Shuqing To Head Combined Banking And Insurance Regulator
Guo did not get the PBoC job. Has he topped out?
Banking Regulator Picked to Head New Financial Watchdog - Caixin Global:
Guo Shuqing, China's top banking regulator and a prominent reform advocate, has been named chief of a new agency that will oversee the country's banks and insurance companies, as the government steps up its campaign to defuse risks in the financial system. 

His appointment as chairman of the China Banking and Insurance Regulatory Commission (CBIRC), was announced at a meeting of senior officials of the new body which was formed through a merger of the banking and insurance watchdogs unveiled last week, sources told Caixin... 

After graduating from the philosophy department of Nankai University, in the northern port city of Tianjin, in 1982, Guo earned his master's and doctoral degrees from the Institute of Marxism-Leninism-Mao Zedong Thought at the Chinese Academy of Social Sciences. He spent a year as a visiting scholar at Oxford University in the U.K. from July 1986 to August 1987.
Then again, the global markets no doubt prefer a central banker with a PhD from a US institution rather than one from an institute of Marxism-Leninism-Mao Zedong Thought…
China's Restructuring of Financial Regulation Is Good News for Reform | PIIE: 
The new reorganization will streamline policymaking and implementation below the committee level. Instead of separate regulators for each type of company (insurance, banking, etc.), separate regulators will oversee policy formulation and its day-to-day implementation, which includes monitoring compliance. The PBOC will take over the legislative and rulemaking functions of the CBRC and CIRC, a significant increase in power. Since the new combined banking and insurance regulator will be only an implementer of policy—no longer also formulating it—there will be two (the central bank and the securities regulatory commission) rather than four ministry-level policymaking bodies. The result is fewer overlapping, unclear jurisdictions. The overall push for deleveraging and reduction of financial risk is now more credible because financial firms will find it harder to shop for lighter touch regulation by shuffling the same economic functions to a different type of company.
---
7. Chinese Hackers Told Not To Share Anymore
China discourages its hackers from foreign competitions so they don't help others | South China Morning Post: 
China is discouraging its internet security experts from taking part in international hacking competitions because of national security concerns, according to a Beijing-based company that was informed of the decision. ..

"Some Chinese hackers are among the best in the world, so it makes the competitions less fun," James Andrew Lewis, a Washington DC-based senior vice-president at Center for Strategic and International Studies. "Keeping the talent at home makes China better at cyberattack."
China Altered Public Vulnerability Data to Conceal MSS Influence - Recorded Future:
By retroactively changing the original publication dates on these statistical outliers, CNNVD attempted to hide the evidence of this evaluation process, obfuscate which vulnerabilities the MSS may be utilizing, and limit the methods researchers can use to anticipate Chinese APT behavior. 

This large-scale manipulation of vulnerability data undermines trust in the CNNVD process and could compromise security operations relying solely on the CNNVD for that information.
---
8. Tencent Is A Juggernaut
And worth more than Facebook…
Tencent Profit Doubles But Warns Spending to Weigh on Margins - Bloomberg:
Tencent Holdings Ltd. said investments in content and technology will weigh on margins after Asia's most valuable company posted quarterly profit that topped projections. 

Plans by the Shenzhen-based company to keep spending on areas including artificial intelligence and video may weigh on short-term profitability but it expects the investments will anchor long-term growth. Tencent reported net income almost doubled to 20.8 billion yuan ($3.3 billion) in the three months ended December, beating the 16.6 billion-yuan expected by analysts.
China's largest game publisher adds Ubisoft to its massive portfolio | Ars Technica:
Tencent's placement in the deal is minor from a company-control perspective, with its new five-percent stake in Ubisoft likely not disrupting decisions on a board-of-directors basis. However, the deal does not include any provisions about Tencent's future as a Ubisoft investor or controller. 

That oversight is curious, as Tencent has been nothing but bullish in recent years about investments in Western game studios. Tencent is perhaps best known in the United States for owning a majority stake in two huge gaming companies: Riot Games, the makers of League of Legends, and Epic Games, the makers of Unreal Engine 4 and game series like Fortnite. (And as the owner and operator of PUBG Corp, Tencent has a stake in both leading entries in the "battle royale" gaming genre.) 

The Chinese publisher also has a majority stake in Supercell, the Finnish developer of smartphone megahits Clash of Clans and Clash Royale, and it already owns a significant number of shares in the Activision-Blizzard family
---
Business, Economy, Finance And Trade
Banking Regulator Tweaks Policies to Better Serve Small Businesses - Caixin Global The banking regulator refined its program for boosting loans to micro and small enterprises (MSEs) in an effort to improve financing for such smaller entities that are often overlooked by traditional lenders. The China Banking Regulatory Commission (CBRC) on Monday said it wants to ensure the overall volume of individual loans of 10 million yuan ($1.58 million) or less to MSEs grows at least as much at the growth rate for overall loans. At the same time, banks should maintain or increase the number of MSE accounts they served in the previous year.
PBOC sets out rules for foreign third-party payment firms to operate in China - Reuters Foreign third-party firms will be required to set up a local business in order to apply for a payment services license, the People's Bank of China (PBOC) said in a statement on its website, without specifying the capitalization requirements for the Chinese firm. The PBOC notice also requires foreign third-party electronic payment firms to store client data and other financial information in China. The rules mirror central bank regulations for foreign bank card companies seeking licenses to operate in the domestic market.
Banks Choke Off Cash Lifeline for Workers Lacking Proper Visas - Caixin Global  The bottom line was that it has recently become harder for foreigners without long-term work and student visas to open bank accounts in China. While that may not mean much for people employed by legal companies, foreign or Chinese, it adds a further layer of frustration for recent China-minded graduates who already faced difficulty due to rules requiring two years of work experience for a proper work visa. Another group being challenged by this latest clampdown is the independents who set up their own one-person shops doing research or consulting, often without formally registering a business and getting a proper long-term work visa.
Anbang's Plans for Waldorf Astoria Call for Fewer Luxury Condos - Bloomberg  It's official: Anbang Insurance Group Co. has filed a plan for the luxury condos it's developing at Manhattan's Waldorf Astoria, and it calls for fewer apartments than the company initially aimed for. The Chinese insurer's project to convert many of the landmark hotel's guest rooms now calls for 352 condos, according to details of the offering plan on the New York state attorney general's website. Last March, a preliminary filing showed 409 condos.
China's Love Affair With the Best Iron Ore May Be About to End - Bloomberg The proposition that there's a structural shift underway in the iron ore tastes of Chinese steel mills toward the less-polluting varieties is just a myth, according to Liberum Capital Ltd. The London-based broker joins Barclays Plc in arguing that the rising preference for high-quality will wane and the premium it commands over lower-quality supply will shrink.
AZ China's Almost Daily March 21  In the first two months of this year, China produced a total of 5.7 million tons of metal, which is a drop of 3.7% over the same period last year. That's pretty much in line with what one would expect. The winter heating season cuts saw a reduction of about 3%, plus some brand new capacity got shut down through last year as the illegal capacity plan was rolled out.
Cobalt price: Automakers 'waking up too late' as China takes control | MINING.com The Democratic Republic of the Congo today has six of the top 10 cobalt mines globally. Due primarily to Chinese investment, by 2022, the central African nation will host the nine largest cobalt producers. Congo also holds half the world's reserves.  Not only is primary production highly concentrated, but the downstream industry is beginning to resemble a monopsony. China, despite having no cobalt resources of its own, is responsible for 80% of the world's cobalt chemical production, which overtook metal production around four years ago
Tiny Chilean regulator thrust into global lithium battle - Reuters The scramble for lithium, used in rechargeable batteries for mobile phones to electric vehicles, is pitting the Chilean government against China and, potentially, the independent regulator against the Latin American country's new business-friendly government. The National Economic Prosecutor's office, known by its Spanish initials FNE, is set to review the sale by Canada's Nutrien Ltd of a 32 percent stake in Santiago-based SQM for more than $4 billion to Chinese bidder Tianqi Lithium or any state-backed firm. Chile's development agency Corfo said in a complaint on March 9 that the transaction would "gravely distort market competition." 

Politics, Law And Ideology
人民日报社论:让中华儿女共享幸福和荣光---人民网  Editorial in the 3,21 People's Daily on letting the "中华儿女 sons and daughters of China (Chinese race?) jointly share in prosperity and glory. The growing nationalism and the racialism that seems embedded in the "New Era" is disturbing. 
As New Yorker correspondent Jiayang Fan wrote on Twitter tis morning: 
The concept of 中华儿女 (the sons & daughters of Chinese races) is powerful, deceptive & emotionally charged. How to reckon w/ the pride in being Chinese with the darker suspicion of being manipulated by a state that doesn't always represent the interest of its sons & daughters?
March 21, 2018
Henan, Qinghai have new Party chiefs - Xinhua  Wang Guosheng has been appointed as the secretary of Henan Provincial Committee of the Communist Party of China (CPC), replacing Xie Fuzhan, according to a recent decision of the CPC Central Committee. Wang Guosheng was Party chief of Qinghai Province before being replaced by Wang Jianjun, said the decision, which was announced Wednesday.
Central Fund to Transfer Pension Cash to Struggling Provinces - Caixin Global A long-awaited central adjustment fund will be set up this year to help out regions struggling with their pension burden, Premier Li Keqiang said at an annual press conference Tuesday. Li, speaking as the annual meeting of the country's legislature came to a close, said that 3% of provincial social security funds would be taken in at first for redistribution to provinces in need. The proportion taken will increase over time, he added.
Language Log » Latin Caesar –> Tibetan Gesar –> Xi Jinpingian Sager  Xi Jinping mispronounced the name of Tibetan Epic King Gesar as "King Sager" 习近平把"格萨尔王"说成"萨格尔王...the word "Gésàěr wáng 格萨尔王" ("King Gesar") is garbled, as though Xi hiccuped while pronouncing it. I immediately sensed that they had clumsily patched in the correct reading
The Might of an Ant: the Story of Lawyer Li Baiguang (1 of 2) « China Change  Li Baiguang (李柏光), a human rights lawyer, died on February 26, aged 49
Foreign and Military Affairs
China's Silence at G-20 Underscores Communication Challenges - Bloomberg  Chinese delegates in response, including Zhou Xiaochuan -- who stepped down as the central bank chief this week -- and Vice Finance Minister Zhu Guangyao, have gone radio silent. There's no war, at least, not one of words. There're no press briefings or media interviews scheduled either in Buenos Aires. That is a contrast to Germany, Brazil, France and the U.S., whose officials actively sought press coverage to make their voice heard during the two-day meetings // Comment" Awkward timing for the officials as the were just placeholders for then ew crop coming in at the NPC?
New House Bills Take Aim at Foreign Propaganda – Foreign Policy  The first such measure, the Countering Foreign Propaganda Act of 2018, would require government-controlled foreign media outlets with U.S. operations to file semiannual disclosures to the Federal Communications Commission (FCC) and to include conspicuous announcements informing American consumers of the foreign government funding the content... The second measure introduced on Tuesday, the Foreign Influence Transparency Act of 2018, takes aim at entities such as the Confucius Institute, Chinese government-funded cultural outposts that donate money to universities across the country.
China Refuses Entry to Australian Critic of Communist Party - The New York Times John Hugh, 51, who has been an outspoken critic of the Chinese Communist Party's efforts to influence Australian politics, said he was sent back to Sydney soon after his flight landed in Shanghai on Tuesday night. He said he was met by Chinese officials before disembarking and told that he would be put on the next flight back to Australia.
Chinese dissident and official trade barbs at UN human rights meeting  | The Guardian Yang Jianli, a dissident in exile in the United States, was disrupted seconds into his remarks as he questioned the Chinese Communist party's right to represent China at the UN body. Yang was invited to appear before the human rights council meeting by UN-accredited advocacy group UN Watch.  Chen Cheng of China's diplomatic mission stepped in and insisted that Yang's intervention "seriously affected the reputation of council, and it should be firmly opposed". 
China, Philippines discuss joint South China Sea projects - AP  Philippine Foreign Secretary Alan Peter Cayetano was in Beijing on Wednesday for talks on possible joint development projects in the South China Sea amid signs of an easing of tensions in the disputed waterway. Cayetano was scheduled to meet with his counterpart Wang Yi later in the afternoon and on Friday with newly-appointed Vice President Wang Qishan, a close ally of President Xi Jinping.
China stays on the sidelines as Venezuela spirals downward - Reuters China is likely to extend an agreement providing crisis-stricken Venezuela with favorable loans repayment terms but will not lend fresh funds to President Nicolas Maduro's government, according to sources in Caracas and Beijing familiar with the situation.
Xi Jinping Holds Telephone Talks at Request with Chancellor Angela Merkel of Germany - MoFA  Congratulating Xi Jinping on his election as Chinese President, Angela Merkel expressed that the new German government is committed to continuously developing closer relations between Germany and China, and stands ready to strengthen high-level exchanges and institutional dialogues with China in a bid to boost cooperation in various fields. Germany has always supported the Belt and Road Initiative and regarded it as a strategic bridge for Eurasia, as well as stands ready to contribute to the joint construction of the Belt and Road Initiative through project cooperation. Germany supports deepening Europe-China relations, and stands ready to strengthen cooperation with China within the G20 and other multilateral frameworks, so as to jointly safeguard multilateral order
China Working on a New Heavy-Lift Rocket as Powerful as Saturn V - Popular Mechanics  China is working on a new generation of heavy-lift rocket designed to take its taikonauts to the moon and beyond. The Long March 9, as it is informally known, would dwarf SpaceX's Falcon Heavy. The launch vehicle should be capable of sending 50 metric tons of people and cargo to the moon as China gears up for lunar missions in the early 2030s.
China to step up research on hypersonic technologies | Jane's 360  The Xinhua News Agency and the Global Times newspaper quote from an interview given on China Central Television (CCTV) by Han Guilai, a research engineer with the Chinese Academy of Sciences' Key Laboratory of High-Temperature Gas Dynamics, in which he stated that the new wind tunnel would enable flight simulation at speeds between Mach 10 and 25
Tech And Media
China smartphone makers join hands on apps, pose threat to WeChat - Reuters  The partners in the alliance are Xiaomi Technology Co, ZTE Corp, Huawei Technologies [HWT.UL], Gionee, Lenovo Group, Meizu, Nubia, OPPO, Vivo, OnePlus, and the China Academy of Information and Communications Technology under the Ministry of Industry and Information Technology. They will standardize formats so that app developers need to just design one "fast app", instead of 10 "fast apps" tweaked to each vendor's hardware.
China's movie makers are leveraging iQiyi's data to make the next blockbuster · TechNode  "We're able to gather a lot of data about content from how it is viewed—at what point someone stops watching, which bits they go back and watch again—and then from the other facts such as age and gender," explained Ge Xufeng, deputy general manager of the Membership Business Department at iQiyi. "This can be passed on to [production] partners along with the danmu from iQiyi and the discussion page, along with information about where people are sharing [links to] the content." Danmu (弹幕, sometimes translated as "bullet screen" or "bullet comments") are the fascinating phenomenon of viewer comments tagged to a particular moment of a program. These comments hurtle across the screen while you watc
Taobao takes off-the-shelf ICO white papers off the shelf · TechNode  Searches on e-commerce platform Taobao for copywriting services for creating blockchain, ICO, and Bitcoin-related white papers now yield zero results, Bianews reported (in Chinese). The products or kits were services used that for a fee would draft a company proposal or ICO pitch to attract investors. The services were aimed at blockchain companies in China.
China Pushes Qualcomm to Protect Local Companies in NXP Deal - Bloomberg China's Ministry of Commerce isn't satisfied with the remedies that Qualcomm has offered and has told the U.S. chipmaker to propose more, said the people, who asked not to be identified because the discussions are private. Many Chinese companies are lobbying the powerful ministry, arguing the deal will hurt them and should be blocked. They're particularly concerned the combined entity would extend Qualcomm's patent licensing business into the areas of mobile payments and parts for autonomous driving systems, the people said.
China's Hollywood dreams still beguile investors - FT $$  Investors, for example, say Amazon is in talks that will probably result in its earmarking $1bn to acquire the rights and to produce three seasons of episodes based on a science fiction trilogy known by the title of the first volume, The Three Body Problem by Liu Cixin, a work that is wildly popular in China. It will prove more of a blockbuster than Game of Thrones, some mainland industry insiders predict. The rights are held by Lin Qi, the chairman of Youzu Interactive, primarily a developer of online games that is listed in China
Who's Afraid of Huawei? Security Worries Spread Beyond the U.S. - WSJ $$ National-security concerns surrounding China's Huawei Technologies Co. are spreading beyond the U.S. to key allies. The telecommunications equipment maker was a subject of debate in Canada's Parliament this week, and the chief executive of South Korea's largest telecom, considering vendors for next-generation wireless technology, reportedly called Huawei a "concern."  Australia, where U.S. officials have been pushing a case that the Chinese company is a national security risk, recently pressured the Solomon Islands to drop Huawei as the contractor on an undersea cable connecting the South Pacific nation with Australia. It offered instead to fund a separate cable itself.
Former top Canadian security officials warn Ottawa to sever links with China's Huawei - The Globe and Mail Three former directors of Canada's key national security agencies are urging the federal government to heed the warnings of U.S. intelligence services and cut Canadian ties with Huawei, the giant Chinese smartphone and telecom equipment maker.
Society, Art, Sports, Culture And History
The accidental hipsters of Chinatown have more style than you - California Sun  The fashion mavericks of Chinatown are the subject of a project called Chinatown Pretty started a few years ago by the photographer Andria Lo and the writer Valerie Luu. Their photos and biographical snippets have fed a popular Instagram feed and blog, and now an exhibition in the Katz Snyder Gallery at the Jewish Community Center of San Francisco. It runs through June.

Energy, Environment, Science And Health
Chinese dig deep for Aussie gene mine - The Australian A world-leading genetic resource created in Western Australia has been sold to Chinese buyers because of a lack of investment interest in Australia. The "gene mine" that helps researchers rapidly map and identify genes linked to human diseases has been snapped up by China's leading animal sciences institute and medical school in a $US2 million ($2.56m) sale.

Agriculture And Rural Issues
Regulator to Tolerate More Bad Loans for Rural Areas - Caixin Global 
The China Banking Regulatory Commission (CBRC) has allowed lenders to have a nonperforming loan (NPL) ratio 2 percentage points above normal for loans for poverty alleviation or those involving the "three rural" issues of agriculture, farmers and rural areas, according to a notice the regulator released on Monday.
Education
Chinese Companies Are Buying Up Cash-Strapped U.S. Colleges - Bloomberg  The financial pressures on some U.S. schools provide more buying opportunities for Chinese companies, said Kent John Chabotar, a partner at MPK&D, an education consulting firm in Baltimore. "Absolutely you will see more of these," Chabotar said. "It's the only way some of these places will survive."