Discover more from Sinocism
Get smarter about China
Over 179,000 subscribers
Expectations are rising for more significant stimulus measures from the PRC government. The collapse in global demand threatens the feeble domestic recovery and the leadership appears to be growing especially worried about the employment situation. The Politburo met Friday and signaled more support is coming, though no one should expect it will be anything like the 2008-09 kleptocratic dream of a stimulus. Expect whatever is coming this time to be much more targeted, at least at the start.
Manufacturing, and specifically advanced manufacturing, as well as small businesses will likely be targets, if Xi's inspection tour of Zhejiang is an accurate signal.
During his visit Xi was pictured in a mask in some settings, without one in others, I assume in an attempt to signal that in some settings outdoors at least a mask is no longer needed.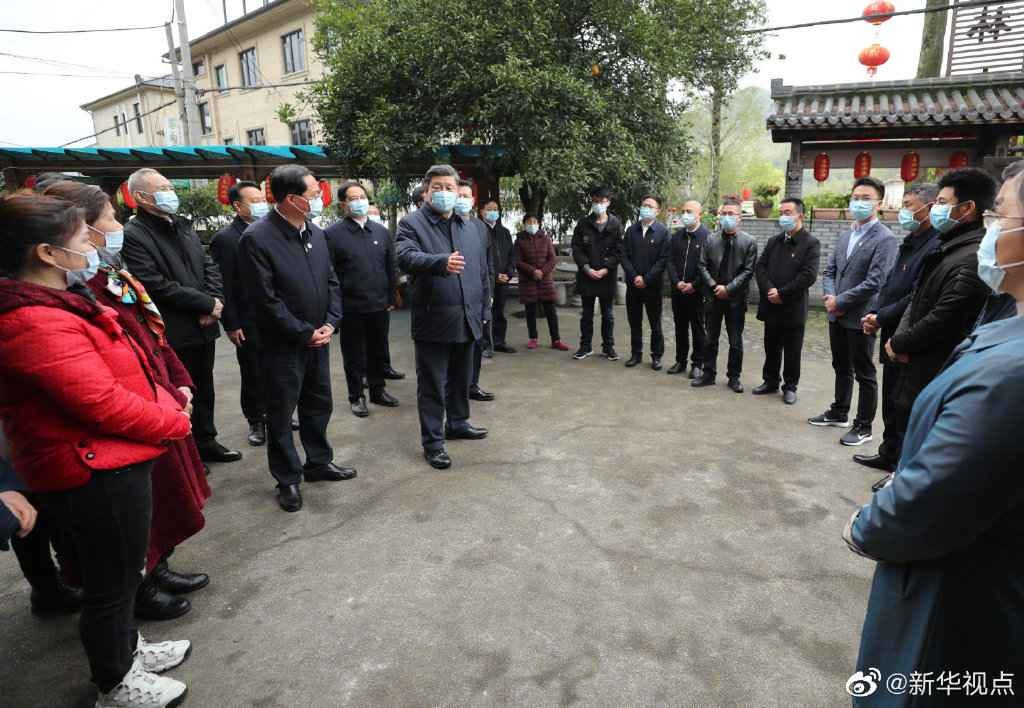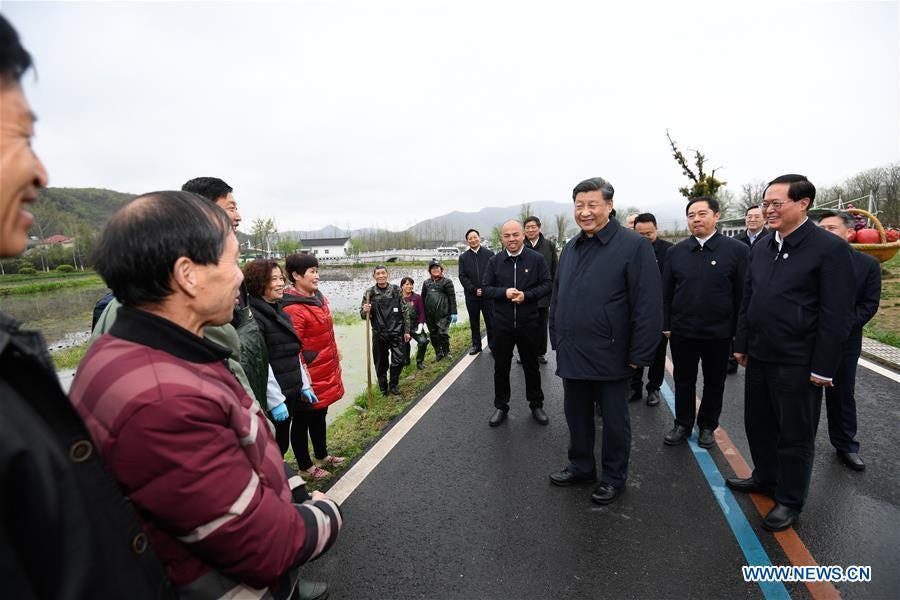 President Trump and General Secretary Xi had a call Thursday night US time. Talking is better than not talking, though it is not clear how long will whatever goodwill may have come from this call will last. But any cooperation is better than none right now.
Thanks for reading.
---
The Essential Eight
1. Politburo meeting
Xi Focus: Xi chairs leadership meeting on COVID-19 response, economy - Xinhua
The meeting of the Political Bureau of the CPC Central Committee made new arrangements on coordinating the COVID-19 response and economic and social development.

It also deliberated on two reports on poverty eradication.

The meeting came two days after Xi presided over a meeting of the Standing Committee...also on epidemic response and economic situations....

"China is facing an increasing pressure of imported cases as well as new challenges in terms of economic development, especially the industrial chain recovery," the statement said.

The meeting underscored focusing on preventing infections influx from abroad and epidemic rebound at home to ensure that the epidemic situation in China keeps moving steadily in a positive direction...

The damage caused by COVID-19 should be reduced to minimum, said the meeting, urging efforts to achieve this year's economic and social development goals.

A package of macro policies and measures will be introduced, the meeting noted, and China will appropriately raise the fiscal deficit ratio, issue special treasury bonds, increase the scale of special bonds for local governments, and guide the interest rate to decline in the loan market.

The meeting underscored financial policies such as reloan and rediscount quotas, as well as deferring repayment of capital with interest, in a bid to provide targeted financial services for epidemic control, work resumption and development of the real economy.

The meeting urged efforts to release demands in domestic market, orderly crank up resumption of malls and markets, and ensure normal operation of the service sector, with effective prevention and control measures in place.

Efforts should be made to expand household consumption, reasonably raise public consumption, activate brick-and-mortar businesses while maintaining the prevailing trend of new online consumption.'
Politburo meeting readout - 中共中央政治局召开会议 中共中央总书记习近平主持会议--时政--人民网
会议强调,要在疫情防控常态化条件下加快恢复生产生活秩序。各地区各部门要坚定信心、迎难而上、主动作为,统筹推进疫情防控和经济社会发展工作,坚定不移贯彻新发展理念,深化供给侧结构性改革,坚决打好三大攻坚战,加大宏观政策对冲力度,有效扩大内需,全面做好"六稳"工作,动态优化完善复工复产疫情防控措施指南,力争把疫情造成的损失降到最低限度,努力完成全年经济社会发展目标任务,确保实现决胜全面建成小康社会、决战脱贫攻坚目标任务.

会议指出,要加大宏观政策调节和实施力度。要抓紧研究提出积极应对的一揽子宏观政策措施,积极的财政政策要更加积极有为,稳健的货币政策要更加灵活适度,适当提高财政赤字率,发行特别国债,增加地方政府专项债券规模,引导贷款市场利率下行,保持流动性合理充裕。要落实好各项减税降费政策,加快地方政府专项债发行和使用,加紧做好重点项目前期准备和建设工作。要充分发挥再贷款再贴现、贷款延期还本付息等金融政策的牵引带动作用,疏通传导机制,缓解融资难融资贵,为疫情防控、复工复产和实体经济发展提供精准金融服务。对地方和企业反映的难点堵点问题,要抓紧梳理分析,及时加以解决,推动产业链协同复工复产达产。

会议强调,要加快释放国内市场需求,在防控措施到位前提下,要有序推动各类商场、市场复工复市,生活服务业正常经营。要扩大居民消费,合理增加公共消费,启动实体商店消费,保持线上新型消费热度不减。要加强国际经贸合作,加快国际物流供应链体系建设,保障国际货运畅通。
China Will Tolerate More Debt to Help Virus-Stricken Economy - Caixin
China will sell special sovereign debt and run a higher fiscal deficit to stimulate an economy hobbled by global efforts to control the coronavirus outbreak, the country's top leaders said.

The central government plans to roll out multiple economic policies and measures that include increasing the fiscal deficit as a share of GDP, issuing special treasury bonds, and increasing the scale of special bonds for local governments, according to a Politburo meeting on Friday, the official Xinhua News Agency reported
Coronavirus: China economy set to get worse before better, official warns, as export hit looms | South China Morning Post
Addressing a press conference in Beijing on Monday, the day after President Xi Jinping toured businesses in Zhejiang province, vice-minister of industry and information technology Xin Guobin delivered a candid and downbeat assessment of the economy, in a subtle break from recent optimistic rhetoric about economic recovery.

"With the further spread of the international epidemic, China's foreign trade situation may further deteriorate," Xin said. "Overseas and domestic demand are both slumping, having a significant impact on some export-oriented companies. These companies might face a struggle to survive."
A New Shortage in China's Coronavirus-Hit Economy: Jobs for Biggest Graduating Class in Years - WSJ
The nearly nine million students expected to get their diplomas this year—China's biggest graduating class in roughly a decade—will enter one of the toughest job markets in recent history. Even before the pandemic, the slowing economy was already throwing up fewer jobs for the swelling ranks of white-collar workers.
China unexpectedly cuts reverse repo rate by most in five years to support virus-hit economy - Reuters
Yan Se, chief economist at Founder Securities in Beijing, said the rate cut was China's commitment to a pledge it made during the Group of 20 major economies meeting last week to combat the coronavirus and stabilize financial markets.

"China was the only major economy that had not yet implemented large-scale easing measures" Yan said, noting that many other nations have implemented more drastic steps such as quantitative easing and deeper cuts to benchmark rates.
China Rejoins Monetary Easing Wave as World Shuts Down - Bloomberg
The People's Bank of China reduced the interest rate on 7-day reverse repurchase agreements to 2.2% from 2.4% when it injected 50 billion yuan ($7.1 billion) into the banking system, according to a statement Monday. The central bank said this will keep liquidity sufficient to help the real economy.

The first cut to a PBOC policy rate since February is in line with a pledge by the Communist Party's leadership on Friday to increase support to the economy through increased sales of sovereign debt, as domestic and international demand slumps due to the pandemic. The step brings the PBOC closer in line with the stance of global peers, who have loosened policy dramatically in recent weeks.
Covid-19 Economic Support Should Go to People, Not Infrastructure, Expert Says - Caixin
Liu Shangxi, president of the Chinese Academy of Fiscal Sciences, a ministry-affiliated think tank, said policy should focus on rescuing individuals, families and companies, rather than infrastructure projects like road and rail construction, which have helped drive Chinese economic growth in the past...

Before the Friday meeting, many expected Beijing would cut taxes to help tide companies over, but Liu said such measures were not an appropriate response. He said there is limited room for tax and fee reductions, and such a change would be just a drop in the bucket for firms that have booked huge losses and been forced to suspend operations.

"It should be clear that the nature of current policy is one of rescue and hedging, rather than stimulus and countercyclical adjustment," said Liu.
---
2. Xi inspects Zhejiang
Xi inspects work resumption in Zhejiang - Xinhua
Xi visited the Chuanshan port area of the Ningbo-Zhoushan Port, one of the world's top container ports, which handled about 1.12 billion tonnes of cargo in 2019.

Xi also went to an industrial park in Ningbo, which produces high-end auto parts and molds.
Xi inspects east China county - Xinhua
Xi Jinping, general secretary of the Communist Party of China Central Committee, Monday inspected the county of Anji in east China's Zhejiang Province.

While visiting Yucun Village, Xi talked with villagers and learned about the huge changes brought about by advancing green development.

In 2005, it was in this mountainous village Xi, then Party chief of Zhejiang, put forward the concept that "lucid waters and lush mountains are invaluable assets."..

Leaving the village, Xi went to Anji's mediation center to learn about how primary-level social disputes are resolved.
Coronavirus: Xi Jinping's visit to Zhejiang sends 'clear message' it's time to get the economy back on its feet, state media says | South China Morning Post
"China has successfully reopened much of its economy from the extremes of the coronavirus lockdown, but now faces a new problem: an impending collapse in demand for its exports as its customers go into lockdowns of their own," Gavekal Dragnomics said in a research report.

"That shock to industry and manufacturing employment means that China will not enjoy the hoped-for V-shaped recovery in growth."
China to give more support for businesses hit by COVID-19: Xi - Xinhua
Xi Jinping, general secretary of the Communist Party of China Central Committee, said China will roll out more targeted measures to help small and medium-sized enterprises hit by the COVID-19 outbreak restart production and further develop
Coronavirus: Why did Xi Jinping choose this port city for his economy fact-finding trip? | South China Morning Post
Xi's trip to Ningbo "is a clear signal to maintain stability of the global industrial supply chain," China's state television reported...

According to a video published by state broadcaster CCTV, Xi told local officials and private business executives that Beijing was trying to make new policies to help China's small businesses survive the economic damage caused by the pandemic.

"I am here to listen to your views so that our policies can be more targeted," Xi reportedly said.
More pictures from Xi's visit. In some photos, indoor and outdoors, he is wearing a procedure mask
---
3. The outbreak
China to strengthen prevention, control of asymptomatic COVID-19 infections - Xinhua
The leading group of China's COVID-19 response on Monday stressed the control of cases of infections that show no symptoms.

The group, led by Premier Li Keqiang, called for improving prevention and control strategies and measures to bring economic and social development back to the normal track at an early date...

Cross-border transmissions should also be further prevented, the meeting said, stressing that all travelers entering the country should take nucleic acid tests.
李克强主持召开中央应对新冠肺炎疫情工作领导小组会议 要求抓好巩固防控成效各项工作 突出做好无症状感染者防控_中国经济网——国家经济门户
The bit on measures for those who are asymptomatic

会议指出,当前巩固疫情防控成果,防止出现防控漏洞,必须突出做好无症状感染者监测、追踪、隔离和治疗。要有针对性加大无症状感染者筛查力度,将检测范围进一步扩大至新冠肺炎病例和已发现的无症状感染者的密切接触者、有特殊要求的重点地区和重点人群等。一旦发现无症状感染者,要立即按"四早"要求,严格集中隔离和医学管理,公开透明发布信息,坚决防止迟报漏报,尽快查清来源,对密切接触者也要实施隔离医学观察。抓紧在疫情重点地区抽取一定比例样本,开展无症状感染者调查和流行病学分析,研究完善防控措施。同时,做好患者出院后按要求复查,加强复阳人员医学管理等工作。
Opinion: China Should Disclose Asymptomatic Covid-19 Cases - Caixin
On Sunday, the Henan Provincial Health Commission reported it had confirmed a case of Covid-19 contracted by somebody who was in contact with an asymptomatic individual in the city of Pingdingshan. This case has attracted public interest in asymptomatic cases — those who are infected by the novel coronavirus, but show no symptoms such as fever or respiratory difficulties...

Unlike many other countries, China doesn't count asymptomatic cases when it reports confirmed infection numbers. The total numbers from its reports are divided into separate categories including asymptomatic cases, but they are not announced to the public.

This is different from standards set by the WHO, which say that any laboratory-confirmed infection should be considered a confirmed case, regardless of whether there are clinical signs and symptoms.
Coronavirus: more asymptomatic carriers reported in China, but experts disagree on the threat they pose | South China Morning Post
A Chinese doctor who spent time in Wuhan in January has tested positive for Covid-19 weeks after returning home to Henan province and despite spending 14 days in self-isolation, health authorities said on Sunday, raising concerns about the threat of asymptomatic carriers of the coronavirus.

Two of the doctor's colleagues in Henan, neither of whom had worked in Wuhan, also tested positive, officials said.
China's Wuhan reports zero increase in COVID-19 cases - Xinhua
No new confirmed cases of the novel coronavirus disease (COVID-19) were reported Sunday in Wuhan, the hardest-hit city in central China's Hubei Province. The province also registered no increase in new COVID-19 cases on Sunday, according to the National Health Commission.
陈一新:武汉战疫督导50天,倍感市域社会治理亟需现代化-中国长安网
Central Politics and Law Commission article on Chen Yixin's meeting to sum up overseeing the fight against the epidemic in Wuhan. Chen, a man with a bright political future given his relationship with Xi Jinping and his success in Wuhan, says that the experiences of the last 50 days have made him feel even more that there is an urgent need to modernize municipal social governance (市域社会治理) and improve prevention of "risks" (that was one of the themes being pushed hard after last year's Fourth Plenum. See the December 9, 2019 Newsletter - Politburo meeting; The "Fengqiao Experience" and modernizing governance; Technology decoupling

"50天坐镇武汉、深入一线,亲身经历,感想甚多、体会颇深。"陈一新说,这次抗疫表明,推进市域社会治理现代化具有极端重要性;市域风险隐患防控处置不及时,潜在的问题就会变成现实的风险,区域性风险就会酿成全局性风险。未来要把小矛盾小问题解决在基层、把大问题大风险必须解决在市域。..

去年以来,习近平总书记多次强调要加快推进市域社会治理现代化。市域是重大矛盾风险的产生地、集聚地,但市域具有较为完备的社会治理体系,具有解决重大矛盾问题的资源能力和统筹能力,把重大矛盾风险化解在市域效率最高、成本最低、影响最小。市域社会治理是国家治理的基石,要把重大风险化解在市域作为努力方向。

抗疫中,市域社会治理有许多创新经验,但也暴露出不少短板弱项。我们要把加强市域社会治理体系和能力现代化,作为撬动国家治理现代化的一个战略支点来抓。要汲取这次抗疫斗争的经验教训,常态做好应对重大风险的思想准备、法治准备、组织准备和物质准备,及时把重大风险化解在市域,确保风险不外溢。
China Created a Fail-Safe System to Track Contagions. It Failed. - The New York Times
"The local health administration clearly made a choice not to use the reporting system," said Dali Yang, a professor of political science at the University of Chicago who studies policymaking in China. "It is clear they were trying to resolve the problem within the province."

Leaders in Wuhan seem to have assumed that the outbreak would peter out like bursts of avian flu infection — short-lived and localized — Shao Yiming, a virologist at the Center for Disease Control, said in an interview with Caixin, a Chinese magazine.
Over 7,000 stranded in Hubei return to Beijing - Xinhua
A total of 7,098 people who work or live in Beijing took 12 high-speed trains back to the capital from Wednesday to Saturday, after the lockdown of the virus-hit province was lifted.

The returnees were put under home or concentrated observation after being picked up by designated shuttle buses at Beijing train stations, the government said.
Yicai Global - USD2,400 Covid-19 Treatment Is Free for Chinese Patients
The average cost of treating a Covid-19 patient in China is around CNY17,000 (USD 2,400), of which nearly 65 percent of the cost is covered by national healthcare insurance, while the government picks up the tab for the rest, meaning individuals do not have to assume any expenses whatsoever.
More Beijing-bound flights diverted to stem imported COVID-19 cases - Xinhua
A total of 100 international flights originally bound for Beijing had been diverted to 12 other cities as of Sunday, according to a source of China's top aviation authority.

The daily number of incoming passengers through airports across China will dwindle to around 4,000 this week from 25,000 at peak, as China has stepped up measures to guard against imported coronavirus infections, said Jin Junhao, an official with the Civil Aviation Administration of China, at a press conference held in Beijing Monday.
Venues shut again for safety - Global Times
Many businesses in the recreational industry such as in Shanghai and Chengdu that recently resumed operations have had to suspend again to enhance prevention and control of the COVID-19 epidemic, according to local authorities and institutes.
China Shuts Down All Cinemas, Again | Hollywood Reporter
Over 600 movie theaters across China were given the green light to reopen their doors over the past week, but Beijing's Film Bureau put out a notice late Friday ordering all theaters to go back into shutdown.

No official explanation for the sudden reversal was provided. Industry insiders instantly began speculating that the government was worried about a potential second wave of coronavirus infections.
Indoor tourist attractions ordered to close again - SHINE News
A-level indoor tourist attractions in Shanghai which have reopened gradually from March were ordered on Sunday to close again until further notice from Monday to prevent the spread of the coronavirus, their operators said.

These include the Oriental Pearl TV Tower, Shanghai Tower and Madame Tussauds, along with Huangpu river cruises.
Coronavirus: police, public clash as border reopens between Hubei and Jiangxi provinces | South China Morning Post
According to local government reports, the incident happened on the 1st Yangtze River Bridge that separates Huangmei county in Hubei – the province at the epicentre of the initial coronavirus outbreak – with the city of Jiujiang in Jiangxi.

In local media reports, witnesses were quoted as saying that police in Jiujiang set up a blockade on the bridge to stop people from Hubei crossing.
A joint statement by Huanggang, Hubei and Jiujiang, Jiangxi on Saturday said the Hubei people can now go freely in and out of Jiangxi 
Flight collects students stranded in Ethiopia - Global Times
About 200 overseas Chinese students finally took a designated flight with the Chinese Embassy's help to return to their homeland after being stuck at a transfer point in Ethiopia for two nights, as many international flights to China were cancelled due to the escalating COVID-19 pandemic
安普若-外号安校长: 昨天替一个留学生家长发了一个信息。谢谢大家的评论 and 高程CASS: 在条件允许的情况下,还是应该包机撤回在危险疫区的海外留学生
Two interesting threads on Weibo that discuss whether the country should do more to bring Chinese students back to China, instead of cancelling all the flights, leaving them stranded overseas. Many oppose the idea. There is clearly hatred toward the rich who are able to send kids to study abroad. Gao Cheng, a research fellow with CASS, said that netizens should understand, the children of those really powerful and rich can find their ways to come back to China anyway, and it is only those ordinary kids who will suffer.
Beijing tells residents to delay overseas travel plans - China Daily
Since Friday, all Beijing residents have had to suspend prearranged trips that were not absolutely necessary, the capital's leading anti-virus group said. The city has also bolstered management of outbound travel plans by discouraging non-essential trips.

The move comes after the capital upgraded the high-risk list of hard-hit areas to 25 countries and regions on Wednesday to help contain the risk of imported cases.
Foreigners Collateral Damage as China Curbs Imported Infections - SixthTone
With COVID-19 spreading rapidly abroad and the U.S. now reporting the most infections of any country worldwide, China has taken increasingly stringent measures to limit imported infections. As these measures have taken effect, however, foreigners in the country have reported being barred from entering hotels, banks, office buildings, gyms, spas, restaurants, and shops, regardless of their travel history. One widely shared photo of a printed sign in a Beijing shop window reads: "We do not accept foreign friends and people whose temperature is above 37.3 (degrees Celsius) temporarily."
'They see my blue eyes then jump back' – China sees a new wave of xenophobia | The Guardian
Experiences range from socially awkward to xenophobic. An American walking with a group of foreigners in a park in Beijing saw a woman grab her child and run the other way. Others have described being called "foreign trash". A recent online article, under an image of ship stacked with refuse being pushed away from China's coast, was headlined: "Beware of a second outbreak started by foreign garbage."
Except Wuhan, China's Hubei reopens domestic flights - Xinhua
The province hard hit by the COVID-19 outbreak lifted outbound travel restrictions on highway traffic in all areas except Wuhan on March 25, with all checkpoints at expressway exits, national and provincial-level highways reopened within two day
Zhang Wenhong: Little Chance Coronavirus Pandemic Will End This Summer - Caixin
School reopening should depend on the epidemic situation in each province. If there are no new cases for a while, schools can reopen. But the immediate problem is that megacities such as Shanghai and Beijing continue to have imported cases from abroad. This requires case-by-case analysis to see if the imported outbreak is under control. And now most parts of the country have returned to work. Generally, businesses first resume operation, and then schools reopen. If there is any problem in resumed businesses, schools should stay closed. Because once there is any infection in schools, it will affect a whole class or even a whole school, which may cause panic. Businesses are relatively better because the impact won't be so large-scale.
The Lost Month: How a Failure to Test Blinded the U.S. to Covid-19 - The New York Times
The first time Dr. Robert Redfield heard about the severity of the virus from his Chinese counterparts was around New Year's Day, when he was on vacation with his family. He spent so much time on the phone that they barely saw him. And what he heard rattled him; in one grim conversation about the virus days later, George F. Gao, the director of the Chinese Center for Disease Control and Prevention, burst into tears.
---
4. China backlash coming in Europe and the UK?
Countries reject China pandemic product batches | Financial Times $$
Several countries in or neighbouring the EU have rejected Chinese-made coronavirus testing kits and protective equipment as substandard, raising concerns about the quality of supplies.

The Netherlands, Spain and Turkey have all claimed there have been problems with products including masks and tests, as rising confirmed cases of Covid-19 infection in Europe increase dependence on Chinese imports.

The claims come as tensions grow over what the EU's top diplomat has branded Beijing's use of the "politics of generosity" in a "battle of narratives" over who were the most reliable international partners in the global crisis.
Coroanvirus: Holland recalls 600,000 masks imported from China - Business Insider
"The mouth masks that are not satisfactory have been retrieved," Holland's Ministry of Health told Dutch broadcaster NOS.

The NOS reported that the faulty masks fail to meet safety requirements because they did not fit on the faces of doctors and nurses and were failing to prevent particles of the COVID-19 virus passing through.
Coronavirus: don't politicise medical supply problems, China says | South China Morning Post
China has urged countries not to "politicise" concerns about the quality of medical supplies after some countries in Europe reported defective products sourced from China.

Chinese foreign ministry spokeswoman Hua Chunying said on Monday that an objective approach was needed to solve the problems.

Hua said that for example in Slovakia, officials had raised concerns about the reliability of Covid-19 test kits bought from China but medical workers had been using the kits incorrectly, leading to inaccurate results.
China warns against politicizing defective masks incident as Dutch continues probe - CGTN
Chinese ambassador to the Netherlands Xu Hong said it's inappropriate to politicize a report about imported defective masks from China while an investigation continues.

"The reason why China supports the Netherlands and other countries to fight the pandemic is very simple: We are trying to save more lives. There is no 'geopolitical consideration' as few claimed," Xu said.
Caixin reported that those faulty virus test kits Chinese manufacturer sold to Spain were never approved or sold in China. The company, Bioeasy, insisted that the test kits are not faulty and that the medics may not have followed all the standard procedures in using them.
Another Chinese test kit producer Innovita said Czech medics may not have followed the standard procedures in using their products, and that their test kits shouldn't be relied as the sole tool to confirm a case.
China's efforts to blame coronavirus on a US army delegation to Wuhan infuriate No. 10 | Mail on Sunday
China's behaviour during the coronavirus pandemic will eventually result in a 'reckoning' in relations with Beijing, close allies of Boris Johnson have warned.

Senior Ministers think China risks becoming a pariah state unless there are sweeping reforms when the crisis abates, and they are demanding an urgent review of Britain's relationship with the Communist super-state.

It comes as the Prime Minister faces renewed Cabinet pressure to block the deal with the Chinese technology giant Huawei to build vast swathes of Britain's 5G network...

A source said: 'There is a disgusting disinformation campaign going on and it is unacceptable. They [the Chinese government] know they have got this badly wrong and rather than owning it they are spreading lies.'

Mr Johnson has been warned by scientific advisers that China's officially declared statistics on the number of cases of coronavirus could be 'downplayed by a factor of 15 to 40 times'. And No 10 believes China is seeking to build its economic power during the pandemic with 'predatory offers of help' countries around the world.
Chinese markets are still selling bats | Daily Mail Online
Those were the deeply troubling scenes yesterday as China celebrated its 'victory' over the coronavirus by reopening squalid meat markets of the type that started the pandemic three months ago, with no apparent attempt to raise hygiene standards to prevent a future outbreak. 

As the pandemic that began in Wuhan forced countries worldwide to go into lockdown, a Mail on Sunday correspondent yesterday watched as thousands of customers flocked to a sprawling indoor market in Guilin, south-west China.
Coronavirus UK: Nearly HALF expect crisis to last six months | Daily Mail Online
Nearly half of Britons expected the coronavirus crisis to last at least six months - and some 73 per cent blame China for the global turmoil, a poll has found...

Nearly three-quarters of those questioned said Beijing was either 'significantly' of 'somewhat' to blame for the spiralling situation.

The findings emerged in polling carried out by Redfield and Wilton Strategies as part of research into global health and governance, and given to MailOnline.
Serbia's coronavirus diplomacy unmasked | European Council on Foreign Relations
As virtually every aspect of European life is currently held hostage by the coronavirus, uncertainty looms large. One of the few axioms, however, seems to be that China is getting ahead of the crisis and that Europe could fail the test. In this emerging storyline, the European Union will yet again fall short of the expectations of its citizens, becoming a splintered mess that could easily slide into irrelevance. Many commentators have noted that the coronavirus crisis has opened up space for a "battle of narratives" between China and Western democracies – that we are witnessing a skilful rewrite of the geopolitical playbook. But this assessment may prove premature.
Viral Disruption; The Pandemic That's Rewriting the Global Order - The Little Red Podcast - Omny.fm
COVID-19 isn't just destroying economies, it's also reshaping the global order.  In less than a month, the novel coronavirus has moved from being China's Chernobyl to being an advertisement for China's brand of governance. As Western governments, in particular the US, fail to grapple with this enormous public health challenge, China is presenting itself as the world's saviour.  Beijing's multipronged approach includes using facemask diplomacy donating medical equipment to the West, while its diplomats try to sow doubt about whether the outbreak began in Wuhan.  To discuss the geopolitics of COVID-19 against the backdrop of deteriorating US-China relations, we're joined by Ian Bremmer, president and founder of the political risk consulting firm Eurasia Group and G-ZERO Media, and host of the podcast "GZERO World with Ian Bremmer", as well as Bill Bishop, the founder of the Sinocism China newsletter, and Simon Rabinovitch, the Economist's Shanghai-based correspondent.
---
5. Foreign outreach
China's anti-virus aid out of goodwill, responsibility, not atonement - Global Times
An absurd theory is emerging in international public opinion. It maliciously suggests that China is "culpable" for the global coronavirus pandemic, and that what the country is doing - such as providing foreign assistance - is an atonement for its "sins." Such rhetoric is completely groundless and is nonsense.

There is no scientific conclusion as to the origin of novel coronavirus. But that doesn't stop some groundlessly accusing China of being the "origin" of the coronavirus, and a few conspiracy theorists even allege the virus came from a Chinese laboratory...

Some claim China should be "held accountable" due to its "delays" at the early stage of the outbreak. But the truth is, China has adopted stringent and effective measures since January, including locking down Wuhan, which sent a strong message and bought valuable time for the rest of the world at a painful cost. But did any Western country pay attention? They were only looking at China's trouble with indifference or even taking pleasure in it, squandering the precious window of opportunity.
Anti-China chorus can't mask country's contributions to virus fight: Global Times editorial - Global Times
The US and some other Western countries have been recently launching continuous public opinion attacks on China from changing perspectives. They accused China of concealing data on the number of COVID-19 infections and deaths, politicized disputes over the quality of certain medical supplies shipped from China to the West, threw mud at China's diplomacy and demanded China be held accountable for the coronavirus outbreak, as if they are in tune with a new anti-China chorus.

There are three reasons for the emergence of this chorus. First, some forces with an inherent paranoid stance toward China will inevitably respond in this way under the current circumstances. Second, they feel frustrated as China has got the epidemic under control, while US and European countries are being severely hit. Third, ruling and ideological elites in some countries failed to explain the plight their states are grappling with to the public, therefore resorting to diverting domestic anger by scapegoating China.
Yicai Global - Unscrupulous Agents Threaten Chinese Mask Makers' Export Plans
Chinese mask makers hoping to supply overseas markets as the Covid-19 epidemic spreads globally have been confounded by the growing phenomenon of unscrupulous agents in China issuing false papers.

"We've noticed that some unlicensed third-party institutions without the required qualifications are profiteering from the epidemic and have issued many invalid licenses," a man who works for an agency handling the accreditation of masks for export told Yicai Global.
China Pushes to Churn Out Coronavirus Gear, Yet Struggles to Police It - The New York Times
China's vast manufacturing machine has moved into overdrive to supply the country and the world with masks, testing kits, respirators and other gear to fight the global coronavirus pandemic. Companies big and small that once manufactured other items are now in the business of making anti-coronavirus gear — and regulators in China are struggling to enforce standards while encouraging the flow.
Pakistan Coronavirus News: China building makeshift hospital for Pakistan to treat coronavirus patients | World News - Times of India
China, which has sent medical teams and supplies to Pakistan where coronavirus cases are increasing steadily, said on Monday that it was building a makeshift hospital there to treat COVID-19 patients.
Italy Home Quarantine Repeats Mistake Made in China, Doctors Say - Bloomberg
Italy needs to shift to mass quarantining of coronavirus patients with mild symptoms instead of letting them isolate at home, according to a group of Chinese experts who traveled to the European nation to advise officials there.
Regular Press Conference of the Ministry of National Defense on Mar. 26 - Ministry of National Defense
Question: According to media reports, recently, the Chinese military has provided Iranian armed forces with medical supplies to help the country fight COVID-19. Why did China take Iran as the first country to provide supplies?

Answer: China and Iran are comprehensive strategic partners. Since the outbreak of the COVID-19, Iran has provided China with strong support and assistance, including the supply of surgical masks. Recently, the situation in Iranian is getting worse. At the request of Iran, China sent a team of volunteer experts to Iran and donated a batch of nucleic acid detection kits and medical equipment. On March 19, medical supplies donated by the Chinese military to the Iranian armed forces arrived in Iran, including nucleic acid testing kits, protective clothing, and disposable surgical masks. This fully reflects the long-standing friendship between the two countries and two militaries.
Bank of China donates 500,000 surgical masks to the Philippines - ECNS
A cargo plane carrying 500,000 surgical masks donated by the Bank of China to the Department of Health of the Philippines arrived at Ninoy Aquino International Airport in Manila on Saturday.

On the delivery boxes were written both in Chinese "We help each other through thick and thin" and Tagalog "Matibay ang walis, palibhasa'y magkabigkis." (A broom is sturdy because its strands are tightly bound.)
China enhances ventilator production to meet domestic, overseas demand - Xinhua
As of Sunday, major producers across the country had offered 27,000 ventilators, with some 3,000 of them being invasive ventilators, meeting the country's anti-virus need.

While securing the indigenous demand, the country has provided around 1,700 invasive ventilators to other countries since March 19.

China has received orders for about 20,000 ventilators from other countries
China to strengthen quality control of medical supply exports - Xinhua
China will encourage companies to expand the production of medical supplies to help the global fight against the novel coronavirus disease (COVID-19) while ensuring the quality of these exports, the Ministry of Commerce said Monday.
Vision China: fighting COVID-19 together - China Daily
Guest speakers include Dr Bruce Aylward, senior adviser to the director-general of the World Health Organization, He Yafei, former vice-minister of foreign affairs, former vice-minister of the State Council's Overseas Chinese Affairs Office and a distinguished professor at Peking University's Yenching Academy, Dr Robert Lawrence Kuhn, a renowned China expert and recipient of the China Reform Friendship Medal, and Jim O'Neill, an economist from the United Kingdom who is chairman of Chatham House and a former commercial secretary to the UK Treasury
Coronavirus: Philippines apologises for saying Chinese test kits were inaccurate | South China Morning Post
Undersecretary for health Maria Rosario Vergeire said on Saturday that some of the kits made by BGI Group and Sansure Biotech were only 40 per cent accurate in diagnosing Covid-19 and that some of them would have to be discarded as a result.

China's embassy in Manila rejected those accusations, saying the kits complied with World Health Organisation standards and that they had played "a significant role" in enabling the Philippine government to deal with the Covid-19 epidemic.
Foreign Ministry Spokesperson Geng Shuang's Regular Press Conference on March 27, 2020
CRI: Eight countries including China and Russia wrote a letter to UN Secretary-General Antonio Guterres, asking him to call for lifting sanctions that are hampering the fight against COVID-19. Mr. Guterres said at the Extraordinary G20 Leaders' Summit that the world needs to fight the virus and appealed "for the waiving of sanctions that can undermine countries' capacity to respond to the pandemic". What's your comment?

Geng Shuang: Unilateral sanctions outside the UN framework by certain country violate the UN Charter and basic norms governing international relations. China consistently objects to them…

China supports Secretary-General Guterres' call for certain country to respect the legitimate rights, interests and life of the affected people and immediately lift all unilateral sanctions.
President Xi Jinping Speaks with the King of Saudi Arabia on the Phone
Xi stressed that China is grateful for the King's earlier message of sympathy and support and the many shipments of supplies from the Saudi government and society since the onset of the outbreak. China is determined to reciprocate the generosity and goodwill. Now that Saudi Arabia is battling the COVID-19 outbreak, China will do its best to help. Xi offered to share epidemic control experience and facilitate the procurement of medical supplies so as to better protect the life and health of the two peoples and safeguard public health security in the world and their respective regions. In the meantime, China will work with Saudi Arabia to enhance political trust, deepen practical cooperation and upgrade their comprehensive strategic partnership.
CCTV report on Xi's call with the Saudi King - 习近平同沙特国王通电话
萨勒曼表示,中国政府采取果断有力举措,成功控制新冠肺炎疫情,我表示高度赞赏并衷心祝贺。中国的成功向全世界发出了积极信号。我对中国政府和中国人民抱有坚定信心。我相信,中国将很快战胜疫情并且变得更加强大。沙中是患难之交,两国关系高水平发展。感谢中方为沙特抗击疫情提供检测和医疗物资援助,对此沙特人民不会忘记,将始终坚定同中方站在一起。沙方希望借鉴中方成功经验,加强卫生医疗等领域交流合作。相信经过共同抗击疫情,沙中友好关系将更加深厚牢固。感谢主席先生支持沙方主办二十国集团领导人特别峰会。沙方希望同中方继续加强在二十国集团框架内协调合作,共同帮助世界尽快克服眼前这场危机。
China boosts air freight capacity to ensure global medical supply - Xinhua
By Thursday, China has carried out 23 international transport tasks of medical supplies with an accumulated transport amount of 406 tonnes, Zhang Qing, an official with the Civil Aviation Administration of China, told a press conference Sunday.

Noting the insufficient international air freight capacity and impeded shipment channels due to the outbreak, China will continue to add more charter flights and open new air routes to guarantee the smooth transport of living necessities and medical supplies, said Jin Jinghua, a senior official with the State Post Bureau.
Emergency medical supplies donated by China arrive in Nepal to combat COVID-19 - Xinhua
At a time when many countries are fighting against this battle, China keeping Nepal in the priority list and sending supplies immediately is really commendable, the minister expressed, adding that Nepal expects China's support in the coming days as well.

The donations from China's Sichuan Province and the Chinese Embassy include different kinds of masks, thermometers, Chloroquine phosphate tablets, protective clothing and portable ventilators weighing 1.1 tons.
Chinese medical team arrives in Laos to help fight COVID-19 - Xinhua
The Chinese medical team includes experts in various fields such as infection prevention and control, intensive care, epidemics, and laboratory testing. They also brought along with medical supplies.

The team came to Laos less than five days after the Lao side announced its first two confirmed COVID-19 cases and asked for assistance from China.
Chinese foundations donate to countries in fight against COVID-19 - Xinhua
The Jack Ma Foundation and the Alibaba Foundation announced Sunday donations of essential medical supplies to seven more countries, namely Azerbaijan, Bhutan, India, Kazakhstan, Kyrgyzstan, Uzbekistan and Vietnam...

The Fosun Foundation, based in Shanghai, also donated a batch of face masks to two hospitals in Sardegna, Italy this week, in response to a local doctor's call for support in mid-March.
---
6. US-China
Trump strikes friendly tone on China with trade in mind, as his top officials point fingers over pandemic - CNN
Publicly, Trump is downplaying the importance of trade during the global pandemic. Describing a Thursday night phone call with President Xi Jinping about the coronavirus, the President said, "This whole invisible enemy has taken over the world. Nobody cares about trade."

But behind closed doors, White House officials say, Trump continues to emphasize farm product sales to China..

Trump has continued to tout US sales of farm product to China as a metric of success and to signal that protecting trade relations with Beijing remains a priority amid increasing tensions between the two countries.

The President has stuck to that strategy even as some of his closest allies, including Secretary of State Mike Pompeo, continue to charge that Beijing failed to identify, stop or warn about the virus early on, several sources said.
Xi, Trump talk over phone on COVID-19, bilateral ties - Xinhua=
Xi emphasized that China-U.S. relations are now at an important juncture, and that both will benefit from cooperation and lose from confrontation.

Calling on the United States to take substantive action to improve bilateral relations, Xi suggested that the two sides work together to boost cooperation in epidemic control and other fields, and develop a relationship of non-conflict, non-confrontation, mutual respect and win-win cooperation.

Trump, for his part, said that he listened closely to Xi's speech at the G20 Extraordinary Leaders' Summit on COVID-19, and appreciates Xi's views and proposals along with other leaders.

Trump asked Xi in detail about China's anti-epidemic measures, saying that both countries are facing the challenge of the COVID-19 epidemic, and he is delighted to see the positive progress made by China in combating the disease.

Stressing that China's experience is very illuminating to him, he said he will make personal efforts to ensure that the United States and China can ward off distractions and concentrate on cooperation against COVID-19.
习近平强调,当前,中美关系正处在一个重要关口。中美合则两利、斗则俱伤,合作是唯一正确的选择。希望美方在改善中美关系方面采取实质性行动,双方共同努力,加强抗疫等领域合作,发展不冲突不对抗、相互尊重、合作共赢的关系。
White House Airlifts Medical Supplies From China in Coronavirus Fight - The New York Times
The shipment from China that arrived in New York on Sunday is the product of a public-private partnership — led by President Trump's son-in-law and senior adviser, Jared Kushner — with major health care distributors like McKesson Corporation, Cardinal Health, Owens & Minor, Medline and Henry Schein, a White House spokesman said. Representatives from those companies attended a meeting at the White House with Mr. Trump on Sunday.

The White House is arranging for air transport to help expedite the shipping of personal protective equipment purchased by these companies overseas, the spokesman said, adding that both FEMA and the State Department were helping support the effort.
Pushing decoupling strangles China-US virus cooperation - Global Times
The US now has the most confirmed cases of COVID-19 worldwide, and the country is in urgent need of medical supplies. It is estimated that if the pandemic lasts a year, the US will require 3.5 billion masks. But production capacity in the US is not enough to meet the demand, and thus it needs help from other countries. On the other hand, China also needs to import the key components of ventilators from abroad. It is not easy for a country to meet all the needs by itself.

But this being the case, some American people are still promoting China-US decoupling. In particular, some US Congress people are hyping anti-China sentiment and dragging China-US relations into the mire. They want to wipe out all the mutual trust between the two countries. For those who advocate China-US decoupling and are wearing China-made masks, don't you feel embarrassed?

The shipment from Shanghai that arrived in New York is the product of a public-private partnership, led by US President Donald Trump's senior advisor and son-in-law Jared Kushner.
Pompeo blasts China over virus 'disinformation' - Nikkei Asian Review
U.S. Secretary of State Mike Pompeo on Monday accused China of spreading disinformation about the coronavirus pandemic and urged transparent sharing of crucial data on case numbers and mortality rates.

"We've seen [disinformation campaigns] not only from Iran and Russia, but from China and others as well," to "avoid responsibility" and sow "confusion about where the virus began," Pompeo said in a phone interview with Nikkei and other media from Asia, Oceania and the U.S.
The propaganda organs really do not like Pompeo -国际锐评:进入"重大灾难期"的美国,蓬佩奥们为何趁火打劫?
作为本届美国政府中的反华"急先锋",蓬佩奥在新冠肺炎疫情发生后的种种表现卑劣至极。从多次公开将病毒称为"武汉病毒",到污蔑中国共产党和中国政治制度是"时代威胁",再到企图将"武汉病毒"纳入G7外长会声明,蓬佩奥利用国内外各个场合对中国进行污名化攻击,制造散播"阴谋论",其充斥冷战思维和意识形态偏见的言论令世人震惊,对当前全球抗疫合作造成严重干扰。
FBI warns of potential surge in hate crimes against Asian Americans amid coronavirus - ABC News
The document detailed a March 14 incident in Midland, Texas, in which "three Asian American family members, including a 2-year-old and 6-year-old, were stabbed … The suspect indicated that he stabbed the family because he thought the family was Chinese, and infecting people with the coronavirus."
Beijing may step up drills in South China Sea amid rising tensions with US military, analysts say | South China Morning Post
China's air force and navy are keeping a close watch on US freedom of navigation patrols in the South China Sea, and military experts expect sabre-rattling over the disputed waters to intensify.
Opinion: No one can stop China's full reunification - Xinhua
Washington's recent signing of the so-called "Taiwan Allies International Protection and Enhancement Initiative (TAIPEI) Act of 2019" into law has flagrantly violated China's sovereignty.
Zhong Sheng also weighs in on the the TAIPEI Act一个中国原则不容挑战(钟声)
中美关系正处在一个重要关口,美方应在改善双边关系方面采取实质性行动。在涉及中美关系根基的台湾问题上,美方尤其需要清醒认识,恪守一个中国原则和中美三个联合公报规定,为中美发展不冲突不对抗、相互尊重、合作共赢的关系排除障碍。把稳中美关系发展方向是利在双方的大事,在当前新冠肺炎疫情肆虐的大背景下,中美双方理当顺应民心所向,选择精诚合作、共克时艰
---
7. Disinformation
As Virus Spreads, China and Russia See Openings for Disinformation - The New York Times
In the days to come, China is likely to back off the public spread of disinformation through its Foreign Ministry and network of embassies and to further embrace the more subtle Russian-style approach, relying on its intelligence services to spread misinformation about the origins of the virus and China's handling of it, senior American intelligence officials assessed.

Washington and Beijing have reached a tentative détente, other American officials said, that calls for both sides to halt public attacks on each other about the virus, but officials are skeptical that the uneasy truce will hold.

One senior American official said China had signaled to the United States that it would throttle its disinformation in the face of criticism from European countries and the U.S. State Department. Other officials said China was merely shifting tactics, finding its disinformation campaign was less effective than it had hoped. And President Trump has moved toward conciliation, holding a telephone call with President Xi Jinping of China on Thursday night
For China and Russia, coronavirus hoaxes are another strain of disinformation warfare - The Globe and Mail
A key piece of disinformation spread by both China and Russia – and then repeated by friendly governments such as Iran's – is a baseless accusation that the coronavirus, which originated in December in a seafood and live animal market in the Chinese city of Wuhan, was instead a U.S. military bioweapon gone awry.

In China's favoured telling of that story, COVID-19 was actually brought to Wuhan by infected U.S. military personnel who attended the Military World Games in October. That version was given prominence by Zhao Lijian, a spokesman for the Chinese foreign ministry, who retweeted an article published by a Montreal-based website known for propagating conspiracy theories and pro-Russian disinformation.
Hamilton 2.0 Dashboard – Alliance For Securing Democracy
The Hamilton 2.0 dashboard, a project of the Alliance for Securing Democracy at the German Marshall Fund of the United States, provides a summary analysis of the narratives and topics promoted by Russian and Chinese government officials and state-funded media on Twitter, YouTube, state-sponsored news websites, and via official diplomatic statements at the United Nations. The purpose of the dashboard is to increase our understanding of the focus and spread of Russian and Chinese government messaging across various information mediums. The data provided here is intended to be a starting point for in-depth analysis; in short, this dashboard provides the questions, not the answers.
China's Dangerous Twitter Propaganda Campaign - Foreign Policy - Fergus Ryan
Twitter should make it clear that it won't actively train officials from countries that block off the platform to their own citizens. Second, it should state that if a country doesn't allow its own citizens to use the platform, Twitter will label that clearly on the officials' accounts and on their posts. Third, Twitter should disable the ability of officials from these countries to block other users from scrutinizing their messages.
Trump says coronavirus to peak 'around Easter,' slams Pelosi criticism in 'Fox & Friends' interview | Fox News
At the 20:50 mark, Trump responds to a question about Russia and China disinformation about the virus by saying "They do and we do it...every country does it"...but focuses most of his answer attacking the Washington Post and New York Times
---
8. Huawei
U.S. Moving Forward With Rule to Limit Chips to Huawei - WSJ $$
Specifically, the rule would require an export license for many chips shipped to Huawei that are produced by U.S.-designed chip-making tools. That would give the Commerce Department the ability to block the sale of semiconductors manufactured by Taiwan Semiconductor Manufacturing Co. for Huawei's HiSilicon unit, which designs chips for the company.

The restrictions would also disadvantage U.S. companies that produce the semiconductor manufacturing equipment used by TSMC, the world's largest contract-chip maker. The semiconductor industry has waged a monthslong campaign against the anti-Huawei rules, arguing that the chips being sold don't pose national-security concerns and would undermine U.S. companies' ability to compete with foreign firms...

The rule now has to be written, a process that could take weeks, if not longer, giving the semiconductor industry time to try to get it revised or watered down. The plan currently is to have the proposed restrictions go into effect before the industry has a chance to comment, said the people familiar with the situation.
U.S. prepares crackdown on Huawei's global chip supply - sources - Reuters
One of the sources said the rule-change is aimed at curbing sales of chips to Huawei by Taiwan Semiconductor Manufacturing Co, a major producer of chips for Huawei's HiSilicon unit, as well as the world's largest contract maker.

It is unclear if President Donald Trump, who appeared to push back against the proposal last month, will sign off on the rule change. But if finalized, it could deal a blow to Huawei and TSMC, hurting U.S. companies as well, sources said.
Inside China's controversial mission to reinvent the internet | Financial Times $$
The team who had masterminded the New IP (internet protocol) proposal was from the Chinese telecoms giant Huawei, which had sent the largest delegation of any company to the September meeting.

At the gathering, held at the International Telecommunications Union, a UN agency that establishes common global standards for technologies, they presented a simple PowerPoint. It didn't bother with much detail on how this new network would work, or what specific problem it was solving. Instead, it was peppered with images of futuristic technologies, from life-size holograms to self-driving cars.

The idea was to illustrate that the current internet is a relic that has reached the limits of its technical prowess. It was time, Huawei proposed, for a new global network with a top-down design, and the Chinese should be the ones to build it...

Experts now debate whether China's vision of its internet governance may be shifting from a defensive one, in which the government wished to be left alone to impose authoritarian internet controls at home, to a more assertive approach, in which the country is openly advocating for others to follow its lead.
Question: There is still a debate?
Richard Yu Press Interview: Huawei's CEO on COVID-19 and Huawei Apps - Anandtech
---
Business, Economy and Trade
China Corporate Deleveraging Push May Be on Hold for Years - Bloomberg "Beijing still has sufficient policy tools to avoid systemic financial risk, but a continued rise in the debt-to-GDP ratio is inevitable in coming quarters," said Ting Lu, chief China economist at Nomura International HK Ltd. "The risk associated with a further debt buildup will be one of the key tasks Beijing needs to handle in the post-COVID-19 period."
Buying the Dip? China's Outbound Investment in 2020 | Rhodium Group After two decades of double-digit growth, China's outbound investment boom slowed after 2016 as policy tightened domestically and scrutiny overseas increased. By 2019 activity had fallen back to 2014 levels. While the COVID-19 outbreak further weighed on Chinese outbound investment in 1Q 2020, many governments are concerned that market volatility may create fire sale opportunities for Chinese buyers. But is China really in a position to take advantage of low asset prices globally? This note explores the Chinese outbound investment outlook at this critical juncture.
传海康威视全员邮件取消涨薪 安防行业迎寒 Hikvision, the Chinese state-owned surveillance gear maker sanctioned by US for its work in Xinjiang, reportedly faces financial difficulties because of fierce competition and a lack of new contracts due to the coronavirus. The company has cancelled a general pay raise and broken contracts with the new recruits, according to this article written by a tech journalist.
The Journey to Reopening: Real Stories from Chinese Business Owners – Elephant Room: Make China Relatable In today's article, we want to share our conversations with three Chinese friends who are business owners. Over the past two months, they panicked, suffered, and are now trying everything they can to get things back on track
Meituan Dianping warns of coronavirus hit | Financial Times $$ "The pandemic has resulted in tremendous near-term shocks to many industries in China," said chief executive Wang Xing. "In the short term, our business segments such as food deliveries, in-store, hotel and travel will all face significant challenges on both the demand and supply side. "We expect our business performance will be significantly impacted in the first quarter and probably the whole year of 2020," said Mr Wang.
Ant Financial Launches Corporate Credit Rating Company – China Banking News Ant Fi­nan­cial founded the Ant Fi­nan­cial Credit Rat­ing Co., Ltd. (蚂蚁信用评估有限公司) on 24 March, ac­cord­ing to in­for­ma­tion from the Na­tional Cor­po­rate Credit In­for­ma­tion Dis­play Sys­tem (国家企业信用信息公示系统).
Aid for smaller companies in virus fight - SHINE News Up to March 29, 17 local corporate banks had granted 2.22 billion yuan (US$310 million) in small and micro enterprise loans as well as loans related to agriculture at preferential interest rates, Sun Hui, deputy director of the Shanghai office of the People's Bank of China, said during a press conference on Monday.
Hidden Chinese Lending Puts Emerging-Market Economies at Risk - WSJ $$ An estimated $200 billion of emerging-market debt owed to China has gone unreported in official statistics in recent years. The money is upending assumptions made by yield-hungry investors who have poured roughly $2 trillion into risky emerging markets over the last decade.
Cnooc, PetroChina Hint at Welcome Cut in Oil Capex - Bloomberg Cnooc Ltd. signaled Wednesday it might reduce its 2020 capital expenditure budget, which was set at as much as $13 billion, the highest since 2014. PetroChina Ltd., the country's largest oil producer with a market value of $117 billion, suggested Thursday that it would do the same.
China's Mobile Carriers Lose 21 Million Users as Virus Bites - Bloomberg Part of the drop could be caused by migrant workers -- who often have one subscription for where they work and another for their home region -- canceling their work-region account after the virus prevented them from returning to work after the Lunar New Year holidays that began in late January, said Chris Lane, an analyst at Sanford C. Bernstein & Co. // And no, the mobile subscriber data loss is not a proxy for calculating the death toll from the epidemic as some have suggested
China's Fresh Green Debt Is Drying Up as Virus Hits Economy - Bloomberg Just one green loan deal was signed for China this year, while green bond issuance saw the slowest start to the year since 2017, Bloomberg-compiled data show, as the country's firms shift their focus to combating the impact of the coronavirus. This type of debt is used to fund environmental projects including renewable energy or conservation.
Politics and Law
济南新书记孙立成的"十二时辰":先干这些事,背后有深意…… Sun Licheng, a former senior police officer, is the new party boss of Jinan, Shandong as well as a member of the party standing committee of the province. The Shandong party chief publicly praised Sun for "being loyal to the secretary general [Xi Jinping]", and some said this is the very first time the party uses this language to describe an official.-据检索公开报道显示,"对总书记忠诚"是第一次出现在官方公开报道中。
陶斯亮:依靠还是依赖? Tao Siliang, daughter of the revolutionary leader Tao Zhu, wrote an article criticizing the Wuhan mayor for not taking responsibility in warning the public early enough about the virus. Tao said the mayor shouldn't blame Beijing for not giving him the authorization to act, instead he should have done what he thought was right if he really cares about the public.
出狱7个多月又杀人 北京杀人犯郭文思的9次减刑 A murder case in Beijing draws public attention after the murderer was released last year after serving only 15 years in prison and just 7 months later he killed again. He was first sentenced to life in prison for his first murder but later received nine commutations. This article by Li Weiao of Economic Observer questions whether he received special treatment for the commutations.
Senior CPC official stresses strengthening Party building to fight poverty - Xinhua Senior Communist Party of China (CPC) official Chen Xi on Monday called on the Party's organizational departments to make solid efforts in strengthening Party building and help secure a decisive victory in poverty alleviation. Chen, a member of the Political Bureau of the CPC Central Committee and head of the CPC Central Committee's Organization Department, made the remarks at a teleconference held in Beijing.
China's senior political advisors meet on COVID-19 response - Xinhua The chairman and vice chairpersons of China's top political advisory body, the National Committee of the Chinese People's Political Consultative Conference (CPPCC), on Monday held a meeting on the COVID-19 prevention and control work
CCTV report on that CPPCC leadership meeting - 汪洋主持召开全国政协主席会议_CCTV) 汪洋强调,当前疫情防控和经济社会发展面临着新的重大挑战,各级政协组织和广大政协委员要进一步坚定信心、迎难而上,在外防输入、内防反弹的疫情防控工作中,在纾解广大企业困难、推进复工复产的工作中,深入开展调查研究,加强思想政治引领,坚持建言资政和凝聚共识双向发力,为防范化解各类风险、统筹做好疫情防控和经济社会发展工作、推进国家治理体系和治理能力现代化贡献智慧和力量。 会议审议通过了全国政协2020年视察考察调研安排、全国政协主席会议关于2019年下半年工作情况的报告(草案)、政协全国委员会重点提案遴选与督办办法(修订)。
Foreign and Defense Affairs
Domestically developed high-end missile sees first export delivery despite pandemic - China Military A leading Chinese arms firm has delivered a batch of advanced portable HJ-12E anti-tank missiles to an undisclosed foreign buyer amid the pandemic of novel coronavirus pneumonia (COVID-19) in the first export case of this type of high-end weaponry, prompting Chinese analysts to note on Sunday that this showcased the company's reliability and its potential share of the market.
Chinese military defines sectoral regulators' duties in fighting corruption - China Military The regulations, to take effect on May 1, stipulate what duties supervisory departments have in combating corruption as well as how to fulfill those duties and mete out punishments. The four-chapter document detailed 24 items of duties supervisory departments should take in building integrity in sectors within the military. 中央军委办公厅印发《军队行业部门廉政主管责任规定》
Japan warship, China fishing boat collide in East China Sea - AP The site of the accident, about 650 kilometers (400 miles) west of the Japanese island of Yakushima, is far to the north of an area disputed between the two countries, it said.
New MI5 head promises to focus on China and harness AI | The Guardian MI5's deputy head will take the top job at the spy agency next month promising a sharper focus on China and to work more closely with the private sector in harnessing artificial intelligence in tackling hostile state and terrorist activity...Insiders said that McCallum wanted to be clearer about the threat posed by China – particularly in terms of industrial espionage and cyberwarfare – in the belief that the level of spying by Bejiing in the UK was not appreciated more widely.
China has a strategy and Britain doesn't | Charles Parton | Standpoint Say what you like about George Osborne's "Golden Era" (or Golden Error) of relations with China—and, yes, it was the Treasury, that repository of sinological expertise, that dictated policy—it was at least a strategy. Nowadays Whitehall gets huffy at accusations of not having a strategy. Push them and mandarins retreat to "Well, we have a roadmap." But a roadmap is not much use if no one beyond a priesthood of security-cleared officials knows what it is.
Forging an Alliance Innovation Base | Center for a New American Security his report presents a blueprint for a community of technology innovation and protection anchored by America and its allies. Unless the United States builds this community—an "alliance innovation base"—it will steadily lose ground in the contest with China to ascend the commanding technological heights of the 21st century. Given that technology will increasingly determine future military advantage, underpin economic prosperity, and function as a tool for promoting liberal and illiberal visions of domestic governance, the stakes could not be higher.
China's top military academy opens online classes for foreign cadets - Xinhua Connecting lecturers and interpreters in Beijing with cadets from all over the globe, the system enables foreign officers to keep up with the training programs and have their questions solved in real time, said the International College of Defense Studies with the National Defense University of the People's Liberation Army Saturday. The global COVID-19 pandemic has prevented many foreign officers enrolled in the college's programs from returning to the new spring semester
Chinese military releases revised regulations on social organization affairs - Xinhua The revised regulations aim to provide more specific requirements for military personnel to participate in social organizations, including the number of organizations they were allowed to join and the posts allowed to hold in these organizations.
中央军委办公厅印发新修订的《军队社会团体管理工作规定》_CCTV 新修订的《规定》共7章49条,修订内容主要是规范军队各类人员参加社团的基本条件;调整军队在职专业技术人员参加社团、兼任社团负责人数量;规范军队管理的离退休人员参加社团的年龄界限,以及军队人员在社团党组织兼任职务问题;完善军队单位参加社团和社团活动相关规定;完善军队人员和单位参加人民团体免于登记社团的办理办法;完善军队主管的社团管理相关规定;规范各级落实社团管理工作的监督管理责任,明确对违反规定人员和单位的问责处理办法。新修订的《规定》对军队社团管理工作进行了系统规范完善,更具科学性、针对性、操作性。
Cory Gardner, Mitt Romney, Marco Rubio seek China propaganda task force - Washington Times The senators said an interagency task force under the National Security Council is needed to counter what they called a "sinister propaganda campaign" by China. The disinformation is a "despicable exploitation of a global emergency" that threatens to undermine global coordination in responding to the pandemic, they wrote.
Govt plans ¥200 bil. in subsidies to reduce firms' dependence on China - The Yomiuri Shimbun The government has decided to provide subsidies totaling about ¥200 billion for companies that plan to move production bases from China to Japan and Southeast Asian countries as part of efforts to encourage Japanese firms to reduce their dependence on China.
Reply to the Open Letter Co-Signed by Publishers of Three US Media Outlets - MoFA The three publishers need to be reminded that the world will not be missing "probing, accurate, on-the-ground reporting" simply because a few of your journalists are absent. Moreover, some of them must know quite well in their heart whether they had reported comprehensively, faithfully, and objectively to the world on China's fight against the coronavirus. And the stories they wrote are also self-evident. Such reports by such journalists will only hurt your time-honored brand as well-established media agencies.
The Chinese version of the MoFa response - 外交部新闻司对三家美媒发行人联名公开信的复信 — 中华人民共和国外交部
MoFa also called in the responsible representatives of the WST, NYT and Washington Post to chew them out about the letter - 外交部新闻司就三家美国媒体发行人公开信向有关媒体提出严正交涉 — 中华人民共和国外交部 - 2020年3月27日,外交部新闻司负责人分别约谈美国《纽约时报》、《华尔街日报》、《华盛顿邮报》驻京分社负责人,就三报发行人日前联名致中国政府公开信,提出严正交涉。
声东击西: #112 我们无处安放的记者身份 Excellent podcast with Zhang Dayu, a Chinese reporter who worked as a "news assistant" at CNN", talking about the role of news assistants, the policy and personal challenges they face, and western media coverage of China in general. . At about minutes 18 he tells a story in which he a visiting CNN reporter made up a quote in a report. Ugh.
Taiwan
Senior WHO adviser appears to dodge question on Taiwan's Covid-19 response | The Guardian "I'm actually curious to talk about Taiwan as well," Tong said. Aylward then appeared to either hang up the call, or get disconnected. RTHK called Aylward back, and Tong asked if he could comment "on how Taiwan has done so far in terms of containing the virus". Aylward responded: "Well, we've already talked about China. And when you look across all the different areas of China, they've actually all done quite a good job."
Information sharing on COVID-19 - WHO In a recent interview, the WHO official who headed the joint international mission to China, did not answer a question on Taiwan's response to the COVID-19 outbreak. The question of Taiwanese membership in WHO is up to WHO Member States, not WHO staff. However, WHO is working closely with all health authorities who are facing the current coronavirus pandemic, including Taiwanese health experts. The Taiwanese caseload is low relative to population. We continue to follow developments closely. WHO is taking lessons learned from all areas, including Taiwanese health authorities, to share best practices globally.
外交部籲請世界衛生組織秉持中立專業立場協助臺灣完整參與並作出貢獻 - 最新消息 - 中華民國外交部 - 全球資訊網 Ministry of Foreign Affairs, Republic of China (Taiwan)
Former Taiwan premier Hau Pei-tsun dies aged 100 after life as soldier and statesman | South China Morning Post Hau Pei-tsun, a former Taiwanese premier who fought against the Japanese in World War II, has died in Taipei of multiple organ failure. He was 100. A staunch supporter of cross-strait unification, Hau was an opponent of Taiwanese independence.
Tech and Media
Megvii's open-source platform offers Chinese AI alternative · TechNode Megvii has published an early version of MegEngine, with a beta release expected in June and official launch in September, the company said on Wednesday.
China covets Japan's IoT expertise -- missing piece in tech quest - Nikkei Asian Review Beijing is trying to reduce the country's reliance on American companies for high-tech devices amid the trade war, and it sees Japanese technologies, particularly in automated manufacturing, as key to realizing domestic production of state-of-the-art technologies. The Industrial Value Chain Initiative, Japan's largest trade group for the internet of things, received a partnership proposal from China in November last year. The overture, which included signing a memorandum of understanding, came from the China Academy of Industrial Internet, a research institute set up in 2018 to back deployment of the industrial internet of things at domestic companies.
Society, Arts, Sports, Culture and History
华裔作家张兰纽约遇难 在家附近被车撞当场身亡 ::: 六度新聞 author Zhang Lan hit by a truck and killed in New York
Energy, Environment, Science and Health
深圳湾航道疏浚环评公示被终止! Shenzhen suspended the environmental review of a land reclamation project after the public noticed that the environmental impact report done by the Chinese Academy of Science was identical with that of another project. The Shenzhen government said it has told the Academy to redo the report. Whoops...
Tailings dam spill at Chinese molybdenum miner threatens local water supply - Reuters China's northeastern province of Heilongjiang said a tailings dam leak at a molybdenum mine over the weekend threatened to contaminate the local water supply and that it had launched an emergency response. No casualties were reported, according to a report from the Heilongjiang Daily posted on the Heilongjiang government website.
Jobs and Events
April 3 Webinar: Fighting COVID-19: Experiences and lessons from the frontlines in Asia Includes Dr. Zhang Wenhong Director of the Department of Infectious Disease - Huashan Hospital, Fudan University
Rural and Agricultural Issues
多国因疫情限制粮食出口 中国粮食供应充足吗?官方回应|粮食_新浪财经_新浪网 China National Grain and Oils Information Center told the public not to worry about China's food supply as some other countries cut their support of rice and grains. The official said China's food supply is "absolutely safe" and the country has achieved self-sufficient in grain supply.