Politburo study session signals tighter information controls; Canada-China; SOE reform
Welcome to the last week of the Year of the Dog. Even though the Lunar New Year official holiday in China does not start until February 4th it should be a fairly slow week. Barring any big news next week Sinocism will not be publishing on its regular schedule since China will be effectively shut down.
This week there is of course a lot of attention on Liu He's visit to DC for the January 30-31 trade talks. I hear Liu He arrives in DC today, and my thoughts from Friday about the talks have not changed.
The talks will continue to be a grind, but I still believe Xi is very motivated to make a deal, as the trade war is one more risk he does not want right now. More importantly I hear he is very concerned about the push from some U.S. officials towards "decoupling" and so views a deal as a way to blunt those forces even as the U.S.-China competition heats up across multiple dimensions. But the deadline for this round of talks is March 1 and it would be surprising if the Chinese side put their best offer on the table so far from that date.
But US stocks are down several hundred points as I write this, so do not be surprised by a positive energy tweet from President Trump about the trade talks.
George Soros' comments at Davos about Xi's China are jarring:
To conclude, let me summarize the message I'm delivering tonight. My key point is that the combination of repressive regimes with IT monopolies endows those regimes with a built-in advantage over open societies. The instruments of control are useful tools in the hands of authoritarian regimes, but they pose a mortal threat to open societies.

China is not the only authoritarian regime in the world but it is the wealthiest, strongest and technologically most advance. This makes Xi Jinping the most dangerous opponent of open societies.
No word yet on whether Soros will be invited back to Davos, or to the annual WEF event in China…
Thanks to all your support Sinocism is now in a position to support other China-related publications. I have started sponsoring a monthly translation on the China Channel of the Los Angeles Review of Books. The first one - The Besieged Rainbow: Dispatches from an ally of China's LGBT movement by Xiaoyu Lu - is now online. It is only becomimg more important that we can hear and read original Chinese voices.
Was this email forwarded to you? Sign up here.
Thanks for reading.
---
The Essential Eight
1. Politburo study session signals tighter information controls
Xi stresses integrated media development- Xinhua:
Xi Jinping, general secretary of the Communist Party of China (CPC) Central Committee, on Friday stressed efforts to boost integrated media development and amplify mainstream tone in public communication so as to consolidate the common theoretical foundation for all Party members and all the people to unite and work hard.

Xi made the remarks at a group study session of the CPC Central Committee Political Bureau.

The move will provide strong spiritual strength and public support for the realization of the two centenary goals and the Chinese dream of national rejuvenation, Xi said.

Led by Xi, members of the Political Bureau of the CPC Central Committee visited the People's Daily on Friday morning.

During the visit, Xi stressed Party newspapers and periodicals should strengthen the development and innovation of their means of communication.

Efforts should be made to develop websites, microblogs, WeChat, electronic newspaper bulletins, mobile newspapers, internet protocol television and other forms of new media to enable the voice of the Party to directly reach all kinds of user terminals and gain new public opinion fields, he added.

The work of news and public opinion is facing new challenges as profound changes have taken place in the ecology of public opinion, the media landscape and the means of communication, Xi said.
The #2 story on the Friday CCTV Evening News. The information controls are only going to get tighter, and expect to see much more of the People's Daily in various formats....political security and politics in command...习近平在中共中央政治局第十二次集体学习时强调 推动媒体融合向纵深发展 巩固全党全国人民共同思想基础_CCTV: 
习近平指出,推动媒体融合发展,要坚持一体化发展方向,通过流程优化、平台再造,实现各种媒介资源、生产要素有效整合,实现信息内容、技术应用、平台终端、管理手段共融互通,催化融合质变,放大一体效能,打造一批具有强大影响力、竞争力的新型主流媒体...要统筹处理好传统媒体和新兴媒体、中央媒体和地方媒体、主流媒体和商业平台、大众化媒体和专业性媒体的关系,形成资源集约、结构合理、差异发展、协同高效的全媒体传播体系。要依法加强新兴媒体管理,使我们的网络空间更加清朗...

主流媒体要及时提供更多真实客观、观点鲜明的信息内容,掌握舆论场主动权和主导权。要从维护国家政治安全、文化安全、意识形态安全的高度,加强网络内容建设,使全媒体传播在法治轨道上运行。要全面提升技术治网能力和水平,规范数据资源利用,防范大数据等新技术带来的风险。
Global Times editor in chief Hu Xijin, clearly excited to be in the presence of Xi, makes a cameo at 1:58 in the shots of the applauding employees, I did not see him in the footage of the meeting with the top People's Daily cadres and the Politburo...maybe he was there, interesting if he did not make the cut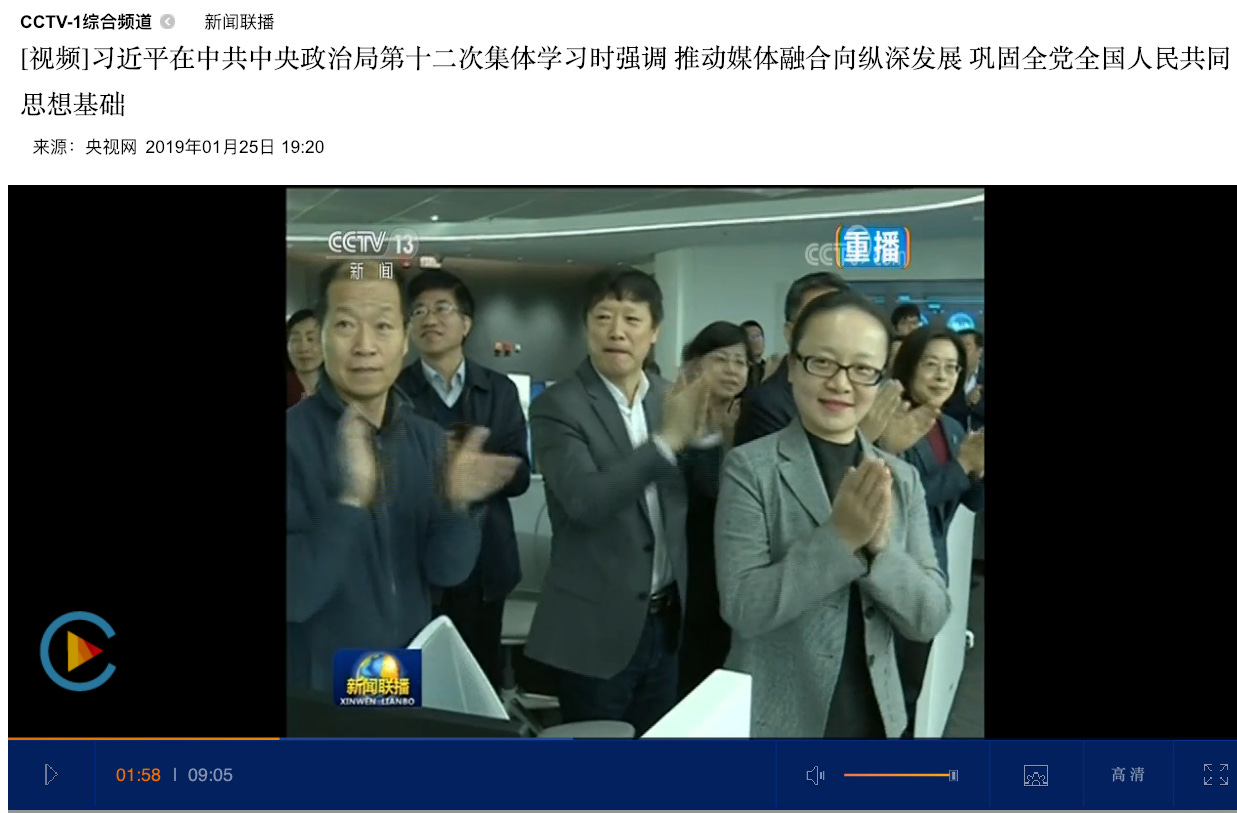 Taking the fun away - Yanxi Palace under fire as Chinese state media declares war on 'negative influence' period dramas | South China Morning Post:
The extravagant series Ruyi's Royal Love in the Palace about a girl strategically climbing above her rank to become Empress of the Qing Dynasty was scheduled for Monday afternoon on Dragon TV, but was replaced by a reality show, Joyful Comedians.

Some online commentators also claimed Shandong TV had replaced its regular evening showing of the hit series Story of Yanxi Palace with Ode to Joy, a contemporary drama series about five women seeking love and career success in Shanghai.

The change in programming schedules followed an article in Friday's edition of the Beijing Daily magazine Theory Weekly which called out the "sins" of imperial dramas, claiming they encouraged viewers to pursue the glamorous lifestyles of China's past monarchs and promoted pleasure and luxury above the "virtues of frugality and hard work".
---
2. February Politburo meeting
CPC meeting reviews work report, Party regulations - Xinhua:
The meeting was held to review a comprehensive report on the Standing Committee of the Political Bureau of the CPC Central Committee hearing and studying reports from leading Party members' groups of the Standing Committee of the National People's Congress, the State Council, the National Committee of the Chinese People's Political Consultative Conference, the Supreme People's Court, and the Supreme People's Procuratorate, as well as the Secretariat of the CPC Central Committee...

The meeting also reviewed the CPC Central Committee's opinions on strengthening the Party's political work, and two regulations on the reporting of major issues and selection of Party and government officials.
中共中央政治局召开会议审议《中央政治局常委会听取和研究全国人大常委会、国务院、全国政协、最高人民法院、最高人民检察院党组工作汇报和中央书记处工作报告的综合情况报告》《中共中央关于加强党的政治建设的意见》《中国共产党重大事项请示报告条例》《党政领导干部选拔任用工作条例》
---
3. More student detentions
Seven Maoist Students Detained in Beijing After Talking to Foreign Media - RFA:
A video of Beida student Zhang Ziwei providing an eyewitness account was found on his cell phone under a bed after he was himself detained.

"I'm Zhang Ziwei," the recording says. "Six of my classmates have been detained already today, two of them just downstairs from where we live."

"They were shoved into a car, shouting 'call the police!,'" Zhang says, adding that he too is a target.

"Dark forces are conducting house-to-house searches right now," he says. "They want to take me away too, just like they did to the others."

Zhang's fellow Beida students Li Ziyi, Ma Shize, Sun Jiayan were also detained, along with recent Beida graduates Li Jiahao and Huang Yu.

Renda student Yan Zihao was also detained.

Rights activists said the students were taken into custody after they hit out publicly at "confession" videos of previously detained members of the Maoist Jasic Workers' Solidarity Group (JWSG) shown to supporters protesting their ouster from the Beida Marxism society earlier this month.
---
4. Canada- China
John McCallum resigns as Canada's ambassador to China at Trudeau's request | The Star:
That was after StarMetro published an interview with McCallum in Vancouver in which he said that it would be "great for Canada" if the United States relinquishes its attempt to extradite Huawei's chief financial officer.

According to a senior government source, Trudeau had spoken to McCallum earlier in the week after he "misspoke" and told Chinese — language reporters about the government's view of the Meng case.

Trudeau asked McCallum explicitly to stop speaking about it but was prepared to stand by his ambassador in the face of Conservative calls that he should be fired.
China says Canadian ambassador sacking an internal affair | Reuters:
"The matter you have mentioned is an internal affair for Canada. China will not comment," Chinese foreign ministry spokesman Geng Shuang told a daily news briefing in Beijing.
The official line is that it is an internal Canadian affair but that has not stopped some of the usual propaganda outlets from stirring it up as something bigger, including this screed which likens Canada to a whore -Resignation reveals political interference - Global Times:
As a Chinese folk saying goes, "You cannot live the life of a whore and expect a monument to your chastity." Canada is a country worthy of respect, but some Canadians must be reminded that they are now refusing to face up to the moral predicament. They are against moral righteousness while deceiving themselves to believe that they can be honored as moral models.

Meng's case seems to be protracted. If Canada insists on wrong practice, it must pay for it.
Canadian reporter complicates Meng case irresponsibly - Global Times:
Canadian Prime Minister Justin Trudeau announced on Saturday that he had "asked for and accepted John McCallum's resignation as Canada's Ambassador to China," after McCallum told the Toronto Star Friday that "if (the US) drops the extradition request, that would be great for Canada." Joanna Chiu, assistant managing editor of StarMetro Vancouver, directly triggered the resignation after making McCallum's words public. On Twitter, Chiu described how she got the exclusive interview with McCallum and showed off her scoop. But Chiu's behavior made her look like a paparazzo instead of a serious journalist. It's not hard to imagine the serious consequences if such important news is reported in a "paparazzi" way.
Global Times editor in chief Hu Xijin also criticized Ms. Chiu on Twitter:
And disappointing to see someone like Wenran Jiang, a Wilson Center fellow among other roles, agree with Hu:
Canadian ambassador sacked for speaking his mind - China Daily:
Ruan Zongze, executive vice-president of the China Institute of International Studies, said McCallum's resignation was due to McCallum's "relatively objective" comments over the extradition of Meng to the United States — and his remarks seem to be not "politically correct" in Canada regarding the case...

Ruan said McCallum's removal is evidence of political manipulation over Meng's case, which runs counter to the rule of law that Canada claims to abide by regarding the case.
Canada should immediately appoint high-level envoy to China, former ambassador says | CBC News:
As it may take some time to find a new ambassador, appointing a high-level envoy would send the right signal to China that Canada is serious about trying to end the ongoing diplomatic dispute, said Guy Saint-Jacques, who was posted in Beijing until 2016.
Comment: Why not Dashan, aka Mark Rowswell? He is natural diplomat, and he has official diplomacy in the family, as his brother Ben retired from the Canadian foreign service as an Ambassador
The upside of the Huawei confrontation: It's teaching Canada to be wary of China | The Star - Jonathan Manthorpe:
What must infuriate the CCP, its diplomats and agents in Canada is that it was to avoid this sort of embarrassment that Beijing worked for 70 years or more to establish a network of friends and sympathizers in Canada.

But it is the CCP's actions in taking hostage two Canadians — former diplomat Michael Kovrig and businessman Michael Spavor — that has shattered Beijing's image among its Canadian friends and supporters.
Manthorpe has just come out with a book "Claws of the Panda: Beijing's Campaign of Influence and Intimidation in Canada" Perfect timing...
It is a really impressive accomplishment by Beijing to so anger Canada and possibly trigger an "awakening" as Australia has had...from the US perspective that is clearly an added benefit of the Meng Wanzhou case, if not actually an expected and desired outcome
---
5. Huawei's challenges mount
America Pushes Allies to Fight Huawei in New Arms Race With China - The New York Times:
Over the past year, the United States has embarked on a stealthy, occasionally threatening, global campaign to prevent Huawei and other Chinese firms from participating in the most dramatic remaking of the plumbing that controls the internet since it sputtered into being, in pieces, 35 years ago...

The administration contends that the world is engaged in a new arms race — one that involves technology, rather than conventional weaponry, but poses just as much danger to America's national security. In an age when the most powerful weapons, short of nuclear arms, are cyber-controlled, whichever country dominates 5G will gain an economic, intelligence and military edge for much of this century...

In interviews with current and former senior American government officials, intelligence officers and top telecommunications executives, it is clear that the potential of 5G has created a zero-sum calculus in the Trump White House — a conviction that there must be a single winner in this arms race, and the loser must be banished. For months, the White House has been drafting an executive order, expected in the coming weeks, that would effectively ban United States companies from using Chinese-origin equipment in critical telecommunications networks. That goes far beyond the existing rules, which ban such equipment only from government networks...

So far, the fear swirling around Huawei is almost entirely theoretical. Current and former American officials whisper that classified reports implicate the company in possible Chinese espionage but have produced none publicly. Others familiar with the secret case against the company say there is no smoking gun — just a heightened concern about the firm's rising technological dominance and the new Chinese laws that require Huawei to submit to requests from Beijing.
Spy Case Linked to China Raises Red Flags for Poland and the U.S. - WSJ $$:
Senior U.S. officials say they are exploring how to roll back the deep involvement of Chinese companies such as Huawei in the economies and infrastructure of Poland and other European countries.

"We are figuring out how to deal with that," said a senior U.S. official with detailed knowledge of the region. The broader telecommunications infrastructure is at risk "now that some countries have been infected."
"Infected"…
Vodafone pauses use of Huawei equipment in core network - CNN:
The world's second largest mobile operator said Friday that it is pausing the installation of Huawei equipment in its core networks in Europe, given the political uncertainty surrounding the Chinese telecoms firm.
China envoy to EU hits out at Huawei security 'slander' | Financial Times $$:
Beijing's envoy to the EU has launched a blistering attack on the "slander" and "discrimination" faced by Huawei and other Chinese companies in Europe, warning that efforts to exclude China from 5G mobile projects would be self-defeating.

Ambassador Zhang Ming warned that any attempts to curb the involvement of Chinese technology in upcoming European projects for high-speed 5G mobile networks would risk "serious consequences" for global economic and scientific co-operation.
China Blasts `Unfair' Huawei Equipment Bans by Other Countries - Bloomberg:
China's foreign minister urged countries not to use "fabricated" excuses to block Huawei Technologies Co., as Vodafone Group Plc joined a list of companies that are shunning the telecommunications equipment supplier.

"Using national power to tarnish and take measures against a certain company, without any evidence, is both unfair and immoral," Foreign Minister Wang Yi told reporters late Friday as he wrapped up a trip to France and Italy.
---
6. New stock market regulator
Li Shiyu replaced by ICBC head Yi Huiman. Liu looks to have been demoted to the All-China Federation of Supply and Marketing Cooperatives.
New chief of securities market regulator faces daunting tasks, pressing issues to ensure stability - People's Daily Online:
Yi, who rose through the ranks to become the head of the world's largest bank by assets and has spent more than three decades at ICBC, was appointed on Saturday to replace Liu Shiyu as the new CSRC chairman, capping off the latter's nearly three-year tenure at China's top stock market regulator, during which time he markedly tightened regulations, adopted some controversial policies and failed to push through reforms such as registration-based initial public offering applications...

On Saturday he moved to become deputy Party chief at the lesser-known All-China Federation of Supply and Marketing Cooperatives, a State-owned distributor of products that played a key role in the planned economy before the late 1980s and still plays a major role in supplying goods in the country's vast of rural areas.
Is this a demotion, or is Xi looking to revivify the supply and marketing cooperatives as part of the overall rural revitalization plans?
---
7. US death sentence for chipmaker
Trade war forces Chinese chipmaker Fujian Jinhua to halt output | Financial Times $$:
US sanctions against Fujian Jinhua will force the Chinese state-owned company accused of stealing trade secrets from American memory chipmaker Micron to stop production by March, according to people familiar with the situation.

The case, under which the US commerce department in October practically banned all exports and technology transfers to Fujian Jinhua, is one of the clearest outcomes yet of Washington's war on the rise of China's tech sector.

Fujian Jinhua is rapidly running out of imported materials vital for keeping its fabrication plant running as a result of Washington's export ban, according to two people close to Jinhua and United Microelectronics (UMC).
---
8. Glimmer of positive movement in SPE reform?
Professor Hua Sheng's latest speech about SOE reform, given on December 29 at a reform anniversary meeting of economists...In the speech he raised an interesting point about the Central Economic Work Conference 中央经济工作会议 that was held between Dec 19 and 21. He claimed in the speech that one thing about the work meeting that was largely underreported was the following phrase in this article--中国政治经济学40人论坛·2018演讲|华生:从管企业转为管资本 ——重构政治经济学的微观基础:
五是加快经济体制改革。要深化四梁八柱性质的改革,以增强微观主体活力为重点,推动相关改革走深走实。要加快国资国企改革,坚持政企分开、政资分开和公平竞争原则,做强做优做大国有资本,加快实现从管企业向管资本转变,改组成立一批国有资本投资公司,组建一批国有资本运营公司,积极推进混合所有制改革,加快推动中国铁路总公司股份制改造
Hua said prior to the meeting, it was called 做强做优做大国有企业 "make large and outstanding State owned enterprises" rather than 资本 "capital", and it was 管资本为主 "managing capital as the main point" rather than 加快转变 "accelerate transformation". He also argued that this is the key to accelerate SOE reform and boost the market economy with Chinese characteristics since the capital rather than enterprises is the key to the market economy. What the Chinese government has done previously -- only focusing on control and reform the enterprises rather than capital -- is like "attend to the trifles and neglect the essentials" 舍本逐末.
This transfer from managing State owned enterprises to State owned capital has been the talking points since the beginning of this year. Here are two speeches from the SASAC people two weeks ago-国资委将加快实现从管企业向管资本转变 _ 滚动新闻 _中国政府网 and 国资监管从管企业转向管资本,真正还国企市场主体地位 
Or nothing is changing? - Beijing Dubs 10 Top State-Owned Firms as Global Champion Aspirants - Caixin
Ten of China's largest state-owned firms have been named to a list of "World Class Enterprises" rolled out by their Beijing overseer, marking its latest step to make the 100-odd giants under its supervision more competitive.

The top 10 include such familiar names as oil giant China National Petroleum Corp. (PetroChina) and State Grid Corp. of China, operator of China's national electric grid, as well as China Mobile Ltd., the world's largest mobile carrier with nearly 1 billion subscribers. It also includes less familiar names like train-making giant CRRC Corp. Ltd. and China Three Gorges Corp., operator of the massive Three Gorges Dam on the Yangtze River, according to a Friday report on the microblog of the state-owned China National Radio.
---
Business, Economy, Finance And Trade
Railway trips surge in China as Spring Festival is coming - Xinhua Chinese railway network is expected to see 10.47 million trips on Sunday, up 16.9 percent year-on-year, official data showed. Railway operators rolled out new measures to upgrade services, including priority check-in service for passengers arriving within 15 minutes before departure, and nurseries and reading rooms. The Spring Festival travel rush started from Monday and will last till March 1, during which railway trips are expected to hit 413 million in total, up 8.3 percent from a year ago.
Sinopec Says It Lost $688 Million on 'Misjudged' Oil Prices - Bloomberg China's largest oil refiner said its trading unit lost almost $700 million last year after being wrong-footed by zigzagging markets, revealing one of the biggest losses by a commodity trader in the last decade. Sinopec blamed the losses at its Unipec unit in part on "inappropriate hedging techniques" and said it closed its positions after discovering the problem. Oil plunged sharply in late November and December, prompting traders to speculate that Unipec may have contributed to the price drop as it unwound positions.
Xiongan aims to set pattern for country - China Daily Xiongan New Area is set to become China's high ground for financial innovation and opening-up, as the country pursues its ambition to build Xiongan into a model of high-quality growth, analysts said. "We will promote cutting-edge policy measures of reform and opening-up across various fields and carry out forward-looking, innovative pilot projects in Xiongan New Area," a guideline released on Thursday said. By promoting all kinds of innovation, Xiongan aims to explore a new route to high-quality development that the whole country can follow, according to the guideline, which was jointly issued by the Communist Party of China Central Committee and the State Council. // 中共中央 国务院关于支持河北雄安新区全面深化改革和扩大开放的指导意见 
China Joins Talks to Strike a Worldwide Digital Trade Pact - Bloomberg The EU and 47 other members of the World Trade Organization launched the discussions, according to a Friday statement. If successful, a digital trade accord hashed out through the Geneva-based trade body would establish a baseline international regime for 21st century trade and reduce cross-border hurdles to e-commerce.
Construction halts on $1-billion mixed-use complex in downtown L.A. - Los Angeles Times The plaza is being built by Oceanwide Holdings, a Beijing-based publicly traded conglomerate that reported revenue of $2.37 billion in 2017. The company said in a statement Thursday that the hold-up is due to a recapitalization of the project and that work will resume by the middle of next month. Any halt of a Chinese-backed real estate project, however, is bound to raise concerns that it may be related to Chinese government policies restricting the flow of money out of the country
FBI corruption probe of L.A. City Hall focuses on downtown development boom - Los Angeles Times Federal investigators have cast a wide net for information about foreign investment in Los Angeles real estate development, according to a search warrant that names an array of political and business figures. Among those named are executives of Chinese firms bankrolling two ambitious downtown projects that would result in three new towers on Figueroa Street. Investigators are also seeking records about L.A. development projects involving other foreign investors, including firms with large-scale hotel and residential projects in downtown.
Online payment firms launch hongbao battle to entice users - China Daily Alipay, the country's largest third-party payment tool by market share, announced on Monday it is offering subsidies totaling 500 million yuan ($73.6 million) to users who participate in a campaign that can effectively enhance user loyalty to the Alipay app...search engine Baidu Inc entered the fray this year by allocating up to 1 billion yuan of digital cash to be disbursed in the lead-up to the Year of the Pig...Tencent, which initially came up with the idea of digital hongbao in 2014 and categorically boosted the prevalence of WeChat Pay, is not offering big subsidies this year.
Investors Warm to the Firms That Underpin China's E-Commerce Boom - WSJ $$ Shares in five of China's top six express-delivery companies have rebounded this year, supported by signs of resilient demand and attractive valuations...Sentiment among investors began improving this month when figures showed parcel volume grew by 29% in December, the fastest rate since Mar.."The data look encouraging," said Liu Yang, a Shanghai-based analyst at Hua Chuang Securities Co., who estimates full-year volume growth could be 20% to 25%.
China Creates Fewer Tech Unicorns as Economy Slows Down - Bloomberg China spawned 97 unicorns last year with a combined valuation of 1.2 trillion yuan ($178 billion) across sectors from consumer internet to online shopping and electric vehicles, according to a report published by consultancy Hurun. That's about one unicorn born every 3.8 days. But of those, 11 were created in the December quarter, down from more than 30 in the previous three months.
China's industrial profits shrink again in Dec. on weak prices, demand | Reuters Industrial profits in December fell 1.9 percent from a year earlier to 680.8 billion yuan ($100.9 billion), weighed down by weak factory-gate prices and soft demand, the National Bureau of Statistics (NBS) said on Monday. This is on top of a decline of 1.8 percent in November - the first contraction in profits in nearly three years.
US$369.6 million in defaults at apparently cash-rich firms expose flaws in mainland Chinese auditing practices | South China Morning Post Three mainland Chinese companies have missed a combined 2.5 billion yuan (US$369.6 million) in debt repayments over the past two months despite apparently high cash holdings, a development that has exposed deep flaws in the auditing and financial disclosure practices in the country.
Crude awakening: Chinese oil demand rebounds as independent refiners restock | Reuters Chinese demand for crude oil is rebounding as independent refiners push to buy before prices climb further from low levels hit late last year, restocking with supplies that will arrive in March and April, trade sources said.
Apple's Partners Quicken Shift From China as Trade Tensions Rise - Bloomberg Hon Hai Precision Industry Co., known also as Foxconn, said over the weekend it's investing more than $200 million in India and Vietnam. Smaller rival Pegatron Corp. said Sunday it's moved to Indonesia some manufacturing of networking gear hit by rising U.S. tariffs on Chinese imports, and is now exploring bases in Vietnam and India as well. While neither explicitly said they're shifting production of Apple products, the twin announcements underscore the extent to which the Taiwanese companies that make most of the world's electronics are reconsidering a reliance on the world's second-largest economy. From iPhone assemblers like Foxconn and Pegatron to laptop maker Compal Electronics Inc., they're bracing for a fundamental shift in an arrangement that's served them well since the 1980s.
S&P Global Gets Regulator Nod for China Local Rating Business - Bloomberg The credit assessor is now allowed to register for bond rating service in China's interbank market. The PBOC didn't mention Moody's Investors Service and Fitch Ratings in its announcement on Monday.
Online Payment Providers Feel the Pain of Tighter Oversight - Caixin China's third-party payment firms have finally had the door shut on a lucrative business that allowed them to earn interest on the trillions of yuan they hold temporarily for customers buying goods and services online. The companies, which include Tenpay and Alipay, the payment businesses operated by internet giants Tencent Holdings Ltd. and Alibaba Group Holdings Ltd. affiliate Ant Financial Services Group, have now shifted all of their customer deposits — mostly prepayments for goods and services — from their commercial bank partners to dedicated accounts at the People's Bank of China (PBOC), the central bank.
Chinese Banks Rush to Fund Tesla's $5 Billion Shanghai Factory - Caixin A consortium made up of several lenders has been formed to provide loans to the factory, sources from multiple Chinese banks told Caixin. However, they have yet to choose a leader, these people said, asking not to be named because negotiations are still ongoing. So far, multiple plans for the funding terms have been presented to Tesla.
BT Becomes First Foreign Telecom Firm to Provide Direct Services in China - Caixin BT has operated in China since 1995, largely providing services to major international corporations that include Procter & Gamble Co., Unilever PLC and Nestle SE, as well as Chinese giants such as Huawei Technologies Co. Ltd. and Air China Ltd. But "being able to service and bill locally significantly simplifies the process of delivering connectivity and other communication services," said Bas Burger, the CEO of BT Global Services. BT is not going to challenge the big three in terms of landline infrastructure and will not provide mobile services, analysts said. "BT can't build another network or provide information services, and needs the support of existing operators," said Fu Liang, an independent industry analyst. But the openness still is a "breakthrough" in allowing another international entry into the market, he added.
Caterpillar's Profit Outlook Dims as China Slows and Costs Bite - WSJ $$ Caterpillar said that lower demand in China is leading to declining sales in Asia and that the company expects the overall market for excavators in China to be largely flat this year.
Soy Prices Are in a Trough After China's Sick-Pig Slaughter - WSJ $$ China has forecast an 11% drop in soybean imports for the 12 months ending September. If the swine fever problem worsens and significantly more pigs have to be culled, soybean needs will wane further—putting more pressure on U.S. farmers.
Chip stocks fall after Nvidia revises down its guidance - CNBC The company revised its quarterly revenue guidance from $2.70 billion to $2.20 billion due in part to "deteriorating macroeconomic conditions, particularly in China," it said in a statement. Nvidia fell as much as 17 percent during early trading.
---
Politics, Law And Ideology
Wang Quanzhang: China sentences human rights lawyer to four years in prison | The Guardian He was one of approximately 250 lawyers and activists detained in 2015, as part of what is now known as the 709 crackdown, and was the last of the group still awaiting trial. Wang's case is notable for the length of time he has been kept incommunicado, prompting a UN rights group on arbitrary detentions in August to call on Beijing to release Wang. After disappearing in August of 2015, Wang's family was not sure he was alive until July 2018 when a lawyer was able to see him.
袁木同志逝世 People's Daily runs Yuan Mu's obituary in the January 28 paper. He died December 25. No mention of his 1989 role other than job title - 1988年9月任国务院研究室主任。1990年8月至1995年4月任国务院研究室党组书记、主任。1986年至1992年10月担任国务院发言人。2000年6月离休。
Meet Cui Yongyuan, chat show host: China's unlikeliest whistle-blower (just ask Fan Bingbing) | This Week In Asia | South China Morning Post Cui, who turns 56 next month, was a journalism major, and became a radio and TV journalist after university. In 1996, he hosted a talk show called Tell It Like It Is, which he helped launch, on China Central Television and this propelled him to national fame. His self-deprecating, caustic humour and folksy presentation style proved widely popular with the Chinese audience. After a six-year runaway success with the show, Cui disappeared suddenly from public view in 2002. It later transpired that he was experiencing depression and was suicidal for some time, partly because of the high-intensity work life. He returned to work a year later and continued to host new shows and dabble in documentary-making.
---
Foreign and Military Affairs
Xi and his wife meet senior DPRK official, watch art performance - Xinhua Xi Jinping, general secretary of the Communist Party of China (CPC) Central Committee and Chinese president, and his wife Peng Liyuan on Sunday met with Ri Su Yong, a senior official from the Democratic People's Republic of Korea (DPRK), and watched a performance by DPRK artists. Ri, a member of the Political Bureau of the Workers' Party of Korea (WPK) Central Committee, vice-chairman of the WPK Central Committee and director of the party's International Department, is leading an art troupe to visit China. This visit, as an important cultural exchange activity for implementing the consensus reached by the two sides, as well as a significant event in celebration of the 70th anniversary of the establishment of China-DPRK diplomatic relationship, will be a great success to cement friendship between the two peoples, Xi said. // Monday CCTV Evening News on the meeting and performance - 习近平和夫人彭丽媛会见李洙墉并观看朝鲜友好艺术团演出 quite the spectacle starting at about 3:10
Spy novels, 'daigou' and democracy: the many lives of Australian writer held in China | Reuters To his supporters, Yang Hengjun is a dedicated democracy activist who believed that China's autocratic system would, with time, necessarily liberalize. His detractors say he had long since abandoned criticizing the ruling Chinese Communist Party in favor of protecting his personal and business interests.
China orders arrests of protesting veterans - NHK Chinese authorities have ordered the arrest of 19 people, including military veterans, in connection with demonstrations that took place in two cities last year. State-run China Central Television reported on Saturday that prosecutors granted approval for the 19 to be arrested on suspicion of organizing large-scale protests and disturbing social order.
Minitrue: Do Not Report on Arrests of Retired Soldier Protesters – China Digital Times (CDT) All websites: The procuratorate arrested a small number of suspects who, under the banner of "retired soldiers," violated the law and committed serious violent crimes. Use only the People's Daily, Xinhua News Agency, and CCTV transcripts. Without unified arrangements, do not report or post commentary, do not link it to other incidents related to retired military personnel, do not alter the title or modify excerpts.
Military cemeteries envisioned for those who served - China Daily China will set up dedicated cemeteries for military personnel and their relatives as a way to honor their service and enhance national identity and pride, according to the Ministry of Veterans Affairs. Building and maintaining military cemeteries is a key mission for the ministry, as well as an important part of enhancing services to retired veterans, Wang Zhiming, the director of the ministry's general office, said recently.
Japan PM vows to step up China ties but bolster defense - AP Abe said Japan-China relations have returned to "normal" since he visited Beijing in October and he now wants to further promote their cooperation in trade and other areas. "Japan-China relations have fully returned to a normal orbit," Abe said. "I will elevate it to a next level by deepening exchanges in every area in all levels."
Hungary Bucks U.S. Push to Curb Russian and Chinese Influence - WSJ $$ Hungarian Prime Minister Viktor Orban has told U.S. diplomats that he wants his country to be "neutral, like Austria" as Washington pushes for a tougher line on Russia and China, deepening fears that a longtime American ally is drifting from its orbit. Aides to Mr. Orban said he wants to remain a troop-contributing member of the North Atlantic Treaty Organization and values the security Hungary gets from the alliance. But a senior Hungarian official said Mr. Orban strongly objects to U.S. pressure aimed at curbing the influence of Moscow and Beijing in Europe.
---
Hong Kong, Macao
President Xi Jinping visit to Macau confirmed as security chief issues stern warning against illegal activities threatening China's security | South China Morning Post Li Chunsheng, head of the Guangdong Provincial Public Security Department, also disclosed that a communication centre for police forces in the Greater Bay Area would be set up in an islet called Qi'ao in Zhuhai by October, which would handle the security details and operational command for Xi's trip.
---
Tech And Media
Tencent's WeChat update may pressure Apple in China - CNBC Tencent recently updated its WeChat platform to give users what one expert called a "second home screen" on their mobile phones within the application. "With WeChat moving towards solidifying the mini-programs position, there could be serious ramifications for Apple's service business, which it has been focusing on to counter plateauing hardware sales," said one analyst.
Neon Seas and Ink Mountains: 7 New Games from China's Exciting Indie Scene | RADII Chinese indie games had a bright 2018, with publishers like Shanghai-based Coconut Island and Zodiac Interactive breaking through the Steam charts and finding occasional critical acclaim. China-developed games now feature more regularly on game jams and indie award lists, and are finding a crossover audience that the bigger AAA titles have sometimes struggled with. And if the recently concluded annual Indieplay Awards are any indication, 2019 promises to be brighter, weirder and more ambitious.
China to recognize video gaming as official profession · TechNode The Chinese government is planning to recognize video gaming as an official profession, the latest in a series of moves to reignite the country's gaming sector following a nine-month freeze on game approvals. China's Occupation Skill Testing Authority (OSTA) on Jan. 25 released a list of new job titles (in Chinese), covering a variety of fields, from artificial intelligence (AI) to internet of things (IoT). Cloud computing engineers, big data analysts, and professional gamers are included as job titles.
China cracks down on apps illegally harvesting personal info - Xinhua Apps in areas such as e-commerce, navigation, delivery and ticketing are the main targets of the campaign, jointly launched by the Central Cyberspace Administration Commission (CAC), the Ministry of Industry and Information Technology, the Ministry of Public Security and the State Administration for Market Regulation.
---
Society, Art, Sports, Culture And History
China's Sun Yang faces life ban for smashing blood samples in front of anti-doping testers: report | South China Morning Post The report alleges Sun and his team destroyed blood samples in front of anti-doping testers, with a hammer used to smash a vial containing the swimmer's blood at the demand of the swimmer's mother. This was the most dramatic of the revelations in the report, which also included Sun's team keeping testers waiting before questioning their legitimacy and leaving the control room to pass urine. A Fina doping panel ruled in favour of the swimmer earlier this month, after stating that they would "never know" what happened, but Wada is said to be considering taking the matter to the Court of Arbitration for Sport.
Chinese Swimming Association backs Sun Yang on defamation, citing FINA statement - Xinhua The Chinese Swimming Association (CSA) said Sunday Sun Yang had no wrongdoings and did not violate anti-doping rules when he took an out-of-competition urine test last September. CSA cited a final decision from the FINA Doping Panel, saying "As a result, the sample collection session initiated by IDDM on September 4, 2018, is invalid and void," according to a statement released on Sunday.
Karoline Kan's memoir Under Red Skies is narrative of China's millennial generation — Quartz Karoline Kan attempts to weave together a narrative of her generation in her book,Under Red Skies, the first English-language memoir from a Chinese millennial published in the US.
---
Energy, Environment, Science And Health
China's 2018 renewable power capacity up 12 percent on year | Reuters Total capacity - including hydro and biomass as well as solar and wind - rose to 728 gigawatts (GW) by end-2018, the National Energy Administration (NEA) said during a briefing. That amounted to 38.3 percent of China's total installed power capacity, up 1.7 percentage points on the year and around 7 percentage points higher than at the end of 2015.
China regions losing 'momentum' in pollution fight: minister | Reuters Minister of Ecology and Environment Li Ganjie said while some impoverished regions were struggling to transform their old industrial economies, regional officials should firmly resist the notion that the "war on pollution" had undermined growth. "As our country's ecological protection efforts continuously increase in strength, some views in society hype up the impact of environmental protection on economic development, and we must clear-headedly and resolutely oppose this," Li told environmental ministry officials in a speech.
---
Education
Campaign to renovate boarding schools brings new life to poor villages - Global Times Almost a month ago, Ye Luyao, a fifth grader at Zitong Primary School in East China's Zhejiang Province, moved into a newly renovated dormitory that was jointly funded by the Jack Ma Yun Foundation and local authorities.
---
Books And Literature
'The Banished Immortal' Review: 'Heaven Begot a Talent Like Me' - WSJ $$ In China Li Po remains the bard of the land, if not the world—a most recognizable global brand, second only, perhaps, to Confucius. As with any cultural icon, beneath the shining veneer must lie untold stories, apocryphal or otherwise. In "The Banished Immortal: A Life of Li Bai (Li Po)," the National Book Award-winning author Ha Jin has excavated historical records and examined existing biographies, both in Chinese and English, to produce a rich, moving and titillating account of the poet's life. The Li Po that emerges from this tale is a figure we know so well and yet hardly.