President Moon Arrives In Beijing; Tillerson Discloses Contingency Discussions With Beijing Over North Korea "Instability"; Nanjing Massacre Commemoration, Xi Inspection Tour In Jiangsu; Google Opens China AI Lab
Today is the 80th anniversary of the terrible Nanjing Massacre by the Japanese. There were commemorations across China that dominated the news. Xi did use the trip to the commemoration in Jiangsu to make an inspection tour as well. More below in the Essential Eight.
The Essential Eight
1. Today In The North Korea Crisis
Comment: South Korea President Moon has arrived in Beijing, and US Secretary of State Tillerson says the US is willing to negotiate without preconditions, though it is far from clear if President Trump supports that position.
On "Meeting the Foreign Policy Challenges of 2017 and Beyond" - he 2017 Atlantic Council-Korea Foundation Forum - Tillerson Transcript:
Q&A:

When do the talks begin? We've said from the diplomatic side we're ready to talk anytime North Korea would like to talk, and we're ready to have the first meeting without precondition. Let's just meet and let's – we can talk about the weather if you want. We can talk about whether it's going to be a square table or a round table if that's what you're excited about. But can we at least sit down and see each other face to face? And then we can begin to lay out a map, a roadmap of what we might be willing to work towards. I don't think – it's not realistic to say we're only going to talk if you come to the table ready to give up your program. They have too much invested in it. And the President is very realistic about that as well…

And one of the real values of these new high-level dialogues and the diplomatic and strategic dialogue that Secretary Mattis and I chair with our counterparts, and we actually have included Joint Chief of Staff Chairman Dunford, General Dunford, and his counterparts from China as well. These are the subjects of these dialogues, and to try – for us to gain an understanding of, first, how credible do we think the Chinese concern is about a mass flow of refugees across the border in the event of a regime collapse. China is taking steps to prepare for such an eventuality. I think it is something that they can manage. I don't think the threat is as significant as perhaps others view it. I don't want to be dismissive of it, but it's not an unmanageable situation. And they already are taking preparatory actions for such an event.

We also have to – have had conversations about in the event that something happened – it could happen internal to North Korea; it might be nothing that we from the outside initiate – that if that unleashed some kind of instability, the most important thing to us would be securing those nuclear weapons they've already developed and ensuring that they – that nothing falls into the hands of people we would not want to have it. We've had conversations with the Chinese about how might that be done.
Comment: Disclosure of contingency discussions with Beijing is very interesting, and will not please North Korea.
South Korea, U.S. and China Unite to Give Talks With North Korea Another Chance - WSJ:
For Beijing, friendlier ties with Seoul strengthen its hand in nudging Washington toward accepting Chinese proposals for direct talks with Pyongyang, said Cheng Xiaohe, an associate professor at Renmin University in Beijing.

With U.S. Secretary of State Rex Tillerson opening the door to direct talks with North Korea, "there's a loosening of positions" that sets up the Xi-Moon summit as an opportunity to "discuss how to sustain this momentum toward negotiations," Mr. Cheng said.

Mr. Tillerson's Tuesday comments included assurances that U.S. troops would stay away from the Chinese border in the event of regime collapse in North Korea—remarks that Chinese analysts call an important concession to Beijing.

"It might encourage China to actively help, for example by putting direct pressure on North Korea to accept the offer," said Su Hao, an international relations expert at Beijing Foreign Studies University.
Comment: I think some of the analysts may be getting ahead of themselves.
White House responds to Tillerson: Trump's position on North Korea hasn't changed | TheHill:
The White House pushed back after Tillerson's statement earlier in the day that the U.S. diplomatic community was ready to meet face-to-face with North Korean leaders for diplomatic discussions "without precondition."

The remarks appeared to be a break from the administration's position that serious discussions would require that North Korea make an effort to denuclearize.
Moon Jae-in arrives in China seeking reconciliation - CGTN:
Since October, relations have begun to improve. Seoul has pledged to not expand THAAD, and Chinese tour operators and companies are relaxing measures – including a ban on group tours to South Korea. But most analysts said a permanent solution to economic issues would rely on a permanent solution to denuclearizing the DPRK.
A roadmap for more sanctions-The ForEx Effect US Dollars, Overseas Networks, and Illicit North Korean Finance — C4ADS:
In this report, we build on the findings of our previous research to conduct an in-depth examination of the structure of North Korean illicit networks through their ties to the foreign exchange system. We focus in particular on the networks surrounding North Korea's major foreign exchange banks, which, tasked with the management of hard currency, have found themselves serving as a financial lifeline for the regime. Our report finds that this financial structure is reliant on a system that North Korea cannot control and is therefore vulnerable to systemic disruption.
South Korea Maneuvers Between China and The U.S. | Tokyo Business Today - Daniel Sneider:
"President Moon might be supporting this double freeze agreement, at least to a certain extent" says Lankov. "However, it remains an open question whether such support can be expressed openly since it might annoy President Trump and his close advisors.

On top of that, the double freeze in the strict sense, that is a complete halt to the joint military exercise, is not really acceptable for the South Korea side. South Korea, however, will probably be happy to see the joint military exercises downsized or even temporarily put on hold as long as the North Koreans reciprocate."
---
2. Nanjing Massacre Remembrances
Chinese, Japanese people should cherish hard-won peace: Yu Zhengsheng - Xinhua:
Yu said China was holding the memorial ceremony to commemorate the Nanjing Massacre victims, compatriots killed by the Japanese invaders, national heroes who sacrificed their lives for victory, as well as international soldiers and friends who joined the Chinese in fighting.

"The commemoration is meant to proclaim the Chinese people's firm stance in maintaining peace and their sublime aspiration for peaceful development," he said.

Yu said the Chinese people would always remember the humanitarian help from foreign friends
CCTV News video from the Nanjing ceremony—习近平等出席南京大屠杀死难者国家公祭仪式_央视新闻客户端
China marks Nanjing Massacre anniversary but Xi low key - Reuters:
A sombre Xi, wearing a white flower in his lapel to symbolise mourning, stood in the audience but did not speak.
Xi on 80th anniversary of Nanjing Massacre: Let history guide future path - CGTN:
Chinese President Xi Jinping called on people to learn from history to lead a better future on Wednesday, as the country marked the 80th anniversary of the 1937 Nanjing Massacre.

Xi made the remarks when meeting with survivors of the Nanjing Massacre and relatives of foreigners who helped China in the war against Japanese aggression.
"Jun Sheng voice of the PLA" commentary in PLA Daily on the Nanjing Massacre Anniversary-钧声:历史不会远去 真相不会磨灭 - 中国军网 :
今天的世界,应坚持共同、综合、合作、可持续的新安全观,营造公平正义、共建共享的安全格局,共同消除引发战争的根源,携手建设远离恐惧、普遍安全的世界。中日两国人民应该世代友好下去,以史为鉴、面向未来,共同为人类和平作出贡献
Wartime sex slaves still emerging in China, but some will take secret to the grave | South China Morning Post:
Liu Guangjian, from the Memorial Hall for Victims in Nanjing Massacre by Japanese Invaders, has been researching the "comfort women" issue for the two-year-old, government-run Comfort Women Museum in Nanjing.

He said there were only 15 Chinese survivors left, the last of the comfort women who had testified publicly in China. He visited seven in Hainan last year, but two had since died.
Comment: Many websites went black and white for the day.
Baidu: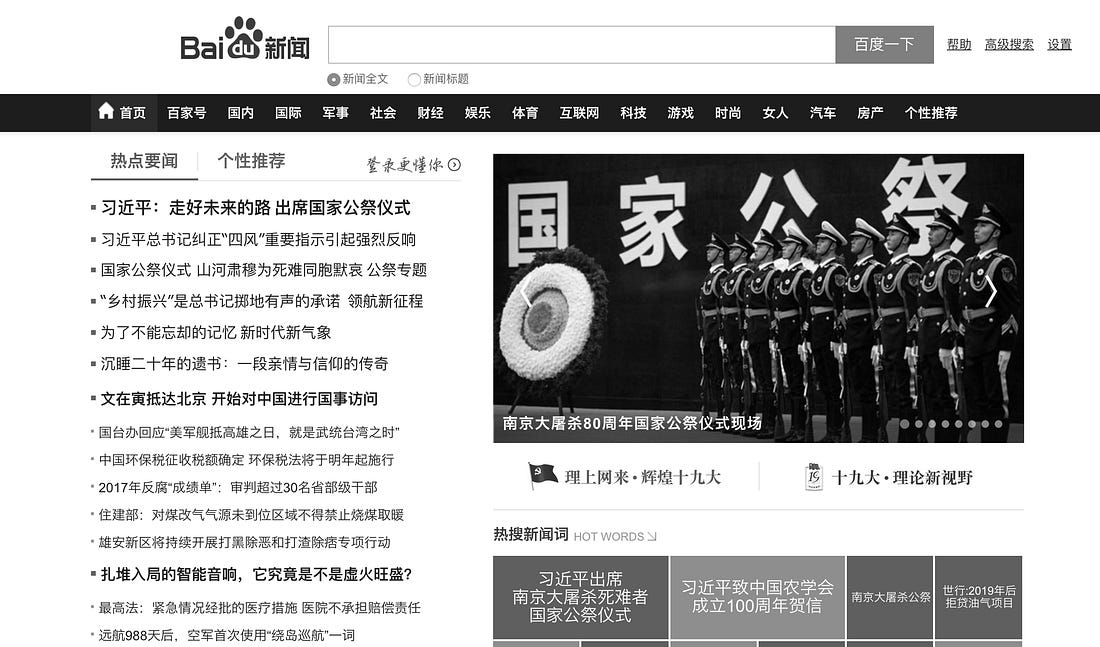 People's Daily: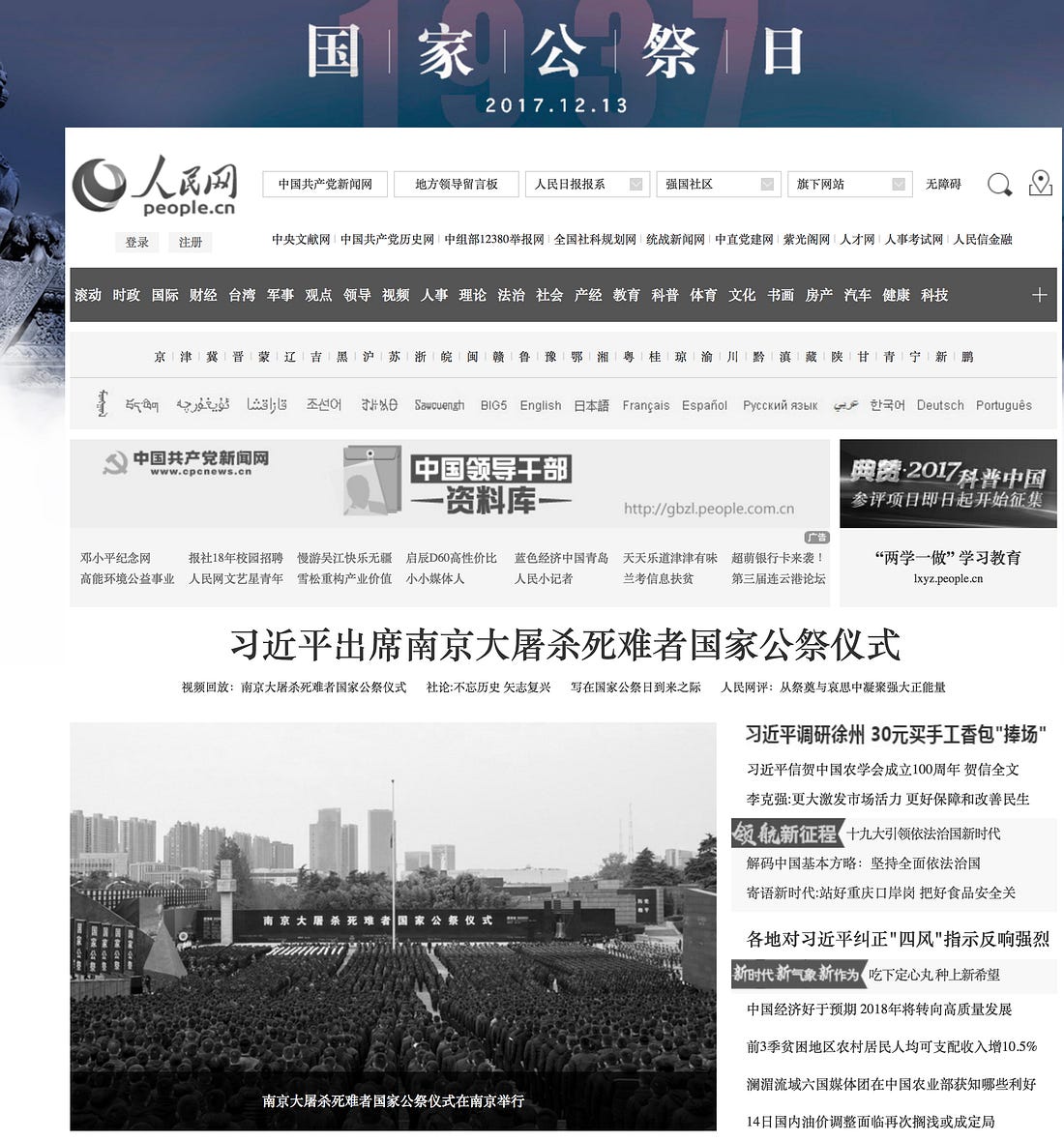 ---
3. Xi Jinping Goes On An Inspection Tour In Jiangsu
President Xi inspects east China's Xuzhou - Gov.cn - Pictures
President Xi urges innovation in manufacturing sector - Xinhua:
"Innovation is the source of business core competitiveness," Xi said, during a two-day inspection tour in Xuzhou, eastern China's Jiangsu Province.
CCTV Evening News 17 minute report on the tour-习近平在江苏徐州市考察时强调 深入学习贯彻党的十九大精神 紧扣新时代要求推动改革发展
Comment: Xi's Xuzhou Construction Machinery visit looks to be about SOE reform, the real economy, innovation and smart manufacturing; other stops look to be intended to highlight environmental protection and restoration, technology's role in improving local government governance, the war on poverty and the PLA's glorious history.
Xi also watched a performance by a local troupe about the spirit of the 19th Party Congress. I hope the song and dance starting at about 11:00 of the CCTV broadcast does not become a "thing". So far does not look like a Mao-era "loyalty dance" but the inclusion of that bit on the CCTV broadcast is not a great sign as it makes it look like Xi endorses it and so do not be surprised to see lots of sycophantic and opportunistic copying.
Ding Xuexiang, Liu He and Xu Qiliang were named as accompanying Xi. Expect lots more on this trip as the exhortations to study it begin.
---
4. Another Beijing Fire, Beijing Party Secretary Meets Migrants And Says He Cares About Them Will This Beijing Corruption Crackdown?
Beijing Party Chief Meets With Delieverymen After Demolition Campaign Backfires - Caixin Global:
Cai, along with Beijing Mayor Chen Jining, later visited a garbage collection depot to meet a couple, from the southwestern province of Sichuan, who have worked as street cleaners in the Chinese capital for nearly a decade.

Cai acknowledged that they deserve "due respect and gratitude" for their contribution to the community.

The public relations exercise came amid growing criticism of a government crackdown on "illicit and unsafe buildings" that has emptied several neighborhoods home to mostly migrant families. But it isn't clear whether it signals a stop to evictions and demolitions or whether the government will change its heavy-handed approach.
Latest fire in Chinese capital kills five despite safety blitz - Reuters:
The Beijing fire service said in a short statement the fire in a house in Baiqiangzi village was caused by an electric bike. It said eight people were injured and taken to hospital.
Comment: Great videos in this article, will be test of the surveillance state to see how long Hua Long can avoid arrest - Artist Flees Beijing After Filming Devastation of Mass Evictions - The New York Times:
When Hua Yong, a painter in Beijing, first witnessed the eviction of hundreds of thousands of migrant workers from the Chinese capital last month, he worried no one would believe the scope of it...

Last week, Mr. Hua, like many of the people he has filmed, was forced to leave Beijing. He fled the city after the police came to arrest him for publicizing the evictions. He has relied on friends to move him "from city A to city B," he said in a video posted Sunday..
Political Impact: Cai Qi recently inherited a Beijing with lots of unresolved issues around urban planning, migrants and dangerous and illegal housing. The housing component especially was allowed to fester because of a focus on higher end real estate development as that is where the money is, for developers and corrupt officials.
The brutal evictions and the subsequent damage to Party credibility may have paused some things, but do not expect a real change in the longer term policy to control Beijing's population.
It is also worth pointing out that the corruption crackdown under Xi has yet to hit Beijing officialdom in a massive way as it has other big cities. That is not because there has not been corruption in Beijing; Beijing is an especially sensitive and complicated political environment. I would not be surprised to see these recent events used as a catalyst not only to clean house among municipal officials but also to go after one or more tigers who spent time in senior Beijing positions. Remember, Sun Zhengcai was once the Shunyi District chief; his case predates the recent migrant cleansing but if he talks, and they seem to all end up talking after time in the rubber room, there may be some nervous officials with a history in Beijing.
Consider this speculation on my part encouraged by a few bits of random but credibly sourced rumors, as well as the fact that Beijing really is overdue for a corruption crackdown and Cai, as a Xi ally and enforcer, could find political benefit in a corruption crackdown/purge.
---
5. Crackdown On Coal Has Improved The Air
Beijing region sees record breaking drop in winter air pollution - Greenpeace:
Air quality in the Beijing region was better in November than any previous winter month on record, data shows...

The government permitted areas without alternative heating installed to continue using coal, ordered the restart of mothballed coal-fired units at a Beijing power plant, and urged local governments to curtail gas supply to industrial users if needed to secure supplies for residential users.

These emergency measures will provide relief to residents lacking heating, but are unlikely to increase coal-burning on a scale that would undermine the air quality gains.
Chinese province admits homes left freezing after overzealous coal ban | South China Morning Post:
The northern Chinese province of Hebei has admitted that it massively exceeded its target in an overzealous ban on the use of coal to heat rural homes and switch to natural gas and electricity...

Jiao Shiqing, an official with Hebei's housing and urban development department, said during a meeting with the local press on Monday that the province had switched 2.3 million rural households to gas and another 0.2 million to electricity this year – 27 per cent more than the target of 1.8 million...

Lei Yu, an official at the environment ministry, told the financial news organisation Caixin that local governments' aggressive beating of their targets might be motivated by financial subsidies and an urge to prove their performance.

"The country currently has [financial] support for the switch to gas and electricity from coal, but future subsidy policy is still unclear so some local governments want to push ahead the programme while there are still subsidies," Lei was quoted as saying.
Comment: More mindless pursuit of quotas and positive evaluations from superiors. Not a proud moment for the "meritocracy" of Daniel Bell's descriptions...
---
6. Google Can't Resist China AI Craze, Opens Lab In Beijing
Comment: Google had scaled back its operations but never really left, as it has harvested billions in ad revenue from Chinese firms targeting overseas customers in the years since announcing it was taking a new approach to China. The AI lab will not give Google a renewed consumer presence in China.
Opening the Google AI China Center - Google Blog-Post by Fei-Fei Li Chief Scientist AI/ML, Google Cloud:
I believe AI and its benefits have no borders. Whether a breakthrough occurs in Silicon Valley, Beijing or anywhere else, it has the potential to make everyone's life better for the entire world. As an AI first company, this is an important part of our collective mission. And we want to work with the best AI talent, wherever that talent is, to achieve it.

That's why I am excited to launch the Google AI China Center, our first such center in Asia, at our Google Developer Days event in Shanghai today. This Center joins other AI research groups we have all over the world, including in New York, Toronto, London and Zurich, all contributing towards the same goal of finding ways to make AI work better for everyone.
TensorFlow opens an official WeChat account, latest in a string of Google comeback attempts · TechNode:
TensorFlow is getting its own official WeChat account, Google announced at a developers' conference today in Shanghai, our sister paper reported. TensorFlow is an open source library for dataflow programming and machine learning, such as neural networks. This move is the latest sign of Google feeling for ways back into China.
---
7. Holistic Concept Of State Security
Comment: A fascinating report by an excellent young scholar. One question I have is how will Google ensure that none of its AI research finds application in China's security apparatus?
MERICS China Monitor No. 44 - Programming China: The Communist Party's autonomic approach to managing state security
In this China Monitor, Samantha Hoffman, independent consultant and MERICS Visiting Academic Fellow starting in January, investigates the use of new technologies to secure the Communist Party's monopoly on power. Hoffman analyzes China's "holistic concept of state security."

The goal is a self-regulating system capable of pre-empting external as well as internal threats to the party-state. This happens through the process of "social management," which creates a feedback loop between the party and society, similar to Mao Zedong's "mass line." Hoffman argues that in the modern application of this process, China's leadership relies on approaches from complex systems engineering theory.
---
8. Is The "China Fantasy" Over In All But The Most Diehard "Panda Hugger" Circles?
Comment: Andrew Browne addresses it in his latest column, though strangely does not mention that James Mann wrote an excellent book about this 10 years ago--"The China Fantasy". Mann was an outlier back then but now his view seems to be near consensus.
The West Faces Up to Reality: China Won't Become 'More Like Us' - WSJ:
That mythical prospect—that China will become "more like us"—has held up debate in the liberal West about the larger questions posed by China's economic and military ascendancy.
Some history: I wrote about this theme and Mann's book in 2011 in this Sinocism post-  James Mann And His Prescient Book "The China Fantasy". The writing has been on the wall for years if you have been paying attention, and this is another reminder that these trends long predate Xi Jinping. Now that consensus seems to be forming across the Western business and political classes, what is to be done?
---
Business, Economy, Finance And Trade
中央经济工作会议将于18-20日召开 重点是降负债|中央政治局|中国中央|负债_新浪财经_新浪网 official confirmation that the Central Economic Work Conference will start December 18, says focus will be on deleveraging
Provincial Snapshot—Liaoning: A Microcosm of Broader Policy Failures in Tackling China's State Sector Debt - MacroPolo Liaoning's economy is beset by a concentration of inefficient state firms—a fact highlighted in the first post in this provincial snapshot series, which focuses on this northeastern rustbelt province. Indeed, some of Liaoning's state-owned enterprises (SOEs) are in such dire straits that a single state-led bailout has been insufficient. Not surprisingly, then, dealing with inefficient or failing SOEs has been a central preoccupation of provincial economic policy for decades. This second piece in my Liaoning series digs deeper into the SOE problem, looking at what's happened to these Liaoning firms and then exploring some of the ways that they reflect national-level failures in dealing with endemic problems that plague China's state sector.
深化国有企业改革--专题报道-人民网 Xiao Yaqing on page 7 of the 12.13 Pelple's Daily on deepening SOE reform
No Concessions in Asset-Management Rules, Sources Say - Caixin Global Chinese regulators are determined to tame the wild west of the country's $15 trillion asset-management industry through overarching rules, brushing aside resistance in the market, sources close to the regulatory bodies told Caixin. "Some institutions are putting pressure on the regulator by all means to lobby for more relaxed regulations," one source said. But the regulators are resolute in forging tighter scrutiny over the industry, the source said.
Noncompliant P2P Lenders to Be Out by Mid-2018 - Caixin Global Local banking regulators have until the end of June to weed out noncompliant peer-to-peer (P2P) lenders, according to a circular issued by a special working group led by the China Banking Regulatory Commission (CBRC). The working group's years-long campaign to inject discipline into the 1 trillion yuan ($151 billion) P2P lending market is approaching an advanced stage. The watchdog aims to install unified regulations and evaluation metrics, which will be adopted by local regulators, to oversee the thousands of P2P lenders scattered across the country
Central Bank targets 40 illegal online currency trading platforms | Asia Times The Jinan Branch of the People's Bank of China has released a list of 40 online platforms suspected of conducting illegal currency trading. Non-bank payment institutions have been ordered to immediately stop providing digital payment solutions to these platforms, Jiemian.com reported.
US, EU, Japan Slam Market Distortion in Swipe at China - VOA The United States, European Union and Japan vowed Tuesday to work together to fight market-distorting trade practices and policies that have fueled excess production capacity, naming several key features of China's economic system. In a joint statement that did not single out China or any other country, the three economic powers said they would work within the World Trade Organization and other multilateral groups to eliminate unfair competitive conditions caused by subsidies, state-owned enterprises, "forced" technology transfer and local content requirements.
Bonds Backed by Rent Payments to Hit Interbank Market - Caixin Global China Merchants Shekou Industrial Zone Holdings Co. Ltd. has recently obtained approval to raise up to 20 billion yuan ($3 billion) from selling asset-backed notes (ABN) exclusively to financial institutions, the self-regulatory body National Association of Financial Market Institutional Investors (NAFMII) said in a statement on Monday. The notes will be secured by the rental income from two high-end serviced apartment developments in the southern city of Shenzhen over the next 15 years, NAFMII said.
Politics, Law And Ideology
Chinese city of Dalian still 'poisoned' by Bo Xilai's legacy of corruption, watchdog says | South China Morning Post Despite the passage of time, inspectors from the provincial anti-corruption watchdog are in no doubt that the dark stain Bo left on Dalian has yet to be wiped clean, according to the Capitalnews WeChat account operated by Beijing Daily. "There are many major problems within the Dalian party committee," the inspectors were quoted as saying. "They [the city's leaders] have not thoroughly removed the poison left by Bo Xilai, or the practices that flout [party] discipline, such as officials getting promotions through bribery and personal connections."
Peter Lorentzen on the Politics of Protest in China | ChinaEconTalk Podcast Peter Lorentzen, professor of economics at the University of San Francisco, talks protests and provincial politics. We start by discussing 'Designing Contentious Politics in Post-1989 China,' which uses game theory to analyze and explain how the CCP responds to on-the-ground protests. Next, we take on his 'Racing to the Bottom or to the Top? Decentralization, Revenue Pressures, and Governance Reform in China' and explore what actually drives municipal responses to orders from on high.
China: Minority Region Collects DNA from Millions | Human Rights Watch Chinese authorities in Xinjiang are collecting DNA samples, fingerprints, iris scans, and blood types of all residents in the region between the age of 12 and 65, Human Rights Watch said today. This campaign significantly expands authorities' collection of biodata beyond previous government efforts in the region, which only required all passport applicants in Xinjiang to supply biometrics.
MERICS China Monitor No. 43 - Central Planning, local experiments The complex implementation of China's Social Credit System The authors analyze the current stage of the system's implementation and they describe how it will likely function in practice. Their analysis is based on government publiations, discussions in media and social networks, as well as pilot projects.
Number of Jailed Journalists Hits Record High, Advocacy Group Says - The New York Times After Turkey, with 73 jailed journalists, China, with 41, and Egypt, with 20, the countries with the most journalists in prison were Eritrea (15), Vietnam and Azerbaijan (10 each), Uganda (8), Saudi Arabia and Syria (7 each), Bahrain (6) and the Democratic Republic of Congo, Ethiopia, Iran and Russia (4 each).
Foreign and Military Affairs
On "Meeting the Foreign Policy Challenges of 2017 and Beyond" - he 2017 Atlantic Council-Korea Foundation Forum - Tillerson Transcript Comment: from Tillerson's prepared comments// In Southeast Asia, we had a – we put forth a policy here not too long ago of a free and open Indo-Pacific, and this was built on the back of some of our views about China's One Belt, One Road policy. China's One Belt, One Road, we understand, is a policy they have to continue their economic development, and our policies do not seek to contain China's economic development. But China's economic development, in our view, should take place in the system of international rules and norms, and One Belt, One Road seems to want to define its own rules and norms. I like to quote Secretary Mattis' comment on One Belt, One Road. For China, he said: Well, the U.S. and the rest of the world has many belts and many roads, and no one country gets to decide what they are. So a free and open Indo-Pacific means all countries have access to continue their economic development and free access for trade through the region. // Comment: China not pleased with the Indo-Pacific idea
West's anxieties grow as they recognize China's achievements: experts - Global Times: "China constantly makes remarkable progress in its economic development and other social areas. It poses a serious challenge to the West which considers their democratic theories and practices as the only true path," said Su Wei, a professor at the Party School of the CPC Chongqing Municipal Committee. "Some dark-minded Westerners, instead of making efforts to study or understand China or the Communist Party of China (CPC), choose to demonize and smear China with clichés and groundless accusations," Su told the Global Times on Tuesday. // Shrill Response To Australian Exposure Of PRC Influence likely to backfire, don't think Australians like being threatened and bullied
Bennelong byelection: Tone of Sydney's Chinese media shifts amid foreign interference furore: As attacks by the Coalition on Sam Dastyari over his association with Chinese government-linked donors ramped up over the past few days, the People's Daily, a major Chinese state-controlled outlet, took a hard line against the Australian government, publishing an opinion piece on Monday decrying the debate as racist and urging the government and media to "discard their political biases and prejudices." After that piece was published, the tone of coverage of the byelection rapidly began to change in Australian-based Chinese media. That coverage may prove crucial in the election on Saturday, as Bennelong has the highest percentage of Chinese-Australians of any seat in the country.
Trump Adviser Calls Russia and China 'Threats' to U.S. Liberty - Bloomberg China, meanwhile, is engaged in "economic aggression" to challenge a global economic order that "helped lift hundreds of millions of people out of poverty," McMaster said. Trump has tried to forge a relationship and something of an alliance with Chinese President Xi Jinping to help curb North Korea's nuclear weapons program, an effort that has so far proved unsuccessful. // Comment: New US National Security Strategy to drop Monday, will be very interesting to read what it says about China
These 36 Chinese Naval Officers Have Tied the Knot in a Group Wedding | What's on Weibo The collective warship wedding of 36 naval officers of the East China Sea Fleet has drawn the attention of Chinese netizens. Besides a romantic event, the wedding spectacle is also a propaganda opportunity to stress the importance of the Chinese Dream and building a powerful military.
The North Korean Nuclear Threat: The View From Beijing - Carnegie-Tsinghua Center - Carnegie Endowment for International Peace In this episode of the China in the World podcast, Paul Haenle joined Carnegie Vice President for Communications and Strategy Jen Psaki on the Carnegie Endowment's DiploPod podcast to discuss Chinese perspectives on North Korea and the outcomes of Trump's visit to Beijing.
China calls for Confucius institutes to make improved contribution - Xinhua Chinese Vice Premier Liu Yandong has called for Confucius institutes to tailor their teaching to local conditions and contribute to "building a community with a shared future for mankind." Liu made the remarks at a conference on Confucius institutes Tuesday in Xi'an, capital of northwest China's Shaanxi Province. Nearly 2,500 delegates, including university presidents and representatives of Confucius institutes from more than 140 countries and regions, attended the annual event.
社评:西方想让中国放手抓它们"间谍"吗_评论_环球网 有哪个西方国家能够承受与中国的交流规模真的下降?大概不会有谁愿意承受这一损失。它们损害中国名誉时不加克制,是因为觉得不会因此而有代价。所以中国要研究不大动干戈,但却能让污蔑中国的西方机构和个人感觉到"痛"的策略。
Isis use of hobby drones as weapons tests Chinese makers - FT $$ Bombmaking workshops run by Isis have weaponised X-8s and other drones such as the Phantom, made by Shenzhen-based DJI, the world's largest commercial dronemaker. Some hobby drones now boast formidable capabilities, with 7km ranges and payloads up to 40kg.
Air Force planes fly patrols across strategic waterways - ChIna Daily The formation consisted of H-6K bombers, Su-30 and J-11 fighter jets and reconnaissance, early warning and tanker aircraft, Senior Colonel Shen Jinke, spokesman for the People's Liberation Army Air Force, said at a meeting of senior Air Force officers. The meeting's key points were released on Tuesday. "The Chinese Air Force is modernizing to become a strategic combat force capable of fighting in all of China's domain," he said. "We must expand our strategic outlook in systematic far-sea exercises, keep a sober mind, improve emergency awareness and safeguard strategic interests."
Tech And Media
Yearender-China Focus: From follower to leader: China emerges at high-tech frontier - Xinhua After years focusing on innovation, China caught up fast. From artificial intelligence and genetic engineering, to mobile payments and bike-sharing, Chinese firms are pulling ahead of their rivals. Jeremy Rifkin, an economic observer and author of the New York Times bestseller "The Third Industrial Revolution," said China was becoming a global leader in the new revolutionary tide.
Beijing eyes high-tech cybersecurity industrial park | Asia Times The Ministry of Industry and Information Technology has signed an agreement with the Beijing government to co-found a national cybersecurity industrial park in the city, Yicai.com reported. The industrial park is expected to stimulate GDP growth of more than 330 billion yuan (US$49.8 billion) by 2020, to develop a 100-billion-yuan market for cybersecurity in Beijing, and to nurture at least three backbone enterprises with annual revenues of over 10 billion yuan.
LeEco co-founder Jia Yueting—who took on Apple (AAPL) and Tesla (TSLA)—is now on China's blacklist of defaulters — Quartz Yesterday (Dec. 11), China added Jia's name to its official database for debt defaulters, after a court in Beijing ruled that he owes around 480 million yuan ($73 million)—including interest and late fines—to Ping An Securities, an investment arm of China's second-largest insurer. The information is published on shixin.court.gov.cn, and searchable by anyone. Jia is now arguably the best-known individual on the list. In September, two LeEco subsidiaries were also added to the list.
Harvey Weinstein's Hong Kong associate Bey Logan accused of sexual misconduct | South China Morning Post British-born martial arts enthusiast Bey Logan, a former Asia vice-president of the Weinstein Company, has been accused of "inappropriate behaviour" by seven women, including former Indonesian-Chinese actress Sable Yu, who starred in the unfinished Logan-helmed film Snowblade.
Chinese tech firm told 'stop watching us' after footage from security cameras is broadcast via live-stream | South China Morning Post Qihoo 360 criticised for sharing footage from its surveillance cameras without knowledge of those being filmed
China's rich kids splash out on tech - FT $$ As the fuerdai look to California to learn tech-investing techniques, their quest is also part of a much bigger process — the maturation of China's private capital investment scene. China's wealth was all created relatively recently, during the 30 or so years since the leaders of the communist country liberalised the economy.
China to spearhead US$1 trillion autonomous driving revolution | South China Morning Post 290 cities have initiated 'smart-city' pilot projects, including 93 that are focused on mobility that could potentially use infrastructure interlinked by software to allow driverless cars, or autonomous vehicle and shared-driving models
The Gold Rush for In-Feed Ads - Caixin Global China's digital advertising market has long been dominated by web giants Alibaba Group Holding Ltd. and Baidu Inc. — and it still is. But news aggregation platform Toutiao has risen to become the most successful new player to tap into this new native-ad trend. Last year, the 5-year-old startup reported revenues of 6 billion yuan ($909 million) on in-feed ads. This comes after two consecutive years of double-digit revenue increases, as the company increasingly recognized this ad type as its key business model.
Racy Virtual-Reality Assistant Pulled After Questions Raised - WSJ Baidu's iQiyi apologizes for flirtatious secretary 'Vivi' and says the avatar was in beta testing
Energy, Environment, Science And Health
China responds to U.S. "back to the moon" plan - Xinhua "China is glad to see countries making progress in the exploration and use of outer space for peaceful purposes," Foreign Ministry spokesperson Lu Kang said at a routine press briefing.
Apple and Wal-Mart Are Helping China Crack Down on Polluters - Bloomberg Ma's strategy -- backed by Alibaba Group Holding Ltd. -- is to scrape real-time data off government websites that compile readings from effluent monitoring equipment at some 13,000 of the worst water polluters. The data is then aggregated on an app called Blue Map. Factories caught cheating face repercussions. Ma's non-profit organization has caused some to be banished from Apple's supplier list, be denied a desired credit rating to issue bonds or even be deprived of bank loans. For Ma, that's more effective than starting protests or lobbying local governments, which tend to raise the ire of authorities in China.
Company Accused of Running Empty Buses for Green Subsidies - Sixth Tone Over a hundred passengerless coaches have taken to the streets of Linfen, Shanxi province, allegedly to rack up enough miles to secure the extra funds. Residents told Beijing Time that the buses, operated by Linfen Xinyu Tourism Co. Ltd., have been running from roughly 8 a.m. to 5:30 p.m. every day since October, with only a driver aboard.
Beijing
Beijing Will Open Sub-Central Business District in Tongzhou, Relocating 400,000 Workers | Yicai Global Beijing will open a sub-central business district in Tongzhou in the city's southeast next week. Many government agencies will relocate there, bringing 400,000 workers with them.
Routes, stops of intercity line linking Beijing-Xiongan revealed - China Daily An intercity line linking Beijing and Xiongan will stop at 5 stations, according to its environmental impact report released by China Railway Design Corporation on Tuesday. And the report also indicated that at least 4 high-speed or intercity railway lines will pass through the New Area.
Sanlitun's Faltering Yashow Taken Over by Swire, Set to Become Taikooli West | the Beijinger Half a year after its closure, there's finally word on what will become of Sanlitun's white elephant. Yashow, once the go-to for bargain hunters across Beijing, will be taken over by property behemoth Swire and Kuntai, who will renovate it (yet again) and transform it into Sanlitun Taikooli West, reports Toutiao.