Prominent Businesswomen Detained; Mercedes Bends To The PRC; Vatican and China; Influence and "Sinophobia"
Lots going on so we will get right to it.
Thanks for reading.
The Essential Eight
1. Two Businesswomen Detained In Sun Zhengcai Probe, And Maybe An Even Bigger One
Caixin has posted an abridged translation of its cover story on Liu Fengzhou and the New York Times' David Barboza and Mike Forsythe are at it again, now reporting that Whitney Duan (段伟红), an apparent white glove to Wen Jiabao's family, was detained last Fall. That rumor has been going around for a while, good for Mike and David to get it confirmed.
China Detains Executive Close to Family of Former Prime Minister - The New York Times:
The authorities in China have detained a wealthy investor who went into business with relatives of the previous prime minister, a sign that the anticorruption campaign initiated five years ago by President Xi Jinping may again be closing in on a former top leader.

Duan Weihong, 49, who set up companies with relatives of Wen Jiabao, China's prime minister from 2003 to 2013, was detained before a Communist Party congress last year, according to three friends and business associates who spoke on the condition of anonymity for fear of reprisals by the authorities.

Ms. Duan, also known as Whitney Duan, was a central figure in a 2012 investigation by The New York Times that showed Mr. Wen's relatives controlled assets worth at least $2.7 billion...

Another person close to her said she might have been detained as part of a corruption investigation into a former Politburo member, Sun Zhengcai, not Mr. Wen or his relatives...

Ms. Duan's connection to Mr. Sun is unclear. But she and her former husband, Desmond Shum, ran a company that acquired land around Beijing's rapidly expanding airport before the 2008 Summer Games, according to corporate records. Mr. Sun had been the top official in the county [Shunyi] where the airport is...

Ms. Duan also helped several of Mr. Wen's relatives, including his mother, and their associates acquire an early stake in Ping An, one of the country's biggest financial services firms, before its public stock offering in 2007. Those shares, which they have since sold, would have been worth almost $6 billion now.

In 2012, Ms. Duan acknowledged in an interview with The Times that she was close to the prime minister's wife and family, and that she had registered companies using their names. She said she had borrowed their identification cards to hide her own stake in Ping An.
The Mistress Who Ruled Chongqing - Caixin Global
Liu Fengzhou was a colorful character who wore many hats. She was a government-employee-turned-serial-entrepreneur, an art curator and devout Buddhist.

But to a small circle of friends and associates, her most influential role was as the longtime mistress of disgraced political heavyweight Sun Zhengcai.

Liu, 55, used her "special relationship" with Sun, the former party secretary of the southwestern municipality of Chongqing, as leverage to expand her business empire, whose growth pattern bears a striking resemblance to Sun's own career trajectory, a Caixin investigation found.

She started 17 companies in territories Sun used to run — first in Beijing; then in the northeastern province of Jilin, where Sun was party secretary from 2009 to 2012; and Chongqing, company filings with the State Administration for Industry and Commerce show...

Liu met Sun in the late '90s, and their "special relationship" evolved quickly, according to friends and associates.

Liu was a firm believer in Sun's political future, and she presented him with a tailor-made dragon robe, reserved for Chinese emperors, shortly after Sun became Chongqing's party secretary in 2012.
You have to love how this story fits the pattern of "exposes" of corrupt tigers, down to the feudal superstitions...
Monday's newsletter said this about the Liu Fengzhou story:
Keep in mind that Wen Jiabao's family is believed to have significant financial interests in Shunyi, stemming from Sun's days in Beijing. There have been consistent rumors that Wen and family are actually the real tiger target above Sun.
I wonder what will become of the Harvard fellowship Ms. Duan and her ex-husband established?
Desmond and Whitney Shum Fellowship (Fairbank Center for Chinese Studies) | Harvard Worldwide:
The Fairbank Center for Chinese Studies is pleased to announce the Desmond and Whitney Shum Fellowship, which supports graduate students undertaking social science research projects in China. Harvard doctoral candidates from any school within the university specializing in a field of the social sciences are eligible, with preference given to students of government, public policy, public administration, economics, law, and sociology.
---
2. "Enemy of the People" Mercedes Bends To Beijing Over Instagram Post Quoting Dalia Lama
Another week, another example of a foreign company with significant interests in China having to censor its activities on Western social networks banned in China and then issue a groveling, shameless apology. 
Mercedes-Benz deletes Dalai Lama quote from Instagram feed, apologises to Chinese consumers | South China Morning Post:
In a statement on its official Weibo, the German carmaker said it had deleted the post immediately, and offered its sincerest apology to Chinese people, in a sign that foreign brands are growing warier of the reputational damage that missteps on touchy political issues can bring.

In a "MondayMotivation" hashtagged post on Instagram, Mercedes showed one of its white cars on a beach along with a quote attributed to the Dalai Lama: "Look at the situations from all angles, and you will become more open."..

The post soon drew criticism from eagled-eyed Chinese netizens. The Dalai Lama fled into exile in India in 1959 after a failed uprising against Chinese rule, though the Nobel Peace Prize winning monk says he simply seeks genuine autonomy for his Himalayan homeland.

"We will promptly take steps to deepen our understanding of Chinese culture and values, our international staff included, to help standardise our actions to ensure this sort of issue doesn't happen again," the company said in the statement.
Here is the offending, and now deleted, Instagram post:
How do you say kowtow in German, especially when your new largest shareholder may be Chinese? 
Geely plans to become largest Daimler shareholder | Autocar:
Volvo owner Geely will buy more than 6.8% of Mercedes-Benz's parent company Daimler, becoming the company's largest shareholder, according to German publication Bild am Sonntag.

The planned stake is as yet unspecified, but it's likely to exceed the 6.8% stake which the Kuwait Investment Authority holds in the company.
People's Daily Online calls Mercedes-Benz the "enemy of the people"-人民网评奔驰海报配达赖名言:与中国人民为敌|达赖|奔驰|人民网_新浪新闻
这是张不怀好意的海报,不只是冒犯,更是对中国人民的挑战。可恶之处,无需赘言。值得追问的是,在万豪事件尚未尘埃落定之际,为何仍有洋企业敢玩火?就在日前,戴姆勒大中华区董事长兼CEO唐仕凯表示:"2017年,梅赛德斯-奔驰在中国市场交付超60万台新车,创造了全球单一市场销量纪录。这得益于广大客户的信任……""得中国市场者得天下",个别洋企业一边在中国市场捞金,一边伤害中国人民,究竟要干啥?

国家利益不容挑战。达赖欲以"自治"之名分裂中国,世人皆知。捧达赖的臭脚,就是与中国人民为敌
China calls on foreign enterprises to follow basic ground rules - Xinhua:
China on Wednesday called on foreign enterprises to follow basic ground rules, after Mercedes-Benz apologized for putting a poster with quotes from the Dalai Lama on its Instagram account.

"Correcting one's mistakes is a fundamental basis for one to behave and do business," Chinese Foreign Ministry spokesperson Geng Shuang said Wednesday at a daily press briefing.
The satirical Twitter account @relevantorgans suggested a better post for Mercedes to placate Beijing:
We have perused @MercedesBenz's new social media campaign: the earnest terms in which it is couched reveal a respectful humility on their part, which is highly praiseworthy. Nevertheless, the Audi A8 remains the official car of official corruption. pic.twitter.com/6drZFKZJLW
February 6, 2018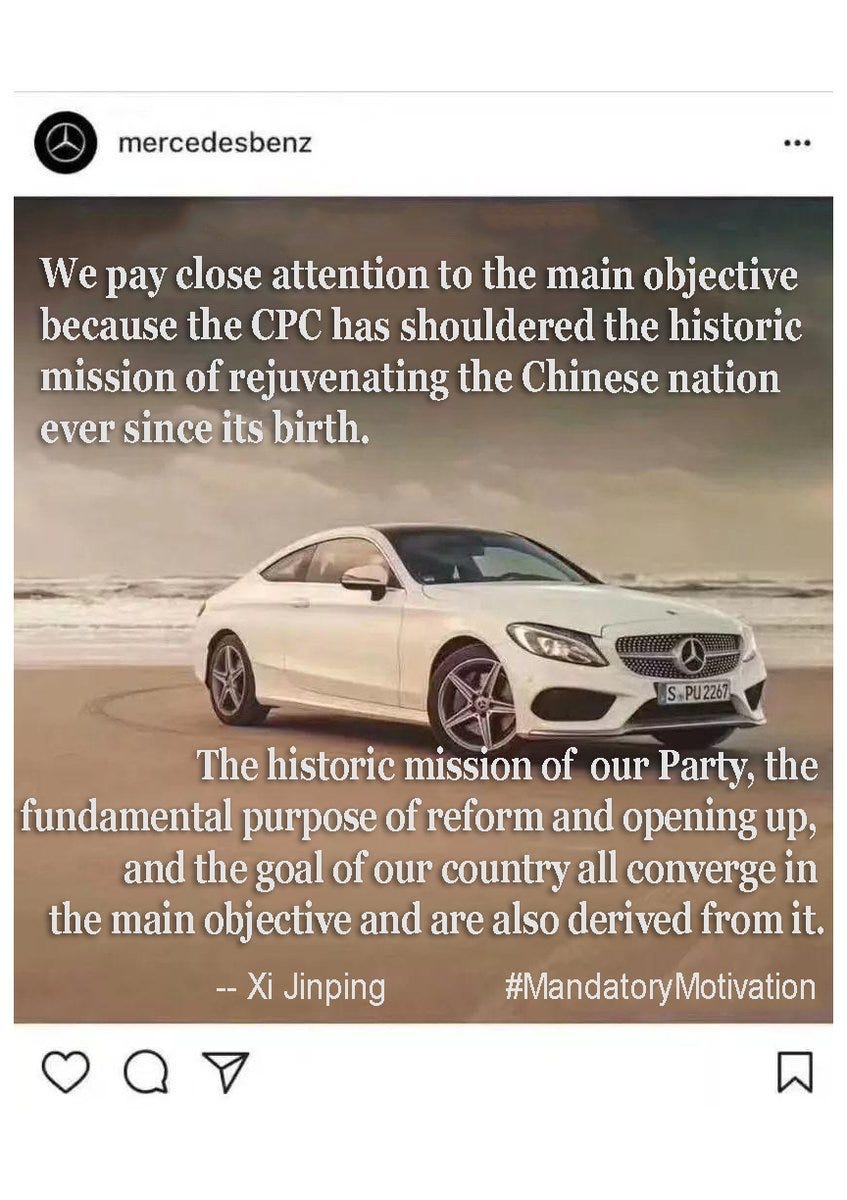 ---
3. Surging Sinophobia And CCP Influence Operations
China Media Project has translated a Global Times Op-Ed attacking the German think tank MERICS. MERICS hit a nerve with its recent report on CCP influence in Europe. The reaction is a classic and predictable mixture of 强词夺理 and 此地无银三百两-- The "Misguided Academics" of Europe | China Media Project:
Whatever its merits, the GPPi/MERICS report was sure to draw sharp criticism from China. The first volley came late yesterday in the Global Times, the tabloid published by the Chinese Communist Party's official People's Daily. The op-ed, "Misguided Academics Promote China-EU Confrontation," argued that the GPPi/MERICS report was an unfair reflection of China's ambitions in Europe, and that it "advocates confrontation between Chinese and EU political models."

Over the past year, MERICS, Europe's largest think-tank on contemporary China, has been singled out for ad hominem attacks from the Global Times, and the idea that the think-tank nurtures "misguided academics" is a principal line of attack. Just last week, in fact, an article in the Global Times credited the newspaper itself with driving a precipitous drop in "negative" coverage by MERICS by running a report back in March 2017 "on the problem of politicization of 'China research' at MERICS." The piece, which suggested MERICS president Sebastian Heilmann was leaving his post in September because of "reservations on the part of the funder," Mercator Stiftung, quoted an anonymous academic from Hamburg, Germany, to disparage MERICS research as "China research for the entertainment section."
Surging Sinophobia in US shows lack of confidence - Global Times:
China has an ancient saying, "the magistrates are free to burn down houses, while the common people are forbidden even to light the lamps," which is what the West is doing now, said Wang Yiwei, director of the Institute of International Affairs at the Renmin University of China.

Many Western media, think tanks, education organizations, foundations, NGOs and enterprises with links or sponsorships from Western governments and politicians have been trying for decades to affect China's policymaking and public opinion, and now that China has the ability to "return the favor," the West has suddenly taken offense, Wang said.
Alex Joske has been at the forefront of efforts in Australia to counter CCP influence in the country. --Beijing Is Silencing Chinese-Australians - The New York Times - Alex Joske OpEd:
Beijing's reach into Australia goes far beyond groups like the student association. Its interference in Australian society is becoming increasingly bolder. And as Australians debate how to respond, the voices of the Chinese-Australians alarmed by Beijing's encroachment are being drowned out by an aggressive Chinese government campaign to silence critics here.

With so many Chinese-Australians left unheard, misunderstandings surrounding the Chinese-Australian community are rife. More than one million Australians claim Chinese ancestry, out of a total population of about 24 million.

The Chinese Communist Party is actively fostering in the Chinese-Australian community what the Nobel Peace Prize laureate Liu Xiaobo, who died while in custody in China last year, called an "enemy mentality": the idea that the liberal West is China's enemy and that supporters of freedom are enemies, too. Those objecting to the Communist Party's oppression, like pro-democracy activists, are widely referred to as "poison" or "hostile forces."
Regarding China as a "threat" reflects narrow-minded mentality - People's Daily Online:
Times have changed. The world is undergoing a major transformation, and the international order is becoming fairer, more orderly, more balanced, and more inclusive.

However, this positive change has made the countries that place themselves above all others worried and anxious, fearing that they may lose their dominant positions in global affairs and their leading roles in technology to other countries such as China.

Behind their behavior is zero-sum mentality.

In sharp contrast to this, the world feels the warmth of the China-proposed concept of "building a community of shared future for mankind." Just recently, for example, The New York Times reported that the real star at the 2018 World Economic Forum in Davos, Switzerland, may have been China.
Zhao Kejin,deputy director of the Institute of International Studies, Tsinghua University--Brandishing China threat theory helps West push hegemonistic designs - Global Times:
What worries the West in particular is that China may represent a different direction of human society's development. This is the main cause of the new round of China threat theory. The vitality that China is showing is heading toward a better future, but is different from the development outlook of the West. Some Westerners would rather choose to accept a failing West instead of a reviving East.

Facing historic changes in the balance of power between China and the West, some Westerners attempt to use the China threat theory to cover up the unreasonable, unfair international political landscape as well as the declining hegemony of the West. But trumpeting the China threat theory cannot prevent their decline.
---
4. US-China Trade Tensions Heating Up
The Chinese will be very strategic in targeting US sectors that will hurt President Trump's base. But with the US-China trade deficit at a record high a year into the Trump Era, Trump increasingly looks to the Chinese like another American paper tiger unless he takes significant and painful steps to follow through on his threats. 
Despite Trump's tough talk, trade gap widens to 9-year high - AP:
The Commerce Department reported Tuesday that the U.S. trade deficit in goods and services rose 12 percent to $566 billion last year, biggest since 2008. A record $2.9 trillion in imports swamped $2.3 trillion in exports last year.

The deficit in the goods trade with China — frequently accused of unfair trading practices by the White House — hit a record $375.2 billion in 2017. The goods gap with Mexico climbed to $71.1 billion.
China Studying Impact of Trade Measures Against U.S. Soy, Sources Say - Bloomberg:
China's Ministry of Commerce has been studying the possibility of taking measures since January, the people said, asking not to be identified because the information hasn't been made public. The ministry held a meeting on Tuesday with some Chinese companies to get feedback about the potential impact, the people said. No conclusions were reached at the meeting, they said.
China Fires Back at U.S. on Trade, Challenging Tariffs - WSJ $$:
China is showing a willingness to push back against mounting trade pressure from the Trump administration, filing challenges to new U.S. tariffs on solar panels and washing machines at the World Trade Organization.

The petitions submitted to the global commerce arbiter on Tuesday argue that the tariffs "are not consistent" with international rules, and seek compensation from Washington.

The petitions follow an announcement on Sunday by the Chinese Commerce Ministry that it was investigating American exporters of sorghum for allegedly "dumping" the grain below cost, aided by improper U.S. government subsidies, into the Chinese market. The probe could result in duties being imposed to block the U.S. product.
China sends top envoy to US as trade war looms and North Korea risks a bloody nose | South China Morning Post:
Jia Qingguo, dean of Peking University's school of international studies, said Yang's visit reflected China's worries about the prospect of a trade war.

"This is a sensitive time for China-US relations … communication is important in stabilising the relationship," Jia said.

But Beijing would not shy away from retaliatory moves if Washington were to take further action, he said.

"The Chinese side does not want to see all-out confrontation on trade, but it will respond in proportion to [the US' move]," he said.
Punitive US trade action against China to come 'imminently', a former top trade negotiator warns | South China Morning Post:
US Trade Representative Robert Lighthizer "has [US President Donald Trump's] ear on China, and as such he has initiated a Section 301 investigation on Chinese unfair trade practices on intellectual property, including the practice of so-called forced technology transfer, and we are expecting actions to be announced against China imminently", former acting deputy US trade representative Wendy Cutler said.

"There is a real convergence of different views on how to handle these issues going forward," Cutler said during a panel discussion at the New York-based Asia Society.
---
5. HNA Co-Chairman Says HNA's Liquidity Crisis Due To Hostile Foreign Forces
It looks like the end is near for the HNA co-chairman, if not the company itself. This kind of jingoistic raving and pandering to the CCP is an obvious sign of almost ready to jump out the window desperation. I expect Beijing to bail out HNA to avoid broader financial chaos, but not without removing and possibly detaining some of top management and restructuring the shareholdings to benefit other interests.
HNA Is Victim of Conspiracy Against China: Co-Chairman - Bloomberg
In the Feb. 3 speech, Co-Chairman Wang Jian said recent attacks came from "reactionary forces from both China and overseas countering China's rise, and are a major conspiracy against the Communist Party Central Committee with Xi Jinping at its core," according to a transcript of the speech distributed to employees, a copy of which was seen by Bloomberg. The aim is to disrupt China's financial markets and subvert Chinese communist rule, according to the document.

"We are carrying out a great transformation; we are realizing the great dreams of the secretary general," Wang said, urging employees to be strong through this tough period, according to the transcript. "They want to disrupt the entire Chinese economy, then disrupt HNA, leading to social unrest, subverting the entire 19th Party Congress, China's 'Belt and Road' initiative and the planning for further, deeper reform. This is their conspiracy, these are their evil motives, and they've been plotting for a long time."
---
6. Surging RMB May Lead To Loosening Capital Controls
Remember when the vaunted technocrats appeared to have lost a step and Beijing looked like it had lost control of the RMB? They seem to have confounded the bears yet again and shown capital controls can work, at least in the short to medium term. With the RMB back to August 2015 levels against the USD the regulators, as expected, are now making noises about possibly lightening up on some of the capital controls. Yes the US dollar weakness has helped a lot but there is a reason the folks in Beijing seem pretty confident...
China Indicates Loosening Grip on Cross-Border Capital Controls - Caixin:
Pan Gongsheng, head of the regulator, said in a Wednesday statement that the State Administration of Foreign Exchange (SAFE) has switched to a neutral stance on its macroprudential policies.

In the statement, titled "Promoting Balanced Foreign Exchange Management to Serve China's New Situation of All-Around Opening-Up," Pan said SAFE will be rational about fluctuations in foreign exchange reserves, and emphasize the dynamic balance of international payments and income to make trade more convenient.

"The regulator will persist with a neutral policy on foreign exchange market," Pan said. "The monitoring and supervision will be in line with policies on bilateral flows of cross-border capital, which supports legal and compliant capital inflows and outflows."
Yuan Nears Strongest Level Since 2015 Devaluation - Bloomberg:
The onshore yuan rose 0.3 percent to 6.2620 per dollar as of 5:10 p.m. local time, its third day of gains. The currency is at its strongest since Aug. 11, 2015. Wednesday's increase came after the People's Bank of China set the daily reference rate 75 pips weaker than the average estimate in a Bloomberg survey, the biggest discrepancy in four months. A Bloomberg replica of the CFETS RMB Index climbed above 97 for the first time.
China Forex Regulator Urges Firms to Strengthen Risk Management - Caixin Global:
At its recently concluded 2018 work meeting, China's State Administration of Foreign Exchange (SAFE) listed guidelines to companies to establish risk-neutral awareness and sound risk management among its priorities for this year...

The regulator said its other priorities this year include promoting capital account convertibility, cracking down on foreign exchange irregularities, and supporting "capable and qualified" companies to invest overseas.
China Foreign Reserves Post 12th Straight Gain as Yuan Rises - Bloomberg:
The world's largest foreign currency stockpile climbed $21.6 billion to $3.16 trillion in January, the People's Bank of China said Wednesday, compared with the $3.17 trillion estimate in a Bloomberg survey.

Reserves have been steadily recovering for a full year since slipping below $3 trillion last January, lifted by a stronger yuan and capital controls that continue to keep money from flowing out. Outflow pressure is also being eased by a solid economy, with growth estimates rising after last year's acceleration, as well as a weaker dollar.
---
7. Does The Vatican Suffer From Its Own China Fantasy?
'China is the best implementer of Catholic social doctrine,' says Vatican bishop | CatholicHerald.co.uk:
Bishop Marcelo Sánchez Sorondo, chancellor of the Pontifical Academy of Social Sciences, praised the Communist state as "extraordinary", saying: "You do not have shantytowns, you do not have drugs, young people do not take drugs". Instead, there is a "positive national conscience".

The bishop told the Spanish-language edition of Vatican Insider that in China "the economy does not dominate politics, as happens in the United States, something Americans themselves would say."
China expert: Vatican official "naive" for saying China "best implementer" of Church's social doctrine:
"When my friends tell me they are going to China, I always advise them not to stop at the shopping centers, the ultra-luxury hotels and the skyscrapers, but also to go out to the peripheries to get a better picture of real China," said Father Bernardo Cervellera, editor of AsiaNews, which closely covers the Catholic Church in China.

"Presenting China as the 'Land of Wonders' is a bit too far. In his interview following his recent trip to Beijing, Bishop Sanchez Sorondo describes a China that does not exist or that vigilant Chinese escorts did not show him," Cervellera said in a Feb. 7 editorial published in AsiaNews.
Retired cardinal hits back at Vatican over deal with China - AP:
Cardinal Joseph Zen warned in a blog post this week that some Chinese Catholics who follow so-called underground churches are at risk of arrest even while the Catholic Church pushes for a historic breakthrough in relations with China's ruling Communist Party.

Zen, a leading critic of the Vatican's outreach to China, revealed in a statement last month that the Vatican had asked a legitimate "underground" bishop to stand down in favor of an excommunicated one favored by Beijing — a reshuffle that he suggested was orchestrated by church officials without the pope's full knowledge.

Zen, 86, doubled down on Monday and denounced church officials for betraying Chinese worshippers in what amounted to a highly unusual attack from a clergyman against the Holy See.
Meanwhile, here is another reminder the Party believes it sit between the masses and God.
Senior Chinese official visits religious associations - Xinhua
Vice Premier Wang Yang has stressed full implementation of the basic policy of the Communist Party of China (CPC) on religious affairs and upholding the principle that religions in China must be Chinese in orientation.

Wang, also a member of the Standing Committee of the Political Bureau of the CPC Central Committee, made the remarks Tuesday while visiting some national religious associations in Beijing, including the Buddhist Association of China, the Taoist Association of China, the Islamic Association of China, the Chinese Catholic Patriotic Association, and the Bishops' Conference of Catholic Church in China...

Wang called on religious circles in China to carefully study and implement Xi Jinping Thought on Socialism with Chinese Characteristics for a New Era and the spirit of the 19th CPC National Congress.

He required efforts to guide the religious circles and followers to rally closely around the CPC and the government.
And this is another sign Wang will be the next head of the CPPCC. 
---
8. US Bombs East Turkestan Islamic Movement Targets In Afghanistan
Afghanistan should offer areas of both cooperation and competition for the US and China.
U.S. expands air campaign in northern Afghanistan - The Washington Post:
The bombing has been carried out over the past four days in Badakhshan province's Wurduj district, said Navy Capt. Tom Gresback, a U.S. military spokesman in Kabul. The strikes targeted training camps, "preventing the planning and rehearsal of terrorist acts near the Afghan border with China and Tajikistan," U.S. military officials said in a news release.

Gresback said that in addition to the Taliban, the U.S.-led military coalition in Afghanistan has targeted the East Turkestan Islamic Movement in the operation. The Islamist separatist group was formed in northwestern China's Xinjiang region and cited by the United Nations in 2002 for its ties to al-Qaeda.
Pentagon to Lawmakers: U.S. Promoting Cooperation with China in Afghanistan
During a Senate Foreign Relations Committee hearing on Tuesday, Randall Schriver, the assistant secretary for Asian and Pacific Affairs at the U.S. Department of Defense (DoD), testified:

There is the possibility that China on the counterterrorism front could be a [U.S.] partner. They certainly have their own concerns about terrorism within China and the potential for linkages with terrorist groups operating elsewhere and for that to seep into China. Historically, we have run into some difficulties with what they define as a terrorist, particularly inside China and the way we look at things.There's an important difference there, but they do have an interest in stability in Afghanistan.
---
Business, Economy, Finance And Trade
Firm Accuses Affiliate of Fraud as Chairman Jumps to Death - Caixin Global A Chinese ventilation system manufacturer on Tuesday accused an affiliate of forging its official seals to borrow money, after the chairman of both of the companies jumped to his death, with rumors blaming his suicide on failed stock investments. Zhejiang Jindun Fans Holding Co. Ltd., listed on the Growth Enterprise Board in Shenzhen, reported to police that it suspects Zhejiang Jindun Holding Group Co. Ltd. and its executives fabricated its seals to take on debt from various lenders, it said in a filing with the stock exchange. The listed fan company appeared as either the borrower or the guarantor in those deals, the statement said, adding that it could not confirm the number of loans involved or the total amount borrowed.
Central Bank Vows to Streamline Oversight of Bond Market - Caixin Global In a rare move, the People's Bank of China highlighted bond-market reform in its top annual policy-setting meeting that concluded on Tuesday in Beijing. The central bank pledged to establish unified rules for corporate-bond issuance and requirements for information disclosure this year. The bond market is the most fragmented segment of China's financial markets. Five regulatory agencies govern bond issuances based on the issuers and where the bonds are traded. - 2018年中国人民银行工作会议在京召开
Dilemma for White-Collar Migrants: Where to Own a Home - Caixin Global Nearly 60% of Chinese who've left home to work in the country's big cities want to purchase property back in their hometown, and half of those said they planned to do so within a year, according to a new survey. The main reasons? Sky-high home prices in cities where they work, and concern for their parents and children. The study, by real estate agency Anjuke, polled 600,000 Chinese in 2017 who work in a first- or second-tier city away from their hometown. The findings suggested mixed feelings about income, property prices, and family.
This Subsidy for China Is Dumb as a Post - WSJ The UPU has 192 members divided into groups based on the strength of their economies. This classification dictates the amount each country pays in terminal dues—that is, the fee to a foreign postal service for delivering inbound mail. Less-developed countries get significant discounts on shipments to more-developed ones. The UPU classifies China a "Group 3" country, along with countries like Cuba and Gabon—even though China has the world's largest e-commerce market.
Someone hacked China's central bank mailbox to email a bogus notice about bitcoin crackdown | South China Morning Post Bogus press invitations have been distributed to US media organisations claiming that the Hong Kong Monetary Authority (HKMA) and People's Bank of China (PBOC) are about to jointly introduce new measures to crack down on "all aspects and services of bitcoin trading in both mainland China and Hong Kong".
China aims to meet 2020 target for steel capacity cuts this year, warns on resumption - Reuters The original plan called for reducing 150 million tonnes of steel production capacity by 2020. However, China will face more pressure in tackling overcapacity as strong prices reduced steelmakers' willingness to cut capacity, the Ministry of Industry and Information Technology said.
China to further reduce SOE debts - Xinhua China will provide stronger support for debt-to-equity swaps, promote mixed-ownership reform, and improve policies on business reorganizations and bankruptcy, said a statement released after an executive meeting chaired by Premier Li Keqiang. State-owned enterprises will continue to be a priority in the deleveraging campaign, and the work should be carried out via market-oriented, law-based means, according to the statement.
China becomes largest importer of Peru in 2017 - Xinhua China, buying products worth 11.455 billion U.S. dollars from Peru in 2017, has become the primary market for the South American country, the Chamber of Commerce of Lima (CCL) announced on Tuesday.
Politics, Law And Ideology
Xi: Multiparty ties need new impetus - China Daily Xi Jinping, general secretary of the Communist Party of China Central Committee, has called for multiparty cooperation to better meet the needs of the new era of Socialism with Chinese Characteristics. Xi, who is also president and the chairman of the Central Military Commission, expressed the hope when he attended a gathering in Beijing on Tuesday and extended Spring Festival greetings to representatives of non-Communist parties, the All-China Federation of Industry and Commerce, and those without party affiliation.
[视频]中宣部举行理论工作座谈会_CCTV节目官网-CCTV-1_央视网(cctv.com) 近日,中宣部在湖南省长沙市、贵州省贵阳市召开两场推动习近平新时代中国特色社会主义思想深入人心、落地生根理论工作座谈会。大家围绕学习宣传贯彻习近平新时代中国特色社会主义思想和党的十九大精神进行深入座谈交流,认真总结党的十八大以来推动理论宣传教育大众化通俗化的成功经验,研究部署下一步工作,不断推动学习宣传贯彻习近平新时代中国特色社会主义思想往深里走往实里走往心里走。
Chinese Police Go RoboCop With Facial-Recognition Glasses - WSJ The eyeglass-mounted camera is equipped with facial-recognition technology capable of "highly effective screening" of crowds for fugitives traveling under false pretenses, the official People's Daily newspaper reported Monday. Its story included images of a policewoman wearing a sunglasses version of the device at a railway station in Zhengzhou, capital of central China's Henan province...Beijing-based LLVision Technology Co. worked with police departments in Henan, the eastern province of Shandong and the northwestern region of Xinjiang for a year to develop the devices, according to LLVision Chief Executive Wu Fei.--逃犯无处可逃 全国铁路第一款人像比对警务眼镜投入实战-腾讯网
Foreign and Military Affairs
Chinoiresie Podcast | #LRP 18: Bitter Medicine: China's New Pacific Frontier China's aid and growing influence in the South Pacific is causing alarm with an Australian minister recently complaining about Chinese-funded 'roads to nowhere'. In this month's episode, Louisa and Graeme are joined by award winning journalist Jo Chandler to discuss the challenges brought by a wave of Chinese aid and migration to the Pacific's largest nation, Papua New Guinea. From migrant shopkeepers and counterfeit drugs to rumours of bases and political corruption, China's footprint is expanding, leading to burgeoning anti-Chinese sentiment among ordinary Papua New Guineans.
Island Paradise Becomes Latest Flashpoint in India-China Rivalry - Bloomberg A power struggle in the Maldives, a tiny Indian Ocean nation known for scenic luxury resorts and crystal-clear blue water, is taking center stage in a wider battle for regional influence between India and China. On Monday, President Abdulla Yameen declared a state of emergency after the Supreme Court ordered him to free political prisoners and opposition politicians he's thrown in jail. Security forces then stormed the court and arrested two judges, as well as a former leader. The remaining judges later annulled the previous ruling, the Associated Press reported Wednesday.
China, Russia launch years of local cooperation, exchange - Xinhua Chinese President Xi Jinping and his Russian counterpart Vladimir Putin on Wednesday sent congratulatory messages to the opening ceremony of the years of China-Russia local cooperation and exchange. Calling localities an important force for China-Russia all-round win-win cooperation, Xi said he and President Putin decided to hold years of China-Russia local cooperation and exchange in 2018 and 2019.
China sends advanced jet fighters to South China Sea for joint combat missions - Global Times Chinese jet fighters have been sent to the South China Sea, the People's Liberation Army Air Force announced on Wednesday in a move that a retired major general said could be a reaction to provocation by the US in January.  The Su-35 Russian-made advanced fighters were dispatched to the sea for joint combat cruise missions, according to the official Sina Weibo account of the PLA Air Force. The message included photos but did not indicate how many aircraft.
China's space tech has a lot to catch up with US: experts - Global Times China and Russia plan to sign an agreement in October on joint space exploration from 2018 to 2022, which would benefit both nations particularly in manned and future missions to the moon, CGTN reported. However, some countries, such as the US, still hold a Cold War mentality and is afraid of China's steady development in space technology, he said, noting that the US refuses to cooperate with China on space projects, fearing that China may steal US technology.
Hong Kong, Macao
Appeal ruling for Hong Kong democracy activist Joshua Wong could have 'chilling effect' on social activism | South China Morning Post Professor Michael Davis, formerly with the University of Hong Kong's law school, said the ruling in principle should have no negative effect on non-violent rallies in Hong Kong but it may inadvertently have a "chilling effect" on people who wanted to participate in protests. "It clearly sends a signal of caution for those interested in engaging in civil disobedience, and would presumably erase the expectation that a light sentence will follow because of the worthiness of the cause."
Taiwan
Five dead in Hualien after magnitude 6.0 quake<br /> - Taipei Times Eastern and northern Taiwan were rocked by a magnitude 6.0 earthquake at 11:50pm on Tuesday night, which killed at least five people. injured 254 and badly damaged at least four buildings in Hualien.
Tech And Media
China launches salvo against "network navy" of trolls who spread fake news | Ars Technica Since last May, more than 200 people in China have been arrested, and thousands of others have found themselves confronted by police. Social media accounts and "illegal" websites have been seized as part of a campaign against organizations literally called "wǎngluò shuǐjūn," or Network Navy (網絡水軍—literally, "network water army").These Internet sailors have plied the websites, forums, and social media services of China for the last decade, running public relations and marketing campaigns in support or in opposition to one entity or another. For the most part, these operations have been on behalf of Chinese companies trying to promote themselves—or make their competitors look bad.
Samsung, State Planner Charge Up China Microchip Collaboration - Caixin Global Global high-tech giant Samsung Electronics Co. Ltd. has signed an agreement with China's state planner to resume collaboration in the realm of high-tech microchips, as part of Beijing efforts to build up a lucrative sector now dominated by foreign firms...Signing of the new agreement also comes amid reports of separate talks between Samsung and the NDRC over global NAND memory prices, which have climbed steadily over the last six quarters amid strong demand from Chinese and other manufacturers. The NDRC reportedly expressed concerns about the rising prices to Samsung at the end of last year, and an "intervention" is expected in this year's first quarter to moderate climbing prices
Alibaba Sees Future in Hollywood Sci-Fi Co-Production - Caixin Global Alibaba's film unit and U.S. production house STX Entertainment will co-produce the upcoming science-fiction film "Steel Soldiers," extending a growing series of one-off tie-ups between China and Hollywood, even as the attraction of bigger alliances fades.
Chinese regulator raps internet firms over vulgar content - Reuters The anti-pornography office of China's powerful broadcasting watchdog convened a meeting with 16 major internet companies, telling them they needed to tighten oversight of vulgar and obscene information, the official Xinhua news agency said.
Society, Art, Sports, Culture And History
From #MeToo to #RiceBunny: how social media users are campaigning in China "Rice bunny" (米兔), pronounced as "mi tu", is a nickname given to the #MeToo campaign by Chinese social media users. The #RiceBunny hashtag, accompanied by emojis of rice bowls and bunny heads, is used by Chinese women to expose sexual harassment – often in conjunction with other Chinese hashtags, such as #IAmAlso (#我也是)and #MeTooInChina (#MeToo在中国).
China's potential Pyeongchang Olympics gold medalists - China Daily As China has sent its largest-ever delegation to the 2018 Pyeongchang Winter Olympic Games, this is a good time to meet the Chinese athletes who will vie with the world's best for gold medals at the games.
Energy, Environment, Science And Health
China rolls out AI system to spot netizens with suicidal thoughts - People's Daily Online The system, which is developed by the Institute of Psychology of Chinese Academy of Sciences, can scan and analyze users' posts and comments on social network platforms such as Weibo. Once a potentially suicidal user is found, the system will use its Weibo Account to send them a message, encouraging them to call local suicide prevention services for help.
Beijing
Beijing meets national air pollutant standard for first time | South China Morning Post The levels of PM2.5 – small particles in the air deemed particularly harmful to health – averaged 34 micrograms per cubic metre last month, the bureau said on Wednesday. The national standard is below 35 micrograms, it said. The benchmark was first set by the authorities in 2012. Twenty-five of the 31 days in January also saw "good" or "excellent" air quality, according to the Beijing Municipal Environmental Protection Bureau.