Rectification in the politics and legal affairs system; Xi and Putin talk; TikTok; Wang Wei 王維
Something is going in the politics and legal affairs system. Things have seemed especially weird recently, and now there is going to be a pilot program to educate and rectify the cadres of political and legal affairs system. Chen Yixin, Secretary General of the Central Political and Legal Affairs Commission, announced the new campaign in a meeting of the National Political and Legal Affairs Team Education and Rectification Pilot Office, of which Chen is the head.
The language in the announcement of the campaign is quite harsh, and its reference to the Yan'an Rectification Movement is chilling. The original Yan'an Rectification Movement was brutal and bloody, with thousands killed. As harsh as today's language sounds I do not think it will be anything like that; it looks like it will be one more purge of the people inside the politics and legal affairs system who are not totally loyal to Xi.
There have long been rumors that Meng Jianzhu, secretary of the Central Politics and Legal Affairs Commission and a Politburo member from 2012-17, was going to be put under investigation, and the recent detentions of officials close to him has only given fuel to those rumors. This new campaign, and the language used in announcing it, make it sound like someone big is about to take the fall, though as with anything related to CCP elite politics we won't know anything until they tell us and even then we will likely not know what really happened.
It is interesting that after almost eight years in power Xi appears to believe he does not yet have full control of the politics and legal affairs system. This new rectification program looks like an attempt to rectify that before the 20th Party Congress.
Chen Yixin is from Zhejiang and has worked with Xi Jinping for many years, and Xi sent him to Wuhan at the height of the outbreak to get things under control. He is likely to have a big promotion by the 2022 20th Party Congress.
Never underestimate how brutal the CCP system can be to its own members.
In happier news, the Gaokao is done and the kids are ecstatic, as this wonderful picture from Weibo of the students leaving a test center shows: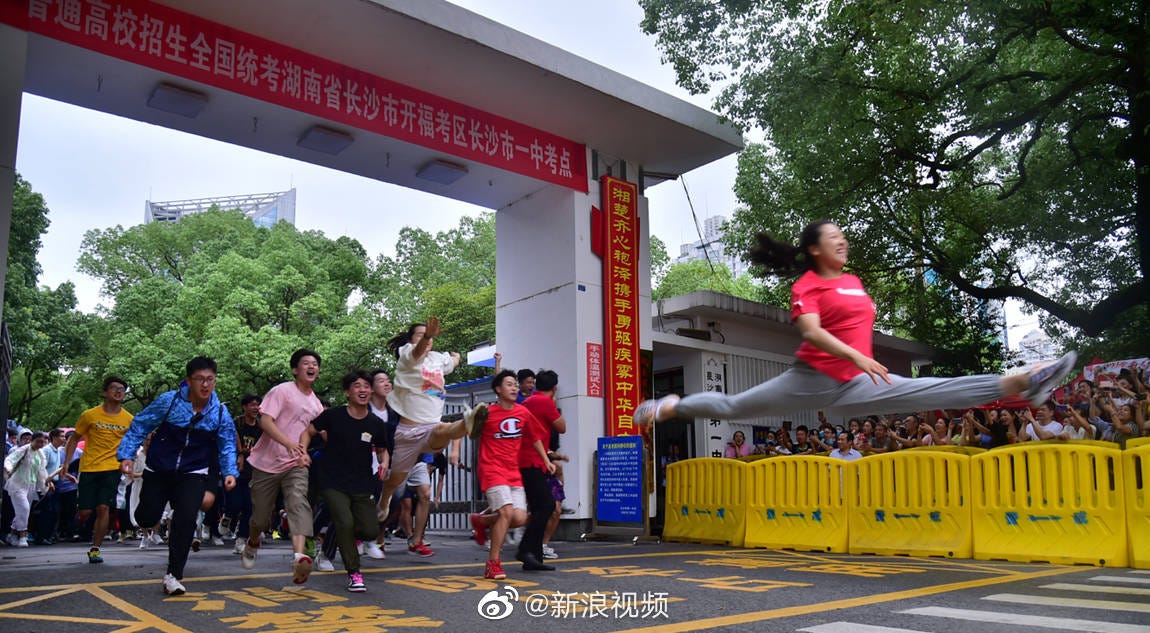 Today's Essential Eight:
Rectification campaign for Political and Legal Affairs cadres

Hong Kong

Xi and Putin have another chat

US-China

PRC academic views of the US

Credit card debt

TikTok

New translation of the works of Wang Wei 王維
Thanks for reading. And if you like Sinocism please help it continue to grow by recommending it your friends and colleagues. Personal referrals are always the best marketing. Thank you.
---
The Essential Eight
1. Rectification campaign for Political and Legal Affairs cadres
The Central Political and Legal Affairs Commission held a meeting on Wednesday to prepare for a new pilot program to "educate and rectify the cadres of political and legal affairs" system across the country. Chen Yixin, secretary general of the commission, said in the meeting that the program will be similar to the Yan'an rectification movement, and it will be as harsh as "scraping the poison off the bone". The goal is to "completely cut out the cancer and clear out the black sheep". The first pilot program will be carried out in Harbin, Xuzhou, Lingbao, Yibin, Baoji, and this will touch upon judges, prosecutors, police, and state security officials.
全国政法队伍教育整顿试点启动! 陈一新:来一场刀刃向内、刮骨疗毒式的自我革命-中国长安网
Chen Yixin, secretary-general of the Central Political and Legal Affairs Commission and director of the National Political and Legal Affairs Team Education and Rectification Pilot Office, emphasized that the education and rectification pilot is an urgent and important political task. It must be boldly explored and practiced, and dare to be hard-working and carry out a "scrape the bone to remove the poison-style" self-revolution in the national political and legal system, a "a drain away the mud and bring in fresh water"-style "Yan'an rectification", and soul-stirring Yangwei-style [铸魂扬威式 not sure how to translate, think it is about the Yangwei ironclad ship in the late Qing] themed education, and strive to build a political and legal iron army that the party and people can trust, rely upon, and can rest assured about.

中央政法委秘书长、全国政法队伍教育整顿试点办公室主任陈一新强调,教育整顿试点是一项紧迫而重大的政治任务,必须大胆探索实践,敢于动真碰硬,在全国政法系统开展一次刮骨疗毒式的自我革命、激浊扬清式的"延安整风"、铸魂扬威式的主题教育,努力打造一支党和人民信得过、靠得住、能放心的政法铁军。

The education and rectification of the political and legal teams is a "scrape the bone to remove the poison-style" self-revolution in the new era of the political and legal front. The political and legal ranks are an important force for defending the party's leadership and the state power of the people's democratic dictatorship. Political and legal teams are the instruments of law enforcement and justice. The teams are impure, unfair, weak, and even have violations of law and discipline, and have seriously damaged the image of the party and the government and trampled upon the bottom line of social fairness and justice. In recent years, the political and legal system has been stepping up efforts to eliminate black sheep, but the situation is still grim. Since the beginning of the special anti-crime campaign, a number of political and legal police officers involved in crime and corruption have been investigated and dealt with throughout the country. This shows that comprehensively and strictly governing the party is "always on the road"[永远在路上 a favorite saying of Xi from the corruption crackdown], and that comprehensively and strictly governing the police cannot be relaxed at the moment. To this end, education and rectification should be carried out in the political and legal system, and a "scrape the bone to remove the poison-style" self-revolution should be carried out. Insist on pointing the blade inward, completely remove the cancerous tumor, remove the evil members of the group, and ensure that the political and legal team is absolutely loyal, absolutely pure, and absolutely reliable.

政法队伍教育整顿是新时代政法战线刮骨疗毒式的自我革命。政法队伍是捍卫党的领导和人民民主专政的国家政权的重要力量。政法队伍作为执法之公器、司法之利器,队伍不纯、不公、不力,甚至发生违法乱纪问题,出现害群之马,影响恶劣、危害极大,人民群众深恶痛绝,势必严重削弱政法机关的公信力,严重践踏社会公平正义底线,严重损害党和政府形象。近些年来,政法系统清除害群之马的力度逐年加大,但形势依然严峻。扫黑除恶专项斗争开展以来,全国立案查处了一批涉黑涉恶腐败和充当"保护伞"的政法干警。这表明,全面从严治党永远在路上,全面从严治警一刻不能放松。为此,要在政法系统开展教育整顿,来一场刮骨疗毒式的自我革命,坚持刀刃向内,彻底割除毒瘤,清除害群之马,确保政法队伍绝对忠诚、绝对纯洁、绝对可靠。
Comment: That is some starkly dark language.
---
2. Hong Kong
Hong Kong national security law: new head of Beijing office in city vows agents will not trample on people's rights | South China Morning Post
Beijing on Wednesday inaugurated its new national security office staffed by more than 200 people in Hong Kong, with its director pledging his agents would not infringe on residents' rights amid concerns about the extent and implications of their sweeping powers.

Zheng Yanxiong, known for his tough style, tried to strike a reassuring note at the opening of the temporary headquarters in Causeway Bay for the Office for Safeguarding National Security, saying the controversial law tailor-made for the city had been enacted "for the well-being of the people"...

Zheng was flanked by his deputies, Li Jiangzhou and Sun Qingye, Beijing's liaison office director Luo Huining and Hong Kong leader Carrie Lam Cheng Yuet-ngor at the flag-raising ceremony outside the office at the Metropark Hotel – now converted to bear a national emblem – along with other local officials and pro-establishment heavyweights.
Beijing Youth Daily said the first person on the left is Sun Qingye, one of the deputy heads of the new office. There is no other picture or CV of him on internet. Sun is probably from the ministry of state security. The man second from the right is Li Jiangzhou, the other deputy who is from ministry of public security.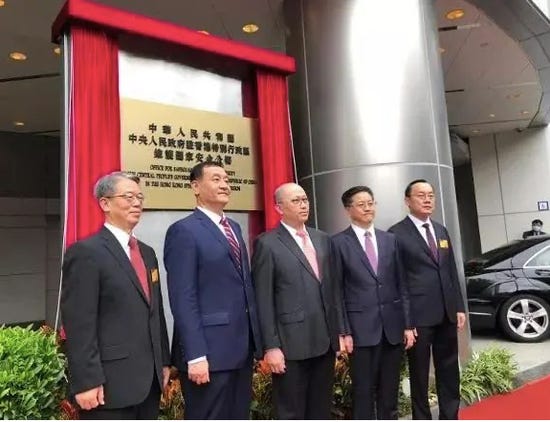 China's home security chief attends Hong Kong national security office opening | South China Morning Post
Chen Siyuan, assistant public security minister, attended the opening of the Office for Safeguarding National Security but did not deliver any official speech...

Chen, 55, is in charge of the public security ministry's Domestic Security Bureau, known as "Bureau No 1" among insiders. He is also head of the ministry's Hong Kong, Macau and Taiwan Affairs Office.
Beijing's secret police get a room with a view in Hong Kong - The Washington Post
"While people who love China and [Hong Kong] are welcoming the establishment of the office, those with ulterior motives and who are anti-China and seek to destabilize Hong Kong have not only stigmatized the office, but also smeared the legal system and rule of law in the Chinese mainland in an attempt to stir up unnecessary worries and fears among the Hong Kong residents," Luo [Huining] said. "The Chinese mainland has a healthy legal system and a sound environment for the rule of law."
Hong Kong Security Law Squeezes Space for Media, Choking RTHK - The New York Times
The broadcaster faces a formal government review into its operations starting next week.
The tech industry comes to grips with Hong Kong's national security law | TechCrunch
Some Hong Kong entrepreneurs are hopeful that the law could accelerate the Greater Bay Area (GBA) initiative, which aims to stitch together Hong Kong, Macau and other cities around the Pearl River Delta, including economic powerhouses like Shenzhen and Guangzhou...

His optimism is echoed by a Hong Kong-based investor for a Chinese venture capital firm. "After the law came into effect, there may be fewer technological exchanges between Hong Kong and the U.S. or Europe, but the GBA is more important to Hong Kong's future development."
UK remain campaign strategist to head Hong Kong PR push | The Guardian
The Guardian understands the Hong Kong account is being led by Ryan Coetzee, who was employed on the unsuccessful 2016 remain campaign.
Comment: A reprise of FILTH: failed in London try Hong Kong?
Hong Kong's top cop overshadows city leader Lam as Beijing cracks down - Reuters
Chris Tang has been pivotal in dousing the protest movement that roiled Hong Kong last year. Beijing's imposition of a security law gives him powerful new tools to quell dissent...

"China won't take any chances anymore with national security, and Chris Tang is someone they trust," a senior police source, who deals regularly with Tang, told Reuters ahead of the new law being imposed.

Along with Tang, Secretary for Security John Lee and Secretary for Justice Teresa Cheng have emerged as key local players in Beijing's imposition of a harsher law-and-order regimen in Hong Kong. The three joined Lam when she visited the Chinese capital last month to discuss the security law with China's leaders.
LCQ22: Restricting students' freedom of expression - HK Government
In addition, looking at the incidents in the past year, the forming of human chains inside and outside schools have inevitably caused a nuisance to others. Problems such as noise nuisance have caused the resentment of residents in the neighbourhood and in some cases have even led to incidents such as confrontations, injuries to persons and throwing objects from height. To protect the personal safety and well-being of students, both the EDB and schools have the responsibility to stop students from forming human chains.
Hong Kong pupils banned from political activity - BBC News
Students in Hong Kong are now banned from any political activity in schools including singing, posting slogans and boycotting classes, the territory's education minister has said.
Chinese Tech Firms Get Trading Boost From Hong Kong Listings - WSJ $$
The secondary listings so far, and a likely wave of further deals, have helped bolster confidence in Hong Kong's future as a capital-raising center, at least for Chinese companies. That comes even as Beijing's imposition of a tough new security law has raised broader concerns for international business in the city.
Collecting DNA samples from people arrested for violating security law in HK 'normal practice' - Global Times
Lawrence Ma, a barrister and chairman of the Hong Kong Legal Exchange Foundation, told the Global Times that collecting fingerprints is no longer an effective way of detecting crime because criminals knows how to wear gloves to commit a crime.

"Many of the black-clad rioters in anti-extradition bill riots wore gloves and face masks to disguise their identity. It is imperative for law enforcement agencies to fully collect other biological samples such as body tissues and blood samples to identify the particular suspect, and to prove their identity to correctly charge them to stand before a court of law," Ma said.
---
3. Xi and Putin have another chat
China, Russia vow firm mutual support - Xinhua
Chinese President Xi Jinping and his Russian counterpart, Vladimir Putin, held a phone conversation on Wednesday...

Recently, Russia smoothly carried out a referendum and passed a set of constitutional amendments with a large majority vote, Xi said, adding that it has fully reflected the Russian people's support for the Russian government and approval of its governance philosophy.

China will, as always, firmly support Russia's development path that fits its own national conditions and staunchly support Russia in accelerating its development and revitalization, he said.

Noting that the international situation is changing rapidly, Xi stressed that it is very necessary for China and Russia, as comprehensive strategic partners of coordination, to strengthen strategic communication and cooperation.

The Chinese side, he added, is willing to continue working with the Russian side in firmly supporting each other, rejecting external sabotage and intervention, well preserving their respective sovereignty, security and development rights, and well safeguarding their shared interests...

China, Xi said, stands ready to work with Russia to continuously intensify coordination within the United Nations and other multilateral frameworks, safeguard multilateralism, oppose hegemonism and unilateralism, defend international fairness and justice, and make greater contributions to improving global governance and promoting the building of a community with a shared future for mankind...

Russia-China relations are at their best in history, Putin said, stressing that Russia firmly supports China's efforts to safeguard national security in the Hong Kong Special Administrative Region, opposes all kinds of provocative actions that violate China's sovereignty, and believes China is fully capable of ensuring long-term prosperity and stability in Hong Kong.
习近平同俄罗斯总统普京通电话_滚动新闻_中国政府网 - 3.19.2018
when Xi Jinping abolished the presidential term limit in 2018, Putin was also the first to call to congratulate, saying Xi's re-election and the term abolishment are "totally correct" and they will help China's further development.
China, Russia reaffirm mutual support on core interests, sovereignty - Global Times
This was the fourth telephone conversation between Xi and Putin this year.

Expressing support for each other on international and domestic matters is a symbol of China-Russia high-level mutual trust and strategic cooperation, Yang Jin, an associate research fellow at the Institute of Russian, Eastern European and Central Asian Studies under the Chinese Academy of Social Sciences, told the Global Times on Wednesday.

"China's national security legislation for Hong Kong and the Russian Constitution amendment are the significant domestic events for the two countries. These two events have reflected the real will of the people, and went through the legitimate and democratic processes of the two countries, but both received groundless and irresponsible criticism from the West," Yang said
---
4. US-China
Interesting comments by Vice Foreign Minister Le Yucheng, who may one day replace Wang Yi as Foreign Minister. It sounds like he was on his best behavior for this talk, I have heard from others who have met with him in Beijing that he is not always so polite about the US.
The Trend Toward China-US Cooperation is Unstoppable - MoFa
Remarks by Vice Foreign Minister Le Yucheng at the Video Dialogue on Sino-US Relations Co-hosted by the Chinese People's Institute of Foreign Affairs And the Asia Society

Recently, I have attended quite a number of seminars, all of which have China-US relations as a fixture topic. In the face of the once-in-a-century changes, a pandemic never seen before, and constantly emerging new threats and challenges, the world is looking to China and the United States to provide answers to these crises through close cooperation and active interaction. But in reality, the US is getting more and more obsessed with "strategic competition", "decoupling" and a "new cold war" with China, worsening the whole situation even further...

Le's key points:

1. While China-US relations cannot return to its past, its achievements in the old days should not be dismissed...

All things considered, it couldn't be farther away from facts to negate the merits of China-US relations in the past four decades, and say the "engagement policy" has failed, and that the US has been ripped off.

2. Competition between China and the US shouldn't be a "zero-sum game". It is dangerous for the US to leverage so-called "proportional costs" to attack China...

3. The real enemy of the US is not China. It is the invisible virus and growing non-traditional security threats...

4. Decoupling is impractical and benefits no one...

5. Neither China nor the US can mold the other in one's own image, and China-US relations should not be driven by ideologies...

6. Forming an anti-China bloc is to divide the global village. It runs completely counter to the trend of the times...

7. It is important to have correct perceptions of the international role of China...

8. China and the US must manage differences through dialogue and cooperation, and seek to accommodate each other's core interests and concerns...

Issues related to Taiwan, Hong Kong, Xinjiang and Tibet touch on China's sovereignty and security. There is no room for foreign interference on those issues. We firmly oppose the groundless US accusations and so-called sanctions against China for our legislation safeguarding national security in Hong Kong...

I am optimistic about the future of China-US relations. Although the relationship is overcast by dark clouds, the sky will not fall, and the sun will eventually shine again. Likewise, nothing can stop the general trend of China-US cooperation forever.
Le's speech - 中美走向合作的大势是挡不住的 — 中华人民共和国外交部
Secretary Michael R. Pompeo At a Press Availability - United States Department of State
We were deeply troubled to learn this week that the CCP detained Xu Zhangrun for criticizing General Secretary Xi Jinping's repressive regime and the CCP's mishandling of the COVID-19 pandemic. He should be released. He was simply telling the truth. He should be released as soon as possible.

I'll repeat a theme I've been talking about for months: The CCP has an enormous credibility problem. They failed to tell the world the truth about this virus, and now hundreds of thousands of peoples all across the world are dead. We need the truth; we still need the truth. We need to open up. We need to engage in a serious way with scientists around the world. And they now say they're going to allow the WHO to come in. That's great, but the WHO needs to be free to do its real work. We need to make sure the right people are there to engage in this investigation, and we need real answers, not a perfunctory political solution. This is about science, not politics, and the Chinese Communist Party needs to come clean with the world about this virus...

I commend to you Director Wray's entire speech yesterday. It is worth the time to watch. Attorney General Barr will deliver a set of remarks in the coming days, and then I'll give what will be the fourth in a series of remarks.

I want to direct everyone also to a letter that Under Secretary Keith Krach drafted to CEOs, boards of directors, trade groups, commercial investment firms alerting them to the CCP's use of slave labor in Xinjiang, and providing them with a set of governance recommendations for how they should ensure that they are not part and parcel of this terrible practice.

Last China item: The CCP recently filed a boundary dispute with Bhutan at a meeting of the Global Environment Facility.

From the mountain ranges of the Himalayas to the waters of Vietnam's Exclusive Zone, to the Senkaku Islands, and beyond, Beijing has a pattern of instigating territorial disputes. The world shouldn't allow this bullying to take place, nor should it permit it to continue.
Trump Aides Weigh Proposals to Undermine Hong Kong's Dollar Peg - Bloomberg
The idea of striking against the Hong Kong dollar peg -- perhaps by limiting the ability of Hong Kong banks to buy U.S. dollars -- has been raised as part of broader discussions among advisers to Secretary of State Michael Pompeo and hasn't been elevated to the senior levels of the White House, suggesting that it hasn't gained serious traction yet, according to people who discussed the matter on condition of anonymity...

Two of the people familiar with the matter said a top administration priority has been finding ways to punish banks based in Hong Kong, particularly HSBC Holdings Plc.
Question: Who are the private citizens who are helping seed this idea in the State Department?
McCaul on Trump Executive Orders: 'You're Going to See Sanctions Against the Chinese Communist Party'
On Tuesday's broadcast of the Fox Business Network's "Evening Edit," House Foreign Affairs Committee ranking member Rep. Michael McCaul (R-TX) predicted that President Trump's promised executive orders on China will include an executive order to implement the sanctions against the Chinese Communist Party for their actions in Hong Kong that were passed by the Congress last week and stated that the United States has no choice "but to issue the sanctions" against the CCP since Hong Kong can no longer be certified as autonomous anymore, "and it's one country, one system, and that's the Chinese Communist Party."
Implementing Visa Restrictions Under the Reciprocal Access to Tibet Act - United States Department of State
The United States seeks fair, transparent, and reciprocal treatment from the People's Republic of China for our citizens. We have taken several steps to further this goal. Unfortunately, Beijing has continued systematically to obstruct travel to the Tibetan Autonomous Region (TAR) and other Tibetan areas by U.S. diplomats and other officials, journalists, and tourists, while PRC officials and other citizens enjoy far greater access to the United States.

Therefore, today I am announcing visa restrictions on PRC government and Chinese Communist Party officials determined to be "substantially involved in the formulation or execution of policies related to access for foreigners to Tibetan areas," pursuant to the Reciprocal Access to Tibet Act of 2018. Access to Tibetan areas is increasingly vital to regional stability, given the PRC's human rights abuses there, as well as Beijing's failure to prevent environmental degradation near the headwaters of Asia's major rivers.
US imposes visa restrictions on Chinese officials over Tibet | Financial Times $$
China's foreign ministry said on Wednesday that it would limit visas of US officials who engaged in "vile acts" regarding Tibet. It did not specify which actions or officials would be targeted.

The ministry added that 500 diplomats and 343 foreign journalists had visited the region from 2015 to 2018.

"Imposing visa restrictions seems to be the 'go to' option for the Trump administration," said Bonnie Glaser, a China expert at the Center for Strategic and International Studies in Washington. "So far, the names of those affected haven't been made public, which dilutes the impact."
Top political advisor stresses consolidation of Tibet's enduring peace, stability - Xinhua
China's top political advisor Wang Yang has stressed continuous efforts to consolidate the foundations of enduring peace and stability in southwest China's Tibet Autonomous Region.

The efforts should center on safeguarding the country's unity and strengthening ethnic solidarity, resolutely combating separatism, forestalling and defusing major risks and challenges and continuously consolidate the foundations of long-term peace and stability in Tibet.

Wang...made the remarks during an inspection tour in the region.
Question: So is Wang Yang on the State Department's list?
Wednesday CCTV Evening News on Wang Yang's Tibet inspection 汪洋在西藏调研_CCTV
Commentary: Washington's irresponsible WHO departure betrays humanity - Xinhua
Washington's departure from the WHO has proved that the incumbent U.S. administration is a deserter in this arduous battle against a deadly pathogen, and a traitor of humanity itself.
New Cold War With China Can Make U.S. Democracy Stronger - Bloomberg - Hal Brands
Precisely because the Cold War was a fierce ideological contest over what type of system could best meet the aspirations of humanity, it created an imperative for America to live up to the image it portrayed to the world. And precisely because the contest required the U.S. to mobilize for a long, drawn-out rivalry, it led the country to invest massively in itself...

The key takeaway from the Cold War is that the best shield against such attacks is to build a stronger, more cohesive society — to confront the challenges that high-stakes competition makes too damaging to ignore.
Chinese-American scientist's world upended after he is swept up in US national security net | South China Morning Post
Original charges against Emory University researcher are dropped, but fears of continuing overreach by US Justice Department's 'China Initiative' remain
---
4. PRC academic views of the US
Chinese academics claim US has started cold war as tensions simmer over South China Sea, Xinjiang, Tibet, Hong Kong | South China Morning Post
The United States is launching a cold war against China, according to almost two thirds of Chinese researchers in a survey conducted by a Beijing-based think tank.

A total of 62 out of the 100 respondents to the survey published by the Chongyang Institute for Financial Studies at Renmin University agreed when asked "is the US launching a new cold war against China?"

China, though, is able to cope with a possible new cold war offensive by the US, according to 90 per cent of the respondent..

The full list of respondents was not published, but from the names provided, the survey contacted representatives from universities and think tanks in China, including the Chinese Academy of Social Sciences and the Research Development Centre of the State Council...

A military conflict between China and the US is inevitable, according to 27 per cent of those surveyed, while 82 per cent feel the new cold war between the two nations would be different from the 1947-91 conflict between the US and the former Soviet Union due to greater economic interdependence.
The report - China can deal with the US: scholars - Chongyang
One of the respondents, Liu Weidong, a researcher at the Institute of American Studies at the Chinese Academy of Social Sciences, said Chinese scholars used to hold the view that China-US relations can never be too good or too bad. However, right now the new understanding is that the relationship between China and the US will never be the same again. There is also a view holding that China-US relations are falling off a "cliff."

As for the US policy toward China, Liu believes that a growing number of scholars believe the US adopts a policy of "confrontation" and "containment," and some scholars use a new term "confinement." At present, Chinese scholars generally believe that the US political circle has reached a domestic consensus to be tough on China.

Liu said that China should give up its illusions about the US for three main reasons. First, at present the US political circle does no justice to China. Second, the US policy toward China is relentless and unbridled. In the past, the US has been willing to respond whenever China compromised. But the Trump administration has broken the convention, and it will impose tougher sanctions on China if China deals a strike back. Third, the US seems to be willing to accept a "lose-lose" situation in order to suppress China...

Wang Wen, the planner and designer of the questionnaire, is the executive dean of the Chongyang Institute for Financial Studies at Renmin University of China and executive director of China-US People-to-People Exchange Research Center. He revealed that the idea for the project originated from his column "US launches Scold War, not Cold War" on the Global Times. Several American scholars have acknowledged in private letters that the term "Scold War" is interesting and reasonable. But they also said that the prospect of a cold war is mounting.

Wang believes that Chinese scholars should exert certain shaping power over American public opinion. He said if academic circles in both countries believe that the new cold war is not good for their own country's interests, they should speak out boldly and reverse pessimistic public opinion as much as possible.
Chinese version of the above report - 中国人民大学重阳金融研究院 中美关系 人大重阳
Wang Wen:The Chinese are rediscovering America - YouTube
---
6. TikTok
Trump Says He's Considering a Ban on TikTok in the U.S. - Bloomberg
"It's something we're looking at, yes," Trump said when asked in an interview with Gray Television's Greta Van Susteren about Pompeo's remarks. "It's a big business. Look, what happened with China with this virus, what they've done to this country and to the entire world is disgraceful."

Trump did not offer any specifics about a potential decision. He said that banning TikTok is "one of many" ways he is looking to hit back at the Beijing government over the coronavirus, which has infected nearly 3 million people in the U.S. and killed more than 130,000...

"TikTok is led by an American CEO, with hundreds of employees and key leaders across safety, security, product, and public policy here in the U.S.," a company spokesperson said. "We have never provided user data to the Chinese government, nor would we do so if asked."
Trump's comments about TikTok are a reminder that Secretary Pompeo was not making his comments off the cuff.
As I wrote yesterday:
Based on other conversations I've had recently I think a likely mechanism to ban TikTok would be the International Emergency Economic Powers Act (IEEPA), possibly in concert with the Committee on Foreign Investment in the United States (CFIUS), with the CFIUS angle being an attempt to unwind the acquisition of musical.ly, as Ben Thompson discussed last year.
U.S. probing allegations TikTok violated children's privacy - sources - Reuters
A staffer in a Massachusetts tech policy group and another source said they took part in separate conference calls with FTC and Justice Department officials to discuss accusations that TikTok had failed to live up to an agreement announced in February 2019.
TikTok User Data: What Does the App Collect and Why Are U.S. Authorities Concerned? - WSJ $$
The app is currently under a national-security review by the federal government through the Committee on Foreign Investment in the U.S. after lawmakers raised concerns that TikTok was censoring content to comply with Chinese government requests. TikTok has denied these allegations...

TikTok stores its data on American users on servers in the U.S. and Singapore, but its website says that information can be shared with Bytedance or other affiliates.
Banning TikTok could damage US prestige - Global Times
If the US government does move to ban TikTok, the protectionist policy is against the free market spirit that the US has always advocated. It is retrogression. Politicizing technology will only undermine its own technological competitiveness.

China's management of the internet has proven to be indispensable, and a number of competitive Chinese internet companies have emerged. Hopefully, the US can still maintain its competitive edge with an open attitude, instead of using politics to suppress its opponents.
TikTok即将退出香港市场?字节跳动中国CEO张楠回应_运营
字节跳动中国 CEO 张楠回应称:"抖音在香港有很多用户,将继续为香港用户提供服务。"

When asked about TikTok's exit from Hong Kong, Zhang Nan, CEO of Bytedance China. told Chinese media "Douyin already has many users in Hong Kong, and we will now provide Douyin service to Hong Kong users too"
Question: Will Bytedance provide a seamless way for TikTok users to import their data and settings into Douyin?
---
7. Credit card debt
In Depth: Inside the Illicit Business Running Up China's Credit Card Debt - Caixin
An illicit business that has become a lifeline to many of Alipay and WeChat Pay's smaller peers has again caught the attention of regulators for contributing to China's ballooning credit card debt, a problem that has only grown worse amid the economic strain caused by the Covid-19 pandemic.

The business, known in China as "cash-out services," allows individuals and businesses to tap their credit cards for cash advances at costs far lower than normal...

In the past few years, cash-out services contributed about 1 trillion yuan ($141.4 billion) to 2 trillion yuan of China's payment market — that's equal to 2.5% to 5% of domestic credit card transactions in 2019, according to estimates by multiple sources in the industry.

The size of the business could help explain why the People's Bank of China (PBOC) last month released draft regulations (link in Chinese) that urged banks and third-party payment companies to tighten supervision over credit and debit card transactions...

At the end of March, total credit card balances at least six months overdue reached nearly 91.9 billion yuan, up 23.7% from the end of last year, according to central bank data. The total was the second highest figure since the data series began in 2008...

For the cash-out service to work, the merchants have to be complicit because any sale exists only to disguise the transaction. No goods or services change hands. With a simple swipe on a point-of-sale (POS) machine provided by a third-party payment company, a cardholder walks away with cash in hand and a charge by the merchant.
---
8. New translation of the works of Wang Wei 王維
Wang Wei is my favorite poet, and this new translation looks excellent. It is also free in PDF form of you do not want to buy the hard copy for $35. I bought the book. I figured we could all benefit from some good Tang Dynasty poetry.
The Poetry and Prose of Wang Wei
Wang Wei has traditionally been considered one of the greatest of Tang dynasty poets, together with Li Bo and Du Fu. This is the first complete translation into English of all of his poems, and also the first substantial translation of a selection of his prose writings. For the first time, readers encountering his work in English translation will get a comprehensive understanding of Wang Wei's range as a poet and prose writer.

In spite of the importance of Wang Wei's poetry in the history of Chinese literature, no one has attempted a complete translation of all of his surviving poems; moreover, even though he was known for his skill in composing prose pieces in the recognized genres of his day (especially as a writer of commissioned compositions), very little of his prose has been translated. This translation will enable students with limited or no knowledge of Chinese to get a full sense of Wang Wei's compositional range. Moreover, since Wang Wei was known for being a devout Buddhist, having the complete poetry available in reliable translation as well as all of the prose that is connected to the Buddhist faith will be useful to students of Chinese religion.
---
Business, Economy and Trade
China approves plan to boost prominence of state firms, despite complaints from trade partners | South China Morning Post The SOE action plan for 2020-22 was endorsed by the Central Comprehensively Deepening Reforms Commission, an agency headed by Xi, late last month. Though details have not been published, its approval sends a clear signal that China's ruling Communist Party has no plans to drop its support for the state sector, despite long-standing complaints from the United States, the European Union and Japan about unfair treatment of privately-owned multinationals.
China scales back meat imports over virus concerns | Financial Times $$ Since mid-June, Beijing has suspended imports from 14 pork, poultry and beef plants in countries including the US, Brazil, the Netherlands, Germany and Canada, while another seven plants, including those in Argentina, UK and Italy, have voluntarily stopped shipments to China.  As a result, Chinese pork prices have rebounded by almost 50 per cent since this year's low in May.
China to Sell More Pork From Reserves to Stem a Rally in Prices - Bloomberg will sell 20,000 tons of pork on Friday, according to a statement by the China Merchandise Reserve Management Center.
Reform measures of pilot FTZs to be adopted nationwide - Gov.cn To be replicated nationwide are measures covering five areas: investment management, trade facilitation, financial openness and innovation, operational and post-operational oversight and human resources, the circular reads.
Beijing rolls out measures to ensure jobs for 2020 graduates - China Daily The measures say that 2020 Beijing graduates can apply for subsidies from social security for at most three years, if they choose to be self-employed when graduating. Small and medium-sized enterprises also can apply for subsidies if they employ Beijing graduates.
华为员工总数逼近20万,半数是研发人员 Huawei said in its annual "sustainability report" that it now has 194,000 employees, about half of them are for research. The report insists that the company is a private firm with shares 100% owed by its staff.
北京警方:已将李国庆等4名违法行为人依法行政拘留 Beijing police said Li Guoqing, former CEO of Dangdang, has been detained after the second time he and some thugs he hired barged into the company headquarters and took away some documents
As Chinese EV Makers' Long March Comes to an End, There's Barely Anyone Left- PingWest The EV market in China is now dominated by a very limited number of companies, including startups like Nio, Xpeng, and Leading Ideal, and a few other brands launched by conventional carmakers. A screenshot tallying the many now-extinct Chinese EV brands — albeit not exactly accurately — went viral on social media, and gave people the clearest sense to date of how brutal the EV competition has been.
Yicai - Chinese Insurers' Overseas Investment Fell 9.6% to USD70 Billion Last Year Investment fell mainly because some insurers were overly aggressive in earlier years, while more recently the business itself, stricter regulation and the complex global economic situation have made them more rational and wary in their ventures abroad, one sector analyst said.
As Chinese Trade Surpluses Persist, So Will Risk of Trade Wars - WSJ $$ The consequences of global trade surpluses and deficits are the subject of "Trade Wars are Class Wars: How Rising Inequality Distorts the Global Economy and Threatens International Peace." The authors are Matthew Klein, economics commentator at Barron's, a sister publication of The Wall Street Journal, and Michael Pettis, an economist who teaches at Peking University's Guanghua School of Management. Messrs. Klein and Pettis shed new light on an old issue by showing how global savings imbalances result from the growth model used by China, and now Germany.
Alibaba's Ant plans Hong Kong IPO, targets valuation over $200 bln, sources say - Reuters Ant Group, the fintech arm of Chinese e-commerce giant Alibaba, plans a Hong Kong float as soon as this year and targets a valuation of more than $200 billion, said two sources with knowledge of the matter
Yicai - Shenzhen Bourse Suspends Baofeng for Non-Disclosure of Annual Report One of the IPO superstars of the 2014-15 stock market bubble
证监会集中曝光非法从事场外配资平台名单_中国经济网——国家经济门户 CSRC releases list of 258 entities it says are involved in illegal stock market margin lending. A "healthy bull market" requires stronger and earlier crackdowns on margin loans than we saw in 2014-15
Market Reforms Power Meteoric Trading Debut for Medical Robot Specialist - Caixin Tinavi's shares ended their first trading day Tuesday at 86 yuan ($12.26) per share, a 614% gain from their IPO price of 12.04 yuan. The shares continued to rally on Wednesday, gaining another 21% to close at 104.27 yuan.
Drowning in Debt, Property Developer Tahoe Defaults Again - Caixin Debt-laden luxury villa developer Tahoe Group Co. Ltd. failed to repay a 1.5 billion yuan ($214 million) bond that matured on Monday, taking its total overdue borrowings to 27.1 billion yuan. The default underscores the growing financial stress on cash-strapped home builders hit by the double whammy of a slowing economy and the fallout from the coronavirus pandemic.
The COVID-19 recession is a good time to accelerate Chinese reform - David Dollar, Yiping Huang, and Yang Yao - Brookings we believe that many reforms in China — reforms that we detail in our recent book, "China 2049: Economic Challenges of a Rising Global Power" — are more pressing in the wake of the pandemic. Three good examples are the challenges of aging in a system with strong rural-urban cleavages, inefficiencies and risks in the financial system, and the need to reform and modernize the international economic architecture.
Ride-Hailing Giant DiDi to Trial China's Central Bank Digital Currency - CoinDesk A spokesperson of the Chinese ride-hailing mobile service told CoinDesk in an email response that it has entered into a strategic partnership with the Digital Currency Research Institute of the People's Bank of China (PBoC) in an effort to accelerate the application of the CBDC, known as Digital Currency Electronic Payment, or DCEP.
Politics and Law
CPC circular urges study of third volume of "Xi Jinping: The Governance of China" - Xinhua Departments of the Communist Party of China (CPC) Central Committee have issued a circular to call for studying the newly-published third volume of "Xi Jinping: The Governance of China." The volume collects 92 articles, including speeches, conversations, instructions and letters of Xi, general secretary of the CPC Central Committee, between Oct. 18, 2017 and Jan. 13, 2020. It was jointly compiled by the State Council Information Office, the Institute of Party History and Literature of the CPC Central Committee, and the China Foreign Languages Publishing Administration.
On the circular about the latest Xi book - 中共中央办公厅转发《中央宣传部、中央组织部关于认真组织学习〈习近平谈治国理政〉第三卷的通知》_CCTV节目官网-CCTV-1_央视网(cctv.com)
Xi Focus: Xi encourages college graduates to make more contributions - Xinhua Xi...made the remarks in a reply letter Tuesday to 118 graduates studying at China University of Petroleum-Beijing at Karamay, northwest China's Xinjiang Uygur Autonomous Region. In his letter, Xi expressed support for the choice of the 118 graduates from the university after learning that they would take grassroots jobs in Xinjiang and aspire to work with people from different ethnic groups for the development of the country's western region
On Xi's letter.- 习近平回信寄语广大高校毕业生 把个人的理想追求融入党和国家事业之中 为党为祖国为人民多作贡献--时政--人民网
打好打赢决胜全面小康三大攻坚战(决胜全面小康 决战脱贫攻坚 专论) Shi Zhihong, former secretary of vice president Zeng Qinghong, wrote on page nine of the Wednesday People's Daily praising the progress of the party's three "hard battles" on financial risk, poverty and pollution, and urging the officials to keep up the good work and fix the loopholes.
State Council releases legislative work plan for 2020 - Gov.vn It urged strengthening legislation on epidemic prevention and control, reinforcing the corresponding institutional construction, and building a complete, scientific, and effective legal system, in an effort to improve the national public health emergency management system, beef up legal guarantees for public health, and protect people's security and fitness. According to the circular, improvements should be made in the legislative system and mechanism, and administrative legislation for the new era should be further intensified and improved.
Chinese procuratorial organs handle 310,000 public interest lawsuits - Xinhua Among the cases, more than 290,000 were filed against administrative organs, and about 18,000 were civil cases, according to the SPP. Over 170,000 cases were related to environmental protection and resource conservation. By filing and handling such cases, about 285,000 hectares of damaged cultivated land, forestland, wetlands, and grassland have been restored.
Chinese vice premier stresses consolidating poverty alleviation achievements - Xinhua Vice Premier Hu Chunhua has called for multiple measures to consolidate the achievements of poverty alleviation and ensure high-quality victory in the battle against poverty. Hu, also a member of the Political Bureau of the Communist Party of China Central Committee, made the remarks during an inspection tour to southwest China's Chongqing Municipality from Monday to Tuesday.
China considers suing rumor-mongering researchers and think tanks for libel - Global Times Sources say that China is considering suing Adrian Zenz and the Australian Strategic Policy Institute (ASPI) that have long published and disseminated disinformation about China for libel.// Question: In which jurisdiction would they sue?
Foreign and Defense Affairs
Satellite images show Chinese troop withdrawal from front line with India | South China Morning Post The images, taken on Tuesday by Colorado-based satellite imagery company Maxar Technologies, appear to show that Chinese tents, vehicles, and troops previously stationed at strategic locations have pulled back, while a wall on the Indian side had gone.
The Days After: A Retrospective on Chinese and Indian Media Coverage of the June 16 Border Conflict - Lawfare differences in substance in the reporting from the two countries obscure the way in which Indian and Chinese coverage of this issue has been similar: The major outlets from both countries relied extensively on official government statements, generally covering them uncritically. And what's missing on both sides of the border? Neither country's media have produced deep investigative reporting that explains why the clash happened, the response to it or their governments' long-term vision for the border. This heavy pro-government tint in media coverage is par for the course in Chinese media but is further evidence of a worrying trend in the world's largest democracy.
Merkel looks east as ties fray between Germany and U.S. - POLITICO While China has come under criticism across much of the Western world, in particular in the U.S. and U.K., for not being more transparent about the origins of the coronavirus outbreak and, more recently, for its suspension of democratic norms in Hong Kong, the German government has been more cautious in its response. Asked during a press conference last week whether she would support the kind of sanctions against China under consideration in the U.S., Merkel evaded the question.
Scott Morrison and Shinzo Abe to deepen ties on defence - The Australian Government sources told The Australian Mr Morrison and Mr Abe are expected to sign a memorandum of understanding on space co-operation and will look at deepening defence and security ties. "The meeting will build on and reaffirm the importance of our Special Strategic Partnership in a time of global economic and strategic uncertainty," Mr Morrison said in a statement.
The Lawfare Podcast: Xinjiang, Hong Kong and China - Lawfare Benjamin Wittes spoke with Alvin Cheung, a non-resident affiliated scholar of NYU's U.S. Asia Law Institute and an expert on Hong Kong law; Jeremy Daum of the Paul Tsai China Center at the Yale Law School and an expert on Chinese criminal procedure and the detention of Uighurs outside of it; and Sophia Yan, the Beijing-based China correspondent for The Telegraph in London. They talked about what's going on in Hong Kong, what's going on in Xinjiang, what's going on in Tibet, and what's going on in the mainland of China itself.
China's Coast Guard Shows Up at Vanguard Bank Again - RFA Less than a week after China sent a survey vessel into Vietnamese waters, vessel-tracking software shows that the China Coast Guard has shown up at Vanguard Bank, a known South China Sea flashpoint between Vietnam and China. The coastguard ship came within 30 nautical miles of a Vietnamese oil rig, and its sudden arrival may be related to energy exploration Vietnam is planning to undertake in the area
Peng highlights solidarity in reply to Africa first ladies - China Daily Peng Liyuan, wife of President Xi Jinping, has highlighted the importance of countries standing together and cooperating with each other in fighting the COVID-19 pandemic with solidarity. In a letter of reply to Antoinette Sassou Nguesso, president of the Organization of African First Ladies for Development, and other African first ladies, Peng spoke of the valuable support provided by African countries to the Chinese people when they encountered difficult times in the early stages of the outbreak.
Expecting China to join U.S.-Russia nuclear arms talks "unrealistic": official - Xinhua Fu Cong, director-general of the arms control department of the Chinese foreign ministry, made the remarks here at a press briefing on international arms control and disarmament..."Hyping up the China factor is nothing but a ploy to divert world attention, and to create a pretext under which the United States could walk away from the New Strategic Arms Reduction Treaty (START)," he said.
Chinese work on nuclear plants 'will be next flashpoint' | News | The Times Rebel Tories have raised concerns over Britain's exposure to China in nuclear power after the culture secretary hinted that the government is poised to change its mind on Huawei.
Japan seeks 'future fighter' to help protect disputed island chain from China | South China Morning Post apanese defence officials will accelerate discussions with allies about the development of a new "future fighter" jet, underlining its concerns about Chinese challenges to its territorial claims on a remote island chain.
The Political Logic of China's Strategic Mistakes by Minxin Pei - Project Syndicate in Trump and his national-security hawks, China finally has met its match. Like their counterparts in Beijing, the US president and his senior advisers not only believe in the law of the jungle, but also are unafraid to wield raw power against their foes...For the first time since the end of the Cultural Revolution, the CPC faces a genuine existential threat, mainly because its mindset has led it to commit a series of calamitous strategic errors. And its latest intervention in Hong Kong suggests that it has no intention of changing course.
China-India, John Bolton, and U.S. Presidential Elections - Carnegie-Tsinghua Center - Carnegie Endowment for International Peace Paul Haenle spoke with Chen Dingding, professor of international relations at Jinan University and founding director of the Intellisia Institute, to better understand how these developments are being viewed in China and analyze their implications for the U.S.-China relationship and upcoming presidential elections.
Taiwan
Taipei-Shanghai forum to be held by videoconference: Ko - Focus Taiwan The annual forum between Taipei and Shanghai is scheduled to be held via videoconference this year amid the COVID-19 pandemic, Taipei Mayor Ko Wen-je (柯文哲) announced Wednesday. The two sides are now in talks to figure out which videoconference platform will be used for the event as each side has its own concerns, the mayor said.
Risks seen in future relations across the Taiwan Strait but overall situation controllable: expert - Global Times In an exclusive interview, Global Times reporters (GT) discussed the future of cross-strait relations with Wang Zaixi (Wang), former deputy director of the Association for Relations Across the Taiwan Strait of the State Council and Vice President of National Taiwan Studies Association.
Tech and Media
Google Scrapped Cloud Initiative in China, 'Sensitive Markets' - Bloomberg In May, the search giant shut down the initiative, known as "Isolated Region" and which sought to address nations' desires to control data within their borders, the employees said. The action was considered a "massive strategy shift," according to one of the employees, who said Isolated Region had involved hundreds of employees scattered around the world.
China's first plane with high-speed satellite internet makes maiden flight - CGTN Passengers onboard the plane can get access to network service with a speed higher than 100 megabytes, which enables the same surfing experience as that on the ground.
Chinese Live Streaming Apps are Shutting Down Active Streams with Foreign Hosts- PingWest They reported that during one of their streams, a banner notice was shown on their end, claiming that their channel is showing content that violated platform policies. The notice went on to threaten them with a ban if they continue to feature foreign adults on stream.
VC Fund Backing Firms Worth $206 Billion Eyes China Startups - Bloomberg That same year, Chao convinced his Stanford classmate Hurst Lin to join and build up DCM's China's business. The son of Taiwan immigrants, Lin graduated from Dartmouth College and later co-founded Sina.com Inc., China's first online portal company to go public in the U.S.// Comment: Hurst is DCM's midas man for China
Yicai - Chinese Chip Firm GalaxyCore to Raise USD991 Million in Star Market's Fourth-Largest IPO Founded in 2003, Shanghai-based GalaxyCore makes fabless image sensors and display drivers used in smartphones, tablets, computers, and cameras.
Lin Nguyen | South China Morning Post The articles by this author have been withdrawn because we are unable to verify the authenticity of the author. As a result, we are now reviewing our policies for contributors.
Energy, Environment, Science and Health
WHO experts to travel to China - WHO WHO experts will travel to China to work together with their Chinese counterparts to prepare scientific plans for identifying the zoonotic source of the SARS-COV-2 virus. The experts will develop the scope and TOR for a WHO-led international mission.
Chinese mainland reports 7 new confirmed COVID-19 cases, all imported - Xinhua Chinese health authority said Wednesday that it received reports of seven new confirmed COVID-19 cases on the Chinese mainland Tuesday, of which all were imported. Inner Mongolia Autonomous Region reported four imported cases, while Shanxi, Guangdong and Yunnan each reported one, the National Health Commission said in its daily report.
Yicai - Academic Platforms Decline to Print Paper Challenging Harvard Coronavirus Study A claim by Harvard University researchers that the coronavirus was present in the Chinese city of Wuhan before last winter has sparked controversy in academic circles, with Chinese scholars penning a paper that questions the methodology used and conclusions presented. Two academic platforms have declined to publish this rebuttal. // The rebuttal (PDF) The original paper was Crap with a capital C, as I discussed when it first came out
China's Virus Epicenter Empowers Technocrats in Disease Control Reforms - Caixin Guidelines issued Tuesday by Central China's Hubei province aim to create new posts for senior public health experts and give more power to local centers for disease control and prevention (CDCs). The plans provide a framework for "strengthening basic health service systems and building the capacity to respond to public health emergencies," Tu Yuanchao, the deputy director of the provincial health commission, said at a press conference
英学者:新冠病毒可能早已"休眠"于全球多地 CCTV, People's Daily and Xinhua cited a research by Oxford researchers in saying that the COV19 may not originate from China. Instead the virus may have been hiding all along in different parts of the world until it was somehow activated.
Going, going … dingy wet markets die out - SHINE News Traditional wet markets, once a dominant feature of daily life in Shanghai, have suffered in recent years from an image of dingy, cramped places where prices might be cheap but food safety was questionable. No more. The old markets are undergoing a transformation to make them cleaner, safer and more modern.
Commentary: Precision key to Beijing's effective COVID-19 response - Xinhua Beijing has set a clear example that China will ward off a new wave of infections -- domestic or imported -- through a prompt and refined epidemic control response, said Zhang Wenhong, head of the Center for Infectious Disease with Shanghai-based Huashan Hospital of Fudan University. Beijing's experience serves not only as a testament to the resilience of China's governance system in the face of the COVID-19 epidemic but also as an inspiring message for the world that the disease is a foe that can be defeated.
Three Gorges Dam yet to hit full flood storage capacity: operator - Xinhua The dam still has leeway to deal with even greater flooding in the country's largest river, the Three Gorges Cascade Dispatch and Communication Center said. "The current flood situation in the Yangtze River's main course is not particularly severe, so the reservoir's flood storage capacity has yet to be fully utilized," said Bao Zhengfeng, director assistant of the center.
Chinese state councilor stresses emergency response for flood control - Xinhua State Councilor Wang Yong has called for all-out efforts to strengthen detection and emergency responses in the battle against floods to ensure people's safety. Wang, also head of the State Flood Control and Drought Relief Headquarters, made the remarks during his visit to several cities in east China's Jiangxi Province from Monday to Tuesday as he inspected work for flood control and disaster relief in the Yangtze River basin
Reservoir in Hangzhou opens all nine gates to discharge record-breaking flood waters - Global Times The Xin'anjiang Reservoir, also known as the Thousand Island Lake, in Hangzhou, East China's Zhejiang Province, opened all of its nine gates for the first time in history on Wednesday morning to discharge its record-breaking flood waters.  The reservoir's water reached a high of 108.45 meters, making it 0.08 meters higher than the second highest level in history (108.37 meters in 1999, when eight gates were opened to discharge water). The reservoir was last discharged due to flood waters in 2011.
China Is About to Run Out of Places to Store Crude Oil - Caixin As of Wednesday, China had used up 69% of its crude oil storage capacity with the 33.4 million tons it had stockpiled, up by 24% from the previous year, according to data from energy information provider Oilchem China. That's only 1 percentage point away from the 70% threshold that experts view as the country's capacity limit.
Pollution chokes China's capital despite lockdown cuts in traffic: study | South China Morning Post Professor Sun Yele and colleagues with the Institute of Atmospheric Physics at the Chinese Academy of Sciences in Beijing found that the decline in traffic and other human activities led to an overall decline in pollutant emissions for winter of about 40 per cent. But readings of PM2.5, very fine suspended particles that are hazardous to human health, were about the same as last year, according to the Beijing Municipal Ecology and Environment Bureau.
Jobs and Events
Senior Analyst, China - International Crisis Group ' Based in one of Crisis Group's offices or in the candidate's home location (if based in a location where there is no Crisis Group office)