Discover more from Sinocism
Get smarter about China
Over 179,000 subscribers
South Korean President Moon Goes To Beijing; Beijing Government Has Had A Rough Couple Of Weeks; Record Land Sales in 2017; Dalian Still Has "Pernicious Influence" of Bo Xilai
Good morning from cold DC...The Central Economic Work Conference date looks to be confirmed for December 18. Don't expect specific policy details out of the meeting but it is very important in setting the top-level themes and directions, especially right after a Party Congress.
Next week I will be traveling and so there will only be 2-3 three newsletters. The publishing schedule will also be reduced the week of Christmas. I do not want to go dark but given everyone's schedules the newsletters next week and the week after will be shorter. If any readers are in Jackson Hole, Wyoming and would like to get together next week let me know. My kids will be skiing but after my injury this time last year I am not sure I will be.
Thanks for reading.
The Essential Eight
1. South Korean President Moon Goes To Beijing
Comment: It does not sound like it will be an easy trip, but there has been a rapprochement over THAAD, and Moon appears much closer to Xi's position over North Korea, at least around the use of force. I have no word on the results of Zheng Zeguang's last-minute "firefighting" trip to DC. Trump promised new sanctions 13 days ago and none have been announced, though the release of a report later today by C4ADS on North Korean finance may end up as a blueprint for tighter financial sanctions.
Moon is in for tough talks in Beijing with Xi- JoongAng Daily:
Leaders of Korea and China will not issue a joint statement after a summit later this week, a senior Blue House official said Monday, an admission that President Moon Jae-in will face some tough talk when he meets Chinese President Xi Jinping in Beijing.

"The two countries are not in a situation to present a mutually acceptable position on a pending issue," a senior Blue House official said Monday. "Therefore, we decided not to issue a joint statement after the summit."
South Korea's Moon, China's Xi to talk North Korea, trade in Beijing summit:
In an interview with Chinese state television shown late on Monday, Moon said THAAD's presence was inevitable due to the looming North Korean threat but assured it would not be used against China.

"South Korea will be extremely careful from here on out that the THAAD system is not invasive of China's security. South Korea has received promises from the United States multiple times regarding this," Moon said.
China temporarily closes border bridge with N. Korea - The Japan News:
The closure of the bridge — dubbed the "friendship bridge" — is scheduled to last for 10 days, the authorities said. Coinciding with the closure, Dandong customs, which handles about 70 percent of the trade between China and North Korea, also suspended its operations.

An official of the Chinese Foreign Ministry said the bridge was being closed "because the North Korean side will conduct repair work on the iron bridge."
Fearing the Worst, China Plans Refugee Camps on North Korean Border - The New York Times:
A Chinese county along the border with North Korea is constructing refugee camps intended to house thousands of migrants fleeing a possible crisis on the Korean Peninsula, according to an internal document that appears to have been leaked from China's main state-owned telecommunications company.

Three villages in Changbai County and two cities in the northeastern border province of Jilin, have been designated for the camps, according to the document from China Mobile. The document appeared last week on Weibo, a microblogging site.
---
2. Beijing Government Has Had A Rough Couple Of Weeks
Comment: An embarrassing couple of weeks for Beijing. Migrant evictions were brutal but seem to have stopped halfway, building sign removal halted halfway, coal ban halted halfway...the government looks both ruthless and incompetent... How does Xi view Cai Qi's handling of things? Will the Beijing leadership Cai inherited bear the brunt of blame and be replaced?
Campaign to Drive Out Migrants Slams Beijing's Best and Brightest - The New York Times: 
"One minute you're drinking espressos, the next you're being evicted," said Mr. Si, 28, a bespectacled programmer who grew up in northern China and studied computer science in New Zealand. "I'm starting to think whether people like me have a future in Beijing." 

As Beijing has launched its most aggressive drive in decades to rid itself of unwanted migrants, the brunt of the crackdown has fallen on laborers from the countryside. But it has also hurt a different kind of migrant: educated and ambitious white-collar workers drawn to the city's new economy of tech, finance and hospitality industries.
Slideshow--Beijing Party Secretary meets "ordinary workers" on the coldest day of this winter in Beijing. Damage control mode? - 北京入冬最冷一天,蔡奇看望普通劳动者_资讯频道_凤凰网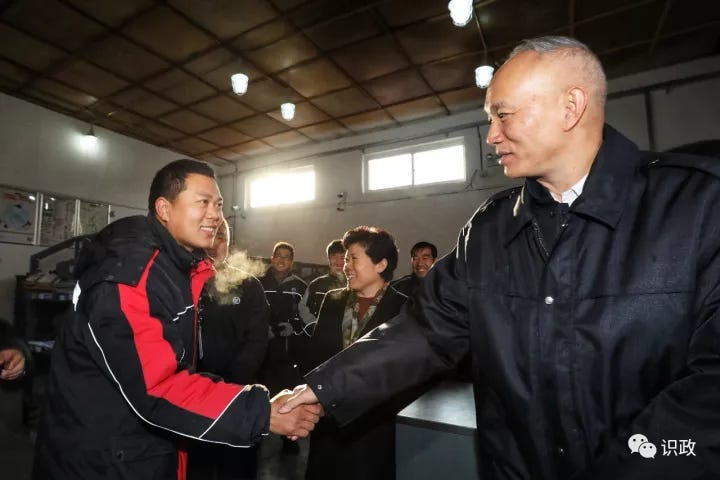 Some more details on Cai's visit with "ordinary workers" - 蔡奇看望慰问生活性服务业劳动者时强调 我们这座城市离不开普通劳动者 陈吉宁一同慰问-千龙网·中国首都网
District in capital temporarily halts sign replacements - China Daily:
According to a notice released on Saturday and widely publicized on Monday, the district halted the sign removals because of concerns over workers' safety in windy weather and problems faced by visitors in finding their way around an unfamiliar area without the signs as reference.
---
3. China Is Nervous About The GOP Tax Plan
Comment: Another good scoop by Wei Lingling
Beijing Develops Plan to Counter Trump Tax Overhaul - WSJ:
In the Beijing leadership compound of Zhongnanhai, officials are putting in place a contingency plan to combat consequences for China of U.S. tax changes as well as expected interest-rate increases by the Federal Reserve, according to people with knowledge of the matter. What they fear is a double whammy sapping money out of China by making the U.S. a more attractive place to invest.

Under the plan, the people say, the People's Bank of China stands ready to deploy a combination of tools—higher interest rates, tighter capital controls and more-frequent currency intervention—to keep money at home and support the yuan.

An official involved in Beijing's deliberations called Washington's tax plan a "gray rhino," an obvious danger in China's economy that shouldn't be ignored. "We'll likely have some tough battles in the first quarter," the official said.
---
4. An Insider's View Of Kindergartens in China
Comment: The fairly new and very excellent "Elephant Room" recounts meeting with a Beijing education official after the RYB kindergarten scandal.
Kindergartens in China : a Conversation With Those Inside the System – Elephant Room:
We were here to meet Mrs. Z, a lady who works at the pre-school department of Beijing's education bureau. Last night, after I expressed desire to chat about the recent RYB kindergarten case, she initiated a face-to-face meeting at her house since "that thing is not so convenient to be talked about through WeChat anymore" (as she later told us, everyone in the education bureau was commanded to not to talk about the RYB case at all, and all of the staffs' telecommunications are now tightly monitored)...

"Ha, the teachers!" Mrs. Z squeezed out a dry laugh, meeting our eyes with a sincere yet mystical look. "you know, I started as a kindergarten teacher 30 years ago, shifted to the admin route and ended up where I am today. From what I've seen all those years, I could assure you that today's China still lacks kindergarten teachers in terms of both quantity and quality. Everyone knows kindergarten teacher is a tough job with low income, and the clever, capable ones would never stay at the job, that's the reality."..

"Everyone inside the system knows there's not enough good-quality kindergartens, yet no one has the guts to ask or approve more. Why? Because the government says whoever signs the approval of new kindergartens is fully responsible for whatever the kindergarten does – no one wants to be responsible, so everyone just pretends they don't see the problem – honestly, what else can we do?"
---
5. Chinese Banks Worried About Proposed Asset Management Reforms
Comment: Part of their lobbying efforts to water down the rules includes what sounds like warnings that things may blow up...Are they just being greedy, or do they know something the regulators do not?
China Banking Association Denies Calling for Less Regulation - Caixin Global:
Last Thursday, people in the market began circulating a document that alleged to be a submission paper by 10 midsize commercial banks, asking the government to water down its proposed framework for overseeing the $15 trillion asset-management industry.

The China Banking Association, which had chaired meetings for the 10 banks on this matter, said on its Weibo account Friday that "there is no such thing as a joint submission by 10 commercial banks."

However, banking executives who attended those meetings told Caixin that the document does reflect the main views from the banks in those meetings.
独家|银行业陆续反馈资管意见 监管称将"排除要挟"_金融频道_财新网:
近期,大中型银行就资管新规陆续反馈意见,引发市场争议。有媒体在采访机构后报道称,监管将据此作出修订,包括过渡期拉长,过渡期结束后还能续发原产品承接未到期的非标资产、银行理财可能不设200人限制等。但有关监管人士告诉财新记者,尚未作出具体修订的决定,现在惟一能明确的是,严监管的方向不会动摇。
---
6. Record Land Sales in 2017
Comment: 2017 land sales likely to hit all time high, exceeding 2014 record of 4.29 trillion RMB. So much for governments reducing reliance on land sales?
全年卖地收入超4万亿有望创新高,热点城市土地增供控价_第一财经
China's fiscal revenue, expenditures up in first 11 months - Xinhua:
However, in November alone, fiscal revenue and expenditures declined 1.4 percent and 9.1 percent year on year to 1.1 trillion yuan and 1.7 trillion yuan, respectively, driven by a higher comparative base in the same period last year. China promised a more proactive and effective fiscal policy in 2017, with the fiscal deficit set at 3 percent of GDP, or 2.4 trillion yuan, up 200 billion yuan from 2016.
---
7. Government Vehicles Go Green
Comment: A good way to support the development of the market, will we see more luxury green cars to support the needs of officials?
Go green, Beijing orders agencies as it looks to phase out fossil fuel cars | South China Morning Post:
China's government departments have been ordered to set the example for the rest of the smog-plagued country by taking the lead in using domestic green energy vehicles, as Beijing makes its latest push for wider use of clean cars.

"Party and government departments should be equipped with and use domestically produced vehicles, and take the lead in using new-energy vehicles," the new regulations read, according to the state-run Xinhua news agency. 中共中央办公厅 国务院办公厅 印发《党政机关公务用车管理办法》
---
8. Social Credit Blacklist
Comment: In theory it is a good idea but abuses and official overreach are rife. We have a family friend who can not fly or take trains because of a judgement against her ex-husband. She had nothing to do with his problems but somehow was included and now can not get herself removed from the list.
China's Chilling 'Social Credit' Blacklist - WSJ:
The experience of lawyer Li Xiaolin may give a taste of what that future looks like. During a 2016 work trip inside China, he tried to use his national identity card to purchase a plane ticket. To his surprise, the online system rejected it, saying he had been blacklisted by China's top court. Mr. Li checked the court's website: His name was on a list of "untrustworthy" people for having failed to carry out a court order in 2015. He thought he had resolved the issue, but now he was stranded more than 1,200 miles from home.
LeEco founder Jia Yueting can't fly in China because he has not paid his debts and so a court has just declared him "untrustworthy". He seems to be a good example of someone who deserves to be on a social credit blacklist, But he is in the US, with no plans of returning--贾跃亭被法院列入"失信被执行人名单"名单 坐飞机等行为受限
---
Business, Economy, Finance And Trade
China to Clarify Market Access With No-Go List for Foreign, Domestic Capital - Caixin Global China is expected to roll out an overarching list next year outlining which areas are off-limits for investment by both foreign and domestic capital, a move the central bank said will clarify market access and reduce barriers for investors. The first national-level version of China's so-called market-access negative list will encourage the development of the non-public economy and increase market vitality, claimed Yi Gang, vice governor of the People's Bank of China, during a forum over the weekend.
Delays and suspicions dog China-US investments - FT $$ While some blame the administration's suspicions regarding Chinese investment, people close to the process say it also reflects a shortage of political appointees. The mid-level career staff filling many of the 16-agency committee's seats are seen as unwilling to make controversial decisions, especially when sensitivities about investments from China are high.
U.S. Acquisition Target Sues HNA Over Collapsed Sale - Caixin Global In its lawsuit, Ness said a condition imposed by HNA and Pactera under the original deal was approval by the U.S. agency that clears all major cross-border sales for national security concerns. But then the Chinese buyers not only refused to cooperate with the Committee on Foreign Investment in the United States (CFIUS), but also worked to sabotage the deal, the suit alleged. "(The) defendants covertly worked to evade and frustrate CFIUS's ability to investigate and review the transaction, including by discussing, planning, orchestrating, and implementing various schemes to disguise the true nature of their organizations, corporate structures, and ownership, and thereby mislead CFIUS and impede its ability to carry out its governmental review function," the lawsuit stated.
China Coal Buying Spree Lifts Prices Across Asia on Winter Chill - Bloomberg Futures on the Zhengzhou Commodity Exchange climbed to an intraday record on Monday, while thermal coal at the Australian port of Newcastle has advanced the past three weeks to trade near $100 a ton. Stockpiles held by China's six major power producers for this time of year dropped to the lowest level last week in at least four years, according to estimates from Macquarie Group Ltd.
China stresses safeguard of economic globalization, multilateral trading system - Xinhua China has always been a firm proponent of economic globalization and the multilateral trading system, Zhong Shan, China's Minster of Commerce said on Monday. Zhong made the remarks during the plenary session of the 11th World Trade Organization's ministerial conference held in Buenos Aires, Argentina's capital.
加快完善社会主义市场经济体制--理论-人民网 穆 虹 2017年12月12日07:48    来源:人民网-人民日报
Regulator Warns Companies Against Intentional IPO Delays - Caixin Global China's securities regulator is zeroing in on companies suspected of deliberately slowing down their applications to go public to avoid stricter oversight, in the latest push to speed up the approval process for initial public offerings (IPOs). The China Securities Regulatory Commission summoned executives of 15 brokerages to further clarify circumstances in which it would suspend IPO reviews and set deadlines for applicants to respond to regulators' queries, Caixin learned from sources close to the matter.
China to set 2018 policies during upcoming annual economic work conference in Beijing | South China Morning Post China's annual Central Economic Work Conference will begin on Monday, December 18, during which the ruling Communist Party's economic agenda for 2018 will be mapped out, the website of Hong Kong-based Phoenix TV reported on Tuesday, citing unnamed sources.
World's Second-Tallest Building Opens With a Whimper After Delay - Bloomberg After more than two years of red tape that kept tenants from moving in, China's tallest skyscraper, the Shanghai Tower, has been quietly opening and filling office space.  More than 60 companies now occupy office space on its 128 floors -- including some big names in China finance, such as Ant Financial
Regulators Give Online Microlenders a Chance to Clean Up Their Act - Caixin Global According to a document issued by a working group overseeing peer-to-peer (P2P) lending risks under the China Banking Regulatory Commission (CBRC), the regulator will complete its first round of evaluations of all online microlenders by the end of January. Licensed lenders that do not meet standards can still keep their operating licenses if they manage to fix any issues by the end of March, the CBRC document said. Companies operating without a license, or those with a license but found not to possess "operating qualifications" after a review, will be shut down, according to the document issued on Friday.
网络小贷整治靴子落地:明年1月底前完成摸排,无资质机构将面临"灭顶之灾"_第一财经 12月11日,第一财经记者获得的名为《小额贷款公司网络小额贷款业务风险专项整治实施方案的通知》(下称《通知》)显示,此次排查的主要内容是,小贷公司利用互联网开展小贷业务的合法合规性,打击无网络小贷经营资质,甚至无放贷资质却经营网络小额贷款的机构。
Beijing Warns Developers: Don't Sell Rental Housing - Caixin Global The public caution was given after state broadcaster China Central Television (CCTV) reported last week that a property subsidiary of state-owned China Railway Construction Real Estate Group North Co., had asked potential tenants in a development in south Beijing designated for renting to make a lump-sum payment equivalent to 10 years' rent and deposits worth 20 years' rent.
South China chemical producer halts ammonia output as gas crisis deepens - Reuters Yunnan Yuntianhua Co stopped a 500,000-tonne per year production plant of ammonia and an 800,000-tonne a year urea production line at its Yunnan Shuifu subsidiary, it said in a filing to the Shanghai Stock Exchange on Tuesday.
China gas shortages spread after botched coal conversion - FT $$ On Tuesday, German chemicals group BASF declared force majeure on products made at its chemicals facility in Chongqing, affecting the supply of the compounds used in Spandex among other products. "Spandex will be tight," an industry executive quipped.
U.S., EU, Japan to join forces on Chinese excess capacity: source - Reuters The United States, European Union and Japan are expected to announce a joint effort on Tuesday aimed at confronting China over its excess industrial capacity and other trade practices, a source close to the discussions said.
Politics, Law And Ideology
纠正"四风"不能止步 作风建设永远在路上——中央纪委有关负责同志答新华社记者问————头条——中央纪委监察部网站 Comment: A CCDI official explains Xi's latest directive on fighting undesirable work styles…surprised no enterprising firm has suggested the CCP install "life-streaming" cameras on all cadres that feed video into a massive big data/AI operation that can spot official transgressions in near real-time
大连被点肃清薄熙来流毒不彻底 日前,辽宁省十二届省委第二轮巡视反馈工作全面展开,在完成对抚顺等4个市和3个市辖区的反馈后,省委巡视组近日又向大连市及甘井子区、本溪市及溪湖区、辽阳市宏伟区和太子河区反馈了巡视情况。 长安街知事(微信ID:Capitalnews)发现,在对大连市的情况反馈中,巡视组提到了这样一句:肃清薄熙来流毒不够彻底。 //  Liaoning Provincial inspection team criticizes Dalian for not fuly removing the "pernicious influence" of Bo Xilai
辽籍河北高官张杰辉落马 鞍山三任市长两任书记前腐后继_政经频道_财新网 曾因地方钢企去产能问题被问责的河北省前副省长、现任河北省人大常委会副主任张杰辉,成为中共十九大后拿下的"第三虎"。12月12日上午11时,中央纪委监察部官网发布消息,张杰辉涉嫌严重违纪,目前正接受组织审查。// // Hebei official Zhang Jiehui the "third tiger" put under investigation since the 19th Party Congress.
以习近平新时代中国特色社会主义思想为指导坚持和发展"枫桥经验" 开创政法综治工作新局面--法制网 他指出,为了群众、依靠群众,是"枫桥经验"的核心要义,也是"枫桥经验"50多年来历久弥新的关键所在。新时代,要把握好"枫桥经验"的精髓,传承好"枫桥经验",同时,适应社会主要矛盾变化,顺应人民日益增长的美好生活需要,推动"枫桥经验"与时俱进,不断焕发新的生机活力。// Comment: On an inspection tour of Zhejiang Guo Shengkun calls for persisting in and development the "Fengqiao Experience" model for social management. Xi revived this Mao-era term and David Bandurski has a good 2013 explainer here:
On September 5, 1978, the People's Daily published an official editorial called, "Rectifying and Strengthening Public Security Work" (整顿和加强社会治安工作). It talked about how "Fengqiao District in Zhejiang's Zhuji County relied on the masses to carry out on-site rectification of reactionary elements, reforming the vast majority of them into self-supporting laborers for the law." "Their successful experience," the article said, "was praised by Mao Zedong, and was known as a red flag on the front lines of public security."
Chinese authorities to take lead in using new energy vehicles - Gov.cn The general offices also issued another regulation on office occupancy for CPC and governmental agencies, which is aimed at creating reasonable allocation of offices to build a clean and economical government. Office occupancy includes places for offices, services and equipment as well as other related uses, and the area of such places should strictly follow the rules, according to the regulation which also took effect on Dec 5. 中共中央办公厅 国务院办公厅印发《党政机关办公用房管理办法》
蔡奇主持会议传达弘扬"红船精神"座谈会精神--千龙网·中国首都网 Comment: Cai Qi holds a meeting to promote "red boat spirit"..."red boat spirit" getting lots of play n the wake of Xi's post-19th Party Congress visit to the boat on which the 1st Party Congress concluded
Foreign and Military Affairs
Speech by Foreign Minister Wang Yi at the Opening of Symposium on International Developments and China's Diplomacy in 2017 As for China, since the 18th National Congress of the Communist Party of China (CPC), under the leadership of the CPC Central Committee with Comrade Xi Jinping at its core, China has made historic achievements and registered historic changes in wide-ranging areas. The 19th CPC National Congress successfully held this year established the Xi Jinping Thought on Socialism with Chinese Characteristics for a New Era, opened up new horizons for the cause of socialism with Chinese characteristics, and set out the direction and objectives of China's diplomacy in the new era. This has given Chinese answers to the serious questions confronting the world. That is to say, China believes it is essential to advance peace, development and win-win cooperation, foster a new form of international relations and build a community with a shared future for mankind. It is fair to say that we have taken stock of our achievements and broken new ground in China's diplomacy in the year of 2017.
China, India should make correct choice in development of relations: Wang Yi - Xinhua China, India should make correct choice in development of relations, Chinese Foreign Minister Wang Yi said here Monday. The visiting Chinese official, during his meeting with Indian National Security Adviser Ajit Kumar Doval, said the Sino-Indian relations are at a crucial moment when both sides need to make right choice on the future of the bilateral relations.
China calls for joint efforts with Russia, India to maintain int'l stability - Xinhua Chinese Foreign Minister Wang Yi said on Monday that China, Russia and India should play active roles in the changing global structure and work towards a world with stablization and certainty. Wang made the remarks during the 15th trilateral meeting of the foreign ministers of the three countries.
Sam Dastyari quits as Labor senator over China connections | Australia news | The Guardian The Labor senator Sam Dastyari has quit the Australian Senate, after weeks of controversy over his links and interactions with Chinese donors. Dastyari said his position had become untenable in the wake of further revelations regarding his contact with Huang Xiangmo, a donor with links to China's ruling communist regime, which forced his first demotion in 2016.
Malcolm Turnbull denies he is anti-China in combative Q&A appearance | Australia news | The Guardian As well as asserting he could not possibly be anti-China by foregrounding his familial links (the prime minister's Mandarin-speaking son Alex is married to Chinese-born Yvonne Wang), Turnbull insisted that all Australians, "whether they are of Chinese background or not, expect their leaders to stand up for Australia". "Let me say the suggestion that I or my government or Australia generally is anti-Chinese is outrageous – absolutely outrageous," the prime minister said.
China spy threat theory undermines ties - Global Times With burgeoning trade and people-to-people exchanges, Chinese and German institutions have increasingly conducted mutual visits of personnel. There is no need for the Chinese intelligence service to pick up valuable Germans on social networks. If Germany finds it a threat to national security when Germans are invited to China, Chinese attendance at meetings and activities in Germany is dangerous to China alike. All countries have an intelligence service, but the legal boundary hasn't been fully set forth internationally. Over the past years, Western countries have often accused China of gathering intelligence in an unacceptable way, nonetheless without sound evidence.
China, Russia Kick Off Anti-Ballistic Missile Defense Exercise | The Diplomat China and Russia kicked off a joint anti-ballistic missile defense computer-simulated command post exercise in Beijing on December 11, the Chinese Ministry of Defense (MoD) said in a statement. The drill, dubbed Airspace Security 2017, is the second such exercise held by the two countries and is expected to conclude on December 16.
Billionaire Guo Wengui wants regime change in Beijing | AFP Guo has been developing a new media platform that he intends to launch before the end of December to expose the flaws of China's Communist regime. Guo has developed a relationship in the US that seems unexpected -- with Steve Bannon, US President Donald Trump's former strategist who has called for Washington to wage "economic war" with China. "He is one of the best international political experts I have ever seen. Mr Bannon is one of the very few Westerners who really understands Asia," said Guo. Guo said he has met ten times with Bannon, the one-time Goldman Sachs investment banker and head of influential ultraconservative outlet Breitbart News and that they have discussed his new platform, which he did not describe in detail.
吴士存:从"准则"向南海"秩序"迈进_评论_环球网 中国一方面要对美、日、澳等域外国家宣扬的"基于规则的秩序"针对自身的一面心中有数,保持定力;另一方面可以主动争取掌握话语权和主导权,打造符合中国战略目标和各方利益的地区规则和秩序。这样的规则和秩序,应是在以往成果的基础上,最大限度体现中国倡导和支持、东盟国家参与的地区国家共识,管控南海地区的领土争议和海洋权益争端,防止矛盾激化升级和域外力量的介入,在"一带一路"框架之下推动海上务实合作,维护南海形势总体稳定。 //  Comment: Wu Shicun argues in the Global Times that a legally binding Code of Conduct is in China's interests
Chinese air force flexes muscle into Western Pacific, sends message to Taiwan | South China Morning Post Monday's drills involved aircraft flying over the Bashi Channel between Taiwan and the Philippines, and the Miyako Strait near the Japanese island of Okinawa. Other patrols encircled Taiwan, air force spokesperson Shen Jinke said, according to a statement posted on the air force's website.
Taiwan
Top political advisor calls for peaceful reunification across Taiwan Strait - Xinhua Chinese top political advisor Yu Zhengsheng said Monday the mainland will uphold "peaceful reunification" and the "one country, two systems" principle. Yu, chairman of the National Committee of the Chinese People's Political Consultative Conference, made the remarks when meeting a delegation led by Yok Mu-ming, chairman of Taiwan's New Party.
China conducts 'island encirclement' patrols near Taiwan - Reuters China's air force has conducted more "island encirclement patrols" near Taiwan, its military said on Tuesday, after a senior Chinese diplomat threatened that China would invade the self-ruled island if any U.S. warships made port visits there. 中国空军出动轰-6K等多型战机成体系"绕岛巡航" 
Taiwan can contribute to 'Free and Open Indo-Pacific' plan: Tsai | FOCUS TAIWAN  As a free and democratic nation, Taiwan can make a significant contribution to the United States' new "Free and Open Indo-Pacific" strategy, President Tsai Ing-wen (蔡英文) said Monday. "Not only are we willing to defend the common goal of freedom and openness, we will go all out to protect the fundamental international order," Tsai told visiting American Institute in Taiwan (AIT) Chairman James Moriarty, who is in Taiwan for a week-long visit.
Tech And Media
One month after denying it will exit China, AWS opens its second region there | TechCrunch Amazon Web Services has opened its second region in China with a local partner, Ningxia Western Cloud Data Technology. The launch comes just one month after Amazon denied reports that AWS is leaving China, but said the company sold "certain physical infrastructure assets" to Internet services company Beijing Sinnet, which operates its first region in the country, in order to comply with regulations.
Society, Art, Sports, Culture And History
Welcome to China's Florida: Sun, Sand and Retired Snowbirds - The New York Times Comment: On retiring to Hainan  //  "Retired life is better than we could have ever imagined," said Sheng Shengmin, 67, a retired building contractor from Beijing. Last year, Mr. Sheng joined the wave of snowbirds who have laid down roots here, buying an apartment in the city for the equivalent of $272,000. After years of living in Beijing, Mr. Sheng said, "the pollution, the migrant workers, and the cold" had made the capital city uninhabitable.
独家|"革命小闯将"黄帅去世,叶永烈公布三十多年前通信_文化课_澎湃新闻-The Paper Comment: Huang Shuai is dead at 57, had her 15 minutes of fame as a school girl near the end of the Cultural Revolution. Here is her entry in the Historical Dictionary of the Cultural Revolution // 按照"指示",报社把日记作了摘编,并在1974年12月12日加了编者按语公开发表。12月28日,中央媒体又在头版头条位置全文转载。 几天之内,黄帅就成了中国家喻户晓的"敢于反潮流的革命小闯将",全国各中小学迅速掀起了"破师道尊严""横扫资产阶级复辟势力""批判修正主义教育路线回潮"的活动,有的地方还树立了本地黄帅式反潮流英雄。这就是当时著名的"小学生事件"。//
WWII memorials solemn reminders of war tragedy - China Daily Dec 13 marks the National Memorial Day for Nanjing Massacre Victims, which is established to commemorate the 300,000 Chinese people killed by Japanese troops after the fall of Nanjing in World War II.
Ancient Chinese Opera Finds Fresh Voice - Sixth Tone The Little Peony Errenzhuan Art School is teaching a few dozen students about a 300-year-old art form, in hopes that it will find a new audience among the younger generation. Errenzhuan, which translates as "song-and-dance duet," exemplifies the rustic entertainment of China's northeast. Known for its witty, relatable narratives, the traditional opera was once so popular that locals skipped meals to enjoy errenzhuan, according to an ancient proverb. But with its popularity waning, institutions like Little Peony are attempting to pass down the errenzhuan tradition to youth.
How a Chinese Student's Murder Turned Into a Moral Witch Hunt - Sixth Tone Since Jiang Ge was stabbed to death in Tokyo, commentators have unfairly condemned her roommate's supposed cowardice.
Energy, Environment, Science And Health
Ban on access to nature reserves in Tibet raises concern about Tibetan nomads at UNESCO site | International Campaign for Tibet The Chinese authorities have issued a notice prohibiting access to the Hoh Xil nature reserve in Qinghai – which was granted UNESCO World Heritage status in July – except for security personnel or other authorized officials. The notice raises further concerns about the exclusion of Tibetan pastoralists who have made skillful use of the remote, wild landscape here and across the plateau for centuries, co-existing with wildlife and protecting the land. It appears to counter Chinese assurances to UNESCO that they would "fully respect" local herders and "their traditional culture, religious beliefs, and lifestyle".[
China's FAST identifies three new pulsars - Xinhua The China-based FAST, the world's largest single-dish radio telescope, has discovered three new pulsars, the National Astronomical Observatories of China (NAOC) said Tuesday. So far, FAST has identified a total of nine pulsars since its trial operations began in September 2016.
Agriculture And Rural Issues
Thieves and Spoilers of Their Own Land – Fairbank Center – Medium Xiaoqian Hu, a Graduate Student Associate at Harvard's Fairbank Center for Chinese Studies and a J.D. Candidate at Harvard Law School, describes how Chinese farmers mitigate conflicts between their livelihoods and the environmental concerns of local governments.
Education
Jack Ma Foundation launches new rural education program - Xinhua The Jack Ma Foundation on Monday announced a new plan to invest at least 300 million yuan (45 million U.S. dollars) to encourage graduates of normal schools to teach in rural areas in the next 10 years. The first 10 million yuan will be invested in selecting 100 fresh graduates from normal schools in Hunan, Sichuan, Chongqing and Jilin provinces. Each participant will be provided with a 100,000-yuan subsidy for service of five years on end in rural schools // Comment: Jack Ma working hard to align with Xi's key policy goals
Chinese education officials apologise over fake MIT whizz-kid story | South China Morning Post Education officials in eastern China have apologised for posting a fake story on their website about a 14-year-old Chinese computer science prodigy being accepted by MIT, according to state media. The officials in Laiyang, Shandong province admitted they had fabricated the story after they were questioned during an internal education department investigation on Monday, Legal Daily newspaper reported.
Beijing
Chinese Artist 'On The Run' From Police After Reporting on Beijing Evictions - RFA Concerns were growing on Monday for Beijing-based artist and activist Hua Yong, who has been incommunicado since last week after documenting the plight of evicted migrants. Hua, a resident of Beijing's Songzhuang Artists' Village, is believed to be hiding from the authorities after reporting on the authorities' bid to rid the city of its low-income, migrant population in the wake of a fatal fire in Daxing district last month.