Standing committee meeting; Taiwan; Poverty alleviation; Xi Jinping hagiography
Xi Jinping chaired a Politburo standing committee meeting today to review a report on the implementation of the 13th five-year plan, the first five-year plan that Xi has fully overseen. As you would expect, they achieved the main goals.
Xi is overseeing a big meeting in Beijing and broadcast live in just a few hours to commemorate the 70th anniversary of the PRC's entry into the War to Resist American Aggression and Aid Korea. I believe this will be the last big event of this commemoration week, but expect the propaganda messaging to go on for the foreseeable future.
Tonight is the last US presidential election debate, China will likely come up, including claims about Hunter Biden's business dealings in China. We are in a very complicated information environment and over the last week there has been both a hard drive provided via Rudy Giuliani et al and a research report that has come out of Asia.
I have read the news stories and read the research report, which was sent to me by the author. I have been struggling with how to process the information and what to say about it, so I am going to take the easy way out and tell you that I think David Barboza said it well today at TheWireChina:
"I can understand the reluctance of the national press to follow the New York Post on the Hunter Biden story given that these are documents put forward by Rudy Giuliani, just weeks before the election. What is the vetting process and the background work to ensure it really is what it claims to be? But I also want to watch this space. I worked on the Hunter Biden/CEFC story for the NYT, and it seems to me this story has not yet run its course."
Nothing I have seen so far suggests that Vice President Biden did anything wrong, and I would be surprised if this issue plays a determining role in the upcoming US election. But if Biden wins his son's dealings may actually constrain Biden's ability to take a softer approach towards China, if that is his intention, as any perceived "weakness" would be attacked as linked to Hunter's dealings and the CCP efforts to influence him.
It is a mess, and I think more is going to drop over the next several days.
Today's Essential Eight:
Politburo Standing Committee meeting

Xi Jinping hagiography

Chips

US-China

Taiwan

Nationalism

Poverty alleviation sustainability

Grassroots and the Party in China's pandemic response
Thanks for reading, and I hope to see you in the Friday discussion thread.
---
The Essential Eight
1. Politburo Standing Committee meeting
Xi chairs leadership meeting on 13th Five-Year Plan implementation - Xinhua
The Standing Committee of the Political Bureau of the Communist Party of China (CPC) Central Committee on Thursday held a meeting to hear a summary and evaluation report on the implementation of the 13th Five-Year Plan.
中共中央政治局常务委员会召开会议 听取"十三五"规划实施总结评估汇报 中共中央总书记习近平主持会议_CCTV
Thursday CCTV Evening News report on the Standing Committee meeting. This is the first full five-year plan period overseen by Xi.

Excerpt:

Xi Jinping pointed out that since the 13th Five-Year Plan, the Central Committee of the Communist Party of China (CPC) has united and led the entire Party, the entire army and all ethnic groups in the country to promote the overall layout of the "five-in-one" and the "four-way comprehensives" in a coordinated manner. and the strategic layout, adhere to the overall tone of seeking progress amidst stability, unswervingly implement the new development concept, adhere to the main line of supply-side structural reform, promote high-quality development, effectively and orderly resolve the contradictions of unbalanced and inadequate development, calmly respond to the complex situation in which external challenges have risen markedly, resolutely and decisively combat the serious impact of the new coronary pneumonia epidemic, and move resolutely towards the established goals and tasks. "The Thirteenth Five-Year Plan is being implemented smoothly, with major indicators generally being achieved on schedule, major strategic tasks and 165 major projects coming to fruition, and the goals and tasks set out in the Plan coming to a successful conclusion.

Xi Jinping stressed that after the development of the 13th Five-Year Plan period, China's economic strength, scientific and technological strength, and comprehensive national strength have risen to a new level, its economic operation has been generally stable, its economic structure has been continuously optimized, its agricultural modernization has progressed steadily, its poverty alleviation efforts have achieved world-renowned results, its pollution prevention and control efforts have been increased to an unprecedented extent, its ecological environment has been significantly improved, and its overall economic development has been successful. Major breakthroughs have been made in deepening reform, opening up to the outside world has continued to expand, the "Belt and Road" initiative has yielded fruitful results, people's living standards have improved significantly, and the modernization of the country's governance system and capacity has been accelerated. What is particularly important is that, in the practice of the 13th Five-Year Plan, the advantages of the CPC leadership and China's socialist system have been further highlighted, the new development concept has become more deeply rooted in people's hearts, the political quality and struggle skills of the majority of CPC members and cadres have been refined, and people of all ethnic groups across the country have become more energetic and energetic, so as to initiate the construction of a comprehensive "National Development Strategy". The new journey of the socialist modernization of the country provides strong political guarantees and a powerful force for advancement.

习近平指出,"十三五"以来,党中央团结带领全党全军全国各族人民,统筹推进"五位一体"总体布局、协调推进"四个全面"战略布局,坚持稳中求进工作总基调,坚定不移贯彻新发展理念,坚持以供给侧结构性改革为主线,推动高质量发展,有力有序化解发展不平衡不充分的矛盾问题,沉着冷静应对外部挑战明显上升的复杂局面,坚决果断抗击新冠肺炎疫情的严重冲击,坚定朝着既定目标任务前进,"十三五"规划实施顺利,主要指标总体将如期实现,重大战略任务和165项重大工程项目全面落地见效,规划确定的各项目标任务即将胜利完成。

习近平强调,经过"十三五"时期的发展,我国经济实力、科技实力、综合国力跃上新的台阶,经济运行总体平稳,经济结构持续优化,农业现代化稳步推进,脱贫攻坚成果举世瞩目,污染防治力度空前加大,生态环境明显改善,全面深化改革取得重大突破,对外开放持续扩大,共建"一带一路"成果丰硕,人民生活水平显著提高,国家治理体系和治理能力现代化加快推进。尤为重要的是,在"十三五"的实践中,中国共产党领导和我国社会主义制度的优势进一步彰显,新发展理念更加深入人心,广大党员干部政治品质和斗争精神斗争本领得到锤炼,全国各族人民精神面貌更加奋发昂扬,为开启全面建设社会主义现代化国家新征程提供了有力政治保证和强大奋进力量。
Xi Jinping hails achievements, stresses plan for coming five years - CGTN
Progress has been made in agricultural modernization, major breakthroughs have been achieved through comprehensively deepening reform, and accomplishment in poverty alleviation has been recognized worldwide, the president said.

Xi pointed out that all these achievements have provided a strong political guarantee and driving force for the country to embark on a new journey to build a modern socialist country in all respects.
There was no video from inside the meeting, yet another reminder of how unprecedented the reporting on the January 25 PBSC meeting was. I went back and read the newsletter about that meeting and watched the video again, quite interesting 9 months later:
The entire system went to the wartime footing after Saturday's Politburo Standing Committee (PBSC) meeting. In what as far as I can tell is unprecedented reporting on a PBSC meeting, the Saturday CCTV Evening News report (中共中央政治局常务委员会召开会议 研究新型冠状病毒感染的肺炎疫情防控工作 中共中央总书记习近平主持会议) broadcast video from inside the meeting, showing Xi doing most of the talking but the other six PBSC were also shown making comments, perhaps to signal that there is still at least a facade of collective leadership, and that they are all in this together.
---
2. Xi Jinping hagiography
Tianjin Party Secretary Li Hongzhong continues to take the initiative in hagiographical flattering of Xi Jinping. The Tianjin propaganda department made a documentary "Advancing into to a New Era" and since August the government has organized group watching sessions for Tianjin cadres. In 2016 Li, then Hubei Party Secretary, was one of the first provincial leaders to refer to Xi as the "core", a designation he officially got later that year. Li and his Tianjin officials now frequently refer to Xi as "People's Leader". Is Li in the adulatory vanguard once again?
中航大校党委中心组扩大会集体观看纪录片《奋进新时代》-中国民航网
The documentary "Advancing into to a New Era" was produced by the Propaganda Department of Tianjin Municipal Committee and Haihe Media Center. By comprehensively using news and video materials, it systematically reviewed the great process of the CPC Central Committee with Comrade Xi Jinping as the core, which based on the "two overall situations", unified the great struggle, great project, great cause and great dream, and led the party and the country to achieve historic achievements and change. Taking the coordinated promotion of the "four comprehensive" strategic layout as the main thread, the whole film comprehensively introduces a series of pioneering new ideas, ideas and strategies of General Secretary Xi Jinping around reform, development and stability, internal affairs, foreign affairs and national defense, and managing the party, the country and the army from five sections, namely, building a well-off society in an all-round way, comprehensively deepening reforms, comprehensively administering the party strictly, and holding high the great banner of Xi Jinping's socialism with Chinese characteristics in the new era. It explains Xi Jinping's socialism with Chinese characteristics in the new era as the truth power and practical power of contemporary Chinese Marxism and 21st century Marxism, and fully demonstrates General Secretary Xi Jinping's extraordinary theoretical courage, outstanding political wisdom, strong mission responsibility, sincere feelings for the people and great power leader style as the core of the party, commander in chief of the army and People's Leader.
It looks like all cadres in Tianjin are watching the documentary -天津日报数字报刊平台-集体观看纪录片《奋进新时代》 and 市发展改革委集中观看纪录片《奋进新时代》_图片新闻_天津市发展和改革委员会
Dreams of a Red Emperor: The relentless rise of Xi Jinping - Los Angeles Times
"It's hard to think of someone who'd more fanatically put party interests above his own interest," said Joseph Torigian, a professor of history and politics at American University who is writing a biography of Xi Zhongxun. "A lot of that generation took pride in how much they were able to suffer without losing faith in the party. They often wrote about it as a sort of forging process."

At home, Xi Zhongxun — who worked at a tractor factory when he was purged but later became vice premier — was a "brutal disciplinarian" who struggled with depression, Torigian said, according to memoirs, unpublished diaries and interviews with friends of the family. When Xi Jinping was a child, he saw his father sometimes crying, screaming and hitting people, sitting in a room with all the lights off, and lashing out at his wife...

The rising ire of elites and foreign powers is, in Xi's view, a necessary part of China's struggle on its socialist path. The intellectuals may be alarmed, but not the masses...

"This fits exactly with his self-understanding: 'I'm here for the people, and that's why I'm against you capitalists, corrupt elites and intellectuals,'" the historian said. "He thinks he is saving this party."
---
3. Chips
U.S.-China Semiconductor Conflict Is About to Get Even Uglier - Bloomberg
"We're in a new world where governments are more concerned about the security of their digital infrastructure and the resiliency of their supply chains," said Jimmy Goodrich, vice president of global policy with the Washington-based Semiconductor Industry Association. "The techno-nationalist trends gaining traction in multiple capitals around the world are a challenge to the semiconductor industry."..

China's five-year plan for the chip industry will lend it the same strategic importance Beijing gave to its atomic bomb program. What's more, a law passed Oct. 17 may allow China to hit back at the U.S., with speculation that it could prompt export controls on rare earths used in chip production.

Still, the rolling restrictions imposed by Trump haven't just hit China's chip capabilities but are upending the entire industry. And there's scant sign of a climbdown, whoever wins the U.S. election in November..

Trump may have weaponized the semiconductor value chain, but it was the Obama administration that first acted on the threat posed by China, unveiling a semiconductor strategy in January 2017 as one of its last acts.
Caixin Insight: A Lot of Chipmakers Have No Idea What They're Doing
The NDRC, China's economic planning agency, plans to change that. Meng said it will:

- hold the heads of such projects accountable

- encourage companies and the financial institutions that invest in them to take greater responsibility

- strengthen supervision and guidance on essential integrated circuit projects

- work with other ministries to improve industrial planning as well as the industry's geographic layout, concentrating major companies in designated regions

- set up a system to prevent these issues from recurring, with an early warning mechanism
Investors Hack 15% Off Semiconductor's Value in Three Days - Caixin
China Resources Holding Ltd.'s semiconductor arm lost more than 15% of its value in three days after announcing plans to sell $751 million new shares at a heavy discount and revealing the departures of key technology workers on Monday.

The company, China Resources Microelectronics, the largest integrated device manufacturer (IDM) in China, plans to raise some 5 billion yuan ($751.09 million) in new share sales, each priced at 37 yuan ($5.56), a 36% discount to its closing price on Monday
Eurasia Group | The Geopolitics of Semiconductors
This report by Eurasia Group's Geo-technology practice analyzes the political and technology dynamics of the semiconductor industry, which will become even more important as mounting US pressure on China, China's domestic technology development, and Chinese responses to US actions affect bilateral relations and create new risks for companies, market participants, and global technology supply chains.
Huawei unveils 5G Mate 40 flagship smartphones as chip supply constraints loom | South China Morning Post
Huawei's new smartphones – the Mate 40, Mate 40 Pro and Mate 40 Pro+ – run the company's own Kirin 9000 series system-on-a-chip (SoC), which it described as "capable of handling intensive computations and multi-tasking operations". It said the world's first 5-nanometre 5G SoC is packed with more than 15.3 billion transistors and increased power efficiency to handle on-device artificial intelligence.
Comment: But Huawei can't get any more of these chips manufactured, so will these phones become collector's items? And if this is a "solution" to China's advanced chip problems then they may be even more challenged than most think:
---
4. US-China
Trump's security adviser says: China is the threat of the century | Reuters
In a 20-minute broadside against China, Robert O'Brien told top British and U.S. military and intelligence officials that China was a predatory power that repressed its people and had sought to coerce both neighbours and Western powers.

"The CCP is seeking dominance in all domains and sectors... (and) plans to monopolise every industry that matters to the 21st century," O'Brien told the Atlantic Future Forum via a video link to Navy aircraft carrier HMS Queen Elizabeth...
Comment: Interesting symbolism of making these comments from aboard a British aircraft carrier...see essential eight item 6 below about nationalism...
Senior U.S. official accuses China of aiding North Korea cyber thefts | Reuters
At an event hosted by a Washington think tank, John Demers, the assistant attorney general for national security, also said North Korea was likely getting support from China in the form of cyber expertise and training.

"The other thing ... that really pops out of our cases ... is the involvement of China in helping the North Koreans evade the sanctions ... in helping them launder money that they have somehow gotten or that they want to bring into the regime, or that they've stolen and otherwise, helping them sort of move goods," Demers said.

"There is support through Chinese cyber infrastructure, there's likely support in terms of sharing expertise and training from the Chinese side," he added in the event hosted by the Center for Strategic and International Studies.
China has no reason to fear US suppression: Global Times editorial
The Korean War is often called the "Forgotten War" in the US. Many people would rather forget it because the US lost the war. In recent years, theories that the US won the war have emerged. This is how the US-style ideology shapes the discourse. Some Chinese should not hold high the US banner. It was the people of the PRC who experienced the war, and no one can alter or disgrace that piece of our collective memory.

The War to Resist US Aggression and Aid Korea has left a precious spiritual legacy to today's Chinese people. When China was very poor, it didn't surrender to US pressure and stood out to resist and finally defeat the US on the Korean Peninsula. Today, China has grown to be a strong country, so there is no reason for China to fear the US threats and suppression.
Zhao Lijian - China urges U.S. to stop oppression, restrictions against Chinese media outlets - Xinhua
"China will make legitimate, necessary reactions. China urges the United States to immediately change course, correct mistakes, and stop the political oppression and senseless restrictions against Chinese media outlets," he said.

The U.S. moves, specifically targeting Chinese media, are based on Cold-War mindset and ideological bias, he said. "They severely undermine Chinese media's reputation and image, severely impact Chinese media's normal functioning in the United States, and severely disrupt cultural and people-to-people exchange between the two countries."

Such moves reveal the hypocrisy of the United States' self-proclaimed "freedom of the press," Zhao said.
Comment: Hu Xijin suggests American reporters in Hong Kong could be targeted:
陶然笔记 | 世界应把握好中国开辟的复苏契机|新冠肺炎_新浪财经_新浪网
Taoran Notes, a WeChat written by an editor at Economic Daily - The world should seize the recovery opportunity opened up by China.

The more resolute the fight against the epidemic is, the faster the economic recovery will be.

On the contrary, there are people in some countries who, on the issue of epidemic prevention and control, "make a lot of empty talk but take no actions", as if to say a few nice things in public, pin the blame on other countries, and then post a few "golden words" on social media, and the epidemic will subside.

There is a Chinese saying, "You reap what you sow".

We can all see clearly how effective this is in prevention and control.

After all, the global epidemic has not yet been fully contained, especially as the epidemic in the United States and other countries has not fundamentally improved, and the recovery of the world economy is still facing many difficulties; at the same time, economic globalization has suffered a backlash, protectionism and unilateralism are prevalent in some countries, and geopolitical risks have risen, which are also unfavourable situations that we must face in the midst of development.

In the midst of this complex situation, China's growth has given hope to more people.

抗疫有多坚决果断,经济恢复也就有多迅速。

反而是有些国家有些人,在疫情防控问题上"嘴行千里,屁股在屋里",似乎在公众面前讲几句漂亮话,把黑锅往别国身上扣,然后在社交媒体发几条"金句",疫情就会消退了.

中国有句话,叫做"人哄地,地哄人"。

如此防控效果如何,大家已经看得很清楚了...

毕竟,全球疫情迄今未得到全面遏制,特别是美国等国家疫情没有根本性好转,世界经济复苏仍面临诸多困难,同时,经济全球化遭遇逆流、一些国家保护主义和单边主义盛行、地缘政治风险上升,也是我们发展之中必须面对的不利局面。

错综复杂的形势之中,中国的增长让更多人看到了希望
China's Liu He says foreign hostility spurring nation's push for hi-tech independence | South China Morning Post
Liu, the top economic adviser to President Xi Jinping and the lead negotiator in trade war talks with the United States, did not name a foreign power his address to Beijing's Financial Street Forum on Wednesday, but attributed disruptions in Chinese supply chains to the coronavirus pandemic and "other factors".

"Now, the bad things are turning into good ones," he said. "China's business and technology communities are working hard to improve their capacity for innovation, trying to solve bottlenecks and promote industrial upgrades."
---
5. Taiwan
U.S. State Department approves $1.8 billion in potential arms sales to Taiwan - Pentagon | Reuters
Further congressional notifications are expected to follow Wednesday's including drones made by General Atomics and land-based Harpoon anti-ship missiles, made by Boeing, to serve as coastal defense cruise missiles.

Sources have said the 100 cruise missile stations and 400 missiles would have a cost of about $2 billion.
Taiwan welcomes latest US arms deal, says no intention of weapons race with Beijing | South China Morning Post
The latest batch of proposed arms sales – the eighth to be approved during Donald Trump's presidency – was welcomed by Taipei on Thursday in the face of growing military intimidation from Beijing. The US$1.8 billion package includes 135 AGM-84H cruise missiles and 11 truck-based rocket launchers with a striking range of more than 270km.

Taiwanese defence minister Yen De-fa said the approval indicated the US had "taken note of security in the Indo-Pacific region and security in the Taiwan Strait".

"We have no intention to have any arms race with the Chinese Communist forces and our arms purchases are made in line with our combat operation needs and the latest situation, as well as strategic consideration," Yen said. He added that the sale still needed approval from the Taiwanese legislature.
China firmly opposes U.S. arms sales to Taiwan: defense spokesperson - China Military
The Taiwan question matters for China's sovereignty and territorial integrity, and is vital to China's core interests, stressed Tan. "China strongly urges the U.S. side to immediately cancel the plans of selling weapons to Taiwan and cease military contact with the island and handle issues related to Taiwan prudently, so as to avoid serious consequences to Sino-American bilateral and mil-to-mil relations, as well as peace and stability across the Taiwan Strait," said the spokesperson.
China firmly opposes U.S. arms sales to Taiwan: spokesperson - Xinhua
Zhu Fenglian, a spokesperson for the State Council Taiwan Affairs Office, made the remarks when responding to reports that the U.S. government has approved arms sales plans worth 1.8 billion U.S. dollars to the island.

The Democratic Progressive Party (DPP) authority in Taiwan will severely undermine peace and stability across the Taiwan Strait and bring grave suffering to people in Taiwan through its arms purchases from the United States in its attempts to count on military force to resist reunification and seek "Taiwan independence," Zhu said.
South China Sea missile drills to blame for Taiwanese plane being turned back at Hong Kong, source says | South China Morning Post
"The People's Liberation Army [PLA] was conducting an air-to-air missile exercise in the South China Sea in the morning [on Thursday] when the Taiwanese aircraft was heading to the Dongsha Islands," a Beijing-based military source close to the PLA said, using the Chinese name for the group of three atolls.

The UNI Air flight carrying military and coastguard personnel was forced to turn back when Hong Kong's civil aviation authorities told their counterparts in Taipei there were "dangerous activities" taking place below 26,000 feet.

"Most passenger airliners fly above 26,000 feet," said the source, who asked not to be identified because of the sensitivity of the matter. "But the Taiwanese aircraft was a propeller-powered ATR 72 that can't climb that high."
Question: So this was a one off event rather than a new policy to deny access to Pratas Islands?
Top political advisor Wang Yang stresses national spirit, cross-Strait solidarity - Xinhua
Wang, a member of the Standing Committee of the Political Bureau of the Communist Party of China Central Committee and chairman of the Chinese People's Political Consultative Conference National Committee, made the remarks in Beijing at an academic seminar commemorating the 75th anniversary of the country's recovery of sovereignty over Taiwan from 50-year Japanese occupation...

Secessionists are repeatedly engaging in provocative moves by relying on foreign forces to seek "Taiwan independence," thus leading to the strained and volatile cross-Strait relations, Wang said, stressing the importance of adhering to the 1992 Consensus that embodies the one-China principle, and strongly opposing "Taiwan independence" forces and their separatist activities.
CCTV Evening News report on Wang Yang's remarks -纪念台湾光复75周年学术研讨会在京举行 汪洋出席并讲话_CCTV
Toward a Stronger U.S.-Taiwan Relationship | Center for Strategic and International Studies
This task force report explains why Taiwan matters to the United States, the framework for U.S. policy toward Taiwan, and the trends that affect economic, defense, and diplomatic aspects of U.S. policy toward Taiwan. The report concludes with a set of specific recommendations to upgrade U.S. policy on Taiwan consistent with long-standing U.S. interests in the Indo-Pacific region while also responding to the new and emerging challenges. The members of the task force participated in their individual capacities rather than as representatives of their respective organizations.

This report was made possible by the generous support of Taiwan's Ministry of Foreign Affairs and the Taipei Economic and Cultural Representative Office in the United States (TECRO).
---
6. Nationalism
In Xi Jinping's China, Nationalism Takes a Dark Turn - WSJ
Angry mobs online have swarmed any criticism of China's leaders or a perceived lack of loyalty to the country. Targets are being harassed and silenced. Some have lost their jobs...

Chinese politics researchers say surging nationalism is in part a natural response to the country's rising stature around the world. Some Chinese people say their feelings are rooted in genuine pride for their country.
Comment: I'd wager for most it is rooted in genuine and hard-earned pride. Rising nationalism was one of the top reasons I left in 2015, and for a variety of reasons it seems to have significantly intensified since then. And I see no reason it will not intensify more.
Armies of nationalist trolls are policing Weibo for any sign of dissent - Rest of World - Shen Lu
While Weibo has always censored accounts, as Chinese authorities have stepped up their crackdown on freedom of speech and tightened their grip over all aspects of Chinese life in recent years, political discussions on the platform have become even more muted. Due to pervasive censorship and self-censorship, conversations on Weibo are even more cautious. Zhahao, or "account bombing," where accounts voicing dissenting opinions get censored, have become more common. Ultranationalistic and chauvinist narratives now drown out critical posts, making it harder for users to speak their minds.
---
7. Poverty alleviation sustainability
Senior official stresses follow-up work on poverty-alleviation relocation - Xinhua
Hu Chunhua, a member of the Political Bureau of the Communist Party of China Central Committee, has stressed the need to strengthen follow-up work on the country's relocation programs for poverty-alleviation purposes..

Work must be done to ensure that those relocated can settle down, find jobs, and gradually become wealthy, said Hu, also chief of the State Council leading group on poverty alleviation and development, when addressing a meeting held here on Thursday.
This is a really interesting article that looks at what officially no longer being in poverty looks like in one village - This Year, Remote Lüeyang Beat Poverty. Now Comes the Hard Part - SixthTone
In 2017, after Hou Lihong's son started a paid internship, the extra income was reason enough for the government to declare her family lifted out of poverty...

But Hou complains she works long hours for little pay. Her husband, meanwhile, is in poor health and cannot do too much physical labor, and their son, having graduated and moved out, is no longer contributing income. But Hou is still on the hook to finance her son's eventual wedding, an especially costly affair in rural Shaanxi province. All in all, it still feels like poverty.

But to the government, Hou's is a success story. Earlier this year, Lüeyang was among the last batch of counties in the province to announce it had eradicated absolute poverty, reducing the local rate of poverty — currently defined as an annual income of less than 4,000 yuan ($600) — from 41% in 2014 to under 1%...

Zhang Jun, director at Shaanxi Research Association for Women and Family, a women's rights nongovernmental organization working in rural Shaanxi, tells Sixth Tone the current targeted poverty-alleviation efforts don't sufficiently take gender into account. With poor households now counting on factory work to increase their incomes, he says, a mother in a rural family now has "more burdens" than before, compared with a father who just needs to work. "For many disadvantaged women, the problem they face is how to escape the trap (of poverty and family structures)," says Zhang. He suggests poverty alleviation efforts should include more policies aimed at helping women in particular.
---
8. Grassroots and the Party in China's pandemic response
How Did China Beat Its Covid Crisis? | by Ian Johnson | The New York Review of Books
The coronavirus was a big deal; it was something that I (and many other smug foreigners) misjudged but that the Chinese authorities accurately saw as a public health crisis. The thought and effort that went into the flyer were especially impressive in hindsight: organizing the hospitals and the hotline, the quick consensus on measures like face masks that many other countries, such as the United States, grudgingly adopted only much later. Rather than viewing the Chinese government's reaction as a sign of its love of a lockdown, I now think of it as emblematic of the bureaucratic élan that underlies much of China's rise over the past few decades, from the largely successful economic policies that went counter to the shock treatment advocated by many Western experts to its rolling out a national highway and high-speed rail network—public engineering feats that Western countries used to accomplish quickly but that now drag on for years or decades...

The result is that China, the pandemic's epicenter, a country of 1.4 billion people, has had 4,634 deaths—a seventh of Spain's, an eighth of Italy's, a ninth of Britain's, and less than a fortieth of the US's. That success has allowed China to boast that it has a superior political and administrative system, one that others might want to emulate, or at least stop criticizing. With the US embroiled in yet another highly partisan election and Europe weakened by Brexit and its own halfhearted response to the virus, China's leaders appear to be presented with a historic opportunity. What many of them probably thought would take another decade or two of economic growth and steady military buildup now seems imminent: the West is imploding, and China's rise is unstoppable.
Comment: This article is a review of Fang Fang's diary and Danial Mattingly's "The Art of Political Control in China".

Apologies for going back in time but I think what I wrote about the community mobilization in the April 9 newsletter is relevant to this discussion:
The top Xi Jinping news in the last 24 hours is a letter he wrote to community workers in Wuhan praising them for their work in battling the epidemic. According to the Xinhua report there are "more than 4 million community workers…in around 650,000 urban and rural communities" who have mobilized to help fight the outbreak. They have been key to allowing people to shelter in place, get food and other supplies delivered, and enforcing quarantines and social distancing.

This grassroots community mobilization will be hard for any other countries to replicate. Back in February Raymong Zhong and Paul Mozur of the New York Times wrote about some of this work in To Tame Coronavirus, Mao-Style Social Control Blankets China:

China's prevention efforts are being led by its myriad neighborhood committees, which typically serve as a go-between for residents and the local authorities. Supporting them is the government's "grid management" system, which divides the country into tiny sections and assigns people to watch over each, ensuring a tight grip over a large population.

Zhejiang Province, on China's southeastern seaboard, has a population of nearly 60 million and has enlisted 330,000 "grid workers." Hubei Province, whose capital is Wuhan, has deployed 170,000. The southern province of Guangdong has called upon 177,000, landlocked Sichuan has 308,000 and the megacity of Chongqing has 118,000.

In the fight against the virus these community workers look to have been quite a force for good.

As the COVID-19 battle slowly recedes, will this mobilization also relax? Or are we seeing the strengthening of the old-school neighborhood watch committees and reinvigorated grassroots Party work combined with grid management, pervasive technology and the Fengqiao Experience model 2.0 to achieve the "modernization of municipal social governance 市域社会治理现代化" we have been hearing so much about, especially since the Fourth Plenum?
---
Business, Economy and Trade
China's Mr Renminbi says Beijing must dismantle capital controls to create a more globally accessible yuan | South China Morning Post Zhou Xiaochuan, who served as governor of the People's Bank of China from 2002-2018, said at a financial forum in Beijing on Wednesday that China cannot have it both ways by maintaining rigid capital account controls while promoting use of the yuan abroad, according to Chinese magazine Caixin.
China debt crackdown: regulators asking property developers for more details than expected | Reuters The new policy will effectively limit developers' annual debt growth to around 15% on average. Property sources had said they expected a rush to get around the rules by moving more debt off balance sheets. However, in a form that developers were asked to submit every month, the companies are also being asked for details on items outside the usual financing channels like bank loans and bond issuance. They will need to provide debt figures on off-balance sheet projects.
Money Talks - Xinomics—a new economic era is dawning in China | Podcasts | The Economist A NEW economic era is dawning in China—a potent mix of autocracy, technology and dynamism. Our Asia economics editor Simon Rabinovitch and host Simon Long speak to local business owners and economists about this evolution of state capitalism. Could a new sort of central planning help Chinese technology dominate the world stage?
First Day of Double 11 Shopping Festival Sets New Records, Livestreams Drive Sales Spike - Pandaily Alibaba's double 11 shopping festival kicked off on Oct. 21, and is off to a strong start. In the first 10 minutes alone, sales directed from Taobao Live, the live-streaming portal of the shopping site, surpassed that of the first day last year. Cosmetics stood out among all types of goods as 12 cosmetic products each recorded more than 100 million yuan sales in the first hour.
China to improve export control list: spokesperson - Xinhua Export control is a common international practice in which a country prohibits or restricts the export of specific items, Gao Feng, spokesperson for the ministry, told an online press briefing. His remarks came after China's top legislature on Saturday passed a law on export control, which would go into effect on December 1.
Shanghai ready to take global IPO crown as tech giants return home - Nikkei Asia Listings on the bourse brought in 279 billion yuan ($41.7 billion) over that period, more than triple the total a year earlier. And with the mega-IPO of Alibaba Group Holding affiliate Ant Group coming next month, the market is poised to take the No. 1 spot on an annual basis for the first time since the 2008 global financial crisis.
Yicai - China Looks at Extending IPO Reforms to All Mainland Stock Markets The conditions to extend the so-called registration-based IPO system to all bourses have now been created through its successful introduction on Shanghai's Star market and Shenzhen's ChiNext board,Li Chaotold the annual conference of the Financial Street Forum today.
Demand for CICC's Shanghai IPO Wildly Exceeds Supply of Shares - Caixin Demand for shares in a 13.2 billion yuan ($2 billion) secondary mainland offering by China International Capital Corp. Ltd. (CICC) wildly exceeded the number available after the state-owned investment bank sharply scaled back the offering without explanation.
Yicai - China Remained Germany's Biggest Trading Partner in 2019 for Fourth Year Running China has been Germany's most important trading partner for four straight years since 2015 and it became the European nation's biggest export destination for the first time in the second quarter due to its quick recovery from the Covid-19 pandemic, according to the Federal Statistical Office of Germany.
Migrant Workers' Rights to Inherit the Family Farm Are Safe, Government Says - Caixin China's central government has said people from the countryside who settle in cities can inherit the right to use rural land from their parents, a clarification that could boost the country's urbanization movement. The Ministry of Natural Resources said the country's inheritance laws permitted rural migrants who have subsequently become urban residents to take over their parents' home ownership and land-use rights after their deaths.
Environmental Violations Dog Struggling Evergrande's Hainan Mega-Resort - Caixin The latest case dates back to 2017 when a Caixin report exposed a number of developments that were violating local environmental protection rules in Hainan, an island province in China's south known for its beaches and warm winter temperatures...Evergrande's Ocean Flower Island was one of the developments, planned as a 160 billion yuan ($24 billion) tourism-retirement resort constructed on three man-made islands with an area of nearly 2,000 acres in the city of Dan
BlackRock Shakes Up China Business Amid Move Into Mutual Funds - Caixin Global money manager BlackRock Inc. is liquidating some of its Chinese private funds to comply with local regulations as it shifts focus to its new mutual fund business in the country.
李克强在2020年浦江创新论坛上致辞 - 新华In a video address to the Pujiang Innovation Forum ( Oct 22-30 Shanghai), Li Keqiang said China was committed to creating a business environment rooted in rule of law and market mechanisms. In addition to stressing the role of innovation and technology in economic development, the Chinese Premier said Beijing would continue to rely on macro economic policies to "further revitalize market forces and creativity in the society." Li said that "With our efforts, China is expected to see positive growth this year." Joining Li to address the forum via video was the Serbian Prime Minister, who spoke highly of bilateral relations and a need to deepen cooperation in technology. 
国常会:研究建立常态化财政资金直达机制 - 经济参考报China is mulling the "normalization" of a central government fund transfer mechanism aimed at bolstering local government finances and small businesses. The consideration, discussed at a state council meeting chaired by Li Keqiang, followed Beijing's decision to cut taxes as part of a broader effort to ease the burden of businesses reeling from COVID impacts. As of September, 2 trillion RMB has been transferred to local governments. "Compared to monetary policies, proactive fiscal policies are more effective in supporting people's livelihood amid the pandemic," said Liu Xiangdong, a researcher with a government affiliated think tank. "In particular, such policies play a bigger role in helping small and medium-sized enterprises and solving the problems local governments face in managing their finances." 
驾照取消70周岁年龄上限,专家称有利释放老年市场消费力 - 澎湃China has scrapped a rule that disqualifies people over the age of 70 from applying for a driver's license, as Beijing looks to the country's growing ranks of seniors to drive up domestic consumption. 
完善信息披露是构建成熟资本市场基础制度体系的重要内容 - 上海证券报China wants more transparency from its listed companies - in particular the ways in which they disclose information - in an attempt to improve initial public offering rules. "Improving information disclosure mechanisms is an important part of creating better listed companies," said Yi Huiman, chairman of the China Securities Regulatory Commission, "We will further perfect rules regarding information disclosure and improve the quality of financial reporting of listed firms. The information needed for investors to make decisions must be more concise, clear, and easy to understand."
贾康:外资银行可能配合美国长臂管辖而牺牲中国企业 - 网易 Faced with increasing investment barriers overseas, Chinese companies must be cognizant of the growing risks when seeking opportunities abroad, warned Jia Kang, a former director with a research institute under Chinese finance ministry. He also sounded alarms about the presence of foreign companies in China, saying it could hurt Chinese businesses. Citing a US Department of Justice investigation of HSBC, he raised the possibility that Washington may have used the investigation to spy on China. "HSBC's main customers are in China. During the U.S. investigation of it, has the U.S. put the Chinese government agencies and other Chinese companies under surveillance? " he said."We must remain highly vigilant of America's use of foreign banks and third-party regulatory agencies to monitor Chinese companies and find faults - they may even frame us."
---
Politics and Law
China pays homage to CPV veterans in letter - Xinhua The letter, issued by the Ministry of Veterans Affairs and the Political Work Department of the Central Military Commission, said the victory in the war had safeguarded peace in Asia and the world, consolidated the state power of the newly-founded People's Republic of China and shattered the myth of the invincibility of the U.S. imperialists.
Lasting spirit of volunteer servicemen | Stories shared by Xi Jinping - Xinhua
Chinese veterans granted medals for entering DPRK in War to Resist US Aggression and Aid Korea Bearing the image of a CPV soldier and featuring various elements including a dove and five-pointed stars, the medal symbolizes the fact that the great War to Resist U.S. Aggression and Aid Korea is a war of justice fought to safeguard peace and resist aggression, and the fact that the great spirit demonstrated in the war will always be invaluable wealth of the Chinese people.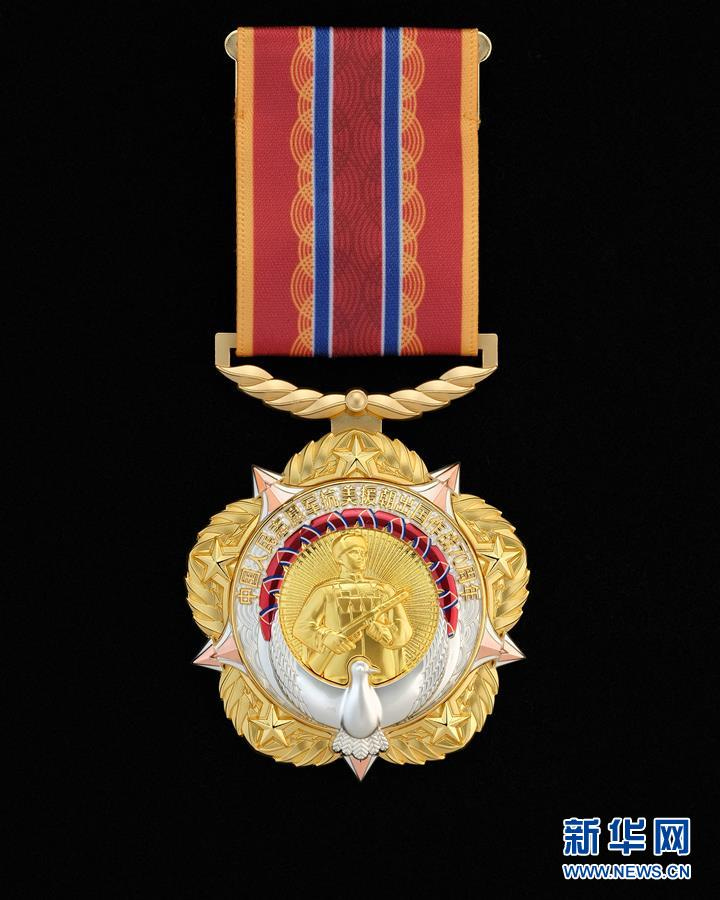 抗美援朝70周年主题展周日开放,记者带你先睹为快 - 国内 - 新京报网 For those who can make it to the Korean War exhibition but want to see what is in, The Beijing News helpfully gives us a tour in this article
在纪念大会召开前,央视首次披露了这一重要影像 Ahead of the commemorative conference [for the Korean War entry], CCTV revealed this important image for the first time--This documentary also reveals, for the first time, a very precious image of Mao's eldest son, Mao Anying, in the early days of the new China.October 1, 1949, Beijing. A Soviet cultural, scientific and artistic delegation visits China, where members of the delegation are received by Zhou Enlai and Deng Yingchao, and members of the General Assembly of the Sino-Soviet Friendship Association, and the tall young man serving as an interpreter at Zhou Enlai's side is Mao Zedong's eldest son, Mao Anying.
人事观察|陈刚、廉毅敏分任河北省委副书记、组织部长_政经频道_财新网 Chen Gang moves from Hebei Party Committee official responsible for Xiongan to be deputy secretary of Hebei, succeeding Zhao Yide who is now governor of Shaanxi. Lian Yimian moves to be head of the Hebei organization department and a member of the Hebei Provincial Party Committee from his previous post as Secretary General of the Shanxi Provincial Party Committee. 0月中下旬,三名河北省委常委职务调整。其中,分管雄安新区工作的河北省委常委、副省长陈刚接任河北省委副书记,其前任赵一德已升任陕西省长。 同时,时任山西省委常委、秘书长廉毅敏首次跨省份交流,接班梁田庚出任河北省委常委、组织部长。梁田庚已年逾六旬,并当选河北省政协副主席 // Caixin does an excellent job tracking official appointments, this article includes an interesting table of deputy provincial party secretary appointments this year.
坚决遏制跨境赌博犯罪乱象--法制网 Zhao Kezhi stresses in deploying efforts to combat cross-border gambling..The meeting stressed that the fight against cross-border gambling is related to the overall work of the Party and the country, social stability and the country's image.
中宣部印发《关于促进全民阅读工作的意见》深入推进全民阅读--法制网 Recently, the Central Propaganda Department issued the Opinions on the Promotion of Reading for All. The Opinions point out that reading is an important way of acquiring knowledge and increasing wisdom, an important way of passing on civilization and improving the quality of the people, and that promoting reading for all is of great significance in strengthening the construction of socialist spiritual civilization and promoting social progress.
Foreign Ministry Spokesperson Zhao Lijian's Regular Press Conference on October 22, 2020 Globe and Mail: Earlier this month Xinjiang's Party Secretary called for strengthening the study of history of Chinese national unity. Should we take that as an indication that the reeducation process in Xinjiang will continue and expand? How many people remain in those centers for skills training? Zhao Lijian: I'll briefly talk about the security and counter-terrorism situation in Xinjiang. Xinjiang has achieved important, initial progress in counter-terrorism and de-radicalization. There hasn't been a violent, terrorist case over the past four years or so. People of all ethnic groups in Xinjiang now have a greater sense of fulfillment, happiness and security. The remarks you talked about were delivered against this backdrop. However, the "three forces" and their impact are not yet eliminated. The "East Turkestan" forces are still looking for opportunities to stir up trouble. The situation of counter-terrorism and de-radicalization in Xinjiang is still grim and complex. Taking into account the realities of the region, Xinjiang will continue deepening its fight against terrorism and radicalization and make efforts on both combating and preventing them. We will take tough measures to crack down on violent, terrorist crimes, and eradicate the root cause. By improving people's well-being, raising awareness of the rule of law, and extend help to local people, we will do our utmost to protect their basic human rights from the scourge of terrorism and extremism.
浙江省嘉兴市委常委、副市长徐淼接受审查调查————执纪审查——中央纪委国家监委网站 Xu Miaojie, vice-mayor of Jiaxing, is under investigation
Why China's Prison Officers Are Trying to Escape, Too - SixthTone while the rest of China may have returned to normal, its prisons remain effectively in quarantine, and the lockdown orders have yet to be lifted. It's not just the prisoners who are affected: Many correctional officers, overstretched in the best of times, are having to live on prison grounds for 60 days straight or even longer. Cut off from their families and lives, they work under extreme pressure, with no sign of relief on the horizon. - Song Lijun is a former prison officer and current academic who specializes in prison studies.
---
Foreign and Defense Affairs
Putin: Russia-China military alliance can't be ruled out - AP Asked during a video conference with international foreign policy experts Thursday whether a military union between Moscow and Beijing was possible, Putin replied that "we don't need it, but, theoretically, it's quite possible to imagine it."
China to add threats to its development interests as reason for defense mobilization - Global Times The draft amendment states that when China's sovereignty, unity, territorial integrity, security and development interests are under threats, the country can conduct nationwide or local defense mobilization. The "development interests" part is a new addition to the current law. In another proposed addition to the law, the draft amendment said that China could use its armed forces to protect overseas Chinese citizens, organizations, units and facilities, thus safeguarding China's overseas interests, and participating in activities including UN peacekeeping missions, international rescue, maritime escort, joint exercises and anti-terrorism following the basic rules on international relations based on the principles of the UN Charter.
Analysis: Silence in Beijing as Suga builds anti-China coalition - Nikkei Asia In a speech titled "Building together the future of Indo-Pacific," Suga repeated the phrase "rule of law" five times and said "developments contrary to the rule of law and openness" have been unfolding in the South China Sea. It was clear who he was talking about. Suga, on his maiden foreign trip, was using strong language to take a dig at China's militarization of the South China Sea.
Nato Secretary General welcomes Britain's rejection of Huawei as alliance reaches out to Australia Speaking exclusively to the Telegraph Mr Stoltenberg said Nato does not regard China as an enemy but must respond to the security consequences of the nation's rise. ...Highlighting the treatment of Uyghur minorities and the "cracking down on democratic forces in their own country", Mr Stoltenberg said he had experienced aggressive Chinese behaviour personally when Prime Minister of Norway.
'Five Eyes' Spy Alliance Trains Focus on Xi in Echo of Cold War - Bloomberg China is now "generally recognized as being a threat to all of the Five Eyes and to the West generally," said Richard Fadden, former director of the Canadian Security Intelligence Service and former national security adviser to the prime minister..."China has provided the glue that we needed," Eyal of the Royal United Services Institute said of the bolstered Five Eyes cooperation. "Chinese behavior since the beginning of the year, since the pandemic started, has been so egregious, so obviously hostile and so offensive to politicians that it has drawn everyone closer together."
China warns Canada to halt 'blatant interference' as feud continues | World news | The Guardian Earlier this week, a Canadian parliamentary committee concluded China's actions against ethnic Uighurs in Xinjiang province constituted a genocide and called for sanctions against officials complicit in the government's policy...Zhao [Lijian] also used his press conference to level a warning, urging Canada to "exercise caution in its words and deeds" in order to "avoid further damage to China-Canada relations".
Chinese ambassador Cheng Jingye compares Eric Abetz to Joseph Goebbels China's ambassador to Australia has launched an extraordinary attack on Eric Abetz, accusing the Liberal senator of copying the tricks of Nazi Joseph Goebbels in his criticism of Beijing. In a submission to the senate inquiry into Scott Morrison's Foreign Relations Bill — which aims to give Canberra a veto over state government and university deals with overseas powers — ambassdor Cheng Jingye also accused other Beijing critics of having "minds of malice"..."I have to point out that your recent assertions on China at the Senate are far off the mark, which have the smack of Goebbels' tricks," he told Senator Abetz via his submission, referring to Nazi Germany's propaganda minister.//
Vatican Extends Deal With China Over Appointment of Bishops - The New York Times The continuation of the agreement and cooperation between the two states has led some Vatican experts to consider it a critical step on the road to diplomatic relations with Beijing, which could mean the Vatican cutting ties with Taiwan.
China to provide the Mekong River Commission with year-round water data » Mekong River Commission China has agreed to provide the Mekong River Commission (MRC) with year-round hydrological data, contributing to better river monitoring and flood and drought forecasting in the Mekong countries. The agreement was signed today between China's Ministry of Water Resources and the MRC during a one-day virtual MRC Dialogue Partners Meeting, an annual meeting held by the MRC and its upstream Dialogue Partners: China and Myanmar. // US State Department tweet in response to this news:
Egypt's health minister receives 2nd shot of Chinese coronavirus vaccine - Politics - Egypt - Ahram Online Egyptian Health Minister Hala Zayed received on Monday the second shot of a Chinese coronavirus vaccine, as part of the country's participation in the phase 3 clinical trials of the vaccine.
India, U.S. set for military pact on satellite data during Pompeo visit | Reuters India is closing in on an agreement with the United States that will give it access to satellite data for better accuracy of missiles and drones, government and industry officials said, as it tries to narrow the gap with the powerful Chinese military.
中尼跨喜马拉雅立体互联互通网络政党共商机制宣告成立_中方 On October 20, the Communist Party of China (CPC) and Nepal's major political parties established the China-Nepal Trans-Himalayan Three-dimensional Connectivity Network Political Parties Consultation Mechanism and held their first meeting by video-link. Mr. Song Tao, Minister of the Liaison Department, Mr. Wu Yingjie, Secretary of the TAR Party Committee, Mr. Dimshina, Chairman of the House of Federation, Mr. Prachanda, Chairman of the Communist Party of Nepal (CPN), Mr. Bhattarai, Chairman of the People's Socialist Party of Nepal (PSNP), and other leaders of the six major political parties of Nepal, both in the government and in the opposition, attended and delivered speeches.
Getting Tough on China: Are Campaign Ads a Signal of Future Policy or Just Cheap Talk?  By demonstrating the correspondence between anti-China campaign appeals and subsequent legislative attention, our findings add to a growing body of evidence linking campaign rhetoric to members' legislative agendas. This research note provides the first evidence demonstrating the connec-tion between campaign appeals and legislative attention on a foreign policy issue like China
Asia Society Announces Appointment of The Honorable Kevin Rudd as President and Chief Executive Officer | Asia Society The Board of Trustees of Asia Society today announced that The Honorable Kevin Rudd, currently President of the Asia Society Policy Institute (ASPI), will serve as the institution's eighth President and CEO. He will succeed Josette Sheeran, who had previously announced her intention to step down from her role at the end of this year. Rudd will continue in his role as President of ASPI and will assume his new position on January 1, 2021.
Why China Needs an Arctic Policy 2.0 – The Diplomat I believe it is time for China to begin preparing a Arctic Policy 2.0, in order to shed light on which kind of order China would like to construct in the Arctic using its rising power. If China, the world's second largest economy, can deliver a vision based upon a re-imagination of the human-nature relationship, with support of a concrete plan, it will not only help drive the Arctic toward a peaceful and sustainable future, but also benefit China's own rise in the region. Nengye Liu is associate professor and director of the Centre for Environmental Law at Macquarie Law School, Macquarie University, Sydney, Australia.
Mapping the Future of U.S. China Policy | Center for Strategic and International Studies This week, Mike is joined by his CSIS colleagues Jude Blanchette, Bonnie Glaser, and Scott Kennedy, to discuss their recently-launched project, "Mapping the Future of U.S. China Policy." For this project, CSIS surveyed the American public and thought leaders in the United States, Asia, and Europe to map perspectives on China policy. The discussion centers around the project's five main takeaways on issues surrounding national security, economics and trade, and human rights
---
Hong Kong and Macao
Chart of the Day: Hong Kong Unemployment Hits Nearly 16-Year High - Caixin Global The city's jobless rate increased to 6.4% for the July-to-September period, up from 6.1% for the June-to-August period, data from its Census and Statistics Department showed Tuesday. The reading was the highest since January 2005
Hong Kong, Macao lawyers allowed to practice in nine cities on Chinese mainland A document containing the guidelines was released after the 13th National People's Congress Standing Committee voted at its 21st session in August to adopt the decision to authorize the State Council to carry out the trial work in the cities of Guangzhou, Shenzhen, Zhuhai, Foshan, Huizhou, Dongguan, Zhongshan, Jiangmen and Zhaoqing, which are all within the Guangdong-Hong Kong-Macao Greater Bay Area.
---
Tech and Media
China meets 5G base station target 3 months early - Nikkei Asia The country had a total of 690,000 base stations at the end of September, up 70% from June, with more than half a million deployed this year alone. Meanwhile, shipments of smartphones and other devices compatible with ultrafast 5G service topped 100 million in the first nine months of 2020.
ByteDance apps Toutiao, Douyin engage Chinese consumers longer than Tencent's WeChat, survey says | South China Morning Post Users of news aggregator Toutiao spent an average of 73.4 minutes on the app every day, while those on Douyin spent a daily average of 72.9 minutes
---
Society, Arts, Sports, Culture and History
Pregnant Cat's Cruel Death Prompts Calls for Animal Abuse Law - Sixth Tone After a man fatally tortured a pregnant cat with boiling water, many in China are once again calling for authorities to enact animal abuse legislation, with even state broadcaster CCTV joining the chorus. "It's the consensus of the whole society to oppose animal abuse, but it's only at the moral level," CCTV said on its official Weibo microblog Wednesday. "Whenever there is a case of animal abuse and killing, the public has no choice but to denounce it."
Soviet Documents Reveal Chinese Nuclear Mysteries - Joseph Torigian - Foreign Policy The United States wants to include China in negotiations on nuclear weapons with the Russian Federation. Russia's reaction to this policy depends in part on its own understanding of Beijing's nuclear intentions and capabilities. The question of just what Russia knows—or believes—about China is a tough one. Fortunately, an extraordinary collection of newly declassified documents from the Russian archives, including the party records known as The Russian State Archive of Contemporary History (RGANI), reveals how the Soviet Union studied China's nuclear and missile programs during the height of the Cold War—at a time when nuclear war between Moscow and Beijing was very possible.
How China Became a Nation of #brandygirls - SixthTone In March, while cities across China remained under lockdown, searches for the term "BM style" exploded on the Chinese internet. The phrase referred to Brandy Melville — the controversial clothing label that has gained cult status among young shoppers across the Western world. Targeting teenage girls, Brandy Melville markets itself as an accessible high-street label. Its Instagram feed is filled with street-style photos, rather than posed shots of supermodels. Almost everything in its store, meanwhile, comes in just one size. // A subject I know a lot about, or at least how much it costs, as a dad with teenage daughters...
---
Energy, Environment, Science and Health
Yicai - Scientists Are Showing Strong Migratory Pattern Between China, North America, Europe, Report Says Nearly 8 percent of scientists based in Europe and North America moved there from Beijing, Shanghai or Shenzhen in the last five years, according to a report released today by the Shanghai Institute for Science of Science and US academic publisher Springer Nature. And of those scientists living in the three Chinese first-tier cities, 3.9 percent come from these two continents, according to the report, which polled 700 top scientists from around the world.