Third Plenum Decision On Deepening Reform; National People's Congress; People's Leader Xi; Propaganda Love For Wang Qishan; AI RMA; PRC Internet Censorship Goes Global
It is NPC Party time! I know, it is hard to contain our excitement.
This year's meeting will last 16 suspense-filled days, slightly longer than normal.
Premier Li Keqiang, sounding thoroughly defeated, delivered the work report Monday. There is much more on that in the Essential Eight. 
The NPC is in focus but do not ignore the weekend release of the Third Plenum "decision on deepening reform of Party and state institutions". It will inform many of the NPC decisions, and it is also another reminder that Xi's vision is to reinsert the Communist Party into every aspect of life in the PRC. 
A couple of things of note from the NPC so far:
1. The addiction to a GDP growth target continues, with the 2018 one set for "around 6.5%". The Party just can't quit it;
2. Wang Qishan got some propaganda love, including some shots of him sitting with the current Standing Committee, kind of like a de facto eighth member of the body;
There are a couple of documents circulating that purport to have the planned personnel arrangements and institutional reforms. One of these lists Yang Jiechi, not Wang Qishan, as the next Vice President. Anything is possible but I am not buying them at this point. Neither is Wang Xiangwei, former editor-in-chief of and now editorial advisor to the South China Morning Post, who doubled down on Twitter on the SCMP reporting that Wang would be Vice President:
After months of speculation, Wang Qishan showed up in CCTV prime time news last night, after 7 Politburo Standing Committee members. Confirming SCMP's exclusive reports in December Wang 8th politically ranked and attending PSC meetings as a non voting member. Going to the VP. pic.twitter.com/cjeU3RDXY4
March 5, 2018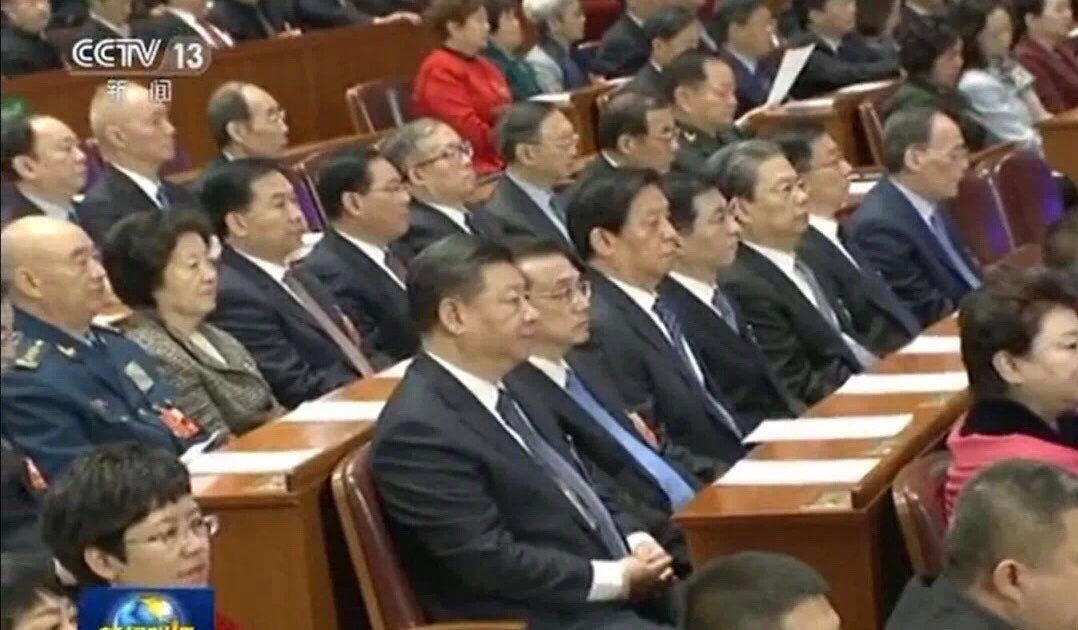 Liu He is back in Beijing, looking tired in the CCTV report of the meeting. He had a rough trip to DC, beyond just the jet-lag.
Xi as the People's Leader (Renmin Lingxiu 人民领袖) really is an official thing. The People's Daily web site is running a special promotion for the "People's Leader at the Two Meetings" on the top of the site's front page:
Sinocism wrote about the official endorsement of "Lingxiu" in the February 11 note "人民领袖" -- The People's "Leader" Xi Jinping Gets A New Propaganda Title.
Thanks for reading, and please try to contain your NPC excitement. It is much better to let it build slowly over the next 15 days, then release it with a bottle of good Moutai...
---
 The Essential Eight
1. Third Plenum Decision
China Focus: CPC issues decision on deepening reform of Party and state institutions - Xinhua
The document consists of eight parts:

-- Deeper reform of Party and state institutions is a profound change toward promoting the modernization of the system and capacity for governance of the state

-- The guiding thought, goals, and principles for deepening reform of Party and state institutions

-- Improving the system for upholding overall Party leadership:
The Party exercises overall leadership over all areas of endeavor in every part of the country. A primary task of deepening reform of the Party and state institutions is to strengthen the CPC's leadership in every sector, according to the document.

-- Optimizing the structure and functions of government institutions

-- Promoting coordinated reforms of institutions in the Party, the government, the military, and people's organizations

-- Improving the setup of institutions at local levels

-- Legalizing the staffing of institutions

-- Enhancing Party's leadership over deepening reform of Party and state institutions
The original Chinese version-(受权发布)中共中央关于深化党和国家机构改革的决定 
China Plans Greater Economic Policy Coordination - Bloomberg:
The financial supervision system will be improved to ensure financial stability and prevent systemic risk, the official Xinhua News Agency reported late Sunday, citing a decision by a Communist Party committee on deepening government reform. The statement comes just before the National People's Congress opens Monday morning, when Premier Li Keqiang will outline the country's economic objectives for the year.
---
2. The National People's Congress
2018 NPC Session: Agenda and Daily Schedule (with Explanations) – NPC Observer:
The 2018 NPC session released its agenda and daily schedule on Sunday, after they were approved by the Session's preparatory meeting and Presidium, respectively. This year's NPC session will open on the morning of March 5 and close on the morning of March 20, lasting a total of 15½ days
Highlights of Chinese Premier's government work report - Xinhua:
MAJOR TARGETS FOR 2018

-- GDP growth of around 6.5 percent

-- CPI increase of around 3 percent

-- Over 11 million new urban jobs, the surveyed urban unemployment rate within 5.5 percent, and the registered urban jobless rate within 4.5 percent

-- Basic parity in personal income growth and economic growth

-- A steady rise in import and export volumes, and a basic equilibrium in the balance of payments

-- A drop of at least 3 percent in energy consumption per unit of GDP, and continued reductions in the release of major pollutants

-- Substantive progress in supply-side structural reform, basically stable macro leverage, and systematic and effective prevention and control of risk
China lowers 2018 fiscal deficit target to 2.6 pct of GDP - Xinhua:
China lowered its fiscal deficit target to 2.6 percent of GDP for 2018, down by 0.4 percentage points compared with 2017, according to a government work report available to media Monday.
Party gives its version of how Xi Jinping's plan to change the constitution unfolded | South China Morning Post:
The leadership also went to a select group of party elders seeking their opinions and endorsement, according to an official report to the legislature on Monday that gave a rare glimpse into the making of the contentious policy change.

Delivering the report, Wang Chen, deputy chief of the National People's Congress, told nearly 3,000 delegates that the move was initiated by Xi at a meeting of the Politburo, the party's top echelon of power, on September 29.

Xi set up a task force led by Zhang Dejiang, the parliamentary chief who is about to retire, to spearhead the campaign. Zhang was assisted by two of Xi's most trusted allies, Li Zhanshu and Wang Huning. Both were elevated to the power apex, the Politburo Standing Committee, weeks later.
Xi Jinping gives himself a pat on the back for 'five extraordinary years' | South China Morning Post:
Xi's close ally Wang Qishan has meanwhile taken a seat on the presidium of the legislative meetings and featured prominently on the state broadcaster's evening newscast – the latest sign the former anti-corruption tsar will remain in the power circle to aide Xi for the coming years.
Xi Jinping's the Man in Beijing's Policy Report - WSJ:
In an annual government policy report delivered Monday to the national legislature, Premier Li Keqiang name-checked Mr. Xi 13 times. That surpasses the eight times in last year's report and, for the second year running, makes Mr. Xi the only serving leader to receive so many mentions since Mao Zedong, who died in office more than four decades ago.
China to increase 2018 defense budget by 8.1 percent - Xinhua:
China will raise its defense budget by 8.1 percent in 2018, according to a budget report to be submitted to the national legislature Monday, up from last year's 7 percent.

The 2018 defense budget will be 1.11 trillion yuan (175 billion U.S. dollars), according to the report available to media before the first session of the 13th National People's Congress opens Monday morning.

Although slightly higher than the previous two years, the growth rate is the third time to dip into the single digit since 2013, following 7.6 percent in 2016 and 7 percent in 2017.
China Turns Fiscal Screws While Maintaining 6.5% Red Line on GDP - Bloomberg:
The deficit target -- released Monday as Premier Li Keqiang delivered his annual report to the National People's Congress in Beijing -- was lowered to 2.6 percent of gross domestic product from 3 percent in the past two years. The 6.5 percent goal is consistent with President Xi Jinping's promise to deliver a "moderately prosperous" society by 2020.

Policy makers dropped a target for M2 money supply growth, saying it's expected to expand at similar pace to last year. Authorities reiterated prior language saying prudent monetary policy will remain neutral this year and that they'll ensure liquidity at a reasonable and stable level.
China told to follow the leader Xi Jinping in thought, word and deed |The Guardian: 
In a speech peppered with adulatory allusions to China's ascendant leader, Li signalled that delegates should back those proposals when they are put to the vote on Sunday.

He urged cadres to gain "a good command of Xi Jinping's major policy addresses", to "firmly uphold the guiding position of Xi Jinping's thinking on strengthening the armed forces" and to "act on Xi Jinping's economic thinking for 'new era socialism' with Chinese characteristics".

He praised "the strong leadership of the party central committee" with Xi at its core for helping China overcome "a stream of risks and challenges" since he took power in 2012.
Key Points From China Government Work Report for 2018 - Bloomberg:
Property: Govt reiterates that housing is not for speculation and aims to develop housing rental market China to steadily push forward legislation of property tax, without elaborating
The WSJ has uploaded the work reports in English and Chinese, available here-China Targets More Growth—and Even More Xi Jinping - WSJ 
The most important points of the NPC Work Report, per the propaganda authorities, in just 800 characters-政府工作报告极简版来了,只有800字!_新闻_腾讯网 
---
3. PRC Determined To Win Artificial Intelligence Revolution In Military Affairs
Chinese experts say that their country is playing catch-up, citing the expertise in the U.S. and the Pentagon's long history of driving innovation through its Defense Advanced Research Projects Agency, or Darpa.

But the Chinese military has moved to copy the Pentagon's model. Two years ago, the PLA elevated and reorganized its science and technology branch, aiming to turn it into a "Darpa with Chinese characteristics," according to Tai Ming Cheung, an expert on the Chinese military at the University of California, San Diego. The Chinese government is also building national laboratories in the mold of America's famed Los Alamos, and because of its deep involvement in industry at every level, Beijing can achieve more integration between military and civilian AI investments.

"The Chinese have done a good job of adopting the American strategy and using it against us," said Chris Taylor, chief executive of Govini, a big-data and analytics firm that has studied government investments in AI. "Not too many years ago we would say China steals information and that is how they innovate. That is not where they are anymore."
---
4. French Citizens Not Safe From The Long Arm Of PRC Security Services
Does this count as a violation of French sovereignty?
Chinese Police Are Demanding Personal Information From Uighurs in France – Foreign Policy:
Amid a global campaign to monitor and control the Uighur diaspora, Chinese police are demanding that Uighurs living in France hand over personal information, photos, and identity documents — and in some cases, the personal information of their French spouses. Police officers from local public security bureaus in China have asked French Uighurs to send their home, school, and work addresses, photos, scans of their French or Chinese ID cards, and, in some cases, the ID cards of their spouses and scans of their marriage certificates if they were married in France.
---
5. Dissembling About Overseas Chinese Work will Only Increase Suspicions
The backlash against influence operations is just going to get uglier, and the Party is the main reason.
China denies using citizens overseas to project influence abroad | South China Morning Post:
The central government's Overseas Chinese Affairs Office – responsible for Chinese citizens living abroad or returning from overseas – defended against accusations that Beijing has tried to project its influence in other countries via its people.

"China has never used its overseas compatriots or overseas Chinese affairs to do anything that would harm other countries' interests," Qiu Yuanping, director of the office, told reporters on the first day of the Chinese People's Political Consultative Conference.

"We believe that overseas Chinese's history and actual contributions should be given full recognition, rather than being slandered or belittled."
---
6. PRC Internet Censorship Going Global?
Does this also count as a violation of other nations' sovereignty?
China Presses Its Internet Censorship Efforts Across the Globe - The New York Times
For years, China has exerted digital control with a system of internet filters known as the Great Firewall, which allows authorities to limit what people see online. To broaden its censorship efforts, Beijing is venturing outside the Great Firewall and paying more attention to what its citizens are saying on non-Chinese apps and services.

As part of that shift, Beijing has at times pressured foreign companies like Google and Facebook, which are both blocked in China, to take down certain content. At other times, it has bypassed foreign companies entirely and instead directly pushed users of global social media to encourage self-censorship...

At a major Chinese internet conference last year, Mei Jianming, a Chinese antiterrorism expert, said Beijing should put more pressure on companies like Twitter. The goal would be to get them to change their terms of service so they could restrict posts by groups that Beijing considers subversive, like the World Uyghur Congress, which seeks self-determination for the people of the western Chinese region of Xinjiang.
Marriott Employee Roy Jones Hit 'Like.' Then China Got Mad - WSJ:
Roy Jones, 49, never thought a $14-an-hour job running social-media accounts for Marriott International Inc. MAR 1.48% would require him to know global politics.

That was before he used an official company account to like a post on Twitter Inc. TWTR 2.36% from a Tibetan separatist group. The group applauded Marriott for listing Tibet as a country, rather than part of China, in an online survey.

Marriott says listing Tibet as a country was a mistake, and Mr. Jones has said the same of liking the post. Mr. Jones paid for his error with his livelihood: Marriott fired him.

"I was completely unaware of what was going on," Mr. Jones said by phone from Omaha, Neb., where he worked at Marriott's customer-engagement center. "We were never trained in any of the social graces when it came to dealing with China."

Marriott declined to comment on Mr. Jones's case. The hospitality company issued a statement saying it made its own decisions on the China-Tibet incident in line with internal policies.
---
7. Sun Liping On Stopping Capital Flight And Emigration
I am a bit surprised this critique by Tsinghua Professor Sun Liping of the reasons more and people, including from the middle-class, are trying to emigrate from and get their money out has not been censored. Sun is clearly very disturbed by current trends and provides some serious warnings in here, including against populism, lack of effective property rights, increasing feelings of insecurity, anger towards private businesses and successful entrepreneurs as well as growing militarism.
因此,要解决这种不安全感问题,除了有关的宣示和制度之外,很重要的一点是优化社会环境。我这里所说的社会环境,特指一股社会思潮的兴起,而这种思潮带有明显的民粹主义的特征。他们把民营企业的一些原罪普遍化为私有财产的原罪;他们借前些年腐败的盛行,质疑整个私有财产的正当性;他们把对缩小贫富差距的正当要求引向对财富的仇恨。正是在这样的背景下,有人在担心打土豪分田地,有人在担心新的公私合营。这不仅加剧了富人对财产安全性的担忧,而且也使中产阶层包括有一定财产的普通民众的不安全心理...

其实,最后还有一个问题,但我不知道怎么说合适。这就是营造一种和平的国际环境,特别是这方面的舆论环境,对于形成这种安全感也是很重要的。

在一个国家还是很贫困,人们没有多少财产的时候,这个问题似乎还有点无所谓,但到了一个国家的国民有了一定的财富的时候,营造和维护一种和平的国际环境就特别的重要了。从这个意义上说,一些动辄打打杀杀的狭隘民族主义言论就是很值得警惕的,因为最后的结果很可能没有吓住别人,反倒造成了国内民众的不安。
---
8. Xi Did Not Free The UCLA Three At Trump's Behest
The deal was done before Trump got involved, as I was hearing at the time. What a ridiculous waste of capital...
LiAngelo LaVar Ball Donald Trump and the shoplifting scandal that rocked UCLA's NCAA basketball season:
Among the new details that have emerged: what the players stole from the other two stores besides the sunglasses from Louis Vuitton; that the players were required to leave the police station multiple times to return the items they stole to all three stores; that one player hid a pair of stolen sunglasses in UCLA head coach Steve Alford's hotel room; how UCLA and Pac-12 officials bailed the players out of jail without committing an NCAA violation; how charges were dropped, the bail refunded and the players' passports returned two days before White House chief of staff John Kelly called the players to inform them that President Donald Trump was working on their release; how UCLA appeased Chinese authorities by keeping the players in China for 72 hours after the rest of the team had returned to Los Angeles; and why school officials thought it wise to thank Trump and Kelly while still unsure of the impact of their efforts.
---
Business, Economy, Finance And Trade
Chinese, U.S. senior officials highlight cooperation to settle trade disputes - Xinhua Even Xinhua couldn't really spin much positive about Liu He's DC trip. // The two countries should work together to implement the consensus of the two leaders, expand pragmatic cooperation in economic and trade exchanges, jointly push for the settlement of the pressing issues, promote balanced development of the China-U.S. economic and trade relationships so as to bring more benefits to the two peoples, said Liu.
As China Presents Economic Plan, U.S. Trade Spat Raises New Risk - Bloomberg Vice Foreign Minister Zhang Yesui sought to defuse some of that tension Sunday, announcing that China would host U.S. officials for a new round of dialogue on trade issues. Zhang, who's also spokesman for the National People's Congress, said lawmakers were preparing measures to promote and protect foreign investment.
China's Financial Reach Leaves Eight Countries Vulnerable, Study Finds - WSJ China is financing as much as $8 trillion in deals as part of its "Belt and Road Initiative" in 68 countries winding through Asia, Africa and Europe. New data from the Center for Global Development, an international think tank, estimate the program has left eight countries financially vulnerable: Djibouti, Kyrgyzstan, Laos, the Maldives, Mongolia, Montenegro, Pakistan and Tajikistan.
First 'Belt and Road' Asset-Backed Security Gets Go-Ahead - Caixin Global The issuer of the 5.5 billion yuan ($867.1 million) security, pulp and paper producer Sinar Mas Paper (China) Investment Co. Ltd., hired Sinolink Securities Co. Ltd. to underwrite the bond, according to an announcement released on Friday by the brokerage firm. The proceeds will primarily be used to facilitate the operation of the issuer's production lines in the coastal province of Jiangsu, which imports raw and auxiliary materials from, and exports household paper to, countries along the Belt and Road routes, including Egypt, India and Turkey.
China hedge funds suffer in debt crackdown - FT $$ China's crackdown on debt has slammed the country's nascent hedge fund industry, as a bear market in bonds prompts banks to withdraw funds they had parked with external bond managers, cutting a key source of funds.
Chinese Conglomerate HNA Gets a Lifeline - WSJ More recently, Chinese banks have reopened the spigot. In early February, a group of government officials met in Beijing with senior HNA executives to discuss the group's financial situation, according to a person who was briefed on the meeting. Also present were representatives of state-owned banks and the governor of Hainan province, where HNA is based, the person said.
China to cut steel capacity by 30 mln tonnes, coal by 150 mln tonnes in 2018 - Xinhua China will cut ineffective steel capacity of 30 million tonnes and coal capacity of 150 million tonnes in 2018, according to a government work report available to media before the annual parliamentary session Monday morning. Meanwhile, coal-fired power generating units with a capacity of less than 300,000 kilowatts that fail to meet standards will be closed this year, according to the report to be delivered at the first session of the 13th National People's Congress.
China Loosens Grip on Long-Term VC Investors' Equity Disposal - Caixin Global The new rules, which ease restrictions on venture capital shareholders to offload stocks of listed companies, aim to provide differentiated policy support to venture capital funds seeking long-term and value investments, China Securities Regulatory Commission (CSRC) spokesperson Gao Li said on Friday at a press conference.
Politics, Law And Ideology
Beijing party chief set to be replaced: report- Nikkei Asian Review I am skeptical  //  Cai will be replaced by Sun Chunlan, director of the United Front Work Department, Hong Kong daily Ming Pao said Friday. Cai will likely keep his spot in the 25-member Politburo, the party's leadership body, and take over Sun's department post.
Five Lawyers Write to Minister of Justice: Cease the Campaign-style Political Crackdown Against China's Lawyers « China Change Shi Ping (施平) Wang Liqian (王理乾) Peng Yonghe (彭永和) Chen Jiahong (陈家鸿) Zhu Shengwu (祝圣武)
New face of Chinese parliament Zhang Yesui was host at Hong Kong's handover | South China Morning Post Zhang Yesui – who is vice-foreign minister and was Chinese ambassador in the United States from 2010 to 2013 – made his debut at the Great Hall of the People at a briefing ahead of the National People's Congress.
Xi Jinping's siblings among Chinese elite paying tribute to late princeling Chen Xiaolu | South China Morning Post Among the hundreds of mourners – many of whom had made the four-hour plane journey from Beijing to say their final farewells – was Xi Yuanping. Sources said the Chinese leader's younger sibling paid a personal tribute to Chen, and along with other princelings visited the deceased's family.
Will China's President Be Informed? | China Media Project Xi Jinping does not seem to have much interest in this sort of intersectional supervision. He has brought to heel China's once unruly (by today's standards) press. His leadership has been marked across the board by greater centralization and a top-down approach. We might suppose that information is not getting bottlenecked, that it is filtering up to Xi, and to others who make the key policy decisions — that they are not "arrogant and impervious." But the reality is that we have no way of knowing. No one does. And that has to tell us something.
Tech entrepreneurs replace real estate tycoons as political advisers in China's push for IT edge | South China Morning Post Almost every new face among the 2,158 delegates debuting as advisers in the Chinese People's Political Consultative Conference hails from a technology firm
Foreign and Military Affairs
Xi stresses military-civilian integration in new era - Xinhua Xi, also general secretary of the Communist Party of China Central Committee and chairman of the Central Military Commission, made the remarks while presiding over a plenary session of the central commission for integrated military and civilian development, which he heads. Xi said that the 19th CPC National Congress had called for firm resolve in implementing the strategy for military-civilian integration, achieving greater integration and building integrated national strategic system and capabilities
China and Russia: The new rapprochement, by Alexander Lukin - FT $$ Alexander Lukin, a Russian scholar of China, takes up the question in a bold new book explaining the Russia-China project and where it is headed. Lukin sets out to slay several myths about the Russia-China relationship, which, he says, tends to be viewed through the prism of whatever is the going theory of international relations. Those who see the world as a balance of power spy an alliance in the making. Their opponents focus on the distrust and diverging interests that separate Moscow and Beijing. China, for example, clearly has more at stake in its relationship with Washington than with Moscow. Last year saw Mr Xi lionised at Davos for championing globalism. Meanwhile Russia is increasingly focused inward, seeing China as a demographic threat, according to the naysayers. Lukin takes issue with the scholars who see mistrust blocking the Russia-China relationship. But he also insists that a full, military alliance is unlikely. Instead, he argues the countries are united in pressing for changes to an international system that has given them less than they feel they deserve.
A Counterproductive Cold War With China | Foreign Affairs Washington's "Free and Open Indo-Pacific" Strategy Will Make Asia Less Open and Less Free By Michael D. Swaine
Inside China's 'united front' | The Saturday Paper This week, the Race Discrimination Commissioner, Tim Soutphommasane, delivered a speech at Western Sydney University counselling against hysteria. "There has been enormous heat in our public debate about Chinese influence," he said. "It is time to bring down the temperature. If we are not careful, we will run the risk of setting fire to our multicultural harmony. Let me make one thing clear: I am not in any way downplaying the seriousness of concerns that have been raised, both from inside and outside government, about foreign interference. They must be taken seriously. In our liberal democracy, there should – and there must – be debate about matters affecting the integrity of our democracy and the sovereignty of our nation-state. But there must be responsibility exercised in public debate. It is a dangerous thing to invite hysteria.
U.S. Aircraft Carrier Heads to Vietnam, With a Message for China - The New York Times Communist fraternity between Beijing and Hanoi has not erased the fact that the Chinese Empire ruled Vietnam for a millennium. Four years after the last Americans withdrew from Saigon, Vietnam fought a border war with China. Since then, Chinese and Vietnamese troops have skirmished over ownership of islets in the South China Sea. "No one trusts the Chinese," said Maj. Gen. Le Van Cuong, the former director of the Institute of Strategic Studies at Vietnam's Ministry of Public Security. "But everyone needs their money."
Europe Once Saw Xi Jinping as a Hedge Against Trump. Not Anymore. - The New York Times many European leaders now accuse China of trying to divide the European Union as it woos Central Europe and the Balkan states with large investments. They are also wary of how China has become more aggressive militarily, in espionage and in its investment strategy abroad — with targets including its largest trading partner in Europe, Germany.
Top Armed Services Dem warns of China's influence after trip to Africa | TheHill The ranking member of the Senate Armed Services Committee on Thursday warned of China's growing influence in Africa after a trip to the region. "Wherever we're going in Africa, they seem to be there, or following close behind," Sen. Jack Reed (D-R.I.) said of China
At U.N., China delays U.S. bid to blacklist ships, companies over North Korea - Reuters China delayed a U.S. request for a United Nations Security Council committee to blacklist 33 ships, 27 shipping companies, and a Taiwan man for violating international sanctions on North Korea, diplomats said on Friday.
Malaysian election: Hong Kong billionaire Robert Kuok targeted by anti-Chinese whispers | This Week In Asia | South China Morning Post Kuok, Malaysia's richest man, had on Monday threatened legal action against a website he said had cast "aspersions" on his commitment to the country's democratic processes. Many observers say the claims against Kuok are a form of racial dog-whistling by elements within the ruling Barisan Nasional coalition, suggesting they are part of an effort to whip up anti-Chinese sentiment in the Malay majority country ahead of the vote.
President Xi appoints 6 new ambassadors - Xinhua Ma Zhaoxu was appointed China's permanent representative and ambassador to the United Nations, replacing Liu Jieyi.
The Latest: China welcomes S Korean envoys' trip to N Korea - AP "We believe it is a good thing, and look forward to a positive outcome of the meeting," foreign ministry spokesman Geng Shuang said at a regularly scheduled news conference Monday. The South Korean presidential office announced that the envoys will meet Monday evening with North Korean leader Kim Jong Un.
Trump on China's Xi consolidating power: 'Maybe we'll give that a shot some day.' - CNN  In the closed-door remarks, a recording of which was obtained by CNN, Trump also praised China's President Xi Jinping for recently consolidating power and extending his potential tenure, musing he wouldn't mind making such a maneuver himself. "He's now president for life. President for life. No, he's great," Trump said. "And look, he was able to do that. I think it's great. Maybe we'll have to give that a shot some day."
Hong Kong, Macao
Tough warning to Hong Kong given by top Chinese leader who urges recognition of Beijing's sovereignty | South China Morning Post State leader Zhao Leji tells local delegates that central government will not tolerate anyone using city's autonomy as a cover to harm the mainland
No plans to merge Hong Kong and Taiwan affairs offices, former Beijing official says | South China Morning Post Wang Guangya, former director of the HKMAO, rejects report from Ming Pao that merger would go ahead to quash pro-independence movement
Tencent's ID Plan Should Please Investors, and Xi Jinping - Bloomberg Ma Huateng advocates linking Hong Kong, Macau and the southern province of Guangdong -- an area known as the Pearl River Delta. And he's got just the tool to help: Tencent Holdings Ltd.'s WeChat instant messenger and its one billion global users.
China cuts reference to Hong Kong's people governing themselves in key report - The Washington Post This year, there was one striking omission, quickly spotted by reporters from Hong Kong. Describing the principle of One Country, Two Systems under which Hong Kong has been governed since the handover from British rule, the 2017 report said: "under which the people of Hong Kong govern themselves, the people of Macao govern themselves, and both regions enjoy a high degree of autonomy." That entire phrase was eliminated this year.
Taiwan
China warns Taiwan it won't tolerate separatist activities - Reuters Premier Li Keqiang issued the warning in a speech at the opening of the annual session of China's parliament, his stern words coming amid mounting Chinese anger over a U.S. bill that seeks to raise official contacts between Washington and Taipei. On Friday, China said Taiwan would only get burnt if it sought to rely on foreigners, adding to the warnings from state media about the risk of war.
Trump to Sign Taiwan Bill Opposed by Beijing President Donald Trump is expected to sign into law new legislation opposed by China that calls for increasing high-level visits with Taiwan, according to administration officials.  The president could sign the measure into law in the coming days, said officials familiar with the issue.
Tech And Media
Chinese Investors Bet on Latin America for Next Tech Gold Rush - Bloomberg Two years ago, Tang Xin had never set foot in Mexico and didn't know a word of Spanish. While his grasp of the language hasn't improved much since then, he has built one of the country's hottest apps. Noticias Aguila, which translates as News Eagle, now has 20 million users and became the No. 1 news app in Google Play's Mexico store late last year, according to App Annie. That has come as Tang and his development team remain based in Shenzhen, the Chinese technology hub just across the border from Hong Kong.
Minitrue: Seven-day Suspension for Zhihu App - China Digital Times (CDT) The suspension of the popular Quora-like Q&A discussion platform's app comes amid intense censorship surrounding a proposed constitutional amendment scrapping term limits for China's presidency, and ahead of the start of the annual "Two Sessions" legislative and advisory meeting at which it is likely to be adopted. CDT Chinese editors highlighted one post censored by Zhihu, alluding to the prospect of greatly extended rule by Xi Jinping: "If the driver keeps going in spite of fatigue, without changing shifts, what should the passengers do?"
WeChat now has over 1 billion active monthly users worldwide · TechNode WeChat's monthly active users passed one billion for the first time during this year's Spring Festival. Tencent CEO Pony Ma revealed the number in an interview at today's National People's Congress (in Chinese).  The one billion mark comes not long after Tencent's third-quarter results in November, which show that WeChat's monthly active user had passed 980 million, a significant 15.8% increase compared to the same period of the previous year.
China's Top Tech Firms Heed the Call to Bring Listings Home - Bloomberg Smartphone maker Xiaomi Corp. is said to be considering a mainland listing as part of a much-anticipated 2018 coming-out party. Baidu Chief Executive Officer Robin Li, Sogou's Wang Xiaochuan and Yao Jinbo, founder of the Craigslist-style service 58.com Inc., have separately declared their ambitions of listing their companies on Chinese bourses when regulations permit the creation of CDRs. On Monday, prominent entrepreneur and Netease Inc. CEO William Ding joined the chorus.
China Box Office: 'Operation Red Sea' Rises to Top Spot – Variety War actioner, "Red Sea Operation" continued its recent momentum and took top place at the Chinese box office from previous winner, comedy "Detective Chinatown 2." "Red Sea" took $62 million in its third weekend, from some 85,000 screenings per day, according to data from Ent Group. That lifted it to a cumulative of $456 million in 16 days.
Society, Art, Sports, Culture And History
China's Women-Only Subway Cars, Where Men Rush In - The New York Times Room is hard to find. So when the Guangzhou government began reserving cars for female passengers worried about being groped and harassed, they filled up — but not with the intended passengers. "Men are totally clueless," said Lu Lili, a 28-year-old bank employee, who was waiting for a train on Guangzhou's Line 1 to appear. "It's basically all the men trying to squeeze in."
Energy, Environment, Science And Health
Jaguars killed for fangs to supply growing Chinese medicine trade | Environment | The Guardian Local people find out that Chinese construction workers have an interest in buying animal bones, horns and body parts for their supposed medical properties and an illicit trade is established. "Essentially, these projects act like giant vacuum cleaners of wildlife that suck everything back to China," a conservation researcher, Vincent Nijman, of Oxford Brookes University, said last week. "It is a real worry." Should we give up half of the Earth to wildlife? Read more The problem in South America is of particular concern. More than 100 jaguars – a species whose numbers are dwindling – may have been killed in less than a year to supply a trade in their body parts with China. As tiger parts – which are prized by practitioners of Chinese traditional medicine – are becoming scarcer, so a market is opening up for organs from other big cats, including the jaguar.
Agriculture And Rural Issues
Can Wine Transform China's Countryside? | The New Yorker Ningxia's wineries have been winning awards, but they are also part of Beijing's new vision for rural life.
Education
Chinese students lead world in after-school tutorial time - ECNS In 2015, the average school time for primary pupils increased to 8.1 hours a day, from 6.7 hours in 2010, an increase of 20.9 percent, according to the report released by the 21st Century Education Research Institute. Besides, middle-school students spent 11 hours a day in school in 2015, compared with 7.7 hours five years ago, an increase of 42.9 percent, it said. In addition, Chinese students were overloaded with homework, which also placed pressure on their parents. About 80 percent of parents said they had to closely supervise their children while they completed their homework.
Food And Travel
China Outbound Tourism Hits Record High in 2017 - Caixin Global Chinese people made 130.5 million trips overseas last year, a 7% jump over 2016, while total spending increased by 5% to an estimated $115.3 billion, according to a report released by top Chinese travel services provider Ctrip and the China Tourism Academy, a state-backed research institute.