The phase one trade deal is now signed, after a much longer than expected signing ceremony at the White House. I watched it, here is my snarky Twitter take that may lose me some followers and subscribers, but it got painful at times:
The full text of the agreement is available here. I should have much more tomorrow once we have all been able to parse through it.
Liu He would look good as Premier, don't you think?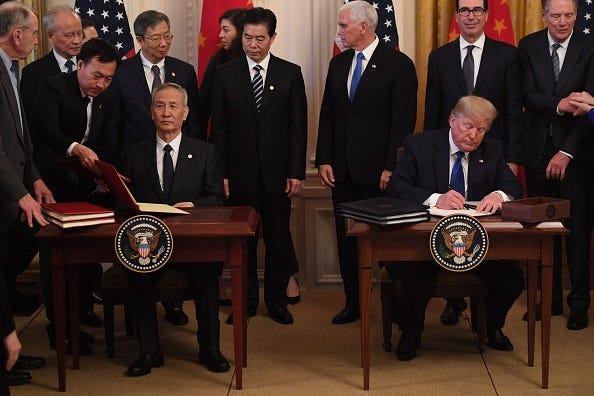 When I wrote yesterday "do not be surprised to see more US pushback in the technology realm before the ink is barely dry on this phase one deal" I did not think news would move as fast as it did. Overnight both the Wall Street Journal and Reuters reported on some of the intensifying Trump Administration efforts to limit technology sales to the PRC, as noted in item #2 below.
Thanks for reading.
---
Today's Top Items
1. US-China trade deal
Trump, China Sign Phase One Trade Deal - Bloomberg
The Trump administration says what separates its deal most from others is the enforcement mechanism it establishes...

But even Lighthizer acknowledges how effective that mechanism will be depends on Beijing. "This deal will work if China wants it to work," he said Wednesday...

The text of the deal released Wednesday specifies $77.7 billion in Chinese purchases of manufactured goods including aircraft, $32 billion in agricultural products, $52.4 billion in energy and $37.9 billion in services in the two years through December 2021.
China's Xi tells Trump he welcomes Phase 1 trade deal - Reuters
Xi told Trump in the letter, read by Liu during the signing ceremony, that the deal shows how the two countries can resolve their differences and find solutions based on dialogue.
China Speeds Up Opening of Market to Investment Banking Giants - Bloomberg
"China shall eliminate foreign equity limits and allow wholly U.S.-owned services suppliers to participate in the securities, fund management, and futures sectors," according the text of a landmark trade agreement released Wednesday.
China Trade Deal Details Protections for American Firms - The New York Times
The agreement was "more positive" than expected, Myron Brilliant, the executive vice president of the U.S. Chamber of Commerce, said at a news conference in Beijing on Monday. He added that striking an agreement had calmed tensions in a long-running trade war.
China Tariffs to Stay Until 2020 Election Despite US Trade Deal - Bloomberg
The two sides have an understanding that no sooner than 10 months after the signing of the agreement at the White House Wednesday, the U.S. will review progress and potentially consider additional cuts on tariffs affecting $360 billion of imports from China, the people said, declining to be identified because the matter is private.

The period of review, which isn't expected to be specified in the deal's text, is intended to give the Trump administration time to verify the Asian nation's adherence to the terms of the pact. It won't affect a halving of the 15% tariff on about $120 billion in Chinese goods announced in December that is still due to go ahead.
Trade War Latest: China Tries to Counter Narrative That 'We Lost' - Bloomberg
Chinese government media aren't ceding a loss as the delegation from Beijing prepares to sign the document just before lunch at the White House today. One state media outlet defended China's purchase commitments in the deal as necessary rather than a capitulation. Another compared the moment to "just the first round of a game," cautioning against applauding the end of tensions.
Demand justifies potential rise in energy imports from US - Global Times
While the phase one trade deal between the US and China is expected to include a commitment by the latter to buy about $50 billion in energy goods, according to media reports so far, some are skeptical of China's ability to absorb such amount of US energy products, given that US energy exports to China were about $8 billion in 2017 and 2018. Such concern may be justified but it underestimates the big picture of China's demand for oil and gas.

A fresh surge in the country's energy imports is possible, which could reflect two factors. One is that China needs to accelerate the build-up of a strategic petroleum reserve (SPR), which is of great importance to ensure its energy security...

The second factor is that China's energy consumption is still growing steadily. In 2019, its apparent consumption of oil rose 5.2 percent year-on-year to 660 million tons, while consumption of natural gas jumped by 9.6 percent,
---
2. More tech export restrictions coming
Tech Tensions Simmer in Washington as U.S., China Near Trade Truce - WSJ $$
More broadly, the National Security Council asked the Commerce Department last week to suggest regulations to restrict sales of any U.S. technology to China, according to people tracking the early-stage discussions.

Should all the efforts bear fruit, nearly any technology exports to Huawei in particular, and China in general, would require export licenses. While Commerce could grant such licenses, U.S. companies fear their Chinese customers would turn to other suppliers. In 2018, about 36% of U.S. semiconductor company revenues, or $75 billion, came from sales to China, the Semiconductor Industry Association estimated...

On Huawei, there is widespread frustration within the administration that a move in May to place the company on the Commerce Department's blacklist didn't have much effect...

Tech industry critics say the Commerce and NSC measures would drive U.S. companies to locate their research and development efforts abroad. But others at the NSC, including Mr. Pottinger, believe U.S. firms must sever relations with Huawei.
Trump administration moves toward blocking more sales to Huawei: sources - Reuters
Reuters reported in November that Commerce was considering broadening the De minimis Rule, which dictates how much U.S. content in a foreign-made product gives the U.S. government authority to regulate an export.

Under current regulations, the United States can require a license or block the export of many high-tech products shipped to China from other countries if U.S.-made components make up more than 25% of the value.

According to two people familiar with the matter, Commerce has drafted a rule that would lower the threshold only on exports to Huawei to 10% and expand the purview to include non-technical goods like consumer electronics including non-sensitive chips
Comment: Two terms worth paying attention to in relation to likely additional US tech restrictions towards China - "De minimis Rule" and "Deemed Export"
Washington pressures TSMC to make chips in US - Nikkei Asian Review
"The U.S. government wants chips that go into military projects to be built on American soil," a senior Taiwanese government official, who was briefed about Washington's approaches to TSMC given the company's strategic and technological importance, told Nikkei. "That's for national security concerns, and they [the U.S.] don't plan to back off on that."..

"We've noticed that many U.S. tech executives and government officials are concerned about their country's dependence on TSMC and the security of their defense industry's supply chains," said Su Tze-yun, director of Taiwan's Institute for National Defense and Security Research.

"That's why the U.S. constantly hopes that TSMC could stand with them to make chips somewhere else other than just Taiwan, which they think is not completely safe because China has not ruled out the possibility of taking control of the island by force," the director said.
US tech backlash forces China to be more self-sufficient | Financial Times $$
The acrimony between China and the US over technology transfers has created plenty of losers during the past year. There are the US companies which have missed out on business as a result of sanctions, and the Chinese groups that have had to find alternative supplies. But there is one group that has emerged as a winner: the security hawks who say they saw it coming and who are now pushing Beijing to be more self-sufficient...

This acceleration of the decoupling will not only affect the US groups who rely on China's custom, it will also start to reconfigure the world's tech supply chain, as Chinese companies shift supply to countries they view as safer allies. The two superpowers are already bullying countries they buy from, and sell to, to take sides.

"Three years ago, there may have been more people thinking that we could rely on some US technologies rather than developing our own," says Yan Ming, a director at the China Computer Federation, a research alliance. "Now if someone is still saying that, I suppose they have just been sleeping for the past three years."
Chinese ambassador warns Dutch government against restricting ASML supplies - Reuters
"We are concerned that the Netherlands is politicizing our trade relationship under American pressure," Chinese ambassador Xu Hong was quoted as saying in the Het Financieele Dagblad newspaper.

"If this movement continues it will of course negatively affect bilateral relations."
China bracing for US tech war with plan to cut reliance on imports of key components to just 25 per cent | South China Morning Post
China is aiming to increase its reliance on domestic production for key components, including chips and controlling systems, to 75 per cent by 2025, according to a former minister.

The target reflects Beijing's determination to reduce its dependence on imports by expanding its national manufacturing innovation centres to 40 from the 15 at the end of 2019.

Domestic production can currently only provide around a third of the key components required by China, but Li Yizhong, the former industry and information technology minister, said this week that the level would be lifted to 40 per cent by 2020 and 75 per cent by 2025.
Senators Urge $1 Billion Plan to Loosen China's Grip on 5G - WSJ $$
A bipartisan group of U.S. senators, alarmed by the rise of Chinese electronics supplier Huawei Technologies Co., wants Washington to subsidize firms that could counter China's 5G advances.

The proposed Utilizing Strategic Allied Telecommunications Act would steer at least $750 million toward companies developing fifth-generation, or 5G, wireless technology and create a separate $500 million fund for companies that deploy "trusted and secure" equipment around the world.
---
3. CCDI Plenum communique
China's discipline authorities adopt communique to strengthen supervision - Xinhua
Summing up the achievements of 2019, the session pointed out that 2020 is very important as it is the final year to complete building a moderately prosperous society in all respects and the 13th Five-Year Plan.

For 2020, the Party and state supervision systems must be upheld and improved, checks and oversight over the exercise of power must be strengthened and a system under which officials "don't dare to, are unable to and have no desire to commit acts of corruption" must be advanced as a whole, according to the communique.

These efforts will provide a strong guarantee for securing a victory in building a moderately prosperous society in all respects and the battle against poverty, the communique added.

An eight-point requirement was put forward by the session:

-- Strengthen the efforts to uphold Xi's position as the core of the CPC Central Committee and the whole Party, as well as the authority of the CPC Central Committee and its centralized, unified leadership;

-- Spare no effort to ensure winning the fight against poverty;

-- Deepen the reform of discipline inspection and supervision systems;

-- Strengthen oversight over the exercise of power;

-- Consolidate efforts to build excellent conduct;

-- Integrate inspection with other forms of supervision;

-- Advance the system under which officials "don't dare to, are unable to and have no desire to commit acts of corruption" as a whole;

-- Build a high-caliber team of disciplinary inspectors, who are loyal, upright and have a high sense of responsibility.
中国共产党第十九届中央纪律检查委员会第四次全体会议公报--时政--人民网
The eight points:
第一,坚持以初心使命作为政治本色和前进动力,不断增强"两个维护"的自觉性坚定性
第二,全力保障脱贫攻坚决战决胜,集中整治群众反映强烈的突出问题
第三,持续深化纪检监察体制改革,推动健全党和国家监督体系
第四,发挥纪委监委专责监督作用,加强对权力运行的监督
第五,巩固拓展作风建设成效,推动化风成俗、成为习惯
第六,完善巡视巡察上下联动工作格局,促进巡视巡察与其他各类监督贯通融合
第七,构建一体推进不敢腐、不能腐、不想腐体制机制,进一步巩固和发展反腐败斗争压倒性胜利
第八,建设高素质专业化干部队伍,做忠诚干净担当、敢于善于斗争的战士。
---
4. No wonder Beijing banned Kenneth Roth from Hong Kong
China: Backlash Against Increasing Repression | Human Rights Watch
In the 652-page World Report 2020, its 30th edition, Human Rights Watch reviews human rights practices in nearly 100 countries. In his introductory essay, Executive Director Kenneth Roth says that the Chinese government, which depends on repression to stay in power, is carrying out the most intense attack on the global human rights system in decades. He finds that Beijing's actions both encourage and gain support from autocratic populists around the globe, while Chinese authorities use their economic clout to deter criticism from other governments. It is urgent to resist this assault, which threatens decades of progress on human rights and our future...

Authorities deepened their assault on freedom of expression. Police nationwide detained or summoned hundreds of Twitter users, forcing them to delete tweets criticizing the government or to close their accounts. The government launched a disinformation campaign that framed Hong Kong's protesters as violent and extreme, prompting Twitter and Facebook to suspend hundreds of accounts originating in China suspected of being part of the campaign.

Beijing continued to muzzle criticism abroad by monitoring Chinese students on university campuses, harassing critics' family members based in China, censoring Chinese social media platforms which are popular among the diaspora, and leveraging China's economic clout.
The China section of the report

HRW executive director Ken Roth's introductory essay China's Global Threat to Human Rights
No other government is simultaneously detaining a million members of an ethnic minority for forced indoctrination and attacking anyone who dares to challenge its repression. And while other governments commit serious human rights violations, no other government flexes its political muscles with such vigor and determination to undermine the international human rights standards and institutions that could hold it to account.

If not challenged, Beijing's actions portend a dystopian future in which no one is beyond the reach of Chinese censors, and an international human rights system so weakened that it no longer serves as a check on government repression...

To avoid global backlash for crushing human rights at home, the Chinese government is trying to undermine the international institutions that are designed to protect them. Chinese authorities have long pushed back against foreign concern for human rights as an infringement on its sovereignty, but these efforts were comparatively modest. Now China intimidates other governments, insisting that they applaud it in international forums and join its attacks on the international human rights system.
HRW report reflects Western elites' hypocrisy: analysts - Global Times
The Chinese Foreign Ministry said on Wednesday that HRW's China-related remarks, including its report, are devoid of facts and paint white as black, and that there is no need to discuss it.

"These two organizations have been viewing China from distorted views for a long time. Their China-related comments always ignore facts with no objectivity," Geng Shuang, spokesperson of Chinese Foreign Ministry, said at a routine press conference.

"The state of the human rights situation in China is in the best of times," he noted.
HRW's criticism of China is a lie - Global Times
US-based Human Rights Watch (HRW) released its World Report 2020 on Tuesday. Kenneth Roth, executive director of HRW, said in his speech that China has launched an assault on the international human rights system.

An NGO as it is, HRW has been openly coordinating with the US on its tough China policy. The organization's funding source and personnel structure have shown it will embed US national interests deeply into its goals. Roth once served as a US federal prosecutor. HRW's extreme antagonism toward China results from his prejudice and political stand.
---
5. Freedom House report on China's global media influence efforts
Beijing's Global Megaphone | Freedom House
The Chinese Communist Party and various Chinese government entities have long sought to influence public debate and media coverage about China outside the country. New research illustrates the ways in which CCP's media influence is extending far beyond the borders of mainland China to reach audiences around the globe, via three key tactics: global censorship, propaganda, and control over content-delivery systems.
China propaganda: Beijing wages information war to distort media landscape, Freedom House says - The Washington Post
Democratic governments should wise up to — and try to thwart — China's attempts to shape the global narrative about its actions at home and abroad, Freedom House said in a report published Wednesday that warns of the campaign's corrosive effects on public debate...

But how effective are these efforts? The answer to this question is mixed, Freedom House concluded.

"Some aspects of Beijing's initiatives have been remarkably effective and carry serious political and economic implications," the report said, noting a sharp improvement in Xi's public image in surveys in the Middle East, Africa and Southeast Asia...

Freedom House warned that, while there are limits to the campaign's effectiveness at present, China's strategies could prove highly influential in the longer term, especially in developing countries where media outlets are happy to accept free content.
---
6. Maybe the Wuhan Coronavirus can spread
China: Possible that new virus could spread between humans - AP
While preliminary investigations indicate that most of the patients had worked at or visited a particular seafood wholesale market, one woman may have contracted the virus from her husband, the Wuhan Municipal Health Commission said in a public notice.
China coronavirus outbreak: five members of two families among 41 people infected in Wuhan | South China Morning Post
Father, son and cousin who lived in the same house and ran a stall at the seafood market at the centre of outbreak among those hit, authorities say

Seafood trader and his wife also being treated, despite woman never having visited the market
Why Experts Are Worried About a New Virus in China | Council on Foreign Relations - Huang Yanzhong
The Chinese Foreign Ministry said on Wednesday that HRW's China-related remarks, including its report, are devoid of facts and paint white as black, and that there is no need to discuss it.

"These two organizations have been viewing China from distorted views for a long time. Their China-related comments always ignore facts with no objectivity," Geng Shuang, spokesperson of Chinese Foreign Ministry, said at a routine press conference.

"The state of the human rights situation in China is in the best of times," he noted.
Novel Coronavirus in China - Watch - Level 1, Practice Usual Precautions - Travel Health Notices | Travelers' Health | CDC
So far there have been no confirmed reports of person-to-person spread. However, limited person-to-person spread may be possible.
---
Business, Economy and Trade
China to see balanced pork supply, demand around Spring Festival - Xinhua Various measures have been taken to restore hog production and ensure supplies for the upcoming Spring Festival, a peak time of pork consumption, said Wang Junxun, an official with the ministry, at a press conference. With more hogs, state pork reserves and imported pork to hit the market, there is no basis for further increases in pork prices before the Spring Festival, Wang said.
China to ensure economic growth within reasonable range: Premier Li - Xinhua China will continue to maneuver its macro policies and boost the market expectation in 2020 to ensure economic growth will remain within a reasonable range, Premier Li Keqiang said. Li made the remarks when presiding over a symposium held Wednesday, where he heard views and recommendations made by scholars and entrepreneurs on a draft version of the government work report.
Aluminum Maker Rings in China's First Dollar Default of 2020 - WSJ $$ State-owned Qinghai Provincial Investment Group failed to pay $9.6 million in interest due on a $300 million bond last Friday. On Tuesday, S&P said it had lowered the credit rating of Qinghai and its bonds to D from CCC-, treating it as a default on the belief that Qinghai won't be able to pay it within a five-day grace period...Qinghai had also been late in making dollar interest payments last February and August.
Slowing Economy, Rapid Development Give Beijing Office Market Indigestion - Caixin Vacancy for Grade-A office space surged more than 4 percentage points to 11.3% in last year's fourth quarter, marking a high not seen since 2010 and more than double the rate from just a year earlier.
China to frame rules for online-only banks this year in boost to foreigners: sources - Reuters China is working to finalize its first rules to cover online-only banking operations in a push to minimize risk in the financial sector and attract players including foreign lenders, three people with direct knowledge of the matter said.
China's top trade war negotiator handed more control at home as Beijing expands reach of finance committee | South China Morning Post The Financial Stability and Development Committee, which was launched two years ago as a coordinating body, will set up a "regional coordination mechanism" at provincial branches of the People's Bank of China (PBOC), according to a statement released by the central bank. Under the new arrangements, the central bank's provincial chiefs will be entitled to convene meetings with banking, insurance, securities and foreign exchange regulators as well as local economic planners, financial service and fiscal departments, to discuss matters concerning regional financial stability.
In Nod to Automation, Luckin Coffee Rolls Out Vending Machines in China- PingWest Two unmanned terminal devices, smart unmanned coffee machine Luckin coffee Express and vending machine Luckin pop MINI, will roll out in a number of different locations, including office buildings, campuses, airports, bus stops, gas stations, as well as highway service areas.
A Maine Paper Mill's Unexpected Savior: China - The New York Times First came the Buddhist monks. Then the feng shui consultant. In the summer, a battered New England mill town greeted the new owner of its factory — one of the richest tycoons in China. // Zhang Yin of Nine Dragons Paper
China central bank injects $58 billion of loans but keeps rates steady - Reuters In a statement, the central bank said the injection was meant to "offset impact from factors including tax payment and cash demand" and ensure that banking system liquidity was "reasonably ample" before the week-long Lunar New Year holidays kick off next Friday.
CBIRC Hails 25% Increase in Financial Inclusion Loans, Highlights Commitment to Risk Prevention in 2020 – China Banking News Huang Hong (黄洪), vice-chair of the China Bank­ing and In­sur­ance Reg­u­la­tory Com­mis­sion (CBIRC), said that the au­thor­ity would con­tinue to "ef­fec­tively per­form risk pre­ven­tion work in key ar­eas, in­clud­ing steady dis­pos­able of high-risk in­sti­tu­tions, the on­go­ing dis­man­tling of shadow bank­ing, and height­ened reg­u­la­tion of as­set qual­ity."
SCIO briefing on performance of banking and insurance sectors- China.org.cn
Politics and Law
China Continues Nationwide Crackdown on Rights Lawyers, Activists - RFA Chinese police launched a nationwide operation detaining at least eight people and questioning others, following a Dec. 13 meeting of liberal-minded activists and lawyers in the southeastern province of Fujian. Authorities in the eastern province of Shandong set up a police task force after the meeting in the Fujian port city of Xiamen, and had detained eight people in Fujian, Shandong, Beijing, Hebei, Sichuan, and Zhejiang by Jan. 1, CHRD said.
[视频]《求是》杂志发表习近平总书记重要文章《坚持历史唯物主义不断开辟当代中国马克思主义发展新境界》_CCTV节目官网-CCTV-1_央视网(cctv.com) 1月16日出版的第2期《求是》杂志将发表中共中央总书记、国家主席、中央军委主席习近平2013年12月3日在十八届中央政治局第十一次集体学习时的重要讲话《坚持历史唯物主义不断开辟当代中国马克思主义发展新境界》// CCTV Evening News previews the publication in Qiushi of Xi's speech "Adhere to historical materialism and constantly open up a new realm for the development of marxism in contemporary China" at a Politburo study session in 2013. The excerpted speech - 习近平:坚持历史唯物主义不断开辟当代中国马克思主义发展新境界-新华网
为基层松绑减负 促干部担当作为--时政--人民网 a long summary of the work of the CPC central committee with comrade Xi Jinping at the core to promote the "year of community-level burden reduction"
Tweaking the Record: Mapping a Chinese Fentanyl Network — C4ADS Using open-source research methodologies, including investigating phone numbers, e-mail addresses, and social media accounts, C4ADS built out the larger networks behind these synthetic drug sales, finding that Tang Shen and Milin appear to have functioned as brokers in the fentanyl trafficking supply chain, while other unreported companies may have produced the illicit drugs.
Foreign and Defense Affairs
China's growing influence rattles Southeast Asia as U.S. retreats, survey shows - Reuters Of the 1,300 respondents to The State of Southeast Asia survey, the proportion distrusting China rose to over 60% from below 52% in 2019. Nearly 40% said they thought China was "a revisionist power and intends to turn Southeast Asia into its sphere of influence". // The survey report
Chinese delegates cut South China Sea references from resolution - Sydney Morning Herald Chinese delegates at an international summit in Canberra have successfully removed references to the disputed South China Sea in a resolution promoting freedom of navigation in the region. The wording was this week watered down in negotiations at Parliament House, where more than 300 representatives from about 30 countries gathered for the 28th Asia-Pacific Parliamentary Forum.
China, Myanmar to jointly carry forward friendship and create new chapter of friendly cooperation - People's Daily Online Since the founding of the People's Republic of China, leaders of China and Myanmar exchanged visits frequently. Late Chinese Premier Zhou Enlai visited Myanmar 9 times, and late leader of Myanmar Ne Win visited China 12 times, creating great stories of China-Myanmar friendship. In 1950s, the Five Principles of Peaceful Coexistence jointly advocated by Premier Zhou, Myanmar's former Prime Minister U Nu, and India's first Prime Minister Jawaharlal Nehru has become globally recognized basic norms governing state-to-state relations and contributed significantly to safeguarding peace and stability in the world.
Busy Schedule Awaits Chinese President Xi During His 2-Day Visit to Myanmar - The Irrawaddy Myanmar President U Win Myint will receive President Xi in Naypyitaw. This meeting is a formality and will be brief. Xi will then hold talks with State Counselor Daw Aung San Suu Kyi, the de facto leader of the government, and this will be a working meeting. It is believed that Daw Aung San Suu Kyi will host a banquet for Xi and his delegation.  Xi will also meet with Myanmar military commander-in-chief Senior General Min Aung Hlaing. The venue is unknown but it will not be at army headquarters.  It is believed that Xi has asked to meet some prominent Myanmar figures. A number of politicians, including opposition figures, and well-known monks are likely to be invited to meet him.
Think tank dialogue event examines China-Myanmar relations - China.org.cn U Kyaw Tin, union minister for international cooperation of Myanmar, said that there is a long history of friendship between Myanmar and China, and that the two countries will work together to strengthen cooperation, to co-exist peacefully and to further develop friendly relations. "The Belt and Road Initiative proposed by President Xi Jinping is a great idea," he said. "If both Myanmar and China adhere to the principles of consultation, contribution and shared benefits, the governments' actions will definitely benefit the people of both countries."
Thailand to Air Concerns with River Commission over Drought, Chinese Dams in Mekong - RFA Thailand will raise concerns about its current drought during a Mekong River Commission meeting expected next month, the Thai water-resources chief said, as local farmers complained that dams in China were choking the waterway on which millions depend for their livelihoods.
Russian Foreign Minister Says US Indo-Pacific Strategy is to Contain China – The Diplomat "Why do you need to call Asia-Pacific as Indo-Pacific? The answer is evident — to exclude China. Terminology should be unifying, not divisive," Lavrov said in remarks at the Raisina Dialogue.
China, Sri Lanka vow to further promote cooperation, ties - Xinhua Sri Lankan President Gotabaya Rajapaksa and Prime Minister Mahinda Rajapaksa met separately with Chinese State Councilor and Foreign Minister Wang Yi here on Tuesday, with both sides pledging to further promote relations between the two countries...The Sri Lankan government fully supports the development of major projects such as the Colombo Port City and the Hambantota Port, Sri Lankan Prime Minister Mahinda Rajapaksa said, noting that these projects will not only help develop the country's economy and improve people's livelihood, but also become a major driving force for the friendly cooperation between the two countries.
Germany raids offices, homes of suspected China spies - Reuters Der Spiegel magazine, which first reported the raids, said one of the three suspects was a German national who until 2017 had worked as a senior diplomat for the European Union's foreign service, including multiple stints as an EU ambassador. The case is the first in recent years involving concrete allegations of spying by China against Germany and the EU. It comes amid growing concern across Europe and the broader West at China's ramping up of its worldwide spying activity as it builds political influence to match its economic weight.
" Ex-diplomat is said to have spied for China" - Berlin und Brüssel: Razzien bei Ex-Diplomat und Lobbyisten wegen Spionage für China - DER SPIEGEL At the center of the investigation is a former employee of the EU Commission and later diplomat of the European External Action Service. In his role for the EU, he held leadership positions in Brussels, later he was EU ambassador to several countries…He ended his career at the EU in 2017 and joined a lobby company that he has worked for since then. According to the investigators, he is said to have started to leak information to his Chinese senior officer in the same year. He is also said to have recruited the two other suspects
Chinas Image in Deutschland - Schönmalen nach Wunsch - Politik - SZ.de the Chinese ambassador asked German companies for funding for "Chinareporter", a pro-Beijing website project by two German journalists, to improve China's image in Germany
谁出卖了国家秘密?!间谍策反活动画面首次曝光【中国长安网年度照片故事】 "He worked for a company affiliated with a military research institute. One day in 2011, Chen wei went to work as usual, totally unaware that his peaceful life would be disrupted..."Rising to the surface", the "China changan website photo of the year 2019", is the first real picture released by the state security agency of foreign spies and intelligence agencies turning me against those involved in the secret service, revealing the mystery of a case of espionage for the public. "
Japanese defense chief has strong words for China ahead of Xi's spring visit | The Japan Times Defense Minister Taro Kono on Tuesday urged Beijing to respect international norms and work toward addressing his country's concerns over increasing Chinese maritime assertiveness ahead of President Xi Jinping's visit to Japan in the spring. Kono took aim at China during his speech at a think tank in Washington, where he has been visiting to meet with Defense Secretary Mark Esper to discuss the tense situation in the Middle East and other issues.
Japan moves to prevent Chinese spying on its seabed | South China Morning Post The measures include requiring civilian ships to report the presence of foreign vessels carrying out underwater research and insisting that domestic exploration companies hired by third parties divulge where the data will end up.
China's Wang Yi makes detour to praise Kenya after Djibouti claims advantage in quest for UN seat | South China Morning Post The visit to Kenya followed reports that Beijing would support Djibouti's push for the non-permanent seat available at the Security Council, a move that caused disquiet in Nairobi.
China makes fresh bid to raise Kashmir issue in UN Security Council - LiveMint French diplomatic sources said France has noted the request of a UNSC member to raise the Kashmir issue once again in the powerful body and it is going to oppose it like it did on a previous occasion.
China launches new remote-sensing satellite - Xinhua The satellite, belonging to the Jilin-1 satellite family, also named Red Flag-1 H9, was launched by a Long March-2D carrier rocket at 10:53 a.m. Beijing time. The new satellite, developed by the Chang Guang Satellite Technology Co., Ltd., has a super-wide coverage and a resolution at the sub-meter level. It is also capable of high-speed data storage and transmission. It will work with the 15 satellites of the Jilin-1 family already sent into orbit to form a constellation that will provide remote-sensing data and services for governmental and industrial users
Hong Kong and Macao
China Pushes Tax Subsidy to Lure Top Overseas Talent to Greater Bay Area - Caixin South China's Guangdong province plans to set aside 3.1 billion yuan ($450.1 million) this year for tax subsidies targeted at overseas professionals working in the Greater Bay Area, in a bid to lure talent from neighboring Hong Kong and Macao.
Taiwan
China needs to show Taiwan respect, says president - BBC News "We don't have a need to declare ourselves an independent state," the 63-year-old president told the BBC in an exclusive interview, her first since the election."We are an independent country already and we call ourselves the Republic of China (Taiwan)."
Adhering to 1992 Consensus unshakable foundation for peaceful, stable cross-Strait ties: spokesman - Xinhua Adhering to the 1992 Consensus that embodies the one-China principle is the unshakable foundation for the peaceful and stable development of relations between the two sides of the Taiwan Strait, a mainland spokesperson said Wednesday. Ma Xiaoguang, a spokesman for the Taiwan Affairs Office of the State Council, made the remarks at a regular press conference while asked to comment on remarks regarding cross-Strait ties made by Tsai Ing-wen, the Democratic Progressive Party candidate, following her win in Saturday's Taiwan leadership election.
What does Taiwan's presidential election mean for relations with China? - Brookings Podcast Brookings Senior Fellow Richard Bush explains why Taiwan's electorate preferred President Tsai's cautious approach, how other domestic political and economic factors weighed in her favor, and possible lessons from this election on combating disinformation.
Why Are Russian Military Planes Flying Around Taiwan? – The Diplomat in our meetings with Taiwanese defense officials and think tank experts, another, somewhat unexpected, name occasionally surfaced as a security threat, particularly for the Republic of China (ROC) Air Force: Russia. While, ROC defense officials were, as is understandable in a track-two setting, generally short on specifics, they stated, in no uncertain terms, that Russian warplanes are involved in joint Sino-Russian activity in and around Taiwanese airspace.
Tech and Media
Producer of Smash Hit 'Nezha' Launches Comic Book Platform - Caixin The leading film studio behind last year's record-breaking CGI hit "Nezha" has launched a comic book platform and said it will invest about 1 billion yuan ($145 million) over the next five years adapting graphic novels into animated productions. Beijing Enlight Media Ltd. President Wang Changtian said the company will aim for ten productions, including both film and television
China's Blockbuster Lineup Signals Tough Year for Hollywood - Bloomberg China's biggest week of the year for movie-goers is packed with at least 12 new releases -- all in the local language -- a sign that Hollywood studios are headed for another challenging year in their No. 1 overseas market. The lineup of potential Lunar New Year blockbusters Jan. 24-30 is drawing even more attention than usual because China is set to overtake the U.S. as the world's largest movie market this year
WeChat rolls out paywall feature for official accounts · TechNode The feature allows account owners to add paywalls to selected or all content they publish, and readers have to pay to unlock articles or subscribe to the account for a recurring fee.
Society, Arts, Sports, Culture and History
China charity fails to transfer funds raised for woman who later died of malnutrition | South China Morning Post A leading Chinese charity has run into a storm of criticism after it said it raised 1 million yuan (US$145,000) for a young woman hospitalised due to malnutrition, but only transferred 20,000 yuan to the hospital before she died on Monday. The 9958 Rescue Centre, a project of the China Charities Aid Foundation for Children (CCAFC), raised the money in late October
Economic Watch: China's Spring Festival travel getting easier, cosier - Xinhua The Spring Festival travel season started on Jan. 10 this year, much earlier than previous years, and poses a considerable challenge to the country's transport system since the return flow of college students overlaps with the travel rush. To cope with the travel demands, transport authorities promised stronger capacity, with 15 new high-speed railway lines being put into operation at the end of 2019.