Trade talk; Reform anniversary; VOA and Guo Wengui; Google and Facebook China revenue
President Trump tweeted about China seven times between the close of the stock market Tuesday and this morning. I guess yesterday's stock market drop rattled him. Despite the tweets it is still not clear that the US and Chinese are on the same page about what they agreed to in Buenos Aires.
I am still keeping an open mind that Xi may be serious on delivering on many of the US requests, though likely not on the structural ones that in any way are seen by Xi as posing an existential risk to Communist Party control. External and domestic pressures may be combining with historical timing to give some optimism for the trade deal and deeper economic reforms.
Don't forget, December is Reform and Opening month. There will be the annual Central Economic Work Conference, likely next week I am hearing, and a big speech by Xi at a meeting to commemorate the 40th anniversary of Reform and Opening, along with several propaganda initiatives, including another documentary that airs next week.
Amidst all the snark and cynicism, which I admit to sometimes falling prey to despite trying to keep an open mind, is it possible that we are close to another significant turning point in PRC history? Will Xi finally make significant steps to fulfill the reform promises of the 2013 Third Plenum as well as promises he is likely to make later this month as part of the Reform and Opening anniversary commemorations? Has pressure from the Trump Administration combined with domestic pressures to not be the PRC leader who oversees a complete break in US-China relations moved Xi to a place where he both needs to start delivering on reform and also sees an opportunity to use them for political benefit?
Please do not confuse me with being starry-eyed. I am not talking about a reversal of the growing trend of ideological control and repression, or political reform, but rather a much more significant effort to deliver on some of the long unfulfilled promises of economic reform. Any shift to deeper economic reforms will not address the growing contradiction of the central SOEs, the encroachment of the Party back into all aspects of life, nor would it lessen the focus on technological self-reliance. But even a return to a messy and imperfect implementation of deeper reforms might still unleash a lot of economic activity, innovation, and value creation.
Sorry for the ramble, I just think it is important to keep an open mind to the possibility of change, especially given how China has changed in just 40 years, and how important this coming anniversary is.
Thanks for reading, and RIP President George H.W. Bush.
---
The Essential Eight
1. US-China
Axios PM - 1 big thing: Trump's uncertain China truce:
Hawkish former Pentagon official Mike Pillsbury is worried Trump's negotiations with China are unraveling, telling Axios' Jonathan Swan that "there's a risk the deal will come undone."

"I have advised the president's team that for the past 40 years the American side avoids disclosing Chinese concessions before the final agreed written statement is released," Pillsbury told Swan in a phone interview today...

Pillsbury told Swan he's "getting warnings from knowledgable Chinese about the American claims of concessions" that the Chinese have said they never made.
China's MOC spokesperson talks on economic, trade consultation with US - Xinhua:
A spokesperson for the Ministry of Commerce said Wednesday that the latest meeting between presidents of China and the United States on economic and trade issues was "very successful."

"We are confident about the implementation [of the consensus from the meeting]," the spokesperson said.

"In 90 days, economic and trade teams of both sides will actively push forward the consultation following clear schedule and roadmap," the spokesperson said.

China will start with implementing the specific aspects of the newly-reached consensus as soon as possible, according to the spokesperson.

Recently, Chinese President Xi Jinping and his US counterpart Donald Trump held a meeting at a working dinner in Buenos Aires, reaching important consensus and agreeing not to impose new additional tariffs.

They also instructed the economic teams of the two sides to step up negotiations toward the removal of all additional tariffs and reach a concrete agreement that would lead to win-win results.
Original of the MoC response--商务部新闻发言人就中美经贸磋商答记者问:
有记者问:我们知道中方经贸团队已经返京,你们对这次会晤有何评价?

答:会晤很成功,我们对落实有

问:中方准备如何推动下一步经贸磋商?

答:双方经贸团队将在90天内,按照明确的时间表和路线图,积极推进磋商工作。

问:中方有什么优先事项?

答:中方将从落实已达成共识的具体事项做起,越快越好。
---
2. Technology conflict building
BT to strip China's Huawei from core networks, limit 5G access | Reuters:
Britain's BT Group said on Wednesday it was removing Huawei Technologies' equipment from the core of its existing 3G and 4G mobile operations and would not use the Chinese company in central parts of the next network...

BT said Huawei's equipment had not been used in the core of its fixed-line network, and it was removing it from the core of the mobile networks it acquired when it bought operator EE.

It said the process was to bring the EE networks into line with the rest of its business rather than a change of policy.
CSIS director warns of state-sponsored espionage threat to 5G networks - The Globe and Mail:
Canada's top spy used his first public speech to warn of increasing state-sponsored espionage through technology such as next-generation 5G mobile networks.

Canadian Security Intelligence Service director David Vigneault's comments come as three of the country's Five Eyes intelligence-sharing allies have barred wireless carriers from installing equipment made by China's Huawei Technologies Co. Ltd. in the 5G infrastructure they are building to provide an even-more-connected network for smartphone users.
Huawei lists 33 US companies among core suppliers | gbtimes.com:
A total of 92 suppliers were awarded at the convention, including 33 US companies, 22 Chinese companies, 11 Japanese companies, 10 Taiwanese companies and 16 companies from countries and regions including Germany, South Korea and Hong Kong, according to reports on Chinese news websites.
Quantum bubble colliding in US-China relations?--The Race Is On to Protect Data From the Next Leap in Computers. And China Has the Lead. - The New York Times: 
It is a race with national security implications, and while building quantum computers is still anyone's game, China has a clear lead in quantum encryption. As it has with other cutting-edge technologies, like artificial intelligence, the Chinese government has made different kinds of quantum research a priority.

"China has a very deliberate strategy to own this technology," said Duncan Earl, a former researcher at Oak Ridge National Laboratory who is president and chief technology officer of Qubitekk, a company that is exploring quantum encryption. "If we think we can wait five or 10 years before jumping on this technology, it is going to be too late."..

Small start-ups like Qubitekk are unlikely to match the millions of dollars in infrastructure already created in China for quantum encryption. But many experts believe the more important work will happen in research labs, and the Department of Energy is funding a test network in Chicago that could eclipse the kind of systems deployed in China.
China Maneuvers to Snag Top-Secret Boeing Satellite Technology - WSJ $$:
Workers at a Boeing Co. plant in Los Angeles are nearing completion of a new satellite, which uses restricted technology relied on by the U.S. military. It was ordered by a local startup that seeks to improve web access in Africa.

In reality, the satellite is being funded by Chinese state money, according to corporate records, court documents and people close to the project...

Days later, a black sedan whisked Mr. Javed to a walled compound near the Forbidden City. Past the armed guards, Chinese executives waited, among them the president of China Orient and a white-haired man named Geng Zhiyuan.

Mr. Geng's father [Geng Biao] was a leader of China's military starting in 1979 and employed as his personal secretary a young official named Xi Jinping. Mr. Xi and Geng Zhiyuan became friends and remained close as Mr. Xi climbed China's ranks to its presidency, according to Michael Wade, a former business partner of Geng Zhiyuan
---
3. VOA report on Gui Wengui broadcast mess
VOA fires journalist over interview with Chinese exile - The Washington Post:
Over the years, journalism has evolved to contain folks such as Guo: The trick lies in hearing them out, taping their allegations, returning to the office, vetting them and, ultimately, presenting the investigative results to the public. From "60 Minutes" to the smallest local television outlet, that's standard operating procedure for interviewing whistleblowers and bombthrowers.

During an interview on April 19, 2017, however, Voice of America (VOA) took a more direct approach. Sasha Gong, the chief of VOA's Mandarin Service, was set to do a three-hour marathon interview with Guo — live.

The session was cut short after about an hour and 20 minutes, amid infighting at the VOA about how to handle the statements made by the talkative exile. For VOA, an international broadcaster funded by the U.S. government and part of the U.S. Agency for Global Media, it was a high-profile production scandal. Last Thursday, VOA director Amanda Bennett announced that one of the service's employees had been "removed" and another suspended over the goings-on, while disciplinary proceedings continue for two others.
Read Amanda Bennett's memo and Sasha Gong's statement here: 
From Bennett's memo:
A three-month administrative inquiry conducted by outside counsel, which included 23 interviews with key members of VOA leadership and the Mandarin Service; a comprehensive document review, including contemporaneously prepared witness statements; and the preparation of an 85-page report [Anyone want to share this report?], which detailed the events leading up to the Guo interview in nearly minute-by-minute detail. The investigation found sufficient factual evidence to conclude that the broadcast's termination resulted from repeated failures to follow VOA management instructions and a disregard of VOA's journalistic Best Practices guide.

An internal security review, which rebutted unsubstantiated allegations that elements of the Chinese government had infiltrated VOA and compelled the interview to be censored or cut short. The security review found no evidence to support these allegations.

Several Members of Congress also requested the Office of Inspector General perform an impartial and thorough investigation. The OIG concluded that the decision to curtail the Guo interview was based solely on journalistic best practices rather than any pressure from the Chinese government.
From Gong's statement:
VOA management used its power to persecute me and my colleagues. We were threatened to be fired. We were defamed in the national and international press. I was identified by VOA in its press release and by the VOA director in the Wall Street Journal as the responsible party of the Guo interview debacle. We were attacked by mobs via social media. We received more than one death threat...

To those VOA managers who first caved to the Chinese pressure, and then scapegoated the fine journalists to cover up their shameful act by claiming "insubordination", I have a message. God may forgive you. I will not.
Gong also accused Bennett of caving to Beijing because of her husband's business interests there:
Comment: What a mess , and sad how Guo Wengui seems to destroy just about everyone and everything he touches. I doubt Beijing could be happier with this outcome, leaving VOA China's credibility shredded.
I still don't understand why congress didn't do its oversight job and haul all the participants into a hearing to testify under oath. Clearly someone somewhere is still lying; sometimes the threat of perjury can change stories.
Steve Bannon and a Fugitive Billionaire Target a Common Enemy: China - The New York Times:
Since their first discussion in October 2017, they have met dozens of times — in Dallas, on Mr. Guo's yacht and, more often, at the billionaire's $67.5 million apartment in the Sherry-Netherland Hotel, overlooking New York's Central Park. The two shared a stage two weeks ago in Manhattan, at a news conference they organized to announce plans to set up a $100 million fund to investigate corruption and aid people they deem victims of Chinese government persecution...

In an interview in his hotel room two weeks ago, Mr. Bannon, 65, said the new China-related fund he will head, without pay, will gather evidence, share it with authorities — in the United States and elsewhere — and publish it in the media. The fund also targets Wall Street banks and law firms, which he says are complicit in China's misdeeds...

They met only after Mr. Bannon was forced out of the White House. Mr. Bannon says he received a call from Bill Gertz, a Washington journalist who has long been critical of China. Mr. Gertz told him that Mr. Guo was scheduled to give a talk in Washington at the Hudson Institute, a conservative think tank. The talk was canceled at the last minute.
---
4. A long CNN investigation into the rise and fall of Ye Jianming
The rise and fall of a Belt and Road billionaire - CNN.com 
Last November, Ye's seemingly unstoppable rise came to a screeching halt. His undoing came after US prosecutors alleged that an NGO he funded had used its United Nations status to offer millions in bribes to African leaders, although he is not charged.

As that case plays out in a Manhattan courthouse, the world is offered a rare glimpse into the complex relations between private business and the Chinese state -- and with it, a cautionary tale of what happens when a Chinese company fails abroad.
---
5. Depressing story of mental illness and a school attack
A Child Killer's Life of Failure, Frustration and Mental Illness - Caixin:
Many of these incidents have been blamed on mental illness. The killers — all under 30 — were said to be "taking revenge," or loners or abnormal in some way. The Shanghai slayings are no different. Together, they paint a picture of the growing pressure for success on young people, the shame that comes with failure and the lack of mental health care.

Police said that Huang was "taking revenge on society," but a source told Caixin that a psychiatric evaluation commissioned by the Ministry of Justice showed that he was having a schizophrenic episode when he committed the murders.

In an interview with Caixin, the 29-year-old Hunan province native talked about his failures in life: he hadn't done well enough on his college entrance exam; he failed the postgraduate entrance exam twice; he had lived in and failed to find a good job in Xiamen, Wuhan, Guangzhou, and Shanghai. After the incident, Huang described how his dream of getting his master's degree, making a high salary, buying a house and getting married had all collapsed...

According to Chen Xia, Huang's grandmother had suffered from schizophrenia. She was treated in many hospitals in the 1970s and died in 2014.

After he killed the two children, Huang said that he had suffered from auditory hallucinations: a voice in his ear "saying I am bullied, I can't find a job, I'm a joke." He said that it had tortured him for a long time. In his self-report, he said that he had also become sensitive to the sound of doors opening, the sound of dripping water and all sorts of small noises.
---
6. Australia still finding reds down under the beds
WA Labor MP resigns membership of Chinese organisations - ABC News (Australian Broadcasting Corporation):
Mr Yang, a member of WA's Upper House, said he "overlooked" declaring his memberships of the Northeast China Federation Inc and the Association of Great China on his parliamentary register of interests.

"As of this morning, I resigned as a member of both the Northeast China Federation and the Association of Great China," he said in a statement after a story about the memberships was published by News Corp on Tuesday morning.

"I overlooked including them on my returns, along with my membership of the William Langford Community House."
Labor MP Pierre Yang apologises for not disclosing China memberships - ABC News (Australian Broadcasting Corporation):
Curtin University's former head of Chinese Studies Catherine Yeung told the ABC the Northeast China Federation Inc was affiliated with the United Front Work Department — a Communist Party agency promoting China's political interests overseas.

She also said the Association of Great China signed a letter supporting China's claim of sovereignty in the South China Sea.

Mr Yang spoke at length to ABC Perth on Wednesday afternoon and said he was not previously aware of either groups' alleged affiliations with the Communist Party.

"I'll admit I overlooked my disclosure, along with a local community organisation called William Langford Community House. I rectified that and I admit that it was my mistake," he said.
Yang controversy deepens as Nahan, Barnett linked to pro-Beijing group - Sydney Morning Herald:
Opposition Leader Mike Nahan and former Premier Colin Barnett have been linked to an association dumped by Labor MP Pierre Yang yesterday over its support for Beijing's aggressive military posture in the South China Sea.

The website of the Association for Great China Inc. published a message of support from Dr Nahan when he was the multicultural interests minister, congratulating the organisation – which was then called the Association of Australian Chinese Mainlanders And Friends Inc. – on its seventh anniversary.
ASIO would vet Federal MPs as new allegations about Labor MPs aired - The Age:
In an explosive adjournment speech to the Senate on Tuesday night, Senator Patrick fleshed out the backdrop to his proposal and took aim at prominent Labor identities Sam Dastyari and Joel Fitzgibbon over unanswered questions about their ties to Chinese political donors.
How Australians set up communist China's official propaganda tool - Sydney Morning Herald:
China Daily began publishing in 1981, with the assistance of Australian grants, after a deal between Beijing and the newspaper's owner David Syme & Co.  At the start, it struggled to get Chinese permission for even a company bicycle.

Forty years ago, top Chinese leader Deng Xiaoping had started his market reforms, opening China to the world after the death of Mao Zedong. At the same time, the relationship with Australia, started under the Whitlam government, was developing. The Fraser government established the Australia China Council to bridge a big knowledge gap about China.
---
7. Billions of reasons for Google and Facebook to pander to Beijing
How the Chinese Government Is Helping Google Sell Ads in China — The Information $$:
On the 20th floor of a nondescript office building in China's southern boomtown of Shenzhen, employees from small businesses such as electronic-component makers can often be seen in a colorful bright office checking out big TV screens displaying Google Search, Gmail and YouTube—which are otherwise blocked in China.

They are in one of more than two dozen Google Export Experience Centers scattered around China. Their purpose: to show Chinese advertisers what the internet looks like beyond the strict censorship of the Great Firewall and get them to promote their businesses with Google...

All in, Google is generating between $1 billion and $2 billion a year in China, former Google employees estimate, about 2% of parent company Alphabet's total revenues last year. Only a small portion of that comes through the Experience Centers, but they are important for branding and government relations.

Facebook is even bigger. The social network could generate between $5 billion and $7 billion from China this year, estimates Brian Wieser, a senior analyst at Pivotal Research Group.
Has either company received requests from Beijing about PRC users of their platforms outside the GFW? If so, how do they respond?
China Steps up Nationwide Crackdown to Silence Twitter Users – the Unmediated Story « China Change:
If you have been with Twitter's simplified Chinese community long enough, you know it's nothing new that handles disappear and in some cases the persons behind them go to jail – it's a freedom tunnel that the Chinese Communist regime is leery of.

But over the last few months, and still ongoing, we keep hearing mainland tweeps reporting that they have been summoned by police who ordered them to delete tweets or accounts altogether. AFP's Eva Xiao and Human Rights Watch's Yaqiu Wang reported on the trend early on. I myself reported one particular instance – the deletion of Wu Gan (吴淦)'s account.

As of today, I collected 42 tweets from users themselves tweeting about what had happened to them. Some are well-known journalists, dissidents and intellectuals. Others are average tweeps who may or may not be anonymous. Some have been on Twitter for several years, others are new to it. In a few cases, tweeps were given administrative detention of 10 or more days; in at least one case, a user in Chongqing has been criminally detained awaiting charges. Some faced the run-in with police with composure, and others with defiance; still others were scared and quit, or made to quit.
---
8. Chinese character of the year
"I'm So Qiou" - The New Chinese 'Character of the Year' is 'Dirt-Poor & Ugly' | What's on Weibo:
A new (unofficially) elected 'character of the year' of 2018 is qiou, a creative combination of 'dirt-poor' and 'ugly.' Many self-mocking netizens identify with the new online word.
2018年度汉字念"qiou"?网友:一看就懂,说的是我_凤凰资讯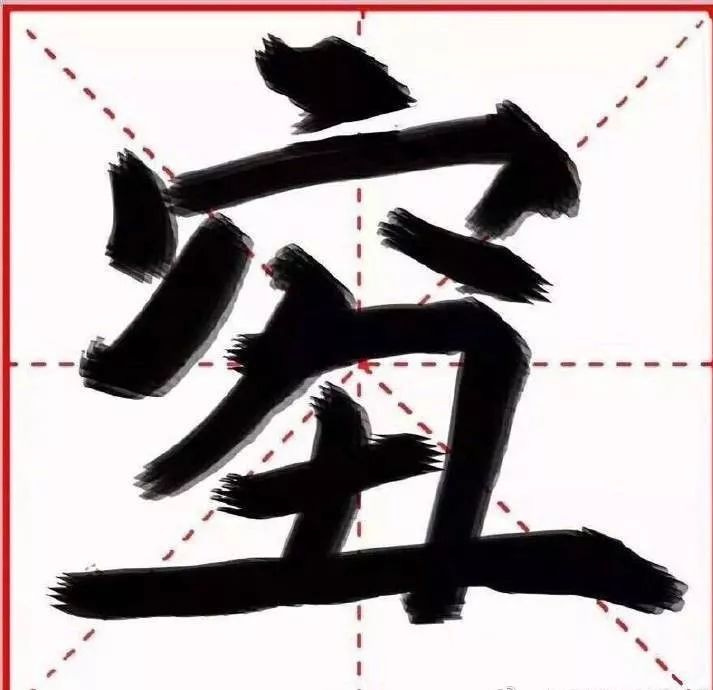 ---
Business, Economy, Finance And Trade
China to release new negative list for investment: sources - Global Times China's soon-to-be-released national market-entry negative list will further ease concerns among China's investment partners as the new list will provide more transparency and predictability for market practices in China, experts said on Wednesday. The new negative list will be applicable to both domestic and foreign investors. Sources told the Global Times that China's top economic planning agency, the National Development and Reform Commission (NDRC), and the Ministry of Commerce (MOFCOM) will unveil the list after it is approved by the State Council, the cabinet.
State Council promotes stable employment - Gov.cn Meanwhile, authorities were urged at all levels to relax requirements for application of guaranteed loans, the circular said. The State Council also encourages the establishment of start-up incubators to provide low-cost venues, guidance and policy support for entrepreneurs, and those that perform well will be rewarded. Trainee subsidies will be extended from unemployed graduates to unemployed youth aged 16 to 24, according to the circular.
Beijing to offer financial help to companies that keep staff on payrolls | Reuters For firms that choose not to cut staff or reduce the number of job cuts they are planning next year, the government will return half of their unemployment insurance fees, the state council said in a statement on its website. The government also urged the country to pay "high attention" to the impact on employment from increasing economic downward pressure. //Comment: The government did something similar in 2008 i believe
China Employers Face NEW and SEVERE Punishment For Failing to Comply with Social Insurance Laws | China Law Blog It is not news that Chinese labor authorities have been cracking down on employer's that fail to make social insurance payments for their employees. What is news is that Chinese labor authorities are taking that enforcement to the next level. Last week, 28 government departments (including the National Development and Reform Commission, the People's Bank of China, the Ministry of Human Resources and Social Security, and the State Administration of Taxation) jointly executed a Memorandum of Understanding on Joint Punishment against Serious Dishonest Enterprises and Related Personnel in the Social Insurance Sector
China Taps West Africa to Feed Aluminum Appetite - Caixin Aluminum producer Xinjiang Joinworld Co. Ltd is set to become the latest Chinese company to tap West Africa's abundant bauxite reserves, with plans for an $831 million refinery in Guinea.
Chinese Dairy-Makers Move to Milk Southeast Asia Trade Ties - Caixin nner Mongolia Yili Industrial Group Co. Ltd. and its formidable rival, China Mengniu Dairy Co. Ltd., both announced last week their moves in the region. Yili is spending $80.6 million to acquire Thailand's largest ice-cream maker, while Mengniu said it had kicked off commercial operations of a manufacturing facility in Indonesia — its first in Southeast Asia.
Services Sector Activity Rebounds to Five-Month High: Caixin Survey - Caixin Global The Caixin China General Services Business Activity Index, which provides a snapshot of operating conditions in the country's services sector, rose to 53.8 last month from 50.8 in October, the strongest reading since June. A reading above 50 indicates expansion, while anything below that points to contraction. The rebound, coupled with a marginal increase in the Caixin China General Manufacturing Purchasing Managers' Index to 50.2 from October's 50.1, sent the Caixin China Composite Output Index up to 51.9 in November from 50.5 in the previous month. The Caixin China Composite Output Index covers both manufacturers and service providers.
China Sets Deadline to Deal With 'Zombie' Companies - Caixin The central government has given local governments and state-owned asset management departments three months to submit a list of money-losing companies and has required that they be restructured or disposed of by the deadline. The deadline shows that the issue of China's immense corporate debt, especially at state-owned enterprises (SOEs), remains on the government's agenda. According to the latest Ministry of Finance data, China's SOEs had 113.9 trillion yuan ($16.5 trillion) in total debt as of the end of October, up 7.7% for the year.
---
Politics, Law And Ideology
集大型政论专题片《必由之路》即将播出_滚动新闻_中国政府网 "The road one must travel (or "the only way"", an 8 part documentary coming out 12.11, produced by multiple central organs and CCTV, Xinhua and the PLA, on why Socialism with Chinese Characteristics is the only path for the PRC, and of course celebrating Reform and Opening//新华社北京12月4日电 为隆重庆祝改革开放40周年,全方位展示改革开放波澜壮阔的伟大历程,由中央宣传部、中央改革办、中央党史和文献研究院、国家发展改革委、国家广播电视总局、新华社、中央广播电视总台、中央军委政治工作部联合拍摄的8集大型政论专题片《必由之路》,将从12月11日起在中央电视台综合频道黄金时段播出。
China Makes Lawyers Swear Oath of Loyalty or Face Sanctions - RFA China has stepped up pressure on its embattled legal profession, requiring more than 100,000 lawyers to take a new national oath to "root out instability," particularly in ethnic minority areas of the country. Justice minister Fu Zhenghua attended a collective lawyers' oath-taking ceremony in Hohhot, the regional capital of Inner Mongolia on Sunday, the same day as more than 100,000 lawyers took the same oath in hundreds of Chinese cities, the ministry of justice said in a statement on its website. The lawyers swore allegiance to the People's Republic of China, and to "strive to build a socialist country ruled by law," it said.
Translation: Peking University Student Investigates Classmate's Disappearance – China Digital Times (CDT) CDT Chinese has archived another PKU student's account of classmate Jia Shijie's violent disappearance from campus in September, and university authorities' attempts to deflect any inquiry into the student's whereabouts. According to the account, Jia doesn't appear to have been an activist, but rather a concerned follower of the labor movement who, while potentially tempted to head south to support the workers, never did. CDT has translated the account in full (emphasis is in the original):
Nearly 350,000 Chinese cadres disciplined during Xi Jinping's austerity campaign | South China Morning Post That means more than 2 per cent of cadres – there were 12.5 million of them directly working for the party and the government in 2016, according to the statistics bureau – have faced disciplinary action as a result of the campaign. And they were from all levels of China's government apparatus, according to the Central Commission for Discipline Inspection.
厦门市公安局原副局长郑东强回国投案自首——中央纪委国家监委网站 Zheng Dongqiang, former Xiamen police chief who fled overseas, has surrendered and been returned to China
---
Foreign and Military Affairs
Portugal wavers as southern EU signs agreement with China on Belt and Road Initiative | South China Morning Post President Marcelo Rebelo de Sousa set to agree to include the port of Sines in Chinese investment plans But Lisbon so far follows Spain in stopping short of a broader formal endorsement, amid European concerns about such investments
Chinese President Xi Jinping in Lisbon on two-day state visit - CGTN "Portugal has a strategic maritime position for the Belt and Road Initiative, and there's an opportunity to have common positions for growth together in several areas and also with third countries," said the Chinese leader. The first day for President Xi in Portugal had a lot of pomp and ceremony in locations that are national symbols for the Portuguese people. But the real business of the trip was scheduled for Wednesday. He will meet Portuguese Prime Minister Antonio Costa for talks. Numerous bilateral and business accords are expected to be signed.
U.N. seeking access to China's re-education camps in Xinjiang: Bachelet The top United Nations human rights official Michelle Bachelet said on Wednesday that her office is seeking access to China's Xinjiang region to verify "worrying reports" of re-education camps holding Uighurs and other Muslim minorities.
China 'rejects German human rights delegation's request' to visit Xinjiang | South China Morning Post German Human Rights Commissioner Bärbel Kofler said on Tuesday that the request was made as part of preparations for the annual German-Chinese Human Rights Dialogue in Lhasa on Thursday and Friday.
Son pays tribute to father's role in promoting links with Beijing - China Daily Neil Bush paid this tribute to his father, former U.S. president George H. W. Bush, on his Facebook account: "Maria (his wife) and I are so grateful for the outpouring of love expressed by many friends regarding the passing of my amazing father. Dad was a kind, humble, caring, gentle, wonderful human being who showed us how to be points of light, living good lives through service to others." He also mentioned his father's role in promoting relations between the United States and China: "His legacy will live on through the George H. W. Bush China U.S. Relations Foundation in promoting respectful, collaborative relations ... This bilateral relationship has brought great benefit to both sides."
Is China Reneging on Vatican Deal by Detaining Bishop? - The Atlantic In September, the Holy See inked a provisional agreement with Beijing in an attempt to mend an almost 70-year-old schism. Vatican leaders argued that the deal would promote unity. They insisted that it would enable them to better minister to their Catholic flock in China. They dismissed concerns that it constituted "selling out" to a repressive government. Then a Chinese bishop disappeared. The suspected arbitrary detention of a Vatican-appointed priest last month has reinforced worries that Beijing won't ease its pressure on the Church but will instead use the deal to push for even more control.
Confucius Institutes: The Successful Stealth "Soft Power" Penetration of American Universities: The Journal of Higher Education - Luwei Rose Luqiu & John D. McCarthy  First, the authors compare 655 of the largest 4-year colleges and universities to assess what kind of universities have been targeted by the Chinese government. Second, we conducted a survey of U.S. directors of CIs to explore their perceptions of their own CI's public image and the relationship between their U.S. university and its Chinese partner university. Third, the authors analyze 2,733 news stories mentioning CIs gathered from U.S. newspapers during the period from 2004 to 2016 to learn how CIs projected their legitimacy as an integral part of universities across the United States. Finally, the authors analyze 107 CI websites at U.S. universities to help describe their general features and their activity in public outreach. With very positive local media coverage, CIs are active in curriculum and public outreach, and the majority of U.S. directors of CIs are confident about their public image and satisfied with their relationship with Chinese partner universities and Hanban. The authors conclude by speculating about why this Chinese "soft power" initiative has been so successful.
10 new Confucius Institutes lift global total to 548, boosting ties - China Daily The delivery of plaques to 10 new Confucius Institutes at the opening ceremony of the 13th Confucius Institute Conference in Chengdu, Sichuan Province, on Tuesday, means that 30 new Confucius Institutes have been built this year. The 10 new Confucius Institutes are in Dominican Republic, Mauritania, Comoros, Sao Tome and Principe, Antigua and Barbuda, Papua New Guinea, Palestine, El Salvador, and Burkina Faso, the Confucius Institute Headquarters (Hanban) said.
The meager truth of China's aid to the Philippines | Asia Times As a percentage of total ODA received by the Philippines as of June 2018, China accounted for a mere .8% of the estimated US$13 billion received, according to National Economic and Development Authority (NEDA) statistics.
Chinese Grand Strategy – A Net Assessment: Cooperation, Competition and/or Conflict | Center for Strategic and International Studies China's emergence as a global superpower involves a wide range of different trends in its economy and military forces, many of which are still in a state of uncertain transition. The Burke Chair at CSIS has prepared a book-length report that compares different indicators of these trends drawn from a range of official Chinese, U.S., Japanese, South Korea, Taiwanese, IMF, UN, and other sources, along with work by various think tanks and the media.
Chinese Student Protection Act of 1992 - Wikipedia Prior to the Chinese Student Protection Act of 1992 (CSPA), President George H.W Bush issued Executive Order 12711 in 1990. This policy implementation was solidified by the actual Act in 1992...The Chinese Student Protection Act established permanent residence for Chinese nationals that came to the United States from June 5, 1989 to April 11, 1990. The Act was targeted towards students. The CSPA was prompted by the political repression the Chinese faced after the Tiananmen Square protests of 1989. Chinese students who were in the United States during the time of the protests participated in TV interviews, demonstration rallies, and were featured in newspaper articles. Chinese nationals were eligible to apply for permanent residency, even with expired passports. Over the years, the Act granted green cards to an estimated number of 54,000 Chinese nationals.
---
Hong Kong, Macao
Leading Beijing law expert says Hong Kong and Chinese constitutions are 'like mother and son' | Hong Kong Free Press HKFP "Hong Kong compatriots just need to think about the difficulties the Chinese nation has faced in the past in trying to achieve a united motherland. And about what China still has to face with the Taiwan issue." "[Consider how] we still face serious terrorist separatist threats in Western China – Xinjiang and Tibet. Then you will understand the meaning behind defending national security."
---
Tech And Media
China's Didi announces reorganization plan to address safety | Reuters In a post on its official WeChat account, the company said it would create two positions at the top of its leadership structure - a chief safety officer reporting to Chief Executive Cheng Wei, and a chief information security officer reporting to Chief Technology Officer Bob Zhang.
Didi Chuxing passenger 'robbed and killed driver, dumped body under bridge' | South China Morning Post The victim, surnamed Zhou, was robbed of over 2,000 yuan (about US$290) before being murdered and his body thrown under a bridge in Guizhou province last week, the state-run Guiyang Evening News reported on Wednesday.
---
Society, Art, Sports, Culture And History
China Remembers 'Last Emperor' With Death of Director Bertolucci "In high school, after reading a news magazine, my entire class drew the curtains and gathered to watch 'The Last Emperor,'" Weibo user 5852417299 said in a post on Nov. 27. "I'll always remember the peerless talent of Joan Chen in the movie." "As someone born in 1983, I flipped through the issue of Beijing Film Pictorial magazine featuring this film as a child," a user named Lechao wrote on popular Chinese movie review site Douban, where the film has a score of 9.0 and ranks 61st in its "Top 250" list of films.
---
Energy, Environment, Science And Health
Gallery: Rare 'Yellow Snow' Blankets Northwest China_Caixin Sand and ice and powerful winds wreaked havoc on commuters in Xinjiang Uygur autonomous region
15 Worrying Things About the CRISPR Babies Scandal - The Atlantic If you wanted to create the worst possible scenario for introducing the first gene-edited babies into the world, it is difficult to imagine how you could improve on this 15-part farce.
Quotas Announced to Cut Wasted Renewable Power Production - Caixin China is a world leader in green technology, with renewables accounting for two-thirds of newly installed power capacity last year. However, inadequate grid development, known as "curtailment," has limited the ability to ensure that renewable power is fully utilized across the country. This has caused "contradiction and conflicts" that have "restricted the power industry's healthy and sustainable development," according to the NDRC's newly published "2018-2020 Clean Energy Consumption Plan" ( 清洁能源消纳行动计划(2018-2020 年) ).
---
Education
No marks for Chinese education bosses sacked after exam results public outcry | South China Morning Post Authorities in eastern China's Zhejiang province launched an investigation following public protests last month over the results of English language test results in the exams, commonly known as gaokao. Protesters complained of unfairness and questioned the scores. On Wednesday the provincial government announced on social media that an inquiry committee, headed by provincial governor Yuan Jiajun, had concluded there had been a "wrong policy decision" by the Zhejiang Education Department.
---
Food And Travel
China's hotel hygiene horror continues with new scandal | South China Morning Post According to the China News Service, the inspection found a number of hotels did not follow hygiene rules to sterilise customer utensils and were also not monitoring air, water, light and noise levels as required. The health inspectors highlighted the case of one hotel in the downtown area, part of the Jinjiang Inn franchise, where clean towels were found stored in the same small room as the rubbish bins. Regulations require that towel cabinets are not placed with other items.