Trade talks; National Day preparations; Party to help private firms by sending in officials
Last week's trade talks in DC may not have achieved real breakthroughs but they were also not the bust the market on Friday thought they were. I doubt much will happen between now and the National Day celebration, so once again we are left waiting for a Liu He visit in a few weeks. I have not suddenly become an optimist but as I wrote Thursday the chances for an interim trade deal may still be higher than they have been in a while, albeit one that does not solve the hard, underlying structural issues.
The focus now is on the October 1 celebrations. Beijing is on lockdown as it usually is before these types of events, though it sounds like this year it is even more intense. The newsletter may get a bit thinner over the next few days as the news flow becomes even more of a propaganda river. I plan to publish September 30 and October 1 next week but am not yet sure about 10.2 and 10.3, as the country will be on holiday and there may not be much going on.
Those who support a tougher US approach to China will be cheered by the promotion of Matt Pottinger to Deputy National Security Advisor. Mr. Pottinger has been one of the key drivers of tougher US policies towards China, and his promotion may lead to better coordination of China policies across the US government.
Thanks for reading.
---
The Essential Eight
1. US-China
Despite Tough Talk, U.S.-China Trade Negotiations Continue - The New York Times
The delegation of Chinese agriculture officials that had planned to travel to Montana and Nebraska in the coming week didn't cancel the trip because of any new difficulty in the trade talks, two of these people said. Instead, the trip was canceled out of concern that it would turn into a media circus and give the misimpression that China was trying to meddle in American domestic politics, one of them said... [And as Sinocism told you last Thursday]

The question now is whether Vice Premier Liu He of China can make any progress when he comes to Washington for high-level talks next month. While the dates for those talks have not been confirmed, they look likely to be scheduled for Oct. 10 and 11, said two of the several people familiar with the trade talks. [As Sinocism told you last Thursday}
China buys about 10 cargoes of U.S. soybeans after trade talks | Reuters
Chinese importers bought about 10 cargoes of U.S. soybeans on Monday, or about 600,000 tonnes, for shipment from Pacific Northwest export terminals from October to December, two traders with direct knowledge of the deals said.
Chinese Trade Delegation Called Off Farm Visits at U.S. Request - Bloomberg
U.S. Trade Representative Robert Lighthizer's office didn't find out about the visit until it was set up and subsequently asked the Chinese delegation not to go, one of the people said. The Chinese were told this was because of domestic reasons, another person said...

China's Vice Agricultural Minister Han Jun, a member of the trade delegation, said Saturday at an event in Washington that the farm tour had been discussed but not finalized, and the U.S. will extend an invitation for another time.
农业农村部官员:美农业州访问行程调整与经贸磋商无关,美方将另行邀请
Statement on the United States Deputy-Level Trade Talks with China | United States Trade Representative
On September 19 and 20, deputy-level negotiators from the United States and China met in Washington, D.C. to continue discussions aimed at improving the trade relationship between the two countries. These discussions were productive, and the United States looks forward to welcoming a delegation from China for principal-level meetings in October.
Xinhua said the vice-minister level trade talks in DC were "productive", and that both sides discussed the arrangement of the formal talks in next month and agreed to stay in touch. 
Article on People's Daily wechat account suggest China and US should "agree to disagree", and shelve some of the disputes to seek common ground.

鉴于两国历史、文化不同,社会制度和经济发展水平相异,在一些问题上存在不同看法在所难免,存在分歧很正常。这时候,打破僵局就需要接受"和而不同",以暂时搁置争议来寻求最大共识。
Another article on People's Daily Wechat account said the US exemption of some Chinese goods of additional tariffs is a goodwill gesture that will facilitate future cooperation, even though it is still a long way to go to solve all the disputes.
Sheldon Adelson Warned Trump About Impact of U.S.-China Trade War - WSJ $$
During his call with Mr. Trump, Mr. Adelson focused on the broader implications of the U.S.-China trade war and their potential political consequences for Mr. Trump, according to one of the people, and not on his own company's situation.

Mr. Adelson is chairman and chief executive of Las Vegas Sands Corp...In 2018, Macau accounted for nearly $9 billion, or roughly 63%, of Las Vegas Sands' revenue...

His company's license to operate in the Chinese territory of Macau, along with those of U.S. casino operators Wynn Resorts Ltd. and MGM Resorts International , is set to expire in 2022, unless the Macau government grants them renewals.
Comment: Trump continues to talk tough but he does have his own political pressures to make at least an interim deal, Adelson and his money among them.
Trump Picks Matt Pottinger as Deputy National Security Adviser - WSJ $$
The administration official said that Vice President Mike Pence had been advocating for Mr. Pottinger in recent days given his work on some of the biggest policy challenges facing the Trump administration.
Chinese theft of trade secrets is on the rise, US DOJ warns - CNBC
"More cases are being opened that implicate trade secret theft" — and more of them point to China, said U.S. Deputy Assistant Attorney General Adam Hickey...

"That may be because the victims are more attentive to what's happening, which is a good thing," Hickey told CNBC in Singapore on Saturday. "They may be more comfortable reporting to law enforcement, which is a good thing. They may be fed up, which is also a good thing."
To Influence El Salvador, China Dangled Money. The U.S. Made Threats. - The New York Times
The Chinese requested a 100-year lease of a 1,076-square-mile area — 13 percent of the country's landmass — and demanded tax exemptions for their companies that would last three decades. Details about the financing structure were not publicly disclosed, causing concern among some Salvadorans that their country risked becoming financially beholden to Beijing for generations.

But by the time the United States began its campaign against the Chinese in El Salvador last summer, the Americans had a lot of catching up to do.
---
2. National Day preparations
China's Hebei province orders industries to step up smog controls - Reuters
Major steelmaking districts in China's Hebei province plan to slash output in the last week of September to improve air quality ahead of National Day celebrations next week, documents reviewed by Reuters show.
Third rehearsal for National Day celebrations concludes - Xinhua:
A total of six parts of the celebrations were rehearsed, including a ceremony marking the celebrations, a grand military parade, a mass pageant and performances as well as emergency response. About 300,000 people were involved in the rehearsal and related supporting services.

Compared with the previous two rehearsals, the third rehearsal saw the first show of fully-decorated floats and a firework display, according to the media center.
China's National Day parade to showcase advances in nuclear deterrence | South China Morning Post
The squadrons will include the air force's first stealth fighter, the J-20; the main active warplanes such as the J-10 and J-11B; and armed helicopters like the Z-20. However, the J-8 fighter jet would not appear this year, the source said, confirming that the first interceptor built in China has been formally retired.

"The ground march will be led by several hero forces from the five theatre commands, which is different from previous squads selected from the ground forces, air force and navy," said the insider, who requested anonymity because of the sensitivity of the matter.
highlights of latest rehearsal
Xi demands hard work toward new era victory - Xinhua
President Xi Jinping on Monday demanded ceaseless efforts to secure a great victory of socialism with Chinese characteristics for the new era.

Xi...made the remarks in Beijing during a visit to an exhibition of achievements in commemoration of the 70th anniversary of the founding of the People's Republic of China.
Exhibition opens to mark 70th anniversary of PRC founding - Xinhua
A grand exhibition of achievements in commemoration of the 70th anniversary of the founding of the People's Republic of China (PRC) opened Monday at the Beijing Exhibition Center...

The opening ceremony was presided over by Wang Huning
习近平在参观"伟大历程 辉煌成就——庆祝中华人民共和国成立70周年大型成就展"时强调 高举旗帜团结一致锐意进取 为夺取新时代中国特色社会主义伟大胜利不懈奋进_CCTV
Monday CCTV Evening News on Xi's visit to the exhibition. The entire Standing Committee except for Li Zhanshu attended. Wang Qishan was also there
Celebrate National Day with confidence, joy and rationality - Global Times
National Day should also be celebrated with rationality. Chinese people should fully understand our country's achievements and firmly believe in the path China has chosen. Chinese people need to observe various shortcomings of the country and be aware that many uphill battles are awaiting us. Chinese people should neither belittle ourselves nor swell with pride. Chinese people must correctly understand the relationship between existing achievements and problems, forming a stronger resilience for the future.
Zeng Nan of the Xi Thought Study Center in Guangdong wrote in People's Daily that the national day celebration and parade has "unique value and meaning" because they will "guide the public to erect the correct views on history, state, nation and culture".
When asked about the recent crackdown on VPN ahead of the National day, spokesman for the Ministry of Industry and Information Technology said those approved VPN are working just fine, and people should not use illegal VPN.
Closing My Curtains for Xi Jinping and His Grand Parade - The New York Times
Officer Wang Yong, a veteran of the Beijing security bureau with nervous eyes and amber teeth, came to my door one recent Saturday morning to deliver the news...

"You need to leave," Officer Wang said. "Armed police will be stationed inside for four days."..

Yet many of my Chinese friends are indifferent, even proud. When the Beijing government posted an online notice detailing nightmarish traffic disruptions, internet users rejoiced.

"I look forward to the grand military parade," said one of the most popular comments on WeChat, a popular messaging app, punctuated by three thumbs-up emoticons. "My country is amazing."
Can you spot the political error in this chart CCTV broadcast of China's GDP growth, as part of the propaganda buildup into 10.1?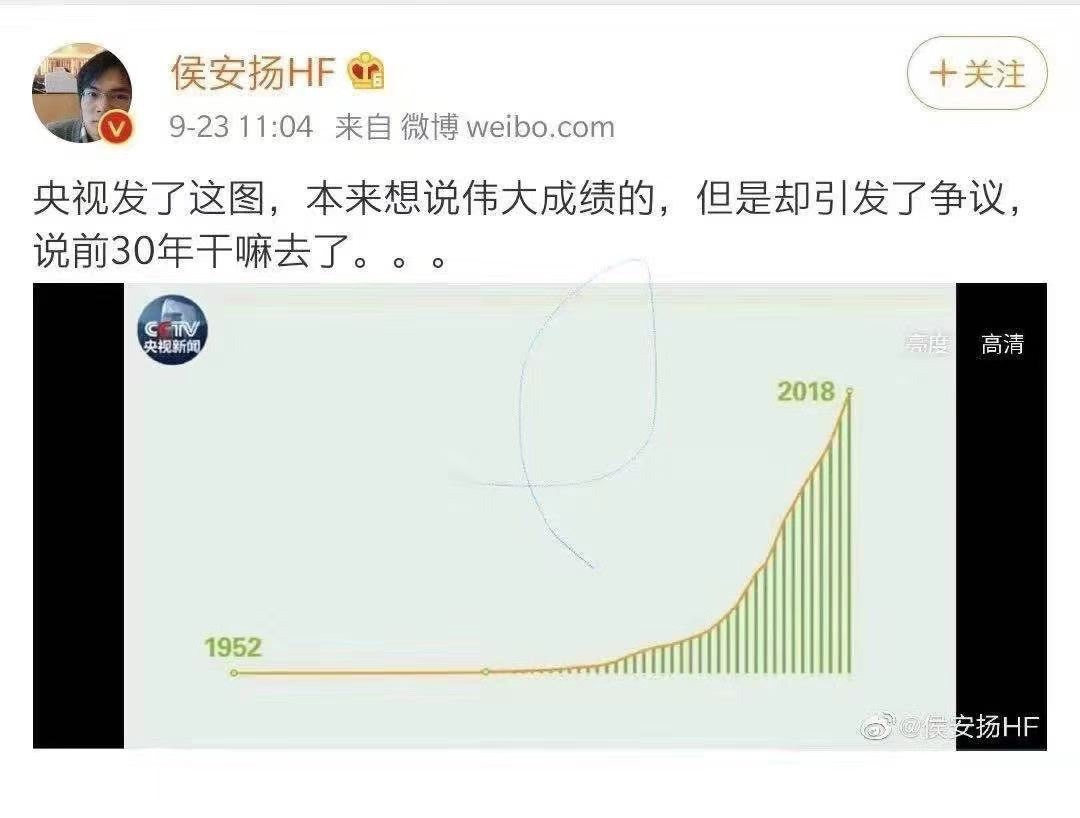 An upset viewer, who sounds Hunanese, called into CCTV to complain that CCTV appears to be saying there was no growth and no development in the Mao Era. Her recorded call is now on Youtube, and the responsible CCTV editor 王胜留 Wang Shengliu and team look to be in some political trouble. The caller uses some very entertaining, colorful language, I learned a couple of new, useful phrases…
---
3. New official white paper on human rights
China issues white paper on human rights progress over 70 years - Xinhua
The white paper, titled "Seeking Happiness for People: 70 Years of Progress on Human Rights in China," was released by the State Council Information Office.

"Living a happy life is the primary human right," the document said, adding that China regards the rights to subsistence and development as the primary and basic human rights and has been improving the rights of its people in a coordinated manner since the founding of the People's Republic of China in 1949, especially after the 18th National Congress of the Communist Party of China (CPC) in 2012...

Over the past seven decades, the Chinese nation has stood up and grown prosperous and is becoming strong; all basic rights of the people are better respected and protected; and China has made regular contribution to the international cause of human rights, the white paper said.

China has opened a new path of human rights protection based on its national conditions, and increased the diversity of human civilizations, it said.
Full Text: Seeking Happiness for People: 70 Years of Progress on Human Rights in China
China fully participates in global governance of human rights: white paper - Xinhua
China has been active in UN human rights undertakings, fulfills its international human rights obligations, conducts extensive international cooperation on human rights, actively offers Chinese wisdom and solutions for global governance of human rights, and advances through concrete actions the global governance of human rights in a fairer, more rational and inclusive direction, said the white paper.
Rights of special groups well protected in China: white paper - Xinhua
China effectively guarantees the rights of ethnic minority groups in administering state affairs, enables the ethnic minorities and ethnic minority areas to leapfrog in social and economic development, as well as education, the white paper said.

The freedom of ethnic minorities to use and develop their own spoken and written languages is fully protected, their cultural heritage and relics are effectively protected, and religious freedoms of ethnic minority groups are protected, according to the white paper.
---
4. Crackdown on Islam not just in Xinjiang
China's Muslim clampdown creeps into the heartland, targeting Hui minority - The Washington Post
That tide of "Sinicization," as Chinese policymakers call it, is surging nationwide. A recent, unescorted trip through Gansu, a corridor that once ushered Silk Road caravans and Islam into imperial China, revealed an accelerating campaign to assimilate another Muslim minority, the Hui, a Chinese-speaking people with no recent record of separatism or extremism...

The campaign targeting the Hui does not feature mass internment or pervasive digital surveillance, the most striking aspects of the Xinjiang crackdown. But it is a purge of ideas, symbols, culture, products — anything deemed not Chinese. It permeates life, in ways existential and mundane...

Domes and minarets are lopped off mosques and replaced with curving Chinese roofs. News broadcasts are forbidden to show pedestrians wearing traditional Hui skullcaps or veils. Arabic script is outlawed in public spaces, so practically every restaurant has a sun-beaten facade with dark traces where the word "halal" has been scraped off.
A Crackdown on Islam Is Spreading Across China - The New York Times
The campaign has prompted concerns that the repression of Uighur Muslims in the western region of Xinjiang has begun to bleed into other parts of China, targeting Hui and other Muslims who have been better integrated than Uighurs into Chinese society. Last year, a top party official from Ningxia praised Xinjiang's government during a visit there and pledged to increase cooperation between the two regions on security matters.

Haiyun Ma, a Hui Muslim professor at Frostburg State University in Maryland, said the crackdown was continuing a long history of animosity toward Islam in China that has alienated believers.
Comment: Interesting that the New York Times and the Washington Post both had stories on the Hui crackdown on the same day, can't imagine the reporters are pleased.
Secretary Michael R. Pompeo With Central Asian (C5) Foreign Ministers - United States Department of State
And further on the subject of terrorism, I want to make clear that China's repressive campaign in Xinjiang is not about terrorism. It's about China's attempt – about China's attempt to erase its own citizens' Muslim faith and culture. We call on all countries to resist China's demands to repatriate Uighurs.
The Human Rights Crisis in Xinjiang - United States Department of State
Deputy Secretary of State John J. Sullivan is co-hosting an invitation-only panel discussion for United Nations delegations and non-governmental partners on the Human Rights Crisis in Xinjiang.  The event will feature the deeply personal stories of victims of China's brutal campaign of repression against Uighurs, ethnic Kazakhs, ethnic Kyrgyz, and other Muslim individuals in Xinjiang. China's repression campaign includes, among other abuses, the mass detention of more than one million individuals in internment camps since April 2017. The Deputy Secretary welcomes global partners in joining the call for China to end the cruel, inhuman, and degrading treatment of the people of Xinjiang.
China footage reveals hundreds of blindfolded and shackled prisoners - The Guardian
The video, posted anonymously on YouTube last week, shows what appear to be Uighur or other minorities wearing blue and yellow uniforms, with cleanly shaven heads, their eyes covered, sitting in rows on the ground and later being led away by police. Prisoners in China are often transferred with handcuffs and masks covering their faces.

Nathan Ruser, a researcher with the Australian Strategic Policy Institute's international cyber policy centre, used clues in the footage, including landmarks and the position of the sun, to verify the video, which he believes was shot at a train station west of Korla in south-east Xinjiang in August last year.
---
5. Hong Kong
As it happened: how Hong Kong protesters went on mall and MTR rampage, as police fired tear gas and beanbag rounds | South China Morning Post
Hong Kong faced its 16th straight weekend of anti-government protests, with tear gas and beanbag rounds fired at protesters, who caused havoc at a mall and in MTR stations on Sunday.

After Saturday's violence, protesters took over a shopping mall in Sha Tin on Sunday, targeting businesses linked to mainland China, or seen as being pro-police or pro-government, and forcing them to close. The chaos in Sha Tin then escalated, resulting in tear gas fired by police.

Protesters also desecrated a national flag and threw it into the river in Sha Tin.
Commentary: U.S. opportunists and HK separatists -- expedient bedfellows with doomed plots - Xinhua
Hong Kong separatist Joshua Wong Chi-fung and some U.S. lawmakers receiving Wong here in recent days have been trying to convince the world that they are the champions of "freedom" and "democracy" in Hong Kong. The truth is, they are no more than expedient bedfellows...

As Wong got down on his knees and fawned before a bunch of U.S. lawmakers like U.S. House Speaker Nancy Pelosi and Senator Marco Rubio of Florida, who has been known for building his political fame on smearing China, he was selling his soul and China's vital sovereign interests to the devil.
Commissioner's office of Chinese foreign ministry in HK blasts U.S. as 'black hand behind scenes' - Xinhua
"Although the U.S. tries hard to whitewash itself, what its politicians have said and done have said it all and provided the most solid evidence for the U.S. being the 'black hand' behind the scenes," the spokesperson of the commissioner's office said.
2019 Export Forecast Review: Heightened Trade Tensions and Challenging Operating Environment Will See Hong Kong Exports Drop 4% in 2019 | HKTDC
Amid lingering China-US trade tensions, softening global economic growth and a challenging operating environment, Hong Kong exports continue to lose momentum and are likely to suffer a full-year decline in 2019. As indicated by the latest HKTDC Export Index survey, conducted in mid-August, Hong Kong exporters have become more pessimistic across all major industry sectors and markets. At 27.4, the Index has reached a decade-low level, its worst since the two quarters immediately after the Global Financial Crisis: 4Q08 and 1Q09. Against this backdrop, HKTDC Research has revised its 2019 export growth forecast further downward from 2% in June to -4%.
Police Dressed as Protesters: How Undercover Police in Hong Kong Severely Injured People - The New York Times
On Aug. 11, undercover officers in Hong Kong infiltrated crowds and severely beat protesters. We examined footage from that night and, for the first time, three men injured by the police told us their stories, painting a vivid picture of what happened
'You Don't Have to Face It Alone.' Hong Kong Protests Propelled by Hidden Support Network - WSJ $$
He's part of what's known as "the school bus"—code for a vast underground of getaway cars typically driven by older, middle-class Hong Kongers who want to support the younger generation protesting in the streets. One of the encrypted chat groups organizing the rides, also called "after school pickup," connects drivers it calls "parents" with protester "children." The group has some 21,000 subscribers. Tens of thousands more subscribe to other groups.

Mainland China and its handpicked leaders in Hong Kong have argued that a silent majority of citizens opposes the demonstrators who have confronted police, blocked roads and disrupted airport travel during a summer of protests against Beijing's tightening grip. A closer look suggests a vast swath of the city is quietly helping to keep it going.
Global Times rewards journalist beaten by Hong Kong protesters | South China Morning Post
"Fu Guohao and our other colleagues who have shown outstanding performance in the reporting of Hong Kong [protests] have been awarded. Fu has received the highest award of 100,000 yuan," Global Times editor-in-chief Hu Xijin said on Weibo, China's microblogging website.

At an awards ceremony on Sunday Hu said Fu had "not been earning much" from his work at Global Times and had been renting a flat in Beijing. "We jokingly said we hoped the 100,000 yuan would bring him good luck, and that he can buy a flat and be married one day," Hu said.
People's Daily said Twitter is "ridiculous" in deleting accounts for sowing discords in Hong Kong. It said all these accounts simply posted contents "denouncing rioters' violence and supporting the Hong Kong police." It cited Shen Yi of Fudan University in saying that by deleting these accounts, Twitter and Facebook become "tools to serve US national interests."
---
6. Taiwan loses another South Pacific ally
Kiribati cuts ties with Taiwan to switch to China, days after Solomon Islands - ABC News (Australian Broadcasting Corporation)
Taiwanese Foreign Minister Joseph Wu told reporters Taipei had terminated diplomatic ties with Kiribati and would immediately close down its embassy there, days after the Solomon Islands cut off ties with Taipei.

"According to information obtained by Taiwan, the Chinese Government has already promised to provide full funds for the procurement of several airplanes and commercial ferries, thus luring Kiribati into switching diplomatic relations," Mr Wu said.
China gains the Solomon Islands and Kiribati as allies, 'compressing' Taiwan's global recognition - ABC News (Australian Broadcasting Corporation)
Repeatedly, Taiwan has accused Beijing of offering easy cash, loans and goods in return for recognition — a claim the Chinese Government denies — but this week China said both Kiribati and the Solomon Islands would have "unprecedented development opportunities" if they sided with them...

On Saturday, the Chinese government's top diplomat, State Councillor Wang Yi, signed an agreement with Solomon Islands' Foreign Minister Jeremiah Manele to officially established diplomatic ties at a government guest house in Beijing.

"Right now there are only very few countries that have not established diplomatic relations with China," Mr Wang told reporters after the signing as Mr Manele stood by his side...

In July, Solomon Islands Prime Minister Manasseh Sogavare told the Australian National University's Little Red Podcast that Taiwan was "completely useless to us" economically and politically.

He went on to say that Beijing could help the island nation "establish a military force".
China sees Kiribati ties soon, no word on space tracking station - Reuters
China and Kiribati had ties until 2003, when Tarawa established relations with Taipei, causing China to break off diplomatic relations.

Until then, China had operated the space tracking station in Kiribati, which played a role in tracking China's first manned space flight in 2003, just before the suspension of ties.
Solomon Islands to benefit from China ties, its FM says - China Daily
Solomon Islands' Minister of Foreign Affairs and External Trade Jeremiah Manele rebutted the claim on Sunday that Beijing was using "dollar diplomacy" to induce his country to break ties with Taiwan.

His country's sovereign decisions "cannot be bought", he said.

In an interview with China Daily in Beijing, Manele said such claims "are not true" and that the decision to establish diplomatic ties with the People's Republic of China is based on the international law and national interests.

"We reviewed the United Nations Resolution 2758, which recognizes the one-China policy," he said. "Much more important is that the decision is in our best interests as a sovereign country."
Chinese VP meets Solomon Islands' FM on cooperation - Xinhua
Chinese Vice President Wang Qishan met with Solomon Islands' Minister of Foreign Affairs and External Trade Jeremiah Manele here on Monday.

Wang said it is of great importance for China and the Solomon Islands to establish diplomatic relations at the occasion of the upcoming 70th anniversary of the founding of the People's Republic of China.
---
7. Don't call it stimulus
Exclusive: Local Governments Urged to Rush Bond Plans Amid Fresh Signs of Slowdown
Beijing has instructed local governments to submit their plans for issuing special-purpose bonds as soon as possible, Caixin has learned.

The directive signals that central government policymakers are in a hurry to square away funding for growth-boosting infrastructure projects amid fresh signs that growth is slowing.

The Ministry of Finance and the National Development and Reform Commission (NDRC), the country's top economic planning agency, issued the directive at a meeting Friday in Beijing, according to multiple people in attendance.
PBOC's Official News Outlet Highlights Steady Monetary Policy Following Reserve Cuts - China Banking News
The ar­ti­cle pub­lished by Fi­nan­cial News said that the "re­duc­tion in re­serve re­quire­ments has re­duced the lend­ing costs of fi­nan­cial in­sti­tu­tions and ef­fec­tively in­creased mar­ket liq­uid­ity.

"How­ever, the di­rec­tion of sta­ble mon­e­tary pol­icy has in no way changed as a re­sult of this.
---
8. Party to help private firms by sending in officials
China to send state officials to 100 private firms including Alibaba - Reuters
The city of Hangzhou, home to Alibaba Group Holding Ltd (BABA.N), will designate government officials to work with 100 local companies in the eastern province of Zhejiang, the local government said on its website.

The directives, presented as a means to boost the local manufacturing industry, did not name the 100 companies subject to the policy, but state media reports said Alibaba and auto maker Zhejiang Geely Automobile Holdings Ltd would be among the companies.
China Boosts Government Presence at Alibaba, Private Giants - Bloomberg
The Hangzhou government said the initiative was aimed at smoothing work flow between officials and China's high-tech companies and manufacturers. But the move could be perceived also as an effort to keep tabs on a non state-owned sector that's gaining clout as a prime driver of the world's No. 2 economy. Representatives of the country's public security system are already embedded within China's largest internet companies, responsible for crime prevention and stamping out false rumors.

Government agencies may also be heightening their monitoring of the vast private sector at a time China's economy is decelerating -- raising the prospect of destabiliziing job cuts as enterprises try to protect bottom lines. Alibaba is hosting its annual investors' conference this week in Hangzhou against the backdrop of a worsening outlook for the country.
Comment: It is not clear this is limited to just Zhejiang. I have seen unverified screenshots going around Wechat claiming this happening in other areas
Meanwhile, a professor from the Zhejiang Party Committee Party School wrote Monday in Guangming Daily on the need for private enterprises to upgrade their international image and cultural soft power...not sure sending Party officials into 100 of these firms in Zhejiang will do that, wonder if the Baidu News editor who highlighted this piece is trying to make that point
---
Business, Economy and Trade
In Depth: The Fight for Dominance in China's Mobile Payment Market - Caixin China's trillion-dollar mobile payment market is bracing for another reshuffle as the central bank rolls out a plan for major changes in a key segment that may erode the long-established dominance of Alibaba Group and Tencent Holdings. The People's Bank of China recently issued a three-year plan to build a regulatory framework to unify technology standards and promote connectivity of the quick response code (QR code) payment service.
Caixin: Pony Ma Steps Down as Tencent Credit's Legal Representative Tencent CEO Pony Ma has left his role as the legal representative of Tencent Credit, the internet behemoth's credit-reporting arm, recent public information shows … It is not clear whether Ma's decision to step down is linked to a recent legal case involving one of Tencent's fintech affiliates. Earlier this month, the Shenzhen branch of China's central bank fined the affiliate 1.49 million yuan ($210,000) for jeopardizing consumer rights and violating payment and settlement regulations. 
柳传志卸任联想(天津)法人 名下大部分企业注销 Public recods show Liu Chuanzhi, chairman of Lenovo, is no longer legal representative of any Lenovo's subsidiaries after recent changes in corporate filings. This comes after Jack Ma's retirement and Liu Qiangdong of JD making his aide as legal representative of all of JD's subsidiaries.
Thomas Cook bankruptcy: 'Warren Buffett of China' set to lose billions - Business Insider The company's largest shareholder, with an 18% stake, is China-based Fosun International and its chairman Guo Guangchang.
Global postal union meets amid Trump threat to pull US out -AP The Trump administration is threatening to pull the United States out of the 145-year-old Universal Postal Union, complaining that some postal carriers like China's aren't paying enough to have foreign shipments delivered to U.S. recipients.
China's fiat digital currency will not launch in November: PBOC · TechNode The central bank-issued digital currency will not be ready in November as widely speculated, the People's Bank of China (PBOC) said on Saturday in a statement to Piyao, China's official rumor-fighting platform. The bank also said that reports saying Alibaba and Tencent would be among the first financial institutions to receive the currency was inaccurate.
China's Big Brother Targets Business - The New York Times United, Delta and American received letters last year from Chinese aviation officials saying their social credit score could be hit unless their websites labeled Macau, Hong Kong and Taiwan as part of China. Lower scores would lead to investigations, the possibility of frozen bank accounts, limitations on local employees' movement and other punishments, according to a letter sent to United and seen by The New York Times.
Exclusive: Agricultural Bank of China to Get New Head - Caixin At an internal meeting on Monday, Zhang Qingsong was appointed as a deputy secretary of Agricultural Bank's Communist Party committee, the sources said. He is likely to become president of the Hong Kong- and Shanghai-listed bank upon approval from its board and financial regulators, according to sources with knowledge of the matter.
Major Brokerage Guotai Junan to Get New Chairman - Caixin The president of one of China's biggest insurers is to take the helm at one of its leading brokerages, Caixin has learned.He Qing, 47, was made Guotai Junan Securities Co. Ltd.'s Communist Party secretary on Monday morning, and will soon be made its chairman, people with knowledge of the matter told Caixin.
China Needs Flexible Yuan, Fewer Capital Controls: Think Tank - Caixin The country should simplify management on the yuan exchange rate and loosen capital controls in an orderly way as part of the efforts to improve the currency's global use, according to a report published by the China Finance 40 Forum in Hangzhou on Sunday. "Capital will always find various ways to move across the borders" as long as there's room for arbitrage, researchers from the think tank led by Guo Kai wrote. Guo is also deputy director of the People's Bank of China's monetary policy department.
China's agricultural product prices rise - Xinhua By 2 p.m. Monday, the China agricultural product wholesale price index stood at 112.64, up 0.1 points from last Friday. The average wholesale price of pork climbed 0.9 percent from last Friday to 36.45 yuan (about 5.2 U.S. dollars) per kilogram.
Politics and Law
Xi calls for advancing political consultation in China - Xinhua Xi...made the remarks at the Central Conference on CPPCC Work, which also marks the 70th anniversary of the CPPCC. Xi said the CPPCC, through effective efforts, should build itself into a key base to uphold and strengthen the Party's leadership over all areas of endeavor, a key platform to unite, educate and guide representatives of all ethnic groups and sectors with the Party's new theories, as well as a key channel to resolve disputes and build consensus on the common theoretical and political foundation….He urged the CPPCC to vigorously carry out foreign exchanges to provide positive energy for building a community with a shared future for humanity.
北大数学系博士出任公安部网安局局长 The public security ministry has a new cyber chief, who has a PhD in applied mathematics from Peking University. He worked for a long time in Guizhou where he talked a lot about using big data.
Bankers Gain Over Engineers as Xi Promotes Future China Leaders - Bloomberg Chinese President Xi Jinping is installing ex-bankers and former executives from state-owned enterprises to key political springboards, suggesting future governments could look very different from the current one dominated by engineers.
Didi Riders Can Now Have "Verified Party Members" Drive Them Around | What's on Weibo Upon clicking the profile of these drivers, customers will see that this driver is a Party Member Driver ("党员司机") – meaning that the Didi driver's status as a Party member has been verified through Didi's "Red Flag Steering Wheel" program (红旗方向盘项目) that was set up in November 2018.
Illiberal China – China Channel Daniel F. Vukovich, an American scholar of comparative literature based in Hong Kong, believes that China's illiberalism is something to be celebrated, not mourned. In Illiberal China: The Ideological Challenge of the People's Republic of China, Vukovich – a fierce defender of the Chinese New Left school of thought – argues that liberalism, with its focus on individual rights, is a particular Western ideology that is irrelevant in authoritarian China. The Chinese state's opposition to liberalism goes deeper than policy differences: it carries rhetorical significance as a rejection of a Western set of values.
党领导的强大体制对中国意味着什么 Global Times editor in chief Hu Xijin published a book named "What does the powerful system led by the Party mean for China? Hu Xijin's words from heart with young people today". The cover of the book said, "Individual's Destiney is closed linked with the country". 
Foreign and Defense Affairs
Xi Jinping Holds Telephone Talks at Request with King Salman bin Abdulaziz Al Saud of Saudi Arabia Salman bin Abdulaziz Al Saud briefed on relevant situation of the recent attacks on Saudi oil facilities. Xi Jinping emphasized, the Chinese side condemned the attacks on Saudi oil facilities, and the incident has had an impact on the situation in the Gulf region and on the international energy market. Xi Jinping hoped for a comprehensive, objective and just investigation into the incident and called on relevant parties to refrain from taking any actions that may escalate tensions in the region so as to jointly safeguard regional peace and stability.
【解局】谁炸了沙特油田? People's Daily overseas edition WeChat account Xiakedao wrote an analysis of the Saudi attack, and suggests the Saudi side may had relaxed the defense to allow the attack occur.
Xi meets Iraqi PM on bilateral cooperation, situation in Middle East, Gulf region - Xinhua Iraq is ready to deepen bilateral pragmatic cooperation in various fields in the framework of the Belt and Road, the prime minister said. On the regional situation, Abdul Mahdi said Iraq is committed to easing tensions and avoiding war. Iraq will enhance communication and coordination with China in this regard.
No, China Isn't Giving Iran $400 Billion — Bourse & Bazaar
China at 70 aims to strive for lead role in post-cold war international order | South China Morning Post China would strive for a lead role in reshaping the post-cold war international order led by the United States, while vigorously protecting its expanding national interest and warding off foreign interference in its affairs, according to Foreign Minister Wang Yi. In an article published by Communist Party mouthpiece People's Daily on Monday, Wang said China's relations with the world had seen historic changes over the past 70 years, with its global standing elevated to a new high and its diplomatic activism widely recognised. // 谱写中国特色大国外交的时代华章(光辉的历程 深刻的启示·庆祝新中国成立70周年)- 王 毅
Chinese survey ship leaves Vanguard Bank and heads to artificial island outpost | South China Morning Post Beijing did not say why Haiyang Dizhi 8 left the area, but last month it also travelled to Fiery Cross Reef and spent time refuelling there before returning Vessel first entered waters near the resource-rich reef controlled by Vietnam in early July, sparking the worst stand-off between the countries for five years
Exxon's South China Sea Oil Project Tests China's Influence - Bloomberg "If Exxon leaves, that'll be a blow to Vietnam because this follows the Repsol case, and could possibly send a ripple effect within the international energy industry," said Collin Koh Swee Lean, research fellow at the Singapore-based S. Rajaratnam School of International Studies. "China would have achieved its goals and probably reap long term dividends of dissuading other energy majors from striking up ventures in those waters."
Oil giant acclaims breakthroughs for South China Sea - Global Times A state energy giant's announcement it had overcome temperature and pressure obstacles shows that China has overcome technological obstacles to develop and explore deep water oil and gas in the South China Sea, a Chinese expert said on Sunday.
China, Russia, Iran 'plan joint naval drill in international waters' | South China Morning Post China, Russia and Iran are planning a joint naval drill in the Sea of Oman and northern Indian Ocean "soon", a semi-official Iranian news outlet reported on Saturday, just days after the United States blamed Iran for a drone attack on Saudi Arabian oil facilities.
Chinese NZ Herald under Chinese state 'control' - experts - Newsroom.NZ Chinese media experts say the Chinese NZ Herald's permits and structure means it must adhere to the censorship regime of the Chinese Communist Party, in what Foreign Minister Winston Peters says is a flagrant breach of media freedom
重庆大学与重庆市国家安全局共建国际传媒研究中心-重庆市教育委员会网站 Chongqing State security bureau will work with Chongqing University to set up an international media research center looking into "developments of international media", to "serve central departments' policy making". Perhaps they should buy a Sinocism group subscription?
Institute for Defense Analysis - A Tentative Framework for Examining U.S. and Chinese Expenditures for Research and Development on Artificial Intelligence The Chinese government, at the central and local levels, has announced large amounts of planned expenditures to support AI activities; however, it is not clear how much of the planned expenditures by the Chinese government is actually being expended, who is providing the money (e.g., central government, local government, enterprises, private investors), to whom the money is going, or on what the money will be spent. The absence of information on these issues makes it challenging for Western analysts, media, and policy makers to understand the extent of China's activities in support of AI. This lack of information can lead to confusion and misleading comparisons between Chinese and U.S. expenditures on AI, which have caused alarm among some policy makers and observers.
Taliban in China to discuss Afghan peace after US talks collapse | Al Jazeera Suhail Shaheen, a Taliban spokesman in Qatar, said in a tweet that the group's nine-member delegation, led by cofounder Mullah Baradar, travelled to Beijing and met Deng Xijun, China's special representative for Afghanistan. The Chinese special representative said the US-Taliban deal is a good framework for the peaceful solution of the Afghan issue and they support it," Shaheen wrote on Twitter
七十年奋斗,中国成就斐然(国际论坛) Jean-Pierre Raffarin, the former French prime minister who just won a medal from China, wrote on page 3 of People's Daily praising China's economic achievement, the party's leadership, its role in defending free trade and combating climate change, and so on.
【世界知识】中俄合作的潜力与限度 Xue Li, fellow with Chinese Academy of Social Science, argues that China should not become an ally of Russia for three reasons. First, it is against China's interests because it jeopardize China's relations with the West and others, and Russian will not become a major trading partner of China; second, Chinese culture is not used to the idea of alliance, which is a concept of the West; third, Russia does not want to build alliance with China and it is just hedging. 
Tech and Media
Alibaba Further Opens Indian E-Commerce Market Through Its Wholly-Owned UCWeb- PingWest UCWeb is best known for its popular mobile browser UC browser. After more than 10 years of continuous development in India, the browser has grown to the second leading browser in India with a 17.81% market share as of August 2019, according to statistics from web traffic analysis website Statcounter.
How TikTok Holds Our Attention | The New Yorker One of TikTok's early competitors was Musical.ly, a lip-synching app based in Shanghai that had a large music library and had become extremely popular with American children. In 2016, an executive at an ad agency focussed on social media told the Times that Musical.ly was "the youngest social network we've ever seen," adding, "You're talking about first, second, third grade." ByteDance bought Musical.ly the following year, for an amount reportedly in the vicinity of a billion dollars, and merged the app with TikTok in August, 2018.
JD.com launches its Pinduoduo rival, with a little help from WeChat - KrASIA The new service comes in the form of a dedicated app, dubbed Jingxi, as well as a mini-app that resides in WeChat. Additionally, Jingxi users will be able to access the service through WeChat's "Discover" tab around the beginning of October. WeChat is believed to be instrumental in helping the growth of PDD in its early days.
Society, Arts, Sports, Culture and History
Pulitzer prize-winning opera to be staged in Beijing - Xinhua "Angel's Bone," an opera winning the 2017 Pulitzer Prize for music, will be staged at the Beijing Poly Theater on Oct. 18 and 19. The opera follows the plight of two fallen angels who are found battered and bruised from their long journey by a couple
Chinese Teacher for Deaf Builds World Cup Squad, Part 1 - Chinarrative We bring you the first in a two-part series about a soccer team for the deaf in the southern Chinese province of Guangdong. In this longread, which first appeared in online platform Truman Story, we learn how the team got its start and meet its members and coach, Zheng Guodong.
Energy, Environment, Science and Health
In Depth: How a 'Mosquito Factory' in Southern China Could Help Fight Disease - Caixin A study published by the Chinese team in the international science journal Nature in July outlines their strategy for reducing the population of the invasive Aedes albopictus, or the Asian tiger mosquito. Male mosquitos grown in the factory are infected with a strain of Wolbachia, a type of bacteria that interferes with their ability to reproduce. The male mosquitos are released into the wild, where they mate with wild females. But the resulting eggs never hatch, ending the life cycle
Nobel laureate Yang Zhenning awarded Qiu Shi lifetime award - CGTN Nobel laureate and Chinese physicist Yang Zhenning, also known as Yang Chen-ning, was awarded the Qiu Shi Lifetime Achievement Award on Saturday at the 2019 Qiu Shi Award ceremony held at Tsinghua University
Rural and Agricultural Issues
Xi extends greetings on farmers' harvest festival - Xinhua Chinese President Xi Jinping extended greetings to farmers and people working in agriculture and rural areas as Monday marked the second Chinese farmers' harvest festival. Xi...sent his greetings via the China Central Television's newly-launched channel dedicated to agriculture and rural affairs.
Xi Focus: Farmers' festival celebrated as China stresses food security - Xinhua In recent days, farmers nationwide have marked the festival with dances, songs, cultural shows, poverty reduction activities and rural tourism promotions, celebrating their upcoming autumn harvest. China has attached great importance to food security. President Xi Jinping has on many occasions stressed food security, saying that "the rice bowl of the Chinese people, in any situation, must be firmly held in our own hands."
Maintenance of rural roads to be reformed - Gov.cn The State Council released a circular on Sept 23 to reform the management and maintenance mechanism for rural roads, with the goal of specifying responsibilities and powers of related departments, and attracting social forces to participate in supporting rural roads.
Chinese Gaming Giant NetEase to Raise More Pigs - Caixin NetEase, an online gaming and e-commerce company, signed a cooperation agreement with the municipal government of Shaoxing, a city in eastern China's Zhejiang province, to build a pig farm that will produce half a million hogs a year...Ding announced NetEase's entry into pig farming in 2009. It built its first pig farm in 2012 in Anji of Zhejiang province and a second in the southeastern province of Jiangxi.