Discover more from Sinocism
Get smarter about China
Over 179,000 subscribers
Trade white paper; Unreliable entity list; Staying true to our founding mission campaign; June 4
There was no visible progress over the weekend towards resolving the US-China trade dispute.
The government released a white paper on the US-China trade war on Sunday. There is no change to the message that China is the innocent victim of American bullying and hegemony in furtherance of America's plot to thwart China's rise, all while China remains open to the world and is now the responsible power.
China has always been willing to talk so long as US shows "sincerity"; i.e. accepts responsibility for the breakdown and agrees to respect China's key conditions.
China also announced a "unreliable entity list", a reciprocal response to the US Department of Commerce Entity List that may cause Huawei so much pain. Beijing will need examples of unreliable American firms, and soon, and this move will put the unlucky US firms that make the list in a real bind. Do they obey US law or PRC law?
The "staying true to our founding mission" campaign among all Party members has officially launched. It seems possible a witches brew is boiling, with more nationalist education/celebration into the 70th anniversary of the founding of the PRC just as the deterioration of the US-China relationship is accelerating.
Tomorrow is the 30th anniversary of the June 4 tragedy. Longtime readers know I was in Beijing as a student, and worked for CBS as a fixer and translator from late April until the third week of June, when I was detained along with a camera crew and left the country.
I have been going through my pictures, thought I would share three today. Someday I will digitize them all.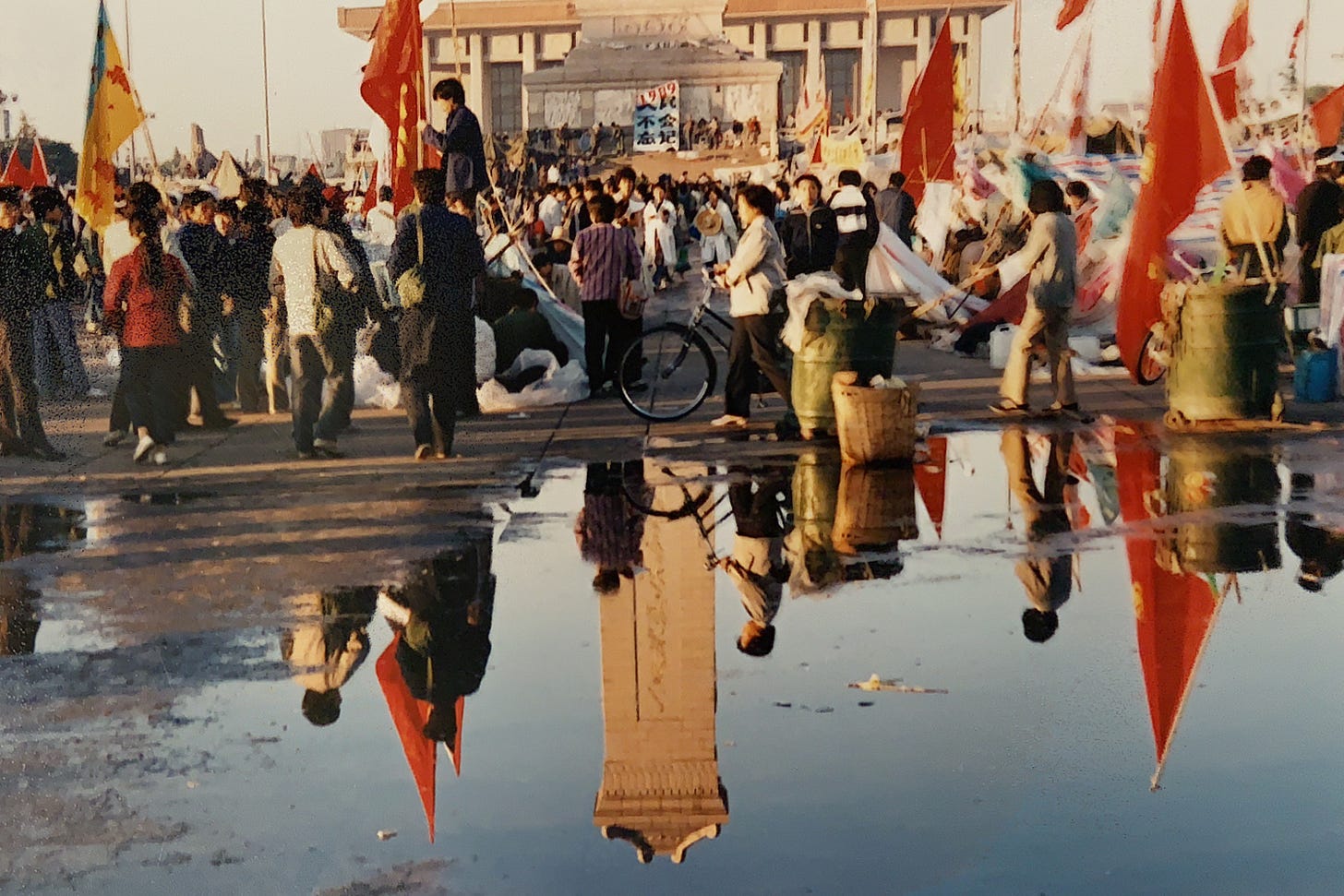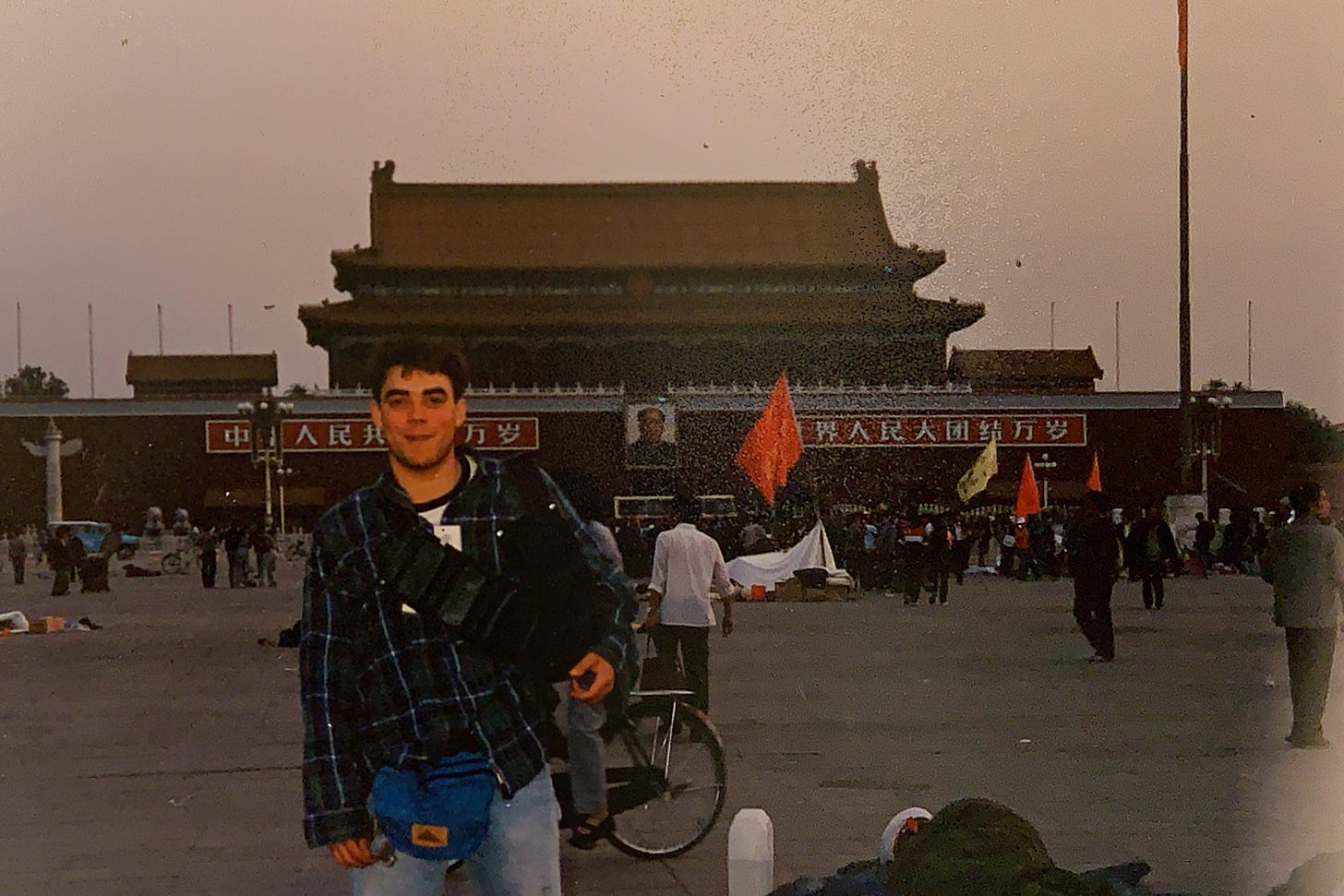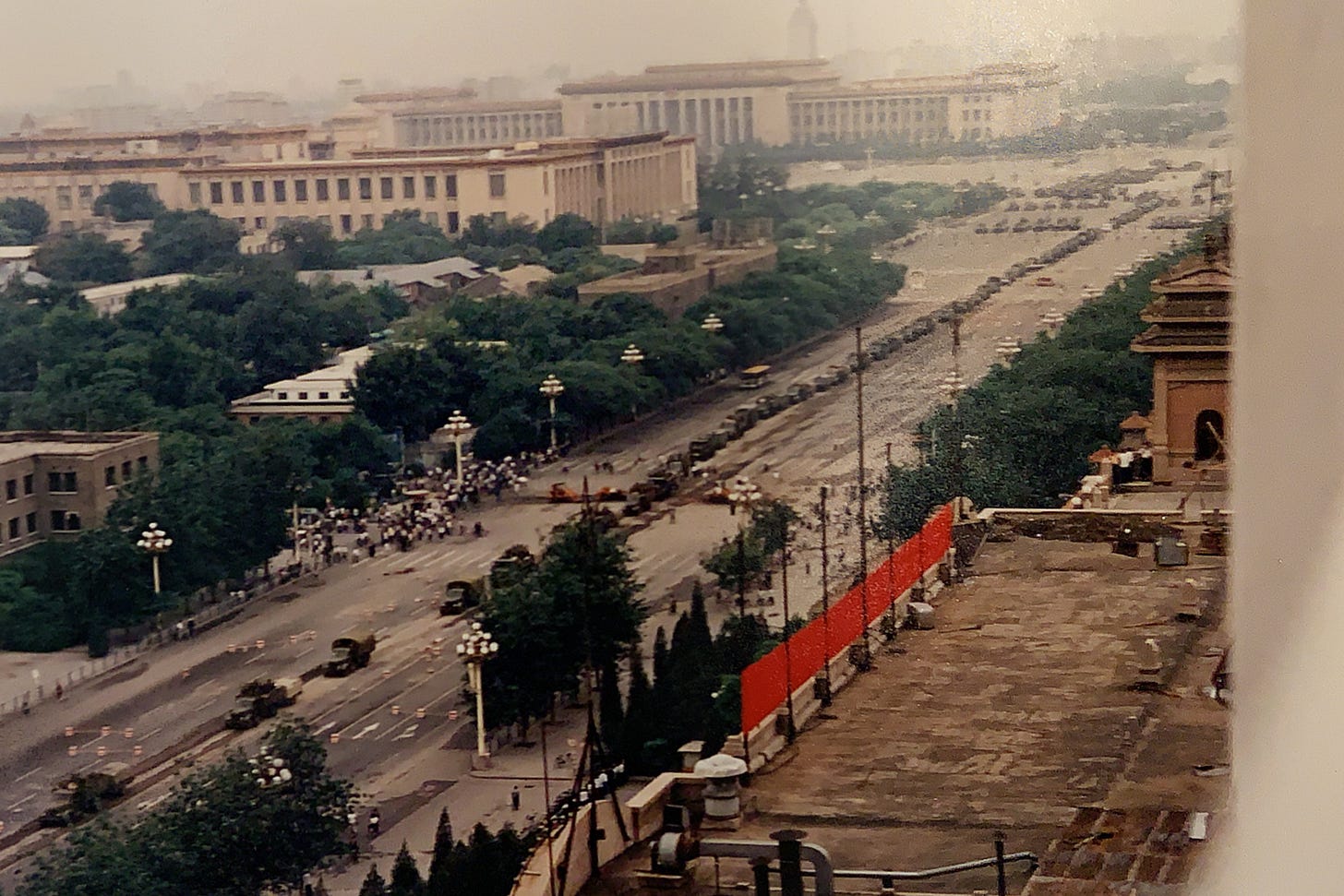 For some truly good pictures from the 1989 Spring, check out these from Jian Liu, who just made them public - Photos of the Tiananmen Square Protests Through the Lens of a Student Witness.
Never underestimate what the CCP will do to stay in control.
Thanks for reading.
---
The Essential Eight
1. US-China
China publishes white paper on trade consultations, revealing U.S. backtracking - Xinhua:
At a press conference in Beijing Sunday, Chinese vice commerce minister Wang Shouwen denied U.S. accusations that China backtracked on its position in trade talks, underscoring that China has demonstrated the greatest sincerity and a strong sense of responsibility for resolving trade disputes through dialogue.

It's irresponsible to accuse China of backtracking, Wang said, "nothing is agreed until everything is agreed."

Historical experience has proved that any attempt to force a deal through tactics such as smears, undermining and maximum pressure, will only spoil the cooperative relationship. Historic opportunities will be missed, the white paper said.

It stressed that trade deals must be equal and mutually beneficial, and China will never compromise on major principles concerning China's core interests.

One prerequisite for a trade deal is that the U.S. should remove all additional tariffs imposed on Chinese exports and China's purchase of U.S. goods should be realistic while ensuring that a proper balance in the text of the agreement is achieved to serve the common interests of both sides, according to the white paper.
《关于中美经贸磋商的中方立场》白皮书 【双语对照版】 Bilingual White Paper: China's Position on the China-US Economic and Trade Consultations : China Law Translate
Full text: China's Position on the China-US Economic and Trade Consultations - Xinhua
Here are the Most Interesting Items in China's Trade White Paper - Bloomberg
"The white paper signaled that the trade standoff between China and the U.S. will be prolonged," said Zhou Xiaoming, a former commerce ministry official and diplomat. "Don't expect China to take the initiative to resume the talks. Before Washington makes concessions in key issues, even if the US wants to resume talks, the Chinese side may not respond."
Goldman Sachs sees U.S. trade war with China and Mexico escalating - Reuters
Goldman Sachs economists said there was a 60% chance that the United States would slap tariffs on the final $300 billion of Chinese imports, up from their previous estimate of 40%.
Washington's self-righteousness will lead to nothing but failure - People's Daily - Zhong Sheng:
When the interests of all countries are closely intertwined and the fate is closely related, cooperation is much needed for mankind to cope with risks and challenges, Jeffrey Sachs, an economics professor at Columbia University, said in his book A New Foreign Policy: Beyond American Exceptionalism.

The US government, which acts willfully by adopting the "America First" strategy, and intentionally sabotaging international rules, has exposed its obsession with American exceptionalism.

Such toxic concept and practices are not only harmful to the US, but also very dangerous to the world.
Vice President Mike Pence plans speech amid China tariff trade war - CNBC
The remarks are expected to be a censure of China's religious freedom and human rights record from one of the Trump administration's highest-ranking China hawks. They are set to come amid rising trade tensions between the world's two largest economies.

A White House official confirmed a Pence speech is in the works – potentially in mid-June, following the anniversary – but declined to comment on its contents.
Comment: Still not sure why it was moved from June 4, as originally scheduled
China says FedEx probe was launched after 'complaints from users' | South China Morning Post
Ma Junsheng, head of the State Post Bureau, did not name Chinese telecoms firm Huawei Technologies or link the investigation to a deepening trade war between China and the United States.

"The investigation into FedEx can help maintain order in the Chinese delivery industry, safeguard Chinese customers' legitimate rights, and help to ensure the safety and economic security of China's national postal service," Ma said in an interview on state broadcaster CCTV on Saturday.
This Guangming Daily article on the trade war getting a lot of play, the theme of US bullying to keep China down, CHina will never buckle, needs to deepen its resolve to reform and strengthen itself: - 中美经贸摩擦背后的历史之思、未来之问-新华网
一个奉霸凌主义为圭臬的发达国家,面对发展道路不同的发展中大国,打压制衡之心从不曾变,干扰涉足之意从未止息。当对方国力上升逼近其"警戒线",出手遏制几成必然之举。此时,吞声俯首换不来一时平安,包容谦和绝不等于无原则、无尺度、无边界地躲闪退让。
People's Daily- "complete nonsense" to criticize China as backtracking in the trade talks
Zhong Sheng countries with the message that collapse of the trade talks is entirely the fault of the US
In latest issue of Qiushi Tianjin propaganda chief Chen Zhemin compares the trade war with the Korean war, and said it is time to promote patriotism
Caijing issued an editorial against "radical nationalism", urging China to stay open to the outside war and be cautious in trade retaliation. The editorial went viral and was soon censored.

作为一个大国,除非我们自己关上大门,否则没有任何力量能够围堵和封锁我们,更遑论把我们从全球生产链和贸易链中切割出去。自我设限,自我封闭,另起炉灶,已经为历史证明是行不通的,只会正中某些势力的下怀,只会给人民的利益造成重大损失。
Pence protests China's detention of Canadians and pledges to 'stand with' Canada | The Star
In a whirlwind visit to Ottawa to advocate for swift ratification of the new NAFTA deal, Pence delivered Washington's strongest show of support to Canada to date, issuing a joint statement that called on Beijing to release Canadians Michael Kovrig and Michael Spavor, who were arrested in retaliation for Canada's assistance to the U.S. in prosecuting a Huawei executive.
China alerts students to risks of going to study in U.S. - Xinhua
China's Ministry of Education on Monday warned Chinese students and scholars of the risks of going to study in the United States citing U.S. visa restrictions, urging them to step up risk assessment and prepare accordingly.

The alert states that the visa applications of some Chinese hoping to study in the United States have recently been restricted, with an extended reviewing process, shortened validity period, and an increased rejection rate, which has affected their plans to study in the United States or the completion of their study there.
Beijing is speculated to have tested a hypersonic nuclear missile that 'can reach the U.S.' | Daily Mail Online:
Sina, one of China's largest news portals, reported that the unidentified flying object was likely to be related to a classified military test of Julang-3 (or JL-3), a submarine nuclear missile alleged to be capable of reaching North America. The author also said that the suspected experiment could be China's response to Washington amid an intensifying trade war and after the U.S. recently tested an intercontinental ballistic missile.
---
2. Unreliable entity list
China to establish list of unreliable entities: MOC - Xinhua
The decision has been made in line with China's foreign trade law, anti-monopoly law, state security law and other related laws and regulations, said the spokesperson.

The list will include foreign legal persons, other organizations or individuals who, out of non-commercial purposes, have taken discriminatory measures on Chinese entities, caused actual damage to Chinese firms and related industries, and posed actual or potential threats to China's state security, according to Gao.

By violating normal market rules or contracts for non-commercial purposes, some foreign entities have adopted discriminatory measures on Chinese firms including a blockade or supply cut which have damaged the legitimate rights and interests of Chinese companies and jeopardized China's national security and interests, Gao said.
Unreliable entity list to focus on US technology firms - Global Times
It's possible that China's "unreliable list" won't be very long, but it will carry weight and include well-known US companies that are strong enough to pose "actual or potential threats to China's national security." China is likely to concentrate its fire on US major core strategic technology forces with the list as a starting point, if Washington tries to weaponize US technology power to contain China's rise.
Commentary: China's unreliable entities list a guardian of market order - Xinhua
The Ministry of Commerce on Saturday outlined factors for consideration in listing unreliable foreign entities to warn market disruptors.

China will consider whether the foreign entity has adopted discriminatory measures on Chinese entities including a blockade or supply cut, whether the foreign entity violates market rules or contract spirit for non-commercial purposes, whether it causes actual damage to Chinese firms or related industries, and whether it poses actual or potential threats to China's national security, according to the ministry.

The timely countermeasure is a rightful answer to the unjustifiable clampdown on Chinese entities and a strong defense of the rules-based multilateral trading system.
On the Friday CCTV Evening News Kang Hui reads the "international sharp commentary-China's countermeasures, doing what China said it would do" on the new unreliable entity list
---
3. Huawei
Pompeo Tells Germany to Tackle China or Lose Data Sharing - Bloomberg
U.S. Secretary of State Michael Pompeo reiterated a threat to withhold information from allies if it is transmitted across networks America considers untrustworthy and there is a danger sensitive data will end up in Chinese hands.

Speaking in Berlin Friday, Pompeo urged Chancellor Angela Merkel's government to "lead in taking action against Chinese corruption, espionage and unfair trade practices" and said the U.S. may have to change its "behavior" regarding intelligence sharing.
US intelligence threats to Britain 'not realistic', say spies | Financial Times $$
former senior figures from within the US and UK intelligence communities say the threats are "not realistic" and do not appreciate the depth of the relationship which dates back more than 75 years.

"We are not going to cut off our noses to spite our faces," said one former US intelligence chief. "They are hamfisted threats from people who don't really understand how the relationship works."
Huawei's Main Chip Maker Faces Long-Term Risks From U.S. Ban - WSJ $$
Because HiSilicon relies on some suppliers for American software and intellectual property to design and make semiconductors, its ability to keep producing better chips is at risk. While experts say the short-term effects of the export ban will be minimal, in the longer run, as technology evolves, it threatens to curtail HiSilicon's progress
China's Huawei to sell undersea cable business, buyer's exchange filing shows - Reuters
Hengtong Optic-Electric Co Ltd, an optical telecommunication network products company based in Jiangsu province, said in the filing to the Shanghai Stock Exchange that it signed a letter of intent with Huawei Technologies subsidiary Huawei Tech Investment Co Ltd on May 31 to buy its 51% stake in Huawei Marine Systems Co Ltd via cash and share issuance.
IEEE 新闻 | IEEE China - IEEE Lifts Restrictions on Editorial and Peer Review Activities
IEEE has received the requested clarification from the U.S. Department of Commerce on the applicability of these export control restrictions to IEEE's publication activities. Based on this new information, employees of Huawei and its affiliates may participate as peer reviewers and editors in our publication process.  All IEEE members, regardless of employer, can continue to participate in all of the activities of the IEEE.
---
4. "Staying true to our founding mission" campaign
Xi Focus: CPC launches campaign to stress Party's founding mission among members - Xinhua
Xi...delivered an important speech at a key meeting to launch a campaign themed "staying true to our founding mission" among all Party members, especially officials at or above the county and director level...

Members of the Standing Committee of the Political Bureau of the CPC Central Committee Li Keqiang, Li Zhanshu, Wang Yang, Zhao Leji and Han Zheng attended the meeting.

Wang Huning...head of the leading group of the campaign, delivered closing remarks...

The campaign will educate and guide all Party members and officials to deepen their understanding of the thought on socialism with Chinese characteristics for a new era and the major policies of the CPC Central Committee, as well as to strengthen their beliefs of Marxism and socialism with Chinese characteristics, he said.

Noting the campaign is under the leadership of the Standing Committee of the Political Bureau of the CPC Central Committee, Xi asked Party committees and leading Party members groups at all levels to enhance supervision and guidance over the campaign.
Xi Focus-Commentary: CPC's fearless campaign of self-reform - Xinhua
With 89 million members and 4.5 million organizations, the CPC is leading a country of nearly 1.4 billion people to accomplish so many tasks that were thought to be impossible by other political forces. But it does not take comfort in its successes, or look for excuses to evade the difficulties it currently faces.

Instead, the CPC keeps reminding itself of the original mission and improving itself to be stronger to tackle the challenges ahead.

The latest move is to carry out an education campaign on the theme of "staying true to the Party's founding mission."..

The plan to launch the campaign was announced at the 19th National Congress of the CPC in 2017...

The country is also facing a complicated external environment, especially when protectionism and unilateralism are bringing uncertainty to the world and posing a threat to the international order.

The CPC is tested. It must reinforce itself. The Party can never allow corruption, fear or difficulty to break its spirit...

The fundamental task of the campaign is to conduct in-depth studies on and implement Xi Jinping Thought on Socialism with Chinese Characteristics for a New Era, forge the political character of loyalty, integrity and a keen sense of responsibility, and unite the Chinese people of all ethnic groups and lead them to strive together for the realization of the Chinese dream.

As a Marxist political party, the CPC is able to free itself from the limitations of all previous political forces which focused on pursuing their own special interests...

Under the leadership of the CPC, China is showing the world a resilience in the face of challenges. The country is making its innovation faster, middle class bigger, culture richer, and confidence stronger than ever before.
习近平在"不忘初心、牢记使命"主题教育工作会议上强调 守初心担使命找差距抓落实 确保主题教育取得扎扎实实的成效_CCTV
Top 13 minutes of the Friday CCTV Evening News on Xi chairing kick off work conference for the campaign.
---
5. Shangri-la Dialogue
PMO | PM Lee Hsien Loong at the IISS Shangri-La Dialogue 2019
If both sides treat their trade dispute purely on its own merits, I have no doubt their trade negotiators, who are highly competent, will be able to resolve it. But if either side uses trade rules to keep the other down, or one side comes to the conclusion that the other is trying to do this, then the dispute will not be resolved, and the consequences will be far graver than a loss of GDP. The broader bilateral relationship will be contaminated. Other areas will inevitably be affected, including investments, technology, and people-to-people relations. Every action taken by one side will be seen as a direct challenge to the other, and will elicit a counter-action. We will all be headed for a more divided and troubled world.
China appreciates Singaporean PM's remarks at Shangri-La Dialogue - Xinhua
Saying there was a lot of discussion at the Shangri-La Dialogue on China's development and regional cooperation, Geng stressed that he believes Lee's speech reflected the common aspiration of countries in the region to pursue peaceful development rather than confrontation, to strive for win-win cooperation rather than zero-sum game, to open rather than close doors, and to boost exchange rather than a clash of civilizations.
Speech at the 18th Shangri-La Dialogue by Gen. Wei Fenghe, State Councilor and Minister of National Defense, PRC - Global Times
Fourth, which should we choose, mutual learning among civilizations or arrogance and prejudice? A few days ago, China successfully hosted the Conference on Dialogue of Asian Civilizations. We believe that human civilizations are and should be colorful, equal, inclusive and willing to learn from each other. Not a single civilization should be worshiped or belittled. There are scars and tragedies in the history of human civilization which do not go away, to name only a few, the enslavement of Africans, the expulsion of native American Indians, the colonization in Asia, Africa and Latin America, and the killing of Jewish people. Unfortunately, some people recently pick up the decadent idea of "clash of civilizations". As racist and narrow-minded as it is, this is not right. How can we tolerate such a regress of history?..

China has never provoked a war or conflict, nor has it ever invaded another country or taken an inch of land from others. In the future, no matter how strong it becomes, China shall never threaten anyone, seek hegemony or establish spheres of influence. History has proven and will continue to prove that China will not follow the beaten path of big powers seeking hegemony when it grows strong. Hegemony does not conform to China's values and national interests...

is China's construction on its South China Sea islands and reefs militarization? It is the legitimate rights of a sovereign state to carry out construction on its own territory. China built limited defense facilities on the islands and reefs for self-defense. Where there are threats, there are defenses. In face of heavily armed warships and military aircraft, how can we stay impervious and not build some defense facilities?
Defense chief calls out China on tech theft, South China Sea - AP
U.S. Acting Defense Secretary Patrick Shanahan on Saturday denounced China's efforts to steal technology from other nations and militarize man-made outposts in the South China Sea as a "toolkit of coercion," saying activities by Beijing the U.S. perceives as hostile must end.

In his first major speech on the international stage, Shanahan mixed sharp criticism of China and warnings of North Korea's "extraordinary" threat with vows that the U.S. will remain strongly committed to the Indo-Pacific region and is ready to invest billions of dollars in securing its stability.
DOD Releases Indo-Pacific Strategy Report > U.S. DEPARTMENT OF DEFENSE > News Release View
The first Indo-Pacific Strategy Report released by the Department, the document is a comprehensive articulation of DoD's role within a whole-of-government strategy for the Indo-Pacific region.  As an implementation document, the report provides clarity on the U.S. National Defense Strategy as it applies to the region and highlights the role of allies and partners in implementing our shared vision for a free and open Indo-Pacific.
China sends message at Shangri-La Dialogue amid tight media control | South China Morning Post
China used the Shangri-La Dialogue to reinforce its stance on sensitive security issues such as the South China Sea and Taiwan, but tight media control undermined its efforts to show openness...

"I didn't expect the Taiwan angle to be so pronounced … People had expected that China was going to offer reassurance to the region after an absence for so long," he said, referring to the lack of high-level Chinese representation at the forum in recent years...

Wei defended Beijing's handling of the bloody crackdown on pro-democracy protesters in 1989, saying China had no option but to use the military to repress the student movement.

The defence minister's question-and-answer session was tightly controlled, which analysts said reflected a lack of confidence from Beijing when it came to sensitive issues. Of the nearly 20 people who asked Wei questions in the session that followed his speech, none "represented American institutions".
China announces South China Sea military training exercises - AP
The China Maritime Safety Administration announced the drills were being held all day Sunday and for half a day on Tuesday in an area near China's holdings in the Paracel island group.
---
6. June 4
June 4 immunized China against turmoil - Global Times
Today's China obviously has no political conditions to suddenly reproduce the riot of 30 years ago. Chinese society, including its intellectual elite, is now far more mature than it was in 1989. In those years, China's reform was carried out prior to those of the Soviet Union and Eastern European countries. China was completely inexperienced, with an intellectual circle filled with idealism. Chinese society today has seen enough of the political tragedies that occurred in the Soviet Union, Yugoslavia and some Arab countries.

Having become politically mature, we now understand the significance of the country's continuous development through evolutions instead of revolutions. We are also aware of the difficulties and complexity at the practical level.

As a vaccination for the Chinese society, the Tiananmen incident will greatly increase China's immunity against any major political turmoil in the future.

We have noticed that every year around June 4, certain forces outside the Chinese mainland stir up public opinion and attack China. Such forces consist of two groups of people: student leaders and dissidents who fled abroad after 1989, and Western politicians and media outlets.
Taiwan urges China to 'repent' for Tiananmen, China paper says event is merely history - Reuters
"China has to sincerely repent for the June 4 incident and proactively push for democratic reforms," Taiwan's Mainland Affairs Council said in a statement likely to infuriate China.

"We earnestly admonish the Chinese authorities to face up to the historical mistake, and sincerely apologize as soon as possible."

The council said Beijing had been telling lies to cover up the events of 1989 and distorting the truth.
Tiananmen: The Crackdown That Defined Modern China - WSJ - Orville Schell $$
In hindsight, the crushing of the 1989 democracy movement was a clear indication that China's leadership understood and rejected the cost of moving onto "the right side of history" (to borrow President Clinton's Panglossian term) and joining the U.S.-dominated global order. For Americans, it was a beguiling dream and expressed a genuine desire to work things out between the two countries without provoking conflict. But it was a hope that too often overlooked just how antithetical the two countries' systems, values and perceptions of their national interests actually remained.

The limits of such wishful thinking have become more obvious since 2012, when Xi Jinping began his ascent to the top of the Chinese leadership.
China's 'Black Week-end' | by Ian Johnson | The New York Review of Books
The most recent example of history's persistence is the publication in Hong Kong of The Last Secret: The Final Documents from the June Fourth Crackdown. It is the record of a meeting of roughly thirty party elders and senior leaders that took place two weeks after the massacre. Officially known as the Fourth Plenum of the Thirteenth Party Congress, it was called by China's top leader, Deng Xiaoping, to force other party leaders to retroactively endorse his decision to use force on the protesters and to fire the Communist Party's general secretary, Zhao Ziyang, who had opposed using the military to stop the demonstrations. The officials' statements of fealty were read out loud and then printed up and distributed at another meeting a few days later for nearly five hundred party officials to "study"—in other words, to internalize as the truthful version of events. At the end of that meeting, the documents, all stamped "top secret," were collected in order to maintain their secrecy.
New Documents Show Power Games Behind China's Tiananmen Crackdown - The New York Times
For all the vitriol directed at Western influence in the newly published speeches, Deng, the party patriarch, wanted China to plow ahead with opening up to foreign investment. The officials were quick to voice their support.

"As for this fear that foreigners will stop investing, I'm not afraid," Mr. Wang [Zhen], the elderly party leader, said. "Foreign capitalists are out to make money, and they'll never abandon a big market for the world like China."
The New Tiananmen Papers - Foreign Affairs
On the 30th anniversary of the violent June 4 crackdown, New Century Press, a Hong Kong–based publisher, will publish Zuihou de mimi: Zhonggong shisanjie sizhong quanhui "liusi" jielun wengao (The Last Secret: The Final Documents From the June Fourth Crackdown), a group of speeches that top officials delivered at the gathering. New Century obtained the transcripts (and two sets of written remarks) from a party official who managed to make copies at the time. In 2001, this magazine published excerpts from The Tiananmen Papers, a series of official reports and meeting minutes that had been secretly spirited out of China and that documented the fierce debates and contentious decision-making that unfolded as the party reacted to the protests in the spring of 1989. Now, these newly leaked speeches shed light on what happened after the crackdown, making clear the lessons party leaders drew from the Tiananmen crisis: first, that the Chinese Communist Party is under permanent siege from enemies at home colluding with enemies abroad; second, that economic reform must take a back seat to ideological discipline and social control; and third, that the party will fall to its enemies if it allows itself to be internally divided.
Comment: Let's hope these new papers are more authentic than those that served as the basis of The Tiananmen Papers
He Stayed at Tiananmen to the End. Now He Wonders What It Meant. - The New York Times
Zhou [Duo] was one of four young intellectuals who helped save lives by negotiating the evacuation of protesters from the square. Thirty years later, Mr. Zhou, 72, is among the few prominent actors from the protests who remain in China and continue to defend the hopes of the 1989 movement, even while agonizing over its lessons.
Twitter Takes Down Accounts of China Dissidents Ahead of Tiananmen Anniversary - The New York Times
In a statement, Twitter said that as a part of its routine efforts to stop spam and inauthentic behavior, it had inadvertently gone after a number of legitimate Chinese-language accounts.
Comment: I don't believe in coincidences around this anniversary
---
7. Elaine Chao and her family ties to China
US Money Is Funding The Technology Behind China's Surveillance State
Millions of dollars from US university endowments, foundations, and retirement plans have helped fund two billion-dollar Chinese facial recognition startups: SenseTime and Megvii...

One Silicon Valley venture capitalist, who also requested anonymity for fear of jeopardizing business relationships, told BuzzFeed News human rights issues like those in Xinjiang may not be a consideration for institutional investors in private equity funds.

"As long as [limited partners] are making money, no one will care about human rights violations," he said. "Do you think CalPERS cares as long as they're making money?"..

A private equity investor in SenseTime who spoke to BuzzFeed News on the condition of anonymity said that his firm had weighed the human rights issues, but ultimately decided that it was an investment with significant financial upside for his limited partners. He compared his firm's investment in SenseTime to funds backing US defense companies or firearms manufacturers, stating that in those cases, investors aren't responsible for how people or governments use those products.
---
8. American profits from PRC surveillance tech
A 'Bridge' to China, and Her Family's Business, in the Trump Cabinet - The New York Times - By Michael Forsythe, Eric Lipton, Keith Bradsher and Sui-Lee Wee
Elaine Chao has boosted the profile of her family's shipping company, which benefits from industrial policies in China that are roiling the Trump administration...

Ms. Chao has no formal affiliation or stake in her family's shipping business, Foremost Group. But she and her husband, Senator Mitch McConnell of Kentucky, have received millions of dollars in gifts from her father, James, who ran the company until last year. And Mr. McConnell's re-election campaigns have received more than $1 million in contributions from Ms. Chao's extended family, including from her father and her sister Angela, now Foremost's chief executive, who were both subjects of the State Department's ethics question.
Comment: Entries 7 and 8 would seem to prove Wang Zhen's prescience, cited in entry 6, that:
"As for this fear that foreigners will stop investing, I'm not afraid," Mr. Wang [Zhen], the elderly party leader, said. "Foreign capitalists are out to make money, and they'll never abandon a big market for the world like China."
---
Business, Economy and Trade
Manufacturing Grows for Third Straight Month: Caixin Survey - Caixin "Overall, China's economy showed steady growth and resilience in May. The manufacturing sector saw demand rise from both overseas and domestic markets, and prices were stable," said Zhong Zhengsheng, director of macroeconomic analysis with consultancy CEBM Group, a subsidiary of Caixin Insight Group... "The trade tensions between the U.S. and China are having an impact on confidence, and the best way to respond to this is to boost the confidence of enterprises, residents and capital markets by carrying out favorable reforms and to undertake timely adjustments to regulations and controls," Zhong said.
China's Factories Take a Bigger-Than-Expected Hit From U.S. Trade Battle - WSJ $$ The official manufacturing purchasing managers index fell to 49.4 in May from 50.1 in April, the National Bureau of Statistics said Friday. The drop-off was expected, given that tensions have gotten worse between Washington and Beijing in recent weeks. But the fall was more precipitous than many economists forecast. Some economists said the bleaker reading is likely to exert more pressure on Beijing to boost pro-growth measures to stabilize the economy and invigorate domestic demand.
China steel groups merger set to exceed US output | Financial Times $$ According to a stock exchange filing on Sunday, China Baowu Steel Group will buy a majority stake in smaller producer Magang Steel to strengthen its "international competitiveness". The value of the deal was not disclosed. The two companies had combined crude steel output last year of 87m tonnes, surpassing total US steel output of 86.6m tonnes, according to World Steel Association data.
Everbright Securities Unit Latest to Get Sued in Wake of Bungled British Deal - Caixin A subsidiary of brokerage Everbright Securities Co. Ltd. has been sued for 3.5 billion yuan ($506.75 million) for failing to live up to an agreement related to the bungled acquisition of a now-bankrupt British media company. In its lawsuit, China Merchants Bank Co. Ltd. demanded that Everbright Capital Corp., wholly-owned subsidiary of Hong Kong and Shanghai-listed Everbright Securities, keep its promise to compensate the bank if its investment in the British sports media company, MP & Silva Holding SA, failed to pay off,
No More Fake Discounts During China's Annual 'Shopping Festivals,' Beijing Says - Caixin Global According to a policy draft China's market regulator published recently, if a seller fails to provide buyers with clear and detailed pricing facts, the behavior will be be considered "deceptive" and the vendor will be penalized.
Bank of Jinzhou Auditors Resign Citing Loan Inconsistencies - Bloomberg Ernst & Young Hua Ming LLP and Ernst & Young said in a resignation letter to the bank that there are indications that some loans to institutional customers weren't used in ways consistent with the purposes stated in documents
China central bank urges calm after Baoshang takeover - Reuters In response to concerns that regulators planned more takeovers of financial institutions, the PBOC said on Sunday that Baoshang was a standalone case. "Everyone, please don't worry. At present we don't yet have this plan," it said in a statement on its website.
MOVES-Credit Suisse hires former CLSA chair Tang Zhenyi as China CEO - Reuters Credit Suisse plans to increase its stake in its onshore China securities joint venture to 51%, subject to regulatory approvals, the bank said in April. Prior to his eight years at CITIC and CLSA, Tang spent 17 years working at China's Ministry of Finance.
Politics and Law
001: Intellectuals, protests, and freedom in Xi's China: with William Sima by On China Podcast The return to tight ideological control in Xi Jinping's China has set an extraordinary stage for the recent protest by Chinese intellectuals, most prominently, Professor Xu Zhangrun, a law Professor at Tsinghua University. Join historian William Sima and me in exploring intellectuals, protests, and freedom in Xi's China
Former Lottery Official Sentenced to 17 Years in Prison for Corruption - Caixin Global Feng Lizhi, 59, who helped oversee the China Welfare Lottery Distribution and Management Center, illegally took 5.85 million yuan ($847,000) worth of bribes — including gold bricks and property — during his official posts between 2010 to 2013, the filing said.
China to strengthen work on administrative adjudication - Xinhua The general offices of the Communist Party of China Central Committee and the State Council have jointly released a circular on improving the system of administrative adjudication and strengthening related work...With higher efficiency, lower costs and easier procedures, administrative adjudication can help facilitate quicker solutions to disputes, and serve as an important method to handle civil disputes, the circular reads.
Chinese judge accused of running US$2.9 billion business empire with her husband put under investigation | South China Morning Post Vice-president of Hainan court Zhang Jiahui earlier detained on accusations she defrauded families of convicted criminals, perverted the course of justice Former business associates denounced couple at press conference in Shanghai on May 11
"习书记提出的'滴水穿石'和'弱鸟先飞'凝成了闽东精神"--新闻报道-人民网 Study Times with more details about Xi's early days in Fujian: reading Freud, respecting elders, down-to-earth. #6 in series "Xi Jinping in Ningde"
Lessons in the Law – China Channel Campus awakenings in Beijing – by Xie Ding, translated by Natascha Bruce
Senior official of Tianjin under investigation - Xinhua Li Guowen, former member of the standing committee of Tianjin municipal people's congress, was put under investigation over suspected serious law violations, the local discipline watchdog said Friday. Li, born in 1955, successively held many leading posts in Tianjin's Jinnan District before retirement in March 2018.
Foreign and Defense Affairs
Russia, China to announce joint yuan fund to invest in Russia: RDIF - Reuters the announcement would be made at the St Petersburg International Economic Forum on June 6-8, an event chaired by Russian President Vladimir Putin. The forum will be attended this year by China's President Xi Jinping.
见证中俄关系的"黄金时期"(大使随笔-人民网 Chinese ambassador to Russia wrote in People's Daily ahead of Xi's visit to Moscow, saying the China-Russia relation is in "golden era" and that Putin and Xi had met 30 times since Xi became President.
Interview: "China a threat to liberal international order" a losing argument - Xinhua China seeks to safeguard and enhance the liberal international order, not threaten it, a think tank expert told Xinhua, refuting the view of some American politicians. Wang Huiyao, president of the Center for China and Globalization, said the remarks labeling China a menace to the liberal international order was untenable.
Journalists with Chinese state broadcaster CGTN in US denied passes to cover Congress | South China Morning Post Authorities deny CGTN America's application for renewal of credentials that give reporters access to press galleries in Senate, House of Representatives China Global Television Network employee says lack of credentials will 'damage credibility' // Comment: Still no word on who will replace the current US head Ma Jing, or when she will move back to China
China, Germany 'agree to uphold global multilateral order' in Berlin talks | South China Morning Post They also 'oppose behaviour that will damage the current order with abusive sanctions', according to foreign ministry US Secretary of State Mike Pompeo, meanwhile, met his German counterpart Heiko Maas, trying to persuade the country to shut out Huawei
Chinese vice president visits Germany, vows closer cooperation - Xinhua During his visit in Berlin, Wang met with German President Frank-Walter Steinmeier, Chancellor Angela Merkel and Foreign Minister Heiko Maas separately.
A Foot In Both Worlds: Pushing For Academic Freedom In China : NPR Some people have a foot in the U.S. and China. We visit Duke University's satellite campus in China. The vice chancellor, an American, allows debate — knowing the Communist Party is active on campus.
Arrest of Los Alamos scientist opens new front in crackdown on Chinese infiltration of U.S. labs Turab Lookman, 67, a theoretical physicist, was charged with lying on three occasions about his contacts with the Thousand Talents Plan, a Chinese government program aimed at funding and recruiting international experts. He has pleaded not guilty in federal court in Albuquerque.
The Real Origins of the U.S.-China Cold War – Foreign Policy - Hal Brands and Charles Edel U.S. officials must understand that the competition is both geopolitical and ideological. Xi Jinping's China is not Joseph Stalin's Soviet Union. But it has been working assiduously to undermine democracy and strengthen autocracy overseas, out of ideological sincerity as well as a hardheaded belief that Beijing will be more secure in a world where illiberalism has displaced liberalism. The United States and its allies need to recognize that the competition with an increasingly authoritarian, repressive, and technologically adept state is, by its nature, one that has ideological elements driving those trends.
A Tale of Murder, Revenge and a Canadian Immigrant Dream Gone Wrong - The New York Times Vancouver is riveted by the murder trial of a Chinese immigrant, accused of killing his wealthy relative. The story pulls together many strands of recent changes in the city....The accused killer, Mr. Zhao, was his poorer aspirational cousin...Also figuring in the story is Mr. Zhao's 26-year-old daughter, who found fame as a glamorous YouTube celebrity and emblem of moneyed Chinese newcomers
Taiwan
Time to bury AIT Washington: William Stanton | Taiwan News - William Stanton ,AIT Washington expends substantial U.S. government funds to maintain its office in Rosslyn, Virginia, -- whose rent alone the last time I checked cost $US 2 million per year -- performing minimal duties that could be equally well done and in a more coordinated fashion by a slightly expanded Office of Taiwan Coordination (OTC) and other offices at the State Department.
Tech and Media
Roblox targets China with Tencent education partnership | GamesIndustry.biz Together, the two companies will establish a joint venture company with an early focus on education, and a remit to teach, "coding skills, game design, digital citizenship, and entrepreneurial skills."
As China Takes Aim, Silicon Valley Braces for Pain - The New York Times Facebook, which needs all the friends and arguments it can get as it battles widespread calls for its breakup, has already seized on the China threat. It maintains it needs to be big to compete with the big Chinese companies.
Energy, Environment, Science and Health
In China, Public Talk of Sex Is Rare. Could a 'Pleasure Community' Change That? - The New York Times in China, public discussion of sex is mostly nonexistent. Sex education is typically glossed over in Chinese classrooms and usually limited to one or two "physical hygiene in puberty" lessons in biology class. Parents often avoid discussing the subject with their children altogether.
HIV upsurge in China's students | Science The number of newly diagnosed college students has seen an annual growth rate ranging from 30 to 50% over the past several years. A proactive approach is required to spread public awareness of this trend and to promote aggressive prevention and treatment measures.
Xi stresses habit of garbage sorting - Xinhua Xi, also general secretary of the Communist Party of China Central Committee and chairman of the Central Military Commission, made the remarks in an instruction on garbage sorting. "Garbage classification is related to the people's living environment and the economical use of resources. It is also an important embodiment of the level of civic-mindedness," Xi said.
In China's tech hub Shenzhen, an electric transport boom runs on state subsidies - The Washington Post Shenzhen says its switch from diesel and gasoline, completed in January, has resulted in a carbon-dioxide emissions cut of more than 1.35 million tons a year. That's the equivalent of taking 280,000 passenger cars off the road — an environmental boon in a country grappling with notorious air pollution.
Rural and Agricultural Issues
Xi's article on rural vitalization strategy published - Xinhua An article by Xi Jinping...on the rural vitalization strategy was published Saturday in the 11th issue of the Qiushi Journal this year. The article...underscored the central place on the work agenda of the Party of addressing the issues of agriculture, rural areas and rural people. http://www.qstheory.cn/dukan/qs/2019-06/01/c_1124561415.htm 把乡村振兴战略作为新时代"三农"工作总抓手 A reprint of Xi's speech last year on the utmost importance of agriculture and peasants
And here is the official logo for the 70th anniversary of the PRC founding activities: