Trump Threatens Huge Fine; Arrested Former CIA Agent Not The PRC Mole?; PRC Overseas Direct Investment Dropped In 2017; People's Daily Manifesto On Seizing "The Historic Opportunity"; Marriott's Rectification Prostration
Happy Thursday, thanks for your patience this week. I still think the biggest China news over the last few days has been the People's Daily "manifesto" article on Monday, in spite of all the focus on spies and GDP. More below, and in tomorrow's Axios China newsletter. 
Thanks for reading, and if you think any friends or colleagues would benefit from a subscription please recommend they sign up. 
---
The Essential Eight
1. Trump Threatens Beijing With Huge Fine With "Numbers That You Haven't Even Thought About"
Comment: Given his rhetoric, If Trump does not something soon Beijing will be increasingly convinced he is just another American paper tiger...And even if he does follow thorough how would he force the PRC to pay the fine?
Trump considers big 'fine' over China intellectual property theft - Reuters:
In an interview with Reuters, Trump and his economic adviser Gary Cohn said China had forced U.S. companies to transfer their intellectual property to China as a cost of doing business there.

The United States has started a trade investigation into the issue, and Cohn said the United States Trade Representative would be making recommendations about it soon.

"We have a very big intellectual property potential fine going, which is going to come out soon," Trump said in the interview...

"We're talking about big damages. We're talking about numbers that you haven't even thought about," Trump said.
China criticizes US moves on intellectual property, telecoms - AP:
China on Thursday criticized recent moves by the U.S. targeting the sale of fake goods and Chinese telecoms equipment, saying Washington lacks "objectivity" in its approach to Chinese businesses.

Separately, the foreign ministry sought to deflect accusations that China is requiring foreign firms to hand over intellectual property into order to gain market access — the basis of an ongoing U.S. trade investigation.
Go Deeper: The 100th Episode: New Realities in the U.S. China Relationship - Carnegie-Tsinghua Center:
Four years after recording the first episode of the podcast, U.S. former national security advisor Stephen Hadley joined Paul Haenle again on the 100th episode to discuss how U.S. foreign policy has adapted to new realities in the bilateral relationship amidst a shifting global order.
---
2. Was The Arrested Former CIA Agent Not The PRC Mole?
Comment: The public may never know, but I certainly hope the CIA knows, or will find out. It appears the FBI caught him cold mishandling classified information but that he will not be prosecuted for espionage. The leaks around this case, last year and now, have been interesting. It looks like there may still be a split in the community over what really happened. As I wrote yesterday, this case does help give some context to the PRC's stepped up efforts against foreign spies since 2012. The paranoia is not unwarranted.
Hunting a C.I.A. Mole, Agents Gambled and Let a Suspect Return to China - The New York Times:
When the C.I.A. noticed in late 2010 that its spies were disappearing, suspicion did not immediately turn to Mr. Lee, according to current and former officials. But as fears of a mole grew, the government set up a secret task force of C.I.A. officers and F.B.I. agents..

As the disappearances continued, analysts concluded that Mr. Lee, even though he had been out of the C.I.A. for years, had known the identities of many of the those who had been killed or imprisoned. He showed all the indicators on a government matrix used to identify potential espionage threats, one former official recalled...

Some former officials who reviewed the evidence described the case against Mr. Lee as strong but circumstantial, not bulletproof. Some at the C.I.A. argued that officials were too quick to suspect a mole — especially a Chinese-American — when there were other explanations.
Spies fear former CIA officer may not face justice for suspected role in exposure of sources in China  - The Washington Post:
The probe began in late 2011 when a worried FBI informant in China told his American handlers that everyone he knew who was helping the U.S. government was being discovered by the Chinese authorities and then being made to work for them, said a former U.S. official with knowledge of the events...

One by one, assets were being flipped — or in a smaller number of cases, killed, the former official said...

For all the suspicion and scrutiny Lee has drawn, officials with knowledge of his case said it is unlikely that he will be charged with more serious offenses, such as divulging classified information to the Chinese. There is no evidence, as yet, that Lee actually gave classified information to a foreign government...

"Absent any proof, there's not much you can do with it," one former official said. "There's lots of smoke around this guy. They couldn't prove anything."
The Global Times, as expected, has weighed in and is playing the race card. 
Witch hunt in US endangers Chinese community - Global Times:
It's been acknowledged worldwide that in collecting intelligence there is no limit to the means used by US agents. This is adored in the country, as shown by Hollywood movies.

China is different. It never puts intelligence-gathering above overall diplomacy, nor does it turn overseas Chinese into informants.

The US seems to be mobilizing a mass movement to chase down Chinese "spies" and "penetrators." If this continues, many Chinese will be wronged and the whole Chinese community will come under much pressure, tangible or not. This will undermine their human rights.

With nearly $600 billion in annual trade, China and the US are bonded by a huge common interest and can't become enemies in traditional terms. China lags far behind the US. It cannot compete on the same level. US elites should feel ashamed of portraying China as an aggressive country disregarding all rules.
And Global Times editor Hu Xijin discussed the case in his most recent English-language Twitter video commentary:

How could an ex-CIA agent be stupid enough to carry around a record of his treason in his luggage? Is the entire #CIA made up of such idiots: Editor-in-Chief Hu Xijin #HuSays pic.twitter.com/Tsrgp20J8U
January 17, 2018
---
3. China's US Treasury Holdings Drop But No Reason For Concern
China's Holdings of Treasuries Slump to Lowest Level Since July - Bloomberg:
China's holdings of U.S. bonds, notes and bills decreased 1.1 percent $1.18 trillion in November from the previous month, according to Treasury Department data released Wednesday in Washington. That was the second monthly drop in three months. China remained the biggest foreign holder of U.S. Treasuries, ahead of Japan, which owned $1.08 trillion, down 0.9 percent from October and the lowest level in more than four years. That was the fourth straight month of decline in Japan's holdings
A Few Words on China's Holdings of U.S. Bonds | Council on Foreign Relations - Brad Setser:
1) China's reserves are a bit higher than formally reported.--BY about $60 billion

2) China's Treasury holdings are also a bit higher than formally reported. - up from $1190 billion to just over $1250 billion

3) China doesn't just hold U.S. Treasuries! China's reserve managers at the State Administration of Foreign Exchange (SAFE) have long had a significant Agency portfolio, and a decently sized U.S. equity book.-China's total U.S. bond holdings are closer to $1.5 trillion than $1.2 trillion

Something interesting happened in 2017. Rather than funding, in a deep sense, their external lending out of China's current account surplus (during the good years) or out of reserves (in the bad years), they funded their external lending last year by raising their external borrowing. That shift explains a decent part of the stabilization of China's reserves in 2017.
---
4. Chinese Overseas Direct Investment Drops in 2017
Comment: 2017 was not the banner year bankers and financial service providers were expecting, and there is little reason for optimism in 2018, given the PRC crackdown on overseas investments and the increasing hostile environment in Western countries to PRC investment in a growing number of "sensitive" sectors.
Crackdown Casts Chill on Overseas Investment - Caixin Global:
The nation's ODI plunged by 29.4% last year to about $120 billion, according to the Ministry of Commerce, (link in Chinese ) marking the first decline for the figure since the government started publishing data in 2003. The figure does not include investments in the financial sector. The ministry cited government policies aimed at dampening "irrational investments" as a factor behind the decline...

The commerce ministry noted that no new outbound investments were recorded from the real estate, sports and entertainment sectors during the year, even though a number of major deals in those areas were announced.
Chinese FDI Squeezed in 2017 by Regulatory Crackdowns at Home and Abroad | Baker McKenzie:
Chinese investment in Europe and North America stuttered in 2017 against a backdrop of the country's first fall in FDI globally since 2006, according to early data from global law firm Baker McKenzie's forthcoming annual report on Chinese FDI trends, produced in partnership with leading China analysts Rhodium Group.

Levels of investment in North America fell 35% in 2017 to $30 billion. Europe looked healthier on the face of it at $81 billion - up 76% - but solely due to the delayed completion of ChemChina's record $43 billion takeover of Swiss agribusiness company Syngenta. Without this megadeal falling into 2017, Chinese investment would have fallen 22%, to $38 billion.
Rhodium Group » Chinese FDI in the US in 2017: A Double Policy Punch:
After a record 2016, Chinese direct investment in the United States dropped by more than a third (35%) in 2017 to $29 billion of consummated deals. In terms of new activity, the drop was even sharper – the value of newly announced Chinese acquisitions in the US dropped by 90% compared to previous year. Much of the decline was attributable to Beijing's regulatory crackdown on outbound capital flows, but growing regulatory hurdles in the US – mostly more complications getting clearance from the Committee on Foreign Investment in the United States (CFIUS) – was the second punch to Chinese investors.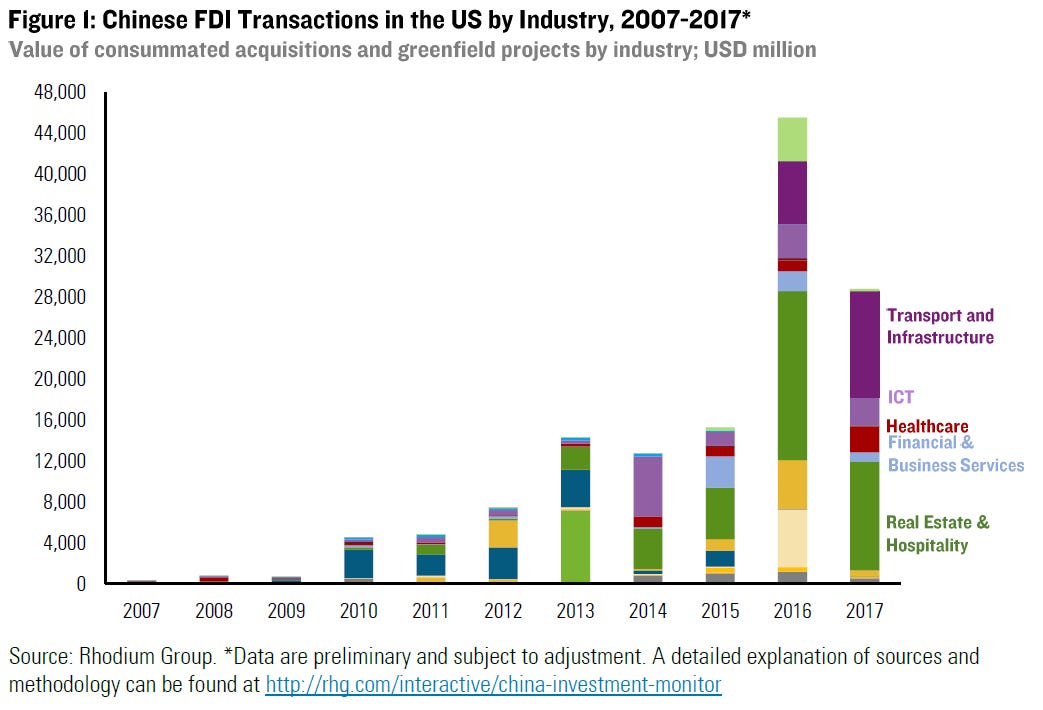 ---
5. More on The People's Daily Manifesto On Seizing "The Historic Opportunity"
Comment: I am surprised how little attention this has gotten in Western media so far. It was the lead item in Monday's newsletter, and if a full translation becomes available I will post a link to it. The article of course has a strong domestic focus, in terms of the emphasis on strengthening China, the Great Rejuvenation and its primary audience--PRC cadres and citizens. But there no doubt this is further evidence of the seriousness of the broader global vision articulated at the 19th Party Congress. The PRC is not getting back into the business of exporting revolution but Xi, Wang Huning and their Marxist theoreticians see a remarkable opportunity to reshape the global order in ways that legitimize the PRC political system and create more strategic leverage and advantages for the PRC. 
Make China great again: Communist Party seeks to seize 'historic' moment to reshape world order | South China Morning Post:
The world is in chaos, giving the Communist Party a "historic opportunity" to make China great again and reshape the world order – at least that was the message the party sought to drive home in a high-profile opinion piece in its flagship newspaper this week...

The commentary cheered China's progress under the party's leadership, and listed the numerous ills facing the world and its Western-centred order, ranging from flaws in democracy and existing global governance to the threats of terrorism and climate change. ..

The commentary was published under the byline "Xuanyan", or "Manifesto", which like various prominent pseudonyms in the paper suggests it is the official voice of the party or a party department, rather than the opinion of an individual columnist.

The amount of publicity the article has received from the propaganda machine also sets it apart. In addition to dominating headlines on party media outlets and online news portals, it was promoted on social media the night before it went to press – rare treatment for commentaries in the paper. [That is where I first saw it]
China to firmly grasp historic opportunity - Global Times:
China has a mature strategic rationality after years of exploration. It doesn't pursue confrontational expansion and instead values win-win cooperation. China prioritizes the improvement of people's livelihoods and is patient in addressing international affairs, heralding its steady development.

Despite Western predictions of collapse, China's development has seen an upward trend. As long as China insists on a practical and realistic working style, it will avoid fundamental mistakes and ensure a bright future. How to grasp the historic opportunity is a test for the CPC, the country and the society. We must be confident and meanwhile stay on high alert to potential risks and challenges. Chinese society's consensus on allegiance to the CPC and General Secretary Xi is the political basis for the nation's great rejuvenation.
The People's Daily Overseas edition "Haiwang Lou" column, this one written by the deputy director of the Renmin University's Xi Jinping Thought on Socialism with Chinese Characteristics for a New Era Research Center, says China's "period of opportunity is also the world's period of opportunity"--海外版望海楼:中国机遇期也是世界机遇期--观点--人民网-人民日报海外版 - 王义桅:
大有可为的机遇期,造福中国也造福世界。从增长贡献、贸易贡献,到减贫贡献、绿色贡献,再到发展经验贡献、社会治理经验贡献,今天的中国,已经成为世界经济增长的主要动力源和稳定器,成为世界和平发展、人类文明进步的重要维护者和推动者。世界好,中国才能好;中国好,世界会更好。中国机遇期,也是世界的机遇期。-(作者为中国人民大学习近平新时代中国特色社会主义思想研究院副院长) 
Zhang Shouying, the Deputy Chief Editor of People's Daily, penned a 1.18 piece on page 7 of the paper about the "theory of Chinese thought" going out into the world, on the one year anniversaries of Xi's speeches to Davos and the UN in Vienna--人民日报思想纵横:中国思想理论进入世界的鲜亮标志--观点--张首映:
2017年1月17日,在达沃斯世界经济论坛年会上,习近平主席发表题为《共担时代责任  共促全球发展》的演讲;第二天,1月18日,在联合国日内瓦总部,习近平主席发表题为《共同构建人类命运共同体》的演讲。这两篇演讲引发强烈反响,当月媒体报道和评论超万条。国际舆论普遍认为,这两篇演讲顺应世界发展大势,反映世界人民心声,为人类发展指出一条康庄大道。一年来,联合国和众多国际组织的有关文献多次引用这两篇演讲的主题和内容,国际政商界、思想文化界等反复提及这两篇演讲,其影响在持续扩大..

拿破仑曾说:"中国是一头沉睡的狮子,让它继续熟睡吧,因为当它醒来时,整个世界都会为之颤抖。"这两篇演讲带给世界的是和平、发展和希望,不是什么"颤抖";同时,也在叫醒那些仍在沉睡甚至昏睡的人们,看清我国与世界关系发生的历史性变革,发现并解答当今世界共同关心的重大问题、人类今天特别关注的重大课题,求真理、去谬误,增自信、去盲从,增创新、减沿袭,增国际性、去狭隘性,为解决民族复兴的实践问题添加更多有效思想理论供给,为我国思想理论走向世界、走进世界、影响世界奉献更多真知灼见,为人类社会发展提供更多新的参照和启迪、借鉴和选择。
US slips behind China in new global leadership poll - CNN:
The Gallup poll puts global approval of US leadership at just 30%, slightly behind China on 31% and only three points ahead of Russia. Germany is now the top-rated global power in the world, with an approval rating of 41%, according to the survey.

The US rating is down nearly 20 points from the 48% approval rating in the last year of President Barack Obama's administration, Gallup said. It's also four points lower than the previous low of 34%, seen in the final year of George W. Bush's presidency.
---
6. Is Xi Jinping's Party-state The Legitimate Heir of Mao's China?
Comment: Remember, Xi made it clear that the Mao era can not be completely negated (11.8.2013 People's Daily 正确看待改革开放前后两个历史时期). Xi does not want a return to the chaos and destruction of the Great Leap Forward and the Cultural Revolution, as he knows that road will not lead the Great Rejuvenation. But he does appear quite Maoist in much of his world view, though exporting revolution is not part of the agenda, and in his approach to eliminating political rivals and social control, albeit with much better technology. Remember those arguments that ideology was dead?
White Paper, Red Menace – China Heritage - — Geremie R. Barmé:
As mentioned above, Mao's On the People's Democratic Dictatorship (30 June 1949) is essential background reading to his essays on the White Paper. This, along with his observations on America in 'Friendship' or Aggression? "友谊", 还是侵略?, are also worth reconsidering in light of the anti-liberal campaign pursued by Xi Jinping's government since late 2012. This on-going, 360-degree ideological and police action has focussed in particular on China's rights lawyers, ethnic minorities, men and women of conscience, religious groups and various marginal and dispossessed individuals (see, for example, The Five Vermin 五蠹 Threatening China). Xi Jinping's party-state is the legitimate heir of Mao's China; its ideology is underpinned by the ideas and actions of Mao and the co-founders of the People's Republic.

If one presumes to watch China, one should not fail to see this.
---
7. HNA In Crisis Mode?
Comment: Crisis PR looks to be kicking in, while the company turns to employees for financing. Neither are encouraging signs. 
China's HNA Group, squeezed on cash, looks to turn corner - Reuters:
HNA Group chairman Chen Feng has expressed confidence that China's aviation-to-financial services conglomerate will manage its cash crunch, and continue to receive support from banks and other financial institutions this year.

The liquidity problem exists "because we made a big number of mergers", even as the external environment became more challenging and China's economy "transitioned from rapid to moderate growth", impacting the group's access to new financing, Chen told Reuters in a rare meeting.
China's HNA Group Pitches Its Employees An Investment That Could Yield 39% - MoneyBeat - WSJ
Chinese conglomerate HNA Group, which needs to pay off billions of dollars in debt this year, has come up with another way to raise money from its employees. HNA recently pitched its employees a new investment product that promises a minimum annualized return of 9.5% and that could potentially yield as much as 39%, according to documents reviewed by the Wall Street Journal.
---
8. Marriott's Rectification Prostration
Marriott announces 'rectification plan' to regain trust - China Daily:
"This is a huge mistake, probably one of the biggest in my career," said Craig S. Smith, president and managing director of Marriott's Asia-Pacific office, who has been working with the company for three decades.

"To regain confidence and trust, the first thing is to admit the mistake, then fix it, and it would come back slowly as we prove we really mean what we say," Smith told China Daily in Shanghai on Wednesday, one day before the company's digital platforms are scheduled to be back online.

The eight measures to be taken, especially in the next 90 days at an intensive pace, include expanding employee education globally, creating straightforward complaint channels for Chinese customers, and more strictly supervising the work of third-party agents for projects largely targeting the China market.

In a statement issued with the rectification plan, it noted that the company has made "two significant mistakes that appeared to undermine Marriott's long-held respect for China's sovereignty and territorial integrity"...

After identifying its errors, the company has taken the survey offline, "unliked" the post, shut down its six websites and apps in Chinese, and put a freeze on its social media across the world. The CEO has volunteered to issue an apology.

It has also terminated the contract with the third-party vendor that built the survey, a Canadian company that Marriott has been working with for a long time, and with the US-based employee who "liked" the tweet.
The Shanghai Cyberspace administration announces the company has agreed to * items for rectification,--上海网信办:万豪国际集团推出八项整改措施--社会--人民网
The main culprits appear to have been a Canadian vendor and a US-based employee. Through this incident the PRC government has punished a US firm for the activities of a US-based employee on a US-based social media platform that is blocked in China. That seems significant...
---
Business, Economy, Finance And Trade
China Posts First Full-Year Growth Pickup Since 2010 - Bloomberg Reflation was also key to boosting company profits and raising their ability to service debt. The GDP deflator for the full year, a gauge of economy-wide inflation, came in at 4.33 percentage points, while nominal growth accelerated to 11.2 percent. GDP in those terms grew to 82.7 trillion yuan ($12.9 trillion) -- up 8.4 trillion yuan in the year.
China's Economic Growth Looks Strong. Maybe Too Strong. - The New York Times The Conference Board's results suggest the current uptick is real. But the board worries that much of the growth has come from recent lending, despite China's already huge accumulation of debt in previous years. "We think the recovery is real," said Yuan Gao, the senior economist in the Beijing office of the Conference Board. "We're just concerned that a lot of it is built on bad debt."
Apple to Pay $38 Billion in Taxes on Cash Overseas, Build New U.S. Campus - WSJ Comment: Any chance this is also part of a longer-term plan to reduce reliance on China supply chains given the risks of a US-China trade war? Replacing the 20% or so of revenue China contributes will be harder than reworking the supply chain to reduce reliance on the PRC
China Home Sales Rose to All-Time High Last Month Despite Curbs - Bloomberg Sales by value, excluding affordable housing, jumped to a record 1.45 trillion yuan ($225 billion) in December, gaining 21 percent at the fastest pace in six months, according to Bloomberg calculations based on data released Thursday by the National Bureau of Statistics. Earlier today, home price data pointed to a similar acceleration.
China's New Home Prices Rise in Most Cities in Six Months - Bloomberg New-home prices, excluding government-subsidized housing, in December rose in 57 of 70 cities tracked by the government, compared with 50 in November, the National Bureau of Statistics said on Thursday. Prices fell in 7 cities from the previous month and were unchanged in six. "China's property prices are going to go up, not just in 2018, but possibly in the next three to five years," Nicole Wong, a CLSA Ltd. property analyst in Hong Kong, told Bloomberg Television, citing an undersupply of land over the past three years.
China's Companies on Notice: State Preparing to Take Stakes - Bloomberg Much of the overhaul of state-owned enterprises under Xi has focused on a consolidation in the hundreds of sprawling units across the country, such as those that have reshaped the shipping and train-making industries. But a lesser-noticed part of the broad "mixed ownership" initiative features SOEs being encouraged to take stakes in private companies.
China civil servants lend cash to local government - FT $$ Since 2015 an online lending platform in Baotou, Inner Mongolia, has raised about Rmb1.2bn ($187m) for government projects in the city of 2.9m people. About half of the platform's clients are government officials, according to people familiar with the financing scheme.
US Approves Chinese Acquisition Of Semiconductor Manufacturing Equipment Firm Akrion Systems – China Money Network Chinese state-owned semiconductor manufacturing supplier Naura Microelectronics Equipment Co., Ltd announced that it had completed a US$15 million acquisition of U.S. company Akrion Systems LLC, a supplier of surface preparation for solar and semiconductor devices. The deal is said to be the first Chinese acquisition of a U.S. company to be approved by CFIUS under the Trump administration.
Beijing's Property Restrictions Depend on Who You Are - Bloomberg Selected Chinese companies are being allowed to acquire assets offshore.
Unicom Option Plan Invokes Excitement, Worry - Caixin Global To cut bloat and boost earnings, the massive state-owned company has embarked on a massive reform campaign since summer, when it officially introduced private investors like Tencent Holdings Ltd., Baidu Inc. and Alibaba Group Holding Ltd. under a mixed-ownership reform pilot program being promoted by Beijing. As part of the program, the company has also launched a massive reorganization to become more lean and efficient, including stricter employee performance reviews. Employees selected to participate in the equity incentive plan, already considered the company's most valuable personnel, will still have to meet high targets in order to redeem their shares in three portions over a five-year period.
Growth of Beijing housing loans slows in 2017 - Xinhua New loans for house purchases accounted for 20.2 percent of the total new RMB loans in 2017, down 20.1 percentage points year on year. Outstanding home loans in Beijing were 966.4 billion yuan at the end of last year, up 136.6 billion yuan year on year. The growth was 25.2 percentage points lower than in 2016.
China ramps up aluminum output in Dec amid new capacity launches - Reuters Paul Adkins, managing director of consultancy AZ China, said 357,000 tonnes of annual smelting capacity came on line last month. He also pointed out that December has one more day than November, which means 3 percent, or 87,000 tonnes, more metal production. The data will likely stir the debate about the government's years-long push to get rid of excess capacity
Regulator Raises Bar for Privately Placed Bonds - Caixin Global The move is the latest sign that the China Securities Regulatory Commission (CSRC) is tightening its grip on the corporate bond market in the wake of several default scandals that undermined investor confidence. The CSRC barred the country's brokerages from underwriting privately placed bonds for companies whose key subsidiaries have defaults on their records, and to shelve issuances for companies that have received warnings or fines from stock exchanges or self-regulatory bodies within the last six months, according to a regulation amendment sent to securities firms on Jan. 15. Caixin has seen the document.
Regulator Steps Up Oversight On How Insurers Finance Local Governments - Caixin Global The China Insurance Regulatory Commission and the Ministry of Finance will more closely supervise insurance funds used to finance local governments. Insurance firms cannot provide funding to local governments through illicit means, and local governments will not be allowed to provide illegal guarantees to insurers, according to a document the agencies released on Thursday.
China Loosens Government Grip on Airlines - Caixin Global China will relax restrictions on private investment in the airline industry, reducing the required government ownership of the country's three biggest airlines to be less than 50%. The rule — which also said the government still needs to be the largest shareholder — will take effect Friday.
Insurance Regulator Gets Risks Covered - Caixin Global The China Insurance Regulatory Commission (CIRC) on Wednesday published a list of the major sources of risk and named the regulators responsible for taking the lead on tackling each one. Prominent risks included improper shareholding structures and inappropriate use of funds. Every regulator named, including city and provincial-level insurance and inspection bureaus, is supposed to draft a road map with a timetable, listed priorities and people responsible for dealing with major risks in the industry, such as internal governance and related-party transactions.
Politics, Law And Ideology
State Council pledges to closely follow CPC Central Committee with Xi at the core - Xinhua At a meeting presided over by Premier Li Keqiang, the leading Party members' group of the State Council discussed work on full and rigorous Party management within the government. The State Council will "firmly safeguard Xi's status as the core of the CPC Central Committee and the whole Party, and the authority and centralized, unified leadership of the CPC Central Committee," said the statement issued after the meeting. The cabinet will strictly follow political discipline and fully implement decisions by the Party leadership in government work, the statement said.
China Uses Facial Recognition to Fence In Villagers in Far West - Bloomberg China's state surveillance apparatus is trying out a new tool in one of its favorite test beds, the restive region of Xinjiang. The Muslim-dominated villages on China's western frontier are testing facial-recognition systems that alert authorities when targeted people venture more than 300 meters (1,000 feet) beyond designated "safe areas," according to a person familiar with the project. The areas comprise individuals' homes and workplaces, said the person, who requested anonymity to speak to the media without authorization.
More than 71,000 punished for frugality violations in 2017 - Xinhua A total of 71,644 people were punished in 2017 for violating the Party's eight-point frugality code, according to the top anti-graft body of the Communist Party of China (CPC). They were involved in 51,008 cases, said a notice on the website of the CPC Central Commission for Discipline Inspection (CCDI).
Publicity official calls for increasing fight against illegal publications - Xinhua Huang Kunming, head of the Publicity Department of the CPC Central Committee, spoke of a positive and healthy social and cultural environment at a national teleconference. Authorities should strengthen supervision and punish the online spread of pornographic and vulgar information and make the Internet a cleaner space, said Huang. He called for punishing fake journalists, unauthorized news organizations and reporter stations. 黄坤明在全国"扫黄打非"工作电视电话会议上强调大力营造积极健康的社会文化环境 
人民日报:实现中华民族伟大复兴的必由之路--观点--人民网 ——学习《习近平谈治国理政》第二卷关于坚持和发展中国特色社会主义的重要论述 夏春涛  //  Comment: A researcher at CASS' Xi Jinping Thought on Socialism with Chinese Characteristics for a New Era Research Center on studying the second volume of Xi's Governance of China, page 7 1.18 People's Daily
男子抢劫杀人潜逃16年后成寺庙住持 - 深度 - 新京报网 accused murderer found 16 years later in hiding as a monk
行政立法程序首度修改 "红头文件"如何不再任性_政经频道_财新网 出台16年后,行政法规、规章制定程序条例双双获得更新。学者评价,修改后的两部条例新增行政法规、规章清理制度及公开征求意见制度,值得肯定,但实践中政府大量依靠"红头文件"治理,应将这类文件纳入法律规范轨道,避免"任性"。
Foreign and Military Affairs
China: Rights Crackdown Goes Global | Human Rights Watch China increasingly used its growing global influence to undermine human rights protections abroad, Human Rights Watch said. At the United Nations, China worked consistently to silence criticism of its human rights record and took actions to weaken central UN human rights mechanisms. In June, the European Union failed for the first time to deliver a statement on China under a standing agenda item at the UN Human Rights Council, because Greece, a council member, was unwilling to criticize human rights violations in China, with which it has substantial trade ties.
The Chinese Are On The Verge Of Dominating A New Domain: Near Space The Chinese efforts to achieve parity in battle network-guided weapons warfare, to develop counter-network capabilities, and to pursue assassin's mace capabilities are well known and remarked upon. Any of these developments would be problematic for U.S. operational planners. But the Chinese move to dominate near-space operations with HGVs is less appreciated, despite being perhaps the most challenging development so far of China's drive to become a peer military competitor with the United States. - Robert Work was deputy secretary of defense from 2014 to 2017.
China fights for Iran deal to fulfill its own geo-economic interests | Mercator Institute for China Studies Trump has given the backers of the Iran deal a 120-day ultimatum to fix what he calls "disastrous flaws" in the pact. Both the EU and China will do all they can to save the Joint Comprehensive Plan of Action (JCPOA) as the Iran deal is officially called. China's desire for the deal to survive arises from three main factors: a wish for stable relations with the United States, the challenge posed by a nuclear North Korea, and Beijing's high priority Belt and Road Initiative. Should the Iran nuclear deal withstand US pressure, China looks set to gain geopolitical influence thanks to facilitated economic exchanges. Should the deal fail, China risks losing geo-economic stability in a region that is key to its own strategic interests.
Xi's special envoy to visit Cuba - Xinhua General Secretary of the Communist Party of China (CPC) Central Committee Xi Jinping's special envoy Song Tao will begin his visit to Cuba Sunday. Song, also head of the International Department of the CPC Central Committee, will update his host on the 19th CPC National Congress during his Cuban trip, the International Department said Thursday.
Key quotes from Reuters interview with Trump - Reuters "I spoke with President Xi (Jinping) the other day, who I have a great chemistry with, I have a great relationship with.     "They're doing a lot ... But they can do more. Ninety-three percent of the trade goes through China. "Russia's not helping us at all with North Korea. He (Russian President Vladimir Putin) can do a lot. But unfortunately we don't have a relationship - I think it's too bad, but unfortunately we don't have much of a relationship with Russia, and in some cases it's probable that what China takes back, Russia gives. So the net result is not as good as it could be."
Olympic Détente Upends U.S. Strategy on North Korea - The New York Times For the United States, the fear has been that North Korea's gestures will drive a wedge between it and its ally, South Korea. So far, the two allies have stayed in sync, said Daniel R. Russel, who served as assistant secretary of state for East Asian affairs in the Obama administration. "But it will be harder and harder to insure that South Korea and the U.S. stay closely aligned," he said. "You have a fundamental tension between a progressive government in Seoul and a hawkish government in Washington."
The Guardian view on China's spreading influence: look in the gift horse's mouth | Editorial Casting light on the issue is by far the most important step. Democracies must delve into areas that may prove embarrassing. They need the capability to do so – starting with language skills. Working together would help. In places, laws may need to be tightened, though with care: banning foreign political donations is a basic step. For this issue says as much about the west as China. Beijing's keenness to control speech is manifest, while influential figures and institutions in democracies proclaim lofty ideals – then fall prey to gullibility or greed. China's influence would not go very far without the western hunger for its cash.
Raisina Dialogue: China's new infrastructure in Doklam temporary in nature, says Army Chief Infrastructure development by China's People's Liberation Army (PLA) in the Doklam Plateau is temporary in nature, Chief of Army Staff General Bipin Rawat said on Wednesday during an interactive session at the Raisina Dialogue in New Delhi.  "As far as Doklam is concerned PLA soldiers are there in a part of the area, although not in numbers that we saw them in initially. They have carried out some infrastructure development, which is mostly temporary in nature," General Rawat said.
驻旧金山副总领事勉励留学生:当好促进中外友好交流的"民间大使"--国际--人民网 Comment: Chinese consulate in San Francisco holds a symposium to study the December 30 letter Xi Jinping sent to PRC students studying in Moscow. Nearly 20 representatives of PRC overseas student groups in the Bay Area attended  //  人民网旧金山1月14日电 (张洁娴)当地时间1月14日下午,中国驻旧金山总领馆举办座谈会,深入学习中共中央总书记、国家主席、中央军委主席习近平去年12月30日给莫斯科大学中国留学生的回信。 中国驻旧金山副总领事查立友、总领馆教育组工作人员,以及来自旧金山湾区近20个中国留学生社团的代表出席,结合自身经历,分享学习回信的心得。
How China's military is girding for battle, and what it means for neighbours | South China Morning Post Another Beijing-based military analyst, Zhou Chenming, said China had begun stepping up its military training under Xi's predecessor, Hu Jintao, but was now more confident about letting the world see its combat capabilities. "The reasons outsiders only began to notice the increased frequency and improved quality of PLA training from 2013 were that the US demanded more transparency from the Chinese military and that President Xi Jinping is more confident about giving PLA exercises a higher profile, something that can help Beijing send messages to neighbouring countries and Taiwan," he said.
January 10 US State Department Travel Advisory on China Exercise increased caution in China due to the arbitrary enforcement of local laws and special restrictions on dual U.S.-Chinese nationals. Chinese authorities have the broad ability to prohibit travelers from leaving China (also known as 'exit bans'); exit bans have been imposed to compel U.S. citizens to resolve business disputes, force settlement of court orders, or facilitate government investigations. Individuals not involved in legal proceedings or suspected of wrongdoing have also be subjected to lengthy exit bans in order to compel their family members or colleagues to cooperate with Chinese courts or investigators. U.S. citizens visiting or residing in China have been arbitrarily interrogated or detained for reasons related to "state security." Security personnel have detained and/or deported U.S. citizens for sending private electronic messages critical of the Chinese government. China may refuse to acknowledge dual U.S.-Chinese nationals' U.S. citizenship, including denying U.S. assistance to detained dual nationals, and preventing their departure from China. If a dual U.S.-Chinese national enters China on a Chinese government travel document, such as, but not limited to, a Chinese passport or a national ID card, U.S. consular officers will not be allowed to visit the individual or assist in interactions with the Chinese government should the individual be arrested, detained, or involved in criminal or civil investigation.
七部门:中央单位要大力推动军民融合创新-新闻-上海证券报·中国证券网 中国证券网讯 记者18日从国家发改委获悉,为进一步发挥中央部门所属高等学校和科研院所、中央企业所属单位在全面创新改革试验中的骨干引领和示范作用,坚决破除制约创新的体制机制弊端,纵深推进区域全面创新改革试验,加快创新型国家建设,国家发展改革委、教育部、科技部等七部门发布通知,中央企业要在承担军民深度融合改革试点任务的改革试验区域选取试点单位,积极推进军工企业股份制改造和混合所有制改革。
Taiwan
China destroys Taiwanese foods over origin label - Taipei Times China has destroyed several shipments of imported Taiwanese food products after companies failed to label them as produced in "Taiwan Area (台灣地區)" or "Taiwan Area, China (中國台灣地區)," as required by Chinese officials, businesses said.
Tech And Media
For These Entrepreneurs, Silicon Valley Is, Like, Lame - WSJ the trip to Silicon Valley is something of a rite for ambitious Chinese startups and investors looking for inspiration in global tech's mecca of innovation.  But for most of the 18 entrepreneurs and investors, and especially for those in their 20s and 30s, last week's visit largely failed to impress. To many in the group, northern California's low-rise buildings looked shabbier than the glitzy skyscrapers in Beijing and Shenzhen. They can't believe Americans still use credit cards and cash while they use mobile payment for almost everything back home, including settling bets for their Texas Hold'em games one night in Palo Alto.// Comment: Yes but, how many successful China tech execs and investors have bought homes in Silicon Valley and moved their families there? When so many of the tech elite stop thinking the US is a better place for their kids, their IPO listings and some of their wealth then the US should really worry?
Google China 2.0 and the Ethics of AI Engagement - MacroPolo  Regardless of what happens at the Google AI China Center, the country's own AI experts and security apparatus already have the tools needed to create a comprehensive surveillance state.
Deals Slide in China's Technology, Media and Telecom Sector - Caixin Global Mergers and acquisitions in China's technology, media and telecom (TMT) sector dropped in 2017, according to a new report. Both the number and value of TMT transactions declined in 2017 from the previous busy deal-making year, said leading investment bank China Renaissance in its report released Wednesday.
Jerry Yang of Yahoo: Why I Believed in Alibaba - Sinica GGV Capital's Hans Tung and Zara Zhang interview Jerry Yang, the founder and former CEO of Yahoo, who orchestrated arguably the best deal in tech history: In 2005, he arranged for Yahoo to invest $1 billion for a 40 percent stake in fledgling Chinese ecommerce site Alibaba at a post-money valuation of $5 billion. Today, Alibaba is worth almost half a trillion dollars. During the interview, Jerry conducts a postmortem for Yahoo's China strategy, and offers advice for U.S. tech companies looking to expand into China. //Comment: GGV Capital's Tung and Zhang also publish a useful tech newsletter, interesting to watch them work to raise their media profiles
China's JD.com says will invest over $3 billion in "rustbelt" regions - Reuters Chinese online retailer JD.com will invest more than 20 billion yuan ($3.11 billion) in the country's northeastern "rustbelt" regions over the next three years, the Xinhua news agency reported on Thursday, citing the company.
Mobile Dating Game Puts 4 Men in Your Pocket - Sixth Tone Li is one of four characters in "Evol LoveR" — called "Love and Producer" in some English-language reports — a dating simulation mobile game that has become a massive hit since its Dec. 14 release. Developed by Nikki Games, which specializes in games for women, "Evol LoveR" is an example of a Japanese romance game genre known as otome, which often features a sentimental plot, beautiful animation, and voice actors. According to ASO100, a data analysis website for mobile apps, the game has been downloaded 3.73 million times in the last 30 days.
Google and Huawei partner to bring RCS to millions via Jibe and Android Messages app | VentureBeat Google has nabbed a notable partner in Huawei as it strides forward in its quest to push Rich Communication Services (RCS) to the masses. The Chinese smartphone giant announced today that it will be making Google's Android Messages app its default messaging app across all its devices.
Society, Art, Sports, Culture And History
Sexual harassment victims on Chinese campuses encounter post-deleting, threats when speaking up - Global Times Luo assembled mobile phone screenshots and recordings she received from other victims proving Chen's sexual harassment and also got in touch with members of the disciplinary committee at BUAA. She felt relieved. But almost instantly, there came repercussions. Some posts on Weibo and WeChat concerning Chen were mysteriously deleted. Chen also phoned the woman who had provided the phone recordings to Luo and threatened her, saying he was a candidate to become vice dean of BUAA. In January, Luo and Huang decided to publicly disclose their information. But soon thereafter, more posts published on the ATSH (anti-sexual harassment) WeChat account were also deleted. Among the disappeared posts was a joint letter written by BUAA students demanding that an anti-sexual harassment mechanism be established on campus. It included specific suggestions included regulations, lectures, training, punishment and even psychological consulting centers. In previous cases, some women experienced pressure from school authorities hoping to suppress their accusations before it could ruin the school's reputation.
Energy, Environment, Science And Health
Northern China's Hebei province home to six of 10 smoggiest cities, environment ministry says | Reuters Six of China's 10 smoggiest cities in 2017 were in the northern province of Hebei, unchanged from the previous year, despite a campaign to improve air quality during the winter when smog levels peak, the environment ministry said on Thursday.
China Focus: China introduces toughest ever regulation on land reclamation - Xinhua The State Oceanic Administration (SOA) said Wednesday that it would demolish or shut down all illegally reclaimed land and illegally established waste discharge outlets that damage the marine environment. Lin Shanqing, deputy director of the SOA, said at a press conference that reclamation projects that did not concern the national economy and people's livelihoods would not be approved in future. "Reclamation projects that have been approved but have not started and do not comply with the current policy will all be stopped," Lin said, adding that the administration would also stop giving annual land reclamation quota to provinces. // Comment: Some background to this from People's Daily's "Xiake Dao" 侠客岛:为何近期中央密集出击这一领域?
Anorexia in China - Same, But Different | What's on Weibo Although discussions on anorexia nervosa are limited in Chinese (online) media, anorexia does in fact exist in Chinese patients; some studies even suggest that levels of occurrence are not much different from Western countries. There are big differences, however, in the way anorexia is experienced and/or described in China.
China oil spill: warning over seafood contamination | The Guardian Edward Overton, an environmental science professor at Louisiana State University downplayed concerns. "A light distillate or oil will readily evaporate and leave minimal residues," he said. "Much of this oil is burning so will not cause significant environmental damage." Other scientists fear dangerous amounts may still be leaking from the sunken wreck – where the oil cannot evaporate or burn – and poisoning fisheries of supply mackerel, croaker, cuttlefish, herring, shrimp and crabs.
Agriculture And Rural Issues
习近平总书记"三农"思想在正定的形成与实践-新华网 1.18 front page People's's Daily articles discusses how Xi Jinping's time in Zhengding, Hebei shaped his thinking and action on the "three rural issues"
Provincial governments to enhance farmland protection - Gov.cn The State Council recently released a revised version of assessment measures for provincial governments' work on farmland protection, to strictly protect farmland and defend the "red line". The assessment includes self-inspection, mid-term inspection and the final inspection. Starting from 2016, every five years is a planning period. The self-inspection is conducted every year by provincial governments, and the mid-term inspection is conducted in the third year by assessment authorities.
Food And Travel
Passengers can now use phones in flight mode on several Chinese airlines | South China Morning Post Until Thursday, phones had to be completely switched off during any flight on a Chinese airline. Other portable electronic devices could be used in flight mode, while on planes with Wi-fi, passengers could access the internet using tablets and laptops but not phones.