US-China talks; Party over for self-media; Fengqiao Experience; Reform & Opening Exhibit
The South China Morning Post and the Wall Street Journal's confirmed Sinocism's reports that Liu He will be coming to DC and that Liu and Steve Mnuchin had a phone call Friday. 
I am hearing President Trump is concerned about the stock market and the likely economic impact from increasing the 10% tariff rate to 25% January 1st and adding tariffs to the remaining imports from China. Xi really does not want this economic and political headache and so is very willing to cut a deal, though I also keep hearing the Chinese have yet to offer anything really interesting. The odds of a short-term deal may be going up, but I wouldn't expect it do anything to address the broader issues in the relationship.
Sinocism now offers the ability to give subscription as a gift. The process is simple, just click this button below and make someone very grateful:
Thanks.
---
The Essential Eight
1. US-China
China's top trade negotiator Liu He heads to US in bid to kick start new talks on easing tensions | South China Morning Post:
In total three sources, from both sides, confirmed the development to the South China Morning Post, but said the schedule for Vice-Premier Liu He's trip had still not been decided...

Shi Yinhong, professor of international relations with Beijing's Renmin University, said the best guess was that there would be no further tariffs from China and the US on each other's products.

"But the other half of the trade war, which is the US technology blockade, will not be suspended, no matter who is the US leader," he said...

In a speech on Monday, Shi said the Chinese government should expand market access, increase imports from the US, and reduce hefty state subsidies and control of economic activities to strive for a "relatively long period or regional" truce in the trade war.

But he added that China was unlikely to fundamentally change its industrial policy.

Shi said China's top priority now was to curtail the risks of the trade war on its economy and financial system to ensure stability.
U.S., China Resume Talks to Cool Trade Tensions - WSJ $$:
The two spoke by telephone on Friday, said people briefed on the conversation, as the U.S. demands that China put forward a concrete offer before negotiations on a trade deal can take place. Chinese officials are resisting and say they want to talk first before making a formal proposal. They worry that once they make a formal offer they will lose leverage, say officials in both countries.

The Friday conversation didn't lead to any breakthrough in those issues but the renewed discussions indicate the two sides are trying to reach an accommodation, the officials say...

Chinese President Xi Jinping has required different ministries to come up with specific negotiations expectations so that both sides can keep talks going after the G-20 summit.

Chinese officials don't expect to resolve the trade dispute at the G20 meeting. Instead, they are hoping for a broad framework of a deal, which would be followed by negotiations on the details.
Kudlow says Navarro 'badly misspoke' on China trade-deal likelihood - MarketWatch: 
On Friday, Navarro said any new China trade deal would be on Trump's terms, not Wall Street's, and said "globalist billionaires" are ratcheting up pressure on the White House... 

Kudlow told CNBC that the U.S. and Chinese governments are talking at all levels and that Trump can talk "to whomever he can talk to," including on Wall Street and union leaders.
Bolton Warns China Against Limiting Free Passage in South China Sea - WSJ $$:
National security adviser John Bolton said the U.S. would oppose any agreements between China and other claimants to the South China Sea that limit free passage to international shipping, and that American naval vessels would continue to sail through those waters.

Mr. Bolton's remarks served as a warning to Southeast Asian leaders, who are preparing for a regional summit in Singapore this week, and particularly for the Philippines, which is now in talks with Beijing about jointly exploring natural resources in the contested area.

In meetings to develop a code of conduct this year for the South China Sea, China has tried to secure a veto over Southeast Asian nations hosting military exercises with other countries in the disputed waters.
Comment: Probably not helpful in building a "United Front" with allies against China--U.S. Car-Import Probe Advances as Trump Plans Trade Meeting - Bloomberg:
The White House is circulating a draft report by the U.S. Commerce Department over whether to impose tariffs on automobile imports to protect national security, three people familiar with the matter said.

President Donald Trump is scheduled to meet with senior members of his trade team on Tuesday to discuss how to proceed on the potential tariffs, two of the people said. Speaking on condition of anonymity to discuss internal deliberations, they didn't give any insight into Commerce's conclusions.
---
2. Reform and Opening Exhibit in Beijing
Xi took the entire Politburo Standing Committee except Li Keqiang (who is overseas) plus Wang Qishan and a large group of senior officials and PLA officers to the exhibition in Beijing. This 4 minute report on the top of the Tuesday CCTV Evening News showed them inside the exhibition, at about the 2:25 mark Xi is shown standing next to an exhibit on the December 1978 3rd plenum of the 11th party congress with a nice picture of Deng Xiaoping; the report shows at least two other pictures of Deng, one each of Jiang Zemin and Hu Jintao.
CCTV -- 习近平在参观"伟大的变革——庆祝改革开放40周年大型展览"时强调 统一思想凝聚共识鼓舞斗志团结奋斗 坚定全国各族人民跟党走中国特色社会主义道路改革开放道路的信心和决心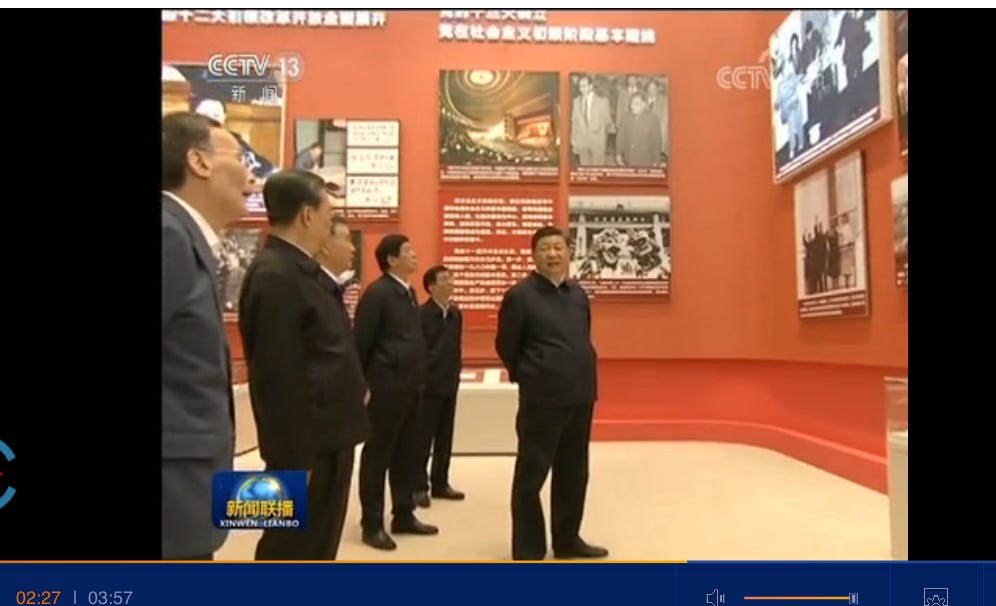 Xi calls for confidence, resolve in reform, opening-up - Xinhua:
[Xi] visited a major exhibition to commemorate the 40th anniversary of China's reform and opening-up.

The exhibition should help build a common understanding, accumulate consensus, raise morale, and foster solidarity and a striving spirit, Xi said.
Wang Huning gave the speech to open the exhibition--[视频]庆祝改革开放40周年大型展览在京开幕 王沪宁出席开幕式并讲话_CCTV 
---
3. The Fengqiao Experience
This is not the first time Xi as General Secretary has pushed the "Fengqiao Experience", but it may be getting more focus as part of the ongoing efforts to strengthen and harden "comprehensive social management" policies.
Tuesday People's Daily has a front page commentary on the "Fengqiao Experience", on the occasion of the 55th anniversary of Mao's instructions about Fengqiao and the 15th anniversary of Xi's exhortations to cherish, promote and innovate the "Fengqiao Experience" when he was Zhejiang Party Secretary--人民日报评论员:让"枫桥经验"在新时代发扬光大--新闻报道-人民网: 
发展是硬道理,稳定也是硬道理,抓发展、抓稳定两手都要硬。坚定不移走中国特色社会主义社会治理之路,把党的群众路线坚持好、贯彻好,让"枫桥经验"在新时代发扬光大,提高社会治理社会化、法治化、智能化、专业化水平,加快形成共建共治共享的社会治理格局,我们就一定能确保人民安居乐业、社会安定有序、国家长治久安。

People's Daily has a micro-site for adhering to development of the "Fengqiao Experience"--坚持发展"枫桥经验"--专题报道--人民网 
Zhou Qiang, Chief Justice and President of the Supreme People's Court of China, weighs in with his support for the "Fengqiao Experience" during an inspection tour in Zhejiang--周强在浙江调研强调 坚持发展新时代"枫桥经验"--法制网: 
周强指出,习近平总书记关于坚持创新发展"枫桥经验"的新理念新思想新战略,是推进基层社会治理现代化的根本遵循,要深入学习领会,在人民法院工作中不折不扣贯彻落实。要牢固树立"四个意识",坚定"四个自信",坚决做到"两个维护",坚持把党的领导作为根本保证,坚定不移走中国特色社会主义社会治理之路,让"枫桥经验"在新时代更加发扬光大。
Most of the front page of the 11.13 People's Court Newspaper consists of reports about the Fengqiao Experience-人民法院报 - 11.13.18 
55年经典,织就平安中国和美画卷——从"枫桥经验"看基层社会治理现代化的"法治密码" 
4位副国级"坐镇"的高规格大会 会上点赞"朝阳群众"_网易新闻
Xi Jinping, playing with fire | China Media Project in 2013 on the "Fengqiao Experience":
In 1963, the work team of the provincial Party committee of Zhejiang summarized the methods employed in Fengqiao in a document called, "Experiences in Struggling Against the Enemy During the Socialist Education Movement in Fengqiao District, Zhuji County" (诸暨县枫桥区社会主义教育运动中开展对敌斗争的经验). During the National People's Congress in 1963, the minister of public security, Xie Fuzhi (谢富治), gave a speech called, "Relying on the Strength of the Masses, Strengthening the People's Democratic Dictatorship, Transforming the Majority of 'Reactionary Elements' into New People" (依靠群众力量,加强人民民主专政,把绝大多数"四类分子"改造成新人). Xie's speech made specific mention of the example provided by Fengqiao.

Then, on November 20, 1963, Mao Zedong added his written instructions to the Xie Fuzhi speech, in which he said: "The example of Zhuji raised here is a good one — various regions should follow this example, expanding the work through pilot programs."

On November 22, when Mao Zedong spoke with the deputy minister of public security, Wang Dongxing (汪东兴), he said: "Of all the work carried out by the ministry of public security, the most important was the question of how to work among the masses, how to educate and organize them so that they can take part in the general work of public security. Judging from the experience of Zhuji, once the masses have risen, they can do things as well as you and as strong as you. You must not forget to mobilize the masses." (NOTE: The implication here is that public security officials should not focus on simply arresting "reactionary elements," but must organize the masses to "reeducate" and reform them.)
---
4. Impact of tax crackdown on film industry
Tax Crackdown Sends Chill Through Movie Biz - Caixin:
Caixin learned from the National Radio and Television Administration that only 1,126 new films and TV series were registered with the industry regulator in the third quarter, 11% fewer than in the preceding quarter. In September alone, the registered number was 286, down from an average of 400 in the earlier months of this year.

The crackdown on tax evasion has prompted China's major film production cities to suspend or tweak the preferential policies they used to attract the entertainment industry, as the authorities start to scrutinize tax records of studios and performers...

Khorgos has recently demanded companies whose profits totaled more than 50% of total revenue in 2017 to conduct "self-checks" on their tax records, and that companies should set aside 20% of their exempted annual corporate taxes for "local investment" that includes social insurance payments.

China's three other entertainment industry tax-havens — Hengdian, the Jiangsu province city of Wuxi and Shanghai's Songjiang district — have also reduced their tax subsidies. A Hengdian studio told Caixin that the town has lost its glimmer for now — a company that earns 5 million yuan ($725,252) in annual revenue is expected to see its income tax burden surge to 1.7 million yuan from 180,000 yuan previously.
---
5. South Pacific as a front in influence contest
China's growing role in South Pacific nations cannot be stopped, says vice-minister Zheng Zeguang | South China Morning Post:
No country should or could stop China cooperating with South Pacific island nations, a Chinese official warned on Tuesday ahead of a summit involving Chinese President Xi Jinping and leaders in the region.

"The island region is not under the sphere of influence of any country and everyone should join together to help with the island nations," Zheng Zeguang, the vice-minister of the Chinese foreign ministry, said at a press briefing in Beijing on Tuesday.

"The cooperation and aids we provide in the island nations are not targeting any third parties, and any country should not stop China's friendly cooperation and communication with island nations – and of course they could not stop such cooperation and communication."
Xi Expands China's Footprint in Pacific as Trump Stays in U.S. - Bloomberg:
With U.S. President Donald Trump and Russian leader Vladimir Putin staying away from Papua New Guinea -- an economy smaller than all 50 U.S. states -- Xi is by far the most prominent among 21 leaders attending the Asia-Pacific Economic Cooperation meeting that starts on Friday. And he's making the most of his time there, hosting leaders from about a dozen Pacific Island countries in a show of strength.

The South Pacific, consisting of nations scattered across thousands of miles of ocean, has increasingly become a strategic battleground between China and U.S. allies in Asia -- particularly Australia. Xi has started pouring money into the cash-strapped region as part of his Belt-and-Road infrastructure initiative, leading to concerns that China will look to establish a military presence.
How Washington Can Counter China's Influence in the South Pacific - Foreign Affairs - Charles Edel:
the United States and key regional allies are finally sharpening their focus on strategic competition with China for influence in the South Pacific. Across the island states of the South Pacific, Washington is working closely with Canberra, Tokyo, and Wellington and expending significant resources. Absent further coordination and resource commitment, however, the initial efforts of this emerging strategy are unlikely to help the region or offset the more troubling aspects of Beijing's growing presence.
---
6. Concerns about China re-energizing missile defense budgets?
Decades after 'Star Wars,' Pentagon looks back to the future on missile defense - The Washington Post:
More than three decades ago, Michael D. Griffin was at the center of the military's "Star Wars" initiative, working to realize President Ronald Reagan's dream of shielding the United States from Soviet missiles like "a roof protects a family from rain."...

It is not only Griffin who has returned to the Pentagon. So, too, has the zeal of a great-power arms race reminiscent of the rivalry with the Soviet Union. Drawing on robust defense funding from Congress, Defense Secretary Jim Mattis is embarking on a vast overhaul of the U.S. military to take aim at threats from Russia and China...

The Pentagon is particularly concerned about super-fast and agile precision-guided missiles under development in China that could put U.S. ships and bases at risk during a conflict in Asia.

Griffin characterized plans for a sensor network in space as a necessary response to Russia and China's pursuit of hypersonic missiles, or maneuverable missiles faster than the speed of sound that could hit any target in the world in an hour or two and easily pierce existing defenses.
---
7. Unirule loses license
Hyping Reform and Opening, while closing off political space...
China Revokes Business License of Independent Think-Tank Unirule - RFA:
Authorities in the Chinese capital have revoked the business license of a liberal economics think-tank, saying it had carried out "illegal online education activities."

The move comes after a police raid sealed off the premises of the Unirule Institute of Economics in July, and after its executive director Sheng Hong was prevented from leaving the country last week on grounds of "national security."

"The relevant parties organized and carried out six online classes between January 2014 and July 2018 via the institute's website, unirule.cloud," a notice issued by the Beijing municipal bureau of industry and commerce said.

"We also found, according to the Haidian district education bureau, that these activities were carried out without official approval," it said, adding that Sheng had been sent a notification of an administrative punishment hearing on Oct. 10.

Sheng told RFA on Monday that the institute had criticized the move on Friday, saying it went against recent assurances by President Xi Jinping that the ruling Chinese Communist Party would support and protect the private sector...

Sheng said the institute would be suspending activities for the time being, until it could enjoy the protection of the law.

"We don't feel that this is a good environment right now; the current system isn't favorable, so we will only be carrying out further activities when we have the usual protections of the law and the constitution," he said.
---
8. Party declares Party's over for self-media 
The Party does not want its propaganda messaging to be muddied by self-media, has launched a major crackdown to ensure that it is in control of the messaging
China scours social media, erases thousands of accounts | Reuters 
China's top cyber authority has scrubbed 9,800 social media accounts of independent news providers deemed to have posted sensational, vulgar or politically harmful content on the Internet, it said late on Monday...

The Cyberspace Administration of China (CAC) said in a statement that the campaign, launched on Oct. 20, had erased the accounts for violations that included "spreading politically harmful information, maliciously falsifying (Chinese Communist) party history, slandering heroes and defaming the nation's image."

CAC also summoned social media giants, including Tencent's (0700.HK) Wechat and Sina-owned (SINA.O) Weibo, warning them against failing to prevent "uncivilized growth" and "all kinds of chaos" among independent media on their platforms.

"The chaos among self-media accounts has seriously trampled on the dignity of the law and damaged the interests of the masses," CAC said.
人民网北京11月12日电 据中共中央网络安全和信息化委员会办公室官方网站消息,近期,国家网信办会同有关部门,针对自媒体账号存在的一系列乱象问题,开展了集中清理整治专项行动。专项行动从10月20日起,已依法依规全网处置"唐纳德说""傅首尔""紫竹张先生""有束光""万能福利吧""野史秘闻""深夜视频"等9800多个自媒体账号。近日,国家网信办又依法约谈腾讯微信、新浪微博等自媒体平台,对其主体责任缺失,疏于管理,放任野蛮生长,造成种种乱象,提出严重警告。腾讯微信、新浪微博相关负责人表示将认真接受群众和舆论监督,自查自纠,积极整改,严格管理。
Trade war and censors blow chill wind through China's giant tech scene | Reuters:
Reuters interviewed a dozen tech industry insiders, from gig economy workers to investors, who said that the boom days of easy returns looked to be over.
There also appears to be a concerted campaign underway to censor and/or delete the Tweets of Chinese users of Twitter.
---
Business, Economy, Finance And Trade
Chinese Premier rejects economic stimulus option as latest data shows more weakness | South China Morning Post Chinese banks extended 697 billion yuan in net new yuan loans in October, just about half of the 1.38 trillion yuan in the month before and below the median forecast for lending of 862 billion yuan in a Reuters survey of economists, according to central bank figures released on Tuesday. Nationwide fiscal revenues in October fell 3.1 per cent from the same month last year, limiting the government's scope for increased spending.
China will keep yuan stable: Premier Li | Reuters "We will keep the renminbi in a reasonable range and basically stable. Not only this, we will create other measures to ensure China has a good investing environment with good and stable returns," Li said in a speech in Singapore.
Yinlong New Energy Sues Former Chairman, President for Embezzling USD144 Million | Yicai Global Zhuhai Yinlong New Energy's board has claimed that former Chairman Wei Yincang and former President Sun Guohua caused losses of over CNY1 billion (USD144 million) to the company through illegal means. The new energy vehicle and battery maker, which is based in Zhuhai, Guangdong province, made the claim on its official WeChat account today after a lawsuit was accepted by the Zhuhai City Intermediate People's Court. The company also reported its suspicion to the Zhuhai Municipal Public Security Bureau's economic crime investigation department, adding that the cases have been accepted.
Chinese Investment Banks Are Gearing Up for New Tech Innovation Board | Yicai Global "The key for the new tech innovation board will be implementation, the formulation of specific listing rules will be the greatest challenge by far," an investment banker in Beijing told Yicai Global. If the threshold for companies wanting to list is too high, then the government cannot realize its goal of supporting innovative firms and the market could face even tighter liquidity. But if the limits are too low, unsuitable companies may take advantage and cost investors big. "Brokerages are preparing already and talking with companies in advance," the managing director of a big brokerage and investment bank said. "We've been contacting some promising but unprofitable firms and are planning their listing path."
China says U.S. controls on semiconductor firm break WTO rules | Reuters "We consider this an unwarranted charge and firmly oppose the presumption of guilt to our companies," a Chinese official told the WTO, according to a transcript of remarks seen by Reuters.
`Year of Recession' Seen as Bearish China Housing Calls Multiply - Bloomberg CICC calls 2019 the "year of recession" for real estate, with sales to fall for the first time in five years. S&P said some developers could be dragged down in a sliding sector, calling their financing landscape "the most unfavorable in years."
---
Politics, Law And Ideology
Another Official Falls in Insurance Graft Cleanup - Caixin A senior official with the former insurance watchdog was officially charged with corruption by the top prosecutor Monday, five months after his onetime boss and longtime associate Xiang Junbo pleaded guilty to similar charges. Zhu Yanhui, former deputy director of the general office of the China Insurance Regulatory Commission (CIRC) and secretary to former CIRC Chairman Xiang, is being prosecuted on corruption charges by the People's Procuratorate of Changzhou, East China's Jiangsu province, according to the Supreme People's Procuratorate of China.
China's new inconvenient truth: how much lottery money corrupt officials stole | South China Morning Post Authorities deny widespread rumours that the equivalent of US$19.5bn had been embezzled, but say it would be 'inconvenient' to give correct figures
推进新时代国家高端智库建设(深入学习贯彻习近平新时代中国特色社会主义思想) Ma Jiantang of State Council DRC on page 7 of Tuesday People's Daily about constructing high end national think tanks
China tells world to ignore gossip about Xinjiang | Reuters After meeting Heiko Maas, Germany's foreign minister, State Councillor Wang Yi said he hoped people would understand and support the Xinjiang regional government's efforts to fight terrorism, end the spread of extremism and ensure social stability. "(People) should not listen to gossip or rumor, because the Xinjiang regional government, of course, understands the situation in Xinjiang best, and not some other people or organizations," said Wang, who is also foreign minister.
黑龙江工程学院党委书记李耀东办公室自缢身亡|黑龙江工程学院|李耀东|党委书记_新浪新闻 Li Yaodong, Party Secretary of the Harbin Engineering Institute, committed suicide in his office
狗舍面积78平的秦岭超级别墅:卧室房顶橡木的,酒窖里都是茅台五粮液_蔡家坡三组 The villa scandal outside of Xian is testing Xi's Shaanxi Party Secretary crony and his ability to break local networks
---
Foreign and Military Affairs
US-China Disaster Management Exchange 2018 kicks off in Nanjing - China Military Chinese and the US armed forces started the eight-day US-China Disaster Management Exchange 2018 on Monday in Nanjing, east China's Jiangsu Province. The exchange involves over 200 military personnel from the army under the Chinese PLA Eastern Theater Command and the US Army Pacific
Chinese Students Help America Innovate - WSJ $$ Foreign-born students won't stop being innovators if the U.S. decides to keep them out. They will stop being innovators in America. America's loss—of new ideas, new companies, new jobs—would be the rest of the world's gain. Why close the door to so many great innovators when we need them? - Mr. Hanlon is president of Dartmouth College. Mr. Slaughter is dean of its Tuck School of Business.
German officials raise China alarm as 5G auctions loom | Reuters Senior German officials are planning a last-ditch drive to convince the government to consider excluding Chinese firms such as Huawei from building the country's 5G infrastructure amid concerns this could compromise national security.
---
Hong Kong, Macao
President emphasizes role of SARs - China Daily President Xi Jinping underlined on Monday the unique and irreplaceable role of the Hong Kong and Macao special administrative regions for China's reform and opening-up in the new era. He also called on the two regions to better integrate themselves with the nation's overall development. Xi's remarks came as he met with a delegation of about 210 representatives from the two SARs who were in Beijing to celebrate the 40th anniversary of reform and opening-up.
会见香港澳门各界庆祝国家改革开放40周年访问团时的讲话---人民网 full text of Xi's speech
Stephen Vines - Why I will no longer write for the South China Morning Post | Hong Kong Free Press HKFP Provoked by an absurdly trivial dispute, I have decided to stop writing for the South China Morning Post (SCMP) after years as a contributor. In my heart, though I know that this decision should have been taken for more fundamental reasons back in February. It was then that the Post became a willing participant in a grotesque propaganda ploy to discredit the detained bookseller Gui Minhai, who was kidnapped and held because of his activities selling books in Hong Kong that embarrassed the Chinese leadership...the paper retains some semblance of independence but this is seriously undermined by a willingness to serve the worst aspects of the Chinese propaganda machine.
---
Taiwan
What Taiwan's Upcoming Elections Will Tell Us About Its Future | The Diplomat Taiwan is gearing up for its November 24 regional elections, in which voters will decide on city, county, and community-level leaders along with a list of referendums on issues ranging from nuclear power to marriage equality. The election results will serve as their own referendum on the ruling Democratic Progressive Party (DPP), a traditionally pro-independence camp which has taken a firm anti-China stance under President Tsai Ing-wen. While the DPP is expected to hold its current majority in Taiwan's 22 cities and counties, it faces a surprisingly potent challenge from the opposition Kuomintang (KMT), which favors reunification with China, in the traditionally pro-DPP south – along with the potential rise of an independent, social media-friendly 2020 presidential challenger in Taipei who the DPP believes treads too close to Beijing.
---
Tech And Media
Google goes down after major BGP mishap routes traffic through China | Ars Technica Google lost control of several million of its IP addresses for more than an hour on Monday in an event that intermittently made its search and other services unavailable to many users and also caused problems for Spotify and other Google cloud customers. While Google said it had no reason to believe the mishap was a malicious hijacking attempt, the leak appeared suspicious to many, in part because it misdirected traffic to China Telecom, the Chinese government-owned provider that was recently caught improperly routing traffic belonging to a raft of Western carriers though mainland China...
Stan Lee's final creation was a Chinese superhero - Inkstone Just weeks before he passed away on Monday at the age of 95, the comic creator unveiled a new character based on Hong Kong singer Gloria Tang, who goes by her stage name G.E.M. Tentatively named "Jewel," the character is a world-touring pop star by day and a superhero in disguise by night. But it is unclear whether Lee had decided on her superpowers before he passed away.
Chinese Fans Mourn 'Father of Marvel' Stan Lee - SixthTone As the news of his death broke on Tuesday in China, comic lovers expressed their shock — particularly as they had just seen his brief on-screen appearance in newly released blockbuster "Venom," which has already been a huge success at the Chinese box office. "It's so hard to believe that he's gone now," one fan posted on Weibo, China's equivalent of Twitter. "I admire him so much every time I see a Marvel movie."
China's NetEase raises $600M for its music streaming business | TechCrunch NetEase Cloud Music, a rival operated by games and publishing giant NetEase, just closed a fresh $600 million injection from a bevy of investors that include Baidu and General Atlantic, the company announced this week. NetEase will maintain a majority share in the company following this deal although it isn't clear what the valuation is. The business is already valued at over $1 billion, that landmark was reached last year when it raised 750 million RMB, that was around $108 million at the time.
China expands supercomputer share in TOP500 - Xinhua China expanded its share on a global list of the world's fastest supercomputers, according to a biannual ranking of the Top500 published Monday. The number of supercomputers installed in China increased from 206 in June to 227 now, accounting for 45.4 percent of the total, according to the ranking.
Former Facebook Security Chief: Google CEO Sundar Pichai Is Lying About China | Breitbart "Tech companies constantly walk a difficult path between complying with local law and protecting human rights," Stamos tweeted Thursday. "For Sundar to compare the "right to be forgotten" (which I agree is problematic) with censorship in China is, at best, amoral and mendacious." View image on Twitter
The Struggles of China's Second-Tier Smartphone Firms - Caixin While lower-tier brands have hoped to break the dominance of sector leaders such as Xiaomi, Huawei, Vivo and Oppo — their sales have suffered recently and analysts are not optimistic about their chances. Shipments for brands outside the top five plummeted 53.9% during the third quarter, giving that group of more than a dozen brands less than a quarter of the overall market as the sector consolidates.