US-China trade deal on the brink?; More signs of economic policy support
I think I have been overly optimistic about the trajectory of US-China relations.
There are increasing signs the US-China trade deal is about to fall apart. President Trump's tweet this morning is the latest sign:
Axios reporter Jonathan Swan followed up a few hours later, and I have been hearing the same things:
There is basically no way China can hit the 2020 deal target now and for Trump what matters is huge progress towards the goal by the November election day, not by end of the year. Even if there were that progress the domestic political considerations look increasingly likely to steer Trump and his advisors to jettison the deal and push harder on "blame China" for the growing COVID-19 carnage in the US.
On the Chinese side there appear to be more voices saying there is no point in trying to fulfill the deal because the US will beat on us regardless.
It is worth noting that the President used the phrase "Plague from China" in his tweet this morning. If I am not mistaken that is the first time he has used that term. US National Security Advisor Robert O'Brien used it yesterday in a press spray.
And just to add even more negative energy to the relationship, Global Times editor in chief Hu Xijin tweeted this today, and his paper has a longer piece on this topic, which you can see in item 5:
Thanks for reading.
---
The Essential Eight
1. More signs of economic policy support
国家发改委何立峰撰文:适当提高赤字率,发行抗疫特别国债 _中国经济网
NDRC head He Lifeng He Lifeng published an article on the website of the national development and reform commission (NDRC) on Thursday titled "coordinated efforts to prevent and control covid-19 and promote economic and social development to ensure a decisive victory in fighting poverty and building a moderately prosperous society in all respects". He proposed that the fiscal deficit ratio should be appropriately raised, special national debt to fight the epidemic should be issued, special bonds of local governments should be substantially increased and the efficiency of the use of funds should be improved. . He also said the government will keep liquidity reasonably abundant by cutting the reserve requirement ratio and interest rates, and using re-lending. He also wrote they will guide interest rates in the lending market to fall, and use funds to support the real economy, especially small, medium and micro businesses.

国家发改委网站13日发表了国家发展和改革委员会党组书记、主任何立峰撰写的题为《统筹推进疫情防控和经济社会发展确保决战决胜脱贫攻坚全面建成小康社会》文章。何立峰在文中提出,将适当提高赤字率,发行抗疫特别国债,大幅增加地方政府专项债券,提高资金使用效率;运用降准降息、再贷款等保持流动性合理充裕,引导贷款市场利率下行,把资金用到支持实体经济特别是中小微企业上。
The full article 统筹推进疫情防控和经济社会发展 确保决战决胜脱贫攻坚全面建成小康社会
China vows to strengthen macro-control to keep sound economic fundamentals - Xinhua
The country will use a combination of fiscal, monetary, social insurance and pro-employment policies to ensure the six priorities and the stability in six areas, according to the meeting chaired by Premier Li Keqiang.

The meeting called for solid efforts to ensure the six priorities, namely, employment, people's livelihood, the development of market entities, food and energy security, stable operation of the industrial and supply chains, as well as smooth functioning at the community level.

With the six priorities being addressed, the country can better ensure stability in the six key areas, namely, stability in employment, finance, foreign trade, foreign investment, domestic investment, and market expectations, the meeting said.
On Tuesday, vice premier Liu He held a meeting of the leading small group on development of small and mid-sized companies. The meeting admitted that because of the virus, "some part of the economy is in standstill and some companies are in a state of shock," and that the government will more to help these small companies.
China's leverage ratio gained in Q1, PBOC says - MarketWatch
The People's Bank of China said in a statement late Tuesday that the government has prioritized supporting economic growth in the first quarter, adding that growth recovery could help stabilize the overall leverage ratio. The central bank said the leverage rebound would be temporary and has helped businesses to reopen in the wake of the coronavirus outbreak.

China has managed to stabilize its leverage ratio since 2017 and reduced the ratio in 2018 when total debt accounted for 249% of the country's gross domestic product, according to data from the PBOC. The ratio rose 5.7 percentage points in 2019, the PBOC said, without giving details on the first-quarter debt level.
Chinese Central Bank Calls for Phase-based Increase in China's Macro-leverage Levels – China Banking News
Ac­cord­ing to PBOC of­fi­cials the rise in the macro-lever­age ra­tio em­bod­ies the "sup­port of counter-cycli­cal pol­icy for the re­cov­ery of the real econ­omy."

PBOC has called for "al­low­ing macro-lever­age ra­tios to rise in a phase-based way and pro­vid­ing credit sup­port to the real econ­omy.

"This is mainly to ef­fec­tively drive the re­sump­tion of work and pro­duc­tion, and in ac­tu­al­ity cre­ates con­di­tions for bet­ter main­tain­ing ra­tio­nal macro-lever­age ra­tio lev­els in fu­ture."
China's local officials under pressure amid coronavirus pandemic to address rise in unemployment | South China Morning Post
Hu Xingdou, a Beijing-based independent economist, said China's official unemployment rate did not reflect the real picture.

"It is not possible for an individual to find out the real unemployment rate. But by observing what's happening around us, with restaurants closing and enterprises laying off staff, we can tell the real figure must be higher," he said, adding "this is why [this year] the central government has given employment top priority". Finding jobs for this year's fresh crop of graduates has been flagged as a critical task for local officials this year.

Six central government departments and Communist Party bodies launched a special campaign last week to push for more jobs for graduates – estimated to number a record 8.47 million this year.
---
2. The outbreak
No rest for vice premier Sun Chunlan as mini-outbreaks continue
Vice premier inspects Heilongjiang for COVID-19 response - Xinhua
Chinese Vice Premier Sun Chunlan demanded strengthened efforts to plug the loopholes in COVID-19 response and prevent case importation and domestic resurgence.

Sun, also a member of the Political Bureau of the Communist Party of China Central Committee, made the remarks during an inspection tour in northeastern Heilongjiang Province on COVID-19 prevention and control from Monday to Wednesday...

During her stay in the cities of Mudanjiang, Suifenhe and Harbin, Sun visited the designated and temporary hospitals for COVID-19 treatment, disease control centers, quarantine venues, border ports, and communities to learn about field works on the epidemic prevention and control.
China's Jilin city goes into partial lockdown to contain coronavirus cluster | South China Morning Post
Jilin city in northeast China has closed schools, imposed restrictions on transport and banned gatherings as a cluster outbreak sparks fears of a new wave of Covid-19 infections.

Train and long-distance bus services have been stopped, gatherings banned and indoor public venues closed after six new cases were confirmed on Tuesday.

That brought the total to 21 community cases, with two asymptomatic patients, since the first infection in the cluster was reported a week ago.
China Seals Off Cities Near North Korea as Virus Clusters Grow - Bloomberg
The 4.5 million residents of Jilin city are now only allowed to exit city limits after testing negative for coronavirus and completing self-quarantine, said a local health authority statement on Wednesday. Buses and train services have been halted, in movement restrictions reminiscent of the Jan. 23 lockdown of Wuhan.

Surrounding cities in Jilin province have also shut down entertainment venues, and implemented strict controls on access to public places.
Jilin city chools that had resumed have not gone back to online learning. 
German companies plan charter flight to send workers back to China | South China Morning Post
Talks are under way for "a fast-track procedure" allowing employees of German firms to re-enter China on the special flight, said Jens Hildebrandt, executive director for the German Chamber of Commerce in North China.
China recognises scientists and medical experts on front line of coronavirus pandemic | South China Morning Post
A team at Guangzhou Medical University led by respiratory disease specialist Zhong Nanshan and experts at the makeshift Leishenshan Hospital in Wuhan – where the first cases of the new virus were reported late last year – are among those who will receive the National Award for Excellence in Innovation.
Leaked Database May Be Key to China's Coronavirus Numbers - Foreign Policy
A dataset of coronavirus cases and deaths from the military's National University of Defense Technology, leaked to Foreign Policy, offers insight into how Beijing has gathered coronavirus data on its population. The source of the leak, who asked to remain anonymous because of the sensitivity of sharing Chinese military data, said that the data came from the university. The school publishes a data tracker for the coronavirus: The online version matches with the leaked information, except it is far less detailed—it shows just the map of cases, not the distinct data.
Slowly but steadily, China strives to make widespread virus testing the new normal - Reuters
China is able to produce 5 million test kits a day, the country's industry ministry said last month.

While China has not tallied how many daily tests are being carried out nationally, its capacity is far greater than other countries including the United States, which has conducted around 300,000 tests daily on average in recent days, according to the non-profit COVID Tracking Project.
Beijing coronavirus testing capacity reaches 48,000 daily - CGTN
Beijing has expanded its coronavirus testing capacity to around 48,000 samples per day, with the addition of more clinics, personnel and equipment, the municipal government said on Tuesday.

To optimize collection, 116 sampling venues have been set up in districts outside the city center, including medical institutions, designated sites and hotels.
Beijing to reopen universities from June 6 - Xinhua
Beijing will reopen universities from June 6, according to the Beijing Municipal Education Commission on Wednesday.

Graduating students of colleges and universities can return, on a voluntary basis, to campuses where anti-virus measures have been soundly implemented, according to the commission
China's COVID story: The nonsense continues | AEI - Derek Scissors
That COVID spread widely in December doesn't make China's initial response worse. An uncertain but considerable proportion of asymptomatic cases, even after virus identification, made early policy-making very difficult. The fault is in China's refusal to tell any part of the truth since, so as to protect the party's image. And in those who nonetheless treat the country as a success story.
为了人民——人民军队支援地方疫情防控纪实 - YouTube
the documentary "For the people -- the People's Liberation Army supports local efforts in epidemic prevention and control" highlighting the PLA's role in the pandemic response in the PRC is now on Youtube
New US Congressional Research service report" COVID-19 and China: A Chronology of Events (December 2019-January 2020) (PDF)
Ministry of Culture and Tourism issues a guideline on reopening theaters, internet cafes and entertainment venues, theaters should only admit 30% of available seats, cafes and entertainment venues less than 50%.
---
3. Propaganda messaging for Xi's Shanxi tour on even of Two Sessions
Xinhua says there are three clear signals from Xi's Shanxi tour on the eve of the Two Sessions:- 第一观察| 两会前夕,总书记外出考察传递鲜明信号-新华网
The two sessions this year is to be held under a very special circumstance: 2020 is the last year of the 13th 5-year plan, marking the finale of the plan; it is also the very critical year to completely lift poverty all over the country and eventually to build China as the well-off society; this time marks the turning point of the nation's fight against the novel coronavirus when the society and economy is gradually back on track. The general secretary is to pass on these messages to the public:

今年全国两会召开本就有特殊背景。一是"十三五"规划收官之年;二是决胜全面小康、决战脱贫攻坚之年;三是疫情防控形势持续向好、经济社会运行逐步趋于正常。

在这次重要会议前夕,总书记到地方考察调研,释放出的信号非常鲜明。

信号一:时不我待!必须打赢打好脱贫硬仗 Time and tide wait for no man! We must win the battle against poverty;

信号二:长远之计!增强战略定力 The long-range planning! Strengthen strategic focus;

信号三:迈向高质量!坚定不移办好自己的事 March towards high quality [development]! Unswervingly manage our own affairs properly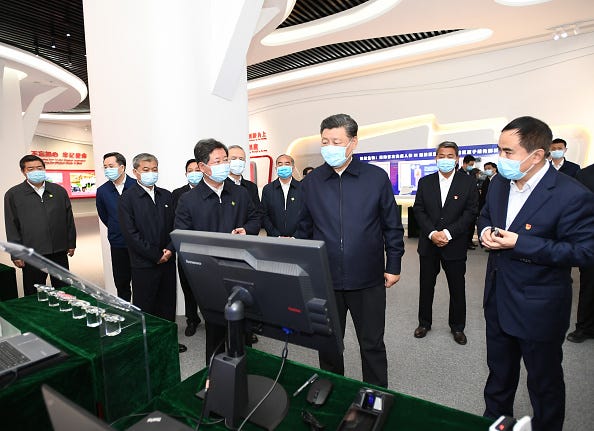 ---
4. US-China trade deal
Coronavirus: US-China blame game prompts Beijing hawks to ramp up criticism of phase one trade deal | South China Morning Post
"The Global Times report reflects the fact that there are people who are unhappy with the current situation with regard to the Sino-US relations, but [the report] does not reflect the official position and such opinion has always existed in both countries," said Wu Xinbo, director of the Centre for American Studies at Fudan University in Shanghai...

A Chinese government adviser, who did not wish to be identified, said that the two sessions will not have much direct bearing on the trade deal, but the language used will show how Beijing will approach future dealings with Washington.

"Whether [China] chooses to go full-on confrontation, or continue to maintain competition without decoupling, that is what we need to pay attention to," he said...

He Weiwen, a former senior official at the Chinese consulates in New York and San Francisco, said many in Beijing are "citing the force majeure clause [in phase one]" and calling "for the US to have a more flexible adjustment of the US$200 billion procurement target amid the coronavirus-caused lockdown".
China Trade Expert Says U.S. Farm Deal Hinges on Tensions Easing - Bloomberg
A slump in U.S. corn prices to a decade low was a good chance for China to buy millions of tons of the grain, but the world's second-largest consumer held back on purchases because relations between the two nations have soured, said Li Qiang, chief analyst with Shanghai JC Intelligence Co...

"China has the ability to complete the $40 billion purchases, but such purchases have to be based on a friendly atmosphere," Li said during an industry conference held online.
ADM still optimistic China's U.S. farm products buying will hit Phase 1 target - Reuters
Lower commodity prices due to the coronavirus pandemic may limit the value of China's first year U.S. agricultural product purchases, "but it's a two-year agreement," ADM CEO Juan Luciano said during the virtual BMO Capital Markets Global Farm to Market Conference on Wednesday.
---
5. More US-China
As China Hoarded Medical Supplies, the CIA Believes It Tried to Stop the WHO from Sounding the Alarm on the Pandemic - Newsweek
The CIA believes China tried to prevent the World Health Organization from sounding the alarm on the coronavirus outbreak in January—a time when Beijing was stockpiling medical supplies from around the world. A CIA report, the contents of which were confirmed to Newsweek by two U.S. intelligence officials, said China threatened the WHO that the country would stop cooperating with the agency's coronavirus investigation if the organization declared a global health emergency.
CCTV Evening News on Wednesday continued its attack on American politicians for blame shifting and smearing China. -[视频]国际锐评:面对全球疫情大流行,执迷不悟的美国政客难辞其咎
锐评指出,时至今日,全世界仍在为美国的疫情防控捏着把汗!究竟还会有多少无辜民众因美国政客的鬼迷心窍而丧失性命?痴迷于造谣抹黑的他们到什么时候才能良心大发现?人们不得而知。但有一点是肯定的:那些歪嘴吹灯一股邪气的美国政客,"历史会追究他们的责任,世界会跟他们算账的"。
The full text of the CCTV commentary, 17 four-letter phrases, seems to show a new level of anger -观察者网:新闻联播17个四字词语痛批某些美国政客
新闻联播17个四字词语痛批某些美国政客。心思动歪、路子带偏、失误失职、难逃其责、判断失误、处理失策、应对失当、"甩锅"推责、挑动对抗、抢劫物资、"断供世卫"、沐猴而冠、人神共愤、鬼迷心窍、造谣抹黑、歪嘴吹灯、一股邪气!
'5 plagues from China in last 20 years, it has to stop', says US National Security Advisor
"We know it came from Wuhan and I think there's circumstantial evidence that it could have come from the lab or the wet market. But, again, if you're China, neither one's a good answer," O'Brien said.

"We've had five plagues from China in the last 20 years. We've had SARS, avian flu, swine flu, COVID-19 now and how longer can the world put up with this terrible public health situation that you've got in the People's Republic of China that is being unleashed on the world," the top American official said.
National Security Adviser Robert O'Brien Comments to Reporters | C-SPAN.org
The "five plagues from China" remark just after the 3:00 mark in the video
FBI and CISA Warn Against Chinese Targeting of COVID-19 Research Organizations — FBI
The Federal Bureau of Investigation (FBI) and the Cybersecurity and Infrastructure Security Agency (CISA) issued a public service announcement today warning organizations researching COVID-19 of likely targeting and network compromise by the People's Republic of China (PRC). Health care, pharmaceutical, and research sectors working on COVID-19 response should all be aware they are the prime targets of this activity and take the necessary steps to protect their systems.

China's efforts to target these sectors pose a significant threat to our nation's response to COVID-19. This announcement is intended to raise awareness for research institutions and the American public and provide resources and guidance for those who may be targeted.
People's Republic of China (PRC) Targeting of COVID-19 Research Organizations — FBI
The Federal Bureau of Investigation (FBI) and Cybersecurity and Infrastructure Security Agency (CISA) are issuing this announcement to raise awareness of the threat to COVID-19-related research. The FBI is investigating the targeting and compromise of U.S. organizations conducting COVID-19-related research by PRC-affiliated cyber actors and non-traditional collectors. These actors have been observed attempting to identify and illicitly obtain valuable intellectual property (IP) and public health data related to vaccines, treatments, and testing from networks and personnel affiliated with COVID-19-related research. The potential theft of this information jeopardizes the delivery of secure, effective, and efficient treatment options.
Biden to hammer Trump's 'tough talk, weak action' on China, top adviser says - Reuters
"The vice president intends to do two things: hold Trump accountable for a catastrophic set of failures in his approach to China, and a colossal gap between tough talk and weak action," said [Jake] Sullivan, one of several former Obama administration officials who comprise Biden's foreign policy team. Biden served as President Barack Obama's No. 2 for eight years.

On the coronavirus, Biden will keep criticizing Trump for repeatedly praising Chinese President Xi Jinping despite global concerns over a lack of transparency on the severity of the crisis, Sullivan said.

On global alliances, Biden's team argues that Trump is helping China by undermining U.S. relations with traditional allies, and reducing America's role and influence in international institutions.
More from the Global Times on possible "punishments" for US actions as threatened by Hu Xijin
Ghosts of McCarthyism summoned by Trump - Global Times
Should this neo-McCarthyism be completely resurrected in the US, it will signal a start of a new cold war between China and the US. Not only will this be a disaster to the bilateral relations and an obstacle to exchanges between the two countries, it poses perilous threats to world peace and stability, leading to subversion of the existing international order, leaving it in an unpredictable mess. - The author is an assistant research fellow at the China Institute of International Studies
Donald Trump extends executive order aimed at Huawei to guard US telecoms supply chain | South China Morning Post
US President Donald Trump on Wednesday extended by another year an executive order that prohibits US companies from using telecommunications equipment made by firms deemed a national security threat – a prohibition that includes Chinese giant Huawei Technologies.
America's pressure on China over Tibet will come to nought | The Economist
On May 14th the Senate's foreign-relations committee is to discuss the Tibet Policy and Support Act, a piece of bipartisan legislation that was passed by the House of Representatives in January. When, as seems likely, it becomes law, China will be furious. It regards its conduct in Tibet as above criticism by meddling foreigners.

Among other measures, the law would make it official American policy that only Tibetan Buddhists can choose their religious leaders, including an eventual successor to the most senior of them all, the 14th Dalai Lama, who is 84 and lives in exile in India. The law would demand that sanctions be imposed on any Chinese official who attempts to control the process of finding the Dalai's Lama's reincarnation.
Think we have military primacy over China? Think again. - The Washington Post - David Ignatius
Here's a fact that ought to startle every American who assumes that because we spend nearly $1 trillion each year on defense, we have primacy over our emerging rival, China.

"Over the past decade, in U.S. war games against China, the United States has a nearly perfect record: We have lost almost every single time."

That's a quote from a new book called "The Kill Chain: Defending America in the Future of High-Tech Warfare," the most provocative critique of U.S. defense policy I've read in years. It's written by Christian Brose, former staff director of the Senate Armed Services Committee and a close adviser to late senator John McCain (R-Ariz.). The book isn't just a wake-up call, it's a fire alarm in the night.
US government pension fund halts plan to buy Chinese stocks | Financial Times $$
In a letter, Robert O'Brien, national security adviser, and Larry Kudlow, the White House economic adviser, warned against investing in Chinese companies since there was a "possibility that future sanctions will result from the culpable actions of the Chinese government with respect to the global spread of the Covid-19 pandemic".
GOP senators introduce bill permitting Trump to sanction China over failure to cooperate on COVID-19 | TheHill
The COVID-19 Accountability Act, introduced by Sen. Lindsey Graham (R-S.C.), would authorize Trump to implement sanctions against China if the country does not cooperate with investigations led by the U.S., its allies or United Nations affiliates...

Under the bill, the president would have to provide certification to Congress within 60 days that the Chinese government provided a complete accounting to any investigation, closed all wet markets and released all pro-democracy advocates in Hong Kong, who were arrested after the pandemic began.
Graham introduces bill to sanction China if it refuses to cooperate on coronavirus investigation | Fox News
"I'm convinced that without Chinese Communist Party deception the virus would not be here in the United States," Graham said in a statement. "China refuses to allow the international community to go into the Wuhan lab to investigate. They refuse to allow investigators to study how this outbreak started. I'm convinced China will never cooperate with a serious investigation unless they are made to do so. This hard-hitting piece of legislation will sanction China until they cooperate with investigators. "
Cheney: China Intentionally Let Virus Spread to U.S. and the World | Cowboy State Daily
U.S. Rep. Liz Cheney today said the Chinese government purposely let the coronavirus spread to the United States and the rest of the world.

Cheney, appearing on FOX & Friends Tuesday morning, said when China saw the spread of the virus in its own country, the government restricted domestic travel but let international travel continue.

"When they understood the economic devastation was going to be huge, I think they believed they would rather have that spread around the globe rather than it simply be something they suffered from," she said.
Dissidents project anti-Xi Jinping images onto Chinese consulate building in Los Angeles - Mothership.SG - 
Calling themselves the Anti-Totalitarian Chinese Alliance, members of the group projected onto the exterior of the building the words "CCP virus", along with a graphic of Chinese President Xi Jinping with viral spike proteins growing from his head.
留学生日报:气炸!中国领馆被恶意投影"中国病毒、NMSL"...求你们做个人吧!
College Daily, a nationalist WeChat account targeting Chinese students in the US, is furious over the projection and suggested that the Americans could have done more to stopped this, but they didn't. The article compares this with all other humiliation China received in modern history, including the American bombing of the Chinese embassy in Belgrade.
The offending image: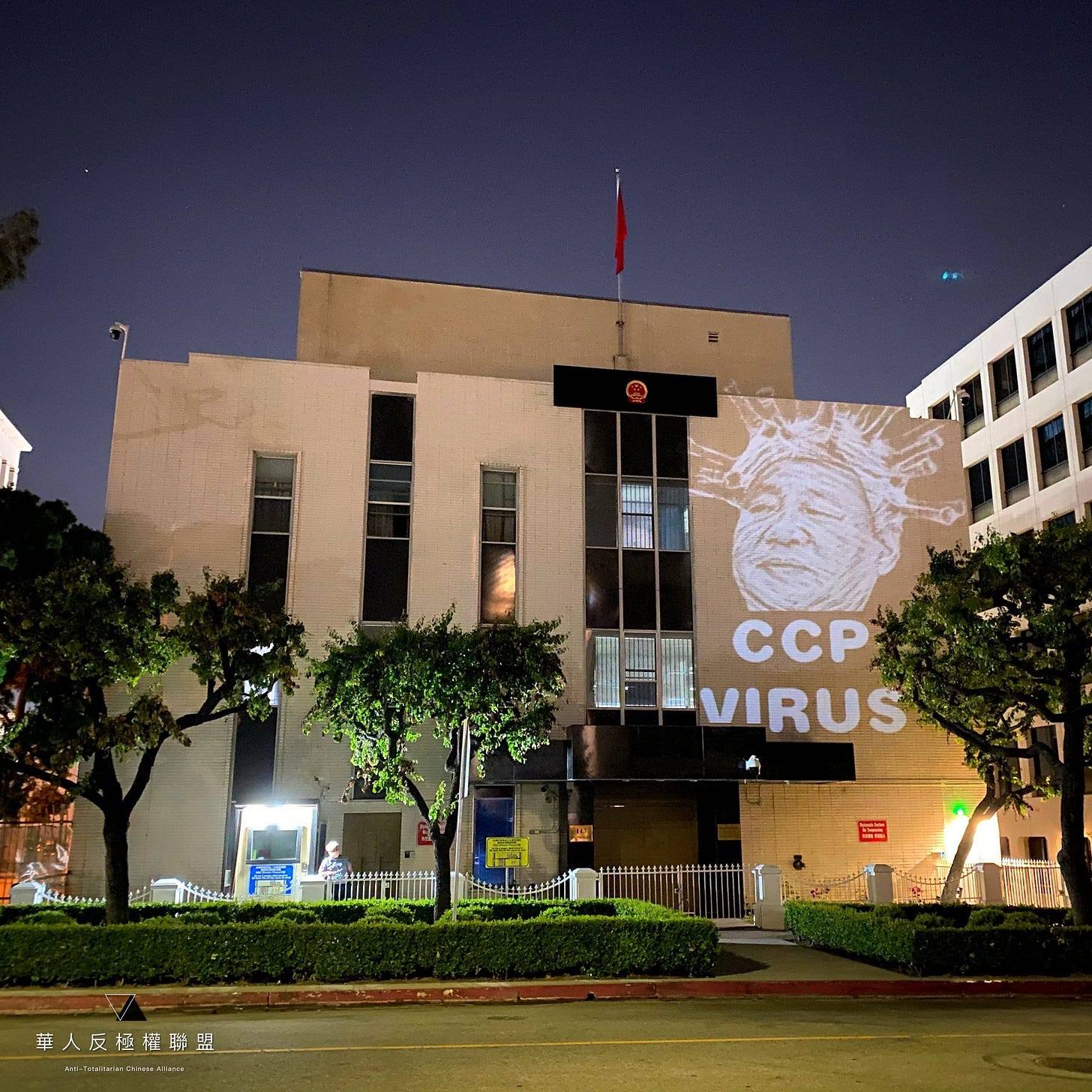 ---
6. Study finds disinformation network on Facebook and Twitter
bellingcat - Uncovering A Pro-Chinese Government Information Operation On Twitter and Facebook: Analysis Of The #MilesGuo Bot Network - bellingcat
The findings indicate that there is a well-structured information campaign displaying a number of criteria similar to those of past campaigns identified as "significant state-backed information operations" originating from within the People's Republic of China (PRC) in a disclosure report by Twitter in August 2019...

This analysis shows that there is an active network of accounts targeting subjects in a coordinated approach to skew the narrative around varying topics, and to push set agendas. Many of these agendas are supportive of the Chinese government and critical of either popular figures or protestors who are against it.

The network operates through consistent account creation to add more numbers and seeming veracity to its network, using a system of poster and amplifier accounts to "stage" trending topics, and to provide the illusion of viral tweets.

This network exists on both Twitter and Facebook.

Content of the accounts correlates with findings made in the past, both by Twitter and other entities, of state-linked information operations that are being run out of People's Republic of China.
China's Disinformation Campaign Targets Virus, Researcher Says - Bloomberg
Between April 25 and May 3, Strick said he identified more than 1,000 accounts on Twitter that were associated with the Chinese disinformation effort, as well as more than 50 different pages on Facebook. He estimated that 300 or 400 new Twitter accounts were joining the network each day, as part of the Chinese campaign.

"The network has evolved and is still growing," said Strick, in an interview. "I believe it's a state-backed Chinese campaign."
---
7. Taiwan
Two dates to watch in the next week-May 18 when the WHO may decide on the question of renewing Taiwan's observer status, and May 20 when President Tsai Ing-wen is inaugurated for her second term.
Taiwan's Tsai Ing-wen enters second term with a strong political mandate, but no room for complacency - Brookings - Ryan Hass
In many respects, Tsai Ing-wen has emerged as the Angela Merkel of Asia. While there are limits to the analogy, the basic point is that, like Merkel, Tsai has been steady, methodical, technocratic, competent, and quick to seize opportunities to advance her agenda...

As President Tsai looks ahead to another four years in office, she has little room for complacency. She confronts an economy in contraction as the after-effects of COVID-19 reverberate throughout Taiwan's economy. ..

Taiwan also could find its economic model as a supplier of semiconductors and intermediate goods for complex global value chains come under stress, particularly if the United States tightens export control requirements on semiconductors to China, and if Taiwan's largest trading partners respond to COVID-19 by placing greater priority on resilience and self-sufficiency over efficiency of production.
France Bats Away China Anger Over Taiwan Arms Deal - AFP
France on Wednesday batted away criticism by China over a weapons deal with Taiwan, saying everyone's focus at this time should be on fighting the coronavirus epidemic...

Taiwan's navy said last month it would upgrade the 25-year-old missile interference system of French-built Lafayette frigates, whose sale three decades ago had raised diplomatic tensions.
---
8. Foreign work
China-S. Korea cooperation against COVID-19 effective, exemplary: Xi - Xinhua
Xi made the remarks in a telephone conversation in the night with South Korean President Moon Jae-in.

China and South Korea took the lead in establishing a cooperation mechanism on joint prevention and control of the epidemic, and have each registered not a single case imported from the other, Xi noted.

While maintaining effective COVID-19 prevention and control, the two sides also took the lead in opening a "fast-track lane" for essential personnel on urgent visits to ensure the smooth operation of industrial chains, supply chains and logistics chains in the region, he added.
Xi calls for gradual resumption of China-Sri Lanka practical cooperation - Xinhua
Chinese President Xi Jinping suggested Wednesday that China and Sri Lanka, while ensuring COVID-19 prevention and control, gradually resume practical cooperation in various fields, advance major cooperation projects in an orderly manner and promote the high-quality construction of the Belt and Road.

Xi made the remarks in a telephone conversation in the night with Sri Lankan President Gotabaya Rajapaksa
Chinese defense minister talks to South Korean counterpart over phone - China Military
China thinks highly of South Korea's achievements in pandemic prevention and control over such a short span of time and is willing to strengthen exchange and cooperation with South Korea in jointly winning the global fight of pandemic prevention and control, Wei said.
U.S., allies using COVID-19 to impose their vision of world order - CGTN
The United States and its allies keep whipping up confrontation and are using the COVID-19 pandemic to impose their own vision of the future world order, Russian Foreign Minister Sergei Lavrov said on Wednesday.

"They call it a rule-based world order, and as you know, they invent the rules themselves," Lavrov said at a video meeting of the Shanghai Cooperation Organization (SCO) foreign ministers.
U.S. opposes verification of biological weapon production: Russian FM - Xinhua
"The United States' reluctance to ensure transparency of its military-biological activities in different regions of the world, of course, raises questions about what is really happening and what goals are being pursued," Lavrov said during a news conference following an online meeting of foreign ministers of the Shanghai Cooperation Organization (SCO).
Foreign Ministry Spokesperson Zhao Lijian's Regular Press Conference on May 13, 2020
Zhao Lijian: Yesterday, China and Caribbean countries having diplomatic relations with it held a special vice foreign ministers' meeting on COVID-19 via video link. Delegates from China and nine Caribbean states attended the virtual meeting co-hosted by Vice Foreign Minister Zheng Zeguang and Foreign Minister Kenneth Darroux of the Commonwealth of Dominica. They held in-depth exchange over issues including domestic COVID-19 situation and response, China-Caribbean cooperation in fighting the pandemic, and the two sides' coordination and cooperation in international affairs, reaching wide consensus.
PLA sends supplies to help militaries in 12 countries battle COVID-19 - CGTN
The Chinese People's Liberation Army (PLA) on Tuesday and Wednesday sent COVID-19 containment supplies, including protective suits, medical masks and forehead thermometers, to militaries of 12 countries by air force planes.

They have been sent to countries such as Indonesia, the Philippines, Malaysia, Brunei, Thailand, Pakistan, Nepal, Afghanistan, Sri Lanka, Uzbekistan, Kyrgyzstan and Tajikistan.
Chinese Y-20 transport aircraft delivers medical supplies to Thailand - China Military
According to the official website of the Embassy of the People's Republic of China in the Kingdom of Thailand, at the request of the Thai military and with the approval of China's Central Military Commission (CMC), the Chinese People's Liberation Army (PLA) sent its Air Force Y-20 transport aircraft to Thailand on May 12 for an emergency delivery of materials for epidemic prevention and control. Heads of Thailand's Ministry of Defense and Chinese Embassy in Thailand greeted them at the airport and attended the handover ceremony.
China confirms cooperation with Canada on drugs, vaccines development against COVID-19 - Xinhua
Commenting on the health cooperation between China and Canada, Zhao said the two sides have been giving mutual support and help since the outbreak of the pandemic. "The 32 tonnes of medical supplies donated by the Chinese government have been shipped to Canada, and we have been offering active assistance and convenience for the Canadian side to purchase medical supplies here."
Haunted by a phantom, China fights a modern-day encirclement - Nikkei Asian Review
The chorus of criticism has reminded Chinese people of a historical event that took place 120 years ago.

"It is like a modern-day Eight Nation Alliance," one Chinese person said. "They are blaming China for everything. What is the true reason for this encirclement?"

"There must be a huge conspiracy behind the move to demand compensation from China," said another.
Chinese lab boosts Serbia's coronavirus testing capacity - Reuters
The Huo-Yan National Laboratory for Molecular Detection of Infectious Agents in Belgrade is the first that the Beijing Genomics Institute (BGI) has helped to build in Europe and has the capacity to carry out more than 2,000 tests a day.

The laboratory's 40 employees were all trained by Chinese colleagues who previously set up COVID-19 testing laboratories in Wuhan, where the new coronavirus first emerged, and 10 other Chinese cities.
Meanwhile, the PRC Ambassador to the Netherlands is warning about a "new Facism":
So the Ministry of Foreign Affairs has forgiven the Wall Street Journal for that Oped that so offended them they used it as the pretext to expel WSJ reporters? - China Wants to Help the World Fight Coronavirus - WSJ Oped by Xie Feng, commissioner of the Chinese Foreign Ministry in Hong Kong
Some are taking things further, trying to make a fortune out of the pandemic. They have demanded reparations from China, a chilling reminder of the Boxer Indemnity foreign powers coerced China into paying more than a century ago. As a Chinese proverb goes, "A gentleman pursues wealth in a righteous way." Blackmail and plunder are surely not the correct response to a pandemic.

Some others have seen the crisis as an opportunity to cut off trade and decouple economically from China. This has caused bottlenecks in global industrial supply chains and will only set back the recovery of frail economies.
Canadian opinions of China reach new low - Angus Reid Institute
Indeed, just 14 per cent of adults in this country now say they have a positive opinion of China, a level half as high as it was six months ago (29%).

The deterioration comes as Beijing faces accusations from United States intelligence that it intentionally hid the severity of the COVID-19 outbreak in the early days of the pandemic. Others have expressed skepticism regarding the true number of Chinese cases and deaths from the illness.

More than four-in-five (85%) Canadians say the Chinese government has not been honest about what has happened in its own country.
Comment: It takes a real concerted effort to lose Canada.
---
Business, Economy and Trade
Exclusive: Regulator Urges Banks to Rectify Unlicensed Businesses (Again) - Caixin The China Banking and Insurance Regulatory Commission (CBIRC) recently issued a notice reminding the country's 12 national joint-stock commercial banks that they must rectify these unlicensed businesses. The banks' nonlocal departments operating the businesses are required to close or merge with the banks' branches if they cannot obtain the necessary licenses. This is not the first time they have been told to do so. In December 2018, the CBIRC released a guideline giving banks one year to rectify such unregulated businesses. The latest notice came as some national joint-stock commercial banks didn't comply within the deadline, sources familiar with the matter told Caixin. The latest notice said banks must properly defuse risks associated with these unlicensed businesses and properly handle personnel issues during the rectification, one source said.// The guideline 中国银保监会关于规范银行业金融机构异地非持牌机构的指导意见
Coronavirus pandemic mires European Union's market drive into China | South China Morning Post While some fear the economic turbulence has weakened the bloc in negotiating with Beijing over an investment protection agreement, a deal that the EU wants to level the investment field and create new markets for European companies in China, a source with direct knowledge described the ongoing EU-China talks on the deal as "intensive". "The key for the progress of negotiations would be about reaching an ambitious outcome on state-owned enterprises (SOEs), the disciplines for which have been a major focus for discussions on level-playing field," he said. "The EU insists that SOEs engaged in commercial activities should behave commercially – just like any other private business." // Comment: So if the EU sticks to this point then there is unlikely to be a deal?
Yicai - Chinese Bad Debt Manager Cinda Throws Sanpower a USD1.4 Billion Lifeline China Cinda Assets Management, one of the country's largest state-owned distressed debt managers, is to provide the insolvent Sanpower Group with a CNY10 billion (USD1.4 billion) liquidity lifeline, online news portal The Paper reported today.
Yicai - Shanghai Shopping Gala Ignites Spending Spree, Jump in Car Sales, Official Says Consumers spent CNY15.7 billion (USD2.2 billion) in the first 24 hours of the retail campaign. Ten million packages were picked up for delivery on May 6, up 31.7 percent from the same day last year. The May 5 Shopping Festival runs through the entirety of this month and next and straddles key national holidays such as Labor Day, Children's Day and the Dragon Boat Festival.
Yicai - Guangdong Sets New Records With Issue of USD14.60 Billion in Local Gov't Bonds The southern province issued 33 government bonds yesterday to fund infrastructure construction in the wake of the coronavirus pandemic. That set record on the Shenzhen bourse for the number and amount of local government bonds issued and was also the first on-site new debt issuance since the outbreak.
Yicai - China's Shoppers Rush to Buy Chanel Before Prices Go Up Consumers have been lining up outside Chanel's stores in Chinese cities such as Beijing and Shanghai to beat planned price hikes by the French retailer and other luxury brands that are taking a beating from the global coronavirus pandemic.
Trust Firm Denies Rumors of Government Takeover - Caixin Sichuan Trust Co. Ltd. has denied rumors that it is about to be taken over by regulators and said it continues to operate normally.
Coronavirus Has Been a Boon for China's Railways - WSJ $$ The coronavirus pandemic is boosting a core element of China's Belt and Road Initiative, as rising prices and disruptions in sea and air shipping force companies to turn to trains. Railways that China has revived in recent years, connecting the country to Europe through Central Asia, just notched their busiest month yet. China Railway Corp., which operates the trains in China, said it recorded 976 trips in April, a 47% increase year-over year. The trains were carrying cargo equivalent to the capacity of four of the world's largest container ships.
人民银行调查统计司有关负责人就4月份金融统计数据情况答《金融时报》记者问 PBoC official Q&A on the data
Chinese online grocer JD Daojia files for US IPO · TechNode JD Daojia raised $500 million from Walmart and JD.com in 2018
Trump threats to China over coronavirus pile pressure on renminbi | Financial Times $$ "The renminbi is a casualty of the more aggressive tone the White House is taking . . . and it seems likely that the US will be taking a more hawkish position ahead of the US presidential election," said Mark Williams, chief Asia economist at research firm Capital Economics. He forecasts a gradual depreciation over the coming months.
Securing China's food supply post-COVID-19: 'Self-reliance' returns to the northeast provinces - The China Story Putting aside implicit or explicit threats by Chinese ambassadors on trade bans and consumer boycotts, transforming northeast agriculture has been in the works for many years. Indeed, the will of China's political leadership to make the supply chain of food more secure and solve the problems of the northeast regional economy has grown only stronger in recent years. China's issues with food security remain largely the same as they did before Xi's 2018 inspection tour. Arable land is scarce, the regulatory regime for food safety is still not trusted by Chinese consumers, and the Australia 'brand' is still strong. However, the sheer size of the Chinese economy means even regional changes, like those in the northeast, could have significant global consequences. And with Xi Jinping's maxim of: "the Chinese people's rice bowls must be firmly in their hands at all times", China may be more determined than ever to rely on itself for its own food security.
观察者网:全国政策性粮食库存数量和质量大清查总结视频会议在京召开 State Grain and Reserves Administration said it had finished a one-year inspection across China of all the state grain reserves, and that the results show the numbers on the books "are relatively consistent" with the true amount of the reserves. //There have been accusations over the years that local officials may have sold some of the grain reserves and pocketed the proceeds. And this report comes as there are increasingly fears about the impact of the global pandemic on food supplies.
财新:康得新案后续, 北京银保监局将对北京银行采取监管措施 Caixin reported that the Beijing baking regulator is investigating the Bank of Beijing for its role in a "Kangdexin" fraud case. The bank is suspected of providing false evidence of fund for the publicly listed company who later defaulted on its bonds. 
Politics and Law
National disaster reduction committee reshuffled - Gov.cn State Councilor Wang Yong will serve as the head of the committee, with three individuals to assume the post of deputy head: Huang Ming, Party secretary of the Ministry of Emergency Management (MEM); Ma Yiming, deputy chief of the Joint Staff Department under the Central Military Commission; and Meng Yang, deputy secretary-general of the State Council.
Beijing municipal officials check preparations for two sessions - Global Times Beijing Party Secretary Cai Qi and Beijing Mayor Chen Jining visited accommodation prepared for delegates who will arrive in the capital for the two sessions kicking off on May 21.  Cai and Chen, as well as other officials, visited the Beijing Hotel on Wednesday morning, checking temperature screening areas, security checkpoints and designated nucleic acid test stations set up in the hotel.  Cai stressed that normalized anti-epidemic work during this year's two sessions is extremely important. He called for the hotel to focus on details and strictly implement the capital's anti-epidemic requirements.
Zhang Zhijun appointed acting mayor of Changchun - Xinhua Zhang Zhijun was appointed deputy mayor and acting mayor of Changchun, capital of northeast China's Jilin Province, on Wednesday.
The Supreme People's Court has effectively stopped being an appeal court as of right | The China Collection An increased minimum amount-in-controversy requirement for Higher People's Courts means that almost all cases will have to start at the intermediate level or below, meaning that the Supreme People's Court will only very rarely be the court of second instance (which is obliged to hear an appeal)
中共元老姬鹏飞之子刑满释放 近照曝光[图]|中国 据《星岛日报》引述内地独立记者高瑜5月10在推特上的消息称,曾任解放军总参谋部情报部部长、少将姬胜德于5月9日刑满获释,并转载他和另一人的近照。 // Ji Shengde has been released from prison. Ji a former PLA senior intelligence officer and son of former vice premier Ji Pengfei, has been released from prison. Ji received a suspended death sentence in 1999 for his involvement in a massive smuggling case. He also reportedly wired 300,000 USD in 1996 to Clinton's reelection campaign.
长安街知事:中信银行原行长孙德顺被诉 Beijing Daily reported that former president of CITIC Bank has been formally charged in Jinan, Shandong for taking bribes. Sun worked long time in Beijing at ICBC and the Communication Bank before he joint CITIC.
上观新闻:权威展现周恩来和中共隐蔽战线的传奇历史,10集纪录片央视开播 CCTV is broadcasting a 10-episode documentary jointly produced by the ministry of state security. The documentary is about Zhou Enlai, the early days of the MSS, and their great intelligence network that planted moles within the KMT and Japanese military. They are available on YouTube as well.

Foreign and Defense Affairs
Borrell: EU won't again bow to Chinese censorship – POLITICO pledged that the EU will not again give in to Chinese censorship. "The ambassador had to take a decision to pass 99 percent of the European Union message, which at the end was not even possible because the Chinese version of the op-ed was not published," said Borrell, referring to the head of the EU delegation in China, French diplomat Nicolas Chapuis. "And the decision taken, under great time pressure ... was not the right one to take." 
China-EU summit on investment deal, Covid-19 likely to start next month, sources say | South China Morning Post European Commission President Ursula von der Leyen and European Council President Charles Michel could hold a videoconference with Chinese Premier Li Keqiang as early as the first week of June, according to the sources, who declined to be identified.
'Dangerous' China trade dispute triggers national division over Wuhan origin inquiry - Sydney Morning Herald Victoria and Queensland have warned the federal government to be more diplomatic in pursuit of a coronavirus inquiry, fearing that Australia's escalating trade dispute with China will harm already fragile state economies. But new research to be released on Thursday shows Australians are critical of the Chinese government's response to the pandemic and support the federal government's approach.
Australia delusional in expecting normal trade amid tensions with China - Global Times If bilateral relations continue to deteriorate, private Chinese investment, tourism and study in Australia may also be affected, because people can always find alternative destinations in these aspects. Although beef import suspensions and potential barley tariffs are not retaliatory actions from China, many still regard the moves negative signals which will inevitably discourage private investment and exchanges in the future.
Liberal senator hits out at university China reliance, reveals whistleblower documents - Sydney Morning Herald Liberal senator James Paterson has taken aim at universities' reliance on international students, using a speech in Parliament to reveal confidential details about the University of Queensland vice-chancellor's pay incentives to deepen ties with China. In a late-night speech on Tuesday, Senator Paterson said a whistleblower from the university had given him a copy of last year's senior staff remuneration report, which showed vice-chancellor Peter Hoj had received a $200,000 bonus based partly on his success in growing the university's relationship with China.
China ramping up bullying and intimidation of activists in Canada, report says - The Globe and Mail A coalition of human-rights groups led by Amnesty International Canada says a timid response by Ottawa to this foreign interference is exacerbating the problem. "Chinese state actors have almost certainly become emboldened by the inadequate responses of Canadian officials," the coalition writes. The report, Harassment & Intimidation of Individuals in Canada Working on China-related Human Rights Concerns, also sounds the alarm over what it calls escalating intimidation and interference at Canadian schools and universities. "Consequently, academic freedom and freedom of expression of university students in Canada speaking out on China has been increasingly stifled, as many individuals fear that Chinese government or consular agents are monitoring their speech or their activities."
China's navy gets back on training track with extensive drills | South China Morning Post According to the China Maritime Safety Administration, an area off Tangshan's coast in the Yellow Sea will be off limits to marine traffic from Thursday until July 31 for military exercises. Tangshan is about 200km (124 miles) east of the capital Beijing...Some exercises were also postponed and to make up for the lost time the navy has planned 11 weeks of exercises, mainly to test the Shandong, China's first locally built aircraft carrier, and its accompanying vessels, according to a military source with direct knowledge of the matter.
Vietnam Encourages Fishermen to Defy China South China Sea Ban - RFA Vietnam's government on Tuesday encouraged the nation's fishermen to keep operating around the disputed Paracel Islands despite China's unilaterally-imposed fishing ban in the South China Sea, and directed provincial authorities to support Vietnamese fishermen at sea.
U.S. Navy maintains persistent presence near West Capella | Commander, U.S. Pacific Fleet The Independence-variant littoral combat ship USS Gabrielle Giffords (LCS 10) operated in the southern South China Sea marking the second time that an LCS patrolled there since USS Montgomery (LCS 8) sailed with USNS Cesar Chavez (T-AKE 14), May 7, supporting freedom of navigation and overflight.
Paris Club Sees China Joining in Debt Relief Effort - Bloomberg The Paris Club is confident China will take part in a global drive to pause debt payments for poor countries that urgently need funds to battle the coronavirus pandemic. China, which has grown to become one of the world's largest creditors, is expected to provide debt relief under the same terms as other large nations that joined an agreement last month, Paris Club Chair Odile Renaud-Basso said in a phone interview.
China's Dual-Capable Missiles: A Dangerous Feature, Not a Bug – The Diplomat It remains unknown how the Chinese leadership precisely views the question of retaliating for conventional, long-range precision strike on dual-capable strategic systems like the DF-26, but the capability for the system itself is an important feature. The United States and China remain no closer to the sort of dialogue on strategic stability that would allow for an authoritative qualification by the Chinese side on how it views this important question.
China's ambiguous missile strategy is risky | Popular Science The PLA's rationale for pursuing this conventional-meets-nuclear strategy appears to be a combination of the cost savings that a dual-use weapon represents and a belief that what is known as "strategic ambiguity" improves China's deterrence against strikes on its conventional missile force. The thinking is that any adversaries pondering attacking China's conventional force in a crisis or conflict would be worried that they might inadvertently hit nuclear weapons and thus catastrophically escalate the situation. The risk with this strategy is that such ambiguity substantially increases the danger of an accidental nuclear exchange due to mistaken assumptions.
Space Force vice commander: China can't be allowed to buy bankrupt U.S. space companies - SpaceNews.com As venture capital has retreated from the space sector during the pandemic, the Pentagon has raised concerns that China could move in to acquire distressed companies that have technologies relevant to national security. The Pentagon has not explained how it could stop Chinese acquisitions but officials have indicated that they are paying close attention to the space sector partly for that reason.
Large chunks of a Chinese rocket missed New York City by about 15 minutes | Ars Technica According to Jonathan McDowell, an astronomer at the Harvard-Smithsonian Center for Astrophysics and keen observer of satellites, this is the largest vehicle to make an uncontrolled reentry into Earth's atmosphere since 1991, when the Soviet Salyut 7 space station broke up over Argentina.
Chinese nationals arrested in Nigeria with loads of bribe - K24 TV Nigeria's anti-corruption agency, the Economic and Financial Crimes Commission (EFCC), has arrested two Chinese nationals for allegedly offering a $250,000 (Ksh26.7 million) bribe in local currency to one of its senior officials.
缅甸金凤凰中文报社:疫情期间惊爆劫杀案 我们的安全谁来保障? A Chinese businessman was beaten to death by several men in broad daylight in Yangon, Myanmar on Monday. A camera caught the whole incident. The video of that is spreading panic among the Chinese community in the country. It is unclear the cause of the violence. A Chinese business chamber sent a notice warning the Chinese businessmen in Myanmar to keep a low profile, not to look down on the locals and their religion, not to report the Chinese values, not to sleep around and not to use drugs.
南方都市报:福建夫妇柬埔寨被杀害,最后朋友圈晒大叠美金图!凶手仍未找到 A Chinese couple running a restaurant in Sihanoukville in Cambodia were killed earlier this month and the murderers are still at large. The family said the couple were targeted probably because they posted a picture with lots of cash in their WeChat. 
China to impose security check on infrastructure IT procurement - Nikkei Asian Review China will put a new law into force on June 1 under its Cybersecurity Law in force since 2017. It will require telecommunications, transport, finance and other public infrastructure operators planning to procure IT equipment to submit contracts and results of analyzed risks, including those related to national security, to the government for prior examination. Although the details of the examination are unknown, the government said it will check the risk of supply disruptions caused by political, diplomatic and trade issues.
Hong Kong and Macao
WeWork dumps about fifth of coworking space, in breach of leases signed with major Hong Kong landlords | South China Morning Post WeWork, the US real estate firm, is returning about 20 per cent of its Hong Kong premises to their owners, as start-ups, small enterprises and other short-term tenants failed to take up its offering of shared working space in the city.
China can ill-afford causing a Hong Kong failure | Financial Times - Anson Chan OpEd In the wake of coronavirus, China already faces an uphill challenge to win back the trust of the international community. It cannot afford the further disgrace of "one country, two systems" collapsing in full view of the world. It would be the death knell for Hong Kong's role as Asia's premier financial services centre, with implications for banking, insurance, legal and other trade-related services that underpin not just the Chinese but wider regional and global economies. Hong Kong is tiny in geographical terms, but its unique status as the only open economy and free society in China makes it too important to fail. // Question: Would the outcome really be so dire, or are some in Beijing betting that greed will trump other concerns and the financial activity in Hong Kong will continue?
Taiwan
Taiwan authorities condemned for backing verbal attacks on mainland students - Xinhua The Taiwan authorities acted as the "protective umbrella" for "anti-mainland" forces in Taiwan society by defending such verbal attacks, said Ma Xiaoguang, a spokesperson for the State Council Taiwan Affairs Office.
Beijing's Man in Taiwan Crashes and Burns - Asia Sentinel The astonishing political career of Han Kuo-yu, who came from nowhere to run for Taiwan's presidency just four months ago, seems set to end on June 6 in disgrace in a recall vote that seeks to oust him from the mayoralty of Kaohsiung, Taiwan's second-largest city.
Tech and Media
Tencent posts first-quarter beat as users turn to hit mobile games during coronavirus lockdown - CNBC Online games revenue grew 31% year-on-year to 37.3 billion yuan. Total smartphone game revenue came in at 34.7 billion yuan for the March quarter. Analysts at investment bank Jefferies had expected a revenue figure of  31.6 billion yuan. Mobile games got a boost from Tencent's hit titles including "Honor of Kings," which saw new upgrades during the quarter, and "Peacekeeper Elite."
Coronavirus: Tencent Shows It's Rough Even After Storm Clears - Bloomberg One weakness for the Chinese internet giant came from the fintech division. Ironically, the business that helps consumers and merchants move payments from physical to digital suffered at precisely the time that physical commerce ground to a halt — because offline transactions and cash withdrawals fell. Its cloud business also suffered as new project deployment was delayed amid the shutdown.
Intel looks chipper with new tech investments | Light Reading Apparently not fazed by growing tensions between the US and Chinese governments, Intel pumped money into two Chinese semiconductor startups: ProPlus Electronics and Spectrum Materials.
Society, Arts, Sports, Culture and History
超过50%女生没有自慰过,19%大学生约过P|全国大学生性与生殖健康调查报告 detailed sociological study of sexual behavior in China
Snapshots from a Vocational High School - Gushi here's a second piece from vocational school teacher Zhang Qingyi..The students that Zhang Qingyi oversees are at the margins of this big game, social outcasts who are often despised even by their own parents and teachers. In this heartwarming account, Zhang tries to restore their humanity by lending a more loving and empathetic ear to their troubles.
年过半百"郝大炮":虽千万人 吾往矣 | 德国之声 来自德国 介绍德国 | DW | 09.05.2020 Hao Haidong, famous PRC footballer, comes out in support of Fang Fang
Energy, Environment, Science and Health
Chinese experts use quantum satellite to ensure time information security - Xinhua Experts used China's quantum satellite -- Quantum Experiments at Space Scale (QUESS) -- to verify quantum-secure time transfer for the first time, which laid a foundation for building a safe satellite navigation system.
Mexico finds 15,000 turtles in crates bound for China - AP Mexican authorities said Tuesday they have seized a shipment of 158 wooden crates bound for China containing about 15,000 fresh-water turtles, some of them endangered.
Installation of New Wind and Solar Power Plants Plunges During Outbreak - Caixin China's newly installed wind power capacity in the first quarter halved from the same period in 2019 to 2.36 million kilowatts. Meanwhile, installation of solar power plants suffered a 24% year-on-year drop in capacity to 3.95 million kilowatts, data from the National Energy Administration showed on Monday.
Columbia | SIPA Center on Global Energy Policy | Powering the Globe: Lessons from Southeast Asia for China's Global Energy Interconnection Initiative This report, prepared as part of the Belt and Road Initiative series published by Columbia University's Center on Global Energy Policy, uses a case study of power trade in the Greater Mekong Subregion to assess the prospects for GEI [Global Energy Interconnection] in catalyzing energy integration around the world. It discusses why Greater Mekong Subregion integration has been slow, how GEI might help accelerate interconnection in the area, and what lessons the region offers for understanding the overall outlook for GEI.
Jobs and Events
Quincy Institute - Director, East Asia Program - DC
Candidates must be dedicated to advancing QI's mission, vision, and principles of responsible statecraft, centered on diplomatic engagement and military restraint. The director will ensure the intellectual cohesion of the program, and she or he will produce scholarship that supports a sound U.S. approach to China.