Discover more from Sinocism
Get smarter about China
Over 179,000 subscribers
US "strategic ambiguity" over Taiwan; China-India; 75th anniversary of end of WW II; Inner Mongolia
This week is the 75th anniversary of the end of World War II, also known in China as the victory of the Chinese People's War of Resistance Against Japanese Aggression and the World Anti-Fascist War. There will be no military parade in Beijing as there was for the 70th anniversary, but Xi is taking the leadership to a ceremony in Beijing that will be broadcast live. Will Wang Qishan be making his first public appearance in months?
There are no signs of a reduction in tensions on the India-China border, and there is a confirmation that one Indian soldier, of Tibetan descent, died in a mine blast. India also banned 188 more Chinese apps in the country. I have to say, the PLA's destruction of the Indian market opportunities for PRC tech firms is an impressive feat.
Richard Haass, president of the Council on Foreign Relations (CFR), and David Sacks, a research fellow at the CFR, today called for ending America's policy of "strategic ambiguity" about whether or not the US would defend Taiwan if the mainland attacked:
Washington's deliberate ambiguity on the matter helped dissuade China from attempting to "reunify" Taiwan with the mainland, as it could not be sure that the United States would remain on the sidelines. At the same time, the policy discouraged Taiwan from declaring independence—a step that would have precipitated a cross-strait crisis—because its leaders could not be sure of unequivocal U.S. support.

The policy known as strategic ambiguity has, however, run its course. Ambiguity is unlikely to deter an increasingly assertive China with growing military capabilities. The time has come for the United States to introduce a policy of strategic clarity: one that makes explicit that the United States would respond to any Chinese use of force against Taiwan. Washington can make this change in a manner that is consistent with its one-China policy and that minimizes the risk to U.S.-Chinese relations. Indeed, such a change should strengthen U.S.-Chinese relations in the long term by improving deterrence and reducing the chances of war in the Taiwan Strait, the likeliest site for a clash between the United States and China.
How might Beijing react if the US ends the policy of strategic ambiguity? Would ending this policy be more palatable to Beijing than a broader upgrading of the US-Taiwan relationship?
Today's Essential Eight:
India-China

75th anniversary of the victory of the Chinese People's War of Resistance Against Japanese Aggression and the World Anti-Fascist War

Taiwan

US-China

"United in the war on the epidemic"

Protests against changes to Mongolian language teaching

More on Wang Yi's Europe tour

Another plagiarism scandal
Thanks for reading.
---
The Essential Eight
1. India-China
India acts to secure border after Himalayan clashes with China | The Guardian
According to members of the Tibetan parliament-in-exile, Nyima Tenzin, an Indian soldier of Tibetan descent who is a regiment company leader in the Special Frontier Force (SFF) – an elite army unit that patrols the Himalayan border – died in the clashes along the border on the weekend.

Tenzin's body was taken to the Tibetan settlement camp near the city of Leh in Ladakh, where his wife and two children live, for final Buddhist rights to be performed.

The death of Tenzin, the first casualty since 20 Indian soldiers lost their lives in June during a high-altitude confrontation in Ladakh's Galwan Valley, has not been confirmed by the Indian government, which rarely comment on SFF operations.
Tibetan soldier's death near tense India-China border sheds light on covert unit - Reuters
The death of a Tibetan member of an Indian special forces unit in a mine blast near the site of a border flare-up with Chinese troops has offered a rare glimpse into a little-known group of elite, high-altitude warriors.
PUBG banned in India's latest salvo against 118 Chinese apps - The Economic Times
The ministry of electronics and IT on Wednesday, issued orders to ban 118 more Chinese apps after banning 59 apps in the first round. The new apps include popular mobile gaming app PUBG, and apps from the stable of Baidu, Tencent and Xiaomi.

ET reported last month that the government has prepared a list of 275 more Chinese apps including PUBG which could be banned on concerns of data security. This comes after fresh tensions on the border between India and China.
Indian move to ban 118 more Chinese apps is to deflect domestic failures: expert - Global Times
The move also comes as India, the most populous country in South Asia, continues to be ravaged by the COVID-19 epidemic that has been crippling the economy, and thus the move is a calculated provocative move by Prime Minister Narendra Modi's government to hide its domestic failures, said Zhao Gancheng, director of the Center for Asia-Pacific Studies at the Shanghai Institute for International Studies.

"India's adventurism and opportunism stands out in particular," Zhao told the Global Times on Wednesday, adding that with its economy deteriorating rapidly and the epidemic worsening there, India is facing the risk of a "collapse," which could mean the downfall of Modi's administration.
Foreign Ministry Spokesperson Hua Chunying's Regular Press Conference on September 2, 2020
Reuters: The Indian side said that the "Tibetan armed unit" is part and parcel of the Indian armed forces, because they have the best high-altitude combat capabilities. This unit was formed under the guidance of the CIA in the 1960s, which is part of the "strategic exchange" between the two sides. The Dalai Lama and the "Tibetan government-in-exile" support them in fighting shoulder by shoulder with India. What is China's view on "Tibetans in exile" joining the Indian army?

Hua Chunying: I'm not aware of what you said about these "Tibetans in exile" in the Indian armed forces. You may ask the Indian side for this.

But I noted some words you mentioned, including "the 1960s", "CIA" and "Tibetans in exile". These words prompt us to ponder over the ins and outs of the Tibet-related issues and the role the US has played in this process. China's position is very clear. We firmly oppose any country providing convenience in any form for the "Tibet independence" forces' separatist activities.

I am also wondering what is the connection between so-called "Tibetans in exile" and the Indian border troops. I hope you can do some in-depth investigation. It will be great if you can share with us any further information and progress in this regard.
China-India border: defence ministers to converge on Russia amid stand-off tensions in disputed territory | South China Morning PostSouth China Morning Post
Defence ministers from China and India are expected to arrive in Russia on Wednesday as the two countries face each other in a fresh stand-off over their disputed border lands.

China's Wei Fenghe and his Indian counterpart, Rajnath Singh, will attend an annual meeting of defence ministers under the Shanghai Cooperation Organisation (SCO).

Singh and Wei will attend the meetings hosted by Russian Defence Minister Sergei Shoigu, although there are apparently no plans for talks between India and China on the sidelines
China Foreign Ministry Says No Indian Troops Died Along Border | Reuters
China's foreign ministry said on Wednesday no Indian troops had died along the countries' shared border, as fresh tensions flared up on the frontier.
Amid LAC row, US calls on China to stop 'bullying neighbours' - Times of India
"We're hoping for a peaceful resolution to the situation on the China-India border…the Chinese communist party is engaged in a clear & intensifying pattern of bullying its neighbors," Pompeo said at a state Department briefing, while also expressing concern about Chinese call to "Sinicize" Tibetan Buddhism and calling on Beijing to enter dialogue with the Dalai Lama.
India will gain nothing from its border aggression - China Daily
Both the Indian military and government should be aware by now that they will never get an inch of the territory they are not entitled with their encroachment. They should never underestimate the determination of Chinese troops to defend China's sovereignty and territorial integrity.

China has reiterated that both sides should respect the Line of Actual Control and solve their border dispute through talks. China has also made it clear that the border dispute should not have a negative impact on the engagement between the two countries in other areas.

However, it seems that New Delhi thinks otherwise. The border dispute with China and the face-offs and even bloody clashes between the troops of the two sides have turned out to be something that the Indian military and government believe they can make an issue of to stimulate nationalism among Indian people and divert Indian people's attention from its internal problems, such as the country's poor economic performance and soaring novel coronavirus infections.
The Silent Victims of China-India Travel Bans: Cancer Patients - SixthTone
The problem is that Ying buys the drugs from a company in India, which sells a generic version of imatinib at a fraction of the price charged by Chinese suppliers. For thousands of Chinese cancer patients, importing pills from South Asia is the only way to afford potentially life-saving drugs.

Through 2020, however, travel restrictions between China and India have thrown this enormous drug trade into chaos. And the situation shows little sign of improving amid tense relations between the two countries.
Indian troops first to cross LAC; blame for border issues lies with New Delhi - Global Times
Qian Feng, director of the research department at the National Strategy Institute at Tsinghua University, told the Global Times that as the military strength of both China and India is clearly known to the world, India, the weak party, uses the description of "preemptive actions," revealing the hubris of some Indian officials.

India must bear the responsibility and consequences if China takes tough countermeasures since it was the first to engage in provocation, Qian said.

India has put its sincerity in maintaining the peace and stability of the China-India border area in doubt, as it keeps stirring up new trouble while leaving old ones unresolved, Qian said.

After the Monday incident, a short video depicting several Indian soldiers singing and dancing with two flags that showed the separatist symbol adopted by the "Tibetan government in exile" circulated widely on Twitter.
Chinese embassy urges India to immediately withdraw troops illegally trespassing border area - People's Daily Online
In response to a media query on the China-India border situation, Spokesperson of the Chinese Embassy in India Counselor Ji Rong said China has urged the Indian side to restrain its frontline troops and immediately end all provocative actions.

"On Aug. 31, Indian troops violated the consensus reached in previous multi-level engagements and negotiations between China and India, illegally trespassed the Line of Actual Control again at the southern bank of the Pangong Tso Lake and near the Reqin Pass in the western sector of China-India border, and conducted flagrant provocations, which again stirred tension in the border areas," Ji said.
---
2. 75th anniversary of the victory of the Chinese People's War of Resistance Against Japanese Aggression and the World Anti-Fascist War
Xi to attend commemoration of 75th victory anniversary of anti-Japanese war, WWII - Xinhua
Chinese leaders led by Xi Jinping will attend an event on Thursday morning to commemorate the 75th anniversary of the victory of the Chinese People's War of Resistance Against Japanese Aggression and the World Anti-Fascist War.

They will be joined by representatives from all walks of life in the Chinese capital to present flower baskets to martyrs at a museum of the war in Beijing.

The event will be broadcast live by the China Media Group
铭记历史 砥砺奋进——写在中国人民抗日战争暨世界反法西斯战争胜利75周年之际-新华网
"Remember the history and strive forward," Xinhua's long commentary on the 75th anniversary of the end of WWII. It again said the CCP played the role of "a pillar 中流砥柱" in the war
Commentary: Cherish peace, guard against evil - Xinhua
As the world is to commemorate the 75th anniversary of the victory of the World Anti-Fascist War, the humanity should guard against the return of the evil and darkness from the ashes of history...

The world today faces a particularly worrying situation. Some radical forces nowadays are jeopardizing human solidarity, stirring up hatred and attempting to sow discord among nations.

They have resorted to every possible means to obstruct other countries' development. They have been repeating acts of bullying, advocating economic decoupling and propagating racism and discrimination.

They have also been stoking ideological confrontation and pressuring other countries to join their pursuit of major-country rivalry. These acts threaten to push the world to the brink of turmoil and division.
全民族抗战是中国人民抗日战争胜利的重要法宝 The National War of Resistance was the key to the victory of the Chinese people in the war against Japan(人民要论) - 王建朗 Wang Jianlang - 9.2 People's Daily page 9
The war against Japan not only saved the nation from peril, but also left a valuable spiritual legacy for posterity, which is the great spirit of war resistance forged in the fire: the patriotic sentiment that the rise and fall of the world is the responsibility of all men; the national temperament that sees death as if it were return and refuses to yield; the heroic spirit that defies violence and fights to the bitter end; and the indomitable and persevering belief in victory. The great spirit of resistance will always be a powerful spiritual impetus for the Chinese people to overcome all hardships and obstacles and to strive for the great rejuvenation of the Chinese nation.
(The author is Director of the Institute of Modern History of the Chinese Academy of Social Sciences and a researcher at the Center for the Study of Xi Jinping's Thought on Socialism with Chinese Characteristics for a New Era, Chinese Academy of Social Sciences)

抗日战争不仅挽救民族于危亡,还给后人留下了宝贵的精神遗产,这就是战火中铸就的伟大的抗战精神:天下兴亡、匹夫有责的爱国情怀,视死如归、宁死不屈的民族气节,不畏强暴、血战到底的英雄气概,百折不挠、坚忍不拔的必胜信念。伟大的抗战精神,永远是激励中国人民克服一切艰难险阻、为实现中华民族伟大复兴而奋斗的强大精神动力。

(作者为中国社会科学院近代史研究所所长、中国社会科学院习近平新时代中国特色社会主义思想研究中心研究员)
The Chinese ambassador to Russia co-authored an article with the Russian ambassador to China on the Russian newspaper Rossiyskaya Gazeta to commemorate the end of WWII. They vowed to work together to safeguard the victory of the war, and give more support to multilateralism.
---
3. Taiwan
MOFA unveils Taiwan's new passport design - Taiwan Today
Major changes include enlarging the English font for Taiwan and placing it directly above the word "passport" to clearly indicate holders' national identity. In addition, the country's official name in English is embedded three times in the outer circle of the national emblem for greater aesthetic appeal.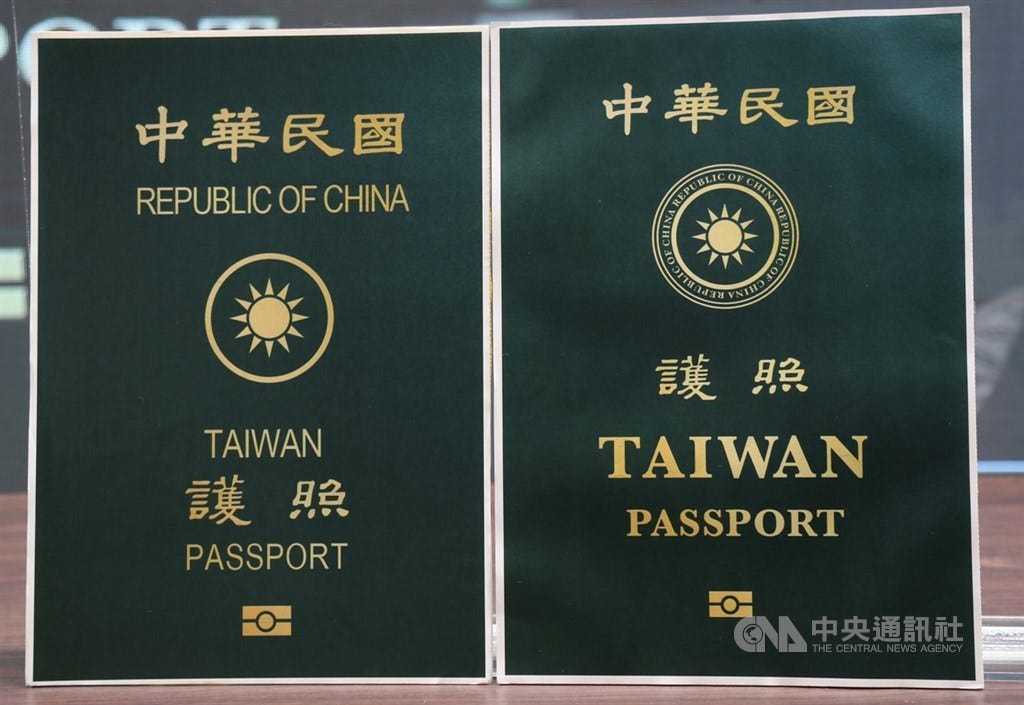 Taiwan's opposition KMT to uphold 'one China' consensus as part of cross-strait policy | South China Morning PostSouth China Morning Post
Taiwan's main opposition party the Kuomintang has decided to keep the 1992 consensus on "one China" as part of its cross-strait policy, a move that is certain to please Beijing, which sees the self-ruled island as part of its territory.

The vague agreement was reached by unofficial representatives of Beijing and Taipei in Hong Kong nearly three decades ago – that there is only one China, but each side can have its own interpretation of what constitutes "China".
Taiwan military's 'overreaction' to report shows it's 'guilty': Beijing think tank - Global Times
The island of Taiwan on Wednesday said a Beijing think tank report on Sunday which claims a US military aircraft may have taken off from a Taiwan-based airfield and flew to Japan was fake news. This is the third time that the Taiwan military authority has responded to the report by the think tank, which recently gained prominence for closely tracking US military activities in the Taiwan Straits.

In an exclusive interview with the Global Times, the head of the think tank stressed that the Taiwan authorities' "grand treatment" of the report was an overreaction and only causes suspicion from the outside world.

"We have not published false information, but have reasonable suspicion based on open source ADS-B and remote sensing data, which can be restored and retraced on the international platform. We welcome the island's response, but hope it can come up with more details and evidence to prove that there is no such thing," Hu Bo, director of the South China Sea Strategic Situation Probing Initiative (SCSPI) - the think tank - told the Global Times on Wednesday.
Hu Bo of Peking University and the South China Sea Strategic Situation Probing Initiative (SCSPI) wrote that the US military has been increasingly aggressive in encounters with the PLA in South China Sea, even though the Americans are not ready for a war. He urged both sides to have more mil-mil dialogue to deescalate the tension and make their intentions more transparent to each other.
Taiwan Needs Unambiguous American Support - Foreign Affairs To Keep the Peace, Make Clear to China That Force Won't Stand - By Richard Haass and David Sacks
The policy known as strategic ambiguity has, however, run its course. Ambiguity is unlikely to deter an increasingly assertive China with growing military capabilities. The time has come for the United States to introduce a policy of strategic clarity: one that makes explicit that the United States would respond to any Chinese use of force against Taiwan. Washington can make this change in a manner that is consistent with its one-China policy and that minimizes the risk to U.S.-Chinese relations. Indeed, such a change should strengthen U.S.-Chinese relations in the long term by improving deterrence and reducing the chances of war in the Taiwan Strait, the likeliest site for a clash between the United States and China...

One thing, however, has not changed over these four decades: an imposed Chinese takeover of Taiwan remains antithetical to U.S. interests. If the United States fails to respond to such a Chinese use of force, regional U.S. allies, such as Japan and South Korea, will conclude that the United States cannot be relied upon and that it is pulling back from the region. These Asian allies would then either accommodate China, leading to the dissolution of U.S. alliances and the crumbling of the balance of power, or they would seek nuclear weapons in a bid to become strategically self-reliant. Either scenario would greatly increase the chance of war in a region that is central to the world's economy and home to most of its people.

Meanwhile, the 24 million people of Taiwan would see their democracy and freedoms crushed. China would subsume the island's vibrant, high-tech economy. And China's military would no longer be bottled up within the first island chain: its navy would instead have the ability to project Chinese power throughout the western Pacific.
Solomon Islands province announces independence vote amid China tensions | The Guardian
The referendum plan comes after a year of tensions between Suidani's provincial government, which is supportive of Taiwan, and Solomon Islands' national government which has adopted a pro-Beijing stance.

The internal division over China policy falls along similar cultural, ethnic and political fault lines that led to civil unrest in Solomon Islands between 1998 and 2003, resulting in a fourteen year Australian-led peacekeeping mission which concluded in 2017.
---
4. US-China
Advancing Reciprocity in U.S.- China Diplomatic Relations - United States Department of State
The Department of State will now require senior PRC diplomats in the United States to receive approval to visit U.S. university campuses and to meet with local government officials. Cultural events with an audience larger than 50 people hosted by the PRC embassy and consular posts outside of mission properties will also require Department of State approval. The Department of State will also take action to help ensure that all official PRC embassy and consular social media accounts are properly identified as PRC government accounts, since the U.S. Embassy is denied unfettered access to PRC social media and PRC citizens are blocked from using Twitter and Facebook, amongst other social media platforms.

The United States insists on reciprocal access to educational and cultural institutions for U.S. diplomats around the world. These new requirements on PRC diplomats are a direct response to the excessive restraints already placed on our diplomats by the PRC, and they aim to provide further transparency on the practices of the PRC government. Should the PRC eliminate the restrictions imposed on U.S. diplomats, we stand ready to reciprocate.
挑衅升级!美国务院宣称将对中国驻美外交官工作活动实施限制_新浪新闻
Global Times report on the new visa restrictions leaves out the US claim that it is a reciprocal response
Secretary Michael R. Pompeo With Lou Dobbs of Lou Dobbs Tonight - United States Department of State
QUESTION: At last count there were 75 of the so-called Confucius Institutes in K through 12, American colleges and university campuses. How many will there be by the end of this year?

SECRETARY POMPEO: I hope the answer is zero, Lou. We've made clear that these are foreign missions. The State Department has designated them as such. That's important because now they come under a set of restrictions and rules. I think most universities – and frankly, we've had these Confucius Institution places other than American colleges. I think that everyone's coming to see the risk associated with them and the recruitment of spies and collaborators inside of those institutions. I think these institutions can see that and I'm hopeful we will get them all closed out before the end of this year.

QUESTION: And the prospect that Chinese students will just simply be disallowed in the United States because they have been the agents, if you will, of espionage amongst the many agents of espionage in this country working for the CCP.

SECRETARY POMPEO: Lou, I don't know what decision the President will ultimately make with respect to the broad array of Chinese students, but your point is well taken. They aren't all spies, but many of them are being watched, their families back home are being watched, and these are efforts for the Chinese Government – the Chinese Communist Party in particular – to identify those that might ultimately work on their behalf.

QUESTION: As the complexity – the depth of the complexity and this challenge and threat from the People's Republic of China has to be met on so many levels and in so many theaters, including amongst our allies, whether they be in Europe or Southeast Asia. We know that India – Modi has sent a warship into the South China Sea, an act in response – it is at least interpreted as such – against the clashes on the border with China, and also it appears with some affinity with the U.S. Navy that is in the South China Sea. The importance of the relationship with India in meeting the threat from China.

SECRETARY POMPEO: Lou, it's central that we have friends and allies in this battle. We've worked for two years now to build that out. We've made real progress. You've seen lots of countries turn away from Huawei. You've seen them acknowledge the threat. They slept on this threat the same way America did for two decades. I think you're seeing the entire world begin to unite around the central understanding that the Chinese Communist Party simply is going to refuse to compete in a fair, reciprocal, transparent way, and so whether it's our friends in India, our friends in Australia, friends in Japan or South Korea, I think they have all come to see the risk to their own people, to their own countries, and you'll see them partner with the United States to push back on every front that we've talked about this evening.
Chinese MND: US report on China full of Cold War mentality - China Military
In response to press question on Wednesday, the information bureau of the Chinese Ministry of National Defense (MND) said the U.S. report is full of the zero-sum Cold War mentality.

The report exaggerates the so-called "Chinese military threat", distorts China's defense policy and military strategy, smears China's military modernization development, defense expenditure and nuclear policy, and provokes cross-strait confrontation and intensifies tensions across the Taiwan Strait, which are extremely wrong, said the bureau.
国防部新闻局回应美发布《中国军事与安全态势发展报告》 - 中华人民共和国国防部
国防部新闻局9月2日应询表示:美方《中国军事与安全态势发展报告》充满零和博弈的冷战思维,渲染所谓"中国军事威胁",曲解中国国防政策和军事战略,抹黑中国军队现代化建设、国防开支、核政策等问题,挑动两岸对立、加剧台海形势紧张,这是极其错误的,中方对此表示坚决反对。我们将视情作出进一步回应。
Pentagon report intends to weaken China's nuclear deterrence: Global Times editorial - Global Times
We believe the number of "low 200s" is smaller than in people's perception, and this is an intentional underestimation. At the same time, the report said China will at least double the number of nuclear warheads over the next decade, which sends a deliberate message to the US and world that China is accelerating the expansion of its nuclear arsenal.

The Pentagon has two purposes. One is to weaken China's nuclear deterrence, especially the role of China's nuclear capability in shaping American society's attitude toward China. The US is launching a strong strategic suppression against China, causing tensions in the South China Sea and the Taiwan Straits. The US military hopes to downplay the anxieties this has caused to American society, stressing that the US has an overwhelming strategic advantage over China. So no matter how the US military provokes China, Americans don't have to worry.

The second goal is to condition the international community's basic understanding of China's nuclear strength on low 200s, so that it can use the figure as the base to pressure China's nuclear disarmament with the US and Russia, and squeeze China's ability to strengthen its nuclear power.
TikTok Deal Talks Are Snarled Over Fate of App's Algorithms - WSJ $$
One of the people familiar with Beijing's thinking said the goal of the new restrictions is to delay the deal to allow the Chinese government to have a say as well as to subject it to a level of Chinese government scrutiny similar to that imposed by the Committee on Foreign Investment in the U.S. The panel within the U.S. Treasury Department has forced the unwinding of several Chinese acquisitions on national-security grounds and has scrutinized TikTok.
Exclusive: Aspiring TikTok buyers pursue four options in effort to revive talks - sources - Reuters
The fourth scenario involves ByteDance licensing the algorithm to the buyer of the TikTok assets, the sources said. However, this could worry CFIUS, which wants ByteDance to forego any relationship it has with TikTok in the United States.
Trump and COVID force Chinese students to rethink the US - Nikkei Asian Review
A generation that buoyed the country's $170bn university sector is leaving
中外专家呼吁超越意识形态差异 共建人类命运共同体 Chinese and foreign experts call for transcending ideological differences to build a community with a shared future for mankind-中新网
The "Belt and Road" Think Tank Cooperation Alliance, initiated by the International Liaison Department of the Central Committee of the Communist Party of China, held an international high-end think tank cloud forum on August 31, with the theme of "Beyond ideological differences and build a community with a shared future for mankind"

由中共中央对外联络部发起成立的"一带一路"智库合作联盟8月31日举办国际高端智库云端论坛,论坛以"超越意识形态差异,共建人类命运共同体"为主题。...

Song Tao said that maintaining the stability of China-US relations is not only related to the interests of the two peoples, but also to the overall situation of world peace and development. Some current U.S. politicians are taking advantage of the epidemic to stigmatize, generalize national security, politicize economic and trade cooperation, and draw ideological lines in an attempt to put together an exclusive group, which goes against the trend of historical development and runs counter to the interests of the Chinese and U.S. peoples and the peoples of the world. China is committed to promoting Sino-American relations based on coordination, cooperation and stability, and is ready to work with other countries to safeguard the international system with the United Nations at its core and an international order based on international law, and to contribute its wisdom and strength to the promotion of world peace and development and the building of a community of human destiny.

宋涛表示,维护中美关系稳定不仅事关中美两国人民利益,也关乎世界和平发展大局。当前美一些政客借疫情搞污名化,把国家安全泛化、把经贸合作政治化,并以意识形态划线,企图拼凑排他性集团,是逆历史发展潮流而动,与中美两国人民和世界各国人民的利益背道而驰。中方致力于推动以协调、合作、稳定为基调的中美关系,愿同世界各国一道,维护以联合国为核心的国际体系和以国际法为基础的国际秩序,为促进世界和平发展、构建人类命运共同体贡献智慧和力量。
---
5. "United in the war on the epidemic"
The new, six part official documentary on the fight against covid-19, produced by the Central Propaganda Department and China Media Group hot the airwaves today.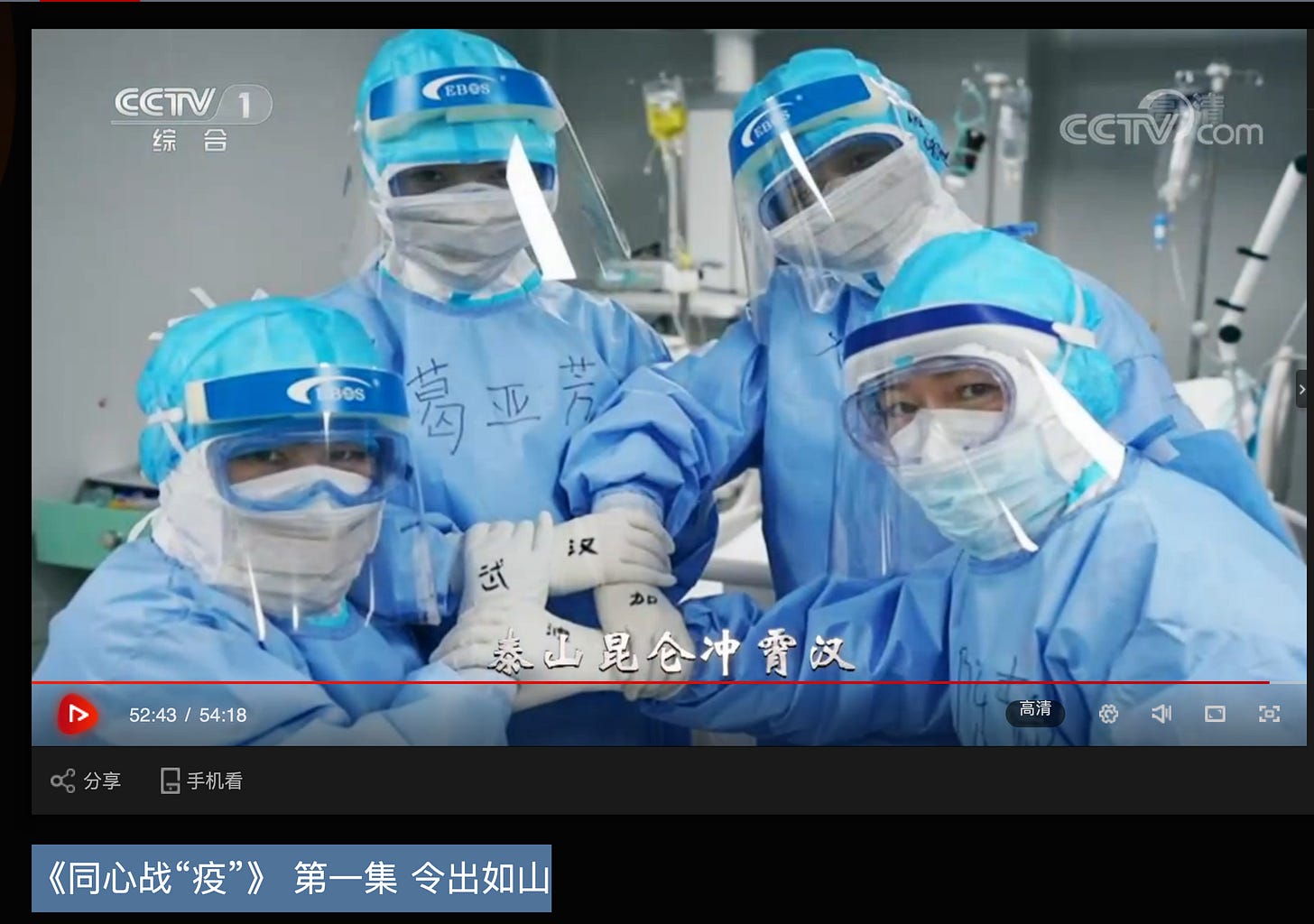 《同心战"疫"》共分六集,分别为《令出如山》《生死阻击》《坚强防线》《众志成城》《命运与共》《人民至上》。
Zhong Nanshan took a jab at the United States for its handling of COV19, in a public speech to the Chinese teenagers on CCTV. "One thing that distinguishes us from some other countries is that life is the most important [to us]! One's life is the most treasured thing. One's right to live is the most important human right!" he said. 
---
6. Protests against changes to Mongolian language teaching
Curbs on Mongolian Language Teaching Prompt Large Protests in China - The New York Times
Images of the protests shared on social media sites showed crowds of parents and students amassing peacefully outside schools, singing and shouting slogans as the authorities looked on. In one video, a woman was shown flipping through the pages of a textbook, decrying the absence of Mongolian language. In another, students in blue and white uniforms shouted, "Mongolian is our mother language! We are Mongolian until death!" Photographs of petitions filled with signatures and studded with red fingerprints also ricocheted around the internet.
Southern Mongolian Human Rights Information Center
Mongolian parents from different places reported via video clips that campuses and classrooms were empty thanks to the well-planned total school strike organized by Mongolians against the Chinese Central Government's plan to replace Mongolian with Chinese as the only language of instruction in the region.
Students in Inner Mongolia protest Chinese language policy - AP
The policy, announced on Monday ahead of the start of the new school year, requires schools to use new national textbooks in Chinese, replacing Mongolian-language textbooks. Protesters say they were aware of demonstrations and classroom walkouts in Hohhot, the provincial capital, as well as in the cities of Chifeng and Tongliao and Xilin Gol prefecture...

Now the Mongolian-medium schools sit quiet in Tongliao. Local Communist Party leaders have been visiting each family to try to get the students to return, Zhang said.

Authorities have banned a popular Mongolian-language social media platform called Bainu.
赵克志在内蒙古和宁夏调研时强调 深入学习贯彻习近平总书记重要训词精神 坚决做到绝对忠诚绝对纯洁绝对可靠--法治--人民网
Minister of Public Security Zhao Kezhi has been on an inspection tour in Ningxia and Inner Mongolia

Zhao Kezhi inspected all levels of public security organs and grass-roots teams in Hulunbuir, Hohhot and Yinchuan, Ningxia, Inner Mongolia. He demanded that we should keep in mind the fundamental political attribute of public security surnamed the Party, unswervingly adhere to the Party's absolute leadership of public security work, always take the Party's banner as the banner, the Party's direction as the direction, and the Party's will as the will, and ensure that we resolutely listen to the Party and follow the Party at all times and under all circumstances. We will further promote the anti-secession struggle, strictly implement anti-terrorism and anti-terrorist measures, and do a solid job of maintaining stability in the field of ethnicity and religion and promoting ethnic unity.

赵克志先后在内蒙古呼伦贝尔市、呼和浩特市和宁夏银川市的各级公安机关和基层所队调研。他要求,要牢记公安姓党的根本政治属性,毫不动摇地坚持党对公安工作的绝对领导,始终以党的旗帜为旗帜、以党的方向为方向、以党的意志为意志,确保在任何时候、任何情况下坚决听党话、跟党走。要深入推进反分裂斗争,严密落实反恐防恐措施,扎实做好维护民族宗教领域稳定、促进民族团结工作。积极适应常态化疫情防控条件下社会治安新形势,加强基层社会治理,深入开展矛盾纠纷排查化解和专项打击整治行动,依法严厉打击破坏生态环境等违法犯罪。要深化公安执法监督管理机制改革,切实把严格规范公正文明执法要求落到实处。要扎实抓好"坚持政治建警全面从严治警"教育整顿,坚持刀刃向内、刮骨疗毒,以整风的精神推进自我革命,着力锻造"四个铁一般"的公安铁军。
---
7. More on Wang Yi's Europe tour
China is trying to mend fences in Europe. It isn't going well. - The Washington Post
"Beijing sees Europe as the biggest prize to be secured in current stage of U.S.-China rivalry," said Thorsten Benner, director of the Global Public Policy Institute in Berlin. "But Beijing squandered it."

After he met Wang this past week, French President Emmanuel Macron delivered a speech calling on Europe to bolster homegrown 5G technology — a field led by Chinese firm Huawei. On Wednesday, German officials unveiled an "Indo-Pacific" strategy that would reduce reliance on China.

"Wang Yi's visit didn't achieve minimum goals," Benner said. "He didn't have anything substantial to offer that Europeans care about, like concessions on market access, and just reiterated tired and worn boilerplate cliches on Europe and China working together on multilateralism that hardly anyone falls for anymore.
Chinese FM calls for consultation, coordination, cooperation between China, Germany - Xinhua
According to Wang Yi, the three tasks that China and Germany should take on are:

Strengthening global anti-epidemic cooperation and revive the world economy;

Advancing the China-EU relations to a higher level;

Advocating for multilateralism and oppose the "new cold war"
How China Made the Netherlands Question Its Free-Market Beliefs - Bloomberg
Now it's crafting a foreign investment screening mechanism and has all-but ruled out the participation of Huawei in its 5G network core by barring companies that "are obligated to work with governmental organizations, especially those in charge of intelligence."

The Netherlands is one just two European Union members -- Sweden is the other -- to have a public strategy on China. In it, the government cites assessments by the AIVD Dutch intelligence agency noting Chinese intelligence gathering on financial, economic and political subjects, as well as Beijing's interest in Dutch companies active in the fields of high-tech systems, energy, maritime technology and life sciences and health.
"Germany – Europe – Asia: shaping the 21st century together": The German Government adopts policy guidelines on the Indo-Pacific region - Federal Foreign Office
Our prosperity and our geopolitical influence in the coming decades will depend on how we work together with the countries of the Indo-Pacific region. That, more than anywhere else, is where the shape of the international rules-based order of tomorrow will be decided. We want to help shape that order – so that it is based on rules and international cooperation, not on the law of the strong.
---
8. Another plagiarism scandal
Accusations of Mass Math Plagiarism Deal Another Blow to Chinese Academia's Dented Reputation - Caixin
A total of 24 papers have since been removed from journals including the International Journal of Mathematics, published by Singapore's World Scientific, and Boundary Value Problems, which is published by U.S.-based Springer.

Caixin also found that at least 20 more of the papers cited in the journalists' report had been removed prior to its publication.

The journalists claim that almost half of the Chinese clients came from the less-prestigious Henan University of Economics and Law (HUEL), based in Henan province's capital Zhengzhou. But the mill's services were also allegedly used by senior academics at some of China's top universities, including Harbin Engineering University and Henan University. Many of the academics accused of involvement in the scandal are not mathematics specialists...

The plagiarism saga can be traced back to a paper published in 2012 in the U.S.-based journal Abstract and Applied Analysis, published by London-based Hindawi Publishing. The authors, including Qiao Lei at HUEL, were all based in Zhengzhou.

Two years later, the paper, with its name unchanged and content slightly tweaked, was re-published by two other Zhengzhou-based researchers in the Springer-published Indian journal Proceedings - Mathematical Sciences, without any credit to Qiao's paper. The article, which has yet to be removed from the journal, is almost identical to Qiao's, repeating formulas, calculations, explanations and conclusions, with a few changes to phrasing.
---
Business, Economy and Trade
China stresses keeping prudent monetary policy more flexible, appropriate - Xinhua The State Council, China's cabinet, on Wednesday stressed efforts to pursue a prudent monetary policy in a more flexible and appropriate way in order to promote steady economic and financial operation. It also specified rules on the establishment of financial holding companies in order to better serve the real economy, according to a statement released after a State Council executive meeting chaired by Premier Li Keqiang
Factory output sees strong growth in Aug - Caixin The Caixin China General Manufacturing Purchasing Managers' Index came in at 53.1 in August, the highest level since January 2011 and up from 52.8 a month earlier, media group Caixin said in a report. The reading marked the fourth month in a row for the index to rise within the expansionary territory, indicating that the manufacturing sector has recovered at a continuously quicker pace. A reading above 50 indicates expansion, while one below that reflects contraction.
Xi stresses deeper-level reform, higher-level opening-up - Xinhua made the remarks while presiding over the 15th meeting of the central committee for deepening overall reform. Xi stressed that accelerating the establishment of a new development pattern featuring dual circulation, which takes the domestic market as the mainstay while letting domestic and foreign markets boost each other, is a strategic decision made in accordance with changes in China's development stage, environment and conditions, and a systematic deep-level reform concerning the overall situation of the country.
Citi becomes first US bank to win custody prize in China | Financial Times $$ The New York-based bank said on Wednesday that the licence — which allows it act as a custodian bank and hold securities on behalf of mutual and private funds in China — had been approved by the China Securities Regulatory Commission. Christine Lam, president and chief executive officer of Citi China, said the bank was "proud" to be granted the first custody licence in China among American rivals, adding there were "tremendous opportunities for global players to participate" in reforms.
SEC Probes China's GSX Techedu After Short Sellers' Pleas - WSJ $$ GSX said it was contacted by the SEC's enforcement division and asked to produce financial and operating records dating back to the beginning of 2017. The company added that it is cooperating with the investigation. Its shares tumbled 18% early Wednesday.
Five of China's Big Five State-owned Banks Commit to Hiring of over 60,000 New Staff Despite H1 Profit Drop – China Banking News In spite of this dis­mal per­for­mance five out of the big six banks, in­clud­ing ICBC, China Con­struc­tion Bank (CCB), Bank of China (BOC), Agri­cul­tural Bank of China (ABC) and Bank of Com­mu­ni­ca­tions (BO­COM) have plans to col­lec­tively em­ploy over 60,000 new staff, in re­sponse to calls from Bei­jing to sta­bilise em­ploy­ment in the wake of COVID-19.
China-backed development bank AIIB appoints veteran European as first chief economist - Reuters The China-backed Asian Infrastructure Investment Bank (AIIB) appointed veteran Swedish economist Erik Berglof as its first chief economist on Tuesday.
Developers Face New Debt Limits as Property Crackdown Continues - Caixin Regulators are due to test a new financing directive on 12 top real estate firms that will limit their ability to take on more borrowing, according to sources who took part in a meeting between the People's Bank of China, the Ministry of Housing and Urban-Rural Development, property firms and other government bodies on Aug. 20 in Beijing. Developers subject to the trial include China Evergrande Group, Sunac China Holdings Ltd. and Country Garden Holding Co. Ltd. The ability of companies in the pilot to increase their debt will be subject to three red lines: a liability-to-asset ratio (excluding presales) of no more than 70%; a net debt-to-equity ratio of under 100%; and cash holdings at least equal to short-term debt, according to information circulated online that Caixin has confirmed with sources.
Eighteen IPO Applications Halted in Wake of GF Securities' Sponsoring Ban - Caixin The IPO application process of 18 companies has been ended or suspended in recent months since their sponsor GF Securities Co. Ltd. was suspended from securities sponsoring due to its role in a client's fraud case, according to data from the Shanghai and Shenzhen bourses as well as the top securities regulator.
Chinese Delivery Firm YTO Soars 259% After Alibaba Buys Stake - Bloomberg Parent YTO Express Group Co. said in a filing Tuesday evening that its controlling shareholder will sell 379.2 million shares at 17.406 yuan apiece. That would take Alibaba's stake in YTO Express Group to 22.5% from 10.5%.
China cabinet approves two nuclear power projects: state media - Reuters The approved projects were Hainan Changjiang nuclear power plant phase 2 and Zhejiang San'ao nuclear power plant phase 1, according to state radio.
Yicai - DBS Is Cleared to Set Up China Securities JV, Lifting Foreign-Controlled Total to Eight DBS Group has received regulatory approval to form a joint venture securities company in China, in which the Singaporean financial services giant will own 51 percent. That increases to eight the number of brokerages majority owned by overseas players.
Yicai - Sinochem, ChemChina Megamerger Is Going Ahead, Chair Says Two of China's largest chemical giants, Sinochem Group and China National Chemical Corporation, are to merge, the chairman of the two state-owned firms said today, finally confirming a move that has been long-anticipated. The merger is necessary, Ning Gaoning said without going into further details.
Politics and Law
政法宣传舆论工作座谈会召开!推动政法宣传舆论工作创新发展-中国长安网 Guo Shengkun inspected the Legal Daily and held a symposium on political and legal propaganda and public opinion work. He called for in-depth study, promotion and implementation of Xi Jinping Thought on Socialism with Chinese Characteristics for a New Era and promoting the innovative development of political and legal propaganda and public opinion. Guo said the "ideological conflicts in the field of political and legal affairs are more complicated", and therefore the media "must work as the mouthpiece of the party and the people", and they must dare to "show to sword" to fight "wrong commentaries".
图解:一组数字读懂新时代党的治藏方略--理论-人民网 People's Daily infographic to help cadres understand the overall strategy for governing Tibet in the New Era
西藏日报:区党委召开省级党员领导干部会议 According to Tibet Daily, the region's CCP Committee had a meeting on Wednesday with all the senior cadres to study Xi Jinping's recent speech on Tibet, in which he urged the officials, among other things, to do well in the "anti-secession battle" and "cleaning out the negative influence of the Dalai Lama who exploits religion". // Comment: How will the world, and especially Europe, react when the time comes to find the next Dalai Lama and the Party insists it is the decider?
毛泽东研究会会长自述 Chen Jin, the deputy head of the China Institute of CPC Literature Research, wrote about his experience researching the history of Mao Zedong, saying the studies of party history should be factually based, well written and they should help to draw lessons for China today.
河北省邯郸市委书记高宏志接受审查调查————要闻——中央纪委国家监委网站 Gao Hongzhi, Party Secretary of Handan City, Hebei, is under investigation after turning himself in
Senior official stresses poverty-alleviation through consumption - Xinhua Hu Chunhua, a member of the Political Bureau of the Communist Party of China Central Committee, on Tuesday stressed solid efforts in poverty-alleviation through pro-consumption projects. Hu, also chief of the State Council leading group on poverty alleviation and development, made the remarks while attending a launch ceremony of a pro-consumption campaign. Cooperatives, enterprises, and various online and offline sales platforms were encouraged to support the processing and sales of poverty alleviation products, Hu said. // Comment: What is with the orb?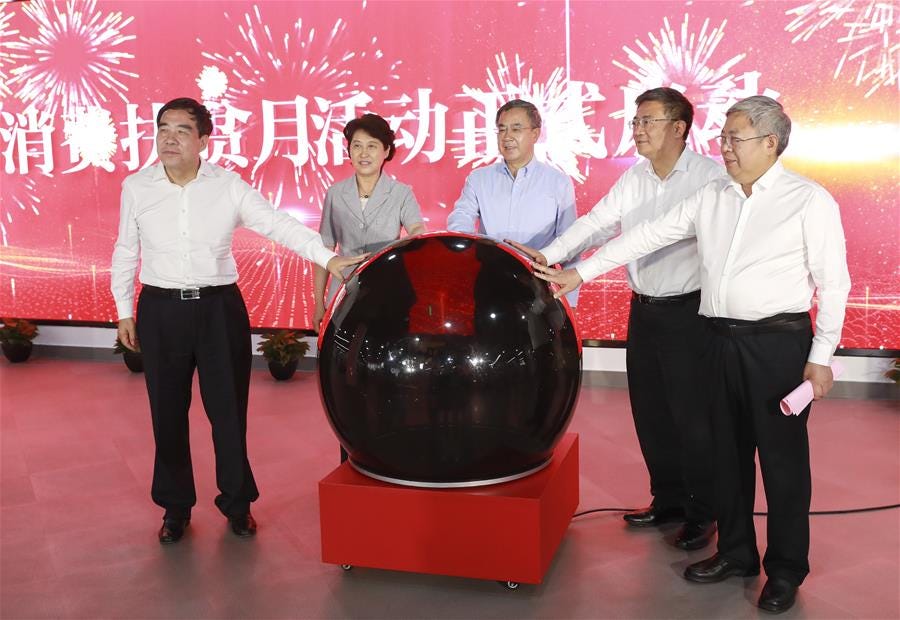 Foreign and Defense Affairs
China vows to prioritize Myanmar in sharing COVID-19 vaccine - CGTN China is willing to give priority to sharing COVID-19 vaccines with Myanmar once a vaccine is developed, Yang Jiechi, a member of the Political Bureau of the Communist Party of China (CPC) Central Committee and director of the Office of the Foreign Affairs Commission of the CPC Central Committee said.  Yang, who is currently visiting Myanmar, made his remarks when meeting with Myanmar leaders.
Where is China-bashing rhetoric in Australia from? - People's Daily Online While scientists work to "spread sunshine," some Australian media reports are "casting shadow," said Wang Xining, minister of the Chinese Embassy to Australia. A large amount of Australian newspapers are owned by News Corp Australia, one of Australia's largest media conglomerates, which is part of the U.S.-based News Corp. The Australian Strategic Policy Institute (ASPI) was taking nearly 450,000 Australian dollars (about 311,000 U.S. dollars) from the U.S. State Department to track Chinese research collaborations with Australian universities. In the gloating to U.S. President Donald Trump on the 5G decision, in the call for an independent pandemic inquiry, and by invoking the 1930s analogy, Australia has looked at once brazen and inauthentic.
Australian barley exporter challenges Chinese ban - AP CBH chief marketing and trading officer Jason Craig said on Wednesday the Chinese ban was over weed seeds in barley shipments to China dating back to December last year. Suspect barley shipments have since been retested and were within tolerance limits agreed between China and Australia for the seeds, Craig said. "This is not about a financial impact. It is basically a reputation impact," Craig said of the ban. The ban has little practical effect because China shut its doors to Australian barley with a tariff wall in May after Australia angered China with calls for a coronavirus inquiry.
外交部举办南海问题国际研讨会,倡议同声共气反对外部搅局_澎湃国际_澎湃新闻-The Paper The Ministry of Foreign Affairs holds an international seminar on the South China Sea issue, advocating a concerted effort to oppose external disruption...On September 2, 2020, Vice Foreign Minister Luo Zhaohui delivered a keynote speech at the "South China Sea from the Perspective of Cooperation" video international seminar. The seminar was co-organized by the Ministry of Foreign Affairs of China and the South China Sea Research Institute. Former dignitaries, officials and well-known scholars from Russia, Thailand, Indonesia, Singapore, Cambodia, Laos, and the United Kingdom attended the seminar. State Councilor and Foreign Minister Wang Yi delivered a written opening speech for the seminar.
China completes marine observation test of new ocean-monitoring satellite - Xinhua China launched the HY-1D on June 11. Together with the HY-1C satellite, launched in 2018, the HY-1D will form the country's first civil-use satellite constellation to increase its global observation coverage and improve its monitoring of ocean color, water temperature, coastal resources and the environment. Once built, the constellation will also offer support for industries such as meteorology, agriculture and water conservation, the ministry said
'New City' on Thai-Myanmar Border Part of BRI Despite China's Denials, Developer Claims - The Irawaddy The Chinese developer of a shady "new city" project on the Myanmar-Thai border—a company with links to illicit cryptocurrency and casino operations—has insisted the project is part of China's Belt and Road Initiative, despite an assertion to the contrary by the Chinese Embassy in Myanmar. The project in Karen State, known locally as the Shwe Kokko New City after the village where it is located, was launched in 2017 by Yatai International Holdings Group (YIHG) after the firm signed an agreement with a local ethnic Karen armed group, the Border Guard Force (BGF).
微视频:我毕业于中国军校_新闻频道_央视网(cctv.com) CCTV short video "I graduated from a Chinese military academy" extolling students time at the schools.
Beijing will resume direct international flights on Thursday - Global Times Starting from Thursday, nine flights will operate from eight countries that have reported fewer infections, including Thailand, Cambodia, Pakistan and Canada. The first direct international flight will be operated by Air China from Phnom Penh, capital of Cambodia, according to a statement on the website of the Civil Aviation Administration of China (CAAC). In order to control the cross-border spread of the global pandemic, the CAAC ruled that it would impose stricter anti-COVID-19 prevention measures based on an existing "circuit breaker" mechanism.
Justice Department zeroing in on longtime GOP fundraiser Elliott Broidy - The Washington Post Trump was eager to extradite Guo, as the Chinese wished, telling aides in an Oval Office meeting that he supported the plan, according to a former administration official familiar with his views. Priebus passed along the extradition request to the National Security Council, where it was vetted by a senior White House lawyer, John Eisenberg, who conferred with then-White House Counsel Donald McGahn, the official said. White House lawyers agreed that extradition, which was opposed by the Justice Department, would not be appropriate, according to the official.
Hong Kong and Macao
Hong Kong mourns the end of its way of life as China cracks down on dissent - National Geographic As the people of Hong Kong grapple with the loss of their home as they know it, I asked nine fellow locals where they feel most connected to the city and took their portraits there. I saw neighborhoods through the eyes of those who love them dearly; it was like being invited into people's hearts for a tour. Hong Kong is changing, but parts of it are immutable, safeguarded in the collective memory of those of us who call it home
Tech and Media
Disney's 'Mulan' Sets China Theatrical Release Date - Variety According to Chinese exhibitors, "Mulan" will open in theaters on Sept. 11. They said that they received notification Wednesday from state-owned distributor China Film Corp
Alibaba and Meituan's Rivalry Escalates- PingWest Industry watchers got a sense of the conflict between the two companies earlier this month, when some Meituan users finding out that their app no longer supports Alipay as a payment option. The only options left are WeChat Pay, Meituan Pay, and card payment provided by commercial banks. The change isn't happening for all Meituan users yet, with others still able to pay with Alipay if they so choose.
CAC gives a progress report on the ongoing crackdown on "self-media" - 国家网信办深入推进"三项整治"行动取得阶段性成效--时政--人民网 1个月来,主要网站平台共清理各类违法违规信息603万条,处置违法违规账号559万个,冻结"僵尸"账号92.8万个,处置百万粉丝以上账号169个;从应用商店移出无新闻服务资质应用程序7.2万款;依法处置违法违规直播平台338款,关闭主播直播间7.4万个,封禁违规主播账号10.5万个,处置违规"吃播"账号1.36万个
Society, Arts, Sports, Culture and History
Outrage after Chinese university tells female students not to wear 'overly revealing' clothes | South China Morning PostSouth China Morning Post On August 1, Guangxi University in southern China published a 50-point safety guide for incoming first-year female students, including a dress code that suggested that women were responsible for sexual harassment or even assault. "Don't wear overly revealing tops or skirts. Don't wear low-cut dresses or expose your waist or back, to avoid creating temptation," the guide said.
Golf's HSBC Champions in Shanghai canceled due to COVID-19 - AP The tournament was scheduled for Oct. 29-Nov. 1 at Sheshan International Golf Club in Shanghai. The Chinese government announced in July that because of the COVID-19 pandemic, the country would not host international sports events for the rest of 2020.
New edition of top Chinese dictionary published - Xinhua A symposium was held in Beijing on Tuesday to mark the publication of the 12th edition of the Xinhua Dictionary, the most authoritative Chinese language dictionary. The new edition reflects great achievements made while fully building a modern socialist country. Initially compiled in 1950, more than 600 million copies of the dictionary have been sold
观察者:专访《中国2098》:对美国这种军事强国,我选择批判的武器 Fan Wennan, a graduate from China's Central Academy Of Fine Arts who now works in Bytedance, painted a series of "China in 2098", when communism has apparently taken over the United States and the Wall Street. In an interview with Guancha, Fan said he aimed to build up the "great narrative" about socialism and communism, and to destroy the "cultural, art and ideological monopoly of the American capitalists". This picture depicts 2098 Communist America: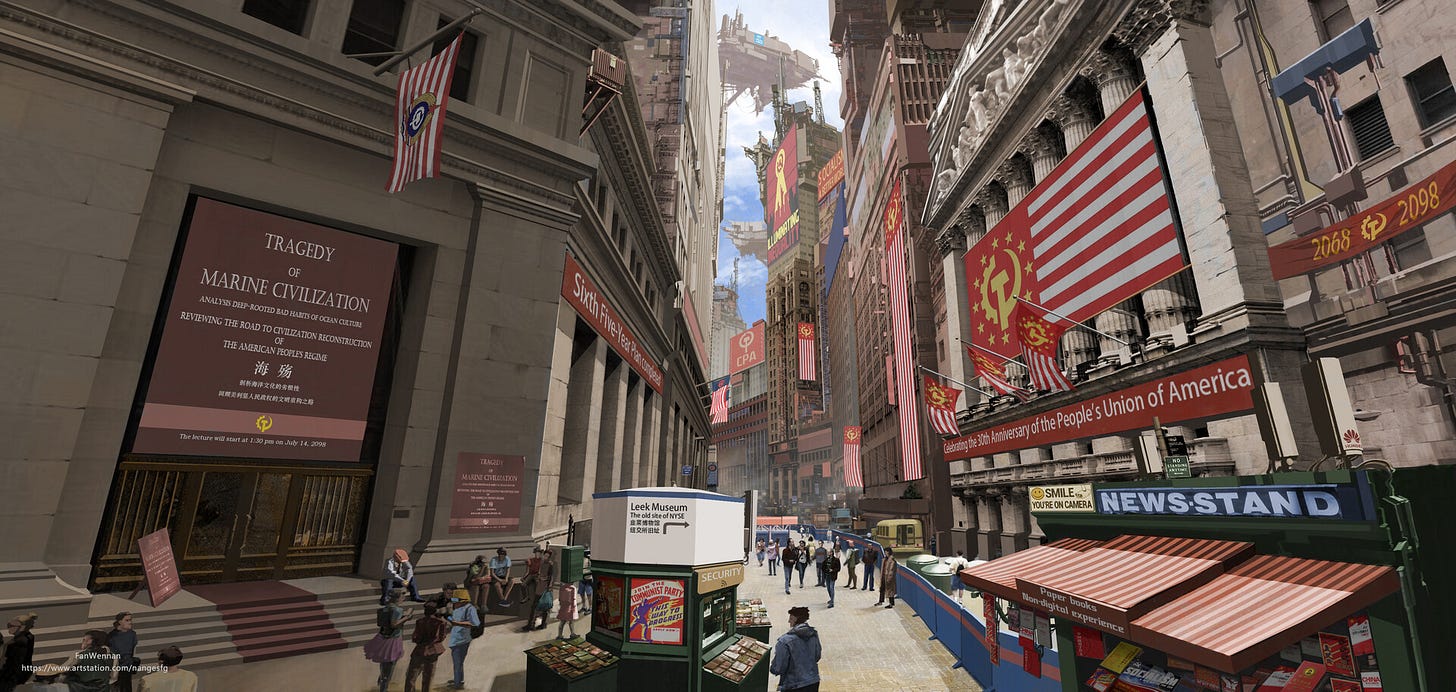 Energy, Environment, Science and Health
Xinjiang Ends Regional Covid-19 Lockdown After 17 Days Without New Cases - Caixin Northwest China's Xinjiang Uygur autonomous region is gradually lifting its strict disease control measures, including stay-at-home orders, after reporting zero new symptomatic Covid-19 cases for 17 straight days. The region's Communist Party Committee on Tuesday night held a video conference to announce the "comprehensive resumption" of ordinary life and economic production.
Overheating Causes 'Severe' Coral Bleaching in Beibu Gulf - SixthTone An analysis released Aug. 28 by the National Oceanic and Atmospheric Administration in the U.S. shows that the Beibu Gulf in the South China Sea, as well as areas surrounding areas, are facing extreme coral bleaching alerts that could decimate the health of aquatic ecosystems.
Rural and Agricultural Issues
China's looming corn shortage fans food security unease - Reuters Prices have risen as the country heads for its first real corn shortfall in years in the upcoming 2020/21 season starting in October and could face a deficit of up to 30 million tonnes, around 10% of its total crop, say analysts and traders.