US "Trade Avengers" Arrive In Beijing; Spratlys Get Missiles; Xi's Visit To Peking University; Xiaomi IPO; Don't Diss Dong Cunrui
Good morning from DC…I do not have any insight yet on the progress of the US-China trade talks.
President Trump, in for him a late night tweet, says he looks forward to seeing Xi in the not too distant future.

Our great financial team is in China trying to negotiate a level playing field on trade! I look forward to being with President Xi in the not too distant future. We will always have a good (great) relationship!
May 3, 2018
Is that a hint that Trump will visit Xi when he meets with Kim Jong-un, either by holding the summit with Kim in Beijing, something I consider both unlikely and unwise, or after a meeting on the Korean Peninsula?
If the US does not make significant concessions from its current trade stance it is hard to see how Trump and Xi "will always have a good (great) relationship!"
Thanks for reading. 
---
The Essential Eight
1. US "Trade Avengers"
China-U.S. consultation will be constructive if U.S. delegation is sincere: FM spokesperson - Xinhua:
As long as the U.S. delegation is sincere about maintaining the overall stability of China-U.S. economic and trade relations and an attitude of mutual respect, equal consultation and mutual benefits, the consultation will be constructive, Hua said.
Trump Administration Sending 'Trade Avengers' Team to China - Breitbart:
The Trump administration's top economic officials will go to China this week with a mandate to "fight like hell" to get China to open its markets and give up its predatory trade practices, according to someone briefed on the matter…

"This is the big guns, the super-team, the Trade Avengers," the person said. The source spoke on the condition of anonymity because he was not authorized to discuss the matter.

The administration has tried to downplay expectations for the China trip, but internally, it views this as the last push to rein in China's rogue trade practices before it hits the nation with billions of dollars in tariffs…

"If this team doesn't make progress, the sanctions will hit. There's no next meeting or higher level. China cuts a deal with the Trade Avengers or we tariff their exports," the person briefed on the plans said.
Marvel metaphors driving trade negotiations, what could go wrong?
China braced for surprises in US trade talks - FT $$:
China's bottom line is that the US will not get anything through blackmail," said Lü Xiang, an American affairs expert at the Chinese Academy of Social Sciences. "China is waiting to see what [requests] the US will put on the table. But if they pull out a gun and point it at us, then they can finish their tea and leave." 

In private discussions over recent weeks, Chinese officials have said they were willing to help reduce Beijing's $375bn goods trade surplus with the US and open more service and industrial sectors to foreign investment, because they think doing so is in China's own interest.

But they dismiss Mr Trump's demand to reduce the two countries' trade gap by $100bn, issued via Twitter in March, to be both arbitrary and nonsensical. They argue that the deficit stems more from structural factors including poor infrastructure — which makes it harder for US companies to export coal and other commodities at competitive prices — US tax policies and American consumers' low savings rates.
China Seen Jolting Soybean Market by Shunning U.S. Supplies - Bloomberg:
The world's biggest oilseed processor just confirmed one of the soybean market's biggest fears: China has essentially stopped buying U.S. supplies amid the brewing trade war.

"Whatever they're buying is non-U.S.," Bunge Ltd. Chief Executive Officer Soren Schroder said in a telephone interview Wednesday. "They're buying beans in Canada, in Brazil, mostly Brazil, but very deliberately not buying anything from the U.S."
---
2. US May Restrict PRC Telecom Firms Even More
This executive action as described is not a corporate death sentence like the one given to ZTE recently, so given recent rumors is this from Huawei's perspective almost positive news?
U.S. Weighs Curbs on Chinese Telecom Firms Over National-Security Concerns - WSJ $$ 
The Trump administration is considering executive action that would restrict some Chinese companies' ability to sell telecommunications equipment in the U.S., based on national-security concerns, said several people familiar with the matter...

Pentagon officials said this week that they are moving to halt the sale of phones made by the two companies on U.S. military bases around the world. U.S. officials are concerned that Beijing could order manufacturers to hack into products they make to spy or disable communications. Huawei and ZTE have said that would never happen.

The latest action could come in the form of a White House executive order, possibly in the next few weeks, people familiar with the matter said. One possibility under consideration has been curbing the ability of companies doing business with the U.S. government from using network equipment made by companies that could pose a national-security risk.
Xi Jinping Puts 'Indigenous Innovation' and 'Core Technologies' at the Center of Development Priorities:
Xi's "4.20" speech took place in the context of an escalating, multilayered dispute between China and the United States over industrial, trade, and investment policy in which the digital world is a primary battleground. Viewed in that light, Xi gave no ground, repeating the goal of building China into a cyber superpower (网络强国), and connecting that strategy explicitly to developing indigenous innovation (自主创新). Xi focused on core technologies (核心技术), a thriving digital economy, and strong controls and political work by Chinese Communist Party (CCP)  and government authorities online.
---
3. Tough US Senate Bill Coming
Senator Marco Rubio writes in the Washington Post that next week he will introduce the "Fair Trade With China Enforcement Act ".
Targeting China's tools of aggression - The Washington Post - Marco Rubio:
As the U.S. delegation negotiates with China over trade, Congress should further strengthen America's position by making China's unwillingness to deal on issues of substance as painful as possible

That's why next week I will introduce the Fair Trade With China Enforcement Act to guard the American people against China's nefarious influence on national and economic security, directly targeting China's tools of economic aggression.

The legislation would ban the sale of all sensitive technology or intellectual property to Chinese entities and impose a shareholding cap on Chinese investors in American corporations to prevent undue influence in corporate governance. This includes an earlier bill that Sen. Tom Cotton (R-Ark.) and I introduced to prohibit the federal government from purchasing or leasing telecommunications products from the Chinese firms Huawei and ZTE, given growing U.S. scrutiny about the dangers these companies pose to our critical information networks.

In addition, the legislation will propose to amend the 1984 income tax treaty with China to impose a withholding tax on Chinese entities earning investment and dividend income in the United States. The goal is to discourage Chinese behavior seeking to devalue currencies, price out American exports and drive capital imbalances that make our economy weaker and less stable.

The legislation would also impose duties on Chinese capital goods in the sectors targeted by the "Made in China 2025" plan — and encourage our allies to do the same — to ensure that American buyers do not inadvertently finance China's long-term efforts to displace our manufacturing.

Finally, it will use tools created by the new tax reform law to raise taxes on the foreign income of multinational corporations if they enter into vulnerable "joint ventures" with Chinese firms.
---
4. Remember When Xi Said China Did Not Intend To Militarize Its New Spratly "Islands"?
China added missile systems on Spratly Islands in South China Sea:
The recent intelligence, according to sources, indicates the deployment of anti-ship cruise missiles and surface-to-air missiles on Fiery Cross Reef, Subi Reef and Mischief Reef in the Spratly Islands. The Spratlys, to which six countries lay claim, are located approximately two-thirds of the way east from southern Vietnam to the southern Philippines...

"While some view China's actions in the East and South China Seas as opportunistic, I do not. I view them as coordinated, methodical and strategic, using their military and economic power to erode the free and open international order," Harris told the House Armed Services Committee.

Harris, whom President Donald Trump is reportedly set to nominate as U.S. ambassador to South Korea, currently oversees approximately 375,000 military personnel and is responsible for defending a theater that spans nearly half of the Earth's surface.

"Ladies and gentlemen, China's intent is crystal clear. We ignore it at our peril," Harris said.
---
5. The Party In PRC Tech Firms
Tech Firms Tilt Toward the Party | China Media Project:
The Economic Daily reported 字节跳动组织学习全国网信工作会议精神  on April 28 that "the CCP committee of Beijing Byte Dance Telecommunications Co. Ltd. (字节跳动) held a topic course on the conscientious study of the spirit of the National Cyberspace Work Conference (全国网信工作会议)." The work conference mentioned here was the latest forum on cybersecurity, at which President Xi Jinping delivered a speech in which he linked cybersecurity and national security, calling for "improved governance capacity in cyberspace."..

The Bytedance study session was chaired by Party secretary and editor-in-chief Zhang Fuping" (张辅评), who according to the Economic Daily shared his own study and explained the link between the spirit of the conference and the company's own situation." The meeting was attended both by current Party members and by "those eager to join the Party." There were reportedly a range of presentations from senior managers, including CEO Zhang Yiming — whose abject and overtly political apology last month was major news — on such topics as "doing a proper job of spreading positive energy" (a Party propaganda phrase) and "enhancing industry self-discipline." Also on the agenda was the "building of a digital Silk Road" (数字丝绸之路), a tech reference to another of Xi Jinping's signature policies, the Belt and Road Initiative.
Meanwhile, Xiaomi is about to throw a huge party when it completes its $10 billion IPO in Hong Kong.
Xiaomi Shows Off Scorching Growth Ahead of $10 Billion IPO - Bloomberg:
The Chinese smartphone maker filed for an IPO in Hong Kong Thursday, kicking off a process that's expected to raise at least $10 billion and confer a value of $100 billion on the eight-year-old company...

Revenue surged 67.5 percent to 114.5 billion yuan ($18 billion) in 2017, after posting anemic growth of just 2.4 percent a year earlier, while operating profit more than tripled.
How long until US regulators decide to ban Xiaomi phones too?
---
6. Xi's Visit To Peking University
Xi calls for building world-class universities with Chinese characteristics - Xinhua:
Briefed about the latest development of the university, Xi, accompanied by Wang Huning, a member of the Standing Committee of the Political Bureau of the CPC Central Committee and the Secretariat of the CPC Central Committee, acknowledged that PKU had notably enhanced its academic capacity and influence under a clear development blueprint since the 18th CPC National Congress...

PKU is the cradle where Marxism started to spread in China. It has set up the first school of Marxism in the country in recent years and also in January established the research institute on Xi Jinping Thought on Socialism With Chinese Characteristics for a New Era.

At the school of Marxism, Xi watched an exhibition and learned about the research and teaching of Marxism and the thought on socialism with Chinese characteristics for a new era.

He said a university's school of Marxism should follow a clear-cut political orientation and teaching principles -- summarized as "taking Marxism as its surname and talking about Marxism."

Xi said Marxism should be consolidated as the guiding ideology and promoted in campuses, classrooms, and among students.

He later joined a group of Chinese and foreign students discussing topics related to interpreting the "new era."

"You are a firm Marxist. Are there some good methods you use to study Marxism?" the students asked.

Xi shared his experience. He also told the foreign students that to understand China, they must understand Chinese history, culture, thought and development stages. In particular, they must understand Marxism in contemporary China...

Xi encouraged young people to be loyal to the country and the people, learn the history of the nation, inherit Chinese culture, have national pride and cultural confidence, and closely link their ideals to the future of the motherland.
Xi's speech at Beida(受权发布)习近平:在北京大学师生座谈会上的讲话-新华网 
An explainer of the classical quotes Xi used during his Peking University visit--未名湖畔,博雅塔下,看习近平总书记引经据典对话青年—中央纪委国家监委网站 
---
7. Li Keqiang's Comments Censored?
This looks interesting, worthy of more investigation. 
Premier's Call for Supervision of Government Censored – China Digital Times (CDT):
Friday at the first State Council Clean Governance work meeting, Premier of the State Council of the PRC Li Keqiang's speech aroused the attention of the outside world. He emphasized that he wants to allow the people to use the internet and big data to "comprehensively supervise government conduct." However, postings of this speech on government websites have already disappeared without a trace, with a disclaimer: "The page you are trying to visit has been removed or deleted."
---
8. Don't Diss Dong Cunrui
The first case under new law protecting heroes and martyrs has been filed. The procuratorate in Huailai County, Zhangjiakou, Hebei, has filed a public interest lawsuit to protect the image of hometown war hero Dong Cunrui.
董存瑞遭诋毁恶搞 检察机关提起首例英烈保护公益诉讼_新闻_腾讯网
怀来县检察院依法提起英雄烈士保护公益诉讼,通过诉前程序向怀来县民政局、公安局发出检察建议,要求民政局开放烈士陵园,供公众瞻仰、悼念;同时要求公安局会同相关部门删除诋毁、歪曲、丑化、亵渎董存瑞英雄形象的网络信息。
Under heavy fire, he reached the bunker, but there was no place to effectively position the explosives. Reportedly shouting "For a new China!", he detonated the explosives he carried, killing himself and the defenders within the bunker. He was posthumously awarded three "Bravery Medals" and one "Mao Zedong Medal", and his squad was titled "Dong Cunrui Training Model Squad". His sacrifice was heavily publicized by the Communists who called him a "hero" and "model communist", and he remains well known in China. He was depicted in a 1955 film Dong Cunrui directed by Guo Wei, and a 2009 TV miniseries titled For a new China, forward. His story was also published in national elementary Chinese textbooks.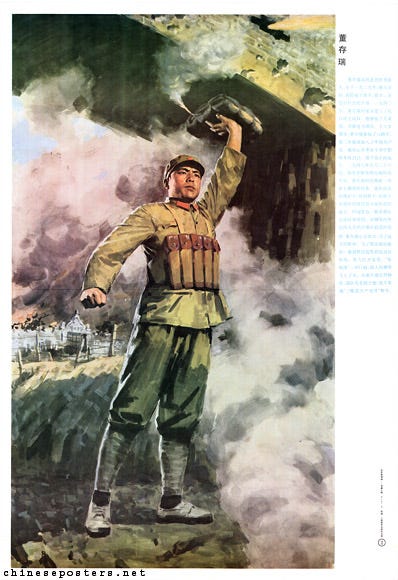 ---
Business, Economy, Finance And Trade
UBS Becomes First Global Bank to Take Advantage of China Opening - Bloomberg The China Securities Regulatory Commission received the application from the Zurich-based bank on Tuesday, according to a statement on the CSRC website. UBS said in a separate statement it aims to raise the stake in its China venture to 51 percent, up from the current 24.99 percent.
China Stock Payouts Get a Whole Lot Better - Bloomberg The nation's securities regulator has made cracking down on "iron roosters" -- a Chinese saying for a stingy character -- a top priority in 2018. Authorities have for years pushed for higher dividends to help develop the equity market.
China issues incentives for implementation of key policies - Gov.cn The move is aimed at encouraging related departments and regions to further take initiative in carrying out major policies and measures to build a well-off society. According to inspections conducted by the State Council and individual departments, 25 provinces, 82 cities and 116 counties will be entitled to 24 incentive measures for their achievements in major policies in 2017, including supply-side reform and optimization of business environment. 国办印发通报对2017年落实重大政策措施真抓实干成效明显地方予以督查激励 
RQDII banned from remitting funds overseas for foreign currency - ECNS The People's Bank of China has issued a new rule to regulate overseas securities investment by Renminbi Qualified Domestic Institutional Investors (RQDII). It allows RQDII to invest in yuan-denominated assets overseas but bans them from moving yuan out of the country for forex purchases, according to the central bank's notice.
China makes greater efforts to better business environment - Xinhua China will further improve its business environment by halving the time required to open a business and start construction projects, the State Council decided at an executive meeting chaired by Premier Li Keqiang on Wednesday. According to a decision at the meeting, the amount of time required to start a business in municipalities, sub-provincial cities and provincial capitals will be reduced from an average of over 20 days to 8.5 workdays by the end of the year. 李克强主持召开国务院常务会议 采取措施将企业开办时间和工程建设项目审批时间压减一半以上 进一步优化营商环境 通过《人力资源市场暂行条例(草案)》
WorldFirst Moves to Tap China's Payment Market_Caixin Global_财新网 An official at the People's Bank of China confirmed to Caixin that the central bank has received an application from WorldFirst for a payment business license in China. The British company became the first foreign firm to apply for a license. Market analysts had predicted that U.S. payment giant PayPal would take the lead in entering China.
Alibaba Vows 'Action' After Losing AlibabaCoin Case_Caixin Global_财新网 Alibaba Group Holding Ltd. said it will take further action after a U.S. judge refused to block Dubai cryptocurrency firm Alibabacoin (ABBC) Foundation from using its name. Alibaba failed to show a "reasonable probability" that Alibabacoin's websites were used to conduct business with customers in New York, according to a U.S. district judge in Manhattan, Reuters reported.
Politics, Law And Ideology
Back to the future: Rejuvenating China pushes Marxism as 'true path' | Reuters:  Aside from popularizing Marx, the propaganda has also attempted to show how his ideas are still relevant today. "The world is at a crossroads," the official People's Daily said in a front page commentary on Wednesday, with Brexit, constant terrorist attacks and fighting in Syria demonstrating the "political deficiencies" of the West. China's governance, in contrast, "elegantly proves that Marxism has not stopped being true but has rather led to the true path", it added.
China publishes selected works on Marxism from 1920s - Xinhua The selected works chose 92 books on Marxism published in China between 1920 and 1927 out of 200 such writings. They include classic works by Marx, Engels and Lenin, as well as interpretations of works as compiled by Chinese scholars. The publication, introduced by Hubei People's Press, has 24 volumes and 15,000 pages. A full edition is expected to be published by 2021 when China embraces the 100th anniversary of the founding of the Communist Party of China.
践行"红墙意识" 绝对忠诚于党 - 《求是》2018/09 作者: 秋 石 Comment: "Qiushi" in the latest Seeking Truth on "Red Wall Consciusness", the local governance model in Beijing's Xicheng District (where Zhongnanhai is) that is getting much recent propaganda love, perhaps a sign this concept will soon get a nationwide tour? ■ 作为离红墙最近的人,北京市西城区党员干部和群众在增强"四个意识",提高政治站位,强化职责担当,弘扬优秀文化,不断提升思想境界和价值追求的过程中,逐步形成以"绝对忠诚、责任担当、首善标准"为内涵的"红墙意识"。 ■ "红墙意识"把对党忠诚作为首要政治原则,自觉做到全心全意服务党中央、保障党中央、守护党中央。特殊区位决定特殊使命和责任,形成了西城人"为党中央站好岗、放好哨"的信念,形成了以聚焦维护和服务党中央权威为首要职责、对党忠诚作为首要政治原则的"红墙意识"。 ■ "红墙意识"体现"四个意识"的担当与自觉,做到中央提倡的坚决响应,中央决定的坚决照办,中央禁止的坚决杜绝。"红墙意识"根植以人民为中心的价值追求,民有所呼,我有所应,做到想群众之所想、急群众之所急、办群众之所需。"红墙意识"把首善作为工作追求,自觉做到干在实处、走在前列、争创一流。
全面认识和把握我国基本国情(深入学习贯彻习近平新时代中国特色社会主义思想)--观点--人民网 - 秋 石 习近平同志在党的十九大报告中明确提出"中国特色社会主义进入了新时代""我国社会主要矛盾已经转化为人民日益增长的美好生活需要和不平衡不充分的发展之间的矛盾"的重大政治论断,同时强调"我国仍处于并将长期处于社会主义初级阶段的基本国情没有变,我国是世界最大发展中国家的国际地位没有变"。这些重要论述,坚持辩证唯物主义和历史唯物主义的方法论,指明了党和国家事业发展所处的时代坐标,为我们认清基本国情、把握新时代赋予的新使命提供了根本遵循。// Comment: "Qiushi" on page 7 of the May 3rd People's Daily on properly understanding the fundamental state of the country. Is this the same "Qiushi" who writes in Seeking Truth? How often does it also appear in People's Daily?
山东省委书记刘家义狠批鲁炜 措辞前所未有|鲁炜|省委书记|政治生态_新浪新闻 Shandong and Anhui held provincial standing committee meetings to criticize and learn lessons from the Lu Wei case...The Shandong Party Secretary said he "bitterly detests Lu Wei's despicable conduct". So what was Lu's despicable conduct? Sounds like it is about disloyalty to the Party// 根据中央文件要求,昨日上午,山东、安徽两地同时召开了一次特殊的常委会议。会议最重要目的只有一个,就是对鲁炜严重违纪案件进行深刻剖析,"汲取深刻教训,切实引以为戒"。 山东省委书记刘家义在会上提到,对鲁炜的"卑劣行径深恶痛绝,对他给党和国家造成的重大危害极为愤慨"。长安街知事(微信ID:Capitalnews)发现,"卑劣行径"这样的用词在近期各省召开的同主题会议中都非常罕见。   那么,鲁炜的"卑劣"体现在何处?无疑,对党和人民的不忠诚是首当其冲。
China vows to crack down on rural organized crime - ministry | Reuters The Ministry of Civil Affairs said in comments published on its website late on Wednesday it would crack down on attempts by rural gangsters to intervene in village-level politics, monopolize rural resources, take over collectively owned assets and use "clan power" to oppress village communities.
Book shows how rural life molded Xi - China Daily Liangjiahe, a book about President Xi Jinping's seven years as an "educated youth" in the small village of Liangjiahe in Shaanxi Province, was issued by Shaanxi People's Publishing House in Xi'an on Wednesday. From 1969 to 1975, Xi lived and worked in the village as part of a campaign launched by Chairman Mao Zedong that asked urban youth to experience life working in rural areas... "This book is quite readable, especially for teenagers. They'll see the growth of a great leader in hardship, which is beneficial to their future life," she added.--纪实文学《梁家河》今日在陕首发 
Foreign and Military Affairs
US warns airmen to beware of laser attacks near China's military base in Djibouti | South China Morning Post The military issued a Notice to Airmen, later reproduced on the US Federal Aviation Administration's website, that there had been multiple events "involving a high-power laser" just 750 metres (2,400ft) from China's base in Djibouti.
China's Ready to Cash In on a Melting Arctic – Foreign Policy Put simply, "the damn thing melted," Navy Secretary Richard Spencer explained in recent testimony, referring to Arctic ice melt as the trigger for the new U.S. Navy Arctic Strategy that is to be released this summer. What the Navy planned as a 16-year road map is in need of updates after only four years, in part due to receding polar ice caps, which are "opening new trade routes, exposing new resources, and redrawing continental maps," but also in part due to the rise of China as an "Arctic stakeholder" and increasing important player in the region.
China Moves to Steady Ties With North Korea Before Trump-Kim Meeting - The New York Times Its foreign minister, Wang Yi, returned Thursday to Beijing after two days in North Korea's capital, Pyongyang, where he met with the country's leader, Kim Jong-un, shoring up China's position as the North's best friend. China holds substantial economic leverage, but in the heightened strategic competition between it and the United States, it worries that Mr. Kim is using that rivalry to reduce dependence on China, his country's longtime benefactor.
Tech And Media
China rushes to absorb Arm's tech before tensions with US rise - Nikkei Asian Review British chip designer Arm Holdings' move to cede control of Chinese operations to a local joint venture is part of Beijing's efforts to quickly acquire advanced semiconductor technologies while keeping its guard up against interference by the U.S. Nikkei learned Tuesday that the local joint venture took over licensing and royalties operations with Chinese partners by the end of April. Chinese investors like the state-owned Bank of China and search engine operator Baidu own 51% of the joint venture, giving Beijing access to Arm technology. The British chip designer controls the remaining 49%.
Tencent-Backed Internet Giant Probes Massive User-Data Leak - Bloomberg In Meituan's case, allegedly tens of thousands of data snippets -- everything from names and mobile numbers to home addresses -- on food-delivery customers went on sale online for as little as 0.1 yuan (2 cents) per item, the Beijing News reported this week. The company, which counts social media leader Tencent Holdings Ltd. among its backers, said it makes every effort to safeguard consumer privacy through internal control units and technical teams. But it acknowledged that the complexity of the business meant criminal parties could have accessed the data.
China Box Office: Questions Surround 'Us and Them' $88 Million Win – Variety there have been multiple local media reports of another scandal involving dubious ticket sales practices. At least one online vendor has been accused of selling refundable tickets to boost the apparent gross. 《后来的我们》退票事件"幕后玩家":谁动了谁的蛋糕?
China Tech Giants Alibaba, Tencent Eye World Media Domination – Variety Research group Media Partners Asia estimates that Tencent Video's content bill in 2017 was $2 billion, while Alibaba's Youku spent $1.1 billion for programming. That includes ongoing output deals with Hollywood, such as Youku's licensing of films from NBCUniversal and Sony Pictures Television, and Alibaba's recent purchase of 1,000 episodes of Disney animated series... "A first wave of [Chinese] companies going abroad will offer tools such as mobile apps and other features for managing mobile devices, and mobile games that do not require much local tailoring," says Ke Wei, a partner with China Renaissance's Huaxing Growth Capital private equity fund. "Succeeding waves will focus on aggregating and developing ecosystems for locally produced content," such as news, music, video and other entertainment.
Society, Art, Sports, Culture And History
Man makes off with dolphin stranded on Chinese beach | South China Morning Post The footage, filmed during China's three-day labour holiday on May 1, was taken at Hailing Island – a popular tourist hotspot – in Guangdong province, the news website Btime.com reported. The man in swimming shorts is shown in the video walking casually down the beach with the large dolphin over his shoulder and a woman following behind.
Energy, Environment, Science And Health
Chinese cities ordered to axe new projects after failing to hit winter pollution targets | Reuters The mayors of Handan in Hebei province and Jincheng and Yangquan in Shanxi province were given the orders after being summoned to the Ministry of Ecology and Environment in Beijing on Thursday. The meeting came after the cities failed to meet targets to cut levels of hazardous, breathable particles known as PM2.5 between October 2017 and March this year.
China to build 10 fishing port clusters before 2025 - ECNS China plans to build 10 major fishing port clusters before 2025 along the country's coast, according to an action plan jointly released by the National Development and Reform Commission and Ministry of Agriculture and Rural Affairs. The National Fishing Port Construction Plan (2018-2025) states China will further improve disaster prevention and mitigation, promote sustainable growth in the fishing industry and accelerate the pace of developing fishing harbors.
Agriculture And Rural Issues
Dim Sums: Rural China Economics and Policy: Xinjiang Leads China Wheat Policy Reform This year Xinjiang will begin "supply side structural reform" for wheat. Officials say the wheat price for farmers will be set by the market, with prices rewarding farmers for high quality wheat demanded by the market. "Diverse players" will enter the market, and Xinjiang will no longer carry out the 1.5-mmt "temporary reserve" purchase plan. The government will still have a significant role, however. An annual wheat production plan will be drawn up for each county.
Education
Black Mirror too real in China as schools shun parents with bad social credit - CNET A high school in Changle County, Shandong Province, recently updated its school policy to reflect the new system, according to state-run newspaper The Paper. It says it will no longer enrol students whose parents have bad social credit scores. Since its transition to private owners in 2002, it must abide by strict rules on private enrolment set by local authorities.