Vaccine mess; US airlines changing Taiwan designation? RMB; Where are Wang Huning & Zhao Leji?; Xi Thought; Xi in Africa
Happy Tuesday from soggy DC..
My top issues today:
The censors are working hard to take control of the narrative around the vaccine scandal;

Reuters is reporting that US airlines will change their website designation of Taiwan to conform with Beijing's demands;

As the newsletter has discussed in recent issues we are in the rumor period around Beidaihe. The alleged recent "absence" of Wang Huning has sparked rumors about his fate, I have a different take, discussed in detail in item 5.
Thanks for reading, as always I appreciate tips and comments.
---
The Essential Eight
1. Vaccine scandal
4 Things to Know About China's Vaccine Scandal - Caixin Global:
* Only 5% of vaccine batches are checked for effectiveness to avoid delaying the approval process and eating into the time before each batch's expiration date

* Substandard vaccines are legally considered "inferior drugs," not "counterfeit drugs," and producing inferior drugs that have not been proved to seriously harm human health is not in itself enough justification for imprisonment under Chinese law
China's vaccination system has been crippled by corruption, weak regulations and staff shortages | South China Morning Post:
Corruption, poor deterrence and staffing shortages have contributed to China's latest vaccine scare, just a decade after public confidence in food and drug safety was severely undermined by the fatal melamine-tainted milk scandal...

The country's vaccination system has made strides in recent decades, with the regulatory system gaining the World Health Organisation's approval and four of its vaccines in pre-qualification for distribution with United Nations agencies in other countries. And more than 99 per cent of the vaccine samples tested by the Chinese drug regulator were up to standard.
Jilin anti-corruption watchdogs launch investigation into vaccine case - Xinhua:
The two watchdogs are reviewing information and public complaints regarding Changchun Changsheng Life Sciences Ltd. and its key personnel.

They also ordered an investigation into possible dereliction of duty among food and drug officials, and vowed stern punishment for those involved.

Meanwhile, a work team has been established to investigate potential corruption during the company's restructuring, production, and operation processes.
Shandong also investigating Changchun Changsheng Life Sciences Ltd and any officials who may have been derelict or worse--山东省纪委监委成立专班 对"问题疫苗"背后的违纪违法和失职渎职问题一查到底—中央纪委国家监委网站:
山东省委、省政府针对长春长生公司不合格百白破疫苗流入山东事件,不折不扣贯彻落实习近平总书记重要指示精神,主要领导同志要求提高政治站位,一抓到底,严格依纪依法查处,绝不姑息,坚决问责监管失职渎职行为,坚决重拳打击一切危害人民群众生命安全的违法犯罪行为,全力维护好保障好广大人民群众的切身利益。
Alipay introduces new feature allowing parents to trace the vaccines their children are receiving · TechNode:
A vaccine scandal that broke out in China last week that outraged millions of households while has made parents scramble to find their children's vaccine records to check if their kids had been injected with the faulty doses.

Alipay launched an in-app function on July 24 that allows parents to check the information easier. Under the HealthCare function inside the app, when users enter the name of the vaccine, as well as the batch number and the manufacturer, the app will tell you whether this the vaccine was compromised or not. If users have packing boxes of the vaccine, they can directly scan the barcode to find the information.
---
2. US Airlines to accede to Beijing's demands over Taiwan references?
U.S. airlines poised to change Taiwan references as China deadline looms | Reuters:
Major U.S. airlines are expected to change how their websites refer to Chinese-claimed Taiwan by Wednesday in an effort to avoid Chinese penalties, three sources said, after coordination between the carriers and the U.S. government...

A U.S. airline executive briefed on the issue told Reuters that the U.S. State Department notified China's embassy in Washington late on Monday of the decision by U.S. airlines to only list certain destinations by city on both Chinese and English websites, and not refer to Taiwan as a jurisdiction.

Another source in Beijing said he was informed unofficially by the U.S. government that airlines would only use certain city names in the future.
If the Reuters report is correct, this looks to be a big win for Beijing.
China calls on U.S. government to urge relevant enterprises to observe one-China principle - Xinhua:
"The one-China principle represents the consensus shared by the international community and is the political foundation for the steady development of China-U.S. relations, something not negotiable," said Geng, pointing out that the U.S. side is very clear about this.

"We hope the U.S. government can urge the relevant enterprises to observe the one-China principle and rectify the relevant websites as soon as possible," Geng said.
Beijing weighs options as deadline looms for airlines to describe Taiwan as part of China | South China Morning Post:
On Tuesday, China said there would be "no room for negotiation" in its demand. Foreign ministry spokesman Geng Shuang said Beijing hoped the US government would urge businesses to follow its requirements. He did not specify how China would punish defiant carriers, saying only that it would "wait and see"...

Among airlines flying between the US and China, Chicago-based United Airlines is scheduled to offer 6,860 flights this year – the most frequent flier, followed by national carrier Air China, according to British air travel data company OAG. American Airlines plans to offer 4,300 flights and Delta Air Lines is expected to operate 3,750 services this year, according to the data schedules.
One of the questions at the 7.24 MoFA press briefing was whether China will ban the carriers that do not comply from using PRC airports. The answer was the deadline is fast approaching, we will wait and see...
问:如果一些外国航空公司没有按中方要求更改网站上对台湾的标注,中方将对其采取什么反制措施?是否会禁止其使用中国的机场?

答:的确,对网站进行更改的最后期限日益临近,让我们拭目以待吧。
Comment: US carriers have a lot to lose if they upset Beijing (see this recent report about United's earnings in the WSJ - United's Flights to China Boost Revenue ) and they do not have to listen to the White House. If they do not make the change and China penalizes them then expect reciprocal treatment towards at least Air China if not other PRC airlines as well. I am a little nervous, flying United next week to Beijing, hope if the flight does go to Beijing we do not get shunted into some far corner of the airport for hours...And acceding to Beijing's demands with no substantive response from the White House does not send a reassuring message to Taiwan.
The U.S. makes a new push to bolster Taiwan's military defenses. China won't like it. - The Washington Post:
Of course, if Trump increases American support of the sole democratic Chinese territory in the world, China will be furious. When reports emerged that the State Department had requested Marines to protect the American Institute in Taiwan, the de facto American embassy on the island, a Chinese foreign ministry spokesman urged the Trump administration to "exercise caution." Should the United States start selling Taiwan jet fighters again, the reaction from Beijing will be substantially worse.
Or not?

Except the request to have marines guard the facility was made years ago, long before Trump was elected. And the marines likely won't wear uniforms. US is unlikely to sell F-35s. And Taiwan won't increase defense spending to anywhere near 4%. https://t.co/GmlK9ZGvPT
July 23, 2018
---
3. Flicker of hope in US-China trade dispute?
Burned Once by Trump, China's Xi Wary About Fresh Trade Talks - Bloomberg:
Now, as both sides hint at the possibility of restarting talks, China is worried that it might get played again, according to three Chinese officials who asked not to be identified discussing strategy. Xi's administration still wants to cut a deal with the U.S. and is open to talks, but it will be hard for Chinese negotiators to trust their American counterparts, the people said...

In early rounds of talks with the Trump administration, China focused on reducing the U.S.'s trade deficit, a favorite topic of the American president. Officials in Beijing now recognize that this approach was too narrow, according to two of the people...

European officials in Beijing for the EU-China Summit last week said China adopted an unusually conciliatory tone in discussions, something they attributed partly to what they called the Trump effect.
U.S. sets hearing dates for proposed new tariffs on Chinese goods | Reuters:
The U.S. Trade Representative's office said on Monday it would hold public hearings July 24 and 25 on its proposal to impose tariffs on a list of $16 billion worth of Chinese goods in response to what it claims are Beijing's unfair trade practices.
Tariff Dispute Threatens China's Thirst for U.S. Oil - WSJ $$:
China has been the biggest new buyer of the millions of barrels of oil unlocked by U.S. shale companies from dense rock formations. Now the second-largest consumer of U.S. oil exports after Canada, China has seen its demand rise 200-fold over past two years and last year bought a fifth of American crude-oil exports. That booming growth leaves U.S. oil exporters vulnerable in the trade fight between the world's two biggest economies.

Hasbro leaving China to avoid Donald Trump's trade war - New York Post:
The move comes in response to the 25 percent tariff Trump placed on $34 billion of Chinese imports, the company said.

The toymaker, which sources one-third of its products from China, will move to other parts of the world, Chief Executive Brian Goldner said during a conference call.
Apple Vulnerable in U.S.-China Trade Showdown - WSJ $$:
For Washington and Beijing, dragging Apple into the trade fight carries risks.

Mr. Trump could anger American consumers if tariffs make the popular iPhone more expensive. He would also be taking on the world's most valuable company, which has promised to contribute $350 billion to the U.S. economy over the next five years. Included in that figure is a one-time tax of $38 billion on its overseas cash holdings, which came in response to a major overhaul of the U.S. tax code.

China also has an interest in keeping the peace, given the number of jobs Apple provides. About 10,000 people in China are employed directly by Apple, the company said. Indirectly, Apple says it accounts for three million jobs there through its supply chain, which includes contract manufacturer Foxconn Technology Co. It also says it provides work for 1.5 million app developers in China.
---
4. The RMB
China's Currency Is Back in Play | Council on Foreign Relations - Brad Setser:
China, has, I think three broad options now:

Hold the line, either against the basket or against the dollar (I assume China would prefer to hold the line against the basket) even as the "trade war" escalates and the U.S. imposes tariffs on a growing share of China's exports.

Attempt another managed depreciation, moving the yuan down by enough—against the basket I assume—to offset the economic impact of Trump's tariffs on China. And perhaps to help offset the economic impact of China's own fiscal tightening and efforts to de-risk the financial sector. I have long worried that China's external surplus might rebound if China pulled back on its stimulus before adopting the structural policies needed to bring down its national savings rate.

Let the currency (more or less) float—and end currency management with an "exit down." There isn't any real doubt that the yuan would float down in the face of weakening Chinese data and U.S. tariffs—especially if the PBOC tries to offset domestic weakness from a tightening of fiscal and credit policy[1] with additional easing, and ultimately pulls Chinese rates below U.S. rates.
Comment: I still think China see geopolitical advantage in avoiding a precipitous depreciation. A beggar thy neighbor currency policy flies in the face of everything Xi and his team are telling the rest of the world about China being a responsible protector of the global trading system…
China's yuan falls to 13-month low after cabinet's growth support comments | South China Morning Post:
Onshore yuan was changing hands at 6.8073 to the US dollar on Tuesday, down 0.13 per cent from the previous day and hitting its weakest level since June 2017. It is mid-ranked among Asia's 11 most traded currencies, the fifth worst performer so far this year.
---
5. Where are Wang Huning and Zhao Leji?
Wang's lack of official appearances since July 6 is sparking lots of rumors in overseas Chinese media about political trouble for Wang. Zhao's "disappearance" since July 4 not so much, yet.
But has Wang really disappeared? His most recent CCTV appearance was in a report about the Comprehensively Deepening Reform Committee meeting on July 6, though he was not shown (no one was). Here is the CCTV page with his recent appearances on CCTV News, and here is the CPNNews Net page listing his recent activities, with the latest one on June 27.
Wang also attended the Organization Work Conference July 3-4, and appeared in the July 4 CCTV Evening News report on it.
Wang Huning could certainly be in trouble, as the rumors suggest, though considering his track record of political survival and that we are in the Beidaihe silly season of rumors I think we need a lot more to go on than these overseas Chinese media reports.
Remember when Wang Qishan used to disappear for weeks at a time, sparking all sorts of rumors of his troubles, before he returned, and then usually a large "tiger" went down?
Wang Qishan's successor Zhao Leji has not made an appearance on the CCTV Evening News since the July 4 report on the Organization Work Conference and the last report of his activities on CPCnews Net is June 1. 
I am speculating but I do wonder if there is any chance Wang Huning and Zhao Leji are not in trouble but are working on a very complicated political problem that we may hear about soon, around Beidaihe? There is also a chance Zhao is working the alleged Wang Huning problem, but I am skeptical. Such is the opacity of PRC politics…
Meanwhile, the July 24 front page of the People's Daily was all Xi: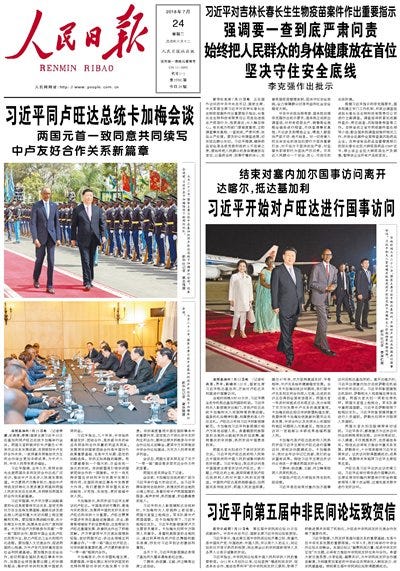 ---
6. "Xi Jinping _____ Thought" ➜ "Xi Jinping Thought"
Discourse Climate Report: June 2018 | China Media Project:
At long last, the CMP discourse climate report for the full month of June 2018 is available. The biggest takeaway for the month? The report shows the emergence of various forms of "Xi Jinping _____ Thought" (习近平xx思想). For example, on June 14, the People's Daily referred for the first time to "Xi Jinping News Thought" (习近平新闻思想).

We can also glimpse in the media the following related forms:

* Xi Jinping Economic Thought (习近平经济思想)
* Xi Jinping Foreign Policy Thought (习近平外交思想)
* Xi Jinping Literature and Art Thought (习近平文艺思想)
* Xi Jinping Strong Military Thought (习近平强军思想)
* Xi Jinping Education Thought (习近平教育思想)
* Xi Jinping Ecological Civilization Thought (习近平生态文明思想)
* Xi Jinping Party Building Thought (习近平党建思想)
* Xi Jinping Rule of Law Thought (习近平法治思想)..

In our view, the proliferation of various forms of "Xi Jinping Thought" across policy areas suggests that we are nearing the point where President Xi Jinping's "banner term," or qizhiyu (旗帜语), the unwieldy "Xi Jinping Thought of Socialism With Chinese Characteristics for a New Era" (习近平新时代中国特色社会主义思想), becomes normalized as "Xi Jinping Thought." It's very likely this process could happen within the year.
---
7. North Korea making progress in getting Beijing to lower sanctions pressure?
Senior North Korean official visits China as Pyongyang's drive to get sanctions lifted continues | South China Morning Post:
Ryu Myong-son, a deputy director at the international affairs department of the Workers' Party of Korea, arrived in Beijing on Monday, state media reported, amid Pyongyang's ongoing efforts to strengthen its economic ties with its one and only ally.

No details of Ryu's itinerary were disclosed, but he was likely to discuss ways to enhance bilateral economic cooperation, a South Korean parliamentary source said, without further elaboration.
Minxin Pei - Why China wants the Trump-Kim show to go on -- as long as possible - Nikkei Asian Review:
If China now has a virtual seat at the table, its next objective is to keep the show on the road as long as possible. For Beijing, a quick collapse of the "denuclearization" talks between Trump and Kim would bring dangerous tensions back to the Korean Peninsula. A humiliated Trump would resume his "maximum pressure" approach while Kim would respond by testing more nuclear warheads and intercontinental ballistic missiles (ICBMs). Buying time is crucial for both Beijing and Pyongyang. From Beijing's perspective, as long as there is enough progress for Trump to tout on Twitter, the situation essentially resembles the Chinese proposal of "dual freeze" -- suspension of North Korea's nuclear and missile tests in return of a temporary halt of U.S. and South Korean joint military exercises.
Making Sense of North Korea's New Dismantlement Activity at the Sohae Satellite Launching Station | The Diplomat:
For now, the activity ongoing at Sohae will have diplomatic and political value. It will likely provide enough momentum to keep the post-Singapore implementation talks and working group-level talks between the United States and North Korea on track. For Pompeo and Trump, the concession will also serve as evidence that North Korea is submitting to a process of "denuclearization."

An initial technical impression suggests that this sort of an assessment might be premature. The missile engine test stand — the long-awaited concession after June 12 — appears to be in a mostly reversible state.
---
8. Xi working hard in Africa
Deborah Bräutigam--Xi Jinping is visiting Africa this week. Here's why China is such a popular development partner. - The Washington Post:
Why is Chinese President Xi Jinping visiting three small African countries on his first state trip of 2018?

This week Xi will be in Johannesburg for a summit of the leaders of the five BRICS emerging economies — Brazil, Russia, India, China and South Africa. Other stops include the United Arab Emirates, Rwanda, Senegal and Mauritius.

Clearly, the UAE has oil. But Rwanda, Senegal and Mauritius are resource poor. These stops don't fit the "neo-colonialism" interpretation of China's African interests. Although we can expect Xi to highlight his signature global Belt and Road Initiative in his African travels, his choice of countries sheds light on another side of China's efforts to win friends and influence Africa: positioning China as a partner for Africa's industrialization.
Xi Jinping eyes a new era of China-South Africa friendship - CGTN:
"China looks forward to working with South Africa to build on the momentum of the 20th anniversary of diplomatic ties and strive for faster and greater progress in our comprehensive strategic partnership," Xi said.

Xi said China's bilateral ties with South Africa "have served as a model for China-Africa relations, for South-South cooperation and for unity and cooperation among emerging market countries, and offered valuable experience for building an even stronger community with a shared future between China and Africa and a new type of international relations featuring mutual respect, fairness and justice, and win-win cooperation."..

Xi said he looks forward to receiving President Ramaphosa in Beijing in September and co-chairing with him the Forum on China-Africa Cooperation (FOCAC) Beijing Summit.
---
Business, Economy, Finance And Trade
[Exclusive] China Stays Quiet as Qualcomm-NXP Deadline Looms, Executive Says | Yicai Global The California-based company has heard nothing from Chinese regulators about its proposed USD43 billion takeover of the Dutch firm, a Qualcomm executive familiar with the deal told Yicai Global in an exclusive interview. The deadline for the deal is 11:59 p.m. New York time tomorrow. If that's missed, Qualcomm will need to cough up USD2 billion in recompense. "We cannot afford to linger on the deal any longer," the anonymous executive said. "Otherwise we would put our shareholders in a difficult situation. The costs are just too high."
Country on pace to hit GDP target - China Daily Many eastern and central provinces had relatively stable economic growth in the first half of the year, while some regions struggled to find new growth drivers given their long-standing local government debt burdens. A total of 11 municipalities and provinces - including Beijing, Shanghai and Sichuan province - saw faster economic growth than the national average over the period, according to the latest regional data. The national economy in the January-June period grew by 6.7 percent year-on-year, with the full-year target set at 6.5 percent.
China's Day Traders Resort to Black Comedy as Stock Losses Mount - Bloomberg: A husband's most sincere vow of everlasting love? Promising he'll only divorce his wife after recouping all trading losses. How do ambitious teens see themselves in 2035? Telling their brokers to buy the Shanghai Composite Index at 2,000 points -- 30 percent lower than its close on Monday at a level almost exactly the same as a decade ago. Individual investors drive an estimated 85 percent of the nation's equity trades but some are now throwing in the towel as Chinese stocks languish in their eighth bear market in 10 years. Beyond investors' bleak humor, pessimism is evident in the lowest market turnover in almost four years, a rally in bonds, the smallest mutual fund allocation to equities since at least 2003 and a slowing pace of new stock trading accounts.
China Hedge Funds Trigger Investor Unease With June Implosion - Bloomberg China-focused hedge funds lost 4.4 percent on average in June, the biggest drop since January 2016, according to Eurekahedge. Investors are also pulling back -- inflows into Greater China hedge funds totaled just $306 million in the first half, compared with $1.7 billion for all of 2017, the data show.
Beijing Stresses Market Value Management for State-owned Enterprises - China Banking News A teleconference of executives from the local branches of the State-owned Assets Supervision and Administration Commission (SASAC) held on 17 July has stressed the need for SOE's to "pragmatically bear the primary responsibility of market value management, and strengthen dynamic monitoring, analysis and assessment of listed company operations." The meeting said that it would be necessary to support ongoing gains in the the quality and efficiency of listed company growth, while pointing to the possibility of boosting the value of loss-incurring listed concerns via methods including the merger of high-quality assets and the invigoration of resource
Securities Regulator Takes Aim at 'Channeling Business' - Caixin Global The ban is part of the China Securities Regulatory Commission's (CSRC's) draft rules for the portion of the privately offered asset management business that it oversees — worth about 26 trillion yuan ($3.84 trillion). The draft rules (link in Chinese), published on Friday, aim to tame risks in the asset management sector, which has largely fueled the country's rampantly growing "shadow banking" activities in recent years.  The draft rules prohibit securities firms and fund managers, two of the main players involved in the asset management business, from providing "channeling" services to clients looking to circumvent regulatory restrictions, such as those limiting which kinds of projects that banks can lend money to, the CSRC said.
Economists Urge Beijing Not to Tolerate Implicit Guarantees - Caixin Global The call comes at a time when slowing infrastructure investment has dragged down the growth of fixed-asset investment, a key driver of the country's economy. Analysts attribute the slowdown of the government-driven sector to Beijing's tighter controls on local government borrowing, particularly off-the-books debt supported by implicit government guarantees. The central government should continue to push local authorities to eliminate their implicit guarantees on loans owed by local government financing vehicles (LGFVs), Zhu Baoliang, chief economist at the government-backed State Information Center, told Caixin.
Scrutiny of China's Online Lending Sector Intensifies as Platforms Continue to Topple - China Banking News As of the end of the first half of 2018 there were a total of 1504 regularly operating platforms in China's P2P lending sector out of 5983 platforms monitored by Lingyi Zhiku (零壹智库), for a YoY decline of 25.2%. The figure marks a sharp drop in the number of P2P platforms operating in China compared to a peak of more than 6000. Online lending platforms have continued to topple since the start of the second half, with Yonglibao (永利宝) announcing on 16 July that the whereabouts of the company head were unknown, as well as requesting that investors report their concerns to the authorities.
China's Xiaomi caught in the recent wave of P2P lending defaults · TechNode Several Xiaomi phones users recently have found many of the financial products they invested in have been having problems paying off the investors. These investors first accessed these products via their ads on Xiaomi, accusing Xiaomi of pushing fraudulent ads and lacking moderation. Based on screenshots provided by some of the users, the ads of the peer-to-peer(P2P) lending platforms were shown in Xiaomi VIP System Tasks and Xiaomi Sports.
Education or espionage? A Chinese student takes his homework home to China Ruopeng Liu believes his work at a Duke lab was simply "fundamental research" that he brought back to China. His former professor thinks otherwise
Politics, Law And Ideology
What It Means to "Grab" | China Media Project Recalling the Party's campaign against the "Big Vs" — a term sometimes referring to prominent social media influencers with the power to drive online opinion in directions the leadership finds objectionable — some internet users initially understood the call to "grab Big Vs" as an ominous warning...A closer reading of the official news coverage revealed the simple misunderstanding. The word "grab," which in colloquial Chinese simply means to grasp something with one's hand, or to apprehend a suspect, can mean something quite different in the Party's tradition of political discourse. The Paper, a Shanghai-based media outlet, sought to clarify Chen's meaning with a more direct headline on the "Big V" question: "Chen Yixin Outlines Innovative Move for Politics and Law, Putting Effort Into Training and Supporting a Large Group of Big Vs to Become Internet Celebrities."
China Holds Ethnic Mongolian Historian Who Wrote 'Genocide' Book - RFA Chinese authorities in the northern region of Inner Mongolia are holding a prominent ethnic Mongolian historian who gathered testimony of a historical genocide campaign by the ruling Chinese Communist Party under house arrest pending his prosecution on charges of separatism. Historian and author Lhamjab A. Borjigin, 74, was initially detained on July 11 under residential surveillance by police in Shiliinhot city, the regional capital of Shiliingol League in the region's northwest, a U.S.-based rights group reported.
Henan Court Names and Shames Debtors on Douyin | Sixth Tone A viral video app has given millions of Chinese their 15 seconds of fame, but a Henan court is now using Douyin to shame "dishonest" debtors, local media reported Friday. The Longting District People's Court revealed the names and addresses of eight defaulters in a video clip accompanied by dramatic background music on the court's Douyin account that debuted on July 10. The court said the video, which has been viewed 8,000 times since it was posted Wednesday, would encourage people to report the debtors and strengthen law enforcement.
Foreign and Military Affairs
India Is the Weakest Link in the Quad – Foreign Policy Since the Trump administration's announcement that it seeks a "free and open" Indo-Pacific, observers have spilled much ink on the revival of the Quadrilateral Security Dialogue, or Quad, to achieve this objective. The Quad—an informal consultative mechanism comprising the United States, Australia, Japan, and India—is quietly opposed to China's continued militarization of and attempts to control strategic waterways throughout the region, namely the South China Sea. The group met most recently last November, and again in June, after 10 years of inactivity. But the fate of the Quad is still fragile. Indeed, the first attempt at the Quad died on the vine because then-Australian Prime Minister Kevin Rudd withdrew over concerns that the Quad needlessly antagonized China. Today, however, following a burst of concern about Chinese influence, Australia is all in. So are the United States and Japan. That leaves India, where New Delhi may be getting cold feet.
Senior CPC official meets with sinologists - Xinhua Huang Kunming, a member of the Political Bureau of the CPC Central Committee and head of the Publicity Department of the CPC Central Committee, said he hoped the sinologists could link their studies of Chinese history with the development of China today to help the world understand Chinese culture and contemporary China in depth. Sinologists from the United States, Kazakhstan, Ukraine, and India talked about China and the world over the four decades of the country's reform and opening-up. They advised boosting cultural exchanges between China and the world.  //  Who were the US sinologists?
Belt and Road expected to improve governance in Pakistan - Global Times Pakistan's general election is less than a week away, and all relevant parties are straining every nerve to promote their political ideas, among which Islamabad's relationship with Beijing is top on the agenda. The prospects of the China-Pakistan Economic Corridor (CPEC), a flagship of China's Belt and Road initiative, under the next government, has triggered widespread speculation amid West's repeated hype of China's "debt traps." Beyond doubt, Beijing expects a higher degree of engagement by the new Pakistani government in the CPEC, but Islamabad's domestic affairs and the country's choice of political path is entirely determined by the Pakistani people, and Beijing has no intention to interfere. While China is fully prepared for potential difficulties in pushing forward the Belt and Road initiative, the country is more willing to cooperate with regional countries for mutually beneficial results.
China, EU seize control of the world's cyber agenda - POLITICO The United States is losing ground as the internet's standard-bearer in the face of aggressive European privacy standards and China's draconian vision for a tightly controlled Web. The weakening American position comes as the European Union, filling a gap left by years of lax U.S. regulations, imposes data privacy requirements that companies like Facebook and Google must follow. At the same time, China is dictating companies' security practices with mandates that experts say will undermine global cybersecurity — without any significant pushback from the United States
Expert: High myopia rates among Chinese teenagers influence defense security - China Military My colleague in charge of the PLA Air Force pilot recruitment sector and I visited a senior middle school in South China three years ago to study the vision problems of students. Based on our investigation, we found that only 8 – 10 students in a class of 40 students did not wear glasses, and there was a high rate of myopia of about 80%. According to my colleague, some students without glasses might be wearing contact lenses. Combined with other indexes, in a senior middle school with almost 10,000 students, it was difficult to select a student who could qualify to be trained to become a pilot.
British foreign secretary to visit China - Xinhua During the visit, Chinese Premier Li Keqiang and member of the Political Bureau of the Communist Party of China Central Committee Yang Jiechi will each meet with the foreign secretary, Geng said at a press briefing. Wang and Hunt will co-host the 9th China-UK Strategic Dialogue and exchange views on bilateral relations and international and regional hotspot issues, according to the announcement.
South Africa holds welcome ceremony for Chinese President Xi Jinping - CGTN Xi arrived in Pretoria on Monday night. It is his third state visit to South Africa.  Xi said he expects to exchange views with his South African counterpart on bilateral ties, the Beijing Summit of the Forum on China-Africa Cooperation, as well as regional and international issues of common concern. Xi is also scheduled to attend the 10th BRICS summit in Johannesburg from Wednesday to Friday.
China set to fully control Portugal's power grid amid Europe's inertia – EURACTIV.com China Three Gorges (CTG) quickly snapped up the 21.35% share of Energias de Portugal (EDP) for €2.7 billion but reportedly committed in 2012 to remaining a minority shareholder. EURACTIV was informed that the CTG purchase was not notified to the European Commission and, as such, no assessment was carried out. But the company is now pursuing a majority stake in EDP that, combined with shares owned by other state-owned enterprises (SOEs), would give China near full control of an EU country's power system.
India China news: India, China in outreach war in poll-bound Bhutan - The Times of India Chinese vice foreign minister Kong Xuanyou made an unannounced visit to Thimphu Monday and held a meeting with Bhutan PM Tshering Tobgay. India had been anxiously watching the visit by the Chinese ambassador to India, Luo Zhaohui, to Bhutan. As it turns out, Luo was in Thimphu to prepare for the visit by Kong. India has until now successfully worked to ensure that there are no formal diplomatic ties between Bhutan and China but that clearly hasn't come in the way of Beijing's Thimphu outreach.
London's Chinatown falls silent to protest 'fishing raids' - Inkstone The waiters and chefs of Chinatown's 100 or so restaurants will be downing their menus and ladles and striking for five hours, against what they believe are heavy-handed immigration raids. These have been termed "fishing raids," because their victims say that it feels like authorities are "fishing" for illegal immigrants.
Hong Kong, Macao
Parallel traders, beware: new facial recognition system installed at Hong Kong-Shenzhen border | South China Morning Post Parallel traders refers to people who buy tax-free goods in the former British colony and then resell them in the mainland. According to a message posted by the General Administration of Customs on Weibo, China's Twitter-like service, the new system in place at the Shenzhen Bay and Lo Wu checkpoints will also speed up the processing time for people travelling between the two cities.
Tech And Media
Facebook quietly sets up subsidiary in China despite hardening censorship | Reuters Facebook has set up a subsidiary in China with registered capital of $30 million, according to an official business registration, hinting that the U.S. firm may be ramping up its presence in the restrictive market where its social media sites remain blocked...According to Facebook's recent filing, the wholly-owned Chinese subsidiary's operations will include network information technology development and related services, investment consultancy and marketing planning.
facebook已在中國註冊了公司《臉書科技》,並公佈商標為「臉譜」。 | 微信上的中國 more on the facebook filing..the legal representative is a 張京梅 Zhang Jingmei. Anyone have more information about her?
Dockless bike-share company Ofo is the first to pull out of the District - The Washington Post Chinese bike-sharing start-up Ofo said it is scaling back its U.S. operations and pulling out of several cities, including the nation's capital. The company is closing out operations in the District after a nine-month run in a market where it struggled to get the city to ease regulations, chiefly to lift the restriction that caps its fleet at 400 bikes.
Ofo considering restructuring operations in Spain as well as around the globe · TechNode According to media reports, Ofo is pulling operations out in cities in Spain, including Madrid, Granada, Valencia, and Marbella, after entering the country less than a year ago. The company told TechNode that ofo is still operating in Spain, but admitted that it is going through restructuring as the company is reconstructing its overall global plans.
Baozou Comic Apology, and Other News | China Media Project Baozou Comic, the popular comic sharing site that had its accounts on Weibo and WeChat shut down indefinitely by authorities back in May, has now posted an apology dated July 11 on its website, saying its "fundamental error was that our education in socialist core values was insufficient." In an effort to rectify its problems, underscore its missteps and begin operating afresh, Baozou has posted several sections on its website as part of a "'New Start' Special Series." These include a section called "Journey With The Homeland's Martyrs, Making Deep Apologies" (英烈故土行,深刻致歉), which describes visits by the Baozou CEO and staff to official memorials to martyrs and heroes across the country.
Alibaba Joins $600 Million Round for AI Startup Megvii - Bloomberg Megvii Inc., the Chinese developer of facial recognition system Face++, is said to be raising at least $600 million from investors including Alibaba Group Holding Ltd. and Boyu Capital, according to people familiar with the matter.
Editorial: Copyright Infringers Must Face Consequences - Caixin Global China still has a long way to go in creating a clear system for protecting online intellectual property rights. Recently, the country's National Copyright Administration, together with a number of other government bodies, launched the 2018 version of the annual "Sword Net" anti-online piracy campaign. This is the 14th edition of the campaign, which debuted in 2005. The campaign will focus on tackling problems in areas including unauthorized republishing, short videos and animated content. Online copyright protection for news media was one of the key tasks of Sword Net 2017, and is still on the list of focus areas for this year, which shows how severe the situation is.
Women's E-Commerce Site Shops for New York Listing - Caixin Global Meili Inc., a women's fashion e-commerce specialist backed by internet giant Tencent Holdings Ltd., has submitted confidential filings for a New York initial public offering (IPO) that could raise up to $500 million, a knowledgeable source told Caixin. The company, which was formed through the merger of two popular e-commerce sites in 2016, made the filings to the U.S. securities regulator late last week, said the source, speaking on condition of anonymity because the information is still private.
China sees fast growth in industrial robots production - People's Daily Online According to the China Robot Industry Alliance (CRIA), 131,000 industrial robots were domestically made in 2017.
Report calls for better self-supervision of commercial news apps - Xinhua The report, assessing information provided by the apps of 11 websites in June, was released by China Internet Network Information Center (CNNIC) on Tuesday. The report praised the apps' efforts in timely releasing of important news, use of social networks in news communication, and progress in promoting social positive energy and core values. However, some of the news apps assessed were found to have problems such as misleading and exaggerated headlines or vulgar content. Some malicious remarks were found in their comment sections, the report said, suggesting stronger self-supervision by the operators in these regards.
350 Million Diners Fuel Battle for China's Food Delivery Crown - Bloomberg Alibaba Group Holding Ltd.'s food delivery platform Ele.me plans to spend 3 billion yuan ($443 million) this quarter trying to wrest customers from Meituan Dianping. Ele.me wants to command more than half of all food delivery transactions in China over the short- to medium-term, according to Chief Executive Officer Wang Lei, who took the reins after Alibaba acquired the startup this year.
Head of Chinese Giant JD.com Named as Host of Sydney Party in Sexual Assault Case - The New York Times A Chinese billionaire who had tried to distance himself from a sexual assault case that has gripped Australia for the past month was identified this week as Richard Liu, the chairman and chief executive of e-commerce giant JD.com. Mr. Liu isn't accused of any wrongdoing, but the assault was alleged to have taken place after a party that he had hosted in Sydney in 2015. He had tried to get a court in the Australian city to prevent the release of his name by citing potential damage to his marriage and business, court documents show.
Society, Art, Sports, Culture And History
Chinese woman attacks husband's Audi as he drives with 'mistress' | South China Morning Post Video footage circulating online shows a woman, identified as the wife, perched on the bonnet of a black Audi moving along a stretch of road in Nanjing, Jiangsu province, Yangtse Evening News reported on Wednesday. The woman repeatedly hit the windscreen of the car with a hard object as it crawled along the road. A man identified as her husband drove the vehicle as a younger woman sat in the passenger's seat.  //  Comment: He looks like an official
Energy, Environment, Science And Health
State Council to streamline management of scientific research - Gov.cn The State Council issued a circular on July 24 to streamline management of scientific research, giving researchers more autonomy in the use of funds to stimulate their initiative. According to the circular, the application for scientific research projects will be simplified, as well as the evaluations, spot checks and audits in the process of projects. Financial and technical acceptance evaluations will be merged. - 国务院印发《关于优化科研管理提升科研绩效若干措施的通知》_滚动新闻_中国政府网 
Agriculture And Rural Issues
China's environment ministry approves new plan to tackle rural pollution | Reuters: China's environment ministry has approved a new plan to tackle growing pollution threats in its vast countryside, and will strive to clean up contaminated rural land and drinking water and improve waste management, it said on Tuesday. The new plan, approved "in principle" by the Ministry of Ecology and Environment on Monday, also mandates cuts in fertilizer and pesticide use and improved recycling rates throughout the countryside. China is in the fifth year of a "war on pollution" designed to reverse the damage done by decades of untrammeled economic growth, but it has so far focused primarily on air quality along the industrialized eastern coast, especially around the capital Beijing--生态环境部召开部常务会议 审议并原则通过《农业农村污染治理攻坚战行动计划》《渤海综合治理攻坚战行动计划》 
State Council to check national strategic grain storage - Gov.cn The State Council decided to launch a major inspection on the quantity and quality of the national strategic grain storage in order to prevent risks and safeguard state grain reserves, according to a notice issued on July 23. The inspection will cover strategic grains stored by corporations and the commodity grains of those corporations. Strategic grains include state grain reserves, grains with minimum purchase price and national temporary grain reserves, among others.
Dim Sums: Rural China Economics and Policy: China's Poor Quality Wheat Must be Purchased Local officials have been ordered to buy up large volumes of Chinese substandard wheat harvested this summer. A July 20 document on wheat procurement work in "disaster areas" said large volumes of wheat produced this year do not meet national standards due to lodging, germination, sprouting, and mold caused by heavy winds and rain at harvest time in regions of the middle and lower Yangtze River valley and the Huang-Huai region. 
Sea rice yields high in Dubai's desert areas - People's Daily Online Sea rice has now matured across desert fields in Dubai, with yields greater than the global average output per hectare of 4.5 tons, Science and Technology Daily reported on July 22. Scientists with China's Qingdao Seawater Rice Research and Development Center, led by renowned rice scientist Yuan Longping, chose 80 suitable rice varieties, including the sea rice, for the trial beginning on Jan. 8.
Education
Trade war risks university joint ventures in China | afr.com The escalating trade war between Washington and Beijing has increased the risk for university joint ventures and partnerships operating in China, according to Jeffrey Lehman, vice-chancellor of New York University Shanghai. When NYU set up China's first Sino-American joint university in Shanghai five years ago, the biggest risk it faced was attracting students and teaching staff to the new and experimental institution. However, Mr Lehman said geostrategic developments have rocketed up the risk list, threatening the viability of international collaborations.
Beijing
Heavy downpour pounds Beijing, Tianjin - Xinhua Heavy downpours brought by Typhoon Ampil pounded Beijing and neighboring areas on Tuesday, causing flight delays and evacuations, according to the city's flood control authorities. Beijing issued a yellow warning for heavy rain on Tuesday morning. Meteorological data showed average precipitation was 34 millimeters before noon with a maximum of 139.8 millimeters registered in Tongzhou. More than 18,171 people were evacuated and 165 tourists destinations closed across the capital. Flooding was seen in several areas, the Beijing flood control headquarters said.
The newsletter is intended for a single recipient, but occasional forwarding is fine. If you would like to order multiple subscriptions for your team with a group discount (minimum 5), please contact me directly.