VP Pence interview a bad sign for G20 deal; Campus crackdowns intensifying; Two US reports heighten focus on threats from China
No commentary up top today, have picked up whatever bug has been going around our kids' school and so am not feeling particularly coherent. Apologies.
Thanks for reading.
---
The Essential Eight
1. Pence's comments should temper G20 deal optimism
China is ready to deal on trade but not the broader issues in the relationship, at least in any meaningful way that the US would accept. So if the VP's comments reflect administration policy then the likelihood of a deal when Trump and Xi meet at the G20 just went down even more. 
Pence: It's up to China to avoid a cold war - The Washington Post - Josh Rogin:
Pence told me in an interview that Trump is leaving the door open for a deal with Xi in Argentina, but only if Beijing is willing to make massive changes that the United States is demanding in its economic, military and political activities. The vice president said this is China's best (if not last) chance to avoid a cold-war scenario with the United States...

In addition to trade, Pence said China must offer concessions on several issues, including but not limited to its rampant intellectual property theft, forced technology transfer, restricted access to Chinese markets, respect for international rules and norms, efforts to limit freedom of navigation in international waters and Chinese Communist Party interference in the politics of Western countries.

If Beijing doesn't come up with significant and concrete concessions, the United States is prepared to escalate economic, diplomatic and political pressure on China, Pence said. He believes the U.S. economy is strong enough to weather such an escalation while the Chinese economy is less durable.
China urges U.S. to respect nations' choice of their own road - Xinhua:
"China has always advocated all countries respecting each other's sovereignty and territorial integrity, non-aggression and non-interference in the internal affairs of other countries," Hua said. "We have always advocated that all nations have the right to choose their own path of development in accordance with their own conditions. "

"This is also an important content of the Five Principles of Peaceful Coexistence," Hua said.

"We have noticed that Mr. Pence has publicly expressed the hope that all countries in the Asia-Pacific region will be free to choose their own path. This is very good. We hope the U.S. side will walk the talk."
Abe faces balancing act as US adds pressure on China - Nikkei Asian Review:
In his Tuesday meeting with Japanese Prime Minister Shinzo Abe, U.S. Vice President Mike Pence showcased their countries' close ties by announcing a combined $70 billion commitment to infrastructure development, with a primary focus on the Indo-Pacific region.

Pence stopped over in Tokyo on his way to the summits of the Association of Southeast Asian Nations in Singapore and the Asia-Pacific Economic Cooperation in Papua New Guinea. While Pence is a stand-in for President Donald Trump, who chose to skip the Asian multilateral gatherings, the vice president himself has gained the spotlight since delivering a scathing criticism of China in a speech last month.
U.S.-Backed `Quad' Quietly Gains Steam as Way to Balance China - Bloomberg:
Senior officials from Australia, India, Japan and the U.S. -- a set of countries known as "the Quad" -- plan to meet Thursday on the sidelines of a regional summit in Singapore. It will be only the third meeting of the group since its revival last year as a counterweight to China's growing economic and military might.
---
2. US-China trade
The winding road to the G-20 - POLITICO:
Trump's strategy ahead of a high-stakes meeting with Chinese President Xi Jinping is about as clear as mud, but there has been some work behind the scenes. Trump met last Thursday with his envoy to Beijing, Terry Branstad, as well as Lighthizer, Secretary of State Michael Pompeo and chief of staff John Kelly. The meeting was supposed to map out the best way to talk to China about national security and trade, said a source briefed on the meeting.

The White House wants to "push the Chinese to where they need to get in order to make a deal," the source said about the upcoming meeting, and thinks China is ready to do that now that Republicans showed they could maintain control of the Senate.

The Mnuchin angle: It's still unclear what Trump wants to get out of Xi during the face-to-face, but China watchers say they are wary of news that Treasury Secretary Steven Mnuchin could meet in the coming weeks with Chinese Vice Premier Liu He ahead of the G-20 meeting. As of Friday, USTR had not been involved in the planning of that meeting, said one source familiar with the planning. Even at Treasury, staff-level China experts haven't been involved in planning for a potential meeting or preparation for the G-20 get together, according to two sources close to the process.
Maersk CEO Reveals `Ironic' Twist in U.S. Trade War With China - Bloomberg:
Soren Skou, the chief executive of A.P. Moller-Maersk A/S, says Chinese exports to the U.S. actually grew 5-10 percent last quarter. Meanwhile, U.S. exports to China fell by 25-30 percent.

"It's an ironic development," Skou told reporters in Copenhagen on Wednesday. "But after Trump has turned up the volume, the U.S. has only increased their imports from China even more."
China's top pig farming firm to follow new lower protein feed standards | Reuters:
China's top pig farming company Wens Foodstuffs Group Co Ltd (300498.SZ) will comply with new government-backed guidelines on lower protein in animal feed, a company executive said, adding however that the impact on its operations would be minimal.

China's Feed Industry Association last month approved new standards for pig and chicken feeds, with lower protein levels as Beijing seeks to reduce its consumption of soymeal amid an ongoing trade spat with major soybean supplier the United States.
Comment: And if the pigs stay fat and tasty with this new feed regimen why would they ever go back to using more American soybeans?
China always promises to stop cheating on trade, but never does - MarketWatch:
Ronald Reagan famously said, "Trust, but verify." If China really wants to prove that it can be an open, reliable partner, it's time for Beijing to make a major shift. But Trump should keep the pressure on — for many years, if need be — to make sure that America doesn't get conned again. There's simply no excuse to give Beijing room to keep taking advantage of the United States and other countries that maintain free and open markets.

Dan DiMicco is the former CEO and chairman of Nucor steel company. He served as a trade adviser to Donald Trump during the 2016 presidential campaign, and is currently chairman of the Coalition for a Prosperous America (CPA).
---
3. Two US reports heighten focus on threats from China
2018 Annual Report | U.S.-China Economic and Security Review Commission:
In word and deed, the CCP has abandoned any inclination for economic and political liberalization. Rather than promoting fair trade and investment, China engages in predatory economic practices. Rather than providing development finance in line with established rules, China provides loans and investment in nontransparent ways on projects that do not always meet global governance standards and pass tests of commercial viability. Rather than respecting other countries' sovereign rights, China is altering the status quo in the IndoPacific and has publicly congratulated itself on its militarization of the South China Sea. Rather than promoting the free flow of information and human rights at home and abroad, China is doubling down on censorship and technologically-enabled repression, including against China's Uyghur ethnic minority population.

For several decades, U.S. policy toward China was rooted in hopes that economic, diplomatic, and security engagement would lay the foundation for a more open, liberal, and responsible China. Those hopes have, so far, proven futile. Members of Congress, the Administration, and the business community have already begun taking bipartisan steps to address China's subversion of international order. Washington now appears to be calling with a unified voice for a firmer U.S. response to China's disruptive actions. In many areas, the CCP will be quick to cast any pushback or legitimate criticism as fear, nationalism, protectionism, and racism against the Chinese people. As a new approach takes shape, U.S. policy makers have difficult decisions to make, but one choice is easy: reality, not hope, should drive U.S. policy toward China.
Providing for the Common Defense | United States Institute of Peace:
The final report of the National Defense Strategy Commission is a compilation of the assessments of the National Defense Strategy and recommendations based on its analysis related not just to defense strategy, but also to the larger geopolitical environment in which that strategy must be executed. They consulted with civilian and military leaders in the Department of Defense, representatives of other U.S. government departments and agencies, allied diplomats and military officials, and independent experts.
Congressional body calls for probes into US-China ties | Financial Times $$:
The US-China Economic and Security Review Commission (USCC) recommended the Trump administration's top information security official should report annually on vulnerabilities arising from the close integration of the industrial supply chain between the US and China.

It also called for an assessment of the technical collaboration between US and Chinese groups and scientific institutions to identify intellectual property theft and potential gains for the Chinese military.
U.S. military edge has eroded to 'a dangerous degree,' study for Congress finds - The Washington Post:
The National Defense Strategy Commission, made up of former top Republican and Democratic officials selected by Congress, evaluated the Trump administration's 2018 National Defense Strategy, which ordered a vast reshaping of the U.S. military to compete with Beijing and Moscow in an era of renewed great-power competition...

The picture of the national security landscape that the 12-person commission sketched is a bleak one, in which an American military that has enjoyed undisputed dominance for decades is failing to receive the resources, innovation and prioritization its leaders need to outmuscle China and Russia in a race for military might reminiscent of the Cold War.
US panel warns against government purchase of Chinese tech - AP:
"The scale of Chinese state support for the IoT, the close supply chain integration between the United States and China, and China's role as an economic and military competitor to the United States creates enormous economic, security, supply chain, and data privacy risks for the United States," the report says.

The commission, which does not set policy but can make recommendations to Congress and the U.S. administration, is warning that the potential impact of malicious cyberattacks through such systems will intensify with the adoption of ultra-fast 5G networks that could quicken data speeds by up to 100 times.

"The lax security protections and universal connectivity of IoT devices creates numerous points of vulnerability that hackers or malicious state actors can exploit to hold U.S. critical infrastructure, businesses, and individuals at risk," the report says.
---
4. Campus crackdown intensifies
China's Peking University tightens party control, curbs activism | Reuters:
Late on Wednesday, the university, informally known as Beida, warned all students against taking part in demonstrations of support for recent labor-rights activism involving former students and said they would be held responsible if they "challenged the law".

"The school believes that the majority of students are sensible, but if there are those near you who are spreading rumors or reactionary sentiments, regardless if they are your teacher or your friend or your schoolmate, please keep a firm stance," students were told over instant messaging platforms.

On Tuesday, the Communist Party committee at Beida set up new bodies responsible for disciplinary inspection tours and campus "control and management", according to a document released by the committee and seen by Reuters, moves that tighten enforcement of party discipline.
Comment: New Beida Party Secretary Qiu Shuiping is wasting little time. As I wrote in late October when he was appointed:
Amidst the broader tightening inside China, 2019 is a year of momentous anniversaries of student movements--the 100th of the May 4 Movement and the 30th of the Tiananmen Square protests--and Peking University was at the center of both. It certainly looks like this move may be part of the broader ideological hardening underway at Peking University and at educational institutions in general.
Chinese campus crackdown on young Marxist activists expands in major cities | South China Morning Post:
At least 16 of 22 Chinese labour activists – many of them recent graduates from elite universities – who disappeared in five cities over the weekend were still missing early on Wednesday, as authorities widened their crackdown against emerging grass-roots activism led by young Marxists.

Students at Peking University (PKU) who formed a missing alumni concern group have been warned by the university over the past two days – in the presence of their parents and others who appeared to be plain-clothes police – to ignore the weekend purge.

But the missing alumni concern group, which gave the estimate of the numbers of activists still missing, has vowed to keep fighting for their freedom.

The latest purge follows the earlier detention of about 50 activists after a labour rights protest that began in Shenzhen at the end of July
Chinese university 'rethinking' checks on students' electronic devices after privacy complaints | South China Morning Post:
Guilin University of Electronic Technology had scheduled the checks on student and faculty devices on campus, from November 7 to 23, to be carried out by its Party and Administration Office.

But a university official surnamed Jiang told Shanghai-based news portal Thepaper.cn on Tuesday there had been no checks so far and the college was "rethinking the plan" because students had complained that it was an invasion of privacy.

"Recently, hostile forces both locally and abroad have been using the internet and mobile phones to spread forbidden and illegal videos," the university said in a notice about the inspection posted on social media.

It said all faculty and student mobile phones, computers and external disk drives would be checked "to stop the spread of content inciting violence and terrorism, harmful political information, pornographic and other content that corrupts thought".
"Shan Renping" , pseudonym for Hu Xijin's editorial in the Global Times, argues that China has reached a point where the CCP is strong enough to fend off any threats that could affect social stability and its rule and so the Party shouldn't just maintain stability for the sake of maintaining stability but should be more tolerant of a diversity of opinions.--单仁平:解放思想,客观评估多元社会的风险_评论_环球网: 
光要稳定,牺牲发展,这肯定不行。缺少经济社会强劲发展的稳定,最终将成为不稳定的僵局。历史已经反复证明了这一点。然而只顾发展,忽视社会稳定的底线,就会导致国家政治上的失控,最终演变成全社会的灾难。苏联、南斯拉夫的解体都是血淋淋的例子,避免那样的悲剧在中国重演,是我们长期不能忘记的政治座右铭
It's Time to Get Loud About Academic Freedom in China – Foreign Policy - Eli Friedman:
Cornell University's School of Industrial and Labor Relations (ILR), where I am an associate professor and director of international programs, recently suspended two student exchange programs with Renmin University in Beijing over concerns about infringements on academic freedom...

The strategy of quiet diplomacy, adopted by foreign universities and governments alike over the past generation, has failed to generate greater space for academic freedom or political expression. I saw this quite clearly in my private exchanges with Renmin, which produced no results whatsoever in terms of loosening restrictions on students. The lesson the Communist Party has learned is that there are no "red lines"; seemingly no matter how grave the violations, foreign institutions have thus far been unwilling to pass up the real or imagined benefits of engagement.
---
5. More PLA reform
Xi underlines reform on military policies, institutions - Xinhua:
Xi, also general secretary of the Communist Party of China (CPC) Central Committee, chairman of the Central Military Commission (CMC) and head of a CMC leading group for deepening reform on national defense and the armed forces, addressed a CMC meeting on the reform of policies and institutions held in Beijing on Tuesday and Wednesday.
..
He stressed that a systematic and profound reform is urgently needed to address deeply-rooted problems in military policies and institutions, fully release the efficacy of national defense and military reforms, open a new ground for building strong armed forces, and seize the initiative in military competition and warfare...

Xi stressed safeguarding the authority of the CPC Central Committee and its centralized, unified leadership and ensuring the Party's absolute leadership over the military, while deepening reform on the institution of Party building in the military.

Xi ordered efforts to innovate the policies and institutions on the application of military strength, adapt to the needs of national security strategy and focus on how to win when it is called on.

He called for restructuring of policies and institutions on military strength building, strengthening institutions and system-designing for military human resources, and focusing on combat, innovation and military-civilian integration.
[视频]习近平在中央军委政策制度改革工作会议上强调 认清推进军事政策制度改革重要性和紧迫性 建立健全中国特色社会主义军事政策制度体系_CCTV:
习近平强调,中国特色社会主义进入了新时代,国防和军队建设也进入了新时代,解决军事政策制度深层次矛盾和问题,全面释放深化国防和军队改革效能,开创强军事业新局面,掌握军事竞争和战争主动权,迫切需要适应形势任务发展要求,对军事政策制度进行系统、深入改革。

习近平指出,军事政策制度改革的指导思想是,以新时代中国特色社会主义思想和党的十九大精神为指导,深入贯彻新时代党的强军思想,以确保党对军队绝对领导为指向,以战斗力为唯一的根本的标准,以调动军事人员积极性、主动性、创造性为着力点,系统谋划、前瞻设计,创新发展、整体重塑,建立健全中国特色社会主义军事政策制度体系,为实现党在新时代的强军目标、把人民军队全面建成世界一流军队提供有力政策制度保障。
---
6. Xinjiang
U.N. Rights Officials Criticize China Over Muslim Internments - The New York Times:
United Nations human rights officials have sharply condemned regulations issued by China that seek to provide a legal basis for the mass internment of Muslims in the Xinjiang region.

Six United Nations officials and rights experts said in a letter sent on Monday to the Chinese government that the regulations were a violation of international law, and they urged that those responsible be held accountable.
New bill aims to expose China's treatment of Muslims - POLITICO:
The legislation, similar versions of which are set to be introduced in the Senate and House, condemns the mistreatment of Muslims in China and calls "for an end to arbitrary detention, torture, and harassment of these communities." It also denounces Chinese harassment of U.S. citizens and other residents of Chinese Muslim descent that it sees as a threat.
Investigation: Uyghur Poet Detained for Editing Problematic Book - RFA:
A prominent Uyghur poet has been arrested and sent to a re-education camp for her involvement in editing a novel that the Chinese government has taken issue with.

RFA's Uyghur Service received an anonymous tip from a listener that revealed that Chimengul Awut and 13 others who worked at the Kashgar Publishing House have been sent to the camps since last year.

Following an investigation by RFA, it has been confirmed that Chimengul is being held for her involvement in editing Golden Shoes, a 2015 novel by well-known Uyghur writer Halide Isra'il.
Xinjiang Daily has published a series of reports on how the "vocational centers" are transforming extremists' life:
---
7. The Party wants positive economic news only
China censorship moves from politics to economics | Financial Times $$:
"Censorship has never been so tight," said one business journalist with two decades of experience. "There has been a big shift in the second half of this year." ..

An editor at one of China's largest magazines said economic reporting was now subjected to a level of restriction previously seen only for political topics. "The economy is now political," the editor said...

Chinese propaganda officials over the past few months have handed down instructions not to changshuai — bad mouth — the economy, according to a dozen journalists and editors at influential Chinese publications who spoke anonymously to the FT.
China Tells Economists to Guide Markets, Promote Nation's Policy - Bloomberg:
Chief economists at Chinese brokerage firms should make efforts to guide market expectations and also effectively promote and analyze government policies, says the head of the nation's top securities regulator.

Economists should properly understand, interpret and promote President Xi Jinping's remarks on supporting private companies, Liu Shiyu, chairman of the China Securities Regulatory Commission, said at a meeting with economists this month.
---
8. US experts talk Xi Jinping
TeaLeaves Podcast - Kurt Campbell talks to Elizabeth Economy:
Dr. Elizabeth Economy, the C. V. Starr senior fellow and director for Asia studies at the Council on Foreign Relations, joins Kurt for a conversation about her career and the way that Chinese domestic politics is shaping the country's approach to its international affairs. Economy explains how she went from serving as Soviet analyst in the U.S. intelligence community to becoming one of the foremost China experts in the United States. The two discuss Economy's new book, The Third Revolution: Xi Jinping and the New Chinese State, and share their own perceptions of Xi. Looking to the future, Economy highlights the struggles that Xi will face, including labor protests, increased internal dissent, and potential criticism from the entrepreneurial sector, as China continues to change.
---
Business, Economy, Finance And Trade
Infrastructure Growth Picks Up, Property Investment Slows Down-Caixin Infrastructure investment rose 3.7% year-on-year in the first 10 months, higher than the nine-month figure of 3.3%; Investment in real estate development rose 9.7% year-on-year in the first 10 months, lower than the reading of 9.9% in the January-September period; Retail sales, which include spending by governments, businesses and households, rose 8.6% year-on-year in October, moderating from 9.2% in September, NBS data showed
Pimco Says China Current Account Shift to Pressure Global Bonds - Bloomberg "For the first time in a quarter century, China has become a capital importer -- a significant shift in the global pattern of savings and capital flows," Meng wrote in a blog. "Just five years ago, China was plowing $300–$400 billion annually into global markets."
HNA Offers Airline Vouchers to Repay Investors Instead of Cash - Bloomberg Shenzhen-based Qianhai Air & Shipping Exchange that sells wealth management products to retail investors online, is offering tickets from Hainan Airlines or Grand China Air to repay what it owes, it said in a statement. The flights can be for both domestic and overseas travel and are valid for five years.
Weak stock market an 'embarrassment' for China, says Beijing adviser | South China Morning Post "China's stock market has diverged completely from the country's economic fundamentals," said Huang Mengfu, chairman of the All-China Federation of Industry and Commerce and a former vice-chairman of the China People's Political Consultative Conference (CPPCC), during Caijing's annual conference in Beijing. "It is so embarrassing that the total [value of the] stock market of China" is equivalent to the market capitalisation of seven Apple Incs, he told an audience of bankers and business executives.
The forgotten 'Facebook of China' is sold for $20M | TechCrunch Renren's parent company Beijing Qianxiang Wangjing has agreed to sell all tangible and intangible assets of renren.com to Beijing Infinities Interactive Media, according to a statement. As part of the deal, Qianxiang will receive $40 million worth of shares in Beijing Infinities, a $700 million firm that owns one of China's major IT news sites DoNews. "I am happy to find a home for renren.com," says Renren's chairman and chief executive officer Joseph Chen in the statement.  //  One of the great shareholder disasters in a US-listed chinese firm/..SEC should be ashamed of itself for letting Renren do what it has done over the last year or so
Embattled Entrepreneur Accuses Real Estate Giant of Trying to Seize Control of His Electric-Car Maker - Caixin Faraday struggles to secure new funding as Thursday deadline looms to give the company's 1,300 U.S. employees $1.63 million in half-wages * Faraday's new head of research and development said that Evergrande has introduced staff monitoring measures and camera systems that he said will destroy employees' creativity.
Foreign Fund Managers Suffer Baptism of Fire in China - Caixin A private-banking manager with a midsize commercial lender told Caixin that banks tend to rule out cooperation with foreign fund management companies, especially those selling private funds, as they are small, lack a track record, and have little market recognition. Private funds are even less attractive because they have a limit of 200 investors per fund. "We compile a list of asset managers we want to work with," he told Caixin. "It's important for us whether the asset manager has a leading position, or is ranked highly in terms of assets under management. Foreign-funded institutions also really lag behind in terms of promoting their products through roadshows."
Senior official urges strong legal protection for health growth of private enterprises - Xinhua Guo Shengkun, a member of the Political Bureau of the CPC Central Committee and head of the Commission for the Political and Legal Affairs of the CPC Central Committee, made the remarks when chairing a plenary meeting of the commission on Wednesday. He demanded better work systems, policies and measures, and strengthened coordination for work in this area, to ensure the decisions and arrangements made by the Party central authorities on supporting private enterprises were well implemented. Guo spoke of the need to provide equal protection, properly settle civil, business and administrative lawsuits involving private enterprises, and fight illicit and criminal activities that harm the legitimate interests of private enterprises.
Peter Navarro Is Trump's Trade Warrior - The Atlantic profile
---
Politics, Law And Ideology
Xi presides over 5th meeting of central committee for deepening overall reform - Xinhua CCTV Evening News on the meeting - 习近平主持召开中央全面深化改革委员会第五次会议强调 深刻总结改革开放伟大成就宝贵经验 不断把新时代改革开放继续推向前进 
天津、浙江等通报中央关于处理陕西秦岭北麓西安境内违建别墅问题的情况_政治 The Shaanxi villa scandal has come to the point where provincial and municipal party secretaries have to come out to declare support for Xi's central authority. This scandal is getting more and more interesting.
Chinese official sacked, expelled from Communist Party after ex-wife's social media attack | South China Morning Post Yan Chunfeng has lost his job as deputy secretary of Guangan in Sichuan and is accused of taking bribes and using his position to seek profits for others His former wife in May demanded their daughter's kindergarten teacher 'apologise in front of the class' in chat room exchange widely circulated online
China Abolishes Top Beijing Law Firm Known For Human Rights Cases - RFA The Chinese law firm raided at the start of a nationwide police operation targeting rights attorneys, law firms and activists in July 2015 has now "ceased to exist," RFA has learned. Police raided several prominent members of the Beijing Fengrui law firm on the night of July 9, 2015 and in the days and weeks that followed, detaining many of them on suspicion of subversion
The inside story of the propaganda fightback for Deng Xiaoping's market reforms in China | South China Morning Post While what became known as the "Southern Tour" to Guangzhou, Shenzhen, Zhuhai and Shanghai was the turning point in the salvaging process, the way had been paved by a series of articles under the pseudonym Huang Fuping, published in the Shanghai Communist Party mouthpiece Liberation Daily a year earlier. Accounts of the origins of the articles have varied but Liu Ji, former Shanghai deputy propaganda director and a top adviser to former president Jiang Zemin, has clarified the roles of several key players and how Deng crushed criticism of the articles from behind the scenes.
China appoints CNPC president as top energy official - state media | Agricultural Commodities | Reuters Zhang Jianhua, president of China's largest oil and gas group CNPC, has been named director of the National Energy Administration, according to China Energy News, becoming the first oil industry executive to take that role.  //  Fox to redecorate henhouse?
上访者陈裕咸之死(上篇)_牛力 The Beijing News on a petitioner from Jiangxi getting beaten to death in Beijing by thugs and officials from his home county...12 people are under arrest
Xi calls for confidence, resolve in reform, opening-up - Xinhua // Excuse the sartorial detour, but you have to love Wang Qishan's outfit, in contrast to Xi and the PBSC gang: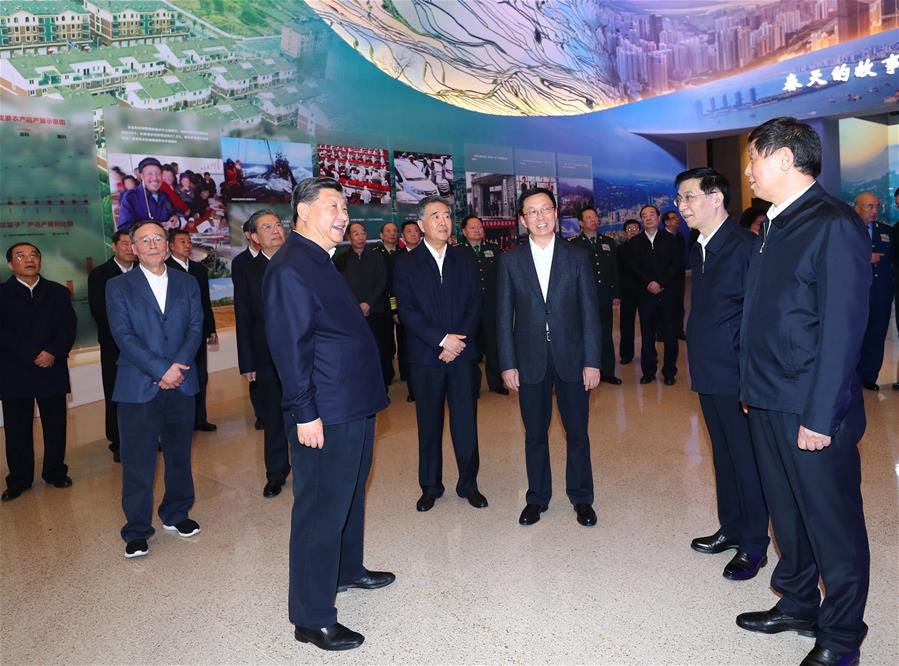 Chris Buckley looked at Xi's favorite jacket in his 2016 story China's Leader Wears Many Hats, but Only One Jacket: 
Mr. Xi was not the first Chinese leader to adopt a windbreaker as his meet-the-masses uniform. The look, a sort of rolled-up-shirt-sleeves for colder climes, goes back decades. His predecessor, Hu Jintao, was a big fan.

"The jacket has been loved by generations of leaders, because it is versatile and easygoing," Ta Kung Pao, a pro-Communist Hong Kong newspaper, explained in 2014. "The jacket look is lively and exudes vigor."
I bought one before I left Beijing, from 红都 on 东交民巷 in the old Beijing Legation District (across the street and two blocks down Zhengyi Lu from the Grand Hyatt complex at 28 Dongjiaomin Alley if you want to pick one up before your next meeting in Beijing…Not cheap though, mine was 4800 RMB.). Hongdu is a fascinatingly old school clothing store.
And of course there is Deborah Lehr's classic on the footwear of the top leaders - In China's Great Hall of the People, Shoes Speak Louder Than Words.
Wang Qishan likes cloth slippers, not sure which brand but it may be 内联升. They are very comfortable.
In the picture it is not clear what brand his sneakers are, but do not look like New Balances, the favorite of Wen Jiabao.
---
Foreign and Military Affairs
APEC summit: the Xi show by the sea shore - AFP Hundreds of fluttering red flags, buses emblazoned with "China Aid" logos and even a purpose-built pagoda: driving around Port Moresby, you could be forgiven for thinking that Xi Jinping is hosting this week's APEC summit of Asia-Pacific leaders. US President Donald Trump's decision to skip the summit in Papua New Guinea has allowed the Chinese leader to take centre stage, an opportunity that Beijing is seizing with relish. Xi will embark on a state visit a day before the rest of the delegates descend on this dusty sun-baked city -- and host a meeting with Pacific leaders -- a schedule designed to emphasise growing Chinese influence in the region.
Full text of Xi's signed article on PNG newspapers - Xinhua The full text of the article, carried by Post-Courier and The National, is as follows: Set Sail on a New Voyage for Relations Between China and Pacific Island Countries // 习近平在巴布亚新几内亚媒体发表署名文章 - 让中国同太平洋岛国关系扬帆再启航 
Chinese money unsettles Marshallese politics | Asia Times arshall Islands President Hilda Heine has accused "Chinese interests" of trying to force her from office after her administration refused to back plans to establish an investment haven in the central Pacific country. Heine survived a no-confidence motion on Monday by a solitary vote after weeks of background scheming by political opponents. Parliament was split 16-16, leaving her rivals just short of the necessary majority.
Diokno: Xi Jinping's Manila visit to pressure China's 'bureaucracy' to hasten infra projects | Philstar.com "This visit of the head of state of China will put pressure on the speed of implementation of all these projects," Budget Secretary Benjamin Diokno told a press conference. "I think with his visit this will actually speed up. We're very optimistic... their head of state will pressure their bureaucracy to speed up the process," Diokno added.
Commentary: With Xi Jinping's visit, will Duterte reap the fruit of appeasing China? | Philstar.com Duterte's appeasement policy is based on a quid pro quo with China. This would unravel his predecessor's balancing policy on China's maritime expansion in the South China Sea, in exchange for Chinese moderation in their actions vis-à-vis the Philippines in the South China Sea. And more significantly, the infusion of Chinese investment and aid for the administration's "Build, Build, Build" program. Developments, however, indicate that China is not keeping up to its end of the bargain.
Chinese villager awarded for reporting foreign submersible vessel - China Military In mid-September this year, Yang noticed an unknown machine looked like an underwater detector suspiciously placed on the beach in Beiguan Island, Xiaguan Town, and he reported it to the relevant authority immediately...According to the preliminary investigation, the machine is a submersible detector developed by a Canadian company. Its detection depth can reach between 300 to 600 meters underwater. Equipped with high-resolution cameras, the machine can be used for underwater target detection tasks such as search, investigation and identification.
'Don't step out of line': Confidential report reveals how Chinese officials harass activists in Canada | National Post At home in Ontario, his activism barely raised an eyebrow. But when a quiet-spoken Chinese dissident travelled to the country of his birth last year, security officers shadowed him for weeks, booking hotel rooms next to his, even following him to breakfast. Before he left, they also had a disturbingly direct message: Stop condemning the Chinese government to Canadian media, or the family he had come to visit would face the consequences. "They said if this (critical) story comes out in the Canadian press, then you are responsible for the life of your relatives," he recalls.
China hopes to complete talks on S. China Sea code of conduct in 3 years - Xinhua China hopes its talks with Southeast Asian nations on a code of conduct in the South China Sea will bear fruit in three years, visiting Chinese Premier Li Keqiang said here on Tuesday. China hopes to complete talks on the Code of Conduct (COC) in the South China Sea within three years, clinching a final deal that will keep enduring peace in the region, Li said in a speech at the 44th Singapore Lecture. Joint efforts of China and ASEAN (the Association of Southeast Asian Nations) have stabilized the South China Sea. Both sides should seize the opportunity to push for substantial progress on COC talks, Li said.
Special Report: How ZTE helps Venezuela create China-style social control | Reuters 10 years after the Shenzhen trip, Venezuela is rolling out a new, smart-card ID known as the "carnet de la patria," or "fatherland card." The ID transmits data about cardholders to computer servers. The card is increasingly linked by the government to subsidized food, health and other social programs most Venezuelans rely on to survive. And ZTE, whose role in the fatherland project is detailed here for the first time, is at the heart of the program.
Chinese fugitive on Interpol's red notice repatriated - CGTN Zheng Quanguan, who served as general manager of Fuda Real Estate Agency in Hunan Province, central China, has been repatriated to China due to the cooperation of Chinese and US authorities, according to the Central Commission for Discipline Inspection. Zheng, born in 1957, was accused of embezzlement of 28 million yuan and fled to the US in 2015. He was listed on Interpol's red notice.
China's Long-Range Bomber Flights: Drivers and Implications | RAND 
---
Hong Kong, Macao
Why did Hong Kong's Carrie Lam keep mum on national security issues raised by Xi Jinping at closed-door meeting? | South China Morning Post Chief executive earlier told press that national security legislation did not come up at session Transcript published later shows that president said Hong Kong and Macau should have 'self-awareness' in protecting national security
---
Taiwan
Taiwan's "Midterms" and Why They Matter | The National Interest The upcoming November 24 elections occur amid criticism over domestic reforms and impatience, within the more extremist " deep green " camp, that the Tsai administration has failed to do more to counter an aggressive China and secure Taiwan's position within the international community. Some, frustrated with her adherence to the Republic of China (ROC) constitutional order, have unfairly accused her of being a "closet KMT" and an "opponent of independence." For their part, more pragmatic voices in Taiwanese politics, as well as government partners overseas, have argued that President Tsai has successfully struck a healthy, and admittedly difficult, balance between asserting Taiwan's sovereignty and reassuring its allies that Taiwan will not spark a crisis in the Taiwan Strait.
Taiwan's Social Media Landscape: Ripe for Election Interference? | Center for Advanced China Research This article explores the potential for China's interference in Taiwan's elections by co-opting an important resource for the consolidation of DPP and pan-green support: social media.
---
Tech And Media
Beijing issues action plan to promote AI industry - Xinhua Beijing issued an action plan on developing artificial intelligence (AI) and established an AI research institute Wednesday to promote the AI industry. The action plan, under the guidance of the Ministry of Science and Technology and Beijing municipal government, aims to encourage scientists in frontier research, push forward breakthroughs in AI theories, methods, tools and systems and create a deeper application of AI technologies.
The coming cold war of internets between China and the US in 2038 – 八八吧 · 88 Bar By 2038, there won't just be one internet — there will be many, split along national lines in the midst of a tech cold war between China and the U.S. That's the prediction of writer and technologist An Xiao Mina, who joined Intelligencer's new podcast 2038 this week.
Tencent's profit spikes as its core gaming business shows signs of slowing down | Markets Insider Tencent posted better than expected earnings, beating on both the top and bottom lines. But its revenue grew at the slowest pace in three years. Core online gaming sales dropped 4% in the wake of a Chinese clampdown on licenses.
Questions raised over Bitmain profits after IPO filing | Financial Times $$ In its IPO prospectus, Bitmain stated 2017 net profits as $701.4m. In documents published ahead of a $422m pre-IPO funding round, just one month earlier, Bitmain said that year's net profits were $1.1bn. The August 2018 funding round had three investors: Crimson Ventures, HuangPu River Capital and CAS Investment Management, according to Crunchbase. In documents circulated in Bitmain's $400m Series B fundraising round in June of this year, which was led by Sequoia Capital China, the 2017 net profit figure was $1.25bn.
A popular TV show has revealed how WeChat crushed a rival messaging app - TechInAsia Startup Era is a Chinese TV drama about, you guessed it, working at startups. It follows the fictional tech entrepreneur Guo Xinnian, who's building a voice messaging app. It has received bad reviews for a "loose" screenplay and horrible acting, but it's sparking a lot of discussion in China because it's based on a real story – of how another entrepreneur named Guo's voice messaging app was crushed by WeChat.
Large crowds drawn to movie star's court dates prompts barrister's request - Sydney Morning Herald The barrister for a Chinese movie star charged with sexual assault has asked if the actor can skip court following complaints about the crowds he is drawing. A foreign media flurry has surrounded Yunxiang Gao at his every court appearance, causing sheriffs on one occasion to lock and guard a courtroom under a magistrate's orders that no one else was allowed to enter.
This US Firm Wants to Help Build China's Surveillance State | WIRED Bikini.com is owned by Remark Holdings, a small public company with Hollywood producer Brett Ratner on its board and financial ties to TV's Dr. Mehmet Oz. Remark's leaders are trying to transform the unprofitable, debt-loaded website operator into a provider of corporate AI technology in Asia, particularly China. Remark's business and share price are struggling, but its peculiar AI project has made some progress...China is the main focus of Remark's AI project. The company has several subsidiaries in the country, where engineers are cheap and work six days a week. One subsidiary built technology for use by police in China's fifth largest city, Hangzhou, that analyzes surveillance video to identify motorcycles driving on streets where they are banned.
US China chip wars | Financial Times Podcast  Computer chips have become the latest battleground in the trade war between the US and China. Caught in the middle is China chip maker, Fujian Jinhua, which the US has charged with conspiracy to steal trade secrets from US rival Micron. Malcolm Moore discusses the case and China's efforts to build its own semiconductor industry with Emily Feng in Beijing and Kathrin Hille in Taipei
Education
Universities Told to Stop Making Students Beg in Public for Financial Aid Many students applying for financial aid at Chinese universities find that submitting written documents isn't enough — to win the cash, they must give speeches in public about their plights, and hope their stories are "moving" enough to earn the audience votes they need to qualify.
---
Food And Travel
Chinese outbound tourism | McKinsey Our new survey of more than 2,000 Chinese tourists explodes these myths, and others:Not all Chinese tourists are keen on shopping. Instead, some attach more importance to the travel experience; Visiting landmarks is no longer Chinese visitors' primary goal. A majority now prefer to immerse themselves in local life; Short outings remain popular, but long-distance tours and niche travel products are rapidly gaining favor. Chinese visitors are staying in one place longer. And more young people, who prefer to take their time while traveling, are joining the flock; Chinese tourists do not confine themselves to just Chinese food. They are more willing to try exotic foods, and fine dining enjoys even greater popularity;China's tourists are worth getting to know better. In 2017, Chinese travelers took more than four billion trips in-country and 131 million trips overseas.// Full report
Shaanxi liquor contains excess plasticizer that may hurt men's sperm count - Global Times After the report stirred public outrage, the company issued a statement and said it plans to recall the product, claiming that the liquor produced in 2012 completely met the standards in 2013 tests, as there were no tests for DBP at that time, China.org.cn reported last Friday.  //  Can't think of worse advertising in China than "drink this and you will have no offspring..."