WHO frustrated by China's early response; Hong Kong; Propaganda field day over US unrest
No commentary up here today, there is some in the entries below.
Today's Essential Eight:
WHO frustrated by China's early response

Xi calls for strong public health system

Hong Kong

US-China

The propaganda about the US is writing itself

India-China border tensions

The economy

The epidemic
Thanks for reading.
---
1. WHO frustrated by China's early response
Comment: Quite a blockbuster story by the Associated Press based on internal WHO recordings and documents, does not point to a central-level coverup but does show that the WHO knew China was not being as forthcoming as it could have been in the early stages of the outbreak, and that those delays would make things worse.
China delayed releasing coronavirus info, frustrating WHO - AP
Throughout January, the World Health Organization publicly praised China for what it called a speedy response to the new coronavirus...

But behind the scenes, it was a much different story, one of significant delays by China and considerable frustration among WHO officials over not getting the information they needed to fight the spread of the deadly virus, The Associated Press has found.

Despite the plaudits, China in fact sat on releasing the genetic map, or genome, of the virus for more than a week after three different government labs had fully decoded the information. Tight controls on information and competition within the Chinese public health system were to blame, according to dozens of interviews and internal documents...

WHO officials were lauding China in public because they wanted to coax more information out of the government, the recordings obtained by the AP suggest. Privately, they complained in meetings the week of Jan. 6 that China was not sharing enough data to assess how effectively the virus spread between people or what risk it posed to the rest of the world, costing valuable time.
Trump's remarks "extremely disrespectful" to China's efforts against pandemic: FM spokesperson - Xinhua
"The statistics can prove that who is incompetent and inadequate in coping with the pandemic," said Zhao.

Noting that the current domestic pandemic situation in the United States remains serious, Zhao said shifting blame to China can not get rid of the virus, nor can it save patients.

"We advise those in the United States who still attempt to pin labels and politicize the virus to focus on fighting their domestic pandemic," said the spokesperson
---
2. Xi calls for strong public health system
Xi stresses strong public health system to safeguard people's health - Xinhua
Xi..made the remarks when presiding over a symposium attended by experts and scholars.

Noting that the people's security is the cornerstone of national security, Xi called for readiness for worst-case scenarios, stronger awareness of potential dangers and constant efforts to forestall major risks in health care.

"Only by developing a strong public health system, improving the early warning and response mechanisms, comprehensively enhancing the capacity for prevention, control and treatment, weaving a tight prevention and control network, and consolidating the wall of quarantine, can we provide a strong guarantee for safeguarding the people's health," Xi said…

Experts and scholars, including academicians with the Chinese Academy of Engineering such as Zhong Nanshan, a respiratory professor at Guangzhou Medical University, and Zhang Boli, head of Tianjin University of Traditional Chinese Medicine, spoke and put forward suggestions at the symposium…

Xi stressed the pressing need for boosting the early-stage epidemic monitoring and warning capacity to improve the public health system, including efforts for a better monitoring system for epidemics and public health emergencies, and a better monitoring mechanism for diseases of unknown causes and abnormal health incidents.

Party committees and governments at all levels were asked to put in place public health working mechanisms for the regular study and deployment of epidemic prevention and containment.

Following the principle that nothing matters more than the people's lives, China has unprecedentedly mobilized resources across the country to treat and rescue COVID-19 patients on a large scale, said Xi.
Report on the meeting was the top 13+ minutes of the Tuesday CCTY Evening News-习近平主持专家学者座谈会强调 构建起强大的公共卫生体系 为维护人民健康提供有力保障
Comment: They were supposed to have put in place a system after SARS to prevent a SARS-like outbreak from ever happening again. Will this time be different? And how much of a risk to the CCP narrative is today's AP report on the WHO frustrations at the start of the outbreak?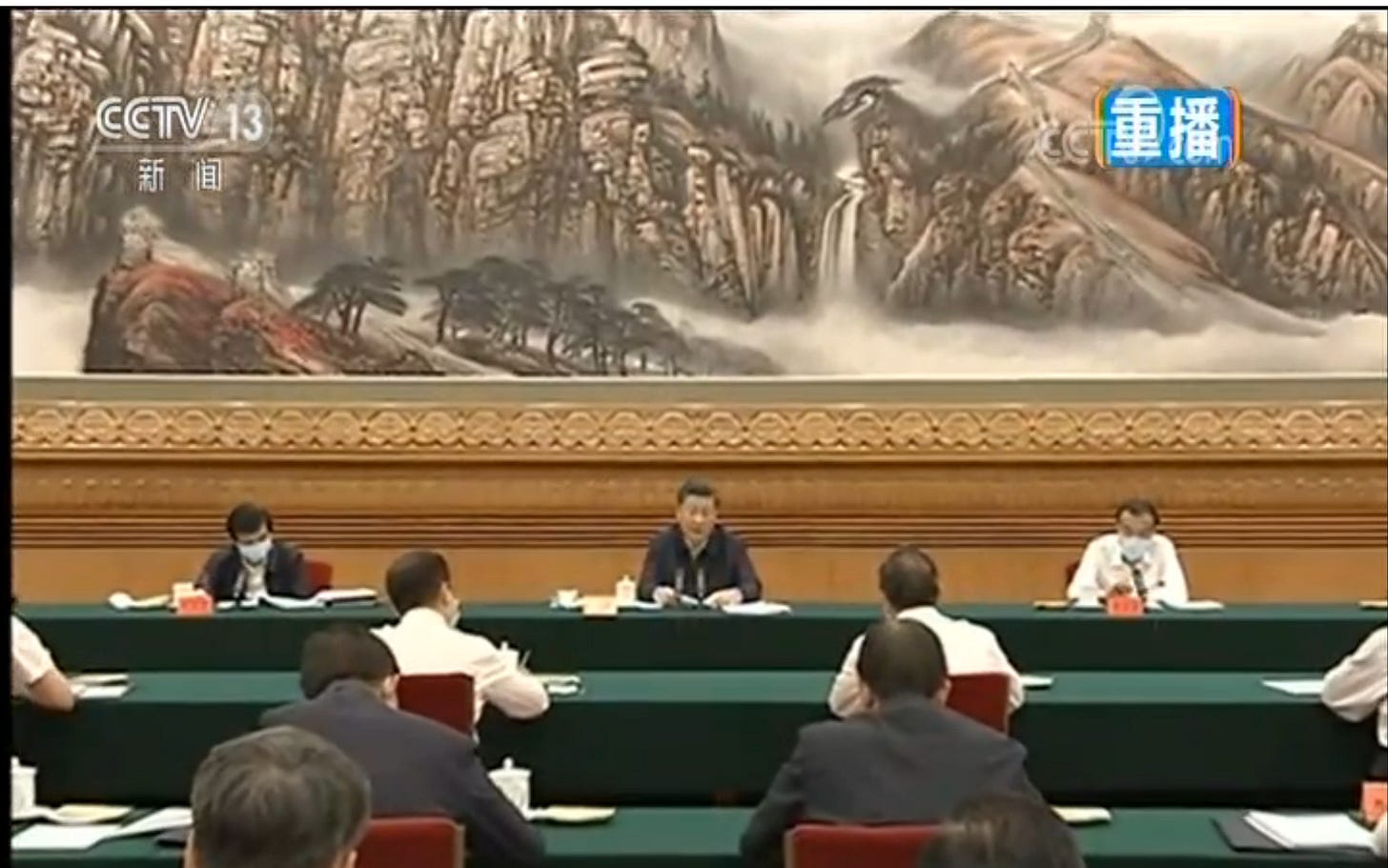 ---
3. Hong Kong
Security chief: Hong Kong preparing for new law - China Daily
n an interview with Hong Kong newspaper Wen Wei Po, Secretary for Security John Lee Ka-chiu said that although the details of the national security legislation have yet to be finalized, his department has started preparations to make available the human and material resources for the law's implementation...

Lee also disclosed a plan to beef up training of the police to safeguard national security. Most of the force's work centers on maintaining public order, Lee said. Besides the case of banning the Hong Kong National Party, a local political group that advocated "Hong Kong independence" in 2018, it has relatively limited experience in handling national security-related crimes, he added.

Besides, the government will study other jurisdictions' experience in enforcing national security laws, and formulate policies to facilitate the law's implementation in the city, Lee said.
Carrie Lam to visit Beijing on Wednesday to discuss Hong Kong national security laws - CGTN
Nearly 2.93 mln HK residents show support of national security legislation by signing petition - Xinhua
Nearly 2.93 million Hong Kong residents have signed a petition in support of the national security legislation for Hong Kong during an eight-day campaign.

Organizers handed in the petition to Luo Huining, director of the Liaison Office of the Central People's Government in the Hong Kong Special Administrative Region (HKSAR) on Monday afternoon
Raab calls for alliance to force China to step back over Hong Kong | The Guardian
In a statement to MPs, the foreign secretary, Dominic Raab, said that by threatening Hong Kong's autonomy, China "was inexplicably putting at risk what has long been regarded as one of [its] economic jewels".

He also accused Beijing of intimidation in building a pro-China global alliance, saying Britain was trying to build its own counter-alliance of democracies to defend Hong Kong freedoms. He said the alliance needed to stretch beyond 'the usual suspects" in Europe and the Five Eyes alliance to include countries in Africa and Latin America so drawing together countries with "a likeminded attachment to the rule of law"
Job matching agency supporting Hong Kong protesters struggles to get incorporated | Apple Daily
An agency which matches job-seeking protesters with employers who support the protests said their application for incorporation had been held up because of their political stance.
U.S. to Sell Hong Kong Consulate Housing Amid Rising Tensions - Bloomberg
The compound is located in Shouson Hill, on the southern side of Hong Kong Island, where some of the city's richest tycoons, including Li Ka-Shing, own houses. Comprising several apartment buildings spread over almost 95,000 square feet (8,825 square meters) of land, the property is worth between HK$3.1 billion ($400 million) and HK$3.5 billion, according to Vincorn Consulting and Appraisal Ltd.
Junius Ho stages a photo op at US consulate in Hong Kong to protest American police brutality against protestors
Court finds student not guilty of rioting - RTHK
A 20-year-old university student has become the first person to be acquitted of a riot charge in relation to last year's anti-government protests.
Why Hong Kong is worried about its digital freedom | Financial Times $$
Imposing the Great Firewall on Hong Kong would not be technically difficult, says Andy Yen, chief executive of encryption software company ProtonMail, which fights for internet freedoms. "Hong Kong is small compared to the rest of China, so it'd be like implementing the Firewall in a mid-sized Chinese city."
Hong Kong extends social-distancing curbs including gathering ban, compulsory quarantine as four new cases raise 'super spreader' fears | South China Morning Post
Hong Kong's restrictions on gathering in public will last at least two more weeks under an extension of social-distancing rules revealed on Tuesday following the emergence of a new cluster of coronavirus infections in the city.
Covering Hong Kong in a Darker Era - Chinese Storytellers
HK Chief Executive slams US double standards over domestic, HK riots - Global Times
Some countries' high-profile criticism of the national security law in the Hong Kong Special Administrative Region (HKSAR) shows "double standards," as they pay attention to their own national security but are biased against HKSAR, HKSAR Chief Executive Carrie Lam Cheng Yuet-ngor said at a press conference on Tuesday, the US' recent dealing with its domestic riots has been tough.
Zhong Sheng Tuesday - "Addicted to sanctions, Hegemon by nature"

我们奉劝美方,尽快收起制裁成瘾的把戏,尽早收敛霸道成性的做派,摒弃冷战思维和意识形态偏见,立即停止干涉中国内政,不要在错误的道路上越走越远

We advise the United States to put an end to the sanctions addiction as soon as possible, conquer the hegemonic nature as soon as possible, abandon the Cold War mentality and ideological prejudice, immediately stop interfering in China's internal affairs, and do not go further and further on the wrong path.
CCTV Evening News commentary asking the Americans not to do "political blackmailing" about Hong Kong anymore as "its backyard is now on fire". The article said the US politicians instead of focusing on the mess at home have chosen to threaten China with sanctions. "It is a shame that this time they will hit the wall hard, because the Chinese people will never accept this! We make no compromise on matters of national security!" It also wrote that the Americans are narcissist in believing their sanctions will hurt Hong Kong. 
---
4. US-China
American Exporters Sell Soy to China Despite Rising Tensions - Bloomberg
There are some exceptions to the order that state-run buyers Cofco and Sinograin halt American soy purchases, one of the people said. One exception is when state-buyers import on behalf of private firms, who are not affected by the halt, the person said. Another is when the state-buyers need the beans to cover their derivative positions, and a third exception is if there are already ongoing transactions, the person said.
Hong Kong security law: China weighs risk US will go for 'nuclear option' and cut Beijing from the dollar payment system | South China Morning Post
While the probability remains very low that China will be treated like Russia or Iran, and US President Donald Trump has not mentioned sanctions against Hong Kong or Chinese financial institutions, the risk of a financial war – including being cut off from the US dollar system – is no longer "unthinkable" for China...

"It's clearly a nuclear option for the US," said a Chinese official who has been briefed on internal discussions about Beijing's response to the possible US reaction to the national security law in Hong Kong. "It would hurt China, but it would probably hurt the US more."
Trump's latest move on Hong Kong is bluster | PIIE - Nick Lardy
Only goods produced in Hong Kong are eligible for MFN tariff treatment by the United States.

In fact, 95 percent of all exports from Hong Kong are goods produced elsewhere, exported to Hong Kong and then reexported from Hong Kong to global markets. Of the $45 billion in Hong Kong exports to the United States, only 1 percent or about $450 million is produced in Hong Kong and eligible for MFN tariff treatment. Most of Hong Kong's exports to the United States are goods produced in China, reexported through Hong Kong. But these goods are already subject to the same high tariffs as Chinese goods exported directly from the mainland to the United States. Similarly, goods from other countries reexported by Hong Kong to the United States are subject to the same duties that would apply if the goods were shipped directly to the United States, rather than reexported by Hong Kong.
Secretary Pompeo's Call with Australian, Canadian, New Zealand, and UK Counterparts - United States Department of State
Secretary Michael R. Pompeo spoke yesterday with Canadian Foreign Minister François-Philippe Champagne, Australian Foreign Minister Marise Payne, New Zealand Foreign Minister Winston Peters, and United Kingdom Foreign Secretary Dominic Raab. They discussed our coordination on responding to urgent global challenges, including the PRC's unilateral and arbitrary decision to impose national security legislation on Hong Kong; Iran's destabilizing activities in Iraq and the Middle East; and the need for a transparent accounting into the origins of, and global response to, COVID-19. They also discussed coordination to maintain supply chains for PPE and medical equipment and our joint efforts to control the export of sensitive technology.
In a Global Times OpEd Wang Jisi of Peking University urged Beijing and Washington to to cross the "three bottom lines". 1/ Peace: military conflicts must be avoided at all costs; 2/ Cooperation in trade/finance, including that the trade deal must continue; 3/ Social, cultural exchanges between the two peoples should be protected. Wang warned that if these bottom lines are crossed, the relations will be irreversibly damaged. Wang concluded by citing Deng Xiaoping in saying that the two countries can still have a bright future, and they must prevent a total fall out.
Amid domestic US unrest, Pompeo hits China over Tiananmen - AP
Pompeo tweeted criticism of authorities of China and Hong Kong for barring a vigil to mark the anniversary. He also planned to meet with Tiananmen Square survivors, according to the State Department.
SEC Chief Backs Bill to Delist China Firms Barring Audit Reviews - Bloomberg
A bill passed by the Senate last month that would bar trading in securities of companies that fail to comply for three straight years is "sensible," U.S. Securities and Exchange Commission Chairman Jay Clayton said Tuesday in an interview with David Westin during the Bloomberg Invest Talks conference.
US attacks China's defense sector with more 'lies' - China Military
Even as the US political establishment is under siege amid nationwide riots that have plunged the country into chaos, US officials, instead of addressing profound domestic woes, waged a new series of attacks against China targeting Chinese students and companies based on what Chinese officials and experts dismiss as lies about nonexistent links between ordinary students, businesses and the Chinese military...

"This is just another excuse for the US to crack down on China in its attempt to curtail China's development," Li Yong, deputy chairman of the Expert Committee of the China Association of International Trade, told the Global Times on Tuesday, noting that the latest move by Washington will open up a new front where more Chinese companies could be targeted because of the "lowest standards" set by US officials.
Foreign Ministry Spokesperson Zhao Lijian's Regular Press Conference on June 2, 2020
Shenzhen TV: US Secretary of State Pompeo said in a statement on June 1 that the Trump administration values the important contributions of international students and researchers, including from China. However, the administration "will not tolerate PRC attempts to illicitly acquire American technology and intellectual property from American academic institution and research facilities for Chinese military ends". I wonder if you have any comment?

Zhao Lijian: Mr. Pompeo is used to weaving lies as excuses for his wrongdoing, and his statement on this issue is no exception. Chinese students and researchers have been an important bond of friendship and bridge for scientific and educational exchange between Chinese and American people. The latest visa restriction on Chinese students and researchers was imposed by the US side under an abused concept of national security and flimsy excuses. It severely undermines their legitimate rights and interests and runs counter to the common aspiration for friendly people-to-people, especially youth-to-youth exchange. Taking a backward step like that will only bring harm to oneself and others.
Op-ed: US double standards on safeguarding national security intolerable - People's Daily Online
Some American politicians, represented by Secretary of State Mike Pompeo, carried out illegal surveillance programs around the world, but smeared other countries for "launching cyber attacks on the US." They arbitrarily interfered in other countries' internal affairs, but in turn vilified the latter for "attempting to interfere in American elections." They are heavily engaged in trade protectionism, but in turn accuse other countries of "undermining free trade." What defines their standard is "power is truth" – They place their private interests before everything.
CCTV commentary calling Pompeo "a long-tongue woman" (a gossiper) after he said the US should united with its European allies against China. The commentary said the US didn't give any help to its US allies when they suffered from the COV19, and the European people are still angry at the US government over the death of George Floyd. It said this contrasts with China's medical aid to Europe, and the European people know it better who their real friend is.
People's Daily Online published a letter from Chinese journalists to President Trump.

The letter accuses Trump of being a liar who shifts blames and shirks responsibilities. It denounces Trump's accusations against China and urges him to calm down pro "cold-war" elites and cooperate in the field of public health. 
'We Need Help': Coronavirus Fuels Racism Against Black Americans in China - The New York Times
African governments have loudly protested abuse of their citizens in China, but the Trump administration's response to harassment of African-Americans has been muted.
---
5. The propaganda about the US is writing itself
As Protests Engulf the United States, China Revels in the Unrest - The New York Times
Chinese officials are trolling their American counterparts with protest slogans like "Black lives matter" and "I can't breathe." The state-run media is featuring stories about the "double standards" of the United States for supporting the Hong Kong demonstrators. Prominent Chinese commentators are arguing that American-style democracy is a sham, pointing to the country's bungled response to the coronavirus pandemic and ongoing racial tensions.

"This situation in the U.S. will make more Chinese people support the Chinese government in its efforts to denounce and counter America," Song Guoyou, a scholar at Fudan University in Shanghai, said in an interview. "The moral ground of the United States is indeed greatly weakened."
More is coming, if this tweet from PRC journalist is an indication:
Responses to protests expose real face of the 'beacon of world democracy - Global Times - Hu Xijin
Where are the human rights? Where is their respect for life? The US politicians show zero tolerance to unrest, but they launched countless attacks on other countries' efforts to safeguard the rule of law. They talk as if they stand on the moral high ground. But what they say is empty and hypocritical. When riot breaks out in the US, they want to use all means necessary, and cannot stand the loss of order for even one more day. What they are facing are merely unorganized protesters. If this was organized subversion, what would they do? Will they drop an atomic bomb?
The CCDI weighed in to accuse the US of double standard in cracking down the protests in America while supporting riots in Hong Kong.
College Daily spreading lies about the protests in DC.
In a thread going around WeChat, excerpts from Deng Xiapoping's June 9, 1989 speech on the Tiananmen crackdown and the official history of the events has been changed to reflect what is going in the US, and perhaps remind people of the anniversary on Thursday:
The original - Deng Xiaoping June 9 Speech - New York Times
This storm was bound to come sooner or later. This is determined by the major international climate and China's own minor climate. It was bound to happen and is independent of man's will. It was just a matter of time and scale. It is more to our advantage that this happened today. What is most advantageous to us is that we have a large group of veteran comrades who are still alive. They have experienced many storms and they know what is at stake. They support the use of resolute action to counter the rebellion. Although some comrades may not understand this for a while, they will eventually understand this and support the decision of the Central Committee...

The fact that this incident broke out as it did is very worthy of our pondering. It prompts us cool-headedly to consider the past and the future. Perhaps this bad thing will enable us to go ahead with reform and the open policy at a steadier and better -- even a faster -- pace, more speedily correct our mistakes, and better develop our strong points...
The modified version, with the changed characters highlighted:
这场风波迟早要来。这是国际的大气候和美国自己的小气候所决定了的,是一定要来的,是不以人们的意志为转移的,只不过是迟早的问题,大小的问题。而现在来,对我们比较有利。最有利的是,我们有一大批老同志健在,他们经历的风波多,懂得事情的利害关系,他们是支持对暴乱采取坚决行动的。虽然有一些同志一时还不理解,但最终是会理解的,会支持共和党这个决定的。

This storm was bound to come sooner or later. This is determined by the major international climate and China's own minor climate. It was bound to happen and is independent of man's will. It was just a matter of time and scale. It is more to our advantage that this happened today. What is most advantageous to us is that we have a large group of veteran comrades who are still alive. They have experienced many storms and they know what is at stake. They support the use of resolute action to counter the rebellion. Although some comrades may not understand this for a while, they will eventually understand this and support the decision of the Republican Party...

这次事件爆发出来,很值得我们思索,促使我们很冷静地考虑一下过去,也考虑一下未来。也许这件坏事会使我们MAGA的步子迈得更稳、更好,甚至于更快,使我们的失误纠正得更快,使我们的长处发扬得更好。

The fact that this incident broke out as it did is very worthy of our pondering. It prompts us cool-headedly to consider the past and the future. Perhaps this bad thing will enable us to go ahead with MAGA at a steadier and better -- even a faster -- pace, more speedily correct our mistakes, and better develop our strong points.
Then it quotes from the official history of major events in the PRC 中华人民共和国大事记:
春夏之交 北京和其他一些城市发生政治风波,党和政府依靠人民,旗帜鲜明地反对动乱,平息在北京发生的反革命暴乱,捍卫了社会主义国家政权

At the turn of spring and summer, political disturbances occurred in Beijing and some other cities. The party and government relied on the people, clearly opposed the unrest, quelled the counter-revolutionary riots in Beijing, and defended the Socialist state power.
Changed to:
春夏之交 华盛顿和其他一些城市发生政治风波,党和政府依靠人民,旗帜鲜明地反对动乱,平息在华盛顿发生的反政府暴乱,捍卫了资本主义国家政权

At the turn of spring and summer, political disturbances occurred in Washington and some other cities. The party and government relied on the people, clearly opposed the unrest, quelled the counter-revolutionary riots in Washington, and defended the Capitalist state power.
Comment: Funny, dark humor, but a double-edged sword for Beijing.
Ho Ching, wife of the Singapore PM, reposted a cartoon that mocked Trump for supporting the protesters in HK while calling the protesters in Minnesota "rioters".
---
6. India-China border tensions
What's behind the India and China border brawls? - The Washington Post - By M. Taylor Fravel
Unlike previous border incidents in 2013 or 2014, China is simultaneously putting pressure on the LAC in multiple areas in the western sector...

In the past decade, India has worked hard to strengthen its position on the border and its presence along the LAC. India is close to completing a major upgrade of border roads, including a strategic military-use road that connects an airfield at Dalut Beg Oldie in the northern tip of the western sector with the villages of Shyok and Darbuk toward the south...

Chinese moves, especially around Galwan, appear designed to prevent India from completing these road projects, given China's general weakness at the tactical level in the area. These events, perhaps, are a classic expression of the security dilemma — China views India as changing the LAC status quo, even if India sees its moves as an attempt to consolidate the status quo along the LAC.
What Is China Saying About the China-India Border Stand-Off? – The Diplomat
discussions on the Chinese internet indicate that China remains much more concerned about the newly constructed 80-kilometer stretch from Dharchula to Lipulekh (the gateway to Kailash-Mansarovar, a site for Hindu pilgrimage in Tibet), completed on April 17 and inaugurated on May 8 by Indian Defense Minister Rajnath Singh. That may have led Beijing to review the situation at the China-India borders.

In the Chinese assessment, India's construction activity in the disputed areas with Nepal has affected China's border security in Tibet. By building the 80 km stretch (76 km has been completed recently and the last 4 km of the road to Lipulekh Pass is expected to be completed by the year's end) India has moved its frontier vis-a vis China, gaining direct access to the concrete highway in Purang county in Tibet, and has thereby changed the status quo in the region.
U.S. rebukes China for border 'aggression' with India - Reuters
In comments released by the State Department, Pompeo told the American Enterprise Institute thinktank that China's moving of troops to the line of control echoed similarly heavy-handed behaviour over the coronavirus, South China Sea and Hong Kong.
China's Himalayan Border Invasion Will Push India Toward U.S. - Bloomberg - Hal Brands
As the U.S.-China rivalry goes global, India may be the only nonaligned country that can, by itself, make a major difference in the balance of influence and advantage. The good news is that the geopolitics of the triangle are producing a tighter U.S.-India partnership. The bad news is that trade frictions and India's internal politics are getting in the way.
India China border news: India-China standoff may drag on as troops dig in | Times of India
India will not climb down on its infrastructure build-up, officials said. As a result of a number of discussions, it is also clear that India has shorter supply lines than China and would be able to hold out much better in the event of a confrontation.
Northern Commander in Ladakh, Army moves more troops amid standoff with China
Sources said while the situation in Galwan and the larger Host Spring area is "under control", the main problem lies around Pangong Lake.
No progress with military talks, all eyes on diplomatic channels in Beijing | India News,The Indian Express
"It took 13 rounds of diplomatic talks in Beijing to settle Doklam, where the demands and positions of both sides were crystal clear. This is far more complicated with different perceptions and claim-lines over the same territory, and tempers have run high after recent incidents of violence. Nothing of that sort occurred in Doklam," the official said.
Chinese intrusion in Galwan lasted for two weeks before it was cleared by Indian troops
1) the intrusions in Galwan were at a single point, involving not more than 40 to 50 Chinese troops; 2) the Chinese intrusion lasted at best for two weeks and had been cleared by the third week of May, when the status quo was restored in the Galwan sector. 3) However, a serious situation has arisen due to China cutting off the waters of the Galwan river, which amounts to a weaponisation of China's upper riparian rights. If not challenged immediately, this could lead to cutting off of waters to other rivers with serious consequences for agriculture and potable water in India.
LAC stalemate persists, US backs India : The Tribune India
Sources said the Indian troops had been forward-deployed with food and sleeping bags to hold ground in the Galwan valley and the north of Pangong Tso. The Chinese have stopped the Indian troops 5 km short of the earlier accepted patrol point in the valley. At Pangong Tso, China is trying to push Indian troops back to 'Finger 2' from 'Finger 4', a distance of over 10 km.
CCTV reported that the Tibet military region is holding an exercise simulating an infiltration-attack operation at night. The report said the soldiers used new equipment including new recon vehicles, thermal imaging system, drones carrying explosive, grenade launchers, night googles and so on.
---
7. The economy
China increases support for small businesses with monetary policy instruments - Xinhua
This comes amid the country's efforts to stimulate the real economy, according to two circulars jointly released by the People's Bank of China (PBOC) and four other regulators.

Starting on Monday, the PBOC will use 400-billion-yuan (about 56.2 billion U.S. dollars) of a special re-lending quota to purchase 40 percent of inclusive loans to small and micro businesses issued by local banks from March 1 to December 31.

It will lower the debt costs of banks directly and help with replenishing liquidity, said Li Qilin, chief economist of Yuekai Securities, adding that small firms can then get more credit support.
PBOC to Buy 400 Billion Yuan of Microloans from Banks - Caixin
The move implements a pledge in Premier Li Keqiang's 2020 government work report to use innovative monetary policy tools to directly stimulate the real economy.
Premier Promises Government Support for Street Vendors - Caixin
The government has ditched its growth target for 2020 in order to give more targeted support for millions of struggling small and midsized businesses and bring down spiraling unemployment figures.

Officials have indicated that those efforts may include rehabilitating parts of the informal economy that have historically had tense relationships with the authorities, such as roadside food stalls. At a press conference on the sidelines of key political meetings last week, Li praised the southwestern city of Chengdu for reportedly creating 100,000 jobs overnight by setting up some 36,000 vending berths, according to the local Sichuan Daily newspaper.
Trending in China: Good News For Street Vendors and Lovers of Street Food - Caixin
The story has received almost 70 million views on Weibo. Many netizens have voiced their support for the new trend, as long as governments enact proper sanitary and operating regulations.
People's Daily Overseas "Haiwang Lou" on the importance of the "six stabilities" and "six ensures" - 望海楼:六稳六保 至关重要
Faced with the pandemic and global economic recession, China's economy is in a pivotal stage for transforming the growth model, improving economic structure, and fostering new growth drivers. The country should create a new development pattern where domestic and foreign markets can boost each other, with domestic market as the mainstay.The priority is to enforce "six stabilities and six ensures". The primary importance of implementing "six ensures" is employment.
China approves $20 billion mega petchem complex in Shandong oil hub - sources - Reuters
China is reviving a $20 billion (£15.94 billion) petrochemical project in eastern Shandong province as part of efforts to dial up infrastructure spending to support an economy struggling with the impact of the coronavirus pandemic, two China-based industry sources said.
---
8. The epidemic
China reported five new confirmed cases of COV19 for Monday (all came from overseas), in addition to the 10 new asymptomatic cases.
After Wuhan, Mudanjiang city of Heilongjiang city, which manages Suifenhe, will also start screening the whole city using nucleic acid tests.
澎湃:武汉中心医院染新冠医生胡卫锋抢救无效离世,病情曾一度好转
Hu Weifeng, another doctor at the Wuhan Central Hospital died Tuesday of COV19 after four months of fighting the disease. He was 42. A report by The Paper in February said at least 68 medics in that hospital were infected. Many on Chinese internet are asking why leaders of the hospital were not punished for covering up the outbreak in the early days. Several doctors from the hospital, including Li Wenliang, have died as a result of the cover up.
Wuhan doctor who worked with whistleblower dies | The Guardian
Hu Weifeng, a urologist at Wuhan Central hospital, died on Friday after being treated for Covid-19 and related issues for more than four months, state broadcaster CCTV said.
China to strengthen cooperation with African countries in medical, health sectors: FM spokesperson - Xinhua
Zhao said China has sent 148 medical experts to 11 African countries at their invitation to help them tackle the pandemic, adding that China and African countries are good brothers and good partners through thick and thin.
Shanghai's youngest students return to school - SHINE News
The youngest group of students in the city — the kindergarteners and first- to third-graders — returned to their campuses on Tuesday for the first time after last semester ended in mid-January.
Beijing procuratorate approves arrest of woman who concealed COVID-19 symptoms and flew from US - Global Times
The people's procuratorate of Shunyi district in Beijing has approved the arrest of a woman suspected of obstructing the prevention and treatment of infectious diseases after she developed symptoms of COVID-19 while in the US and concealed them by taking antipyretics before boarding her flight to China...

US company Biogen on March 19 told a reporter with the Southern Metropolis Daily that its employee, Li, had been dismissed as she had made a personal decision to travel to China without informing the company and in defiance of guidelines from health experts, and her behavior had been inconsistent with the company's values.
People's Daily today started a new commentary series praising the CCP for "putting the people as the top priority" in its handling of the virus. It said the Chinese medics tried their best to save everyone in Wuhan, including a 108-year-old man
---
Business, Economy and Trade
China Unveils Plan to Transform Its Hawaiian Paradise - Caixin To develop Hainan into a global logistics center, the master plan proposes several measures. Yangpu Port along the northwest coast of Hainan will be built into an international port of registry, which means foreign ships will be able to record their details there, be subject to the FTP's laws and taxes, and fly the Chinese flag. The measures also plan to build Hainan into an international aviation hub and will expand air traffic rights including the Fifth Freedom of the Air, the right for an airline to stop in a country other than its own and pick up and drop off traffic before continuing on to another destination. Hainan will also be encouraged to pilot the Seventh Freedom, which covers the right of an airline to operate services between two countries outside its home country.
Commentary: China determined to further open up despite COVID-19 epidemic - Xinhua It will bring tremendous opportunities to countries across the world. Global companies, either multinationals or small and medium ones, can tap into the Chinese market or expand their market shares in China through Hainan free trade port. As the coronavirus epidemic continues to deal a body blow to the global economy, it's not easy to overcome external challenges to start development of a free trade port. However, China never wavers in its determination to further open up, and always goes all out to fulfill its promise.
Vice premier stresses solid, prudent efforts in building Hainan free-trade port - Xinhua Chinese Vice Premier Han Zheng has called for advancing the construction of the Hainan free-trade port in a progressive manner and by making solid and prudent efforts...Focusing on the innovation of institutional integration, Han demanded efforts to further free people's minds, fully roll out the simplifying approval system and establish a sound system of fair competition. He also called for improving the property protection system, as well as systems concerning zero-tariff and market access in trade and investment fields for maximum liberalization.
Yicai - Loan Defaults, Unpaid Mortgages Rise at Shenzhen Banks Amid Covid-19 Fallout Lenders in China's hi-tech metropolis of Shenzhen are seeing a rise in the number of overdue loan repayments from micro and small businesses as well as personal mortgage defaults, as borrowers reel from the financial fallout of the novel coronavirus epidemic.
Semiconductor Industry to Lobby for Billions to Boost U.S. Manufacturing - WSJ $$ The growing tension with China "has moved the dynamic toward accepting a national industrial strategy," said Robert Atkinson, president of the Information Technology & Innovation Foundation, an industry think tank. "In the old days, it was about protecting steel. The consensus now is much more about helping sunrise industries," referring to those pursuing advanced technology.
China's 'pork king' and world's richest farmer faces end to fortuitous crisis | Financial Times $$ With about 57 per cent of the shares in Muyuan, Mr Qin and Ms Qian have seen the value of their personal holdings in the company rise more than 110 per cent since June last year, hitting $22bn at the end of March. That makes him the world's richest farmer, according to Shanghai-based research company Hurun Report. The world's second-richest farmer is also a Chinese pig farmer. Liu Yonghao and his family, who control New Hope Group, are worth an estimated $12.5bn, according to Hurun.
EU Chamber of Commerce - In For The Long Haul: Developing A Sustainable Operating Environment For Airlines In China The report provides analysis on China's operating environment and its impact on the sustainability of European airlines active in China. China's current system governing airlines pushes Chinese carriers to adopt short-term strategies that emphasise global market share rather than efficiency and profitability, which will damage the long-term viability of both Chinese and foreign airlines. The resulting lack of competition on long-haul routes in China, along with the continuous flow of non-essential financial support from local governments, is boosting capacity beyond demand.
Yicai - Beyond Meat, Yum China to Sell Their First Chinese Shamburgers Yum China's KFC fast-food chain will launch a three-day public beta of faux-flesh burgers in five designated stores in Beijing, Chengdu, Hangzhou and Shanghai on June 3. Pizza Hut and Taco Bell will also serve fake steaks and mock meat tacos in some stores in Shanghai, Yum China in a statement on its site yesterday
Yicai - Jay Chou Gives Unexpected Boost to Chinese Maker of Solar Energy Water Heaters Shares of a Chinese producer of solar energy water heaters rose by the exchange-imposed limit for a second straight trading after superstar Jay Chou yesterday released his first video on popular clip-sharing platform Kuaishou. The connection? The firm has a very small, indirect stake in the app's operator.
Yicai - China's Moutai Hits All-Time High on Promise to Sell Baijiu Online at AGM Shares of Kweichow Moutai jumped to a historic high today after the world's most valuable distiller said that it will switch to online sales during its annual general meeting to avoid Covid-19 infections.
China's digital platform economy: Assessing developments towards Industry 4.0 | Mercator Institute for China Studies China's leadership has set an ambitious deadline to become a superpower in science and technology innovation by the 100th birthday of the People's Republic in 2049. The digitalization of industrial production is central to their ambition. Digital platforms in the manufacturing sector are considered crucial to upgrade industry, improve productivity, optimize resource allocation and increase employment.
Australia 'carefully and closely' watching US-China phase one purchases for signs of trade diversion | South China Morning Post Trade minister Simon Birmingham told the South China Morning Post in a statement on Monday that while "the full nature or implications of this arrangement may not be clear for some time", Australia is on the lookout for trade diversion that could hit its own exports to China.
Exclusive: Winning bidder for Grindr has ties to Chinese owner - Reuters Kunlun said on Friday that the Committee on Foreign Investment in the United States (CFIUS) had cleared the sale of Grindr to San Vicente Acquisition LLC for more than $600 million, but did not give details about the investor group. A Reuters review of confidential fundraising documents and interviews with two sources familiar with the deal show that a close business associate of Kunlun's founder tried to raise money for a fund to buy Grindr. Two of the partners in that fund eventually became part of San Vicente.
Credit Suisse wins control over Chinese securities joint venture | Financial Times $$ Credit Suisse said on Monday that it had increased its shareholding in Credit Suisse Founder Securities from 33.3 per cent to 51 per cent, after receiving regulatory approval in April. The bank is injecting capital into CSFS, diluting Founder Securities' stake.
Politics and Law
12 pages of the Tuesday People's Daily was dedicated to printing the full text of the new civil code; other major newspapers also ran the full text. It is interesting how aggressively the CCP is trying to make citizens aware of the laws and their rights under them. So long as things do not touch "political security" the Party is giving citizens increasingly greater expectations of legal protections. - 中华人民共和国民法典 
China Law Translate - Civil Code of the People's Republic of China - 中华人民共和国民法典
In nod to #MeToo, China codifies sexual harassment by law - Reuters The reference in the new civil code, approved on Thursday by a session of the National People's Congress, is largely a symbolic step. While it holds schools, businesses and other organisations responsible for preventing and dealing with sexual harassment, it does not lay out guidelines for enforcement. "The civil code is a big step, but much more will need to be fleshed out," said Darius Longarino, a senior fellow at the Paul Tsai China Center at Yale Law School. "After all, U.S. sexual-harassment law is still developing after decades and grappling with its failures, as laid bare by #MeToo."
Ep. 23: China's Domestic Security Under Xi Jinping – Sheena Chestnut Greitens | Center for the Study of Contemporary China In this episode, Neysun Mahboubi discusses with Sheena Chestnut Greitens, a leading expert on the politics of domestic security in Asian countries, how ideas about domestic security have developed in China under CCP rule, what are the institutions that embody them, and where the future may lead for China's internal security–a discussion made all the more relevant today, when the Chinese state appears to be making use of the COVID-19 crisis to push its methods of social control even further afield.  The episode was recorded on May 3, 2019
Beijing Seeks to Punish TCM Naysayers - Sixth Tone The document, jointly drafted by several local government departments, including the Beijing Municipal Health Commission and Beijing Administration of Traditional Chinese Medicine, aims to deter individuals and organizations from behaviors that defame or slander TCM in any way. Those who violate the proposed rules by "picking quarrels, provoking trouble, and disrupting public order" may be subject to punishments by public security organs or even face criminal responsibility. However, the guideline did not say what behaviors might constitute defaming TCM.
The draft Beijing TCM regulations - 关于对《北京市中医药条例(草案公开征求意见稿)》公开征求意见的公告  第三十六条 开展中医药文化宣传和知识普及活动,应当遵守国家有关规定,符合中医药文化内涵和发展规律。任何组织或者个人不得对中医药作虚假、夸大宣传;不得冒用中医药名义牟取不正当利益、损害社会公共利益;不得以任何方式或行为诋毁、污蔑中医药。..第五十四条 违反本条例第三十六条第二款之规定,诋毁、污蔑中医药,寻衅滋事,扰乱公共秩序,构成违反治安管理行为的,由公安机关依法给予治安管理处罚;构成犯罪的,依法追究刑事责任。
2020 NPC Session: Documents List – NPC Observer The 3rd Session of the 13th NPC concluded on Thursday, May 28, after having approved all reports and bills submitted to it for consideration. As usual, we provide below a list of all official documents from this Session
Beijing to release new license plate lottery policy - ECNS The government of Beijing on Monday said the city's competitive car plate lottery policy will be altered to benefit families that don't already have a car by providing 20,000 new-energy vehicle (NEV) plates in the second half of 2020 and introducing a new system to increase the acceptance rate for the households' applicants. Experts said this first loosening policy since the plate lottery started in Beijing in 2011 will improve social justice regarding resource allocation as well as promoting consumption and stimulating the economy.
Two Red Notice fugitives repatriated to China - Xinhua Two fugitives suspected of appropriating state-owned property were repatriated from Myanmar to China on Sunday, China's top anti-graft authority said on Monday
Ban on Ramadan fasting 'nonsense', Xinjiang says - China Daily "The fasting ban allegations by the forces abroad are nonsense. During every Ramadan, they habitually copy and spread such rumors all the time, recklessly attacking Xinjiang," Ilijan Anayt, spokesman for the regional government, said during a news conference on Monday. Ilijan said no citizen is discriminated against or mistreated for believing in or not believing in a religion in Xinjiang, and believers' legal religious activities either performed at religious venues or at home, such as prayers and fasting, are managed by religious groups or believers themselves and protected by law.
Geolocating Explosive Growth in Preschools in Western China Due to 'Re-Education' Policies | RAND Satellite imagery-based research conducted by RAND confirms the construction of suspected preschool facilities, which appear to serve the dual purpose of providing housing and re-education programs for children, is increasing dramatically throughout Western China to meet these needs. One reported area of concentration for new preschool facilities is around the city of Hotan, where some children are said to have been transferred from their home villages hundreds of miles away. So far, we have identified 20 suspect facilities near Hotan that meet our imagery-based identification criteria.
Online Event: After China's National People's Congress: What's New? What's Next? | Center for Strategic and International Studies Jude Blanchette, Scott Kennedy and Bonnie Glaser discuss the Two Sessions
Chinese Police Target Activists Who Supported Hong Kong Protests - RFA Xiao Yuhui was taken from his home by police in Guangdong's Huizhou city after he retweeted a social media post opposing the plan to directly impose a law banning sedition, subversion, foreign interference, and activities supporting independence on the city, to be enforced by China's feared state security police.
华西都市报:被羁押近15年后改判无罪,张志超申请780余万国家赔偿 A man wrongly convicted for murder and spent 15 years in prison in Shandong asked the government to pay 7.8 million RMB compensation.
Foreign and Defense Affairs
Ambassador Zhang Ming Gives an Exclusive Interview to South China Morning Post On May 29, 2020, Ambassador Zhang Ming, Head of the Chinese Mission to the European Union, had an interview with Keegan Elmer, a journalist with South China Morning Post. Ambassador Zhang answered questions on the decision related to national security legislation in Hong Kong, China-EU high-level exchanges, BIT talks, China's policy toward Europe, and China 's diplomatic style. The transcript is as follows
外交部党委传达学习全国两会精神, 研究部署贯彻落实工作 The foreign ministry held a meeting last week to study Xi Jinping's speech in the two sessions. Among other things, the meeting said the ministry should work harder to boost China's good image as a champion of international cooperation. On the new national security law, it said the diplomats should try their best to win understanding and support from the world, and "resolutely and firmly oppose external interference"
China is using Huawei to drive a wedge in the UK-U.S. special relationship: senator - Reuters China is using telecoms giant Huawei to try to drive a wedge between Britain and the United States, Republican senator Tom Cotton told British lawmakers on Tuesday.
Telefonica Deutschland picks Ericsson for 5G core network - Reuters Telefonica Deutschland will build its 5G core mobile network in Germany using equipment from Ericsson, saying the choice of the Swedish supplier would safeguard the security of its next-generation services. Germany's three main operators are removing Huawei from their network cores but continue to rely on the Chinese vendor for the less sensitive peripheral radio access networks that will carry 5G traffic.
Why Indonesia won't let Beijing forget the Philippines' South China Sea arbitration win | South China Morning Post Indonesia's low-key diplomatic protest at the United Nations against China's disputed claims in the South China Sea last week made some analysts sit up and take notice, with one even describing the move as groundbreaking.
Vietnam turns down Chinese metro rail contractor demand for advance payment - VnExpress International Deputy Minister of Transport Nguyen Ngoc Dong told reporters on Tuesday that Vietnam has been making payments on schedule to China Railway Sixth Group Co Ltd for the Cat Linh – Ha Dong route in Hanoi, and so the request, made at a recent meeting, would not be met. "Even if the Chinese contractor has financial difficulties, it has to test run the train. Vietnam does not have any responsibility to pay this money."
Kevin Rudd accuses UQ of appearing to 'bend the knee to Beijing' - The Australian Former prime minister Kevin Rudd has hit out at the University of Queensland's "mismanagement" of a student activist who has been highly critical of Chinese influence on campus. Drew Pavlou was handed a two-year suspension by the university last week, after he was alleged to have contravened UQ's student charter and integrity and harassment policies.
UAE caught between US and China as powers vie for influence in Gulf | Financial Times $$ "The UAE is the frontline of China's expanding influence," said a western official. "The US previously gave the UAE a bye, but now the Americans are coming at them over this relationship — there is a sense of you are with us or against us in this cold war, throwing into sharp relief tensions that have been building for some time."
China steps up its offensive against the Senkaku Islands | The Japan Times What prompted Beijing to do this? The general observation would be that China took advantage of Japan dealing with the rising COVID-19 infections, by stepping up its offensive against the Senkaku Islands, which Beijing claims as Chinese territory. Alternatively, we could analyze it as the Xi Jinping administration adopting a more hardline stance on Japan as a diversion at a time of growing domestic dissatisfaction while the COVID-19 pandemic slows the Chinese economy. Based on available objective information, however, it appears likely that this incident was the result of a CCG policy of cracking down on foreign fishing vessels in East Asia generally.
China NewSpace No. 6: What does China think of American NewSpace? - China NewSpace This article, American Counterparts are Taking Off, China's Private Aerospace Grows Stronger by Hu Dingkun at the Ministry of Science and Technology's official publication, points to SpaceX and Blue Origin as examples of leading American private space companies, and argues that China's private space sector is comparatively small and undeveloped. It also points to coverage by SpaceNews to show that even though Chinese newspace is behind the curve, it's being watched carefully by overseas media.
A Conversation With Joshua Meservey About Alleged Chinese Spying in Africa - The China Africa Project The issue is now, once again, on the agenda following a new report published by The Heritage Foundation's Senior Policy Analyst for Africa and the Middle East, Joshua Meservey, that renews concerns about China's role in constructing African government buildings and the potential for widespread Chinese espionage. Joshua joins Eric & Cobus to discuss his findings and explain even though he doesn't present any firm evidence that the Chinese are using these buildings to spy on African governments, that actually wasn't the point of the report. Instead, he hopes to alert senior U.S. policymakers that this issue poses a potential threat to both local governments and U.S. interests on the continent.
Unmanned helicopter conducts first test flight - China Daily Fang Yonghong, technology director at the institute, said the AR500C has a maximum takeoff weight of 500 kilograms, a flight ceiling of 6,700 meters and a maximum speed of 170 kilometers per hour. It can stay in the air for five hours during an operation and can make autonomous takeoffs and landings...AVIC developed several types of unmanned helicopters, but they were not specifically designed for plateau deployment.
Correction: Yesterday's newsletter mistakenly included a 2019 article - Xi's upcoming Russia visit to push forward bilateral ties | SCIO. Apologies.
Taiwan
The survey - 中央研究院社會學研究所- 中央研究院社會學所「中國效應研究小組」(新聞稿)2020/06/02
'Lose, lose, lose': Trump's decision to quit WHO 'may sink Taiwan hopes of role in agency' | South China Morning Post While it is not clear how the president can unilaterally withdraw the US from the WHO without approval from Congress, Taiwan, which has been fighting hard to get a role in the agency, is tipped to suffer from his decision, according to observers.
Tech and Media
Tencent Continues Europe Deal Spree With $260 Million Investment in Czech Game Studio — The Information Chinese game giant Tencent has bought a stake of between 70% and 80% in Czech Republic–based videogame developer Bohemia Interactive for around $260 million, according to a person familiar with the matter. The investment is the latest in a string of deals Tencent has made in Europe to bolster its overseas videogame business amid tighter regulations in China.
Company | BISim Any connection between the game company Tencent just took control of and this firm? // Bohemia Interactive Simulations (BISim) is a global software company at the forefront of simulation training solutions for defense and civilian organizations. We use the latest game-based technology and a large, experienced in-house team of engineers to develop high-fidelity, cost-effective training and simulation software products and components for defense applications.
工人日报:辟谣 | 你的微信被监听了?假的! WeChat publicly denied fake news saying the company is monitoring all the chat records and that it will tailor the advertisements according to these chat records. The company said it won't violate users privacy and its tailored advertisement target a certain groups of users, instead of individuals.
An App That Helps Users Remove All Chinese Apps Is Trending in India- PingWest Chinese technology news website Zhixiang reported unsubstantiatedly that the app is developed by an Indian ex-employee who was recently laid off by a Chinese technology company, without naming the company. The app went rival, gaining over 1 million downloads within two weeks as anti-China sentiments has rises in India due to the spread of COVID-19 in India as well as border confrontations. According to Takshashila Institution, 67% of Indians believe that China should be responsible for the pandemic.
ByteDance digs deep; second corporate entity in India soon - The Economic Times ByteDance is setting up a second corporate entity in India, as the Chinese multinational internet technology company looks to deepen its roots in Asia's third-largest economy, among its most active markets globally. The new entity, according to two sources with knowledge of the developments, is likely to provide Information Technology and IT-enabled services support to all of ByteDance's platforms worldwide, including in India.
Society, Arts, Sports, Culture and History
What do Chinese Zhihu users think about the gay wedding of Shui Yue, a student of the dancer Yang Liping? — Zhihu Digest The top answer with 20k likes reads: Perhaps Zhihu users won't be too shocked by this photo [of the brides' fathers hugging their daughters] because Zhihu users are mostly college students or young graduates who don't have any animosity toward homosexuals, but prejudice toward minority groups still exists for people of the generation these fathers belong to. Most gay people can't be together because they're too afraid to come out to their families, and so they're forced into sham marriages [with a straight partner], which harms themselves and their partner. You can find lots of these firsthand stories on Zhihu in fact.
Snapshots From Another Age: China's '80s Kids on Film - SixthTone In 1981, a Japanese photographer traveled China, capturing the everyday lives of local children. Nearly 40 years later, the project's getting another edition.
Energy, Environment, Science and Health
Progress made after mandatory garbage sorting in Beijing - Xinhua The daily average amount of sorted domestic kitchen waste in the city reached 740 tonnes since May, up 159 percent month-on-month and a year-on-year increase of 37 percent, according to a press conference of the Beijing Municipal Commission of Urban Management.
Education
Franklin & Marshall faculty raise academic freedom concerns about China program - Inside Higher Ed Faculty at Franklin & Marshall College raised concerns about faculty oversight and academic freedom for a planned program in Shanghai for Chinese students who can't come to campus