Discover more from Sinocism
Get smarter about China
Over 179,000 subscribers
Wuhan virus; Xi visits Myanmar and then Yunnan; Luo Huining writes about national security and Hong Kong in People's Daily
Hi everyone, today is technically a holiday in the US so apologies no commentary today, I need to go entertain my kids.
Thanks for reading.
---
The Essential Eight
1. Wuhan Virus
Xi orders resolute efforts to curb virus spread - Xinhua
Instructing on the work related to the pneumonia situation, Xi...stressed putting people's safety and health as the top priority...

The Party committees and governments at all levels must put people's safety and health as the top priority and take effective measures to curb the spread of the virus, he said.

Xi ordered all-out efforts to treat patients, identify the causes of the virus infection and spread at an earlier date, strengthen monitoring and standardize treatment procedures.

Xi spoke of the need for the timely release of information and the deepening of international cooperation.
习近平对新型冠状病毒感染的肺炎疫情作出重要指示 强调要把人民群众生命安全和身体健康放在第一位 坚决遏制疫情蔓延势头 李克强对新型冠状病毒感染的肺炎疫情作出批示_CCTV
Monday CCTV Evening News on Xi and Li's comments about the virus
Chinese premier stresses curbing viral pneumonia epidemic - Xinhua
The country must strengthen measures in a targeted manner to curb the spread of the virus considering the large population mobility during the Spring Festival travel rush, Li said while chairing a State Council executive meeting.
Cases of new viral pneumonia in China surpass 200 - AP
Health authorities in the central city of Wuhan, where the viral pneumonia appears to have originated, said an additional 136 cases have been confirmed in the city, which now has a total of 198 infected patients. As of the weekend, a third patient had died, bringing the death toll to three.

Two individuals in Beijing and one in the southern city of Shenzhen have also been diagnosed with the new coronavirus, health commissions in the respective cities said Monday. The three people had visited Wuhan.
Wuhan Virus Latest: Death Toll Grows to Three as More Cities Report Cases - Caixin
A prominent virologist who helped identify the source of the deadly SARS coronavirus nearly two decades ago told Caixin that Wuhan's spike in new cases "shows that the (new) virus can spread from person to person." Guan Yi, who heads a laboratory for emerging infectious diseases at Hong Kong University's School of Public Health, said that while the virus had seemingly not initially passed between people, the rise in cases over the past several weeks meant "we should no longer be playing word games about whether or not this constitutes human-to-human transmission."
China's post-Sars reporting system may explain long delays in announcing new cases of Wuhan virus | South China Morning Post
A rigorous testing and reporting system that China established following the Sars outbreak more than a decade ago is the most probable explanation for the long delays in confirming new cases of the virus that originated in Wuhan, according to medical specialists.
Five patients quarantined in China's Zhejiang for respiratory illness - Reuters
The province has found five people traveling from the city of Wuhan in central China with respiratory symptoms since Jan. 17
As Thailand notes 2nd nCoV case, CDC begins airport screening | CIDRAP
Michael T. Osterholm, PhD, MPH, said the outbreak is at a very complicated stage, as health officials sort through the latest developments and with the source of the outbreak still a mystery. Osterholm is director of the University of Minnesota's Center for Infectious Disease Research and Policy, which publishes CIDRAP News.

He said the travel-related cases are likely the tip of the iceberg, meaning there are probably a number of missed cases, and he noted that the extent of person-to-person spread still isn't clear.

There's no evidence of high numbers of severe cases, he said and the clinical picture for now looks milder than SARS or MERS-CoV, and there is no evidence of super shedders, those who transmit to many contacts, to date.
U.S. to begin airport screening for new China virus as concerns grow - Axios
Starting Friday night, the CDC and the Department of Homeland Security's Customs and Border Protection (CBP) will implement enhanced health screenings to detect ill travelers en route to the U.S. on direct or connecting flights from Wuhan to SFO, JFK, and LAX airports.
China coronavirus: all travellers from China to undergo temperature screening at Singapore's Changi Airport | Today Online
China coronavirus outbreak: South Korea reports first case days before Lunar New Year tourist rush | South China Morning Post
A 35-year-old woman trying to enter the country from Wuhan, China, where the virus is thought to have originated, tested positive after being screened for symptoms at Incheon International Airport on Sunday.
China Flu Outbreak: Mystery Pneumonia Illness Symptoms, Causes - Bloomberg
Chinese authorities identified a novel coronavirus in one of the pneumonia patients hospitalized in Wuhan after conducting gene sequencing. The WHO has labeled the new virus 2019-nCoV. Genomic data was made publicly available in mid-January, enabling scientists outside China to study its genetic fingerprint for clues about where and how it might have emerged. A report prepared for the International Journal of Infectious Diseases found it is at least 70% similar in its genetic makeup to the SARS virus, but "appears clinically milder" in terms of severity, fatality rate and transmissibility.
WHO Regional Director Takeshi Kasai on Pneumonia Outbreak in China - Bloomberg
The surge in cases "is the result of increased searching and testing" for the novel corona virus among people sick with respiratory illness, the WHO said Monday.
Wuhan virus: Shares of China drugmakers rise amid pneumonia concerns - CNBC
---
2. US-China trade deal
Phase 1: The Good, the Bad, and the Missing | Rhodium Group - Dan Rosen and Logan Wright
As noted, the deal offers special attention for a handful of products in the IPR section, and managed trade targets for increased exports in specified areas within the four major categories of trade. But there are myriad other industries and product areas that deserve better treatment in China, today, that could have been incorporated in an agreement after two and a half years of consultation, but were not.

Moreover, this managed trade approach does not even start to remedy the systemic concerns that are making market-oriented nations anxious globally – issues like the predominance of state enterprises, the prevalence of foreign investment limitations in the vast set of industries that did not get early attention in this deal, the lack of consistency in competition policy treatment and the general asymmetry of information and the playing field for private firms foreign and domestic. These and other issues are to be discussed in a Phase 2, down the road, but it is unclear when. The Chinese side immediately said after the January 15 signing that it wanted to go slow before any further talks.
The Dog That Didn't Bark: What Soybean Prices Say About Trade Deal - WSJ $$
The price of a bushel of soybeans is lower than it was when Donald Trump was elected president in November 2016. It is little changed from when Mr. Trump ramped up his trade confrontation with China and has lost ground in the days since the deal was announced. Prices for wheat, pork and dairy products have been similarly stable.
Trump's China deal was pitched as boon for working class, but he celebrated with Wall Street titans - The Washington Post
"There is precious little in this deal that addresses China's long-standing denial of basic labor rights," said Richard Trumka, the president of the AFL-CIO. "It is another big giveaway to Wall Street and Big Pharma and prioritizes new protections for companies that move to China, creating even more incentives for outsourcing."
Trump's China Deal Creates Collateral Damage for Tech Firms - The New York Times
"Let's be clear, the trade war has been very bad for the semiconductor industry in several ways," said Robert D. Atkinson, president of the Information Technology and Innovation Foundation, a think tank funded by the tech industry. "It's like China woke up and said, 'We've relied too much on the United States.'"..

Chip makers initially supported the Trump administration's willingness to take on China....
China's U.S. crude buying binge to set off global sweet oil shake-up - Reuters
to make way for any surge in American shipments Chinese importers are expected to dial back orders of similar or pricier grades from places such as Brazil, Norway and West Africa
Opinion | Marco Rubio: Investing in China Is Not a Good Deal - The New York Times
Allowing the savings of Americans to be linked to the success of the Chinese government and Communist Party is a grave error we will come to regret. Beijing's state planners couldn't have written the financial services section better if they tried. They'll get to finance their industrial ambitions with the deepest, most liquid capital markets in the world — our own.
China-US BIT terms may be included in phase two trade talks: source - Global Times
"China is willing to push forward the progress of BIT talks together with the US," Gao Lingyun, an expert at the Chinese Academy of Social Sciences in Beijing, told the Global Times on Sunday. "While neither the phase two talks nor the BIT talks might start any earlier than the US presidential election this year, working teams of the two countries have remained in close contact," Gao said.

A source close to the trade talks disclosed that there is also a possibility that China will "bring some terms in the China-US BIT terms to the negotiating table of the second phase trade talks."
Wang Xiangwei's interesting take - Donald Trump really is Xi Jinping's friend. The phase one US-China trade deal proves it | South China Morning Post
Pressure from the US president has helped China in a way its leaders would not want to acknowledge publicly

This deal strengthens the hands of Beijing's pro-reform officials and kick-starts long-delayed liberalisation nearly 20 years after China joined the WTO
---
3. Xi's visit to Myanmar
Myanmar, China Sign Dozens of Deals on BRI Projects, Cooperation During Xi's Visit
Myanmar and China signed a total of 33 memorandums of understanding (MOUs), agreements, exchange letters and protocols during Chinese President Xi Jinping's visit to Myanmar—probably the most Myanmar has signed with its powerful neighbor at one time since 2000—enhancing bilateral relations between the two countries...

Granting China direct access to the Indian Ocean and allowing its oil imports to bypass the Strait of Malacca, the Kyaukphyu port is a crucial component of the China-Myanmar Economic Corridor (CMEC), which is a part of the BRI. It also serves Beijing's goal of developing China's land-locked Yunnan province.
中华人民共和国和缅甸联邦共和国联合声明(全文) — 中华人民共和国外交部
Xi, Myanmar leaders celebrate 70th anniversary of diplomatic ties | english.scio.gov.cn
Under new circumstances, the Five Principles of Peaceful Coexistence are more relevant than ever before, Xi stressed, saying that China and Myanmar, working together, can set an example for advocating and applying the Five Principles of Peaceful Coexistence and be role models in the handling of state-to-state relations.
Comment: The Five Principles of Peaceful Coexistence are: mutual respect for sovereignty and territorial integrity, mutual non-aggression, non-interference in each other's internal affairs, equality and mutual benefit, and peaceful coexistence.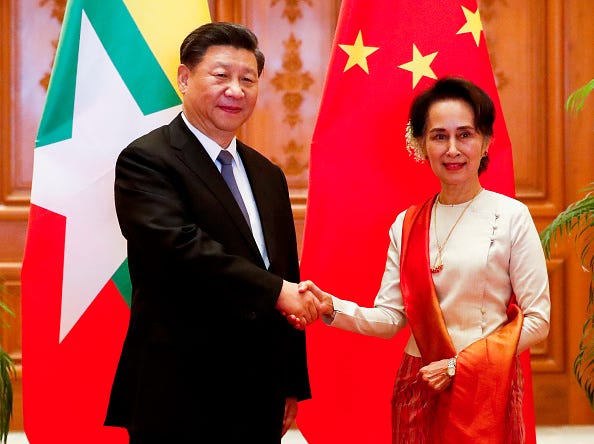 Xi Jinping Turns On the Charm in Myanmar - WSJ $$
The planned corridor includes a deep-sea port and a special economic zone in Kyaukpyu on Myanmar's western coast, and a railway line from China's Yunnan province. The Kyaukpyu port has been significantly scaled down from what was originally envisioned as a more-than $7 billion development, but it remains a key investment. A new urban development close to Myanmar's largest city, Yangon, is also in the cards.
Facebook says technical error caused vulgar translation of Chinese leader's name - Reuters
Facebook Inc (FB.O) on Saturday blamed a technical error for Chinese leader Xi Jinping's name appearing as "Mr Sh&$hole" in posts on its platform when translated into English from Burmese, apologizing for any offense caused.
China struggles in new diplomatic role, trying to return Rohingya to Myanmar - Reuters
China has positioned itself as the key mediator in resolving the protracted crisis. But like the Indonesian and United Nations envoys who previously attempted to mediate between the parties, China is finding the business of diplomacy tough going, with little signs that the crisis will soon be resolved.
Has the US Lost Myanmar to China? – The Diplomat - Hunter Marston
In recent years, China has gradually shifted away from supporting ethnic armed groups in their efforts to disrupt Myanmar's central government (presumably in order to maintain leverage over Naypyidaw) to playing a more proactive role in the peace process. It seems that Beijing now calculates that peace and stability within Myanmar are more conducive to its economic interests than maintaining the upper hand by prolonging instability
---
4. Hong Kong
Luo Huining on page 9 of the Monday People's Daily -推动香港"一国两制"事业行稳致远(深入学习贯彻习近平新时代中国特色社会主义思想 - 骆惠宁
对于特别行政区而言,如果国家安全体制机制长期缺位,外部势力就能够无所顾忌进行渗透破坏,"一国两制"实践就面临被冲击和破坏的极大风险。。。我们将一如既往地支持香港特别行政区政府,以香港长治久安和700多万香港同胞的根本福祉为依归,建立和完善特别行政区维护国家安全的法律制度和执行机制,并强化执法力量,着力补齐这一香港"一国两制"制度体系的突出短板,更好维护国家主权、安全、发展利益和香港长期繁荣稳定,更好维护广大香港同胞的切身利益和根本福祉。。。

今天,面对回归以来最为严峻复杂的局面,香港同胞尤其需要重温习近平主席2017年视察香港时所作的"前进道路并不平坦,但我们实行'一国两制'的初心不会改变,决心不会动摇"的郑重宣示,继续从"一国两制"22年多成功实践的非凡历程中汲取自信,不为一时之曲折而动摇,不为外部之干扰而迷惘,以坚定的"一国两制"制度自信,踩实步伐、向阳而行,走出香港更加美好的明天。..

习近平主席视察澳门时指出,"爱国主义教育兹事体大,希望特别行政区政府教育部门和学校担负起主体责任",这一点对香港同样非常重要。
Citing President Xi Jinping, Beijing's Hong Kong envoy Luo Huining says lack of national security law allows 'sabotage' | South China Morning Post
Beijing's new envoy to Hong Kong has pledged to help the city government protect national security and boost young people's sense of patriotism, warning that failure to do so could open the door to "infiltration and sabotage" from abroad.

Luo Huining, director of the central government's liaison office in the city, warned: "If national security systems and mechanisms are absent for a long time in the city, external forces will be able to carry out infiltration and sabotage activities."

Such a situation, he said, would bring "extremely high risks of impacting and destroying the implementation of 'one country, two systems'".

And he added that, with protest-hit Hong Kong in "the most complex situation" since its return to Chinese rule in 1997, public confidence that Beijing's governing principle would help it overcome its various social and political challenges was key.
'Security loophole putting two systems at risk' - RTHK
Writing in the People's Daily newspaper two weeks after taking over as director of the liaison office, Luo said there is no distinction between the SAR and the mainland when it comes to issues of national security.

He said the central government will continue to support Hong Kong in setting up a "mechanism" regarding national security, as well as on strengthening enforcement powers.

Luo said if the "loopholes" are not plugged, "One Country, Two Systems" could be attacked and damaged.

He also warned of "systemic shortcomings" in Hong Kong's version of the principle
Hong Kong protesters attack police, who respond with tear gas - The Washington Post
Sunday brought a return to the sporadic violence that has erupted occasionally around the largely peaceful anti-government movement, now in its eighth month. The conflict underscored the risk of using plainclothes police officers to respond to protesters, a highly controversial tactic that has sowed mistrust and prompted scuffles multiple times since the demonstrations began in June.
Hong Kong police arrest rally organiser accusing him of failing to maintain order | Hong Kong Free Press HKFP
Police demanded that Ventus Lau, who organised the Chater Garden anti-communist rally, end the gathering at 4pm. But some of the officers were then assaulted by protesters, prompting police to fire tear gas.
Hong Kong Homes Remain World's Least Affordable for 10th Year - Bloomberg
Hong Kong's median property price declined slightly to 20.8 times median household income last year, compared to 20.9 times the year before.
Police under fire for displaying journalist's Hong Kong ID card during live stream again | Hong Kong Free Press HKFP
It came after a similar case last month where an officer displayed the identity card and press pass of Stand News Deputy Assignment Editor Ronson Chan during a protest live stream in Tai Po.
Lunar New Year market stalls in Victoria Park shut down by officials over Hong Kong protest displays | South China Morning Post
The League of Social Democrats ran two booths at Victoria Park under new rules imposed this year by the city's administration, which banned politically themed products in an attempt to maintain public order amid the ongoing anti-government protests.
Toy Story: Hong Kong protest models become major hit - AFP
Yellow or Blue? In Hong Kong, Businesses Choose Political Sides - The New York Times
Shops and restaurants are now being labeled either yellow, to note support for the city's protest movement, or blue, in support of the police. The move is having a big economic impact.
HK rioters tired due to shortage of funding - Global Times
The Hong Kong turmoil has continued for more than seven months, and now, a few days ahead of Chinese New Year, many protesters and rioters have expressed their tiredness and sense of failure, with observers noting that due to the public desire to restore peace, firm law enforcement by the police and national sanctions against foreign forces, the source of chaos has been effectively contained.
HKSAR govt condemns foreign interference in HK's internal affairs - CGTN
The HKSAR government made the statement in response to Sunday's assembly in Central. The government expressed regret over requests made by some within foreign governments to interfere in Hong Kong affairs and impose sanctions.
---
5. Huawei
Meng Wanzhou's extradition trial starts today.
Meng Wanzhou's freedom on trial as China-U.S. clash plays out in Canada court - Reuters 
The first phase of the trial will last at least four days, but legal experts previously said it could be years before a decision on Meng's extradition is made since Canada's slow-moving justice system allows many decisions to be appealed.
HSBC aware of Huawei's ties with Iran unit before arrest of founder's daughter, documents show | South China Morning Post
The documents seen by the South China Morning Post show communications between HSBC staff and Huawei employees about the bank accounts of a company known as Skycom Tech. The documents are dated from as early as 2010. Meng made her presentation to the bank in August 2013.
Huawei deal 'would let fox loose in chicken coop', says GCHQ | News | The Sunday Times
GCHQ, Britain's largest intelligence agency, is concerned about the imminent decision to hand a leading Chinese company access to the UK's sensitive new telecoms network.

Senior officials from the agency are worried about the risks of opening up Britain's 5G network to Huawei, a technology firm with close links to Chinese intelligence.

Sources at GCHQ believe the decision, to be taken by Boris Johnson and the National Security Council (NSC) this month, is a "foregone conclusion", despite the alarming results of tests on Huawei devices that have been conducted at a secure government facility in Banbury, Oxfordshire.
EU industry chief dismisses fears strict security rules could delay 5G - Reuters
In a speech at the DLD conference in Munich on Sunday, Breton, a former French finance minister, warned policy-makers in Germany and elsewhere that the new 5G technology will require more stringent security rules than previous generations.

"Setting up strict security conditions will not create delays in the roll out of 5G in Europe," Breton said, sticking to the line contained in prepared remarks obtained by Reuters in advance.
Minister: Germany needs China's Huawei to build 5G network - AP 
Interior Minister Horst Seehofer, Germany's top security official, was quoted Saturday as saying he is "against taking a product off the market just because there is a possibility that something might happen."

Seehofer said Germany must be protected against espionage and sabotage, but estimated that shutting out Chinese providers could delay building the new network by five to 10 years, the daily Frankfurter Allgemeine Zeitung reported.
Huawei claims of US fail to convince: China Daily editorial
All three major German telecom operators have been closely cooperating with Huawei, as have those in many other European countries. Even if some European politicians are willing to stand on the shaky moral high ground claimed by the US, the market and industries, with the local telecom operators as representatives, will not, particularly when the "protection" the US is touting comes at the cost of other countries' development and their dignity.
---
6. Thousand Talents scheme and Moffitt Cancer Center
Moffitt Cancer Center details links of fired scientists to Chinese talent programs | Science | AAAS
The Thousand Talents program is at the center of both investigations. "None of the Moffitt faculty who were Talents program participants properly or timely disclosed their Talents program involvement to Moffitt, and none disclosed the full extent of their Talents program activities prior to Moffitt's internal investigation," Moffitt officials wrote on 17 January to state Representative Chris Sprowls (R), who leads a special legislative committee created this month. "All Moffitt faculty participants in the Talents programs acknowledged receiving personal payments that they did not promptly disclose to Moffitt. They also acknowledged having opened or maintained personal bank accounts in China to receive Talents program compensation."...

In announcing their resignations on 18 December, Moffitt identified its former CEO, Alan List, and the director of its research program, Thomas Sellers, but withheld the names of the other four researchers....

The report says the ringleader was immunologist Sheng Wei, a TMU graduate, who came to Moffitt in 1992. Wei began receiving support from the Thousand Talents program in 2011 and over the next several years recruited four colleagues, beginning with List. The others were Sellers, Daniel Sullivan, head of Moffitt's clinical science program, and cancer biologist Pearlie Epling Burnette. Wei, the report adds, "unsuccessfully sought to recruit other Moffitt faculty members."..

The sixth scientist who was fired, pharmacogenomicist Howard McLeod, was already participating in the Thousand Talents program, funded by other Chinese institutions, when he came to Moffitt in 2013
Comment: So five of the 6 not ethnically Chinese
Department of Energy moves carefully on assessing foreign research collaborations | Science | AAAS
The U.S. Department of Energy (DOE) has drawn up a list of technologies it may not want agency scientists to share with researchers from a handful of other countries. But that list has yet to be put to use, says Chris Fall, head of DOE's Office of Science...

"We're pausing a little bit, to think about what the effect might be," Fall told legislators. "Because at the end of the day, I think we all understand that China is a scientific juggernaut, and that we're not going to be able to just close the doors and shut the windows. We're going to have to find a way to modify [China's] behavior, and to work together on some things."
---
7. Art thieves targeting Chinese antiquities
Art heist in Fontainebleau palace: Chinese mafia suspected of hiring Spanish thieves for heist in French palace | EL PAÍS
There are many elements to the case: an alleged group from the Chinese mafia, a castle listed as a UNESCO World Heritage Site for its history and treasures, and five Spanish criminals who together have been arrested more than 120 times. On December 27, the French police arrested these five individuals and a sixth man of Chinese nationality for attempting to steal from the Chinese Museum at the Palace of Fontainebleau, a medieval castle 62 kilometers from Paris...

The Chinese lead is "very important," French police commander Jean-Luc Boyer told EL PAÍS by phone on Thursday. "[The Spaniards arrested] are organized crime professionals who came to France to commit a robbery, they came for Chinese objects, and in the middle of this we arrested a Chinese citizen, which is why we have this lead,"
And of course there was this story from GQ in 2018 - The Great Chinese Art Heist
Strange how it keeps happening, how the greatest works of Chinese art keep getting brazenly stolen from museums around the world. Is it a conspiracy? Vengeance for treasures plundered years ago? We sent Alex W. Palmer to investigate the trail of theft and the stunning rumor: Is the Chinese government behind one of the boldest art-crime waves in history?
Comment: Still just a rumor
---
8. One big read: Life with a Chinese trucker
On the Road with a Chinese Trucker - Chinarrative
Southern People Weekly reporter Huang Jian embedded himself with three truckers over the span of 10 days, crisscrossing southern and central China in an epic 2,500-kilometer journey. This is a translation of his recent report, a poignant portrait of the physical and mental toll of long-haul trucking.
---
Business, Economy and Trade
Chinese birth rate falls to lowest in seven decades - BBC News The birth rate was 10.48 per 1,000 in 2019 - the lowest since 1949, the National Bureau of Statistics said. The number of babies born in 2019 dropped by 580,000 to 14.65 million.
China GDP growth last year was 6.1 per cent, slowest rate for 29 years | South China Morning Post However, despite falling to a new low since 1990, when political turmoil drove economic growth down to 3.9 per cent, the 6.1 per cent rate met the target range of between 6.0 per cent and 6.5 per cent set by the central government at the beginning of last year
China's provinces lower growth targets after central government takes over task of compiling GDP figures | South China Morning Post So far, 21 out of the country's 31 provincial-level jurisdictions have announced they will cut their growth targets following their respective People's Congress meetings, where local development blueprints are finalised.
PBOC Injects 1.1 Trillion Yuan in Four Days – China Banking News The Chi­nese cen­tral bank has made a net in­jec­tion of 1.1 tril­lion yuan (ap­prox. USD$160.32 bil­lion) in less than a week-long pe­riod, far ahead of the stan­dard in­jec­tion for the month of Jan­u­ary over the past four years. // Lunar New Years day was February 19 in 2015, February 8 in 2016, January 28 in 2017, February 16 in 2018, February 5 in 2019
Central Bank Official Dashes Hope for Deposit Rate Reform - Caixin China will keep its benchmark deposit rate for the foreseeable future even as policymakers have moved to make loan rates primarily decided by the market, a central bank official said Thursday. The benchmark deposit rate will remain the cornerstone of China's system for steering the amount of interest that banks pay deposit holders, and the People's Bank of China (PBOC) will adjust it as needed, Sun Guofeng, director of the PBOC's monetary policy department, said at a briefing
EU won't meet China halfway in investment talks: EU trade chief - Reuters "Meeting halfway will not work for the EU. Our markets are largely open, probably the most open in the world. We have therefore have made it very clear that we expect and are demanding a rebalancing of the asymmetry."
Citadel Securities Agrees to $97 Million Settlement in China - Bloomberg Citadel Securities LLC agreed to pay a 670 million-yuan ($97 million) settlement for alleged trading irregularities during the 2015 market rout in China.
Exclusive: Export-Import Bank of China Picks New President - Caixin Wu Fulin, an executive vice president of Bank of China Ltd., will be officially appointed after regulators sign off, according to sources familiar with the matter.
Provincial Government Credit Scores Highlight Rich-Poor Divide - Caixin The report highlights a wide divergence in the strength of local governments across the country that prompted the Ministry of Finance to make one of its key tasks (link in Chinese) for 2020 improving regional equality in terms of allocation of fiscal resources and promoting a new pattern of coordinated regional development. It also underscores the increasing costs some provinces and their local government financing vehicles (LGFVs) may face when they sell bonds this year, as they are forced to pay higher interest rates to reflect their weaker financial positions and credit rankings.
Top political advisor stresses private enterprises' role in high-quality development - Xinhua The role of private enterprises should be viewed properly, as well as their difficulties, challenges and development prospects, in order to boost the healthy growth of the private sector, Wang said. He called for efforts to pool the wisdom and power of the private sector to achieve targets of building a moderately prosperous society in all respects and realizing national rejuvenation. // Annual new year's united front work from Wang Yang
SRE Group Chairman Peng Xinkuang Detained - Mingtiandi The real estate development subsidiary of financially troubled China Minsheng Investment Group said that on 19 January it had appointed executive director Zhu Qiang as acting CEO to take care of Peng's duties
Sinology by Andy Rothman - A Year of Living Less Dangerously China's consumers drove economic growth again in 2019, and I expect that to continue in 2020. Last year was the eight consecutive year in which the consumer and services (or tertiary) part of GDP was the largest part, and consumption accounted for 58% of GDP growth. Strong income growth continues to fuel the consumer story. Nominal per capita disposable income rose 9.1% in 4Q19, up from 8.5% a year earlier and 9% two years ago. Household consumption spending rose 9.4% YoY in 4Q19, compared to 8% a year earlier and 6.1% two years ago.
Delayed China Bond Rescue Spurs Questions About White Knight - Bloomberg Debt-burdened textile manufacturer Shandong Ruyi Technology Group won a lifeline in October when a financing vehicle owned by local authorities agreed to provide a capital injection and guarantee some of its debt. Shandong Ruyi has since then managed to make good on its bond payments, including a coupon due for its 2022 dollar security this month. Problem is, the white knight -- Jining City Urban Construction Investment Co. -- has yet to follow through on paying for the 3.5 billion yuan ($509 million) stake, its prospectus for a bond sale showed last month.
Deal breaker? China nationalizes strategic tech with eye on US - Nikkei Asian Review A total of 165 listed Chinese companies changed ownership in 2019, roughly 60% more than the year before due to China's economic slowdown, according to the China Securities Journal, a newspaper backed by the state-run Xinhua News Agency. Of those that changed ownership, 44 companies, with a combined market capitalization of about $36 billion, were acquired by state-owned companies or government-run investment companies. Many were involved in highly strategic fields like surveillance and information systems.
The Story of China's Economic Rise Unfolds in Switzerland - The New York Times At this year's gathering, Chinese officials dealing with a slowing economy and faltering investment are prepared for an energetic promotional message. Their pitch: The signing of an initial trade agreement with the Trump administration last week means China remains a good place for multinationals to keep much of their manufacturing supply chains...Advisers from global consulting firms help the Chinese leaders organize long schedules of hour-by-hour meetings, followed by stops at cocktail parties and dinners each evening.
Public servant who promoted $225M baby formula plant now sits on Chinese investor's board | CBC News The former head of the Canadian Dairy Commission who facilitated a $225-million investment by a Chinese dairy processor to build an infant formula plant in Kingston, Ont., is now serving on that same Chinese corporation's board.
In China, State Ownership Means Worse Performance for Stocks - Bloomberg SOEs trade at an equity valuation gap of 40% compared with privately-owned companies, according to calculations by JPMorgan Chase & Co. That has shrunk some since President Xi Jinping's administration has sought to shutter unproductive state assets and restructured a number of government-run outfits, but an "SOE discount" remains
State-level new areas to thrive through reform, innovation - SCIO The General Office of the State Council issued a document on Jan 17 to guide State-level new areas toward greater innovation, entrepreneurship and higher-level opening-up, building them into hubs supporting the real economy with high-quality development. Envisioned as a platform for the nation's major development and reform strategies, State-level new areas should give priority to the high-quality development of the manufacturing sector and deepen supply-side structural reform. 务院办公厅印发《关于支持国家级新区深化改革创新加快推动高质量发展的指导意见》
Chinese Central Bank to Accelerate Drafting of "People's Bank of China Law," "Commercial Bank Law," "Depository Insurance Rules" in 2020 – China Banking News The Chi­nese cen­tral bank (Peo­ple's Bank of China) (PBOC) has an­nounced its key work goals for 2020, in­clud­ing the draft­ing and ap­proval of key leg­is­la­tion con­cern­ing the bank­ing and fi­nance sec­tors. // and improve Party Construction
Currency News: Hong Kong Fund Bets on 'Year of the Renminbi' - Bloomberg That's the bet being put on at Gavekal Capital, a fund manager with about $1.5 billion in stocks and bonds, which says the bonds of the world's second largest economy will deliver a 10% return this year, given both the strengthening yuan and the relatively high yields in China.
China's financial credit database of 1 billion people, 28 million companies gets an upgrade | South China Morning Post The upgraded system – which is used by the nation's lenders to evaluate potential clients' creditworthiness – went online on Sunday. The upgrades include improvements to the information gathering and processing functions, as well as the technical framework and security, according to the credit bureau of the People's Bank of China (PBOC).
China further cuts costs for business in 2019 - Xinhua Enterprises enjoyed energy price reductions and logistical and administrative fee cuts in 2019 amid China's efforts to create a better business environment, an official said Sunday.
Exclusive: Volkswagen to buy 20% of Chinese battery maker Guoxuan amid electric push - Reuters The deal would mark Volkswagen's first direct ownership in a Chinese battery maker and comes as the Wolfsburg-based automaker strives to meet a goal of selling 1.5 million new energy vehicles (NEVs) a year in China by 2025, including plug-in hybrid cars
Teneo Appoints Paul Haenle APAC Chairman – Teneo In addition to his role with Teneo, Paul also serves as the founding director of the Carnegie-Tsinghua Center in Beijing.
Politics and Law
Xi visits Yunnan on inspection tour ahead of Chinese New Year - Xinhua Xi went to a village of the Wa ethnic group in Qingshui Township of the city of Tengchong Sunday afternoon to learn about poverty alleviation efforts and extend his Chinese New Year's greetings to the villagers. He also visited the old town of Heshun, a gateway on the ancient Southern Silk Road that linked China's Sichuan and Yunnan with Myanmar and India, to learn about exchanges, historical and cultural inheritance, as well as ecological and environmental protection along the trade route.
从"彭麻麻呢?"刷屏中感受家国情怀_云时评_彩云网评_云南网This Yunnan Net article on Xi's visit goes over the top on People's Leader, 5 mentions of it describing Xi in a short article// 习近平总书记对贫困群众的深深牵挂,充分表达了人民领袖对人民深沉绵长的挚爱、念兹在兹的关怀。一幅幅饱含真情的动人画面,记录下人民对人民领袖的衷心爱戴;一个个与群众心心相印的感人瞬间,彰显出人民领袖深厚的人民情怀。人民领袖爱人民,人民领袖人民爱。
Xi inspects troops stationed in Yunnan - Xinhua Xi on Sunday went to see soldiers guarding the border, chatting with them, checking their working and living conditions, and visiting a medical center and a canteen at their base. After having a teleconference with officers and soldiers at the frontline, Xi said those at the frontline must maintain high alert and organize border patrols well to safeguard border peace and stability as well as the safety of the people and their property.
[视频]习近平春节前夕视察看望驻云南部队 向全体人民解放军指战员武警部队官兵民兵预备役人员致以新春祝福_CCTV 11 minute CCTV Evening News report on Xi visit to the troops in Yunnan. Does Bo Xilai have to watch this?
Battered but Resilient After China's Crackdown - The New York Times We arrived in Yarkand by a morning train from Hotan, a small city 175 miles to the southeast. After some negotiations and hushed phone calls, a police officer and a propaganda official who had hurried to the station allowed us to visit as long we agreed to be on a train that night to Kashgar, the next city on our journey to see how the Xinjiang region was changing....On this journey through southern Xinjiang, places we had visited in the depths of the crackdown in 2017 and 2018 seemed busier and more crowded now, suggesting that restrictions on residents had eased a bit. Police checkpoints throughout towns and cities have become less stringent in the past year, and it is easier to move around.
Officials discuss state of education in Xinjiang at press conference - CGTN Qahar said that the New York Times reporters, who penned the piece alleging that parents lose contact with their children in the boarding schools, never asked to go into a school or attempted to interview any of the school's authorities. It is irresponsible for them to say that the schools are "heavily guarded, and outsiders are forbidden to go in" when they did not even attempt to go inside the school.
China's new regulation for religious groups emphasizing Party leadership could better serve communities: observers - Global Times The CPC's administration toward religious groups, which is specified in the regulations, does not destroy religious freedom but protect it, Su Wei, a professor at the Party School of the Communist Party of China Chongqing Municipal Committee, told the Global Times. He said that in China, all social groups, whether ethnic, religious, economic, political or cultural, must stick to the Party leadership, which is stipulated by the Constitution of China and is determined by the need of China's social development and the political nature of China.
Shanghai People's Congress closes with new chief - Shine Jiang Zhuoqing was elected director of the Standing Committee of the Shanghai People's Congress, the city's legislature, on Monday, succeeding Yin Yicui.
How I became a China sceptic | Financial Times $$ Xi Jinping has lost Gideon Rachman // At home, there is no real sign of domestic political revolt. On the contrary, increased state surveillance — combining artificial intelligence, smartphones and facial recognition technology — is strengthening the party's grip on society. So it is possible I will be just the latest in a long line of Western sceptics who get China wrong. But it is hard to look at the Xi cult and not feel a sense of foreboding.
Police in China's Guangdong Release Journalist Turned #MeToo Activist on 'Bail' - RFA Authorities in the southern Chinese province of Guangdong have released women's rights activist and independent journalist Sophia Huang, also known as Huang Xueqin, on "bail," ahead of the Lunar New Year celebrations at the end of the month, rights groups said.
Voices from the Chinese Century, edited by Timothy Cheek, David Ownby and Joshua Fogel | Financial Times $$ More valuable in this collection is how the division of Chinese thinkers into three camps (liberals, new-leftists and neo-Confucians) brings out surprising parallels with debates between the centre, left and right familiar in the west. Chinese liberals
Aristocratic Character? | China Media Project n recent days in China a buzz of speculation has surrounded an article published on January 10 by the Study Times, a publication of the Central Party School, the training academy for Party leaders. At issue is the suggestion in the article that Xi Jinping, the General Secretary of the Chinese Communist Party, has "an aristocratic character" (贵族气质). Such language apparently shocked many readers, judging from comments on social media.
Police chief stresses defusing risks, ensuring security - Xinhua State Councilor and Minister of Public Security Zhao Kezhi on Saturday called for efforts to prevent and defuse major risks, ensure security and maintain stability. Zhao made the remarks at a meeting gathering police chiefs from across the country. Stressing political security, social stability and peaceful lives of the people, Zhao demanded a secure and stable environment to build a moderately prosperous society in all aspects and facilitate the completion of the 13th Five-Year Plan (2016-2020).
Senior CPC official stresses social justice - Xinhua Guo Shengkun, a member of the Political Bureau of the CPC Central Committee and head of the Commission for Political and Legal Affairs of the CPC Central Committee, made the remarks Sunday at a symposium with representatives from the judicial administrative organs. Guo stressed the notable strengths of rule of law in safeguarding social justice and the people's rights, noting that the public legal service should be improved. // 郭声琨在新时代司法为民好榜样代表座谈会上强调践行司法为民理念 促进社会公平正义让群众带着更多的法治获得感迈入全面小康社会-中国长安网
"中国为什么能?" 一场高规格会议告诉你答案!-中国长安网 1月17日至18日,中央政法工作会议在京召开,中共中央政治局委员、中央政法委书记郭声琨在会上传达习近平总书记重要指示并讲话。 这次会议全面总结了一年来政法工作的成绩与经验,并对2020年重点工作进行部署。长安君注意到,会上一个关键词首次现身,便牢牢吸引了人们的目光——"中国特色社会主义政法工作体系"。
China Names New Leaders for Two State Oil Giants - Caixin Dai Houliang, chairman of China Petrochemical Group (Sinopec), will become the new chairman of archrival China National Petroleum Corp. (CNPC), replacing the retiring Wang Yilin, CNPC said Friday. Succeeding Dai as Sinopec chairman will be Zhang Yuzhuo, who once served as the chairman of China's largest coal miner, Shenhua Group, Sinopec said.
Foreign and Defense Affairs
Japan vows to tackle 'outstanding issues' with China before Xi Jinping's trip | Kyodo Motegi's speech came amid opposition to Xi's state visit by some conservative Japanese lawmakers who believe it could send the wrong message amid an ongoing bilateral territorial dispute in the East China Sea as well as human rights concerns in Hong Kong and the far western Xinjiang region.
Xi signs order for issuing trial regulation on military supervision work - Ministry of National Defense The regulation will take effect on Feb. 1, 2020, according to a statement released on Monday. The regulation was introduced to establish an authoritative and efficient military supervision system with complete coverage under a unified command. It is of great significance to further strengthening supervision over the exercise of power and advancing the anti-graft campaign in the military, the statement said. 中央军委主席习近平签署命令发布《军队监察工作条例(试行)》—中央纪委国家监委网站
公检法高层齐聚北京:摸排黑老大保护伞,必要时线索移送中纪委 Wang Renhua is listed as the CMC politics and law commission secretary, the first time mentioned publicly in this position I believe, replacing Song Dan
Xi replies to letter from military's "hard-boned sixth company" - Xinhua President Xi Jinping has encouraged the officers and soldiers of a company of the 74th Group Army of the Chinese People's Liberation Army to carry forward their fighting spirit and build a strong military unit...A heroic military unit, the company was conferred the honorary title of "hard-boned sixth company" by the Ministry of National Defense in 1964. Xi visited the unit in 2004 and sent his greetings to the soldiers and officers again in 2014.// 习近平给"硬骨头六连"全体官兵回信 勉励他们把"硬骨头精神"发扬光大 把连队建设得更加坚强 FBIS translated a 1964 People's Daily editorial "To learn the revolutionary Tough-Bone spirit of the PLA", interesting Xi keeps going back to them
China destination approval a 'game-changer' for Kiribati tourism | RNZ News Mr Manufolau said the real challenge in dealing with a market the size of China was being realistic about what kind of tourism it could sustain. "We are a unique small niche-market driven destination and for a market like China we won't be going for the masses.
How does 2020 bode for China's overseas investment? A Chinese lawyer's take – Panda Paw Dragon Claw What is really encouraging is that at the end of 2019, China's Supreme People's Court issued a groundbreaking opinion on how the judiciary system should support the Belt and Road Initiative, stating that China should "proactively contribute its judicial resources to global environmental governance". More specifically, it calls on the Chinese judiciary to strengthen environmental public interest litigation and tort litigation to "stop environmental violation" and "enforce liability for damages".
Making Foreign Companies Serve China: Outsourcing Propaganda to Local Entities in the Czech Republic - Jamestown After a series of setbacks for Chinese interests, PPF and Home Credit realized in early 2019, according to their own later statement, that they had a significant public relations (PR) and political problem on their hands (iRozhlas, December 14, 2019). In April 2019 they hired a PR agency called C&B Reputation Management to "rationalize the debate on China" and "improve the Czech-China relationship." What exactly that meant in practice became clear half a year later after a major exposé on the Czech news site Aktuálně. In December 2019, the website revealed internal C&B documents showing that the PR agency had been surreptitiously placing pro-Beijing content in mainstream Czech media, and even secretly ran its own media project called Sinoskop (see accompanying image) that posed as an "independent" expert initiative
Minds at War: China's Pursuit of Military Advantage through Cognitive Science and Biotechnology > National Defense University Press According to Lt. Gen. Liu Guozhi (刘国治), Director of the Central Military Commission Science and Technology Commission, "AI will accelerate the process of military transformation, ultimately leading to a profound Revolution in Military Affairs . . . The combination of artificial intelligence and human intelligence can achieve the optimum, and human-machine hybrid intelligence will be the highest form of future intelligence."11 This striking statement highlights the PLA's interest at the highest levels in the notion of "hybrid intelligence" (混合智能), a concept that implies a blending of human and machine intelligence, including through leveraging insights from brain science and such techniques as the use of brain-computer interfaces.
Indonesia to Buy Bigger Boats for Coast Guard - Jakarta Globe Indonesia plans to buy bigger boats to allow its coast guards to travel across the ocean, most notably the Natuna Sea, and expand their patrol reach, the government said on Friday. The plan to buy ocean-going vessels was made after Defense Minister Prabowo Subianto had reportedly bought frigates for the Indonesian Navy from Denmark.
Japanese Communist Party slams China in first platform change since 2004 | The Japan Times The Japanese Communist Party criticized China's current leadership in the first revision since 2004 of its fundamental policy platform, adopted Saturday, saying Beijing's quest for "great-power chauvinism and hegemonism" is problematic.
Axios Sneak Peek - January 19, 2020 - Scoop — "Birth tourism" is Trump's next immigration target "Birth tourists" often come to the U.S. from China, Russia and Nigeria
Mapped: How Chinese Financing is Fueling the World's Megaprojects AidData, a research lab at the W&M Global Research Institute, has compiled a massive database of Chinese-backed projects spanning from 2000–2017.
Sweden summons Chinese envoy over 'lightweight boxer' remark - Europe - Stripes Sweden's government summoned the Chinese ambassador in Stockholm to discuss his comments Saturday that compared Swedish media coverage of China to a lightweight boxer who "provokes a feud" with a heavyweight. Chinese Ambassador Gui Congyou used the boxing metaphor while speaking with Swedish public broadcaster SVT. Swedish Foreign Minister Ann Linde on Saturday called the envoy's statement an "unacceptable threat."
Taiwan
President Tsai interviewed by BBC Q: Is Taiwan ready to defend itself? Do you believe you would be able to stand up to a military action? A: We have been trying very hard and making a lot of efforts to strengthen our capabilities. I do think we have pretty decent capabilities here, and invading Taiwan or trying to invade Taiwan is something that is going to be very costly for China.
U.S. warship sails through Taiwan Strait after election - Focus Taiwan Taiwan's Ministry of National Defense (MND) and the U.S. 7th Fleet confirmed Friday that a United States warship recently sailed through the Taiwan Strait, less than one week after Taiwan's 2020 presidential and legislative elections.
Top political advisor highlights Wang Yang work priorities for Taiwan affairs - Xinhua Wang, a member of the Standing Committee of the Political Bureau of the CPC Central Committee and chairman of the National Committee of the Chinese People's Political Consultative Conference, made the remarks at a conference on Taiwan affairs held in Beijing. While reviewing the work on Taiwan affairs in 2019 and affirming positive progress made in the past year, Wang warned that the cross-Strait situation would be more complicated and grave in 2020.
Tech and Media
Five Reasons Why 'The Farewell' Flopped In China – Variety "The Farewell" has flopped in China with a dismal $261,000 opening weekend gross, and a cumulative of $580,000 so far
Yicai Global - ZTE, Uganda's MTN Team Up to Trial 5G ZTE, China's second-largest telecoms equipment maker, and Ugandan carrier MTN are working together to launch the first fifth-generation networking trial on a standalone network in East Africa.
Shanxi journal faces scrutiny for 'vulgar' essay on feasibility of marrying Liu Yifei, leading actress in Disney film Mulan - Global Times News portal thepaper.cn reported on a netizen who claimed the journal, which is named Government Legality and hosted by the Shanxi Sanjin Press Media Group, carried an essay titled "My personal feasibility report on marrying Liu Yifei" in 2010.
Coder Disciplined for Ripping Off Python, Calling It 'Mulan' | Sixth Tone In a statement Sunday, the Institute of Computing Technology said it had suspended the researcher, Liu Lei, and launched an investigation after Liu was accused of ripping off an open-source version of the widely used Python programming language and calling his version Module Unit Language, or "Mulan."
TomTom closes deal with Huawei for use of maps and services: spokesman - Reuters Dutch navigation and digital mapping company TomTom on Friday said it has closed a deal with China's Huawei Technologies for the use of its maps and services in smartphone apps.
Meituan co-founder to retire from management duties · TechNode Wang Huiwen, a senior team member, will retire from his management duties in December but will retain his role as executive director. Meituan named Wang as a lifetime honorary consultant and he will continue his involvement in strategic planning and talent development
ByteDance Plans Assault on Tencent's Mobile Gaming Kingdom - Bloomberg Over the past few months, ByteDance has quietly bought up gaming studios and exclusive title distribution rights. It's embarked on a hiring spree and poached top talent from rivals, building a team of more than 1,000. Its first two games from the venture will be released this spring, targeting both local and overseas players, one person said.
ByteDance to Merge Legacy Video Platform Huoshan with Douyin- PingWest ByteDance, the owner of hugely popular short video app Douyin or Tiktok(international version), announced multiple key changes to its short video app Huoshan as it looks to counter the meteoric rise of rival Kuaishou and attract more users and profits in China's rapidly expanding short video market. According to the announcement, BeteDance has upgraded and rebranded Huoshan to integrate more closely with Douyin.
Thousands of Chinese Students' Data Exposed on Internet - WSJ $$ The cache was connected to a surveillance system labeled "Safe School Shield" and contained facial-identification and location data, according to Victor Gevers, a researcher at the Dutch nonprofit GDI Foundation, which scans the internet for vulnerabilities and flags them to owners for fixing.
Chinese podcasting and audio content app Lizhi debuts on Nasdaq | TechCrunch Lizhi, one of China's biggest audio content apps, is debuting on Nasdaq today under the ticker symbol LIZI. It is the first of its major competitors, Ximalaya and Dragonfly, to go public (though Ximalaya is expected to also list in the United States later this year). Lizhi is offering 4.1 million shares at an IPO price of $11 per share.
Society, Arts, Sports, Culture and History
"I'm One of 1.4 Billion" Goes Trending as China's Population Now Tops the 1.4B Number | What's on Weibo This Friday, official data, released annually by the National Bureau of Statistics, shows that the total Chinese mainland's population has surpassed 1.4 billion at the end of 2019. In light of this news, Chinese state media outlet People's Daily launched the hashtag "I'm One of 1.4 Billion" (#我就是14亿分之一#), propagating a sense of unity among such a massive population.
How Gay Art Survives in Beijing, as Censors Tighten Grip - The New York Times From the outside, the facade of Destination (a prominent Beijing venue that expressly welcomes gay people) is downright drab. But inside this four-story cultural center on the east side of the city, the works in the nonprofit art gallery can push boundaries.
Officials Will Work Overtime To Wed Couples on Rare Palindrome Day | Sixth Tone Local authorities in several Chinese cities will work overtime to accommodate couples hoping to get married on Feb. 2, a date some believe to be auspicious because it forms a palindrome when written out sequentially: 20200202.
Pig forced to bungee jump in Chinese theme park stunt - ABC News The video quickly went viral on Chinese social media, but not for the right reasons, with netizens criticising the theme park operator for what they said was the inhumane treatment of the pig.
Fake resumes expose hiring biases against Muslims in China - Inkstone A Muslim job seeker in China is less than half as likely to get a response from employers than their Han Chinese counterparts, according to a newly published study.  In an experiment carried out in 2017, researchers sent out more than 4,000 fictitious resumes from candidates identifying themselves by ethnicity – either Han, Hui or Uygur – to companies in major cities across China. The findings were published in December 2019.
How Did 2 Women Drive a Luxury SUV Into the Forbidden City? - Caixin Web users mined the internet for information about LuxiaobaoLL, posting unsubstantiated details in a practice known as doxxing. The posts included a property valued at more than $11.8 million in wealthy Newport Beach, California, allegedly owned by the woman.
故宫女论文未通过 媒体:不能再让其侮辱教育尊严|硕士论文_新浪新闻 有网友查出,高露同学之后在河北师范大学重新读了研究生并且通过了论文答辩!希望河北师范大学也能够及时回应公众的关切——此高露和彼高露,是不是同一人?如果是同一人,她是如何在合规的情况下入学,又是如何合规地拿到学位的?
S.U.V. in Forbidden City Prompts Rage at China's Rich - The New York Times The People's Daily, the official newspaper of the ruling Communist Party, published a commentary on Saturday saying that a national relic had been violated. "Under the rules, everyone is equal," the newspaper wrote. "No one has the privilege to 'run wild.' "
Energy, Environment, Science and Health
Four injured in Beijing hospital attack - CGTN At least four people, including three doctors, have been attacked by a male suspect with a knife in Beijing's Chaoyang Hospital on Monday afternoon. The incident happened around 2:00 p.m. local time. The cause of the incident remains unknown.
China Plans 39 Million-Mile Race to Mars to Catch Up With NASA The Chinese space agency is preparing a mid-year mission to Mars, marking the most ambitious project on an exploration checklist intended to achieve equal footing with NASA and transform the nation's technological know-how. Landing the unmanned probe on the red planet would cap President Xi Jinping's push to make China a superpower in space. The nation already has rovers on the moon, and it's making bold plans to operate an orbiting space station, establish a lunar base and explore asteroids by the 2030s.
Chinese Oil Production Grows for First Time in Four Years - Caixin China produced more crude oil last year than in 2018, marking the first year-on-year growth in domestic production since 2015, data released on Friday by the National Bureau of Statistics show.
China moves to phase out single-use plastics | Reuters The national development and reform commission and the Ministry of Ecology and Environment, which issued the policy, said plastic bags would be banned in all of China's major cities by the end of 2020 and banned in all cities and towns in 2022. Markets selling fresh produce will be exempt from the ban until 2025. Other items such as plastic utensils from takeaway food outlets and plastic courier packages will also be phased out.
Chinese Academy of Sciences highlights key research advances of 2019 - Xinhua Gene-edited diseased monkeys cloning, an archaeological discovery of the earliest human occupation of the Qinghai-Tibet Plateau and the unveiling of the African swine fever virus structure are the top three research advances in 2019.
Rural and Agricultural Issues
Caixin on the African Swine Flu epidemic as a man-made disaster, and on the tension between reporting cases and hiding them - 财新调查报道故事集第二季