Xi arrives in North Korea; Premier Li meets with foreign CEOs; Hypersonic arms race
Xi Jinping arrived in North Korea. The CCTV report did not show Xi and Kim Jong Un hugging when they met.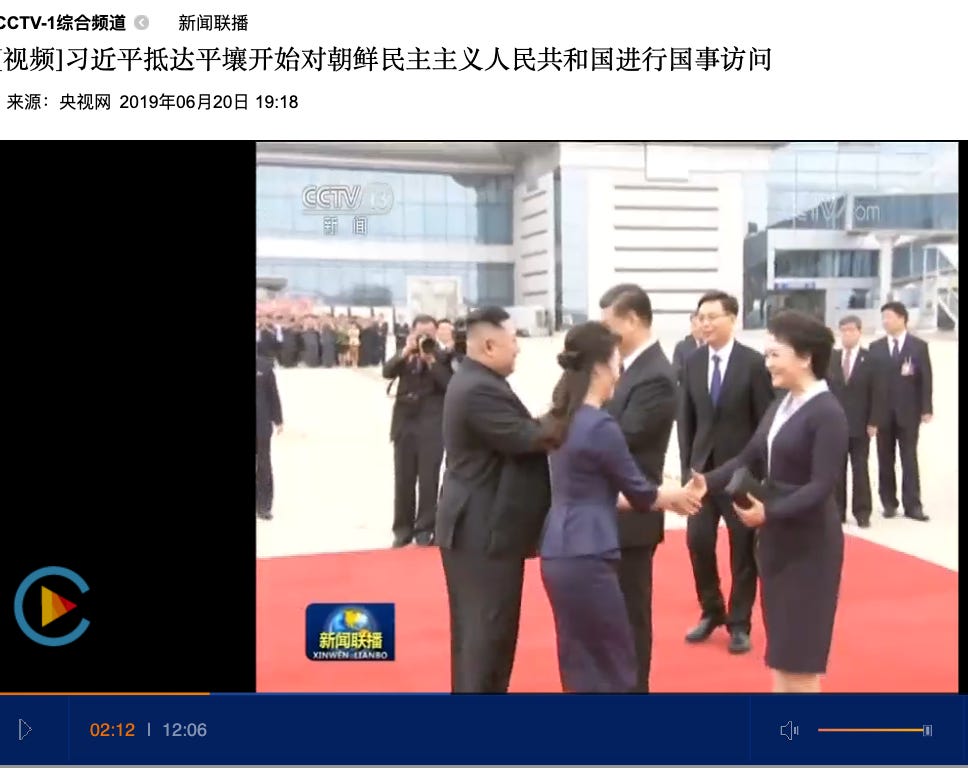 After the airport ceremony they drove through Pyongyang to the guest house.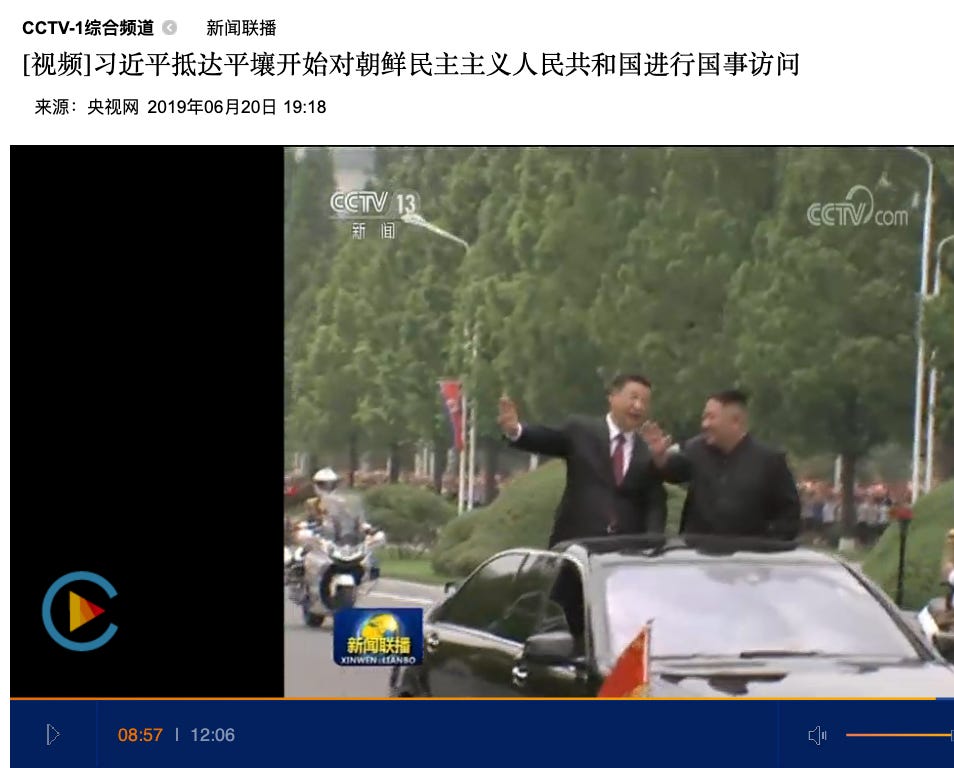 I am looking forward to the release of the North Korean side's glorious documentary of the visit.
Chris Johnson of CSIS has an interesting new piece in Foreign Affairs with a different take on why the Chinese side backed away from terms the US thought they had already locked down- Xi Jinping's Trade Conundrum: Why the Chinese Leader Isn't About to Back Down:
In the U.S. news media, most commentators have blamed China for the recent effort's collapse. At the last minute, this analysis suggests, China reneged on terms that U.S. Trade Representative Robert Lighthizer and his Chinese counterpart, Vice Premier Liu He, had painstakingly hammered out over 11 rounds of tough, often heated negotiations. Among the many competing hypotheses for China's seemingly abrupt about-face, one has gained particular credence, and that is that unidentified "hawks" or "vested interests" in the Politburo of the Chinese Communist Party (CCP) rejected the concessions that Liu—and by extension his boss, Chinese President Xi Jinping—made in the negotiations. But this notion is simply absurd…

Xi very likely orchestrated the turnabout himself. Such a move would make sense, given that within the CCP's unique ecosystem, leaders generally gain more by outflanking hard-liners than by siding with reform-minded technocrats. In fact, Xi has made seizing the nationalist high ground—in order to deny it to his opponents—a hallmark of his rule. Xi likely shifted China's negotiating posture in order to stall the talks, which gives him leverage even while he retains the flexibility to return to the negotiating table whenever he believes the conditions are right. By unleashing its own hawks, the Trump administration has actually made such a pivot much more complicated.
Scheduling note: I am taking my kids to camp in Maine next Tuesday so there will be no newsletter Tuesday June 25th or Wednesday June 26th.
Thanks for reading.
---
The Essential Eight
1. Xi arrives in North Korea
Xi arrives to great welcome in DPRK for state visit - Xinhua
Under Chinese and DPRK national flags and large welcome banners, nearly 10,000 people lined up at the airport, waving flowers and chanting cheerful slogans to welcome the Chinese guests.

Amid thunderous cheers, Xi and his wife, Peng Liyuan, walked out of the cabin, and were greeted beside the ramp by Kim Jong Un, chairman of the Workers' Party of Korea (WPK) and chairman of the State Affairs Commission of the DPRK, and his wife, Ri Sol Ju.

The DPRK side held a grand welcome ceremony at the airport, which featured a 21-gun salute, the playing of national anthems, a review of the honor guard and a march-past.
Comment: The Xinhua Chinese version says Ding Xuexiang, Yang Jiechi, Wang Yi and He Lifeng, NDRC head, arrived with Xi on his plane.
North Korea's Kim meets China's Xi, says awaiting US actions - AP
North Korean leader Kim Jong Un, meeting with visiting Chinese President Xi Jinping, said Thursday that his country is waiting for a desired response in stalled nuclear talks with the United States.

"North Korea would like to remain patient, but it hopes the relevant party will meet halfway with North Korea to explore resolution plans that accommodate each other's reasonable concerns," he said, according to Chinese state broadcaster CCTV...

Describing the issue as "highly complex and sensitive," Xi said his government is willing to play a constructive role in the denuclearization of the Korean Peninsula.

"The international community expects the U.S. and North Korea to continue to talk and achieve results," he said, according CCTV.
[视频]习近平抵达平壤开始对朝鲜民主主义人民共和国进行国事访问_CCTV节目官网-CCTV-1_央视网(cctv.com)
12 minute CCTV Evening News report on Xi's arrival in Pyongyang...just a handshake with Kim, no hug
[视频]习近平同朝鲜劳动党委员长 国务委员会委员长金正恩举行会谈_CCTV节目官网-CCTV-1_央视网(cctv.com)
nearly 7 minutes on CCTV Evening News on Xi and Kim meeting
Xi Jinping Arrives in North Korea, With Many Eyes on Trump - The New York Times
Mr. Xi's decision to go to Pyongyang did not signal a new warmth, said Andrei Lankov, a North Korea scholar. Rather, Mr. Xi — in a corner over his stalemate in trade talks with the Trump administration — could see the possibility of playing the middle man between Mr. Kim and Mr. Trump, he said...

Offering economic help to Mr. Kim would not be difficult for Mr. Xi, whose country accounts for much of North Korea's trade. But it would stop short of what the North Korean leader wants, which is for China to use its power at the United Nations to reverse the sanctions that are pummeling his country's economy.
人民日报:推动中朝关系在新时代破浪前进——习近平总书记署名文章引起热烈反响
Chinese scholars discuss the China-DPRK relationship on People's Daily page 3. Nothing very interesting but it may show who has the ear of the Chinese leader on North Korea these days: Wang Junsheng of CASS, Yu Shaohua and Yang Xiyu of CIIS (foreign ministry's think tank), and Zheng Jiyong of Fudan University.
---
2. US-China
China, U.S. to resume trade talks but China says demands must be met - Reuters
three main differences remain, including the removal of all additional tariffs, China says. Both sides have disagreed over trade purchases and a "balanced" text for any trade deal.

Those three "matters of principle" cannot be compromised, China has said.

Asked if China's demands for a trade deal were still tied to the three issues being met, Gao said: "China's principles and basic stance on Sino-U.S. economic and trade consultations have always been clear and consistent, and China's core concerns must be properly resolved."
Spokesman for China's Ministry of Commerce confirmed that Liu He and Lighthizer could meet to prepare for the Xi-Trump meeting at G20.
Did China's trade negotiators make promises they couldn't keep? US Trade Representative Robert Lighthizer thinks so | South China Morning Post
Chinese officials negotiating a trade deal with the United States might have offered concessions beyond their mandate, US Trade Representative Robert Lighthizer said on Wednesday when questioned about why the talks might have faltered last month.

Asked at a congressional committee meeting in Washington why the Chinese side walked away from the latest negotiations, Lighthizer said: "My speculation is that some forces in China decided that they had gone too far, went out beyond their mandate."
China's Got More Competition Now as Info-Tech Exporter to U.S. - Bloomberg
Chinese sales to the U.S. in this category fell by $12.4 billion in the first four months of 2019, to an eight-year low of $35.3 billion -- though they're still three times higher than the second-biggest supplier, Mexico.
Where will it end? The US-China trade war and the threat to the global economy - Nikkei Asian Review - Kevin Rudd
My prediction is that the Trump-Xi bilateral meeting, announced on June 18, to be held at the Osaka Group of 20 summit will see a "reboot" to the negotiating process. After Osaka, Trump is likely to yield on the first two of China's red lines (on retaining tariffs after a deal), while Xi will increase the promises to purchase U.S. goods from China's previous offer, although not by as much as Trump demands. That way, enough face could be saved all around. Of course, raw politics may still derail everything. And perhaps the greatest uncertainty of all is Trump's rolling calculus of what he needs to sell to his political base, and what deal he needs to wedge the Democrats who are seeking to outflank him to the right on China, by being even more hawkish. 

But while there may be a solution to the immediate trade war, the technology war has barely begun. On that score, we should fasten our seat belts to face the risks of an even more fundamental decoupling of the world's two largest economies.
Condoleezza Rice: China hurt itself by saying it wanted to dominate tech world - CNBC
"The Chinese, I think, made a bit of a mistake when they went out and said we're going to surpass the U.S. in quantum computing and AI [artificial intelligence] by 2030, " said Rice, who was secretary of State and national security adviser under former President George W. Bush.

"I told some of my Chinese friends that it was a big mistake" because the U.S. and other nations were already nervous about how China might use technology for spying
'I feel like a target': US tech workers of Chinese descent see trade war backlash | The Guardian
Technology workers of Chinese descent say that they are experiencing backlash due to the US-China trade war and fears over Huawei, according to a survey commissioned by the Guardian through Blind, an app allowing anonymous workplace communication.
U.S. fines firms transhipping via Cambodia to dodge Trump's China tariffs - Reuters
"The Department of Homeland Security has inspected and fined a number of companies for evading tariffs in the United States by routing goods through Cambodia," U.S. Embassy spokesman Arend Zwartjes told Reuters in an emailed statement.

"These companies are located in Cambodia's Sihanoukville Special Economic Zone," said Zwartjes, who did not name or say how many companies had been fined for avoiding the tariffs, how large the fines were, or what goods the companies had been exporting.
If WTO Cannot Be Fixed, a New Body Could Be Created, Ex-Central Bank Chief Says - Caixin
If the U.S. doesn't support reforms to the World Trade Organization (WTO) or prevents the body from properly functioning, other major economies could look to create an alternative body, former Chinese central bank chief Zhou Xiaochuan said.

If a consensus on WTO reforms can't be reached, one solution could be a new organization including China and the EU based on the Comprehensive and Progressive Agreement for Trans-Pacific Partnership (CPTPP), Zhou suggested at a roundtable jointly held by Caixin and Spanish think tank Elcano Royal Institute in Madrid in late May.
---
3. Propaganda softening slightly
人民日报人民要论:美国制造经贸摩擦无理无据--观点--人民网
CASS President Zie Fuzhan has a long piece on page 9 of the Thursday People's Daily blaming the US for manufacturing the trade conflict, says the US is blaming China for problems of its own making, claims that China''s technology development comes in large part from theft and forced transfers are baseless; the US, not China, is the one violating the rules of the global trading system etc..
Thursday CCTV Evening News "International Sharp Commentary" - "Only with an equal dialogue can China and the United States solve their issues."...not so angry this time, but hammering on the point that the US needs to show sincerity; i.e. agree to China's core interests

两国元首通话后,美国高官在国会的作证表态令人感到意外:一方面表达重启经贸磋商、改善中美关系的意愿,另一方面还在释放关税施压的信号。这显然不是要真正解决问题的态度。

美方到现在应该更清楚中方的核心关切,明白中方的红线决不可逾越,底线决不可挑战。如果美方还坚持一边谈,一边以关税施压,那只会适得其反。只有始终坚持平等对话、照顾彼此合理关切,中美才有可能解决问题。

Google translate: After the talks between the two heads of state, the testimony of senior US officials in Congress is surprising: on the one hand, expressing the will to restart economic and trade consultations and improving Sino-US relations, on the other hand, it is also releasing the signal of tariff pressure. This is obviously not an attitude to really solve the problem.

The US should now be more aware of China's core concerns and understand that China's red line must not be overstepped, and the bottom line must not be challenged. If the US side insists on talking and exerting pressure on tariffs, it will only be counterproductive. Only by always insisting on equal dialogue and taking care of each other's legitimate concerns can China and the United States solve the problem.
人民网评:中国扛不住美国的"三板斧"吗?--观点--人民网 - 青丘
People's Daily Online commentary by "Qing Jiang" on America's arrogance in thinking China can't handle the trade conflict...says China has been able to resist the US bullying on trade, and those in China who first worried China could not withstand the pressure have changed their mind. This commentary is part of a series that seems targeting a domestic audience who criticized the party for provoking the US and who suggested China should make compromise and strike a deal ASAP

美国政府挑起的贸易摩擦,来势汹汹,甚是唬人。中国能否扛得住,从一开始就是各方关注的焦点议题。尽管事实已经说明了一切,但还是有一小部分人在心里打鼓,一些极个别的崇美、"精美"者更是舍不得放下手中的铙钹,时不时就要敲一下"中国扛不住"的边鼓。

美国气势上如同"威震天"一般不可一世,现在在中国人眼中,却越来越像"程咬金"。中国舆论场正用橡皮擦掉山姆大叔的标准照,在草稿纸上重新勾勒美国的画像。
Never expect China to compromise on issues relating to core interests - People's Daily Online
Escalating the trade friction and exerting extreme pressure on Chinese high-tech firms, the US has backtracked in trade talks and even raised unreasonable demands in tariffs, purchasing and text balancing of a deal. Its intentions have already been exposed.

Staying humble and cautious, talking less and doing more, and never resorting to hegemony are the essence of keeping a low profile, and China should adhere to this philosophy in the new era. However, adherence to peaceful development doesn't equate to giving up legitimate rights and core national interests.

No country should expect China to trade its core interests
---
4. US-China tensions good for lobbyists
Chinese companies spend big to fend off Trump - POLITICO
Eight other Chinese companies have spent at least $7.9 million hiring Washington lobbying and public relations firms since last spring, right before Trump cracked down on a different Chinese telecom company, ZTE, according to a POLITICO analysis of disclosure filings. That's nearly eight times what the same companies spent in the same period a year earlier.

The companies — including a Chinese radio company, a state-owned railcar manufacturer and a maker of surveillance cameras — have hired more than two dozen additional lobbyists over the past year, including former lawmakers and Trump campaign veterans.

The ramp-up shows how Chinese companies, which in the past have been hesitant to play the Washington influence game, are increasingly worried about threats from the Trump administration, as well as Democrats and Republicans in Congress eager to crack down on China
Comment: One of the companies mentioned in this report is drone maker DJI. One DC think tanker told me that DJI was offering a lot of money to think tanks in town for research projects. This person's think tank refused the offer. Did any end up taking DJI money?
---
5. Huawei
Romney Pushes to Stop Trump From Using Huawei to Get Trade Deal - Bloomberg
In an amendment Romney submitted this week to the National Defense Authorization Act, the Utah Republican set out specific conditions for the commerce secretary to remove Huawei from a U.S. blacklist...

Romney's amendment says the ban can only be lifted if Huawei and its senior officers haven't violated U.S. or United Nations sanctions, or the company hasn't engaged in the theft of U.S. intellectual property in the preceding five years. Another condition is that the Commerce Department should rule Huawei isn't a threat to American telecommunications systems or critical infrastructure of the U.S. and its allies.
Abridged official translation of the Wednesday Wu Yue He attack on Marco Rubio - U.S. law-of-the-jungle mentality won't work in the era of globalization - People's Daily Online
Some U.S. officials are really "good" at impeding the development of Chinese enterprises, and Senator Marco Rubio who went restless these days is one of them.

The Senator filed legislation on Monday that would prevent China's Huawei from claiming patent fees in U.S. patent courts. It sparked huge criticism on social media, triggering widespread condemnation from across the world. Even U.S. netizens couldn't believe that this man who undermines the U.S. patent system is actually a senator
Russia's Putin says U.S. move against Huawei aims to weaken China - Reuters
Russian President Vladimir Putin said on Thursday that U.S moves against technology giant Huawei aimed to weaken China, while U.S. tariffs sought to hold the Chinese economy back.
---
6. Li Keqiang has a message for foreign CEOs
U.S. CEOs Meet With China's Premier in Beijing Amid Trade Woes - Bloomberg
At the meeting, Li promised to open up more sectors of China's economy to foreign investment, noting that the firms in attendance had both contributed to China's economic development and profited from the local market.

The premier also reminded the companies of the scale of China's consumer market and in an oblique reference to the country's dominant position in the production of many goods, asked them to consider the current uncertainties over trade from the perspective of the global industrial supply chain.
CCTV Evening News on Li Keqiang meeting with the foreign CEOs- 李克强会见出席"全球首席执行官委员会"第七届圆桌峰会代表并座谈_CCTV
李克强表示,在座不少跨国公司较早参与中国改革开放进程,给中国带来了资金、技术和管理经验,在华开拓了市场并获得回报,实现了互利共赢。当前国际形势不稳定不确定因素增多,我们要推动世界经济贸易向稳定增长的方向发展,完善全球产业链,努力维护和平的国际环境。中国将坚定不移深化改革、扩大开放,进一步打造市场化、法治化、国际化的营商环境。欢迎各国企业继续扩大对华投资,分享中国发展机遇。

Li Keqiang said that many multinational companies have participated in China's reform and opening up process earlier, bringing capital, technology and management experience to China, opening up markets in China and receiving returns, and achieving mutual benefit and win-win results. At present, the uncertainties in the international situation are increasing. We must promote the development of world economic and trade in a stable direction, improve the global industrial chain, and strive to maintain a peaceful international environment. China will unswervingly deepen reforms, expand openness, and further create a market-oriented, rule-of-law, and international business environment. All countries are welcome to continue to expand investment in China and share opportunities for China's development.
---
7. Don't call it stimulus
China to speed up upgrades of urban old residential areas, rural infrastructure - Xinhua
The State Council, China's cabinet, plans to accelerate the regeneration of old residential areas in cities, urging faster progress in upgrading the electric grid and expanding access to safe drinking water in rural areas.

An executive meeting of the State Council chaired by Premier Li Keqiang on Wednesday called for implementing major projects that can meet people's needs and spur domestic demand to boost effective investment.

Regeneration projects, which are expected to cover an estimated 100 million urban residents, will focus improving facilities for water, electricity, gas and optical fiber cable in old residential areas, according to a statement released after the meeting.
部委密集调研 下半年政策脉络渐明 _ 经济参考网 _ 新华社《经济参考报》官方网站
Xinhua's Economic Information says multiple ministries are working on fiscal and monetary policies for the economy in 2H... 2019年已近过半,宏观经济形势研判进入年中窗口期。《经济参考报》记者获悉,近日,国家发改委等部委以及多个省份密集启动调研,分析当前形势、把脉年中经济,为下半年的政策举措做准备。专家指出,下半年政策脉络渐明,逆周期调节将再发力,财政货币"组合拳"更多举措落地可期。
---
8. Hypersonic arms race
Hypersonic Missiles Are Unstoppable. And They're Starting a New Global Arms Race. - The New York Times
Development of hypersonics is moving so quickly, however, that it threatens to outpace any real discussion about the potential perils of such weapons, including how they may disrupt efforts to avoid accidental conflict, especially during crises. There are currently no international agreements on how or when hypersonic missiles can be used, nor are there any plans between any countries to start those discussions. Instead, the rush to possess weapons of incredible speed and maneuverability has pushed the United States into a new arms race with Russia and China — one that could, some experts worry, upend existing norms of deterrence and renew Cold War-era tensions...

One of the two main hypersonic prototypes now under development in the United States is meant to fly at speeds between Mach 15 and Mach 20, or more than 11,400 miles per hour. This means that when fired by the U.S. submarines or bombers stationed at Guam, they could in theory hit China's important inland missile bases, like Delingha, in less than 15 minutes. President Vladimir Putin has likewise claimed that one of Russia's new hypersonic missiles will travel at Mach 10, while the other will travel at Mach 20. If true, that would mean a Russian aircraft or ship firing one of them near Bermuda could strike the Pentagon, some 800 miles away, in five minutes. China, meanwhile, has flight-tested its own hypersonic missiles at speeds fast enough to reach Guam from the Chinese coastline within minutes.
---
Business, Economy and Trade
China's Mid-Year Shopping Festival Sees the Rise of Chinese Domestic Brands- PingWest In only the first hour of 6.18 promotion, nine brands hit RMB 100 million ($14.5 million) in sales: Apple, Chinese electrical appliance manufacturer Midea, Nike, Chinese air conditioner maker AUX, Chinese electronics and home appliance maker Haier, French cosmetics company L'Oréal, French cosmetics company Lancôme, Adidas, and Chinese electronics company Xiaomi. In the 23 hours that followed, there were additional over a hundred of brands joining the "RMB 100 million" club, such as Chinese smartphone makers VIVO and OPPO.
China's economic census uncovers more fake data as officials promise 'zero tolerance' to data manipulation | South China Morning Post Local census staff from the county-level city in southwestern Sichuan province, which has a population of more than 600,000, had been instructed by local officials to create a system that required towns and industrial estates to provide data "matched" to a predetermined target for overall gross domestic product. In particular, under pressure from the local government, industrial firms falsified detailed data on business revenues, depreciation of fixed assets, payroll, and operating profits. In 2018, Guanghan reported that its economy grew 9 per cent to 45.1 billion yuan (US$6.5 billion) – significantly more than the national average of 6.6 per cent
Tight Credit Drives Chinese Developers Abroad for Financing - Caixin A total of 18 Chinese real estate companies issued bonds so far in June, of which 11 sold or planned to sell bonds overseas with a total estimated issuance of more $3 billion. That compares with only two offshore bond offerings by domestic developers in May, according to a report by property consultancy China Real Estate Information Corp. (CRIC).
State Sector Gobbles Up Private Solar Firms Reeling From Slashed Subsidies - Caixin Now, after driving the rapid development of China's solar power capacity, debt-saddled private energy companies are being picked apart by the state sector that has swooped in to purchase their assets. Ironically, the private sector's retreat appears to be largely due to the phasing out of overly generous state subsidies, with the state's rise coinciding with the greater marketization of electricity pricing.
China's top performing property market in May tightens purchase rules - Reuters The Xian housing bureau said in a statement on its website that those who obtain a Xian hukou will only be allowed to buy a home in the city after at least a year. Previously, there was no restriction on the buyer as soon as their local status was granted through the permit.
Yicai Global - Harley-Davidson Finds Local Partner to Make Motorbikes in China American motorbike maker Harley-Davidson Motor is joining hands with Chinese counterpart Qianjiang Motorcycle to start selling small-engine motorbikes in China before the end of next year.
Yicai Global - China Mengniu Dairy Paid Coke's Tab to Become Olympic Sponsor, Yili Claims Yili Industrial Group, a 2022 Beijing Winter Olympics sponsor, dropped a bombshell accusation today against its main rival China Mengniu Dairy. Mengniu, which is China's second-largest dairy firm, used the investment relations between massive state-backed food processor China National Cereals, Oils and Foodstuffs and the US Coca-Cola to become a sponsor, it said.
Politics and Law
Violations of women workers' rights widespread says Guangzhou court | China Labour Bulletin Gender discrimination in hiring, dismissal during pregnancy or after childbirth, and sexual harassment in the workplace have become increasingly serious issues since the relaxation of family planning restrictions in 2015, a Guangzhou court revealled Tuesday.
Former senior public security official Meng Hongwei pleads guilty to $2 million bribery case - Global Times Meng Hongwei, former vice minister of public security of China, pleaded guilty on Thursday to accepting 14.46 million yuan ($2.09 million)  in bribes in an open trial in North China's Tianjin.   Meng, also the former head of China's Coast Guard, was accused by prosecutors of taking advantage of the convenience, power and status generated from his posts to seek benefits for others, illegally accepting money and gifts worth more than 14.46 million yuan from 2005 to 2017
人民网:第五届全国网络舆情高峰论坛在兰州举办 Cyber officials, experts and executives from different provinces met in Lanzhou to discuss how to monitor, respond to, and sway public opinion on Internet
Government Should Narrow Campaign Against 'Improper' Place Names, Professor Says - Caixin The national campaign was launched in December by a number of ministries, including the Ministry of Civil Affairs and the Ministry of Public Security, and requires all localities to rectify nonstandard place names.
China's vanishing beards and mosques - BBC News The BBC has found new evidence of the increasing control and suppression of Islam in China's far western region of Xinjiang – including the widespread destruction of mosques
Guideline encourages talent to work in remote areas, grassroots units - Xinhua The General Office of the Communist Party of China Central Committee has issued a guideline to encourage more talent to work in the country's remote areas and grassroots units. The guideline, deliberated and passed at the sixth meeting of the central committee for deepening overall reform held in January, said talent is the key to the development of remote areas and grassroots units.
Beijing Rights Attorney Liu Xiaoyuan Stripped of License After Online Photo - RFA Liu received a call from officials at the Chaoyang district judicial affairs bureau under the Beijing municipal government on Wednesday informing him that his license had been canceled. Liu said he believes the move came in retaliation for a photo he posted to social media on Monday of himself selling insecticides as a street hawker, because he is no longer able to work as a lawyer.
Enlightened One-Party Rule? Ideological Differences between Chinese Communist Party Members and the Mass Public - Chengyuan Ji, Junyan Jiang, 2019 A popular view of nondemocratic regimes is that they draw followers mainly from those with an illiberal, authoritarian mind-set. We challenge this view by arguing that there exist a different class of autocracies that rule with a relatively enlightened base. Leveraging multiple nationally representative surveys from China over the past decade, we substantiate this claim by estimating and comparing the ideological preferences of Chinese Communist Party members and ordinary citizens. We find that party members on average hold substantially more modern and progressive views than the public on issues such as gender equality, political pluralism, and openness to international exchange.
参加过林彪、江青反革命集团案审理的法学家,走了 Law scholar Su Huiyu, former lawyer for the "Jiang Qing, Lin Biao clique", died at 85.
Foreign and Defense Affairs
South China Sea: Satellite image shows Chinese fighter jets deployed to contested island - CNN A satellite image obtained by CNN shows China has deployed at least four J-10 fighter jets to the contested Woody Island in the South China Sea, the first known deployment of fighter jets there since 2017. The image was taken Wednesday and represents the first time J-10s have been seen on Woody or any Chinese-controlled islands in the South China Sea, according to ImageSat International, which supplied the image to CNN.
What Jean Chrétien has done to Canada on the Meng Wanzhou case - Macleans.ca t was only little more than a week ago that the former Conservative Prime Minister Brian Mulroney, in a move heavily freighted by message control and the floating of propositions, came straight out with it, publicly. It would run like this: Ottawa sends Chrétien to Beijing, accompanied by his son-in-law André Desmarais, the Power Corporation heir and honorary chairman of the Canada-China Business Council. The pair leads a delegation to propose a surrender on the terms Chrétien has been lobbying Ottawa to take ever since last December—release Meng Wanzhou. Beijing agrees and offers to lift its boot from Canada's neck— an offer Trudeau would be damned if he refused. // Comment: Dying to know about the relationship between the Desmarais family and Bo Guagua
Canadian Vessels Pass Through Taiwan Strait - WSJ $$ Two Canadian naval ships passed through the Taiwan Strait this week, the first such trip by Canadian vessels in the contentious waterway since ties between Ottawa and Beijing deteriorated following the arrest of a senior Huawei Technologies Co. executive. Security and defense experts warn this threatens to exacerbate China-Canada tensions.
Chinese Embassy Spokesperson's Remarks on the So-called "Human Rights Report on China" Issued by the Swedish Government We noticed that recently the Swedish Government issued a so-called "Human Rights Report on China" again. The report, filled with bias and hostility, makes groundless accusations against China. The people that fabricated this report said in the report that "it does not claim to give a complete picture of the situation for human rights, democracy and rule of law in the country", which shows the report is biased, not objective and unfair.
Yakka Munga station blockaded by protesters in fight to protect Kimberley land - Australian Broadcasting Corporation Aboriginal native title holders have staged a protest at a remote Kimberley cattle station, claiming the Chinese owners of the lease have destroyed their cultural sites in a major land-clearing operation.
Chinese envoy calls for boosting Afghanistan's counterterrorism capacity - Xinhua Ma Zhaoxu, China's permanent representative to the United Nations, expressed the hope that the United Nations Assistance Mission in Afghanistan (UNAMA) will continue to help the country strengthen capacity building in the field of security. The international community should strengthen coordination and cooperation to support Afghanistan in its counterterrorism efforts to effectively respond to terrorism, transnational crime, and drug trafficking, among other threats, he told a UN Security Council meeting on Afghanistan.
China could build 30 'Belt and Road' nuclear reactors by 2030: official - Reuters Wang Shoujun, a standing committee member of the China People's Political Consultative Conference (CPPCC), told delegates on Wednesday that China needed to take full advantage of the opportunities provided by "Belt and Road" and give more financial and policy support to its nuclear sector.
Hong Kong and Macao
No Hong Kong response as activists' deadline passes - AP A deadline imposed by activist groups for Hong Kong's government to meet demands including the scrapping of controversial extradition legislation passed Thursday without an official response. The groups have said they would call on supporters to surround government headquarters if their demands weren't met, continuing demonstrations that saw hundreds of thousands take to the streets in the past weeks.
Fears of capital flight as Beijing tightens grip on Hong Kong | Financial Times $$ Lawrence Loh, a professor at NUS Business School in Singapore, noted that while the extradition bill had unnerved businesses, the "broader uncertainty is not because of the protests but rather because the end of Hong Kong's autonomy is clearly getting closer and closer".
Taiwan
Sentences toughened for China spies - Taipei Times Amendments to the National Security Act (國家安全法) that impose higher sentences and fines on people spying for China or other nations, and increase restrictions on retired officials visiting China were yesterday passed by the legislature.
Tech and Media
Tencent's PUBG Mobile and Game For Peace Combined for Nearly $150 Million in Revenue Last Month Tencent's revenue from mobile battle royale titles more than doubled last month across the App Store and Google Play with the launch of Game For Peace, the publisher's retooling of PUBG Mobile for the Chinese market. Excluding Android revenue from China, Sensor Tower Store Intelligence data shows that the two versions combined to generate an estimated $146 million in player spending during the month of May
Fifth-Gen Filmmaker Peng Xiaolian Passes Away at 66 - Radii Sohu is reporting that fifth-generation filmmaker Peng Xiaolian passed away at 10 AM this morning, at age 66. Born in Hunan province in 1953, according to the Sohu report, Peng was part of the storied Beijing Film Academy class of 1982…Much of Peng's oeuvre, which spans directing, screenwriting and fiction writing, deals with the tumultuous period of the Cultural Revolution and following years.
Baidu Removes 1.1 Billion Problematic Ads as Regulators Clamp Down - Caixin Global Baidu Inc. said it has wiped more than 1 billion advertisements from its platforms this year as regulators have ratcheted up pressure on internet companies to eliminate inappropriate content.
Self-driving firms AutoX, Pony.AI granted California robotaxi permits · TechNode Chinese autonomous vehicle (AV) startups, AutoX and Pony.ai, are joining an exclusive group of companies approved to offer self-driving rides to the public in California after receiving approvals from the California Public Utilities Commission (CPUC) on Tuesday.
Google thwarts shareholder challenge to its China search plans - Engadget Voters at the meeting rejected all shareholder proposals, including a resolution that would have required a human rights impact assessment before Google went forward with a censored Chinese search engine.
Translation: Chinese Rules for Managing Cybersecurity Vulnerabilities Published in Draft Form The Ministry of Industry and Information Technology on June 18 published draft provisions specifying how network product or service providers, network operators, and third-party organizations engaged in vulnerability analysis should handle to cybersecurity vulnerabilities.
Society, Arts, Sports, Culture and History
For China's 'Steel Roses,' World Cup Is Only the Latest Letdown - The New York Times China's national team did not blaze through the group stage of the World Cup in France as much as stumble. It scored a single goal in three matches. Its players appeared outmatched on the field and dogged by disputes off it. The team's star player, Wang Shuang…was pointedly reproached by the coach and benched for significant chunks of the team's first three matches.
Energy, Environment, Science and Health
Acceleration of ice loss across the Himalayas over the past 40 years | Science Advances Himalayan glaciers supply meltwater to densely populated catchments in South Asia, and regional observations of glacier change over multiple decades are needed to understand climate drivers and assess resulting impacts on glacier-fed rivers. Here, we quantify changes in ice thickness during the intervals 1975–2000 and 2000–2016 across the Himalayas, using a set of digital elevation models derived from cold war–era spy satellite film and modern stereo satellite imagery.
Education
New guideline to improve high school education in China - Xinhua According to the guideline, unveiled by the General Office of the State Council on Wednesday, reform goals by 2022 include the establishment of improved systems for nurturing students with an all-round moral, intellectual, physical and aesthetic grounding in addition to hard-working spirit. The government plans to introduce a new syllabus and corresponding textbooks nationwide by 2022, according to the document.
Senior legislator stresses law enforcement to improve higher education - Xinhua Wang Chen, vice chairman of the Standing Committee of the National People's Congress (NPC), on Wednesday stressed all-around enforcement of the Higher Education Law. The efforts aim to create a sound legal environment for building world-class universities, developing world-class disciplines, enhancing national core competitiveness, and improving the development level of China's higher education
Rural and Agricultural Issues
China makes big step to control fall armyworm crop pest - Global Times China's research team has made a breakthrough in dealing with the crop-destroying pest fall armyworm (FAW), which has seriously threatened the safety of China's agriculture and food production.  The team sequenced and assembled the pest's gene and put the assembled gene fragments to the pest's corresponding chromosomal locations, according to a document of the BGI group, a genome sequencing company in China, sent to the Global Times on Wednesday. "The research of gene sequencing and assembly of the FAW is crucial to further studying the pest's pesticide resistance and long-term prevention and control," the document said.