Xi chairs symposium with business leaders; "Xi Thought" coming?; TikTok
The top news out of China today is Xi's meeting with and speech to a group of public and private business leaders. Among his words of encouragement, promises of more effective policies to help the firms and appeals to patriotism, he again repeated the phrase "我们要逐步形成以国内大循环为主体、国内国际双循环相互促进的新发展格局 We must gradually form a new development pattern with the domestic cycle as the main body and the domestic and international cycles mutually promoting each other".
In other words, focus on and build up the domestic market because the global downturn due to the pandemic and other international factors are significantly pressuring China's exports. Xi is pushing the economy to be much more reliant on domestic factors but he did not call for self-reliance, as he again also emphasized opening the economy and treating foreign firms equally.
This is not a meeting that inspires confidence in the state of the PRC economy, but the policymakers are gradually pulling out all the tools to promote growth.
According to official reports seven business leaders spoke at the symposium, including two heads of the Chinese operations of multinationals. The speaker listed first was Chen Zongnian, the chairman and Party secretary of Hikvision, which the US has blacklisted.
Three other Standing Committee members attended-Wang Yang, Wang Huning and Han Zheng. Premier Li Keqiang, titularly in charge of the economy, was not listed as being there.
In addition to officials like Wang Yang, Han Zheng, Liu He and United Front head You Quan who would be expected to attend a meeting with businesspeople, propaganda chief Huang Kunming and the top two foreign affairs officials Yang Jiechi and Wang Yi also attended. Their attendance may shed light on the global scope of the economic challenges as well as the propaganda tasks of talking up confidence in the attempts to stabilize the economy. If any readers have more insight into why they may have attended please let me know.
The Information is just out with a story that ByteDance Investors Discuss TikTok Purchase:
A small group of ByteDance's U.S. investors is discussing with the company's top management the possibility of joining forces to buy a majority stake in TikTok, said people familiar with the situation, as it grows more difficult for the Chinese-owned company to keep control of the fast-growing video app. 

The talks appear to be preliminary, and the idea is just one possible scenario ByteDance is examining as it explores ways of dealing with a possible U.S. ban or forced divestiture of the app, the people said. U.S. government pressure on ByteDance is growing steadily: On Wednesday, the House of Representatives voted to bar all federal employees from loading TikTok onto their government-issued phones. ByteDance founder and CEO Zhang Yiming is open to a sale if that's what is best for the future of the app, The Information previously reported.
I wrote on July 7 about the increasing possibility that the US would block the app:
Perhaps the best route for TikTok is to find a buyer before even more value is destroyed. Such a buyer would have to be one that is palatable to the US government, big enough to buy the entire company and then make the investment to truly separate the entire company from any PRC entanglements, but also able to avoid possible antitrust issues. It is a short list.
But simply changing ownership will likely not be enough. All the data and code, including the content recommendation algorithms, will have to be moved out of China and be made inaccessible to anyone in the PRC, what I meant by "any PRC entanglements". Is that even possible? I do not know, but simply shuffling around share certificates without addressing the core concerns of the US government is unlikely to persuade US policymakers.
Today's Essential Eight:
Xi chairs symposium with entrepreneurs

Flooding

"Xi Thought" coming?

US indicts hackers and a spy

US-China

TikTok

The New Big Brother: China and Digital Authoritarianism

Mass resignation of nuclear energy scientists
Thanks for reading.
---
1. Xi chairs symposium with entrepreneurs
习近平主持召开企业家座谈会强调 激发市场主体活力弘扬企业家精神 推动企业发挥更大作用实现更大发展_CCTV
10 Minute Tuesday CCTV Evening News report on Xi's talk with the business people. Of the 7 executives who spoke, two were from foreign firms--head of Microsoft Research Asia and head of Panasonic (China). The first speaker was the chairman and Party secretary of Hikvision, Chen Zongnian

座谈会上,海康威视数字技术股份有限公司董事长、党委书记陈宗年,中国中化集团有限公司董事长、党组书记宁高宁,武汉高德红外股份有限公司董事长黄立,歌尔股份有限公司董事长姜滨,上海品海饭店总经理赵宪珍,微软全球资深副总裁、微软亚太研发集团主席洪小文,松下电器(中国)有限公司总裁赵炳弟等7位企业家代表先后发言

Wang Yang, Wang Huning, Han Zheng, Ding Xuexiang, Liu He, Yang Jiechi, Huang Kunming, Youquan, Wang Yong, Wang Yi, He Lifeng were listed by name as attending.

中共中央政治局常委、全国政协主席汪洋,中共中央政治局常委、中央书记处书记王沪宁,中共中央政治局常委、国务院副总理韩正出席座谈会。...

丁薛祥、刘鹤、杨洁篪、黄坤明、尤权、王勇、王毅、何立峰出席座谈会。

中央和国家机关有关部门、有关人民团体负责同志,国有企业、民营企业、外资企业、港澳台资企业、个体工商户代表等参加座谈会。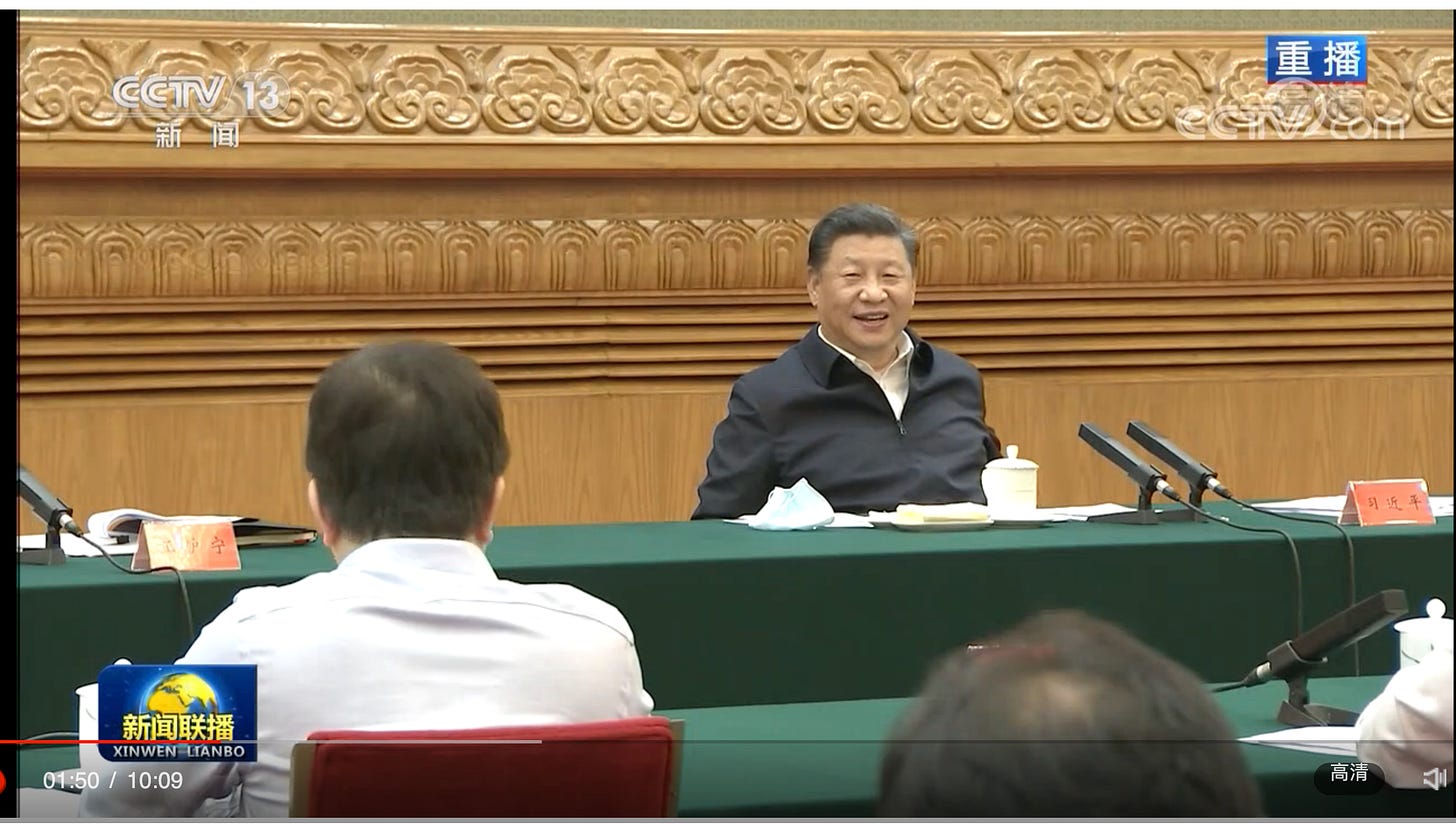 Official transcript of Xi's speech - (受权发布)习近平:在企业家座谈会上的讲话-新华网
First, we should implement policies that provide relief and benefits to enterprises. We should implement more proactive fiscal policies and more prudent and flexible monetary policies, and enhance the pertinence and timeliness of macroeconomic policies. We will continue to reduce taxes and fees, rents and interest rates, and ensure that the relief measures reach the grassroots and directly benefit market players. We will strengthen financial support for market players and develop inclusive finance to effectively alleviate the financing difficulties and expensive financing for enterprises, especially small and medium-sized enterprises. We will support the development of domestic market for marketable export commodities. State-owned enterprises, especially central enterprises, should play a leading role to drive upstream and downstream enterprises of all kinds to tide over the difficulties. International cooperation should be strengthened to protect the supply chain of the industry.

第一,落实好纾困惠企政策。要实施好更加积极有为的财政政策、更加稳健灵活的货币政策,增强宏观政策的针对性和时效性。要继续减税降费、减租降息,确保各项纾困措施直达基层、直接惠及市场主体。要强化对市场主体的金融支持,发展普惠金融,有效缓解企业特别是中小微企业融资难融资贵问题。要支持适销对路出口商品开拓国内市场。国有企业特别是中央企业要发挥龙头带动作用,带动上下游各类企业共渡难关。要加强国际合作,保护好产业链供应链。

First, I hope we will enhance our patriotic feelings. Enterprise marketing knows no borders, and entrepreneurs have their motherland. Excellent entrepreneurs must have a high sense of mission and a strong sense of responsibility for the country and the nation, and closely combine the development of their enterprises with the prosperity of the country, the prosperity of the nation and the happiness of the people, and take the initiative to bear the responsibility and share the worries for the country. Patriotism is the glorious tradition of excellent entrepreneurs in China in recent times. From Zhang Jian in the late Qing Dynasty to Lu Zuofu and Chen Jiageng during the war, and then to Rong Yiren and Wang Guangying after the founding of the new China [Bill: Rong and Wang "donated" all their businesses to the government], and so on, are all examples of patriotic entrepreneurs. Since the reform and opening up, a large number of patriotic entrepreneurs have emerged in China. Entrepreneurs' patriotism can take many forms, but the first and foremost is to run a first-class enterprise and lead it to strive and strive for the best, so as to achieve better quality, higher efficiency, greater competitiveness and greater influence.

第一,希望大家增强爱国情怀。企业营销无国界,企业家有祖国。优秀企业家必须对国家、对民族怀有崇高使命感和强烈责任感,把企业发展同国家繁荣、民族兴盛、人民幸福紧密结合在一起,主动为国担当、为国分忧,正所谓"利于国者爱之,害于国者恶之"。爱国是近代以来我国优秀企业家的光荣传统。从清末民初的张謇,到抗战时期的卢作孚、陈嘉庚,再到新中国成立后的荣毅仁、王光英,等等,都是爱国企业家的典范。改革开放以来,我国也涌现出一大批爱国企业家。企业家爱国有多种实现形式,但首先是办好一流企业,带领企业奋力拼搏、力争一流,实现质量更好、效益更高、竞争力更强、影响力更大的发展...

As I said at the "Two Sessions" nationwide this year, facing the future, we must gradually form a new development pattern with the domestic cycle as the main body and the domestic and international dual cycles mutually promoting each other. The main considerations are: the world today is undergoing major changes unseen in a century, and a new round of scientific and technological revolution and industrial transformation are flourishing. In the past, under the external environment of the in-depth development of economic globalization, the "two ends" of the market and resources played an important role in the rapid development of our country. In the current external environment of rising protectionism, downturn in the world economy, and shrinking global markets, we must give full play to the advantages of the domestic super-large-scale market, boost the domestic economy and smooth the domestic cycle to add impetus to our country's economic development and drive the recovery of the world economy. It is necessary to enhance the modernization level of the industrial chain and supply chain, vigorously promote technological innovation, accelerate the research on key core technologies, and create new advantages for future development.

我在今年全国"两会"上讲过,面向未来,我们要逐步形成以国内大循环为主体、国内国际双循环相互促进的新发展格局。主要考虑是:当今世界正经历百年未有之大变局,新一轮科技革命和产业变革蓬勃兴起。以前,在经济全球化深入发展的外部环境下,市场和资源"两头在外"对我国快速发展发挥了重要作用。在当前保护主义上升、世界经济低迷、全球市场萎缩的外部环境下,我们必须充分发挥国内超大规模市场优势,通过繁荣国内经济、畅通国内大循环为我国经济发展增添动力,带动世界经济复苏。要提升产业链供应链现代化水平,大力推动科技创新,加快关键核心技术攻关,打造未来发展新优势。..

I have repeatedly stressed that China's open door will not be closed, but will only get wider and wider. Rather, it will make better use of domestic and international markets and resources to achieve stronger and more sustainable development by harnessing the potential of domestic demand to better connect the domestic and international markets. In the long run, economic globalization will remain a historical trend, and the long-term trend will be towards division of labour and cooperation among countries for mutual benefit and win-win solutions. We must stand on the right side of history, insist on deepening reform and opening up, strengthen openness and cooperation in science and technology, promote the building of an open world economy and build a community of human destiny.

我多次强调,中国开放的大门不会关闭,只会越开越大。以国内大循环为主体,绝不是关起门来封闭运行,而是通过发挥内需潜力,使国内市场和国际市场更好联通,更好利用国际国内两个市场、两种资源,实现更加强劲可持续的发展。从长远看,经济全球化仍是历史潮流,各国分工合作、互利共赢是长期趋势。我们要站在历史正确的一边,坚持深化改革、扩大开放,加强科技领域开放合作,推动建设开放型世界经济,推动构建人类命运共同体。
President Xi: Stimulating market entities - Global Times
Entrepreneurs attending the meeting included Chen Zongnian, Chairman of Hikvision, Ning Gaoning, chairman of Sinochem and Huang Li, chairman of Guide Infrared and others, who voiced advice over the current economic situation, technological innovation and talent attraction.

Video surveillance company Hikvision was placed on a US trade blacklist last year over so-called national security concerns together with Huawei Technologies.

"Xi's words are also an encouragement to those Chinese firms who face extreme pressure because of the US' relentless crackdown, convincing them that the stable recovery of China's economy will be the big boost for their journey to go ahead despite the headwinds," an insider told the Global Times on Tuesday.

Xi noted that China should concentrate on "bettering its own affairs" amid rising protectionism, a chilling economic downturn and shrinking global market. The country will not close its doors but rather utilize the sheer size of its domestic market and better connect it with the global market to achieve robust and sustainable economic growth.
Be more patriotic, China's Xi tells companies as targets economic upturn - Reuters
Xi said the government will target a good growth rate this year, making fiscal policy more proactive, prudent monetary policy more flexible, and macro-economic policies more targeted and timely, according to the report. Authorities would also continue to cut taxes, administrative fees, rent and rates to benefit businesses.
China to strengthen law enforcement for better business environment - Xinhua
According to a statement issued Tuesday by the Commission for Political and Legal Affairs of the Communist Party of China Central Committee, authorities will crack down on crimes such as contract frauds, illegal business operations and other acts that disrupt normal business order, as well as those violating personal or property rights of business owners.

The commission has issued a circular calling for better judicial policies and practices serving the country's efforts to ensure stability on the six fronts and security in the six areas. The six fronts refer to employment, the financial sector, foreign trade, foreign investment, domestic investment, and expectations. The six areas refer to job security, basic living needs, operations of market entities, food and energy security, stable industrial and supply chains, and the normal functioning of primary-level governments.
中央政法委印发意见强调 依法保障和服务疫情防控常态化条件下经济社会发展-中国长安网
The Central Political and Legal Committee issued an opinion emphasizing safeguarding and serving economic and social development under normal conditions of epidemic prevention and control in accordance with the law.

总之,通篇看下来,这份文件传递了显著的信号:疫情下半场,不能掉以轻心,但接下来要全力做到"六稳""六保"!

In short, throughout the paper, this document sends a significant signal: the second half of the epidemic can not be taken lightly, but we must do our best to fulfill the "six stabilities" and "six ensures"!
Better business environment, services for market entities - Gov.cn
The State Council issued a circular on July 21 to further improve the business environment and better serve market entities.

It stressed more convenience for investment and construction, easier approval process and conditions for enterprise production and operations, optimized business environment for foreign trade and investment, lower thresholds for employment and entrepreneurship, higher business-related service quality and efficiency, and a long-term mechanism for business environment improvement.
---
2. Flooding
Worst Flooding in Decades Raises Concerns Over China's Three Gorges Dam - WSJ $$
The water level in the reservoir was more than 50 feet higher than its flood-limit level, with inflows reaching 61 million liters a second during the peak of the rainfall Saturday, China's state-run Xinhua News Agency reported. The giant dam is capable of handling inflows of about 83.7 million liters a second.

"The reservoir has to set aside sufficient space heading into August as larger floods may occur upstream," Chen Guiya, deputy chief engineer at China's Ministry of Water Resources, told Xinhua on Saturday, as three lower floodgates were opened to release some of the pressure. "The Three Gorges Dam is unable to do everything all by itself."..

Some Chinese officials have blamed the heavy rains on climate change. Song Lianchun, director of China's National Climate Center, told reporters last week that the number of days of heavy rain in China has been rising by roughly 4% each decade over the past six decades.

Though most of the concerns have surrounded the Three Gorges Dam, the biggest immediate danger may be to the 94,000 smaller dams that dot China's rivers, many of which were constructed in the 1950s and 1960s.
Latest round of defamation to Three Gorges Dam shows lack of basic knowledge - Global Times
Chinese engineers and mechanics experts on Tuesday denounced a new round of Western media reports that hyped the Three Gorges Dam deformation rumor, saying the reports were taken out of context and exposed their anti-China mindset and lack of basic physics knowledge...

Some Western media have never been so obsessed with a single dam, unless it was located in China. The Three Gorges Project on China's Yangtze River has faced smears and rumors, and the "deformation theory" was just another groundless hype, after previous accusations like collapse risks, causing earthquakes and aggravating floods were proven absurd, observers said.
Air force missile brigade gets zero non-combat attrition rate in days of flood fight - China Military
Troops of a ground-based missile brigade of the air force under the PLA Eastern Theater Command have been fighting the flood in south China for nearly half a month. Up to now, no service members got ill and the non-combat attrition rate is zero, in spite of the troops' long time flood-fighting efforts in high temperature and high humidity.
---
3. "Xi Thought" coming?
New Xi Jinping Foreign Policy Center Opens | China Media Project
Xi Jinping's rhetorical star continues to rise. And there are now further signs that the CCP general secretary's banner term, the unwieldly "Xi Jinping Thought on Socialism with Chinese Characteristics for the New Era" (习近平新时代中国特色社会主义思想), could soon be formally shortened into the far more potent "Xi Jinping Thought" (习近平思想), putting China's leader on at least equal rhetorical footing with his loftiest predecessor, Mao Zedong...

Over the past two years, we have seen the formulation of a number of shortened permutations of various forms of "Xi thought" applied to several policy areas. These have included "Xi Jinping Thought on Strengthening the Military" (习近平强军思想), "Xi Jinping Thought on Ecological Civilization" (习近平生态文明思想) and "Xi Jinping Thought on Foreign Policy" (习近平外交思想). In the realm of economics, there has also been a "Xi Jinping Thought on Socialist Economics with Chinese Characteristics" (习近平新时代中国特色社会主义经济思想), though this ponderous phrase has yet to become "Xi Jinping Thought on Economics."
Official translation of Wang YI's speech Monday- Study and Implement Xi Jinping Thought on Diplomacy Conscientiously and Break New Ground in Major-Country Diplomacy with Chinese Characteristics
Today is an important day in China's diplomatic history, as we are gathered here to inaugurate the Xi Jinping Thought on Diplomacy Studies Centre. On behalf of all members of the Chinese foreign service, I would like to extend our warm congratulations on the opening of the Study Centre. I would also like to express my sincere thanks to the academics who have been dedicated to the study of Xi Jinping Thought on Diplomacy and to the theoretical construction of China's foreign policy....

At the same time, the world is going through complex and profound changes unseen in a century. With the foresight of a great strategic thinker and a keen appreciation of the laws of human society, General Secretary Xi Jinping has made a comprehensive assessment of the trajectory of the international situation and the historical juncture in which China finds itself, and put forward a series of new ideas, new propositions and new initiatives with distinctive Chinese features, which reflect the call of our times and lead the trend of human progress. He has given clear answers to a series of key questions in theory and practice, namely, what kind of world and what type of international relations China should promote; what kind of foreign policy best serves China, and how China is to conduct diplomacy in the new era. Xi Jinping Thought on Socialist Diplomacy with Chinese Characteristics for a New Era, or Xi Jinping Thought on Diplomacy for short, has thus been formed and established, pointing the direction and providing fundamental guidance for China's foreign policy in the new era.
---
4. US-China
Secretary Michael R. Pompeo and British Foreign Secretary Dominic Raab at a Press Availability - United States Department of State
We of course began with the challenge presented by the Chinese Communist Party and the COVID-19 virus that originated in Wuhan, China. On behalf of the American people I want to extend my condolences to the British people from your losses from this preventable pandemic. The CCP's exploitation of this disaster to further its own interests has been disgraceful. Rather than helping the world, General Secretary Xi has shown the world the party's true face. We talked about how we've seen Hong Kong's freedoms crushed. We've watched the CCP bully its neighbors, militarize features in the South China Sea, and instigate a deadly confrontation with India.

I want to take this opportunity to congratulate the British Government for its principled responses to these challenges. You made a sovereign decision to ban Huawei from future 5G networks. You've joined other free nations to condemn China's broken promises on the Sino-British treaty. You generously opened your doors to Hong Kongers who seek nothing more and fleeing just for some freedom. And yesterday you suspended your extradition treaty and extended your arms embargo on China to Hong Kong itself. We support those sovereign choices; we think well done. I'll meet later today with Hong Kong democracy advocate Nathan Law and Sir Chris Patten, the last governor of Hong Kong. I'm sure those will be eye-opening and important discussions too...

We think that the entire world needs to work together to ensure that every country, including China, behaves in the international system in ways that are appropriate and consistent with the international order. You can't go make claims for maritime regions that you have no lawful claim to. You can't threaten countries and bully them in the Himalayas. You can't engage in cover-ups and co-opt international institutions like the World Health Organization.

We want to see every nation who understands freedom and democracy and values that and knows that it's important to their own people, their own sovereign country to be successful, to understand this threat that the Chinese Communist Party is posing to them and to work both themselves and collectively to restore what is rightfully ours...

we want every nation to work together to push back against the Chinese Communist Party's efforts in every dimension that I described to you today. That certainly includes the United Kingdom. It includes every country. We hope we can build out a coalition that understands this threat, will work collectively to convince the Chinese Communist Party it's not in their best interest to engage in this kind of behavior.

Comment: Such a coalition is something that would cause significant issues for Xi and his CCP
U.S. Is Positioning Military Assets Around Asia to Counter China, Esper Says - WSJ $$
Speaking from the Pentagon virtually to the London-based International Institute for Strategic Studies, Mr. Esper said the U.S. military would continue to send Navy ships into the region to counter China's expansionary policies, and to sell arms to Taiwan, over which Beijing claims sovereignty...

He said China had bullied regional allies and partners out of as much as $2.6 trillion in potential offshore oil and gas revenue..

"I don't think anybody in Taiwan believes at this point that China has any intention whatsoever of living up to its one country, two systems," Mr. Esper said, referring to Beijing's slogan of its relationship to Taiwan (which it also uses in regard to Hong Kong and Macau). He said China had been "more aggressive" toward Taiwan.
US defence secretary Mark Esper says he plans to visit China this year - The Straits Times
Mr Esper said he had spoken to his Chinese counterpart several times and hopes to make the trip by year's end.

He told a security seminar that one of the goals of the trip would be to "establish the systems necessary for crisis communications and reinforce our intentions to openly compete in the international system in which we all belong".

Secretary of State Mike Pompeo said on Monday that the US would treat Beijing's pursuit of resources in the South China Sea as illegal, ramping up support for South-east Asian nations with rival claims and triggering a furious response from Beijing.
Video - Esper Speaks on Security in Indo-Pacific > U.S. DEPARTMENT OF DEFENSE > Defense Department News
Is There a Future for Values-Based Engagement with China? | ChinaFile Conversation
does there remain space, on either side, for academic and civil-society engagement between the U.S. and China to continue to operate? And if so, what form should it take, and to what possible end(s)?
Trump blasts Beijing in public, but privately Trump org imports tons of Chinese goods - CNN
Since September of last year, Trump properties in the US have imported more than eight tons of goods from China, CNN has learned by reviewing US customs data compiled by ImportGenius, which tracks information companies are legally bound to provide to US customs when they import goods to the US. The imports have arrived to decorate his properties while the President has sought to dress down China.
China's Lockheed Martin sanctions reveal limited options in fighting economic war with US | South China Morning Post
more than a year after Beijing warned that it was compiling an Unreliable Entity List of firms whose actions hurt China – in apparent response to the US Commerce Department's Entity List that Washington has used to sanction a number of Chinese firms, Huawei in particular – the Chinese government has yet to publish which foreign businesses will be on the list or what punishments they will face.
U.S. holds naval exercises with allies in Asia amid China tension - Reuters 
The United States is conducting two military exercises in Asian waters this week involving allies Japan, Australia and India, the U.S. navy said on Tuesday.
---
5. US indicts alleged hackers and a spy
Two Chinese Hackers Working with the Ministry of State Security Charged with Global Computer Intrusion Campaign Targeting Intellectual Property and Confidential Business Information, Including COVID-19 Research | OPA | Department of Justice
A federal grand jury in Spokane, Washington, returned an indictment earlier this month charging two hackers, both nationals and residents of the People's Republic of China (China), with hacking into the computer systems of hundreds of victim companies, governments, non-governmental organizations, and individual dissidents, clergy, and democratic and human rights activists in the United States and abroad, including Hong Kong and China. The defendants in some instances acted for their own personal financial gain, and in others for the benefit of the MSS or other Chinese government agencies. The hackers stole terabytes of data which comprised a sophisticated and prolific threat to U.S. networks.

The 11-count indictment alleges LI Xiaoyu (李啸宇), 34, and DONG Jiazhi (董家志), 33, who were trained in computer applications technologies at the same Chinese university, conducted a hacking campaign lasting more than ten years to the present, targeting companies in countries with high technology industries, including the United States, Australia, Belgium, Germany, Japan, Lithuania, the Netherlands, Spain, South Korea, Sweden, and the United Kingdom. Targeted industries included, among others, high tech manufacturing; medical device, civil, and industrial engineering; business, educational, and gaming software; solar energy; pharmaceuticals; defense. In at least one instance, the hackers sought to extort cryptocurrency from a victim entity, by threatening to release the victim's stolen source code on the Internet. More recently, the defendants probed for vulnerabilities in computer networks of companies developing COVID-19 vaccines, testing technology, and treatments.
Assistant Attorney General John C. Demers Remarks for Press Conference on United States V Li, Et Al. (EDWA) | OPA | Department of Justice
The U.S. Attorney's Office for the Eastern District of Washington (EDWA) and the National Security Division (NSD) have charged two Chinese hackers working with the Chinese Ministry of State Security (MSS), including the Guangdong State Security Department (GSSD) of the MSS, with a sweeping global computer intrusion campaign...

The activities outlined in the indictment are concrete examples of two concerning trends: first, and one we've seen for some time, China is using cyber-enabled theft as part of a global campaign to "rob, replicate, and replace" non-Chinese companies in the global marketplace, and second, and one that is perhaps less appreciated by the public and international partners, China is providing a safe haven for criminals who, as in this case, are hacking in part for their own personal profit but willing to help the state...

The indictment specifically outlines how stealing intellectual property from companies in these high-tech industries could help Chinese companies replicate the targeted technology and eventually edge out their non-Chinese competitors.
Visiting Stanford University Researcher Charged with VISA Fraud | USAO-NDCA | Department of Justice
Song Chen has been charged in a criminal complaint with visa fraud in connection with a scheme to lie about her status as an active member of the People's Republic of China's military forces while in the United States conducting research at Stanford University..

The listing allegedly included a photograph of Song wearing what appears to be a military uniform. Further, an article published in 2015 identifies Song as the doctor at the PLA Air Force hospital who performed the autopsy on the former chief physician of the MRI Department at the hospital.

Finally, according to the affidavit, a search of Song's external hard drive, recovered pursuant to a court-authorized search warrant, found that, on June 21, 2020, Song had deleted a folder titled, in Chinese, "2018 Visiting School Important Information." The search recovered deleted documents from this folder. The affidavit alleges that one of the recovered documents was a letter from Song to the Chinese Consulate in New York, which explained that she was extending her time in the United States for another year, and wrote that her stated employer, Beijing Xi Diaoyutai Hospital, is a false front, and that, as a result, she had obtained approval for her extension from the PLA Air Force and FMMU. The letter further allegedly explained that, as these Chinese military approval documents were classified, she could not transmit them online.
气炸!留学生回国被美国海关没收所有电子设备,翻遍U盘找"罪证"
"Outrageous!" College Daily the WeChat account reported that US Customs officials have been targeting Chinese STEM students, confiscating their electronic devices, interrogating them at airports for evidences of their espionage.
---
6. TikTok
Caixin cover Story: Will TikTok Be the Next Huawei?
Zhang Yiming, founder of the wildly popular but recently besieged TikTok, has done everything he could to localize the short video app in global markets to ease rising political pressures. But he appears to be increasingly boxed in, said a Chinese investor in the app's parent company ByteDance...

Zhang spent half of 2019 in Washington trying to shore up relations with the American government. Meanwhile, TikTok localized its overall operations, including branding and personnel.

TikTok's employees and business are separate from those of its parent ByteDance, an insider from a ByteDance overseas investor told Caixin. Zhang has discussed options with investors for addressing the American government's concerns, including a new board, Zhang giving up his super voting power and key executives changing their nationalities.

Zhang can't travel to the U.S. right now amid the Covid-19 pandemic, but TikTok's overseas investors, including KKR and General Atlantic, are actively lobbying for the company, the person from an investor said.
The original Caixin cover story on TikTok - 最新封面报道|TikTok快跑_财新周刊频道_财新网
张一鸣现在最紧迫的事是把做成全球的本地化公司,但他能做的都已经做了。"7月中旬,一位字节跳动的中资投资机构内部人士,用"一筹莫展"来形容字节跳动和它的创始人张一鸣,"卖给Facebook也只是市场猜测,张本无意卖,而且如果在美国被禁,用户没了,买的意义也就没有了。"
Trump campaign says 'TikTok is spying on you' in new Facebook ads
The campaign this week ran ads on Facebook claiming that the wildly popular, Chinese-owned social media app is spying on its users, linking to a survey asking respondents whether it should be banned in the US.

"TikTok is spying on you," reads one of the ads, which says the app had been "caught red handed" spying on users' clipboards and monitoring what they type.
TikTok Parent Spends Record on Lobbying as U.S. Pressure Rises - Bloomberg
Beijing-based ByteDance Ltd. spent $500,000 in the three months ended June 30, up from its previous record of $300,000 in the first quarter, according to the company's lobbying disclosure Monday.
ByteDance Appoints Former TikTok Boss and Musical.ly Founder Alex Zhu As Strategic Investment Head - Pandaily
Alex Zhu, Vice President of Products and Strategy and former Head of TikTok, has accepted a new appointment as Head of Bytedance's Strategic Investments.

Prior to Zhu, Bytedance's Head of Strategic Investment was Yan Shou, the current Head of Gaming Business. In early February 2020, Yan Shou was transferred to a new post to take full charge of the company's rising gaming business. The post was vacant for some time after Yan left, and will be facilitated by Ronnie Hua, former Head of Human Resources of ByteDance until Zhu takes over.
Pakistan warns TikTok video service, blocks Bigo Live app - AP
Pakistan has threatened China's TikTok and blocked the Singapore-based Bigo Live streaming platform, citing what the regulating authority called widespread complaints about "immoral, obscene and vulgar" content on the apps.
Australia scrutinises Chinese-owned TikTok over foreign interference, data privacy | South China Morning Post
Offices of both the Home Affairs and Attorney-General are discussing TikTok's operations, the sources confirmed.

Prime Minister Scott Morrison said his government was "having a good look" at TikTok, which has also fallen under US scrutiny for "national security risks".
What to Do About TikTok and WeChat: Why the US has no choice but to ban the app- ChinaTalk
---
7. The New Big Brother: China and Digital Authoritarianism
The future of the Internet could be Chinese and authoritarian, warns Senate Foreign Relations report - The Washington Post
China will write the rules of the Internet unless the United States and its allies counter Beijing's efforts at mass surveillance and censorship, according to a report released Tuesday by the top Democrat on the Senate Foreign Relations Committee...

The "United States is now on the precipice of losing the future of the cyber domain to China," said the report, commissioned by Sen. Robert Menendez (N.J.), the most senior Democrat on the Senate Foreign Relations Committee...

Menendez's report argues that the Trump administration has failed to adequately respond to the threat posed by China's approach to cyberspace, and that the U.S. government needs to rally the international community around the common goal of offering an alternative to the Chinese digital model.

The report: "The New Big Brother: China and Digital Authoritarianism" (PDF)
Comment: The bipartisanship in DC for a tougher policy towards China is striking. The debate is around the details about how to craft and prosecute a tougher approach, not whether it makes sense, and it is hard to see that changing with a new President and Congress in 2021
---
8. Mass resignation of nuclear energy scientists
Vice Premier Sends Team to Investigate Mass Resignations of Scientists - Caixin
China's Vice Premier Liu He said on Tuesday that the State Council would dispatch a team to investigate mass resignations at the Chinese Academy of Sciences' Institute of Physical Science in Hefei, East China's Anhui province, according to the academy's official website..

The cause of the collective resignation is unclear. According to Chinese media reports, two key factors may have contributed to the decision by scientists at the Institute of Nuclear Energy Safety Technology (INEST) to resign. One is that the institute could not secure big research projects due to a lack of funds, and the other is that the scientists were "poached" and left for better jobs.
为落实中央领导同志重要批示精神,国务院副总理刘鹤听取中科院有关情况汇报,并要求国务院办公厅、科技部、中科院等单位成立专项工作组,近日赴中科院合肥物质科学研究院,就其下属研究所职工离职事件展开深入调研。
---
Business, Economy and Trade
Foreign Ministry Spokesperson Wang Wenbin's Regular Press Conference on July 21, 2020 Global Times: European media are reporting that China's Ministry of Commerce is considering retaliating against European companies like Nokia and Ericsson should European Union members follow the lead of the US and UK in barring Huawei from 5G networks. Can you confirm this? Wang Wenbin: It was groundless rumor and malicious fake news. If you trace the European reports to their origin, you'll end up with a Wall Street Journal story quoting so-called "sources". The sole purpose of fabricating such fake news is to sabotage the good cooperation between China and Europe. I would like to reiterate that China's position on 5G is consistent and clear. China's 5G market is open to global telecom companies including European ones like Nokia and Ericsson, who have already won the bid in Chinese projects. We oppose the erroneous practice of stretching the national security concept and defying international trade rules to exclude certain companies of particular country. We also hope that European countries will provide a fair, just, open and non-discriminatory business environment for Chinese companies.
New railway laid to quicken Xinjiang's exchanges with Qinghai and beyond - Xinhua The 1,213.7-km Golmud-Korla Railway, linking the city of Golmud in Qinghai and the city of Korla in Xinjiang, is the third railway for exchanges between Xinjiang and other provincial regions.
Japan pays 87 companies to 'exit China", shift production home or around Asia - The Washington Post Japan is paying 87 companies to shift production back home or into Southeast Asia after the novel coronavirus pandemic disrupted supply chains and exposed an overreliance on Chinese manufacturing.
China's Reopened Cinemas Make Slow Start - Variety By midnight, local time, cumulative nationwide gross takings totalled $502,000 (RMB3.51 million), according to figures from ticketing platform Maoyan. Earlier in the day, state media had reported that the total included more than $150,000 of prior bookings, which indicates that only modest numbers of cinema-goers made decisions on the day.
Yicai - China's Central Bank to Test New Fintech in Shanghai Sandbox Cutting-edge financial technologies in blockchain, Big Data and artificial intelligence are to be tried out by the Shanghai branch of China's central bank to help make the city's financial services more inclusive. Eight innovative fintech projects will be tested in a so-called regulatory sandbox, the People's Bank of China's Shanghai branch said today.
Alibaba Introduces Starbucks Mobile Pre-Order Feature for Multiple Chinese Platforms - Pandaily Alibaba Group today announced that Starbucks China has introduced its mobile order and pay feature "Starbucks Now" for four Alibaba platforms including e-commerce marketplace Taobao, mobile map app Amap, local services platform Koubei and online payment platform Alipay. By activating "Starbucks Now" through any of these apps, users can pre-order and pay for their Starbucks' drinks and food online, and then pick up in-person at offline stores across the country. Previously, this service was only available through the Starbucks China mobile app.
Washington blacklists key Apple supplier amid US-China decoupling - Nikkei Asian Review Camera and touch module supplier O-Film Group was one of 11 Chinese companies added to the U.S. Commerce Department's Entity List on Monday over alleged human rights abuses involving China's Uighur Muslim minority. The Shenzhen-listed O-Film is a rising star in the consumer electronics and automobile supply chains, and supplies a wide range of American companies, including Microsoft, HP, Dell, General Motors and Amazon, as well as Apple. It also counts Samsung Electronics, Huawei Technologies, Oppo and Sony as clients.
Investment Bank CICC Plans to Triple Size of Mainland IPO - Caixin Global Hong Kong-listed CICC will issue up to 1.4 billion shares on the Shanghai Stock Exchange, up from the 458.6 million shares in the initial plan in late February, according to a company statement on Monday. The new shares will amount to as much as 24.77% of its total shares after the offering.
Exclusive: Didi Rides Toward Hong Kong IPO, Source Says - Caixin Ride-sharing specialist Didi Chuxing is preparing to make a listing in Hong Kong, a source close to its top executives told Caixin, as the 8-year-old company often called the Uber of China comes under pressure from investors looking to cash out.
Ministries' joint conference system to regulate cyber market - Gov.cn The document is aimed at further beefing up cyber market regulation and inter-ministerial coordination and cooperation, in an effort to usher in the ongoing healthy development of the cyber market. The joint conference consists of 14 units, including the State Administration for Market Regulation (SAMR), the Publicity Department of the CPC Central Committee, and the Ministry of Industry and Information Technology, of which SAMR takes the lead, the document said.
Yum China named as sponsor for Beijing 2022 Winter Olympics - Reuters Yum China Holdings Inc was named as an official retail food services sponsor for the Beijing 2022 Winter Olympics, the KFC operator in China said on Monday.
Politics and Law
Local congress elects new mayor, supervisory commission director - SHINE News Gong Zheng was elected mayor of Shanghai during a plenary session of the city people's congress on Tuesday..Before working in Shanghai, he was vice head of China's General Administration of Customs; Party Secretary of Hangzhou, Zhejiang Province; vice head of the Zhejiang province government; head of the government of Shandong Province and vice Party Secretary of Shandong...Also at the plenary session of the Shanghai People's Congress on Tuesday, Liu Xuexin was elected director of the city's supervisory commission...He was formerly vice head of Tianjin Customs, head of the discipline inspection commission in Fujian Province, director of the province's supervisory commission and a member of the standing committee of the CPC Fujian provincial committee.
Reformulation of CPC electoral regulations meets new challenges: authority - Xinhua The recent reformulation of regulations governing elections within primary-level Communist Party of China (CPC) organizations was necessary to meet new conditions and challenges, the Organization Department of the CPC Central Committee said on Tuesday. Made public on Monday in a document consisting of seven sections and 41 articles, the reformulation "implements the latest spirit of the CPC Central Committee, responds to needs at the primary level, and focuses on solving problems with a series of practical measures," the department said in a press release. // 全面提高新时代基层党组织选举质量——中央组织部负责人就制定颁布《中国共产党基层组织选举工作条例》答记者问————要闻——中央纪委国家监委网站 The official "Q&A" from the Organization Department
Alibaba's DingTalk to promote digitalized grassroots governance - Xinhua Alibaba's communication app DingTalk said that it will invest 100 million yuan (about 14.3 million U.S. dollars) in the digitalization of 100 Chinese county-level regions and help build digital infrastructure for 10,000 villages.
A war never to forget | Stories shared by Xi Jinping - Xinhua  Among the many Chinese cultural values is to draw lessons from bitter experiences -- as a saying goes -- "to know shame is akin to courage." The Jiawu War is a story President Xi Jinping calls on the people never to forget. // The First Sino-Japanese War 1894-95
Former Policy Bank Official Falls Under Investigation - Caixin Yang Degao, a former deputy head of the Hubei branch of China Development Bank (CDB), the top policy lender in the country, has been put under investigation by anti-graft watchdogs on suspicion of serious violations of law and Communist Party discipline, according to an official statement (link in Chinese) on Tuesday.
State Council approves establishing Chinese People's Police Day - Gov.cn The State Council has approved the establishment of Chinese People's Police Day, in reply to the Ministry of Public Security. It decided to set Jan 10 as the day, starting in 2021, and the State Council authorized the ministry to work out the details with other relevant departments.
Cultural Revolution, Again? What next approaching 2022? | The China Collection Carl Minzner and I discussed about what it might mean when personalistic politics continues in China and the possibility of another mass mobilization, Cultural-Revolution style. The conversation started on Twitter last week and then expanded to touch upon other topics that have become too complicated for me to reflect on in tweets. So I put them together here, with Carl's consent.
Foreign and Defense Affairs
Xi says Palestine question always the core issue in Middle East - Xinhua During his phone talk with Palestinian President Mahmoud Abbas, Xi, on behalf of the Chinese government and people, expressed sincere condolence and firm support to the Palestinian government and people in their fight against the COVID-19 epidemic...China supports the "two-state solution" as the right direction, and sticks to dialogue and negotiations on an equal footing, Xi said, adding that the international community should take an objective and fair position and build up efforts for promoting peace... The Palestinian side will continue to stand firmly with China, and support China's legitimate position on Hong Kong, Xinjiang and other matters concerning China's core interests, said Abbas, adding that his country expects China to play a more important role in promoting a just settlement of the Palestinian issue.
Most Canadians think Trudeau should rely less on trade with China: Ipsos poll - National | Globalnews.ca While 82 per cent of respondents said Canada should reduce its trade reliance with Beijing, 38 per cent believed Ottawa should completely sever economic ties with China.
Unpacking the Recent Uighur ICC Complaint Against Chinese Leaders - Lawfare On July 6, 2020, two Uighur activist groups, the East Turkistan Government in Exile and the East Turkistan National Awakening Movement, submitted a complaint to the Office of the Prosecutor (OTP) at the International Criminal Court (ICC) against Chinese leadership. The complaint alleged that the officials engaged in genocide and crimes against humanity against the Uighur minority population in Xinjiang.
Nucleic acid test certificate required for travelers to Chinese mainland -ECNS All travelers arriving in Chinese mainland should hold a negative nucleic acid test certificate no older than five days before boarding, Civil Aviation Administration, General Administration of Customs, and China's Foreign Ministry announced on Tuesday. // A sign they are moving to loosen entry restrictions?
China strongly condemns UK's suspension of extradition treaty with HKSAR - Xinhua "Now the UK side has gone even further down the wrong road in disregard of China's solemn position and repeated representations. It once again contravened international law and the basic norms governing international relations and blatantly interfered in China's internal affairs in an attempt to disrupt the implementation of the National Security Law for the HKSAR and undermine the city's prosperity and stability," the spokesperson said. // Question: How is terminating an extradition treaty interfering in a country's internal affairs?
China Uses W.H.O. Inquiry to Tout Coronavirus Response - The New York Times "Obviously the arrival and quarantine of individuals and working remotely is not the ideal way to work, but we fully respect the risk-management procedures put in place," Mike Ryan, the W.H.O.'s chief of emergency response, said at a news conference on Friday. He said it would take weeks before a full team would be able to visit China.
China overtakes US to become Australia's leading research partner - The Australian The paper from the Australia-China Relations Institute found the proportion of Australian scientific publications involving a researcher affiliated with a Chinese institution grew from 3.1 per cent in 2005 to 16.2 per cent last year, overtaking the US for the first time. The United Kingdom was third, followed by Germany and Canada. The strongest ties with China were in the fields of materials science (developing materials to create products), chemical engineering and energy. In all three areas, about a third of Australian-led publications involve Chinese scientists.
Coronavirus: Andrew Forrest-linked China firms on US blacklist - The Australian The Chinese company at the centre of Andrew Forrest's delivery of millions of coronavirus testing kits to Australia has had two subsidiaries black-listed by the US Department of Commerce. Xinjian Silk Road BGI and Beijing Liuhe BGI, subsidiaries of Chinese gene-sequencing company BGI Group, were added to the US's Entity List over what the department alleged was their involvement in human rights abuses of China's Muslim minorities.
France says wants observers allowed into China's Uighur regions - Reuters France's foreign minister on Tuesday condemned the treatment of Uighur Muslims in China and said Paris wanted independent observers to be allowed into the area.
To give in to the U.S. or stand up for itself: Spain needs to decide - People's Daily Online If the U.S. were to successfully persuade Spain into removing Huawei's 5G from its networks, a country that has formed close cooperation with China and exerts certain influence on the EU, it would be a breakthrough in the EU, possibly causing other countries to follow suit and creating some impact on Germany and France.
Li vows to enhance cooperation, regional interconnectivity with Laos - CGTN Chinese Premier Li Keqiang vowed to strengthen communication and coordination with Laos to prepare the third Lancang-Mekong Cooperation (LMC) Leaders' Meeting and continue expanding interconnectivity in the region. Li made the remarks when holding a video conference with Lao Prime Minister Thongloun Sisoulith on Tuesday.
Inside the curious case of Shaoquett Moselmane, the NSW MP 'under Chinese influence' - The Australian The national security investigation targeting the possible foreign interference of NSW Labor backbencher Shaoquett Moselmane is examining whether his parliamentary speeches and other representations were influenced by Chinese Communist Party agents. Senior Australian Federal Police officers have spent two days in NSW parliament inspecting documents — including speeches, petitions, questions on notice, committee papers and other material used in the drafting of these items — originating in Mr Moselmane's office.
China steps up shipbuilding with two more aircraft carriers under construction towards 2035 navy goal | South China Morning Post China is expected to launch its next-generation aircraft carrier within a year and construction on a sister ship for the new giant vessel has been hastened, two sources close to the projects said. The Type 002 aircraft carrier – the country's third carrier and the second to be domestically developed – has started the final assembly process, two independent sources told the South China Morning Post. "Assembly of the new aircraft carrier has begun and is expected to be completed in the first half of next year, because the Covid-19 pandemic slowed down progress," said the first source, who requested anonymity because of the sensitivity of the issue. "Workers are also starting the keel-laying for the new carrier's sister ship. Both ships have been built by the Jiangnan Shipyard outside Shanghai."
U.S. and China to Launch Mars Missions, Vying for Space Supremacy - WSJ $$ China's first mission to another planet, the Tianwen-1 is set to blast off this week—the exact day has yet to be announced—on a seven-month journey to Mars. It will orbit the red planet for two to three months before deploying a rover that will conduct scientific experiments on the Martian surface. The U.S. mission, due to launch July 30, will land the Perseverance rover on Mars. It will also deploy the Ingenuity Mars helicopter—the first craft capable of powered flight on another planet.
Sino-Indian Escalation: Blip or Lasting Strategic Shift? - YouTube Tanvi Madan, M. Taylor Fravel, Vikram J. Singh, Jacob Stokes, moderator
Lungu asks Xi Jinping for debt cancellation – Zambia: News Diggers! "President Lungu called for debt relief and cancellation in light of reduced revenue due to the negative impact of the pandemic, as well as competing needs for the country to secure adequate resources to fight the pandemic and stimulate the economy," Chipampe stated.
Hong Kong and Macao
人民日报客户端:香港立法会不能沦为"揽炒夺权"的武器_舆论场_澎湃新闻-The Paper People's Daily app commentary says The 2020 Hong Kong Legislative Council election is the foremost issue on the agenda of the SAR, but the pro-democracy camp has made a futile attempt to use the election to seize power in Hong Kong. This election is no more Hong Kong people's election but has been interfered with by foreign forces. Those Hong Kong people who repeatedly run to others begging for sanctions against Hong Kong, how can they be qualified to represent Hong Kong citizens?

Tech and Media
Tencent Shows Ambition in Console Games- PingWest Chinese social and gaming giant Tencent has been on a buying spree for shares in gaming companies like Epic Games, Activision Blizzard, and Bluehole in the past, becoming the only video game company that has ownership throughout the global gaming value chain, according to Michael Norris, Research and Strategy lead at AgencyChina.
Catalog | Made in Hong Kong Film Festival This festival is copresented by the Freer and Sackler Galleries, the Smithsonian's National Museum of Asian Art; and the Hong Kong Economic and Trade Office.
Reliance Jio-Google smartphone deal threatens Chinese phone makers Reliance boss Mukesh Ambani, announcing the partnership at his company's annual meeting last week, said Google would build an Android operating system (OS) to power a low-cost "4G or even 5G" smartphone that Reliance would design. The new phone is set to pose a major challenge to Chinese vendors such as Xiaomi and BBK Electronics, owner of the Realme, Oppo and Vivo brands, which currently dominate a $2 billion market for sub-$100 smartphones in India.
Energy, Environment, Science and Health
Chinese mainland reports 11 new confirmed COVID-19 cases - Xinhua Chinese health authority said Tuesday that it received reports of 11 new confirmed COVID-19 cases on the Chinese mainland Monday, including three imported cases and eight locally-transmitted ones.
湖北首例新冠肺炎终末期肺移植患者出院-新华网 Hubei's first lung transplant patient with advanced COVID-19 was discharged from hospital. "Thanks to the medical staff. Thanks to the Party and my country. Without the joint effort, my father would have not had this recovery today."
China agrees to 'intensive' WTO talks on fisheries: sources - Reuters China is ready to "fully engage" in intensive negotiations agreed on Tuesday by the World Trade Organization to cut subsidies on fishing by year-end, sources following the talks said. The body has been trying to reach a deal for the past 20 years on ending the subsidies which environmentalists say are contributing to a worrying decline in global fish stocks.
Bangladesh to Host Late-Stage Trial of China's Sinovac COVID-19 Vaccine - Reuters Bangladesh's state medical research agency has approved a third-phase trial of a potential COVID-19 vaccine developed by China's Sinovac Biotech Ltd, as infections rise in the densely populated South Asian country.
China requires negative COVID-19 tests for arriving air passengers - Reuters Nucleic acid tests must be completed within five days of embarkation, the Civil Aviation Administration of China (CAAC) said on its website. Tests should be conducted at facilities designated or recognised by Chinese embassies in host countries, it said.
Education
China Considers New Rules, Mandatory Trainings for Foreign Teachers - SixthTone Four ministries of China's central government on Tuesday issued a draft regulation that would require foreign teachers to be taught about the country's laws and refrain from "harming China's national sovereignty, honor, and public interests." The document — jointly issued by the Ministry of Education, Ministry of Science and Technology, Ministry of Public Security, and Ministry of Foreign Affairs — would apply to foreigners employed by education institutions in the country holding valid work and residence permits.
Rural and Agricultural Issues
Dim Sums: Rural China Economics and Policy: China Sows 21% From End-of-Year Target China's agriculture ministry pronounced the country's restocking of swine farms as proceeding "faster than expected", based on Q3 2020 numbers released by the statistical bureau last week. With local officials under orders to show results in this "major task", there is strong incentive to inflate the numbers. Swine prices have climbed back to near-record levels despite the frantic rebuild...and peak pork consumption season is just a couple months away…
Exclusive: China plans wheat, rice sales to tame surging corn prices - sources - Reuters China plans to sell rice and wheat from state reserves to animal feed producers who are struggling with high corn prices, which have soared more than 20% in some areas this year amid tightening supplies, three sources familiar with the matter said.