Xi goes out in Beijing; US indicts 4 PLA soldiers in Equifax hack
The latest official epidemic data still do not give any clear signs that the epidemic is close to coming under control, the testing capacity is still inadequate and the various government pronouncements and measures show that it does not believe the epidemic is close to coming under control.
Here are the data as of 6PM Monday Beijing time, from Caixin:
40,261 confirmed cases in China;

909 deaths, including 871 in Hubei, 1 in Hong Kong and 1 in the Philippines;

23,589 suspected cases in China
Xi Jinping reappeared in official media as he went on an inspection tour of Beijing and then held a video conference with the teams on the frontlines in Wuhan. The report on Xi's activities took up nearly the first 17 minutes of the the Monday CCTV Evening News.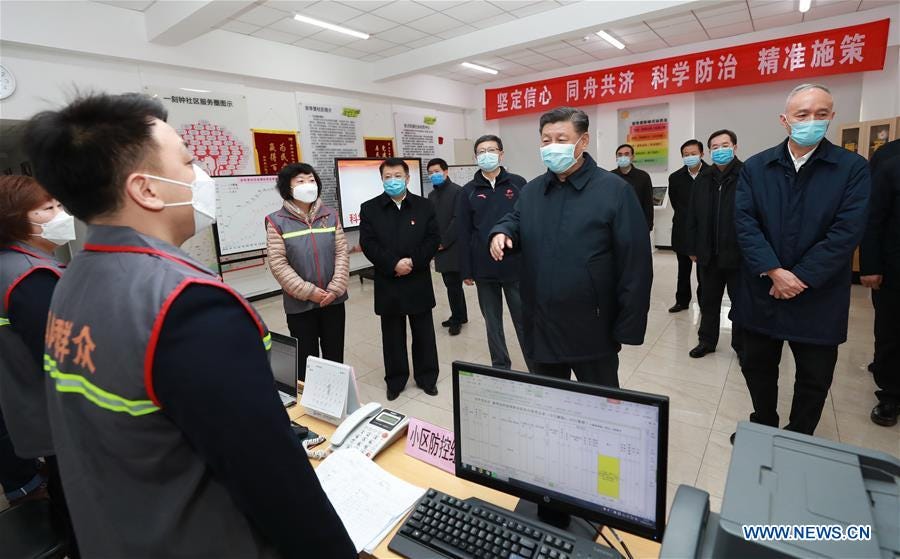 Last week when rumors about an "absent Xi were flying I wrote:
I am not buying the rumors going around that he is sick or been removed in a coup, and I caution readers against putting much stock in those.

One of the key political tasks of all party members is to protect the core, i.e. Xi Jinping, and while you would think the "people's leader" would want to be seen close to the people perhaps in this case the risk of him catching the virus may be too high, and images of him wearing a mask might be anathema to the propaganda wizards.
So much for the speculation about mask-wearing…Xi is pictured in a simple surgical mask recommended by the government for most people, rather than the more effective ones that are in short supply for medical personnel.
The messaging was positive—as difficult as things are we will get through this "people's war" against the epidemic, the economy will come out of this fine—but until we see him show up closer to the epicenter of the epidemic it would be hard to conclude things are under control.
The report on Xi's activities is discussed in more detail in item #2 below.
Xi reacted to the outcry after the death of Dr. Li Wenliang by sending a National Supervisory Commission team to Wuhan to "thoroughly investigate issues related to Dr. Li Wenliang". This is a classic move to blame local officials while portraying the central government as the good actor. Official media are now hailing Dr. Li as a hero, and you have to wonder if official martyrdom is in the cards, though if he gets it then all the other medical personnel who have died on the frontlines should as well.
It is not clear that the inspection team and the propagandizing about Dr. Li will be enough to quell the anger over his silencing and death, but another classic move will likely be to complement the investigation and official praise with a crackdown on a relatively small number of "troublemakers" who "stirred up" the outrage online.
This is a long issue, I recommend you click on the headline at the top of the email to read it in your browser. Thanks for reading.
---
The Essential Eight
1. The outbreak
WHO China Representative Dr. Gauden Galea: Coronavirus Case Numbers in Decline - Bloomberg
World Health Organization China Representative Dr. Gauden Galea says the numbers of coronavirus cases are dropping but warns there is no certainty the outbreak is contained until the incubation period is over
In Depth: ICU Doctors Bear the Brunt as Coronavirus Causes Rapid Deterioration
"We still understand very little about the pathogenesis of the virus and are not clear about the actual cause of the multiple organ failures," said Jiang Li, ICU director at Beijing Xuanwu Hospital who is currently in Wuhan. It makes the rescue and treatment of severe patients a challenge, Jiang said.

The rapid course of the disease means that intensive care professionals are the main force battling the virus. As the epidemic continues unfolding, the number of critical patients is rising rapidly. According to official data as of Thursday, there were 4,821 patients in critical condition, up from 962 from the previous day...

"It evolves rapidly from good to bad," said Beijing Xuanwu Hospital's Jiang. "Sometimes changes come in hours."

Huang from the Sichuan People's Hospital also remarked upon the rapid development of the new virus in patients. Unlike flu viruses such as H7N9 and H9N1, which often cause severe symptoms at the beginning, most patients infected with the new coronavirus first show mild symptoms but quickly deteriorate after a certain point, Huang said...

What is more worrisome is the virus's damage to people's lower respiratory systems, causing serious consequences even after a patient recovers. Peking Union's Du said it could take at least six months for patients to recover heart and lung function.
More Wuhan Doctors Say They Faced Official Backlash Over Virus Warnings - Caixin
Two more Chinese doctors have said they were reprimanded by police for trying to warn others in the early days of the deadly coronavirus outbreak in the stricken central city of Wuhan, as public outrage continues over the death of the whistleblower doctor Li Wenliang.

Xie Linka of Wuhan Union Hospital's tumor center and Liu Wen, who works in the neurology department of Wuhan Red Cross Society Hospital, both recently told Caixin that their initial attempts to sound the alarm over spiraling numbers of pneumonia patients drew dressing-downs from local law enforcement.
The original of the above Caixin report - 新冠肺炎又一"吹哨人"现身 曾被警方口头教育
Wuhan wages total war at novel coronavirus pneumonia outbreak - Global Times
The city dispatched on Sunday a total of 16,739 people including Party officials, employees from state-owned enterprises and institutions as well as faculty members from colleges and universities to the most heavily epidemic-hit communities to run the carpet screen of the four-type personnel in a round-the-clock fashion to make sure the thorough coverage of the four-type personnel in the city. The four types of personnel include patients of confirmed cases, suspected cases of the virus infection, patients with fever symptoms and those who have close contact with the patients involved.

"The 'admission of all possible patients' of the novel coronavirus infection in Wuhan would mark the most fundamental and foremost task accomplished toward a key victory in the war of combating the epidemic, based on which the country could make scientific policies on next stage," Luo Yameng, a Beijing-based renowned urban management expert, told the Global Times.
Coronavirus Latest: Wuhan's New Hospitals Have Few Actual Beds, Incubation Could Be as Long as 24 Days - Caixin
Huoshenshan Hospital, which began admitting patients on Feb. 3 and touts accommodation for more than 1,000 patients, had only 286 beds in use and zero vacancies as of Saturday, according to data released Sunday by the Wuhan Municipal Health Commission.

Leishenshan Hospital, which touted at least 1,500 beds, opened Saturday with just 30, according to the data.
中央指导组赴湖北黄冈指导落实"应收尽收"等防控举措_CCTV
what is the situation in Huanggang? Sun Chunlan takes the leading group on a visit there, instructs them to ensure the "4 types of people" are taken in for centralized quarantine and treatment
特写|河南信阳本地扩散疫情抬头 确诊加快多项措施并举_政经频道_财新网
Caixin reports that there are signs the epidemic is spreading in Xinyang, Henan, a city that borders Hubei province
WHO Is Watching 10 Chinese Provinces as Possible Virus Hot Spots - Bloomberg
The 10 provinces, which include Zhejiang, Guangdong and Henan, have seen numbers of cases slowly rise, said WHO's China Representative Gauden Galea, in an interview on Bloomberg TV Monday.
Caixin Editorial: China Must Protect Medical Workers Fighting Coronavirus
In a bid to avoid a repeat of the creaking capacity issues and information cover-ups that blighted the initial stages of the SARS epidemic, China's government in recent years has invested huge sums of money, notably upgrading relevant hardware systems, and continuously raised its level of scientific research. Public sanitation and prevention frameworks were supposed to be more robust than ever. But they have collapsed under the first major test since SARS.
As Deaths Mount, China Tries to Speed Up Coronavirus Testing - The New York Times
A major bottleneck has been a shortage of nucleic acid testing kits used to confirm the presence of the coronavirus. So Dr. Zhang proposed that doctors could first use CT scans to detect pneumonia and quickly isolate and treat patients who have it.
False-negative test results spur additional measures - China Daily
Reports that nucleic acid tests have returned false-negative results for people infected with the novel coronavirus have prompted medical workers to deploy multiple measures to identify infections and implement rigorous isolation measures amid the viral epidemic.
Translation - The Regret of Wuhan: How China Missed the Critical Window for Controlling the Coronavirus Outbreak «
The cover story of China News Weekly (中国新闻周刊), published on February 5, put together a detailed timeline and asked the right questions. Within a day, the article was deleted from the magazine's own website as well as major Chinese news portals. Luckily, the report is preserved in various news aggregate sites outside China in both simplified and traditional Chinese (武汉之憾:黄金防控期是如何错过的?). The timeline it presented focuses on the discovery of early coronavirus cases, local government's responses in the seven weeks from December 1 to January 20, what the local and national Center for Disease Control and Prevention did in that period, and without directly raising the question, how the most critical decisions, especially the decision to downplay the outbreak in the first weeks, were made at the State Council and ultimately by the Communist Party leaders in Zhongnanhai.
Coronavirus prompts Beijing residential lockdown as millions return to work | South China Morning Post
In a 10-point circular published on Sunday, Beijing municipal authority ordered that check points be established to examine body temperatures and only residents' vehicles be allowed into each community. A complete lockdown could be imposed on the area if a confirmed coronavirus case was discovered.

"As our city is facing the peak period of returning population, epidemic prevention is now at a critical stage," the circular said.
The circular - 北京发布疫情防控通告,严格居住小区(村)封闭式管理
China allocates $10.26 billion to fight coronavirus - Reuters
China's finance ministry said on Sunday all levels of government had allocated a total of 71.85 billion yuan ($10.26 billion) as of Saturday afternoon to fight coronavirus.
C.D.C. and W.H.O. Offers to Help China Have Been Ignored for Weeks - The New York Times
Current and former public health officials and diplomats, speaking anonymously for fear of upsetting diplomatic relations, said they believe the reluctance comes from China's top leaders, who do not want the world to think they need outside help.
Yicai Global - Coronavirus Super-Transmitters Can't Be Ruled Out, Incubation Can Top 3 Weeks, Experts Say
Renowned respiratory specialist Zhong Nanshan, the paper's lead author, is a Chinese academician who contributed significantly to China's fight against Severe Acute Respiratory Syndrome in 2003. He wrote the paper in collaboration with 37 medical experts from the frontline battle against 2019-nCoV, and published it on the academic site medRvix, where articles are not peer-viewed.
Coronavirus news: Chinese Ambassador Cui Tiankai dismisses coronavirus theories as "absolutely crazy" - CBS News
"I think it's true that a lot is still unknown and our scientists — Chinese scientists, American scientists, scientists of other countries — are doing their best to learn more about the virus," Cui said Sunday on "Face the Nation." "But it's very harmful, it's very dangerous to stir up suspicion, rumors and spread them among the people. For one thing, this will create panic. Another thing, that it will fan up racial discrimination, xenophobia, all these things, that will really harm our joint efforts to combat the virus."
---
2. Xi's inspection tour
习近平在北京市调研指导新型冠状病毒肺炎疫情防控工作时强调 以更坚定的信心更顽强的意志更果断的措施 坚决打赢疫情防控的人民战争总体战阻击战_CCTV
Monday CCTV Evening News leads the first 17 minutes with the report on Xi's Beijing excursion

Xi also visited the Ditan Hospital, which played a key role in combatting SARS as a leading infectious disease expertise in Beijing

Xi held a video meeting with the Hubei leadership and the group guiding the response. Per the report he listed 5 areas of focus, lightly edited translations via Youdao:

Xi pointed out that Hubei and Wuhan are the top priorities for the prevention and control of the epidemic and the decisive place to win the battle of prevention and control of the epidemic. If Wuhan wins, Hubei wins, and if Hubei wins, the whole country wins. At present, the situation of the epidemic in Hubei and wuhan is still very serious. More vigorous and decisive measures should be taken to curb the spread of the epidemic.

First, we must resolutely ensure that everyone who should be put into centralized treatment and quarantine is (应收尽收);

The second is to do a good job in treatment. In accordance with the principle of concentrating patients, experts, resources and treatment, the diagnosis and treatment plan should be constantly optimized, the integration of traditional Chinese and western medicine should be adhered to, the efforts of scientific research should be intensified, and the screening and development of drugs with good clinical efficacy should be accelerated.

Third, we need to comprehensively strengthen social control. We need to strengthen social governance and properly handle the problems that may arise in the prevention and control of the epidemic. We need to be thorough and meticulous in all our work, ensure adequate living standards, medical treatment and psychological intervention, and maintain overall social stability.

Fourth, we need to strengthen public opinion guidance. We will publicize the decisions and arrangements of the CPC central committee and the importance it attaches to Hubei and Wuhan, the great love of one party and the support from all sides, and the touching stories of front-line medical personnel, grass-roots cadres, public security police, community workers and volunteers, all of which demonstrate the firm confidence and strong will of the people of all ethnic groups in China. We need to release authoritative information in a timely manner, respond openly and transparently to people's concerns, and make public opinion guidance more targeted and effective. We should increase publicity and education on the knowledge of the law on prevention and control of infectious diseases, guide the whole society to prevent and control infectious diseases in accordance with the law, and improve the people's ability to protect themselves.

Fifth, we need to strengthen unified command over the prevention and control of the epidemic. The central leading group for responding to the epidemic should fully implement the requirements of the CPC central committee and focus on the prevention and control of the epidemic in key areas. The joint prevention and control mechanism of the state council should strengthen coordination and dispatch and give priority to the prevention and control of the epidemic in Wuhan and other key areas. The central steering group should not only guide the prevention and control work in Hubei and wuhan, but also strengthen supervision and inspection. Hubei and wuhan should make the prevention and control of the epidemic a top priority, strengthen epidemic prevention in cities, states, counties and townships in a coordinated way, and improve the command system. The response should be decisive and rapid, the operation should be efficient and orderly, and the implementation should be firm and forceful.
Back in the public eye, masked Xi Jinping warns of 'grim' fight with coronavirus | South China Morning Post
Xi's latest public appearances made political sense as he was walking a tightrope between the role of a formidable leader and a populist one, said Chen Daoyin, an independent political scientist and a former Shanghai-based professor.

"By managing in times of crisis mostly from behind the scenes, Xi is showing how he is above the daily implementation of tasks and he's pulling the strings from behind," Chen said.

"Mao Zedong used to showed the same pattern in times of crisis. But once in a while, he would have to show his connection to the people."
Xi extends condolences to people who died from coronavirus - Xinhua
On behalf of the CPC Central Committee, Xi extended the condolences and sympathy when he held a video conference at the Beijing Ditan Hospital with officials fighting the novel coronavirus pneumonia epidemic in Hubei Province.

Xi also extended regards to Party members, officials and people in Hubei, and expressed appreciation for the medical workers, officers and soldiers of the People's Liberation Army, as well as comrades from all walks of life on the frontline of epidemic prevention and control.
Xi says China can certainly score "full victory" in epidemic fight - Xinhua
Speaking during an inspection of the epidemic prevention and control work in Beijing, Xi said the whole party, the armed forces and the people of all ethnic groups in China stand together with the people of Hubei and Wuhan...

"Wuhan is a heroic city and people of Hubei and Wuhan are heroic people who have never been crushed by any difficulty and danger in history. As long as our comrades work together, fight bravely and overcome difficulties, we certainly can score a full victory in the fight against the epidemic,"
"Xi Jinping's War Plan Against the Virus", CCTV wrote in an article Saturday with the orders Xi gave in the past days, including that local officials who fail to do their jobs and implement the Central's policies will be severely punished.
---
3. Political fallout
Xi Jinping security protégé Chen Yixin to bolster China's coronavirus task force | South China Morning Post
Chen's security background might help Beijing coordinate its response to the outbreak and ensure social stability, according to Wuhan University law professor Qin Qianhong

"The fight against the outbreak now requires more coordination with the military and police force, and Chen's background might be useful. And he used to be [Wuhan's] party chief," Qin said.
The Taoran Notes post disclosing that Chen Yixn and Wang Hesheng were being sent to Hubei -陶然笔记:跟疫情赛跑 充实组织力量势在必行_新浪网
Sending in Chen Yixin, a longtime trusted Xi subordinate and a cadre with experience in Wuhan and Hubei and knowledge of the local political topography, and who is now a leading official on the body that oversees the security system, may be a sign of much harsher coercive quarantine policies to come. A key point of the Taoran Notes piece is that the local officials have not done a good enough job getting everyone sick or possibly infected "rounded up and placed into centralized quarantine centers 应收尽收". It is also a sign of Xi making sure a long time trusted and competent cadre has a bigger role.
陈一新任中央赴湖北指导组督查组副组长 - 综合 - 新京报网
Chen Yixin's wechat message into a group of Wuhan district leaders

"我是陈一新,又回到你们中间来了。虽然因工作需要调离武汉已两年,但我一直心系武汉、"身"在你们"群"中,时刻关注着武汉的发展特别是这次防控疫情的斗争。党中央决定:我担任中央指导组副组长,又能与你们一同战斗了。现在,武汉"应收尽收"攻坚战的冲锋号已经吹响,中央指导组提出了明确要求,省市指挥部已作出部署。我们务必统一思想,坚决贯彻,夺取胜利。因这两天大家工作忙、任务重、时间紧,为不耽搁大家抓落实时间,我想借助微信群,在"群"里与大家见面,并就打好"应收尽收"攻坚战,再强调几点要求。"
National supervisory commission sends group to investigate issues involving Dr. Li Wenliang - Xinhua
The National Supervisory Commission has decided to dispatch an inspection group to Wuhan, capital city of Hubei Province and the epicenter of the novel coronavirus outbreak, to thoroughly investigate issues related to Dr. Li Wenliang.

The decision has been approved by the Communist Party of China Central Committee, the commission said in a statement on its website Friday.
Mourning for a medic - Li Wenliang's death is a new crisis for China's rulers | China | The Economist
No one is expecting another political explosion of that nature[1989]—not least because public gatherings would be very difficult to organise amid widespread fear of contagion by the virus. But like the cases of coronavirus, the party's problems are multiplying.
Let's win battle against novel coronavirus for deceased Doctor Li - People's Daily Online
As many of the late Dr. Li's colleagues are fighting on the front line of the battle, trying their best to save lives, people from all walks of life can actively help pass on love to one another.
Antagonists exploit Dr Li's death to slander China - Global Times
While many in the Chinese mainland were mourning Li's death, Hong Kong and anti-China groups were enlisting people to help sensationalize the story on Chinese social media in efforts to spread negative publicity on the mainland and incite the so-called democratic movement.

An online post - likely initiated by overseas anti-China forces - incited Wuhan residents to congregate and whistle in solidarity with Li on Friday. Experts said it is malicious to use Li's death to incite "social movements" in China, adding that such attempts are doomed to fail.
Coronavirus: mother of whistle-blower Li Wenliang demands answers for his treatment by Wuhan police | South China Morning Post
Ren Yi, a prominent Chinese blogger who writes under the name "Chairman Rabbit" and is a grandson of party reformer Ren Zhongyi, wrote on Sunday that while some public discussions surrounding Li maybe emotional, the outpour of criticism towards the authorities underscored the public's expectations of the government.
Coronavirus: journalist missing in Wuhan as anger towards Chinese authorities grows | The Guardian
Chen Qiushi, a human rights advocate, has been missing since Thursday – the same day Li Wenliang, a 34-year-old ophthalmologist who was punished by authorities for trying to warn colleagues and friends about a new Sars-like virus, was first reported to have died from the coronavirus.
Coronavirus death toll tops Sars as public backlash grows | Financial Times $$
A separate group of leading public intellectuals across the country issued an open letter on Friday to China's National People's Congress, the rubber stamp parliament, calling for better protection of free speech.
As anger explodes over doctor's death, Beijing firm gives Chinese government advice - The Washington Post
The 7-page document, which was reviewed by The Post, analyzed the intensity of public outrage
Questions for Hubei's Delegates | China Media Project - Qian Gang
Many Chinese have noted with anger and dismay how officials in Hubei province and in Wuhan were focussed, even as the virus was wreaking havoc, on holding the so-called "two meetings" – annual gatherings of the people's congresses and political consultative conferences at both the provincial and city levels. As those familiar with China's political system will know, the people's congresses and political consultative conferences are meant to be the channels by which the "popular will," or minyi (民意) is expressed and conveyed...

The coronavirus epidemic has worked like a CT scan of China's system, exposing the deep contrast between lofty rhetoric and real conduct, and displaying the "voiding out" (虚化) of the people's congress and political consultative systems. Millions of people are now bearing the burden of a calamity brought out by this chronic disease of the system.
China's Anti-Graft Body Joins the Fight to Control the Coronavirus Narrative
To shape the discourse in the Party's favor, in particular the central leadership's favor, China's anti-graft body has been activated. A flurry of posts appeared on government websites pledging the support of the conjoined National Supervision Commission (NSC) and the Central Commission for Discipline Inspection (CCDI),
26 officials in Inner Mongolia, including several heads of local hospitals, are punished for failing to take measures soon enough to control the virus outbreak.
---
4. Economic impact
China announces measures to support SMEs amid epidemic - Xinhua
Local governments will be encouraged to reduce or waive taxes and administrative fees on certain SMEs and increase subsidies to corporate training programs, the Ministry of Industry and Information Technology said in a statement.

Financial institutions will be incentivized to lower loan interest rate to those promising SMEs hit hard by the outbreak, while fees on financial guarantees should be reduced, the statement said.

The country will also help SMEs with supplies of raw material and virus-control equipment, and extend the payment deadline for their electricity and gas bills, the ministry said.
PBOC to Offer First Batch of Special Lending Funds on Monday - Bloomberg
Under the funding facility, nine major national banks and some local banks in ten provinces and cities are qualified for the special funding, according to PBOC Deputy Governor Liu Guoqiang.

Those financial institutions should speed up the review process for loan applications and release loans within two days, Liu said in a speech posted on the PBOC's website.
China's policy bank lends more with special reloans for epidemic control - Xinhua
China's rural policy bank has offered loans worth 805 million yuan (about 115.23 million U.S. dollars) using special re-lending funds for national efforts to contain a coronavirus outbreak.

The loans will be used for manufacturing and business activities related to epidemic prevention and control to ensure sufficient supplies of important medical and living materials, said the Agricultural Development Bank of China (ADBC).
China's Battered Banks Brace for Worst-Case Economic Scenario - Bloomberg via Yahoo
"The banking industry is taking a big hit," said You Chun, a Shanghai-based analyst at National Institution for Finance & Development. "The outbreak has already damaged China's most vibrant small businesses and if it prolongs, many firms will go under and be unable to repay their loans."
China's Financial Support Measures May Not Be Working as Intended, Analysts Say-Caixin
Under the latest directives, banks heeding Beijing's call to support small and medium-sized companies during the outbreak could make problematic loans to firms that might not meet their standards under normal circumstances. While that might help such firms stay in business another month or two, it could also weaken banks by forcing them to offer lower interest rates and make loans with higher risk. The money could also be wasted if companies cannot quickly return to normal business levels.
Don't Expect China to Rebound Quickly From Coronavirus - Bloomberg - Mohamed A. El-Erian
I worry that many analysts do not fully appreciate the notable differences between financial and economic sudden stops. Rather than confidently declare a V, economic modelers need more time and evidence to assess the impact on the Chinese economy and the related spillovers – a consideration that is made even more important by two observations. First, the Chinese economy was already in an unusually fragile situation because of the impact of trade tensions with the U.S. Second, it has been navigating a tricky economic development transition that has snared many countries before China in the "middle income trap."
Hundreds of Chinese businesses seek billions to contend with coronavirus - sources - Reuters
The companies seeking loans in the Chinese capital are likely to gain fast-track approvals and preferential rates, said the sources, who received copies of two lists of company names sent to Beijing banks by the city government's finance bureau.
Top Apple iPhone maker Foxconn restarts key China plant with 10% of workers: source - Reuters
Apple's biggest iPhone maker Foxconn (2317.TW) got approval to resume production at a key plant in China after being forced to shut it following the coronavirus outbreak, but only 10% of the factory's workforce has managed to return so far, a source told Reuters.
Foxconn Delays Worker Return to Main Apple (AAPL) iPhone Plants - Bloomberg
Hon Hai, known also as Foxconn, sent a message via its internal app on Sunday that it wouldn't be able to decide on a back-to-work date "until further notice" for its iDPBG business unit, according to a version reviewed by Bloomberg News. That division makes gadgets for Apple at a factory in the so-called iPhone city of Zhengzhou in central China and two other plants in Shenzhen
Chinese Online Services More Popular than Ever Amid Coronavirus Outbreak- PingWest
a handful of sectors are booming, as they play vital roles in providing online services or information. Enterprise communication and collaboration tools, online gaming, online video platforms, online education, and online-to-offline (O2O) platforms benefit from coronavirus.
Alibaba, Ant Financial to lower costs for SMEs amid anti-virus campaign - Xinhua
Alibaba will waive the service charges for all merchants on the company's Tmall shopping platform in the first half of the year, said the company.

Cainiao Network Technology, Alibaba's logistics arm, decided to exempt two months' storage charges for warehousing merchants who join the platform prior to March 31.

To ease the financing pressure of SMEs, MYbank, an online bank affiliated to Ant Financial, offered loans worth 10 billion yuan (about 1.43 billion U.S. dollars) to merchants registered in virus-hit Hubei Province.
China's GDP growth this quarter will be 0%, according to top economist Ed Hyman - CNBC
Our team has GDP growth at zero for the first quarter," said Evercore ISI Chairman Ed Hyman. "China is really slowing and that's worrying people for sure."
China's Q1 growth could be less than 5%, and in the worst scenario the 2020 growth will be at about 4%, wrote Ren Zeping, a well-known Chinese economist. Ren suggested the virus impact could be worse than SARS and that government should adopt an expansive fiscal policy to stabilize the economy.
Consumer Inflation Hits Over Eight-Year High Amid Coronavirus Outbreak - Caixin
Rising food prices helped to fuel a 5.4% year-on-year jump in consumer prices in January, 0.9 percentage points higher than the previous month and the highest since October 2011, as China's economy began to feel the pain of the novel coronavirus outbreak..

Pork prices remained the major driver of inflation as they rose 116% year-on-year last month, contributing nearly 2.7 percentage points to the CPI increase. Fresh vegetable prices rose by 17.1%, contributing around 0.5 percentage points of the increase. The two items together contributed over 3.2 percentage points.
China coronavirus putting more pressure on pork supplies, prices: official - Reuters
Kong Liang, deputy director at the Animal Husbandry and Veterinary Bureau of the Ministry of Agriculture and Rural Affairs, said the coronavirus outbreak has disrupted the delivery of vital feed and veterinary medicine supplies, and also delayed the return of agricultural workers to farms.
Sanlian Lifeweek wrote about the restaurant chains that are struggling on the verge of bankruptcy as hit by the virus outbreak. Most are running out of cash to pay salaries and said the situation is much worse than the time of SARS. They don't know how long the wait will be before the customers feel safe to dine out. 
Saudi-Russian Alliance Is Strained as Coronavirus Saps Demand for Oil - The New York Times
Total, the French oil company, said it had recently rejected a force majeure claim by a Chinese buyer of liquefied natural gas.
Online payment clearinghouse reports surging transactions during Spring Festival - Xinhua
From Jan. 24 to 30, about 4.92 billion online transactions were processed by the platform, involving 2.73 trillion yuan (about 391.4 billion U.S. dollars).

The number of transactions surged by 11.25 percent year on year while the value marked a 5.76-percent rise, the company said.
Steel Demand Plunges Amid Coronavirus Epidemic, Depressing Prices - Caixin
With limited ability to transport goods during the outbreak, volumes of traded steel have plummeted in the domestic market. Prices of raw materials and finished products are falling in response to dwindling demand as many factories are closed to curb the epidemic's spread, according to a report (link in Chinese) from the government-backed China Iron and Steel Association (CISA). Some steel companies have experienced a drop in asset value and have begun panic selling, the report said.
---
5. Frontline reports
Online cries for help in a Chinese city under coronavirus siege | South China Morning Post
Some patients and their relatives are so desperate that they have turned to social media in the hope that their cases will attract the attention of the authorities.

On Sina Weibo, one of the dominant social media platforms in China, the topic "pneumonia patients asking for help" had more than 1,608 posts, 1.38 billion views and 487,000 followers.
How the coronavirus devastated one Wuhan family | Financial Times
"I didn't realise they would just die like that, so quickly and so easily," said the 27-year-old Ms Yang, overcome with shock from the sudden deaths of her mother and grandfather. To make matters worse, she is on the other side of the world working at a law firm in Washington, unable to help her family in Wuhan who are all infected and struggling to cope with the impact of the deaths: getting death certificates issued, closing bank accounts, terminating property contracts, settling phone bills.
Her Grandmother Got the Coronavirus. Then So Did the Whole Family. - The New York Times
In recent days, Ms. Zhang, 25, a perfume saleswoman with tinted blue hair, had watched helplessly as one by one, her relatives were sickened by the coronavirus that was tearing through her hometown, Wuhan. First, her grandmother got it, then it spread to her grandfather and mother. She and her younger brother were next.
'I'm So Sorry': Coronavirus Survivor's Cross-China Travel Left Dozens Quarantined - WSJ $$
More than 40 people were quarantined after 32-year-old architect who passed through Wuhan fell sick
新冠肺炎患者口述:我看着殯儀館的車停在發熱門診側面|新冠肺炎|深度|端傳媒 Initium Media
---
6. Travel
Coronavirus Live Updates: Royal Caribbean Bars Chinese Passport Holders - The New York Times
Royal Caribbean said it would not allow people with passports from China, Hong Kong or Macau to board its ships, or anyone who traveled there in the past 15 days.
Coronavirus infects 66 more passengers on Diamond Princess, bringing total to 130
Japan may test every person aboard the Diamond Princess for the coronavirus after it was determined Monday that there were 66 new cases on the quarantined ship docked at a Yokohama port.
Thailand keeps doors open to Chinese tourists - Nikkei Asian Review
Amid the ongoing coronavirus outbreak, Thailand has not restricted Chinese tourists from entering the kingdom, or dropped its visa-on-arrival fee waiver implemented to mainly attract Chinese.
UK calls virus "serious" health threat; will detain people - AP
The U.K. Department of Health and Social Care said people with the virus can now be forcibly quarantined and will not be free to leave. It named two British hospitals as isolation facilities for those affected by the disease and designated the Chinese city of Wuhan and the surrounding Hubei province where the virus first emerged as a "infected area."
Airbnb Freezes Beijing Check-Ins Till March to Curb Virus - Bloomberg
WHO Chief: Concern Over Virus Spread From Ppl W No China Travel - Bloomberg
World Health Organization Director-General Tedros Adhanom Ghebreyesus says in a tweet Sunday that there have been concerning instances of coronavirus being spread from people with no travel history to China, saying "we may only be seeing the tip of the iceberg" when it comes to the virus.
Coronavirus News: India bars entry of foreigners who have been to China after Jan 15, 2020 - Times of India
Five Britons contract coronavirus in French ski resort - Reuters
They shared neighboring apartments in a chalet and temporarily hosted a British man believed to have contracted the virus at a business congress in Singapore before his short visit to France in late January, the ministry added.
---
7. US-China
Xi talks with Trump over phone on novel coronavirus outbreak - Xinhua
Reiterating the call the WHO has repeatedly made from a professional perspective for all countries to avoid overreaction, Xi said China hopes that the United States will assess the epidemic in a calm manner, and adopt and adjust its response measures in a reasonable way.
Secretary Michael R. Pompeo National Governors Association Winter Meeting "U.S. States and the China Competition" - United States Department of State
I was being invited to the U.S.-China Governors' Collaboration Summit.

It was an event co-hosted by the National Governors Association and something called the Chinese People's Association For Friendship and Foreign Countries. Sounds pretty harmless.

What the invitation did not say is that the group – the group I just mentioned – is the public face of the Chinese Communist Party's official foreign influence agency, the United Front Work Department.

Now, I was lucky. I was familiar with that organization from my time as the director of the Central Intelligence Agency.

But it got me thinking.

How many of you made the link between that group and Chinese Communist Party officials?

What if you made a new friend while you were at that event?

What if your new friend asked you for introductions to other politically connected and powerful people?
Pompeo to governors: China is watching you - POLITICO
"They've labeled each of you friendly, hardline or ambiguous," he said, describing a report put out by the think tank last year. "I'll let you decide where you think you belong. Someone in China already has. Many of you indeed, in the report are referenced by name."

Saying that China's efforts have become more methodical than ever, Pompeo told the governors to verify business inquiries and "not to make separate individual deals" with China that could "undermine national policy."
美国对华态度真的铁板一块?看看50州统计数据_凤凰网资讯_凤凰网
the friendliness ranking report
Pompeo despicable to attack China amid battle against virus - Global Times
We cannot control Pompeo's mouth. It is almost certain that he will continue to launch attacks against China. What China can do is to keep moving forward until it steps out of Pompeo's firing range.
Cold War mentality of some U.S. officials real virus threatening the world - People's Daily Online
A mindset that sticks to old ways of thinking and goes against the general trend is, in fact, a virus too. This virus causes politicians to act against the general tide of the world and make misjudgments in governance, and erodes the health of the international community.

The international community should have a full understanding of this Cold War mentality virus. While combating the novel coronavirus epidemic, the international community should also make joint efforts to guard against this profoundly harmful ideological virus.
The original- 美国"雷"局长们的"冷战残余病毒"才是这个时代的核心威胁
The United States Announces Assistance To Combat the Novel Coronavirus - United States Department of State
This week the State Department has facilitated the transportation of nearly 17.8 tons of donated medical supplies to the Chinese people, including masks, gowns, gauze, respirators, and other vital materials. These donations are a testament to the generosity of the American people.

Today, the United States government is announcing it is prepared to spend up to $100 million in existing funds to assist China and other impacted countries, both directly and through multilateral organizations, to contain and combat the novel coronavirus. This commitment – along with the hundreds of millions generously donated by the American private sector – demonstrates strong U.S. leadership in response to the outbreak.
Groundless blame against China's anti-epidemic fight only indulges virus - People's Daily Online
The epidemic acts as a mirror for previous outbreaks. The influenza A (H1N1) epidemic in 2009 led to around 284,000 deaths around the world, and the WHO also declared it a Public Health Emergency of International Concern (PHEIC). The U.S. was one of the sources of the epidemic, but failed to take forceful measures to control it, which resulted in the virus spreading globally.
Tech Giants Seek Hong Kong Alternative After U.S. Blocks Data Cable - WSJ $$
Google and Facebook Inc. last week asked U.S. authorities' permission to start using the internet conduit's branches to Taiwan and the Philippines while leaving its Chinese portion offline. The two companies helped fund the 8,000-mile Pacific Light Cable Network from Los Angeles to Hong Kong, and offered the compromise after a national security panel led by the Justice Department held up final approval to use the cable, which is already in place.

In light of regulators' refusal, other tech companies are, like Google, exploring destinations other than Hong Kong for future links, the people said. The U.S. concern reflects growing U.S. distrust of China's technology ambitions, a stance exemplified by Washington's fight against electronics heavyweight Huawei Technologies Co., they said.
---
8. Indictments in Equifax hack
Chinese Military Personnel Charged with Computer Fraud, Economic Espionage and Wire Fraud for Hacking into Credit Reporting Agency Equifax | Department of Justice
The nine-count indictment alleges that Wu Zhiyong (吴志勇), Wang Qian (王乾), Xu Ke
(许可) and Liu Lei (刘磊) were members of the PLA's 54th Research Institute, a component of the Chinese military. They allegedly conspired with each other to hack into Equifax's computer networks, maintain unauthorized access to those computers, and steal sensitive, personally identifiable information of approximately 145 million American victims.

"This was a deliberate and sweeping intrusion into the private information of the American people," said Attorney General William P. Barr, who made the announcement. "Today, we hold PLA hackers accountable for their criminal actions, and we remind the Chinese government that we have the capability to remove the Internet's cloak of anonymity and find the hackers that nation repeatedly deploys against us. Unfortunately, the Equifax hack fits a disturbing and unacceptable pattern of state-sponsored computer intrusions and thefts by China and its citizens that have targeted personally identifiable information, trade secrets, and other confidential information."
Attorney General William P. Barr Announces Indictment of Four Members of China's Military for Hacking into Equifax | OPA | Department of Justice
We do not normally bring criminal charges against the members of another country's military or intelligence services outside the United States.  In general, traditional military and intelligence activity is a separate sphere of conduct that ought not be subject to domestic criminal law.  There are exceptions to this rule, of course.  For instance, we have brought charges against intelligence officers operating undercover in the United States.  And more recently, we have charged state-sponsored actors for computer intrusions into the United States for the purpose of intellectual property theft for the use of their private sector, bank robbery, and interfering with our democratic elections.  Like those cases, the deliberate, indiscriminate theft of vast amounts of sensitive personal data of civilians, as occurred here, cannot be countenanced.
---
Business, Economy and Trade
Chinese Abandon Food Delivery Fearing Drivers Will Spread Virus - Bloomberg Meituan Dianping and Alibaba Group Holding Ltd., the two biggest delivery companies, are racing to address the health concerns, not only to protect their businesses but also to help millions of citizens under government lockdown. School and business closures present a potential windfall -- if companies can reassure consumers.
Alibaba leads Chinese retreat from Silicon Valley | Financial Times $$ On occasion, Alibaba has avoided disclosing funding rounds, such as its investment in the short-form video producer Quibi led by Jeffrey Katzenberg and Meg Whitman. Its non-profit Entrepreneurs Fund also gave money to US start-ups last year, such as the basketball training application HomeCourt.
China's Nationwide Quarantine Is a Win for Productivity Apps and a Fiasco for Co-working Spaces - Pandaily One product that has especially stood out is ByteDance's Slack-like Lark. From January 28 to May 1, 2020 Lark will provide users with remote office and video conference services by offering its complete package at no cost...Sensing the threat, shared office spaces are taking measures to expedite the return of tenants to their cubicles.
Sources - NBA set to release revised 2020-21 salary and luxury tax projections - ESPN Despite the impact of lost China revenue, the salary cap and tax could still increase as much as 3.5% from the $109.1 million cap in 2019-2020. Early September projections estimated a 6.3% increase for next season's cap.
Coronavirus creating havoc with NHL stick supplies - The Boston Globe The highly customized sticks used by some 75 percent of the NHL are made in small batches at Chinese factories. With work and travel halted in that country since late January as the country combats an outbreak of coronavirus, the NHL has been unable to get fresh stock in the middle of its competitive season.
iFlytek seeks US trade ban exemption for medical supplies · TechNode iFlytek has commissioned a US-based law firm to submit a formal request to the US Department of Commerce "in the spirit of humanitarianism and international cooperation," the company said.
Onetime Billionaire Anil Ambani Says He's Now Worth Nothing - Bloomberg The lawsuit was filed by three state-controlled Chinese banks, which argue that they provided a loan of $925 million to Ambani's Reliance Communications Ltd. in 2012 with the condition that he personally guarantee the debt
Customs Authority to Consolidate January and February Trade Data Into Single Item - Caixin Global The announcement defied expectations that the General Administration of Customs would follow its existing practice and announce January trade data Friday.
Politics and Law
Why are heroes so important in narrative construction of public crises? | The China Collection the narrative conditions its audience to accept the occurrence of the crisis and to take it as a given. By directing the audience's attention toward individual altruism, the narrative obscures the state's failure to discharge its duty to provide public safety. At the same time, the narrative also deflects and/or downplays the importance of any investigative efforts that are directed to check systematic failure, which, because of their very goal, are likely to threaten the survival of the system and hence need to be repressed.
光明日报:公职人员不得佩戴N95口罩?这个可以有 Given the mask shortage, the Beijing government ordered that all public officials are not allowed to wear the N95 mask, which is in great demand because it is more effective than normal mask in preventing virus transmission.
Personal data protection remains important amid virus outbreak - Global Times China's Central Cyberspace Affairs Commission said that personal information gathered for epidemic and disease prevention efforts amid the coronavirus outbreak is not to be used for other purposes. According to the recent notice issued on privacy protection and big data used to support combined efforts for disease prevention, companies and individuals are prohibited from disclosing a person's name, age, ID information, phone number, or home address without prior consent.
网易,崇祯亡国时候,所有人都等他下令 初始页 Netease may be in trouble for running a now-deleted piece saying that the Ming Dynasty collapsed as everyone was waiting for him to issue orders
Eric Li: 'How do you block a country of 1.4bn people?' | Financial Times - Lunch with Gideon Rachman It strikes me that Li is an expert practitioner of "whataboutism"..."For a period of several decades, the Chinese nation has been debating what kind of government and society they want . . . There are people who are liberals, who want to be a liberal country. I think that debate is over." However, "there are still a lot of leftover liberal phrases, liberal thoughts in universities and other parts of the country. I think these things will be changed." In any case, Americans are not in a position to lecture China on free speech.
Doctor who exposed Sars cover-up is under house arrest in China, family confirms | World news | The Guardian Since April last year, officials have cut off Jiang's contact with the outside world and restricted his movements after he wrote to the top leadership asking for a reassessment of the 1989 Tiananmen Square pro-democracy movement, said a close friend, on condition of anonymity.
Foreign and Defense Affairs
China warns France against treating Huawei differently from European competitors for 5G contracts | South China Morning Post In a lengthy statement issued on Sunday on its website, the Chinese embassy in Paris urged France to establish "transparent criteria and treat all companies in a similar way", referring to telecom equipment makers. It also warned that a difference in treatment based on the country of origin would be considered "blatant discrimination" and "disguised protectionism."
The statement also carried a veiled warning. "We do not wish to see the development" in China of Finland's Nokia and Sweden's Ericsson being "impacted because of discrimination and protectionism" against Huawei by France and other European countries, the embassy said.
Anti-Huawei UK lawmakers conducting 'witch-hunt': Chinese ambassador - Reuters Asked about a letter to Conservative lawmakers by several former ministers expressing concern over Huawei, Liu Xiaoming told the BBC: "They are totally wrong, I think what they are doing is a kind of a witch-hunt. Huawei is a private-owned company, nothing to do with the Chinese government and the only problem they have is they are a Chinese company."
Crown casino junk partner Tom Zhou, known as 'Mr Chinatown', arrested and deported to China Crown Resorts regarded Tom Zhou as a "very, very important person" and paid him tens of millions of dollars to lure high-rollers from China to Australia even though he was implicated in foreign influence operations, extortion, money laundering and had associations with drug and human traffickers...Zhou was detained in Vanuatu late last year but then flew to Japan and onto Fiji where he was detained again before being deported to China earlier this year as part of a longstanding international "red notice" arrest warrant.
Mexicans, epidemics, and the extraordinary hypocrisy of Xinhua News Agency - SupChina Only now, after seeing how it reacts to other countries imposing travel bans on China, do I come to realize the absolute lack of self-awareness on its end. It cannot fathom it was much harsher on Mexico. By the way, Mexico has NOT imposed a travel ban on China, or Chinese nationals, because of the coronavirus. We have not closed consulates or embassies. We have not issued travel warnings. We are treating China the way we appreciated other countries treating us during H1N1, and the way we had hoped China would.
ChinaFile Presents: The Scientist and the Spy (Complete) | Asia Society Author and journalist Mara Hvistendahl speaks to Kaiser Kuo about her new book The Scientist and the Spy: A True Story of China, the FBI, and Industrial Espionage.
Chinese hotel workers arrested in Kenya after caning video prompts demands for action | South China Morning Post Kenyan police have arrested four Chinese nationals after a video appeared online allegedly of one of the men caning a waiter at the hotel where they worked.
孙承昊:特朗普执政后美国国家安全委员会的变化 Sun Chenghao, an assistant researcher with CICIR, the think tank affiliated with China's state security ministry, wrote an analysis of the National Security Council under Trump. Sun concluded that the NSC still plays a key role in US' decision making despite the come and go of several National Security Advisor and the fact that the current Advisor Robert C. O'Brien is just a "little follower小跟班" of Pompeo.
美知名投资人诅咒中共党员统统染上"中国病毒",胡锡进回击 Global Times played up the tweet by "prominent American investor" Kyle Bass who called GT's Hu Xijin an "ungrateful bastard" and who said "Let the chinese virus rampage through the ranks of GT and the communist party". Bass tweeted the post after Hu complained the US didn't give enough aid to China.
美国驻华大使馆:要进一步了解美国对中国的援助 Chinese netizens flooded the Weibo of US embassy with thank you notes and angry comments accusing the Americans of not not giving enough aid, especially when compared with countries like Russia.
第一阶段经贸协议后,中美关系向何处去 Fan Jishe, a professor of the CCP Central Party School, suggested that after the phrase one trade deal, China and the US have tested the limits of each other and it is time to sit down and manage the conflict so to avoid decoupling and "hostile competition", which Fan said has been the agenda of the American right wing.
Hong Kong and Macao
In Hong Kong, toilet paper is in short supply. Trust in the government is even more scarce. - The Washington Post The Hong Kong government's response to the virus threat has reinforced a sense that it is incapable of handling the crisis, notwithstanding the city's experience during the 2003 outbreak of severe acute respiratory syndrome (SARS), which killed nearly 300 here. While officials have pledged to ensure adequate supplies, it's clear that few people are convinced.
走看社会 | 中国社科大外聘教师周佩仪因发表不当言论被解聘 Zhou Peiyi, a professor from Hong Kong was fired by University of Chinese Academy of Social Science after she criticized on WeChat the government's handling of the virus.
Taiwan
Taiwan scrambles jets as Chinese air force flies round island - Reuters In a statement, Taiwan's Defence Ministry said Chinese J-11 fighters and H-6 bombers flew into the Bashi Channel to the south of Taiwan, then out into the Pacific before heading back to base via the Miyako Strait, located between Japan's islands of Miyako and Okinawa, to the northeast of Taiwan.
China turns the screws on Eswatini China has stepped up its pressure on Eswatini to dump Taiwan by threatening to cut all trade should the absolute monarchy not recognise its One-China policy.
Tech and Media
Yicai Global - Alibaba's Office App Beats WeChat for Downloads as Staff in China Work From Home Downloads of DingTalk, an enterprise communication and collaboration platform developed by e-commerce giant Alibaba Group Holding, has outnumbered those of China's most popular instant messenger WeChat, run by rival tech giant Tencent Holdings
Tencent invests in Spec Ops: The Line studio Yager Tencent is making another big move in the gaming space. The Chinese megaconglomerate is investing an undisclosed amount of capital in Berlin-based game studio Yager Development. This influx of cash is going to help Yager expand its self-publishing efforts.
Exclusive: China's mobile giants to take on Google's Play store - sources - Reuters China's Xiaomi (1810.HK), Huawei Technologies [HWT.UL], Oppo and Vivo are joining forces to create a platform for developers outside China to upload apps onto all of their app stores simultaneously, in a move analysts say is meant to challenge the dominance of Google's Play store.
Education
No Lux or Veritas - Yale Daily News Hana Davis '20 on how Yale trades "light and truth" for business in China