Xi holds meeting with 170,000 cadres; More policy support for medical workers; "Wolf warrior" diplomat Zhao Lijian's new job
Xi decided to take his message directly to 170,00 cadres. On Sunday he chaired a teleconference "to advance the work on coordinating the prevention and control of the COVID-19 and economic and social development".
For the first time in a month all seven Politburo Standing Committee members appeared together in propaganda reports, and all without masks, while everyone else in attendance was shown wearing a mask.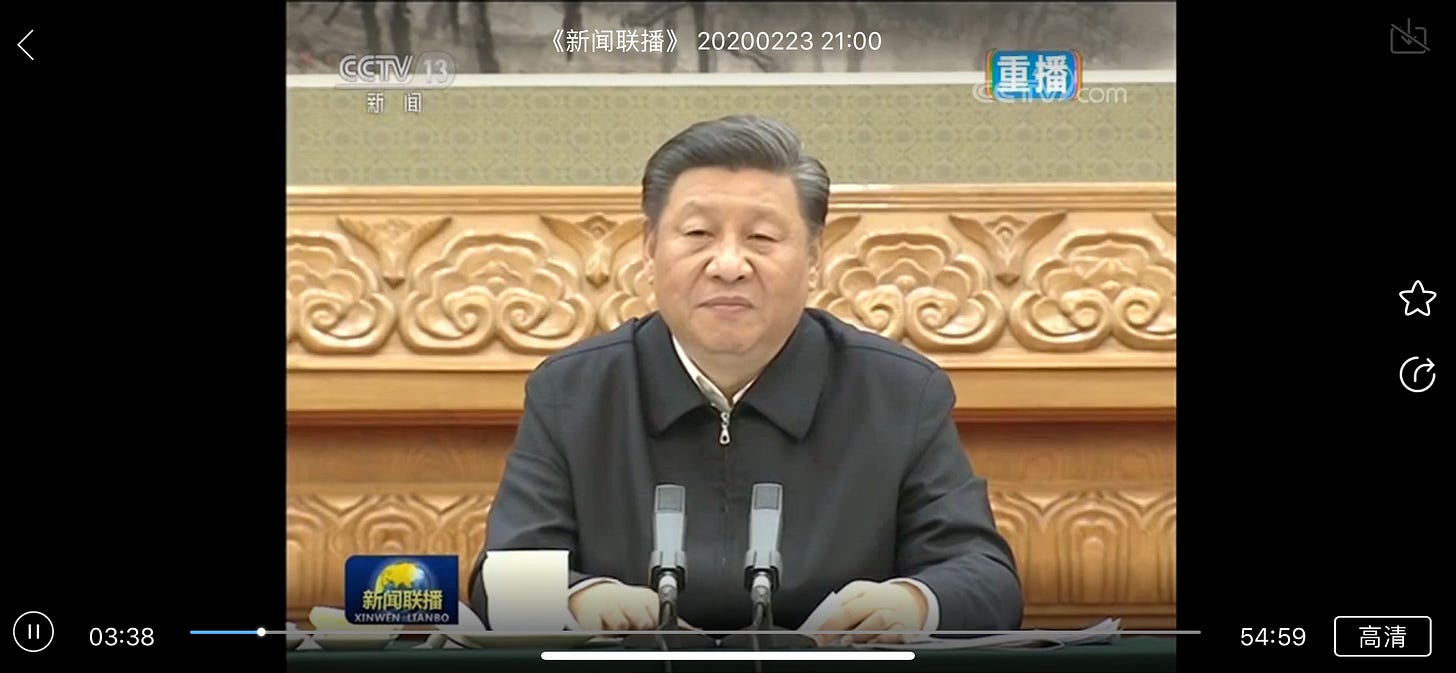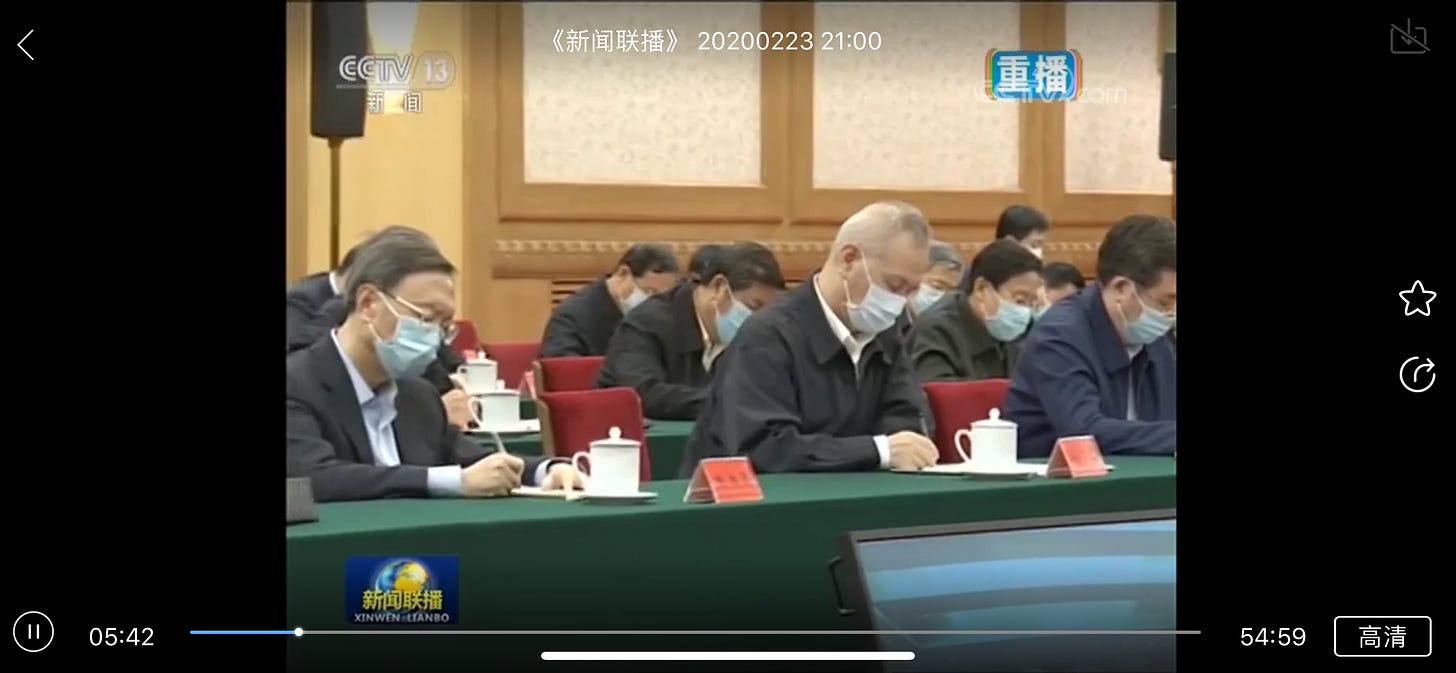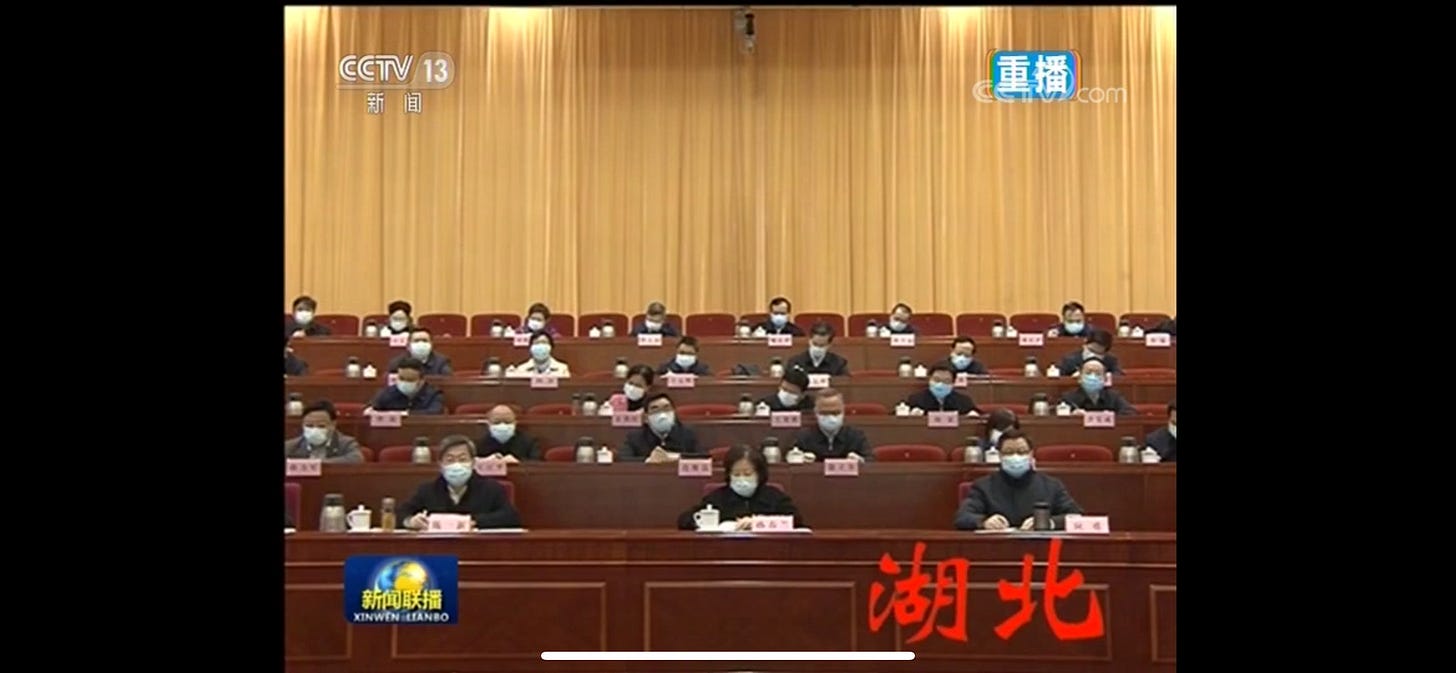 Some of the key points per Xinhua:
The epidemic situation remains grim and complex and it is now a most crucial moment to curb the spread, he noted...

The COVID-19 outbreak is a major public health emergency that has spread in the fastest speed, caused the most extensive infection and is the most difficult to contain in the country since the founding of the People's Republic of China, said Xi.

"This is both a crisis and a big test for us," Xi said, adding that after arduous work, the positive trend in the prevention and control work is now expanding.

"It has been proven that the CPC Central Committee's judgment on the situation of the epidemic is accurate, all work arrangements are timely, and the measures taken are effective," said Xi.

"The results of the prevention and control work have once again demonstrated the notable advantages of the leadership of the CPC and the system of socialism with Chinese characteristics," he added...

He said the COVID-19 epidemic will inevitably deal a relatively big blow to China's economic and social development. However, at such a time it is even more important to view China's development in a comprehensive, dialectical and long-term perspective, and to strengthen and firm up confidence…

The epidemic prevention and control work in Beijing should be carried out with all-out efforts. Both imported cases and spread within the city should be prevented;
He also noted at the end of his speech, per the official Chinese report, that
In January 2018, at the opening session of the special seminar on the study and implementation of the guiding principles of the 19th national congress of the CPC, I listed 16 specific risks in eight aspects. Among them, I mentioned that "major infectious diseases, such as SARS, should also be kept vigilant and closely guarded".
CYA with CCP characteristics?
Sunday's meeting followed a Politburo Standing Committee meeting Wednesday and a Politburo meeting Friday, as the propaganda organs show that Xi is in charge every step of the way.
The economic hit is going to be bigger than they first expected and these recent meetings make it clear there is going to be more fiscal and monetary policy support coming.
Why did Xi feel the need to talk directly to so many cadres? Is it simply because he wanted to make sure the Party Center's message and directives were going unfiltered to the frontlines?
Thanks for reading.
---
The Essential Eight
1. Xi holds meeting with 170,000 cadres
Xinhua Headlines: Xi stresses unremitting efforts in COVID-19 control, coordination on economic, social development - Xinhua
Xi...made the remarks when delivering an important speech at a meeting in Beijing to advance the work on coordinating the prevention and control of the COVID-19 and economic and social development.

The Chinese nation has experienced many ordeals in its history, but it has never been overwhelmed. Instead, it has become more and more courageous, growing up and rising up from the hardships, Xi said.

Each region should adopt a precise approach when advancing resumption of work and production based on local health risks, Xi said....

Xi stressed strengthening the regulation role of macro-economic policies, calling for more positivity in the country's proactive fiscal policy and the roll-out of more targeted interim policies in cutting taxes and fees to help micro, small and medium-sized firms tide over difficulties.

Besides, the prudent monetary policy should feature more flexibility and moderation, Xi said, calling for making good use of existing financial support policies and introducing new policies and measures in due course.

China will step up efforts to keep employment stable, with all-round measures to cut corporate burdens, keep the payroll stable, and create more job..

In order to win the people's war against the epidemic, the Party's leadership should be strengthened, Xi said.
Why Chinese President Xi Jinping called 170,000 cadres about the coronavirus epidemic | South China Morning Post
It was the second time Xi had spoken to cadres in a mass teleconference – he used the same platform to address the rank-and-file in January as part of a campaign to stress political loyalty and party values...

An official from the Communist Party School, who declined to be named due to the sensitivity of the issue, said party leaders often used teleconferences to disseminate their orders and instructions, but they had become more frequent and on a bigger scale under Xi.

"Before Xi, such teleconferences used to involve several thousands of people only," the cadre said.

He also said that the top leadership was concerned about whether Xi's instructions were being followed faithfully throughout the party bureaucracy.
在统筹推进新冠肺炎疫情防控和经济社会发展工作部署会议上的讲话
In his speech Xi noted that he had warned about the risk of epidemics back in 2018

二要增强忧患意识。这个问题我反复强调,2018年1月我在学习贯彻党的十九大精神专题研讨班开班式上列举了8个方面16个具体风险,其中提到"像非典那样的重大传染性疾病,也要时刻保持警惕、严密防范"。要时刻保持如履薄冰的谨慎、见叶知秋的敏锐,既要高度警惕和防范自己所负责领域内的重大风险,也要密切关注全局性重大风险

Second, we need to be more aware of potential dangers. I have repeatedly stressed this issue. In January 2018, at the opening session of the special seminar on the study and implementation of the guiding principles of the 19th national congress of the CPC, I listed 16 specific risks in eight aspects. Among them, I mentioned that "major infectious diseases, such as SARS, should also be kept vigilant and closely guarded". We should always be cautious and sensitive. We should not only be highly alert to and guard against major risks in the field we are responsible for, but also pay close attention to major risks in the overall situation
Xi's point? See, I have been on top of it, the problem is that not everyone was listening...
习近平在学习贯彻党的十九大精神研讨班开班式上发表重要讲话 _ 最新报道 _中国政府网
here is the Xinhua report on 2018 speech at the time, no mention of those comments in it
There has been some discussion on Chinese social media comparing the Sunday meeting to Mao's January-February 1962 "Seven Thousand Cadres Conference" convened in the wake of the Great Leap Forward disaster.
Last week Xi also chaired a Politburo Standing Committee meeting and then a Politburo meeting -Xi Focus: Xi chairs leadership meeting on COVID-19 control, economic development - Xinhua
The Political Bureau of the Communist Party of China (CPC) Central Committee on Friday held a meeting on the prevention and control of the novel coronavirus disease (COVID-19) and the coordination between the epidemic control and economic and social development.
Friday CCTV Evening News on the Politburo meeting - 中共中央政治局召开会议 研究新冠肺炎疫情防控工作 部署统筹做好疫情防控和经济社会发展工作 中共中央总书记习近平主持会议. The report says there was a standing committee meeting on 2.19 and they "Decided to submit the relevant opinions to the meeting of the political bureau of the CPC central committee for deliberation" [Collective leadership in action!!]. Report then says Xi has been paying close attention to the situation of the epidemic and has made prevention and control of the epidemic a top priority, that the "turning point of the national epidemic has not yet arrived" and makes the point of emphasizing "Efforts should be made to prevent and control the epidemic in Beijing". So they must be very worried about Beijing…The report also says "We will give priority to ensuring that leading enterprises and key links with important influence in the global supply chain resume production and supply, and maintain the stability of the global supply chain", and that "Proactive" fiscal policy will get more proactive (更加积极有为) and "stable" monetary policy will get more "suitably flexible" (更多灵活适度)
新华网:习近平总书记的敬意、谢意、心意 - "Xi Jinping gives respect, appreciation and sincere message", Xinhua made a video with quotes of Xi thanking the doctors, soldiers and police working to combat the coronavirus.
---
2. The outbreak
Coronavirus Monday Update: China Postpones Annual Legislature Meeting as Overseas Case Numbers Rocket - Caixin Global
China on Sunday recorded its highest number of Covid-19 deaths in 11 days, as 150 people succumbed to the pneumonia-causing virus. The daily death toll hasn't exceeded that figure since Feb. 13, when 254 people died — although that was back when doctors were using broader diagnostic criteria to count cases.

In a more positive development, the number of new coronavirus infections in China remained below 1,000 for the fifth straight day. Those figures also fell sharply after the diagnostic criteria were narrowed again on Feb. 20.
Coronavirus spreads outside China, but 'world in Wuhan's debt' for its actions: WHO - Reuters
China's actions, especially in Wuhan, had probably prevented hundreds of thousands of cases, said the head of the WHO delegation in China, Bruce Aylward, urging the rest of the world to learn the lesson of acting fast.

"The world is in your debt," Aylward, speaking in Beijing, told the people of Wuhan. "The people of that city have gone through an extraordinary period and they're still going through it."
Question: China's actions have been remarkable, but did Aylward or anyone from the WHO mention the initial coverup?
"The battle to save Wuhan"--stirring 3 minute short video from People's Daily
Beijing advises public to avoid crowds in parks - Xinhua
Now is the crucial stage for prevention and control work, and it is best for the public to go out less and avoid gatherings, said Zhang Yahong, spokesperson for the Beijing Municipal Administration Center of Parks.
Another Study Claims Wuhan Seafood Market May Not Be Source of Covid-19 Outbreak
Co-authored by researchers from three Chinese institutions including the Chinese Academy of Sciences and published Friday on the distribution platform ChinaXiv, the study attempts to trace how the virus emerged and evolved...

That makes it relatively likely that the virus was introduced into the market from outside and began passing between people earlier than previously thought, according to the study. "SARS-CoV-2 may have already circulated widely among humans in Wuhan before December 2019, probably beginning in mid to late November," the paper says. "Some infected patients may have been overlooked because they had mild symptoms."
Confusion in Wuhan as move to ease coronavirus lockdown is reversed | South China Morning Post
The local government revoked the notice it said had been issued by a subordinate working group from the city's disease control command centre without approval from their superiors.

The centre, headed by Wuhan mayor Zhou Xianwang, said the officials who had issued the order without authorisation had been reprimanded.
Clearly not all the cadres got the message from Xi's Sunday speech

Taoran Notes criticizes the Wuhan notice that was quickly reversed as going against Xi's speech Sunday, that this kind of error should never have happened, that it was made by a deputy mayor without seeking approval of his boss
China sends in top investigators after coronavirus erupts in jails | South China Morning Post
State news agency Xinhua reported that Lei Dongsheng, deputy secretary general of the Central Political and Legal Affairs Commission, China's top law enforcement agency, would lead a high-level team to investigate the outbreak at Rencheng Prison. The team will include officials from the Supreme People's Procuratorate, the Ministry of Public Security and the Ministry of Justice.
North China city of Harbin puts four districts on lockdown in bid to contain coronavirus | South China Morning Post
The municipal government in Harbin, capital of Heilongjiang province, which borders both Russia and North Korea, said that all residents of Daoli, Daowai, Nangang and Xiangfang had been placed in temporary isolation and that all access points into and out of the districts – all of which are in downtown areas – had been closed.

With a population of more than 10 million people, Harbin is both the province's largest economy and a major commercial centre for northern China. A base for grain production, it is also home to major players in the textile, pharmaceuticals, food, aircraft, car and metallurgy industries.
3 professors from Wuhan's Huazhong University of Science and Technology have died in the epidemic
Caixin reported that at least 19 people have died since late December in the nursing home not faraway from the Huanan Wild Market, and for most of them the causes are still unknown. Many of the death showed symptoms similar with the coronavirus infection.
Eight negative arguments smearing China's virus fight must be refuted - Global Times
The COVID-19 outbreak in China has begun to decline outside Hubei Province, meanwhile in some countries it is on the rise. This fully shows that the epidemic is a challenge faced by all humanity and needs to be addressed by all countries. China's experience in combating the outbreak shows that timely, accurate and authoritative information disclosure is crucial. However, "negative energy" arguments in the public opinion field, which undermines the solidarity and cooperation between human beings and even creates panic out of nothing, will harm the efforts to fight the epidemic and can be called a "tumor" in the public opinion field during the epidemic. Here, we summarize eight typical "negative energy" arguments in international public opinion and reveal their absurdities, hoping to provide a "mirror" on the information field in the epidemic.
---
3. Economic impact
Chinese authorities stress differentiated epidemic control strategies - Xinhua
Measures should be taken based on different conditions in each region to combat the epidemic, according to a meeting of the leading group of the Communist Party of China (CPC) Central Committee on the prevention and control of the novel coronavirus outbreak, which was chaired by Premier Li Keqiang, also a member of the Standing Committee of the Political Bureau of the CPC Central Committee and head of the leading group.

The meeting stressed unremitting efforts in various prevention and control work and the orderly resumption of work and production.

Efforts should be made to achieve the goals and tasks for economic and social development this year, according to the meeting.
刘煜辉:2.3说党中央确定的各项任务目标都要完成,这次是努力实现
Liu Yuhui, professor of economics at Chinese Academy of Social Science pointed out that Beijing is lowering its expectation for growth. He said that in the politburo meeting earlier this month, Xi had said "all the social and economic goals must be accomplished", and now he said China should "strive to achieve" the goals.
Liu Yuhui, economist with CASS, said in a speech last week that China's potential growth could be zero due to the virus, "with its face hitting the ground". Liu said China may have overestimated its role in the global value chain and the global economy because there is not much fluctuation in the markets overseas despite China's economy is in shutdown for two months. He warned that the West may have been using the virus outbreak as a stress test for future decoupling with China.
Zhang Anyuan, former senior economist with the NDRC, harshly criticized other Chinese economists who he said are over-optimistic in estimating the Q1 growth can reach 5%. Zhang warned that it is impossible to have positive growth for Q1, and that policies based on overoptimistic estimate will have serious consequence.
China's economic powerhouse Guangdong lowers coronavirus threat level amid drive to get economy going again | South China Morning Post
Guangdong, which neighbours Hong Kong, has been the worst-hit province after Hubei, the epicentre of the outbreak, with 1,345 confirmed cases of infection and six deaths. But the number of new cases reported each day has fallen to single fingers over the past week.
Coronavirus: China likely overestimating economic recovery by leaving out hard-hit small businesses | South China Morning Post
On Monday, National Development and Reform Commission spokesman Cong Liang said that over 90 per cent of industrial enterprises in Zhejiang province, one of the country's top manufacturing bases, had resumed operation. According to Cong, over 70 per cent of production in the manufacturing and export hubs of Guangdong, Jiangsu, Shandong and Liaoning had also restarted.

However, the official figures only cover larger firms, namely enterprises with capacities "above state designated sizes", which are enterprises that have a minimum annual turnover of 20 million yuan (US$2.85 million), according to the government's official definition.
China Small Business Gauge Falls to Record Low on Virus Outbreak - Bloomberg
The SMEI index complied by Standard Chartered Plc economists Lan Shen and Ding Shuang fell to 40.5 this month, the lowest since the gauge was created in 2014, they wrote in a note on Monday. A sub-index evaluating "current performance" dropped even more sharply to 31.3, while the reading for the outlook was better than the headline number, signaling some hope for recovery once the outbreak is contained.
PBOC Gives More Incentives for Banks to Expand Small Business Credit - Caixin
China will allow more commercial banks to reduce the amount of cash they must hold in reserve, and let lenders issue bonds to expand credit for small businesses, in response to cash crunches resulting from the coronavirus outbreak, a central bank official said Monday...

Liu Guoqiang, another PBOC deputy governor, said (link in Chinese) during a recent interview that taking into account fiscal subsidies, the average financing cost enterprises bear for related special loans is 1.3%.

Liu said the central bank is also mulling instructing banks to roll over loans for companies in regions heavily affected by the virus. Those who miss repayment due to the epidemic would not be penalized, he said.
In Depth: China's Property Market Grinds to a Halt Amid Coronavirus Curbs - Caixin
For the last three weeks, developers across the country have seen home transactions slump to virtually zero after they closed down their sales offices as part of the government's campaign to prevent the spread of the virus...

In 2019, real-estate developers took in 6.14 trillion yuan ($873 billion) from deposits and advances, 34% of the total amount of funds they raised, and the biggest single source of funding, while bank loans accounted for just 2.52 trillion yuan, government data show. Without income from deposits and advances, many developers will struggle to fund construction of ongoing and new projects and to repay debt. A report by Ping An Securities estimated that based on an assumption of a 50% drop in operating cash flow, most developers only have enough cash to last another three months.
China Cuts Power Prices to Support Struggling Manufacturers - Caixin
Two of China's largest power distributors will cut electricity rates for most of their business customers by an average of 5%
Production at China's Biggest Steelmaker is Down 8% - Caixin
China Baowu Steel Group Corp., the steel major which had the world's second largest output of 67.43 million tons in 2018 and 90 million tons last year, expects to earn 2 billion yuan ($284 million) to 3 billion yuan less in the first three months of 2020, led by an 8% drop in production this month and a combined 5% decline in output in the first quarter.
Shanghai's Xuhui Riverside Sets Record for Chinese Land Sales with USD$4.42 Billion Deal – China Banking News
On 20 Feb­ru­ary the Xuhui River­side West Bank Fi­nan­cial Port (徐汇滨江西岸金融港) site was of­fi­cially sold for a con­sid­er­a­tion of 31.05 bil­lion yuan (ap­prox. USD$4.42 bil­lion) to Hong Kong Land Hold­ings.

Ac­cord­ing to of­fi­cial data the land plot has a to­tal area of 323,664.6 square me­tres, with deal trans­lat­ing into a price of 28,564 yuan per square me­tre, and a pre­mium rate of 0.1%.
Comment: Beijing had a successful land sale earlier this month
With Migrant Workers in Limbo, Part of China's Economy Is Stalled - WSJ $$
China's transport minister recently said fewer than one-third of the country's 291 million migrant workers, or people from rural areas who work in cities, had returned to their jobs as of Feb. 14. He said another 120 million should return by the end of February, while the remaining 100 million would return in March.
Coronavirus Lockdowns Torment an Army of Poor Migrant Workers in China - The New York Times
Rural itinerant workers are being blocked from cities, kicked out of apartments and rejected by companies as the authorities impose strict controls to stem the spread of the virus.
Infection of Dangdang.com employee leaves 82 under quarantine - Xinhua
Li went back to the northeastern province of Heilongjiang on Jan. 21 and returned to Beijing on Feb. 5. She worked at the company from Feb. 10 to 13 by public transportation.
Special trains carry workers back to work across China - Xinhua
---
4. Civil society efforts in spite of the CCP
Religious Groups in China Step Into the Coronavirus Crisis - The New York Times
In temples, mosques and churches, China's religious believers have jumped into the national battle against the coronavirus. They have offered prophecies and prayers, ceremonies and services, as well as donations totaling more than $30 million. Their efforts reflect the country's decades-long religious revival, and the feeling among many Chinese that faith-based groups provide an alternative to the corruption that has plagued the government.

The Rev. Huang Lei, the leader of an underground church in Wuhan, said local officials have rejected their donations because they fear trouble with more senior officials for cooperating with what the government in Beijing considers to be illegal organizations.

"In China the government likes to control all channels for donating money," Pastor Huang said in a telephone interview. "They don't like civil society to participate, and especially not faith-based organizations."
Caixin Editorial: Outbreak Reveals the Role Civil Society Should Play in Health
For all kinds of complex reasons, nongovernmental organizations have had a rough time in China over the past few years. The new coronavirus epidemic is a severe warning. Once the outbreak settles down, China will need to recalibrate its public health system. A renewed focus on social actors should be part of that agenda...

The development of nongovernmental actors is therefore an organic component in the modernization of social governance. Whether or not we can trust, cultivate, and express popular power is an important manifestation of our administrative capacities. A thriving nongovernmental sector is therefore crucial to a harmonious, vivacious society.
Voices from China: The citizen volunteers keeping Wuhan alive - Inkstone
As the city's infrastructure crumbled under the weight of an epidemic the country's leader called the "most difficult" to control, civilians sprang into action to help one another.

They are ordinary citizens except for the fact that they decided to act. They are volunteers who have no experience in organizing. They have little in common besides a shared sense of purpose.

Inkstone interviewed several people who are making it their mission to save Wuhan. Here are their voices.
Chinese Fan Girls Join Force to Cultivate Coronavirus Response - Pandaily
Hospitals in Hubei province are running short of supplies due to the surge of patients during the coronavirus outbreak. Amidst charities from all over the globe, a large chunk of medical supplies came from the fan girls, a special presence on the first-aid frontline. Women in their early twenties spontaneously organized public welfare action to aid the Wuhan medical staff during this chaotic Spring Festival holiday. According to the accounts published on Weibo, the supplies donated by different fan organizations has totaled over 1 million yuan as of February 14.
Virus-hit Wuhan's volunteer project attracts more than 10,000 applicants - Xinhua
Authorities announced the recruitment on Sunday morning to help Wuhan residents, who are required to stay home as part of the epidemic prevention and control methods, buy crops and vegetables in downtown areas. The volunteers will also be running errands for them.
---
5. More policy support for medical workers
No wonder Xi made the call last week for more support for medical workers at the frontlines, their sacrifices have been enormous.
中国-世卫组织联合考察专家组:全国3387名医护人员感染新冠肺炎 超9成来自湖北
Per the China-WHO inspection team 3387 medical workers have been infected with COVID-19, 90% of those cases are in Hubei
More protection for medical workers - SCIO
First, raise salaries for medical workers. Temporary subsidies, one-time paycheck for extra work for all medical workers participating in the battle against the epidemic, and allowances for personnel involved in epidemic prevention and control, should be provided. For those working at the frontline in Hubei province, the temporary subsidies and one-time paycheck for extra work should be doubled and tripled, respectively...

Tenth, related departments should apply for the honor of martyr for deceased medical staff, comfort the families of the deceased and help solve their difficulties. Also, medical workers with excellent performance will get praised.
The original Chinese of the guideline - 中央应对新型冠状病毒感染肺炎疫情工作 领导小组关于全面落实进一步保护关心爱护 医务人员若干措施的通知
Front-line medical workers to get better care, higher payment - China Daily
Front-line medical workers in Hubei province, including those with medical assistance teams from other parts of the country, will have their salaries tripled during the epidemic control fight, and subsidies for them will be further boosted, according to a document released on Sunday by the top leading group on the novel coronavirus prevention and control.
Another Wuhan doctor dies from coronavirus - Xinhua via The Straits Times
Dr Xia Sisi, 29, a gastroenterology physician, became infected while working at the Union Jiangbei Hospital of Wuhan in central China's Hubei province.

She was hospitalised on Jan 19 and later transferred to Zhongnan Hospital of Wuhan University on Feb 7 after her condition worsened.
Question: Did the report on her death reveal evidence of the coverup in Wuhan in January?
Doctor on front line dies from coronavirus - China Daily
Peng Yinhua, 29, who had worked at the First People's Hospital of Jiangxia District, died of respiratory failure on Thursday.

The doctor and his pregnant wife had planned to have their wedding ceremony on Feb 1. Though they had registered their marriage two years ago, it is common in China to celebrate the wedding later on a special date.
For China's Overwhelmed Doctors, an Understanding Voice Across the Ocean - The New York Times
Erjing Cui, a Seattle psychotherapist, volunteers for Yong Xin Kang Yi, a crisis line for medical workers fighting the coronavirus epidemic.
Caixin on the last days of five medical workers who died fighting the epidemic
---
6. US-China
President Trump vows more farm bailouts amid criticism over China trade deal - The Washington Post
In an all-caps tweet, Trump pledged to further increase the size of the bailout program, which has already cost taxpayers $28 billion. "IF OUR FORMALLY TARGETED FARMERS NEED ADDITIONAL AID UNTIL SUCH TIME AS THE TRADE DEALS WITH CHINA, MEXICO, CANADA AND OTHERS FULLY KICK IN, THAT AID WILL BE PROVIDED BY THE FEDERAL GOVERNMENT," Trump said.

His comments appeared to surprise a number of administration officials, and they came amid growing signs that last month's partial trade deal with China is falling far short of the levels initially promised by the White House. On Thursday, a senior U.S. Department of Agriculture official said China might end up buying just $14 billion in American farm products through the end of September, meaning the total sales for the year are likely to be much less than the $40 billion Trump had promised.
Comment: I hear the Chinese are trying to get Trump to agree to a lower target given the outbreak and they have found sympathetic interlocutors
Coronavirus will have no 'material impact' on US-China trade deal, Treasury Secretary Steven Mnuchin says | Reuters
China was focused on the virus for now, he said, but Washington still expected Beijing to live up to its commitments to buy more US products and services under the trade deal.

"I don't expect that this will have any ramifications on phase one. Based on everything that we know, and where the virus is now, I don't expect that it's going to be material," he said.
Coronavirus crisis shows pharmaceuticals have offshored supply chain, Navarro says | Fox Business
"We've offshored far too much of our supply chain, not just for corona, but also for the essential medicines we need," Navarro said on "Sunday Morning Futures." "Same reasons we offshored a lot of our other stuff: it's a cheap labor environment, lax environment, and most of all, unfair trade practices."

"My part of the portfolio is to make sure our supply chains are secure and we have what we need," he said. "On the supply chain issue, for the American people they need to understand that in crises like this we have no allies."
Comment: The epidemic makes the decoupling argument an easier sell
Scoop: Coronavirus threatens shortages of about 150 drugs - Axios
About 150 prescription drugs — including antibiotics, generics and some branded drugs without alternatives — are at risk of shortage if the coronavirus outbreak in China worsens, according to two sources familiar with a list of at-risk drugs compiled by the Food and Drug Administration.
US: don't give China control of intellectual property group    | Financial Times $$ -Peter Navarro OpEd
In early March, the World Intellectual Property Organisation will elect a new director-general for a six-year term. A leading candidate is from China, which has repeatedly drawn criticism for allowing counterfeiting and illegal expropriation of IP. 

Established in 1967, Wipo is one of 15 UN "specialised agencies". Its particular job is to promote IP protection, help businesses and individuals obtain IP rights, and increase accessibility to IP information. Wipo regulates systems managing 43m patent documents. This treasure trove includes unpublished patent applications and commercially sensitive information from more than 200 jurisdictions and patent information collections. 
Comment: The US is likely to lose its campaign to block the selection of a director from the PRC
Xi appreciates support from Bill & Melinda Gates Foundation in China's fight against COVID-19 - Xinhua
In his letter dated Feb. 20, the Chinese president wrote: "I deeply appreciate the act of generosity of the Bill & Melinda Gates Foundation and your letter of solidarity to the Chinese people at such an important moment."
Xi encourages Chinese learning in letter to U.S. pupils - CGTN
Chinese President Xi Jinping recently encouraged a group of U.S. elementary students to keep learning the Chinese language and culture, in a letter reply to the pupils from Cascade Elementary School in Utah.
Vice Foreign Minister Zheng Zeguang Meets with Chairman of the American Chamber of Commerce in China Greg Gilliganss
Zheng Zeguang thanked American Chamber of Commerce in China and its members for donating supplies. Zheng Zeguang noted, since the outbreak of the epidemic, with President Xi Jinping's personal guidance and deployment, the Chinese people have united as one and adopted the most comprehensive, rigorous and thorough measures, making positive results in relevant work. We are fully confident and capable of winning the battle against the epidemic. The impact of the epidemic is only temporary, while the long-term and positive trend of China's economy will remain unchanged. US enterprises are welcome to continue to develop in China. It is hoped that American Chamber of Commerce in China and its members will further enhance cooperation with China.
Jin Yinan: The US, not China, threatens the world - China Military - Gen Jin Yinan
China has opened its gate to welcome American enterprises, but the US has spared no effort to suppress Chinese ones. These are not trumped-up theories, but stark facts. Who is the threat and who is the victim? China never threatens the US. It's always the other way around.

Exaggerated and sensational remarks only work with children.
Beggar-thy-neighbor practices don't help with global epidemic control - People's Daily Zhongsheng
After the outbreak of the novel coronavirus epidemic, the World Health Organization (WHO) has repeatedly advised against travel or trade restrictions and called on all countries to implement decisions that are evidence-based and convincing.

However, there are still certain countries that didn't follow the WHO's authoritative advice and took excessive restrictions. Such beggar-thy-neighbor and selfish practices didn't help with epidemic prevention and control, but created fear and panic, disturbed normal international personnel exchange and cooperation, and exerted negative impact on the order of the international aviation market and the development of the global economy, causing rising anxieties among the public.
Comment: Looking forward to Zhong Sheng also criticizing Russia and Pakistan for cutting travel links and in Russia at least tracking down Chinese people
Chinese targeted in Russia raids as coronavirus fears spread | AP
Moscow officials ordered police raids of hotels, dormitories, apartment buildings and businesses to track down the shrinking number of Chinese people remaining in the city. They also authorised the use of facial recognition technology to find those suspected of evading a 14-day self-quarantine period upon their arrival in Russia.
PIA suspends flights to Beijing till March 15 due to coronavirus scare - Pakistan - DAWN.COM
The national flag carrier operates its Islamabad-Beijing-Tokyo flight twice a week.
China warns against travel to U.S., citing unfair treatment in virus control | Reuters
Beijing on Monday warned its citizens against traveling to the United States, saying that Chinese tourists have been treated unfairly in the country due to excessive prevention measures over the coronavirus outbreak.
Japanese TV report sparks speculations in China that COVID-19 may have originated in US - People's Daily Online
A report from a Japanese TV station that suspected some of the 14,000 Americans died of influenza may have unknowningly contracted the coronavirus has gone viral on Chinese social media, stoking fears and speculations in China that the novel coronavirus may have originated in the US.
TSA halts employees from using TikTok for social media posts - AP
The Transportation Security Administration said Sunday it has stopped allowing employees to use the China-owned video app TikTok to create social media posts for the agency after the Senate's top Democrat raised concerns about potential national security issues.
---
7. When will the US respond to the PRC's expulsion of journalists?
China not "silent lamb" in face of malicious insults, smears: spokesperson - Xinhua
In the face of malicious insults and smears, China will not be a "silent lamb," a Chinese foreign ministry spokesperson said Monday, citing a recent article by The Wall Street Journal.

Spokesperson Zhao Lijian made the remarks at a press briefing when answering a question regarding the newspaper's derogatory article insulting China.
外交部:面对恶意侮辱抹黑 中国不做"沉默的羔羊"--国际--人民网
第一,面对恶意侮辱抹黑,中国不做"沉默的羔羊"。

第二,该报以新闻报道和评论相互独立为由百般推诿没有道理。《华尔街日报》究竟谁来负责任?谁出面道歉?《华尔街日报》既然有骂人的嚣张,为什么没有道歉的勇气?世界上只有一份《华尔街日报》,该报既然一意孤行,就应承担相应后果。
Comment: Diplomatic "wolf warrior" Zhao is officially now one of the foreign ministry spokespeople
Wall Street Journal reporters protest 'sick man' headline in Wall Street Journal - The Washington Post
"We . . . ask you to consider correcting the headline and apologizing to our readers, sources, colleagues and anyone else who was offended by it," said an email sent on behalf of Journal employees by Jonathan Cheng, the Journal's bureau chief in Beijing, to William Lewis, the Journal's publisher and chief executive of Dow Jones & Co., and Lewis's boss, Robert Thomson, the chief executive of News Corp.

The email added, "This is not about editorial independence or the sanctity of the divide between news and opinion. It is not about the content of Dr. Mead's article. It is about the mistaken choice of a headline that was deeply offensive to many people, not just in China...

The email, sent Thursday, was signed by 53 members of the Journal's China staff and "other colleagues involved in our coverage," it said. Cheng was not among its signatories but sent a separate email endorsing the staff's stance

In a separate email, also obtained by The Washington Post, Cheng told the two senior executives that their "proper handling of this matter is essential to the future of our presence in China."
Comment: A response by the US may be coming soon and I would not be surprised if it targets US-based execs of one or more of the entities designated under the Foreign Missions Act.
China ventures outside the Great Firewall, only to hit the brick wall of online etiquette and trolls | South China Morning Post 
It is obvious that many Chinese diplomats, despite their experience of living in the free world, have little understanding of the dos and don'ts on Twitter and other Western social media. As such, they have contributed little of value to enhancing China's image on the international stage.
Comment: Zhao Lijian of course is the poster child of the new "wolf-warrior" diplomats active on global social media. Given that Twitter and Facebook are now the main battlefields in China's global battle for discourse power the two companies should include a notice under every tweet and post by PRC officials and official media organizations that these accounts are from a country in which Twitter/Facebook are blocked.
---
8. Amazon's price for helping feed China
Feeding China Is Wrecking the Amazon - The Atlantic
The rain forest here in Brazil has progressively fallen victim to global demand for soy and beef. And the country's biggest customer for both is China. The story of the Amazon has become entangled not simply with the story of Brazil's poor protection of its forest frontier but also with that of the rise of this new superpower and its food-security strategy. Soy is China's weak link, the main food commodity it needs from the outside world. The country imports the crop, which it mostly uses to feed its pigs, and Chinese state-owned companies also invest directly in Brazil's supply chain so the South American country can increase its own exports. This growing hunger for soy has incentivized Brazilian prospectors to keep pace by razing pristine jungle, thereby accelerating deforestation...

Technically, soy cultivation should not drive deforestation of the Amazon, because of the "soy moratorium," a deal brokered between Greenpeace, the Brazilian government, and agribusinesses more than a decade ago, when buyers pledged not to buy soy grown on newly deforested land. For a while, the pact led to a significant dip in the rate of deforestation.

But prospectors capitalized on weak rule-of-law and environmental-policy enforcement to find a creative way to continue profiting: First they'd raze trees to make way for cattle, and then, after a few years using the fields as pastureland, they would convert them to grow soy. Strictly speaking, the land would no longer be "newly harvested," and the soy moratorium would hold.
---
Business, Economy and Trade
China Is Said to Mull Bad Debt Managers for Failed P2P Lenders - Bloomberg Companies in Shanghai, Zhejiang and Shenzhen have submitted applications to set up local asset managers dealing with bad loans, especially those from online lending platforms, said the people, asking not to be identified discussing a private matter. The China Banking and Insurance Regulatory Commission has yet to approve the applications, the people said.
Yicai Global - China's Face Mask Makers, Huawei Suppliers Gain on Busiest Trading Day in Five Years The total turnover exceeded CNY1.2 trillion (USD170.6 billion) during the fourth consecutive day when over CNY1 trillion worth of mainland shares exchanged hands
Concerns Emerge About Steel Giant's Workers in Coronavirus Epicenter - Caixin Wuhan Iron and Steel is a crown jewel of the Baowu Steel empire. It employs about 18,000 full-time employees and can produce up to 14 million tons of steel products a year, including home appliance panels, heavy rails and subway rails. In 2018, Baowu Steel's Wuhan headquarters had the third highest revenue of any enterprise in Hubei. Wuhan Iron and Steel is its main asset.
Snack Shop Serves Up First IPO from Wuhan Since Covid-19 Outbreak Took Hold - Caixin After selling IPO shares for 11.90 yuan ($1.69) apiece, Bestore's stock shot up by the maximum allowable 44% to finish at 17.14 yuan on their first trading day on Monday.
China Releases Once High-Flying Anbang From State Custody - Bloomberg After considering qualified private companies and designing an "appropriate" shareholding structure, the government has "basically secured social investors," the China Banking and Insurance Regulatory Commission said on Saturday without identifying any. // Question: who got the choice assets?
Xiaomi-Backed Smart Home Cleaner Maker Raises $641 Million in Shanghai IPO - Caixin Roborock Technology closed at 500.1 yuan per share on Friday, up 84.5% from its IPO price of 271.1 yuan. It raised around 4.5 billion yuan ($641 million) in the IPO by offering 16.7 million shares. Founded in 2014, the Beijing-based startup designs and sells intelligent home cleaners and other cleaning appliances.
Subsequent events and corona virus | China Accounting Blog | Paul Gillis I believe that the virus is a type 1 subsequent event requiring it be reflected on the December 31 financial statements. On 31 December 2019, the Wuhan Municipal Health Corporation alerted China's CDC, who notified the World Health Organization. I expect some will argue that this is a type 2 event, since the virus was not widely known until 2020.
Trapped at home, Wuhan residents take to stock trading - Global Times According to data from baidu.com, China's largest online search engine, the number of "stock account opening" searches made by Wuhan residents on Baidu's website ranked second among all Chinese mainland cities from January 23 to February 22, just after the capital city, Beijing.
财新:海航现金断流, 海南省如何处置与解救 Caixin reported that Hainan Airline is running out of cash, and they did meet with the Hainan government on Feb 19 to discuss how to handle the crisis. So far there has not been a formal plan despite rumors that it will be chopped up and sold to other state airlines. 
Politics and Law
China Postpones 2020 NPC Session "As Appropriate" & Imposes Near-Total Ban on Consuming Wild Animals – NPC ObserverTo start, the NPCSC decided to postpone the NPC's 2020 annual session "as appropriate" and to announce a new date separately. Since the NPCSC is unlikely to reconvene by the end of the month, it thus seems that it will have to break one of the NPC's procedural rules. As we previously concluded, those rules would require that the NPCSC decide on a new date on Monday (assuming it wouldn't meet again in February) and that the new date fall between March 24 and March 31 inclusive. The upshot of the NPCSC's indecision today is either that the NPCSC wouldn't meet by the end of March, or that the delegates wouldn't have one month's notice of the new start date.
Commentary: "Two sessions" postponed for better advancement - XinhuaThe openings of the annual sessions of the NPC and the CPPCC National Committee had been held on March 5 and March 3, respectively, since 1998. By postponing the sessions, China will have a wider window to fight COVID-19, to identify how to minimize the impact of the epidemic on development and to prepare policies more precisely to boost growth. The current situation remains grim and complex. Among nearly 3,000 national lawmakers and more than 2,000 political advisors, many are scientists, researchers, professionals, medical staff, workers, farmers and officials of various levels. They are fighting at the frontlines against the COVID-19. No victory should be lightly announced until there is a complete win.
南医大女生被杀案细节:亲属DNA协助警方锁定嫌疑人 - 国内 - 新京报网 28年前南医大女生遇害案告破,嫌疑人麻某钢于2020年2月23日凌晨被控制。今日(24日),新京报记者获悉,系嫌疑人麻某钢的一名涉及其他案件的亲属被警方提取DNA检材,经与28年前保存的"3·24"案相关物证上所提取DNA检材进行Y染色体比较,最终锁定了麻某钢。//authorities announced they have cracked a 1992 murder case of a state at Nanjing Medical University. The Beijing News says police fund the suspect when they sampled DNA from a relative accused in another case, and it turned out to match DNA they had collected from the 1992 murder. So do the police have a database of DNA samples from unsolved crimes that they run all new DNA collected against?
赵乐际在中国共产党第十九届中央纪律检查委员会第四次全体会议上的工作报告 State media made public the full text of the annual report made earlier this month by Zhao Leji, head of CCDI the party's anti-corruption watchdog. Zhao said 587,000 cadres were disciplined over the past year, and a total of 2,041 corrupt officials were brought back to China in the "skynet campaign".
Trainee infection information 'baseless' - China Daily As for recent virus prevention and control misinformation at Xinjiang's vocational education and training centers, Ilijan Anayt, spokesman for the regional government, said there could be no risk of large-scale coronavirus infection in the centers as the trainees had graduated
"截胡"口罩,大理市委书记被免、市长被撤! Both the mayor and party boss of Dali, Yunnan are sacked for stopping and seizing shipments of face masks for their own use. Some of the masks they confiscated were purchased by the Chongqing government. 
Foreign and Defense Affairs
Fake news, censorship, coronavirus and racism — the testy relationship between China and Australia fires up Q+A - Australian Broadcasting Corporation The Deputy Head of Mission at Australia's Chinese Embassy accused the ABC of spreading fake news and Australia's foreign minister of being misinformed as the relationship between China and Australia was examined on the latest episode of Q+A.
Mack Horton: Caulfield Grammar pool won't sport graduate's name, to protect interests in China in fallout of Sun Yang protest Caulfield Grammar will keep the name of its golden graduate Mack Horton off its newly-opened, $25 million aquatic centre to preserve the school's commercial interests in China. A plan to name the state-of-the-art centre after Horton, the school's first Olympic champion, was quietly ditched late last year in response to the public fall-out from Horton's refusal to share a medals dais at the FINA World Championships with Sun Yang, one of China's most-celebrated athletes.
U.S. tries to persuade Africa it is a credible alternative to China - China in Africa Podcast This week, the China in Africa Podcast explores the complex U.S.-China-Africa relationship with two of Washington's leading experts on the issue. W. Gyude Moore is a visiting fellow at the Center for Global Development and the former public works minister of Liberia and Aubrey Hruby is a senior fellow at the Africa Center at the Atlantic Council.
China's Counteroffensive in the War of Ideas | RealClearDefense - Nadège Rolland Ten years after Beijing gave the first hints of its ambitions, it has now become clear that "China, not the United States, would control the sea and airspace of the South China Sea at the outbreak of hostilities thanks to its artificial island bases". China's anti-access strategy in the maritime domain has significantly, and perhaps irreversibly, constricted the U.S. military's freedom to manoeuvre and to act in the East Asian theatre. Underestimating China's global influence strategy similarly risks permitting a drastic limitation in the future ability of the United States to project its discourse power, promote liberal democratic ideals on the global stage, and perpetuate the existing international order.
Huawei pushes US to release secret files on HSBC-Meng Wanzhou ties as legal battle broadens | South China Morning Post In the letter, seen by the South China Morning Post, Huawei's lawyers wrote that the US government possesses documents that "appear certain" to prove that Meng did not dupe HSBC into handling Iran-related transactions – a core element of US efforts to extradite Meng, the daughter of Huawei founder Ren Zhengfei, from Canada.
Were these six Chinese trespassers confused tourists or spies? The FBI wants to know. FBI counterintelligence agents are probing whether the spate of incidents at Trump's Mar-a-Lago club and a military site might be part of a coordinated espionage effort.
Hong Kong and Macao
Hong Kong Says It Will Begin Evacuating Residents From Wuhan - The New York Times Thousands of Hong Kong residents have been unable to return after much of Hubei was put on lockdown last month. Their worries were heightened when officials said on Sunday that a 77-year-old Hong Kong man who was infected with the coronavirus had died in Wuhan, the capital of Hubei.
Tech and Media
China delays self-driving car deployment goal to 2025 · TechNode China is postponing its original goal to achieve "mass production" of intelligent vehicles with "conditional" self-driving capabilities to 2025 from 2020, according to a development plan recently released by the National Development and Reform Commission (NDRC) and the Ministry of Industry and Information Technology (MIIT), among other
5G Networks to Be Ready Months Ahead of Schedule, Telecom Operators Say Their statement followed a rallying call for telecom infrastructure providers to speed up construction of the 5G network by China's Ministry of Industry and Information Technology (MIIT) on Saturday. MIIT had hoped for 5G network completion to have a positive impact on stabilizing investment amid turbulence resulting from the coronavirus.
Regulators unveil rules for TV shows, aiming to lift industry · TechNode China's media regulator moved to increase its oversight on TV shows, placing limits on the number of episodes per drama and calling for quality improvements, which could drive significant shifts in the industry..The National Radio and Television Administration set hard limits for length and more rules for how producers spend budgets. The notice publicized Thursday is critical of producers that "rush to shoot without sufficient preparation" and turn out low-quality shows // The notice: 广电总局提倡剧集不超40集 须演员片酬合同复印件
Meet ByteDance's Biggest Homegrown Rival — The Information $$ Backed by investors including Chinese internet giants Tencent and Baidu, as well as Sequoia Capital and DST Global, Kuaishou was valued at $28 billion in its most recent fundraising round late last year. The company recently told its existing investors that it plans to go public next year, although it hasn't decided whether to list in Hong Kong or New York. ByteDance's most recent valuation was $75 billion.
Society, Arts, Sports, Culture and History
Coronavirus 2: songs from Gansu, and blind bards | Stephen Jones: a blog To follow blind bard Liu Hongquan's song mourning Li Wenliang, thanks to Alex Davey and others on Twitter I note some great new satirical songs about the Coronavirus by the enterprising Gansu folk-singer Zhang Gasong 张尕怂 (b.1989). His own song about Li Wenliang appeared only very briefly on Weibo (see his regular posts there at weibo.com/zhangdabenshi). Another one, criticising a range of responses to the crisis, with incisive visuals, was also soon deleted from Chinese social media
Energy, Environment, Science and Health
Bohai Bay: the Chinese region disappearing inch by inch – in pictures | The Guardian Farmland, abandoned seaside resorts and salt fields are slowly being claimed by the rising waters, with 100 million people predicted to be affected in China by 2050