Xi's Shenzhen speech; Canada-China relations; US warns about CCP influence in education; Huawei
Xi coughed through his speech in Shenzhen today. There were no real surprises in the speech, and now we have to wait to see he offered just more platitudes about reform or we will see something more robust.
As I wrote Monday, rhetoric aside, here we are 40 years after the creation of the SEZ and Beijing is still pushing reforms in special zones. But as I asked yesterday, perhaps external pressure, particularly from the US, has built up to such a point that once again it will be the fillip to force through more meaningful reforms?
There was no public report of Xi mentioning his father Xi Zhongxun by name during this southern tour, though he did refer to him by title in his speech:
1979年4月,广东省委负责人向中央领导同志提出兴办出口加工区、推进改革开放的建议。邓小平同志明确指出,还是叫特区好,中央可以给些政策,你们自己去搞,杀出一条血路来。

In April 1979, the head of the Guangdong Provincial Party Committee [Xi Zhongxun] proposed to the central leadership comrades to set up export processing zones and promote reform and opening up. Comrade Deng Xiaoping made it clear that it would be better to call it a special zone, and that the central government could give some policies, and you could go ahead and make your own way.
At some point during the day Xi and other officials placed flowers at the Deng Xiaoping statue.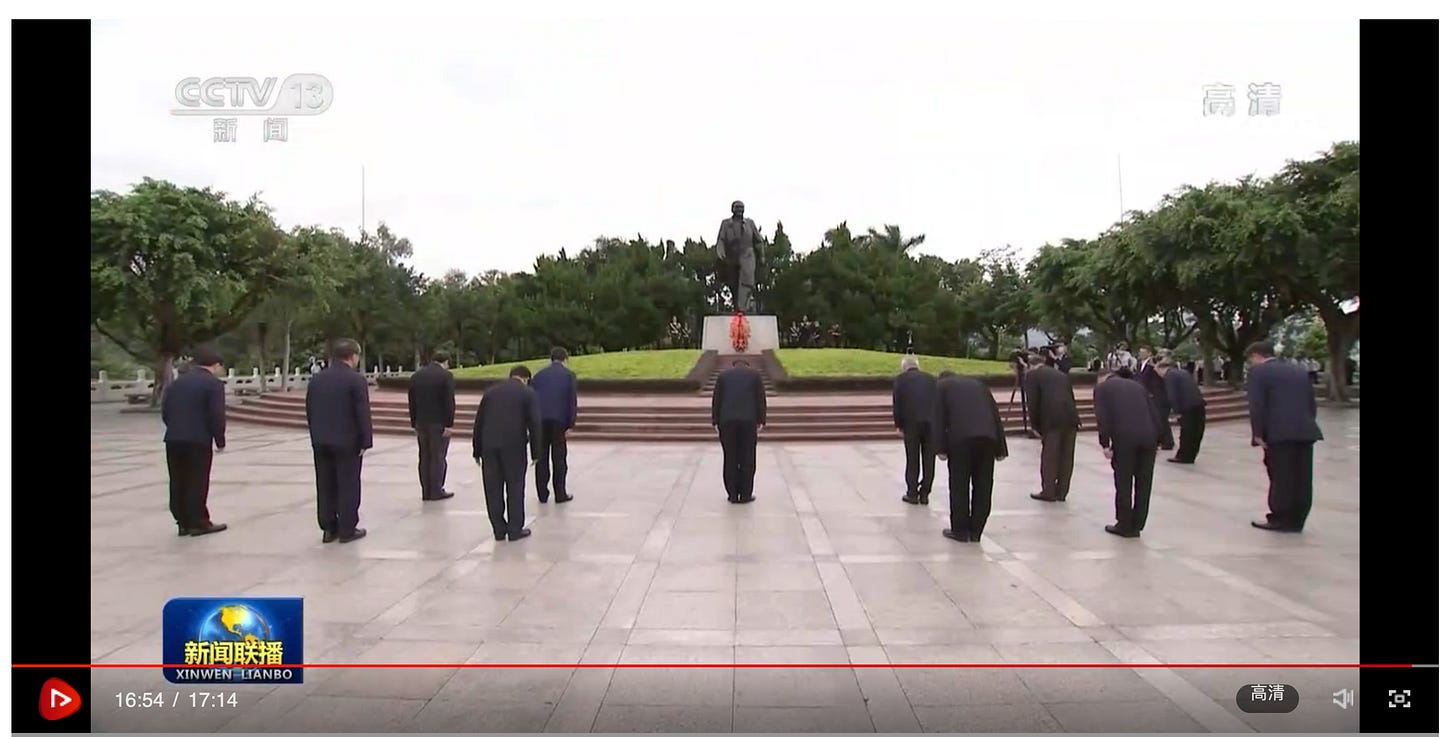 Given the prominence of Xi Zhongxun in a 2018 exhibition for the 40th anniversary of Reform and Opening it seems interesting that the elder Xi did not get more public attention. The China Media Project discussed the exhibition in the 2018 article "The Art of Rewriting History":
In recent days, the image above has been shared across social media in China, and it has caused considerable speculation and confusion. Is the man standing in the image President Xi Jinping?

According to recent news reports, the painting is an oil called "Early Spring" (早春) which depicts the very beginnings of Reform and Opening, with Xi Zhongxun and other central Party leaders together making plans for the Shenzhen Special Economic Zone.

Some scholars have grumbled against the painting on the grounds of opposing "historical nihilism," saying it entirely expunges Chairman Hua Guofeng. Even more people have observed, however, that in the painting it doesn't seem as though Xi Zhongxun is giving a report, or huibao (汇报), on the special economic zone, but rather is lecturing Deng Xiaoping. This reading, of course, goes very much against the grain of the typical Chinese Communist Party narrative about the establishment of the Shenzhen Special Economic Zone, which is that this idea was first raised by Deng Xiaoping.
Is the absence of a mention of Xi Zhongxun significant, or would it be too awkward for Xi to praise his father directly? I posed this question to Twitter, Professor Joseph Torrigan responded:
Today's Essential Eight:
Xi's Shenzhen speech

Raise high the great banner of Xi Thought?

US warns about CCP influence in education

US-China

An unhappy 50th anniversary for Canada-China relations

Huawei

New report on China's digital currency

An EV for the masses
Thanks for reading.
---
The Essential Eight
1. Xi's Shenzhen speech
40 years on, Shenzhen leads China's new journey toward socialist modernization - Xinhua
Xi identified the valuable experience of Shenzhen and other SEZs, including adhering to the Party's leadership, upholding and improving the system of socialism with Chinese characteristics, adhering to the concept that development is of paramount importance, remaining committed to opening up on all fronts, taking innovation as the primary driving force, following the people-centered philosophy of development, and ensuring scientific legislation, strict law enforcement, judicial impartiality and universal law abiding.

He also highlighted experience such as achieving sustained development of economy and society as well as ecology and environment in a comprehensive and coordinated way, implementing the fundamental principle of "one country, two systems" in a comprehensive and accurate way, and giving full play to the leading and exemplary role of the SEZs while making overall plans for the country...

In his speech, Xi also called on Shenzhen to build itself into a pilot zone for socialism with Chinese characteristics, set an example for cities of a modern socialist country, increase its capabilities to implement the new development philosophy, build a new pattern to deepen all-round reform and expand opening up on all fronts, and contribute to the construction of the Guangdong-Hong Kong-Macao Greater Bay Area to enrich the new practices of the "one country, two systems" cause...

Xi asked Shenzhen to take active moves to further promote the construction of the Guangdong-Hong Kong-Macao Greater Bay Area, calling for efforts to synergize economic rules and mechanisms in the three regions and urging wider exchanges and deeper integration among young people in those regions to strengthen their sense of belonging to the motherland.
深圳经济特区建立40周年庆祝大会隆重举行 习近平发表重要讲话_CCTV
CCTV Evening News report on Xi's speech took up the first 17 minutes of the broadcast. CCTV's intro:

The celebration meeting for the 40th anniversary of the establishment of the Shenzhen Special Economic Zone was held in Shenzhen, Guangdong Province on the morning of the 14th. Xi Jinping, General Secretary of the CPC Central Committee, President of the State and Chairman of the Central Military Commission, delivered an important speech at the meeting and emphasized the need to hold high the great banner of socialism with Chinese characteristics, coordinate the promotion of the "five in one" overall layout, and coordinate the promotion of the "four comprehensive" strategic layout. China has entered a new stage of development, starting from the overall situation, implementing new development concepts, closely promoting high-quality development, and building a new development pattern. With an unstoppable attitude of struggle [奋斗] and an unimpeded spiritual state, reforms will not stop, opening up will not stop, and we will be at a higher starting point. Promote reform and opening up, promote the work of special economic zones, and make new and greater contributions to the comprehensive construction of a modern socialist country and the realization of the second centenary goal.

深圳经济特区建立40周年庆祝大会14日上午在广东省深圳市隆重举行。中共中央总书记、国家主席、中央军委主席习近平在会上发表重要讲话强调,要高举中国特色社会主义伟大旗帜,统筹推进"五位一体"总体布局,协调推进"四个全面"战略布局,从我国进入新发展阶段大局出发,落实新发展理念,紧扣推动高质量发展、构建新发展格局,以一往无前的奋斗姿态、风雨无阻的精神状态,改革不停顿,开放不止步,在更高起点上推进改革开放,推动经济特区工作开创新局面,为全面建设社会主义现代化国家、实现第二个百年奋斗目标作出新的更大的贡献。
Xi laid out ten principles learned from 40 years of SEZs - Text of Xi's speech - 习近平系列重要讲话数据库
The 40-year practice of reform and opening-up in Shenzhen and other special economic zones has created great miracles and accumulated valuable experience, which has deepened our understanding of the laws governing the construction of socialist special economic zones with Chinese characteristics.

First, we must adhere to the Party's leadership in the construction of SEZs and always maintain the correct direction of the construction of SEZs.

Second, we must adhere to and improve the socialist system with Chinese characteristics, and promote a more mature and definitive socialist system with Chinese characteristics through the practice of reform.

Third, we must adhere to the principle that development is the hard truth, and insist on daring to break through and be the pioneer, and lead the reform breakthrough by breaking the ice with our thinking.

Fourth, we must insist on opening up to the outside world in an all-round way, and continuously improve the attractiveness of "bringing in" and the competitiveness of "going out".

Fifthly, we must insist that innovation is the primary driving force to win the initiative in the global scientific and technological revolution and industrial transformation.

Sixth, we must adhere to the people-centered development ideology, and let the fruits of reform and development benefit the people more and more fairly.

Seventh, we must adhere to scientific legislation, strict law enforcement, impartial justice and law-abiding citizens, so that the rule of law becomes an important guarantee for the development of special economic zones.

Eighth, we must practice the concept that "green waters and green mountains are golden mountains and silver mountains", so as to achieve comprehensive, coordinated and sustainable development of the economy, society and ecological environment

Ninth, we must fully and accurately implement the basic principle of "one country, two systems", and promote the integrated development and mutual reinforcement of the Mainland, Hong Kong and Macao.

Tenth, we must adhere to the principle of "one country, two systems" and better exert the leading role of the special economic zones in the overall national development.

The above 10 principles are the valuable experience accumulated by the Special Economic Zones over the past 40 years of reform, opening-up and innovative development, and are of great guiding significance for the construction of the Special Economic Zones in the new era; they must be treasured, adhered to over the long term, and continuously enriched and developed in practice.

深圳等经济特区40年改革开放实践,创造了伟大奇迹,积累了宝贵经验,深化了我们对中国特色社会主义经济特区建设规律的认识。一是必须坚持党对经济特区建设的领导,始终保持经济特区建设正确方向。二是必须坚持和完善中国特色社会主义制度,通过改革实践推动中国特色社会主义制度更加成熟更加定型。三是必须坚持发展是硬道理,坚持敢闯敢试、敢为人先,以思想破冰引领改革突围。四是必须坚持全方位对外开放,不断提高"引进来"的吸引力和"走出去"的竞争力。五是必须坚持创新是第一动力,在全球科技革命和产业变革中赢得主动权。六是必须坚持以人民为中心的发展思想,让改革发展成果更多更公平惠及人民群众。七是必须坚持科学立法、严格执法、公正司法、全民守法,使法治成为经济特区发展的重要保障。八是必须践行绿水青山就是金山银山的理念,实现经济社会和生态环境全面协调可持续发展。九是必须全面准确贯彻"一国两制"基本方针,促进内地与香港、澳门融合发展、相互促进。十是必须坚持在全国一盘棋中更好发挥经济特区辐射带动作用,为全国发展作出贡献。

以上十条,是经济特区40年改革开放、创新发展积累的宝贵经验,对新时代经济特区建设具有重要指导意义,必须倍加珍惜、长期坚持,在实践中不断丰富和发展...

The world today is undergoing major changes unseen in a century. The global pandemic of the new coronavirus epidemic has accelerated the evolution of this major change. Economic globalization has encountered a countercurrent, protectionism and unilateralism have risen, the world economy is in a downturn, and international trade and investment have shrunk sharply. The economic, technological, cultural, security, and political patterns are all undergoing profound adjustments, and the world has entered a period of turbulent change.

当今世界正经历百年未有之大变局,新冠肺炎疫情全球大流行使这个大变局加速演进,经济全球化遭遇逆流,保护主义、单边主义上升,世界经济低迷,国际贸易和投资大幅萎缩,国际经济、科技、文化、安全、政治等格局都在发生深刻调整,世界进入动荡变革期。
Page 1 People's Daily Editorial on the 40th anniversary - Setting a new benchmark for reform and opening up in the new era

The world today is undergoing major changes unseen in a century. The global pandemic of coronavirus has accelerated this major change. Economic globalization has encountered a countercurrent, and we face a more adverse external environment. Next year our country will enter the "14th Five-Year Plan" period, embarking on a new journey of building a modern socialist country in an all-round way. It has many advantages and conditions for continued development, but the problem of unbalanced and insufficient development is still outstanding. Reform has entered a critical period and a deep water zone. At a new historical juncture, the complexity, sensitivity, and arduousness of advancing reforms are no less than 40 years ago. General Secretary Xi Jinping emphasized: "The more complex the environment, the more we must continue to deepen reform and opening up with firmer confidence and stronger measures.

当今世界正经历百年未有之大变局,新冠肺炎疫情全球大流行使这个大变局加速变化,经济全球化遭遇逆流,我们将面对更多逆风逆水的外部环境。明年我国将进入"十四五"时期,开启全面建设社会主义现代化国家新征程,继续发展具有多方面优势和条件,但发展不平衡不充分问题仍然突出,改革已进入攻坚期和深水区,又到了一个新的历史关头,推进改革的复杂程度、敏感程度、艰巨程度不亚于40多年前。习近平总书记强调:"越是环境复杂,我们越是要以更坚定的信心、更有力的措施把改革开放不断推向深入。
Shenzhen granted new role in 'one country, two systems' - Global Times
"It's brand-new positioning of Shenzhen," Li Xiaobing, an expert on Hong Kong, Macao and Taiwan affairs at the Tianjin-based Nankai University, told the Global Times on Wednesday. When the practice of "one country, two systems" in Hong Kong faces obstacles given the social turmoil in 2019 and as the coronavirus outbreak has not been contained, traditional governance under "one country, two systems" needs to make breakthroughs and seek more room to solve the current problems, Li said.
In City Where China Welcomed the World, Xi Prepares for a Colder One - The New York Times
Mr. Xi's visit to Shenzhen did not signal any shift from his established economic course, said Deng Yuwen, a former editor for a party newspaper who now lives in the United States.

"I think the propaganda pitch has been set this high this time to try to shift the outside world's view saying that China is not reforming and is closing itself off," Mr. Deng said by telephone. "Oftentimes, what action you take is not the same thing as in the propaganda."
Xi exhorts Shenzhen to step up and lead China out of pandemic with innovation and economic reforms | South China Morning Post
Cao Zhongxiong, director of the New Economy Research Centre at the China Development Institute, said Xi was hoping that Shenzhen's edge as an innovation leader could provide a way out for China's supply chain dilemma in which the country's hi-tech industries were stymied by US sanctions.

"In this critical moment when international supply chains have blockaded China, how can Shenzhen come up with its own innovation supply chain … this is a task for Shenzhen," Cao said.
---
2. Raise high the great banner of Xi Thought?
The 5th Plenum is 11 days away, wonder if we will see more of this?
Raising Up the General Secretary | China Media Project
A quick look through the text of Xi's Shenzhen speech suggests little or nothing of fresh import. It is very much worth noting, however, that Guangdong's top provincial leader, Party Secretary Li Xi (李希), talked shortly after Xi's speech about the need for "raising high the great banner of Xi Jinping Thought on Socialism with Chinese Characteristics for the New Era" (高举习近平新时代中国特色社会主义思想伟大旗帜)...

Why is this significant?

This is in fact the first time since the onset of the Covid-19 epidemic in January this year that a member of the Politburo, the elite 25 officials who oversee the CCP, has aggrandized Xi (this is what the "raising high" in this case accomplishes) in his presence with reference to his banner term. And even before January, the use of this phrase was exceptionally rare…

As Qian Gang argued in his report on Chinese discourse in 2019, the lengthy "raising high" phrase must necessarily be shorted, according the CCP's political logic, and the ultimate full-phrase goal has to be: "Raising high the great banner of Xi Jinping Thought." Given the constant difficulties that have beset China ever since the 19th National Congress of the CCP, including domestic economic challenges, the US-China trade war, global frictions over trade, technology and human rights, the issue of Hong Kong, and so on, Xi Jinping's ambition to seal his legacy with the stele of "Xi Jinping Thought" has been difficult to achieve.

Now, more than nine months after Han Zheng's mention of the "raising high" phrase, we again have a member of the Politburo using the phrases to express praise and loyalty toward the General Secretary.
---
3. US warns about CCP influence in education
The State Department and the Department of Education are warning about CCP influence in US education.
Joint Letter to State Commissioners of Education - United States Department of State
The presence of an authoritarian slant in curriculum and teaching has never been more concerning, nor more consequential.  The government of the PRC has suppressed human rights and freedoms in Hong Kong; intensified longstanding repression of ethnic and linguistic minorities in the so-called "autonomous regions" of Tibet, Inner Mongolia, and elsewhere; and is believed to be engaged in the world's largest internment of a religious minority since the Second World War in the "autonomous region" of Xinjiang.  The PRC's repression of human rights is discussed in greater detail in the enclosed recent State Department letter to the governing boards of U.S. institutions of higher education.   

Many Chinese-Americans have come to the United States to be able to express and practice their faith or political views free of government interference and to obtain an intellectually stimulating education for their children.  It is troubling to consider that, in some cases, the PRC government may have effectively taken up a physical presence in the halls of their child's U.S. school.  While teachers in Confucius Classrooms may not appear to be engaged in ideological propaganda, those vetted and paid by the PRC can be expected to avoid discussing China's treatment of dissidents and religious and ethnic minorities.  Indeed, some Confucius Classroom students have described their teachers' repeated avoidance of topics perceived to be "sensitive" to or critical of the PRC.  Particularly at the high school level, this creates a troubling deficit of information in a setting supposedly focused on the study of Chinese language and culture.  At any grade level, the presence in U.S. classrooms of instructors supported by an authoritarian regime poses risks to our democratic values. 
Joint Letter to Presidents of American Institutions of Higher Education and Affiliates Regarding the People's Republic of China - United States Department of State
At the U.S. Department of State and the U.S. Department of Education, we share a mission to advocate for American values, including the important principle of academic freedom. U.S. institutions of higher education are an invaluable partner in that mission. It is in the spirit of this shared mission that we write to you about a real and growing threat: the malign influence of the authoritarian government of the People's Republic of China (PRC) on our nation's campuses.

This threat, and the seriousness with which the U.S. academic community regards it, were on open display in the last several weeks. As it became clear that students in the free world could not study and discuss contemporary China without fear of violating the new Hong Kong National Security Law, some U.S. professors offered to hide their own students' identities or allow them to "opt out" of China-related coursework and classroom discussions. They feared that the PRC could prosecute their students for statements made in a U.S. classroom.
Vice premier calls for cooperation between Chinese, U.S. universities - Xinhua
Chinese Vice Premier Sun Chunlan has called on universities in China and the United States to better leverage their complementarities and advance cooperation.

Sun made the remarks in a video speech delivered at the opening ceremony of a forum for Chinese and U.S. university presidents, which was held via video link on Tuesday evening.
The deception and detriment of US-China cultural and educational decoupling - Cheng Li and Ryan McElveen
People-to-people ties have played an irreplaceable role in the U.S.-China relationship, but those ties are now very close to unraveling. While worrying Chinese actions have pushed Washington to adjust its policy toward China, the costs of eliminating educational and cultural exchanges far outweigh the benefits. This piece was originally published in China-US Focus
---
4. US-China
U.S. State Department issues sanctions warning to banks over Hong Kong crackdown | Reuters
The U.S. State Department on Wednesday formally warned international financial institutions doing business with individuals deemed responsible for China's crackdown in Hong Kong that they could soon face sanctions.

In a report to Congress seen by Reuters, the State Department named 10 individuals, including Hong Kong's chief executive Carrie Lam, all of whom have already been sanctioned, and said within 60 days it would identify financial institutions that conduct significant transactions with them.
Exclusive: Trump administration to consider adding China's Ant Group to trade blacklist - sources | Reuters
It was not immediately clear when the U.S. government agencies that decide whether to add a company to the so-called Entity List would review the matter. But the move comes as China hardliners in the Trump administration are seeking to send a message to deter U.S. investors from taking part in the initial public offering, worth up to a record $35 billion. They fear buying shares in the company could expose them to fraud or that Ant could give the Chinese government access to sensitive banking data belonging to U.S. citizen
Exclusive: White House advances drone and missile sales to Taiwan - sources | Reuters
The possible sales follow three other notifications first reported by Reuters on Monday that drew China's ire as the United States prepares for its Nov. 3 election.

One of the eight sources said that in total the sales were valued at around $5 billion. Very often figures for U.S. foreign military sales include costs for training, spares and fees making the values difficult to pinpoint.
The Korean War's Lesson for Taiwan - WSJ $$ Paul Wolfowitz
We can't know how Mr. Xi would react to a credible red line (or to the failure to draw one). Historical analogies are always imprecise; the Korean scenario was complex, and Taiwan's situation differs from both Korea and Berlin. And there's no denying that such an approach entails significant risks. But continued ambiguity in the face of Mr. Xi's escalating rhetoric and provocative movements by his armed forces in the Taiwan Strait presents the greater risk of a confrontation as dangerous as the Cuban Missile Crisis. That leaves us with the credible threat of military force as the best hope of avoiding war.
Comment: Taiwan should not want Wolfowitz arguing its case in the US
Foreign Ministry Spokesperson Zhao Lijian's Regular Press Conference on October 14, 2020
CNR: According to the Los Angeles Times, after the outbreak of COVID-19, some women prisoners in the United States were forced to work overtime to produce masks at the risk of contracting the virus. They worked up to 12 hours a day and produced thousands of masks, but they were unable to wear one. A female prisoner confirmed to be infected with COVID-19 said that it was like a "slave factory" and that the prison used them as a money tree. What is China's comment?

Zhao Lijian: I am not surprised at all by such reports.

Poor prison conditions and ill treatment or even abuse of prisoners in the United States are frequently reported by the media. I am sure you all remember how Iraqi prisoners of war were mistreated at the Guantanamo Bay detention camp and in the Abu Ghraib prison. When it comes to human rights, the United States should do its "homework" well, rather than telling other countries what to do, or even spreading rumors to discredit other countries.
American "coercive diplomacy" makes a mess around the globe - People's Daily Online
This kind of "coercive diplomacy" combined with "sanctions diplomacy" and "deceitful diplomacy" constitutes the American "extreme hegemonic diplomacy" represented by Pompeo. These politicians insist on long-term and cruel sanctions against Cuba, Iran, Venezuela and other developing countries, making these countries even worse during the pandemic.

With the international community strongly urging the U.S. to lift sanctions in order to fight the pandemic and save lives, Pompeo and American politicians with similar views, who are often endorsed as the "guardians of human rights," continued to exert pressure and use the pandemic to kill people.
China braced for lose-lose scenario as US election fuels unease | Financial Times $$
Yu Jie, a senior fellow at Chatham House, a UK think-tank, thinks the prospects for US-China relations are bleak whoever wins...

"A Trump victory would be dreadful for US-China relations but something of a gift for Mr Xi politically," said Ms Yu. "The more the US demonises China, the more that Chinese citizens — even those who dislike Xi's leadership — would rally behind him.

"And within the [Communist] party, anyone who dared to criticise Xi would be accused of kowtowing to foreign aggressors and thus effectively silenced."
Question: Yu's view is the conventional wisdom. But is there a point at which US pressure would cause enough problems for Xi and his CCP as the generate a backlash against him too? And if the US eases up, wouldn't that be seen as a victory for Xi and also lead people to "rally behind him"? It seems like a toxic dynamic either way
Designation of a United States Special Coordinator for Tibetan Issues - United States Department of State
I am pleased to announce the concurrent designation of Assistant Secretary Robert A. Destro of the Bureau of Democracy, Human Rights, and Labor to serve as the United States Special Coordinator for Tibetan Issues.

Consistent with the Tibetan Policy Act, Special Coordinator Destro will lead U.S. efforts to promote dialogue between the People's Republic of China (PRC) and the Dalai Lama or his representatives; protect the unique religious, cultural, and linguistic identity of Tibetans; and press for their human rights to be respected. He also will support U.S. efforts to address the humanitarian needs of Tibetan refugees and to promote sustainable economic development and environmental conservation in Tibetan communities on the plateau.
Home | Mapping the future of U.S. China Policy
CSIS surveyed the American public and thought leaders in the United States, Asia, and Europe to map perspectives on China policy. The surveys covered a range of issues, including trade, security, human rights, and the trajectory for U.S.-China relations. The United States and U.S. allies generally converge on the need for a tougher stance toward China but not containment. The results point to possible contours of an enduring strategy around international coalition building on the China challenge.
CCTV explainer video of "Five Eyes", saying it is a US-led surveillance "monster" who would bug people like Merkel.
CCTV is now broadcasting its new documentary on the Korean War, one episode per day. Here are the first two, on Youtube - 《抗美援朝,保家卫国》:第一集:不期而至; 《抗美援朝,保家卫国:第二集,艰难决策
---
5. An unhappy 50th anniversary for Canada-China relations
Trudeau vows to stand up to China's 'coercive diplomacy' - The Globe and Mail
Foreign Affairs Minister François-Philippe Champagne issued a separate statement, saying he is working on a new foreign-policy approach to Beijing that is expected to be unveiled later this year.

"As we build a new framework for relations with China, Canada will work with partners to hold the Chinese government accountable to its international obligations," the minster said. "The use of coercive diplomacy causes Canada to re-examine its approach, with a focus on multilateral co-operation."
Businesses mark 50th anniversary with calls for Canada to end Meng Wanzhou case, broaden trade - The Globe and Mail
Loud clapping rang out in a ballroom at the Four Seasons hotel in the Chinese capital on Tuesday when vice-minister of commerce Wang Shouwen called for Ms. Meng to "come back to her homeland as soon as possible." He was speaking at a dinner for the Canada-China Business Council annual general meeting.

The room remained quiet when the Canadian government asked for equal treatment. Silence followed when Mary Ng, Minister of Small Business, Export Promotion and International Trade, called for the release of Canadians Michael Kovrig and Michael Spavor, who are being held in spartan Chinese detention centres, and requested clemency for Robert Schellenberg, a Canadian sentenced to death on drug charges. It was silent, too, when Canadian ambassador Dominic Barton called for the same.
China opposes Canada's remarks on "coercive diplomacy" - Xinhua
According to media reports, the Canadian leader said in an interview on Oct. 13 that "We will remain absolutely committed to working with our allies to ensure that China's approach of coercive diplomacy, its arbitrary detention of two Canadian citizens alongside other citizens of other countries around the world is not viewed as a successful tactic by them." On the same day, Canadian Foreign Minister Francois-Philippe Champagne said in a statement on the 50th anniversary of Canada-China diplomatic ties that "As we build a new framework for relations with China ... The use of coercive diplomacy causes Canada to re-examine its approach."

While firmly deploring and opposing the Canadian side deliberately confusing right and wrong and once again making erroneous comments, Zhao said China had lodged stern representations with the Canadian side about the matter.

"First, why hasn't it been able to acknowledge that the difficulties in China-Canada relations in recent two years are caused by Canada's arbitrary detention of Meng Wanzhou, an innocent Chinese citizen who hasn't breached any Canadian law?" Zhao asked. "Second, of all the U.S. allies, why was Canada the only one that agreed to cooperate with the U.S. on detaining Meng Wanzhou? Third, why has Canada been secretive about the information disclosure of the Meng Wanzhou case and doing all they can to prevent more related documents from being made public?"..

"We once again strongly urge Canada to correct mistakes, immediately release Ms. Meng Wanzhou and ensure her safe return to China, remove this barrier in China-Canada ties, and bring the bilateral relationship back on the right track," said Zhao
Zhao's comments - 加拿大指责中国搞"胁迫外交",赵立坚:加方故意混淆事实,应直面三个事实和问题
赵立坚称,加方在孟晚舟事件上的所作所为,才是真正的任意拘押和胁迫外交的典型案例。14亿中国人民和国际社会看得清清楚楚。中方重视发展中加关系的立场是一贯的明确的,同时只有切实秉持相互尊重、平等相待的原则,中加关系才能行稳致远。我们再次强烈敦促加方纠正错误,立即释放孟晚舟女士,并让她平安回到中国,搬掉阻碍中加关系发展的这个绊脚石,让中加关系早日重回正轨
Canada urged to distance itself from Washington in dealing with China - Global Times
The icy relationship between Beijing and Ottawa will only be resolved if the Canadian side is willing to commit itself to pushing forward bilateral ties and distancing itself from the poisonous impact of US' hostile policy toward China, experts said. The 50th anniversary of diplomatic relations between China and Canada, which fell on Tuesday, has been marred by Ottawa's hostile gestures...

During the past half-century since the two countries established ties, although harsh attacks on China sporadically emerged in Canada, the country remained friendly toward China, said Li Haidong, a professor at the Institute of International Relations of the China Foreign Affairs University.

Li noted that Canada is now stepping up to follow the US, and it has become increasingly harsh toward China, which has taken the bilateral relationship to its lowest point.
---
6. Huawei
Exclusive: Huawei in talks to sell parts of its Honor smartphone business - sources | Reuters
in talks with Digital China Group Co Ltd and other suitors to sell parts of its Honor smartphone unit in a deal that could fetch up to 25 billion yuan ($3.7 billion), people with knowledge of the matter said...

Embattled Huawei is resetting its priorities due to U.S. sanctions and will focus on its higher-end Huawei phones rather than the Honor brand which is aimed at young people and the budget conscious, they said.
China's Oppo makes play for European growth as Huawei slips - Nikkei Asia
Chinese smartphone maker Oppo is seizing on the headwinds facing compatriot Huawei Technologies to pursue rapid growth in Europe, where it recently inked a deal with the EU's largest mobile carrier to sell 5G handsets.

China's No. 2 smartphone maker aims to have a market share of at least 5% in Europe by next year and plans to be one of the top players there in the next three years, Alen Wu, Oppo's vice president and president of global sales, told Nikkei Asia in an exclusive interview.
There Is a Solution to the Huawei Challenge - Center for American Progress
This report details the most important distortionary policies Beijing deploys and offers policy measures the United States can implement to push back. It draws on authors' interviews with 20 technical experts working across the 5G supply chain, ranging from engineers putting forward technical contributions at the ITU to mobile network operators weighing their 5G equipment options. The authors utilized open-source Chinese government documents and media reports to gather new insights about Beijing's intentions and actions. As is often the case, Chinese leaders are straightforward about their aims when speaking to their own domestic audience and sending orders down the massive Chinese government bureaucracy. The authors also tracked Huawei's equipment deals around the world and compiled a database—shared in the Appendix—of the loans Chinese state banks provide to Huawei's global customers.
---
7. New report on China's digital currency
The flipside of China's central bank digital currency | Australian Strategic Policy Institute | ASPI
China's central bank digital currency, known as 'DC/EP' (Digital Currency / Electronic Payment), is rapidly progressing and, if successful, would have major international implications that have not yet been widely considered by policymakers.

DC/EP would have ramifications for governments, investors, and companies, including China's own tech champions.

It has the potential to create the world's largest centralised repository of financial transactions data and, while it may address some financial governance challenges, such as money laundering, it would also create unprecedented opportunities for surveillance...

The purpose of this policy brief is to improve baseline understanding of DC/EP's structural mechanics and place the project in its political and bureaucratic context. The aim is to catalyse and contribute to an informed conversation about what the rollout of DC/EP may mean for China and for the world.
Disclosure: I reviewed an earlier draft of this report
---
8. An EV for the masses
In Depth: Meet the Cheap Chinese Electric Car Selling Twice as Fast as Tesla's Model 3 - Caixin
When it launched in April, Tesla Inc.'s Model 3 was the hottest new-energy vehicle (NEV) in China.

But last month, a closely watched monthly sales report from the China Passenger Car Association (CPCA) showed a shift. At the top of the NEV rankings with 15,000 sales for August was a two-door, four-seat battery-powered mini car, retailing at just one-tenth the price of the cheapest Model 3.

The tiny, boxy car, known in full as Wuling Hongguang Mini EV, was launched in July by a Chinese partner of U.S. giant General Motors Co...

Despite selling twice as many vehicles, Wuling's budget model is not competing with top-end brands like Tesla or its local imitators. Instead it is targeting a crack in China's vast low-end EV market. And it has benefited from a confluence of factors, including generous state subsidies and tightening controls on unlicensed forms of cheap, short-distance transport.

The Mini EV — which crucially can be road licensed — is proving particularly popular in China's less affluent regions, according to the GM joint venture known officially as SAIC-GM-Wuling Automobile Co. Ltd. (SGMW) and locally as Wuling...

The company has built over 10,000 charging stations for the models, mostly located in less developed regions like Guangxi Zhuang autonomous region and Henan, as well as the relatively more affluent Shandong.
---
Business, Economy and Trade
Yicai - Financing to China's Economy Rose USD518.5 Billion in September, More Than Year Ago China's total social financing, a broad gauge of credit and liquidity in the economy, jumped by CNY3.48 trillion (USD518.5 billion) last month, about CNY963 billion more than the increase in September last year, according to the central bank.
What does China's September loan data mean for the economy and the yuan? | South China Morning Post "Broad credit growth hit is highest level in nearly three years as growth in direct financing and shadow credit picked up amid stable bank loan growth. We think this acceleration should continue until early next year," said Julian Evans-Pritchard, senior China economist at Capital Economics. "We expect credit growth to remain strong in the near-term. Admittedly, net new lending is likely to slow in the coming months given that quantitative controls on bank lending are being tightened. But with improving sentiment boosting bond and equity issuance among private firms, lending should remain strong enough to keep growth in outstanding credit rising until the turn of the year."
China's third quarter GDP growth expected to improve: PBOC official | Reuters China's third-quarter GDP growth is expected to improve from the previous quarter, Ruan Jianhong, an official with the People's Bank of China (PBOC), told a press conference on Wednesday
Four Things to Know About the State's Role in China's Private Investment Market - Caixin Through so-called "guidance funds," central and local governments have poured money into privately offered funds to invest in industries they consider strategically important, often acting as limited partners in venture capital (VC) and private equity (PE) funds. State capital has become the most important funding source for VC and PE funds, experts said. "We can clearly feel the rise of state capital," said Xu Qing, managing partner of Oriza Fund of Funds, a Beijing based fund management firm. "When we managed funds several years ago, the share of state capital was often controlled below 50%. But now nearly 80% of money on the market is from the state."
Japan's Sekisui struck by espionage using social media - Nikkei Asia A former researcher at Sekisui Chemical is accused of leaking trade secrets involving a key smartphone component after being approached on LinkedIn, highlighting the growing risks posed to companies by the rise of social media. Authorities allege the 45-year-old man divulged information on the production of conductive particles used in touch screens between August 2018 and January 2019 to Chaozhou Three-Circle (Group), a producer of communications equipment parts based in China's Guangdong Province. // Xi visited the Chaozhou Three-Circle Group Monday, interesting timing for this release
BHP deferment appears to confirm reduced Chinese demand for Australian coal - ABC News BHP Group says it has received deferment requests from Chinese coal customers, confirming reports China has put a freeze on accepting Australian coal amid trade tensions between the two countries.
Hu Xijin: It's time for this American accomplice to suffer - 胡锡进:该让这个美国帮凶吃点苦头了_腾讯新闻 Lao Hu believes that China should focus on its own interests at this time and continue to do business that is beneficial to China. It is necessary for us to express our dissatisfaction on business that does not matter to China. Australia has such a bad attitude towards China, of course it has to pay some price. Lao Hu believes that as a Western country, Australia is not too big or small, and it is also a necessary demonstration to let it suffer. 老胡认为,中国这个时候要以本国利益为中心,对中国有利的生意,应该继续做。对中国无所谓的生意,有些我们用来表达不满,就是必要的。澳大利亚对中国态度如此恶劣,它当然要付出些代价。老胡认为,澳大利亚作为不大不小的一个西方国家,让它吃点苦头,也是个需要的示范。
河北"明星"芯片厂夭折:省重点项目、海外专家、公司仅建一栋楼就没钱了_腾讯新闻 Another story about a white elephant semiconductor project, this one in Shijiazhuang, Hebei. Have PRC media been told to report on all this topic, as a way to rein in some of the frenzy?
中国经济学三年内入大学教材 | 早报 China's ministry of education said in a reply online that within three years, it will put in textbooks the contents of China's economic theories. It said it is necessary for China, a socialist major power, to have "our own economic theories".
Statement by H.E. Ambassador Zhang Xiangchen of China at the General Council Meeting (Item 6 and 7) October 13, 2020 Item 6. Procedures to Strengthen the Negotiating Function of the WTO--Statement by the United States (WT/GC/W/757/Rev.1 and WT/GC/W/764/Rev.1) -I have repeated many times that, the debate on criteria to differentiate developing members is totally meaningless, as it is a systematic and directional mistake. Development is one of the key objectives of the WTO, which is also an important attraction for many countries choosing to join in this Organization. As WTO members, our focus on development should be on how to translate the concept of development into practice rather than anything else.
Online Event: "Invisible China: How the Urban-Rural Divide Threatens China's Rise": A Book Talk | Center for Strategic and International Studies online event for the launch of the upcoming book, Invisible China: How the Urban-Rural Divide Threatens China's Rise, by Scott Rozelle and Natalie Hell. China appears to have transformed itself from a place of stark poverty into a modern, urban, technologically savvy economic powerhouse. But the truth is much more complicated and should be a serious cause for concern. Drawing on 40 years of ground-breaking field research in China, Rozelle and Hell reveal that, while China may be the second-largest economy in the world, its labor force has one of the lowest levels of education of any comparable country, with a huge urban-rural divide that is not only an urgent humanitarian concern but could also upend China's continued growth as well as economies around the globe.
Sovereign Wealth Fund China Investment Aims to Recoup Soured Assets - Bloomberg China Investment Corp. earlier this year set up a special team led by Managing Director Benjamin Bao in its direct investment unit to recoup value and potentially exit billions of dollars in positions that have soured over the years, according to people with knowledge of the matter. Assets being examined mainly consist of energy and mining companies that have recorded chronic losses, said the people, who asked not to be named because they aren't authorized to discuss internal matters.
Yicai - Tesla China Hunts Online for External Affair Managers in 10 Chinese Cities Tesla China published a recruitment ad yesterday for external affairs managers in 10 Chinese cities, including Beijing, Guangzhou and Shenzhen, shortly after the unit's US parent dissolved its public relations department. The recruitment information is authentic, Tesla China said. Those filling the posts will be responsible for comprehensive external affairs and foster relations with the public and officialdom.
Yicai - Evergrande's Stock Dives as Developer Fails to Meet Fundraising Target China Evergrande Group's stock price plunged in trading today after the debt-laden property developer's sale of new shares at a sizeable discount fell short of target. Shenzhen-based Evergrande [HKG: 3333] ended almost 17 percent lower at HKD16.06 (USD2), after earlier sinking as much as 18.9 percent.
Japan expands 'China exit' subsidies for moves to Southeast Asia - Nikkei Asia The government will cover up to half the cost of such investments within the Association of Southeast Asian Nations for large companies and as much as two-thirds for smaller businesses. The subsidies apply to products for which manufacturing tends to be concentrated in a specific country. The aim is to have companies expand the number of countries where they have overseas operations, not to entice them to leave any certain nation. Although China is not specifically named in the plan, the goal appears to be to reduce dependence there.
Chinese banks are chasing Anil Ambani through the UK courts | Financial Times $$ Once one of the world's richest men with a fortune estimated at more than $40bn by Forbes, the Indian businessman is being pursued through the UK courts by creditors, led by Industrial and Commercial Bank of China, after last year's collapse of his telecoms company Reliance Communications.
China Is Buying Up Record Chunks of Japan's Debt Mountain - Bloomberg China went on a record-buying spree of Japanese bonds over the summer months, snapping up $20.9 billion of the low-yielding debt to spur talk that it's diversifying reserves. The 2.2 trillion yen of purchases, made in June to August, are a record in local currency terms for a three-month period based on data from Japan's Ministry of Finance going back to 2005. The last time Chinese buyers had gone on a similar splurge was back in 2016.
Chinese lawmakers call for strengthened patent protection to stimulate innovation - Xinhua The draft amendment aims to improve a long-term mechanism for combating patent infringement, said Cao Jianming, vice chairman of the NPC Standing Committee. The draft includes measures to solve some common complaints reported by patentees, including difficulties providing proof, high litigation costs and low compensation for patent infringement, said Cao.
Checking In on China's Post-Pandemic Middle Class - SixthTone China's white-collar middle class has gotten a stark reminder of how fragile their newfound status can be. - Guo Yu, sociologist
An Unpopular IPO Rule Hands Chinese Banks Big Windfalls - WSJ $$ In a measure meant to ensure underwriters brought good deals to market at fair prices, authorities required the most senior institutions on any deal on Shanghai's Science and Technology Innovation Board, also known as the STAR market, to take part themselves. These banks, known as sponsors, must buy between 2% and 5% of the shares sold, up to a maximum of about $147 million, and then hold the stock for at least two years.
---
Politics and Law
公安部部长发话后,全国各地拿下了哪些"老公安"? Beijing Youth Daily said at least 12 senior police chiefs in provincial- municipal governments have been put under investigation after the launch of the rectification campaign targeting the political and legal system.
"象牙塔"反腐不断深化,至少20余名厅官落马或双开 China Newsweek said more than 20 college and university executives have been taken down in the widening anti-corruption campaign this year.
特稿|贵州律师戴文勇被控涉黑获刑七年 律师执业风险凸显_政经频道_财新网 Guizhou lawyer Dai Wenyong sentenced to 7 years for "organized crime" activities
Translation - Work Regulations of the Central Committee of the Communist Party of China « China Copyright and Media
Storing Life on a Mobile Phone Can Be Hazardous to Your Identity, Viral Post Shows - Caixin The engineer, who goes by the name Old Camel on social media platform WeChat, originally wrote about their experience in a post in September, but it went viral over the weekend ahead of this week's review of a draft law on personal information protection by the Standing Committee of the National People's Congress (NPC), the country's legislature. Views of posts with the hashtag for the story on Weibo, China's Twitter-like platform, had reached more than 80 million as of Wednesday evening.
China Mulls Severe Penalties in New Data Protection Law - Caixin A string of high-profile data breaches in recent years has strengthened public calls for the government to pass a unified law safeguarding the personal information of citizens. Currently, several statutes share that responsibility, including an official Standing Committee decision on protecting online data, a Criminal Law amendment and the Cybersecurity Law. Those who violate the proposed new law would be ordered to "rectify" their behavior, have any illegal income confiscated and receive an official warning. Repeat or serious offenders could be fined 50 million yuan or the equivalent of up to 5% of their revenue from the previous year, and have their business licenses revoked or suspended.
China stresses punishment on illegal behavior intended for blackmail - Xinhua China vows to strengthen the crackdown on illegal behavior intended for blackmail, a problem of great concern to the people, according to a guideline issued on Wednesday. The guideline, jointly released by the Supreme People's Court, the Supreme People's Procuratorate and the Ministry of Public Security, identifies and specifies several illegal acts, such as deliberately crashing a car to claim compensation, and their corresponding punishments.
China's top legislator calls on lawmakers to put people first - Xinhua Li Zhanshu, a member of the Standing Committee of the Political Bureau of the Communist Party of China Central Committee and chairman of the NPC Standing Committee, made the remarks Wednesday at a symposium with 51 NPC deputies, most of whom come from the grassroots levels, on the sidelines of a legislative session that opened Tuesday. At the symposium, Li stressed the importance of close ties between the lawmakers and the people, asking the deputies to connect with the people more closely and continually.// 栗战书与常委会会议列席代表座谈时强调 把坚持人民至上、紧紧依靠人民、不断造福人民、牢牢植根人民的要求贯彻到代表履职全过程各方面--新闻报道-人民网
China's civil service to open 25,700 vacancies in annual intake - Xinhua China plans to recruit 25,700 civil servants to work for 79 central government agencies and 23 institutions directly under them in the 2021 civil servant intake, the State Administration of Civil Service said Wednesday.
纪念"莱西会议"30周年座谈会在济举行 刘家义李景田发言杨东奇主持--新闻报道-人民网 A symposium was held in Jinan to commemorate the 30th anniversary of the "Laixi Conference". The conference was an in-depth study and implementation of General Secretary Xi Jinping's important thesis on rural grassroots Party construction and rural revitalization, and a discussion and exchange of ideas and initiatives to deepen and expand the experience of the "Laixi Conference" and promote the overall revitalization of the countryside, with organizational revitalization as the guiding principle. Liu Jiayi, secretary of the [Shandong] provincial party committee, Li Jingtian, president of the National Party Building Research Association and former executive vice president of the Central Party School, attended the symposium and made a speech, Yang Dongqi, deputy secretary of the provincial party committee, presided. In August 1990, the Organization Department of the Central Committee and five other ministries and commissions held a national symposium on village-level organization construction in Laixi, which established the pattern of village-level organization construction with the Party branch as the leading core, which is of great significance and far-reaching influence in the history of the Party's rural grassroots organization construction. 纪念"莱西会议"30周年座谈会在济南举行。会议深入学习贯彻习近平总书记关于农村基层党的建设和乡村振兴的重要论述,座谈交流深化拓展"莱西会议"经验,以组织振兴为统领,推动乡村全面振兴的思路举措。 省委书记刘家义,全国党建研究会会长、中央党校原常务副校长李景田出席座谈会并发言,省委副书记杨东奇主持。 1990年8月,中央组织部等五部委在莱西召开全国村级组织建设工作座谈会,确立了以党支部为领导核心的村级组织建设工作格局,在党的农村基层组织建设史上意义重大、影响深远。
---
Foreign and Defense Affairs
杨洁篪在结束访问斯里兰卡、阿联酋、阿尔及利亚、塞尔维亚之际接受中国媒体采访--新闻报道-人民网 Yang Jiechi interviewed by Chinese media at the end of his visit to Sri Lanka, UAE, Algeria and Serbia...Fourthly, we should adhere to multilateralism and jointly safeguard world peace and development. I have provided the four countries with a comprehensive briefing on the recent high-level meetings on the seventy-fifth anniversary of the founding of the United Nations attended by President Xi Jinping, explained in depth the major concepts and ideas put forward by President Xi Jinping, and exchanged views with the leaders of the four countries on major international, regional and global issues of common concern. The countries highly valued President Xi's important speech and China's philosophy and ideas, and agreed that, given the common destiny of humankind, no country should be immune to various traditional and non-traditional security and development challenges, and that the international community should firmly uphold multilateralism, adhere to joint consultations, build and share, and let all countries jointly safeguard universal security and control the world's destiny. All parties should strengthen communication and cooperation on major international issues, oppose cold-war thinking and ideological confrontation, uphold the international rule of law and jointly build a community of human destiny. 四是坚持多边主义,共同维护世界和平与发展。我向四国全面介绍不久前习近平主席出席联合国成立75周年系列高级别会议情况,深入宣介习近平主席提出的重大理念主张,并同四国领导人就共同关心的重大国际地区和全球性问题深入交换意见。各国对习近平主席重要讲话和中方理念主张予以高度评价,一致认为人类命运休戚与共,面对各种传统和非传统安全问题和发展挑战,任何国家都不能独善其身,国际社会应坚定捍卫多边主义,坚持共商共建共享,由各国共同维护普遍安全,共同掌握世界命运。各方应就重大国际问题加强沟通协作,反对冷战思维和意识形态对抗,捍卫国际法治,共同构建人类命运共同体。
China, Laos to strengthen cooperation in COVID-19 fight, economy, regional cooperation - Xinhua Visiting Chinese State Councilor and Foreign Minister Wang Yi met here Wednesday with Lao Foreign Minister Saleumxay Kommasith and the two sides agreed to further strengthen cooperation in the post-epidemic era, economic ties and coordination in regional affairs...Laos is ready to work with China to upgrade relations between China and the Association of Southeast Asian Nations (ASEAN) and promote the sound development of LMC, he said, adding his country also backs the Global Initiative on Data Security China has proposed in response to new issues and challenges emerging in the field of data security.
US Secretary of State Mike Pompeo Likely to Visit Sri Lanka Amid China's Renewed Push There – The Diplomat As China and Sri Lanka celebrate their successes post Yang's visit to the country, the U.S. was quick to reassert its commitment to the country. U.S. Secretary of State Mike Pompeo will visit Sri Lanka en route to New Delhi in the coming weeks
U.S. renews calls on S. Korea to join economic security campaign against China | Yonhap News Agency "We made it clear that whether a private telecom company uses the equipment of a specific enterprise is up to that company to decide," the official said. "But regarding the general security risks posed by the 5G technology in the telecommunication market, we agreed to work closely with the U.S. side and cooperate in terms of technological issues," the official said.
唯照顾彼此关切方能解决问题——写在朝核六方会谈《9·19共同声明》发表15周年之际 - 傅莹 - 中美聚焦网 Former vice foreign minister Fu Ying wrote an article at the 15th anniversary of successful six party talks on North Korea and the 919 joint statement. Fu Ying blames the US for refusing to give North Korea security assurance and said this is the key reason why there is no progress in the North Korea situation.
More details emerge about detection capabilities of Type 055 destroyer's radar The radar system on China's Type 055 (Renhai)-class destroyers has the ability to track satellites in low-Earth orbits, according to a report broadcast on China Central Television (CCTV) that led the state-owned Global Times newspaper to claim that the vessels also have an anti-satellite capability.
Chinese Increasing Nuclear Submarine Shipyard Capacity - USNI News Analysis of commercial satellite imagery reveals work on a new construction hall at the Bohai Shipyard at Huludao. The building appears to be essentially identical to the one built there in 2015. That is widely believed to be for the construction of a new generation of nuclear submarines. The new hall is estimated to be large enough to allow construction of two submarines simultaneously. When added to the other hall recently constructed, that would allow four boats to be in the sheds at once. And there is another much older construction hall at the other end of the site which, if still active, could add another. So four or five boats at once.
I was born in Australia. Why do I need to renounce the Chinese Communist Party? Instead of being asked about complex issues facing multicultural communities or how Australia could benefit from a more diverse Parliament, I was asked by Senator Eric Abetz to "unequivocally condemn" the Chinese Communist Party. Presumably, the association trying to be made was that, by virtue of my ethnicity, there was some likelihood of divided allegiances.
Japan Exercises with US Navy in South China Sea after Port Call in Vietnam - RFA That followed a JMSDF solo anti-submarine warfare exercise in the South China Sea on Friday as it transited through the area, according to a release from the Japanese Ministry of Defense, and then a port call at Vietnam's Cam Ranh Bay to resupply.
UK will do more to counter Chinese spying threat, says MI5 chief | Financial Times $$ He said that while Beijing's espionage efforts typically take the form of "hacking commercially sensitive information or commercially sensitive data, and intellectual property", MI5 has also detected attempts by Chinese spies to influence politics, including an operation to gain intelligence on the EU which was foiled last month by MI5 together with Belgian security services.
Chinese documentary accuses Australian Strategic Policy Institute and ABC of driving anti-Beijing sentiment - ABC News A former Australian ambassador to Beijing has appeared in a Chinese state media documentary accusing a federally funded institute and the ABC of driving anti-China sentiment across the globe...During an interview, Geoff Raby, the former Australian ambassador to Beijing, backs the criticisms made against ASPI.
---
Taiwan
Tussle over Taiwanese group raises fears of Chinese infiltration | Financial Times At an extraordinary shareholders' meeting on October 21, a group of activist investors plans to oust Lin Kuo Wen-yen, the chairwoman of Tatung, a conglomerate whose businesses range from handling government information systems to making rice cookers...Tatung's management has said some of the investors who called the shareholders' meeting are Chinese or backed by Chinese money. The company has warned that if these investors win control, the sensitive data the company manages for the Taiwanese government will be at risk. But the government has allowed the shareholders' meeting to proceed — a departure from past practice in similar cases.
Eviction of Elderly Tainan Residents, Self-Immolation in Pingtung Among Recent Eviction Cases in Taiwan | New Bloom Magazine FORCED EVICTIONS continue to be a severe issue in Taiwan, as observed in several recent cases. Such cases have taken place in northern, central, and southern Taiwan.
How Taiwan is Using Technology to Foster Democracy (with Digital Minister Audrey Tang) "Democracy is a technology. Like any […] technology, it gets better when more people strive to improve it," says Audrey Tang, Taiwan's first digital minister. Minister Tang joins Azeem Azhar to discuss how the Taiwanese Government is using the Internet as a space for civic participation, dialogue, and consensus building.
---
Tech and Media
中国用户日均看短视频近两小时 超过即时通信_财新网_财新网 report by an industry association said on average Chinese users spent two hours per day on video apps like Douyin, more than they spent on messaging apps like WeChat.
工信部闻库:中国要坚持适度超前的5G建设节奏_财新网_财新网 Wen Ku, an official with China's ministry of industrial and information technology, said in a presser on Wednesday that China now has more than 680,000 5G base stations, which is ahead of the original plan to build 650,000 by the end of the year. Wen said China will continue to build at this "ahead of schedule" pace to promote the 5G usage.
OnePlus co-founder Carl Pei leaves the company to start a new venture | TechCrunch Carl Pei, who co-founded the smartphone giant OnePlus in his 20s, has left the company, two sources familiar with the matter told TechCrunch.
Chinese Actor Threatens Legal Action Against Catfishing Imposters - SixthTone The actor, Jin Dong, said Tuesday through his agency that he doesn't have a personal account on any Chinese short-video platform and urged users to delete all content that violates his "portrait rights and brand name." The 43-year-old actor's statement came after a woman in the eastern Jiangxi province went viral this week for getting duped by a Jin imposter.
China has become world's largest, fastest-growing IC market - Xinhua China's IC industry has seen an average compound annual growth rate of more than 20 percent. In 2019, the country's IC industry reached a size of more than 700 billion yuan (103.1 billion U.S. dollars), up by 15.8 percent year on year, said Yang Xudong, an official with the Ministry of Industry and Information Technology. Currently, the country accounts for nearly 50 percent of the global market share, Yang noted, adding that foreign-invested enterprises contribute more than 30 percent of IC sales revenue on the Chinese mainland.
---
Society, Arts, Sports, Culture and History
Wang Xiuying · China after Covid · LRB 22 October 2020 At the other end of the political spectrum, young liberals quickly descend into a kind of accelerationism. The trade war with America, deteriorating relationships with many other countries, increasing nationalism, the South China Sea dispute, the Hong Kong National Security Law, and, especially, the global pandemic have shown everyone in China just how volatile history can be. President Xi has gained another nickname: 'chief accelerationist'. For liberal optimists, things need to get worse before they can get better and acceleration looks like the quickest route to reconstruction. They invoke a Chinese proverb that says pain is easier to endure than an itch. But this optimism isn't shared by most people, who feel only exhaustion and helplessness.
Faking Social Media 2.0: The Business of Buying "High-End Moments" for WeChat | What's on Weibo On Tuesday, WeChat blog author Jiajiada (加加大) published a now-popular article about the phenomenon of "Buying WeChat Moments," which finds its origins in the circles of young men taking PUA training (PUA stands for Pickup Artists, teaching men how to seduce women).
---
Energy, Environment, Science and Health
独家|青岛疫情或源于早前码头工人感染 专家称暂未发现社区传播_财新网_财新网 Caixin reports that the Qingdao outbreak may have originated with the port workers who got sick in September. The new cases have been traced to the hospital where they were treated
山东省委书记刘家义赴青岛:尽快查清传染源_凤凰网 Shandong Party Secretary goes to Qingdao to demand that the local officials get to the bottom of the outbreak.
Over 7.5 mln sampled for COVID-19 testing in China's Qingdao - Xinhua Over 4.06 million of the collected samples have been tested so far and, with the exception of the cases already reported, no new positive samples have been detected, the municipal health commission said.
Beijing requires 3 nucleic acid tests for overseas travelers - Xinhua Travelers from overseas arriving in Beijing must take a first test and present their certificate with a negative result within five days of boarding their flight; they must then conduct a health declaration and take a second test at customs; finally, they must take a third test after completing quarantine in China, said Tian Tao, a member of the city's epidemic prevention and control work team, at a press conference on Wednesday.
Chinese Firm Gives Experimental Covid Vaccines to Students - WSJ $$ China National Biotec Group Co., a division of state-owned Sinopharm that is developing two Covid-19 vaccines, was giving them free to Chinese students planning to study abroad, according to a company website and students who applied for it.
Yicai - Sinopharm's Covid-19 Jab Is Not Yet Available Despite Reports to the Contrary, Insider Says Recent reports that China National Pharmaceutical Group's Covid-19 vaccine can already be reserved in Beijing and Wuhan are incorrect, the Health Times reported, citing a company insider.
China launches English-language Journal of Remote Sensing - Xinhua China's first English-language publication offering research in the field of remote sensing has been launched online, the Chinese Academy of Sciences (CAS) said Wednesday. The Journal of Remote Sensing is an open-access academic journal published in affiliation with the academy's Aerospace Information Research Institute and distributed by the American Association for the Advancement of Science.
Toxic Corn Noodles Kill 8 in Northeast China - SixthTone The poisoning was caused by bongkrekic acid, a respiratory toxin produced by a bacterium found in fermented food, domestic media reported Tuesday, citing the provincial health commission. The nine family members in the city of Jixi had consumed suantangzi, a soupy noodle dish made from fermented corn flour, on Oct. 5, though it's unclear when they were hospitalized. The dish's "ingredients" were homemade and had been frozen for nearly a year, according to the media report. Local police have ruled out the possibility of intentional poisoning.
How China's Medical Scammers Peddle Certainty and Plunder Patients - SixthTone As with so many medical scams in China, it all started with a seemingly innocuous waiting room chat. The country's overcrowded top-tier hospitals are infested with so-called medical or pharma intermediaries: scammers who earn commissions by posing as patients and persuading sick people to seek treatments at unregistered medical institutions or buy unapproved or counterfeit drugs.
22 students in Jiangsu diagnosed with tuberculosis - Global Times The Jiangsu Normal University said on Wednesday that from August 2019 to Monday this week, a total of 22 students there have been diagnosed with tuberculosis. The patients are receiving treatment.
---
Jobs and Events
Bloomberg New Economy Forum Announces New Global Co-Hosts and Preliminary Speaker Line-up for 2020 Virtual Event China Center for International Economic Exchanges, International Institute for Strategic Studies and Mandela Institute for Development Studies to co-host this year's global convening
---
Rural and Agricultural Issues
China's autonomous agricultural machinery sales surge - Xinhua China's sales of self-driving agricultural machinery equipment and systems reached more than 11,700 units in the first half of this year, posting strong year-on-year growth of 213 percent. The data was released from an on-site meeting on autonomous agriculture hosted on Wednesday by the Ministry of Industry and Information Technology in the city of Jiamusi in northeast China's Heilongjiang Province.