Xi's Southern tour; WSJ says Trump-Xi G20 meeting at risk; Chinese on the line when Schwarzman and Wynn call Trump?; Xinjiang collaboration and propaganda; Abe lands in Beijing;
Happy Thursday, here are some of the things I found interesting today:
Xi looks to have wrapped up his 2018 Southern tour as the Thursday CCTV Evening News has a 22 minute report on his trip. Xi again expressed support for private firms but so far there is no word of anything more than reiterations for the trajectory China is already on, so it feels a bit anti-climactic;

The Wall Street Journal and Washington Post have stories on the chasms between the US and China and the likelihood there are no near-term solutions;

The New York Times reports that the Chinese are listening to the phone calls Trump has with businessmen with significant China interests, though it is unclear they are actually learning anything useful;

Japanese Prime Minister Abe has arrived in Japan, expect deals and maybe a panda or two for Japan but nothing too significant;

A US scholar is out with a new report on the Han in Xinjiang who make the vocational archipelago possible, as the CCP propaganda organs ramp up their positive energy campaign around the camps.
Housekeeping note: Discounted group subscriptions are available for five or more subscribers from the same organization. If you are interested please visit this page.
Thanks for reading. 
---
The Essential Eight
1. Xi's Southern Tour
China's reform and opening up can keep delivering 'miracles', says Xi Jinping | South China Morning Post:
The road of "reform and opening up" was the "correct path" and China could create "bigger miracles" by sticking to it, Xi was quoted as saying by the official Xinhua news agency on a visit to Shenzhen, China's foremost technology hub.

"I come to Shenzhen again ... so that we can declare to the world: China's reform and opening up will never stop," Xi was quoted as saying.

"This year marked the 40th anniversary of China's reform and opening up. In the last 40 years, China's development achievements have impressed the world," the Chinese leader said...

"The central committee of the Communist Party has always valued development of medium and small-sized businesses and has always been looking for ways to encourage your growth," Xi was quoted as saying on Wednesday afternoon while visiting Guangzhou Mino Automotive Equipment, a developer of automatic machines to make vehicle parts.
The full propaganda rollout of Xi's trip begins -习近平在广东考察时强调 高举新时代改革开放旗帜 把改革开放不断推向深入_CCTV is nearly 22 minutes report at the top of the Thursday CCTV evening News. Next will be the People's Daily and other editorials on the important messages from his trip, then study sessions.
His comments on the importance of SMEs - 习近平:党中央高度重视中小企业发展-新华网:
"中小企业能办大事!"24日下午,习近平来到广州明珞汽车装备有限公司,同在场的中小民营企业负责人亲切交谈,肯定他们在自主创新方面取得的成就。他表示,党中央高度重视并一直在想办法促进中小企业发展。只有这样才能够真正使我国经济全面发展、科学发展、高质量发展。我们大力提倡创新创造创业,既离不开中小企业,也给中小企业发展提供了更多机会和更大空间。习近平希望广大中小企业聚焦主业,加强自主创新,通过自身努力不断取得新的业绩,让企业兴旺发达,为我们祖国强大和人民幸福作出更大贡献。(记者:张晓松、谢环驰)
And that "China's reform and opening up will never stop"—习近平:中国改革开放永不停步!_中国经济网:
24日上午,习近平在深圳参观"大潮起珠江——广东改革开放40周年展览"时坚定作出上述表示。

展览中,今昔图片强烈对比,历史场景历历再现,全景展示了广东改革开放40年的峥嵘岁月。习近平不时驻足察看,询问有关细节。在会见广东省改革开放相关方面代表时,习近平指出,今年是改革开放40周年。40年来,中国发展成就令世界刮目相看。既然是越走越好,为什么不继续走下去呢?即便我们存在这样那样的一些困难和问题,也要在继续走下去中加以解决、加以克服。我们要坚定沿着改革开放之路走下去,同时要向更深更广的领域中不断开拓,不断提高水平。
---
2. US-China trade
U.S. Won't Resume Trade Talks Without Firm Proposal From a Wary China - WSJ - Bob Davis and Lingling Wei $$:
The U.S. is refusing to resume trade negotiations with China until Beijing comes up with a concrete proposal to address Washington's complaints about forced technology transfers and other economic issues, said officials on both sides of the Pacific...

The U.S., for its part, is concerned China will string out negotiations and try to get pledges from Mr. Trump in a one-on-one session with Mr. Xi. That would produce agreements that "sort of commit to things that will sound good but aren't meaningful," said the senior White House official, who added Mr. Trump wouldn't fall for such a trap…

During May talks in Beijing, U.S. negotiators handed their Chinese counterparts an eight-point list of demands, ranging from halving the $376 billion trade deficit to curtailing much of China's subsidies for high-tech industries.

The Chinese divided the U.S. demands into 142 separate items, which they then placed into three categories, said individuals briefed on the Chinese discussions. Of the demands, 30% to 40% could be done immediately; another 30% to 40% could be negotiated over time; and 20% were off limits because they involve national security or other sensitive issues, they said. Informally named the "80/20 plan" or the "60/20/20 plan," the idea was presented to the U.S. in mid-August negotiations, U.S. and Chinese officials said.
Comment: Still looking for that list of 142 items...I am at Signal +13012460858 if you want to share…
How the U.S. and China misread the signals in the trade war - The Washington Post:
Alarms over the souring relationship went off in Beijing this year when Department of Homeland Security agents at the San Francisco airport stopped a half-dozen senior Chinese researchers, including some employed by the China Institutes of Contemporary International Relations — an influential think tank that answers to China's intelligence agency [Comment: "Answers to" is an interesting way to put it. Isn't CICIR the 8th Bureau of the MSS? That is one of the reasons people from CICIR are always interesting to talk to.]. The agents confiscated the researchers' laptops and phones and demanded their passwords, according to two people familiar with the incident, who spoke on the condition of anonymity to discuss a sensitive issue.

Outraged Chinese scholars suspected the searches were politically motivated and wrote to the State Department saying they would cancel future trips to the United States, according to a copy of an email from the think tank seen by The Washington Post. (The institute later resumed travel to the United States after receiving State Department assurances.)..

"The Chinese government is using an old playbook. They haven't figured out how the times and attitudes have changed, and they are either unable or unwilling to come up with new plays that suit the circumstances," said one National Security Council official, who would comment on sensitive discussions only if granted anonymity...

"The Chinese are becoming convinced that the U.S. is an active enemy and needs to be treated as such," said Charles W. Freeman Jr., a former U.S. diplomat who served as President Richard M. Nixon's interpreter during his 1972 trip to China. "Frustration has turned into exasperation. This is a geopolitical earthquake in the making and the implications are huge."
Comment: And the belief in DC that China is an active enemy of the US, once closely held in dark corners, seems to be increasingly going mainstream...
US and China officials meet ahead of possible talks between Xi Jinping and Donald Trump | South China Morning Post:
Alan Turley, deputy assistant secretary on China and Mongolia in the US Commerce Department, also met US business representatives during his visit, according to the US embassy in Beijing and other sources familiar with the situation.

A US embassy spokesman said Turley was in the region primarily to accompany a trade mission of US companies to Mongolia, and had stopped in Beijing on his return to meet companies and have industry-related government meetings.
Beijing tells Washington to be less 'erratic' on trade war as Xi-Trump meeting nears | South China Morning Post:
The United States side has been erratic and vague in talking to China and should change its style to de-escalate trade tensions, the state Xinhua news agency said in an editorial on Wednesday.

The editorial claimed China had always treated US concerns with "utmost patience and sincerity" and had put "practical solutions" on the table to avoid trade frictions. However, Washington has been unpredictable and refused to endorse a line that "neither side wants to fight a trade war", Xinhua said.

"The US must change its mindset and behaviour model to … normalise bilateral trade relations" and the US side "must change its stance and return to the negotiation table with equal conditions", it added.
Could a stock market crash that looks like it was caused in part by the US-China trade war be the one thing that could get Trump to moderate the US position in the near to medium term?-Market pro says US-China trade war is what worries him the most in this sell-off - CNBC:
"I'm much more concerned about China and what that means in the long run than I am about what Fed Chairman Jay Powell's doing with monetary policy," Hogan, the chief market strategist at B. Riley FBR, told CNBC.

"The market is trying to get their minds wrapped around what kind of guidance we're going to get from companies like 3M, where they can't figure out what their input costs are going to be for 2019," he said. "Does this long, drawn out, mutually destructive trade war continue through all of 2019? Or is there a way to get to the negotiating table?"
How China can turn the trade war into a 'strategic opportunity' to ascend to global leadership | South China Morning Post:
If you think 86-year-old Zheng Bijian's best years are behind him, think again. The strategist and former executive vice-president of the Central Party School is best known for his coinage "peaceful rise", which has been the defining notion of China's foreign policy for well over a decade...

As Zheng sees it, this is exactly where China's "great strategic opportunity" lies: by placing itself at the centre of world affairs and economic globalisation while the US is pulling out, China is building its reputation as a champion of free trade in its quest to win over hearts and minds.
---
3. Chinese listening to Trump calls with private advisors?
When Trump Phones Friends, the Chinese and the Russians Listen and Learn - The New York Times: 
When President Trump calls old friends on one of his iPhones to gossip, gripe or solicit their latest take on how he is doing, American intelligence reports indicate that Chinese spies are often listening — and putting to use invaluable insights into how to best work the president and affect administration policy, current and former American officials said... 

American spy agencies, the officials said, had learned that China and Russia were eavesdropping on the president's cellphone calls from human sources inside foreign governments and intercepting communications between foreign officials... 

The officials said they have also determined that China is seeking to use what it is learning from the calls — how Mr. Trump thinks, what arguments tend to sway him and to whom he is inclined to listen — to keep a trade war with the United States from escalating further. In what amounts to a marriage of lobbying and espionage, the Chinese have pieced together a list of the people with whom Mr. Trump regularly speaks in hopes of using them to influence the president, the officials said. 

Among those on the list are Stephen A. Schwarzman, the Blackstone Group chief executive who has endowed a master's program at Tsinghua University in Beijing, and Steve Wynn, the former Las Vegas casino magnate who used to own a lucrative property in Macau.
Comment: I imagine the Chinese may end up confused by whatever they hear, and that they are rapidly losing faith in these insider interlocutors to actually deliver anything. Will the leaks about this behavior neutralize this channel for attempted influence?
China Dismisses Report of Trump Phone Spying as 'Fake News' - Bloomberg:
"This just provides more evidence of the New York Times creating fake news," Hua said in Beijing, borrowing a favorite Trump attack line. She then offered a pointed pitch for Huawei Technologies Co., the Chinese phone maker whose equipment has been shunned by the U.S. government over security concerns.

"If there are concerns about Apple calls being listened-in on, then you can change to Huawei phones," Hua said.
Does the PRC have any of these in DC? - DHS confirms it has evidence of mobile snooping devices around DC - CNN April 2018 
The Department of Homeland Security has confirmed that it has detected evidence of mobile snooping devices around Washington, DC. 

The devices could be the work of foreign governments or entities, however, DHS hasn't determined their origin, the agency said in a letter. At issue are what are known alternatively as Stingrays, IMSI catchers or cell-site simulators. The devices essentially act as fake cellphone towers, and as mobile devices connect to them, the devices are able to snoop on the traffic that goes through.
Or have they so thoroughly penetrated the electronic devices of the interlocutors that there is no need?
---
4. Abe lands in Beijing
Japanese PM arrives in Beijing for official visit - China Daily:
"The Japanese side has prepared some 60 projects for the visit, of which more than 30 are expected to be signed and implemented soon. Such large-scale economic exchange and cooperation activities demonstrate the high level of mutually beneficial cooperation between China and Japan," Gao said.

China-Japan trade volume returned to above the $300 billion level in 2017.

Earlier in a written interview with Chinese media, Abe said the economies of the two countries were inseparable, and China's economic development was a huge opportunity welcomed by Japan and the world.
Japan's warming ties with China are a positive step | Financial Times $$:
Mr Abe must also worry that the thaw in ties may be a purely tactical pivot by China that will last only as long as Mr Trump applies trade pressure on Beijing. But for the first time in a decade, the two most important countries in a tough neighbourhood are sitting down to talk instead of threatening each other. That, in itself, is cause for hope.
---
5. The Beijing Xiangshan Forum
Unilateralism willful disregard for people - Global Times:
Li Zhanshu, chairman of the National People's Congress Standing Committee, said on Wednesday in Beijing that unilateralism is a "withdrawal from international groups" and disregard for the interests of other countries and peoples.

"Some countries outside the South China Sea have frequently sent large warships and strategic bombers to the waters to flex their muscles, which threatens regional security. This is not only a typical militarized move, but the largest driving force for militarization in the region," Li said on Wednesday.

Li, who is also a member of the Standing Committee of the Political Bureau of the Communist Party of China Central Committee, made the remarks at the reception and opening banquet of the 8th Beijing Xiangshan Forum. His speech covered hot issues including the China-US relationship, the Korean Peninsula issue, South China Sea issue and the Taiwan question.
China says military will act 'at any cost' to prevent Taiwan split | Reuters:
"The Taiwan issue is related to China's sovereignty and territorial integrity and touches upon China's core interests," Chinese Defense Minister Wei Fenghe said at the opening of the Xiangshan Forum in Beijing, which China styles as its answer to the annual Shangri-La Dialogue security forum in Singapore.

"On this issue, it is extremely dangerous to repeatedly challenge China's bottom line. If someone tries to separate out Taiwan, China's army will take the necessary actions at any cost."
Xi sends congratulatory letter to Beijing Xiangshan Forum - Xinhua:
Xi called on participants to pool wisdom, build consensus, contribute to a new form of international relations featuring mutual respect, fairness, justice and win-win cooperation, and work together to build a brighter future for mankind during the forum.

This year's forum is themed "Building a New Type of Security Partnership of Equality, Mutual Trust and Win-Win Cooperation."
List of attendees at the Forum 
Chinese Defence Minister Wei Fenghe demands US retract allegations of interference | South China Morning Post:
Wei Fenghe, the Chinese defence minister, blamed Washington for "seriously damaging the Sino-US relationship and mutual trust" by alleging China was interfering in US domestic policies, and vowed China would take action to defend its interests.

"China expressed its anger and resolute opposition," Wei said, without naming US Vice-President Mike Pence, who made the allegations in early October.

"We strongly call on the US to remedy the mistakes, stop damaging China's interests and the Sino-US relationship."
第八届北京香山论坛开幕 魏凤和出席开幕式宣读习近平主席贺信并作主旨发言 
China says meeting with U.S. Defense Secretary was constructive | Reuters:
Ministry spokesman Wu Qian made the comment at a regular monthly news briefing, adding that Mattis had again invited Wei to visit the United States.
North Korean general gets warm welcome in China as ties improve | Reuters:
Attending the Xiangshan Forum in Beijing, which China styles as its answer to the annual Shangri-La Dialogue security forum in Singapore, Kim Hyong Ryong, vice minister of North Korea's People's Armed Forces, was greeted warmly by other attendees, including Singapore Defence Minister Ng Eng Hen.
Pompeo was 'snubbed' by Beijing. Now it wants to show 'a friendlier China' -SCMP via POLITICO:
"Wang and his team didn't even take Pompeo for a meal after the meeting … it was very disrespectful —China is known as a country that respects etiquette and ceremony," the person said.

"Some of the Chinese defense officials and others didn't agree with the way Wang handled the visit and they are hoping the Xiangshan Forum will be a chance to show their foreign counterparts a friendlier China," the person said.
Comment: So far it does not look friendlier...
---
6. Xinjiang collaboration and propaganda
China's Government Has Ordered a Million Citizens to Occupy Uighur Homes. Here's What They Think They're Doing. | Darren Byler for ChinaFile: 
This spring, as an anthropologist returning to a province where I had spent two years researching Han and Uighur social life, I met and interviewed Han civilian state workers in predominantly Uighur urban districts and towns across Southern Xinjiang.

I wanted to understand how different groups of Han civilians viewed their roles in the human engineering project and why they assented to take part in it. I assured them that I would not share their names in any future publications and asked them to describe how they viewed their work and its purpose. I also observed how they interacted with minorities and with one another. I was curious as to whether they would be able to empathize with the Uighurs and Kazakhs they were involved in "transforming.".. 

The tyranny that is being realized in Northwest China pits groups of Chinese citizens against each other in a totalitarian process that seeks to dominate every aspect of life. It calls Han "relatives" into coercive relations with their Uighur and Kazakh hosts, producing an epidemic of individualized isolation and loneliness as families, friends, and communities are pulled apart. As new levels of unfreedom are introduced, the project produces new standards of what counts as normal and banal. The "relatives" I spoke to, who did the state's work of tearing families apart and sending them into the camp system, saw themselves as simply "doing their jobs."
Comments on Hu Xijin's Weibo posts about his Xinjiang tour are broadly supportive...yes could all be paid trolls but I doubt it, expect there is lots more support for the Xinjiang policies inside China than the Western world would like to admit--这是我在新疆喀什教培中心拍的未剪辑的2分... 来自胡锡进 - 微博 
Strong measures help Xinjiang restore peace, stability - Global Times:
A group of Global Times reporters recently visited Hotan and Kashi in Northwest China's Xinjiang Uyghur Autonomous Region. From an anti-terrorism exhibition, the reporters came to understand the astonishing situation of how extremism spread in Xinjiang years ago and witnessed that people in southern Xinjiang are now again enjoying their peace and tranquility.

The officials and people of Xinjiang have contributed to the incredible changes in the region with their hard, creative work.

Xinjiang was impacted by extremism a few years ago. Western forces have a double standard in China's anti-terrorism efforts and their sympathy for the terrorists in Xinjiang inflated the extremists' arrogance...

Western public opinion has misread these measures, accusing the centers of violating human rights. Such misunderstanding contains disputes in values and it's hard for China to communicate with Western opinion and make it understand the Xinjiang question realistically.
西方舆论对新疆的做法产生了误读,指责办职业技能教育培训中心是"侵犯人权"。由于这种误读包含一些价值观的分歧,使得中方与西方舆论的沟通,让他们对新疆的问题形成切合实际的认识面临很大困难。

新疆是面对现实,把恢复和平稳定、保护人民群众的生命安全和安宁生活、重建新疆法律秩序作为首要目标,为此采取的是能够带来实效、代价又最小的措施。在我们看来,新疆这样做的出发点恰恰是为了人权。
Greater transparency is needed to dispel Xinjiang concerns | South China Morning Post:
Despite explanations from officials, doubts remain as to the true story. Foreign journalists and rights activists are denied free and open access and that only deepens suspicions. Greater transparency is necessary to quell concerns.

Ordinarily, there should be little reason to explain. Extremism has long existed in Xinjiang and the threat has worsened with the rise of radical Muslim groups. More than half of the population of 24 million practises Islam and there has been a history of independence movements and resistance to Beijing's rule. The region experienced a wave of violence from the 1990s until 2015, with riots, bombings, killings of officials and random stabbings that left thousands dead...

Schools that teach Mandarin, job skills and the wrongs of extremism make sense. Seeking out those most likely to fall into the hands of radicals is a strategy that Western nations hit by terrorist attacks have struggled to accomplish. China has the financial resources to make such an effort succeed. But China's methods are much misunderstood in the Muslim world and there is a high degree of scepticism in the West about its actions and motives, particularly with the administration of US President Donald Trump pushing an increasingly virulent anti-Beijing agenda.
Comment: South China Morning Post editorial like a Global Times one but more sophisticated…
Chinese man jailed for Koran burning as Islamaphobia spreads online | South China Morning Post:
A recent research paper by Luwei Rose Luqiu and Fan Yang found negative stereotypes of Muslims and Islam were commonplace in Chinese media.

Many editorials published in the state-owned Global Times over the past year have portrayed Uygur Muslim culture in Xinjiang province as backward, superstitious and in need of modernisation.

An article in the Global Times on Wednesday said: "With the promotion of vocational skills, national laws and regulations and de-extremism education, more residents and trainees in Xinjiang begin to realise that women should not be treated as the 'personal possessions' of their husbands."
---
7. US and Chinese views on Cyber Security
An interesting series from Lawfare, the gulf between the two sides is very wide...
A Chinese Perspective on the Pentagon's Cyber Strategy: From 'Active Cyber Defense' to 'Defending Forward' - Lawfare - Lyu Jinghua:
The U.S. is consistently critical of China's cyber security measures and hypes China up as a cyber threat. In this context, the more proactive posture pursued in the 2018 strategy might be understood by some in the U.S.—with whom I cannot agree—as a response to China's cyber posture. However, from China's perspective, the U.S. enjoys a large military advantage in cyberspace, as Yao Yunzhu and her colleagues have elaborated in a joint report—an advantage obtained through formulating and updating cyber operational doctrines and strategies, setting up and elevating cyber command, and building cyber warfare units.

China does not seek an arms race with the United States. To be sure, it intends to develop its own cyberspace capability as well, for two reasons: first, to keep up with recent trends in the military-technological revolution worldwide; and second, to ensure that China can win a local war shaped by the wide application of information and communication technologies.--Lyu Jinghua is a visiting scholar in the Cyber Policy Initiative at the Carnegie Endowment for International Peace. She is a retired colonel from the Chinese People's Liberation Army.
A Deepening U.S.-China Cybersecurity Dilemma - Lawfare - Ben Buchanan and Robert D. Williams:
In Lawfare on Oct. 19, Chinese cybersecurity analyst Lyu Jinghua (吕晶华) offered a thoughtful critique of the 2018 Department of Defense Cyber Strategy, an unclassified seven-page summary of which was released publicly on Sept. 18. Lyu observes that the new strategy marks a break from previous such documents in that it lists China first among the group of four "States that can pose strategic threats to U.S. prosperity and security" (in addition to Russia, North Korea, and Iran). In the context of rapidly deteriorating U.S.-China relations, Lyu explains, "even a 'minor' change like this … sends the Chinese government a signal that America views China as a potential adversary."..

Lyu is right that a more proactive U.S. policy is taking on some risks and might impair stability. However, we find her assessments of the broader situation—-that is, why the United States has chosen to adopt this policy—less persuasive. The deepening cybersecurity dilemma is due not just to American action. It is in part due to threats the United States perceives from China, a topic her account largely glosses over.
An American Perspective on a Chinese Perspective on the Defense Department's Cyber Strategy and 'Defending Forward' - Lawfare - Robert Chesney:
In addition to the underspecified escalation risk claim, Lyu moves to the system-wide level in order to assert that the American approach to cyber power is precipitating a digital arms race by dint of classic security-dilemma dynamics. On this view, China is a status-quo power, embracing a rules-based international order and aiming "to promote peace by mitigating crises and creating a stable environment …" China is powerful enough to defend itself, to be sure, but would only do so if attacked first. America, in contrast, is embracing "aggression" through the defense-forward model (and by the ongoing maturation of Cyber Command itself), and in this misguided quest for security, America will leave a reluctant China with no choice but to expand its own capabilities, with a dangerous arms spiral following.
---
8. Two-wheelers on the reform road
The Rise, Fall, and Restoration of the Kingdom of Bicycles - MacroPolo:
This is the second of several historical case studies that illustrate how important aspects of the Chinese political economy have evolved over the first 40 years of the country's Reform and Opening policies. The first case study, on how KFC changed China and how China changed KFC, can be read here. Later this year Two Fen will publish a series of in-depth examinations of China's economic transformation to commemorate this 40th anniversary...

China today has over half a billion bicycles, a colossal feat of manufacturing attributable to the policies of Reform and Opening. The boom and bust cycles of the bicycle market have closely reflected the dramatic changes in the Chinese economy over the past four decades.

Bicycles dominated the streets of fast-developing Chinese cities in the 1980s and 1990s, causing a production boom as the market opened to entrepreneurs. In the mid-1990s, amid rising incomes and rapid urbanization, the Chinese government threw its weight behind the automobile industry, coinciding with declining bicycle usage and a surge in exports. But horrific traffic, coupled with the rise of environmental and health consciousness, caused urban Chinese and their governments to reconsider their choices, helping to spur today's bike-share startups.
And here is nice Tencent photo collection on the evolution of motorcycles and motorcycle ownership in Guangzhou in the reform era -- 圖集 / 從致富象徵到飛車黨橫行,摩托車在廣州的30年 | 微信上的中國 
Love this picture, remember when I used to covet one of these phones when I was in Beijing 91-93 but could not afford one: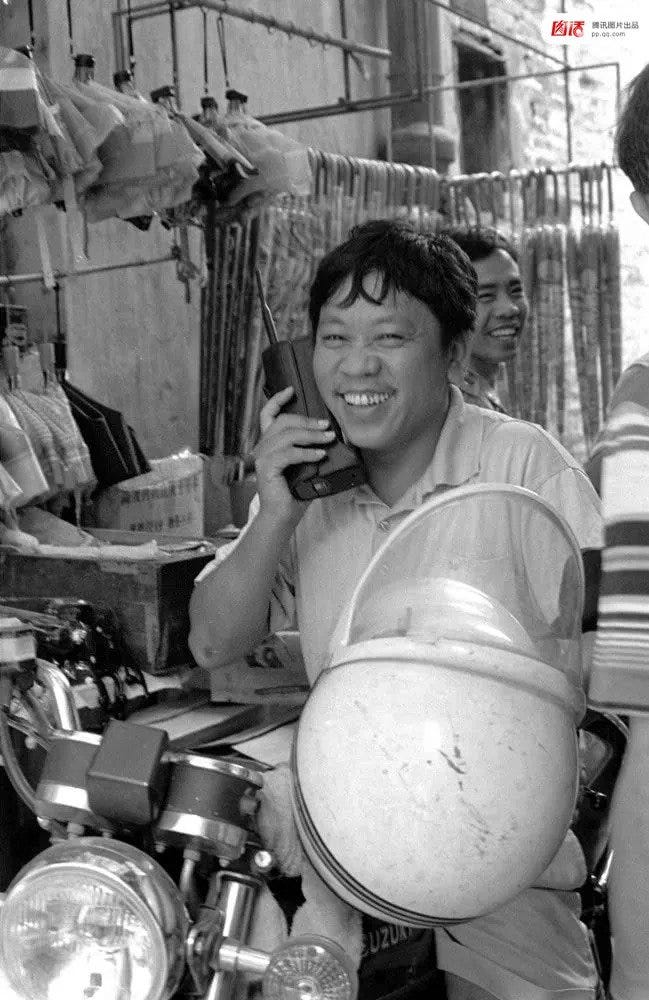 ---
Business, Economy, Finance And Trade
China's State Financial Assets Worth About Half of Global GDP - Caixin: * Report shows state-owned financial enterprises held 241 trillion yuan in assets in 2017, with liabilities of 217.3 trillion yuan * Paper also proposes an improved legal and regulatory system for state-owned financial capital management that clarifies investor responsibilities and centralizes oversight... The report found that state-owned financial enterprises held 241 trillion yuan ($34.7 trillion) in assets in 2017, equivalent to roughly half of global gross domestic product (GDP) for that year. Liabilities came to 217.3 trillion yuan, giving the government holdings a liability-to-asset ratio of 90.2%.
Biggest China ETF Sees Inflows Surge as State Are Said to Intervene - Bloomberg "The national team might be switching gear to passive investment," said Dai Ming, a Shanghai-based fund manager with Hengsheng Asset Management Co. Active investment creates "market noise and systemic risks as some investors bet the national team will always be there to prop up stocks. Stabilization funds invested through passive funds will not only smooth out market volatility but also save them from the moral risk."
China Liquidates $4 Billion Funds, Leaving Investors Asking Why - Bloomberg Two funds linked to the Chinese government sold all of their holdings of stocks and bonds in the third quarter without explaining why, leaving investors to guess about the implications for the country's turbulent financial markets. Withdrawals from the CM Fengqing Flexible Allocation Fund and E Fund Ruihui Flexible Fund caused their combined assets to shrink to 296 million yuan ($43 million) at the end of the third quarter from 31.4 billion yuan in June, according to quarterly statements dated Wednesday.
Shenzhen's State-Owned Investment Arm to Sell Bailout Bond - Caixin Shenzhen Investment Holdings, which is wholly owned by the State-owned Assets Supervision and Administration Commission of the South China boom town, will issue the bond to raise 1 billion yuan ($144 million), the company said in its prospectus (link in Chinese) filed with the Shenzhen Stock Exchange late Wednesday. The proceeds from the bond issuance will be used to set up a special equity investment fund to help controllers of Shenzhen-based listed companies that are "operating healthily" to "deal with liquidity problems linked to pledged shares," the statement said.
Central Bank Tabs Little-Known Firm to Offer Credit Support to Bond-Selling Companies - Caixin China's central bank has selected a low-profile asset management company it controls to join a government effort to provide credit support to private companies that sell bonds, Caixin has learned. The company, Huida Asset Management Co. Ltd., is an entity wholly owned by one of country's four largest distressed-asset managers, Cinda Asset Management Co., but directly supervised and managed by the People's Bank of China (PBOC).
Central Bank to Provide $1.4 Billion to Support Bond Market - Caixin The People's Bank of China (PBOC) plans to provide 10 billion yuan ($1.4 billion) to China Bond Insurance Co. as credit support for debt sales by private enterprises, Caixin has learned from several sources close to the central bank. The central bank decided to use the bond market to bolster private-sector financing because it is relatively open and transparent and can guide expectations, said Xu Zhong, director general of the PBOC's research bureau.
Cash-Strapped HNA Puts Fleet of Luxury Jets Up for Sale - Bloomberg HNA Group Co. is in talks to sell a fleet of private jets, including a $70,000-an-hour retrofitted Boeing 787 and some planes reserved for its leaders, as the debt-laden Chinese conglomerate continues to grapple with liquidity challenges, according to people familiar with the matter. HNA is offering to sell dozens of private jets operated by subsidiary Deer Jet Co. to potential buyers, the people said, asking not to be identified discussing a private matter.
BRI trade spikes in first three quarters of 2018 - China Daily Trade volume between China and economies participating in the Belt and Road Initiative reached 6.08 trillion yuan ($875 billion) in the first three quarters, an increase of 13.2 percent year-on-year, the Ministry of Commerce said on Thursday. The growth rate was 3.3 percentage points higher than the country's overall trade expansion during the same period, the ministry said.
70% say no buying spree in upcoming shopping festival: survey - ECNS Nearly 7 out of 10 respondents in a survey said they will buy only what's necessary during the November 11 shopping festival, according to a report by China Youth Daily. The 24-hour shopping carnival on Alibaba's e-commerce sites Taobao and Tmall, also known as the Singles Day shopping festival, has been joined by numerous other online and offline shops. For questions about top concerns in buying online, 68.1 percent of respondents consider the cost and their own financial situation, 58.3 percent think more of a product's pragmatic uses and necessity, and 61.1 percent put personal interest as the first concern.
China lists top 100 outstanding private entrepreneurs - China Daily It not only includes star entrepreneurs who routinely top China's rich lists, such as Alibaba chairman Jack Ma, Tencent chairman and CEO Pony Ma and chairman of Evergrande Group Xu Jiayin, or Hui Ka Yan, but also spotlights business leaders who have retreated behind or even passed away as long as they once played emblematic roles in China's private economic development. Zhejiang province has nine entrepreneurs making the list, the most among China's provincial regions, followed by Guangdong and Jiangsu provinces, which have eight and seven business leaders on the list respectively. The largest group of the 100 entrepreneurs, with nine names, is from the real estate sector while the internet sector has five.
China cutting rare earth output, unnerving global manufacturers | Reuters For the second half of 2018, China's quota for rare earth separation and smelting has been cut 36 percent, an attempt to better control the market, according to Adamas, a research firm that closely tracks the rare earths industry. China's decision to limit domestic rare earth production to 45,000 tonnes for the second half of 2018 - announced in August and the lowest in more than five years - provides only enough supply for China's domestic buyers, according to Adama
Investors Received False Information About Bitmain Funding Round - CoinDesk Parties solicited to invest in the pre-initial public offering (IPO) funding round for Bitmain Technologies, Ltd., the leading maker of cryptocurrency mining software and hardware, received pitch decks falsely suggesting the company had secured financial backing from Digital Sky Technologies Global and GIC Private Limited, an investigation by CoinDesk has found.
多地房贷首现松动:利率微降 放款加速_财经网  21st Century Business says mortgage loan rates dropping in Beijing, Guangzhou, Hangzhou, Foshan in a sign of possible slight loosening of real estate regulatory pressures..//.但房贷利率走势在10月有所转向。21世纪经济报道记者在采访中获悉,近期,北京、广州、杭州、佛山等房地产热门城市出现部分银行下调房贷利率的现象。这是去年以来首次多城同时出现房贷利率下调。
---
Politics, Law And Ideology
Translation: Big Brother Is Watching Big Brother – China Digital Times (CDT) A nationwide "early warning system" is collecting data on government officials to predict delinquency, according to a text found by the CDT Chinese editors. The origins of the document are not clear but it appears to be linked to official anti-corruption offices
---
Foreign and Military Affairs
French government report says thousands approached by Chinese spies on LinkedIn | intelNews.org A French government report warns of an "unprecedented threat" to security after nearly 4,000 leading French civil servants, scientists and senior executives were found to have been accosted by Chinese spies using the popular social media network LinkedIn. The report was authored by France's main intelligence agencies, the General Directorate for Internal Security (DGSI) and the General Directorate for External Security (DGSE). According to the Paris-based Le Figaro newspaper, which published a summary of the classified report, the two intelligence agencies presented it to the French government on October 19.
The INF Treaty hamstrings the U.S. Trump is right to leave it. - The Washington Post - Elbridge Colby Rather, the most compelling reason for withdrawal is that the United States could materially improve the military balance against China in East Asia by developing and deploying INF-noncompliant systems. China poses a much larger and more sophisticated long-term military threat than Russia, and U.S. strike options are more constrained by the geography of the Pacific. Washington would benefit from having the ability to deploy survivable land-based ballistic and cruise missile systems to provide a larger, more diverse and resilient greater strike capability in the event of a conflict in the western Pacific.
单边思维,也是"冒险心态"(钟声)--国际--人民网 People's Daily Zhong Sheng on the US withdrawal from the INF, says a manifestation of unilateral adventurism //  美国政府近来不断在大国关系上挑起争端,美国国内战略界越来越多人发出这样的疑问:美国是否为全面陷入大国对抗做好了准备?陷入这样的局面又是否符合美国利益?说到底,回答这两个问题,华盛顿需要的不是简单的"策略"思维,而是要就时代格局、世界未来有更清楚的认识。处理国际问题,当三思而后行,凭借单边思维、"冒险心态",不可能得出正解。
China, Malaysia, Thailand hold 1st joint military exercise | Bangkok Post The first three-nation military exercise involving China, Malaysia and Thailand officially kicked off Wednesday in the Malaysian resort town of Port Dickson overlooking the Malacca Straits. Exercise Aman Youyi 2018, through next Monday, is an extension of the annual joint exercises between China and Malaysia that began in 2014, as then Prime Minister Najib Abdul Razak not only actively courted Chinese funds to boost Malaysia's economy but also deepened bilateral defence ties.
Bolsonaro's anti-China rants have Beijing nervous about Brazil | Reuters Chinese diplomats based in Brasilia have met twice with top Bolsonaro advisors in recent weeks, according to participants in the meetings. Their aim is to highlight cooperation with Latin America's largest country, whose grain and minerals have fueled China's rise while lifting millions of Brazilians from poverty in the resulting commodities boom. Bolsonaro has portrayed China, its largest trading partner, as a predator looking to dominate key sectors of its economy...Bolsonaro is content with China purchasing commodities. But the former Army captain is wary of the Asian nation's recent shopping spree in Brazil's energy and infrastructure sectors.
China launches HY-2B marine satellite - Xinhua An ocean dynamic satellite, the HY-2B can provide all-weather and all-time observation with a design life of five years. It can cover 90 percent of the world's oceans, and obtain ocean dynamic environment data, such as sea surface temperature, wind speed, sea ice and rainfall level.
China fails to stop U.N. Security Council Myanmar briefing | Reuters However, diplomats say council veto powers China and Russia are likely to protect Myanmar from any action. Myanmar's U.N. ambassador said the country would never accept an ICC referral. Britain, France, the United States and six other members requested Wednesday's briefing, but China called a vote to try to stop it. Nine countries voted in favor of the briefing - the minimum needed - while China, Russia and Bolivia voted against and Ethiopia, Equatorial Guinea and Kazakhstan abstained.
China and India eye joint military drills as sides seek thaw after face-off on Himalayan border | Reuters China and India aim to hold joint army drills in China before the end of this year, China's Defence Ministry said on Thursday, as the two countries continue a rapid rapprochement.
PM Imran to meet Xi Jinping during visit to China next week | Pakistan - Geo.tv Prime Minister Imran Khan will hold meetings with Chinese President Xi Jinping and Premier Li Keqiang during his visit to Beijing next month. On the invitation of the Chinese leadership, PM Imran Khan will pay an official visit to China from November 2 to November 5, a statement issued by the Foreign Office read.
Exclusive: Malaysia Prime-Minister-in-Waiting Says Country Wants China Tech, Not Just Infrastructure - Caixin * Heir apparent to top leadership post says "negotiations" with Beijing over recent project cancellations are ongoing * Former deputy prime minister said China has leapfrogged Malaysia in many areas of development in which the former could now help the latter play catch-up
Chinese journalist Kong Linlin charged with assault, says UK police | South China Morning Post The West Midlands Police confirmed the charge to the South China Morning Post. The 48-year-old woman will appear at court on a date yet to be set. Kong was originally taken into custody September 30 after she slapped Enoch Lieu, but released when the Chinese embassy in London intervened. Kong works for China's state-run broadcaster CCTV. // Comment: Wonder if CCTV will recall her from London, this is extremely embarrassing
Abuse of power? On the trail of China's mystery millions in Kyrgyzstan | openDemocracy While the officials look for the guilty parties in the failed modernisation of the CHP plant, the public in Kyrgyzstan is more concerned about what awaits them this winter. What effort is the present government making to prepare for the cold weather, and will the Chinese finish building the promised chemical plant? I spent three weeks trying to gain access to the CHP plant's territory to see how far building has progressed, but in the end it's press officer Tagjana Aidaraliyeva refused me entry. CHP director Andrey Voropayev also refused to meet me, citing a full diary.
---
Taiwan
Taiwan's youth shun government ahead of local polls | Financial Times $$ Activists in Taiwan are planning a series of mass protest rallies in the coming weeks, as opposition towards President Tsai Ing-wen builds over fears that her government will back down from plans to legalise same-sex marriage. The mood among activists is a marked change from the euphoria that swept through Taiwan's youthful civil society in May last year after a top court ruled that banning same-sex unions was unconstitutional.
---
Tech And Media
Kuaishou returns to WeChat after six-month ban · TechNode In April, WeChat banned users from sharing and playing short videos through external links from apps including Bytedance' Douyin, Huoshan, Xigua Video, as well as two Tencent-backed apps, Kuaishou and Weishi. WeChat lifted the restriction on its own short video app Weishi (in Chinese) in August, but Toutiao's short video apps including Douyin and Huoshan are still prohibited to be shared in the messaging app.
China's Xiaomi Aims Its Priciest Phone at Huawei and Apple - Bloomberg The device will go on sale from November starting at 3,299 yuan ($475) and going all the way up to 4,999 yuan for a "Forbidden City" special edition. It marks Chairman Lei Jun's effort to make greater headway into a more profitable premium market dominated by Apple, Samsung Electronics Co. and -- to an increasing extent -- Chinese rival Huawei
Tencent pushes back on report that its investments have slowed in second half, citing 30 ongoing projects | South China Morning Post Tencent Investment, the investment arm of the Shenzhen-based company, "has continued its development this year", according to a statement issued in response to the report. The statement, verified by the company, came after Chinese tech site 36kr reported that Tencent had notably cut back its investments in the second half of this year, especially for projects not seen as part of its core business.
Did Pony Ma just crowdsource Tencent's future R&D direction? | South China Morning Post The billionaire chairman and chief executive of Tencent, which has lost US$220 billion in market value after China cracked down on gaming this year, publicly asked what kind of basic sciences will impact the internet industry in the coming decade and what changes will result from the combination and innovation of the industrial and consumer internet. The responses range from brain-computer interface and new materials to quantum computing and data storage.
Domestic Value Added of Chinese Brand Mobile Phones - Yuqing Xing & Yuzhen He In this paper, we evaluate the domestic value added of Chinese brand mobile phones using the teardown data of two sample phones: Xiaomi MIX 2 and OPPO R11s. For calculation of the distribution of value added by country, we adopt two benchmarks: production cost and retail price. In terms of the production cost of the sample phones, which consists of bill of materials, manufacturing cost and royalty, Chinese domestic value added embedded in the MIX 2 is 15.4% and 16.7% in the R11s. The teardown analysis reveals that no indigenous Chinese firms are involved in the manufacture of the printed circuit board assembly, which explains the relatively low Chinese domestic value added. 
Leading News App Operator Looks Overseas With Latest Mega-Funding - Caixin The company will raise up to $3 billion in the current round through issue of convertible bonds, a knowledgeable source told Caixin. One of its main focuses in the latest round has been attaining a lofty valuation of $70 billion to $80 billion, with no plans for an IPO this year, according to another source. Another source previously told Caixin the company was steadfast in its determination to reach a valuation of about $75 billion, saying it wasn't giving any discounts to potential investors.
---
Society, Art, Sports, Culture And History
The Missing Images of Chinese Immigrants - Paris Review The 1869 photograph The Joining of the Rails at Promontory Point, taken by Andrew J. Russell, features nearly a hundred white men carefully arranged around two black steam engines. Railroad baron Leland Stanford commissioned the shot to commemorate the completion of the first transcontinental railroad when the two lines, the Union Pacific from the east and the Central Pacific from the west, joined in Promontory, Utah. There are two white engineers positioned in the very center, shaking hands, while in the background white men raise glasses of champagne. Missing from the picture are the thirteen thousand Chinese workers who had made up the majority of the workforce on the Central Pacific line.
Watch: Gripping Techno Thriller from Beijing Producer Shao | RADII China "Reflection Pt.2" is a single off Shao's latest full-length album, Doppler Shift, which has been several years in the making. Like Shao's latest outing, the 2015 7″ EP Doppler Shift, Pt.1, the new LP is being released by Tresor, the label arm of the storied Berlin techno club. Somewhat of a milestone, as Shao is the first Chinese artist to be released by one of the most important techno labels in the world.
Why China's Student Leaders Are Turning Into Tiny Tyrants - SixthTone Earlier this month, China's student unions became the focus of a raft of unflattering headlines after screenshots of a group chat between members of a student organization at Chengdu Aeronautic Polytechnic, a college in southwestern China, leaked online. The screenshots, which quickly went viral, revealed the group's student leaders in all their self-important and condescending glory: reprimanding new members for not showing enough respect and reminding them to "know their place." The post inspired many netizens to share their own horror stories of power-crazed student leaders at universities.
---
Energy, Environment, Science And Health
我国科技体制改革的经验与启示--理论-人民网 Some revelations about reform of Science and technology system, from the Xi thought center of Beijing municipal government on page 7 of the 10.25 People's Daily
China building boom uncovers buried dinosaurs, makes a star - AP China's rapid city building has churned up a motherlode of dinosaur fossils. While bulldozers have unearthed prehistoric sites in many countries, the scale and speed of China's urbanization is unprecedented, according to the United Nations Development Program. Perhaps no one has seized the scientific opportunity more than Xu Xing, a diligent and unassuming standard-bearer for China's new prominence in paleontology. The energetic researcher has named more dinosaur species than any living paleontologist, racing between dig sites to collect specimens and further scientists' understanding of how birds evolved from dinosaurs.
---
Agriculture And Rural Issues
A 'People's Pig' in China Could Be Headed to Upstate New York - The New York Times Ms. Rockefeller, the great-granddaughter of John D. Rockefeller Sr., paid $1,400 this month to buy four of the People's Pigs — Little Black, Little White, Little Gray and Old White — from a farm in suburban Beijing. She hopes to use them as breeding stock to restore a variety of swine once known in China for its virility, fatty meat and ability to endure cold. Today, by one estimate, there are only 2,000 left....Little Black, Little White, Little Gray and Old White lived among 200 other pigs, chickens and cows at the Green Cow Farm on the outskirts of Beijing. Lejen Chen, the farm's American co-owner, started the organic farm 14 years ago to supply her two restaurants with chicken, pork and milk because she could not find a safe source of food in Beijing...Just before a weeklong national holiday in October, local officials told the farm's owners that they needed to get rid of all of their animals within five days, Ms. Chen said. If they failed to do so, the officials warned, bulldozers would cover them up.
---
Beijing
Beijing exhausts annual plate quota for new-energy cars - ECNS Annual quotas of license plates for new energy vehicles, both reserved for individuals and organization users, have already been exhausted. These prospective buyers will be added to the existing pool of applicants and join the lottery system when the new quotas become available. The office also said Beijing will issue 6,420 car plates for individuals and 266 for organizations in the lottery draw this month. It also said a total of 4,681 discredited people, usually those who failed to perform their legal obligations, will be banned from participating in the car plate application.