China the victim of trade "Bullyism"; New US arms sale to Taiwan; Quantum plans; Sino-Russian relations, Xi starts Heilongjiang tour in a wheat field; RMB management
Happy Tuesday, today there is only commentary in the readings below. I have trade bullyism fatigue…
Thanks for reading.
---
The Essential Eight
1. US-China trade
SCIO holds press conference on white paper on China-U.S. trade friction - CGTN:
Wang Shouwen, the vice minister of Commerce and deputy China international trade representative, said the China-U.S. trade friction has already shown an impact on certain U.S. exporters as well as trade potential with other countries.

"China is a very huge market and is willing to open up further. If there is no trade war, the Chinese market will provide opportunities for all suppliers," Wang said. ...

Wang also condemned the U.S. of lacking "sincerity and trustworthy" in the previous four rounds of talks despite they two sides have reached certain agreements and even joint statement.

"To make it effective, the talks should also be based on mutual respect and treating each other as equals," Wang said. "It's difficult to proceed, with the U.S. posing tariffs like holding a knife to someone's throat."
Full Text: The Facts and China's Position on China-US Trade Friction - China Daily
American attacks on China risk total destruction of mutual gains, Chinese foreign minister warns | South China Morning Post:
Addressing members of the US-China Business Council and the National Committee on US-China Relations, Wang said China and the United States had played a key role in global affairs since they established diplomatic ties in 1979, but recent developments had stopped that momentum.

"The US is increasingly implementing negative policies in relation to China ... frequently blaming China for its unhealthy attitudes in economics, trade and security to artificially create opposing emotions against China," the Chinese foreign ministry quoted Wang as saying.

"These claims are neither true nor responsible, and only poison bilateral relations.

"If the trend continues, it will totally ruin the gains of the Sino-US relations in the past 40 years. This is unfavourable to both China and the US and ultimately to the world
Cooperation is the only right choice for dealing with China-US trade friction - People's Daily Commentary:
"The finer details fall into place when they align with the bigger picture." Looking at China-US relations, one should look at the overall situation and not only focus on the differences between the two countries. China is the largest developing country in the world, and the US is the largest developed country in the world. The economic and trade relations between the two countries concern the well-being of the two peoples as well as world peace, prosperity, and stability. To deal with China-US economic and trade frictions and promote reasonable solutions, it is important to enhance mutual trust, promote cooperation, and control differences. Cooperation is the only right choice, and a win-win situation can and will lead to a better future.
Good discussion - Why the U.S.-China Trade War Is About More Than Trade – Bloomberg:
Oxford University China Centre Associate George Magnus and Deborah Lehr, vice chairman at Paulson Institute and chief executive officer at Basilinna, discuss the underlying issues behind the U.S-China trade war.
Trade War Scuppers U.S. Oil-Purchase Plan Made by Chinese Buyer - Bloomberg:
Unipec, the trading unit of top Chinese refiner Sinopec, has put a plan to boost U.S. crude imports on hold as it assesses the impact of the Asian nation's trade war with America, according to company President Chen Bo. It previously planned to raise volumes to 500,000 barrels a day in 2019, compared with 300,000 barrels daily from January to August this year, he said.
Donald Trump turns his fire on western boardrooms | Financial Times:
The answer is that the charge of the Lighthizer brigade is designed to hurt businesses, including Wall Street, that have profited from the shift of manufacturing offshore. The US trade representative, in other words, has taken aim at American boardrooms. 
Trump's Tariffs May Hurt, but Quitting China Is Hard to Do - The New York Times:
Companies are reconsidering where to put their factories as the trade war mounts, but few places can match China's convenience and reliability.
---
2. US arms sale to Taiwan
The amount is not huge, Beijing of course is unhappy. So far President Trump himself has gone out of his way (see the 9.6 Washington Post article Trump is failing to counter China's diplomatic assault on Taiwan for some examples; I have heard even worse) to not push much closer to Taiwan, to avoid upsetting his "good friend" Xi Jinping. Trump "learned his lesson" after the transition period call with Taiwan President Tsai…If Trump changes his mind then the bottom in US-China relations could really fall out quickly.
U.S. Approves New Military Sale to Taiwan, Risking China's Ire - Bloomberg: 

"This case-by-case approach in military sales could be more efficient than previous practices of big packages," Chen Chung-chi, spokesman for Taiwan's Ministry of National Defense, said by phone on Tuesday. "We hope military purchases in the future can be discussed case by case in order to enhance efficiency." 
Taipei Economic and Cultural Representative Office in the United States (TECRO) – Foreign Military Sales Order (FMSO) II Case | The Official Home of the Defense Security Cooperation Agency:
TECRO has requested a Foreign Military Sales Order (FMSO) II to provide funds for blanket order requisitions, under a Cooperative Logistics Supply Support Arrangement for stock replenishment supply of standard spare parts, and repair/replace of spare parts in support of the F-16, C-130, F-5, Indigenous Defense Fighter (IDF), all other aircraft systems and subsystems, and other related elements of logistics and program support.  The total estimated program cost is $330 million.
China demands US cancel arms sale to Taiwan - AP:
"We urge the U.S. side to ... immediately cancel this arms sale plan, and stop military contact with Taiwan so as to avoid severe damage to China-U.S. ties, peace and stability in the Taiwan Strait and bilateral cooperation in major fields," Geng said.
Taiwan scraps plan to send defence minister to US security conference | South China Morning Post: 
Taiwan's Ministry of National Defence said on Monday that deputy minister Chang Guan-chung would attend the US-Taiwan Defence Industry Conference in Annapolis, Maryland, late next month, as he did last year. 

Taiwanese news outlets quoted an unnamed official as saying that Defence Minister Yen Teh-fa was originally willing to take part in the event but later decided that he had to reassess the nature and timing of the visit to determine if it would benefit Taiwan. 

The conference, first held in 2002, is organised by the US-Taiwan Business Council and is a "non-official platform for the two sides to discuss defence industry cooperation and exchanges", according to the ministry.
This sale won't help already worsening Sino-US military relations
U.S.' Mattis looks for 'way ahead' after China scraps military talks | Reuters:
Mattis traveled to China in June in an attempt to deepen military-to-military dialogue with Beijing, even as Sino-U.S. trade tensions climb and anxiety in Washington grows over China's modernization of its armed forces and its increasingly muscular military posture in the South China Sea.

"We believe that we do have to have a relationship with China and Secretary (of State Mike) Pompeo and I are of one mind on this," Mattis told reporters at the Pentagon.
China Denies U.S. Navy Ship's Request for Hong Kong Visit - WSJ $$:
In addition to denying the amphibious assault ship USS Wasp a port visit to Hong Kong, China recalled Vice Adm. Shen Jinlong from a visit to the U.S. That means he won't meet with his U.S. counterpart, Chief of Naval Operations Adm. John Richardson, at the International Seapower Symposium, a gathering of global navy officials at the Naval War College in Newport, R.I.
As another senior official from the US publicly discusses the threat from China:
CIA Director Gina Haspel: China is "working to diminish U.S. influence" - CBS News:
CIA Director Gina Haspel said China's efforts to expand its global influence are of high interest to the agency, citing Beijing's investments and loans to poorer nations that may be hard-pressed to repay them. She referred to them as "tactics" the CIA is watching.

"We do monitor very closely what appears to be an effort to expand their influence beyond their own region in places like Africa, Latin America, the Pacific Islands, South Asia," Haspel said, during a rare public appearance to give remarks at her alma mater, the University of Louisville in Kentucky.

"We are concerned by some of the tactics they use offering poor countries investments and loans that perhaps those countries are not going to be able to repay, and we want those countries to be aware…how foreign investment in their infrastructure and their national security infrastructure can ultimately compromise their sovereignty," she said.
---
3. China's quantum research has America's attention
Axios Future - 1 big thing: How the U.S. plans to win quantum:
What's new: The White House this evening released an outline for a coordinated strategy to support quantum information science, just as a bill to fund new research and set a path for its implementation works its way through Congress...

The Department of Energy announced $218 million in research funding, and the National Science Foundation said it is doling out an additional $31 million.

Reality check: This funding pales next to China's $10 billion national laboratory for quantum science, planned for 2020...

The Chinese government began creating a national plan for funding and supporting quantum research in 2013. The emphasis has borne fruit with advances like the world's first quantum satellite, which China launched two years ago.
Quantum radar tech to counter stealth - China Daily:
A major State-owned defense contractor has designed and built a cutting-edge quantum radar, which military observers say will eventually be able to detect stealth aircraft from great distances.

The radar, developed and made by the Nanjing Research Institute of Electronics Technology in Jiangsu province, is able to detect and track targets more than 100 kilometers away, Sun Jun, head of the institute's Intelligent Detection Technology Laboratory, told China Daily in an exclusive interview.

The institute has been working with the University of Science and Technology of China and Nanjing University along with other research partners in carrying out field tests of the radar's prototype, and has extensively improved its accuracy and sensitivity, he said.
---
4. Agriculture looks to be at top of Xi's Heilongjiang tour agenda
So far just pictures and captions in the propaganda stream, expect the full roll out over the next day or so. This tour clearly will be heavy on agriculture and rural issues, coming right on the heels of the Politburo study session on the subject last week and the new farmers harvest festival-Xi conducts inspection tour in NE China's Heilongjiang - CGTN:
Xi started his tour Tuesday afternoon at Jiansanjiang agricultural reclamation branch bureau to inspect the conditions of grain production and harvest.

Known as China's "green rice city," Jiansanjiang is one of the most important commodity grain bases in the country.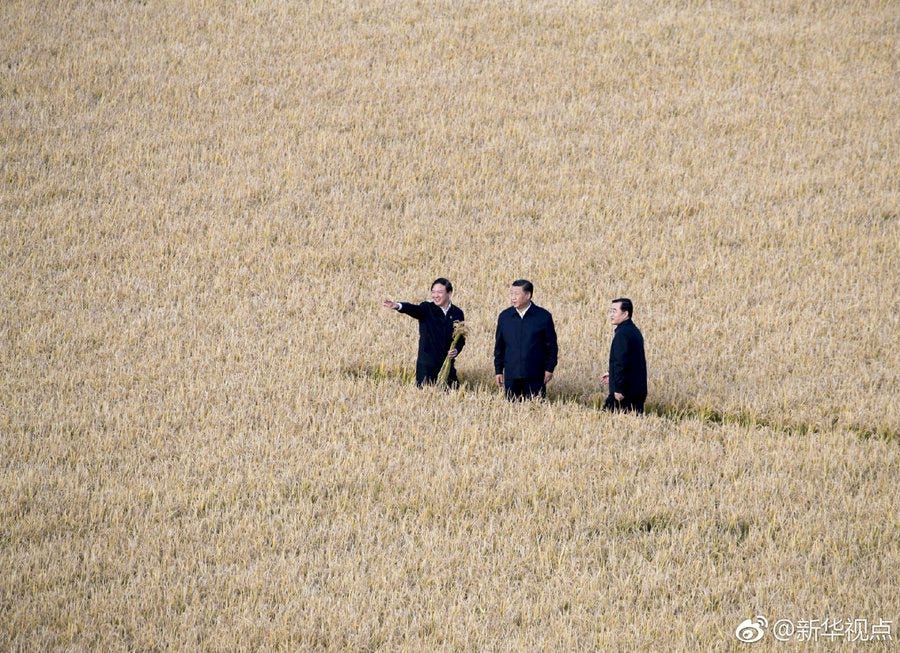 The Chinese language reporting so far also just pictures -习近平在黑龙江考察 首站来到建三江
This 9.25 People's Daily Page 7 essay by Wu Qixiu, director of the State Council's comprehensive rural reform office, summarizes how China should revitalize rural areas under Xi's leadership.-把乡村振兴的美好蓝图一步步变为现实(深入学习贯彻习近平新时代中国特色社会主义思想)-人民网:
Summary (via rough Google Translate): 内容提要:实施乡村振兴战略,要切实把习近平同志关于"三农"工作的重要论述作为行动指南和根本遵循,确保认识到位;把"五级书记抓乡村振兴"落到实处,确保领导到位;造就一支懂农业、爱农村、爱农民的农村工作队伍,确保情感到位;把握产业兴旺、生态宜居、乡风文明、治理有效、生活富裕的总要求,确保措施到位;解决好钱从哪里来、怎么用、怎么管的问题,确保投入到位;开展乡村振兴统计监测,确保考核到位。

Summary: To implement the rural revitalization strategy, we must effectively take Comrade Xi Jinping's important expositions on the work of "agriculture, rural areas and farmers" as a guide to action and fundamental follow-up, to ensure that the position is recognized; to implement the "five-level secretary to revitalize the countryside" and ensure that the leadership is in place; Create a rural work team that understands agriculture, loves the countryside, and loves farmers, ensuring that the emotions are in place; grasping the general requirements of industrial prosperity, ecological livability, rural civilization, effective governance, and affluent life, ensuring that measures are in place; Come, how to use, how to manage the problem, ensure that the investment is in place; carry out statistical monitoring of rural revitalization to ensure that the assessment is in place.
And of course the Party is key:
坚持党管农村工作,是做好"三农"工作的最大政治优势。加强和改善党对"三农"工作的领导,就要完善党领导"三农"工作的体制机制,提升党领导乡村振兴的能力和水平。要把"五级书记抓乡村振兴"落到实处。

Adhering to the party's management of rural work is the biggest political advantage in doing a good job in the "three rural" work. To strengthen and improve the party's leadership over the work of "agriculture, rural areas and farmers", it is necessary to improve the system and mechanism of the party's leadership in the work of "agriculture, rural areas and farmers" and enhance the ability and level of the party's leadership in revitalizing the countryside. It is necessary to put the "five-level secretary to grasp the rural revitalization" into practice.
---
5.Sino-Russian ties
Why Russia and China's Security Ties Are Growing - Foreign Affiars - Alexander Gabuev
When asked at a press conference if the exercise made him worry about a possible Russian-Chinese military alliance, U.S. Secretary of Defense James Mattis was dismissive. "I see little in the long term that aligns Russia and China," he said.

Mattis' view echoes the Western conventional wisdom, which holds that mistrust between Russia and China is too deep to form meaningful strategic bonds. Yet this view is dangerously wrong. The deepening of military ties between these two former rivals is real, and a stronger strategic partnership between Beijing and Moscow could, given time, upend a half century of U.S. military planning and strategy.,,

Both regimes value stability, predictability, and the preservation of their hold on power above all else. And both countries, as permanent members of the UN Security Council, share a desire to shape the international order in a way that places sovereignty and limits on foreign interference in domestic affairs at its heart. This is visible in debates on various areas of global governance such as norms in cyberspace and control over the Internet, where Beijing and Moscow regularly support each other.
---
6. China still hacking IP for $$s
Hacking for ca$h | Australian Strategic Policy Institute | ASPI:
In September 2015, following mounting pressure exerted by the US on China, Chinese President Xi Jinping agreed to a US proposal that neither country would steal the other's intellectual property (IP) for commercial gain. This bilateral agreement was quickly expanded when the US succeeded in inserting similar language into the November 2015 G20 communique. A handful of other countries also pursued their own bilateral agreements.

Three years after the inking of the US–China agreement, this report examines China's adherence to those agreements in three countries: the US, Germany and Australia. This work involved a combination of desktop research as well as interviews with senior government officials in all three countries.

The rationale for this multi-country report was to examine patterns and trends among countries that had struck agreements with China.

In all three countries, it was found that China was clearly, or likely to be, in breach of its agreements. China has adapted its approach to commercial cyber espionage, and attacks are becoming more targeted and use more sophisticated tradecraft. This improved tradecraft may also be leading to an underestimation of the scale of ongoing activity.
---
7. RMB management
How Did China Manage its Currency Over the Summer? | Council on Foreign Relations-Brad Setser:
China is still using intervention—though on a more modest scale than in the past—to help define the yuan's trading range (against the basket I assume).

China's intervention is currently being done in a less transparent way than in the past, as it is largely coming through the state banks rather than the PBOC.
The Yuan may be far from "internationalized" but its impact is global--How the yuan sets the tone in currency markets - The Economist - Buttonwood:
It is a surprise, then, that forward guidance has had consequences for currency markets that have gone almost unnoticed. In China, policies can change without much in the way of prior signalling. So when the yuan moves, it carries rare news—about currency demand, about China and by extension about the world economy. Increasingly it is the yuan that shapes the foreign-exchange market...

Almost as soon as the yuan was allowed to float a little more freely, the currencies of economies that do a lot of trade with China began to move in tandem with it. The euro-dollar exchange rate, for instance, has closely tracked changes in the dollar-yuan rate recently (see chart). When the yuan weakened against the dollar in 2016, the euro fell to a low of $1.05. When the yuan rallied last year, so did the euro. This co-movement is probably not a coincidence, says Kit Juckes, of Société Générale, because the currencies of China's other big trading partners show the same pattern. When the yuan moves up or down, other currencies follow it.
---
8. Because it is almost lunch time
Offering Manicures With Hot Pot, China's Haidilao Plans a Global Push - The New York Times:
Hot pot, in which diners cook their own meat and vegetables in a boiling broth, is a favorite meal in China. And Haidilao is China's most popular hot pot chain, mostly because of how employees go all out to greet, serve and entertain.

But outside China, it could be a harder sell.

"It was disgusting that people were waiting and having their nails clipped," Joel Silverstein, chief executive of the East West Hospitality Group, a restaurant consultancy based in Hong Kong, said of a Haidilao outlet he visited in mainland China.

"In the U.S., it would be a total violation of health codes to be doing that stuff," he added. "But the thing I've learned about China is, Chinese people love over-the-top service as long as they don't have to pay for it."
I hope it comes to DC
---
Business, Economy, Finance And Trade
Average Return on Chinese Money Market Funds Drops to 3.356% - China Banking News Returns on a range of fixed-income assets in China have seen ongoing declines as market liquidity becomes looser. According to a report from Cebnet.com.cn ample market liquidity has led to declines in returns on money market funds, bank wealth management products (WMP) and other fixed income assets
Chart of the Day: Returns Tumble at Largest Money-Market Fund Yu'e Bao - Caixin Global On Monday, the annualized yield of the fund, which was launched by e-commerce giant Alibaba Group Holding Ltd.'s financial affiliate, Ant Financial Services Group, dropped to 2.883%, according to data from AliPay (China) Internet Technology Co. Ltd. For the first six months of 2018, the fund's average annualized rate of return stood at around 4%, according to Caixin calculations.
Shenzhen Stock Exchange Department Head Found Dead at Home - Caixin Xiao Jinfeng, chief of the Shenzhen Stock Exchange's SME Board Compliance and Disclosure Department, was found after hanging himself at home during the Mid-Autumn Festival holiday, Caixin has learned from multiple sources on Tuesday. The department Xiao worked for oversees more than 900 small and midsize companies listed on the bourse's SME board.
FTSE Russell Said to Announce China A-Share Inclusion This Week - Bloomberg China has been informed by the U.K.-based index compiler of its decision, the people said, asking not to be named as they're not authorized to talk to the media. They didn't say when A shares will be included, or at what weighting. FTSE will hold a press conference co-organized with mainland bourses on Thursday, according to a spokesperson from the Shanghai Stock Exchange.
Dwindling China Margin Debt Shows Traders Skeptical of Rebound - Bloomberg The balance of margin debt on the Shanghai and Shenzhen stock exchanges fell to 826.3 billion yuan ($120 billion) on Friday, the lowest in more than two years and a 17th consecutive weekly decline. That's even as the CSI 300 Index jumped 5.2 percent during the week.
Debt-Ridden Specialty Steelmaker Follows Parent Into Bankruptcy - Caixin Global Fushun Special Steel Co. Ltd.'s entrance into bankruptcy follows the widely watched bankruptcy of its debt-plagued parent Dongbei Special Steel Group Co. Ltd., and offers another glimpse into how China is dealing with insolvent state-owned firms. The latest restructuring proceedings will likely set off another battle among the company, its creditors, local officials, as well as hundreds of thousands of investors who bought Fushun Special's stock.
China Data Center (CDC) Closed Effective immediately, this China Data Center (CDC) website and associated CDC websites will no be longer available. Following a comprehensive internal review, the ICPSR and the University of Michigan have determined that they will no longer host the CDC and its related websites and tools. CDC customers with subscription periods running beyond September 2018 will be contacted in the coming weeks to begin the process of refunding prepaid (prorated) amounts. Please accept our apologies for any inconvenience.  //  Anyone know why?
Beijing home sales sink - Global Times Commercial home sales in Beijing slid 32.8 percent year-on-year in the first eight months, after strict curbs were put in place to cool down the housing market in the capital, official figures showed on Monday. Commercial home sales reached about 3.54 million square meters, while new construction rose 18.3 percent year-on-year to 6.58 million sq m, the Beijing Municipal Statistics bureau said. The drop came as officials continue to tighten rules of home sales to contain skyrocketing prices.
China exporters report stability despite US trade war | Financial Times $$ That said, while the survey pointed to stable operating conditions in September, the results also suggested the increasingly belligerent trade row was taking some toll. Asked about the impact of the trade dispute on their business, 45.4 per cent of the 205 companies surveyed said it was negative or very negative, while 50.7 per cent said it was having no impact.
Trump trade team draws heavily from one law firm: Skadden | Financial Times $$ The influence of the former Skadden lawyers — and their connections to the US steel industry — are drawing increasing attention as the US ratchets up its trade confrontation with China.  Many trade lobbyists and lawyers at rival firms say the administration is neglecting the broader concerns of US business — notably rising input prices and the risk of retaliation against exports — in favour of one sector's priorities.
Latest P2P Failure Sees 53 People Handed to Prosecutors - Caixin Global Shanghai-registered Shanlin Jinrong stands accused of illegal fundraising for selling fake wealth-management products that promised above-average returns. The now-shuttered company previously operated four online investment platforms and 1,120 offline branches in 29 provinces, police in Shanghai's Pudong New Area said in a statement on social media (link in Chinese). The company is suspected of illegally raising 73.6 billion yuan ($10.7 billion). Investors are still owed 21.3 billion yuan in principal, following the surrender of the company's founder Zhou Boyun to police in April.
Refinancing Loans Are Not Tool For Debt Evasion, Regulator Says - Caixin Global A policy that allows small businesses to renew a working capital loan without first repaying the original loan is not a tool for them to dodge their debt obligations, a financial regulator clarified on Friday, responding to concerns that companies are abusing the policy. The China Banking Regulatory Commission — since merged into the China Banking and Insurance Regulatory Commission (CBIRC) — introduced the policy (link in Chinese) in 2014, targeting micro and small enterprises that face temporary funding problems.
China Evergrande to Pay USD2.1 Billion for Car Dealer Stake | Yicai Global Evergrande will become the second-largest shareholder in Guanghui, one of China's biggest car dealers, after taking an almost 41 percent stake in the privately held firm, the Shenzhen-based developer said in a statement on Sept. 23. Evergrande will buy shares in Guanghui and increase its capital. In June, a listed unit of Evergrande invested in US auto startup Faraday Future, led by Chinese internet entrepreneur Jia Yueting. Shares of Evergrande Health Industry Group skyrocketed after the announcement as investors welcomed the diversification.
Politics, Law And Ideology
Translation: China's new top Internet official lays out agenda for Party control online New Cyberspace Administration of China (CAC) chief Zhuang Rongwen last week published a lengthy commentary in Qiushi, the Party's theoretical and ideological journal. The essay, translated in full by DigiChina below, extolls Party Secretary Xi Jinping's vision for how the Party should exert full control over the information flowing over China's portion of the Internet. In his first major statement as CAC head, Zhuang lays out an ambitious program for the Party to do even more to control new social media, generate "positive energy," and cultivate and online environment compatible with Party objectives.
总书记要我们对标焦裕禄(新思想从实践中产生系列报道之七·河南兰考篇)--时政--人民网 "General Secretary wants us to benchmark against Jiao Yulu" -- latest in People's Daily series new thinking is produced from practice
No 'zombie' websites or faked stats, China tells officials | Reuters In its latest missive to crack down on such behavior, the party's anti-graft watchdog the Central Commission for Discipline Inspection detailed the types of actions it would be going after. That includes officials who hold meetings simply for the sake of holding meetings, "mechanically" spout slogans, and "swallow dates whole", or read hastily and without thinking what they are actually looking at, the watchdog said... Economic issues are mentioned too, specifically those that involve officials sitting on their hands or acting "chaotically" when it comes to economic work and reform, such as faking statistics, covering up problems or lying about them, the watchdog said.// The cadres may pay slightly more attention when the CCDI is involved...中央纪委办公厅印发工作意见集中整治形式主义官僚主义重点整治四个方面12类突出问题——中央纪委国家监委网站 
Shenzhen denies municipality status rumor - ECNS China's southern megacity Shenzhen has refuted rumors that it will be elevated to a municipality directly under the administration of central government, which would put it on an equal footing with Beijing, Shanghai, Tianjin and Chongqing. The Shenzhen Internet Information Office said in a statement posted to its official WeChat account - a social media platform - the rumor is completely ungrounded and purely speculation by individual netizens.
我国将全面实施预算绩效管理-新闻-上海证券报·中国证券网 新华社北京9月25日电 为提高财政资源配置效率和使用效益,我国力争用3至5年时间基本建成全方位、全过程、全覆盖的预算绩效管理体系。 《中共中央 国务院关于全面实施预算绩效管理的意见》25日正式公布。这一顶层设计旨在破解当前预算绩效管理存在的突出问题,以全面实施预算绩效管理为关键点和突破口,推动财政资金聚力增效,提高公共服务供给质量,增强政府公信力和执行力。// Newly released Opinion of the Central Committee of the Communist Party of China and the State Council on the Full Implementation of Budget Performance Management
新时代宣传思想工作队伍如何打造 Yin Lujun, director of domestic coverage division of All China Journalists Association, In Guangming Daily on building the ranks of propaganda workers in the New Era (note in his and the Party's view journalist = propaganda worker...)...not an essay that is going to give anyway optimism that things are not going to tighten anymore...
把新形势下宣传思想工作使命任务扛在肩上:来自宣传思想战线的部分中央党校学员谈学习贯彻全国宣传思想工作会议精神---中国文明网 This report in Study Times today shows how propaganda officials at Central Party School understand and interpret Xi's instruction at the propaganda and thought work meeting in late August.
Foreign and Military Affairs
China Fills a Trump-Sized Vacuum at the U.N. - POLITICO Magazine Diplomats in New York see two major political trends reshaping the organization. The first is the U.S. systematically and loudly distancing itself from U.N. bodies and initiatives it doesn't like. The second is the focus with which China is gaining power and influence in Turtle Bay. America's voluble president may own the podium at the General Assembly, but quietly, in the windowless committee rooms of the U.N., Chinese diplomats are busy reshaping the ground rules of international cooperation to Beijing's liking.
EU, Russia and China agree special payments system for Iran | Financial Times $$ The EU's three biggest member states have agreed a deal with Russia and China to set up a special payments system to facilitate trade with Iran as global powers step up measures to protect a nuclear deal with Tehran after the US reimposed sanctions. In a joint statement on Tuesday, the foreign ministers of China, Russia, Germany, the UK and France agreed to "assist and reassure economic operators pursuing legitimate business with Iran" including its oil exports.
China signals will to rebuild relationship with Australia | afr.com The improved assessment of Australia's relationship with its biggest trading partner followed a meeting between the countries' foreign ministers in New York. China watchers said although the remarks showed both countries were using the change of government in Australia to reset relations, there would not be a "big change" overnight. China's Foreign Minister Wang Yi said he was confident the relationship could "get back on track", after meeting his Australian counterpart Marise Payne on the sidelines of the United Nations General Assembly on Tuesday (AEST). Mr Wang talked up the two countries' "highly complementary economies".
China urges 'stability' in Maldives after opposition wins presidential election | Reuters In Beijing, Foreign Ministry spokesman Geng Shuang congratulated Solih, saying China respected the Maldivian people's choice and wanted to consolidate their traditional friendship. "China has always encouraged Chinese companies to invest in and operate in the Maldives in accordance with market principles, to play a positive role in the Maldives' socio-economic development," Geng told a daily news briefing.
Tech And Media
Google CEO Sundar Pichai to Meet With Top GOP Lawmakers - WSJ $$ Google Chief Executive Sundar Pichai plans to appear at a private meeting of top GOP lawmakers on Friday and again at a public hearing this year, responding to new scrutiny of the company's work with China, its market power and alleged bias against conservatives in its search results.
Tencent engineer attending cybersecurity event fined for Fragrance hotel hacking - Yahoo News Zheng Dutao, a 23-year-old security engineer with Chinese internet giant Tencent Holdings, was curious to find any vulnerabilities in the WiFi server of a Fragrance Hotel branch. Zheng successfully hacked into the server and blogged about it in a post titled "Exploit Singapore Hotels", in which he published the hotel administrator's server passwords. The blogpost caught the attention of the Cyber Security Agency of Singapore (CSA). On Monday (24 September), Zheng was fined $5,000 in the State Courts for the offence. He pleaded guilty to one count of intentionally disclosing a password providing unauthorised access to data belonging to Fragrance Hotel. One similar count was taken into consideration for his sentencing.
The Unincredibles: Why China Isn't an Animation Superpower - SixthTone Chinese animation's struggle contrasts with the country's film industry overall. In June, July, and August, China's box office broke a new record of 17.4 billion yuan. Animated movies contributed a miniscule 6 percent to that take — and even that was down 34.5 percent from the same period the year before. Last year's total box office income for animations in China fell 32.7 percent from 2016. Although more than half of the animations released were Chinese-made, the vast majority of the income came from foreign productions like U.S. animations "Coco" and "Despicable Me 3." For some Chinese animation experts, the slump is about more than just animation — it's about China's international image.
Electric-Scooter Maker Niu Files for $150 Million U.S. IPO - Caixin Global Founded in 2014, Niu designs, manufactures and sells "smart" e-scooters, which can interface with a mobile application that offers real-time information about the vehicle. The feature also offers the company valuable information about drivers. The company claims to be China's largest manufacturer of lithium ion battery-powered scooters, with a market share of 26% and a sales network that covers 150 Chinese citi
广电总局局长会见湖南省委宣传部长:坚决防止泛娱乐化等倾向_搜狐新闻_搜狐网 sounds like more restrictions for reality TV shows coming
Energy, Environment, Science And Health
China scrambles to avoid a repeat of last winter's botched coal-to-gas conversion programme in highly polluting northern rural areas | South China Morning Post China Gas, a major natural gas distributor, says it has lined up supply contracts to ensure it can heat a growing number of rural homes – but some analysts are sceptical as another winter approaches.
China aims to explore polar regions of Moon by 2030 - Xinhua Li Guoping, director of the Department of System Engineering of the CNSA, said at the World Conference on Science Literacy 2018 recently held in Beijing that China is planning four missions for the fourth stage of its lunar exploration program.
Does the Chinese public care about climate change? | China Dialogue Two separate surveys on this topic, one carried out by the China Centre for Climate Change Communication (China 4C) in 2017, and the other by the Innovative Green Development Program (iGDP) in 2018, show that Chinese attitudes to climate change are being driven by high-profile government-led campaigns and public concern about air pollution...The iGDP survey also asked Chinese interviewees to rank actions they were most likely to take to address climate change. While the Chinese public are receptive to easy steps such as commuting with public transportation and garbage sorting, more substantial changes to behaviour, such as buying low-emission cars and making dietary changes, are perceived with much less enthusiasm...
China Is Adding More Coal Capacity - Bloomberg For all its talk about  cutting coal mining capacity, China actually plans to add more. The world's biggest producer and user of the fuel may see net annual capacity additions of as much as 400 million tons by 2020, according to estimates from analysts including Wood Mackenzie Ltd. That's about 10 percent of its current capacity and almost as much as Indonesia, the world's biggest exporter, sells each year.
Education
认真学习贯彻全国教育大会精神 开启加快教育现代化、建设教育强国新征程 //Minister of Education Chen Baosheng recaps the party central's education meeting two weeks ago
Cockroach kindergarten principal detained by authorities - Global Times The principal of an eastern China kindergarten has been detained after two of her schools fed children smelly chicken legs, expired seasoning and rice with insects, a district government announced Sunday. Jiujiang district government in the city of Wuhu, Anhui Province, held a news conference Sunday to announce that two kindergartens, Tongxin and Dedebei, have been involved in feeding toddlers with expired seasoning and rice with insects, according to the Wuhu government website on Monday.