Meetings in May; "Major strategic results" in pandemic fight; Xi talks off the cuff; More attacks on Pompeo and the US
As expected, the "Two Meetings/Sessions" are scheduled for later this month. The Chinese People's Political Consultative Conference (CPPCC) will start May 21 and the National People's Congress (NPC) will open May 22, about ten weeks later than originally scheduled.
Xi has chaired two big meetings since February using video links—the 170,000 cadre conference on February 23 and the "symposium on securing a decisive victory in poverty alleviation" in early March—so the technology looks to be in place if some of the delegates do not make the trip to Beijing, but from the initial reports it sounds like all the delegates will be in Beijing.
The three Sinocism unmistakable signs (2.26 newsletter) the Party thinks victory really is at hand have now mostly been realized:
Xi visits Wuhan;

The announcement of a date for the "Two Meetings"

Kids go back to school
But I underestimated the virus and its economic impact, and especially the global fallout, so while those three signs are certainly indicators of huge accomplishments in the fight against the virus it is clear that the risks of a second wave and the economic stresses from the pandemic mean it is too early to declare victory.
The Politburo Standing Committee said as much today. According to the official readout from the meeting Xi and the Party are not declaring victory, rather "重大战略成果 major strategic results" for the whole country and "decisive results 决定性成果" for Hubei and Wuhan.
And a Xinhua commentary on the decision to hold the "Two Meetings/Sessions" made a similar point:
The "two sessions" will be held under the context of "normalization of epidemic control and prevention measures" as it is not yet time to think everything is fine. The country still needs to be careful. But the announcement of starting the "two sessions" indicates that with determination, persistence and concerted efforts, a victory will eventually be secured.
Apologies, in yesterday's newsletter I wrote:
One US official who has really angered the PRC, and who makes a good proxy for attacking the US, is Secretary of State Pompeo. I think though he would be pleased to know that there were two segments on the Tuesday CCTV Evening News attacking him, and that even the TV network in the Beijing subway is going after him, as you can from this picture from earlier today sent by a Sinocism reader.
There was a technical glitch and so the screenshot was not included. Here it is: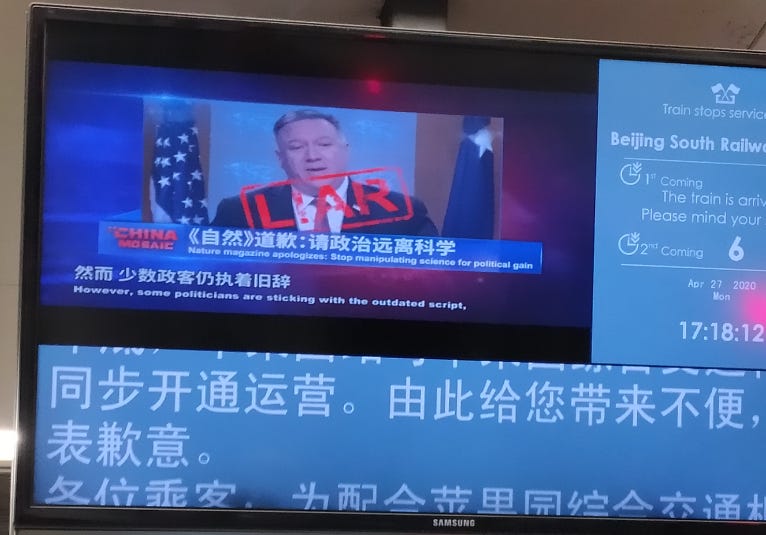 And there is another attack today on Pompeo. (See item 6).
Housekeeping note: The PRC is off for the official Labor Day 五一 holiday from May 1-5. That means that most likely little will be happening between Thursday afternoon and next Wednesday, so the newsletter will be taking Monday off, barring something big going on. I will still hold the regular open thread on Friday.
Thanks for reading.
---
1. Standing committee meeting
Xi chairs leadership meeting on regular epidemic control, supporting Hubei development - Xinhua
The meeting of the Standing Committee of the Political Bureau of the CPC Central Committee analyzed the COVID-19 situation at home and abroad

Comment: Xi warned that the government must not relax and should watch closely to stop any imported cases. "(We) must not let all our previous work be wasted," he said. The meeting also said China will continue to provide aid to other foreign countries, and to roll out a a "basket of policies" to help Hubei and Wuhan
[视频]中共中央政治局常务委员会召开会议 分析国内外新冠肺炎疫情防控形势 研究部署完善常态化疫情防控举措 研究确定支持湖北省经济社会发展一揽子政策 中共中央总书记习近平主持会议_CC
Wednesday CCTV Evening News top item is the report on the Standing Committee Meeting. No video from inside the meeting, just the anchor reading the readout. Per this readout Xi and the Party are not declaring victory, rather "重大战略成果 Major strategic results" for the whole country and "decisive results 决定性成果" for Hubei and Wuhan.

习近平指出,在党中央坚强领导和各方面大力支持下,在湖北人民特别是武汉人民积极参与配合下,经过艰苦卓绝的努力,湖北保卫、武汉保卫战取得决定性成果,全国疫情防控阻击战取得重大战略成果。这确实来之不易。当前,境外疫情暴发增长态势仍在持续,我国外防输入压力持续加大,国内防止疫情反弹的复杂性也在增加。疫情防控这根弦必须时刻绷紧,决不能前功尽弃。各地区各部门要抓紧抓实抓细常态化疫情防控,有针对性地加强外防输入、内防反弹举措,不断巩固防控战果,为经济社会秩序全面恢复提供有力保障,确保完成决战决胜脱贫攻坚目标任务,全面建成小康社会。
---
2. Xi speaking off the cuff
Quite the video of Xi speaking off the cuff at Xi'an Jiaotong University 习近平西安交通大学 during his recent Shaanxi inspection tour. He looks and sounds healthy, confident, relaxed and unabashedly proud of China's accomplishments.
An interpretation from someone on Twitter who generally says interesting things about the CCP:
---
3. The outbreak
Chinese Mainland Reports 22 New Confirmed Covid-19 Cases - Yicai
Chinese health authority said today that it received reports of 22 new confirmed Covid-19 cases on the mainland yesterday, of which 21 were imported and the other one was domestically transmitted in Guangdong province.
China Focus: Beijing city lowers COVID-19 emergency response level as infections wane - Xinhua
The Chinese capital will lower its emergency response to the novel coronavirus epidemic from the top level to the second level starting April 30, the latest sign of social order restoration as the epidemic conditions have been eased.

The decision was made after the city had seen no new confirmed local or imported COVID-19 cases for 13 consecutive days, said Chen Bei, deputy secretary-general of the Beijing municipal government, at a press conference on Wednesday...

After the response level is downgraded, people from low-risk regions of China will not need to be quarantined for 14 days at home upon arriving in Beijing, Chen said. Those who are undergoing concentrated or at-home observation need not continue.

But the strict management of inbound personnel and those from high- and medium-risk areas and Hubei, the province once hardest hit by the virus, will continue...

According to the online travel service provider Qunar, flights booked departing from Beijing rocketed by 15 times within half an hour following the announcement at the press conference, with the cities of Chengdu, Chongqing, Shanghai, Hangzhou and Changsha being the top five destinations.
人民日报:天津防疫级别由一级降为二级 ; 观察者网:河北防疫级别由一级降为二级
Following Beijing, Tianjin and Hebei province on Wednesday also lowered their alert level from level one to level two.
Chinese Cities Advise Against Holiday Travel Amid COVID-19 - SixthTone
China has an extended Labor Day holiday this year, but many schools are discouraging teachers and students from traveling outside their cities to prevent coronavirus cases.

Education authorities in at least 15 cities have issued notices asking — and in some cases ordering — staff and students to opt for tours in and around their current locations, according to Sixth Tone's sister publication The Paper. The travel restrictions apply to primary schools, secondary schools, and kindergartens.
Five Chinese cities and provinces to allow 'fast-track' entry for S. Korean businesspeople | Yonhap News Agency
Under the agreement, the faster entry system is applied to 10 Chinese cities and provinces in principle, but half of those places, including Shanghai, Liaoning, Shandong, Jiangsu and Anhui, will be able to bring the system into force for now since regular flights only operate there, the ministry said.
The Medical Mystery of Positive Covid-19 Tests in Recovered Patients - Caixin
More than 30 patients in Hubei province, including Wuhan, have recovered from disease but continue to test positive, said Jiao Yahui, an inspector at the National Health Commission, in an April 24 interview with the state broadcaster.

Most patients who recovered from the coronavirus tested negative on nucleic acid throat swabs around 20 days after the disease was first detected. But some took an excessively long period of more than 40 days to get negative readings, doctors said. And some patients who tested negative later returned to positive without showing symptoms, doctors found.
Four medical workers share stories from the heart of China's COVID-19 epidemic
Beijing opens drive-thru testing sites to find more asymptomatic COVID-19 infections - Global Times
Beijing's Haidian district opened a drive-thru testing point for nucleic acid tests of the coronavirus with the whole process taking just two minutes and experts said the move would widen the testing scale in Beijing to find more asymptomatic COVID-19 infections ahead of a massive work resumption.

By making appointments online, Beijing residents who want to have nucleic acid tests can drive to the testing points in Haidian district to take their nasopharyngeal swabs. The test costs 260 yuan ($36.70).
TV program to show military's contribution to China's fight against COVID-19 - Xinhua |
A TV program highlighting how Chinese armed forces have been supporting the civilian sector in the country's fight against the novel coronavirus epidemic will be aired at 8 p.m. Wednesday.

The 70-minute program demonstrates the contributions of military personnel to epidemic prevention and control across China and their excellent conduct, and is expected to encourage both the military and the public, according to a statement provided to Xinhua.
The preview for the documentary "For the people -- the People's Liberation Army supports local efforts in epidemic prevention and control" highlighting the PLA's role in the pandemic response in the PRC- 重磅!《为了人民——人民军队支援地方疫情防控纪实》即将播出 - 八一电视·中国军网
---
4. Dates set for NPC and CPPCC
China's top legislature to open annual session on May 22 - Xinhua
The 13th National People's Congress (NPC), the country's top legislature, will open its third annual session in Beijing on May 22.

The decision was adopted Wednesday at the 17th session of the 13th NPC Standing Committee held from April 26 to 29.

Under the strong leadership of the Communist Party of China (CPC) Central Committee with Comrade Xi Jinping at the core, and through the hard work of the whole country and the people, the COVID-19 epidemic prevention and control situation in China is improving steadily and the normal economic and social life is gradually resuming, according to a statement issued by the NPC Standing Committee.

With various factors taken into consideration, the conditions for convening the NPC annual session at an appropriate time are ready, said the statement.
Commentary: Competence, confirmation and confidence behind time-setting of China's "two sessions" - Xinhua
China has nearly 3,000 national lawmakers and more than 2,000 political advisors. The large-scale gathering in Beijing requires all-out efforts to ensure that the epidemic will not resurge. No loophole in epidemic prevention and control is allowed. Such courage and action is also a confident reply to those who doubt and smear China's nationwide anti-virus efforts...

The "two sessions" will reconfirm that China will realize its first centenary goal to finish building a moderately prosperous society in all respects as scheduled despite the epidemic...

The country will also transform external pressure into motivation for deepening reform and furthering opening-up and focusing on running China's affairs well...

The upcoming "two sessions" are expected to roll out a series of policies and measures which will spur development at home, help stabilize and reactivate the global industrial and supply chains, and boost confidence in the global economy.

The "two sessions" will be held under the context of "normalization of epidemic control and prevention measures" as it is not yet time to think everything is fine. The country still needs to be careful. But the announcement of starting the "two sessions" indicates that with determination, persistence and concerted efforts, a victory will eventually be secured
Virus Forces China to Rethink Xi's National People's Congress - Bloomberg
"Convening the Two Sessions in their old forms would be a sign that the country is returning to normal," Gu Su, a professor of philosophy and law at Nanjing University. "But a virtual gathering could send a signal that fighting Covid-19 will be a prolonged battle."
HK, Hubei lawmakers, political advisors await details of travel to Beijing as 'two sessions' dates announced - Global Times
A member from a local committee for organizing NPC deputies and CPPCC National Committee members to come to Beijing told the Global Times on condition of anonymity that they are required to update their health conditions including body temperature, information on places they have been to and people they have contacted on a platform. They have been arranged to undergo nucleic acid tests and if they come back negative, they will book group tickets for Beijing and stay in a designated hotel.

"We are required not to come into contact with irrelevant personnel until the two sessions finish," the member said.
China turns a page with two sessions to convene in May: Global Times editorial - Global Times
The pandemic is far from over. The people's fight against the coronavirus is still in the early stage and a graver situation may come next winter in the northern hemisphere. China needs to stay on high alert and cannot and should not lessen its prevention and control work as life returns to normal. It's firmly believed that Chinese people agree on this. China's prevention and control has become a new normal. It is constantly scanning every corner of the society and is ready to cut any new infection chains.

Normalizing economic and social life will provide China with abundant capital to handle international affairs. No matter how the pandemic fight changes, China will take the initiative. It will have plenty of opportunities to smash US attacks. No challenge can crush us as long as we continue to properly manage ourselves, maintain one of the highest production resumption rates and prevent the rebound of the epidemic.
China's top political advisory body proposes opening annual session on May 21 - Xinhua
---
5. Australia and China
China embassy accuses Australia of petty tricks in coronavirus dispute - Reuters
Australian government ministers have repeatedly said China was threatening "economic coercion" after its ambassador, Cheng Jingye, said this week that Chinese consumers could boycott Australian products and universities because of the calls for the inquiry.

The head of Australia's Department of Foreign Affairs and Trade (DFAT) called Cheng to express concern. The Chinese embassy then released a statement detailing what it said was discussed on the call, prompting another rebuke from DFAT.

On Wednesday, the Chinese embassy returned fire, saying on its website that details of the call had first been "obviously leaked by some Australian officials" and it needed to set the record straight.
DFAT statement regarding comments by the Embassy of the People's Republic of China | DFAT
DFAT notes with regret that the Embassy of the People's Republic of China has issued a statement releasing purported details of official diplomatic exchanges.

The department will not respond by itself breaching the long standing diplomatic courtesies and professional practices to which it will continue to adhere.
Australia defies China with renewed calls for coronavirus inquiry | Financial Times $$
Richard McGregor, an analyst at the Lowy Institute, said: "Relations are bad and getting worse. We've gone almost four years with our most important trading partner without any genuine top-level dialogue and that is pretty worrying."
Provocation to human civilization must be rejected - People's Daily Zhong Sheng
The Daily Telegraph newspaper in New South Wales of Australia recently defaced China's national emblem, evilly associating COVID-19 with China.

National emblem is the symbol of a sovereign country and is inviolable. By politicizing the pandemic and labeling the virus, the newspaper has discarded justice, broken through the bottom line of morality, and gravely hurt the feelings of the Chinese people. Such malicious conduct should never be tolerated...

The racist remarks about the novel coronavirus and the consequent racial discrimination, racial contradictions, and racial conflicts are all blatant provocations against modern civilization that should be resisted by the international community. All responsible media in the world should firmly adhere to justice and jointly protect the basic values of human civilization.
Video: Coronavirus: Dutton urges for transparency from China - Sydney Morning Herald
Home Affairs Minister Peter Dutton backs calls for more transparency from China amid growing tensions over the spread of COVID-19
Coronavirus Australia: Chinese consul-general crashes Greg Hunt's press conference - Sydney Morning Herald
Billionaire miner Andrew Forrest has been accused of ambushing the Australian government after he parachuted one of China's top diplomats into an official event, blindsiding Health Minister Greg Hunt.

Mr Forrest, the Fortescue chairman, surprised Mr Hunt by inviting China's consul-general for Victoria Zhou Long to speak alongside him on Wednesday after he secured 10 million coronavirus tests from China, a 20-fold increase in Australia's testing capacity...

Mr Zhou used the opportunity to repudiate the Australian government's criticisms and praise China's handling of the crisis. The consul-general said China had worked in an "open, transparent and responsible" manner with the World Health Organisation.
---
6. US-China
China committed to Phase 1 trade deal despite pandemic: U.S. official - Reuters
The official told reporters that U.S. officials were talking regularly, and often daily, about implementation of the trade deal and to make sure that China fulfilled its extensive agreements to buy American goods and services.
Senior Chinese official challenges Trump over coronavirus response, says U.S. wasted week-NBC News
A senior Chinese government official challenged President Donald Trump's handling of the coronavirus outbreak in the United States, accusing him of wasting weeks after the threat posed by the virus first became apparent.

In a wide-ranging interview with NBC News conducted in Mandarin on Tuesday, the official, Executive Vice Foreign Minister Le Yucheng, also hit back at the politicization of the virus.

Le, a rising star within the country's political establishment, rejected claims that China had covered up the initial outbreak or that it should be held financially liable for COVID-19. Instead, he termed the virus a "natural disaster" and called for greater cooperation and an end to accusations…

Le, 57, offered his "heartfelt sympathy" to Americans fighting the crisis. Widely considered a likely candidate to be China's next foreign minister, he lived in New York when he was deployed to the United Nations in the late 1990s…

Le said it was "short-sighted" and "irresponsible" to seek electoral gain as a result of the crisis. He added that the Chinese public was "angry" and "entitled to express their outrage" at the U.S. politicization of the pandemic.
Comment: I hear Le has given quite the scorching speeches to foreign delegations in the months before the pandemic.
Commentary: Bashing China over pandemic despicable, futile - Xinhua
The U.S. smear on China over the COVID-19 pandemic's source and handling has heightened its self-centered and cold-blooded mentality that downgrades its status as a responsible and competent power.

President Donald Trump said on Monday that China could have stopped the coronavirus before it swept the globe and his administration was conducting serious investigations into what happened....

The coronavirus is the common enemy of mankind. It is despicable and futile for the Trump administration to shift blame to China to cover up its own mistakes as the Chinese people and the American people are both victims. The Trump administration should take its due responsibility and never become the common enemy of global public health security.
Mike Pompeo slams China over arrest of Hong Kong protesters and responsibility for coronavirus toll | South China Morning Post
US Secretary of State Mike Pompeo took aim at China on multiple fronts on Wednesday, including Beijing's treatment of protesters in Hong Kong, the use of Huawei telecoms equipment by American diplomatic facilities and China's culpability in the spread of the coronavirus.
[视频]人民日报钟声文章《这样的拙劣表演还要持续多久?》_CCTV
CCTV Evening News previews another Zhong Sheng attack on Pompeo and the US response to the pandemic, this one titled "How long will this botched performance last" to appear in the Thursday People's Daily

文章说,在全球蔓延的新冠肺炎疫情是人类面对的一场生命危机,需要人类以团结合作之力直面挑战、迅速行动。但是,以国务卿蓬佩奥为代表的美国一些政客,无视美国病亡数字持续攀升的人间惨剧,却生出一种政治作秀莫名的亢奋感。蓬佩奥在各个场合频繁制造谎言攻击中国,急欲借疫情给美国社会心理带来冲击之机,拿生命做赌注,兜售其长期激进且危险的对华政策。
Is Pompeo planning to "make America great again" by bullying? - People's Daily
At the critical moment when people in China and the U.S. are in the middle of a deadly fight against the COVID-19 pandemic, Pompeo, as the top U.S. diplomat, is sparing no effort to stigmatize China with fabricated stories, hearsay, and conjecture...

Actually, since he was made Secretary of State, Pompeo has opposed and stirred up trouble for China on every matter related to the country.

His political role as a right-wing Republican, inherent superiority complex as an American elite, combined with his political ambitions have formed Pompeo's anti-China political gene.
The GOP's No. 1 coronavirus China hawk - POLITICO profile of Sen Tom Cotton
with a series of ambitious Republican senators and governors beginning to maneuver to succeed Trump in 2024, Cotton is front and center in the debate over the GOP's future. His emergence as the party's fiercest China hawk could position him well regardless of Trump's fate in November...

And he's stepping up his rhetoric too, asserting that "senior leaders in Beijing made a deliberate and calculated decision" to keep air travel flowing out of China. The Chinese government, he said, "did not want to see a relative diminution of their power as against the rest of the world, especially against the United States."
Cruz bill aims to block Pentagon help to studios that censor films for China - POLITICO
The legislation, called "The Stopping Censorship, Restoring Integrity, Protecting Talkies Act" (SCRIPT Act), would block cooperation between the U.S. Defense Department and any film studios that edit or alter their movies for audiences in China.
Why the United States and China Forgot How to Cooperate - Carnegie Endowment for International Peace - Evan Feigenbaum
U.S.-China strategic competition is giving way to a kind of "managed enmity" that is disrupting the world and forestalling the prospect of transnational responses to transnational threats.

But strategic competition between the United States and China is not, in itself, new at all. It is a feature, not a bug, of the U.S.-China relationship.
Inside Donald Trump and Jared Kushner's Two Months of Magical Thinking | Vanity Fair
According to sources, White House trade adviser Peter Navarro, a fierce China hawk, and deputy national security adviser Matt Pottinger, a former China-based Wall Street Journal reporter who'd covered the 2003 SARS pandemic, argued to officials in mid-January that the White House needed to shut down incoming flights from China.

Kushner pushed back. "Jared kept saying the stock market would go down, and Trump wouldn't get reelected," a Republican briefed on the internal debates said (a person close to Kushner denies this). Kushner's position was supported by Treasury secretary Steven Mnuchin and National Economic Council chief Larry Kudlow. Trump sided with them
China urges U.S. to stop interfering in China's internal affairs under pretext of religion - Xinhua
Spokesperson Geng Shuang made the remarks at a press conference in response to a recent United States Commission on International Religious Freedom annual report making accusations of China's religious freedom situation.

Geng said the so-called U.S. commission has entrenched political bias against China and has for many years issued reports to smear China's religious policy.

"We urge the U.S. side to respect the facts, discard its arrogance and prejudice, stop its wrongdoing of issuing relevant reports year after year, and stop interfering in China's internal affairs under the pretext of religion," Geng said.
On Coronavirus, National Security Threats, O'Brien Picks His Spots - WSJ $$
While his two predecessors were known for their experience on Middle East policy, Mr. O'Brien, officials said, is more closely aligned with Peter Navarro, the president's trade adviser who wrote the book, "Death by China."

Messrs. Navarro and O'Brien struck up a correspondence when both were living in California, the former as a university professor and the latter as a law firm partner, after Mr. Navarro read an article and deemed Mr. O'Brien's views on China sufficiently tough.
White House aides torn over trade hawk's proposal as President Trump weighs action on China - The Washington Post
The executive order would over time require the federal government to buy medical supplies and pharmaceuticals manufactured in the United States, aiming to reduce dependency on imports and increase domestic production.

But Trump has stopped short of signing the measure. Several of Trump's confidants, including Treasury Secretary Steven Mnuchin, have voiced reservations about embracing's Navarro strategy, according to three officials familiar with the deliberations...

Although it has the support of some officials at the State Department and the National Security Council, Mnuchin and several business leaders close to Trump are averse to making a major push on supply chains at a fragile moment for the economy, they said. And Trump's son-in-law and senior adviser, Jared Kushner, shares Mnuchin's caution about Navarro's push to do this executive order at this time, two officials said, and has been focused on responding to the pandemic...

"Nobody except Peter wants to slam China over and over again, because we're going to need what China is making, whether it's equipment or a vaccine down the road, you never know," one White House official said.
In an interview with Caixin, Joseph Nye of Harvard said he hopes the USG can learn to cooperate and compete with China at the same time, and that the virus outbreak makes it more likely for Trump will lose the upcoming election.
Seeking Real Voices in China, Despite Censorship and Fear - The New York Times
Subjects get nervous. Interviews can end quickly. Still, one Times reporter found people who were eager to talk, at least before he was expelled.
---
7. More on the fight over virus origin
Chinese official: World needs to know when coronavirus started in U.S. - CGTN
Chinese Foreign Ministry spokesperson Hua Chunying said on Wednesday that the American people and the world need to know when the COVID-19 virus first started in the United States, in response to U.S. Secretary of State Mike Pompeo's recent attack on the Communist Party of China (CPC) over its response to the outbreak.

"CPC is open, transparent & responsible in #COVID19 response. 2 U.S. experts were in China on WHO-China joint mission in late Jan. Why not ask U.S. experts to locate when the virus first started in the U.S.? American people need answers. The world also has right to know," Hua tweeted.
Foreign Ministry Spokesperson Geng Shuang's Regular Press Conference on April 29, 2020
CCTV: The Russian foreign ministry spokesperson recently expressed concerns over the US building biological laboratories in former USSR countries. Some foreign media exposed that the labs were entirely lead by the US and instructed by USDOD agencies to study dangerous diseases targeting specific groups, among which many projects are banned within the United States. I wonder if you have any comment?

Geng Shuang: We noted the Russian foreign ministry spokesperson's remarks and related reports. The US established multiple biological laboratories in former USSR countries but kept its mouth shut regarding the labs' functions, purposes and safety, causing deep concerns from local people and surrounding countries. As we know, some local people strongly demand the labs close. We hope the US will act in a responsible manner, heed the concerns from the international community, attach importance to local people's health and safety, and take concrete measures to eliminate the doubts.
Intelligence officials have no evidence of Wuhan lab link to COVID-19 - Sydney Morning Herald
Intelligence agencies in the United States are investigating whether the virus started at the Wuhan Institute of Virology, near where the outbreak was first recorded, as part of a number of theories relayed to the Australian government under the Five Eyes intelligence-sharing arrangement...

The intelligence has found no evidence that the Wuhan lab was the cause of the outbreak - only that it is one of a number of scenarios that cannot be ruled out..

The most likely cause of the virus is still the city's Huanan Seafood Market where environmental samples of the virus were found, Australian intelligence officials believe...

Mr Morrison is also of the belief the wet market is the most likely culprit and has told senior members of the government he has seen no evidence that would suggest otherwise, several senior government sources confirmed.
UK envoy in Washington backs probe into origins of pandemic, WHO reforms - Reuters
Britain's ambassador to the United States on Wednesday backed calls for an investigation into the origins of the novel coronavirus and the response of the World Health Organization, but said the first priority should be containing the outbreak.
Secretary Michael R. Pompeo With Steve Doocy, Ainsley Earhardt, and Brian Kilmeade of Fox and Friends - United States Department of State
QUESTION: Can you believe that? They're telling us to mind our own business, that we're lying through our teeth. Meanwhile we have almost 60,000 people dead, so many people out of work, and they're telling us to mind our own business. How are we going to – how are we going to fire back? What are we going to do to hold them accountable?

SECRETARY POMPEO: So Ainsley, this very much is our own business. I was talking with some friends back in Kansas – I'm sure Steve knows some of them – they've been impacted by this in ways that are going to fundamentally change their lives over the course of the next several months. They're trying to figure their way out of this. What the Chinese Communist Party did here, in not preventing the spread of this around the world, they are responsible for. America needs to hold them accountable. I've been heartened to see Australia, other countries joining this, demanding an investigation, because while we know this started in Wuhan, China, we don't yet know from where it started.

And in spite of our best efforts to get experts on the ground, they continue to try and hide and obfuscate. That's wrong, it continues to pose a threat to the world, and we all need to get to the bottom of what actually happened here, not only for the current instant but to make sure something like this doesn't happen again. There are still many labs operating inside of China today, and the world needs to know that we're not going to see a repeat of this in the days and weeks and months ahead.
Pompeo pushes China to provide access to Wuhan labs over coronavirus outbreak - Reuters
"We still haven't gained access, the world hasn't gained access to the WIV (Wuhan Institute of Virology) there. We don't know precisely where this virus originated from," Pompeo told a news conference at the State Department, and added that U.S. concerns over the safety of Chinese labs persisted.

"There are multiple labs that are continuing to conduct work, we think, on contagious pathogens inside of China today and we don't know if they are operating at a level of security to prevent this from happening again," Pompeo said.
Wuhan laboratory 'most likely' coronavirus source, U.S. government analysis finds - Washington Times - Bill Gertz
A Wuhan laboratory is the "most likely" source of the COVID-19 outbreak now ravaging the globe, according to a U.S. government analysis that catalogs the evidence and concludes that other explanations for the origin of the coronavirus are less credible.

The document, compiled from open sources and not a finished product, says there is no smoking gun to blame the virus on either the Wuhan Institute of Virology or the Wuhan branch of the Chinese Center for Disease Control and Prevention, both located in the city where the first outbreaks were reported.
Sweden plans to ask European Union to investigate origin of Covid-19, likely further straining relations with China | South China Morning Post
Sweden is planning to ask the European Union to probe the origin of the Covid-19 pandemic, in a move that would potentially add further strain onto the Nordic nation's already tense relations with China.

This follows similar remarks made by US, Australian and German leaders who demanded further information on the virus's origin from the Beijing authorities, who have insisted the task should be left to scientists, not politicians.
[视频]国际锐评:急于"甩锅"的美国政客还想隐瞒多少疫情真相?_CCTV
CCTV Anchor Guo Zhijian goes almost full North Korea in this CCTV Evening News attack on the US and its handling of the pandemic...quite the finish

Lightly edited machine translation translation: "According to a recent autopsy report released in Santa Clara county, California, the earliest COVID 19 death occurred on February 6. That's three weeks earlier than the first death reported by the centers for disease control and prevention, and directly upsets the official U.S. outbreak timeline. So when did the outbreak first appear in the United States? How many Americans are infected with a novel coronavirus? Why has the US government been so slow and ineffective in the prevention and control of the epidemic, but so active in the fight against the epidemic in China and in "passing the buck" onto China? ... This series of questions is attracting more and more attention in the United States, and it is making the "buck passing" tricks of the American government more and more ridiculous.

There is evidence that the U.S. government deliberately concealed early warnings of the outbreak. In the face of growing doubts from the outside world, the US government should give an account to the American people and the international community. Continued attempts to confuse the public with disinformation will undoubtedly put the lives and health of the American people at greater risk and put the United States at odds with the goal of "great again.""

锐评指出,美国加州圣克拉拉县近日公布的尸检报告显示,最早的新冠肺炎死亡病例出现于2月6日。这比美国疾控中心公布的首例死亡病例时间提早了三周时间,直接打乱了美国官方疫情时间线。那么,疫情到底何时最早在美国出现?到底有多少美国人感染了新冠病毒?为何美国政府在疫情防控上反应迟缓、应对无力,在打击国内抗疫力量和"甩锅"中国上却异常积极?……这一系列疑问,正在美国国内引发越来越多的关注,也让美国政府慌不择路、花样百出的"甩锅"把戏越来越荒唐可笑。

锐评指出,有证据显示,正是美国政府刻意隐瞒了疫情的早期预警。面对外界越来越大的质疑,美国政府应当给美国人民一个交代,给国际社会一个交代。如果继续企图通过造谣抹黑来混淆视听,无疑将把美国人民的生命健康置于更加危险的境地,也让美国与"再次伟大"的目标南辕北辙。
---
8. Foreign work
Chinese premier talks with European Commission president over phone on anti-epidemic cooperation - Xinhua
Chinese Premier Li Keqiang spoke over phone with European Commission President Ursula von der Leyen on Wednesday, with both sides expressing commitment to beefing up cooperation to fight against the COVID-19 epidemic.
No country can be great in isolation, Chinese UN ambassador says in op-ed - Xinhua
Zhang Jun, China's permanent representative to the United Nations, said in an op-ed published Tuesday by South China Morning Post that no country can be great in isolation, while stressing the importance of upholding multilateralism...

Noting that the trust deficit is the biggest crisis, the ambassador said that "trust, especially trust between major countries, is the foundation of effective cooperation and a prerequisite of coordinated action. This virus is terrible. Yet, what is more terrible is a political virus, such as a Cold War mentality or a zero-sum game, which harms everyone."
Zhang Jun - A lesson from Covid-19: no country can be great in isolation. Instead, we must strengthen multilateralism | South China Morning Post
Chinese, Lao defense ministers talk over phone on COVID-19 response - Ministry of National Defense
Wei expressed China's firm support to Laos' efforts to battle the epidemic, saying China is willing to work with Laos to exchange information in time and strengthen border control to jointly curb the spread of the epidemic.

Chansamone expressed sincere thanks for the aid China has offered Laos in fighting the epidemic, saying Laos is willing to maintain close cooperation with China and jointly overcome the epidemic.
PLA donates anti-epidemic supplies to Vietnamese military - China Military
At the request of the Vietnamese military and with the approval of the Central Military Commission, the Chinese People's Liberation Army on Tuesday sent COVID-19 prevention and control materials to the Vietnamese military.

These materials, including nucleic acid testing kits and body temperature monitoring equipment, were delivered through a border port between the two countries.
Chinese, Vietnamese defense ministers talk over phone on COVID-19 response - China Military
Ngo said Vietnam speaks highly of China's achievements in fighting the epidemic and is willing to exchange experiences with China on epidemic control, expand cooperation and safeguard the security and stability of the land border areas and the South China Sea.
China, Africa demonstrate strong vitality of ties amid common COVID-19 fight - Xinhua
"Africa and China are all weather friends and the Sino-Africa strategic partnership has shown vitality and strength in this time of unprecedented challenges," said Dawit Yirga, Director General of Asia and Oceania Affairs at the Ethiopian Ministry of Foreign Affairs.

The director general's remarks came shortly after the latest batch of massive medical supplies donated by China to 12 African countries that arrived in the Ethiopian capital, Addis Ababa through the Ethiopian Airlines Caro Services on Thursday.
Canada says one million face masks from China failed to meet proper standards, won't be sent to provinces - The Globe and Mail
"To date, PHAC has identified approximately one million KN95 masks as non-compliant with specifications for health care settings. These items were not distributed to provinces and territories for front-line health care response, and are being subsequently assessed for use in non-health care settings."
---
Business, Economy and Trade
观察者网:31省一季度GDP数据全部出炉,西藏唯一实现正增长All of the 31 provinces of mainland China have released their GDP figures for Q1. As expected, Hubei was hit the hardest, reporting a negative 39.2%, then Tianjin (-9.5%), Heilongjiang(-8.3%), Liaoning(-7.7) and Shanghai (-6.7%). Tibet is the only one that report a growth (1%).
Li: Expand information networks - China Daily China will expedite new infrastructure development, including information networks, in an effort to boost industrial growth and upgrade consumption. The decision was made on Tuesday at the State Council's executive meeting chaired by Premier Li Keqiang...Those at the Tuesday meeting called for proactively expanding the use of new infrastructure in the domestic market. Multi-pronged efforts will be made in boosting the development of the industrial internet by targeting industrial upgrading and smart manufacturing. Consumption demand in the digital economy will be catered to, further boosting online home offices, distance education, telemedicine, internet-enabled vehicles and others. // Official readout of the meeting - 李克强主持召开国务院常务会议--新闻报道-人民网
财新:中国石油迎"至暗时刻", 一季度巨亏162亿元 PetroChina, the flagship subsidiary of China National Petroleum Corporation, reported a loss of 16 billion RMB in Q1, down 258.4% on year. The Chairman of the CNPC has said publicly in a meeting last week that the company is facing its "darkest moment" as the demand shrinks due to the virus outbreak and the oil price crashed. The company vowed to cut more of its expenditure to make it through.
财新:中国石化一季度巨亏近200亿元 Sinopec, subsidiary of the Sinopec Group, another major state oil company, also reported a 20 billion RMB loss for Q1, down 234% on year.
财新:国家管网公司艰难迈步,探索"三桶油"资产剥离路径 Caixin reported that as the three national oil companies are all trapped in financial difficulties, it is only more difficult to push forward the reform to stripe these companies of their pipeline assets, part of a plan to break their monopoly. Citing sources, Caixin reported that there are now more pushbacks from these companies because these assets are all very lucrative, making them even more important to the companies at a moment like this. 
武汉出台楼市新政:交付、还款可顺延不超过3个月 Due to the epidemic, Wuhan issued a new real estate market policy: payment and loan repayment can be postponed for no more than 3 months
多部门新政待发 内陆开放再蓄势 _ 经济参考网 _ 新华社《经济参考报》官方网站 Economic Information Daily has learned that the Ministry of Commerce, the General Administration of Customs, the National Development and Reform Commission and other departments are still planning to introduce a series of favorable policies to promote the development and opening up of inland areas such as the central and western regions, promote the application of existing reform and opening up experience in these areas, and accelerate the gradient transfer of industries. //《经济参考报》记者获悉,商务部、海关总署、国家发展改革委等部门还在酝酿出台系列利好政策,促进中西部等内陆地区开发开放平台建设,推动既有改革开放经验在这些地区推广落地,并加快产业梯度转移力度和速度。
Urban rail projects to keep Chinese economy chugging along - China Daily Opportunities in the sector have risen sharply after the National Development and Reform Commission, the nation's top economic regulator, gave the green light for urban rail development projects in three cities during the first quarter of this year, including Hefei in Anhui province and Shenzhen in Guangdong province. The three projects involved a total investment of 224.8 billion yuan ($31.74 billion). In 2019, the country's top economic regulator approved urban rail projects in six cities such as Chengdu in Sichuan province and Changchun in Jilin province for a combined investment of 682.83 billion yuan.
央行调查报告: 27.5%的居民认为收入减少 According to a new survey of the PBOC on urban citizens' savings in the first quarter of 2020, 27.5% of Chines urban citizens say their earnings dropping from last year, compared with 15.4% saying that in the previous survey;
Tesla Weighs Price Cuts in China to Qualify for New Subsidies - Bloomberg The Model 3 made at China's Shanghai factory starts at 323,800 yuan ($45,700) before tax breaks or rebates. The cut would bring prices of the standard version of the sedan below the 300,000 yuan maximum threshold for electric cars in China to qualify for subsidies, the people said, asking not to be named as the move hasn't been publicly announced.
Shanghai Party chief, Tesla CEO have video call on business layout, localization and further cooperation - SHINE News Shanghai Party Secretary Li Qiang and Tesla CEO Elon Musk exchanged views in a video call on Wednesday morning. Li  congratulated Musk on his company's sales and production figures for the first quarter of this year. He expressed the hope that the US electric carmaker can further deepen its business in Shanghai, improve its business layout, accelerate construction of the second phase of its Shanghai factory, speed up implementation of its research and development innovation center, accelerate localization of support facilities and introduce more new models and new projects to the Chinese market.
Bank of China asks CME to probe 'abnormal fluctuations' in oil futures - Reuters Bank of China said on Wednesday it had hired lawyers to formally send a letter to CME Group, urging the U.S. exchange operator to investigate reasons behind "abnormal fluctuations" in crude oil futures prices on April 21.
Office vacancy rates in China's commercial hubs surge to highest level on record as rents drop amid pandemic headwinds | South China Morning Post Office vacancy rates in Beijing, Shanghai, Guangzhou and Shenzhen rose to 15 per cent on average – the highest level on record – in the first quarter, according to data from the China Real Estate Information Corporation (CRIC).
Senators urge U.S. retirement fund to reverse China investment decision - Reuters A bipartisan group of U.S. senators on Tuesday again asked a federal retirement fund to reverse a decision to track a popular index provided by MSCI Inc, saying a failure to act would lead to U.S. pension savings being funneled to companies controlled by the Chinese government.
China's Oil Dream Dims as State Giants Cut Capex by $19 Billion - Blommberg The nation's three biggest state producers will slash their spending plans this year by a combined $19 billion, with PetroChina Co.'s 32% chop leading the way, the fattest among global majors. The cuts to capital expenditures, announced Wednesday along with first-quarter results, are among the drastic step companies are taking to weather the crash in demand and prices amid the coronavirus fight. They also come one year after China's state firms boosted spending to satisfy calls by President Xi to reverse the decline in oil output that raised the nation's import dependency.
China Bets $600 Billion on Infrastructure to Revive Growth - Bloomberg Economists expect local governments across the country to issue as much as 4 trillion yuan ($565 billion) in so-called special bonds this year, roughly twice last year's total. The proceeds are to be spent on the same type of things that China splurged on following the global financial crisis more than a decade ago -- roads, airports, and railways.
J.P. Morgan Applies to Take Full Control of Its Chinese Futures JV - Yicai .P. Morgan has submitted an application to China's securities regulator seeking to take full ownership of J.P. Morgan Futures, its futures joint venture in the country.
China's Tax, Fee Cuts Total Over 742 Bln Yuan in Q1 - Yicai Of the total, the preferential tax and fee measures unveiled in 2020 to support economic development and the containment of the Covid-19 epidemic saved a total of CNY318.2 billion, Cai Zili, an official with the State Taxation Administration, told a press conference.
安信信托新农村项目延期一年再违约 投资人现场维权_金融频道_财新网 several hundred investors protested at the Shanghai office of Anxin Trust after it defaulted on one of its investment products
Leading Cement-Maker's Sales Plunge 24% in First Quarter - Caixin China's National Bureau of Statistics previously reported the nation's total cement production fell 24% in the first quarter to 300 million tons. Industry observers pointed out that the first quarter is typically a weak one for cement-makers, accounting for about 18% of annual sales, because many construction workers go home for the Lunar New Year that falls in January or February.
China's Electricity Use Estimated to Rise This Year Despite Pandemic - Caixin Electricity consumption declined by 6.5% in the first three months of the year, equivalent to around 170 billion kilowatt-hours (kWh) according to a Sunday report from the China Electricity Council. But as people return to work across the country, the association predicts power use will fall a narrower 1.5% to 2.5% year-on-year over the first half of 2020, and grow 2% to 3% for the full year.
JD Is Said to File for $2 Billion Hong Kong Second Listing - Bloomberg The offering could raise at least $2 billion, the people said, asking not to be identified because the information is private. The Beijing-based company, which currently trades on Nasdaq, has a market value of $64 billion.
Bank of China Weighs Absorbing Part of $1 Billion Client Losses - Bloomberg China's fourth-largest bank by market value is talking to regulators about not seeking recourse on losses in excess of investors' margins, said the people, who asked not to be identified discussing a private matter. Regulators are leaning toward having the bank take some losses, they said. The plan isn't final and subject to change
Politics and Law
China installs Xi lieutenant as justice minister - Nikkei Asian Review Tang Yijun has been promoted from his former position of governor of Liaoning Province, state news agency Xinhua reported. Tang worked under Xi when the latter was the party chief of Zhejiang Province in the 2000s. This is the latest in what observers see as Xi's efforts to tighten his grip on law enforcement apparatus. // Comment: Moves now that should help at the 20th Party Congress
[视频]习近平签署第四十三号、四十四号主席令_CCTV节目官网-CCTV-1_央视网(cctv.com) As expected Fu Zhenghua is no longer Minister of Justice and Tang Yijun is his replacement . Huang Runqiu is the Minister of Ecology and the Environment, replacing Ki Ganjie. Huang is a deputy head of the Jiusan Society, one of the eight other official political parties.
新京报:党外人士黄润秋,任生态环境部部长 Beijing News reported that this is not the first time a non-CCP member to be promoted to the minister level, though it is not too common either. Huang Runqiu is currently also the vice chairman of the Jiu San Society, one of the "democratic parties" loyal to the CCP. Before him, China has only three ministers who are not CCP.
Foreign and Defense Affairs
中国-尼泊尔两国执政党和医疗专家举行抗疫经验视频交流会 ILD head Song Tao appears in person at a 4.29 meeting in Beijing. No mention of where he was when he did not appear at a meeting last week, if he went anywhere...the rumors of course are that he lead a medical team to North Korea to assist with Kim, but who knows...
Chinese diplomacy ramps up social media offensive in Covid-19 info war - POLITICO "If Russia is a tropical storm, then China is climate change," said Jānis Sārts, director of the NATO Strategic Communications Center of Excellence, a NATO-affiliated group, that tracks government-backed disinformation campaigns. "They have the technology that Russia just doesn't have. Their capabilities are enormous."
Chinese navy puts two new nuclear submarines into service | South China Morning Post China planned to build six Type 094 subs, and four were on show in a parade in Qingdao, Shandong province, in April last year to mark the 70th anniversary of the PLA Navy. Another source close to the navy said two more Type 094s had probably been handed over to the navy since then.
科学家连连被抓 中国千人计划突然神秘消失 - 万维读者网 The Chinese for "Thousand Talents Plan" 千人计划 is no longer searchable on the Chinese Internet // Baidu search result for that term - 千人计划_百度搜索 很抱歉,没有找到与"千人计划"相关的网页。
China silent amid global calls to give Africa debt relief - AP Any respite would be welcome for a country like Uganda, whose finance minister says "shocking deficits" in the past year have forced authorities to borrow to keep the government running. Uganda's national debt stood at over $10 billion in 2018, nearly a third owed to China, according to official figures. "We have strong bilateral relations with China, but they haven't come to us saying anything," the minister, Matia Kasaija, told The Associated Press.
Zijin says Papua New Guinea ending gold mine lease may hurt bilateral ties - Reuters "However, if Zijin's investment in Porgera mine is not properly protected by the PNG government, I am afraid there will be significant negative impact on the bilateral relations between China and PNG," he said in the letter, dated Monday, seen by Reuters. Chen's office confirmed the letter had been sent.
A New Arsenal for Competition | Center for a New American Security Coercive Economic Measures in the U.S.-China Relationship
China's Impact on Conflict Dynamics in the Red Sea Arena | United States Institute of Peace This report focuses on China's influence and activities in the region and its relationships with twelve Red Sea arena states: Djibouti, Egypt, Eritrea, Ethiopia, Oman, Qatar, Saudi Arabia, Somalia, South Sudan, Sudan, the United Arab Emirates (UAE), and Yemen.1
Manila Downplays Chinese Laser-Gun Incident in South China Sea - RFA The Philippines' defense chief on Tuesday downplayed Beijing's latest aggressive move in the South China Sea, saying it appeared that Chinese sailors had no real intention of hurting Filipinos when they pointed a laser gun at a Philippine navy ship.
Coronavirus spreads anti-Chinese feeling in Southeast Asia, but the prejudice goes back centuries | South China Morning Post Islamic State affiliates in Indonesia are using the coronavirus to stoke resentment towards Chinese Indonesians, while in Bukittinggi, on the island of Sumatra, several hundred people marched to a Novotel hotel to demand that Chinese tourists return home.
Unsolicited Advice | China Media Project - Qian Gang The word I'm talking about here is fèngquàn (奉劝), which essentially means "to offer a bit of advice", or to "advise." But the tone, far from being constructive or consultative, is withering...This high level of use of the admonishing "advise" has continued so far this year. The "advisory vocabulary" of the Chinese Communist Party is something we should watch closely in the party-state media as an indicator of China's attitude and tone in its foreign relations.
Dealing with demand for China's global surveillance exports - Brookings - Sheena Chestnut Greitens Countries and cities worldwide now employ public security and surveillance technology platforms from the People's Republic of China (PRC). The drivers of this trend are complex, stemming from expansion of China's geopolitical interests, increasing market power of its technology companies, and conditions in recipient states that make Chinese technology an attractive choice despite security and privacy concerns. Both "push" and "pull" factors contribute to growing use of Chinese surveillance technology: countries that are strategically important to the PRC are comparatively more likely to adopt it, but so are countries with high crime rates.
China's Smart Cities Development | U.S.- CHINA | ECONOMIC and SECURITY REVIEW COMMISSION The following report, prepared for the Commission by SOS International LLC's Intelligence Solutions Group, examines China's rapid implementation of smart cities technologies domestically, including its burgeoning use of surveillance technologies to monitor and repress its population. The report also looks at China's widespread export of these technologies through a series of country case studies. The United States is a leading destination for these exports, and the report concludes by comparing U.S. versus Chinese capabilities and assessing the national security risks of widespread deployment of Chinese smart cities technologies in U.S. critical infrastructure.
2020年4月29日外交部发言人耿爽主持例行记者会 — 中华人民共和国外交部 Geng Shuang is getting some China Internet love for his recent exchanges with foreign reporters at the daily MoFA briefing.//《澳大利亚人报》记者:昨天我在记者会上问到两名加拿大人康明凯和迈克尔被关押了500多天。但是昨天外交部网站上的记者会记录却没有这部分内容。作为新来北京的常驻记者,我想知道为什么有的提问内容上网了,有的却没上,你们是怎么决定的? 耿爽:昨天咱俩确实进行了比较长时间的交流。我不知道交流之后,你对咱们的交流情况做了多少报道。我能问一句吗?(记者沉默)咱们的交流加在一起有小20分钟,你在报道中对此写了多少?你把我说的话都写到你的报道里了吗?(记者仍沉默) 当然,你有权决定,因为那是你写的报道。同样道理,这是外交部的网站,记者会的情况怎么反映,我们来决定。另外,你仔细看一下外交部网站,我们从来没说这是记者会的transcript(实录)。你想了解康明凯和迈克尔的近况吗?如果你想了解,我也可以给你答案。(记者无反应)// Geng is the best of the three MoFA spokespeople, looks like he may almost be a reasonable person in a different Era. He is quite witty in a cutting way.
Chinese carrier sails between Okinawa islands for second time in April - Stripes The Chinese carrier Liaoning and its five-ship strike group were spotted at around 9 a.m. Tuesday approximately 50 miles southeast of Miyako, a Japan Ministry of Defense Joint Staff statement said Tuesday. The ships sailed north, passing between Okinawa itself and Miyako at about 10 a.m. before traversing the East China Sea later that day.
Hong Kong and Macao
Hong Kong Court Quashes Appeal From Protest Movement's 'Spiritual Leader' Edward Leung - RFA Hong Kong's Court of Appeal has dismissed an appeal by a jailed Hong Kong politician who advocated "separation" between the former British colony and mainland China, upholding his six-year jail term for "rioting" during the 2016 "fishball revolution" in Mong Kok.
Dream State - By Yi-Ling Liu | Harper's Magazine The radical imagination of the Hong Kong protest movement
观察者网:外交部禁三家美媒在港工作,特区政府表态 In a reply to the legislators, the HongKong government said Beijing has the right to ban reporters from NYT, WSJ and Washington Post to work in HongKong, because according to the basic law, Beijing has the power on foreign affairs of HongKong. 
Tech and Media
Huawei's HiSilicon overtakes Qualcomm as China's top smartphone processor supplier for first time | South China Morning Post In the first quarter of 2020, HiSilicon shipped 22.21 million smartphone processors, according to Chinese research firm CINNO's latest monthly report on China's semiconductor industry. Although HiSilicon's shipments only increased slightly from the 22.17 million units it shipped in the first quarter of last year, it was the only major company that did not see a year-on-year decline in the quarter, CINNO said in a summary of the report posted on its official WeChat account. As a result, the Huawei subsidiary's market share surged to 43.9 per cent, from 36.5 per cent during the same period last year, and beat Qualcomm for the first time to become China's top smartphone processor supplier.
北京文化回应:言论不实, 举报人涉嫌挪用资金罪出逃海外 Beijing Culture, one of the most influential studios in China that invested in films including the "Wolf Warrior II" and "The Wandering Earth", is accused by its former vice chairman of fraud and cooking its books. The company denied the charges and said the vice chairman is involved in embezzlement and has fled overseas. // Sounds like it could be a fun movie
中國要求台港藝人保證10年「政治正確」 違反者恐遭索賠 | 蘋果新聞網 | 蘋果日報 Apple Daily reports that the government has required major streaming platforms like Youku, Tencent and iQiyi to add a clause to their video licensing deals that requires and Hong Kong or Taiwan performers to guarantee they won't be banned in China based on their political stances
China's Pinduoduo Fires Six Workers in Anti-Corruption Drive - Yicai Pinduoduo reported 18 criminal cases to the authorities since the start of the year, with 28 people detained by police, a news outlet under the People's Daily reported today, citing a statement from the Chinese e-commerce platform. Of the 28, three staffers were arrested, while the company fired six others.
Society, Arts, Sports, Culture and History
Inside China's Black Market for Foster Children - SixthTone On the Chinese social app WeChat, a father is trying to sell Sixth Tone his daughter.

"Female baby, 90K," the man says in a private message, referring to his asking price of 90,000 yuan ($12,700). A few moments later, he posts a video of an infant gurgling in a stroller.

Sixth Tone has contacted the man as part of an investigation into China's underground fostering networks, which help individuals circumvent Chinese adoption laws and trade children for cash.

Illegal adoption groups have been quietly active on Chinese social networks for years, despite periodic clampdowns by law enforcement agencies. But public scrutiny of the trade has intensified in recent weeks following a high-profile scandal involving Bao Yuming, a former non-executive director at Chinese telecom giant ZTE.
Energy, Environment, Science and Health
China adopts law revision to curb solid waste pollution - Xinhua Based on the experience accumulated in the fight against COVID-19, the revision has made stipulations to strengthen the management of medical waste, especially during major infectious disease epidemics.
Education
Academic Journal Retracts Chinese Paper Over Alleged Plagiarism - Caixin Scientific Reports, an online open-access "mega journal" published by Nature Research, took down the article on April 8 after concluding that a group of scholars led by Jiangsu University professor Dai Meifeng had cribbed "significant portions of the text and equations" from the undergraduate thesis of Hungarian mathematician Roland Molontay without attribution, according to a notice published on the journal's website.