National Day celebrations; Hong Kong; US-China trade talks
Happy 70th birthday to the PRC! No matter what you think of China under Xi Jinping and the CCP, you can't help but recognize what they have accomplished since 1949, good and bad.
CCTV coverage starts at 7AM Beijing time, the military parade starts at 10 AM. You can watch it online on CGTN here.
Hong Kong protestors are planning to do what they can to disrupt Beijing's holiday plans. This last weekend saw more protests and more police violence, and Tuesday may be the nastiest and most dangerous day so far in this round of protests.
Thanks for reading.
---
The Essential Eight
1. National Day
Xi stresses unity, striving for national rejuvenation at PRC anniversary reception_70th Anniversary of the Founding of the People's Republic of China - Xinhua
Xi stressed the full and faithful implementation of the policies of "one country, two systems," "the people of Hong Kong governing Hong Kong," "the people of Macao governing Macao" and a high degree of autonomy, as well as the strict compliance with China's Constitution and the basic laws of the two special administrative regions.

He expressed confidence that Hong Kong and Macao will prosper and progress alongside the mainland, and that the regions will embrace a brighter future.

Xi underlined the adherence to the one-China principle and the 1992 Consensus to push forward the peaceful development of relations across the Taiwan Strait, saying that the complete reunification of the motherland is a trend that no one or force can ever stop.
Full text of Xi's speech - 习近平:在庆祝中华人民共和国成立70周年招待会上的讲话
庆祝中华人民共和国成立70周年招待会在京隆重举行 习近平发表重要讲话_央视新闻客户端_央视网
CCTV News report on the National Day reception Monday night included shots of many retired senior leaders, but Jiang Zemin and Hu Jintao were not shown, nor were they listed as attending. Are they too sick to attend? Or is it something political? Zhu Rongji was also not shown or listed.

Li Yuanchao, subject of frequent rumors of trouble, was there, as was Fan Changlong.
Xinhua-Xi Focus: Xi pays tribute to national heroes at Tian'anmen Square
The foundation stone of the Monument to the People's Heroes was laid on Sept. 30, 1949. In 2014, China's top legislature approved Sept. 30 as Martyrs' Day to commemorate those who sacrificed their lives for national independence and prosperity.

Before attending the event, Xi Jinping, Li Keqiang, Li Zhanshu, Wang Yang, Wang Huning, Zhao Leji, Han Zheng and Wang Qishan visited the Chairman Mao Memorial Hall. They made three bows toward Mao's seated statue and paid respect to the remains of Mao.
[视频]烈士纪念日向人民英雄敬献花篮仪式在京隆重举行_CCTV
Top 11 minutes of Monday's CCTV Evening News on the tribute to national heroes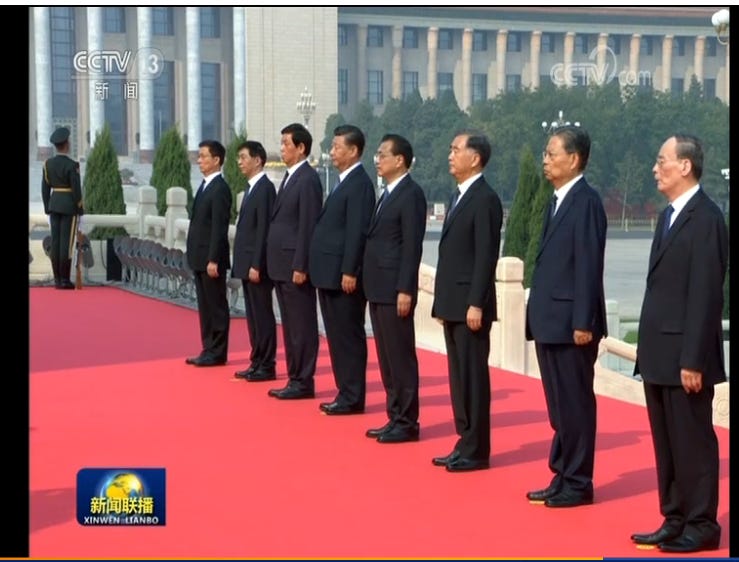 [视频]庆祝中华人民共和国成立70周年大型文艺晚会《奋斗吧 中华儿女》在京举行_CCTV
14 minute report on the Monday CCTV Evening News on the "Stride Forward, the Nation," performance at the Great Hall of the People. Quite the show
Xinhua - China holds art performance to celebrate 70th founding anniversary of PRC
The performance was divided into four parts, featuring symphony, chorus, poetry recital and dance.

The first part recalled the days when the Chinese nation was in despair and presented how the Communist Party of China (CPC) united Chinese people and led them to found New China after 28 years of struggles.

The second part focused on the socialist revolution and construction period after New China was founded in 1949. The third part showed China's development since the reform and opening-up as well as the people's aspiration for national reunification.

The fourth part showed the progress achieved as socialism with Chinese characteristics entered a new era since the 18th CPC National Congress.
CCTV has put the skits on Youtube. Here is the performance of the "The East Is Red":
Xi Focus: Xi confers highest state honors on individuals ahead of National Day - Xinhua
When people respect and advocate heroes, more heroes will emerge, Xi said, adding that the Party and the state have always attached great importance to honoring heroes and role models.

"Today, we honor these heroes and role models with the highest standards to promote their qualities of loyalty, perseverance and humbleness," he said...

The eight honorees of the Medal of the Republic are deceased nuclear physicist Yu Min, longtime national legislator Shen Jilan, aerospace engineer Sun Jiadong, war veterans Li Yannian and Zhang Fuqing, "father of hybrid rice" Yuan Longping, nuclear submarine designer Huang Xuhua and Nobel Prize winner Tu Youyou.

Cuba's Raul Castro Ruz, Thai Princess Maha Chakri Sirindhorn, Tanzania's Salim Ahmed Salim, Russia's Galina Kulikova, France's Jean-Pierre Raffarin and Canada's Isabel Crook were awarded the Friendship Medal.
A Birthday Letter to the People's Republic | ChinaFile - Yangyang Cheng
My mother said that everyone wants their country to be strong, that only a powerful nation can defend its people. But your military pledges its allegiance first and foremost to the Party, not the people. At the time of your semi-centennial, I had no idea that your tanks had been on the same streets 10 years and four months prior, not as a ceremonial force, but an occupying one. In response to a peaceful demonstration demanding more free expression and government accountability, you invaded your own capital, and covered up the massacre. For the survivors, the witnesses, the loved ones of the victims, are they triggered by the sight of your grand celebration every year, parading the same tools of slaughter?

It says so much about you, and nothing kind, that you remind people of your birth by showing off your ability to kill.

Comment: Another excellent piece from Ms Yang.
Hong Kong's first chief executive Tung Chee-hwa among 36 Chinese national award winners | South China Morning Post
It was the first time the honorary awards were presented, and Tung – the first person from Hong Kong to receive one – was recognised for his outstanding contribution to "one country, two systems".
Xi Extols China's 'Red' Heritage in a Land Haunted by Famine Under Mao - The New York Times
The pageantry of the 70th anniversary reveals how thoroughly the party has rewritten China's past to reflect Mr. Xi's turn to communist traditionalism — what he calls reviving the party's "red genes." He offers an unabashedly triumphant vision of China's past, and its future. It is a patriotic message that resonates with many Chinese, even in Xinyang, a region of rural counties and towns that suffered greatly under Mao.
As China celebrates 70 years of the People's Republic, Xi uses past struggles to brace country for hard times ahead - The Globe and Mail
On a bright morning in late September, Zhang Hang slipped on the slate-blue fatigues of the Eighth Route Army, a long-ago Communist force led by Mao Zedong, and paused a moment to savour the feeling...

"We need to understand and appreciate what happened in the past," said Mr. Zhang, who organized the trip. His interest in history isn't merely personal, nor is it his interest alone. "The atmosphere in this country right now makes learning history something quite necessary," he said.
China's 70 Years of Progress by Keyu Jin - Project Syndicate - Keyu Jin
Much of the West, as well as Asia, continues to assume the worst about China – a habit of mind that could have catastrophic consequences. As Albert Camus once wrote, "Mistaken ideas always end in bloodshed, but in every case it is someone else's blood."
Tencent's China Homage Tops Charts on Eve of Nation's Birthday - Bloomberg
"Homeland Dream," the world-building title akin to the iconic SimCity of yesteryear, has become the most downloaded free game on the Chinese Apple iOS store since its Sept. 24 launch, beating out money-spinners like Tencent's own mainstay Honour of Kings. The title -- developed in partnership with the state-run People's Daily -- lets players build a virtual metropolis from scratch while collecting cartoonish images of Communist slogans, national landmarks and politically tinged buzzwords such as "One Country, Two Systems."
Opinion | The Making of a Chinese Patriot - The New York Times
What happens when you mix rage, shame and pride with years of nationalist education? By Jianan Qian
---
2. Xi the "People's Leader"?
The PLA Daily on the occasion of the 70th anniversary published "Rejuvenation, from establishing the New China to advancing bravely into the New Era" and called Xi "The People's Leader"
It first calls Mao the "People's Leader" - 已更名"双清别墅"的香山静宜园"松坞山庄",迎来新主人——中国共产党中央委员会和人民领袖毛泽东 - when describing Mao in the Fragrant Hills waiting to enter Beijing in 1949, then describes Xi's recent visit to the site (see the 9.12 Sinocism) and then calls Xi the People's Leader 香山双清别墅,迎来党的核心、军队统帅、人民领袖习近平。.

We saw the "People's Leader" appellation return briefly in People's Daily after Beidaihe (see the 9.26 Sinocism), then it died down again, though it appeared in the Henan Daily commentary 让红色基因代代相传——一论学习贯彻习近平总书记视察河南重要讲话精神 after Xi's recent inspection tour there. That commentary opened with "the people's leader guides the voyage 人民领袖引领航程".

Might this PLA Daily linking of Xi to Mao entering Beijing as "People's Leader" signaling Xi may finally get that appellation officially, as he did with "core" after a some fits and starts? Will Xi on October 1 "re-enter" Beijing as "The People's Leader"?
---
3. US-China
China's top trade negotiator Liu He to lead delegation to US for talks in Oct.
CNBC previously reported, citing sources, that the next round of U.S-China trade talks would be held from Oct. 10 to 11. [Sinocism told you the likely dates were 10.10-10.11 in the September 19 newsletter]

Wang did not confirm a specific date for the talks in his response Sunday, as part of a press event for 70th anniversary celebrations. He did note they would be held in Washington, D.C.
Peter Navarro: Reports that US would bar Chinese firms are 'fake news' - CNBC
White House trade advisor Peter Navarro on Monday characterized recent reports that the U.S. is considering restrictions on Chinese companies as grossly inaccurate.

"That story, which appeared in Bloomberg: I've read it far more carefully than it was written," Navarro told CNBC. "Over half of it was highly inaccurate or simply flat-out false."

Multiple news outlets, including CNBC, on Friday reported that the White House is in the early stages of weighing restrictions on U.S. investments in China. Such measures could include a block of all American investment in the country, a person familiar with the talks told CNBC.
The original Bloomberg scoop - White House Weighs Limits on U.S. Portfolio Flows Into China:
Among the options the Trump administration is considering: delisting Chinese companies from U.S. stock exchanges and limiting Americans' exposure to the Chinese market through government pension funds. Exact mechanisms for how to do so have not yet been worked out and any plan is subject to approval by President Donald Trump, who has given the green light to the discussion, according to one person close to the deliberations.

Trump officials are also examining how the U.S. could put limits on the Chinese companies included in stock indexes managed by U.S. firms, three of the people said, although it's not clear how that would be done.
Some in China see the US starting to pursue a three front "war" with China-trade war, tech war and a financial war. The financial one worries them the most given the vulnerabilities created by China's debt binge. I have been seeing increasing discussion in Chinese media/conferences about it
Trump considers delisting Chinese firms from U.S. markets: sources - Reuters
In June, U.S. lawmakers from both parties introduced a bill to force Chinese companies listed on American stock exchanges to submit to regulatory oversight, including providing access to audits, or face delisting...

One of the sources briefed on the matter said the idea of delisting was the latest salvo in this longstanding dispute.
U.S.-listed China shares rise as investors shrug off delisting reports - Reuters
On Monday, China warned of instability in international markets from any "decoupling" of China and the United States, and noted a U.S. Treasury response that said there were no immediate plans to block Chinese listings "at this time".

Helping sentiment further was White House trade adviser Peter Navarro dismissing the reports as "fake news."
Indiana governor concludes China trip during trade war - AP
Holcomb concluded a week of meetings with Chinese government and business leaders on Monday with sessions in Shanghai. Holcomb said in a statement he's optimistic about future business investments between Indiana and China. The governor says this was "the perfect time" to broaden business, cultural and academic relationships.
Wall Street Warns Against Bets on October U.S.-China Truce - Bloomberg
"We have more conviction that, without a circuit breaker, escalation continues over the medium term, meaning any pause is fleeting," Morgan Stanley strategists including Michael Zezas wrote in a note to clients Monday. "Investors should price in all announced actions (i.e., tariffs on both Oct. 15 and Dec. 15) even if further delays or pauses are announced."
---
4. Hong Kong
Hong Kong braces for 'violent attack' on sensitive Chinese anniversary: police - Reuters
There will be a "very serious violent attack," the chief superintendent of the police's public relations branch, Tse Chun-chung, told a news conference on Monday. "We are on the verge of extreme danger."..

Authorities are eager to avoid scenes that could embarrass the central government in Beijing on the eve of the anniversary after months of sometimes violent pro-democracy protests. Police said several major roads will be closed on Tuesday near the Hong Kong Convention and Exhibition Centre, where a flag-raising ceremony is scheduled to take place.
China has quietly doubled troop levels in Hong Kong, envoys say - Reuters
ast month, Beijing moved thousands of troops across the border into this restive city. They came in on trucks and armored cars, by bus and by ship.

The state news agency Xinhua described the operation as a routine "rotation"...

A month on, Asian and Western envoys in Hong Kong say they are certain the late-August deployment was not a rotation at all, but a reinforcement...

They estimated the number of military personnel is now between 10,000 and 12,000, up from 3,000 to 5,000 in the months before the reinforcement.

As a result, the envoys believe, China has now assembled its largest-ever active force of People's Liberation Army (PLA) troops and other anti-riot personnel and equipment in Hong Kong.
From the August 29 newsletter:
The annual rotation of PLA troops in and out of Hong Kong last night has triggered jitters. Xinhua called it normal, though there are indications and rumors that there are now more PLA forces, PAP forces and equipment in Hong Kong than there were yesterday. The official statements in previous years specified that the number of forces and equipment had not changed as a result of the rotation (部队轮换后,驻军在香港特别行政区的部队员额和装备数量保持不变). This year's statement did not include that language and the Ministry of Defense spokesperson dodged a question about the discrepancy.
At it happened: more than 100 arrests after march descends into violence and chaos on Hong Kong Island | South China Morning Post
Officers use tear gas and water cannon and fire a live warning shot into the air during exchanges in Causeway Bay, Wan Chai and Admiralty

Demonstrators take over main roads, attack MTR stations and start fires
Radicals commit extensive destructive acts in parts of Hong Kong - Xinhua
The desecration of the national flag has occurred a number of times in recent unrests. The HKSAR government has strongly condemned such acts, saying they violated the National Flag and National Emblem Ordinance and offenders could face imprisonment for up to three years.
Why are Hong Kong protesters urging one another to tuck in their shirts, roll up their trousers and schedule messages ahead of National Day | South China Morning Post
The messages, widely circulated on social media and encrypted platforms such as Telegram, claim such a fashion choice would make it harder for undercover police to hide revolvers or batons.
For China's Xi, the Hong Kong Crisis Is Personal - WSJ $$
Four months before Xi Jinping became China's leader in late 2012, he issued a Communist Party edict on Hong Kong that reverberates today.

As head of a party committee overseeing the former British colony, Mr. Xi ordered officials to wage combat against what he saw as a growing separatist movement, according to a retired senior official responsible for Hong Kong affairs. "We must dare to struggle and be good at fighting," the retired official said in describing Mr. Xi's approach...

Chinese officials publicly blame the turmoil in Hong Kong on foreign meddling and economic frustration. Privately, some admit they failed to appreciate public anger over the sense of gradual erosion, under Mr. Xi, of the city's relative political freedom. Even some of Beijing's champions in Hong Kong cite a failure of internal communication and decision-making within the central and local governments
HK activist sprayed with paint before pro-democracy protest in Taipei - CNA
Taipei police arrested two suspects allegedly responsible for spraying red paint on Hong Kong singer- activist Denise Ho (何韻詩) while she was being interviewed by reporters before a pro-Hong Kong democratic movement rally that began in downtown Taipei Sunday.
Hong Kong murder suspect whose case sparked extradition bill protests to be released from prison next month | South China Morning Post
Hong Kong leader Carrie Lam sought Xi Jinping's approval to formally withdraw extradition bill that triggered anti-government protests | South China Morning Post
Hong Kong's beleaguered leader, Chief Executive Carrie Lam Cheng Yuet-ngor, had to seek the approval of Chinese President Xi Jinping before she could formally withdraw her contentious extradition bill, sources have told the Post.

The revelation came three weeks after Lam said she had decided on her own initiative to withdraw the legislation in an attempt to start a dialogue with the public and break the current political impasse, and that Beijing understood and respected why the Hong Kong government had to do it.
HKSAR chief executive to lead delegation to Beijing for National Day celebrations - Xinhua
The delegation, comprising more than 240 members from various sectors of the community, will set off for Beijing on Sept. 30.

Lam will return to Hong Kong in the evening of Oct. 1. During her absence, Matthew Cheung, chief secretary for administration of the HKSAR government, will be the acting chief executive.
---
5.
China and the World in the New Era white paper
Full Text: China and the World in the New Era - Xinhua
Today's world is undergoing a level of profound change that has not been seen in a hundred years. Human society is full of both hope and challenges. Multipolarity, economic globalization, cultural diversity and information technology are extending their reach. Peace and development remain the themes of the times. At the same time, deep-seated problems are apparent throughout the world, with increasing instability and uncertainties. Building a global community of shared future and building a better world are the common aspirations of all peoples.

China has entered a new era of development. China now has an impact on the world that is ever more comprehensive, profound and long-lasting, and the world is paying ever greater attention to China. What path did China take? Where is China going? What are China's goals in shaping the world? How will the developing China interact with the rest of the world? On the occasion of this 70th anniversary of the founding of the PRC, the Chinese government is publishing this white paper to respond to the world's questions about China, and to help the international community better understand China's development. ..

With the rapid increase of China's comprehensive national strength and international influence, some people worry that China will fulfill the outdated expectation that a country will invariably seek hegemony when it grows strong, so they have created what they call the "China threat" theory. The causes of this theory include cognitive misunderstanding, deep-rooted prejudice, a psychological imbalance brought about by the prospect of falling power, and deliberate distortions by vested interests. To realize national prosperity, rejuvenation, and people's happiness is a dream shared by the Chinese with peoples of other countries. Rather than a threat or challenge, China's development is an opportunity for the world...

No country can impose its own model on others, let alone forcibly subvert the governments and political systems of other countries. China respects the different paths chosen by other countries. It does not "import" foreign models, nor "export" the Chinese model, and will never require other countries to replicate its practices. By furthering its own experience, China will continue to explore the laws of modernization, governance and human society, strengthen exchanges with other countries in state governance, and share experience to jointly realize good governance.
Comment: This document may trigger skepticism in Western capitals and the commentariat, but many developing countries and their leaders see something much more positive...I guess I fall in the former group; why would this document not have some of the same fact-based issues that the recent official white paper on human rights does?
International views of China are mixed in 2019 | Pew Research Center
Majorities or pluralities in each of the Middle Eastern, Latin American and sub-Saharan African countries surveyed have a favorable view of China – ranging from a low of 46% in South Africa to a high of 70% in Nigeria.

Younger people tend to have a more positive stance on China across most of the countries surveyed.
China's success boils down to CPC's leadership: white paper - Xinhua
Due to China's vast territory and complicated national conditions, the governance of China is uniquely difficult, said the paper, titled "China and the World in the New Era."

Without centralized, unified and firm leadership, China would have tended towards division and disintegration and caused widespread chaos beyond its own borders, it noted.

"The CPC is China's core leadership, ruling the country for long and supported by the people," it said.
China's successes achieved through hard work: white paper - Xinhua
China relied on the solid and unremitting efforts of generations of Chinese people, and on fulfilling its own responsibility in good times and in adversity, without exporting or shifting problems elsewhere, and without seeking development by trading under coercion or exploiting other countries, it said.

China relied on a pioneering spirit, like crossing the river by feeling for stones, neither retracing the steps of imperialism and colonialism, nor copying the development model of Western countries, but blazing its own path with bold experiments, based on its own conditions, experience and lessons as well as the achievements of other civilizations, it said.
---
6. New "Global China" initiative at Brookings
From a potential "responsible stakeholder" to a "strategic competitor," the U.S. government's assessment of China has changed dramatically in recent years. China has emerged as a truly global actor, impacting every region and every major issue area. To better address the implications for American policy and the multilateral order, Brookings scholars are undertaking a two-year project—"Global China: Assessing China's Growing Role in the World"—intended to furnish policymakers and the public with a new empirical baseline for understanding China's regional and global ambitions.
Xi Jinping's "Proregress": Domestic moves toward a global China - Cheng Li - Brookings
Given Xi's role at the epicenter of these developments, making sense of the prospects for a global China requires a careful assessment of this goal-oriented leader — his political objectives and standing, his prioritization of domestic issues and their linkages to external pressures, the scale and scope of his proposed changes, and the likelihood of success or failure of his highly consequential moves. This empirical analysis contributes to a more comprehensive and balanced understanding of this compelling Chinese leader, and thus will help policymakers in Washington and elsewhere avoid miscalculations, overreactions, or underestimations of Xi's power.
---
7. US and Canada working on to curb rare-earth dependence
Canada, U.S. drafting plans to curb China's dominance in critical rare-earth minerals - The Globe and Mail
The "joint action plan" – now being drafted by senior Canadian and U.S. officials – will be presented to the political party that forms the next government after the Oct. 21 election, according to a federal briefing document obtained by The Globe and Mail.

The document says the action plan should include defence funding for critical-minerals projects and strategic investments in North American processing facilities, as well as greater research and development in extraction of these rare-earth materials.

It says senior Canadian officials involved in economic and security issues have been meeting since July to discuss how Ottawa and Washington can secure access to vital minerals and metals, such as uranium, lithium, cesium and cobalt, from Chinese control.
Comment: Xi's Jiangxi visit and the rare earths threats seem to have focused minds...
---
8. Huawei rains in Transsion's IPO parade
Huawei Sues Transsion for Intellectual Property Theft: Source - Caixin
Shenzhen Transsion Holdings Co. Ltd., a Chinese phone-maker known for its dominance in Africa, is being sued for intellectual property infringement by rival Huawei just as it lists on China's new high tech board, a source said.

On Sept. 23, a court in Shenzhen, South China's Guangdong province, accepted an intellectual property case against Transsion and five of its subsidiaries, a source close to Huawei's legal department told Caixin. The source didn't specify the nature of the alleged infringements...

On, Monday, Transsion launched an IPO on the Shanghai Stock Exchange's STAR Market. Its shares closed at 57.8 yuan ($8.1), after being floated at 35.15 yuan, raising 4.6 billion yuan. The IPO pushed Transsion's valuation to around 46.2 billion yuan.
---
Business, Economy and Trade
China economy: Official, Caixin manufacturing PMI for September A private survey of China's manufacturing activity, the Caixin/Markit factory Purchasing Managers' Index (PMI), was 51.4 for September — the highest reading since February 2018. The latest data was much higher than the 50.2 that analysts polled by Reuters had expected and the 50.4 recorded in August.
Happy holidays? Not in China if frozen pork is on the table - Reuters "Today we have very cheap frozen pork belly, it's only 17.98 yuan (per kg, or $2.52 per pound) compared with 35.98 yuan for fresh," he said. "We're not sure where the meat is from but it must be from Beijing's reserves."
Caixin Explains: The Secret Stashes of China's Favorite Meat - Caixin The U.S. Department of Agriculture estimates China will consume 50.5 million tons of pork in 2019. By Caixin's calculation, each 10,000 ton batch would have kept pork on tables across China for less than two hours. "In our view, the impact of pork supply from the state reserves on pork prices should be short-lived and negligible, like a drop in the bucket," Lu says.
Exclusive: Nasdaq cracks down on IPOs of small Chinese companies - Reuters Nasdaq's attempt to limit these stock market flotations comes as a growing number of them end up raising most of the capital in their IPO from Chinese sources, rather than from U.S. investors.
Beijing Takes Stakes in Private Firms to Keep Them Afloat - WSJ $$ In total, state-backed buyers bought 47 stakes in listed private companies from January through June, according to Fitch Ratings. That compares with 52 deals in all of 2018. The figures include purchases by state-run companies and investment vehicles of local governments, and stake sizes range from less than 1% to 100%.
PayPal is first foreign company to win Chinese payments licence | Financial Times $$ Guofubao (Gopay), a small Chinese online payments company, said on Monday that the central bank had approved PayPal's acquisition of a 70 per cent stake in the company for an undisclosed sum.
Stock Exchange Chief Tapped to Be Everbright Group Executive - Caixin Wu Lijun, 55, the Shenzhen Stock Exchange's Communist Party secretary and chairman, and has become a vice chairman and general manager of financial conglomerate Everbright Group, sources with knowledge of the matter said
China Misses Out on Entering FTSE Russell Global Bond Index - Bloomberg "To be included to WGBI, FTSE has received feedback from investors that they would like to observe further improvements to bond liquidity, and increased flexibility in FX execution and the settlement of transactions," Nikki Stefanelli, head of fixed-income index policy, said in an emailed reply to questions. "We see significant progress toward a future upgrade."
Politics and Law
Big data expert takes over as China's new cybersecurity chief | South China Morning Post Wang Yingwei was identified as the new director of the Cybersecurity Bureau in an interview with the ministry's official newspaper, China Police Daily, published on Sunday. He was previously the Communist Party secretary of the bureau. In the new job, Wang reports to Lin Rui, a vice-minister of public security and the bureau's former chief, who also has a strong background in information technology and cybersecurity, according to a source familiar with the matter who declined to be named.
Senior CPC official calls for more artwork contributing to Chinese dream - Xinhua A senior Communist Party of China (CPC) official on Thursday called for more fine artwork to create a mighty force to realize the Chinese Dream. Huang Kunming, a member of the Political Bureau of the CPC Central Committee and head of the Publicity Department of the CPC Central Committee, made the remarks at the opening ceremony of an art exhibition in celebration of the 70th anniversary of the founding of the People's Republic of China
Foreign and Defense Affairs
China's Might Prevents Muslim Nations from Criticizing It, Mahathir Says - RFA In an interview with BenarNews, an RFA-affiliated online news service, Mahathir suggested that China would most probably ignore them even if they criticized Beijing, adding that it was better not to antagonize the Asian giant and face negative consequences.
CMC Vice Chairman meets with Cuban guest - Ministry of National Defense General Xu Qiliang, Vice Chairman of China's Central Military Commission (CMC), met with the visiting Sen. Lt. Gen. Alvaro Lopez Miera, Cuba's Chief of the General Staff and First Deputy Minister of the Cuban Ministry of the Revolutionary Armed Forces (MINFAR) in Beijing on Friday afternoon.
Who is watching NZ's Chinese-language media? - Newsroom.nz Earlier this month, someone with knowledge of China's embassy and consulate operations in New Zealand risked their safety to lay bare the facts about media censorship. The person, who Newsroom has agreed not to identify, was not talking about media censorship within China, but censorship of New Zealand's domestic media by Chinese state officials. "The Cultural Attache leads a group at the PRC Consulate in charge of planning, coordinating and controlling the New Zealand Chinese media."
Space Commander Warns Chinese Lasers Could Blind U.S. Satellites "We're pretty comfortable [in asserting] that they are developing directed energy weapons — probably building lasers to blind our satellites," said Gen. John "Jay" Raymond, who is dual-hatted as commander of Spacecom and Air Force Space Command. "They also are developing pretty robust on-orbit capabilities that are very complex that could also have a dual-use purpose." "It's clear that China would plan to use those threats against us in conflict," he added.
Did China just accidentally show off its new supersonic cruise missile? | South China Morning Post The original footage, which ran for just over a minute, was released on social media by the People's Liberation Army Rocket Force as part of the celebrations for the 70th anniversary of the founding of the People's Republic of China, which falls on Tuesday. The film contained a two-second clip in which an unidentified missile with an unusual design is seen being fired from a launcher truck. However, in the later version, the scene is replaced with footage of two separate missile launches in a desert setting.
Yang Hengjun: detained blogger is being shackled in chains and interrogated | The Guardian Detained in China since January, Yang continues to protest his innocence to authorities and says he can clear his name if he is able to speak with senior officials in the Chinese government.
Xi Jinping 'no dictator', American businessman Michael Bloomberg says | South China Morning Post US billionaire Michael Bloomberg has spoken out in support of Chinese President Xi Jinping, saying Xi is "not a dictator" and the Communist Party "listens to the public" on issues like air pollution.
Hong Kong and Macao
Academic Dan Garrett banned from Hong Kong after testifying on city's rights situation in US | Hong Kong Free Press HKFP a week after he testified at the US Congressional-Executive Commission on China (CECC) in Washington DC about the ongoing protests in the city.
Tech and Media
Tencent takes 29% stake in computer games maker Funcom - Reuters becoming the biggest shareholder, Funcom said on Monday.
Alibaba's Chairman Daniel Zhang: "Data is the Petroleum, Computing Power is the Engine" - Pandaily The applications of AI vary from the municipal government level to enterprises and ordinary consumers. Among them, one of the most talked about has been the city brain, first implemented around three years ago in Hangzhou. According to Zeng Zhenyu, VP of Alibaba Cloud Intelligence and expert on Alibaba's industrial brain and city brain, "The city brain is built on top of the Alibaba Aspara Operating System, which provides a city-level data middle station. The middle station, is a word invented by Alibaba. It's like a strong foundation for a city, which helps the government integrate and combine the data from all walks of urban life."
Amazon Joins Hands with WeChat AI Team - Pandaily n September 25, Amazon announced that it would join forces with many of the world's top tech companies including Tencent, to form the Voice Interoperability Alliance (VII). The VII is committed to making products with voice control capabilities more flexible
Society, Arts, Sports, Culture and History
Lyon send a free speech message to China (and LFP) with Tibetan flag tifo - Inside World Football The Lyon fans protested over a 1.30pm kick-off on Saturday against Nantes that was aimed at promoting France's Ligue1 on the Asian continent, and in particular the Chinese market. The match was broadcast live on Chinese TV.