Outbreak coming under control; Rumors Xi may visit Wuhan; Gratitude education mess; Xi says no respite in war on poverty
Sorry for the late newsletter, but the market crash made it hard to focus.
The outlook inside China continues to improve, with new confirmed cases according to the official data at the lowest level since January 20. There are also more signs that economic activity is slowly increasing.
However, the spread of the virus from its origin in China to the rest of the world risks making any economic recovery in China even more difficult and attenuated. While the propaganda organs may have a field day with incompetence and mismanagement in other major countries, the possibility of significant shutdowns across major swathes of leading economic powers is increasing.
We might be heading into first global recession caused by CCP mismanagement. Previous manmade disasters in China since 1949 never really spread outside the PRC's borders in meaningful ways. This time looks to be different, and being the proximate cause of a global recession may not be helpful to the PRC's global image and aspirations.
And that is likely one of the reasons the propaganda apparatus and PRC officials are pushing so hard the idea that virus may not have originated in China. Now is not the time for apportioning blame, and the PRC government does deserve credit for its brutal, herculean and effective efforts to arrest the outbreak inside China, once it got past the initial coverup and missteps that allowed the epidemic to explode into something that threatens people everywhere.
Thanks for reading, and stay safe.
---
1. The Outbreak
Coronavirus: China confirms Boao Forum postponed | South China Morning Post
China has recorded 40 new coronavirus cases – its lowest daily increase – with all coming in the city of Wuhan, the epicentre of the outbreak, except four imported cases in Gansu province in the country's northwest, the National Health Commission said on Monday morning.

It was the lowest number recorded since mainland China started reporting daily figures on January 20, and the second day in a row that all non-imported cases were in Wuhan.

There were 22 new deaths, with one in the southern Guangdong province and the rest in Hubei province
Chinese mainland sees no new indigenous COVID-19 cases outside Hubei over weekend: official - Xinhua
The daily number of the newly confirmed indigenous cases on the mainland outside Hubei Province, the epicenter of the outbreak, has been in single digits since Feb. 27, said Mi Feng, an official with the National Health Commission, at a press conference.

The situation of epidemic prevention and control in China continues to improve, Mi said, noting that there were no new confirmed cases in all cities except Hubei's capital city of Wuhan for four consecutive days.
China Focus: 14 temporary hospitals closed in China's Wuhan as more patients discharged - Xinhua
The closure of the temporary hospital of Jianghan, which was converted from the existing international exhibition center of Wuhan, has brought the number of closed temporary hospitals in the city to 14.

To treat patients with mild symptoms and isolate the source of infection, Wuhan converted public venues such as exhibition centers and gymnasiums into 16 temporary hospitals.

Some 12,000 patients were treated in these temporary hospitals, according to the city's COVID-19 control headquarters.
Rumor alert - Xi to head for Wuhan as infection numbers fall - Asia Times
The itinerary for Xi's trip to Wuhan, which is likely to take place within a week, will include visits to several hospitals admitting the infected, in particular the Leishenshan and Huoshenshan Hospitals...

Hong Kong's Ming Pao daily also noted that Xi could also meet scientists at the Wuhan Institute of Virology
Comment: One of my "unmistakable signs the Party thinks victory really is at hand[February 26 newsletter]". The other two are The announcement of a date for the "Two Meetings" and Kids go back to school
李文亮同事朱和平去世 武汉市中心医院已痛失四位医生_政经频道_财新网
Ophthalmologist Zhu Heping, another colleague of doctor Li Wenliang at the Wuhan Central Hospital, died of the coronavirus. He was 66. That's the fourth doctor of the hospital that died. Three of the four are Ophthalmologists.
No time to relax in Wuhan's coronavirus battle, top Chinese law enforcer says | South China Morning Post
Inspecting correctional centres on Friday, Chen Yixin, secretary general of the Central Political and Legal Affairs Commission, urged cadres to further reinforce controls at the facilities...

Chen said that Wuhan's battle to contain the virus remained a "challenging and heavy one" especially in "special facilities" such as prisons where the risk of contagion was high.
Coronavirus Doc in Wuhan: High Blood Pressure Is Major Death Risk - Bloomberg
While there's been no published research yet explaining why, Chinese doctors working in Wuhan, the central Chinese city where the virus first emerged, have noticed that infected patients with that underlying illness are more likely to slip into severe distress and die.

Of a group of 170 patients who died in January in Wuhan -- the first wave of casualties caused by a pathogen that's now raced around the world -- nearly half had hypertension.
Schools Advise Beijing Teachers, Students Abroad to Stay Away For Now | the Beijinger
With COVID-19 now spreading more rapidly overseas than inside China, teachers and students who are currently outside of Beijing have received messages from their schools advising them not to return until a formal reopening date for schools is announced, according to teachers and families.
Xi extends festive greetings to women - China Daily
On Sunday, International Women's Day, President Xi Jinping extended his greetings to women fighting COVID-19 at the front line, including medical staff, and in other fields.
Coronavirus live updates: Grand Princess to dock in Oakland; Chinese hotel used for quarantine collapses, killing six - The Washington Post
Chinese web users noticed Sunday that the WHO appeared to warn people against smoking, wearing multiple masks, taking self-medication or taking traditional herbal medicine — in all languages but English and Chinese.

There is no mention of any kind of warning against using traditional medicine in the Chinese and English versions of the website for users accessing the site from within China.

The discrepancy raised suspicions among some Chinese that the WHO made the omission to appease the Chinese government under President Xi Jinping, who has strongly backed traditional Chinese medicine (TCM) as part of a broader, nationalistic campaign to promote Chinese culture. The WHO has not yet responded to a request for comment.
Majority of over 50,000 recovered COVID-19 patients in China receive TCM treatment: official - Xinhua
Most of the more than 50,000 coronavirus disease (COVID-19) patients in China who have recovered and been discharged from hospital received traditional Chinese medicine (TCM) treatment, a health official said Monday.

Yu Yanhong, deputy head of the National Administration of Traditional Chinese Medicine, told a press conference that the combination of TCM and Western medicine in COVID-19 treatment has been proved effective by the huge number of recovered patients.

TCM has been involved in the treatment of 74,603 confirmed COVID-19 cases nationwide, accounting for 92.5 percent of the total, according to official data.
From April 2019 - The World Health Organization Gives the Nod to Traditional Chinese Medicine. Bad Idea - Scientific American
Over the past decade proponents of TCM have worked hard to move it into the mainstream of global health care—and it appears those efforts are coming to fruition. The latest (11th) version of the World Health Organization's list known as the International Statistical Classification of Diseases and Related Health Problems (ICD) will include these remedies for the first time.
---
2. The economy
China's Exports Plunge Amid Coronavirus Epidemic - WSJ $$
China's exports plunged 17.2% in the January-February period compared with a year earlier, reversing the 7.6% year-over-year increase recorded in December while marking the sharpest contraction in nearly a year. Economists polled by The Wall Street Journal earlier expected a 17% year-over-year fall.

Imports by the world's second-largest economy, meanwhile, dropped 4% in the first two months of the year from the same period a year earlier, after notching up a 16.3% year-over-year increase in December. The decline in imports was far less than economists' expectation for a 16% fall.
Reopening Workplaces, Imported Cases to Test China's Virus Fight - Bloomberg
China's efforts to contain the deadly coronavirus will be tested as people return to their workplaces and some infected people enter from nations that are seeing a rapid escalation in cases.

"Those remain major points of vigilance," World Heath Organization's China Representative Gauden Galea said in an interview with Bloomberg TV Monday. "In China, at least one peak has passed but there's no guarantee this will remain so, and there's no room for complacency."
Business picks up pace in China, but global virus spread may slow recovery - Reuters
Average daily passenger volumes at metros across the country reached 15 million last week, up 46.5% from the prior week, but the figure is merely a forth of the level before the coronavirus outbreak, data compiled by the China Association of Metros showed.

Daily passenger flows in Beijing, the capital city in China, are only at 15% of the pre-holiday level.
IKEA reopens nine more stores in China - Reuters
Last weekend, IKEA reopened five of its stores in China, having closed all 30 in the country in January due to the coronavirus outbreak.
Chinese construction throttles down, Komatsu data shows - Nikkei Asian Review
Japanese manufacturer Komatsu reports a nearly 30% decline in use of its construction equipment in China last month, another sign that Chinese industry is slow to recover from the novel coronavirus outbreak.
---
3. Missed opportunities in Wuhan
How It All Started: China's Early Coronavirus Missteps - WSJ
4,000 word opus from the Wall Street Journal. This kind of reporting is vital for pushing back on the propaganda narrative that elides the CCP's initial coverup that allowed the outbreak to explode. I wish Chinese outlets like Caixin and The Beijing were also allowed to publish everything they know about what happened in early days of the outbreak.

Some of the tragic points:

When doctors did finally establish the Hua'nan link in late December, they quarantined Ms. Wei and others like her and raised the alarm to their superiors. But they were prevented by Chinese authorities from alerting their peers, let alone the public...

Last week, Zhong Nanshan, one of China's most highly regarded epidemiology experts and the leader of the National Health Commission's task force on the epidemic, said officials had identified a coronavirus by Dec. 31 and took too long to publicly confirm human-to-human transmission. If action had been taken earlier, in December or even early January, "the number of sick would have been greatly reduced," he said...

Fearing her colleagues could be infected the same way, Dr. Ai once again alerted hospital authorities on Jan. 1, and ordered her own department to put on masks...

That night, the hospital's discipline department summoned her for a chat the next day. She was criticized for "spreading rumors," according to Dr. Ai. She tried to argue that the disease could be contagious. They said her action caused panic and "damaged the stability" of Wuhan.
Exclusive: Q&A With Hong Kong's Yuen Kwok-Yung, Who Helped Confirm Coronavirus's Human Spread
[He] accompanied high-profile SARS researcher Zhong Nanshan and China Centers for Disease Control head George Gao on an exploratory mission to Wuhan on Jan. 17 on behalf of the National Health Commission (NHC)..

Yuen: Let me tell you what I think is the truth. All the places we visited in Wuhan looked like they were putting on a show. Whatever we asked them, they answered as if they had prepared hard with well-thought-out replies. However, Zhong Nanshan was extremely sharp — he kept asking follow-up questions, like: "Is there anything else?" "Are there any more cases?" "Is it really like you're saying, just that many cases?"

They kept saying they were still testing, as the Hubei Provincial Center for Disease Control and Prevention only received testing kits from Beijing on Jan. 16.

Eventually, under pressure, they relented and told us it seemed that there was one patient in the neurosurgery department who had infected 14 medical workers. But they also said those medical staff had not had their diagnoses confirmed.

Who were "they"? When your group inspected Wuhan's hospitals, who was there?

People from the Wuhan Municipal Health Commission, the Wuhan Center for Disease Control and Prevention, the Hubei health commission, and local hospitals in Wuhan.
Caixin - 钟南山团队研究:若早5天干预,疫情减轻过半_财新网_财新网
Another journal article co-authored by epidemiologist Zhong Nanshan said the cases of coronavirus would be slashed by half if the Chinese government had taken aggressive measures five day earlier than it did.
---
4. Calls for gratitude education backfire
Thank You, No Thank You | China Media Project
Anger simmered on social media in China today as state media reported remarks made by Wang Zhonglin (王忠林), Wuhan's new top official, during a video conference on the city's response to the coronavirus epidemic. Wang, who was appointed in February to replace Ma Guoqiang (马国强) as Wuhan's Party secretary, reportedly said that it was necessary to "carry out gratitude education among the citizens of the whole city, so that they thank the General Secretary [Xi Jinping], thank the Chinese Communist Party, heed the Party, walk with the Party, and create strong positive energy."
When Propaganda Bites Back | China Media Project
CMP reported yesterday on the firestorm that ensued online in China as news circulated that Wuhan's top official, Wang Zhonglin (王忠林), said during an internal meeting that the city needed to "carry out gratitude education among the citizens of the whole city" so that they thank Xi Jinping and the Communist Party of China for the response to the coronavirus epidemic.

Internal directives from press control officials now suggest this has been a full-blown public opinion crisis for the Party, and that the wound was self-inflicted. Media have been ordered not to share the original article, publish commentaries, or otherwise address the issue at all. The report on Wang's remarks by Wuhan's official Changjiang Daily has been withdrawn..

Below is CMP's translation of an announcement for an internal propaganda meeting held last night, with required attendance from key central Party media and local propaganda offices. The announcement clearly says that what it now calls the "'gratitude education' incident" invited "raging public opinion," and that it was comparable as a "public opinion incident" to the uproar that followed the death of Dr. Li Wenliang.
看望慰问抗疫一线妇女同胞代表时,应勇说了这些话-荆楚网-湖北日报网
Damage control mode - Ying Yong, Hubei Party Secretary, expressed "heartfelt thanks" to the people of Wuhan and Hubei on March 8 - Hubei Daily
武汉市委书记王忠林:广大武汉市民克服诸多困难,识大体、顾大局,市委、市政府表示衷心感谢
Also on Sunday Wuhan party secretary Wang Zhonglin praised the Wuhan people for their sacrifice, and said he "sincerely thanks" the Wuhan people for their contribution
Another viral-then-censored article by writer Fang Fang, who is now in Wuhan. She lashed out harshly at the Wuhan government who brazenly said Wuhan people should be "grateful" toward the party and the government. "Government, please take away your arrogance, and humbly be grateful toward your masters – the millions of people of Wuhan."

是的,疫情到今天,基本得到控制,这真的是需要感恩的。但是,站出来的感恩者应该是政府。政府首先要向武汉几千个死者家属感恩,他们在亲人枉遭横祸,连送终和办丧事机会都没有的情况下,强忍悲痛,克制自己,几乎无人吵闹;政府要向躺在医院里苦苦与死神抗争的五千多重症病人感恩,是他们的顽强坚持,让死亡名单数字增长很慢;政府要向本地所有的医护人员和外援的四万多白衣天使感恩,是他们冒着危险,从死神手上夺回一个个生命;政府要向在封城期间,奔波在各条路上的建设者、劳动者和志愿者们感恩,因为有了他们,这座城市才能正常运转;政府最要感恩的是九百万困守在家、足不出户的武汉人民,没有他们克服重重困难,努力配合,疫情控制根本就是一件不可能的事。事至如今,对于上述的奉献者,对于武汉人民,用怎么样美好的词汇去形容都不过分。政府,请你们收起傲慢,谦卑地向你们的主人——以百万而计的武汉人民感恩。
Caixin has published all of Fang Fang's journal entries, most of which have been censored on WeChat.
And more on Sun Chunlan's messy inspection tour last week-'It's all fake!' Angry residents shout at Chinese vice-premier in coronavirus-hit Wuhan | South China Morning Post
But as she walked through the grounds of the complex, residents protested, saying the management company responsible for the estate had quickly cleaned up before she came and arranged for fake volunteers to deliver groceries to its locked down households, according to Taoran Notes, a social media account linked to the official Economic Daily.
The Taoran Notes piece - 陶然笔记:掩饰矛盾解决不了百姓生活保障问题_腾讯新闻
帖子里说,5日早上中央指导组在武汉市青山区一个小区考察时,有居民从家里的窗户向正在考察的指导组喊,"假的,假的",主要反映的是社区物业假装让志愿者送菜送肉给业主,实际工作不到位。据陶然笔记了解,帖子里关于现场的内容基本属实。
The Study Xi Group Wechat account reported on Friday that after being heckled during a visit to a residential area in Wuhan, Sun Chunlan told officials that "it is normal the public is emotional". She warned the officials of bureaucratism and urged them to do better to make sure the people quarantined received all they need. 
---
5. Domestic propaganda efforts
CCTV commentary titled "Under the command of the secretary general, this people's war is receiving good news of the spring" was broadcast on the Monday evening news. It said Xi Jinping's performance during the battle against coronavirus demonstrates "his great leadership and extraordinary wisdom as commander-in-chief, his heroic spirit as the helmsman who lead people forward despite the difficulties, and his sincerity as a people's leader who loves the people."

习近平总书记统领全局,高瞻远瞩,见微知著,成竹在胸,充分彰显了三军统帅的卓越领导力和超凡智慧,集中展现出掌舵领航人越是艰险越向前的英雄气概,深刻反映了人民领袖爱人民的赤子情怀。
Comment: Expect the propaganda to push that the leader of a victorious "People's War" will have earned the title "People's Leader"
Beijing Portrays President Xi Jinping as Hero of Coronavirus Fight - WSJ $$
Officials and the government-controlled press have kicked into high gear to shower praise on Mr. Xi, portraying him as a decisive leader who rescued his country from a public-health catastrophe and bought time for the rest of the world to prepare defenses against the highly contagious new pathogen...

Senior officials have voiced fulsome support for Mr. Xi. The Chinese leader has served as a "sea-stabilizing holy cudgel [定海神针[" during the crisis, Li Zhanshu, chief of China's national legislature, told lawmakers late last month, referring to a magical weapon from the classic Chinese novel "Journey to the West."
The Study Xi Group did a "mini documentary" to show "How Xi Jinping commands this war of people" against coronavirus.
China turns to propaganda to right image in virus 'war' - AP
The health workers form the basis of the people's war, a term adopted early on by Xi. A recent CCTV evening news broadcast showed him visiting military health units. Everyone maintained a safe distance from each other, following the government-ordered protocol, their mouths and noses covered by protective masks.

"Wars invite people to cast aside their squabbles and dissent and to come together," said David Bandurski of the China Media Project at the University of Hong Kong. "Wars make heroes — and heroes are the stuff propaganda thrives upon
---
6. Global propaganda efforts
Commentary: China acts responsibly in global fight against coronavirus - Xinhua
Virus knows no borders, but the worst of times reveals the best in people. Through the epidemic, the international community gets a deeper understanding of China's efforts to safeguard the well-being of humankind..

The origin of the virus has been debated around the world, and no conclusion has been made. Scientists around the globe, including those in China, are working around the clock on the research.

Although various arbitrary and unfounded surmises about the virus origin emerge from time to time, China has been adopting scientific, prudent and rigorous approaches on the research and placed high importance on coordinating research on virus source tracing and transmission routes.
Virus diplomacy: As outbreak goes global, China seeks to reframe narrative - Reuters
David Ho, a prominent Columbia University AIDS researcher, said the coronavirus almost certainly started in China.

"Given what we know of SARS, and this one, and what we know of all the coronaviruses that are found in other animal species, I have very little doubt that the origin is China," he said in a recent interview with Voice of America.
Secretary Michael R. Pompeo With Joe Kernan, Becky Quick, and Andrew Ross Sorkin of CNBC Squawk Box - United States Department of State
QUESTION: The Chinese Government is now pushing back, and again, Eunice Yoon has been reporting some of what they've put in the state-run media, where they say that it's not clear that this even came from China at this point, and that they're mad at the United States for not thanking them for the efforts they've taken to try and slow it down to this point. What do you say to that?

SECRETARY POMPEO: I'm happy about the efforts that they have taken, but no less authority than the Chinese Communist Party said it came from Wuhan. So don't take Mike Pompeo's word for it. We have pretty high confidence that we know where this began, and we have high confidence too that there was information that could have been made available more quickly and data that could have been provided and shared among health professionals across the world. It's most unfortunate.
Secretary Pompeo's Remarks to the Press - United States Department of State
On Monday, our USAID announced $37 million in financing allocated for countries affected or at high risk of the Wuhan virus's spread.  That comes on top of the $100 million in humanitarian assistance [1] and delivery of more than 17 tons of assistance that the United States has sent to the Chinese people back in January.

Comment: The more PRC officials push the claim that maybe the virus did not originate in China the more you will see pushback from US officials at least
Opinion: Washington's poisonous coronavirus politics must end - Xinhua
instead of focusing on fighting the epidemic in their own country, some in the United States are trying to shift the blame and politicize humanity's common challenge by stoking pernicious anti-Chinese sentiments. Their dangerously irresponsible statements are highly counterproductive at this drastic hour that demands solidarity and cooperation, and could be much more menacing than the virus itself...

What's more, the origin of the virus remains unclear, as scientists and researchers around the world are still trying to figure it out.
China condemns U.S. practice of stigmatization with novel coronavirus: spokesperson - Xinhua
China condemns U.S. despicable practice of stigmatizing the country and its city of Wuhan with the novel coronavirus, according to a Chinese Foreign Ministry spokesperson on Monday.

Spokesperson Geng Shuang made the remarks at a press conference when asked to comment on U.S. Secretary of State Mike Pompeo calling the virus "the Wuhan coronavirus".
What is hiding behind American host's demand for apology from China? - People's Daily Online
Requesting an "apology," the U.S. is indeed the country that should extend something nice to people around the world. In the past decades, the country has created various disasters around the globe – wars, economic loss and disease. The H1N1 flu, which broke out in the U.S. in 2009, spread to 214 countries and regions, killing at least 18,449 people that year. Who asked the United States to apologize?
China's donation to WHO for coronavirus prevention, control: spokesperson - Xinhua
The Chinese side will continue to actively support and participate in international cooperation to fight the epidemic, and work with the international community to safeguard regional and international public health security, Geng said.

China has decided to donate 20 million dollars to the WHO, which was declared by China's Permanent Representative to the UN Office at Geneva Chen Xu when meeting with WHO Director-General Tedros Adhanom Ghebreyesus on Saturday.
China Pushes Back as Coronavirus Crisis Damages Its Image - The New York Times
The epidemic is first and foremost a public health crisis, having already caused more than 3,000 deaths, but for China, it has become a challenge to its standing at home and abroad, too. China faces a torrent of suspicion from other countries that could undermine its ambitions of becoming a global economic and political power.

China is now hitting back — it has expelled foreign journalists, attacked displays of racism, hinted that other governments are responding too slowly, and suggested that the virus originated elsewhere. The government has hailed friendly countries that sent supplies or stayed open to Chinese travelers and has also itself sent shipments of aid.
---
7. US-China
U.S. Shows China Patience on Purchases If Trade Gap Doesn't Grow - Bloomberg
The U.S. is willing to show China some flexibility on its pledges to boost American imports as long as Beijing ensures exports don't surge when production returns to full strength and widen the trade imbalance between the world's two largest economies, people familiar with the discussions said.
U.S. Chip Industry Fears Long-Term Damage From China Trade Fight - WSJ
A complete severing of technological ties with China would eventually cede U.S. market leadership to South Korea in the short term and could make China the global leader in the long term, the BCG report says. If shipments of U.S. chips and chip-making equipment to China were stopped, and China banned imports of U.S. electronics and software, it could cost the U.S. companies $83 billion in annual sales, more than one-third of their total in 2018, according to the study...

The SIA plans to use the new report as the backbone of its lobbying campaign to sway the Trump administration and Capitol Hill to allow companies to continue to supply Huawei and other Chinese companies when the products sold don't endanger U.S. national security. In 2018, about 36% of U.S. semiconductor company revenues, or $75 billion, came from sales to China, the SIA estimates.
The Report - How Restricting Trade with China Could End US Semiconductor Leadership | BCG
A further increase in bilateral tensions could amplify the negative impact on US semiconductor companies. In a new Boston Consulting Group report, we evaluated how these ongoing frictions may affect the US semiconductor industry under two scenarios. The first scenario assumes that controls on exports of US technology to the Chinese companies that are currently subject to US restrictions will remain in place, perpetuating the status quo. The second scenario considers a further escalation that results in a complete halt in bilateral technology trade, effectively decoupling the US and Chinese technology industries.
Inside Trump Administration, Debate Raged Over What to Tell Public - The New York Times
Mr. Azar was at his home in suburban Washington, on Friday, Jan. 3, when Dr. Robert R. Redfield, the C.D.C.'s director, called to tell him China had potentially discovered a new coronavirus. Mr. Azar, a former pharmaceutical executive who helped manage the response to earlier SARS and anthrax outbreaks, told his chief of staff to make sure that the National Security Council was aware.

This is a very big deal, Mr. Azar told him.

The Trump administration had eliminated the global health unit that had been part of the National Security Council, but within days, a team was meeting daily in the basement of the West Wing, pleading with Chinese officials to allow doctors from the C.D.C. into their country.

For weeks, the Chinese refused offers of public health cooperation. "China nice-talked it for a month," said Kenneth T. Cuccinelli, a top official at the Department of Homeland Security who was working on the coronavirus effort. "'Oh, well, thank you for the offer. Blah, blah.'"
Infineon Deal Scrutiny Raises Trade Threat to Europe Tech Firms - Bloomberg
The Committee on Foreign Investment is urging President Trump to block Infineon Technologies AG's $8.7 billion acquisition of Cypress Semiconductor Corp., claiming it poses a risk to national security..Although it wasn't clear what spooked Cfius, both Infineon and Cypress have Chinese customers including Huawei Technologies Co.
Trump Orders Chinese Firm to Sell U.S. Hotel Software Company - WSJ $$
President Trump ordered a Chinese company to sell its ownership of StayNTouch Inc., saying its 2018 purchase of the hotel property management software firm poses a national security risk. In his divestiture order Friday, Mr. Trump said he had "credible evidence" that ownership of the hospitality tech company by Beijing Shiji Information Technology Co. "threatens to impair the national security of the United States.
Grindr's Chinese owner says to sell social media app for $608 mln - Reuters
San Vincente Acquisition comprises a group of entrepreneurs and investors in the technology, media and telecommunications industries, a source close to the deal told Reuters. One of the investors in the group that is nearing a deal to acquire Grindr is Chinese-born U.S. citizen James Lu, a former executive at Chinese search engine giant Baidu (BIDU.O), three of the sources said.
Those running counter to trend of times doomed to failure - People's Daily Zhong Sheng
On Mar.4, the U.S. House of Representatives passed the "Taiwan Allies International Protection and Enhancement Initiative (TAIPEI) Act of 2019". The act puts out that the government should consider "increasing or decreasing the United States Government's economic, security, or diplomatic engagement with another nation as a result of an action taken by that nation to either strengthen or undermine ties with Taiwan".

China is firmly against it, as this act is in serious violation of the one-China principle and the three China-US joint communiques, and goes against international law and basic norms governing international relations.
The Peace Corps Breaks Ties with China | The New Yorker - Peter Hessler
"For too long, Beijing has fooled organizations such as the World Bank and the World Trade Organization," Rubio wrote. Scott chimed in: "I'm glad the Peace Corps has finally come to its senses and sees Communist China for what it is: the second largest economy in the world and an adversary of the United States."

Chinese hard-liners also celebrated. In Guanchazhe, a conservative publication, a columnist named Pan Gongyu published a commentary, "Farewell, Peace Corps in China, We Won't See You Off." The title echoed "Farewell, Leighton Stuart!," a famous essay that Mao Zedong wrote in August, 1949. That month, the U.S. State Department had issued a white paper that, in more than a thousand tortured pages, tried to explain how America had "lost" China to Mao's revolutionaries: "This is a frank record of an extremely complicated and most unhappy period in the life of a great country to which the United States has long been attached by ties of closest friendship."
The Peace Corps Evacuation Of China During The Coronavirus Outbreak Was Botched, Say Volunteers
Dozens of Peace Corps volunteers were rushed out of China, gathered in Thailand, and fired from the organization, with some heading back to the US without a voluntary quarantine.
---
8. No respite for the war on poverty
Comment: We may be seeing some recognition that the economy goals for 2020 are falling out of reach, especially as other major economies are increasingly at risk from significant shutdowns due to the virus, but at least when it comes to the war on the poverty officials will not be allowed to miss the goal.
Xi Focus: Xi stresses overcoming COVID-19 impact to win fight against poverty - Xinhua
Xi...made the remarks at a symposium on securing a decisive victory in poverty alleviation.

Xi stressed that lifting all rural residents living below the current poverty line out of poverty by 2020 is a solemn promise made by the CPC Central Committee, and it must be fulfilled on time.

He called for unremitting efforts on poverty alleviation, saying it is a tough battle that greater importance must be attached to in the final push...

Noting that this symposium has been the largest of its kind since the 18th CPC National Congress, Xi said its main task is to mobilize all resources to win the battle against poverty, and ensure that the target of eradicating poverty is met as planned so as to build a moderately prosperous society in all respects...

Xi stressed the ever-growing need to strengthen and improve the Party's leadership as the fight against poverty continues, urging Party committees at all levels to fulfill their duties and missions. And no mask for Xi, while the attendees all wore them.

Wang Yang, a member of the Standing Committee of the Political Bureau of CPC Central Committee and chairman of the Chinese People's Political Consultative Conference National Committee, presided over the meeting.
The CCTV Evening News report - 习近平在决战决胜脱贫攻坚座谈会上强调 坚决克服新冠肺炎疫情影响 坚决夺取脱贫攻坚战全面胜利

Another meeting where almost all participants connected remotely. Can they hold any big meeting remotely now, like the NPC and the CPPCC?
And no surprise, one of the remote speakers was the Party Secretary from one of Xi's favorite places, Lankao in Henan Province, home to the selfless local official Jiao Yulu who sacrificed himself for the people and the Party.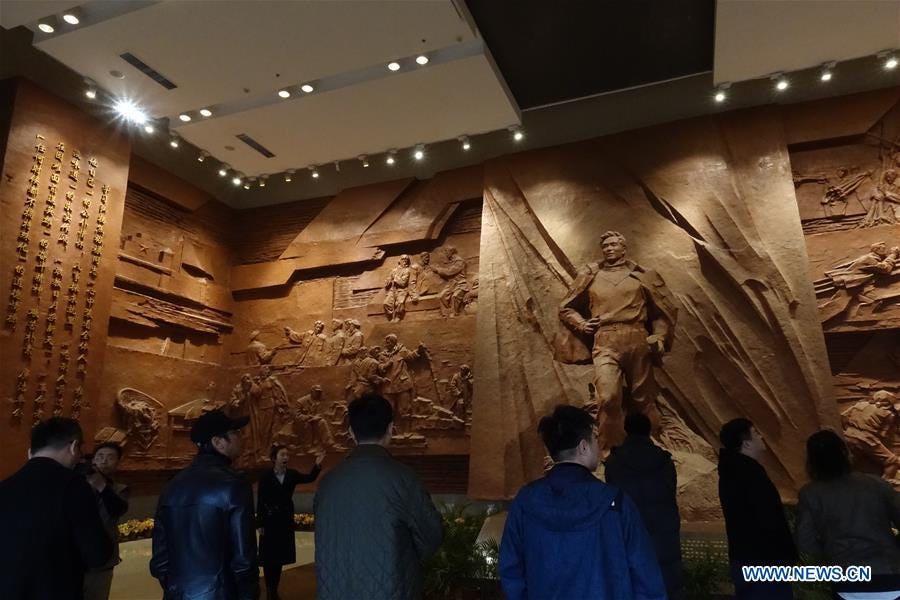 ---
Business, Economy and Trade
China Issues New Plan for Regulation of Key Financial Infrastructure – China Banking News The Peo­ple's Bank of China (PBOC), the Na­tional De­vel­op­ment and Re­form Com­mis­sion (NDRC), the Min­istry of Fi­nance, the China Bank­ing and In­sur­ance Reg­u­la­tory Com­mis­sion (CBIRC), the China Se­cu­ri­ties Reg­u­la­tory Com­mis­sion (CSRC) and the State Ad­min­is­tra­tion of For­eign Ex­change (SAFE) jointly is­sued the "Work Plan for the Over­all Reg­u­la­tion of Fi­nan­cial In­fra­struc­ture" (统筹监管金融基础设施工作方案) on 4 March.
British Steel bought by China's Jingye, saving more than 3,000 jobs | The Guardian In a statement the group said it had completed the acquisition of British Steel's UK and Dutch assets from the official receiver and confirmed it planned to invest £1.2bn in the company. About 3,200 staff have been offered contracts, while 400 were told this week that they would be made redundant when the sale closes.
U.S. Court Upholds $764 Million Infringement Fine Against China's Hytera - Caixin A U.S. court upheld a federal jury's decision that China's Hytera Communications had stolen trade secrets and infringed on copyrights owned by Motorola Solutions, the Chinese company said in a filing to the Shenzhen Stock Exchange on Monday.
China's Hawaii Clamps Down on Property Pre-Sales as Free-Trade Zone Looms - Caixin Putting an end to the longstanding practice, the Hainan government announced at a press conference Saturday, aims to make it harder for developers to get away with certain bad practices, including delays in handing over keys to buyers and disappearing after collecting payments, said Huo Juran, head of the provincial housing department.
Exclusive: Central Bank Official Named ICBC Vice President - Caixin Global Wang Jingwu, head of the Financial Stability Bureau of the People's Bank of China (PBOC), will be named a vice president of ICBC
Apple sells fewer than 500,000 smartphones in China in February amid coronavirus - Reuters In total, mobile phone brands shipped a total of 6.34 million devices in February, down 54.7% from 14 million in the same month last year, data from the China Academy of Information and Communications Technology showed (CAICT).
Politics and Law
陈一新战疫一个月拧紧"水龙头"-中国长安网 Politics and Law Commission Wechat account details Chen Yixin's work in Hubei over the last month. He may be the cadre whose political career benefits the most from this disaster, he looks very nicely positioned for a Politburo seat at the 20th Party Congress, as does new Hubei Party Secretary Ying Yong, though a few more public opinion incidents like the gratitude education one under his watch could hurt him
北京日报:北京文投集团原总经理戴自更被开除党籍和公职 Well-known journalist and former editor-in-chief of Beijing News Dai Zidgng is sacked and stripped of party membership. Among other things, Dai was charged of adultery, not reporting his trip to overseas, not doing his propaganda duty properly, and taking bribes in "especially large amount".
Chinese Police Accuse Dissident Xu Zhiyong of Subversion: Source - RFA A source close to Xu said he is currently being held incommunicado in "residential surveillance at a designated location" (RSDL) pending the completion of the investigation.
Professor Guo Yuhua on the Poison in China's System – China Heritage In the following interview, conducted by Radio Free Asia and published on 3 March 2020, Guo Yuhua addresses the coronavirus epidemic in the context of China's systemic limitations. She addresses her comments to the fundamental question of intrinsic human worth and the value of the individual, a perennial issue throughout modern Chinese history...The Communist Party's view of human worth, particularly its usefulness in achieving and maintaining political power, has been consistently, and narrowly, utilitarian and inhumane, as well as anti-humanist. As Guo Yuhua forcefully points out below, it remains so to this day.
Chinese Journal Review: CASS Scholars Propose a Five-Year Strategy for China's Industrial Development - Chinese Journal Review In 2020, China enters the final year of its 13th Five-Year Plan. In this essay, CASS scholars propose an industrial development strategy for the next five years. They write that China should pursue policies and investments that help the country modernize its economy, avoid the "middle-income trap," maintain global dominance in manufacturing, utilize advanced technologies to propel growth, and accelerate economic development in less-developed parts of the country.
中央候补委员、中建原董事长官庆逝世,享年55岁 Guan Qing, alternative member of the CCP's Central Committee, former chairman of China State Construction Engineering Corporation, died of illness at 55
星岛日报:「華春瑩喪夫」純屬謠言 The pro-Beijing Sing Tao Daily cleared up rumors that Guan was husband of the foreign ministry spokesperson Hua Chunying. The report said Hua's husband is actually a bureau-level official at the party's foreign affairs commission.
在抗"疫"斗争一线考察识别干部-中新网 党的任何组织和成员必须以实际行动维护党中央一锤定音、定于一尊的权威,必须服从党中央集中统一领导,自觉做到党中央提倡的坚决响应、党中央决定的坚决执行、党中央禁止的坚决不做,执行党中央决策部署不讲条件、不打折扣、不搞变通。
Foreign and Defense Affairs
Czech Prime Minister Says China's Ambassador Should Be Replaced | Reuters China should replace its ambassador in the Czech Republic after the Chinese embassy sent a threatening letter to Czech authorities, Prime Minister Andrej Babis said, a position that may further strain relations between the two countries.
A re-emerging Red Giant - Credibletarget.netIn 1962, the year of the Cuban Missile Crisis, a group of American foreign policy analysts put together this book, China – The Emerging Red Giant (ed. Devere Pentony, Chandler Publishing). But re-reading those essays last week, it struck me that they could have – almost – been written yesterday... Mao's thoughts are still cannon law in China; and the current Party Secretary is clearly a fan. So why shouldn't China's foreign policy today run in continuity with then, Cold War-style, despite all those years? Same Party, same families, same institutions, same geographical position, same bursting paranoia about the West. The 1980-90s appear now more as an ebb, when foreign adventures gave way to much-needed economic reconstruction at home. Now that's done, we flow back into world-order changing overseas ambitions.
'PLA' IDs add to Chinese slay mystery | Inquirer News The killing of a Chinese worker for an online gaming company in Makati City was shrouded in mystery on Saturday after the police said they found Chinese military identification cards in the possession of the two suspects, both compatriots of the victim.
Hong Kong and Macao
Hong Kong police seize homemade bombs and arrest 17 | The Guardian The pre-dawn raids on Sunday were in connection with an alleged campaign to get the government to close its borders with China to stop the spread of the coronavirus, Hong Kong police said.
Taiwan
Taiwan's Opposition Party Reconsiders Support for Closer China Ties - WSJ $$ The Nationalist Party, or Kuomintang, which has advocated closer ties with Beijing, on Saturday elected a new chairman who has pledged to take a harder line against China's influence. Johnny Chiang, a 48-year-old lawmaker, has also called for Beijing to acknowledge the existence of Taiwan's separate political system—something China's Communist Party has refused to do.
国台办发言人就国民党主席补选结果表态 China's Taiwan affairs office said on Saturday that it hopes the new KMT chairman can "value and safeguard the existing political basis between KMT and the CCP, play a role in bridging the communications across the Strait, and strive to protect the peace stability of the Strait and the welfare of fellow Chinese." 
DPP lawmakers want name change for Academia Sinica - Focus Taiwan "As sinica means Chinese in Latin, the organization should consider altering its name to avoid possible confusion," Fan Yun (范雲) urged, adding that it should start discussing the issue as soon as possible to work out a name that fits it better.
Society, Arts, Sports, Culture and History
人民日报:外国人永久居留管理条例将广泛听取认真吸收公众意见 China's ministry of justice and administration of immigration said they will "widely listen, and carefully adopt the public opinions" before issuing the new rules on green cards for foreigners. The officials said they are well aware of the public's concerns that the new rules would lead to an influx of foreigners that would put more pressure on job market and public resources. 
On Saturday, the Procuratorial Daily that is affiliated with Supreme People's Procuratorate, wrote three articles attacking Chinese swimmer Sun Yang for ignoring the WADA rules and for fanning the nationalism within China for his defense. The articles said Sun should be held responsible for his actions and the media should not see this as something against China.